The two most important factors in selecting a place to say are supposedly price and location. This holds true for travelers under the age of 35, but at some point amenities and comfort become as important or possibly more so. Many people value the aesthetic of a hotel room or rental but don't realize it and then they dislike where they are staying but can't put their finger on why. Another factor that we have come to consider when we book is the connection to the local community or the opportunity to meet people of like mind or of a completely unlike mind! These are some of the sites we use in order to book. We have traveled together to over 25 countries in the last 12 years and I book for private clients as well. I also book group travel for schools, language programs and religious groups so I think we are approaching expert level when it comes to finding a place to stay!
Booking.com: This site is the mega site - they have a fairly good selection process whereby you can filter choices by price, popularity and using their advanced settings, by facility and payment type. There are always pictures and an exact address. They have phone and email contact with the host that they oversee for your protection. When there is a problem, I have found their customer service to be excellent. A few things I do not like about Booking.com is that they rely on the host to provide information that is often not translated properly, whether because of language barriers or cultural differences. For example, the description of the features is hilarious - "this apartment features toilet paper!" and "guests will enjoy the pillows provided!" The beds are all described as double, which we have found might mean anything from American full to California King. Another issue is trying to find a place where there are no pets. We are both allergic to cats and dogs and don't want to share space with them when we are away from home. Yeah yeah, must love dogs, whatever. Actually, we don't mind dogs on a property that has lots of space, like a farm, but to stay in a hotel or apartment that is pet friendly for people like us, who are just pet-acquaintacey, is not the best and I wish we could weed them out somehow. A recent trend that we find really misleading is rental companies that advertise rentals on Booking.com as a privately owned apartment. Sykes Management in Ireland, for example, has really taken over the rental market and they do NOT always disclose their prices or policies on Booking. Travelers, beware!
Air BnB: Ah, what started out as a tremendously cool idea is now being protested in cities worldwide. This is one of the best sites out there for the shear variety of lodgings - there are sofa beds for 5 euros and whole castles for 10,000 dollars a night. The filtering options are terrific and we really like the new "experiences" options - a little expensive but pretty inspirational and often very authentic. However, the use of airbnb.com by large conglomerates and corporations in cities around the world has driven up real estate and rental costs to the point that some neighborhoods are not really affordable to the local inhabitants. We saw quite a bit of this in Southern Spain and the Dordogne region of central France. Some property managers buy up whole buildings before local people get a chance to buy or they buy a couple of apartments in a building and then the character of the building or block is changed inexorably. If you use airbnb.com, please do so responsibly - go ahead and sleep in a boat house in Lake Tahoe if that is what you want to do, but make sure it isn't a row of 30 boathouses owned by a company in Dubai. Do some checking and communicating before you pay. Another caveat: hosts can cancel on you at the last minute on many of these reservations - check the fine print. We reserved an apartment in Valencia, Spain for the Fallas celebration this year - which is a really crowded time in the rental markets - and we were canceled by the host AFTER payment. Fortunately we have found another rental in a better part of the city.
VRBO/Homeaway: Homeaway.com acquired VRBO in 2006, so they are now one and the same. I have heard a handful of horror stories about vacation rentals and owner/renter controversies but I have never had a problem with a rental that couldn't be resolved by email or texting with the host. VRBO.com works great for long term rentals but we use it mostly for domestic travel. Scotland and the UK have quite a few offerings that came in under the airbnb.com prices and the owners were amenable to lowering the price for a long term rental, which would not have possible via booking.com or airbnb. Make SURE you read the reviews and the fine print. Don't just read the good reviews and don't focus on that one bad review either. Sometimes reviewers give a low score because it wasn't perfect or because of the location itself and not the rental. For example, our rental for 5 nights on Isle of Skye was really great for a family of 6 but not for a couple - now, that is not the fault of the host but rather the fault of the booker (me) for not reading the description carefully enough. We ended up with that rental because we wanted to be close to Portree and services and we wanted a washer and dryer (rain, rain, rain) at that point in the trip. So, in all fairness we couldn't mark them down for the things we didn't like. It is important to remember that some of these rentals allow owners to keep a family home in the family or afford to send their kids to school and leaving a bad review because you are not pleased with the weather or the property's advertised lack of something is really irresponsible.
Local booking sites like: irishfarmholidays.com, castleandpalacehotels.com, and chinaculturecenter.org are three sites I have used to do research for clients or actually book for myself. There are some wonderful sites outside the big three above where you can get more detailed information and have more control over your travel experience. If you don't mind doing the footwork, this can be exceptionally rewarding and save you money.
Trip Advisor: Trip Advisor, to us, is a combination of Yelp (completely unfair and unpoliced ratings and reviews), a Disney Cruise (it sounds good in principle but the water is really dirty and too many people are on the ship), and a super cool uncle who volunteered in Uganda with the Peace Corps (there is some solid advice in there if your read 20 pages of text). Tripadvisor.com is a good tool for finding, reviewing and booking lodging and it is also managing vacations rentals through FlipKey in some parts of the world (mostly North America). I like how Trip Advisor compares different booking sites for the same room and I also like that there is a different set of ratings than Booking.com uses so you can compare even more. Using Trip Advisor also feels like Family Feud - Top 100 answers are on the board...sometimes you can get fantastic and specific information from a very experienced traveler on the other side of the globe who clearly has enough free time to outline exactly how to get from Charles de Gaulle to Orly on a Wednesday with 5 children but mostly you are getting very subjective opinions based on shallow experiences. We have stayed at the Trip Advisor "Best Hotel" on multiple occasions and have not found that we would call it the best by our standards.Yes, I sound snarky right now. I think that Trip Advisor is a great starting place and an excellent place to ask a question if you are not in a big hurry but I don't use it for anything deeper than that.
Travelocity/Priceline/Expedia: Okay, honestly, just no. We have had so many bad experiences with these sites. Message me if you want to vent/problem solve.
Sometimes you pick the best place to be at the right time - call it luck, call it reading dozens of reviews, call it fate, but it all comes together! This beautiful picture is from our favorite lodging so far. Why was it the favorite? We have been traveling for three months and we have stayed in expensive rentals and hotels, small hotels, bed and breakfasts, Air BnB rooms and whole houses...what makes this one the best? The people! The picture below is from a place we found on Ile de Re in France for a couple nights in August. We were enchanted. The bed was average, the decor was average, there was a tiny bathroom and a shared kitchen; it was not luxurious by any standards. But the garden area between the house and the little chalets that the owners rent out was so wonderful - hammocks, seating areas with cushions, clothesline, bikes to borrow, plants and wind chimes and a wall making it private and peaceful was just what we needed. And the breakfast time was so fun! The owners really seemed to like interacting with guests and we learned more French in those two days than the previous month we had spent in France. All this for under 80 dollars? Priceless. Here is the link http://www.booking.com/Share-K7d81x. Check out the gallery for pictures of Ile de Re and our post on Europe's beaches.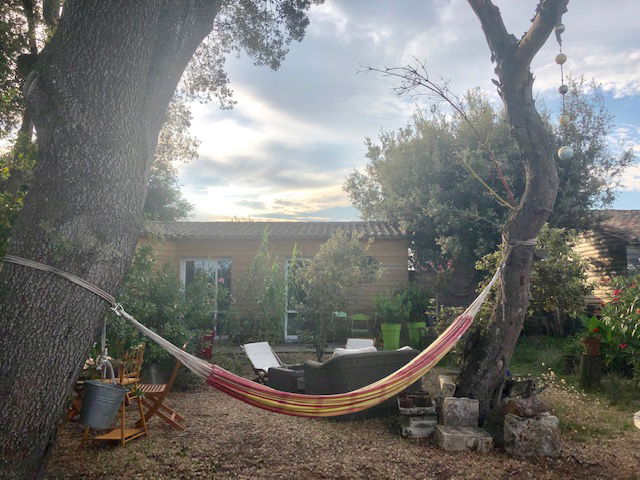 Another one of our favorite places to stay was in Athens, Greece. We had to cancel three different reservations there so when we finally found a centrally located place to stay with a high rating and all the amenities that mattered to us, we snapped it up. Wow! We were so happy there. We had 6 days in Athens and it was just the right amount of time. We are both really into history and love to go to museums so we knew we wanted to be comfortable at night and be able to get a good night's sleep. For Athens in August, that means air conditioning and a large bed! We had two rooms on the top floor of a three story house hosted by the nicest Greek couple - Christos and Aspa. They met us at the door, took us up and showed us the living space. Explained how everything worked and then (GASP) we went up another flight of stairs to the roof terrace. The Acropolis was in full view , lit up in all its glory, there was an opera being performed at the ancient theater of Herodeion and we could hear every word! We went our for a walk and visited the stalls and walked among the evening strollers around the Acropolis and it was magical. Athens is a great city and we loved it more and more the longer we were there. It is the perfect size at about 5 million people and we were happy to find vegetarian and vegan food within a ten minute walk of the apartment, along with a small grocery and most of the best sites to see in Athens. (See our post on visiting Greece)
So, the picture below makes me laugh so hard. The room was painted pink. The lamps!!! Wow. Look at the straw plate thing with the shampoo on it. Seriously, I am more of a modern minimalist but this place was so great I didn't mind the aesthetic quirks. Again, average decor, small bathroom, the caulking needed replacing and the furniture was very old. But that bed was the most comfortable bed in history, the sheets were of very high quality and the air conditioning was good enough for these two ex-Alaskans. The hosts left us slices of melon in the fridge after a long day of museums and walking and there was always fresh coffee, bottled water and lots of little touches. And the people— Christos and Aspa made us feel like honored guests and that has come to be the most important thing about lodging for us - can we connect with people? Will staying at this place become part of the story of this trip? And in Ile de Re and Athens, the answer was yes!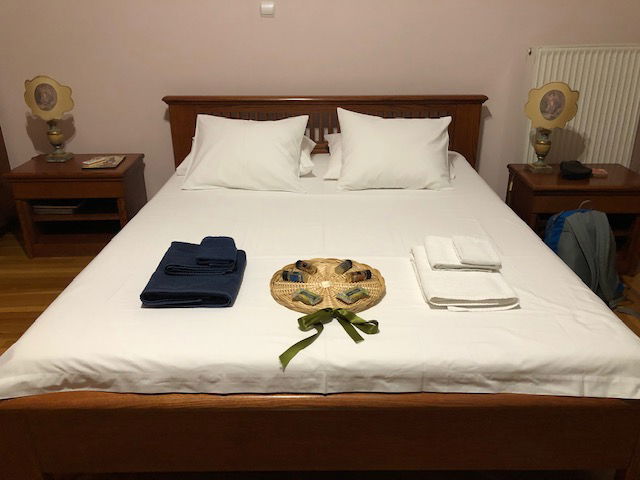 Here are some things that we consider when we are selecting a place to stay:
1. Price - we like to pay for extras like air con and a king-sized bed but on this trip our average nightly stay had to be around $45 for budgetary reasons.
2. Location- if we have to pay 30 euros a night for parking, then we will just stay outside the city. If we are using public transport, then we want the lodging to be right on top of a stop.
3. Bed - we are not tiny - I am like a dot at the end of the exclamation point that is my dear husband - so we can make a full sized bed work. But if I read ONE review about how the bed was not good, I am outta there. Also, we need beside tables and space to get in and out. No thank you, Irish cottage with the bed jacked up against a sloping wall - the husband is 6'5"!
4. Arrival time and departure time - many privately-run places like those on Airbnb require you to arrive after 6 pm or leave before 10 am. Nah.
5. Breakfast - we are mostly vegan, so 20 British Pounds Sterling for a roll and a couple of eggs with tomatoes is silly. If they don't offer food that suits us I like the option to NOT have breakfast included.
6. Animals - Horses, yes. Sheep, yes. Cows - NO. More than two dogs on the property - absolutely NOT. Cats? Hard maybe.
7. Bathroom - I will pay extra for a tub if it is that kind of a stay we are looking for - with a little luxury. We don't share bathrooms unless we are desperate or if the rest of the lodging is fantastic, like the place we stayed in Shetland. LOVED IT.
8. NO CARPETING - I refuse to stay anywhere there is carpeting.
9. Kitchen or kitchenette - we cook a lot of our own food since I am diabetic and we are mostly vegan so yeah, we need a place to do that if we are going to be there longer than a couple of nights.
10. Cleanliness - yeah. 9 out of 10 or it is a hard NO.