How this sort of thing happens:
1. You realize that the three weeks you planned to explore London will cost you 5,000.00 and then only if you do no shopping, eat canned food and sleep in a cheap lodging next to a train track.
2. Your nearly octogenarian mom expresses interest in traveling with you.
3. You read a bunch of other travel blogs that make Jordan sound challenging, yet doable.
There are many non-stop flights from London to Amman. When it comes to flying into Jordan, you have two choices: Amman and Aqaba. Amman is a huge city in the northern part of Jordan and while there is not a lot to do in Amman itself there are quite a few things of interest within a one hour radius. We decided to rent an apartment in Amman and rent a car. I am glad we did but I would not recommend this for everyone. Speaking of recommendations, here are some excellent pieces of advice that we read but ignored:
Do not rent a car in Amman.
We did NOT heed this advice because we have already driven in Romania, Ireland and Greece and we were feeling extra confident about our ability to navigate and figure things out. Muah ha ha.
Renting a car in Amman: When you rent a car through a booking site like Rentalcars.com or Orbitz, you often get the worst car or a shake down at the counter when you pick up your car. We ended up paying less than half the advertised rates for our dates by using Rentalcars.com but we ended up with an 11 year old Dodge that had 180,000 miles on it and no air conditioning. Since we were there in December, and the weather forecast was for 50-60 degrees we didn't bother complaining.
Do not drive in Amman.
People who tell you not to drive in Amman don't really explain why. Allow me to elaborate. There are 16 lane roads with no actual respect of lanes. Lights and signs are a suggestion. People run through traffic crossing the street and selling things, cleaning windows and herding goats (on the outskirts). There is constant beeping. You beep as a turn signal, as a greeting, as a hello and as a hell, no. But the biggest hurdle is the circular road system. If you get onto Road A and try to get to Road B - there is no simple exit. Rather, you must drive 4 miles, run through two or three circular ramps, go underground in a tunnel, then two or three more ramps, a couple of lights and then you can get to Road B. All access is from ramps and overpasses - there are NO left turns from the roads - hence the right turn circular ramp system. It took us a while to figure out but we decided the reason for this was that Jordanian drivers will not EVER respect traffic laws, so the engineers took that choice away by making the system very, very loopy.
It took 2 hours to get from the highway to our apartment the first night. It was only 3.5 miles but that is how long it took. And it was dark. And the streets were eerily empty after 11 pm.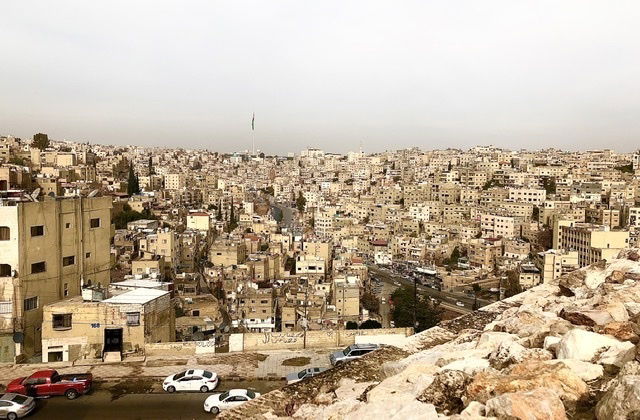 Amman is a big city but felt very safe.
Take the JETT bus from Amman to touristic sites.
While we enjoy train travel, bus travel is another story. But we really should have done this. Other than a couple of stops while we drove from Amman to Aqaba and back up to the Dead Sea, the bus would have sufficed. However, we would have had to take many taxis and we had 8 months of luggage with us so in the end it cost us about $450 in car rental and gas whereas in buses and taxis it would have cost more than three times that much for three people.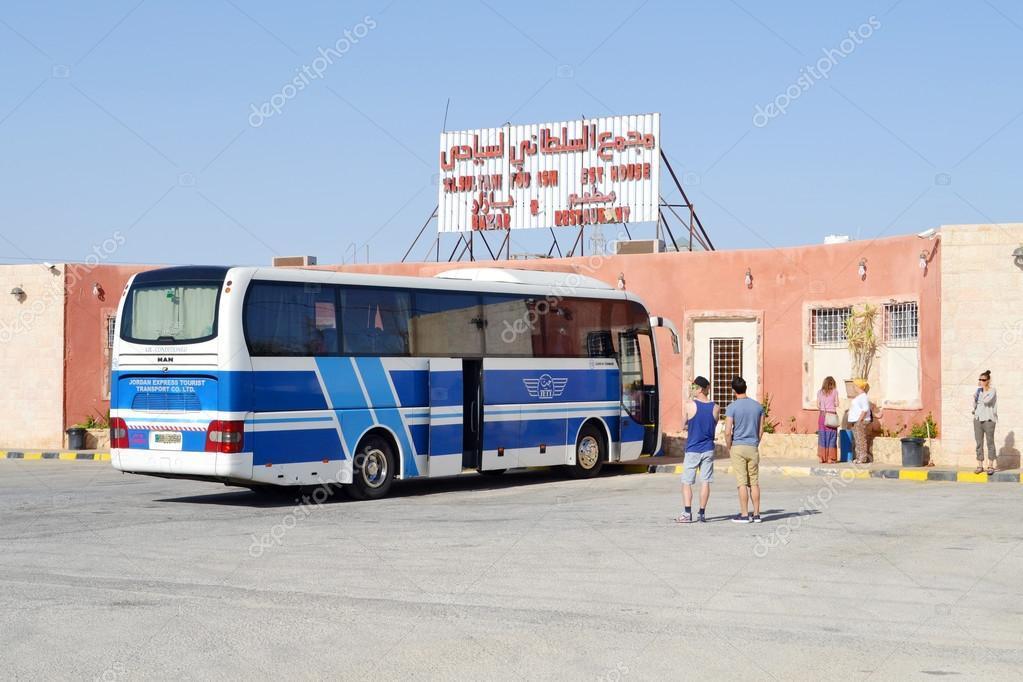 JETT bus
Don't spend more that one day in Amman.
Yeah, I disagree with this. Amman, if you stay on the outer ring, has some large and inexpensive apartments and you can easily take a cab to various parts of the city, drive out to historic sites and use that apartment as your base. We spent less than $80 per night for a large, 2 bedroom apartment with elevator, a kitchen and two full baths, free parking, heat (not always an option in Jordan) and air conditioning. It was spotlessly clean and safe. The Citadel of Amman Is worth a half day and there are many indoor shopping malls and pedestrian malls as well if you like classy brand names and weird, American-style Christmas decorations.
The best advice we read was to buy the Jordan Pass. We saved so much money by getting the Jordan Pass online before we went and by getting our VISA taken care at the same time. The Jordan Pass includes entrance to Petra for one, two or three days, your entry VISA (Just one!) and reduced or free entry into other attractions as well. We decided that we wanted to have two days to see Petra so we got the 2 day pass with VISA option.
The other things we did right were to drive slowly and defensively, stay at least two days in each location and to cary lots of water and snacks in the car.
Our road trip looked like this: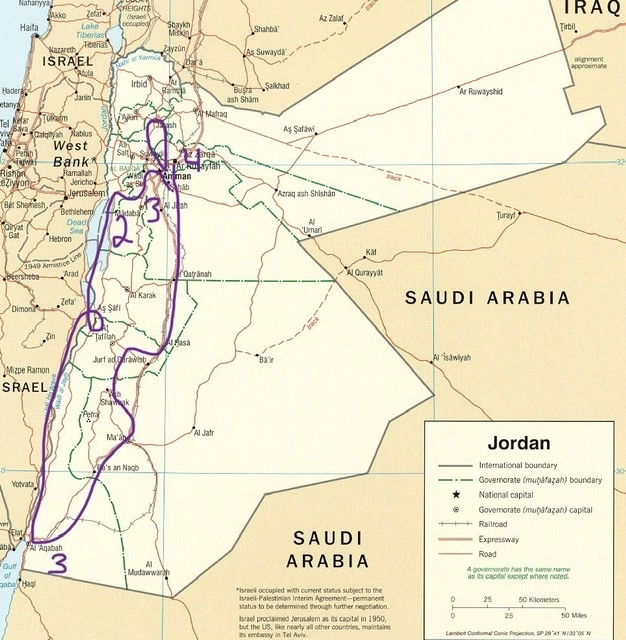 In Amman, we really enjoyed the Citadel, or Amman Acropolis. We ordered a cab via WhatsApp and it arrived in the morning at the apartment to take us to the Citadel and back. It was $20 including tip and we got 4 hours of service and a little tour at the same time. It was worth it in our opinion. The Citadel has great views of Amman!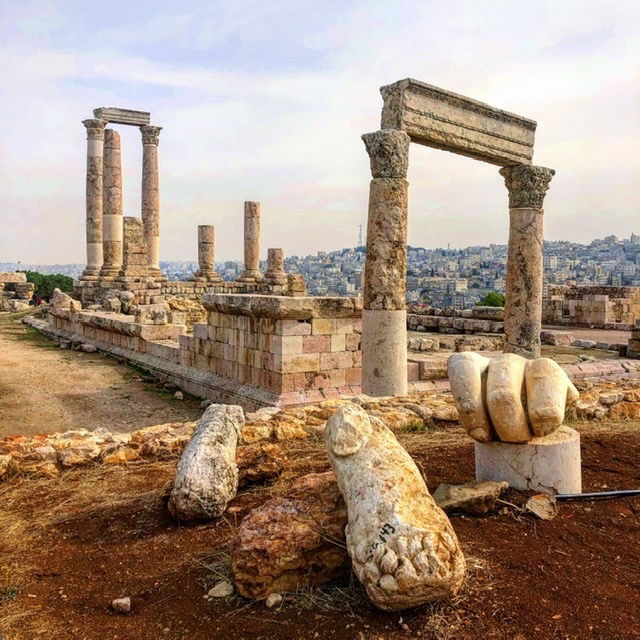 This is the incomplete Temple of Hercules and some details left in ruin.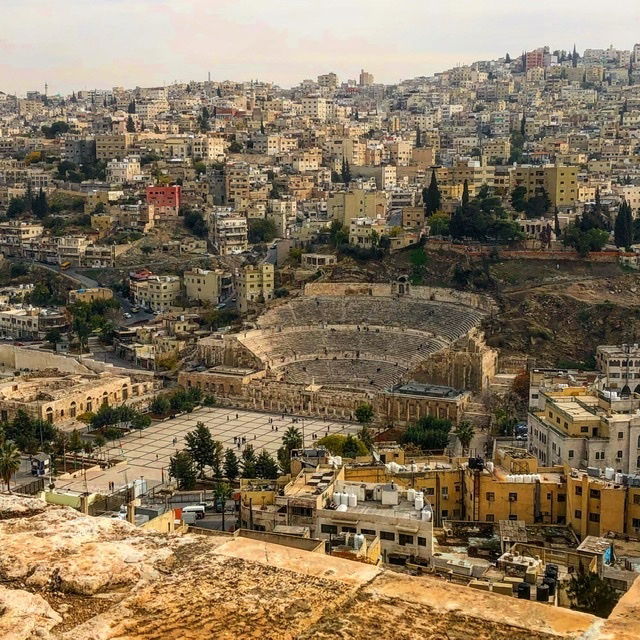 The amphitheater was very impressive!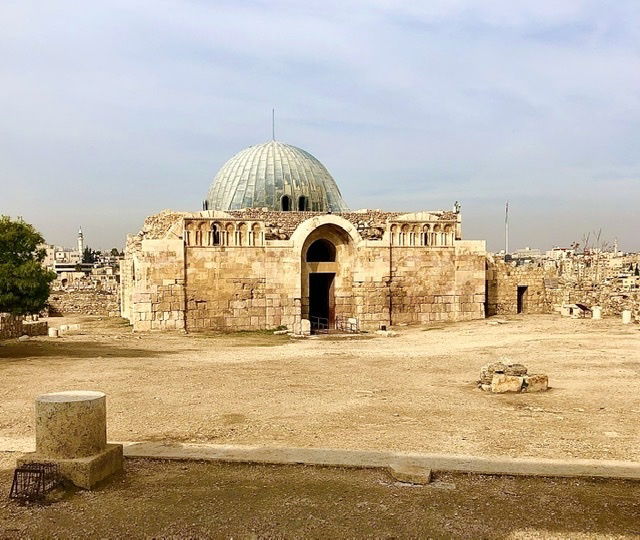 One of the most intact buildings was the Umayyad Palace.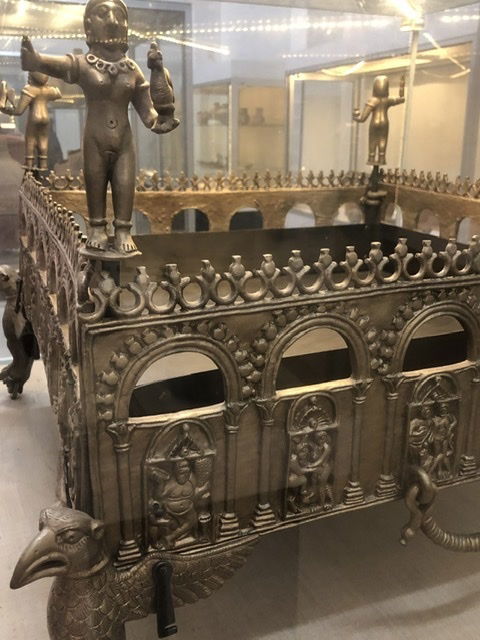 A detailed processional piece from the museum that has obvious Persian influences.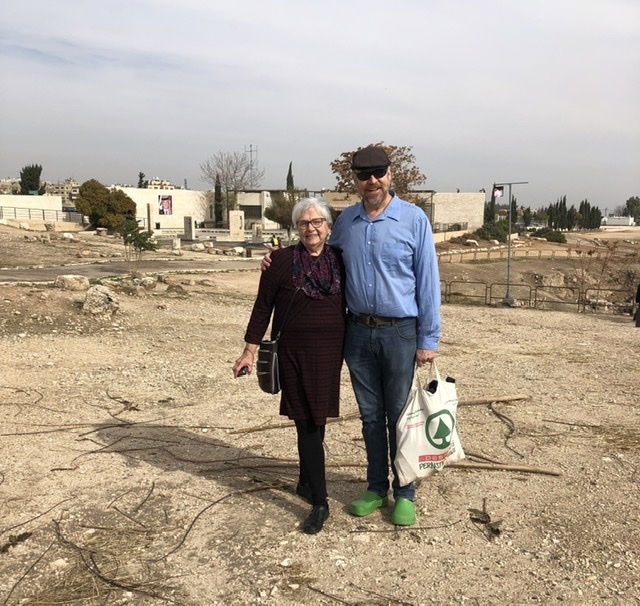 Mom and Peter with the welcome center in the background.
It was interesting to see the different influences on the country of Jordan - Asian, Roman, Pagan, Jewish and Muslim. On the way back to the taxi, we heard a beautiful call to prayer. Amman has the most lovely singing at the prayer times, something we would miss when in other muslim countries.
We walked around, had a coffee and some interesting spinach flatbread at the little cafe and explored the museum. Then we asked the taxi driver to take us to a shopping area just to check it out.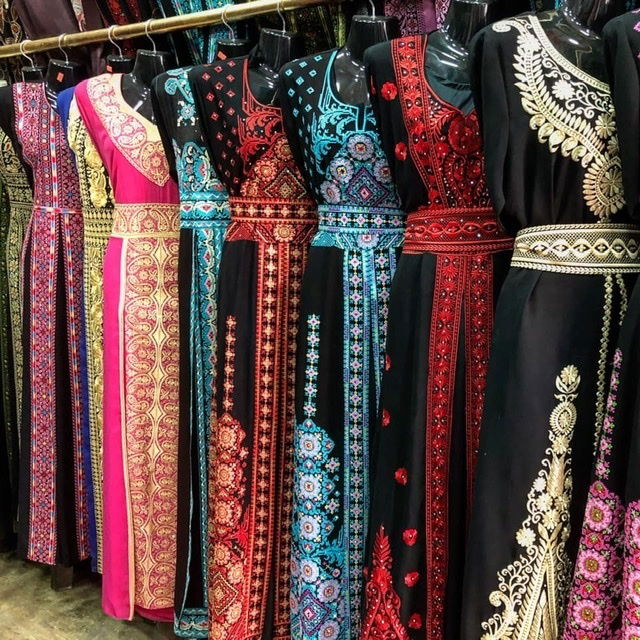 We saw some beautiful, traditional dresses.
Other than some shops with traditional and tourist items, most malls and large stores in Amman were at least half empty - unoccupied and those that were occupied were often high end brands or not fully stocked. So, we saved our shopping dollars for later towns and better deals.
Jerash
On our next day we made the drive to Jerash, north of the city of Amman. Jerash is a small city but the historic site is immense. Eastern and western cultures meet in the ruins of this dazzling attraction that was mentioned in the Bible and has been passed down from the Greeks to the Romans, the Hasmonean Jews, warlords, the Byzantines and the Arabs.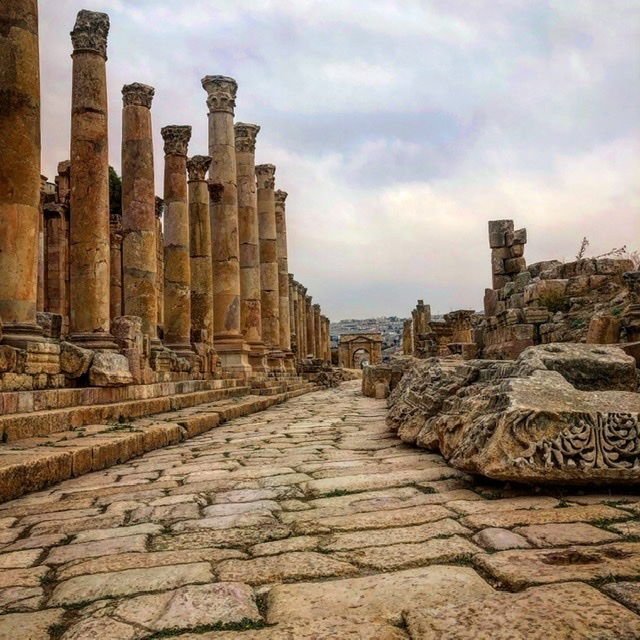 Wear sturdy shoes and watch where you step.
Unfortunately, the first thing my mom did was trip on the 2000 year old, never-renovated stairs at the entrance. This resulted in no serious injury but a great deal of fuss made by the nearby vendors, all of whom clamored to "aid" her and bandage her wounds!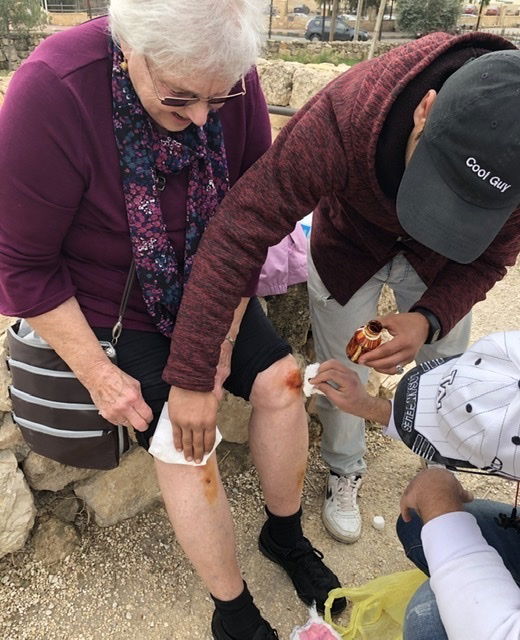 Look closely, you can see she is laughing hysterically.
And this is how we heard many sad stories and were begged for money for the quality health care we received. All in all, one packet of baby wipes, two rolls of gauze and a box of bandaids cost us about $150.00. I know, I know, we read the warnings. But we were emotionally exhausted from watching my mom fall down the stairs and figuring out that she had not broken anything so we bought some scarves and post cards and gave them some money. Things went south when we opened our wallets. When people who sell scarves see a wallet full of cash they get those slot machine eyes like in a Bugs Bunny Looney Tunes skit. We didn't realize until later that we had ALL given them money.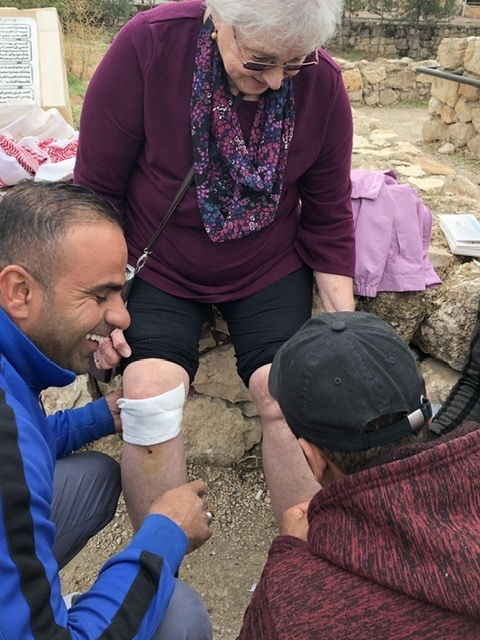 At one point they tried to make a chain of bandaids around a moist towelette to wrap it around her knee.
And this brings up a difficult topic. How do you decide to whom to give your money in situations like this? A couple of guys really helped us. A couple of other guys scammed us with overpriced scarves. One just begged us for cash. I appreciated the honesty of the beggar. He looked really desperate, dressed in second (third, fourth) hand clothes with that reddened skin that people who live outdoors get that we have seen so much of living near homeless camps in Alaska. He just said, "you have more money in your wallet than I have seen in the last year. I am a refugee and I am not allowed to work. Can I have some money?" I mean, what am I going to do with that money? Buy a souvenir? Get an overpriced lunch? Why not enrich the pockets of a guy who is dressed in clean rags selling postcards at the gate to a landmark? There was a Syrian refugee center just a few miles from the site. It may have been the absolute truth. It felt like the truth. What was definitely the truth was that they made us all laugh, they bandaged up my mom's leg and after we had all contributed, they dissappeared. And what is the worst thing that could have happened? That they bragged later about getting some Americans to fork over twenty dollars? We are so privileged. We have so much. It is obscene how much Americans have. I would rather lose some money than harden myself. What is the worst thing that could have happened? That later we said, "Ha, those fools gave us bandages and tried to make us feel better but we did not give them a penny, suckers!!" That would be the worst thing. That would be awful.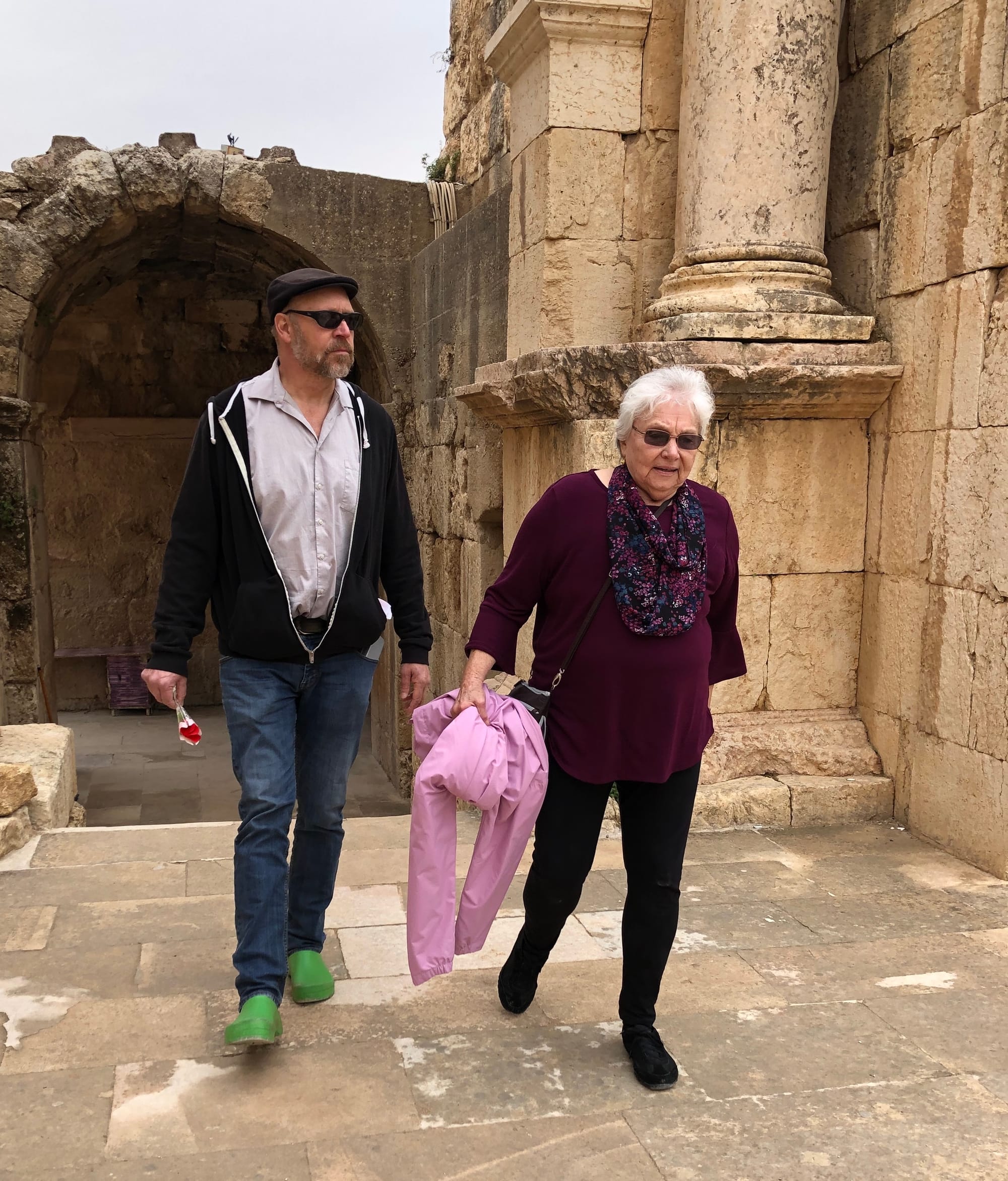 That's a look of relief on Mom's face and a don't mess with me face from Peter.
Back to Jerash...it is incredible. If you go to one place in Jordan, go to Petra. But if you go to two, go to Jerash. It is exquisite. It reminded us a lot of Ephesus in Turkey but there were even better views, two long Roman roads, three amphitheaters and remarkably few people. There was a free parking lot next to a restaurant that we took advantage of. There were a few security guards on duty and about 100 other tourists so we got to experience the place at our leisure.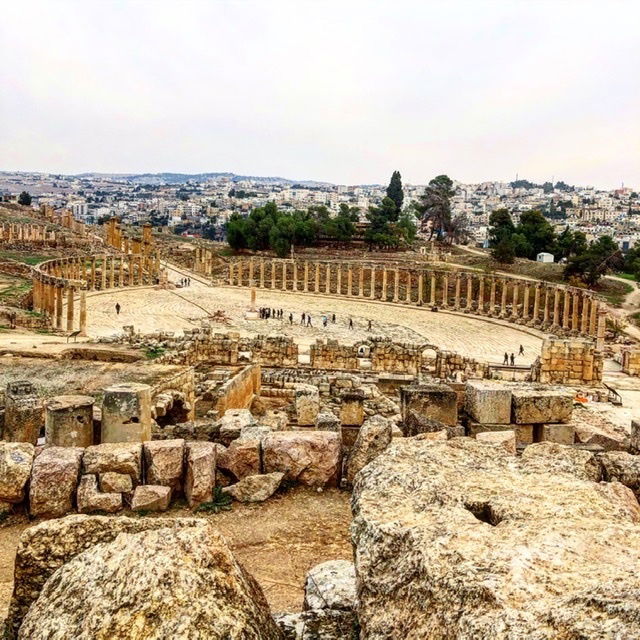 I mean, this is gorgeous.
If you visit Jerash, there is an entrance through a little souk - think of it as a gauntlet - run through and use the bathroom and run out the other side. There is one bathroom there and another one about a third of the way in near a closed entrance (probably open in high season) that is modern and clean. There were a couple of souvenir stands scattered about but very little to eat - bring snacks. There was one restaurant open and it did not look appetizing. Wear shoes with thick soles! The streets are paved with wavy, two thousand year-old stones.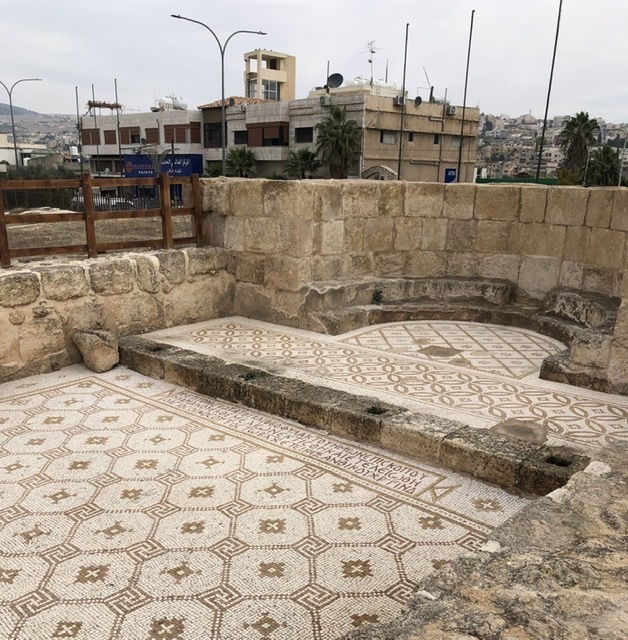 Some of the fine mosaics in Jerash.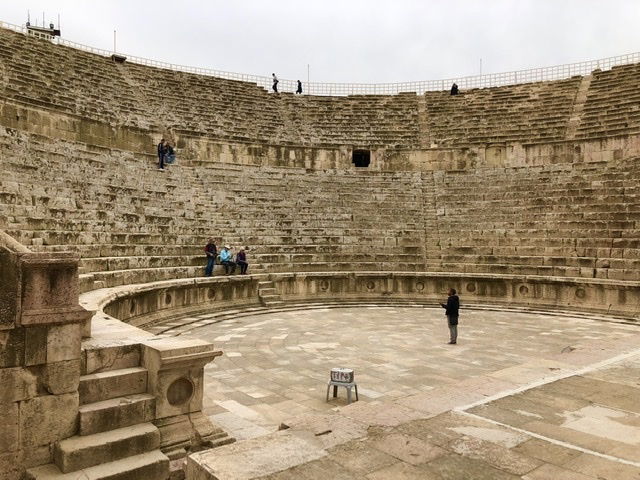 One of the amphitheaters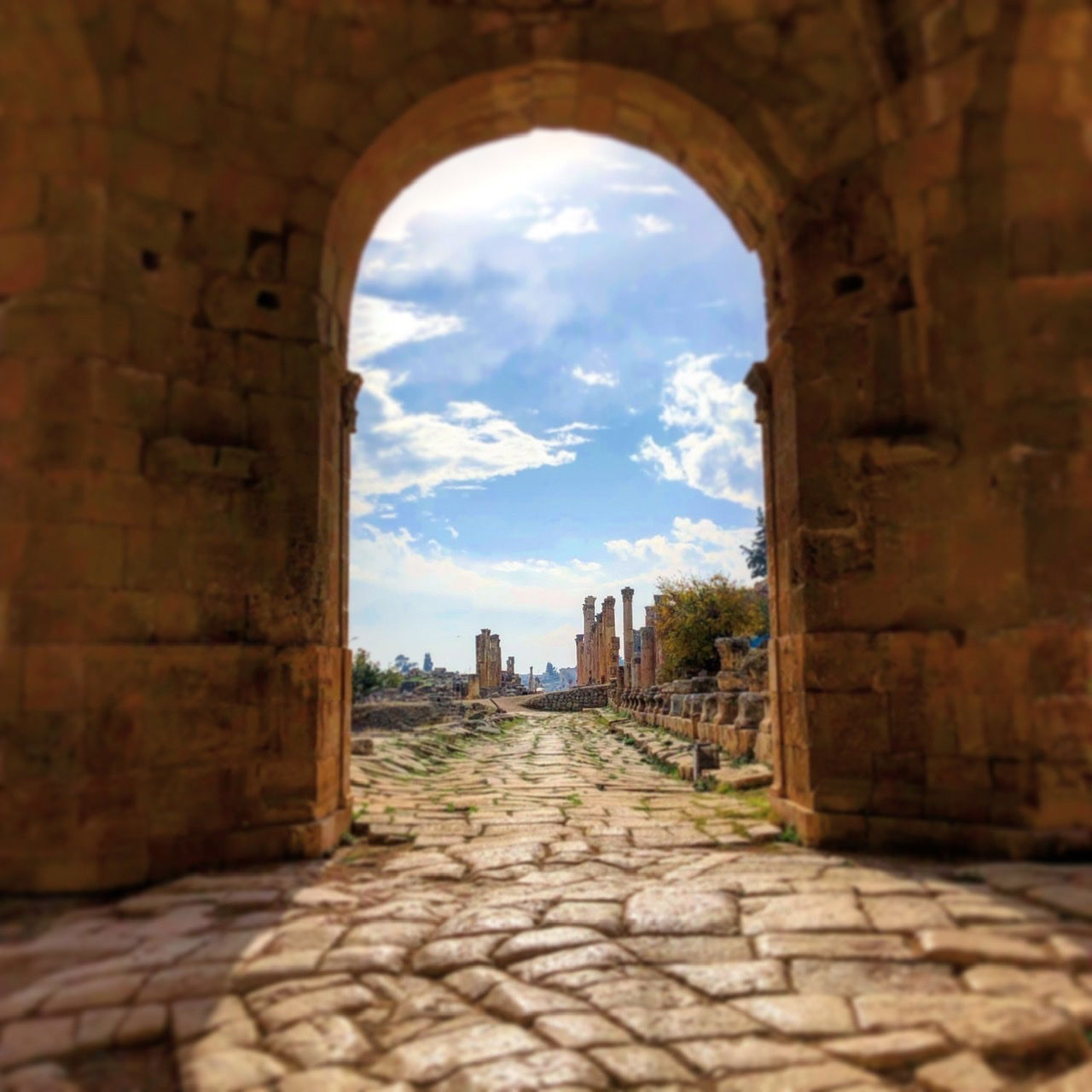 There are many opportunities to take pictures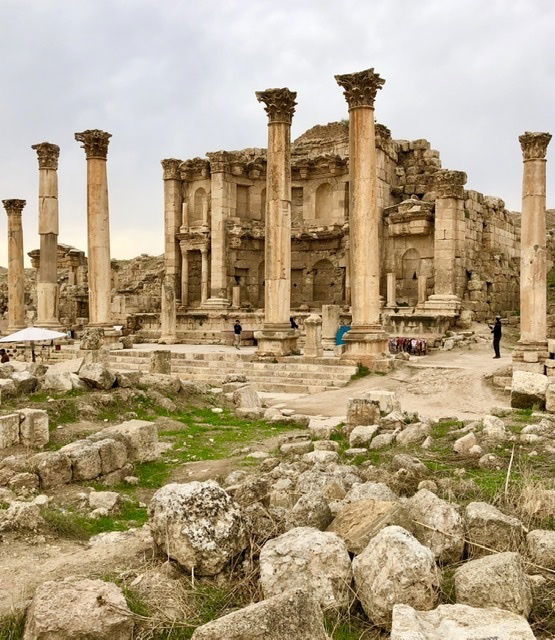 And structures that are largely intact...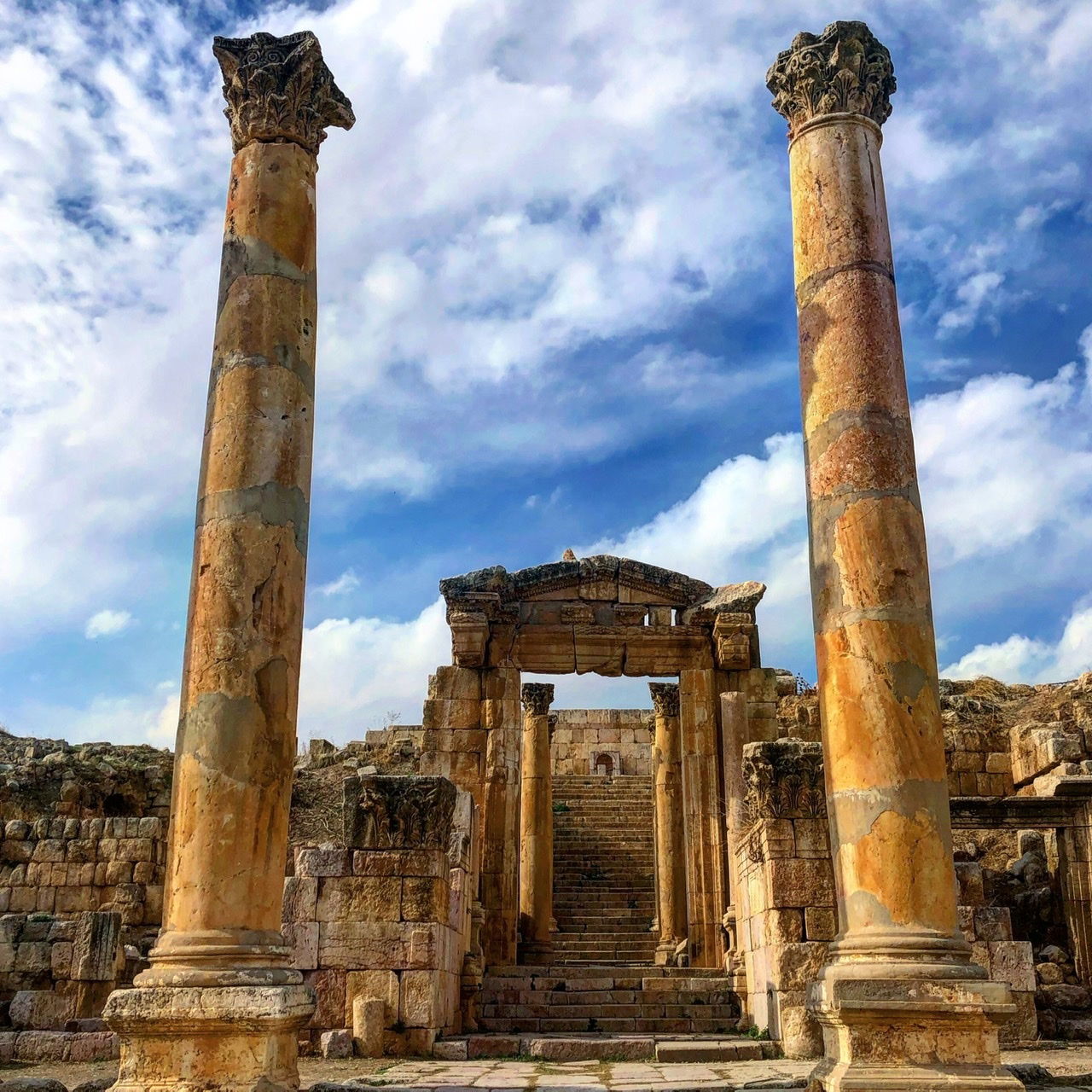 And there were clear skies at times!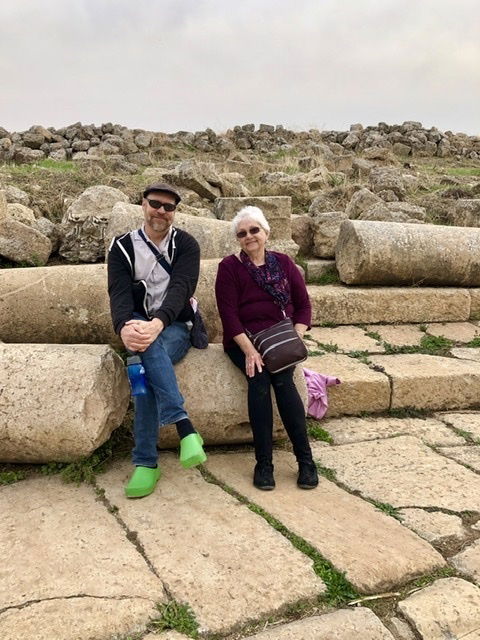 And there were places to take a break.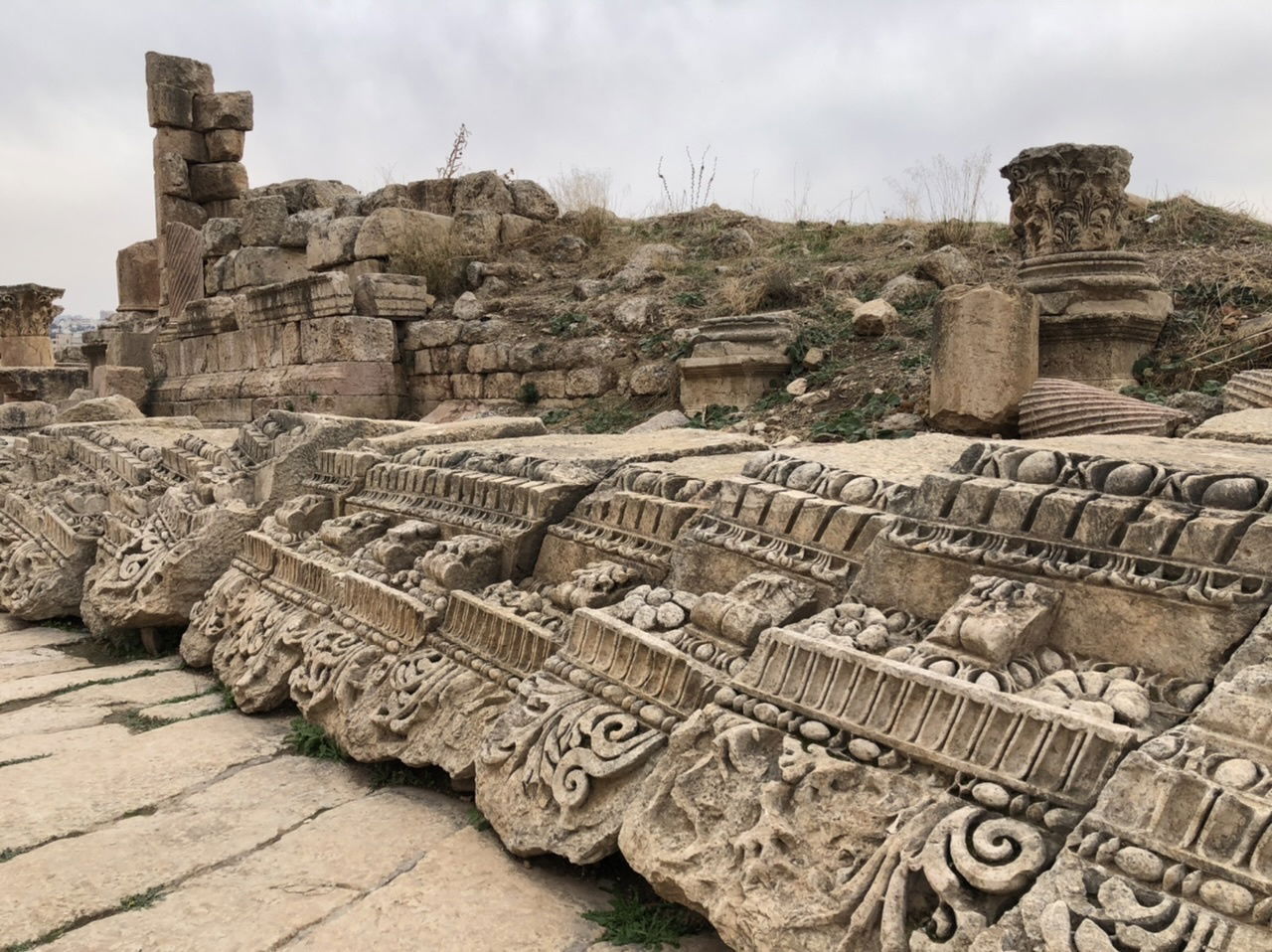 And piles of bits and pieces.
We thoroughly enjoyed it - I don't think Jerash gets the attention it deserves - this is one of the best historic sites we have ever seen - and even if you aren't into history, just walking around is inspiring.
Driving from Amman to Petra
When we left Amman, we expected to spend 3 hours driving to Wadi Musa - the town near Petra. HA! It took much longer. There are three roads running north to south from Amman to Aqaba in the South on a gulf of the Red Sea. There is the Desert Highway, the Kings Highway and the Dead Sea Highway. We chose the Kings Highway so we could make stops along the way yet make good time. The road, as we had been warned, was desolate and full of potholes, both announced and unannounced detours, small towns, open air markets and gas stations that looked like they had been transported from the 1970's.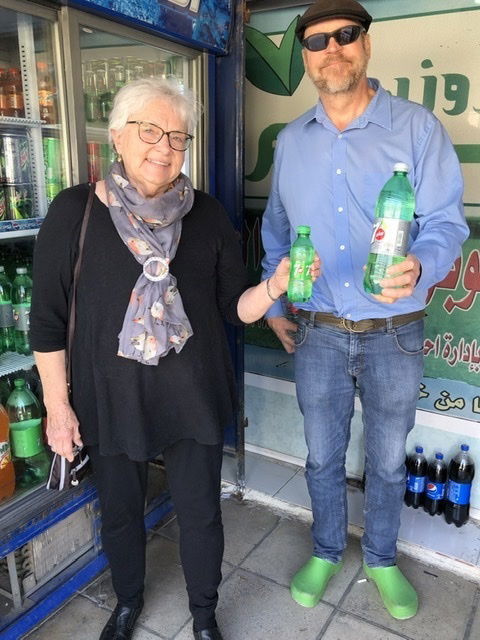 We did find one place to buy 7up!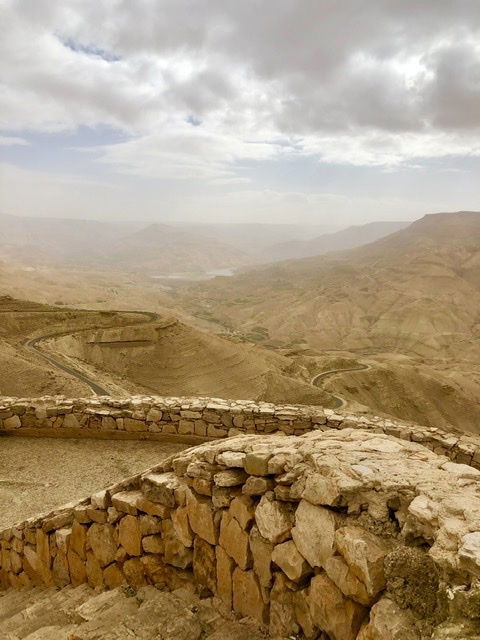 Most of the landscape for the better part of four hours looked like this!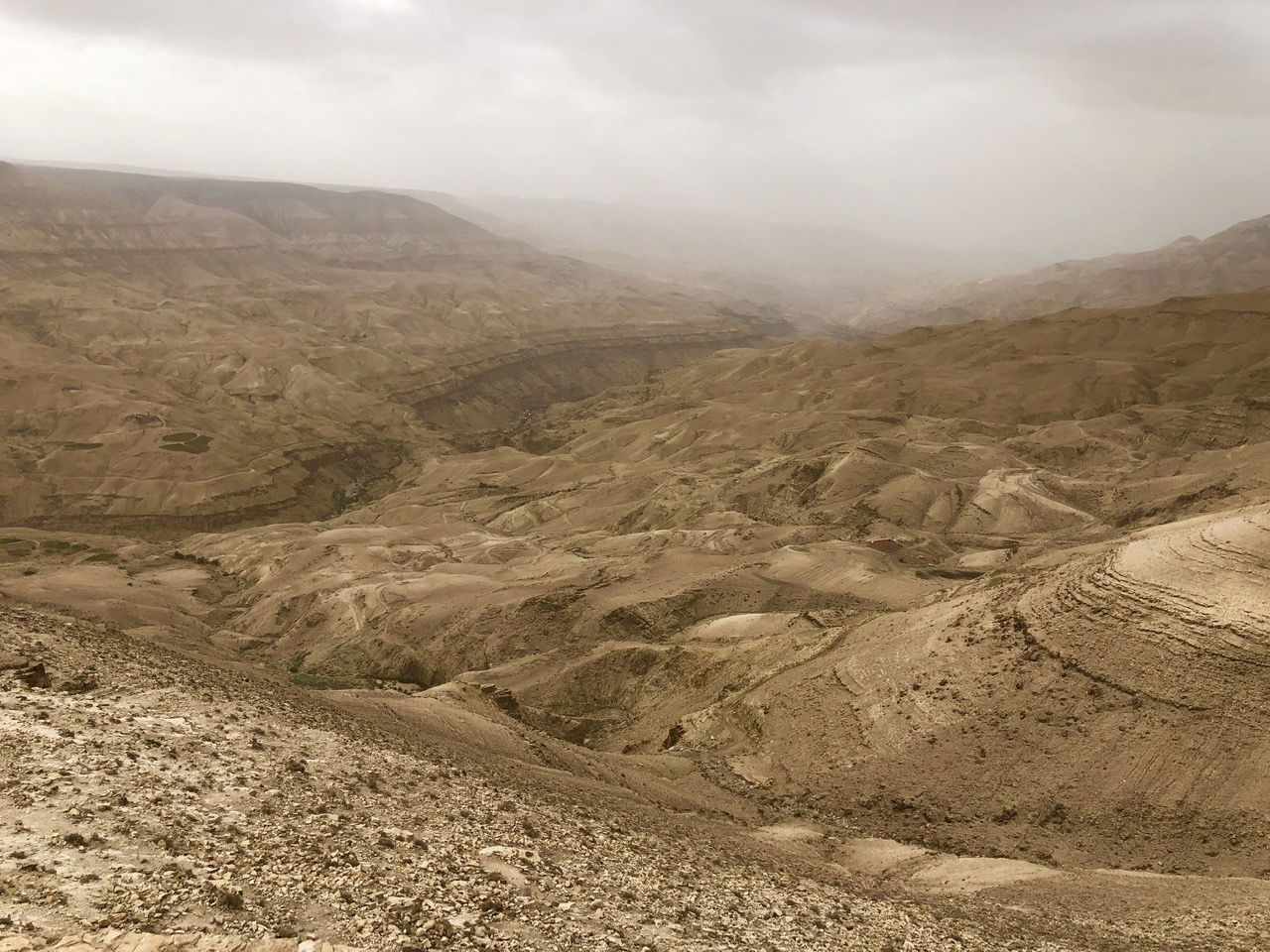 Or this.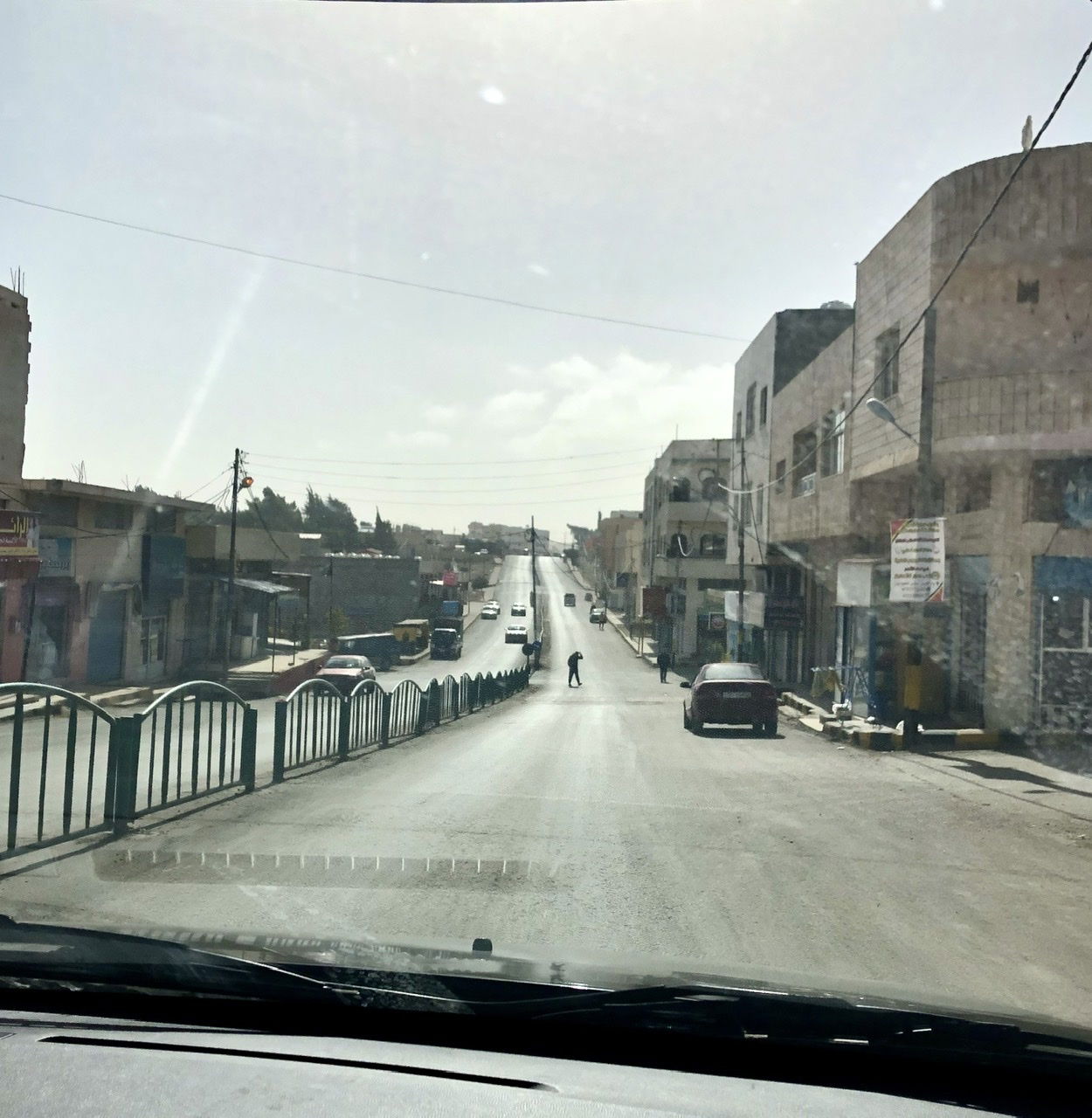 And the towns looked like this.
We made a brief stop to take a picture of Kerak Castle but since it was taking us much longer to make the trip to Wadi Musa, so we did not take the time to visit.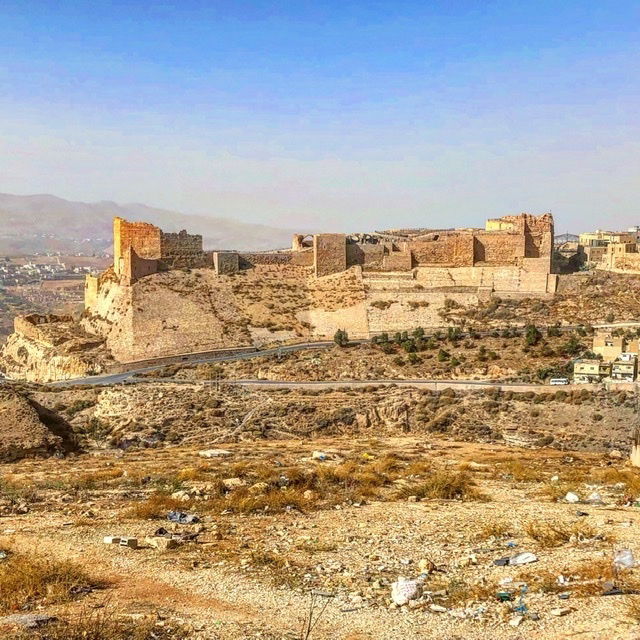 Kerak Castle
By the time we got to Shobak Castle, we thought we would have a quick look - Mom was pooped so she hung out at the gift shop and fought off offers of tea while Peter and I climbed the long, rocky and dusty road to the top. Shobak Castle is a crusader castle - built by King Baldwin of Jerusalem in 1115. It was also known as Montreal Castle. Many people don't realize the long history of the crusaders in Jordan. This strategic castle served people on pilgrimage and bolstered the strength of the French who ruled the region at the end of the First Crusade.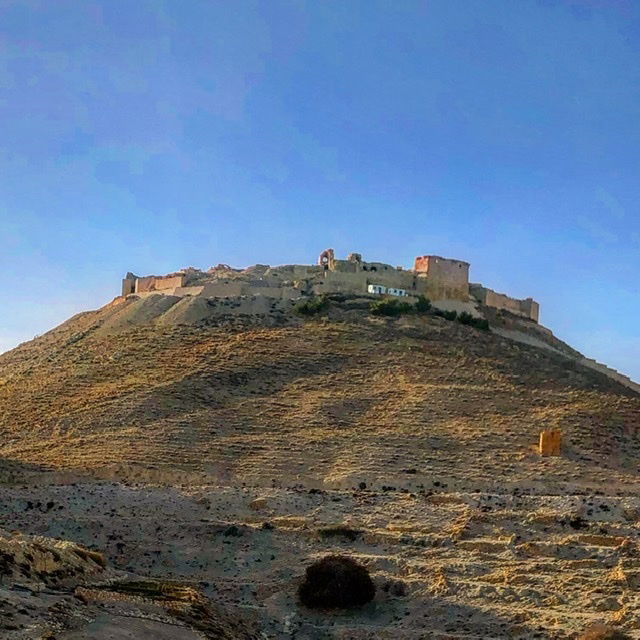 The approach to Shobak
It was really pretty and totally worth it for the remote location and the views of nearby cliff dwellings. The site itself was mostly in ruins. There were very few people there - some young women taking Instagram photos with the wind blowing their veils and a Spanish family chain-smoking Marlboros and tossing them to the ground, bemoaning the lack of services.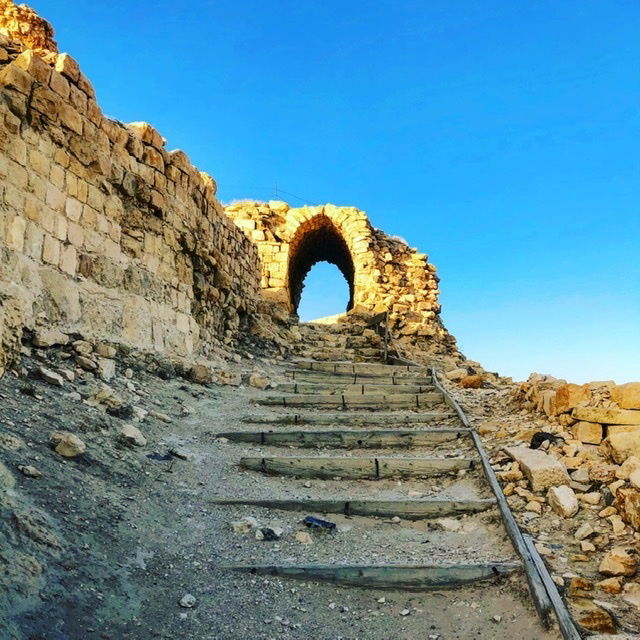 Let's just say the steps were evolving.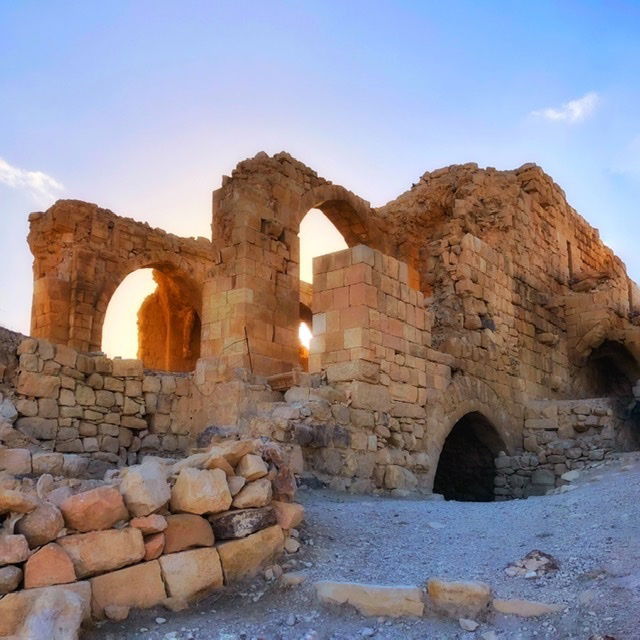 The sun was setting, giving everything a glow that I have come to equate with the Middle East at sunset.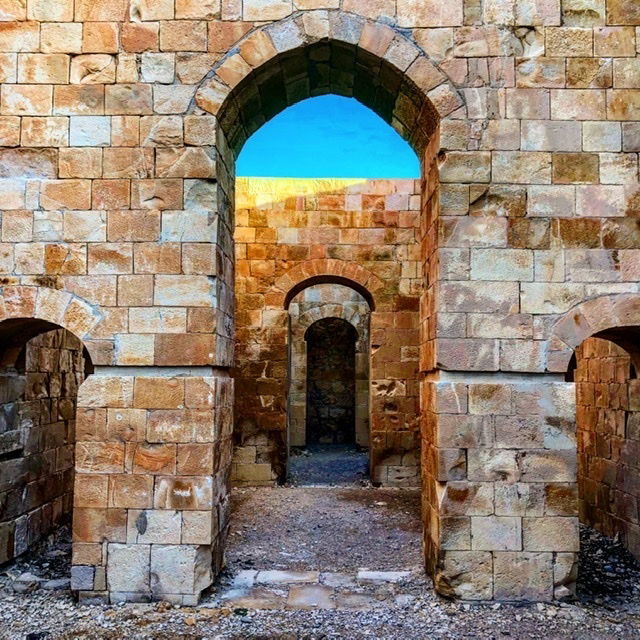 Lovely arches and columns.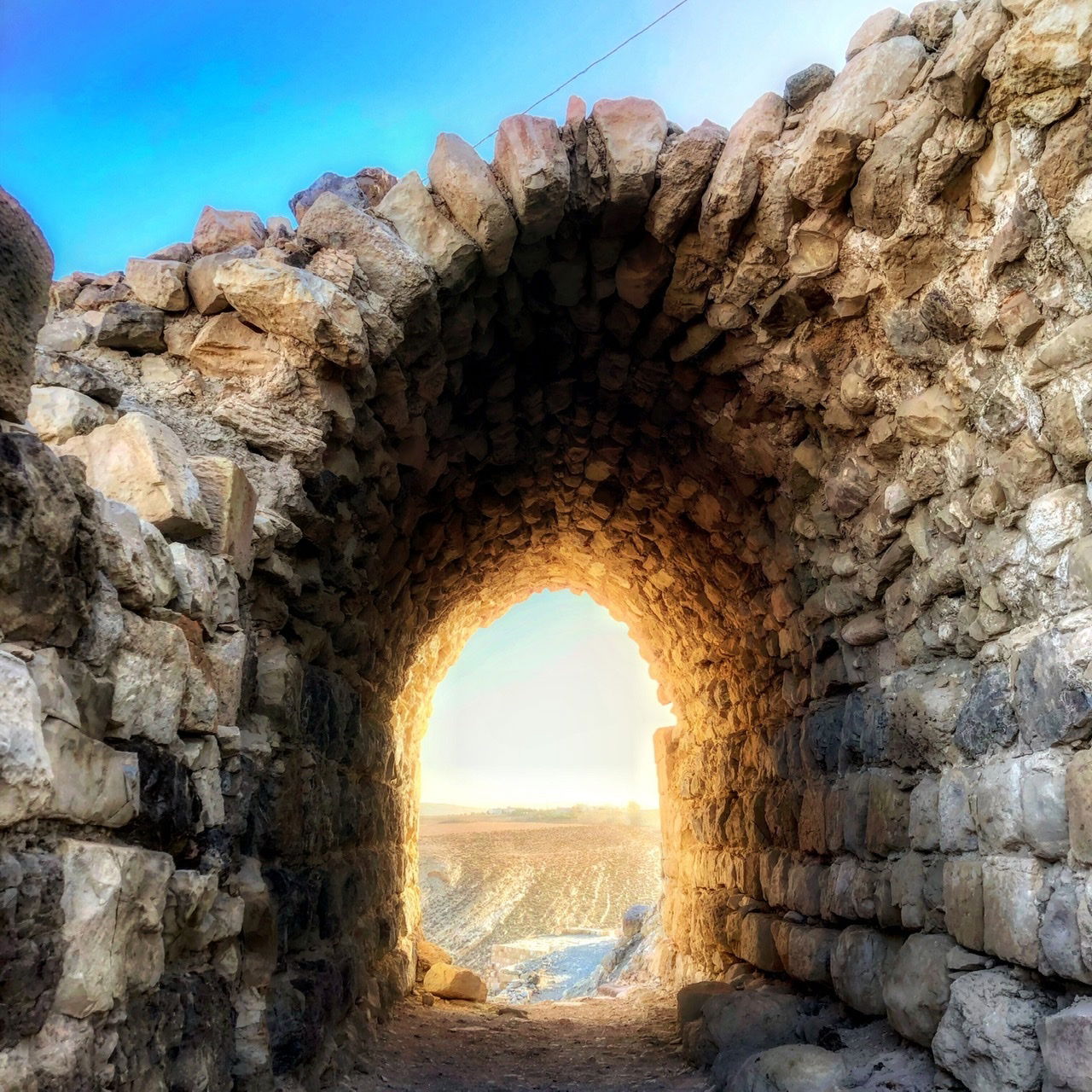 That glowy Middle Eastern light
Petra and Wadi Musa
We finally found our way to Wadi Musa. The town was practically invisible in a canyon and as we navigated the one, narrow, main street we were charmed by the cleanliness of the town compared to what we had seen along the highway and the abundance of interesting-looking restaurants.
When arriving in Wadi Musa, plan to just go to bed the first night, get up bright and early the next morning and either cab, walk or drive to the Petra Visitor's Center. There is plenty of parking - at least there was when we were there. It is a little chaotic though. Be flexible. Then, take your printed or digital Jordan Pass to the ticket office and get your first (or only) admittance ticket.
When you walk into Petra, it is underwhelming at first. It is a dusty walk into some kind of interesting rocks and it looks like a scene from Galaxy Quest.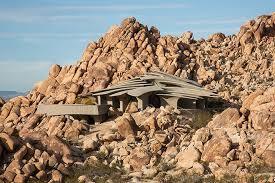 Galaxy Quest is one of my favorite movies.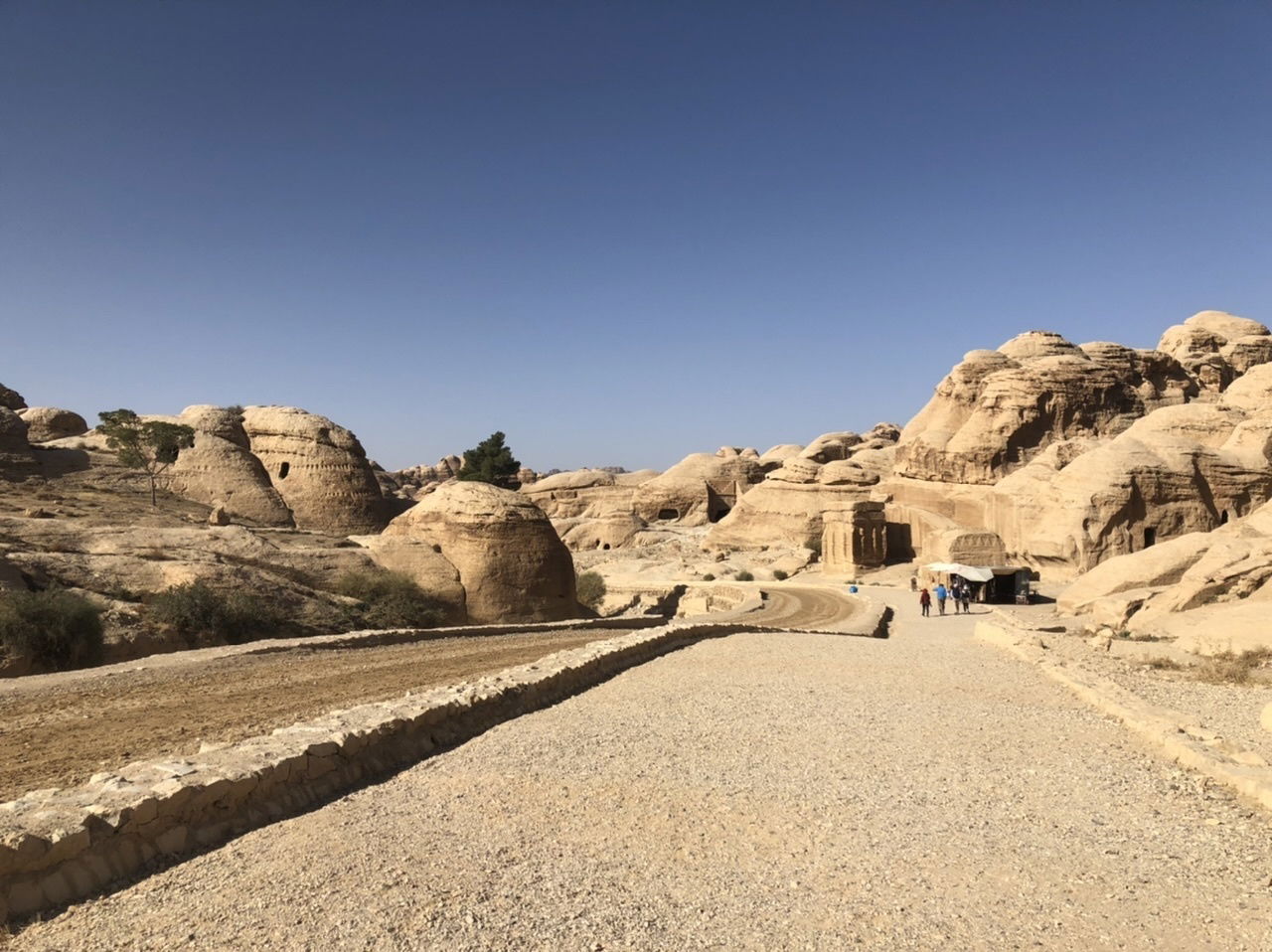 The new approach to Petra
Then, the canyon narrows. "Wadi" means dry runoff area that floods. And that is what happened a couple of years ago and some people were actually trapped in Petra and others died in flash floods. And now that I have ramped up your anxiety...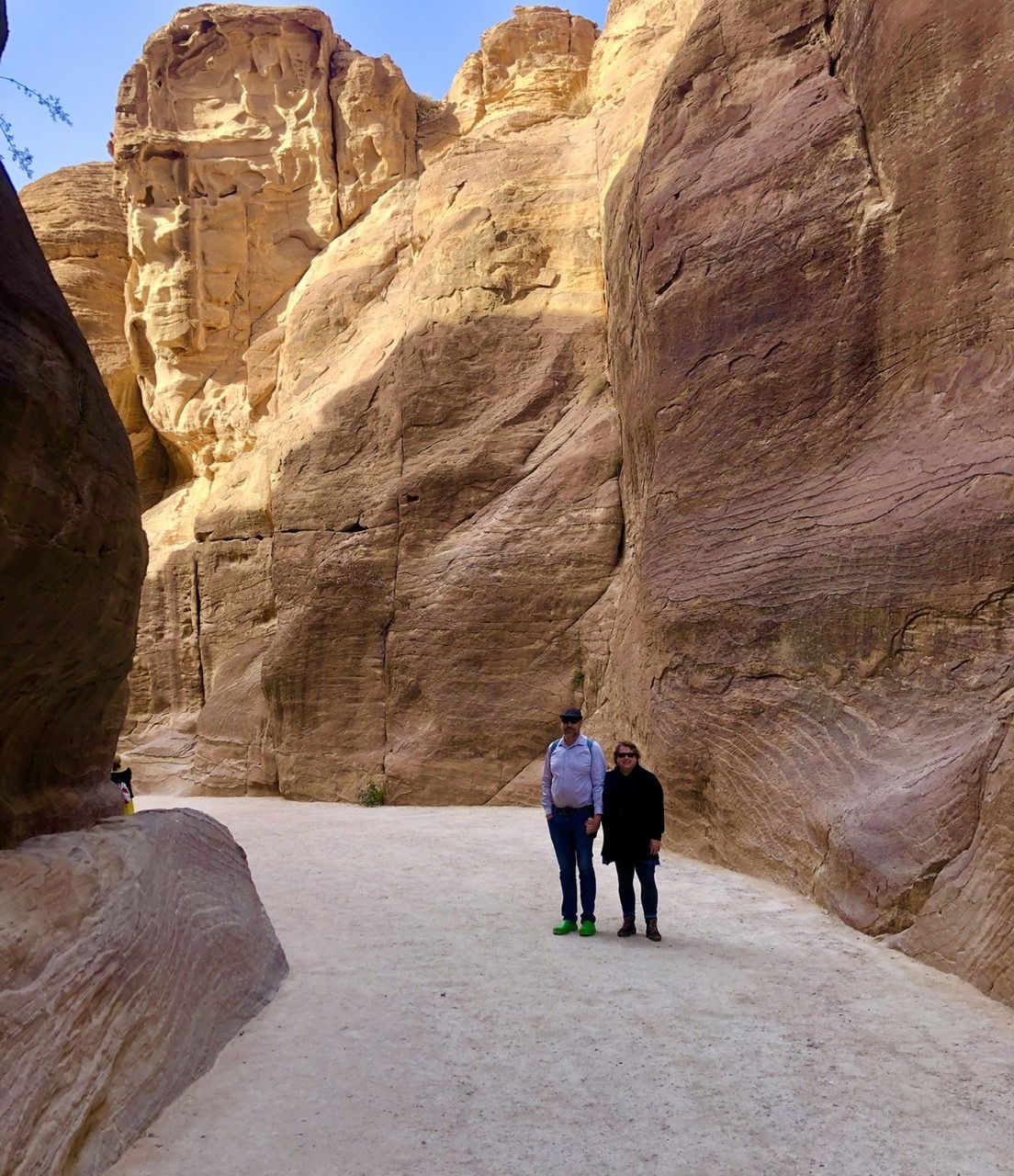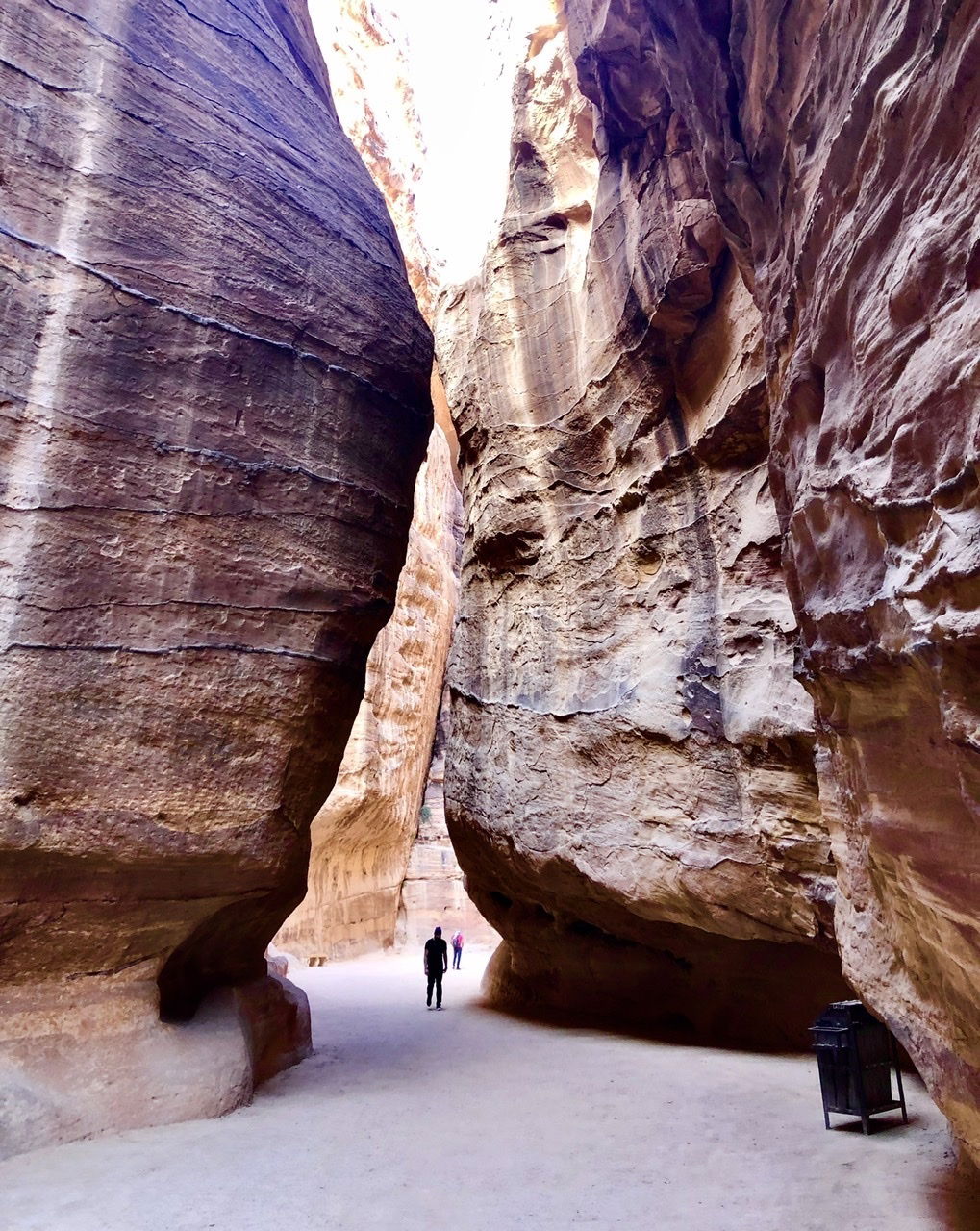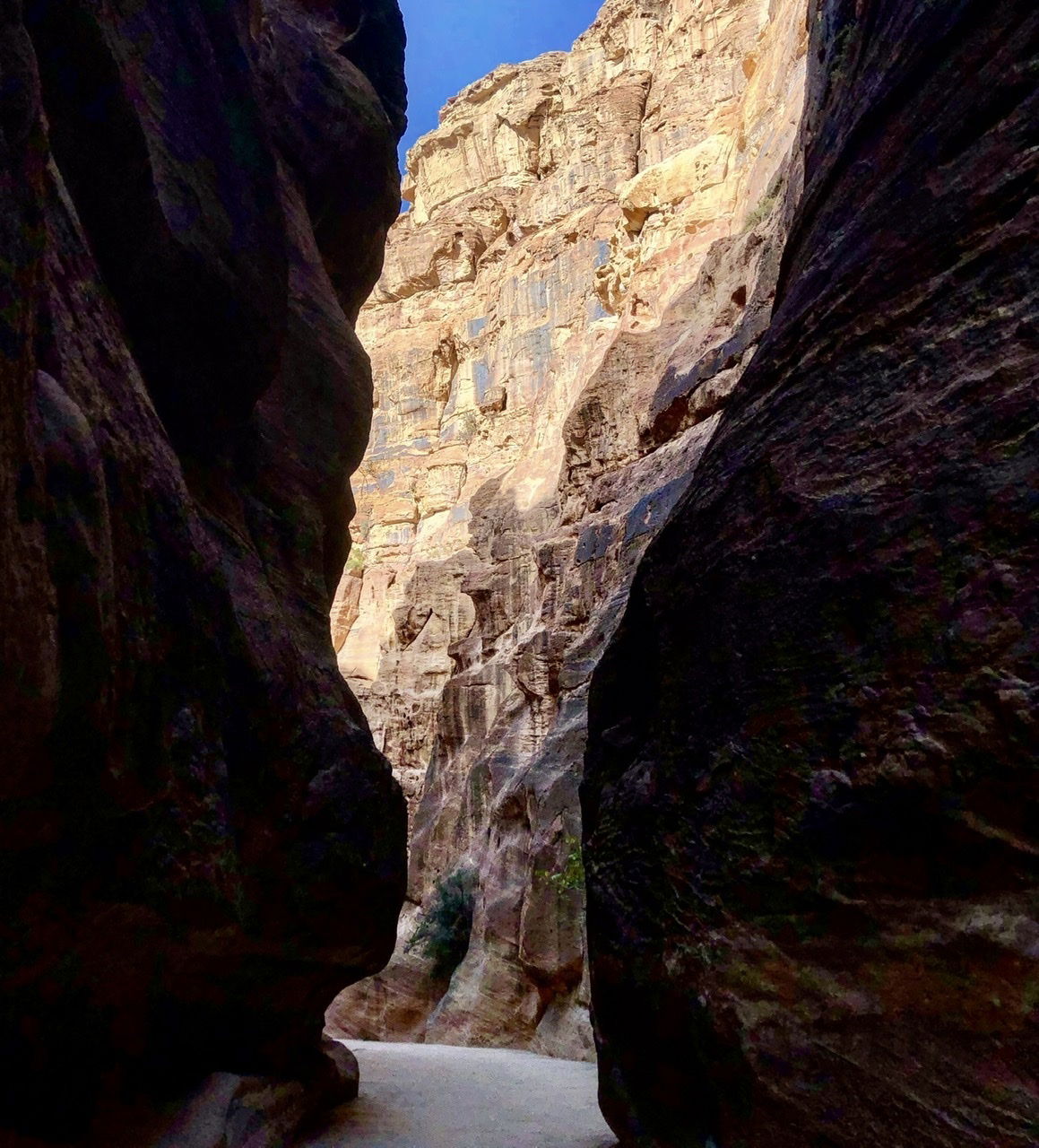 You continue through the steep, rock walled channel and the light starts to play along the stones and warm colors start to appear. Then, it gets very dark and narrow and finally opens up to the Treasury. The iconic, world-famous view of one of the most breathtaking places on earth.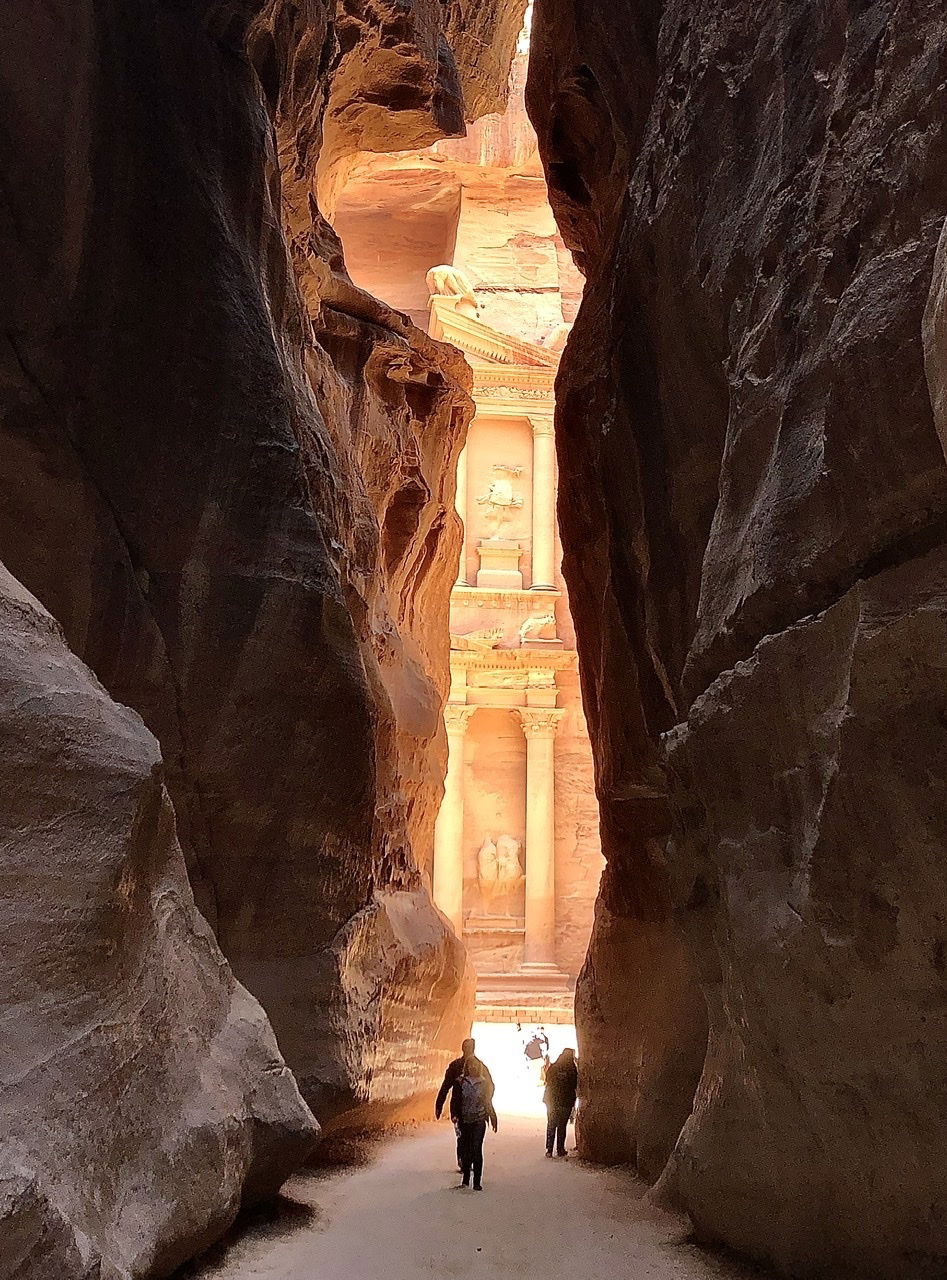 When you get here, you just stop and take deep breaths. Everyone sighs or gasps in awe.
We sat down and drank some water and I kid you not, I was so overwhelmed I only took three pictures. It is really stunning. The surprise is that you are only half way there at the Treasury. There is much more!!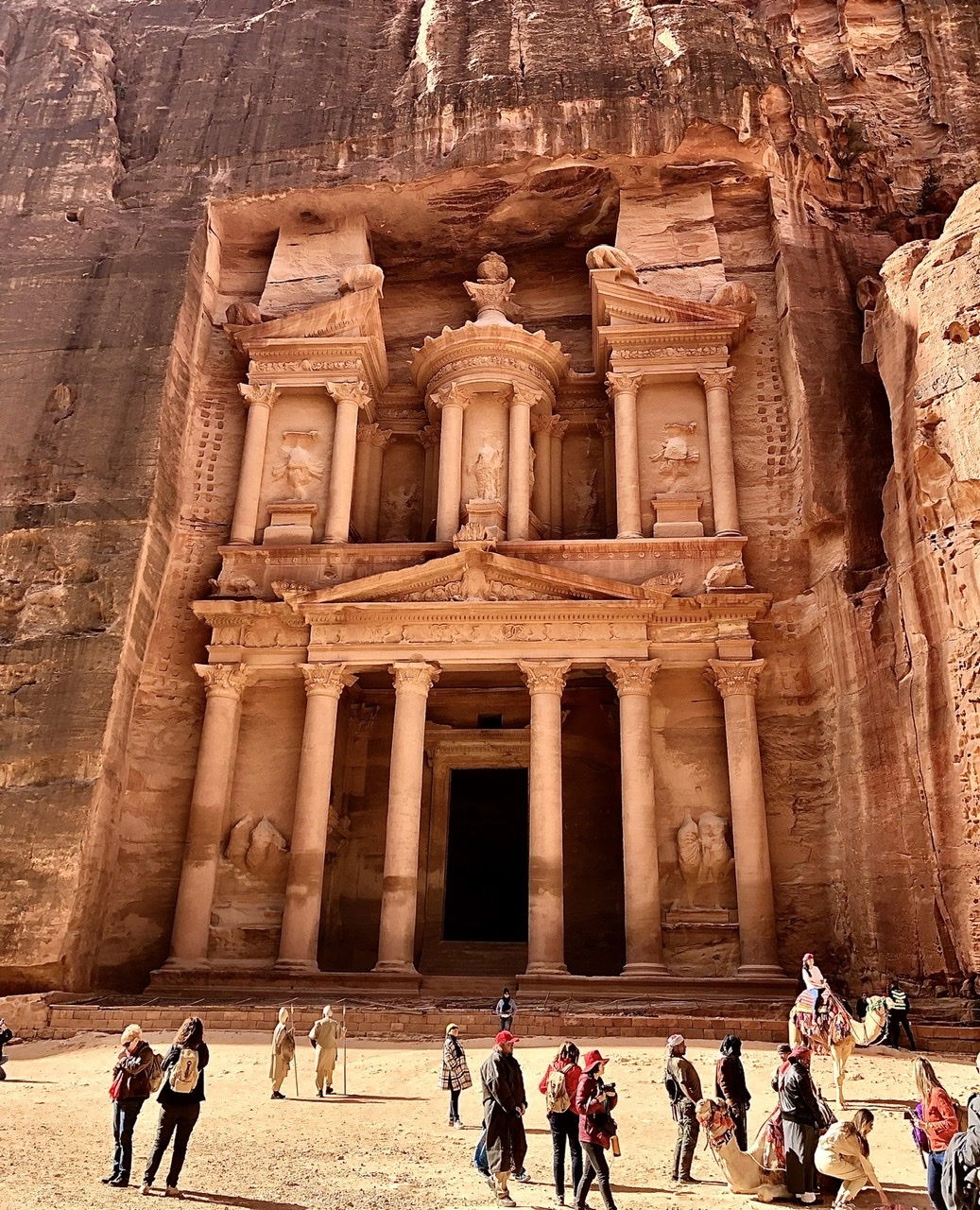 If you are not a walker, you can also take a horse or donkey ride or take one of the carriages. There were camels too, but they are only for posing on, not for transportation.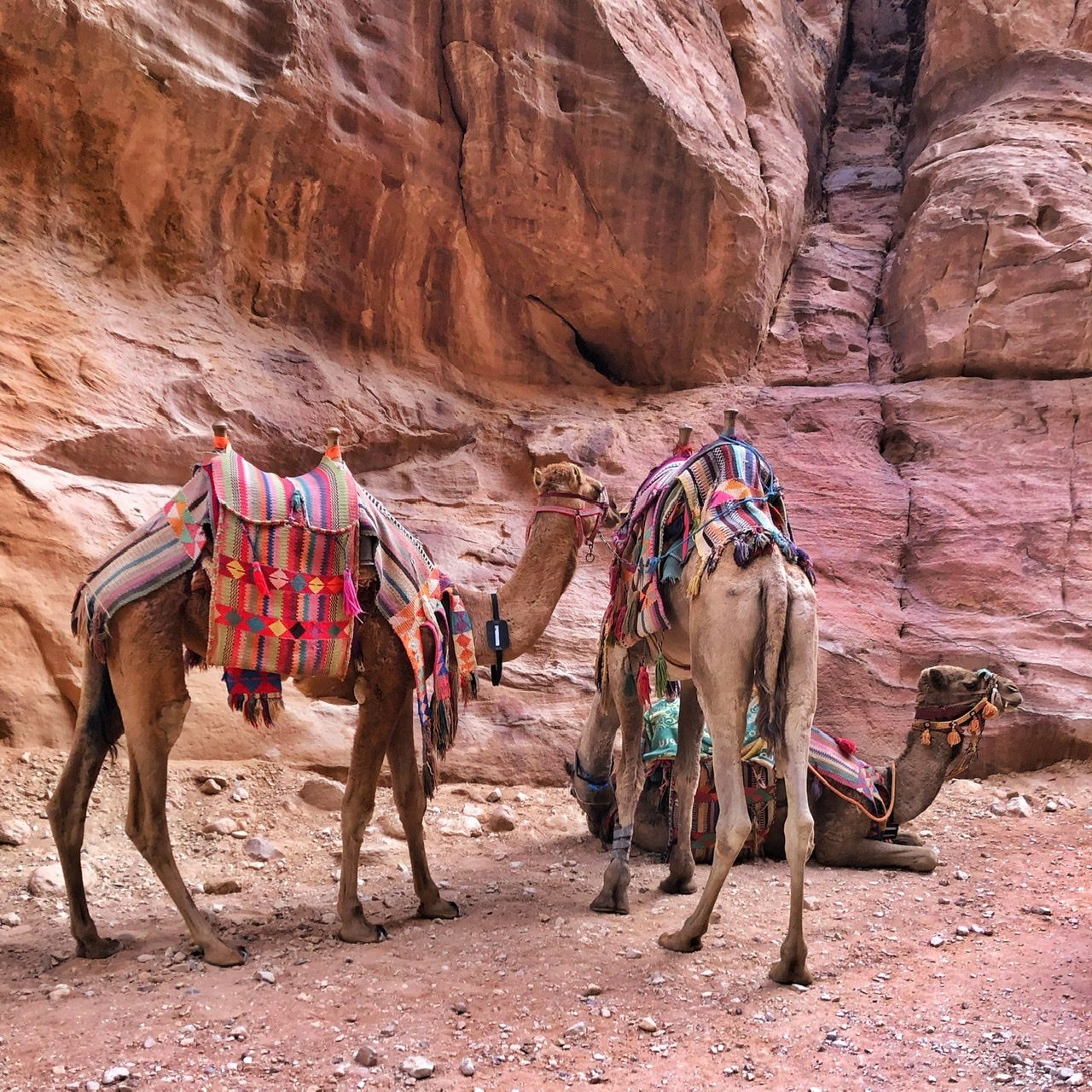 The camels have very colorful blankets and saddles. No one seemed to mind us taking pictures.
One caveat - there are places to go to the bathroom, get a snack or a simple meal and buy souvenirs inside of Petra. But these services are largely provided by Bedouins and locals whose children run around asking you to buy things. It is not pleasant. It is the worst part of the visit to Petra. If they would keep all that on the outside, the experience would be so magical. But they do not. So if you want something more private then do the night visit. Or go really early like we did and prepare to fend people off on your way out.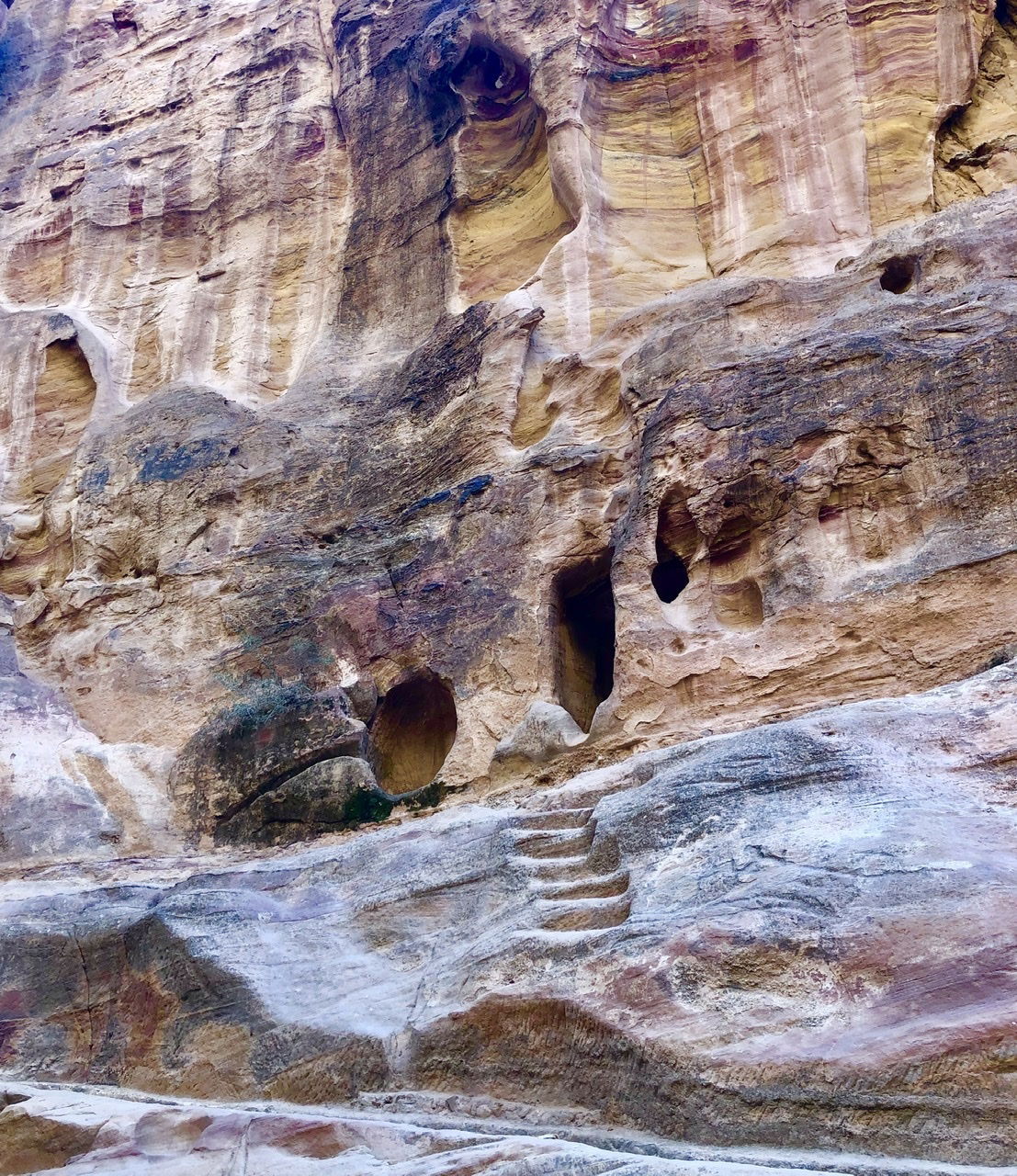 There are fascinating carved stairs and cave-like dwellings carved in the rock all over.
The first day we just went as far as the Treasury. On the second day, Mom and I took a very bumpy carriage ride into the Treasury and then walked the rest of the way, returning by carriage from the Treasury after we had done the second half of the site. It isn't more than 3 kilometers each way but we were pretty tired and Mom had fallen in Jerash. Besides, now I can review the experience. The horses seemed fairly well-cared for. The driver was polite and did not ask for more money than we agreed upon. His manager asked us for more money and we just said no, and walked away. I have read reviews that say things were really difficult and that they were pressured for tips but that was not our experience at all.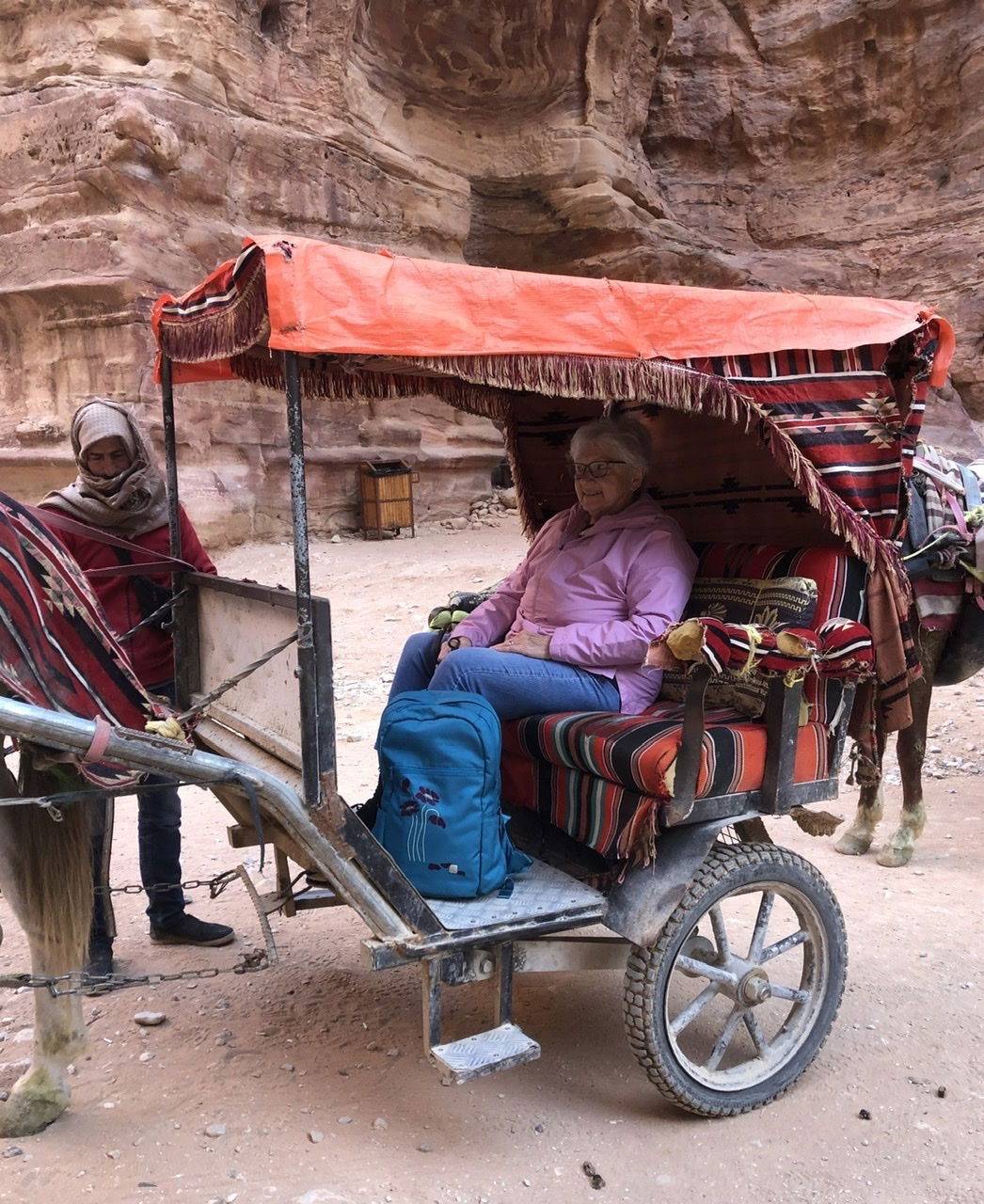 Mom in the chariot
Inside the Petra site, after the famous Treasury, there is a lot to see. There are dozens of fairly complete facades and chambers carved by the Nabataeans who traded and thrived in Petra from 300 B.C. until 106 A.D. Only 15% of Petra has been excavated so there is much more to be rediscovered. (Click for information on Petra's archaeology)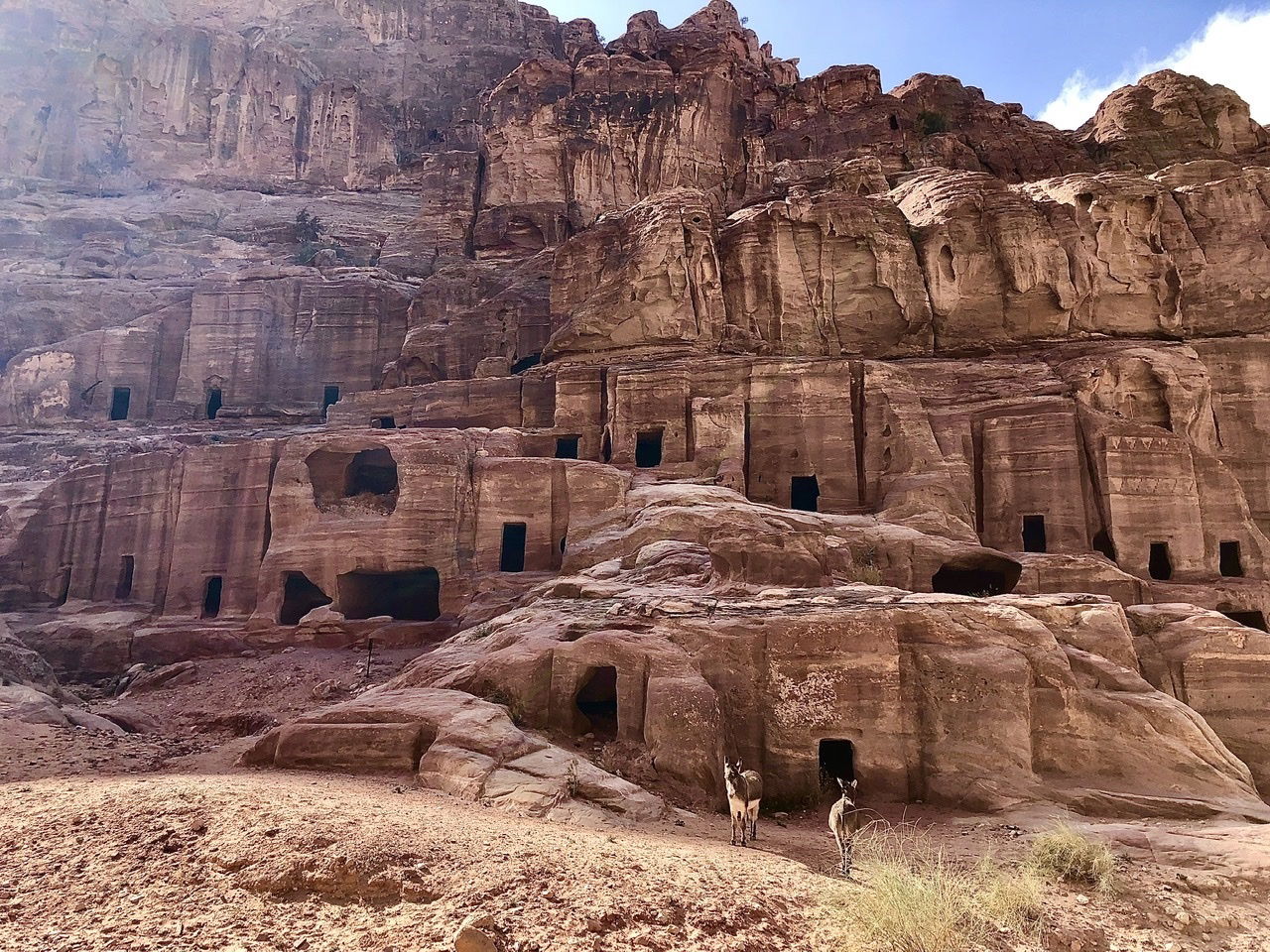 Look at this city! It must have been incredible.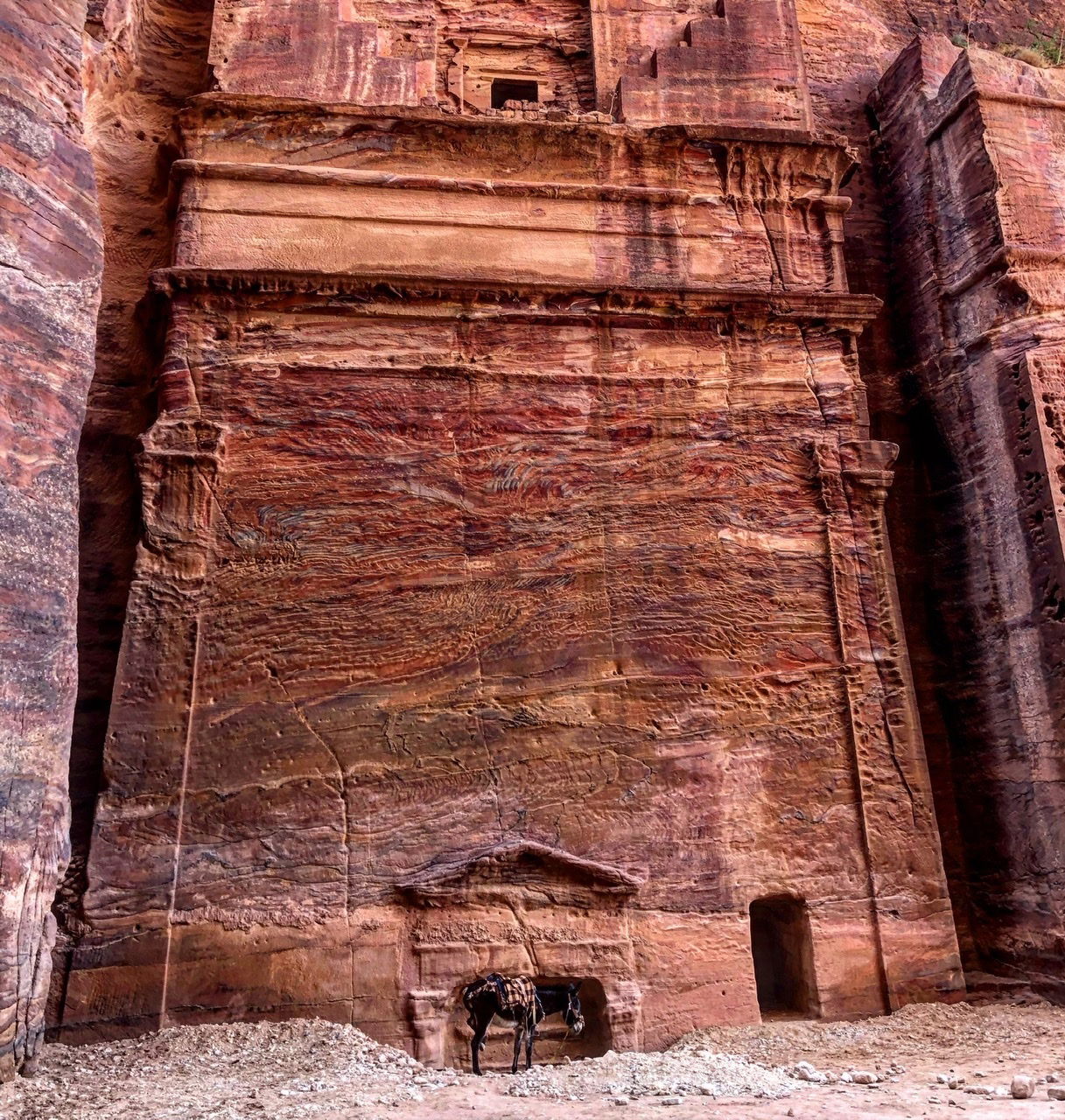 This mule helps you understand the scale.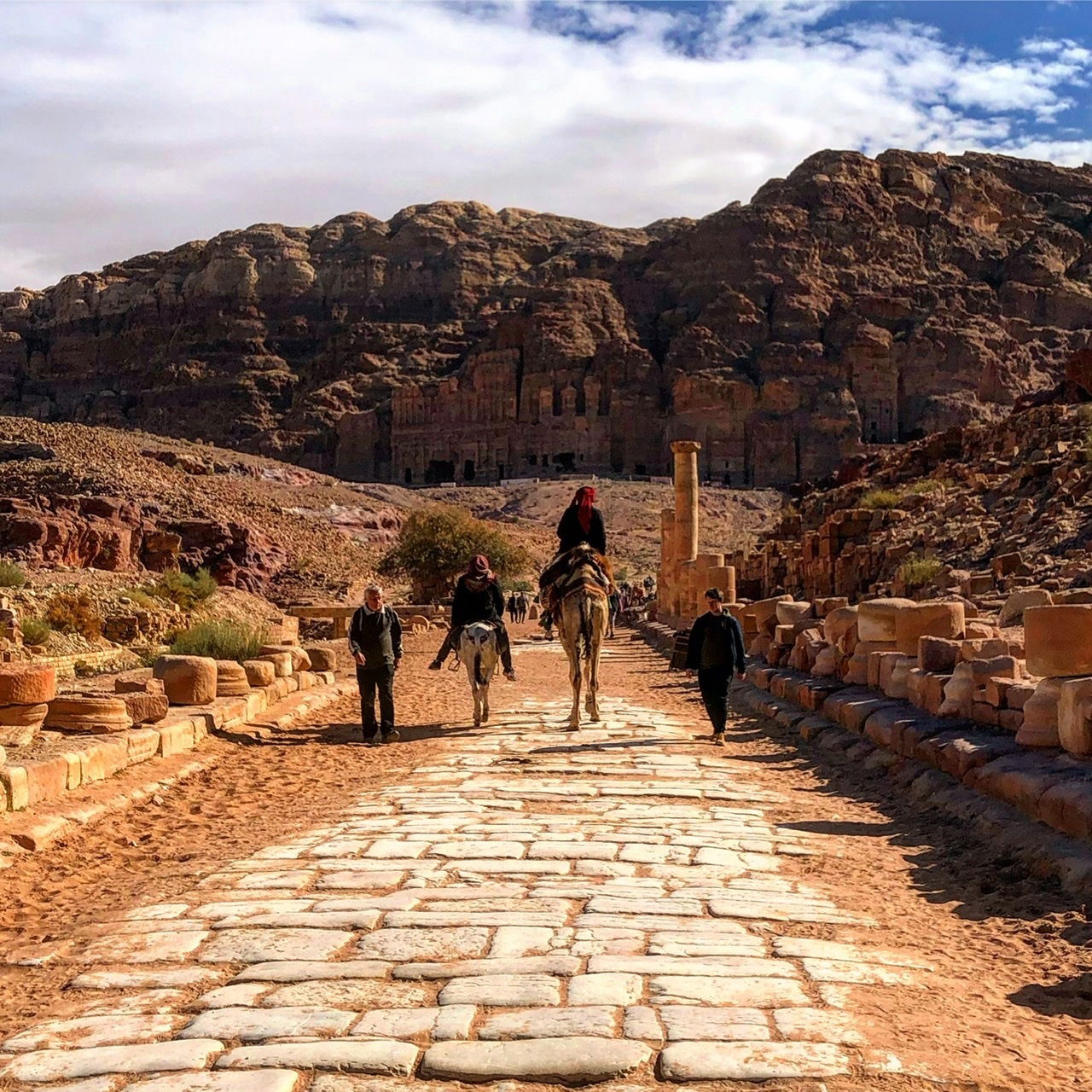 The last part of Petra illustrates the absorption into the Roman Empire in 106 A.D.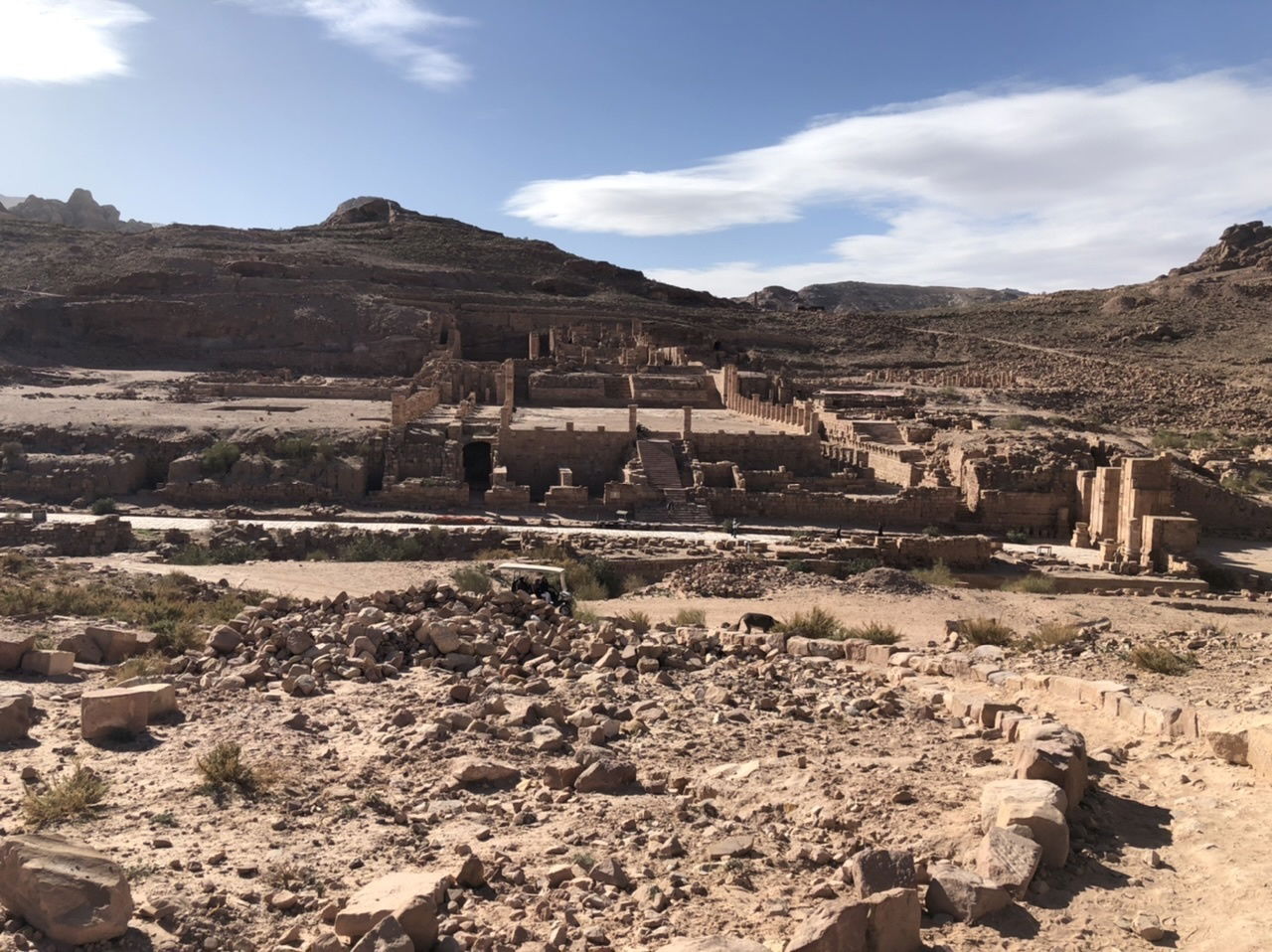 Roman ruins in Petra
You can take a variety of hikes at the Petra site - some of them hours long and up steep ravines. There are other, shorter walks to the Byzantine ruins, among the Roman ruins and deeper into the Nabataean ruins. We met some Bedouins who seemed to still be living there, although probably not full-time. Many people were forced to leave their homes when Petra took off as a tourist site. The UNESCO designation does some good in protecting the site, however. It is hard to say who has benefited the most, and who has suffered as a consequence of Petra's popularity.
Other than our two forays into ancient Petra, we enjoyed some good restaurants in Wadi Musa. Our favorite thing to eat was hummus and Mutabl. Mutabl is smoked eggplant with hummus and tahini and was served with oil and garnished with pomegranate seeds.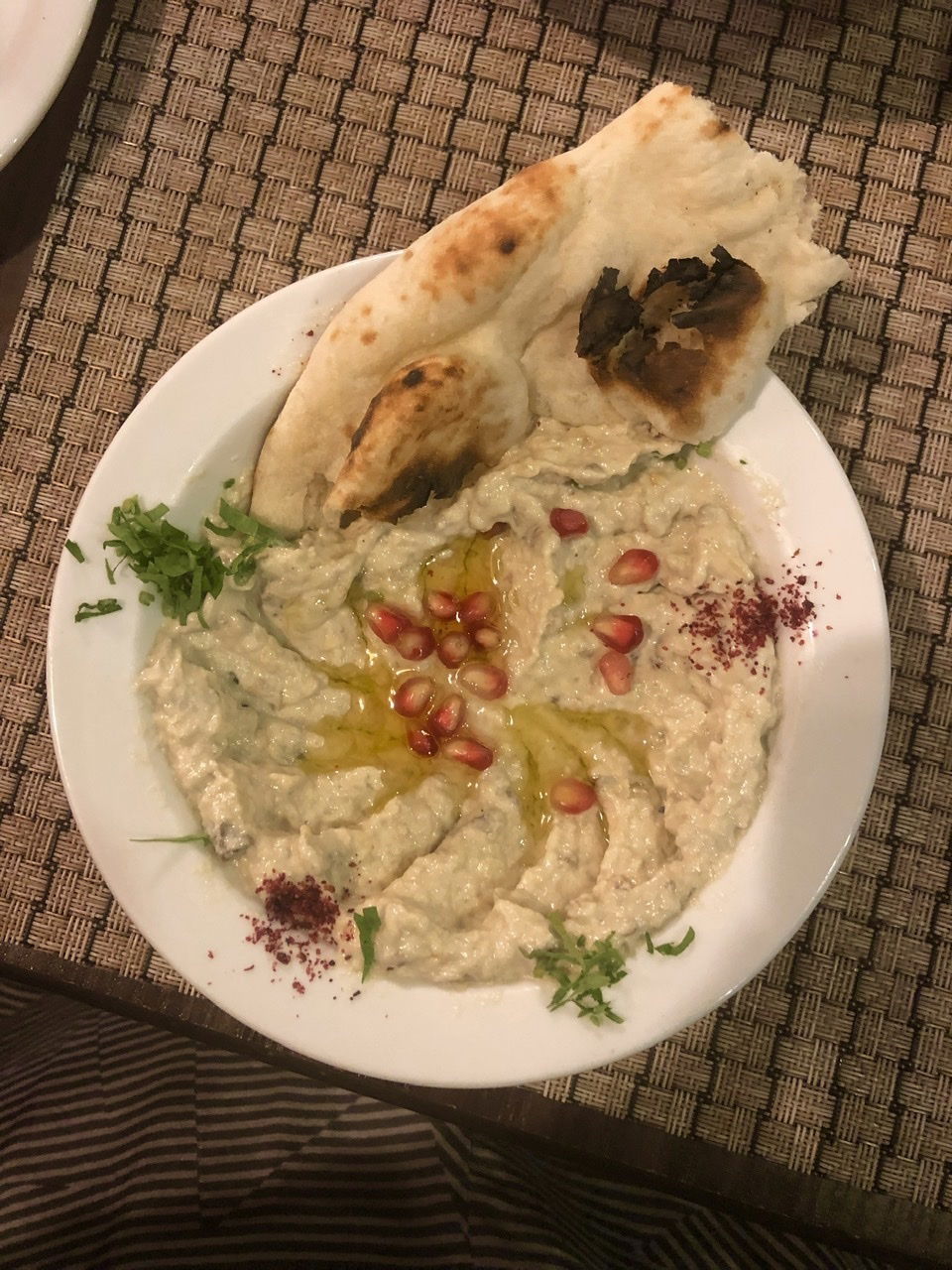 More, please.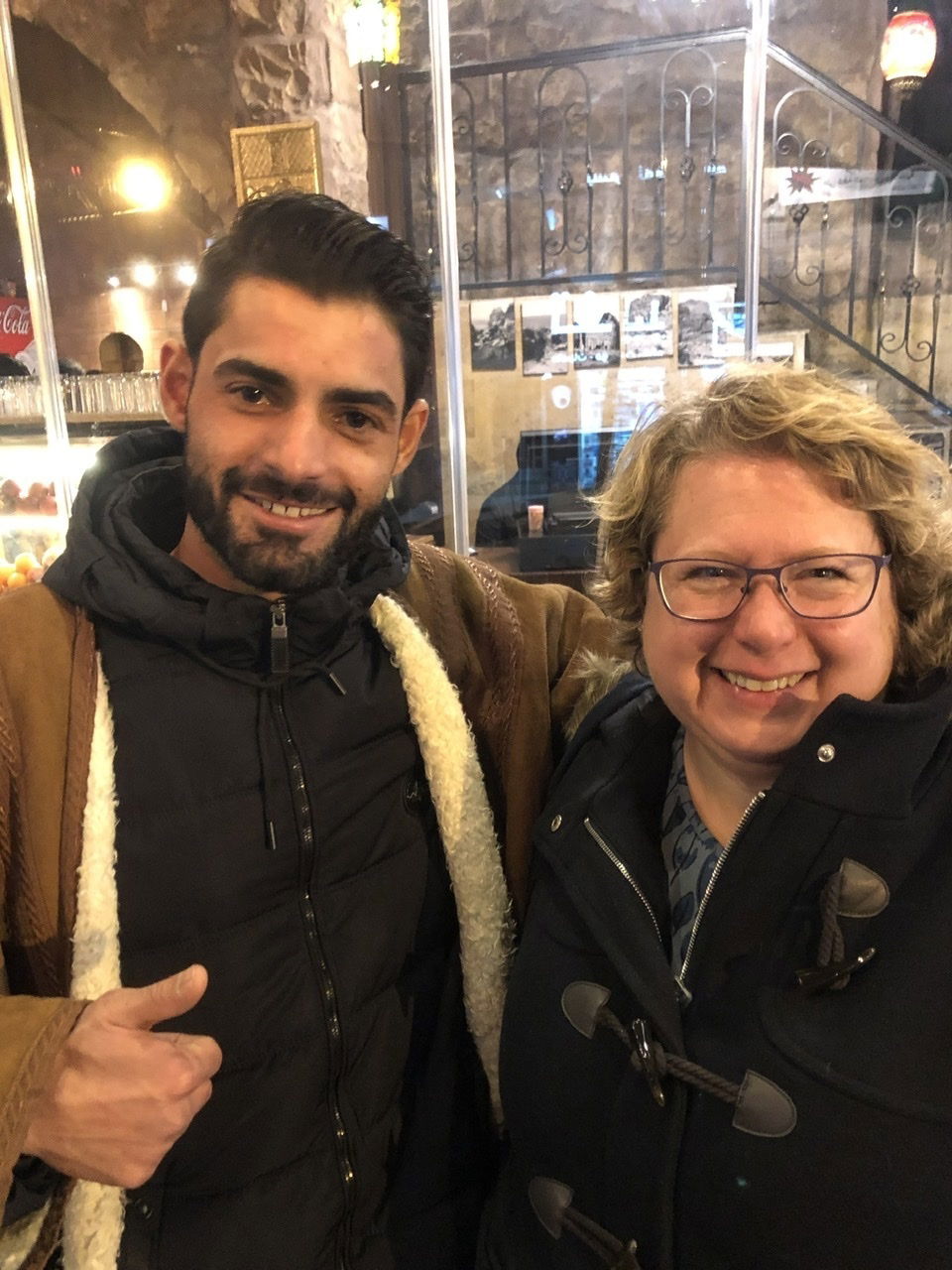 The guy who lures you into his restaurant is usually up for a photo opp.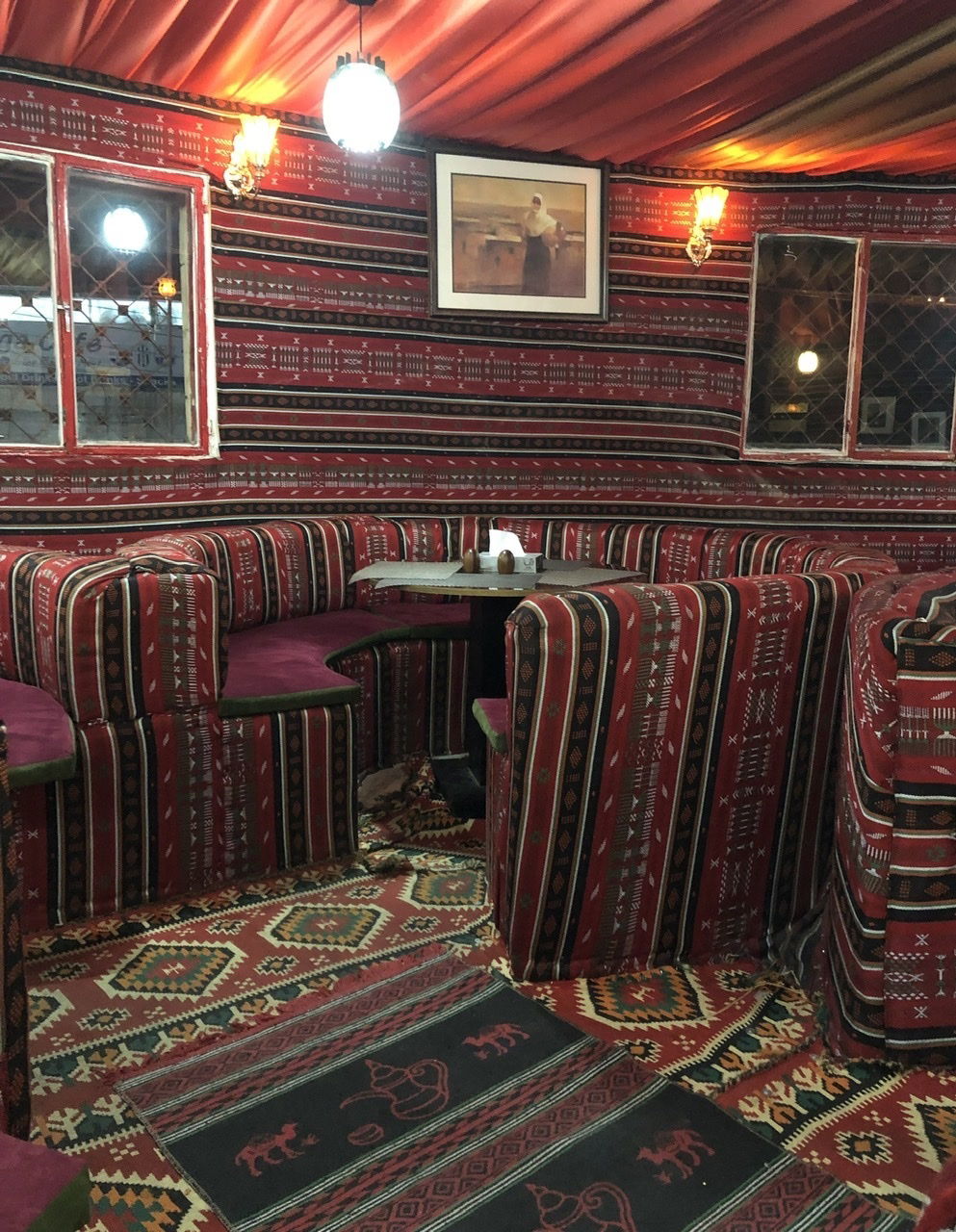 Our favorite place to eat in Wadi Musa was Feu la Bedouin
Other than Feu la Bedouin, we also ate at Al Wadi and we stayed at Town Season Hotel. We parked on the street and were treated like cherished guests. Breakfast was ample and varied and the rooms were very comfortable. It is a family-owned hotel - they have three hotels and all are run by three generations of the same family. The front desk staff spoke excellent English.
Driving to Aqaba
After we left Petra, we headed for Aqaba. If you go past the town exit you drive to Saudi Arabia. Let me interject here, that as Americans, we have been bombarded for years with images and narratives that vilify the Arab world. Our current president is on his second Muslim ban. 9/11, various Hollywood blockbusters and vitriolic YouTubers have done little to recommend the Middle East to American visitors. So, as an open-minded and well-traveled person, who briefly lived in Muslim China during the Bush years, I was harboring a low-level but constant and nagging fear of being kidnapped a la Babel starring Brad Pitt and Kate Blanchett or blown up. I'm just going to go ahead and admit that. But we did find the exit and our hotel in Aqaba. We stayed at Laverda Hotel - highly recommened. The city itself was not very impressive at first glance.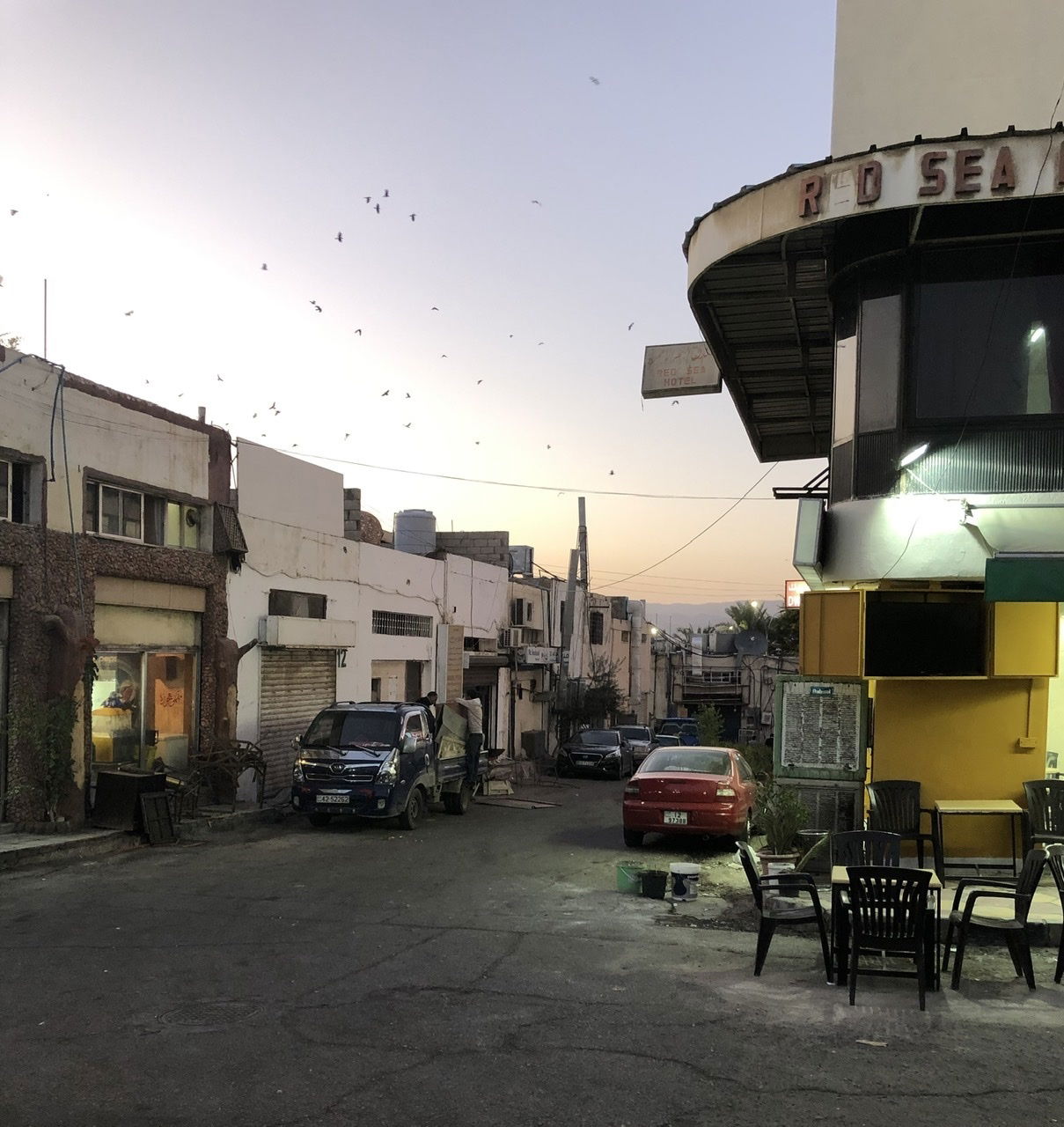 Most of the city looks like this.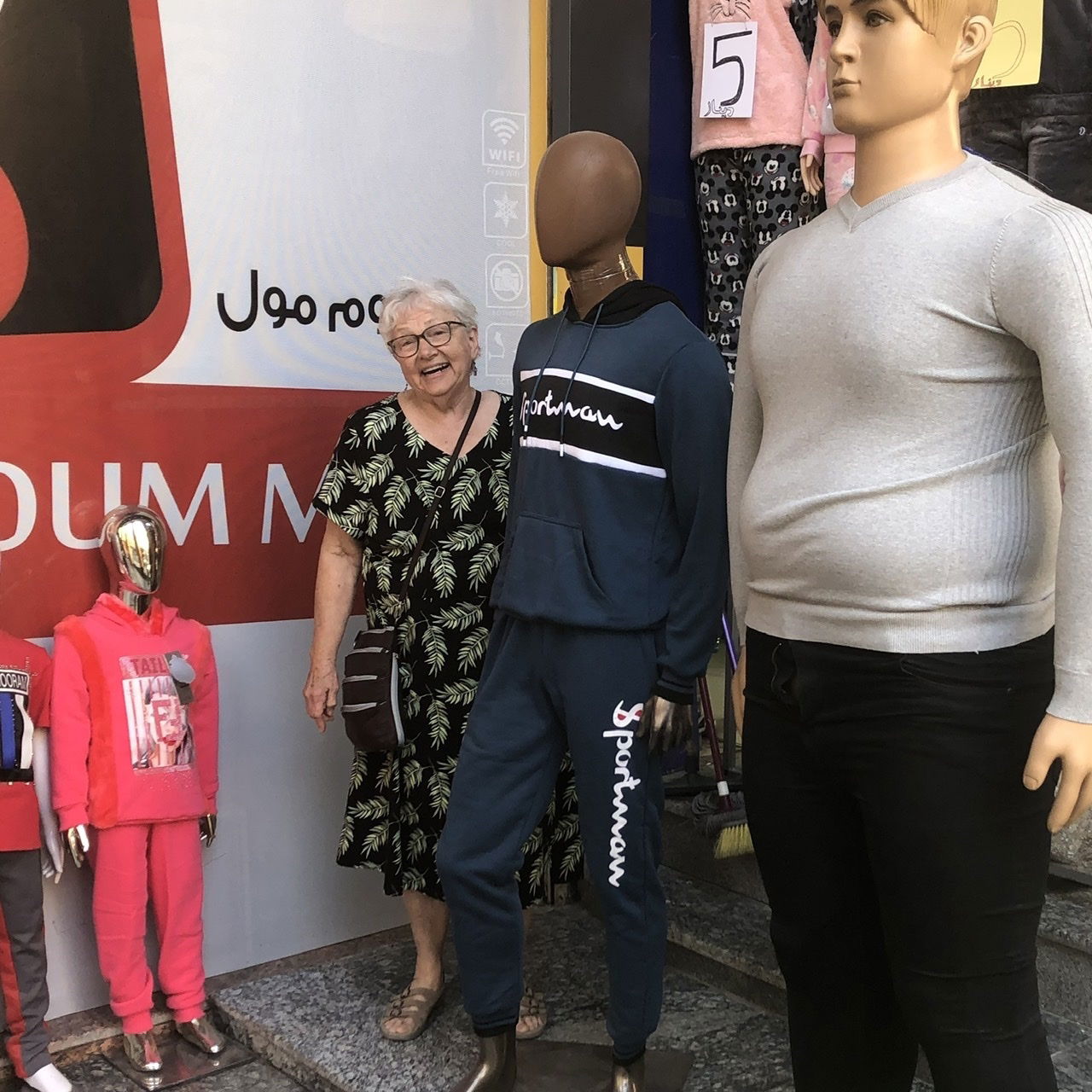 The mannequins were puzzling. My mom is 5'4"
There isn't that much to do in Aqaba. There is a beach - it is not particularly inviting. There are some small and mostly undeveloped historic sites and there is a huge market area that did not have very much to attract us. But one place that we truly enjoyed visiting was this sweet little cooperative near the Ayla Circle.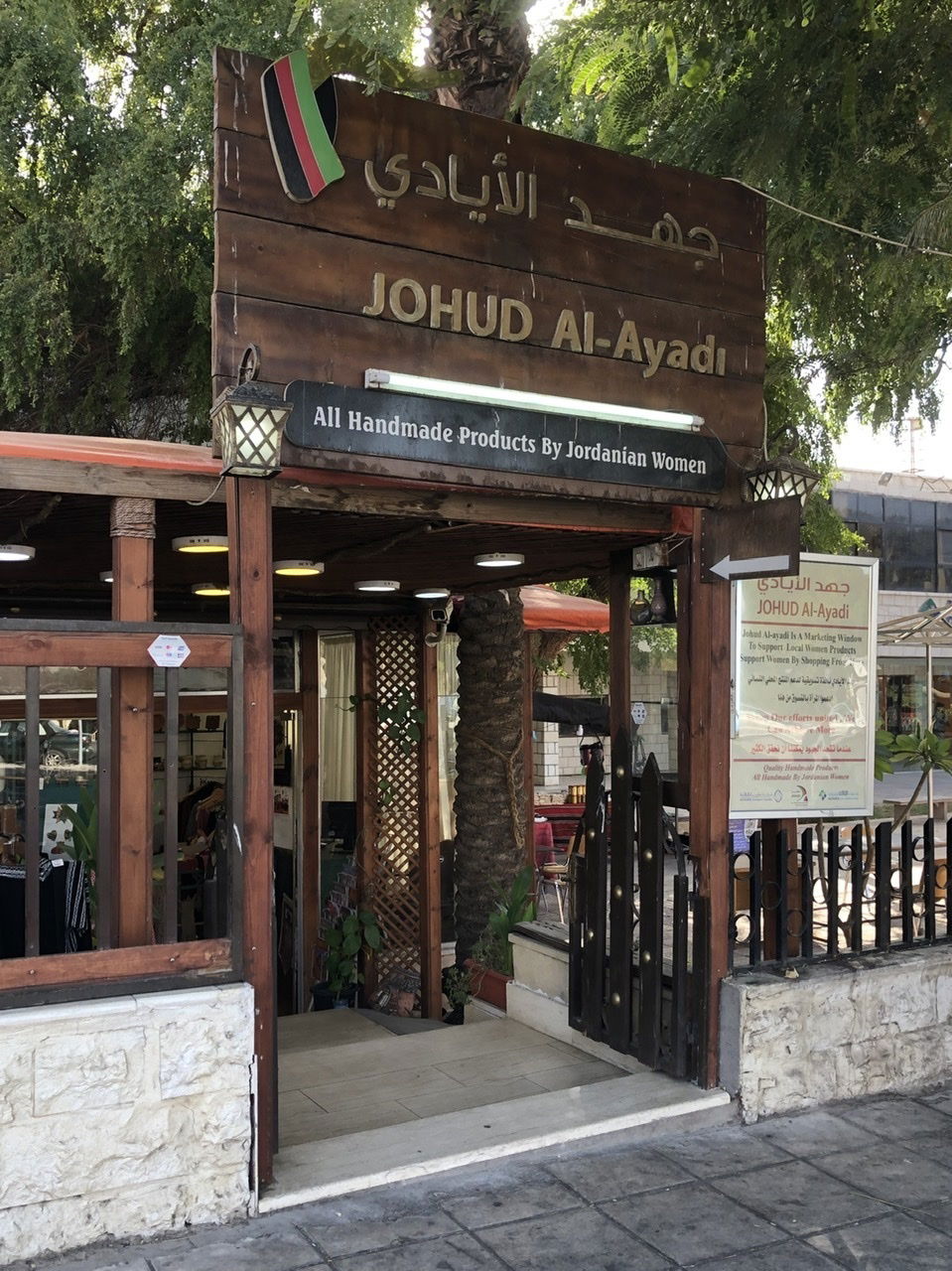 They had soaps, baskets, cutting boards, jewelry and flatbreads made to order with tea. We all ate lunch for under $5.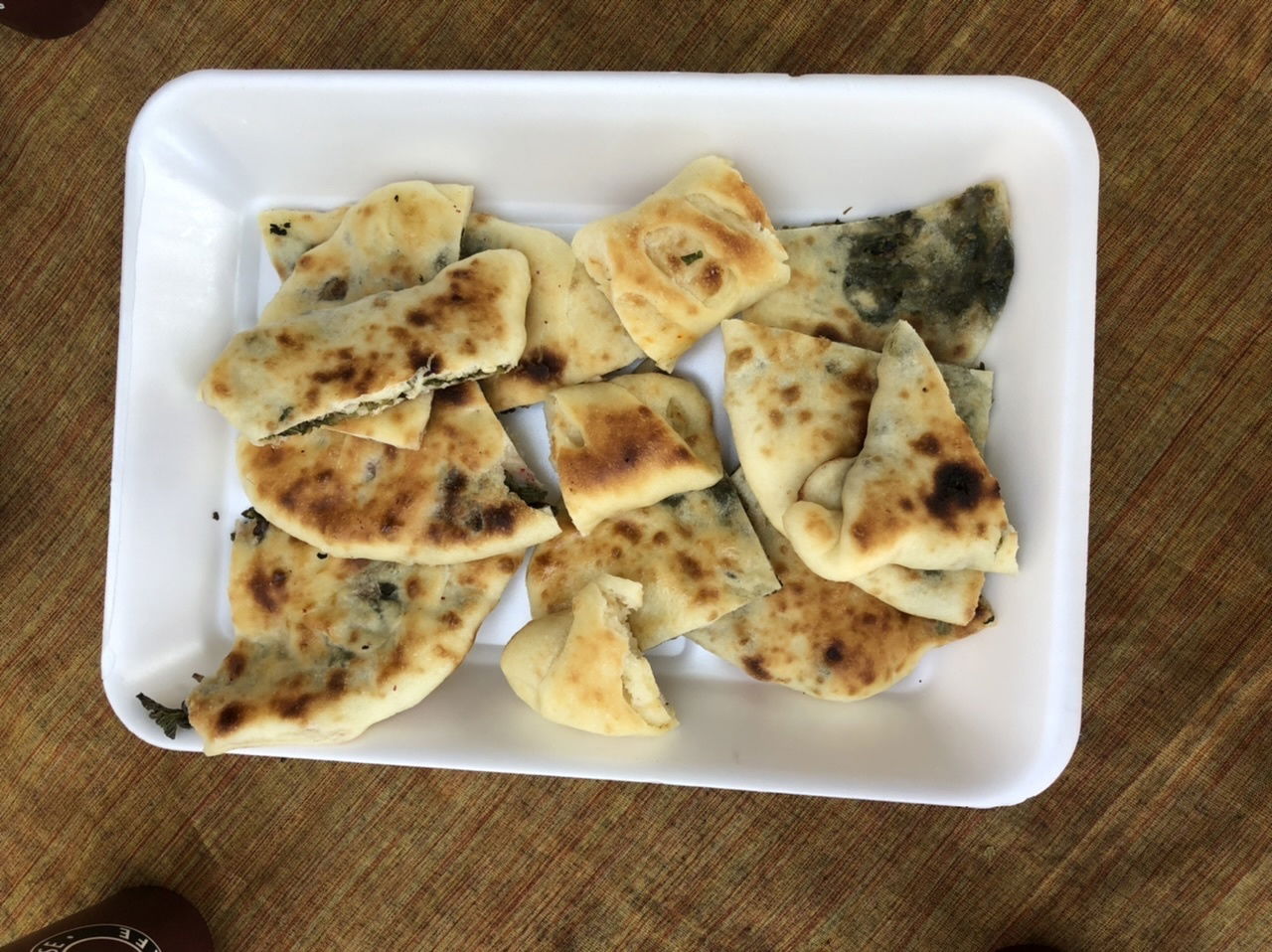 Lunch!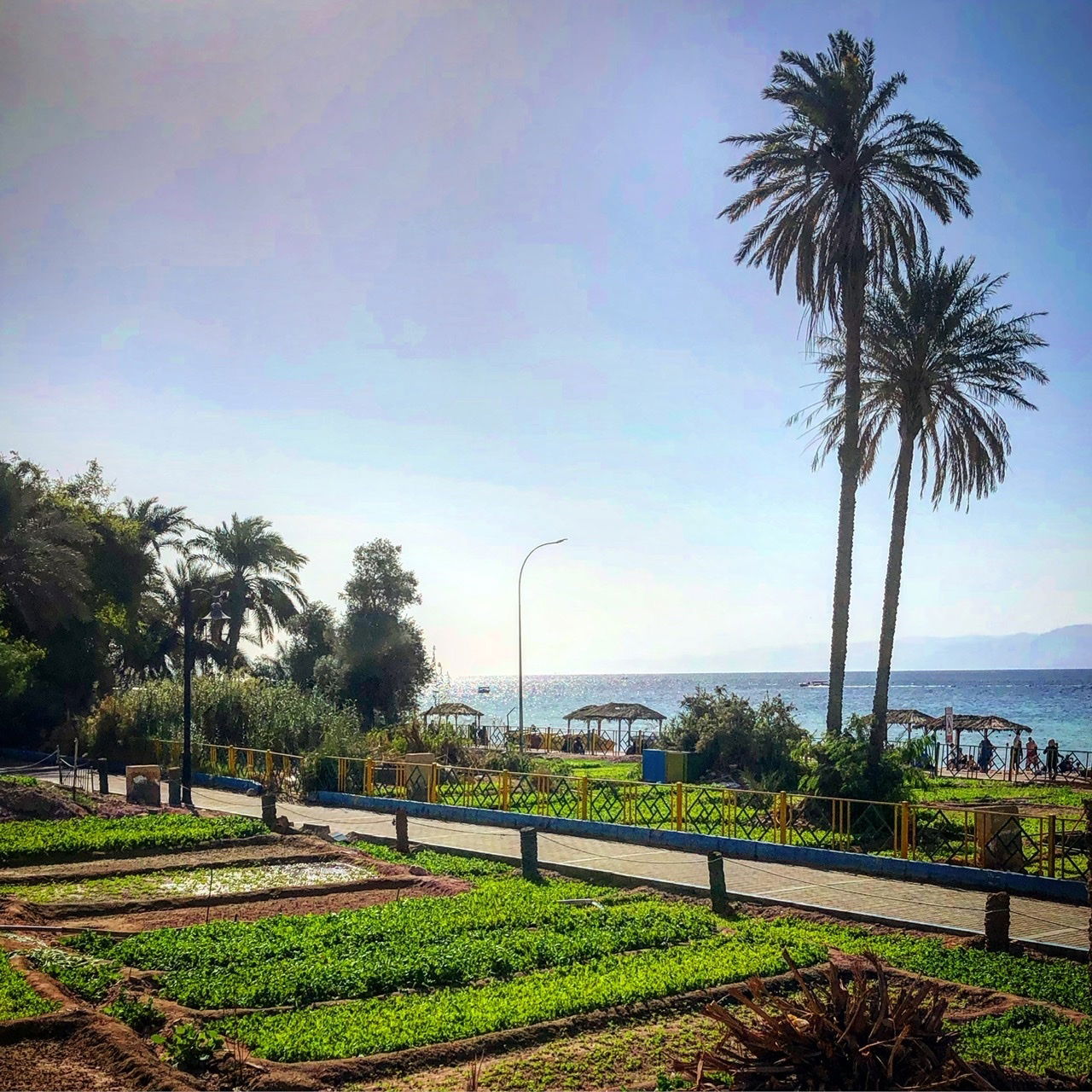 This is the best picture I could get of the beach walk. There are lots of vegetable gardens.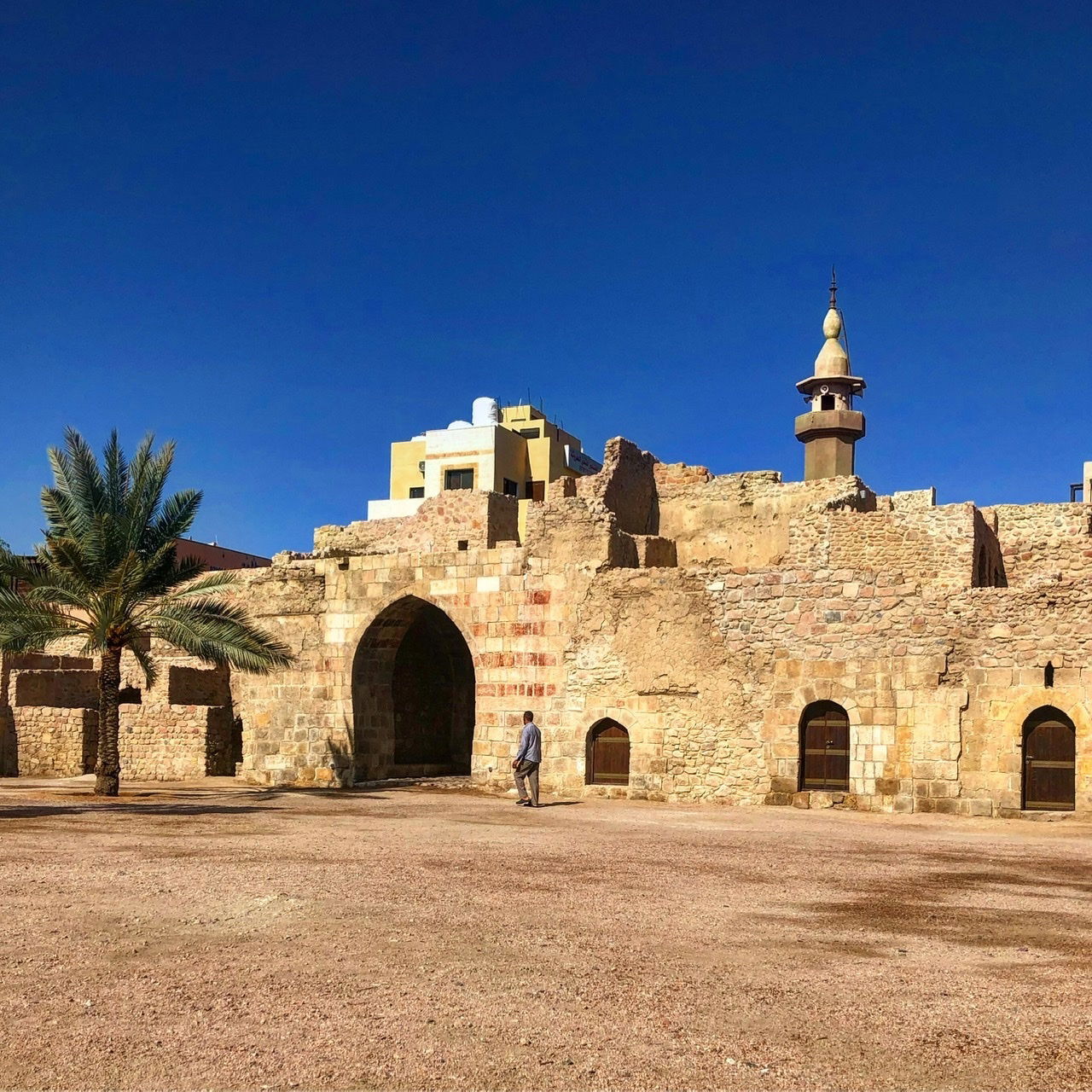 The fortress in Aqaba is free to enter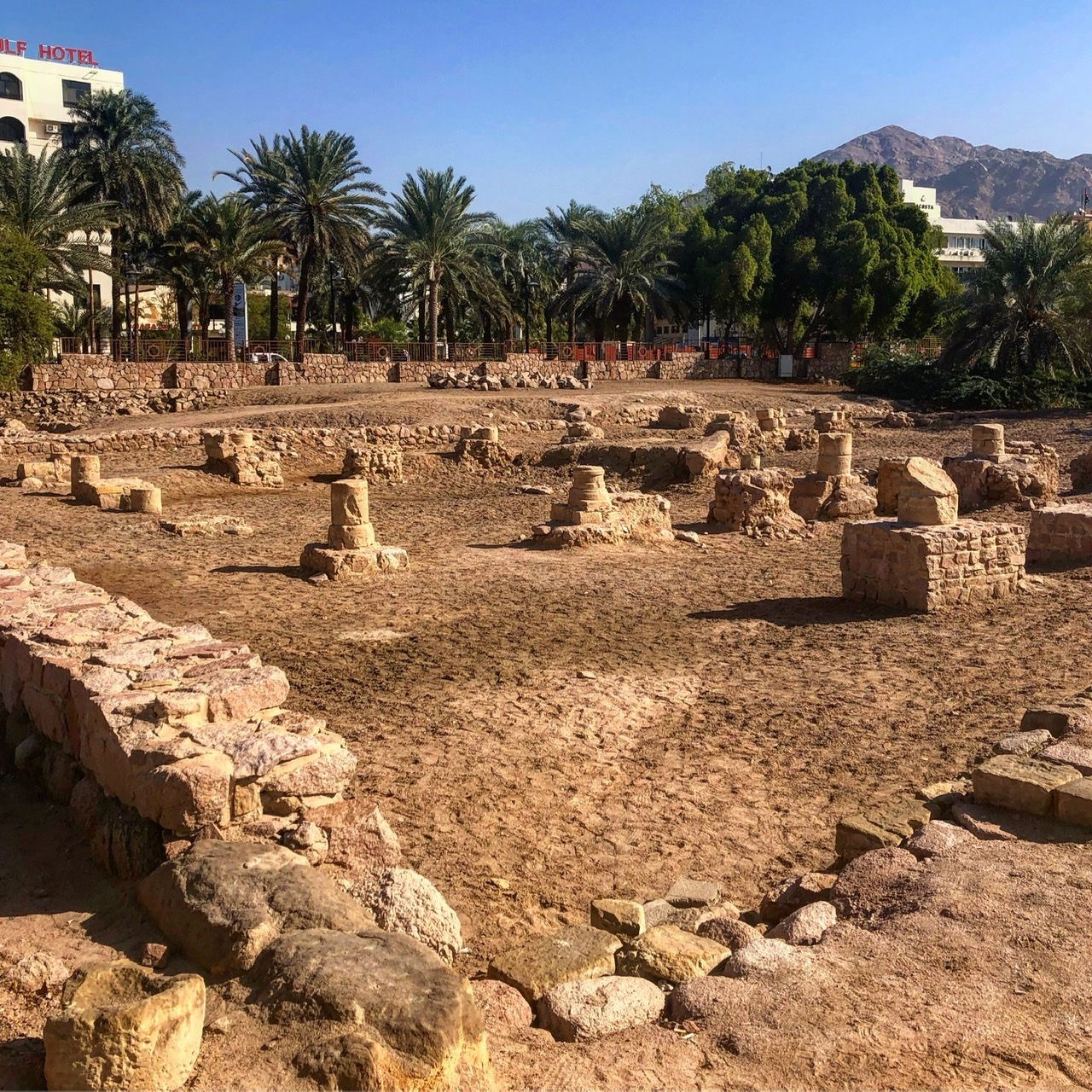 The Ayla historic site was free as well and there were some interpretive signs but was not very impressive.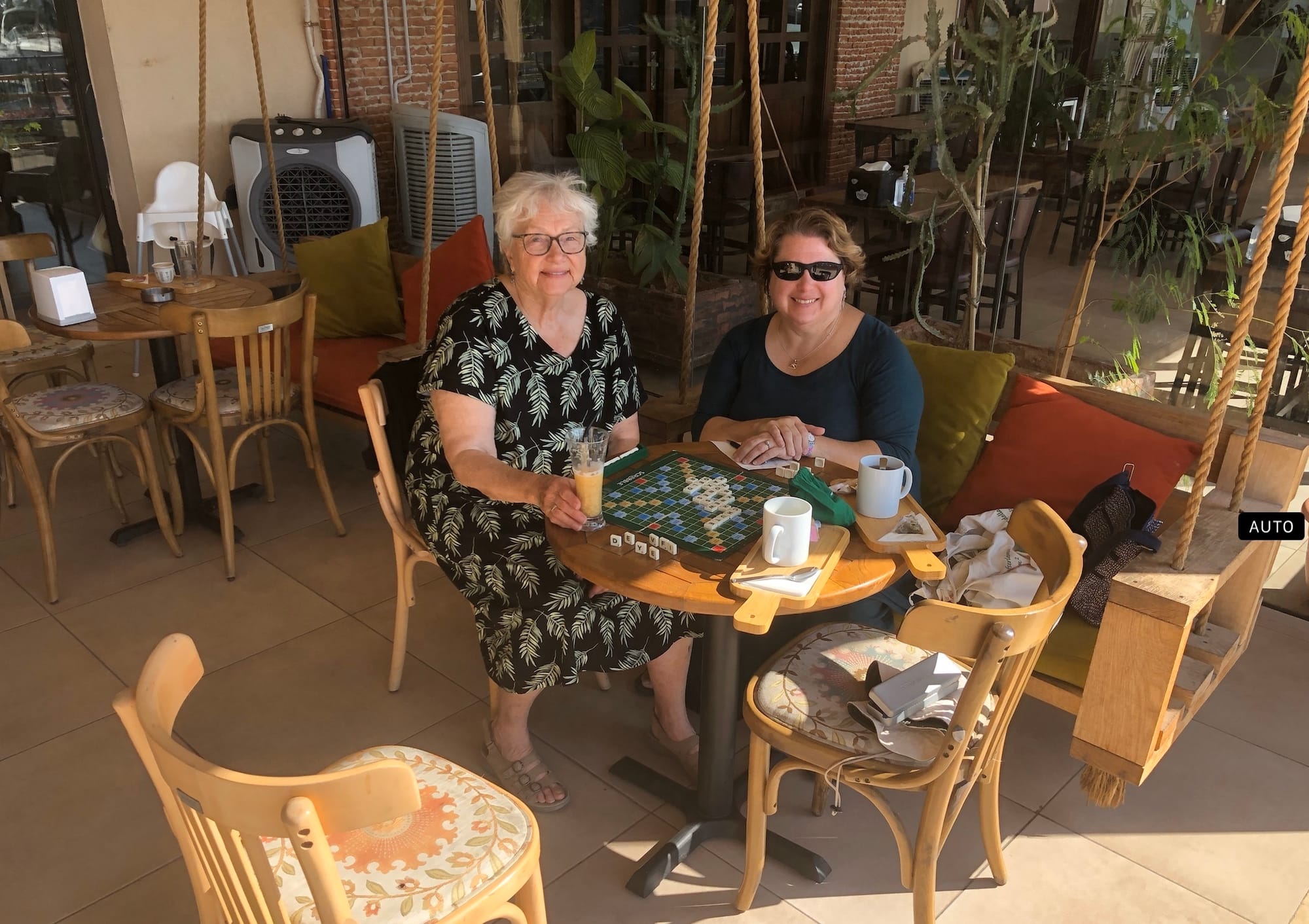 We enjoyed a cafe at the Royal Yacht Club that had swings for seats and a good table for a game of Scrabble.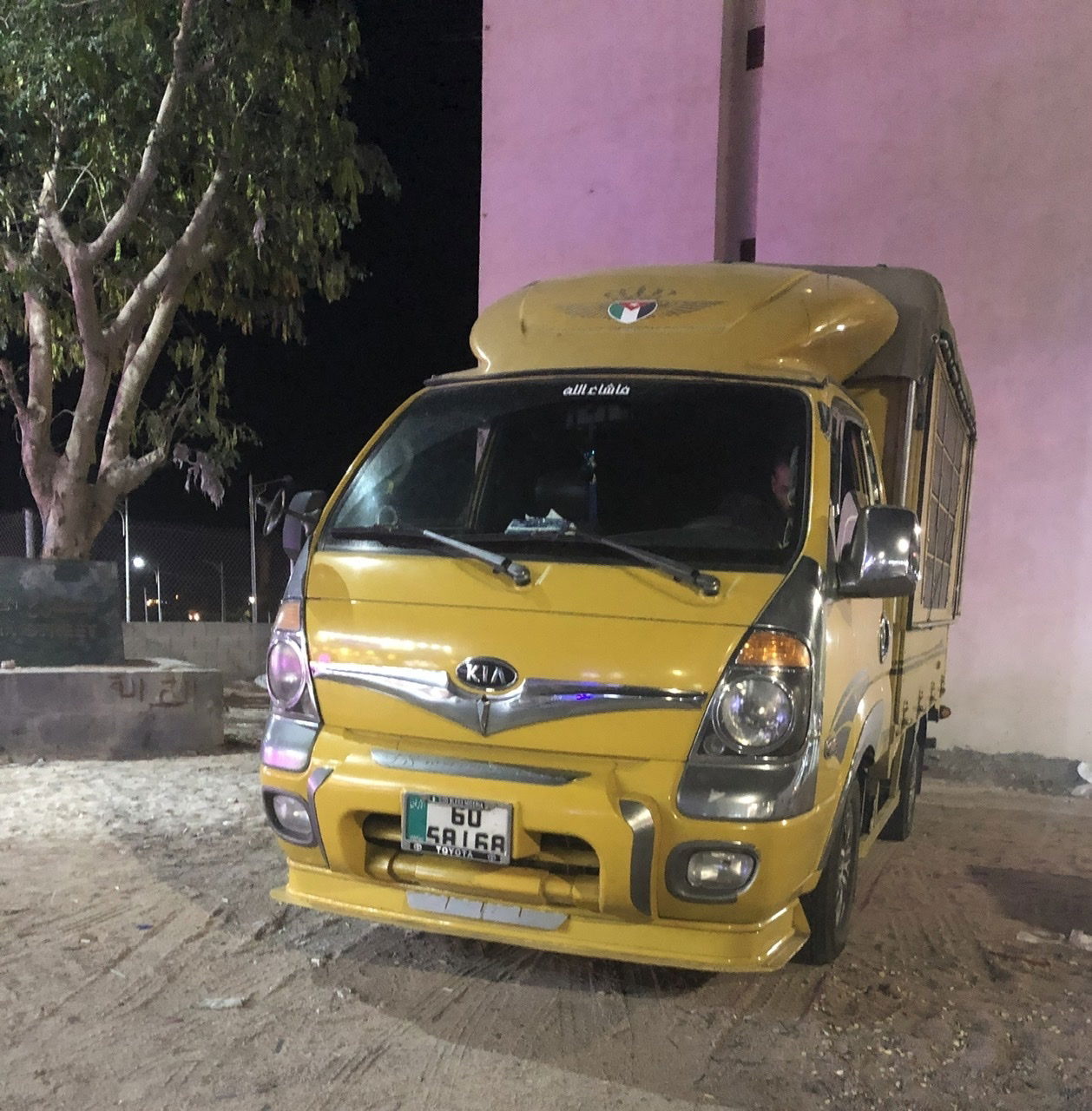 The blinged-out trucks were one of our favorite things to see in Aqaba, an industrial center.
Driving up the Dead Sea Highway
We left Aqaba and made the long scenic drive to Dead Sea Jordan. Along the way, we stopped at Lot's Cave. This was the most typical Jordanian experience ever. There is an interpretive center - it is unfinished but looks promising. The people working there offered a ride to the top of the hill in a very old van driven by a grumpy guy. Then we had to scramble up a very steep and unsafe rocky path to see the cave and accompanying church. All of this was so normal by this time, we did not complain or notice except to say, yep, that's Jordan. Lots of promise and little follow through. But plenty of patience and light-hearted appeals for money.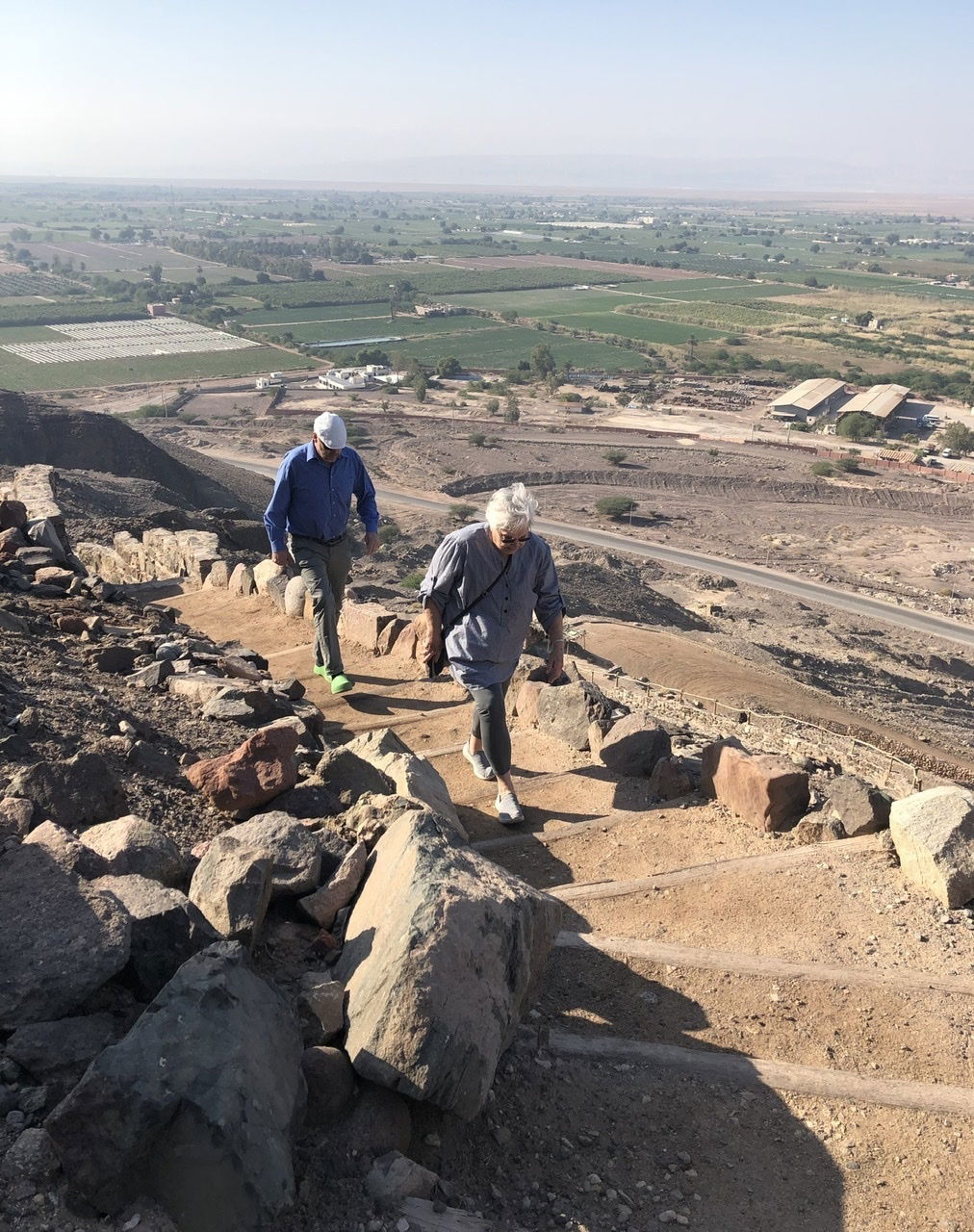 At the top, you still have to hike up to the top
Lot's Cave is near the city of Salt - makes sense, right? This is where Lot's wife turned around and was turned into a pillar of salt when Lot and his family fled Sodom and Gomorrah. If there was ever a tale in the Bible that has been misused and over-interpreted it is the story of Lot. The place has had a church on it since at least the fourth century and based on local lore this is where it happened. You can climb over the low stone wall and walk around on the precious remaining mosaic (we didn't) and sneak into the actual cave (we did) because no one is monitoring the site. We found out later that local kids steal stuff there all the time. Oh Jordan.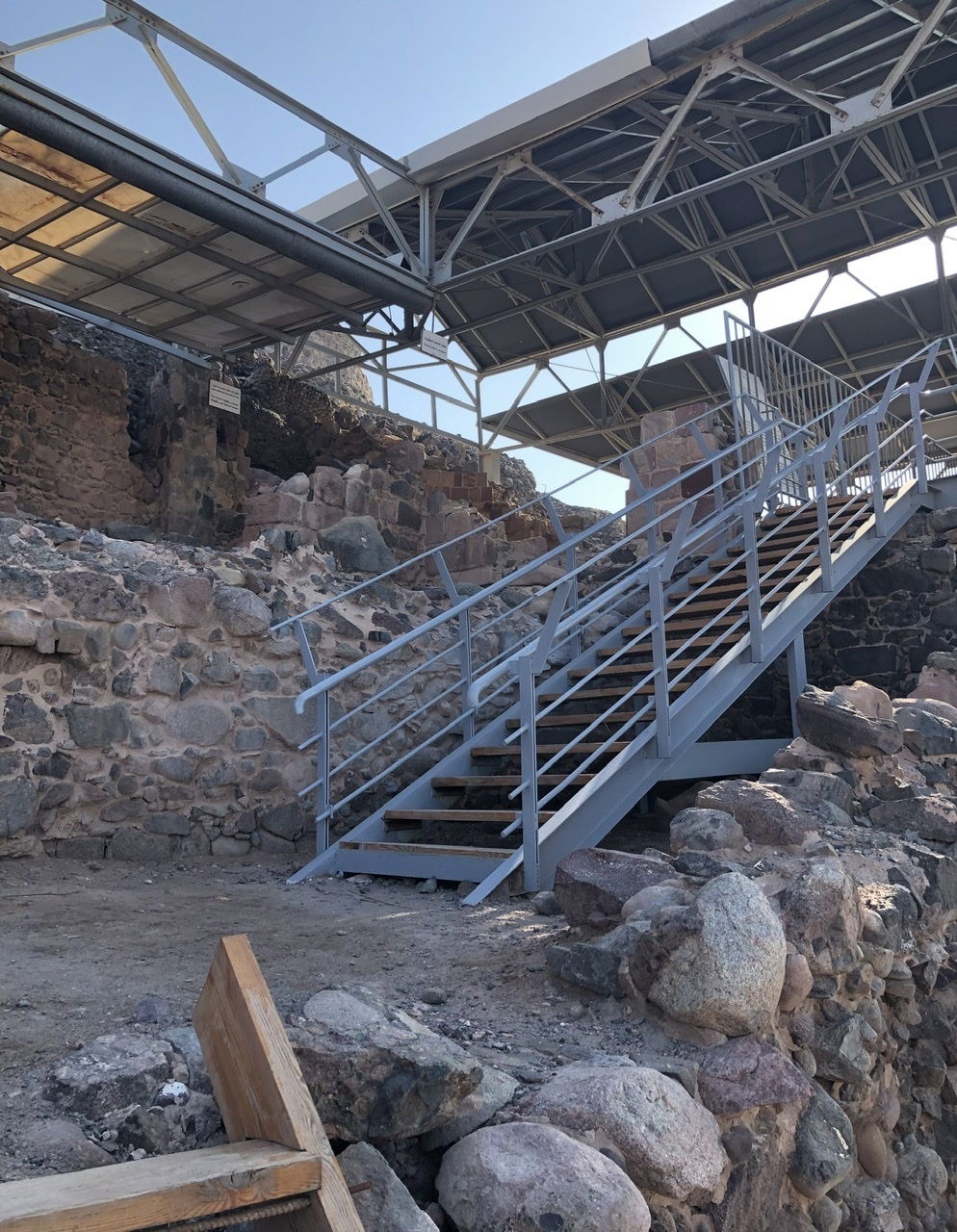 Extensive scaffolding protecting the mosaics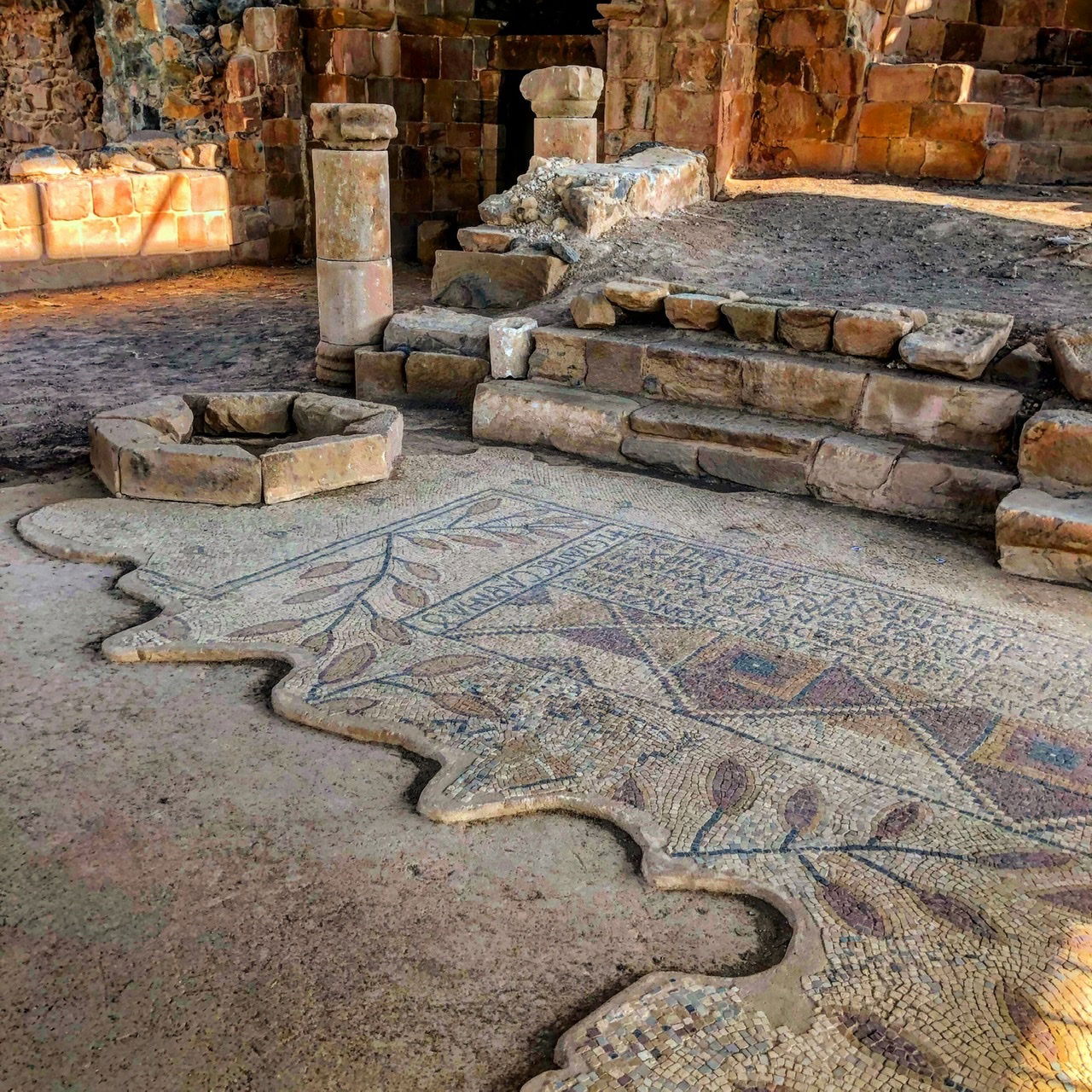 The mosaics
The cave!
Between Lot's Cave and the Dead Sea strip, there are some interesting Bedouin settlements and beautiful views. It was the best driving we did in Jordan with a very good road and services.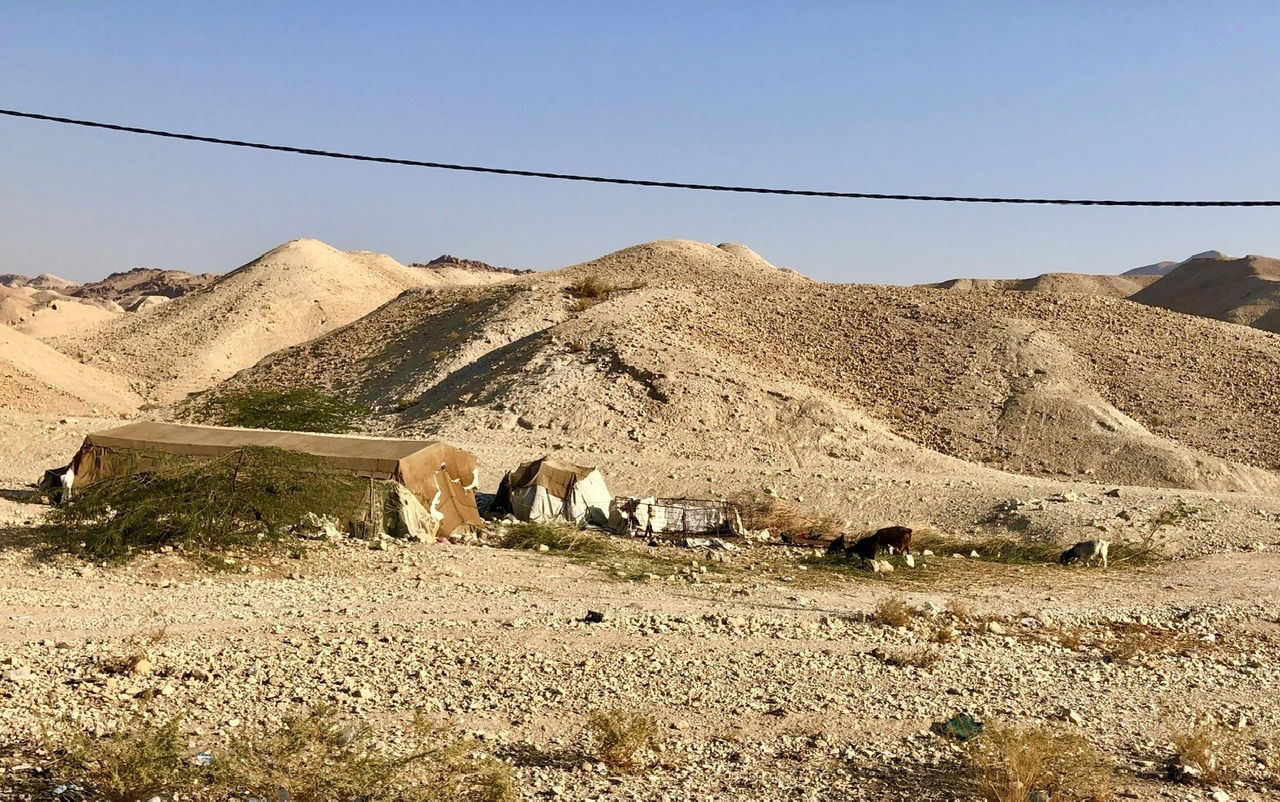 A Bedouin home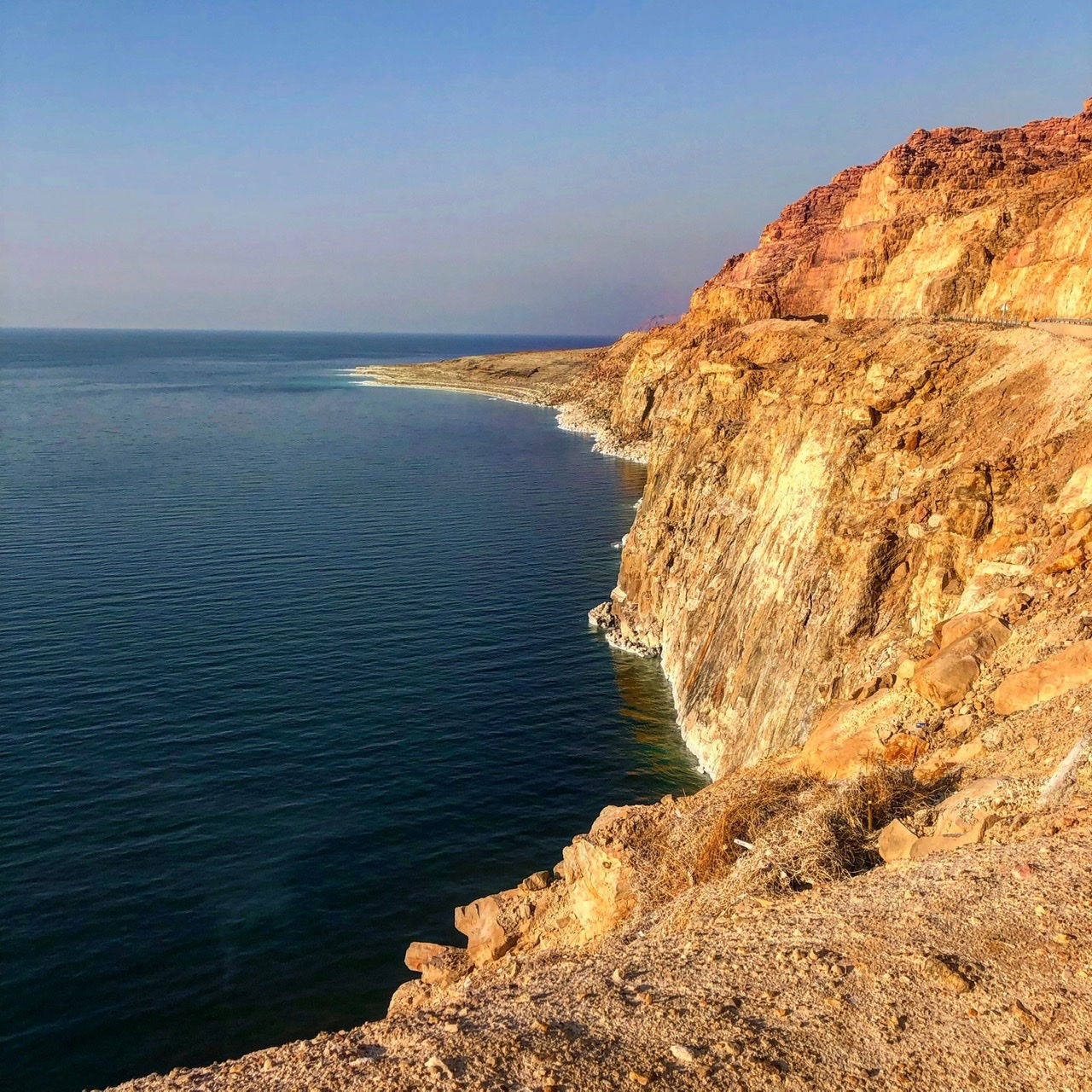 Amazing cliff views about 45 minutes south of Dead Sea Jordan.
Dead Sea Jordan
We were told to make the Dead Sea a day trip or just one overnight but we decided to stay for two nights because the weather was supposed to be brilliant and the hotel we selected was suspiciously cheap. I do NOT understand the way hotels are rated. I think you have to read fifty reviews to get a good picture. The place we stayed at near the Dead Sea, the Holiday Inn, was rated a 7.9 on Booking and 3.5 stars on Trip Advisor but we only paid $75 dollars a night for large rooms and a full service resort with a heated pool and a pristine and private beach with comfortable beds and umbrellas. That seemed really reasonable when the Hilton and the Movenpick were advertised at over twice that much with similar ratings. I would stay there again but I would be very careful to request a room that is non-smoking and put that again as your request in the comments on the reservation form. Jordan has a problem with smoking.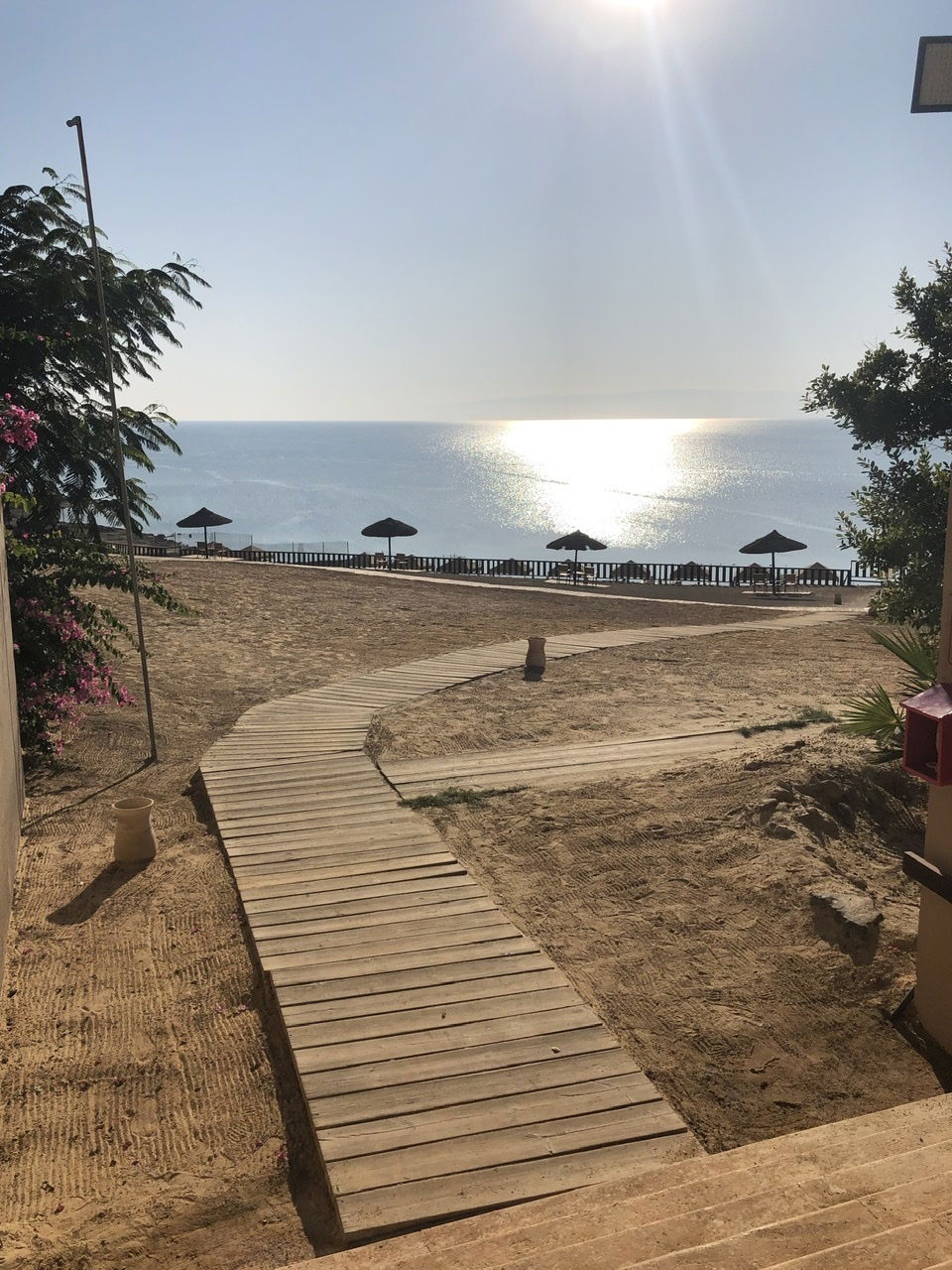 Holiday Inn's boardwalk to the sea.
The Dead Sea was really cool - we could hardly stay on our feet in the water and even champion swimmer Peter had to paddle like crazy to not bob around. We were in for a couple minutes and got out exhausted! It was a once in a lifetime experience. I had read reviews saying how dirty it was or other criticisms but where we were it was really nice. I would highly recommend the Holiday Inn. One nice point was that at the buffet there was a vegan cook from India who would show me all the options for the evening meal. It was so kind of him.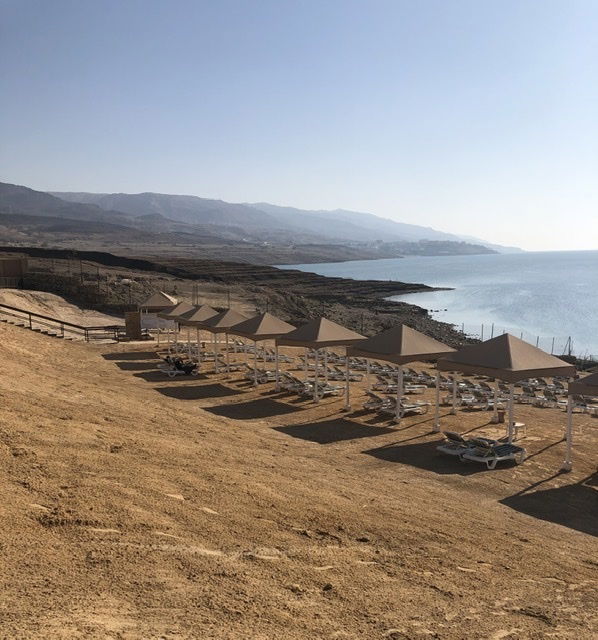 The Dead Sea shoreline
Other than enjoying the twice daily and highly questionable belly dancing display in the front lobby, there were huge buffets to enjoy, the Dead Sea to swim in (or try to swim in) and the nearby Baptism Site at Bethany Beyond Jordan. We drove there in just 30 minutes, parked and went through the usual confusion of how much to pay and what does the bus tour require, etc. and finally a guide felt sorry for us and reached into my purse and paid for all of us and then ushered us to a bus. The only way to access the site from the Jordan side is guided tour. It was not particularly educational - just more of a way to control access. The guide took us aside and asked if we were Christians, and then took us behind the rope to allow us to get to the off-limits holy area where Jesus was said to have received the Holy Spirit. One of the guards yelled at him and we all pretended to be helping my feeble mom - it was really funny but later we thought it was incredible that he singled us out and that he hadn't asked for a tip. Most religious sights are underwhelming - you get distracted by the disunity or the commercialization of something that has meaning to you. But the actual baptism site that we snuck down to see was a lot like Jesus - humble and ordinary to those who don't know him yet. It was definitely a highlight for us.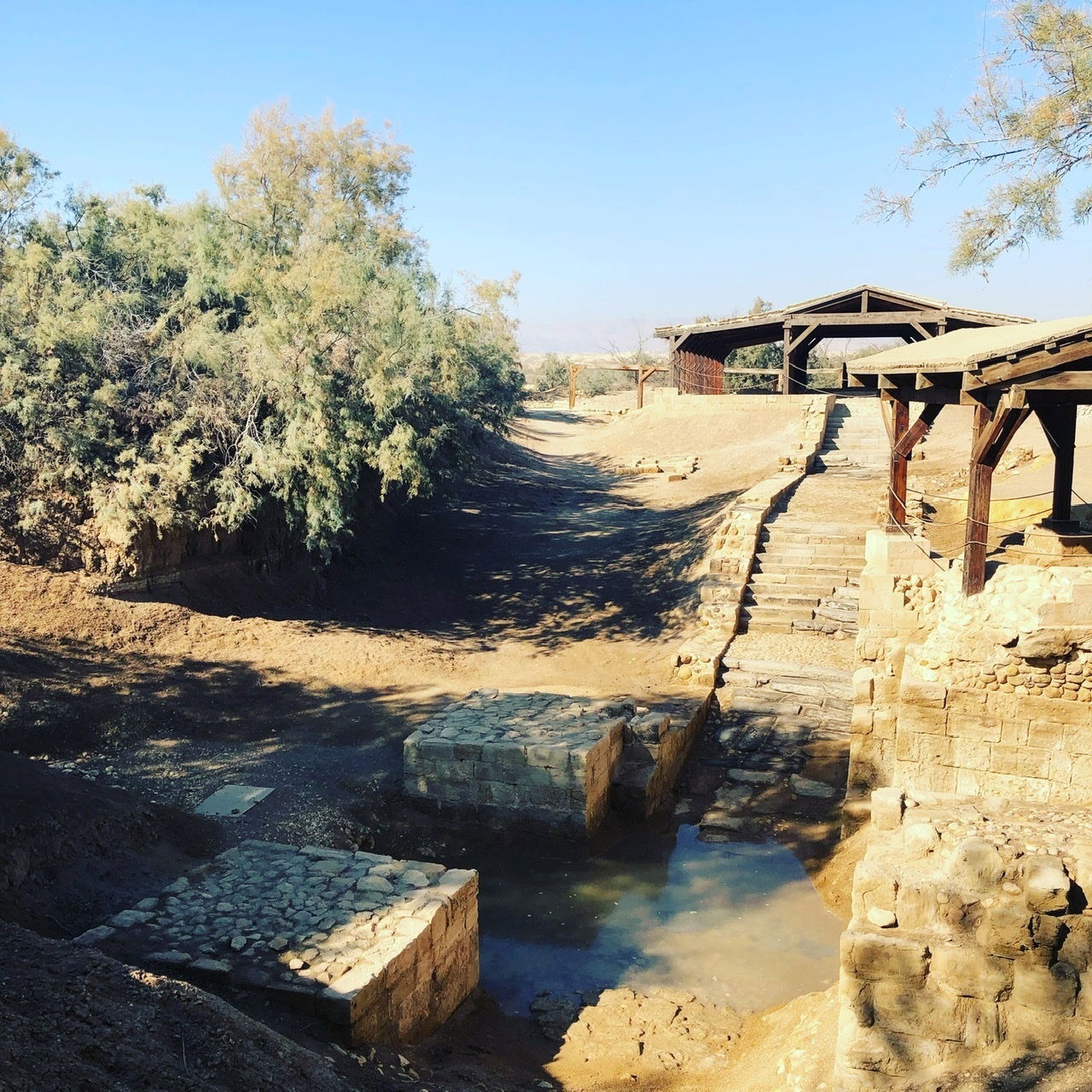 This is most likely the exact spot where John baptized his cousin, Jesus. It is on the Jordan side.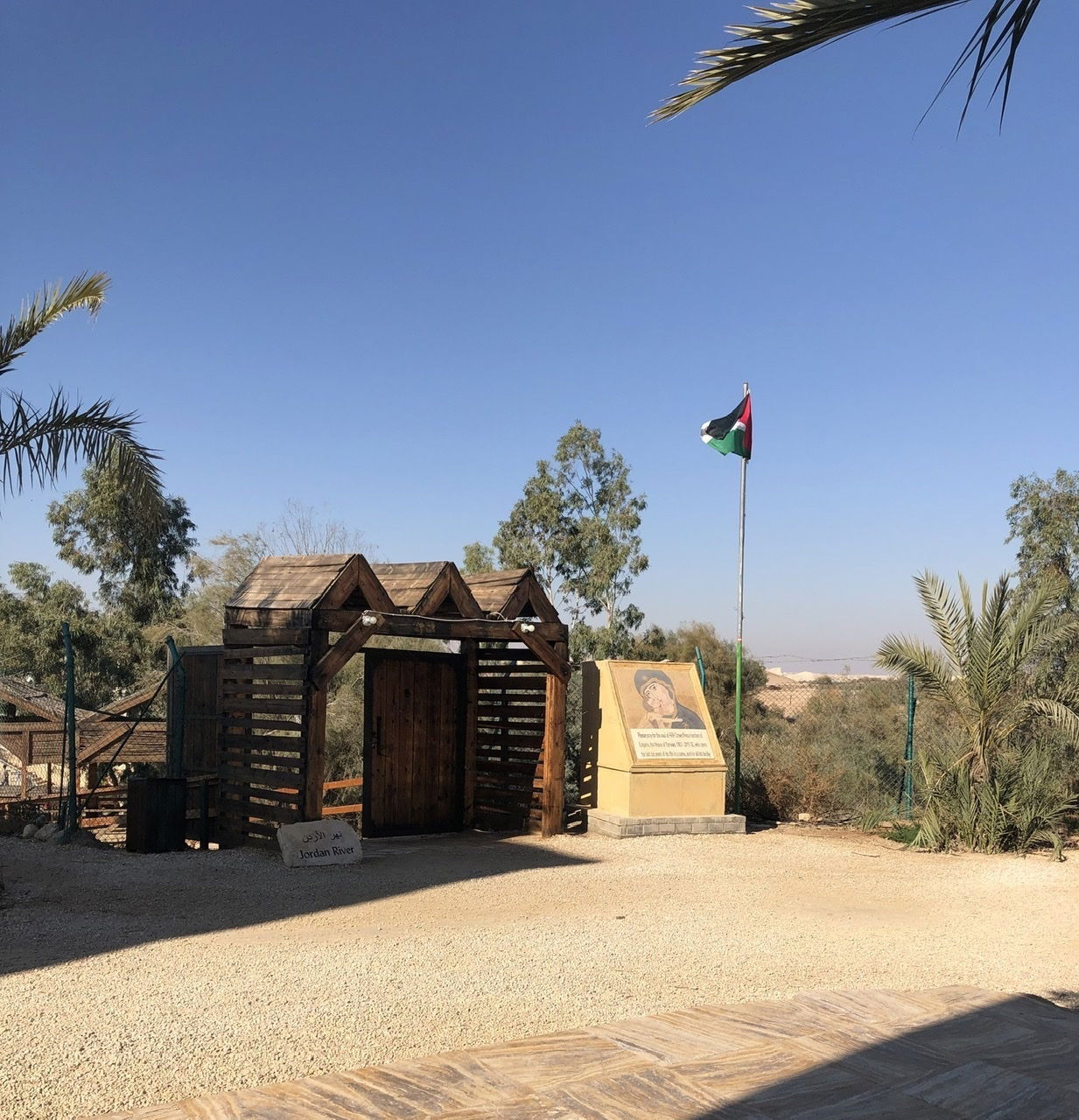 The entrance to the Jordan side of the river in its current location. There were at least a dozen different churches of different denominations but we only visited one - I think they take turns.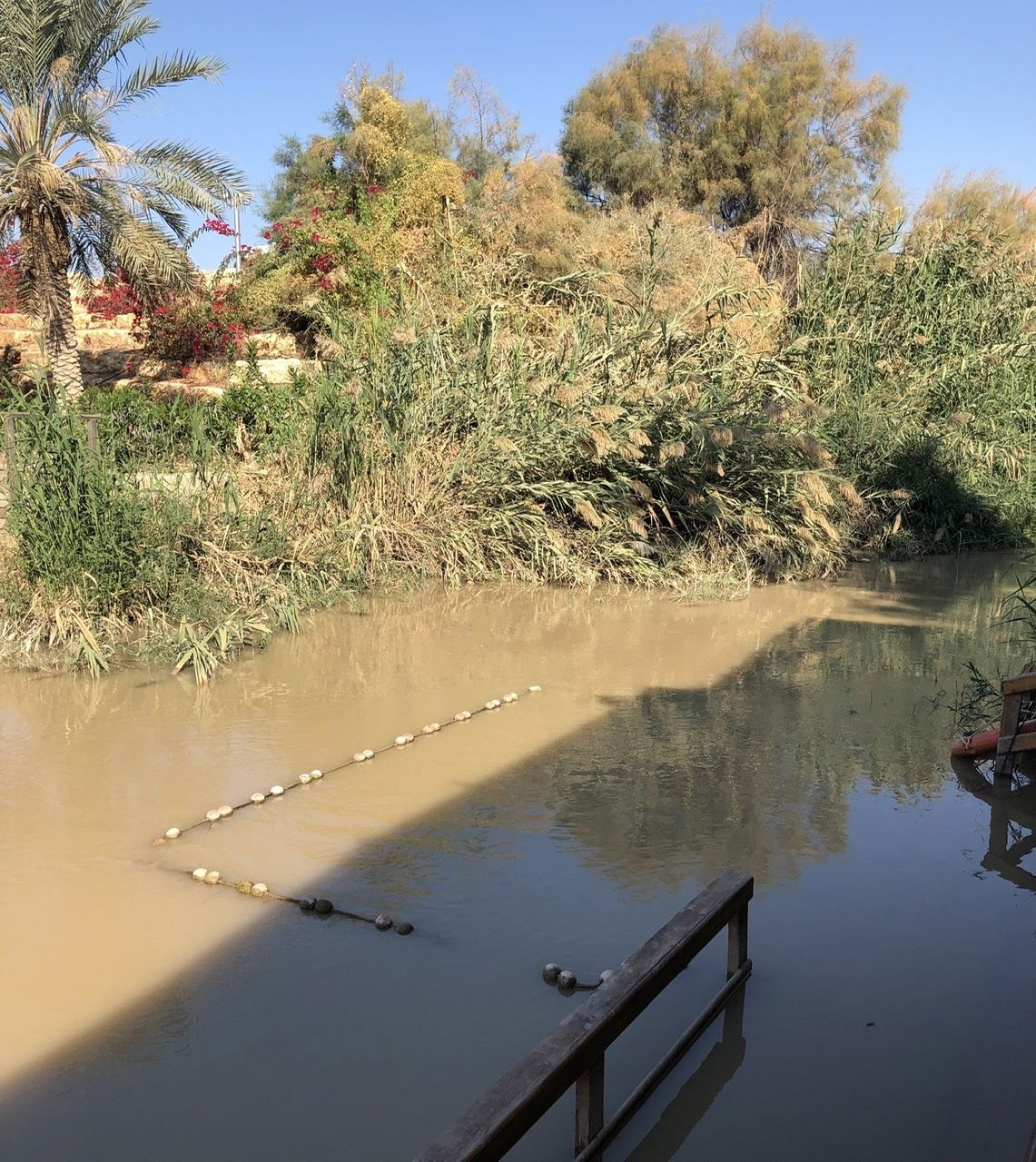 This is where people can actually get baptized.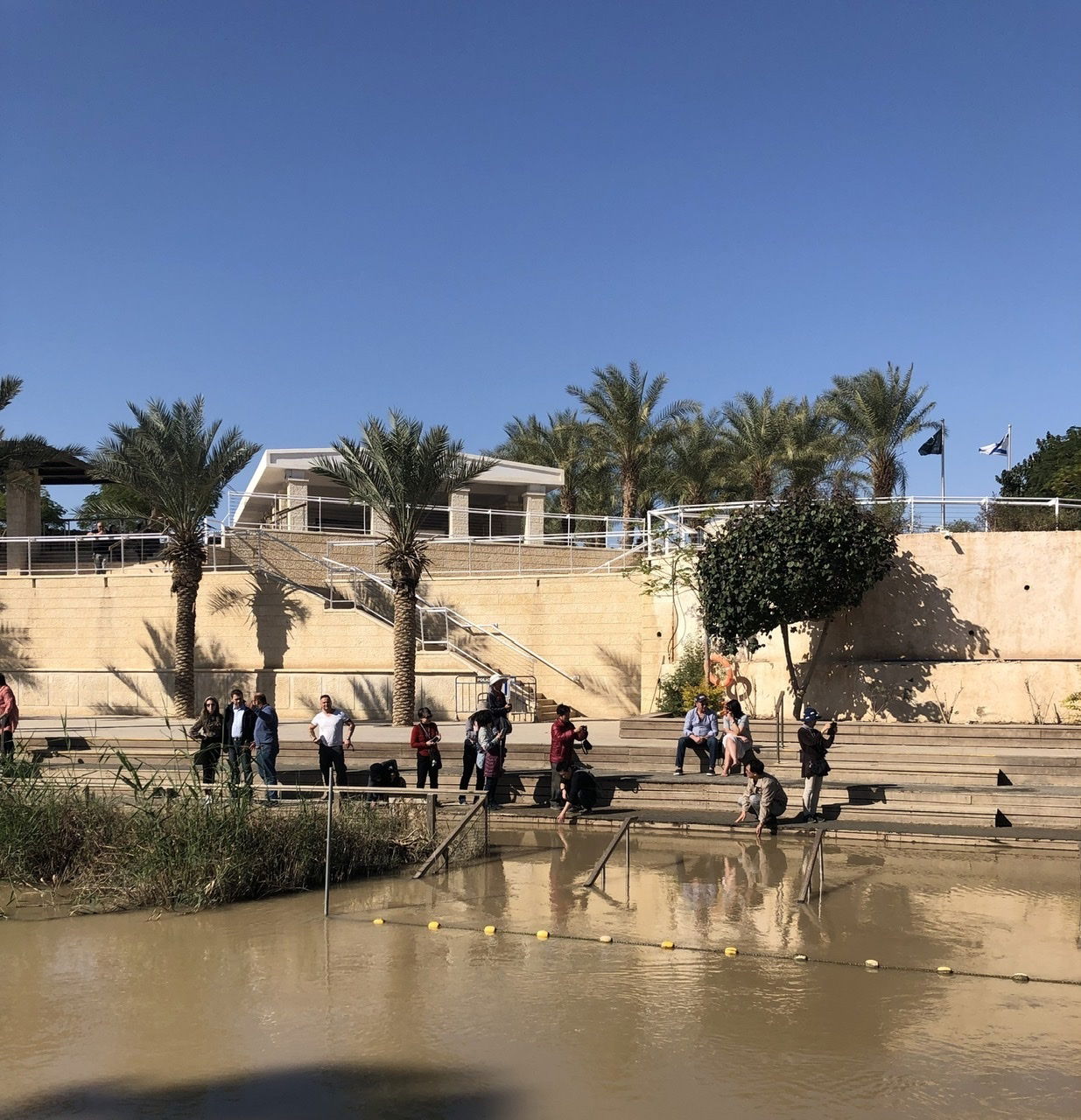 A view of the Israeli side of the river. It looked a lot more modern.
After the Dead Sea we planned to spend two nights in a small city south of Amman called Madaba. We did not have high expectations. While parts of Jordan are absolutely stunning and once-in-a-lifetime experiences (Petra! Jerash!) the rest of Jordan, while culturally interesting and geographically unique was kind of...dull. I am not saying we were disappointed but Jordan is a lot like a run-down amusement park - the attractions are great, but to get from one to the other you have to dodge a lot of garbage and a lot of things are closed or run by foul-mouthed children. I mean, the roads and rural areas in Jordan are literally full of blowing garbage. And child labor in Jordan is clearly not regulated. In Petra we tried to resist the kids selling souvenirs by telling them to go back to school, only to be told to f*** off, in clear English. Anyway, on to Madaba!
Madaba
We visited Mt. Nebo, on the way to Madaba, traditionally the place where Moses figured out that he would never see the promised land. His staff, turned into a snake is the subject of a sculpture that also prefigures Christ's crucifixion. Moses may have been buried there and popes have visited the site confirming its religious significance. There were pilgrimage groups there the day we were there and we all found it to be a beautiful and evocative place of spiritual interest. It is a place that makes you look at your life - what you have done and what you have left undone. Why did God not allow Moses to finish his journey? That's the eternal question.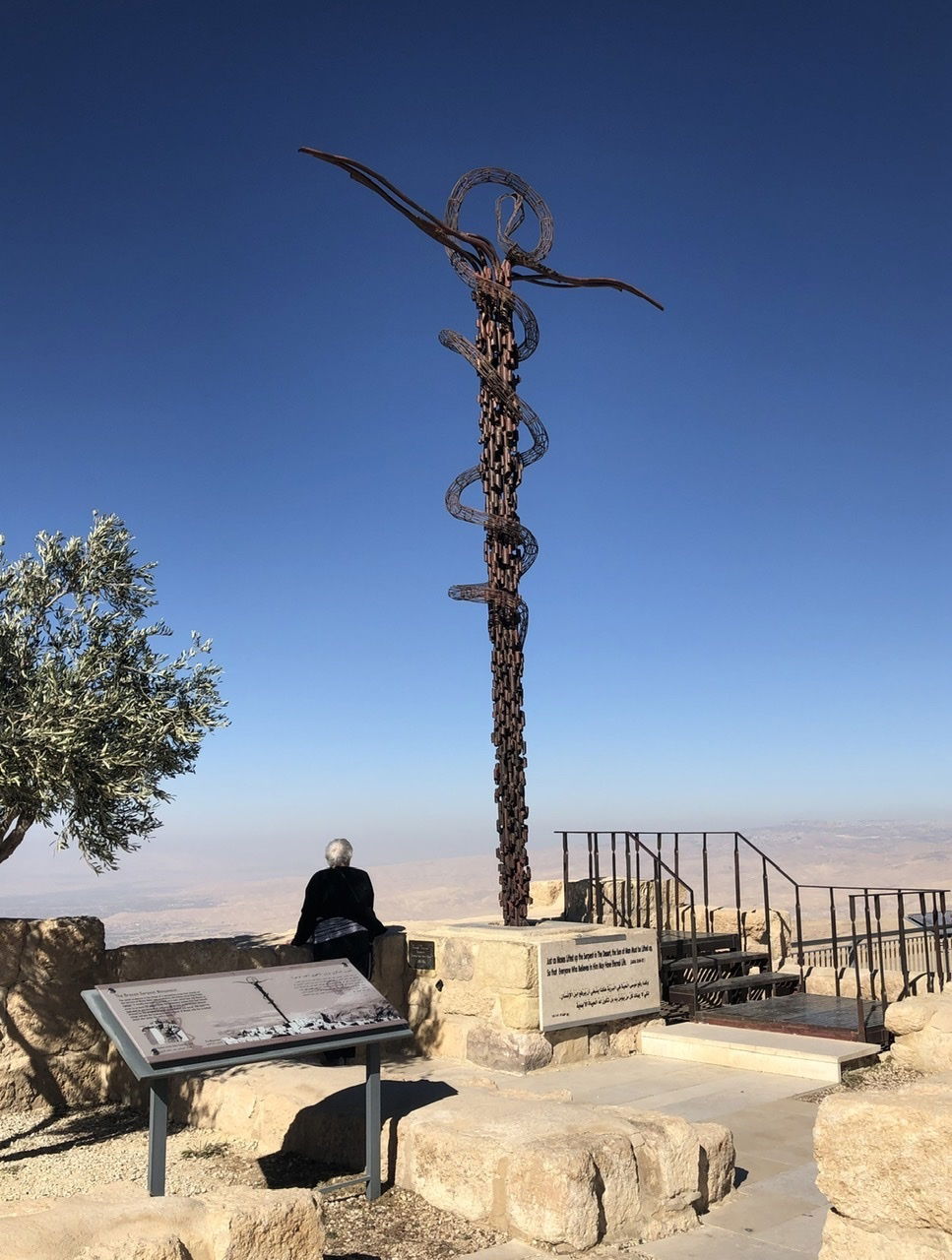 My mom, thinking about life.
The mosaics at Mt. Nebo were incredible and for a change, fairly well presented and taken care of. There is a positive side to foreign interference and that is the money that goes into protecting these places once the students and the scientists have left.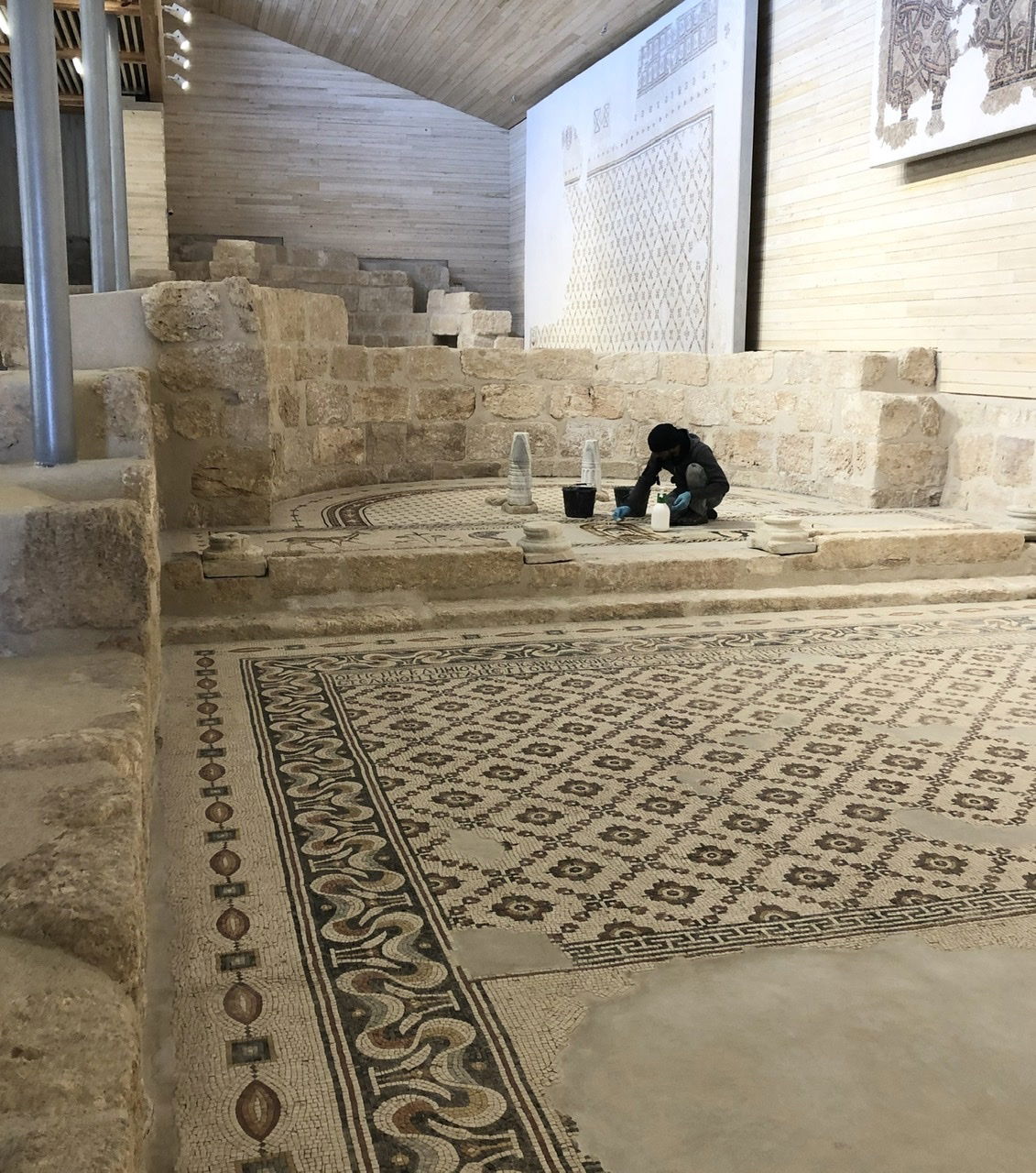 We liked the geometric nature of most of the mosaics.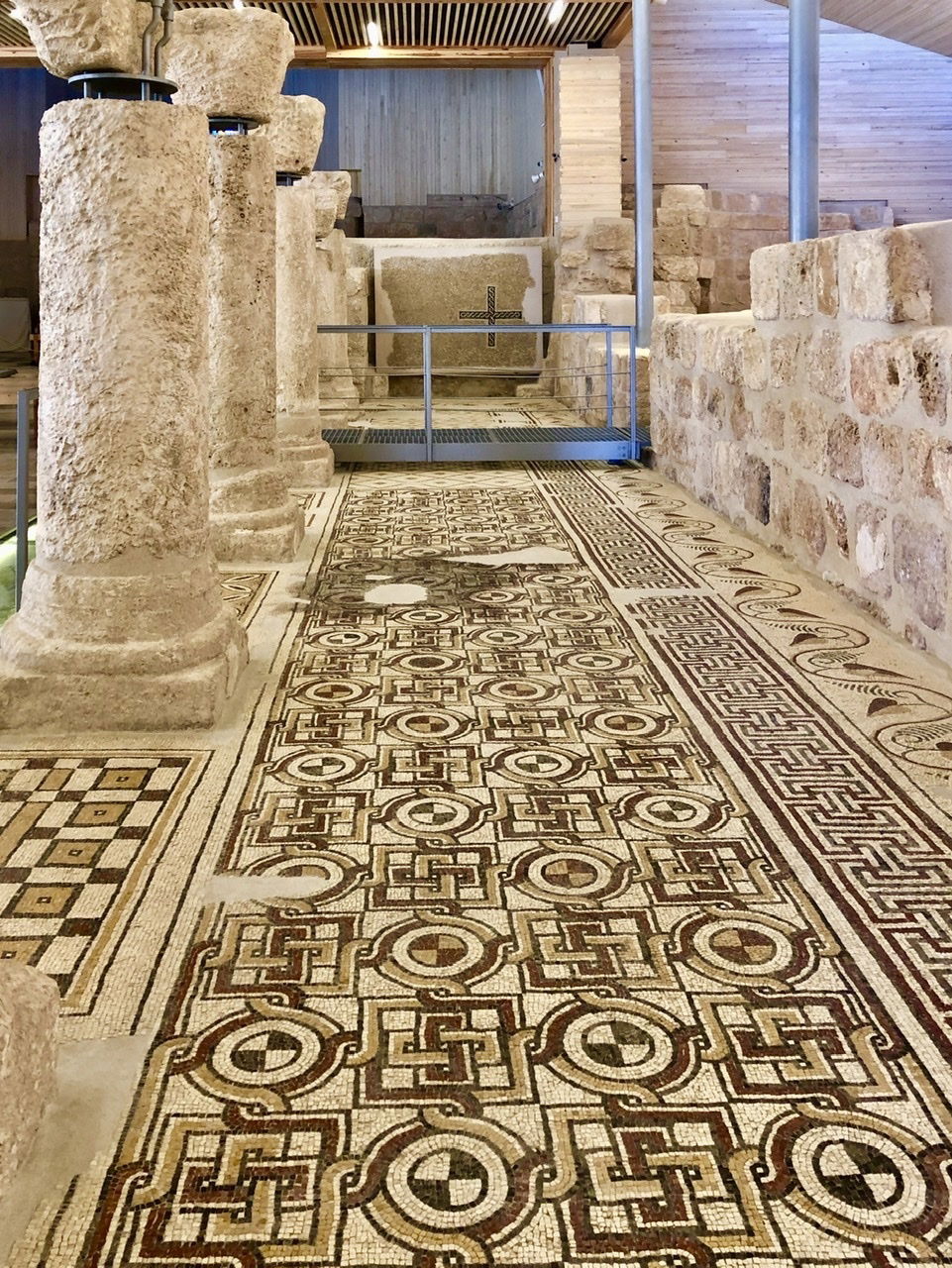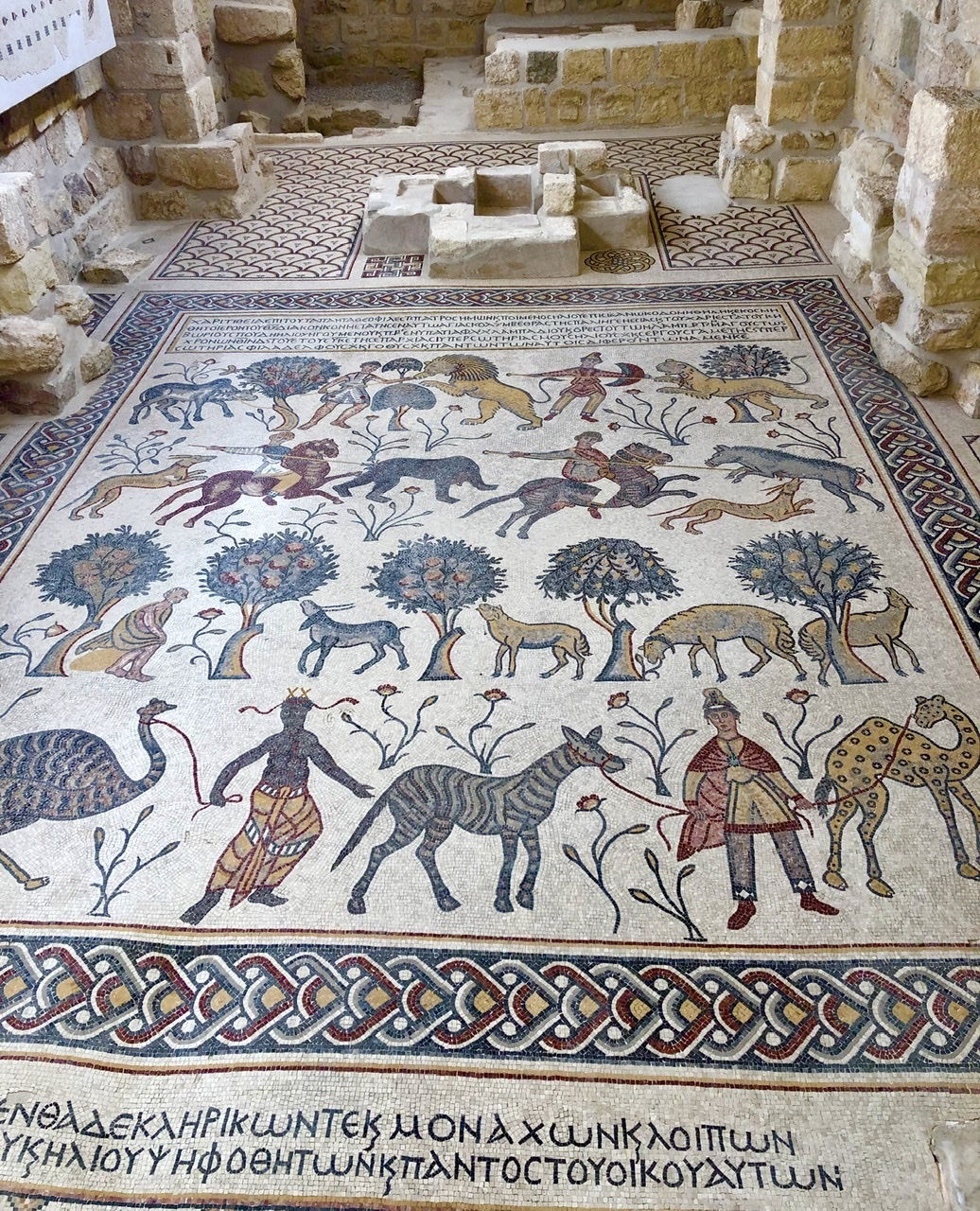 This exquisite complete mosaic dates from 530 A.D.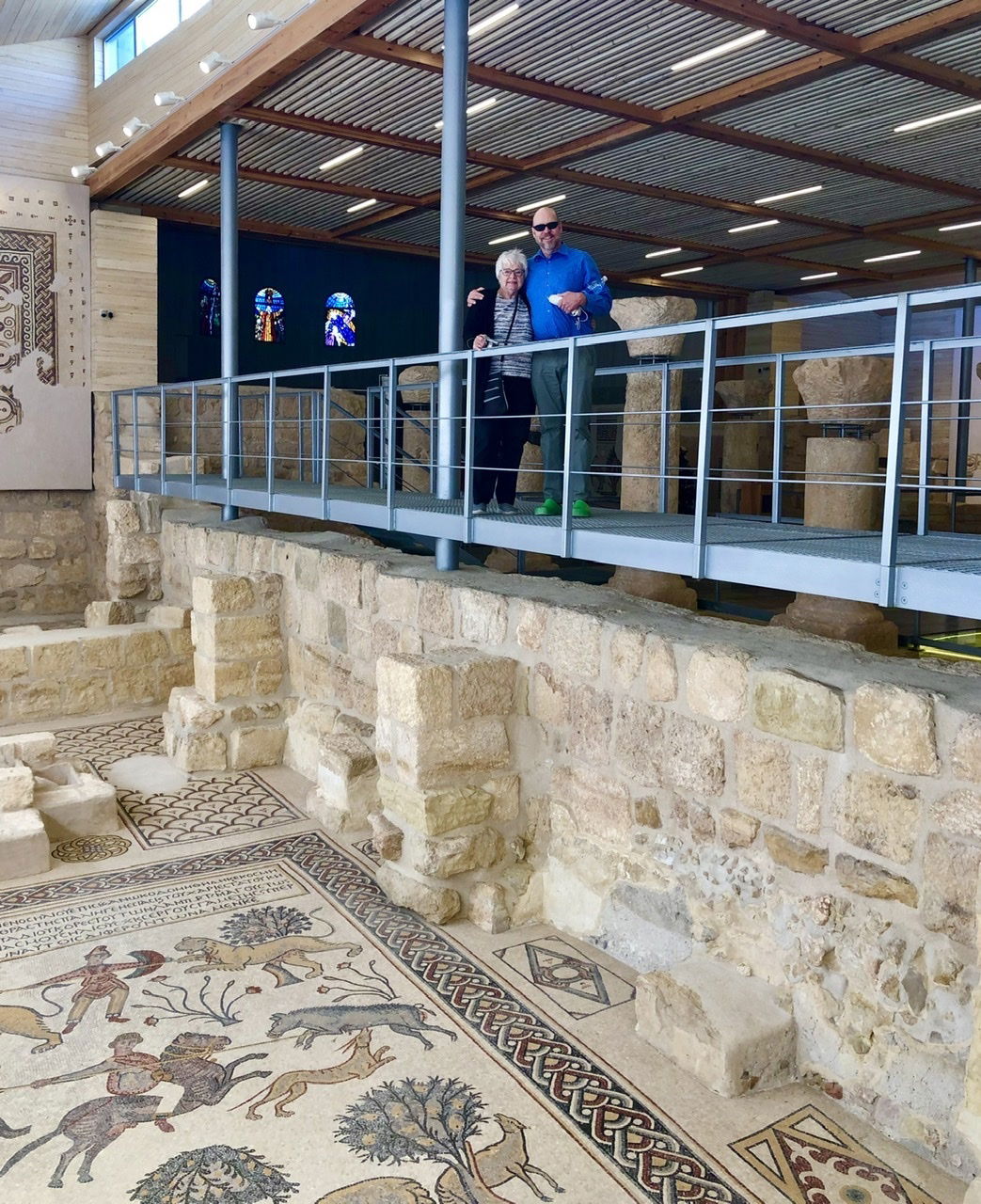 Two of my favorite people.
The lodging at Madaba was kind of like a bed and breakfast without the charm. The rooms were just barely furnished. It was...sufficient. Ironically, it was the highest rated lodging we stayed in while in Jordan. Like everyone in Jordan, the hosts invited us in for tea and a chat and the breakfast made up for the lack of comfort. We had the use of the kitchen, which was much appreciated.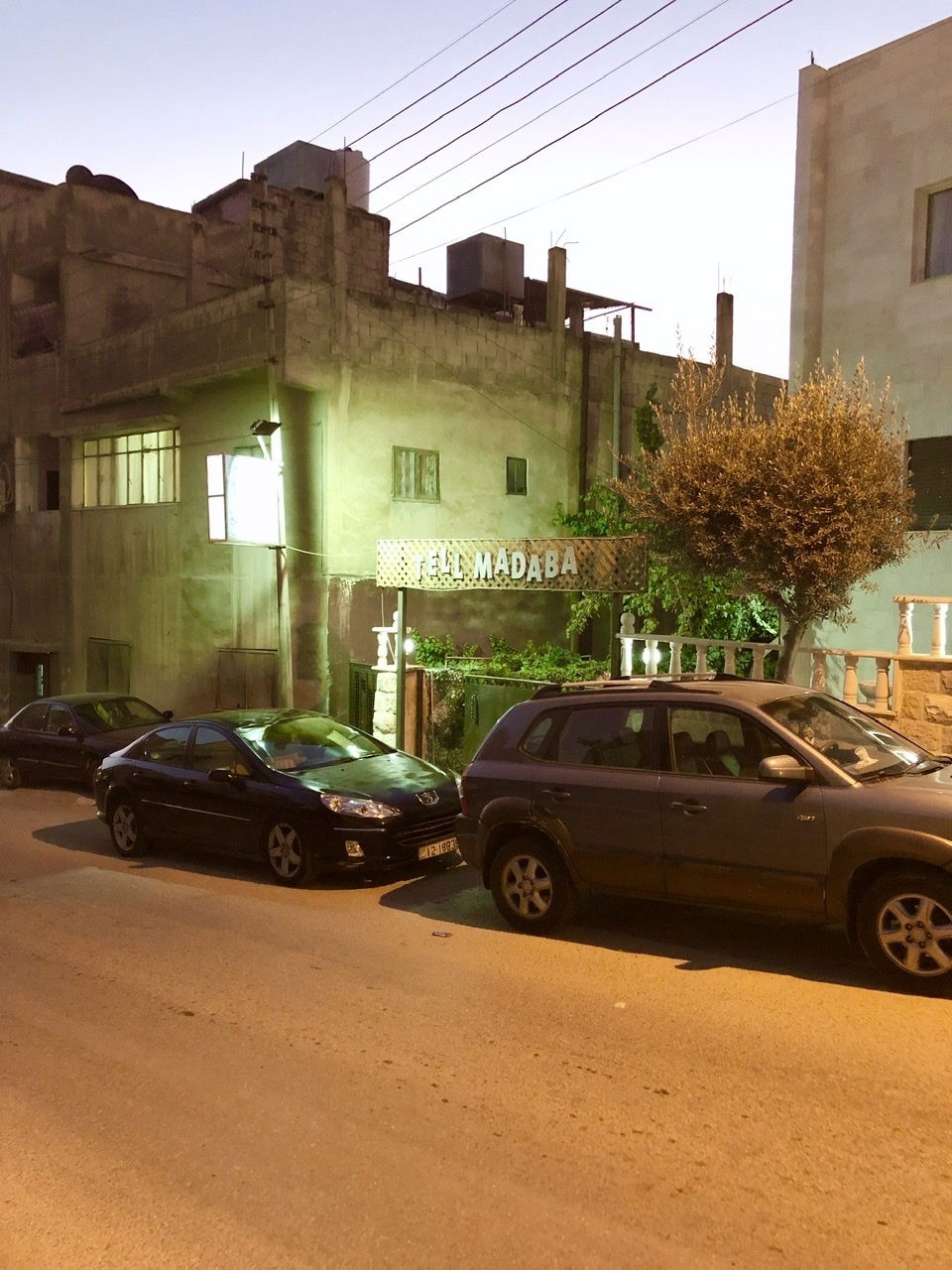 Tell Madaba B & B
The town of Madaba was our favorite. It is just big enough and touristic enough to have restaurants and well-managed sites to visit but without the flashy Dead Sea resorts or the run-down grittiness of Aqaba.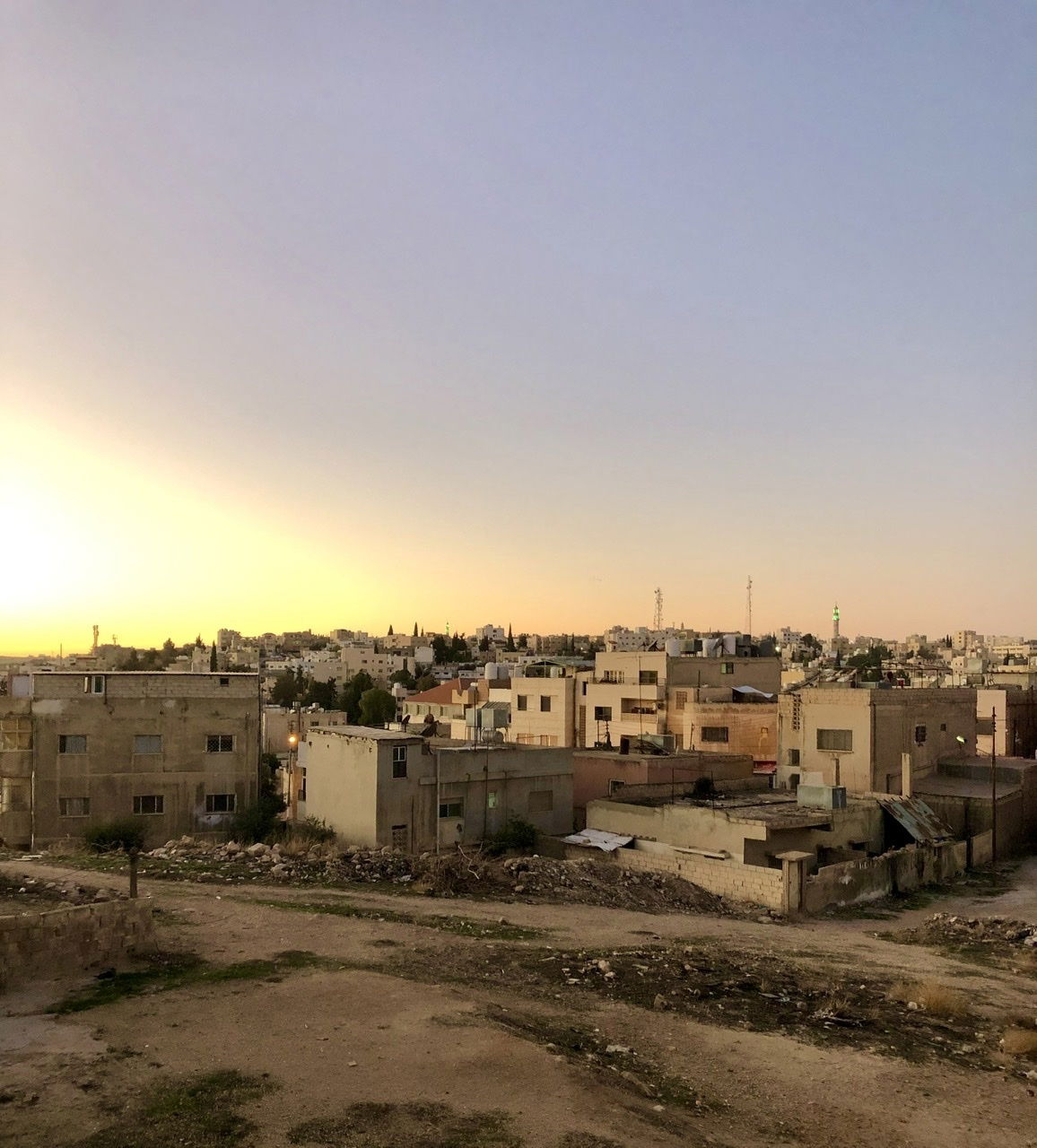 Madaba at sunset - it was very safe to walk around.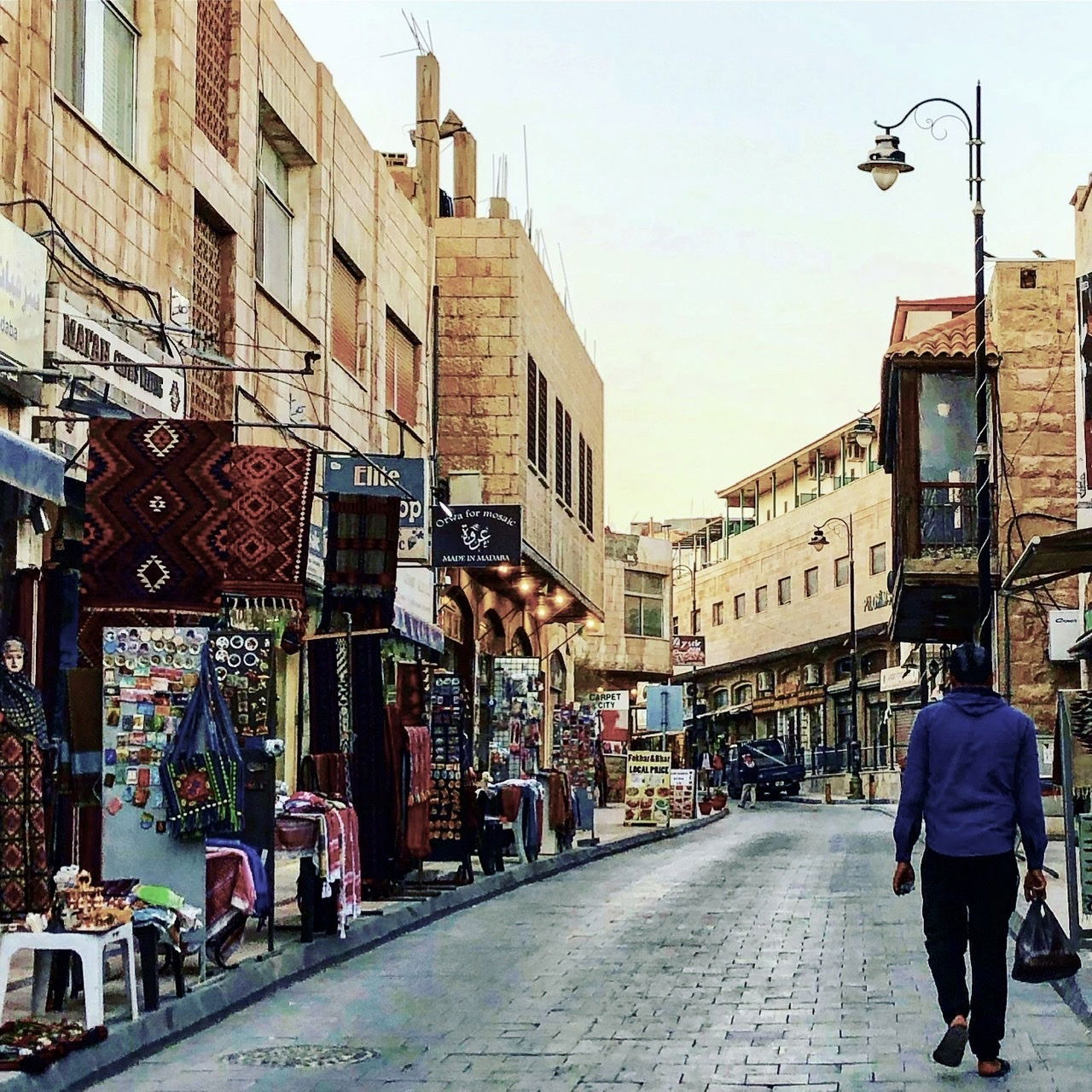 There were some picturesque market streets.
There are five separate places you can visit if you are into history in Madaba and they are strewn about the town. They include the Roman Catholic church of St. John the Baptist that is very active with a quirky Ruth and Boaz reenactment and impressive tower views, the church of St. George with its orthodox icons and famous mosaic map, and three archeological sites.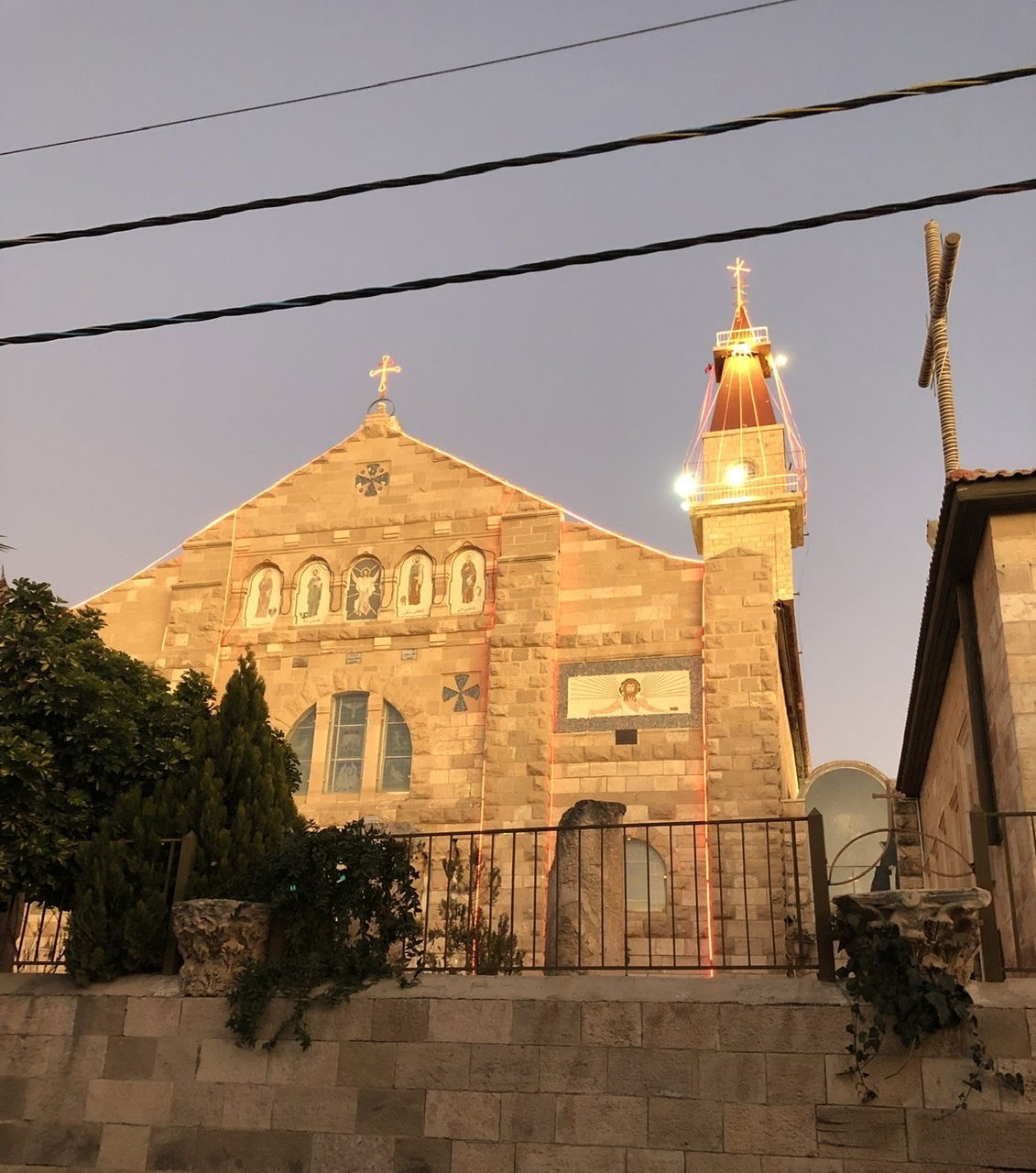 At St. John the Baptist they were putting up Christmas decorations.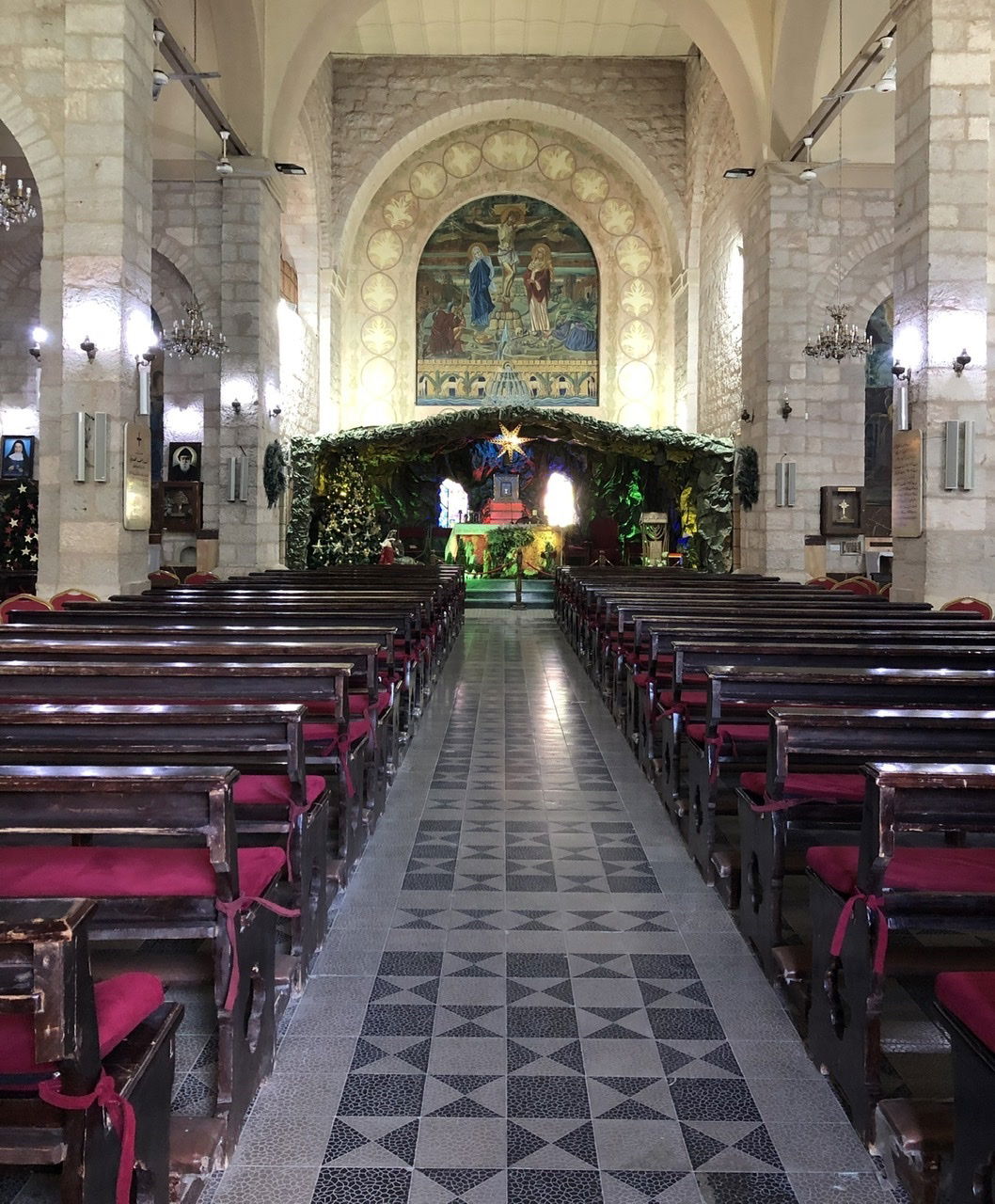 The interior had an impressive nativity scene.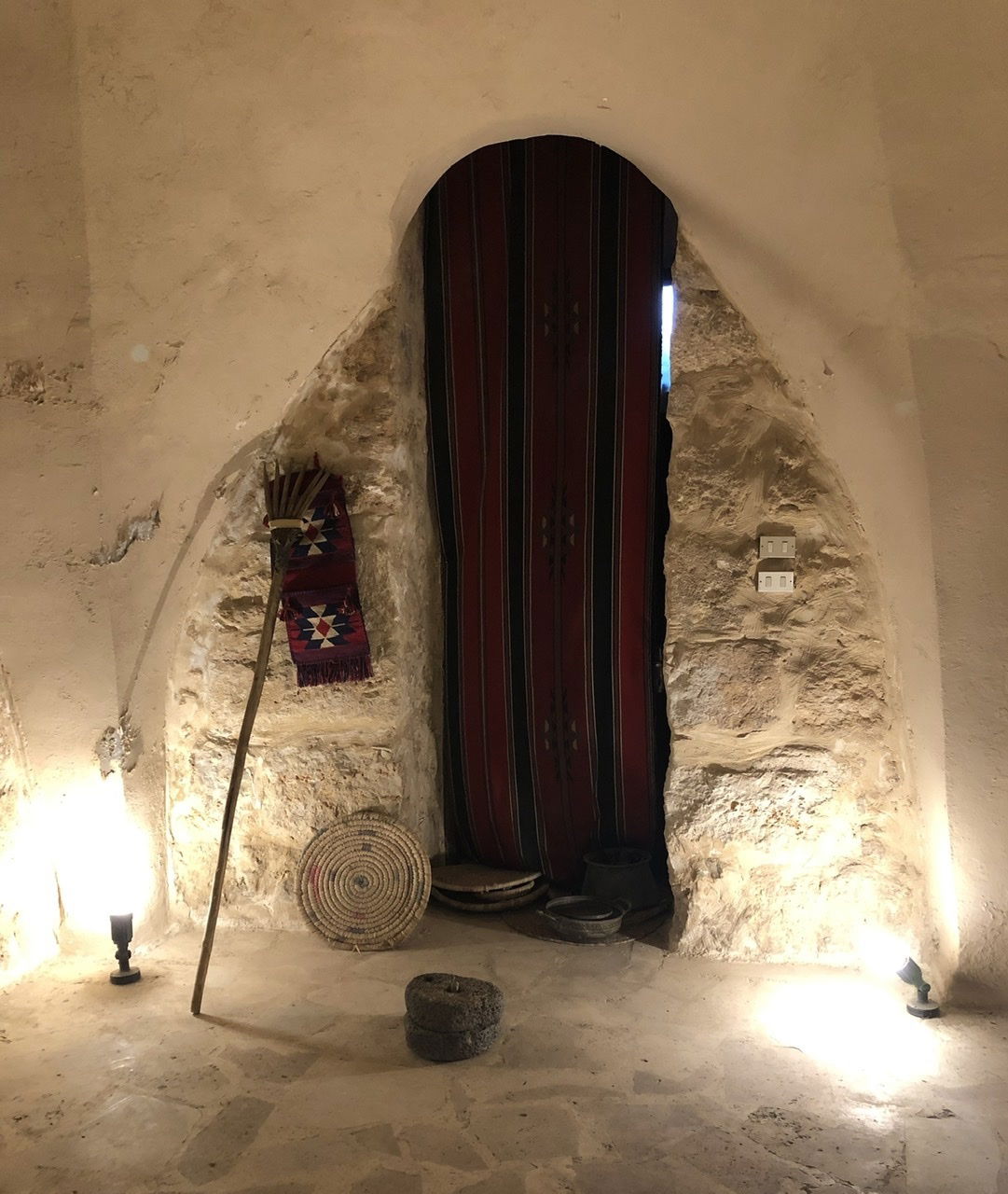 The "Ruth and Boaz were here" exhibit was confusing but interesting. There were underground tunnels below the church.
The archaeological park is in three places with separate entrances making it hard to coordinate but we really enjoyed figuring it out and being shown around by a young man who claimed he was not in it for the money (we tipped him anyway).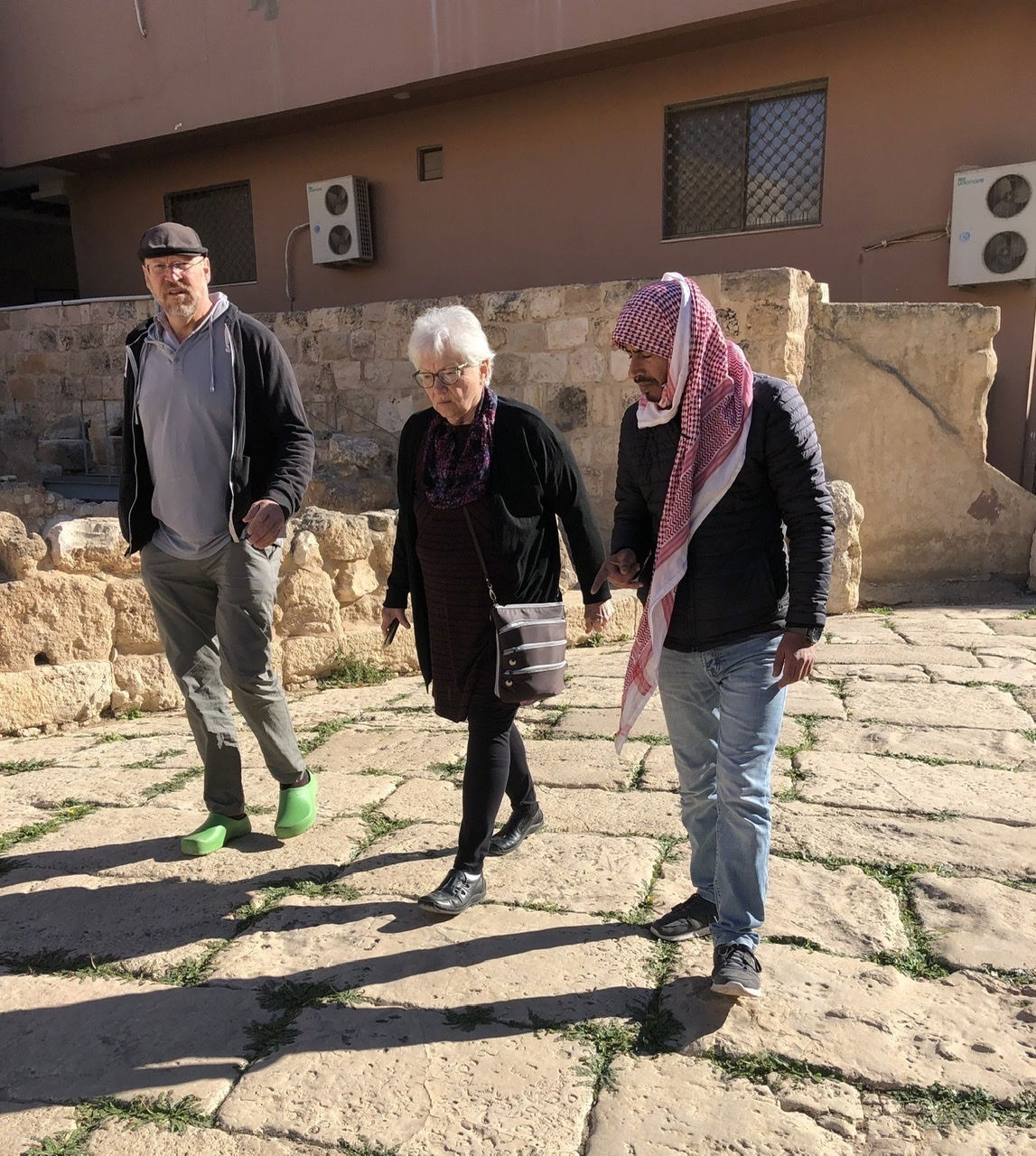 Yussuf was kind enough to show us around.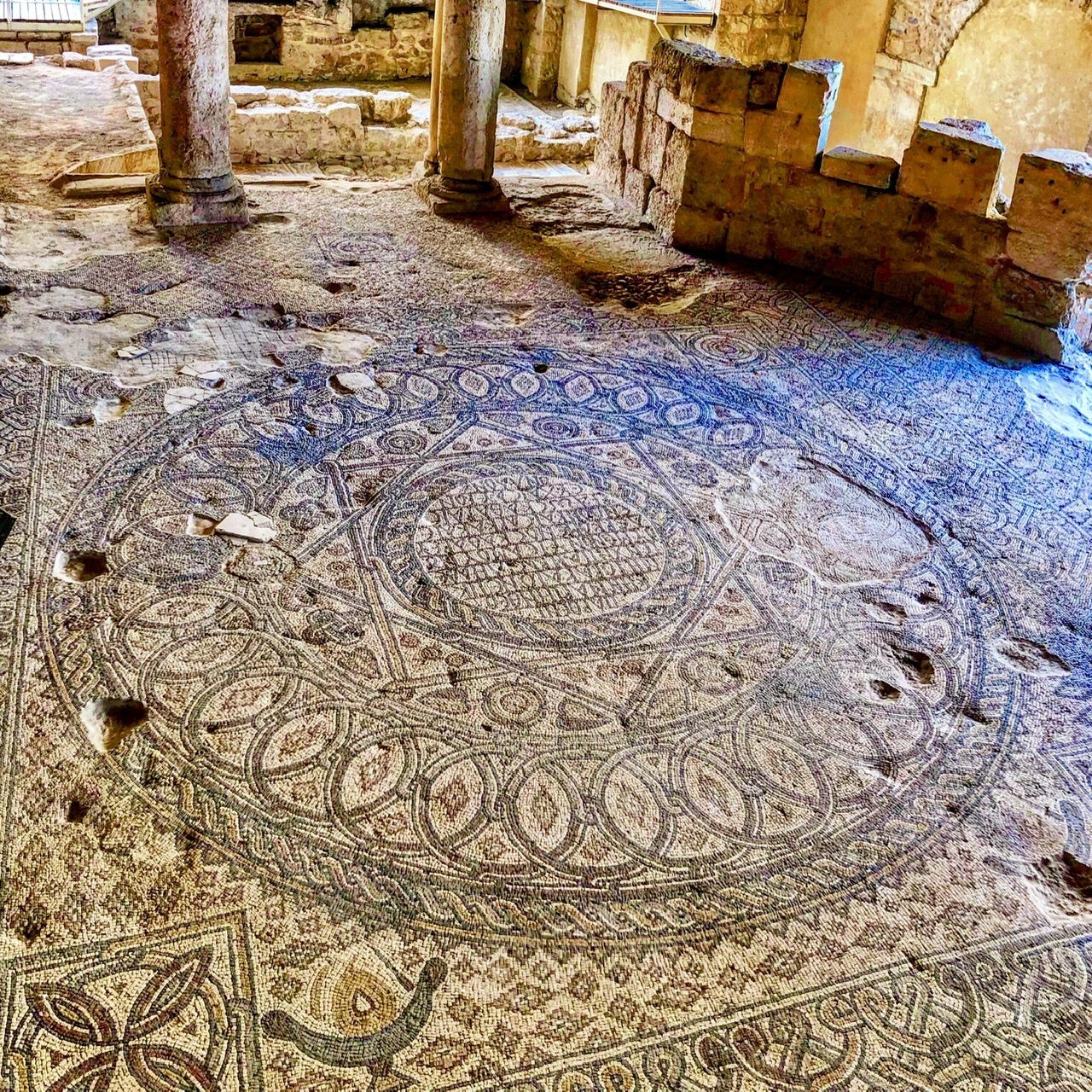 This was probably my favorite mosaic - look at the detail!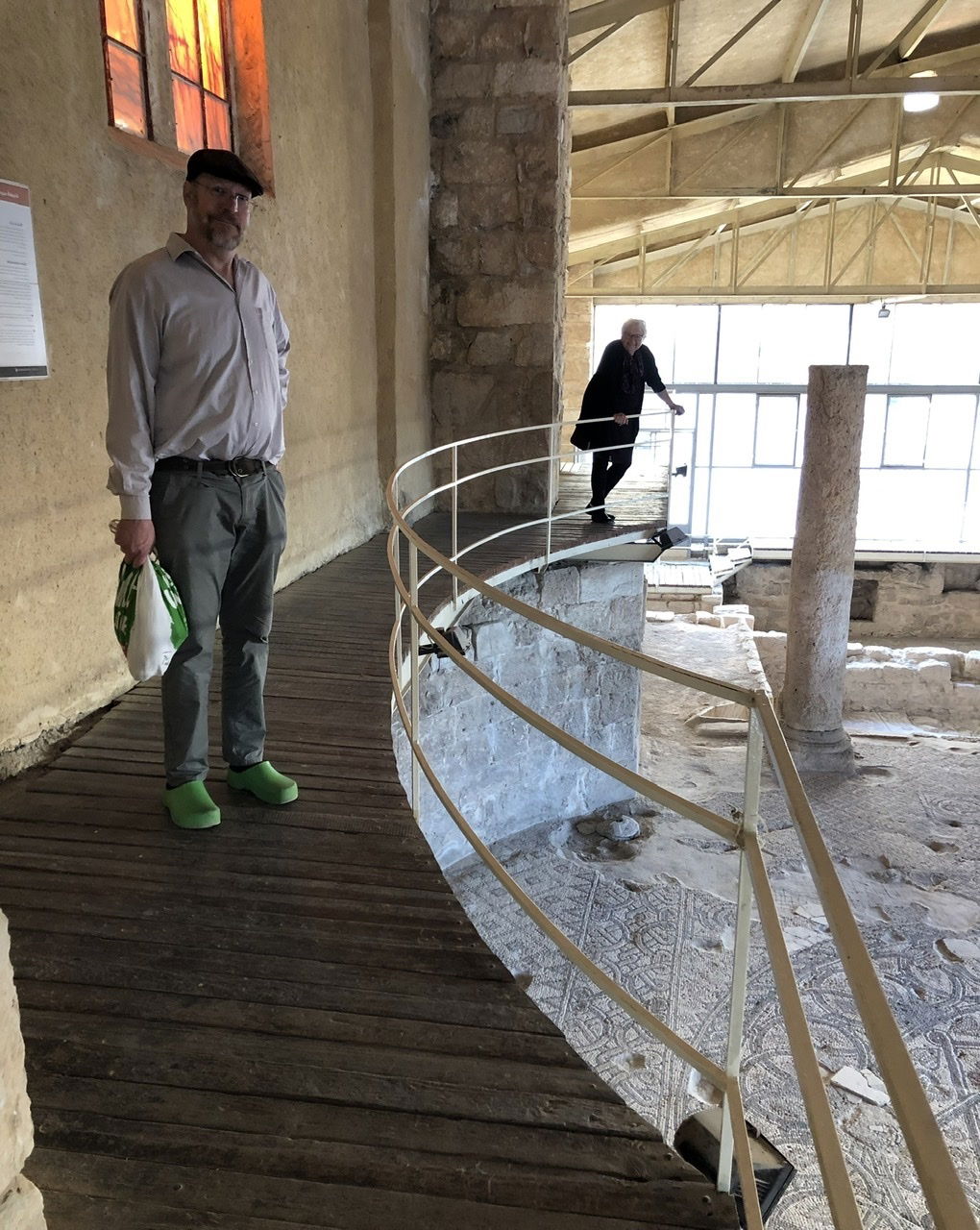 Viewing platform for the mosaic above.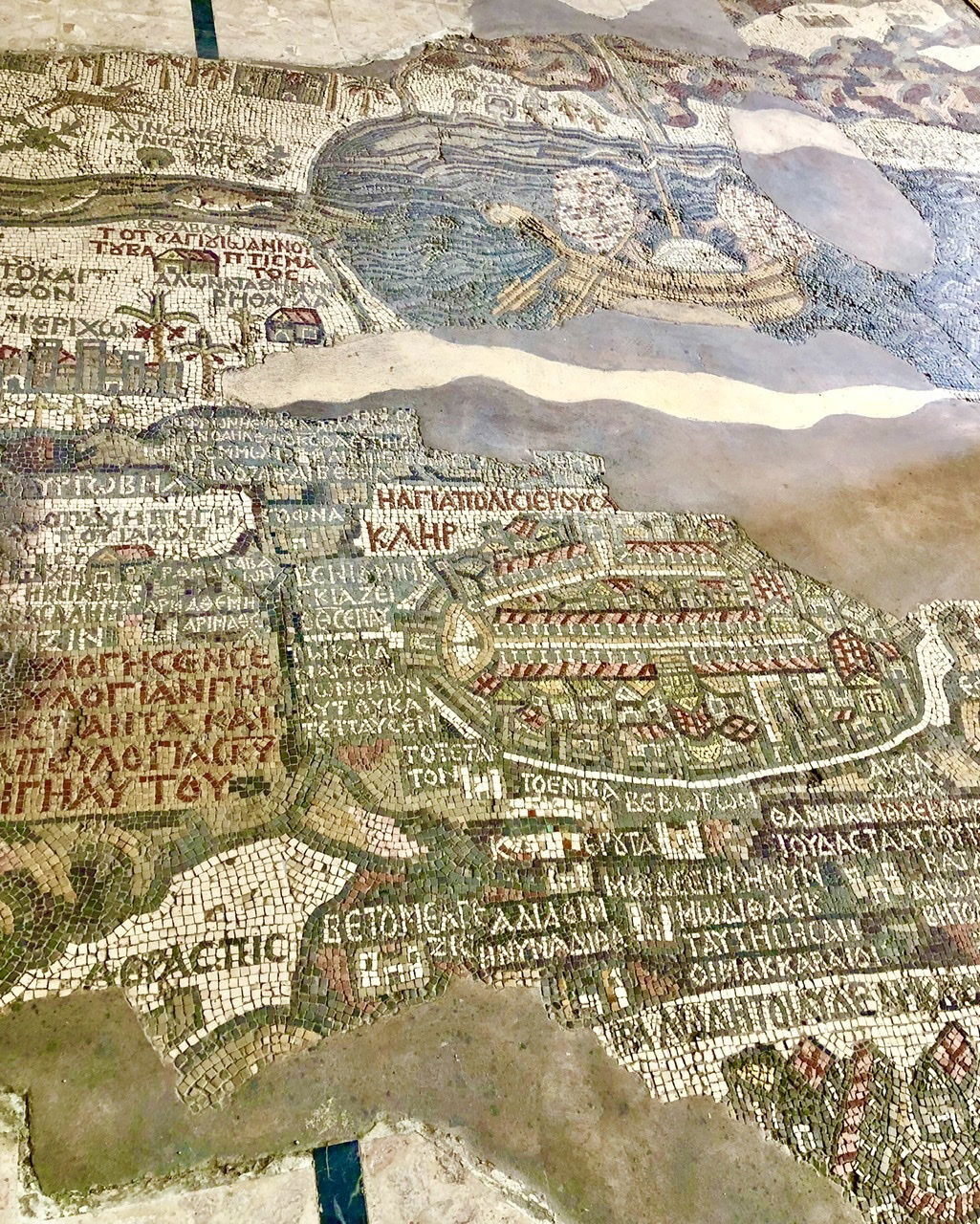 The map of the known world at St. George's was the only place we saw other tourists.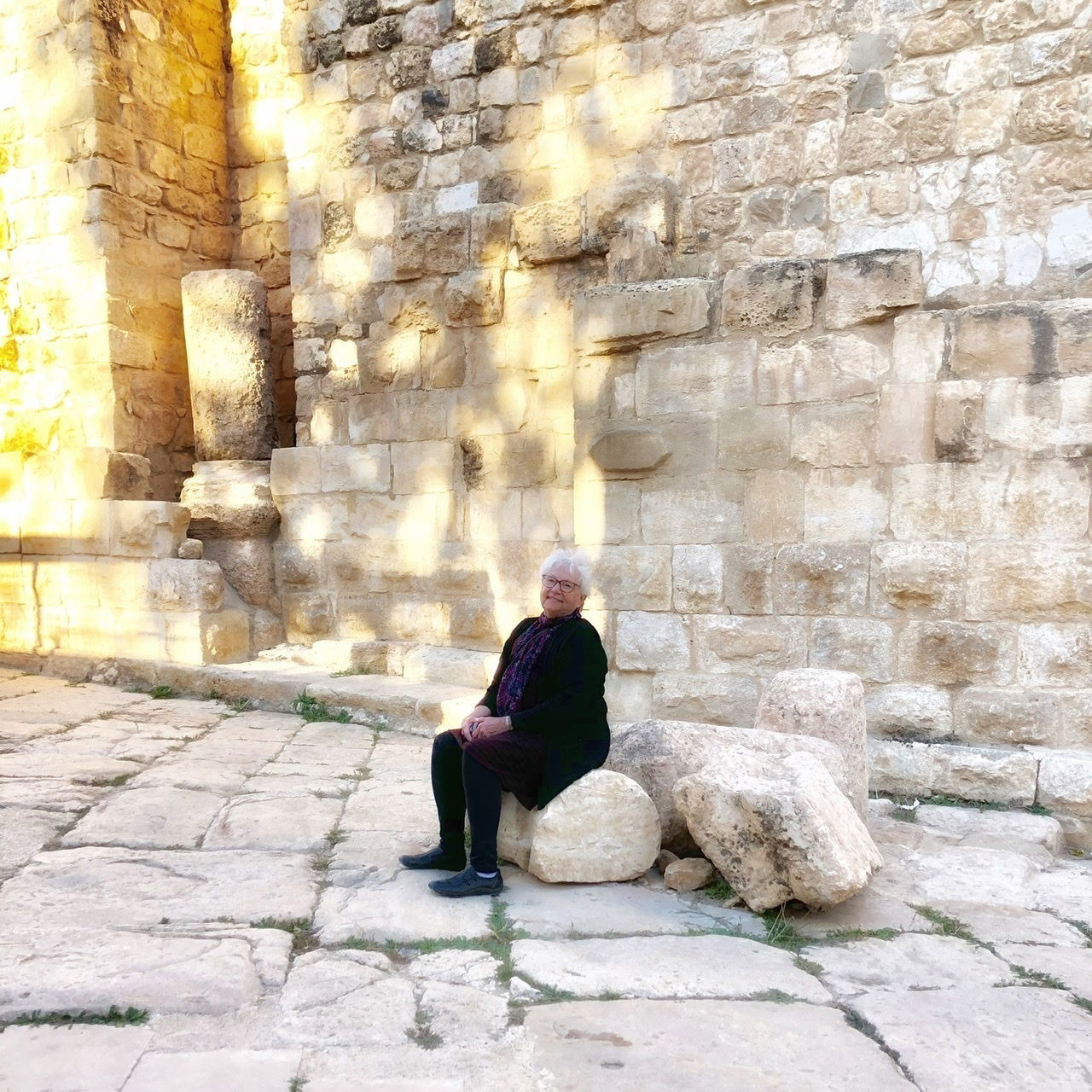 My sweet mom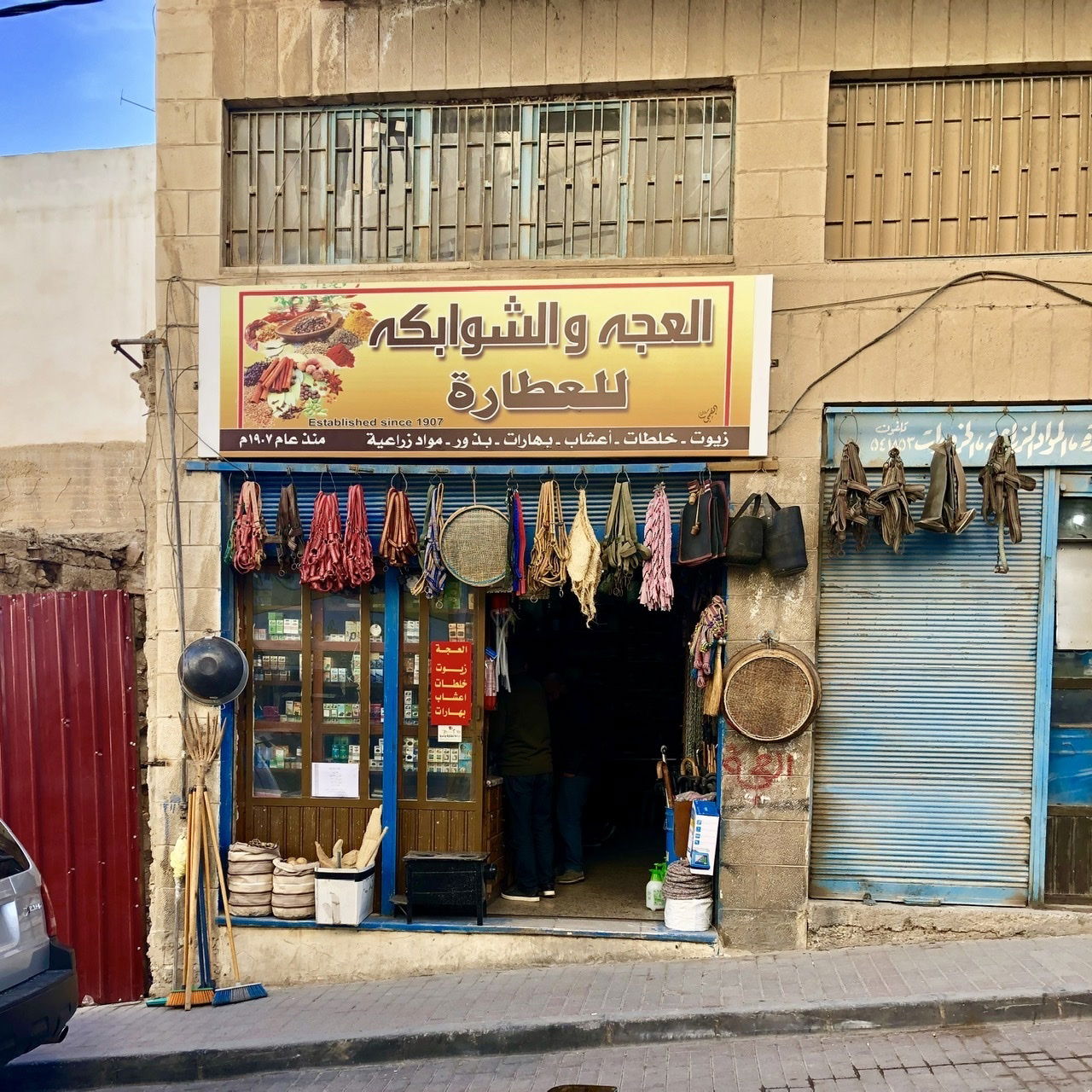 Madaba is full of authentic little shops like this saddlery.
My personal favorite in Jordan was this progressive cafe in Madaba.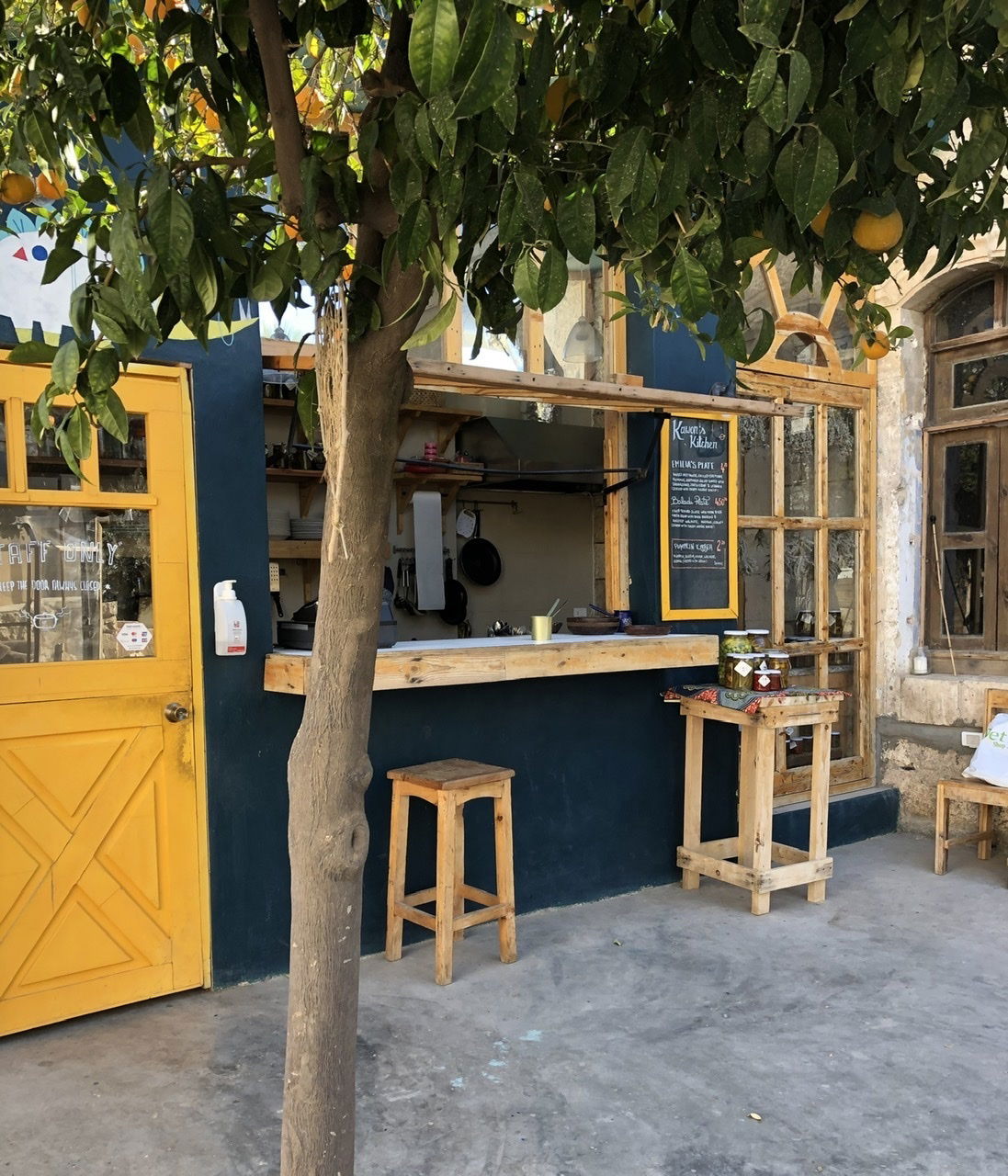 Kawon's Kitchen
There were lots of international college students hanging out and practicing their language skills, pilgrims taking a break from the dusty streets, hippies planting a garden and high school kids doing homework. And geeks playing Scrabble and enjoying the only vegan scene in the Hashemite Kingdom of Jordan. The place was so inspiring that by the time we left I vowed to open my own commune/language exchange/tea parlor/homework hangout in our next home.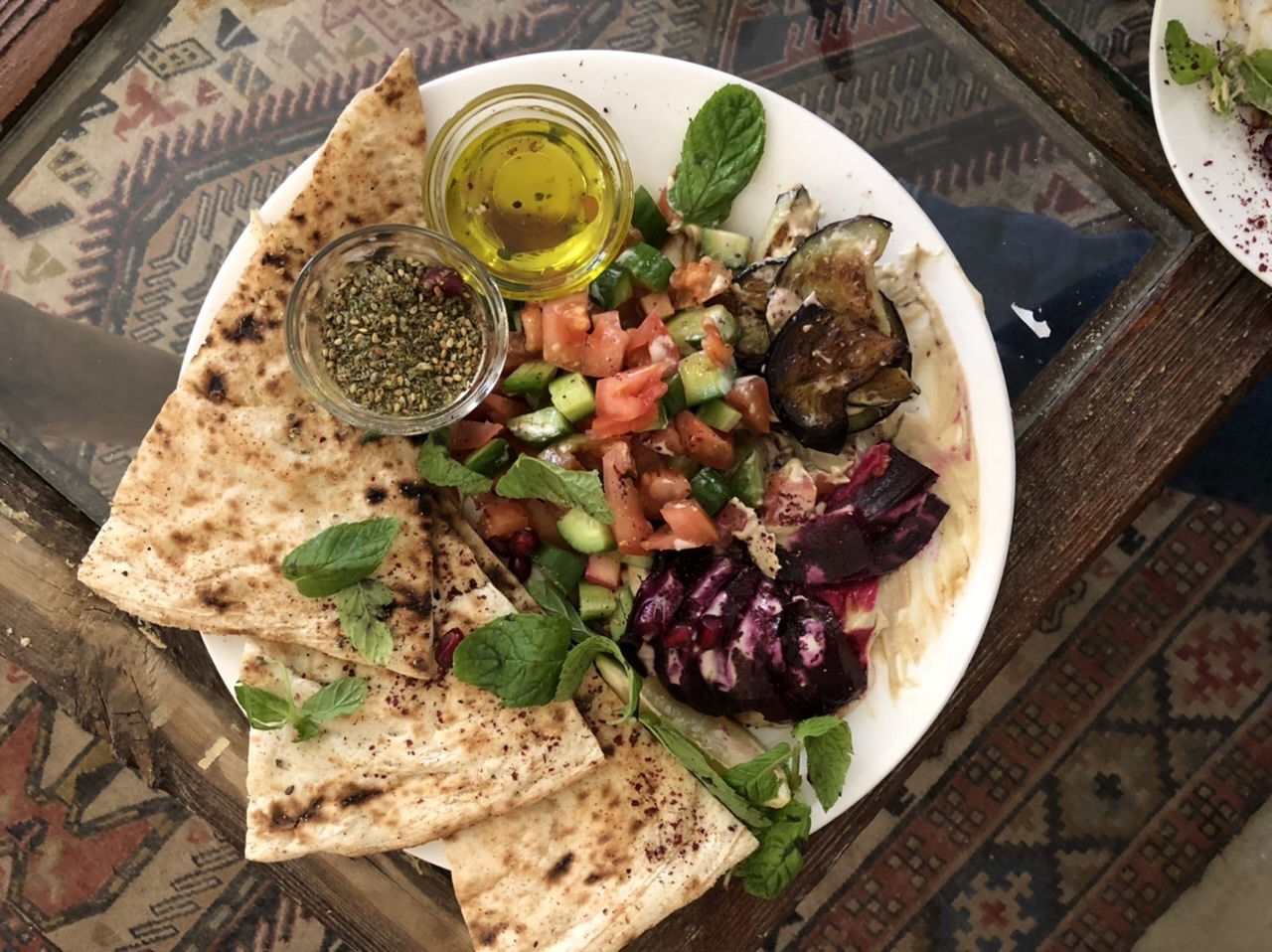 Vegan delights!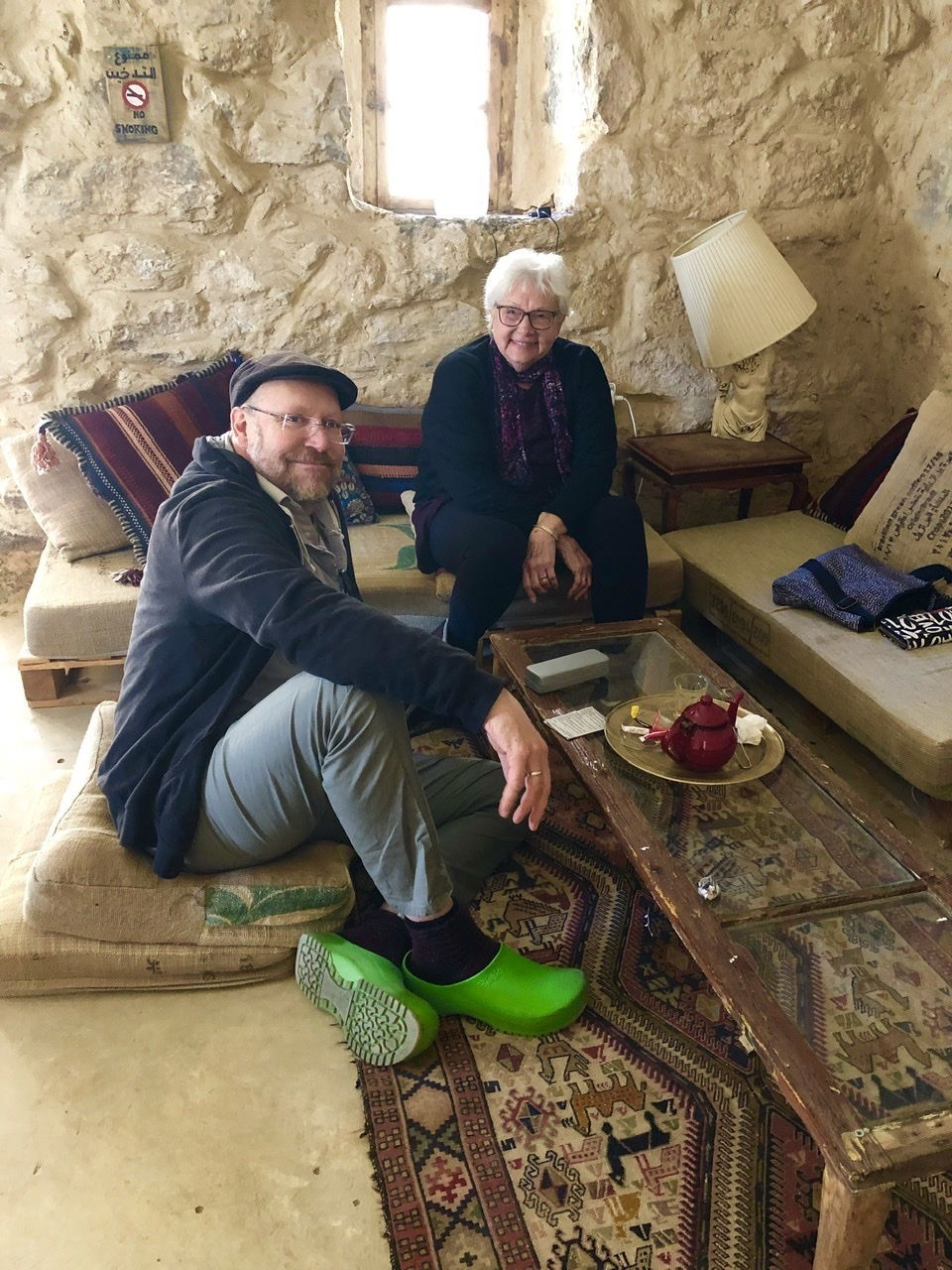 They had really good tea.
We learned a lot in Madaba. We learned that many Bedouins were Christians and that they settled the town of Madaba which still supports both Christian and Muslim populations living in relative harmony. We learned that the crusaders often married locals and that is why Jordanians often are very fair with light eyes. We found out that the nomadic lifestyle is nearing extinction and that might be for the best. We learned that Palestinians in Jordan are still considered refugees, even decades after the war with Israel which made them homeless. They have little decals of Saddam Hussein on their cars and trucks. We met such a range of people that welcomed and educated us because it wasn't just a two hour bus stop. We were trusted at checkpoints because of our passports and our language inability; we were waved through when other vehicles were stopped and searched. We felt like honored guests almost the entire time.
The best part of the trip was that we got to spend time together on the road again. My mom arrived, as usual, with a suitcase full of love - all my requests from the last three months - pseudoephedrine, Macrobars, Zicam, alcohol wipes, mail, a replacement credit card, two shirts I ordered on Amazon and a host of other goodies. Peter, Mom and I have done a Luther tour of Germany, Hawaii, and Turkey together but this was our most audacious adventure. I am so grateful to have a cool mom (still!) and a kind and tolerant husband, both of whom let me win at Scrabble and who make me feel loved every day of my life. Pick your destination carefully and may God bless you with companions such as these.