The YEAR OF TRAVEL is not cheap, my friends. We had a healthy budget. We knew we would have to pay taxes, take care of our nearly new car, buy medicine abroad without insurance and pay for our travels. So, when we were making the grand plan we realized that to save money we would have to be creative. Besides, we wanted to live like locals and really meet the people in the communities in which we were staying instead of just passing through. We originally planned to do 4 month-long stays volunteering in exchange for room and board via Workaway - a website that connects hosts and workers from around the world. In theory, it is a brilliant idea and one that fosters cultural exchange, friendships and mutually beneficial relationships. In practice, it is sometimes a bit of a bait and switch or even downright uncomfortable and unsafe. The only Workaway post that we stayed at for the entire time without leaving early, of the four we signed up for was the one on Alonissos. This says a lot about the hosts and the island itself.
Previous Workaways:
1. France - narcissistic hosts with a tight purse and uncomfortable business practices. No board, just room. Our apartment was full of biting flies and we did hard, physical labor every day - ironing, cleaning, raking, gardening and garbage. It was on a farm and the animals were mistreated. There were lots of male farmers hanging around late at night drinking and carrying on. The other workawayers were competitive and gossipy. There were stray dogs and cats. Our friends from the US came to visit us and that is the only reason we did not leave earlier. We left after about 3 1/2 weeks.
2. Greece 1 – this post!
3. Greece 2 - A hotel in a highly touristic area where we were given a bag of apples, some tomatoes and soup every other day. Sometimes we were offered coffee. We slept on hard, dorm style beds in a very uncomfortable hotel with a bunch of lower middle-class Russians on holiday. The Russian maid yelled at us every day. She screamed until she was hoarse. I have no idea what was wrong. The owner's husband was threatening and we were told to make ourselves scarce if he ever showed up. Oh! And we might go to jail because it is illegal to work in Greece. The work was replacing a poorly installed roof and scraping the grout out of 21 shower stalls. We left after a week.
4. Ireland - Elderly dude who already had 4 other workaway volunteers there and his girlfriend had just moved in when we arrived. We were told the first night that we were not welcome - no, that was not our impression, we were actually TOLD that we weren't welcome. It was very uncomfortable. The "cook," an obviously high strung German lady, would put an egg in each dessert or mushrooms in the soup so that I couldn't eat it. At some meals I would get up and make a can of beans. The work was fun - Peter did maintenance and I did some mosaic tiling. But the atmosphere was so toxic, we decided to leave. We realized at the end of the time we were there that not once had anyone asked us anything about our lives. During meals there was music and everyone ate in silence. We left after 5 days.
One of the things that Peter and I wanted to learn was to set boundaries and be able to say no when asked to do too much for too little. We were also looking for purpose and something to inspire us - not to help rich people who don't want to hire professional help to do yet another shoddy renovation on their already oversized and overstuffed homes. We were also interested in meeting the locals and learning languages. Well, ALL of the workaway hosts were ex-pats. They had some other things in common too. They were estranged from their kids. They were not integrated into the community or if they were, they were not spiritually or socially integrated, just professionally. We have met a lot of other volunteers in our time doing Workaway and many of them say the same thing - it is fine if you are some desperate kid or 20-something who doesn't mind a hard bed and is not self-possessed enough to say, "hey, 25 hours a week does not mean 45!" I think there are Workaway posts that would suit us - we still plan to do one in February teaching Spanish to some ex-pats in Spain. But in general, it has not been something that has suited us.
Alonissos: When we arrived in Alonissos, we had just spent a week in Athens and in Meteora doing the tourist thing. We had to take three different ferries to get there and when we arrived we were immediately enchanted. Our host met us at the boat and took us up to the house. The house was huge - three stories with 4 bathrooms and four guest bedrooms plus an apartment and room for her mother. Amy (the host) and Cathy (the mother) were very interesting and fun people from the start. They are intelligent and well-traveled women and they are both Christians so there were lots of topics that we could all weigh in on and even argue about respectfully! Our room was not very comfortable for us - others would like it - it just wasn't our cup of tea. We were very susceptible to bites so we had to close the windows. Nothing seemed to help - although no one else was bothered! We were in a small double bed at first and later in two twins and they were firm mattresses. Peter's feet hung off the end! There were lots of no-see-ums and we went around in 85 degrees with clothes covering most of our bodies and/or covered in insect repellent. But the food was wonderful and the atmosphere was so congenial that it all evened out for us. The house was beautifully decorated and the views were spectacular. Amy had to leave for a family emergency so we held down the fort while she was gone. She was very generous with grocery money and lending us her car to go to beaches or to town. There was no competitiveness there - no one was trying to do the BEST at cooking or know the MOST about anything - we were all just sharing the work.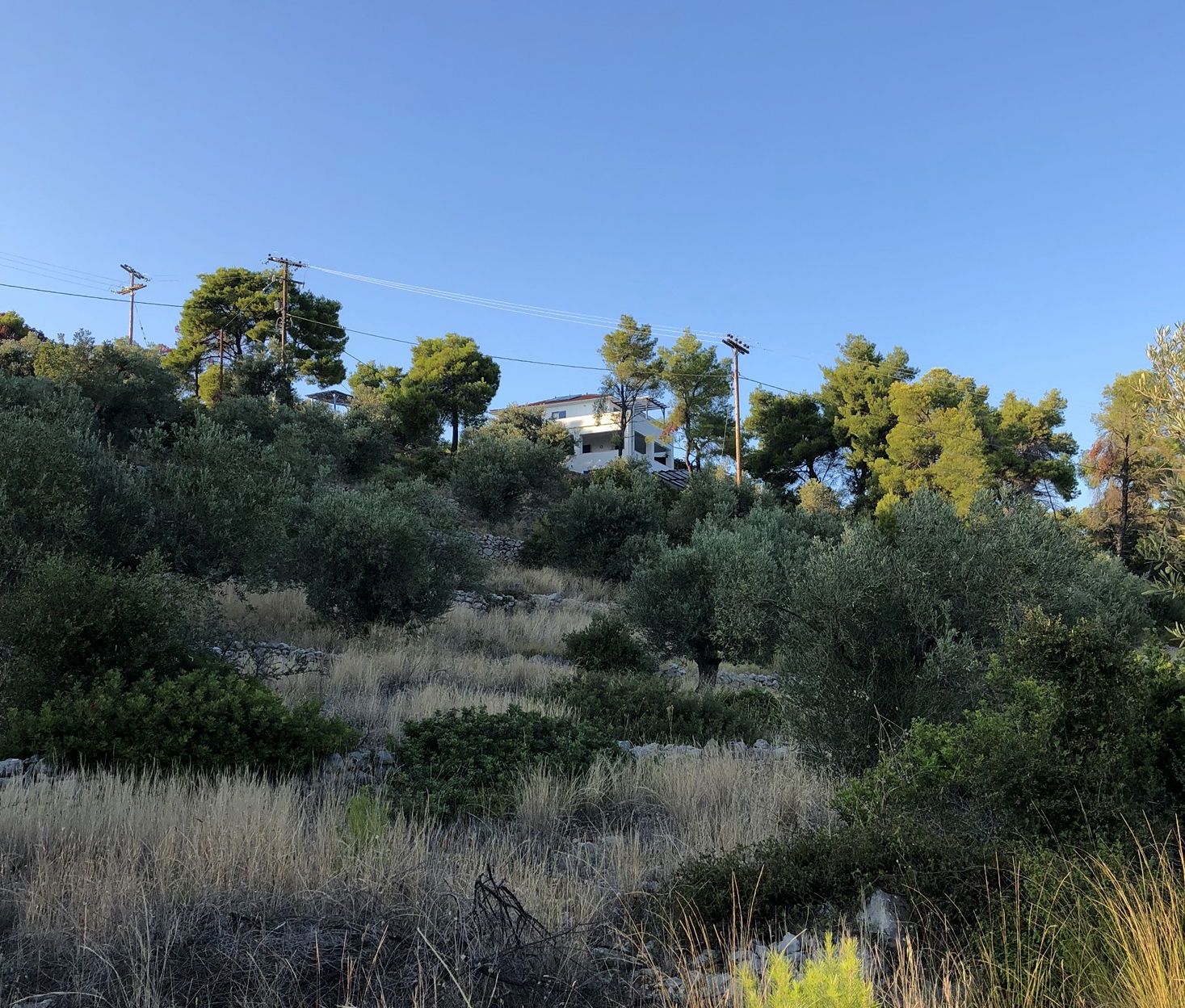 View of Amy's and Cathy's house from the trail below it
Our dear nephew, Benjamin, came and stayed with us for a week and that was no problem for Amy. Peter and Benjamin rebuilt the chicken coop and we all cleaned out and reorganized the pantry and the shed. We did a lot of repairs and I got to do some painting and DIY projects. I even got to paint an art piece for the family. This is what we were hoping for when we signed up to do workaway. We sincerely hope that we did a decent enough job for what we received in return.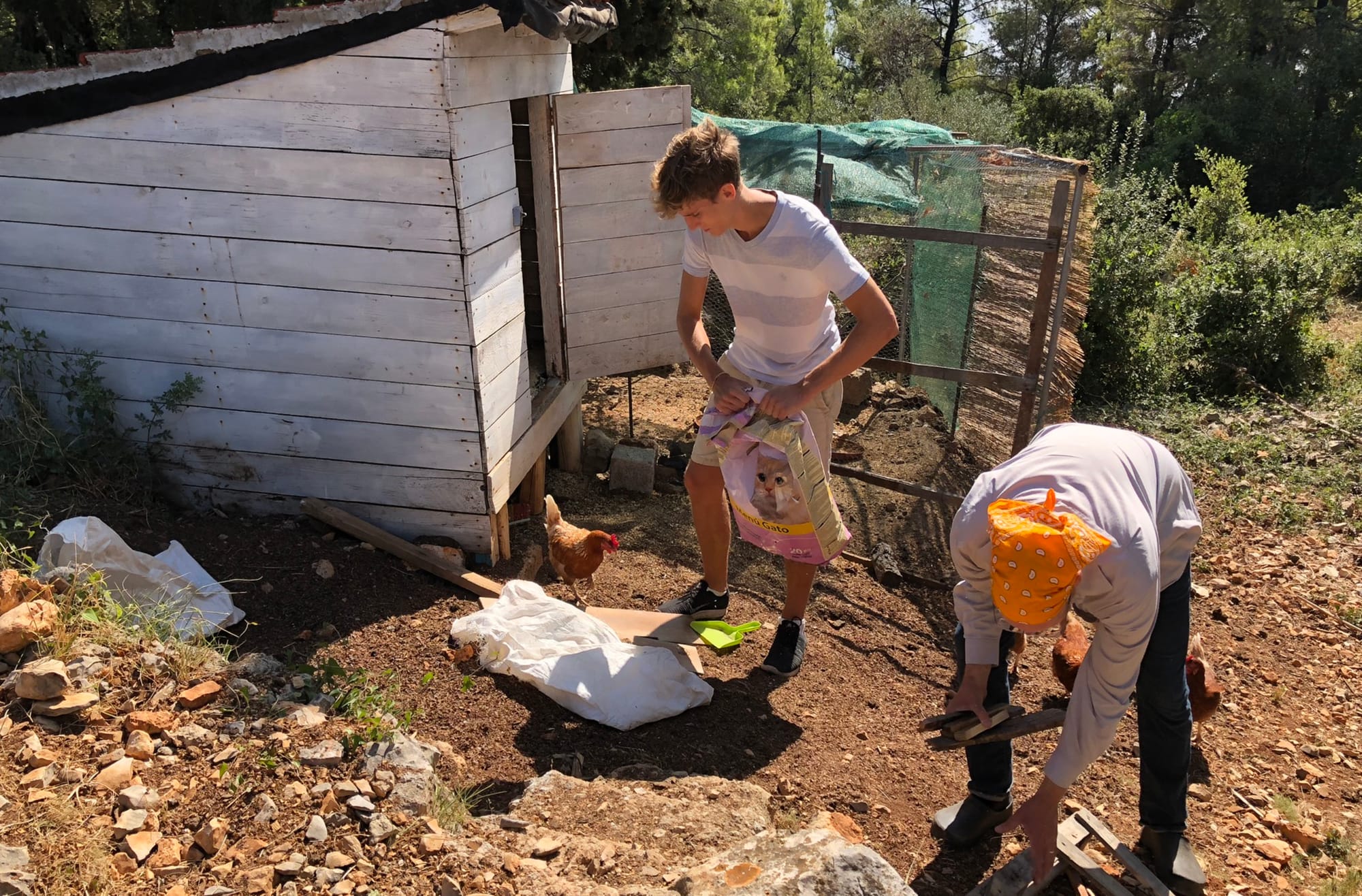 Putting the finishing touches on the coop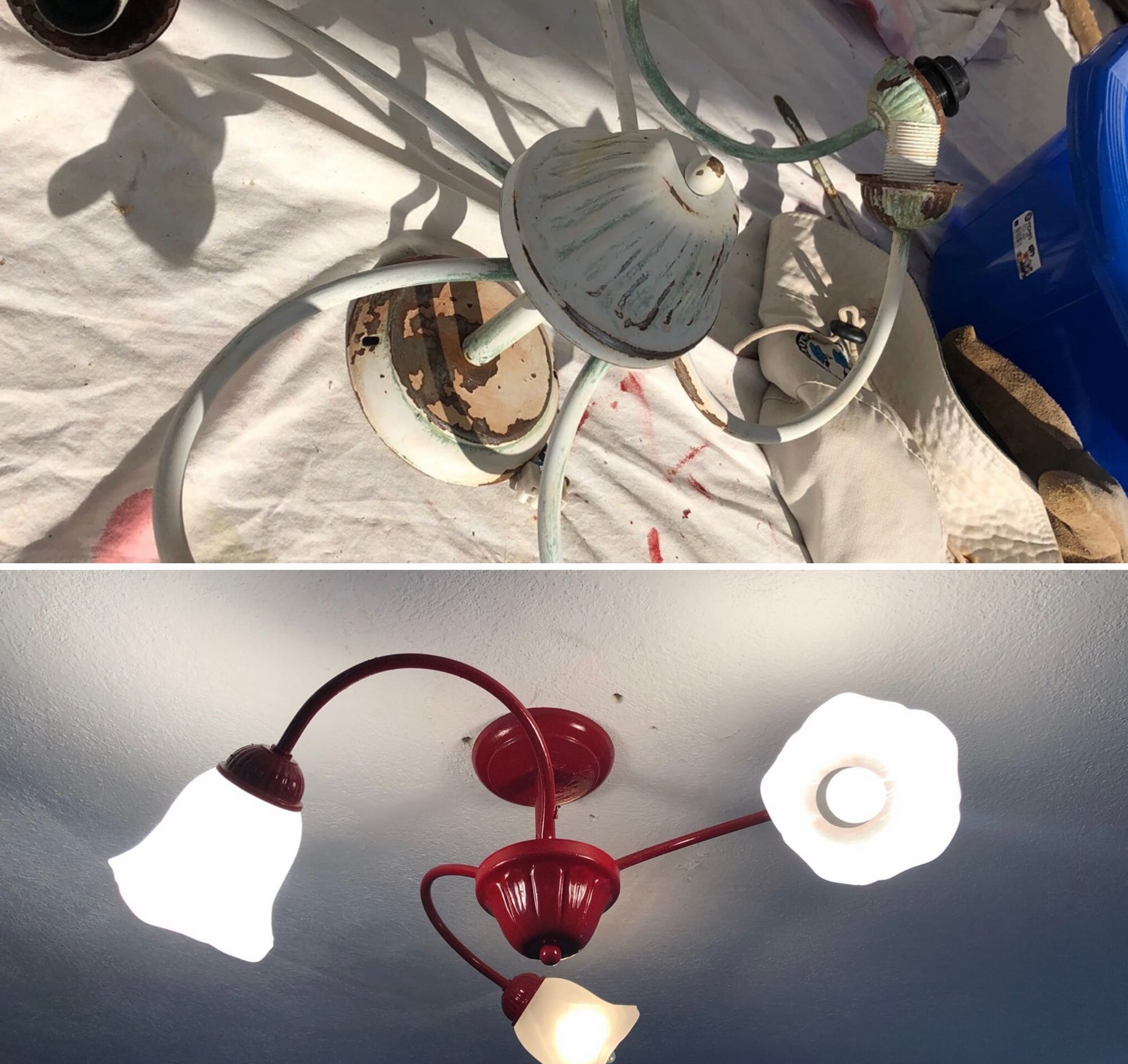 Before and after lamp we painted and installed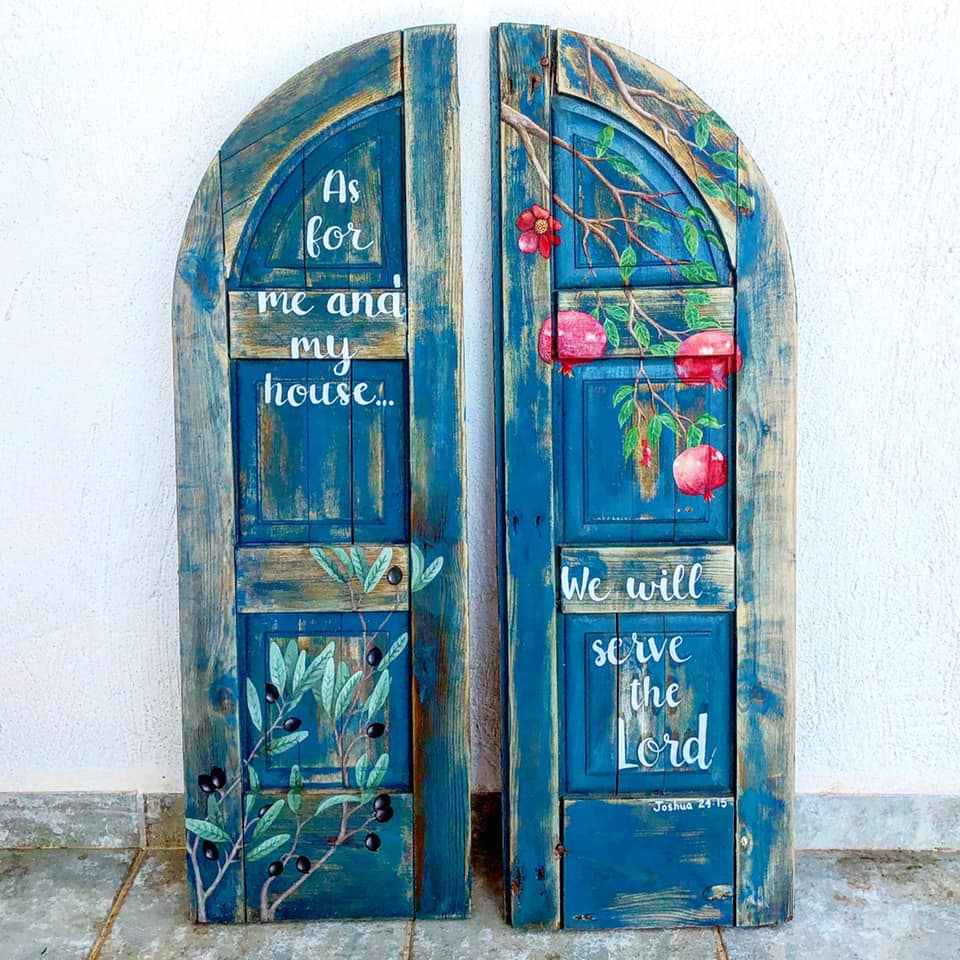 This is the art piece I painted.
Alonissos itself is an absolute paradise. If you plan to spend time on an isolated Greek island, I would choose Alonissos. there are other islands in the Sporades group. Skiathos is the main island with an airport and all the services - and the chaos. Skopelos is the Mamma Mia island with a tour and some pretty monasteries. Alonissos is the third island. There is one main town, one kind of historic hill top area and about 30 gorgeous, spotless beaches. And Mediterranean Monk seals. Some of our favorite things in Alonissos were:
Visiting Old Town. The Old Town had been evacuated and moved to the port after a terrible earthquake and then the English and the Germans arrived and fixed it up. There are lots of locally owned shops and cafes and the most incredible views! It is worth seeing the whole town. There are awesome photo opportunities from every corner!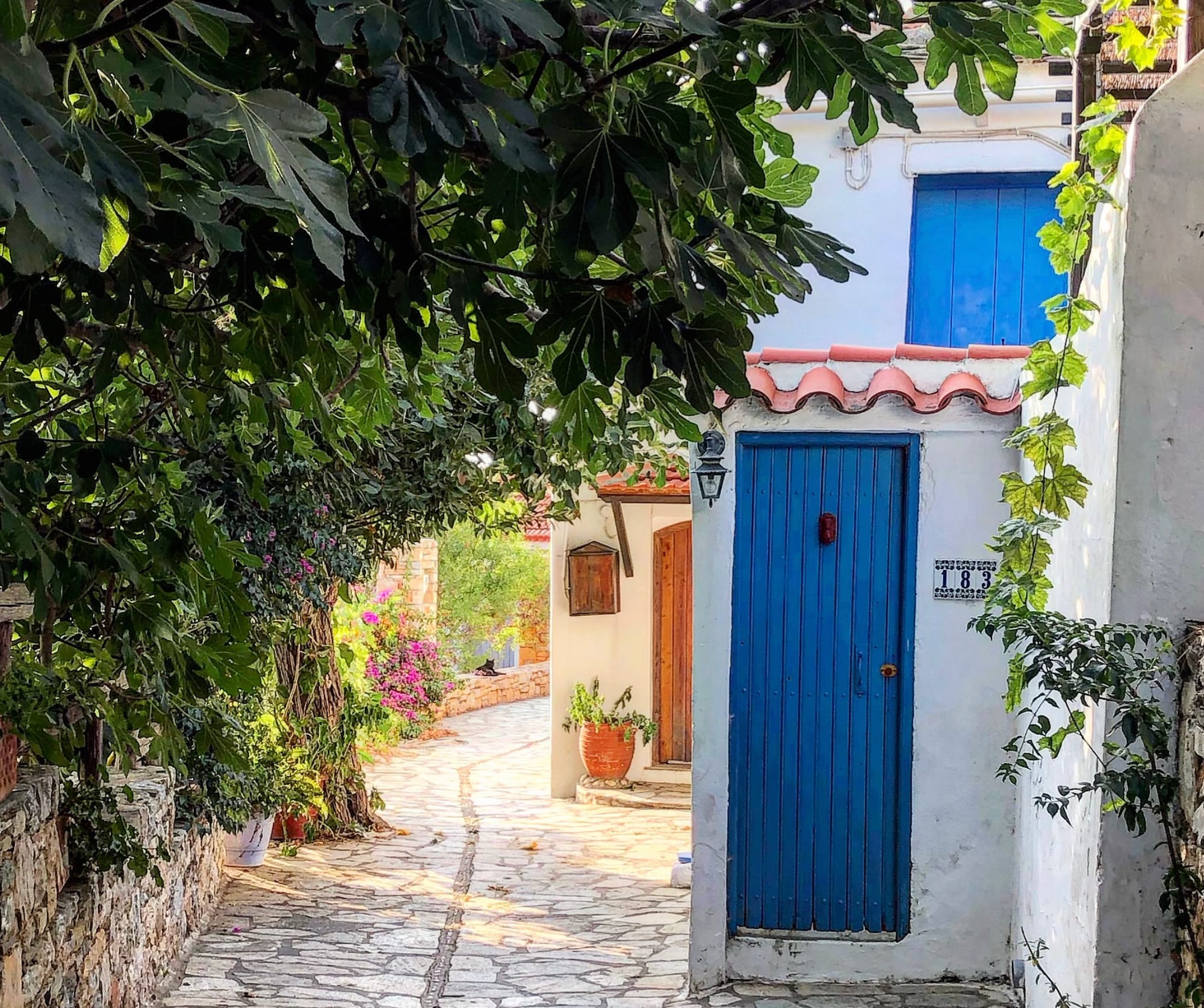 The streets of Old Town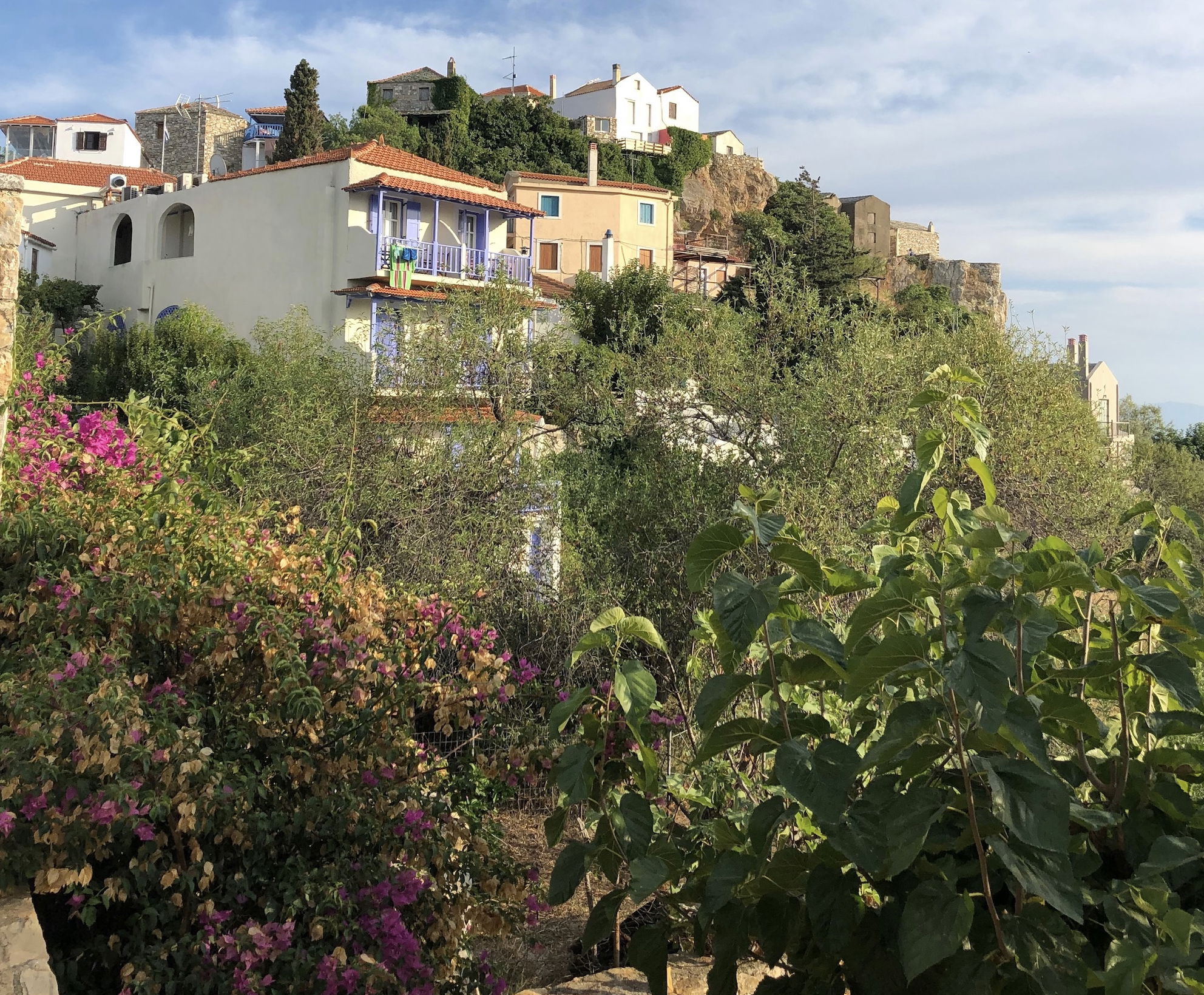 Old Town
Patitiri town. This is the main town of the island with two ferry docks and three grocery stores. There is a wonderful healthy bakery and a good organic produce market. There are a few gift shops with original clothes and gifts but mostly the town is for locals and tourists to get what they need and get out.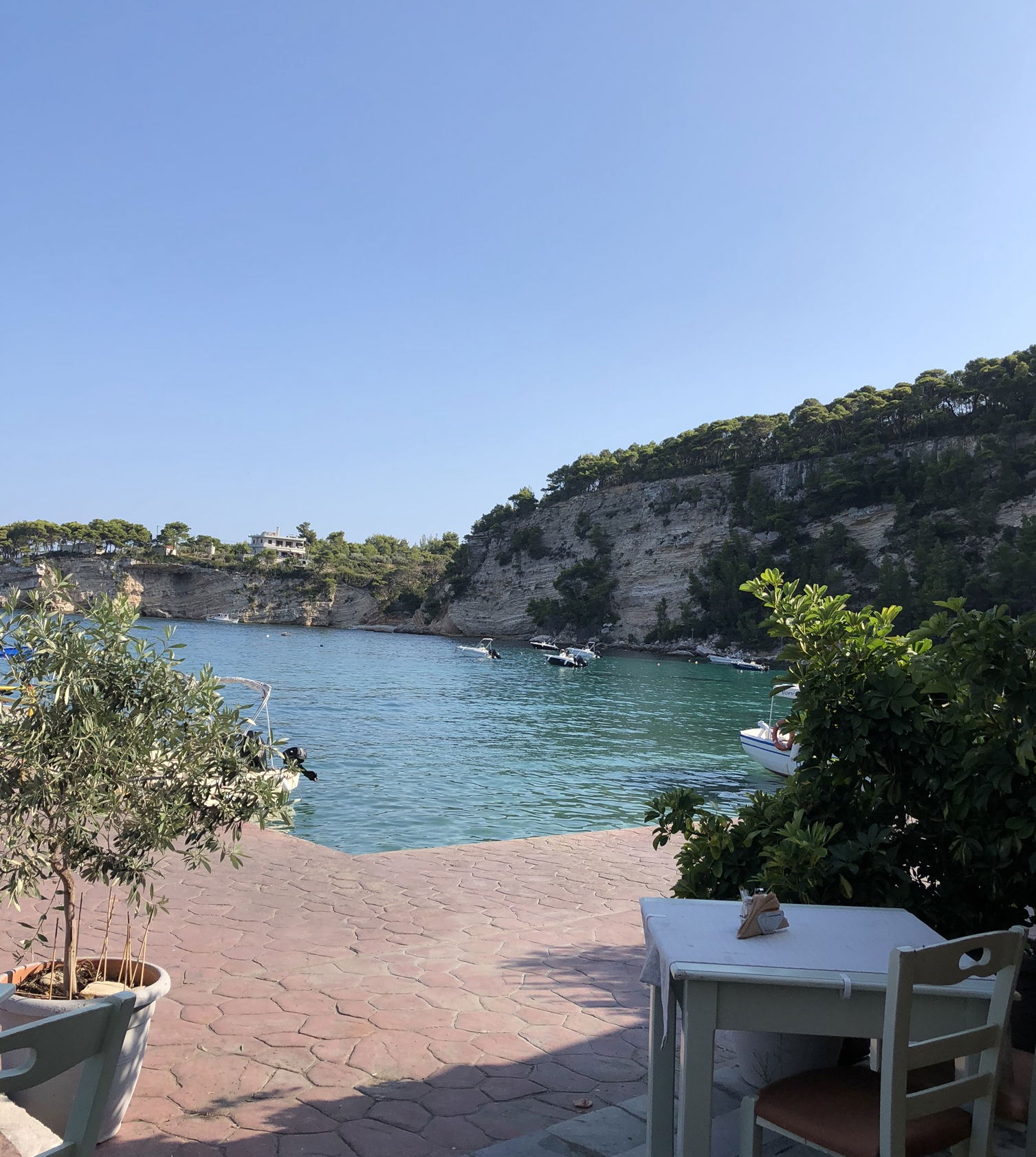 Patitiri beach and walkway from the cafes
The Monk Seal Center was kind of hit or miss; often it was unstaffed. There aren't usually any seals in Patitiri anyway, but to get a boat tour or to rent your own boat to see the island, it is the place to go. There is a FANTASTIC Italian gelato shop where the ice cream is hand made on the premises. Be still my heartburn. There are a couple of decent restaurants - we liked Archipelagos the best - the bread was really good, the service was friendly and they had the best tzaziki.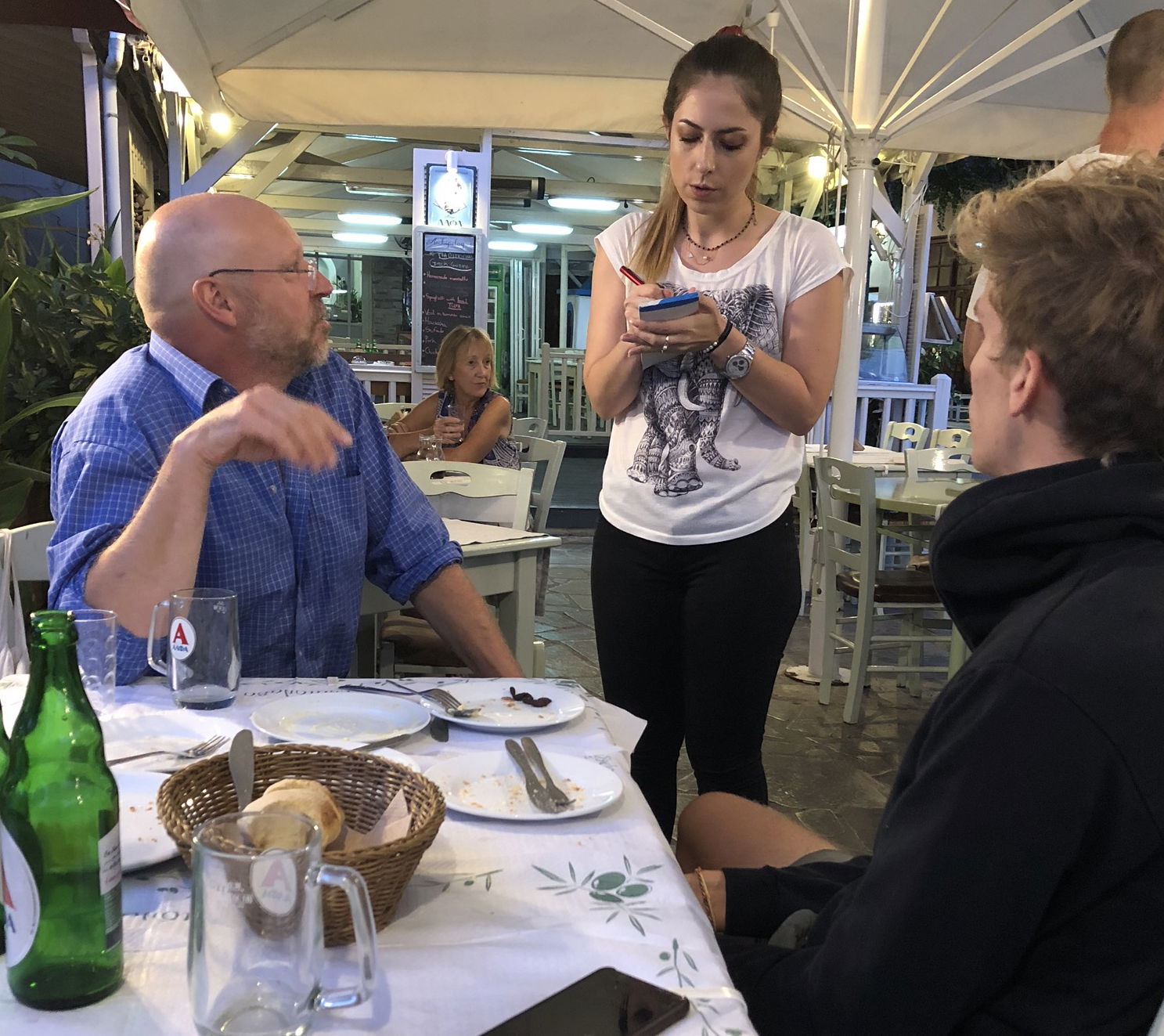 Our favorite restaurant
Two other places we found interesting on Alonissos were the fishing harbor of Votsi and the windswept beach and ruins at Kokkinokastro. At Votsi it is fun to climb around on the stones and take pictures of the colorful boats and cliffs, complete with sea caves. There is a beach there too and a few hotels and restaurants.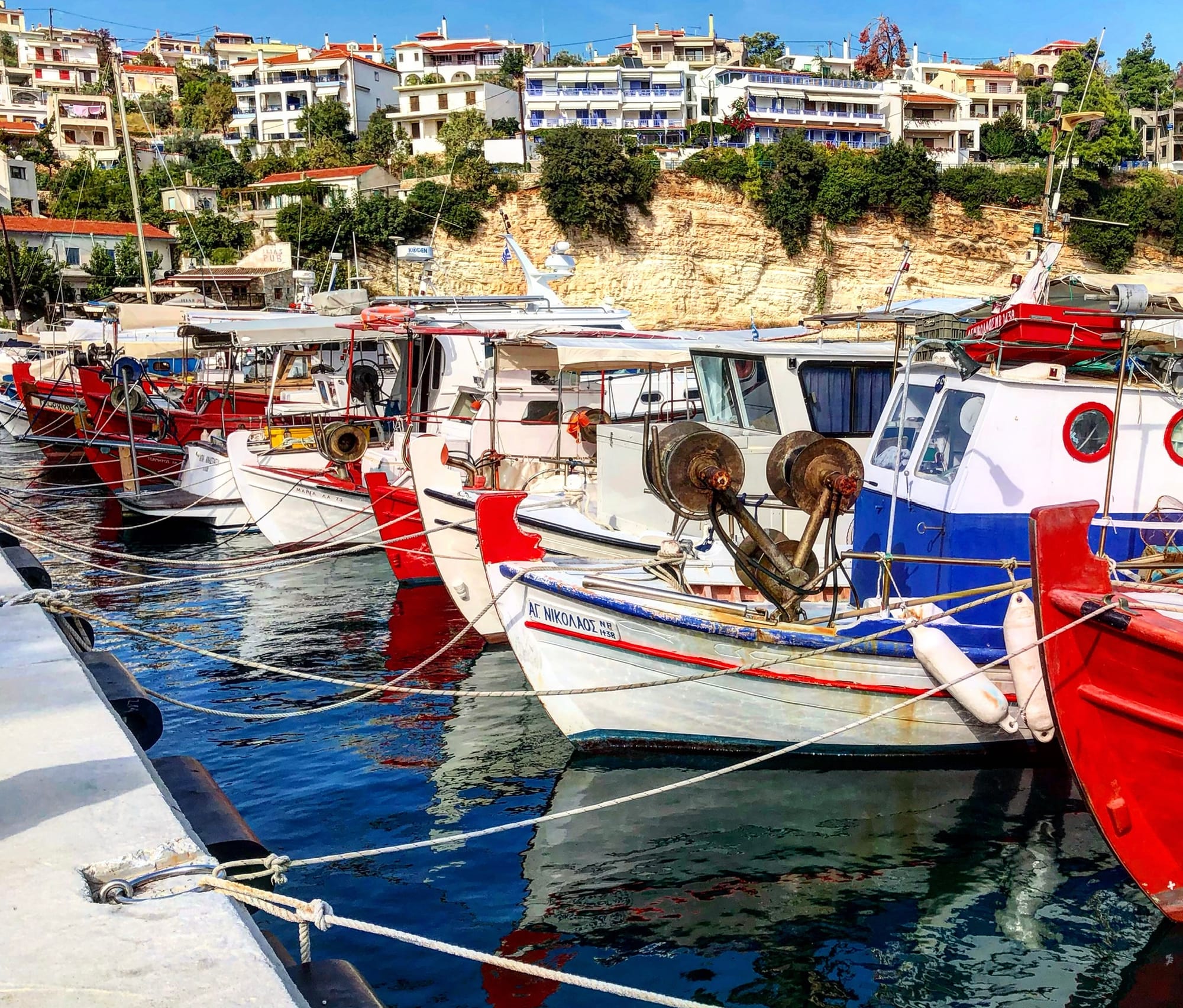 Red, white and Blue at Votsi
Kokkinokastro has the ruins of a huge windmill and a little food shack where they reportedly do a great seafood dinner. We walked around and looked at the ruins of an old kiln and took pictures of the colorful rocks and sideways trees.
Megalos Mourtias Beach. This was the first beach we went to. You can lay on the free plastic lounge chairs in the shade or pay 5 Euros for the nicer ones. There are two bar/restaurants and the vibe was pretty chill. The beach is small stones and there is a little boat pier as well. I like the stone beaches - you can walk on them - they are all rounded from the play of the water and they make a little clinking sound as they roll with the gentle waves. The beach is super clean and there are even little fish in small schools. People were snorkeling while we were there. It is at the bottom of Old Town Alonissos.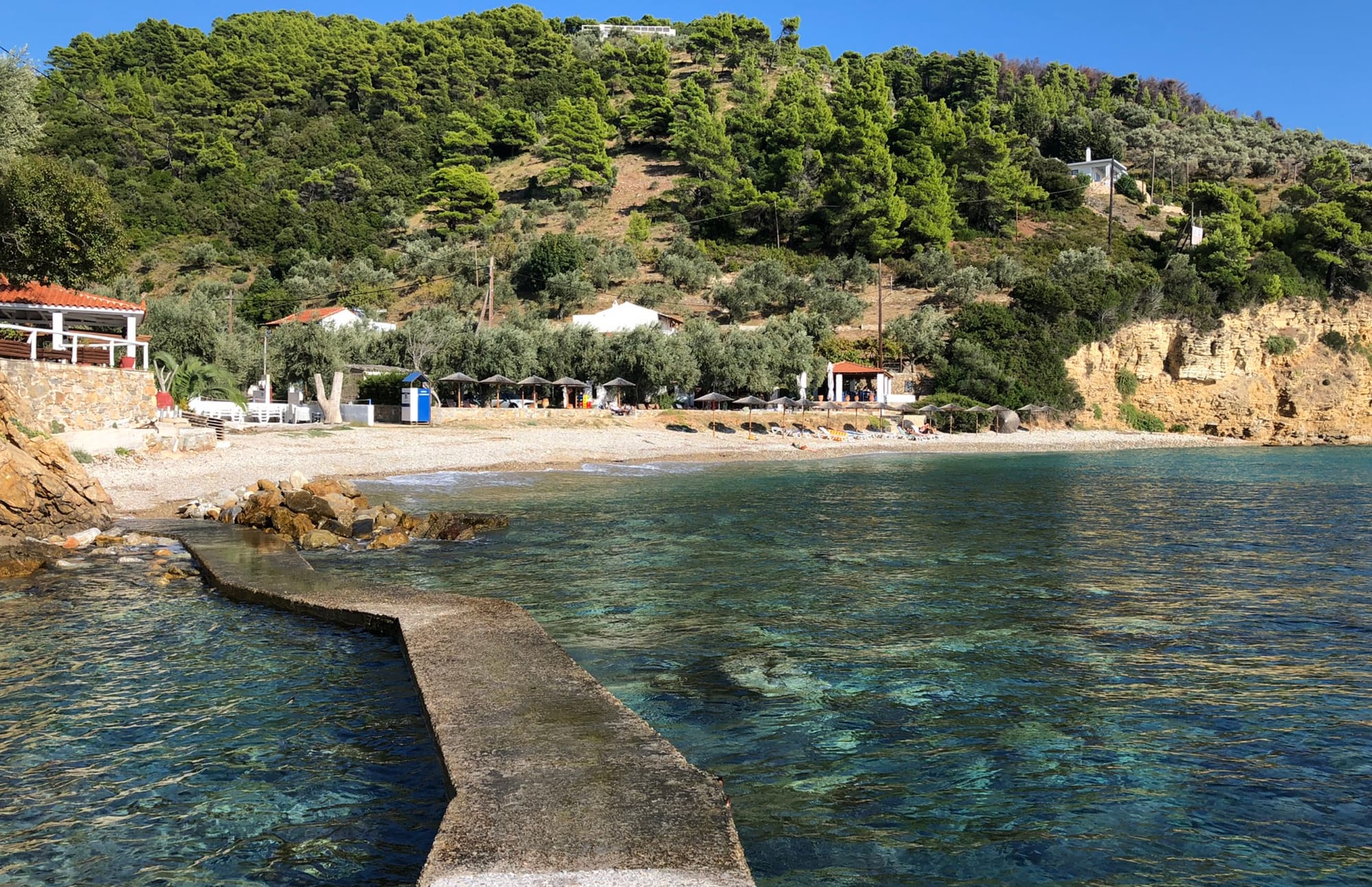 Megalos Mourtias Beach
Chrissi Milia Beach. Serioulsy, this is one of my favorite beaches in the whole world and I have been to Hawaii six times. There is a bar (beware - the house music is frightful) and a good restaurant and the water is crystal clear. You can walk out about half a kilometer into the sandy bottomed beach without going in over your head. There are no waves and the water stays warm and swimmable until October. Divine. On our last day on the island we even saw a Monk Seal! We had to wade to an adjacent bay to see it. It was huge! It must have been two meters long.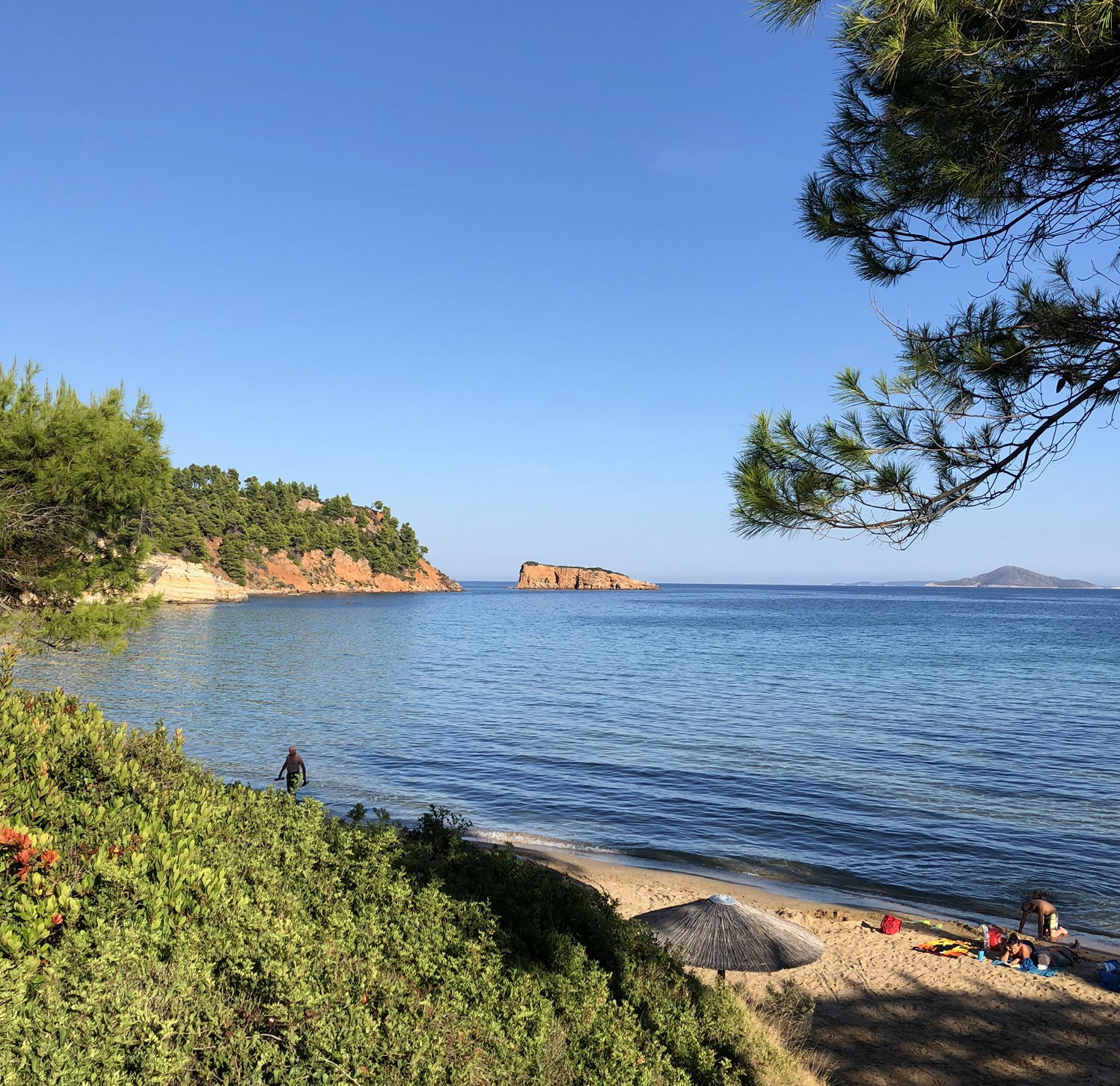 Chrissi Milia in late September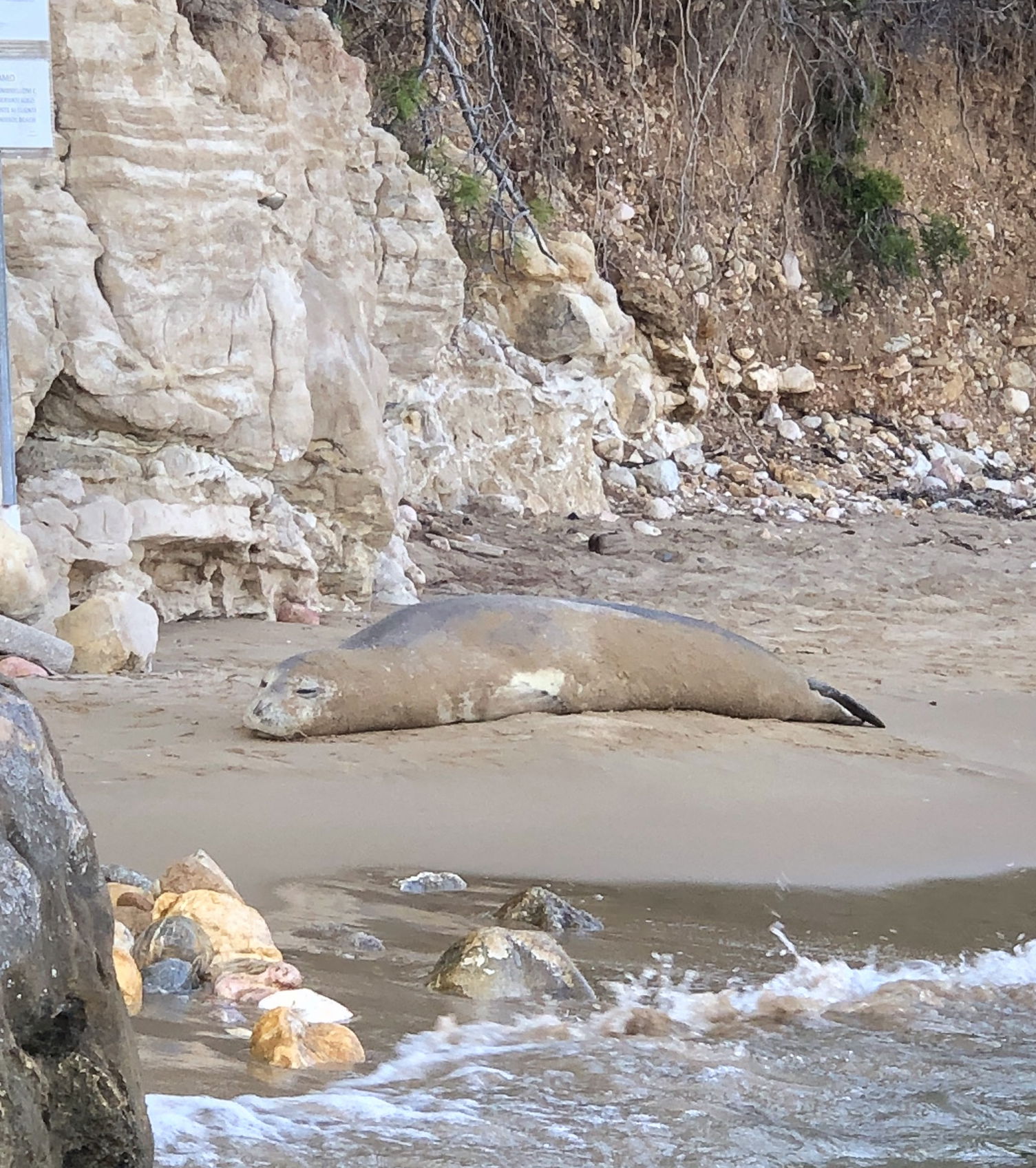 The Monk Seal!
Driving on Alonissos is a real challenge. Some of the roads look like walking paths and vice versa - it is quite easy to walk around and use the local bus. You don't need to rent a car at all. Many people just rent a motorcycle. People are very patient on the streets and we were never afraid of someone driving crazily. Alonissos is very safe in general. We could walk around at night with our phones as flashlights and spot hedgehogs and other little critters (the ever-present scrawny cats) without a care in the world. There aren't many places left in the world like Alonissos. I am so grateful we could spend a month there like we did.
Specifics:
Lodging - Falcon View Air BnB - singles from $18 Per night with breakfast
https://www.airbnb.co.uk/rooms/14040780?s=67&shared_item_type=1&virality_entry_point=1&sharer_id=6212513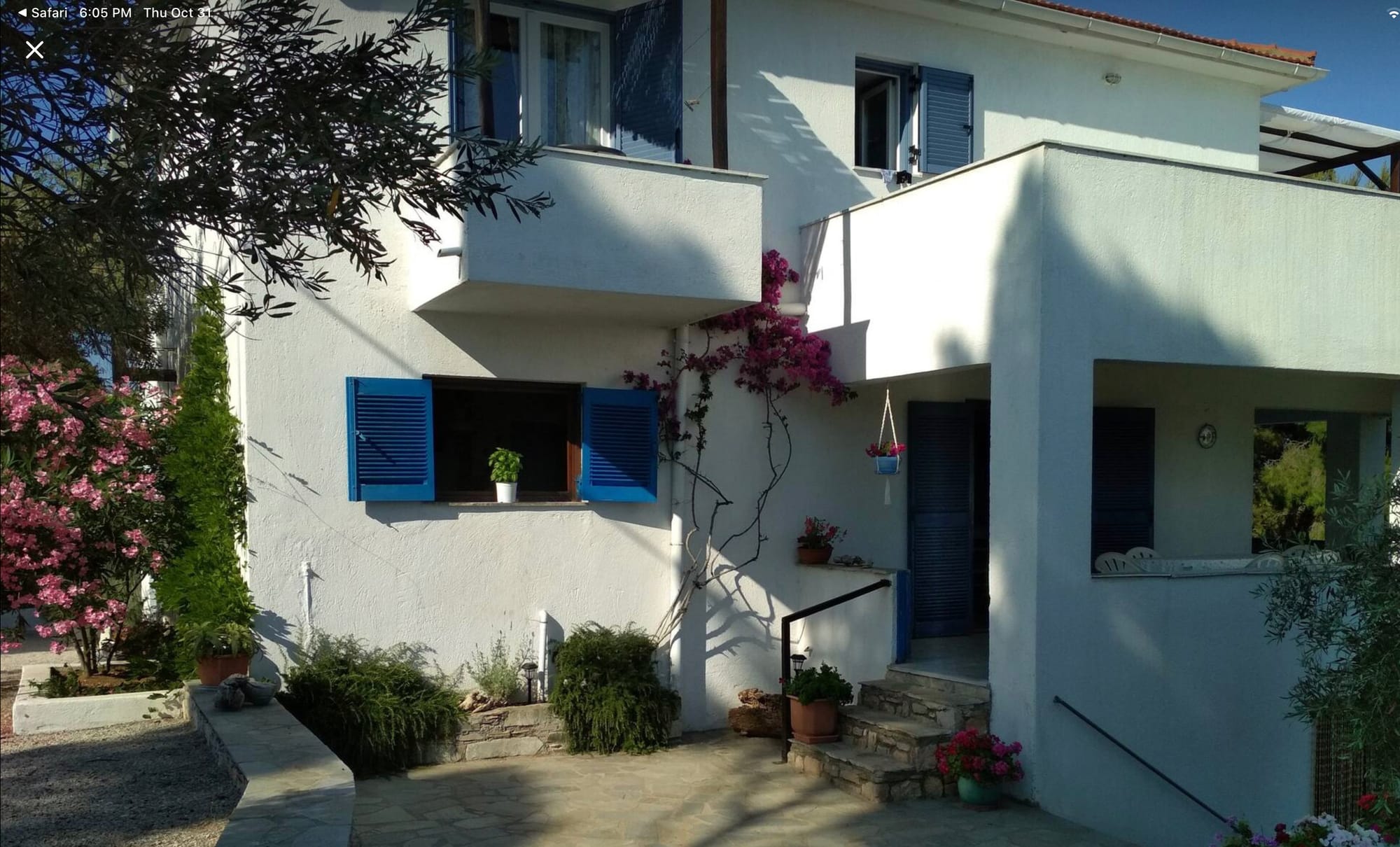 Car or moto rental - Road Runner Moto in Patitiri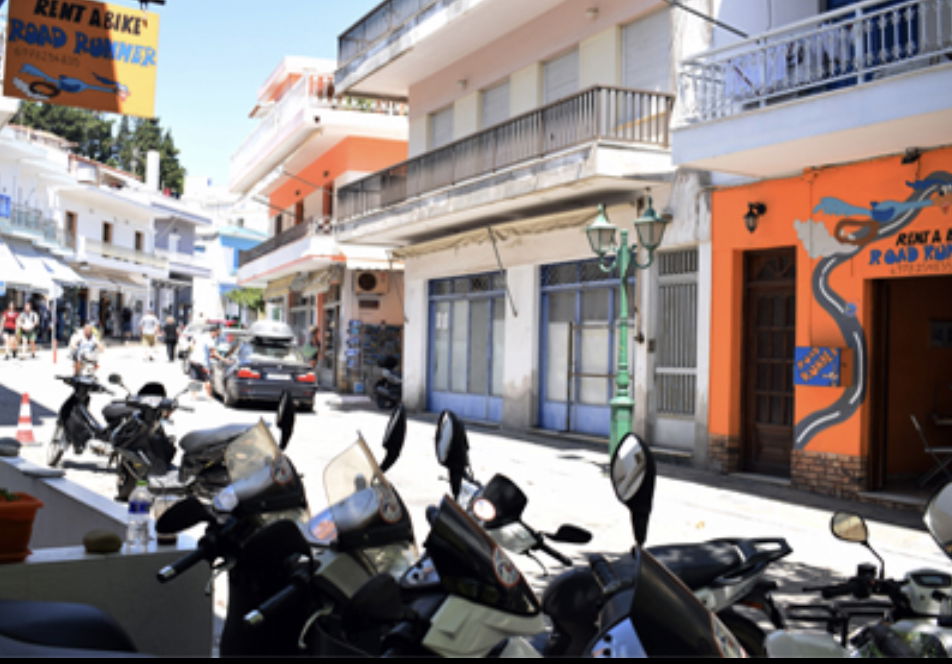 Photo from business website
Restaurants - Archipelagos restaurant in Patitiri on the pier. Lonely Planet agrees!
https://www.lonelyplanet.com/greece/patitiri/restaurants/archipelagos/a/poi-eat/1388888/1316753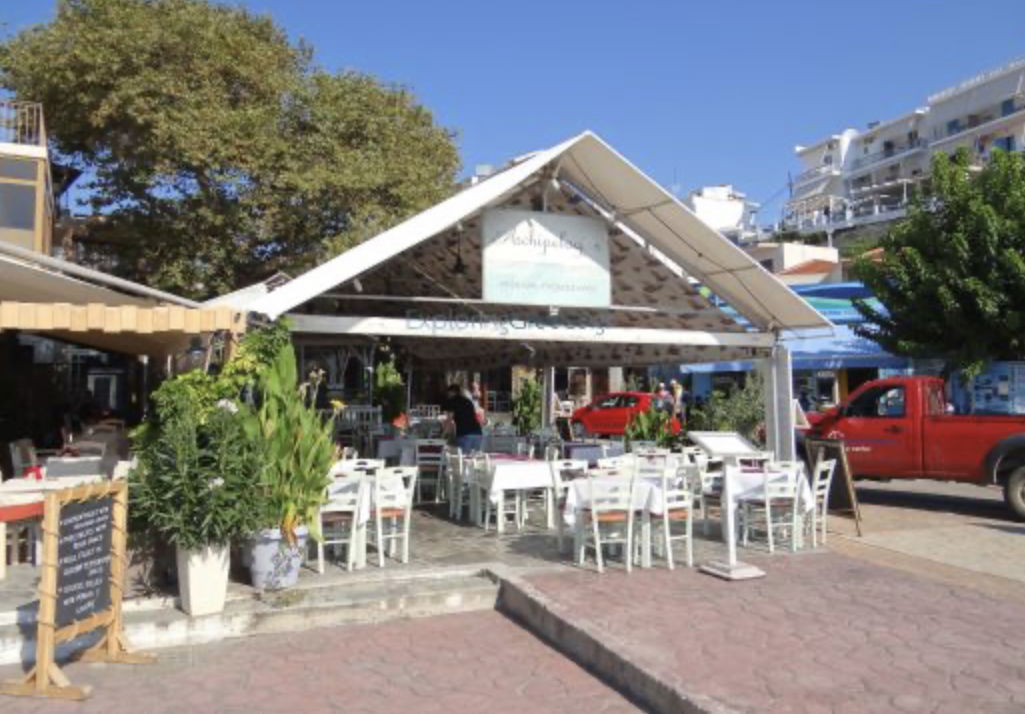 Photo from business website
Italian Ice Cream in Patitiri - El Pagoteria
Photo not mine
Ferries - Anes ferries - make sure to click English! https://www.anes.gr/en and Hellenic Seaways https://hellenicseaways.gr/en/ - We had better prices buying from an actual tourist office at the port, buying online was almost twice as expensive and not necessary unless you have a car. I was told this and did not believe it. So, believe it.