Every time we told people we were going to Bulgaria we heard the same four responses:
1. Why on earth?
2. I have heard it is dangerous!
3. The food is terrible. The hotels are too.
4. What is there to do???
Allow us to address these concerns:
1. We overstayed our Schengen Visa and we could not afford even a one day stop or a one hour layover in Schengen. We had to fly through Bulgaria, Turkey or some other non-Schengen country that was between Germany and Israel. Since we couldn't spend as much time in Germany as we had planned due to the aforementioned bureaucratic kerfluffle, we decided to spend time with Peter's oldest sister in Jerusalem. She had graciously invited us to stay as long as we wanted! More on the graciousness of sisters later... We already had Ryanair tickets for Portugal that we could no longer use and even though Ryanair is the LEAST helpful airline in the world in many regards, they have a fairly easy exchange policy for tickets if you choose the FLEX PLUS option, which gives you seats and luggage, which we always want to buy anyway. (By the time I have finished this post they will have changed policies again so do your homework when booking with Ryanair.) Even though they had no advertised flight to Jerusalem from Cologne, we used those four tickets to buy non-stop flights to Sofia and then to Jerusalem a week later thus allowing us to visit Bulgaria and save money at the same time.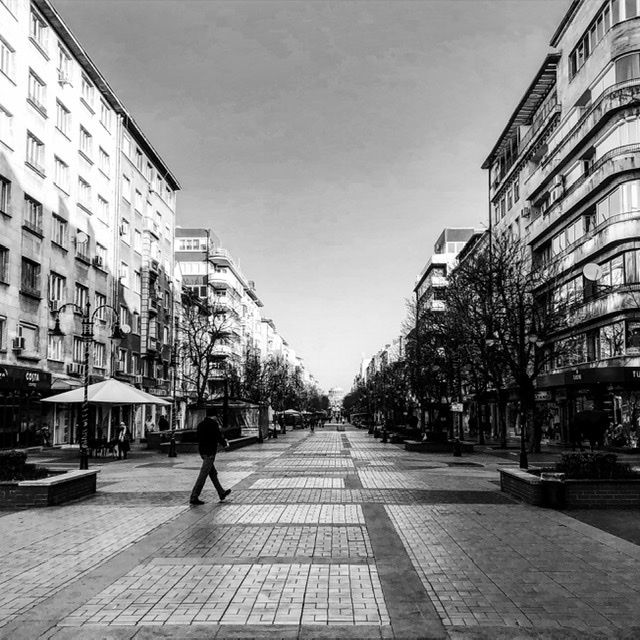 The main shopping street in Sofia
2. Um, yeah, you're thinking of Belgium. Today at breakfast at our Riad in Essaouira, Morocco, I met a woman whose mother and father were in BELGIUM and got robbed of all of their belongings. The B-countries often get confusing. No one really knows where Bulgaria is. The scariest cities I have ever been in have been to are Guatemala City, Guatemala, Liege, Belgium and Marseille, France. For some reason, Belgium gets a pass on their petty crime and bombings but Sofia, Bulgaria makes the top ten most dangerous European cities regularly. The problem is organized crime and contract killings, according to https://www.thetravel.com/europe-most-dangerous-cities/. But I am telling you, my fight or flight instinct was not even activated in Sofia whereas in Liege it was cortisol ALERT at all times. I think people are blaming one B for the events in the other B. And now that I have written this, cackling away about contract killings I think maybe the reputation may be deserved and we got lucky.
To frame this opinion, I will tell you that I tend to be more anxious about my personal safety than most people and less likely to take risks when I travel. Even though I have been to some really off the wall and questionable places (Uygher China) I don't laugh off a travel warning. I use the UK site for travel advisory warnings as well as the US site because the information is often more detailed and up to date.* I also consult travel sites like Lonely Planet and Worldpackers but with a critical eye as information can be very subjective. People like to brag about how "unruffled" they were - it's a bit of a pissing contest among the top travelers; once you hit 30 countries the one-upmanship is Intense.
3. We thought the food was lovely. There were many vegan options on the menus and some really nice vegan-only cafes that surprised and delighted us. The short term rental market in Sofia, especially, is full of recently updated and stylish flats for low prices.
Where to Stay:
There are many cheap and comfortable apartments for rent in the center of town for less than $40 per night.** We stayed in a sweet apartment in what looked like a bombed out slum. Honestly, we could not have been more alarmed when we arrived.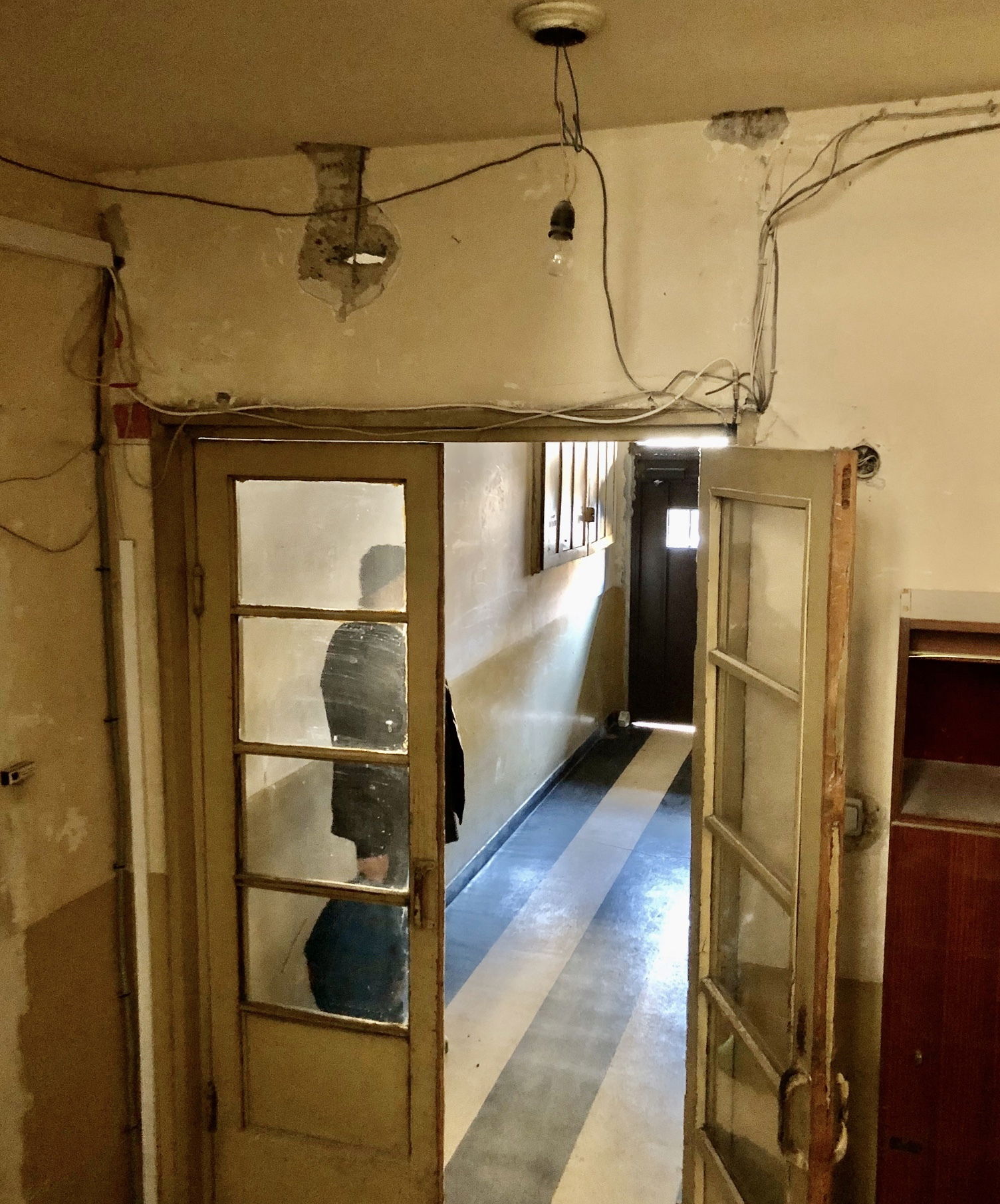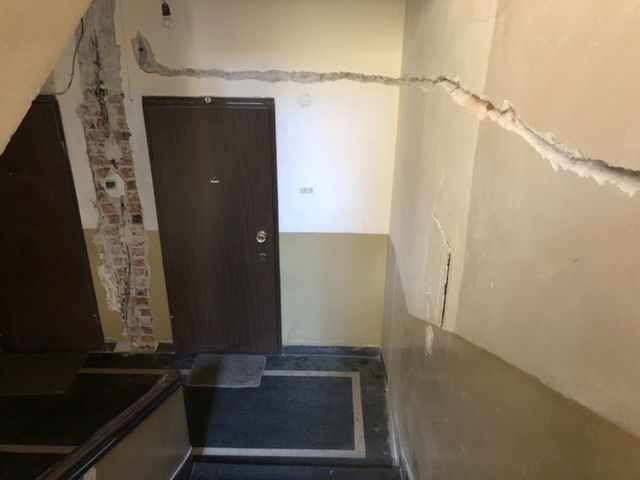 They were...renovating.
Fact is there are lots of buildings in Sofia that are empty or partially empty and are undergoing renovations or gentrification. Bulgaria has a love/hate relationship with Russia and all things related to their previous status as one of 15 communist-controlled Bloc countries. Some Bulgarians bemoan the cost of living and rising crime rates and long for the good old days of Soviet oversight and others hate everything about Russians and their influence. Most apartment buildings in Sofia are often ugly concrete boxes with little charm or individuality to distinguish them. Others reminded us of the Art Nouveau buildings in Riga, Latvia and Miami, Florida. The seemingly thriving artistic community in Sofia has been busy the last twenty years, creating graffiti, planting gardens, painting iron fences bright colors and hopping on the millenials-that-keep-chickens train with gusto.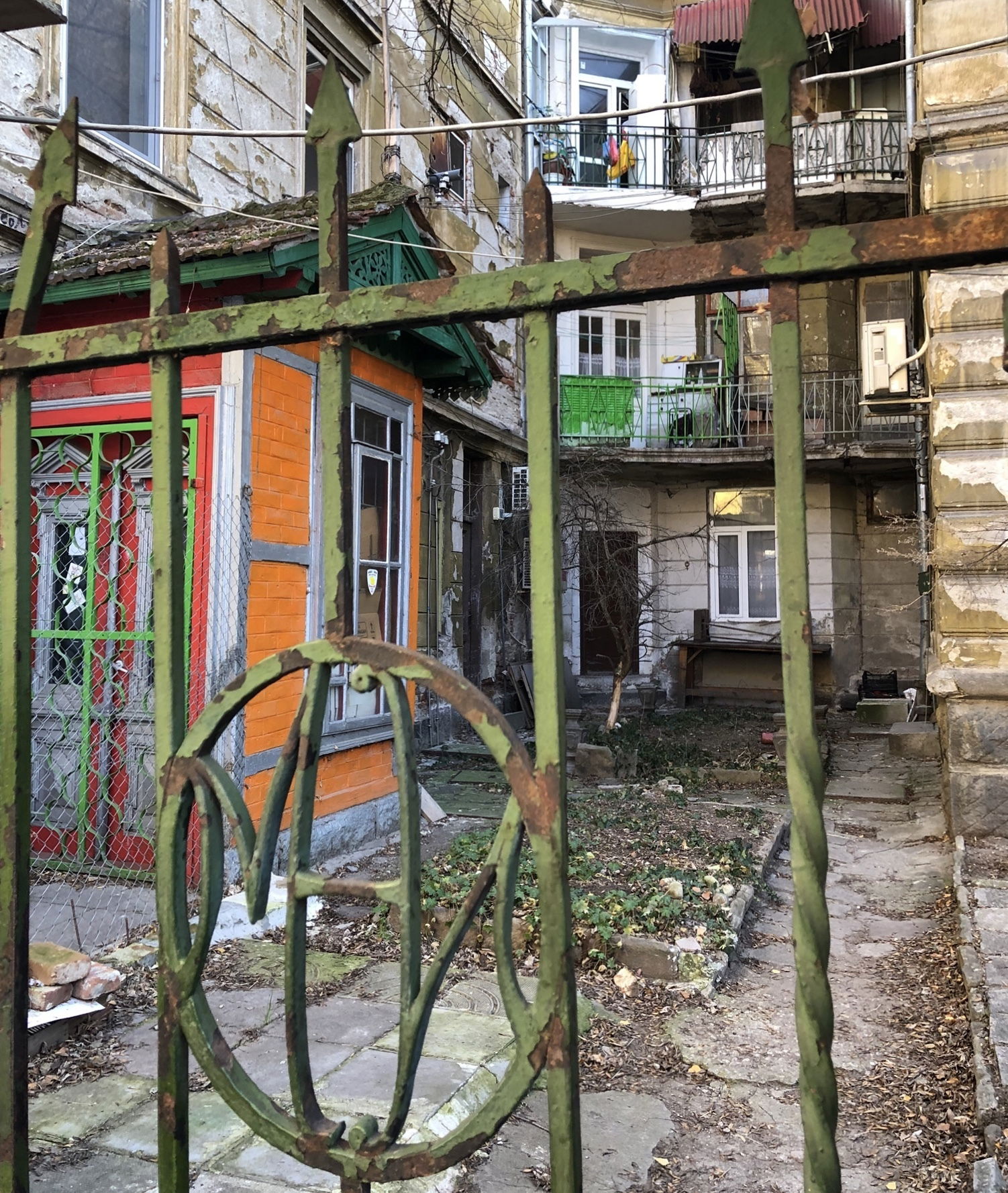 Some like it blaze orange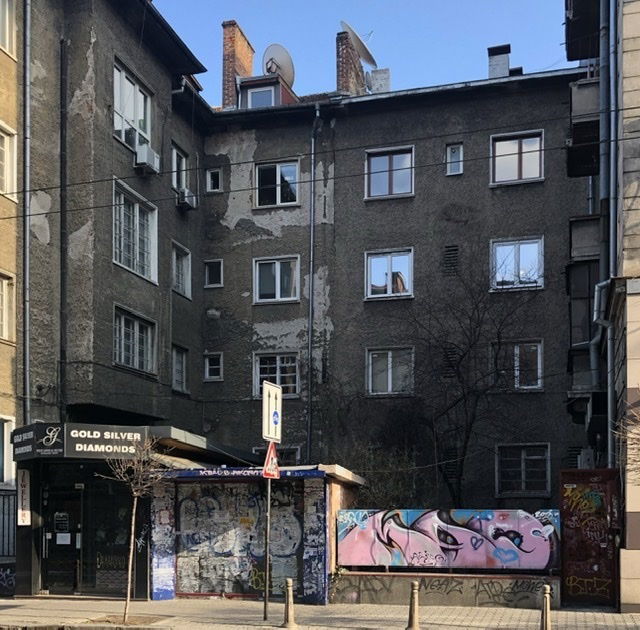 Don't let the exterior fool you - And that is a good life rule in any case
Where to Eat:
The traditional cuisine of Bulgaria includes grilled meats, salads with heaps of fresh cheese and greasy sweet pastries. However, it is relatively easy to modify these dishes to make them healthier or vegan-friendly. In addition to some newer, ethnic food places in Sofia, we found that some traditional restaurants offer vegetarian versions of the classics. For vegan food, and we do tend to look for vegan only kitchens or vegetarian only, when we can find them, we liked a couple of places in Sofia enough to eat there twice.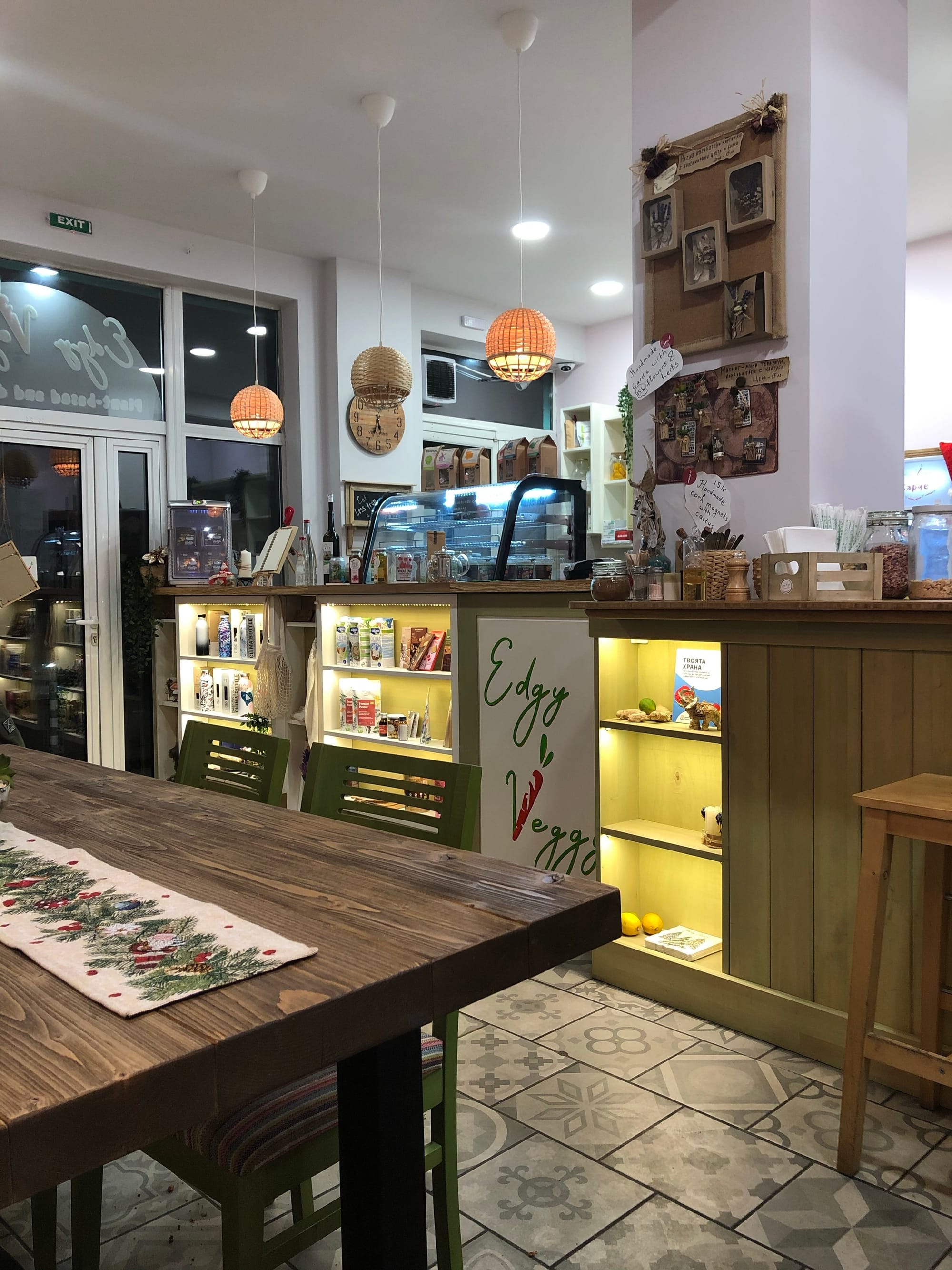 The delightful Edgy Veggy on 18 William Gladstone Street
Edgy Veggy had a significant drinks list and the most delicious vegan burgers we had had in a while. The sauces and vegan cheeses were exceptional. the staff was friendly and multilingual. They are located in the city center but a couple of blocks from the main shopping area so it is a quiet location. Parking was very tight...best to walk. Have I mentioned the burgers?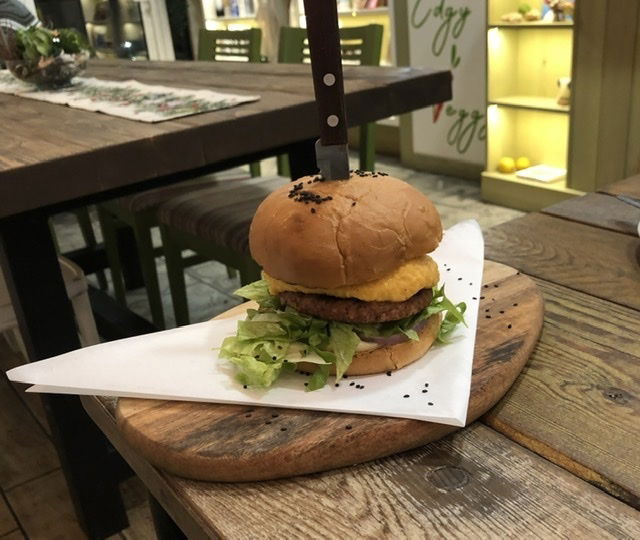 We got the quinoa burger and another burger they were making for a limited time, a rich veggie soup and sweet potato fries.
There are some great fresh food markets in Sofia and an abundance of home-canned tomato and pepper dishes that are a staple of Bulgarian food, referred to as comfort food by Bulgarians themselves.*** We bought a couple of jars of "my mom made this" tomato and pepper relish at a market near our apartment, added it to pan-fried vegetables and topped it with a little vegan cheese for a delicious meal for about $2 per person.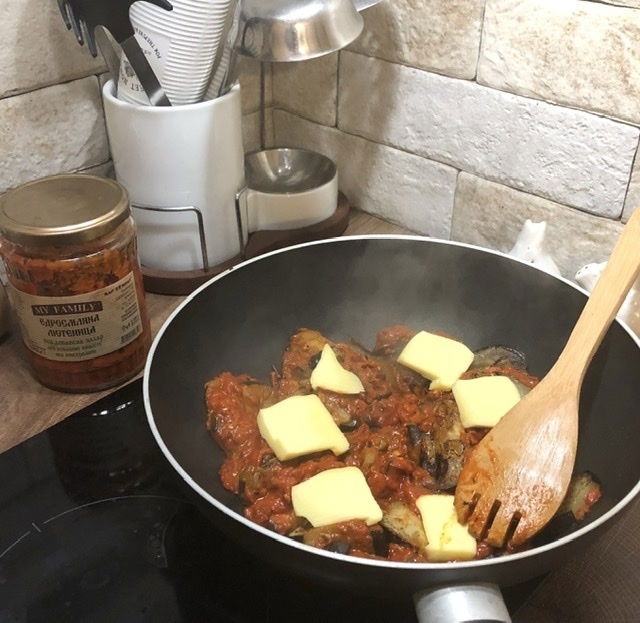 We also enjoyed a traditional restaurant in Plovdiv which was PACKED with local families and served many classic dishes but was able to make us a salad and some dips and breads that we enjoyed aside from the eye-rolling and muttering when we made requests or asked questions. Okay, we didn't enjoy it. But we managed to get fed and that is what counts.
Service was abysmal but the ambience was lively and authentic in the off-season. The courtyard looked like a run down Disneyland but I am sure it is nicer in the summer...
4. There is a LOT to do In Bulgaria! There are ski resorts, hot springs, ancient towns and quaint villages, interesting architecture, fascinating people, a vibrant small business scene and a rich cultural heritage. The capitol city of Sofia offers museums, churches, shopping and enough pop-up restaurants to keep you busy for a week.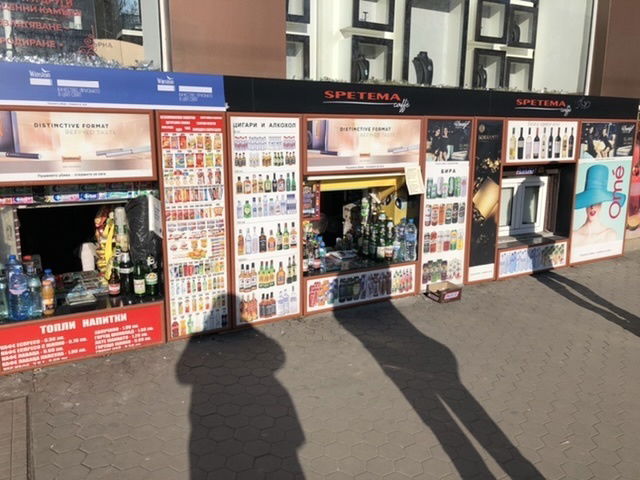 These kiosks selling snacks and cigarettes are technically below ground with window access at face level for the vendor so the customer must crouch down.
What to Do in Sofia, Bulgaria:
Churches - Wow, so many churches. The stubborn Orthodox Christianity of Bulgarians in the face of invasions, subjugation and communist control is impressive. We visited three churches in Sofia and saw many others surrounded by parks and full of devout members who were lighting candles, kissing icons and praying. It seemed very heartfelt.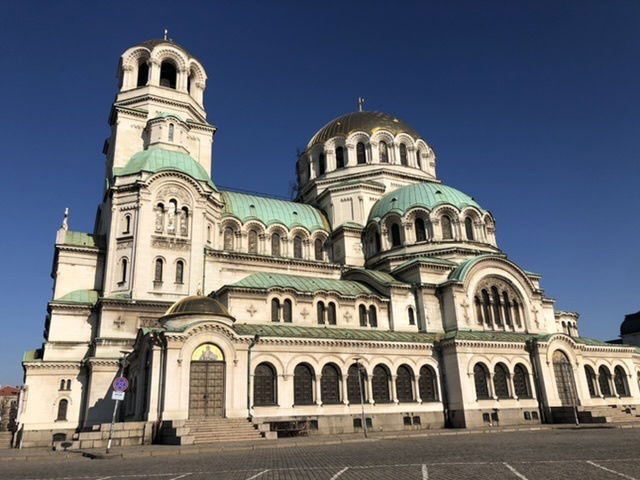 Beautiful Alexander Nevsky Cathedral. You can see it on your way to or from almost any tour you take in Sofia. It is near the political center of the city and the train station.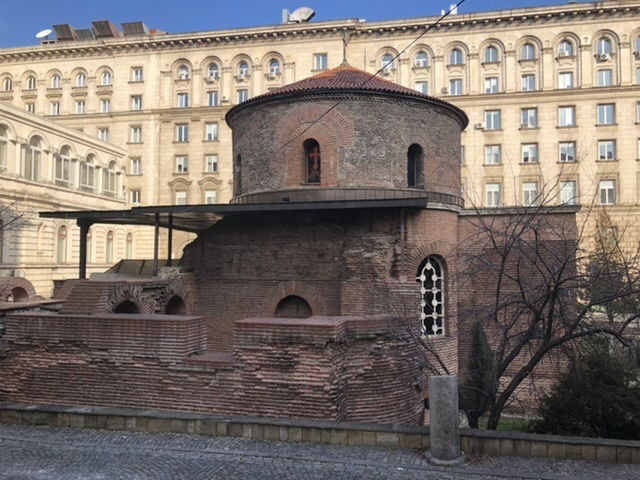 Dating from the Fourth Century, the Church of Saint George is said to be the oldest in Bulgaria and one of the oldest in the world. It is located in its own square near the Sheraton Hotel.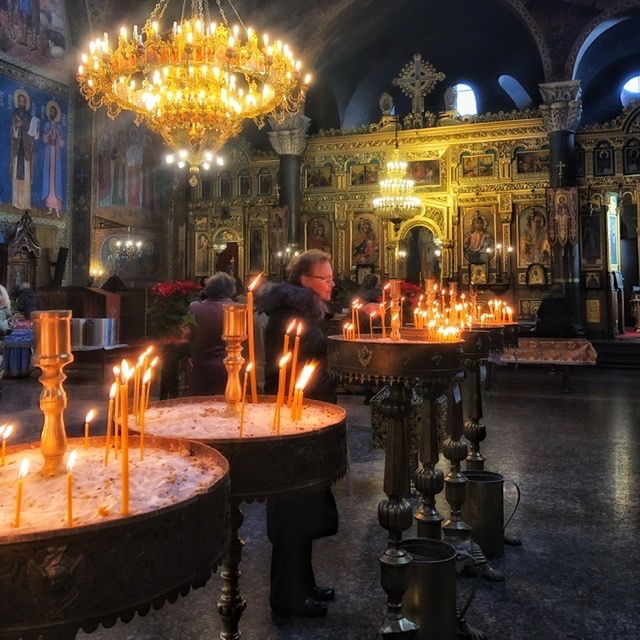 Sveta Nedelya was full of candles and worshipers. Candles in the sand represent prayers for the souls of the dead. Candles in candelabras are for the souls of the living.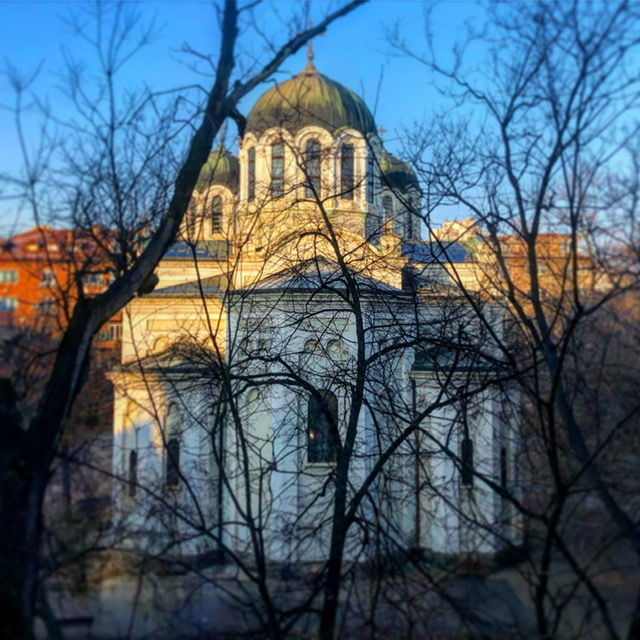 Pretty church we woke up to every morning - this photo was taken from our bedroom in the apartment we rented on Knyaz Boris I Street.****
Outside Sofia center there is a monastery church called Boyana Monastery that has an interesting story. It was built and rebuilt in the 12th and 14th Centuries and it contains some of the oldest and best preserved frescos in the Orthodox world. To get there you have to take a tour (overpriced, in our opinion) or get a cab driver to take you there. There are buses, supposedly, but public transport, while we usually rely on it heavily, was not our friend in Sofia. There was too much to figure out, too little money to be saved and too far to walk to catch it. So we took a cab. More on that later.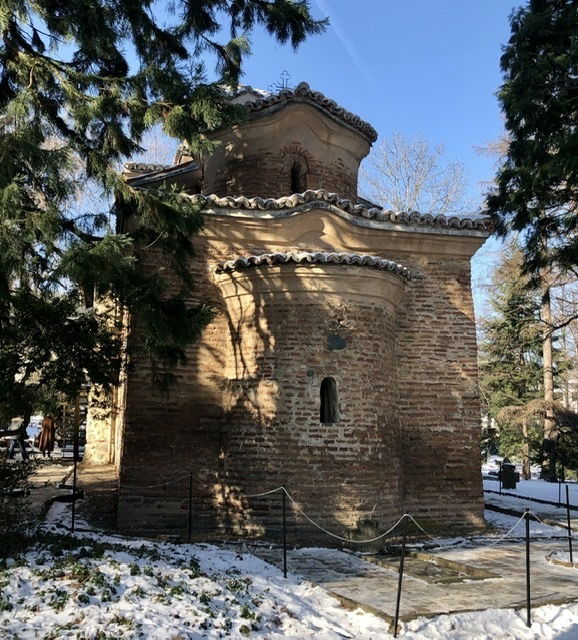 Boyana Church
When you arrive, you walk into a shady courtyard that is ten degrees colder than in the city and you buy your ticket at a heavily signed little window on the side of the house. Then you queue and wait until the next admittance. You must go in with a group and you must not wear a coat or carry a bag. They have a little place for that. Then the guide allows you 15 - 20 minutes to look around while she points things out with a laser. It is pretty impressive.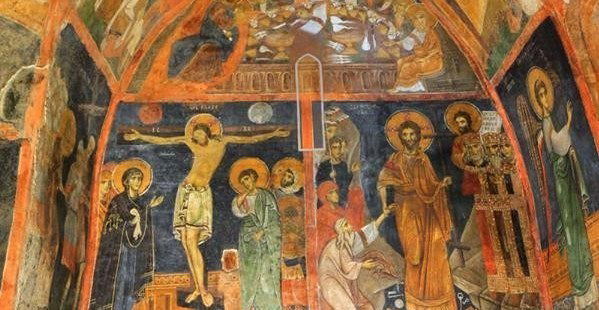 No photos allowed so I lifted this from ArchaeologyinBulgaria.comThe most interesting thing to me about Boyana was the front door - short, squat and full of bullet holes, it tells a tale of war and sanctuary. The door was never breached - not by iconoclasts nor by soldiers. They blasted away during the revolution and it held, said the guide proudly.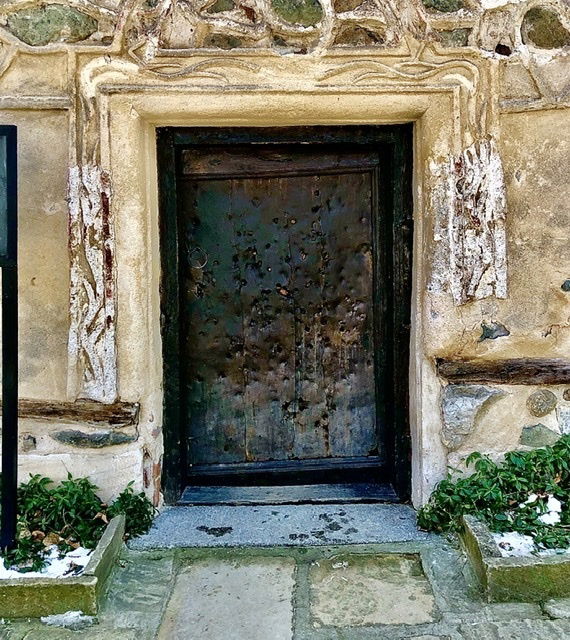 The old door that held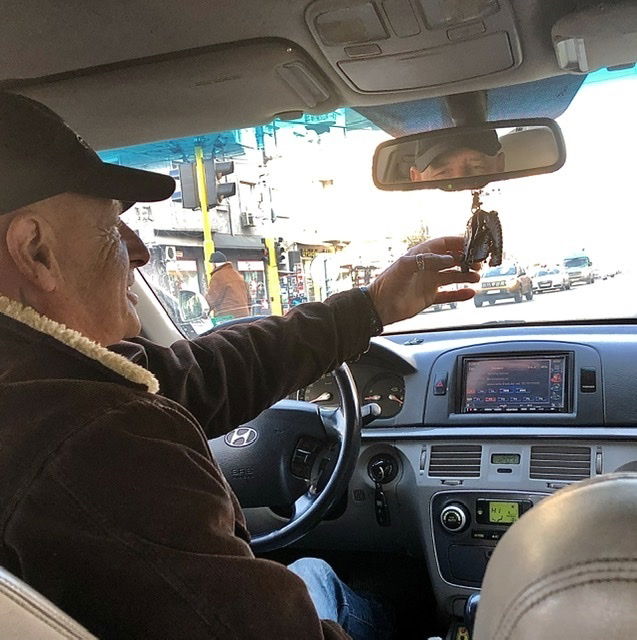 The taxi driver that got us out there and back. He had prison tats on his neck, blasted Motley Crue the entire time and showed off his heavy metal leather jacket keychain.
Museums - Again, so many choices. We decided to check out the National Archaeological Museum and we were amazed at the items on display. This was easily the best archaeological museum we visited on this trip so far (Israel awaits!) and we went to a lot of museums.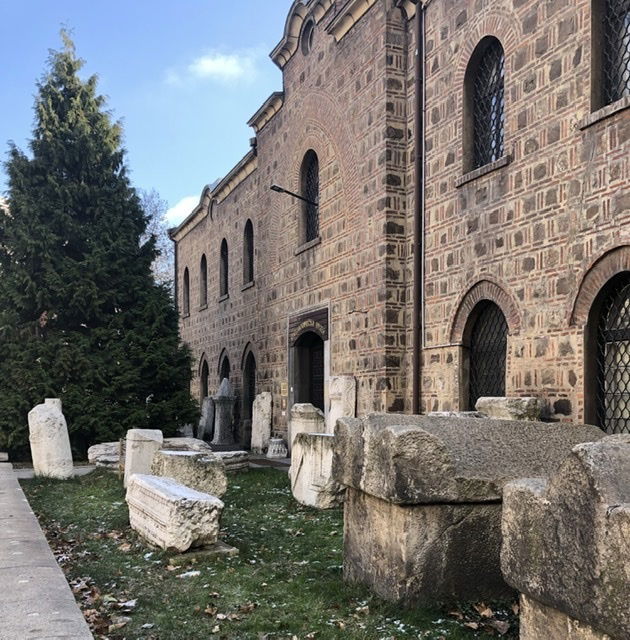 The main entrance, cluttered with Roman era ruins,
I can't explain the appeal exactly. Perhaps it was the humble presentation of precious things without the propaganda of Middle Eastern and Asian museums of its kind. Or maybe it was the casual and chatty behavior of the guards, maids and locals, having a snack and a coffee among thousand year old artifacts. Or quite possibly it was the adorable zoomorphic figures with a big fat question mark as to why and how they were made.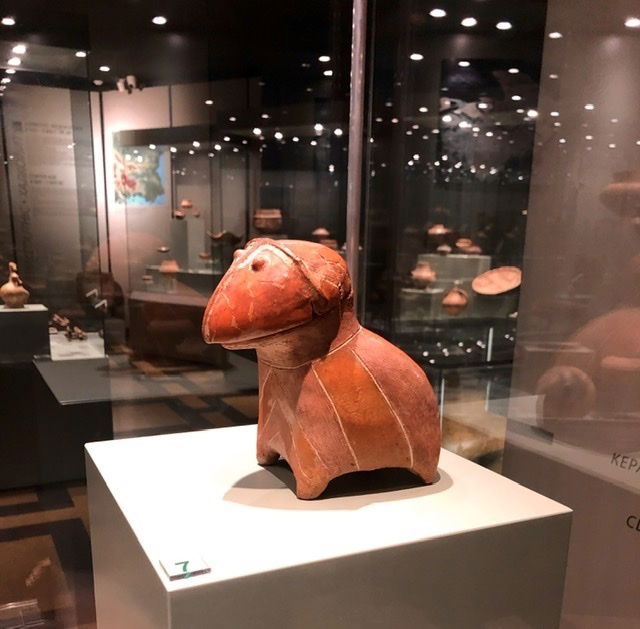 I mean, what is this? Too cute.
We appreciated that about the Bulgarians - no attempt to guess - if they don't know something they just say so and enjoy the mystery. We found it refreshing. It is five dollars for adults and the last Sunday of the month it is free.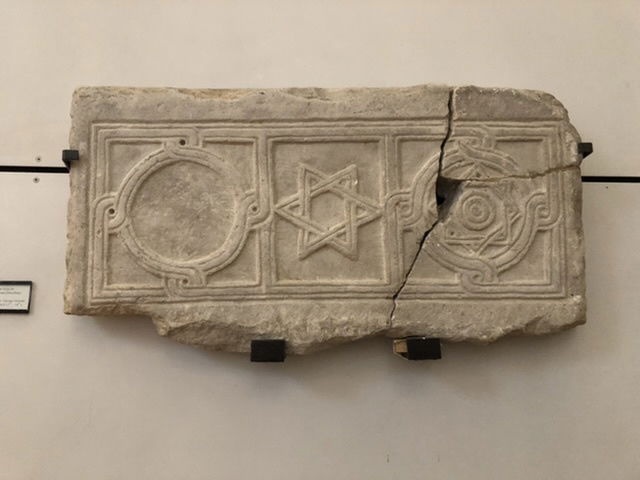 There are divergent opinions concerning how Jews were treated in Bulgaria during WWII.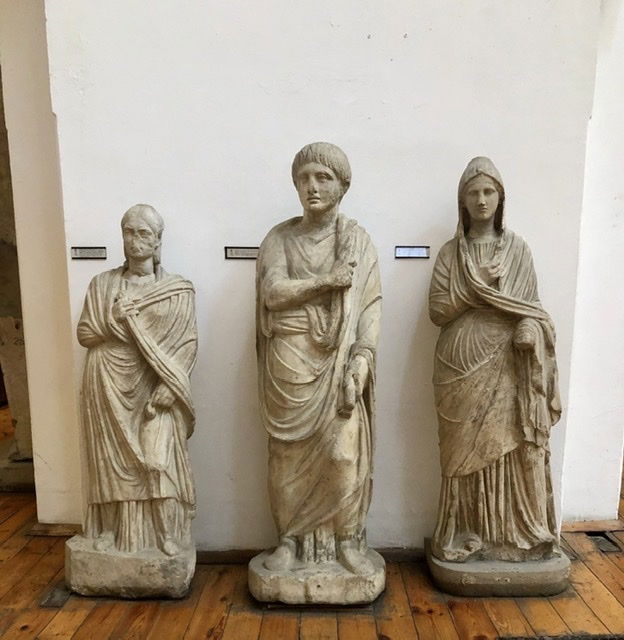 Roman era statues
Fun streets full of independent stores and small businesses surround the commercial and political centers of Sofia. There were dozens of handmade clothing shops, purses fashioned from recycled materials and funky art galleries.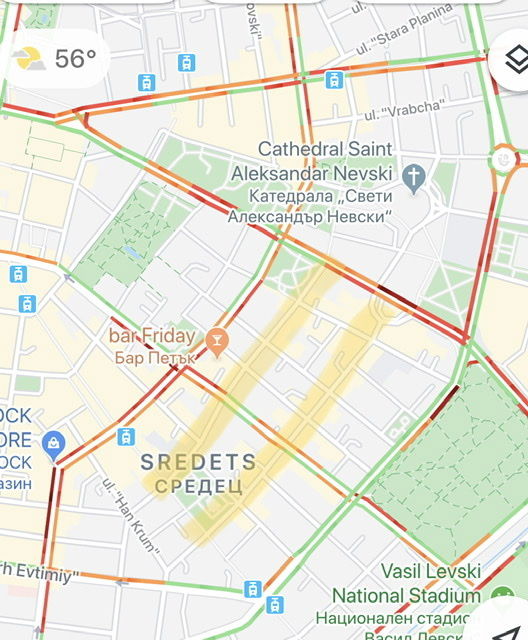 Explore the streets highlighted in yellow!
There is a well-known restaurant in Sofia called The Little Things that we attempted to eat at WITHOUT A RESERVATION. Ha! They said, you should have called ahead! But then right around the corner were a dozen other cute places and we settled on The Hummous Bar (because we had been out of the Middle East for two whole weeks and once you go hummous you never go back) and we loved it! Lots of vegan options. Gay couples enjoying their first date. Older women with wildly dyed purple hair having salty conversations. The whole neighborhood made us giddy. It was also unseasonably warm and sunny the week we were there so that might have been part of the magical vibe.
What to do in greater Bulgaria

:

A day trip to Plovdiv - We decided to take a chance on a locally guided day trip to Plovdiv and a mountain monastery said to be very picturesque. What an understatement.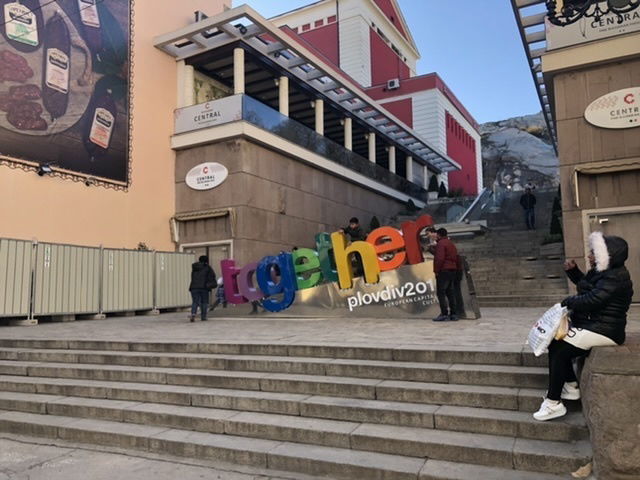 Plovidv - European Capital of Culture in 2019.
Plovdiv bills itself as the oldest city in Europe. It is indeed old, stretching all the way back to groups of people whose names are reminiscent of the tribes of spacefarers in Battlestar Galactica - Thracians, Serdei, Odrysei. Some of the main things to see in Plovdiv are highly decorated and colorful houses from the late 1700's and 1800's..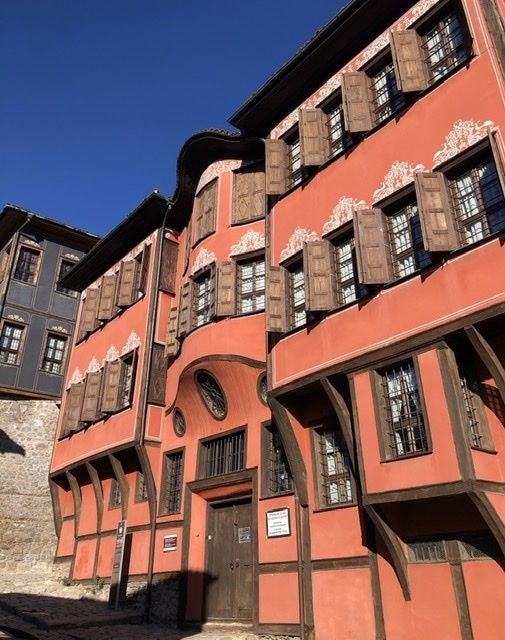 Georgiadi House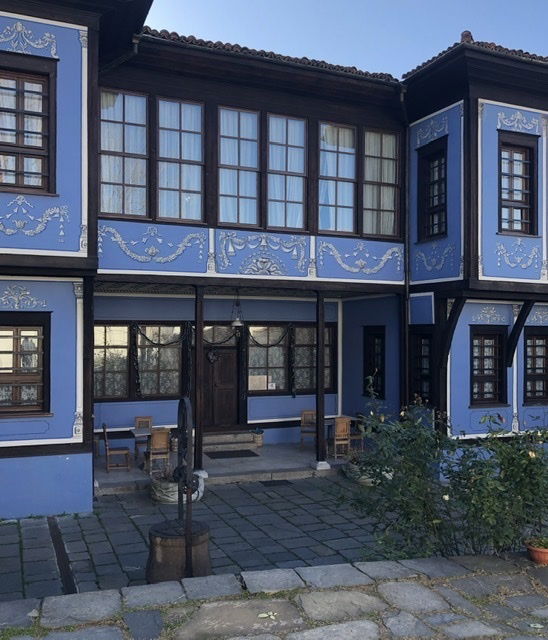 Hindliyan House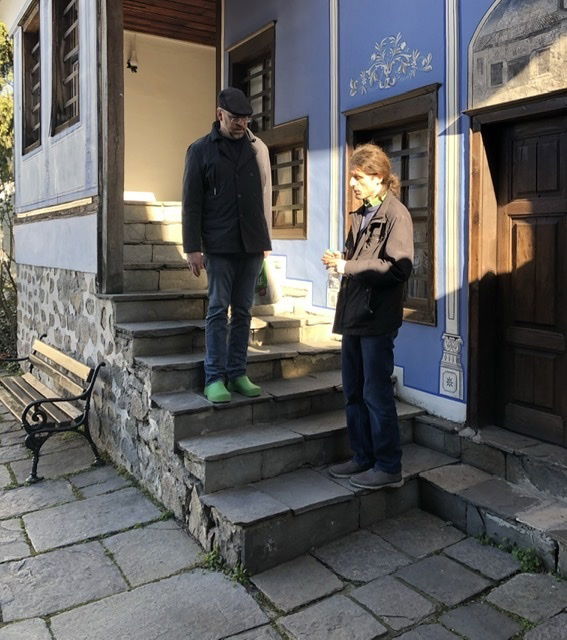 Peter with our guide, Alex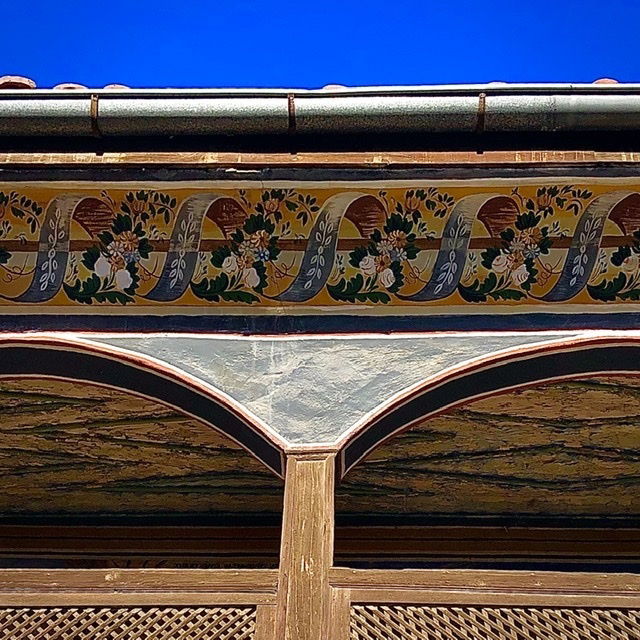 Details under the eaves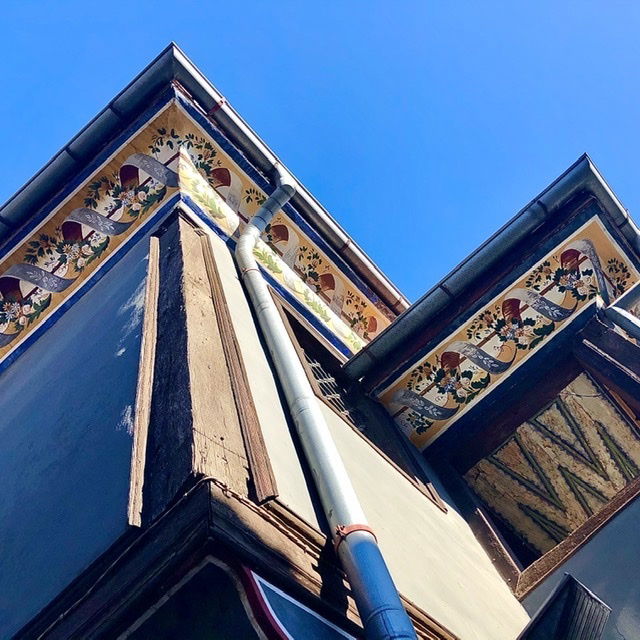 More details!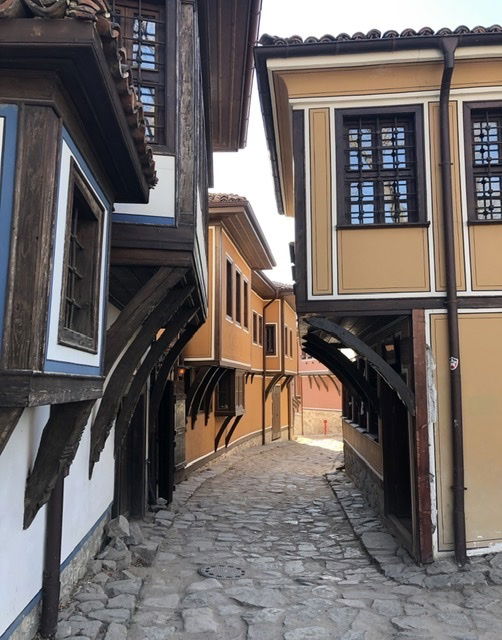 The streets are empty in the off-season. We were there the first week of January.
The Plovdiv Regional Ethnographic Museum Occupies one of the most ornate of these houses. Built in 1847 it was the house of the merchant, Argir Kuyumdzhioglu.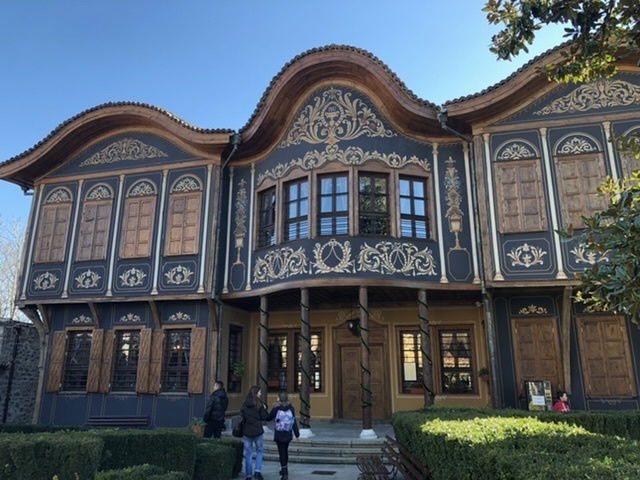 The interiors of the houses are impressive as well, featuring intricately painted ceilings, furniture and one of the oldest and most expansive bathrooms in the world that our guide insisted we see.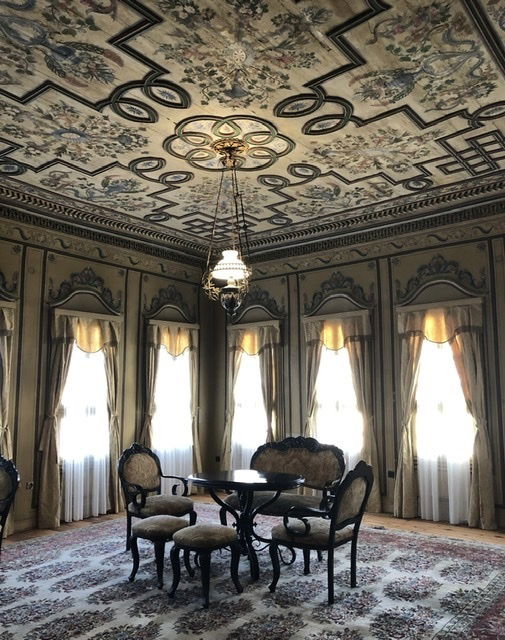 An office!
The famous bathroom had a rosewater fountain, a functional toilet, a dressing room and a Turkish style bath
Plovdiv Old Town is also peppered with cottage industries, traditional craftspeople and winding cobblestone streets. There are some new, modern houses as well, but they are required to be built in the traditional style and the renovations are strictly monitored.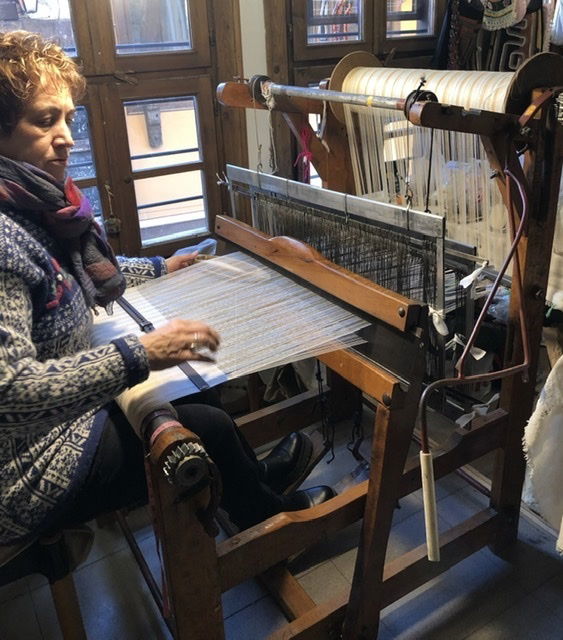 A weaver in Plovdiv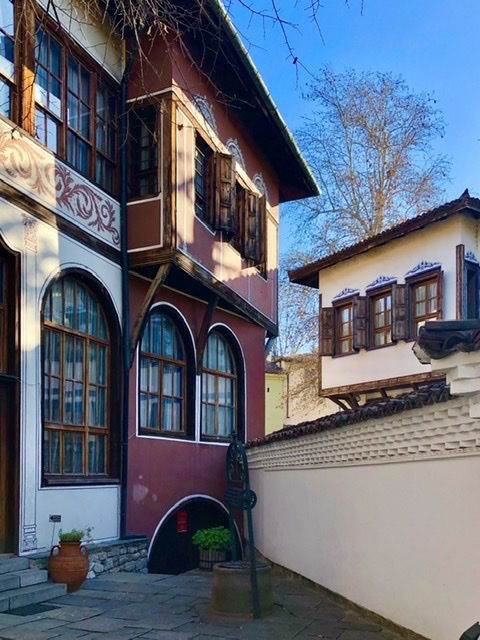 More beautiful houses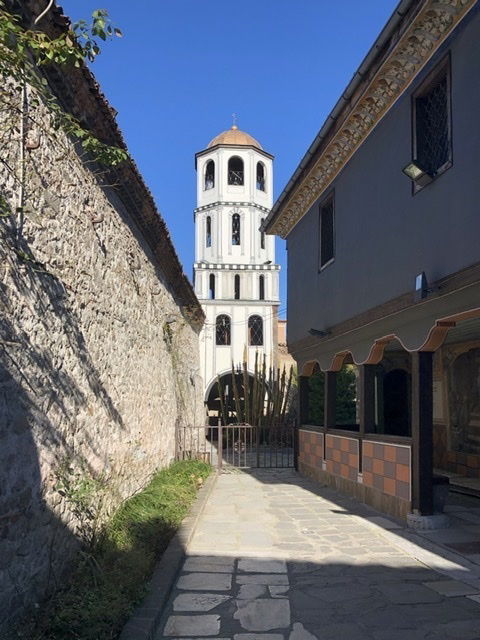 There are numerous churches and monasteries in and around Plovdiv.
The hilltop overlooking the town is the location of the original, Thracian settlement. There isn't much left, but the views are good and there are no railings ANYWHERE so watch your kids!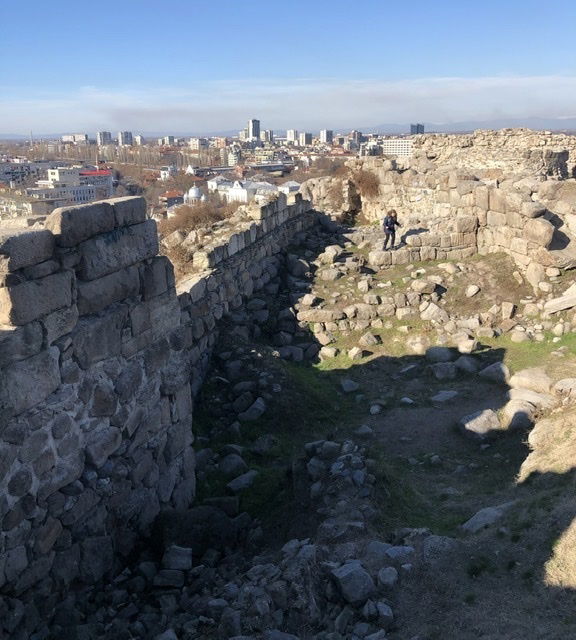 Thracian Plovdiv
The modern part of Plovdiv includes shops, restaurants and Roman ruins both under the city and at its perimeter. It is very cool the way Europeans allow you to see their past while enjoying the comforts of the present. It gives you real perspective about the passage of time and the flow of human achievement.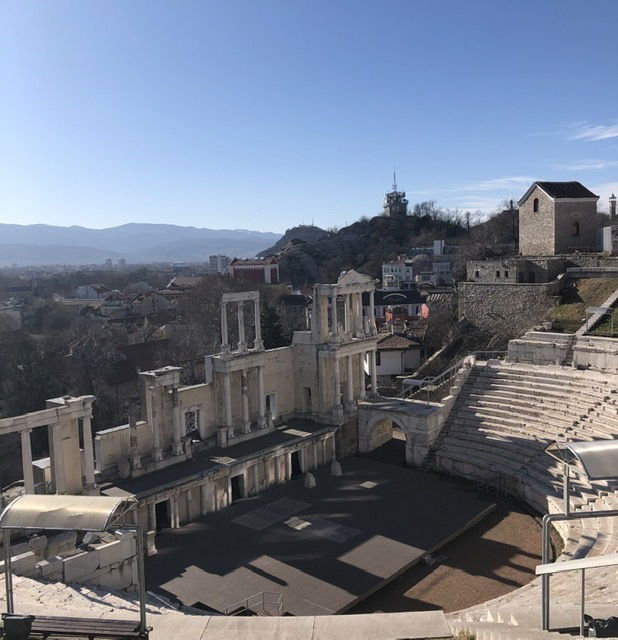 The amphitheater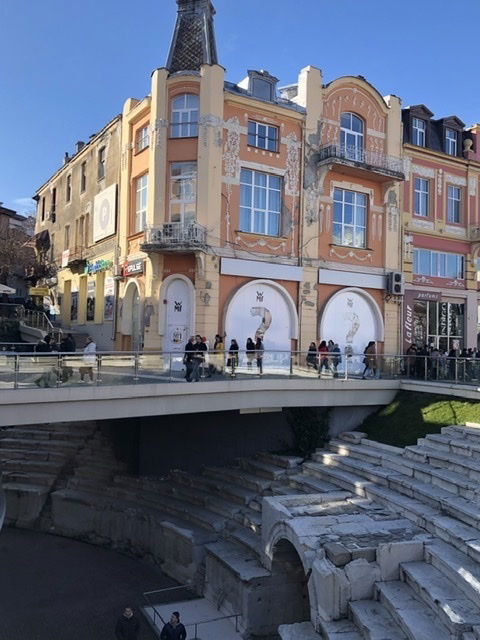 New and old
After we left Plovdiv, we drove to Asen's Fortress, a 13th Century delight that involves parking negotiation, a long climb up a pretty hill and lots of stares from locals taking a family walk. The fortress is mostly in ruins but the damaged church remains as a testament to the fervor of those who will insist on judging others for their traditions and practices.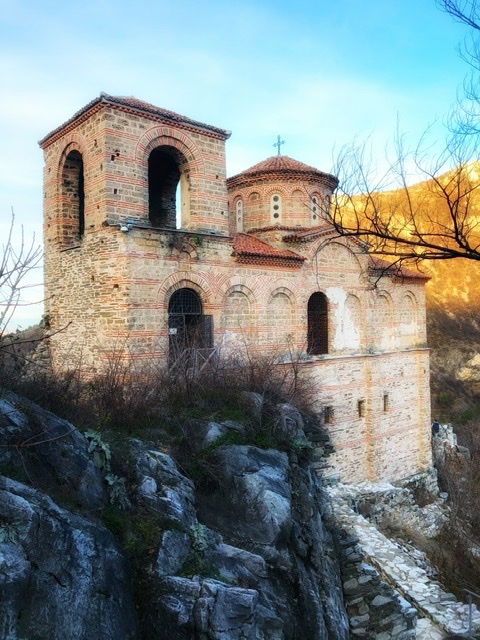 The church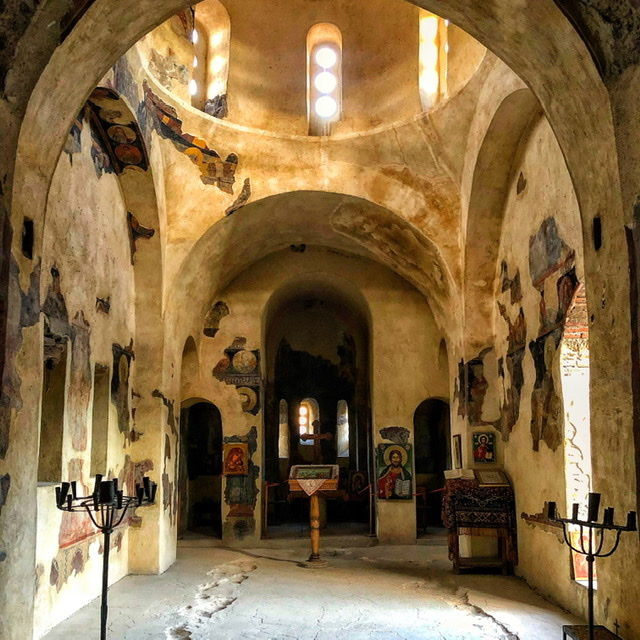 The interior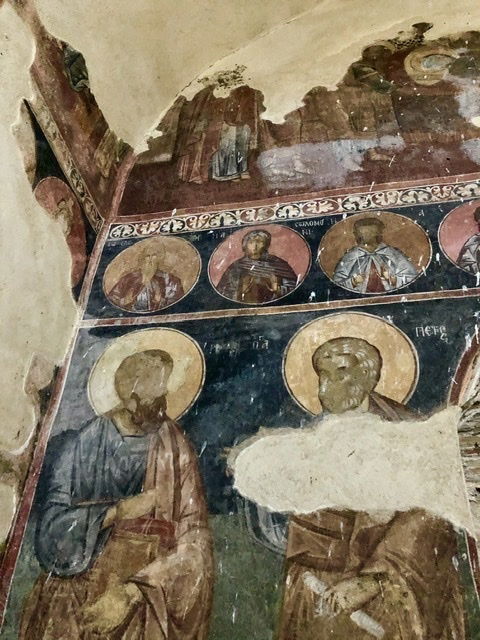 The remains of the painted saints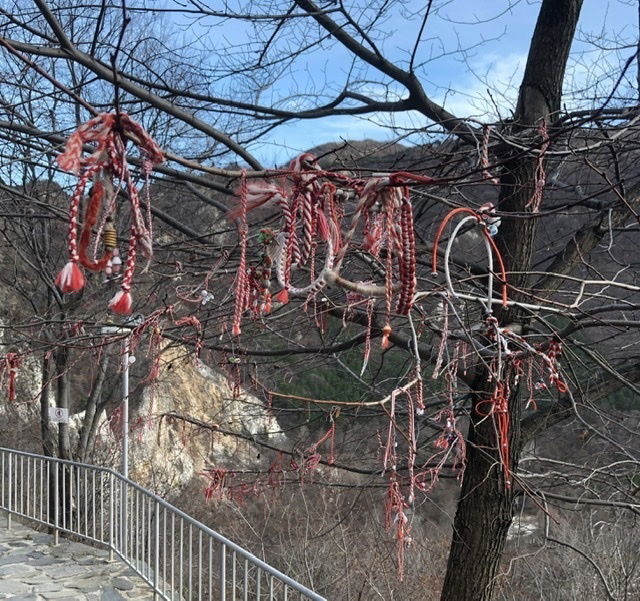 A charming local custom of leaving braided red bracelets as tokens for wishes
The mountains in the dead of winter
We were fortunate in our choice of a guide; he was a PhD candidate in history. His English was good enough to communicate, but like many local guides we have met on our year of travel, he was not a guide by choice but by necessity. The world is full of people who end up doing something to pay the bills rather than pursuing their passions. People have families that need to be fed, they become refugees in times of war and natural disasters or they follow a loved one to an unfamiliar culture or land. This is why there are pharmacists driving taxis in New York, elementary school principals cutting sod in South Carolina and physicists working as nannies in Minneapolis. Language is the biggest barrier after xenophobia for highly skilled and educated foreigners taking jobs that they never dreamed they would need to take.
Often in the year of travel, we have met people with barely passable language skills who could have advanced quickly and easily if they had been truly proficient or exhibited the willingness to improve. One thing that I try to do when traveling, is to make a light-hearted suggestion about an app for learning or a minor correction about grammar or vocabulary when the lack of language skill inhibits comprehension. Very seldom does the guide, server or manager take kindly to these suggestions. When Peter and I are learning languages we ALWAYS want correction. Possibly, it is because we have chosen our careers - we are doing exactly what we wanted. We are not disappointed; we are fulfilled. I would like to think that if fate threw me into Saudi Arabia and I was cleaning bathrooms but had the chance to learn Arabic and return to the classroom, that I would rise to the occasion. Or if I had trained in a profession that the internet had made obsolete, that I would adjust my expectations and pick up another language to improve my condition. But perhaps I would be too exhausted to do so. It is important when traveling to remember to respect all work and to recognize that many people are not where they hoped they would be. All work has honor - even Saint Paul mended fishing nets to earn his way.
What Else Should You Do?
Skiing - you can go on a ski vacation in Bulgaria for about 1/5 the price of such in Italy or Switzerland. It looked like reliable snow, with a range of difficulty and level of services. Lifts were ropes and hooks but also heated funiculars. Lodges ran the gamut from rustic to extravagant.
Hot springs - these seemed reasonably priced and near to the resorts so perhaps it would have been fun but we did not partake, which is weird because we love hot springs. But we were in the saving money portion of the trip after the Schengen disappointment, so we declined.
Other outdoors activities - There is a lot of hiking and camping to do in Bulgaria. When we were out in the country we wished we could come back and rent a little cabin in the woods. There are some pretty mountains and quaint villages still unseen! We would definitely return. Eastern Europe is still an undiscovered gem, especially for Americans. The insfrastructure has advanced enough that you don't need to be a 25 year old marathon runner that speaks 5 languages to visit, just a little curious and a tad bit intrepid.
Nuts and Bolts
It is best to take a cab from the airport. They will price gouge you. Just pay the 20 Euros and shut up. Have a piece of PAPER with the address of your hotel or apartment in the local language and in English. Have a screenshot of the route from the airport to the lodging. We were glad we did. No cab drivers spoke English well enough to field questions, except dear Ivan, the ex-convict heavy metal fan. Taxi drivers play WHATEVER MUSIC THEY WANT TO. And they talk to you using song lyrics. We listened to the aforementioned metal, Canadian pop, 1990's American rap and opera in the four cabs we took. Hilarious.
Ryanair has direct and inexpensive flights to Sofia from many Western European cities. Wizz, Bulgaria Air and Easy Jet (my personal favorite for low-cost flights) all fly there as well. Sofia makes a good stopover city for a couple nights. This is how much we have been flying - when we get on a plane Peter always asks how long the flight will be and I DON'T ACTUALLY KNOW ANYMORE.
Day trips - you can rent a car or hire a driver to go to North Macedonia, Serbia or Romania for the day from Bulgaria, in case you are chasing passport stamps.
Water was tasty and clean as far as we could tell. We drank from the faucet and felt no ill effects.
ATM's at the airport were secure and our debit cards worked there. We generally do not withdraw money from street ATM's in any country. Choose one that is permanently attached to a legitimate bank or one at the airport. When we withdraw money, we swear and act disapointed and then exclaim loudly that we have not received our money!!! Stupid ATM's! We have fooled a lot of tourists and we feel safer walking away with our cash. And it gives us the giggles.
Pharmacies seemed willing to fill pretty much any prescription without a prescription. That might change if they join the EU more fully.
Few people spoke English beyond the pleasantries but they were friendly and kind.
Sofia seemed tolerant of religions and lifestyles.
In Eastern Europe: We have traveled to Romania (12 days), Slovakia (4 days), Croatia (10 days), Bulgaria (6 days), Poland (4 days), Latvia (3 days), Estonia (4 days) and Bosnia (2 hours). Bulgaria was the biggest surprise - we had low expectations but we really liked it! We felt safest in Croatia and it was gorgeous - a photographer's dream. Romania was the place where we never seemed to run out of things to do, but hey, I love vampires. Latvia was like UK frat boys run amok on the set of The Great Gatsby. Bosnia was depressing as heck. Slovakia was stylish and romantic. But Estonia still holds a special place in my heart; I would move there in a second.
*https://www.gov.uk/foreign-travel-advice
**https://www.airbnb.com/s/Sofia--Bulgaria?listing_types%5B%5D=1
***https://www.kashkaval-tourist.com/7-bulgarian-food-classics/
****Sweet home in the heart of Sofia on Booking.com