We really wanted to learn French. I had taken 8 weeks of French in 8th grade and Peter had taken French in high school. We both thought it would be fun to spend an entire month in France so the first Workaway post we accepted was as caretakers of a chateau in rural Brittany. We thought we would be forced out of our comfort zone by being in one of the few places in France where we might actually have to speak French. And we did need French for our daily shopping and going to markets and gas stations, etc. But the owners of the chateau were American and most of the guests were tourists from Spain or the UK. The other Workawayers were Brits and Peter and I use mostly English with each other. Therefore we relied on Duolingo and Pimsleur (me) and reading four novels by Balzac (Peter) for our French.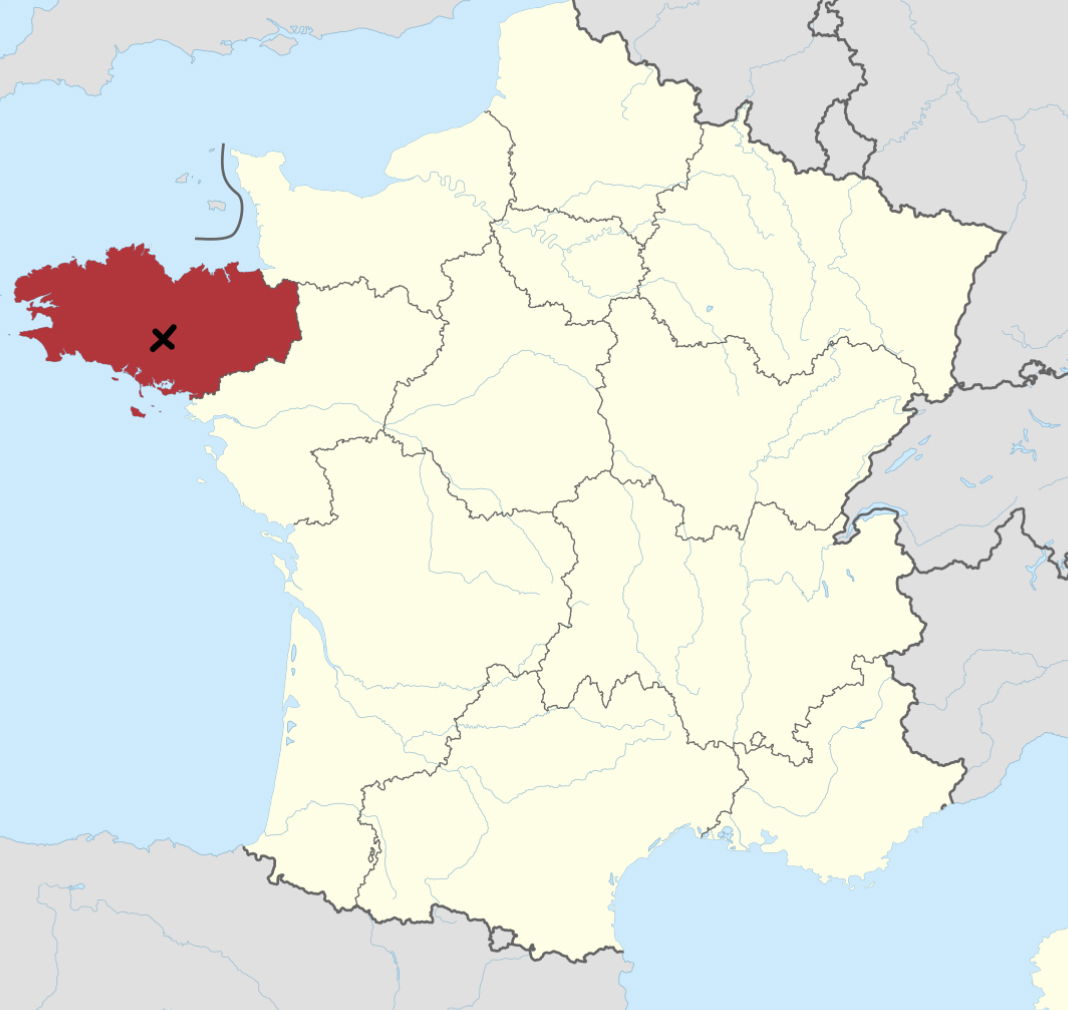 Bretagne - x marks where we lived
Workaway is a website that matches skilled and unskilled labor with hosts all over the world. The general idea is to work abut 25 hours a week and receive basic room and board for your efforts. The hosts and the living situations are varied to say the least. We agreed to "workaway" in exchange for our own living space but no meals. We also had to agree to rent a car the whole time we were there. This turned out to be very expensive so while we did save the lodging fee we would have paid to be in France as tourists, we did not learn French and we did not have any free time to go exploring except for an occasional afternopon. We have done many Workaway posts by now and in hindsight, the one in France was, although in a beautiful setting, not our favorite.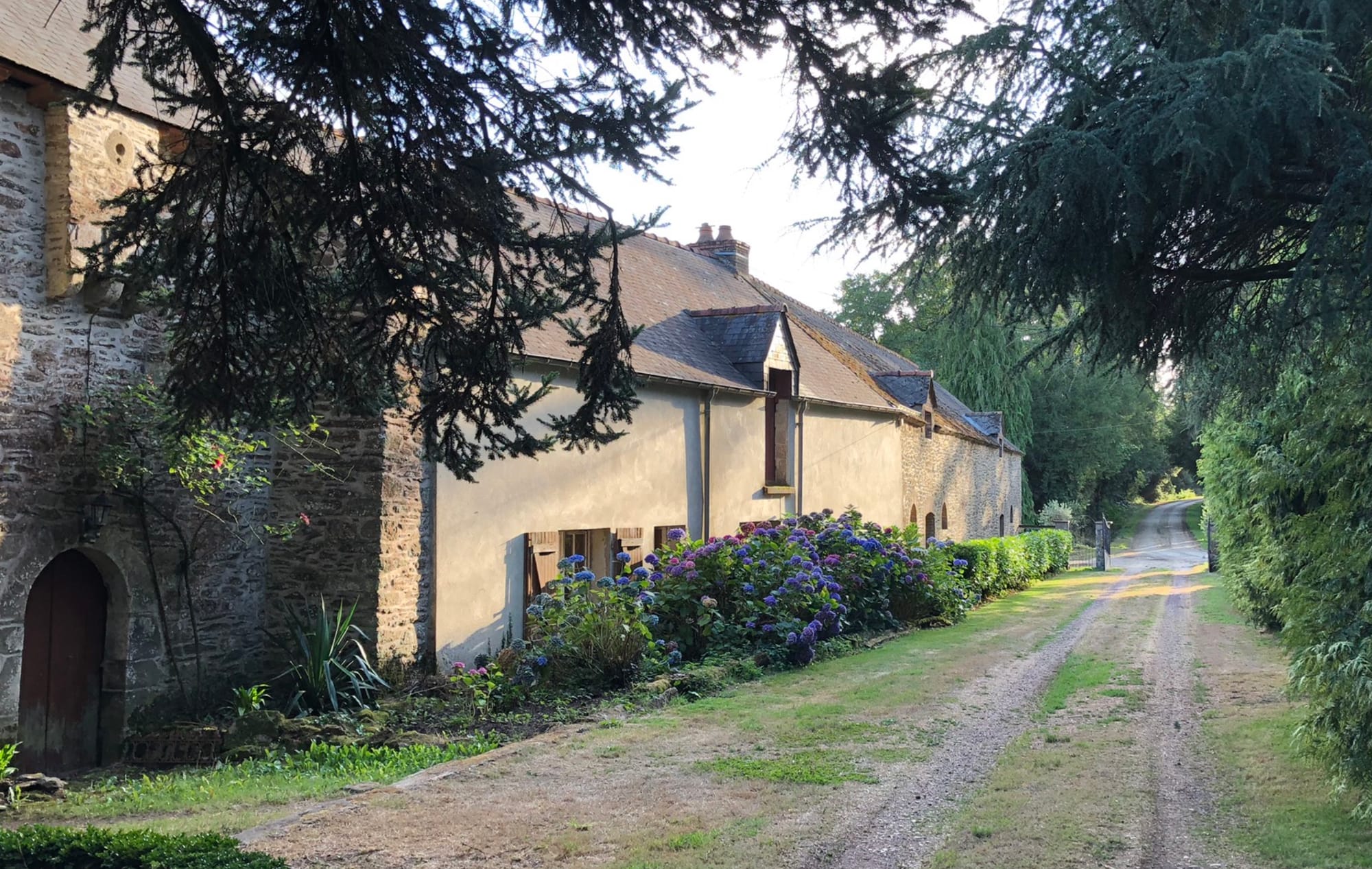 The barn at the chateau
Why go to Bretagne? Bretagne (Brittany) is a huge area and takes up the entire western upper arm of France covering a space roughly the size of New Jersey or the Netherlands. It runs from the Loire Valley to Normandy and out to Brest. It is culturally more Celt than Frank and they have an accent. I have a natural affintity for people with an accent and both Peter and I liked the people of Bretagne. They reminded us a lot of Midwesterners or people from Maine, when we were on the coast. Bretagne is full of backwater towns, farms, rolling croplands and coastal treasures. There are a remarkable number of ancient historic sites and there are a couple of touristic jewels as well. Most people who visit France NEVER set foot in Bretagne except for Mont Saint Michel on a bus tour from Paris (WHY???) so that was another draw. The weather was pretty much perfect by any standard. It rained about once a week, it was sunny and warm but not hot and the evenings cooled down considerably. Air conditioning was not necessary at all and that is rare in Europe in summer. The cuisine was unremarkable, although as vegetarians, we have slightly different standards than most people. We very much enjoyed galettes and pizza, French bread and very fresh produce. I am not a fan of stinky cheese but Peter was in heaven. These are some of the places in Bretagne that we really loved:
1. Rochefort en Terre (see the cover image for this post!) Rochefort en Terre is well known as a beautiful town and it has it all. Adorable and colorful buildings, friendly people, at least ten shops selling nougat, a castle, medieval theme days where people dress up and act in character for the period, including minstrel shows and live music, restaurants, a wonderful old church that really captured our hearts and free parking.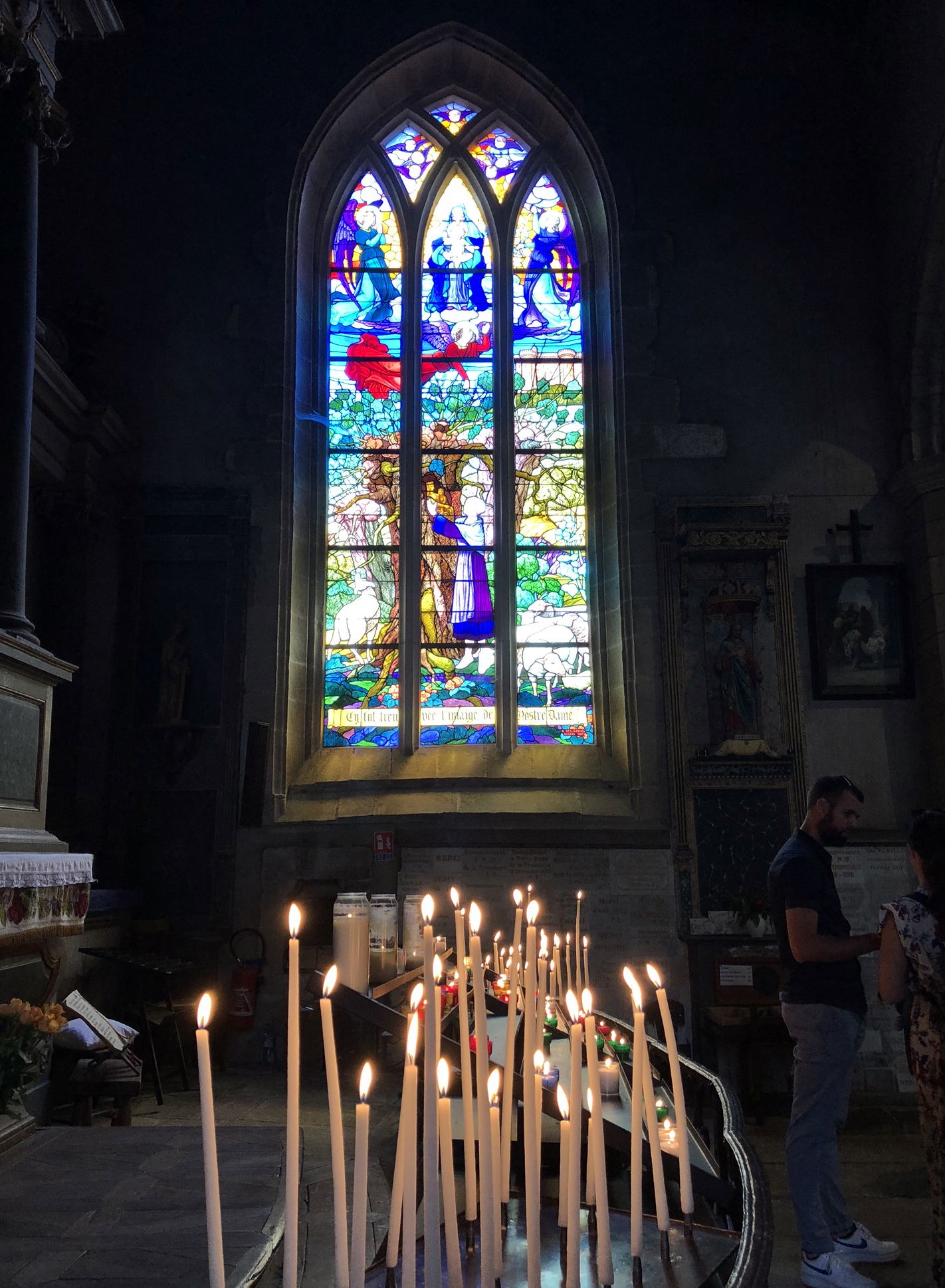 Interior of Notre Dame de la Tronchaye in Rochefort en Terre
2. La Gacilly - La Gacilly is kind of quirky - you have the cobblestone streets but then there is this giant art exhibit all over town, the epicenter of Yves Rocher products and the most crafts cottage industries per capita of any town in the world. There are lots of arbor-covered benches and lounge chairs for relaxing, willows and bridges across the river, the best pizza in France (shoutout to Yucca!)` and of course, flower baskets. And for our two American visitors who had spent a long day on the train, macarrons.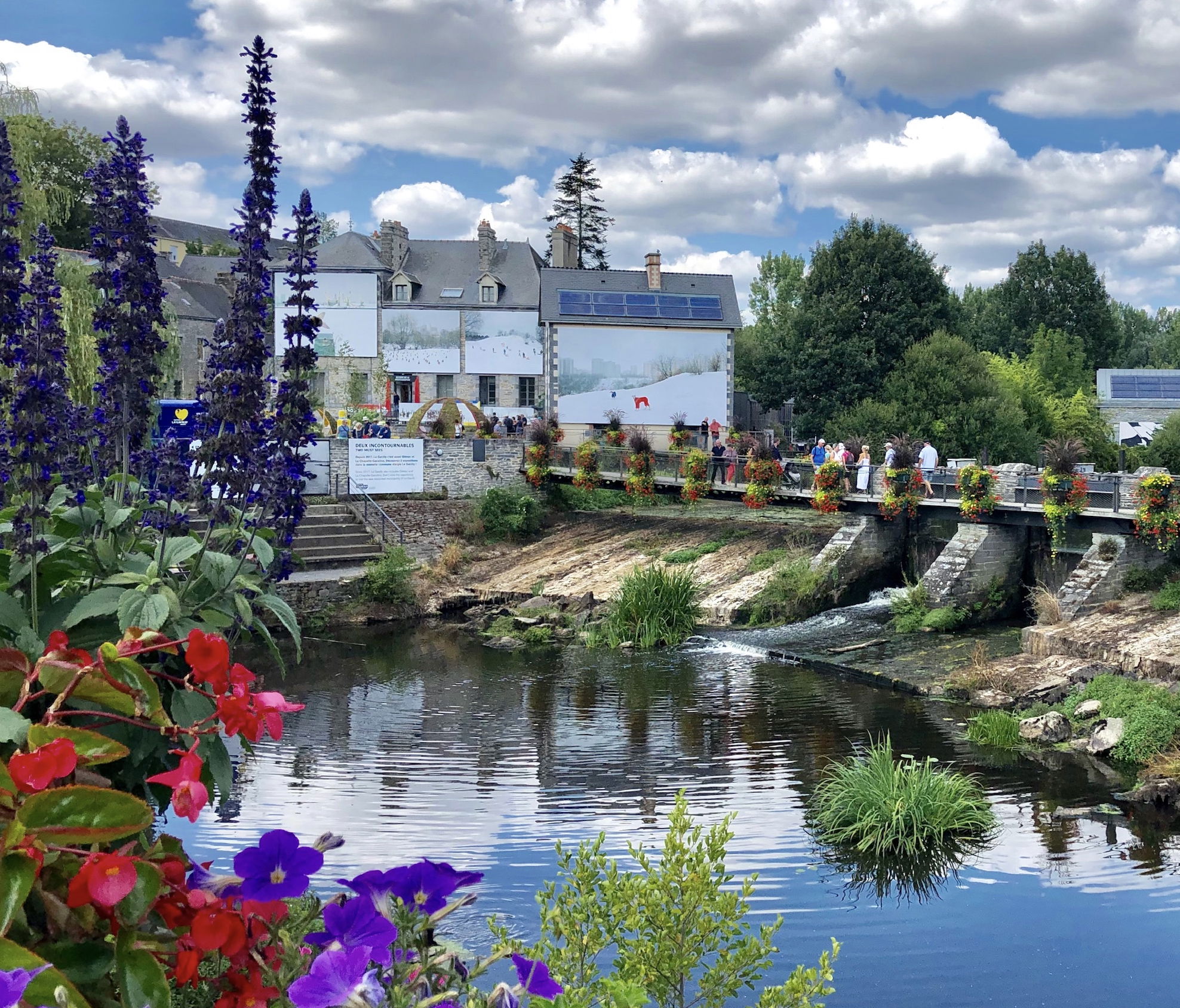 The bridge from the village proper to the Yves Rocher campus.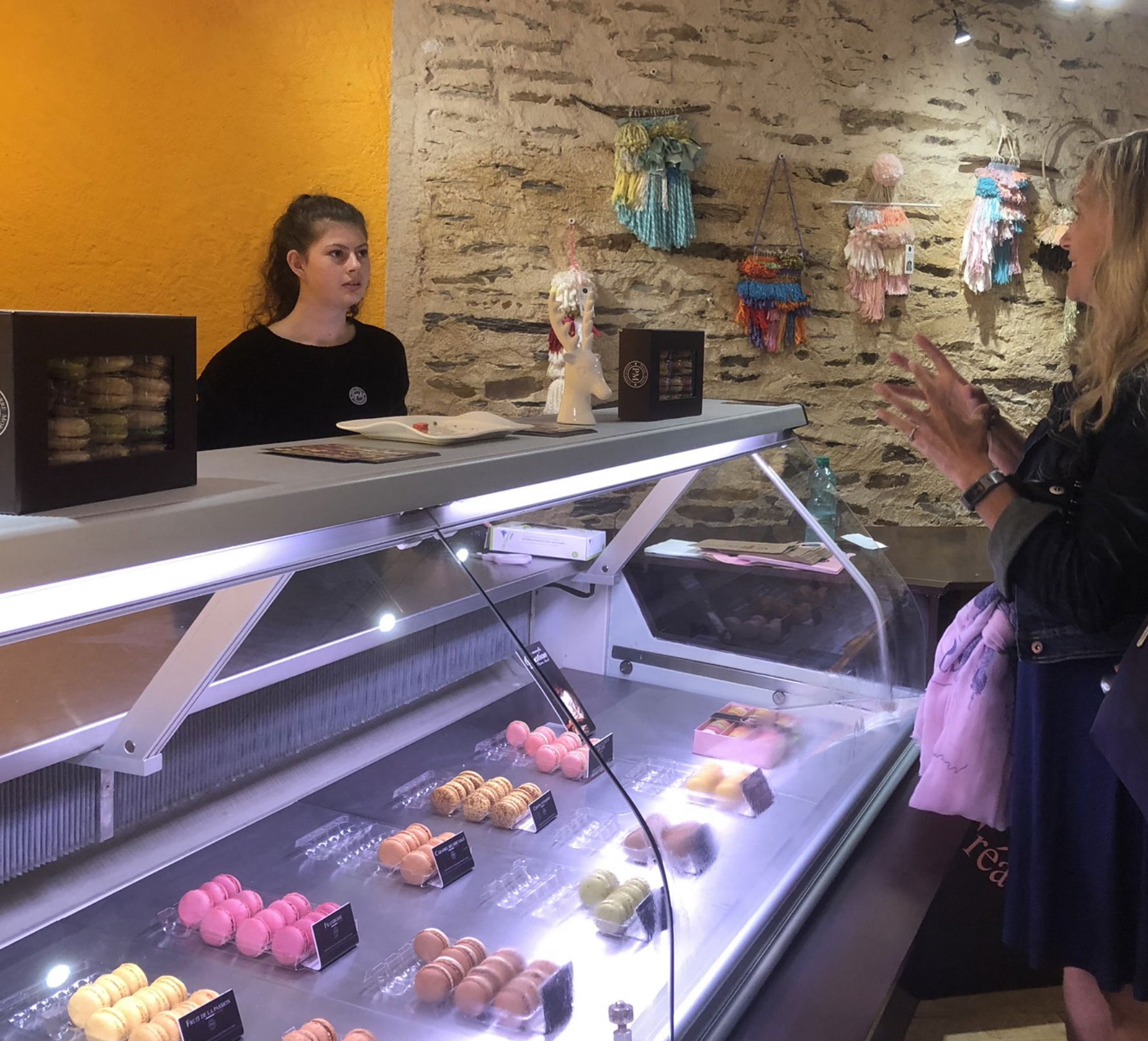 So many choices! Mine is always pistachio.3. Locronan - this is probably my favorite place in France, other than Ile de Re. The whole town is a pedestrian zone, the churches are impressive and historically important, there are lots of local shops and the main square is picture-perfect. Locronan is an easy drive from Quimper or Vannes and is famous for Ronan, the Irish missionary, one of many Irish who kept learning alive in Europe during the Dark Ages and brought this erudition to France a thousand years ago.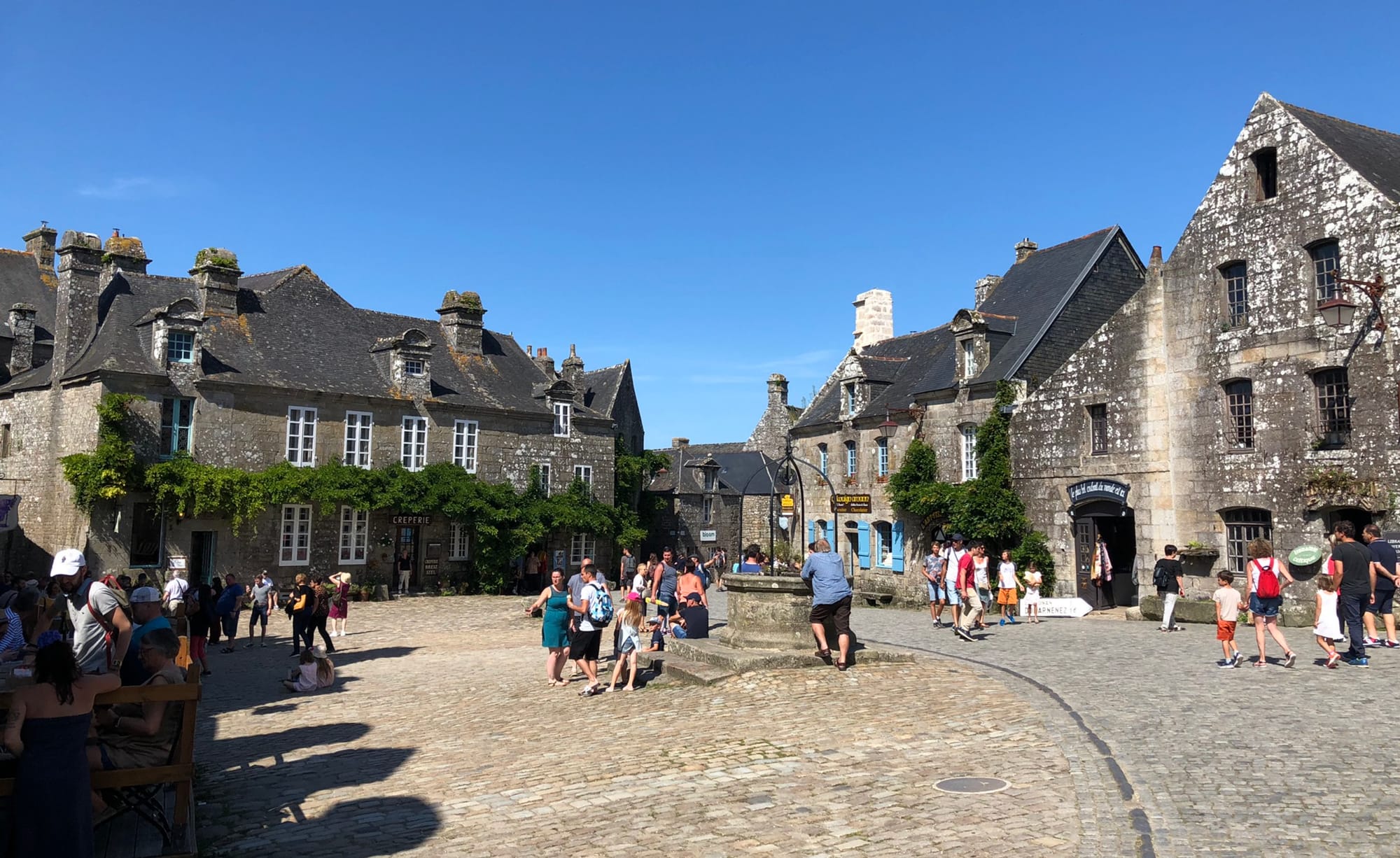 Bakeries, buskers and blue sky
4. Concarneau - We did a lot in Concarneau and its environs. The little town has a great vegan restaurant! Ah! La Belle Histoire has superb food and everything is prepared with a grateful heart and mindful practices. We felt uplifted by the experience. We had banana cacao smoothies and raw lasagne. It was worth the trip out to the coast for that lunch.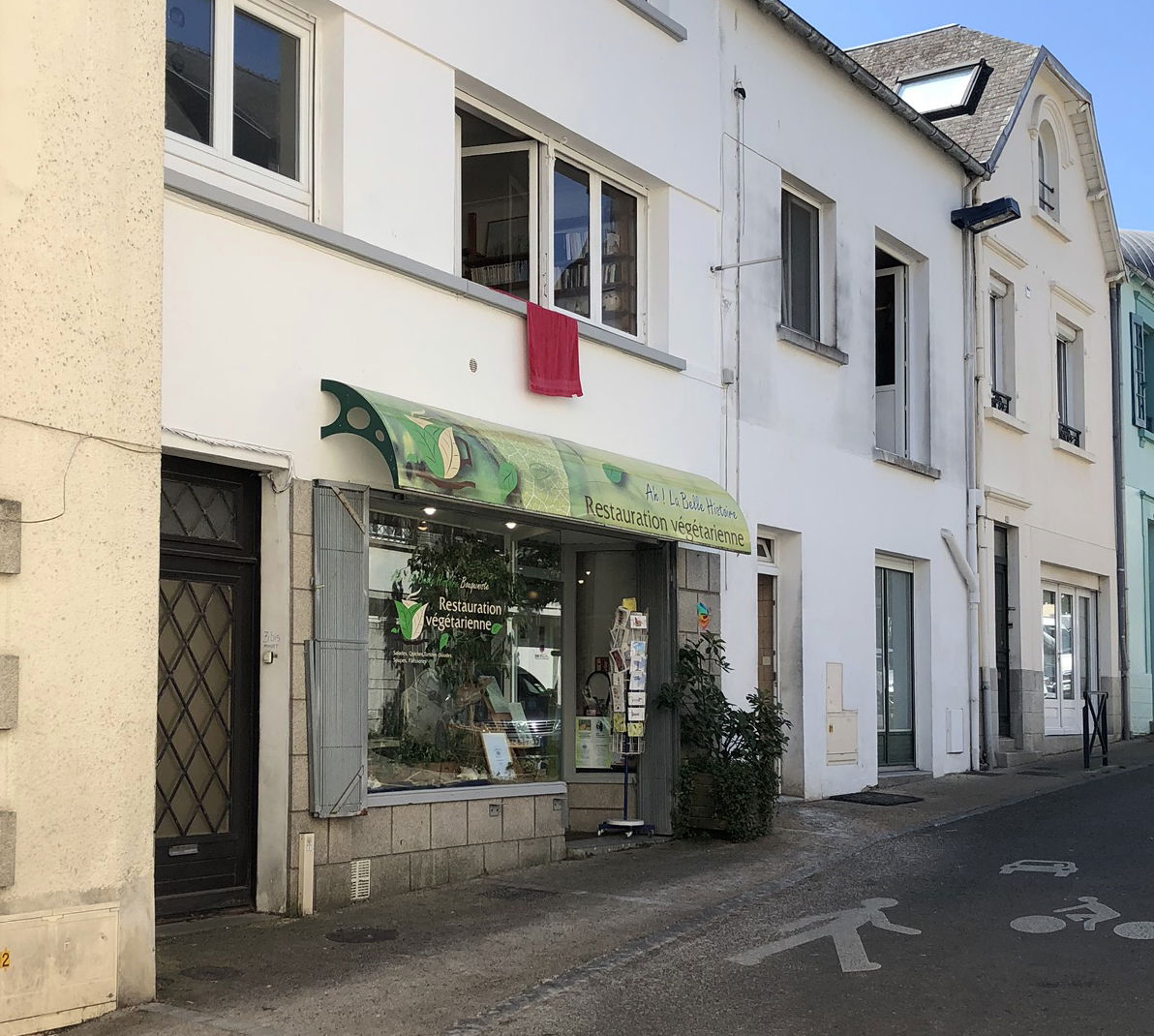 Just a block from the waterfront - Ah! La Belle Histoire
Concarneau is also near some pretty great beaches, some of which you can only walk to. This was quite a challenge as we ended up reading a number of descriptions on various websites and blogs about how to get there and ended up walking about 4 miles to go only 3/4 of a mile from the car but in the end it was totally worth it!*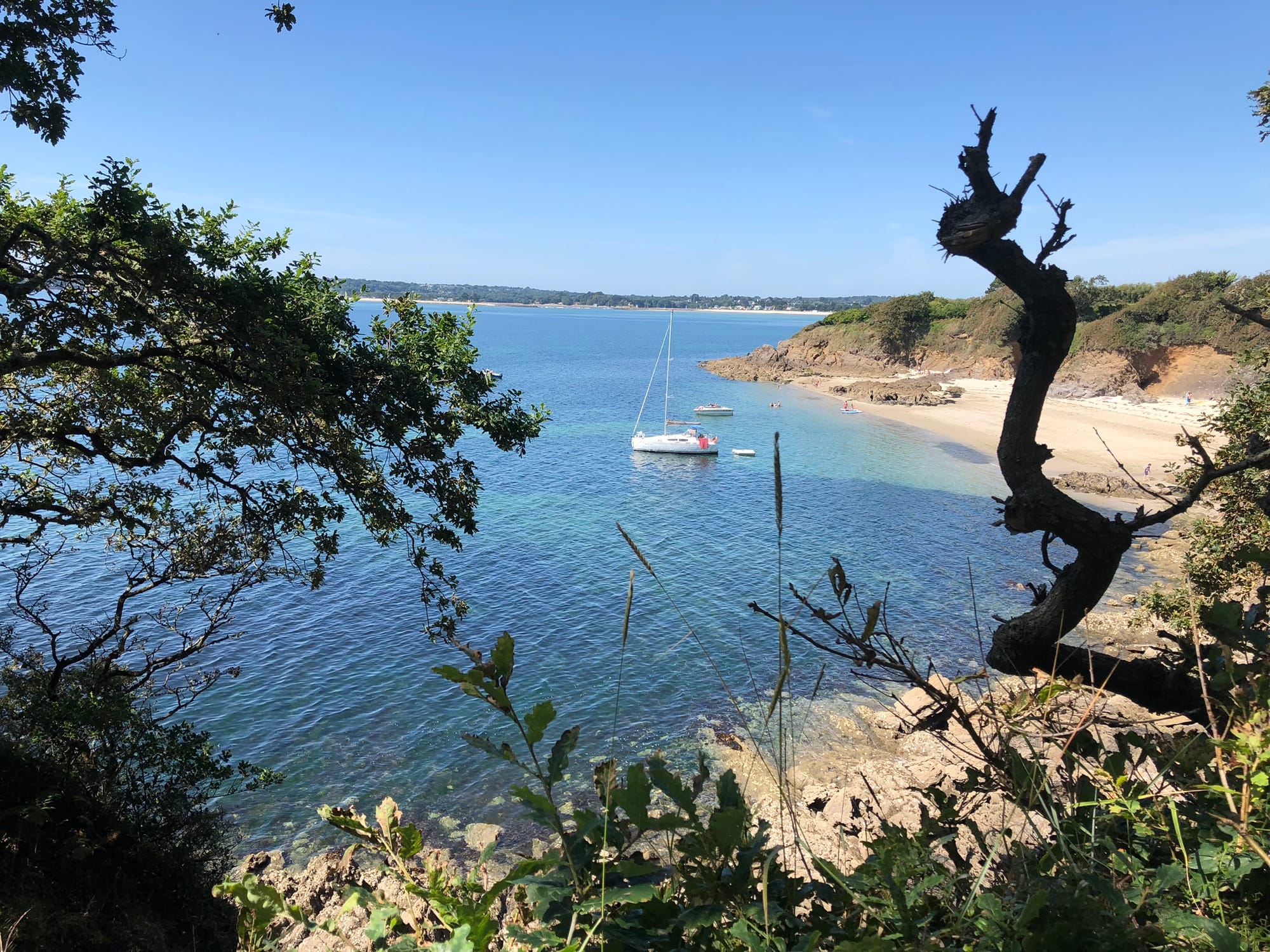 Kernous Beach

5. Mont Saint Michel - yeah we went and saw that magnificent beauty. It was crowded. It was awe-inspiring. It was highly organized and somewhat violence-provoking.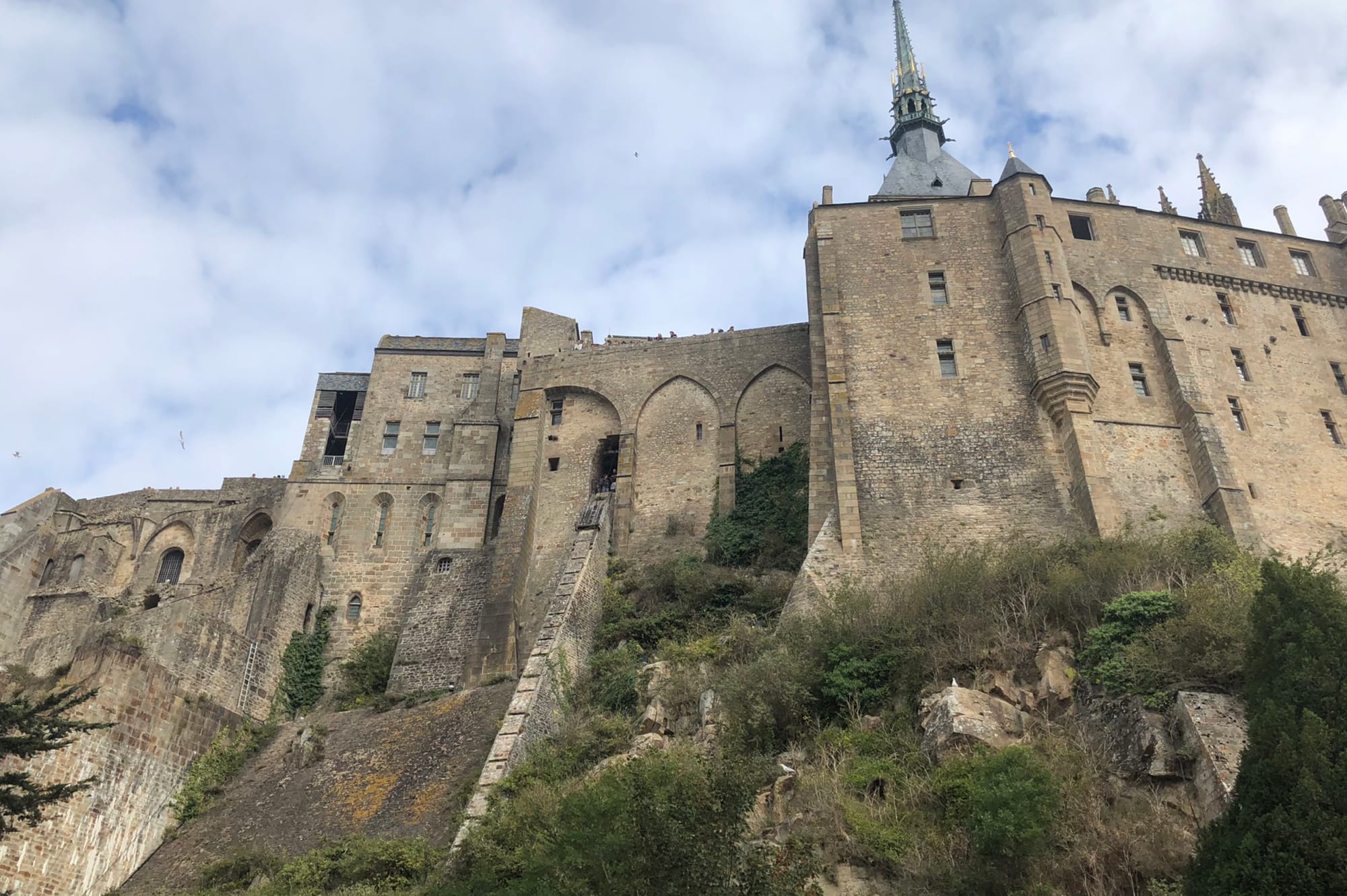 Halfway to the top!
Here is how you visit MSM. Get up really early. Drive to the MSM parking lot which is a little over 3 kilometers from the beginning of the walk to the top of the Mount. Park. Get in line for the shuttle bus. You need to be there at 8:30 am. Get on the shuttle (it is free) and go across the bridge. It is a full day of walking and climbing stairs - do not walk across unless you are really into walking. At the bottom of the isalnd where you are let off by the bus you must put on horse blinders. You do not need to eat an omelette at Mont Saint Michel! You don't need a 30 Euro scarf with a little MSM drawing on it. You need to get to the top and get in to the main attraction! Don't stop for pictures - MARCH! When you get to the top go in and buy your ticket. Please have ID if you are a student or pensioner; they ask for them. Then, sit down and have some raisins and bottled water you packed last night. Go through the monastery. It is wondrous. There is so much to see. Take your time. Take beautiful pictures like this one.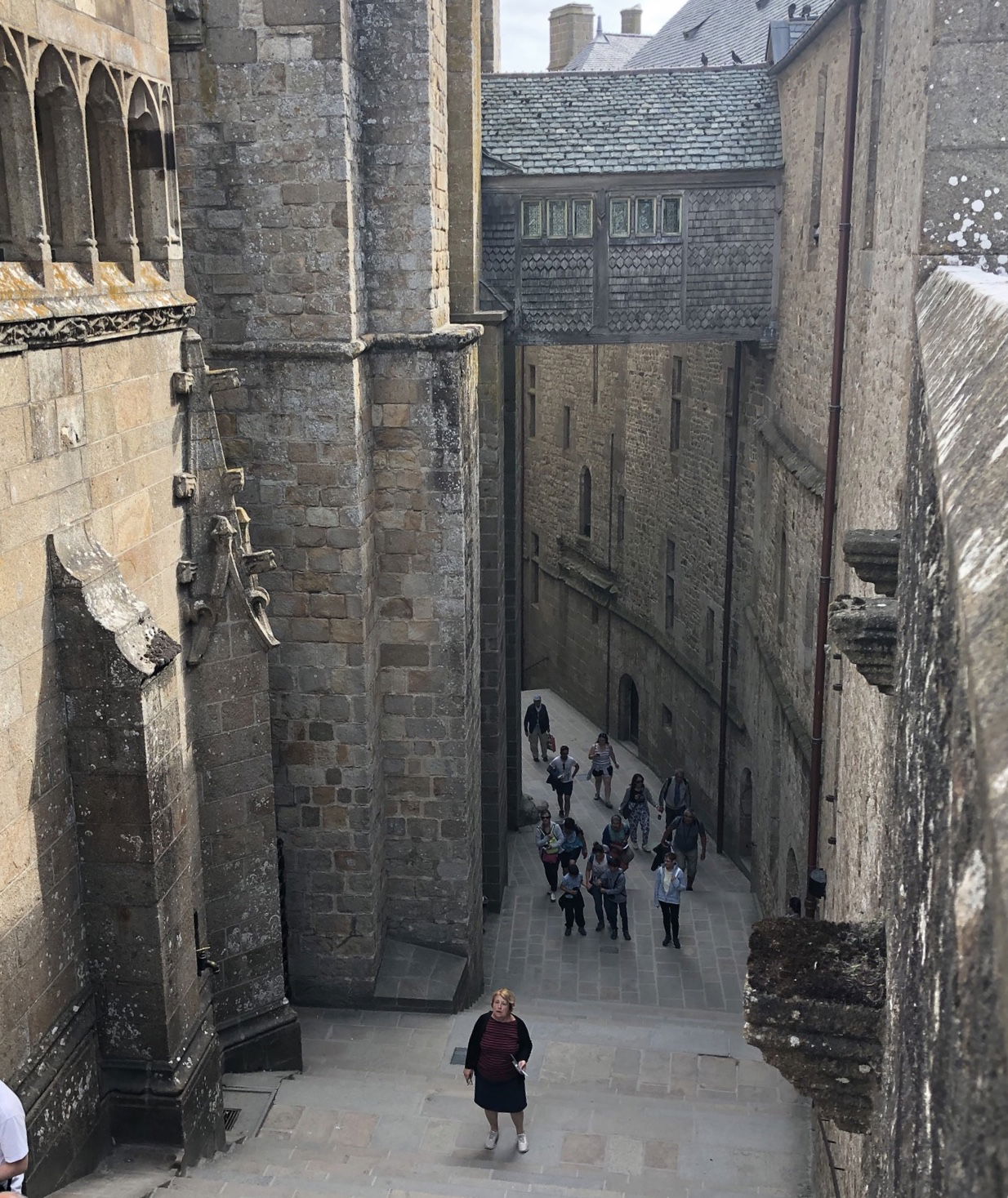 The look on this lady's face! Amen.
6. Carnac - Darn we were just blown away by Carnac. As previously mentioned we are groupies for really ancient stuff - and Bretagne has more menhirs (standing stones) than any other place on earth. Peter kept quoting Asterix and Obelix and we ran into Asterix gear at the interpretive center for Carnac standing stones and bought him a much-deserved keychain. The standing stones of Carnac are exceptional and free! Just park along the road and walk around them! And try to figure out what the heck they were meant for.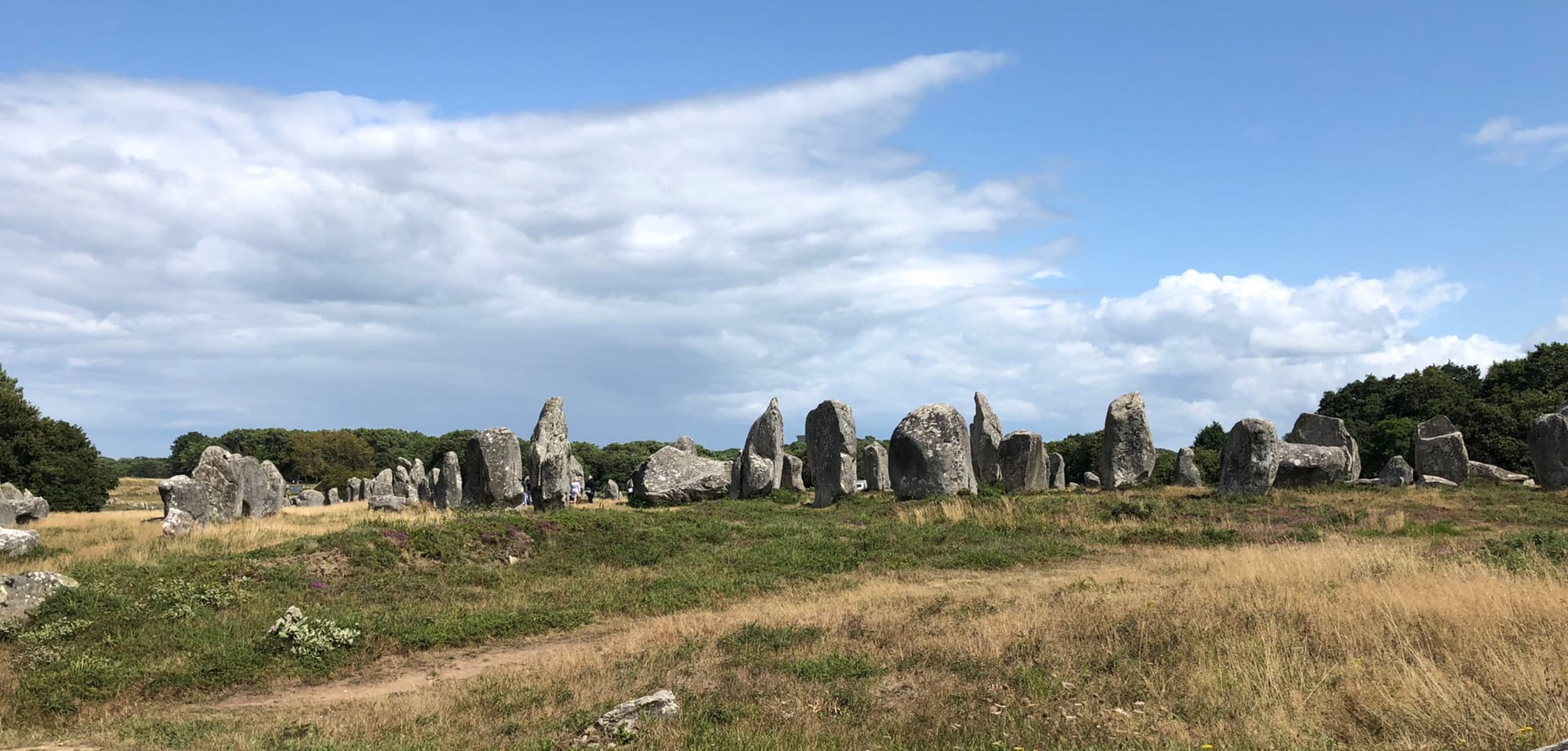 Another excellent neolithic site in Bretagne is Monteneuf. It is out in the middle of nowhere but they have a cool park built on the grounds where they show all the ways the people may have moved the stones.
These are some of the places we went to that we would take a pass on: Rennes, Vannes, St. Malo, Nanntes, Broceliande Forest (omg just no) - thus, there are no photos.
There was so much more to see in Bretagne - we would definitely go back and just stay on the coast. We are surprised more people don't visit Bretagne - for the simple lifestyle, the frank character of the people, the undeveloped places of natural beauty and the unabashedly touristic but gorgeous little villages. We would highly recommend Bretagne for the cost as well. Lodging there costs about half that of the rest of France and the people were much kinder. You cannot see Bretagne in a month so we hope to go back one day!
* https://en.plages.tv/beautiful/l-concarneau-2990
** https://www.asterix.com/en/the-collection/albums/obelix-and-co/