Yesterday, Peter and I spent $135.00 while shopping. We are on a budget of 100 per day for everything, so that was unusual. What did we get? I got a teal dress with 3/4 length sleeves made of organic cotton - it has that no sewn hem/deconstructed look that I have loved since the 80's and it looks awesome on me. Summer is coming to a close and we have run out of clothes. We are traveling with two bags each and doing a lot of manual labor. You just can't pack for 6 months and 4 climates without wearing things out or getting a few new things. Peter needed a pair of trousers. He only has jeans and bleach-stained shorts with him and we need something more formal for a ridiculous 5 night stay at an all-inclusive coming up next week. That is a story for another time. Then, we were walking around in a little town here on Rhodos and this tiny old lady showed us her museum (her house) with her grandmother's embroidered bridal bedclothes and an extensive collection of bells. She had hand-crocheted bookmarks for sale so I bought one for Peter. Then, we found a place that has locally loomed scarves in the Greek style and I bargained the seller down 5 dollars if I paid cash. And that is how you burn up $135.00.
But that is OK! You are visiting a place and buying practical things there supports the local economy and gives you something a lot more useful than another collector's spoon or a ceramic pomegranate (both of which I have purchased while on vacation). I love shopping. I love all the people, I love wandering though the shops, sometimes buying, sometimes not. I love Black Friday. I love going to the mall. I still believe in outlet stores. I sing that little song from How I Met Your Mother, "Let's go to the mall" that the character Robin sang when she was a one-hit Canadian wonder. I love buying too. In the post-consumer decades of the 21st Century it has become much cooler to go to thrift shops, buy second-hand or vintage and help the environment by NOT getting new things. Great! I will shop a yard sale or flea market or the fantastic social justice and fundraising shops of the UK any day of the week. It doesn't matter to me - I love people and I love trends. I like looking at what other people buy. My friend's daughter recently mentioned that she had seen a round, wicker purse and that she wanted one. I had literally never seen a purse like she was describing but soon enough, all over France, Greece and Jordan, I saw round, wicker purses with bronze clasps like little hat boxes. Adorable. I did not buy one. But I AM wondering if that girl is a Bellwether or what?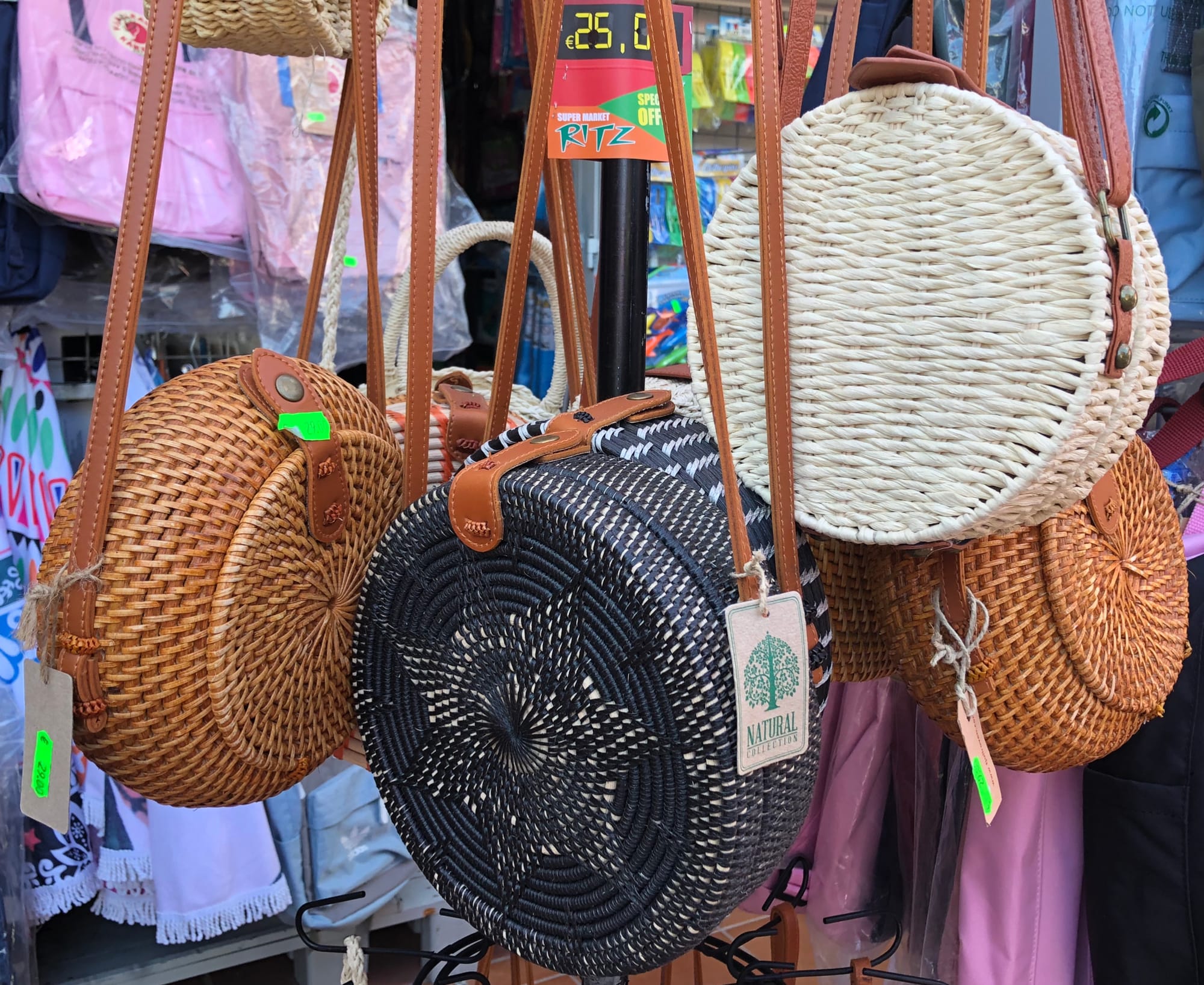 So, here are our rules for shopping while traveling:
1. Buy local. Nothing too surprising about that statement, right? But really, look at the tags. Make sure it is actually made locally. Do a little research. If it is near the port or in the airport and it doesn't expressly say, Made in X, then it is imported crap. If it was made in China, then only buy it if you are actually in China. Many places have regulated shops that have symbols or tags that identify them as being authentic, like in Alaska. But man, you are hard pressed to find a real piece of local memorabilia in the cruise port towns like Ketchikan and Juneau. I am not saying it is impossible but it is hard. If possible, visit the artisan or factory store itself instead of buying at the first tourist tacky shop you see.
2. Buy appropriately. We recently spent a few days in Sarlat-la-Caneda in Dordogne, France and there were dozens of stores selling canned goose livers. First of all, when INDIA bans something like foie gras because of animal cruelty, maybe it is time to adjust your cultural preferences. And secondly, just ew. That is nasty.An even nastier option? Purchasing animal products from species that are endangered - um, just no. Don't tell yourself that it is already dead anyway. I call BS on all animal products like rhino horn or ivory jewelry. It is never ethically harvested and you are contributing to species extinction.
3. Buy quality. It is always better to buy one beautiful emblematic piece than it is to come home with 30 tsochkes. When I was a student in Spain, I bought a leather carry-all that I used for 25 years. And when I returned to Spain I bought a king-sized hand dyed bedspread that I still have 25 years later.
4. Buy with purpose. When I travel with students we are frequently on tour during spring break and the girls all go prom dress shopping. IT is so much fun! They go home with an average of three dresses each: one for the current year, one for next year and one for a sister or a friend. They cost less and NO ONE will have your dress! They always get to know the shop owners pretty well and they put that Chapter 6 Spanish II shopping vocabulary to good use.
5. Buy something that will remind you of where you were. I bought this duffel bag in Scotland. Everywhere we went we saw thistle - hiking, painted on plates, in jewelry designs and it is a true symbol of Scotland. It was only $15.00 and it folds into a little pouch as big as a wallet. It makes a perfect carry-on.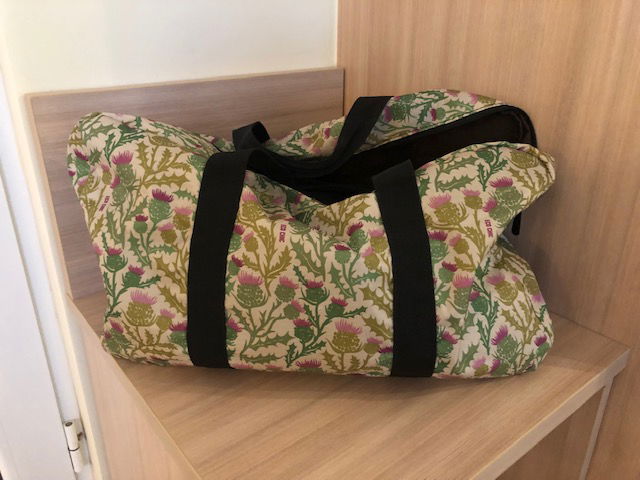 Here is a list of all the things we have bought in the last few months on the road.
1. A hand blender for smoothies. Yes, we have carried that around for 4 months now. What's a vegan to do?
2. A teapot. See cover photo for this blog. We got it at Tesco for $10.00. We got tired of all the tiny cups that require you to make individual cups of tea and we wanted a full pot. It was actually made in England so we feel good about it. And it is quite the conversation starter when we get pulled at customs. Yes, sir, we are traveling with a full size teapot.
3. New Adidas sneakers. They are not really Adidas in my opinion.They are black market crap that they sell in Faliraki Greece but my sneakers had worn out and I was desperate. The shop girl was very helpful and it was a hot day and I made her go up and down the stairs to find my size so I was feeling like I had to buy them by the 9th pair I tried on. I have posed them in this picture in the Asian style - you know, on Amazon, where all the Asian shoe pictures are pigeon-toed... why? Why? Peter likes them because they are hot pink and if he bends down he can find me in a crowd. They MIGHT be real Adidas. They haven't fallen apart yet and the labeling is realistic. After you have seen enough "Channel" bags and "Mark Jakobs" backpacks you do not know what to believe anymore.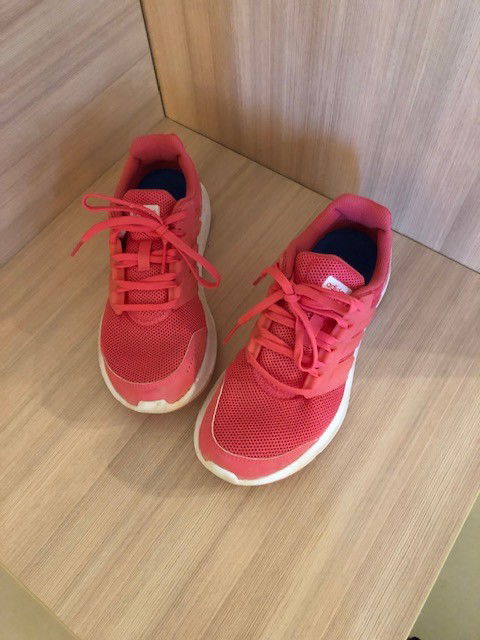 4. 2 other pairs of sneakers that wore out. To be fair, I only have that one pair of shoes and two pairs of sandals at any time so they get used hard.
5. A tiny locket that looks like a book at the Meteora monasteries for 5 euros.
6. A ring that looks like it is from outer space or from under the sea in Skiathos.
7. The afore-mentioned dress, two other dresses, Peter's pants and three tee shirts. We did nothing but clean rooms and shovel animal dung for three months, people.
8. A pewter scarf ring (that I wanted to give my mom for Christmas) and a sweater that somehow got scratchier and hole-filled while packed away in my suitcase. REGRETS. Bought in Orkney.
9. An Obelix figurine in Carnac, France
10. Hand-made feather earrings in Rochefort-en-Terre (now gifted to a friend's daughter) and hand-made heart earrings at the artisan market at Haddon Hall in England.I met the makers, themselves. Lovely women, lovely, pretty things. It was great to reconnect with the hand-made community as I was a part of it in Anchorage, AK for over 5 years. This time last year I was getting over 100 pieces of art on reclaimed objects ready for the 2018 season. I love chatting with people who make things by hand. They are my people!
And that is all! Not bad for 5 months and 5 countries!