Peter and I had both been to England before this trip.. He was there as a high school kid on a class trip so he remembers nothing AT ALL except the bottom of a beer bottle. I was there with a friend on a trip I won in a drawing and we spent that time in the London area. I was also there on a single chick trip where they match you up with another single chick and you blast through every major town in the UK in 12 days. It was fun, except the bedtime routine of my new BFF from Tasmania was to watch soft core porn every night. Sigh. So last year, Peter and I spent two weeks exploring Cornwall and LOVED it. Then we were in Scotland in June as part of the Year of Travel (see Scotland post) We are definitely getting the lay of the UK.
Between Scotland and France, we spent a short week in Derbyshire for 3 very specific reasons:
1. We wanted to see Haddon Hall where they filmed The Princess Bride on the weekend that they host their massive artisan and craft market.
2. We wanted to see Mr. Darcy's Pemberley (Chatsworth House) and have a high tea.
3. We wanted to go on long English walks and see cute villages.
Mission Accomplished!
Haddon Hall
There have been multiple movies filmed at Haddon Hall. The very famous scene where Princess Buttercup walks out into the courtyard of Prince Humperdink's castle is one of my favorite scenes of all time.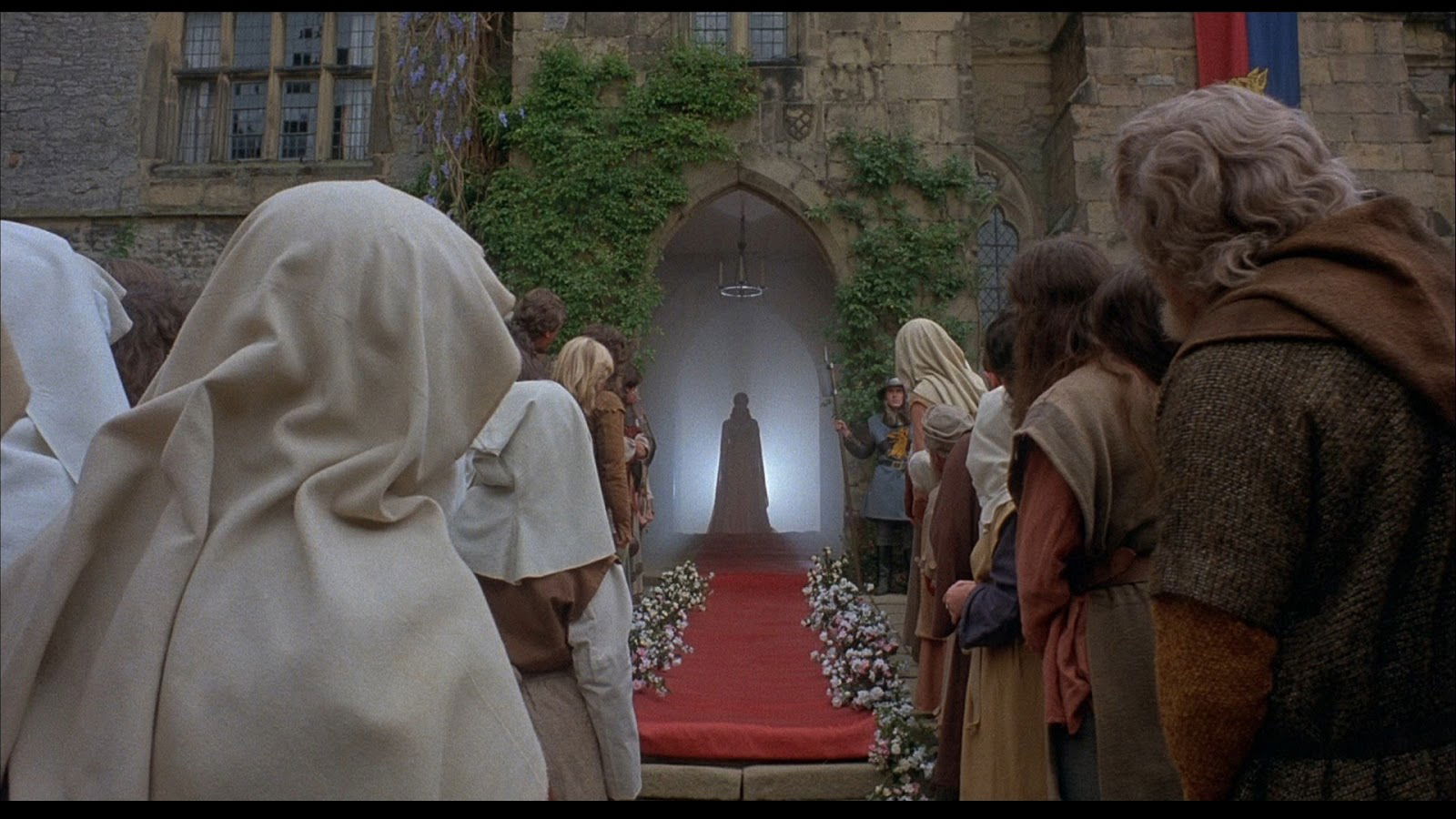 So magical.. my own version is the cover photo for this post
The castle is tumbled down in some places but restored enough and left alone enough to be perfectly evocative. The building has a long history with all the trappings of a romantic Brittish castle: long tapestried halls, formal gardens with overgrown flowers in luxurious abundance and those pastel-colored diamond shaped window panes that make you want to war scratchy linen and never take a bath again... but I digress.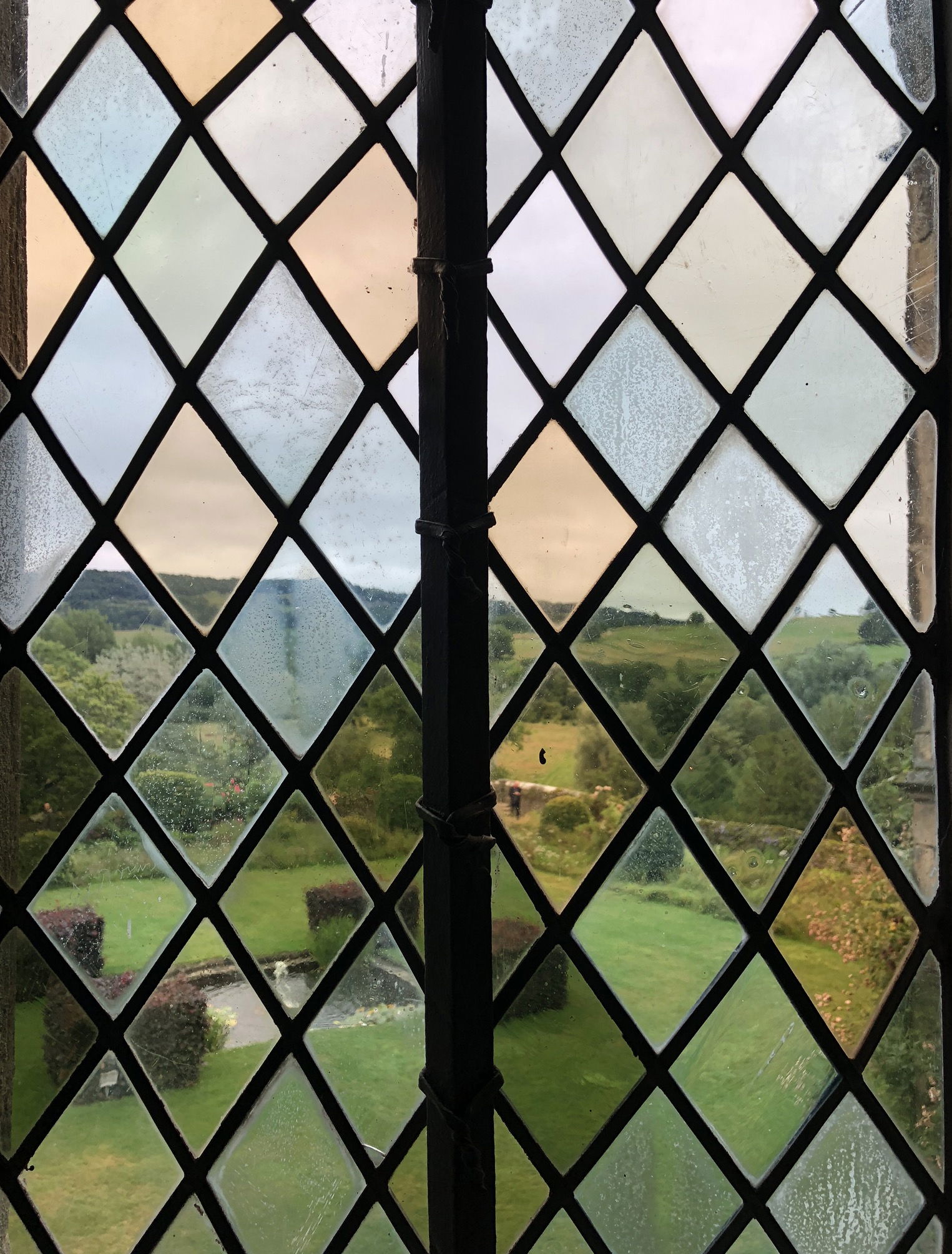 Those windows!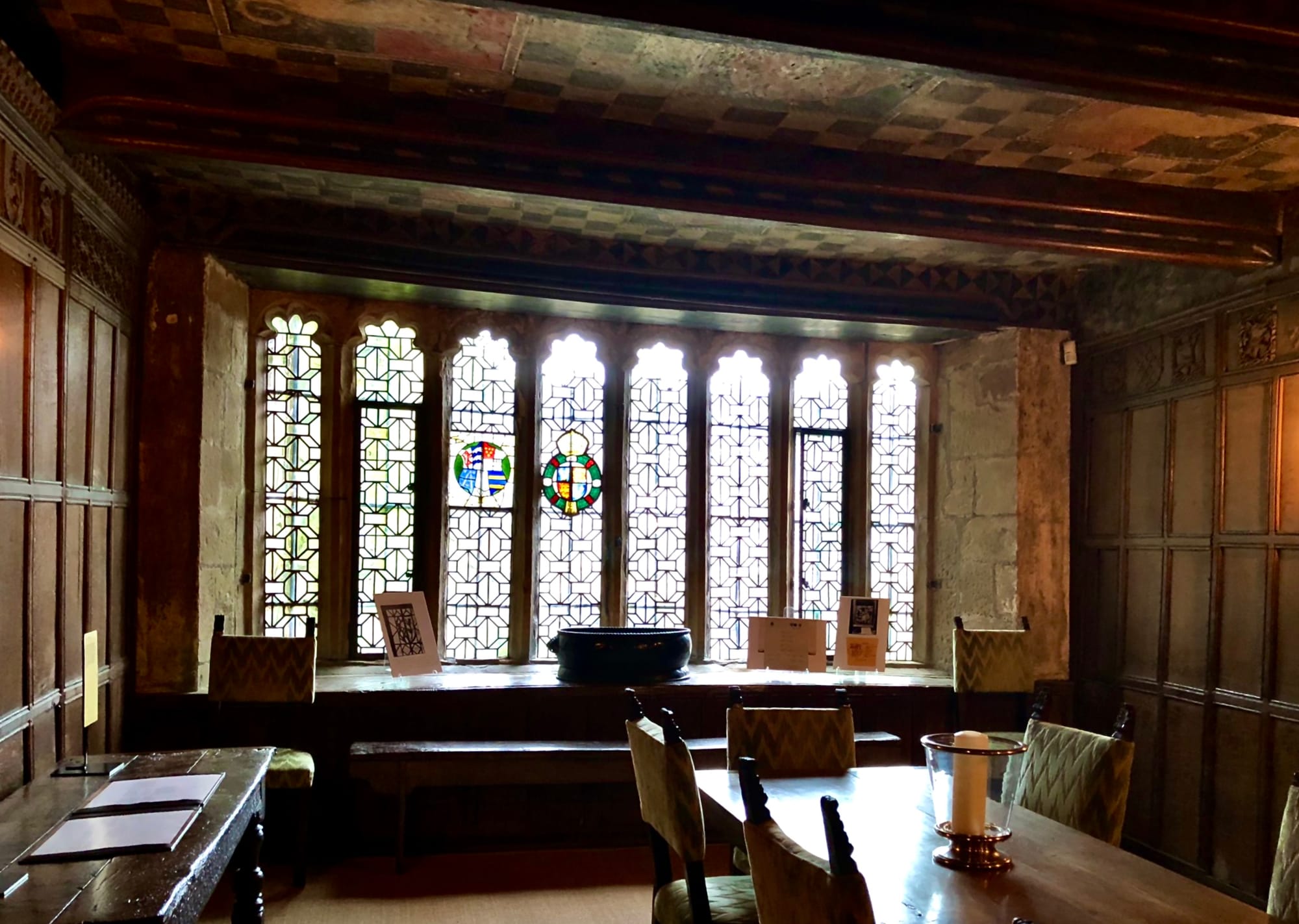 This room was furnished and restored to a perfect representation of the 16th - 17th century
As you walk among the rooms there are so many scenes that pop to your mind and the castle itself contains some really interesting furniture and historical information.* Some of the other things filmed here were Jane Eyre, Elizabeth, Pride and Prejudice (2005) and The Other Boleyn Girl to name a few. But we kept looking for Count Rugen and The Giant around every corner.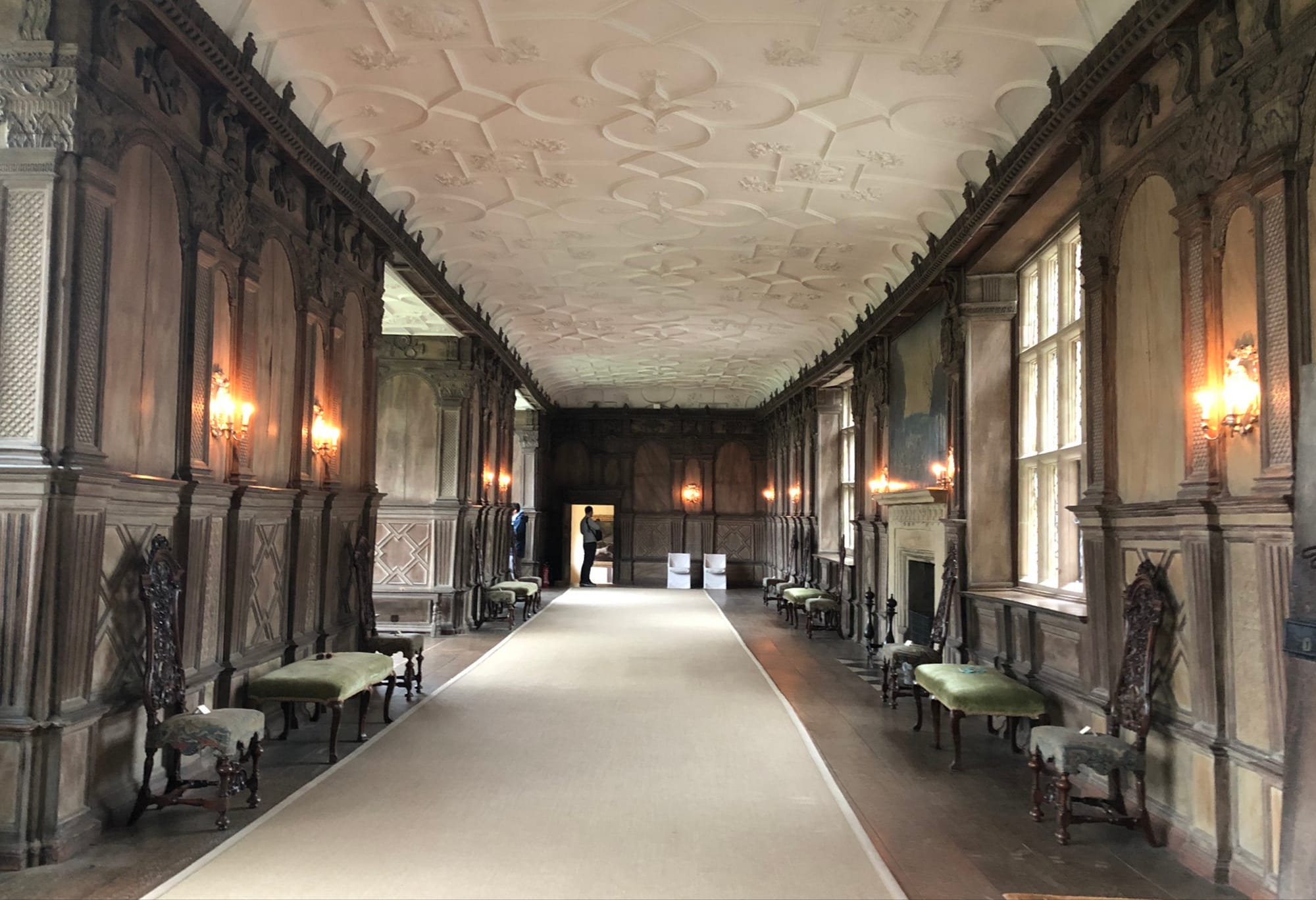 The long hall with the delicate tracery on the ceiling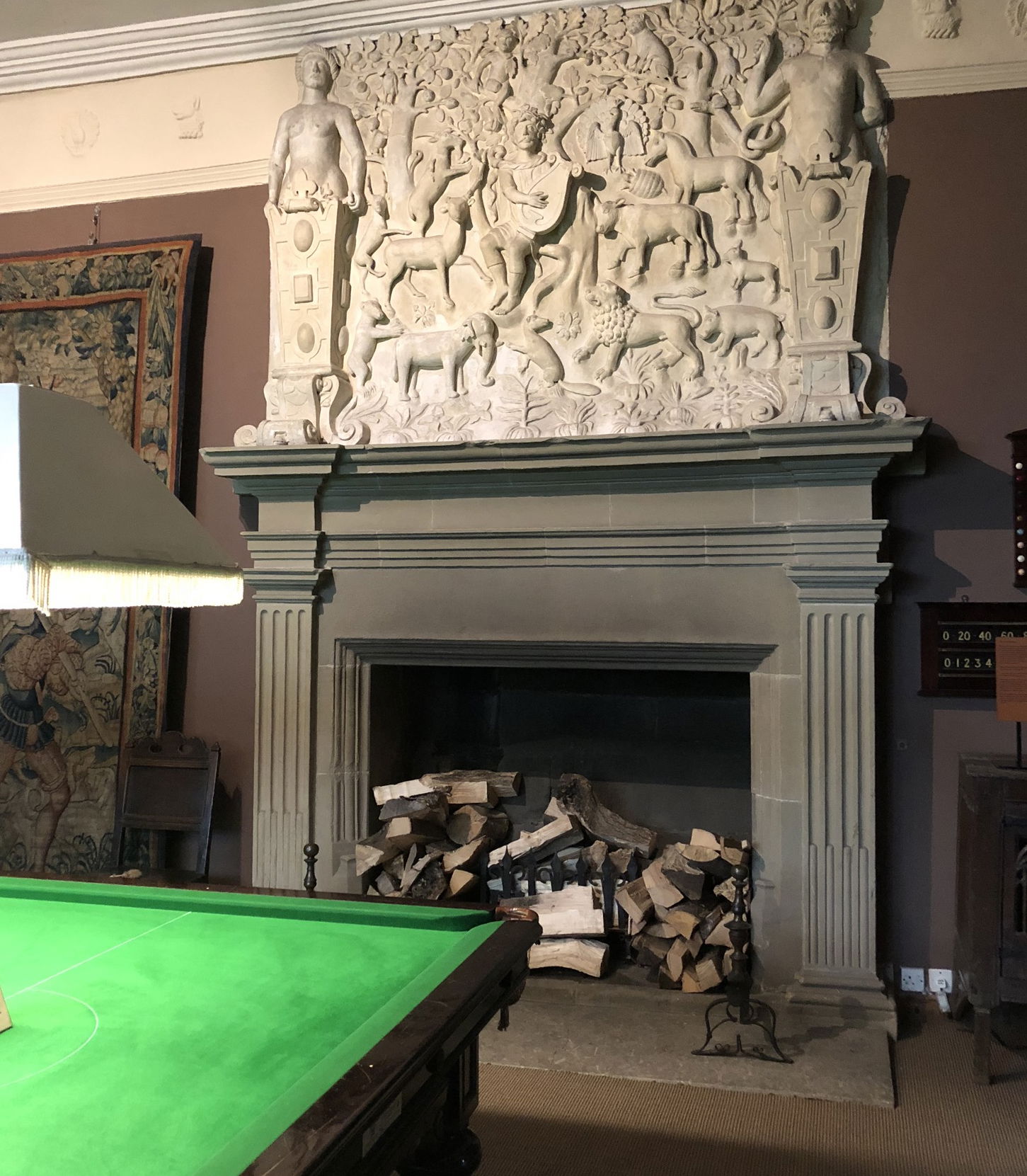 The plaster relief is of Orpheus taming the animals
The gardens are extensive and there are many beautiful photo opportunities. It was raining off and on that day but it did not spoil the day - we walked through the whole garden. If you wait for the rain to stop in Derbyshire, you will be waiting until next month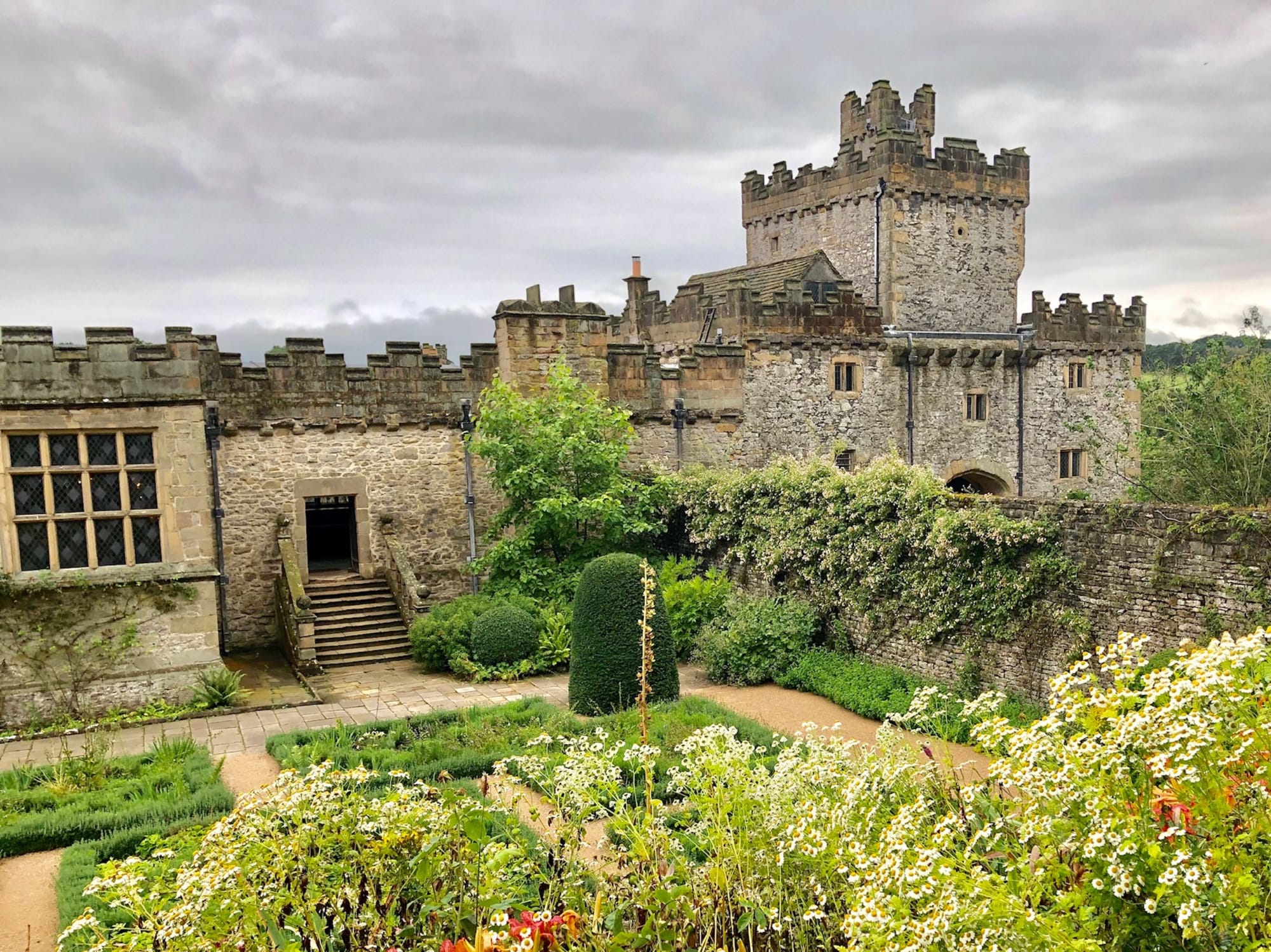 Looking back at the castle from the upper garden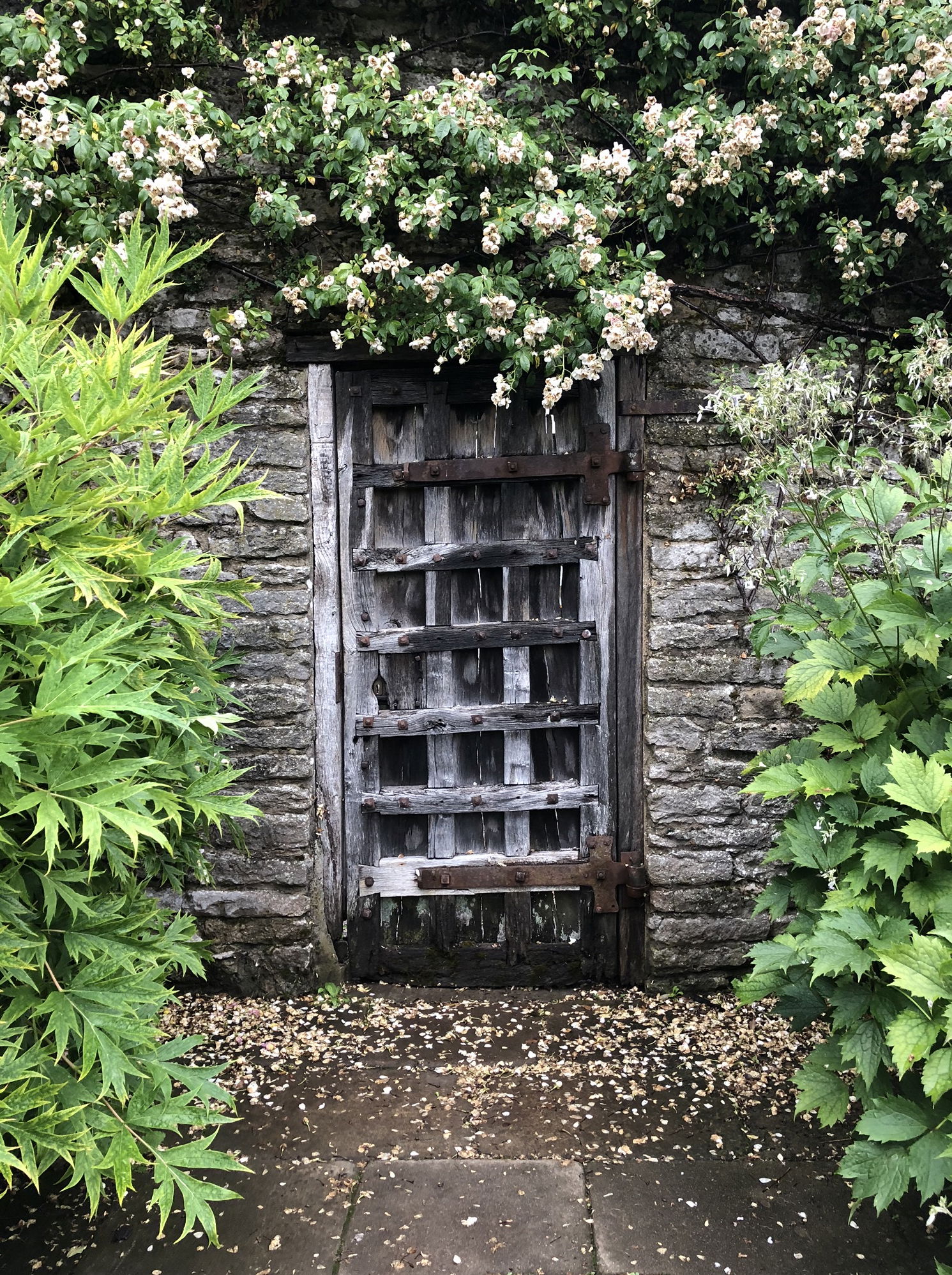 Look at this beautiful door in a garden wall!
Even the views from the castle were amazing. This is the little bridge across which Princess Buttercup flees on her horse!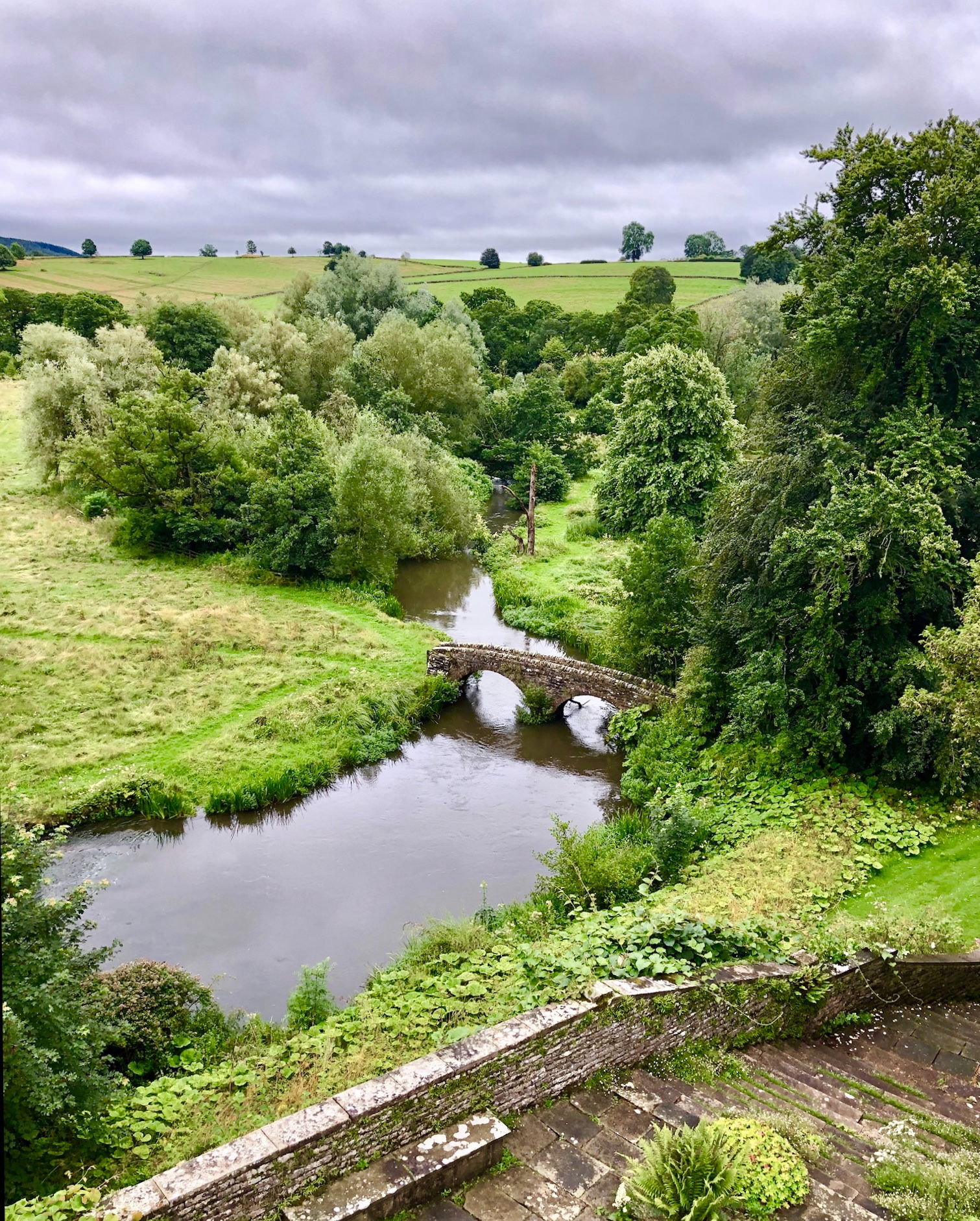 Ride, Buttercup, ride!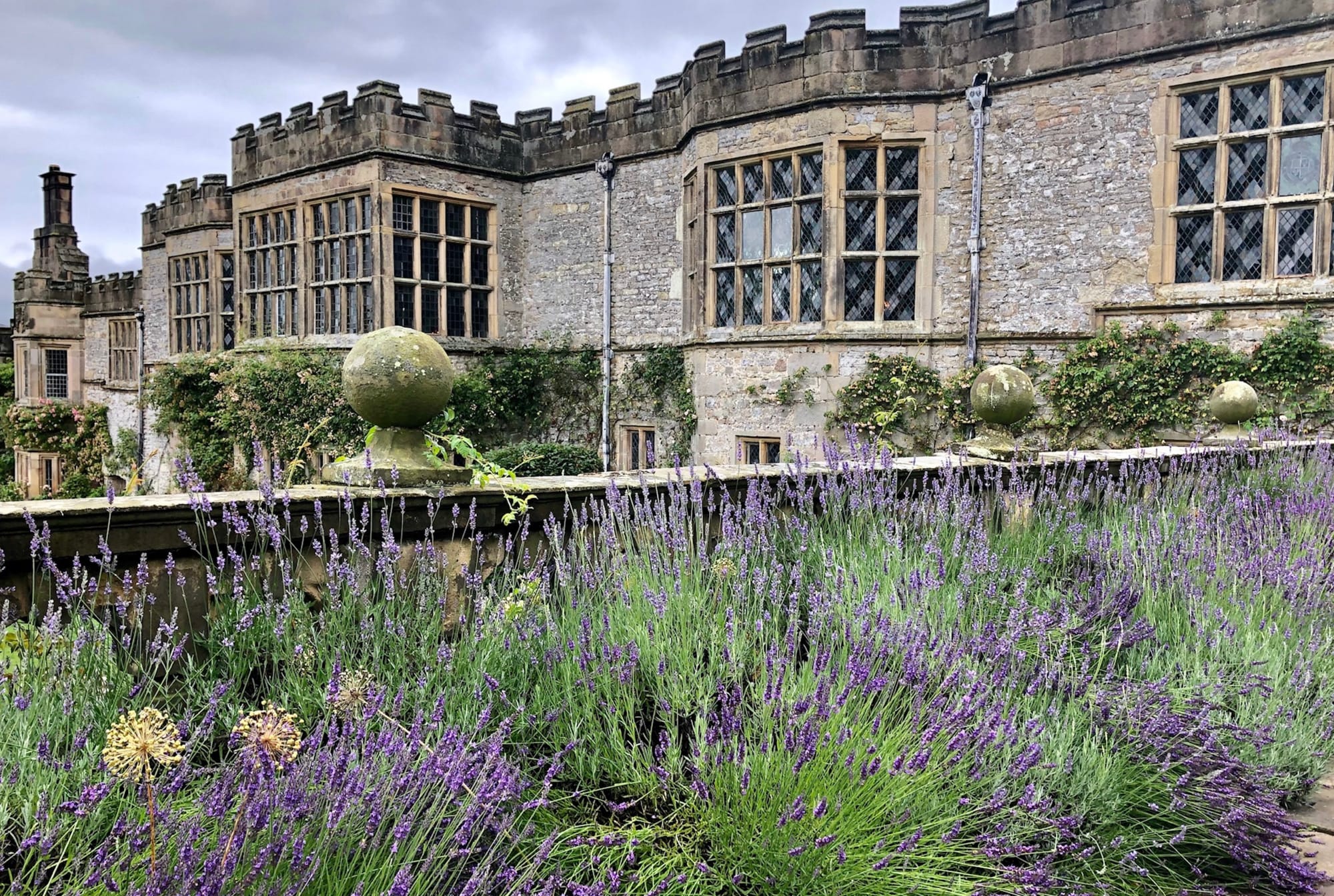 The lavender was in full bloom
After a visit to the hall, we had a lovely vegan lunch at the kitchen plus a very un-vegan scone. We fell off the vegan wagon with the scones in Derbyshire. As with all museums, National Trust sites and historic houses in the UK there were options for every palate and nutritional restriction. I love the UK! But scones are scones and clotted cream does not come in a vegan format, at least none that I have seen.
Peter is infinitely patient with my travel whims but having been my partner in crime setting up, bringing me granola bars and hauling my art and furniture makeovers around for five years, I wasn't sure that he would want to attend ANOTHER craft fair. Wrong! He was down for it. There are lots of different kinds of craft fairs. There are church-sponsored fairs where you will likely be serenaded by the worship pastor and his band or the choir singing Christmas songs, served a baked potato buffet and be treated to high quality needlework, mixed garish jewelry and direct sales skin care lines. There are the commercial fairs whose goal is to make money for the venue or possibly a cause and they are somewhat more professional because you pay a lot to sell at them. You will be entertained by Spotify over a centralized sound system, have a lunch of free fun sized candies from the vendor booths or spend $25 for three shrimps on a stick and the "crafts" will run the gamut from children's books, lingerie, and jewelry to offers to join Scientology. Then there are the juried shows. These are almost always of the highest quality and very exclusive. You have to submit a portfolio and/or interview just to be able to pay an exorbitant amount of money to sell your things. However, the artisans and crafters are usually exceptional and whether you are a buyer or a seller you will be treated to a beautiful event.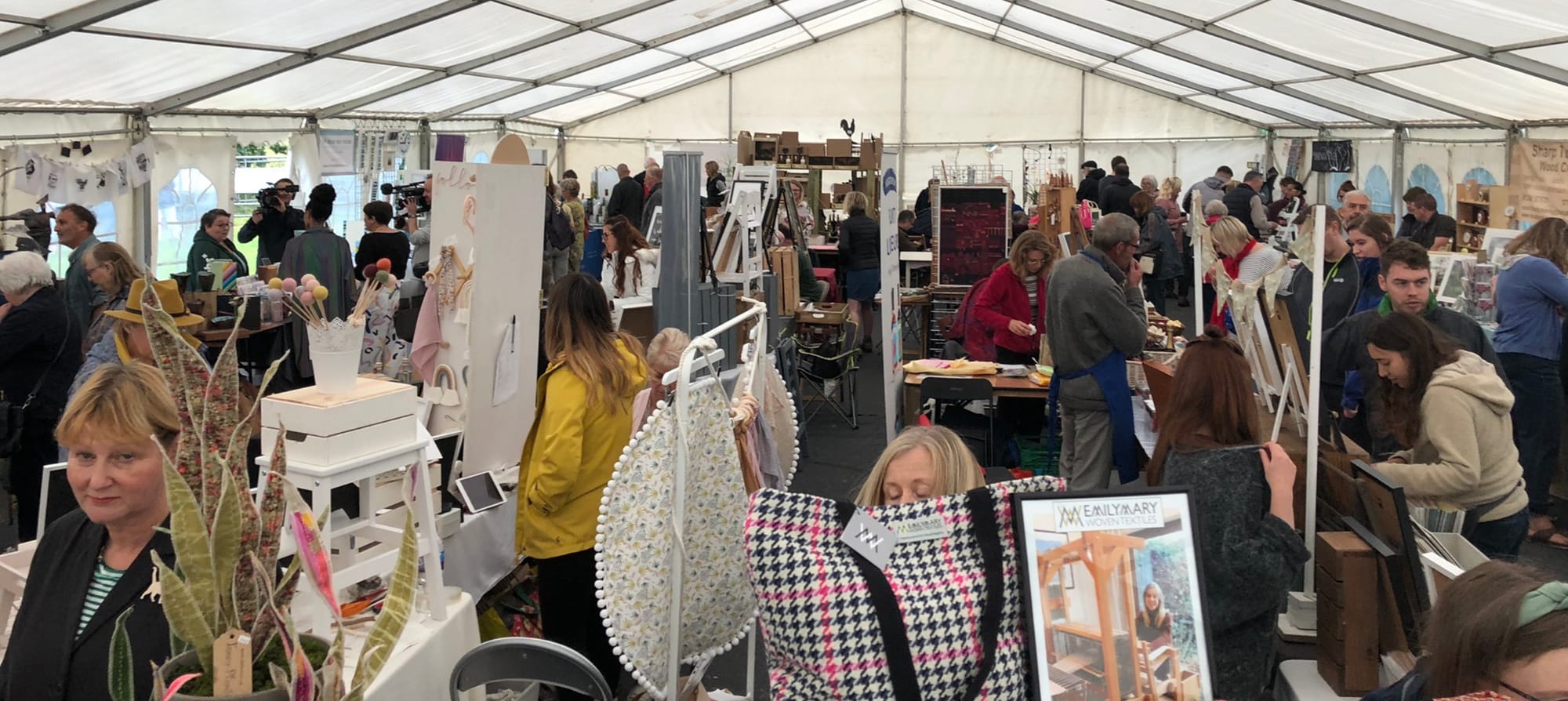 One of the indoor tents
The artisan market at Haddon Hall is of the third type. We bought earrings. We tasted gin from seven different vendors. We attended a "birds of prey" talk with some people who use birds to clear airfields. We had a good chuckle with the fly tying vendor whose buddy thought that Dolly Varden (a trout caught in Alaska) was called Dolly Parton. There were alpacas, bunnies and dogs. There were wool scarves, silk scarves and vicuña scarves. There were photographers, painters and printers. It was all staged outside the castle in the gardens and they must have bought out the entire fairy light section at Sainsbury's. It was stunning.
The falcon couple had a bit of a tiff.
Chatsworth House
If you have seen any of the film adaptations ofJane Austen's novels, watched all of Downton Abbey and have a subscription to BBC media, or all three, you enjoy a historic house as much as we do. Specifically, if you have seen the 2005 version of Pride and Prejudice then you know this setting! Chatsworth House is magnificent. It is perfectly preserved, they charge a huge entry fee which they use it to keep up the grounds and make inprovements every year. It is a wonderful example of preservation and growth. They employ hundereds of people - gardeners, cooks, historians and parking attendants.** It is a beautiful place but as we had only one sunny day we decided to focus on the garden. Of the 7 days we were in Derbyshire it rained on 6 of them. Stereotypical English weather - the reason that they all go to Greece and Spain.
The grounds are extensively extensive. Pictures do not do it justice. We walked for two hours and did not see all of it.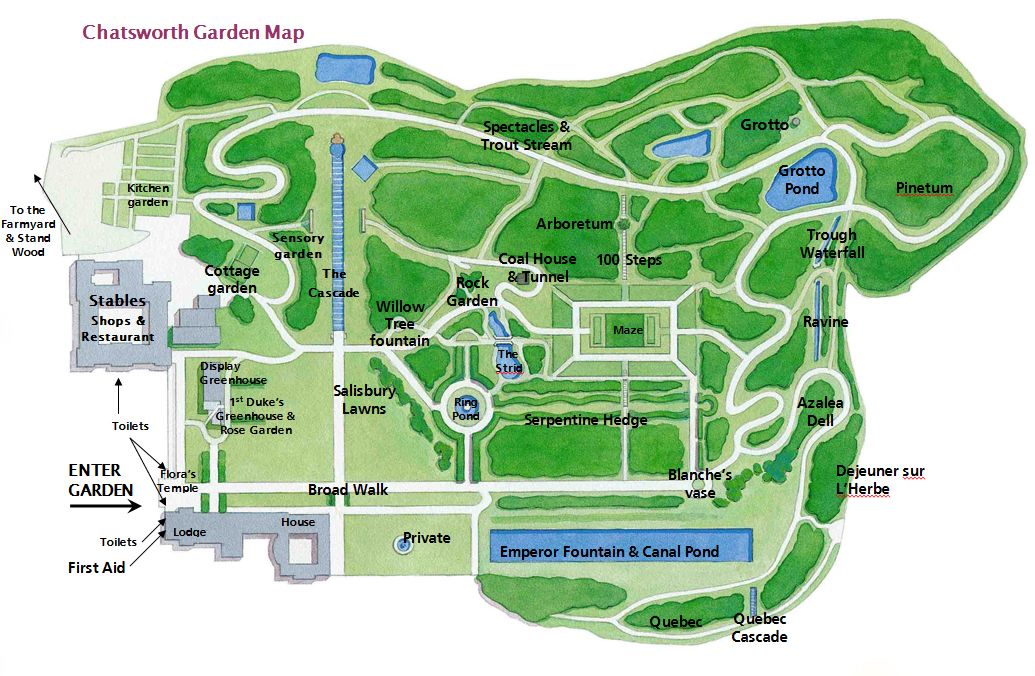 But let's try to capture the magic, shall we not?
A view of Chatsworth House from the Broad Walk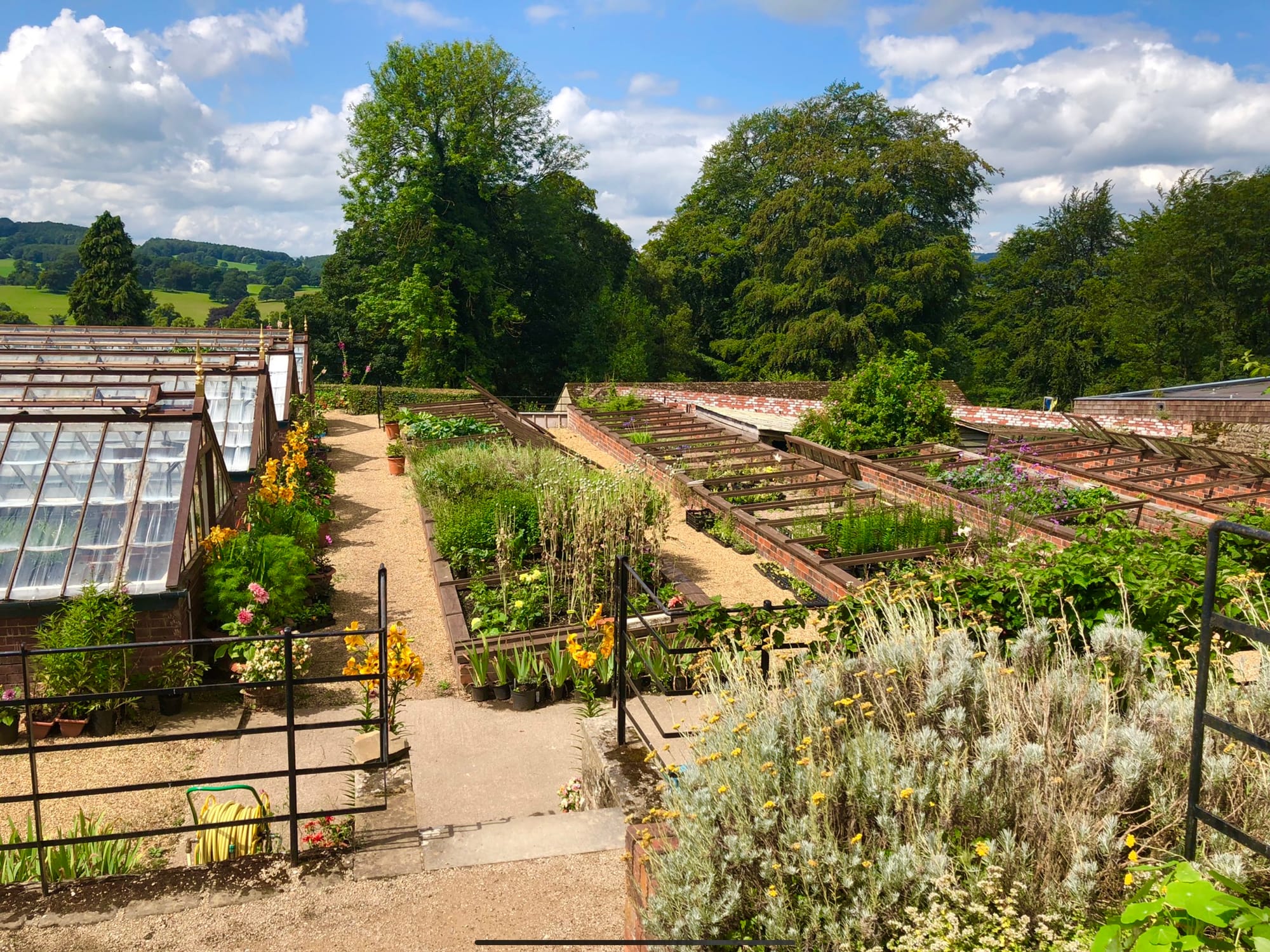 Some of the kitchen gardens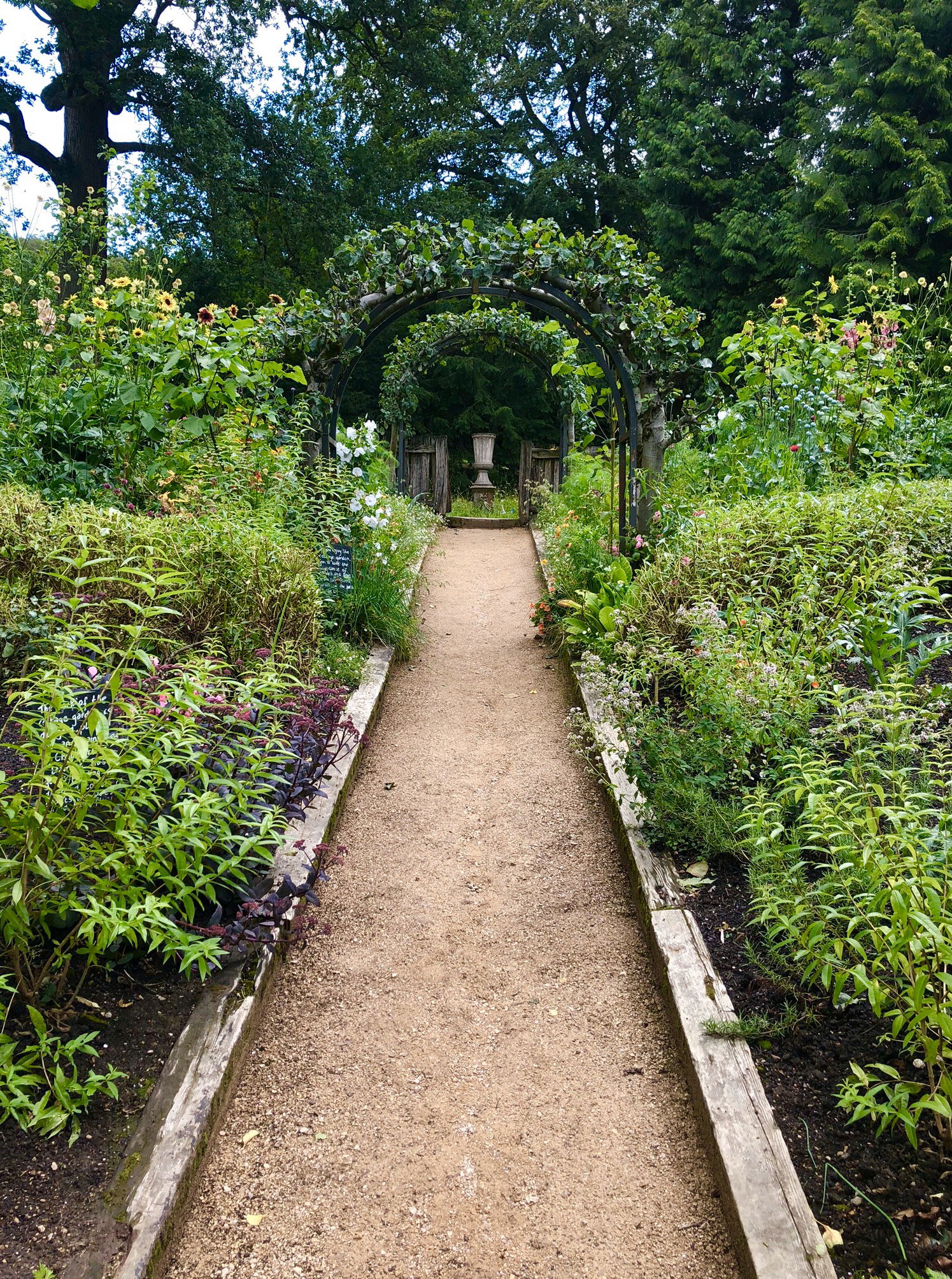 Part of the sensory garden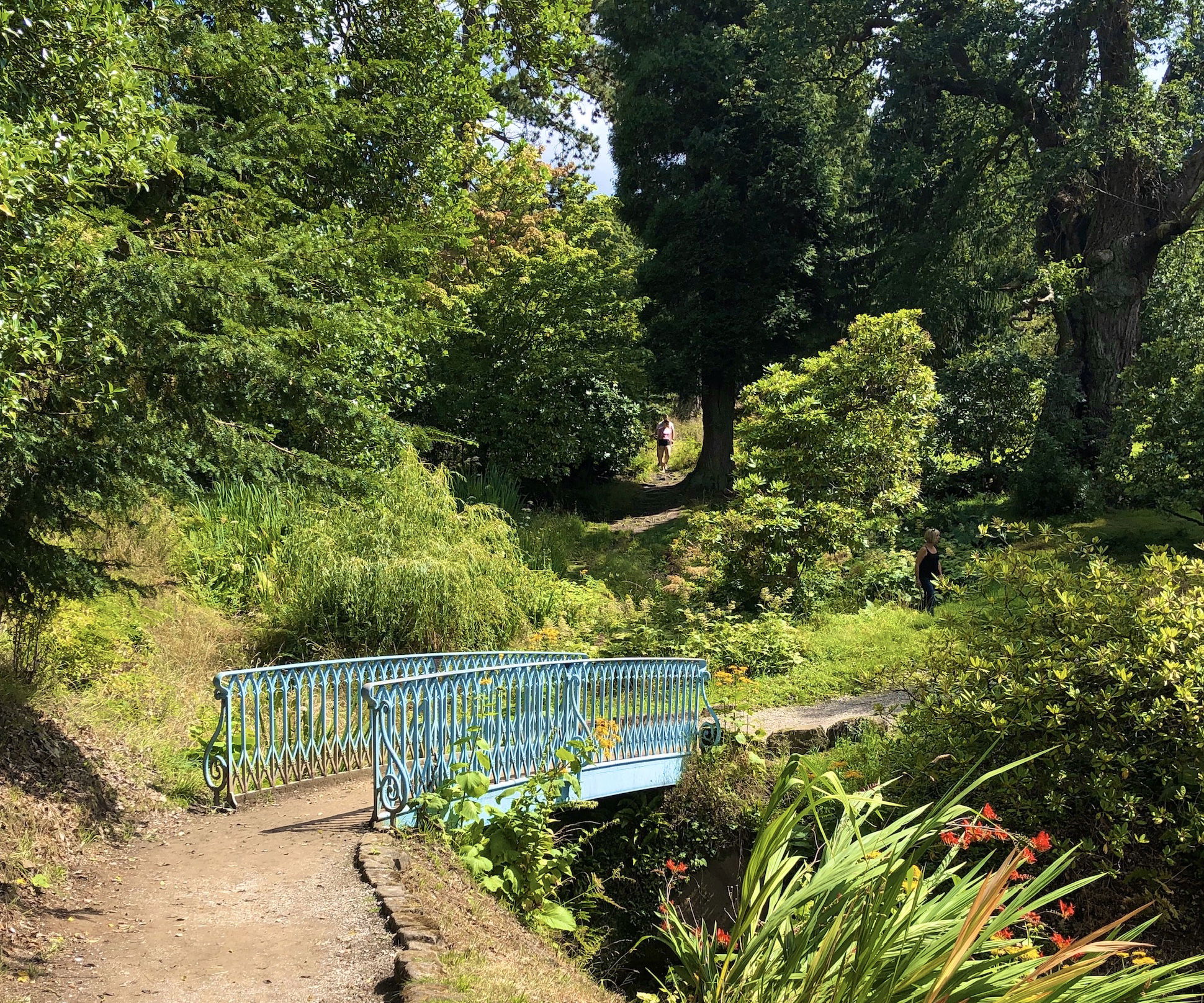 The Ravine Trail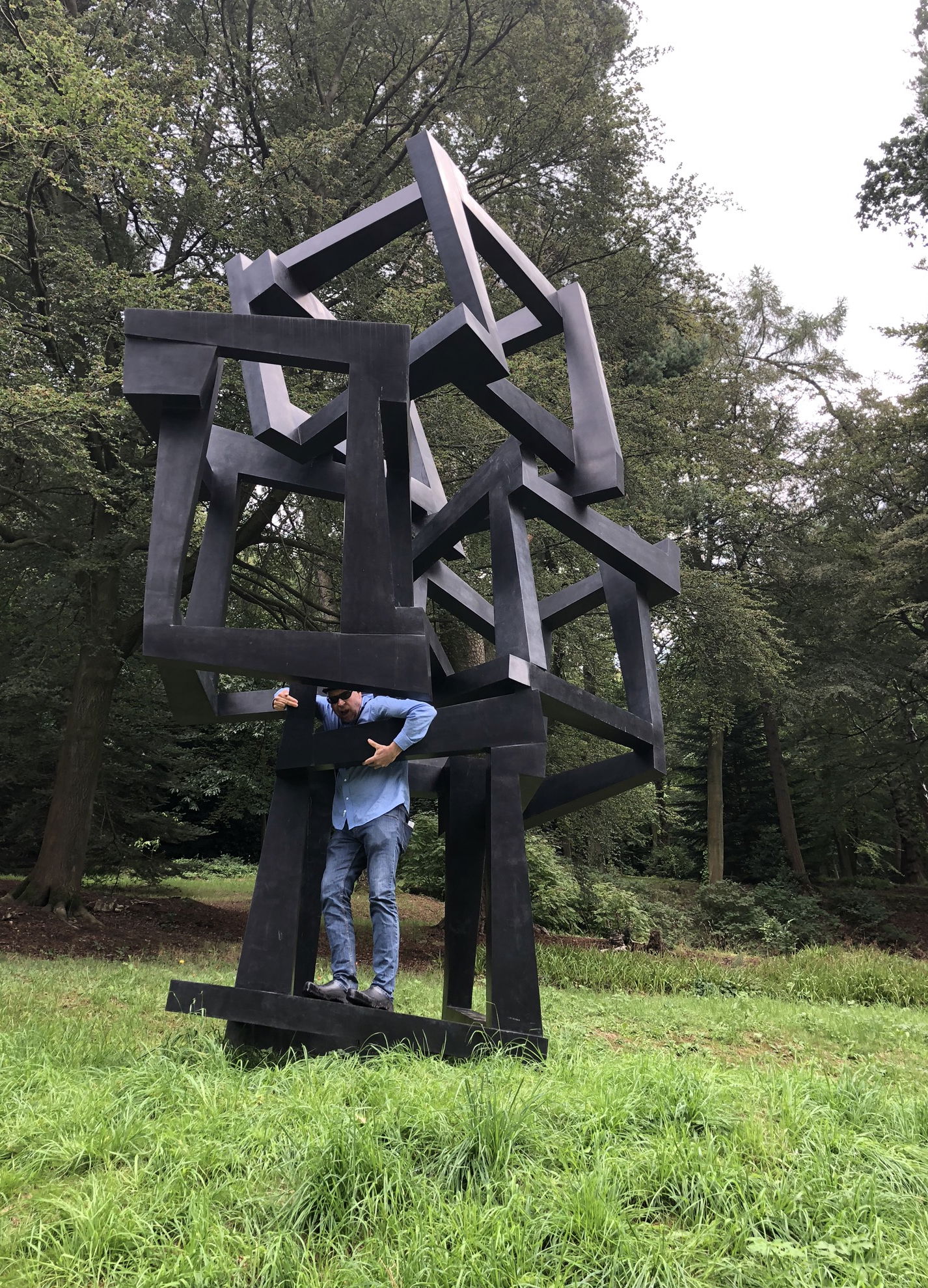 A typical Birmanns photo of some art and Peter being a clown (LOVE).
After walking through the rock garden, the 100 steps, viewpoints and numerous other follies and plots, we found a perfect setting for our tea.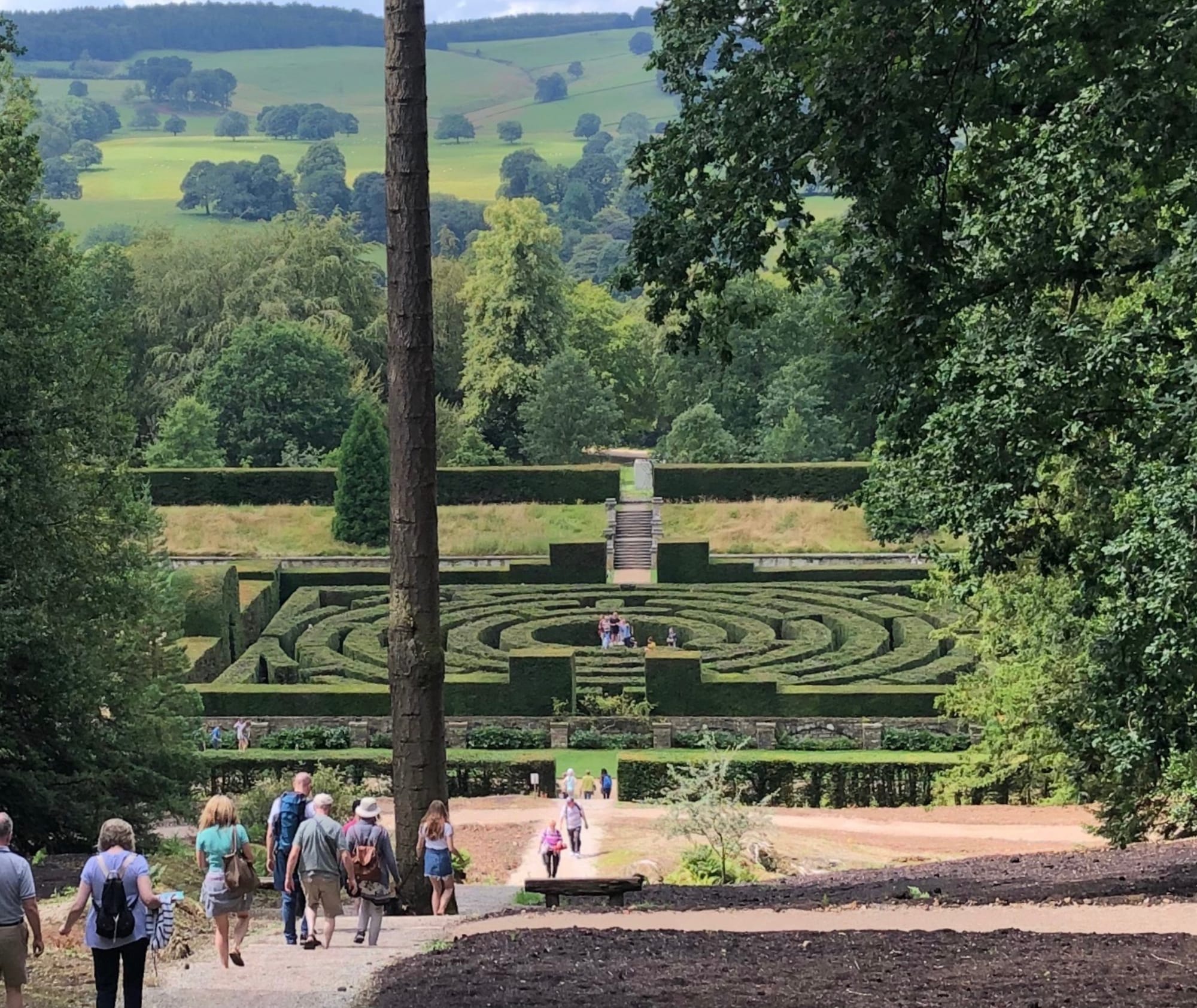 The view down to the maze from the forest walk and trout stream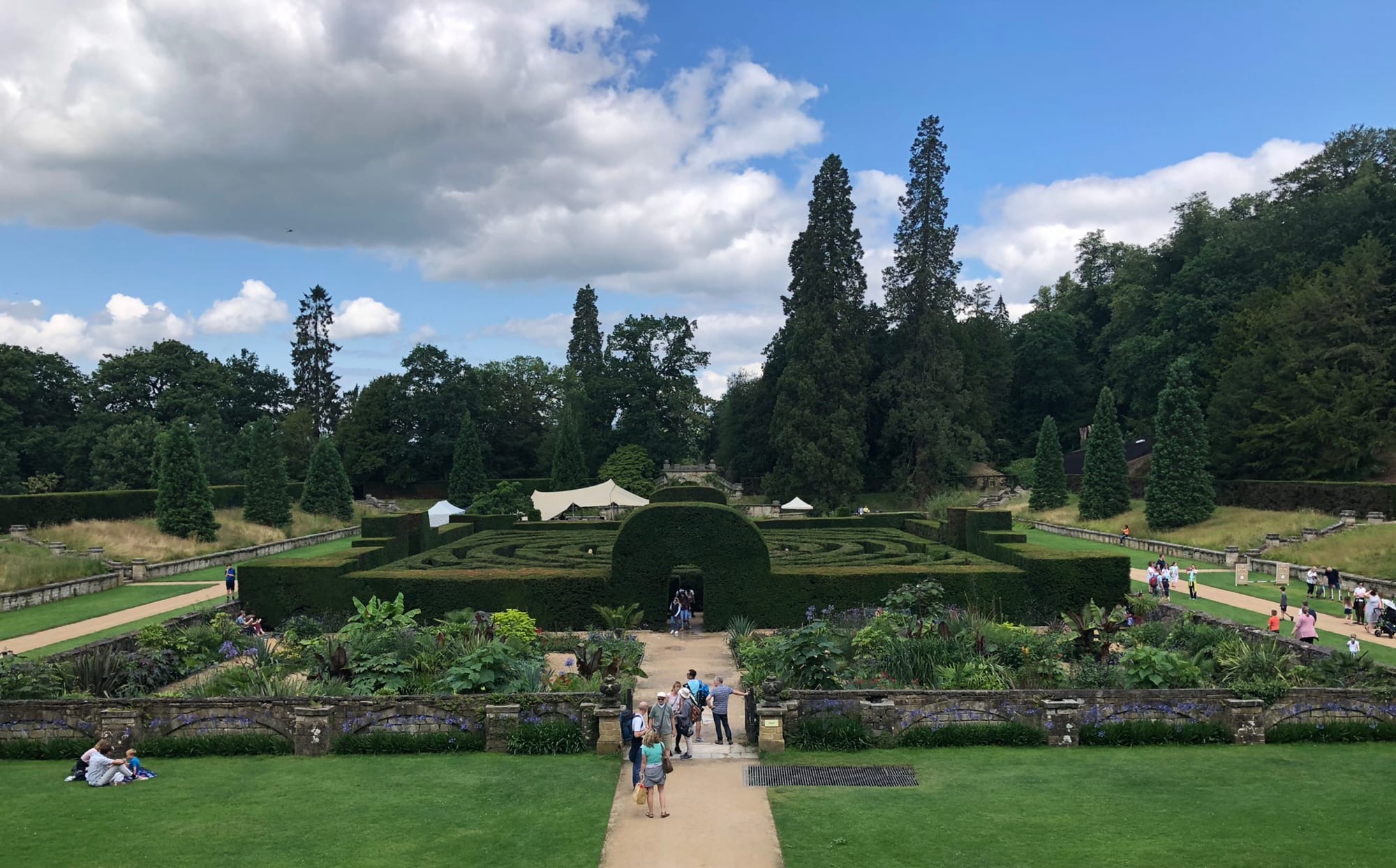 The maze and the herb and flower gardens flanking it were the setting for a dog obedience show and the tea tent!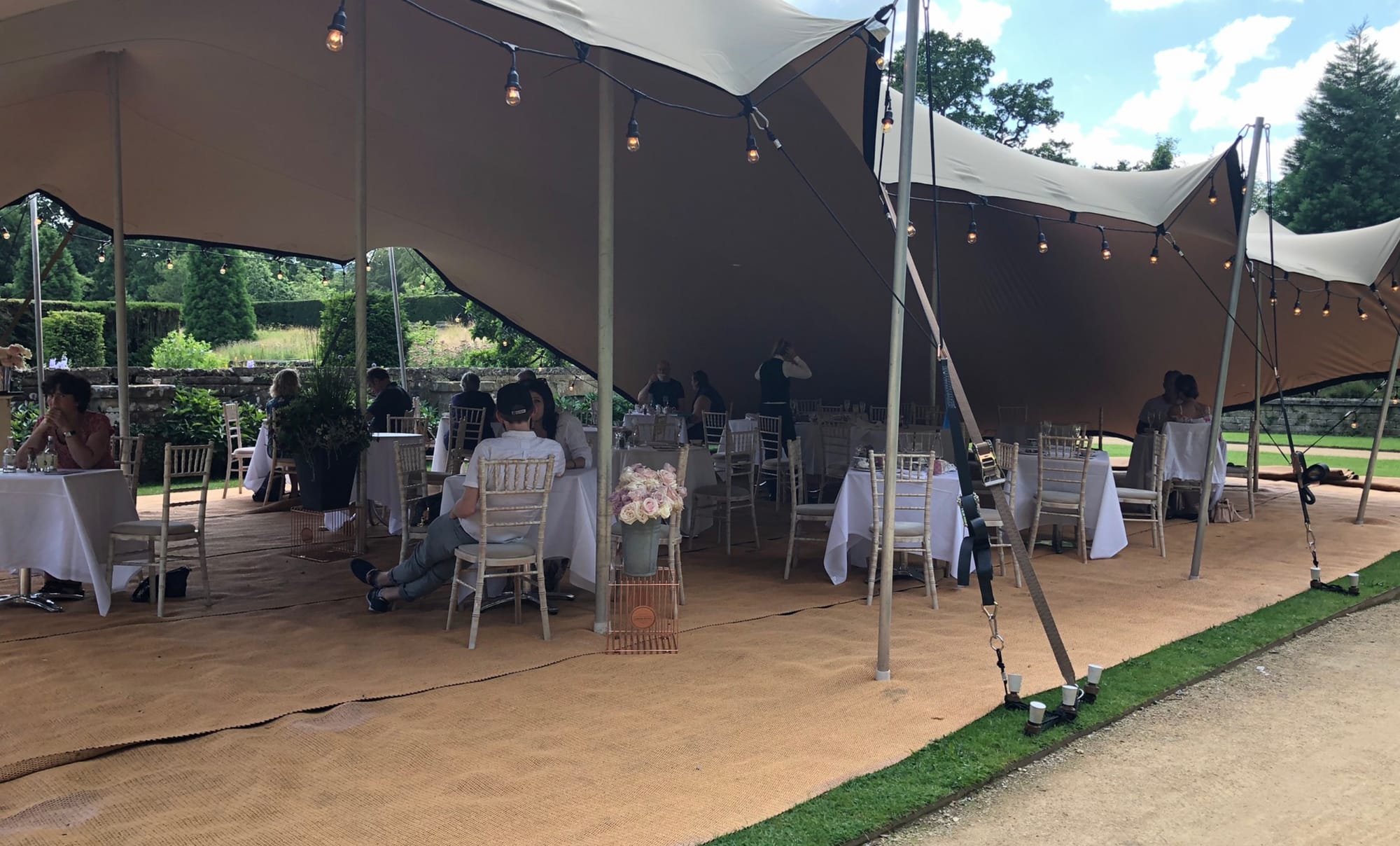 The tea tent
There was a vegetarian tea option and a champagne tea option. Pots of tea were unlimited (we had rooibos!) and the food was sinfully tasty. We should not have eaten it all, but we did.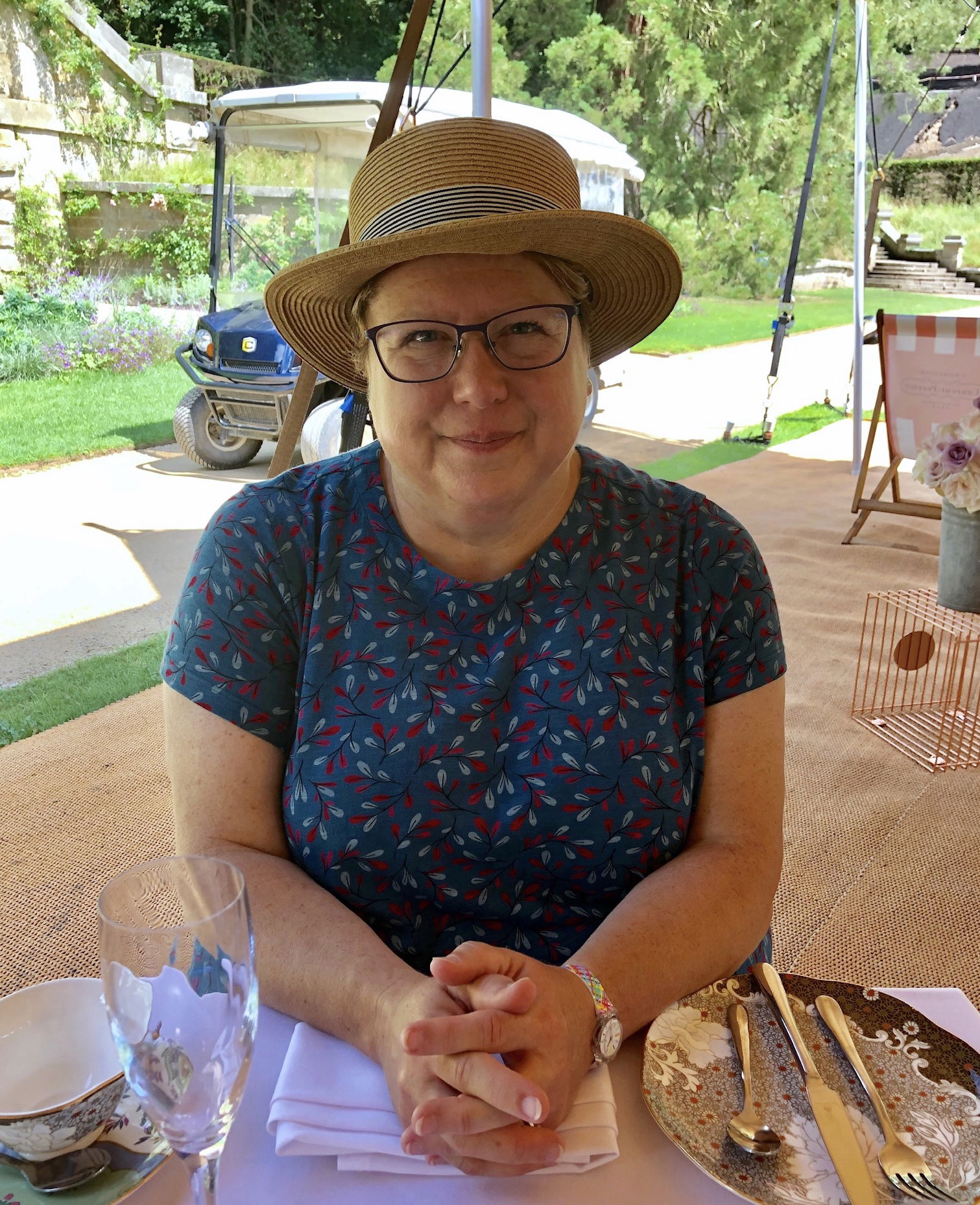 I bought that hat at the house gift shop. I was so happy to be at Chatsworth House at last!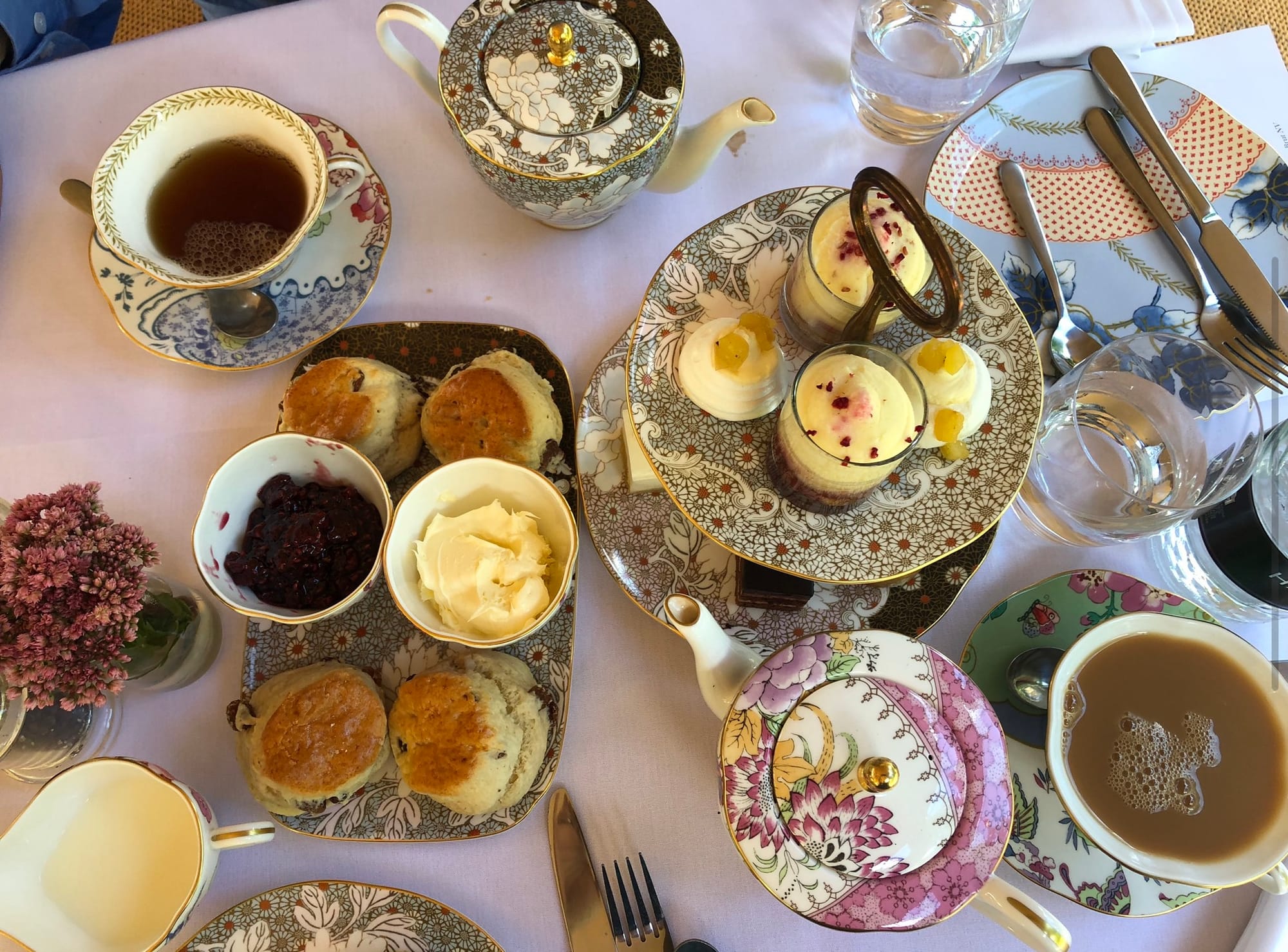 Right???
When you leave Chatsworth, look back and take a picture of the classic view.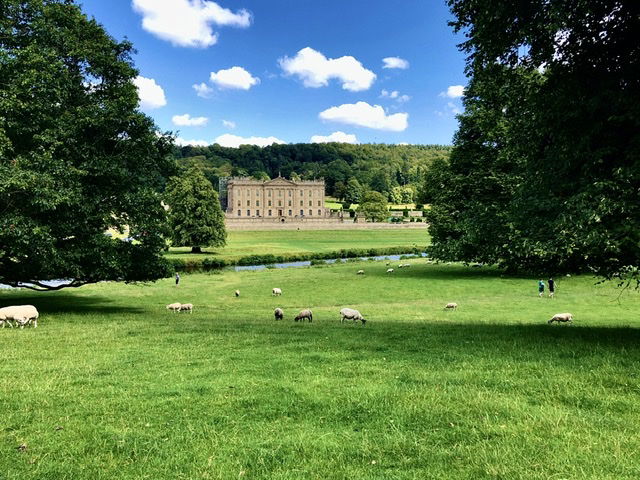 Cute Villages and Walks
The Peak District, a substantial portion of which lies in the district of Derbyshire, is a walker's and photographer's paradise. There are so very many adorable villages in Derbyshire. We chose to focus on the Bakewell area. Most of the buildings are of a warm grey stone, which may be limestone or sandstone depending on what part of the district you are in. We visited a handful of villages and managed a couple of long, beautiful walks, despite the inclement weather.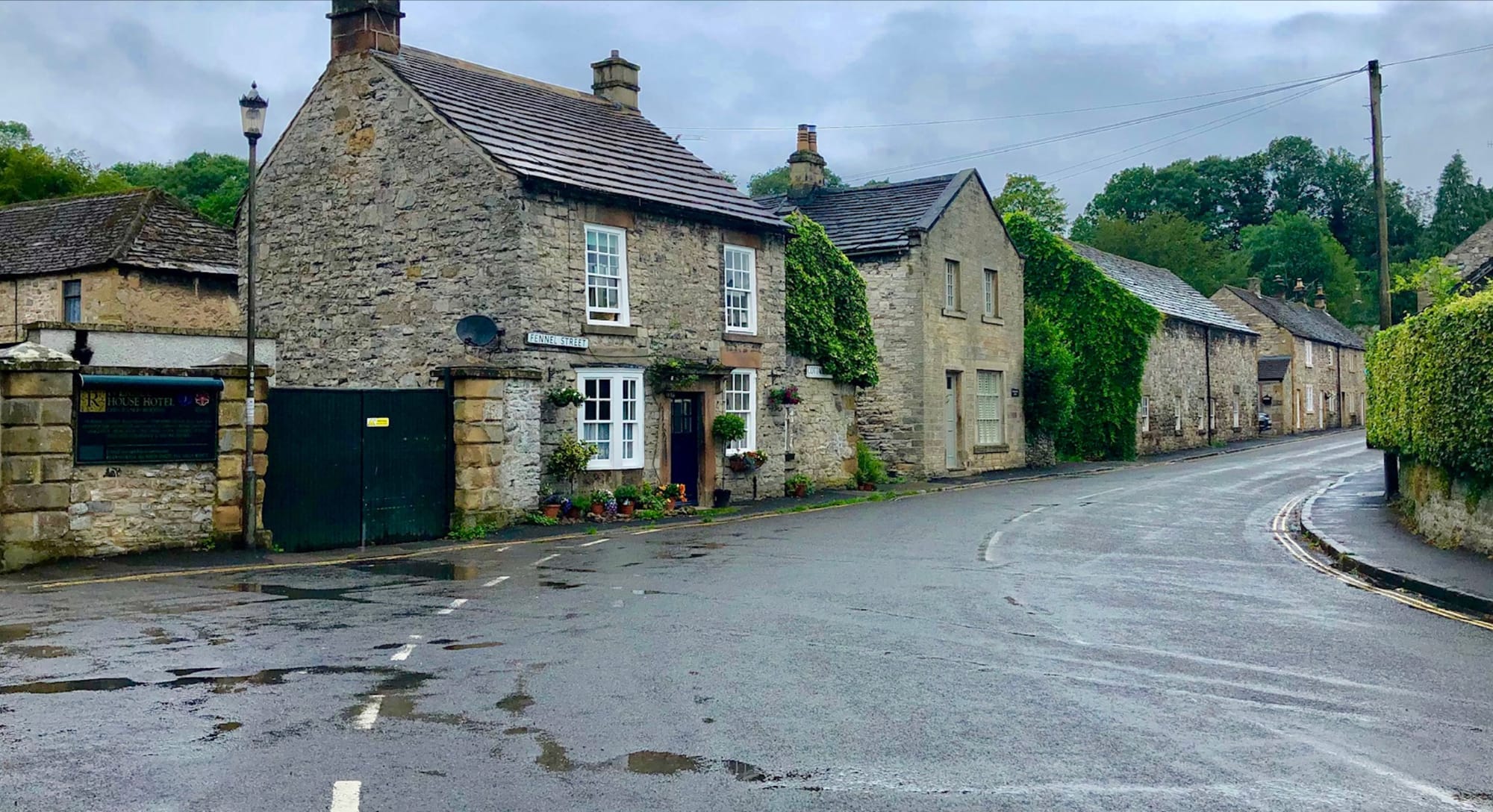 We found a place to stay in Middleton-by-Youlgrave. It was, ostensibly, about an hour from Manchester airport. We were set to arrive in Manchester at 5:30, putting us at our rental by about 7:00 pm. Ha! The world had other plans for us. The flight was delayed for over two hours. Then, when we arrived at the car rental desk, we found a line of 17 people. I am not exaggerating. There were 8 rental agencies in the car rental hall. One other agency had two people in the line, Budget/Avis. The others had no one waiting. Europcar (NEVER AGAIN) had 17 parties waiting in line. And they all had luggage, tired children, and short tempers. There were only two agents. They were both moving very slowly and taking their time explaining insurance options. Peter and I took turns standing in line and at around 11:00 we made it to the front. The guy at the counter told us we could not have our car without a $410 insurance rider because we had made the reservation through a third party booker and we were Americans. This is, of course, absolute nonsense. Rental car agents get paid for roping people into their terrible insurance plans. They will shake you down like a third rate drug dealer. We asked him to read the company policy on insurance, which we had read beforehand. Turns out all you need is proof of coverage. We whipped out my phone and showed him the 17 page descriptor from Allianz that includes damage insurance on rental cars. There were still 8 people in line behind us at this point. Then he picked up a monocle, I kid you not, and read at least four pages. Then he handed over our keys while threatening us with dire consequences because we would not buy yet another supplementary insurance. We were told that we would have a hold put on our credit card for $23,000, (Which he never did. It was $350) By the way, ANY insurance offered by the rental agency will CANCEL whatever insurance you already have. You should never get it unless you have no insurance at all. And off we went.
Meanwhile, the lovely hostess from VRBO was texting me about arrival time. I apologetically told her we would not arrive until midnight.
Fun fact - roads in rural England are twisty, unmarked and dark. And narrow. And left side of the road. And tired and living on granola bars. We arrived at 1:30. the lovely hostess stayed up to let us in. It was a great place but what a night!***
Cute villages we loved include:
Bakewell: Famous for its tart and extremely limited and unforgiving parking spaces, Bakewell is probably best seen on a sunny day, but the cafes, bakeries and pubs give you plenty of options on a rainy one. We enjoyed The Old Original Bakewell Pudding Shop, which, although crammed with tourists, had plenty of tables and good service. We found numerous vegetarian options. We also tried The Wheatsheaf, which was very disappointing. You could easily spend a whole day popping in and out of the various shops of Bakewell. Traffic is terrible in high season. We suggest arriving early, biking or walking.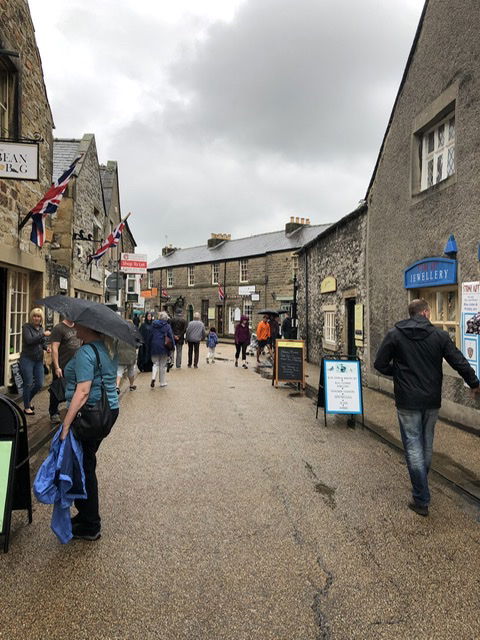 Rainy day in Bakewell - still bustling!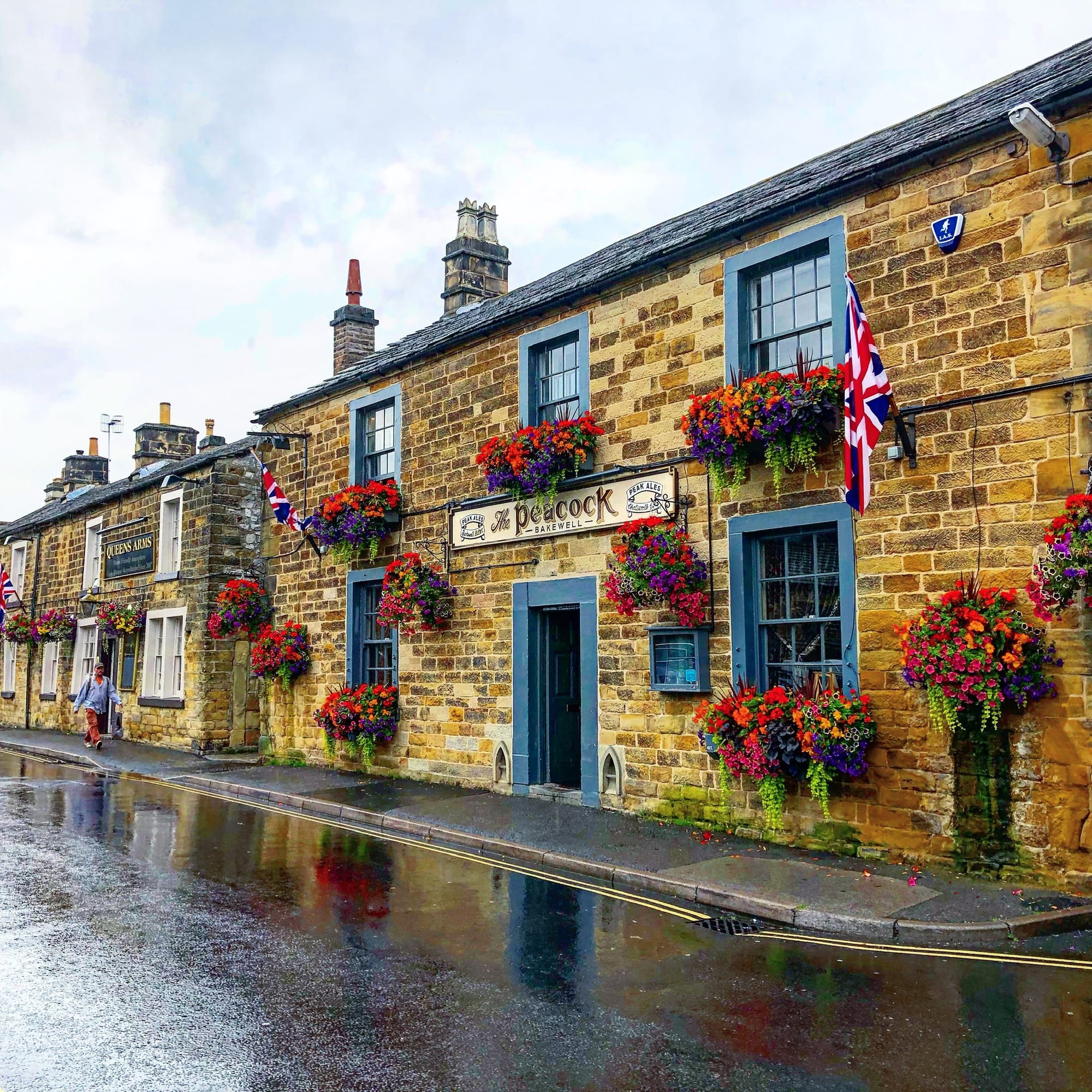 The ridiculously pretty Peacock Inn of Bakewell
Eyam Eyam is a well known plague village, which does not sound inviting but it is very quaint and full of history and flowers. There was plenty of free information to read as you walk through the village and the church/museum and the graveyard had many interesting places to read about what transpired there in 1666. The book, Year of Wonders, by the Pulizer Prize-winning author Geraldine Brooks, is highly recommended reading. It tells the story of a similar village and the people who died and survived the plague of that year in a way that makes history come alive through the eyes of a woman who was both of her time and ahead of her time.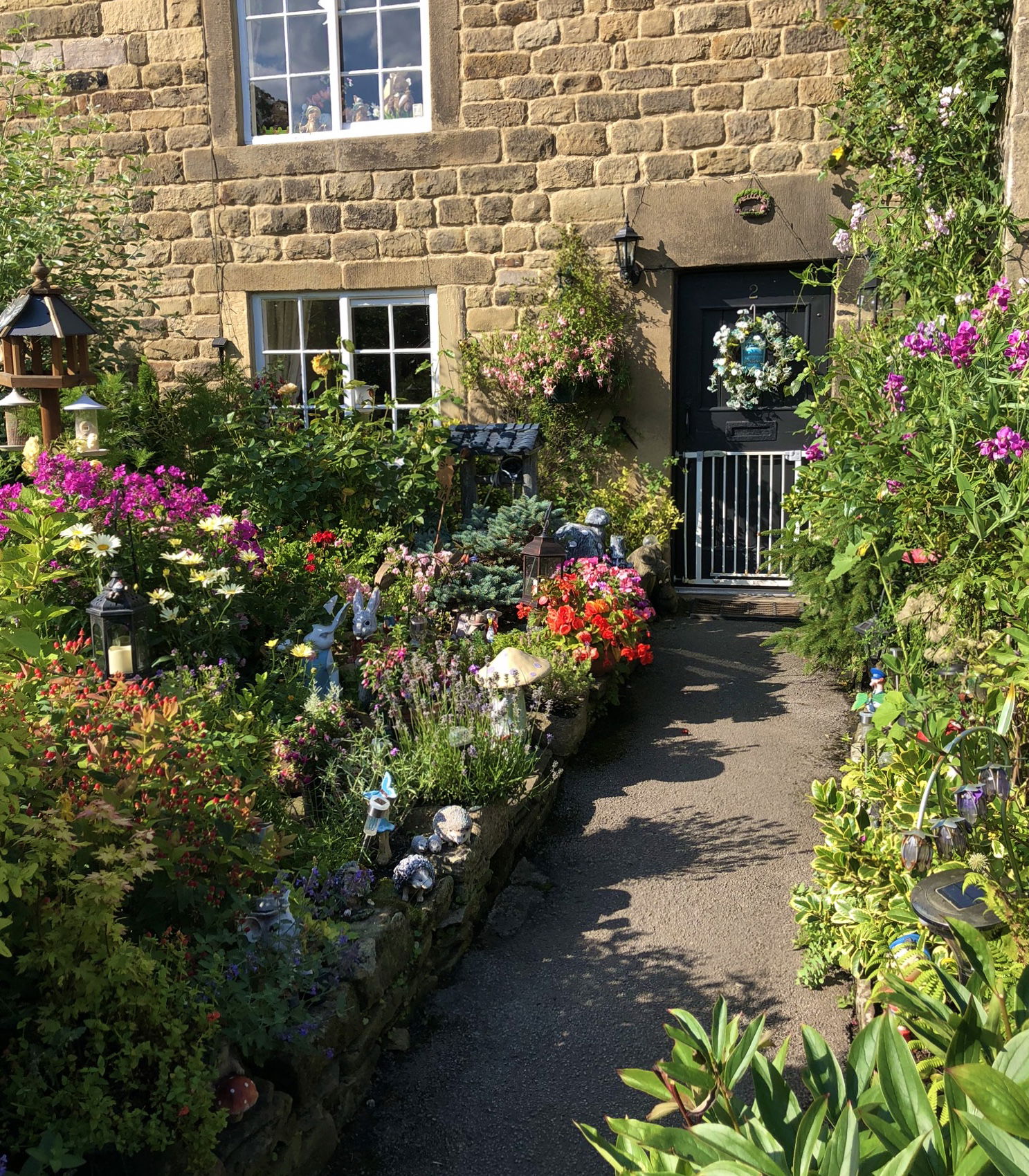 This is one of the plague cottages. They really know how to make it forget its past!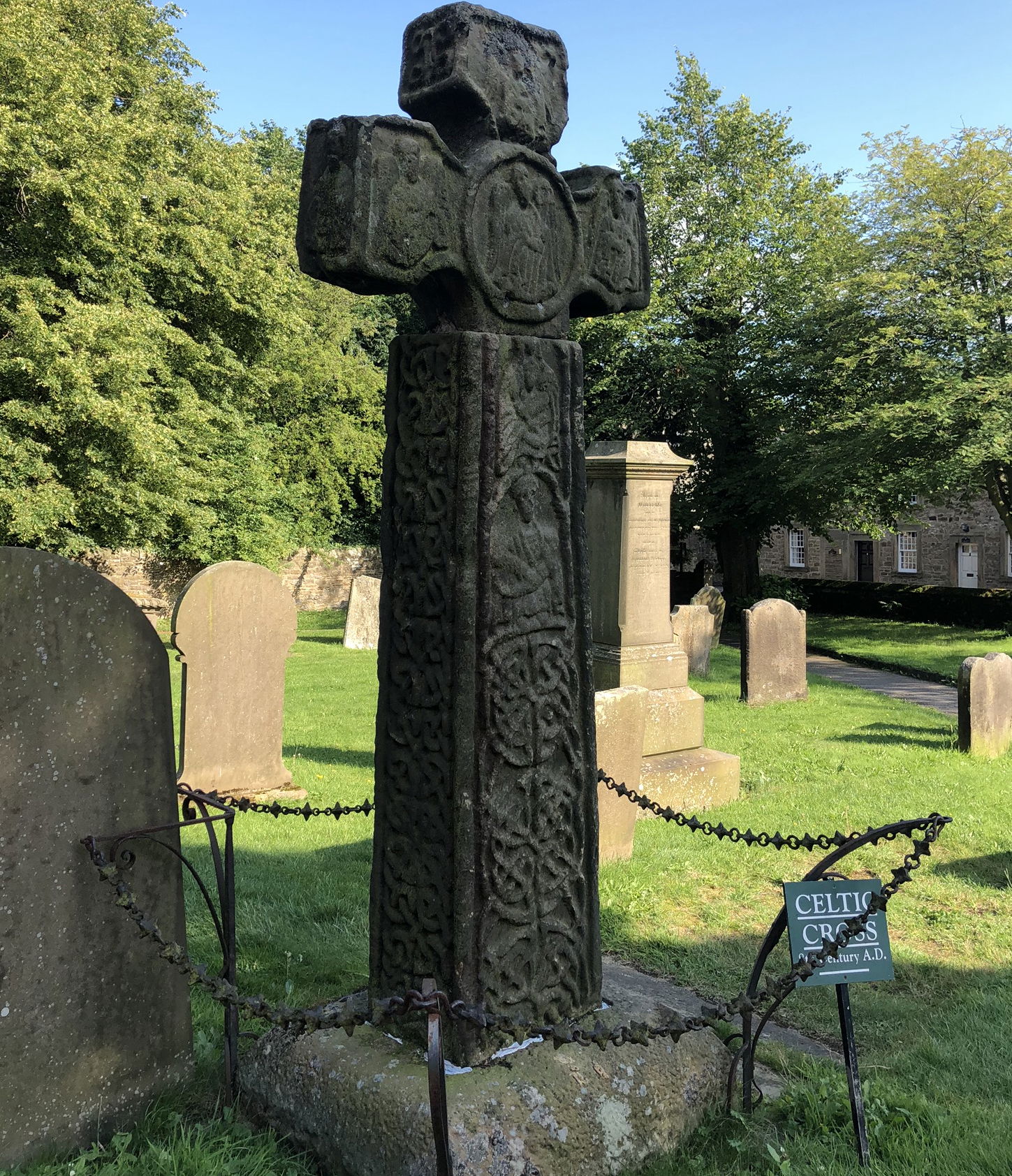 The 1000 year old high cross in Eyam's graveyard
Eyam village self-sacrificially quarantined themselves thus preventing many more deaths in nearby villages.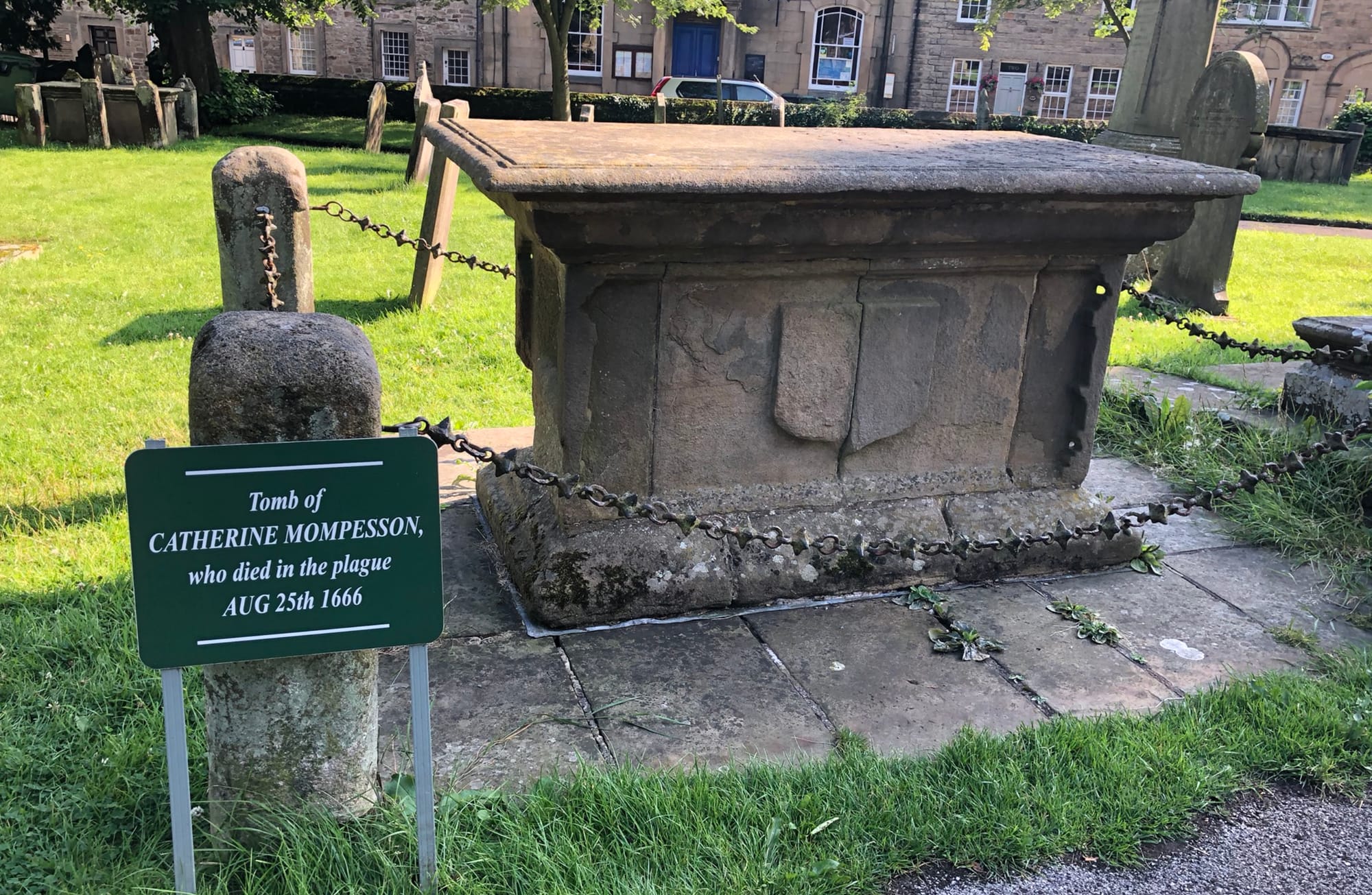 Other pretty villages for a walk or a tea that we enjoyed were Ashford-in-the-Water, Buxton and Edensor. However, we really loved our own little village, Middleton-by-Youlgrave.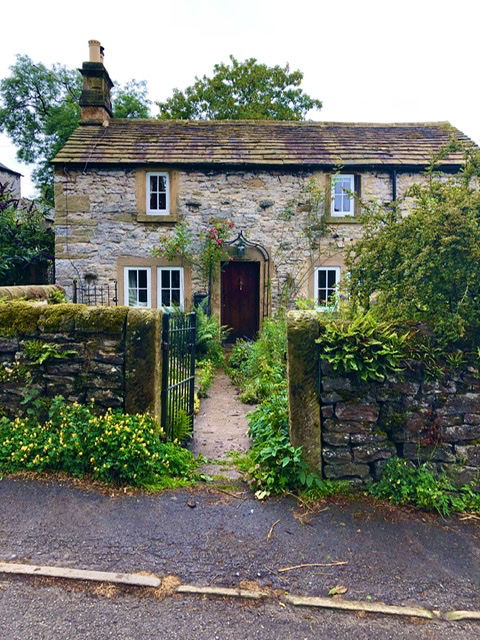 One of many inviting stone houses in Middleton-in-Youlgrave
Edensor The great houses of England were all symbiotically connected to a local village or group of villages. The Chatsworth village of Edensor had been relocated by the lord of the manor in 1838. He had hired an architect to design houses for the new, relocated village and the surviving examples are valuable for their eccentricity as well as for their design and colorful gardens.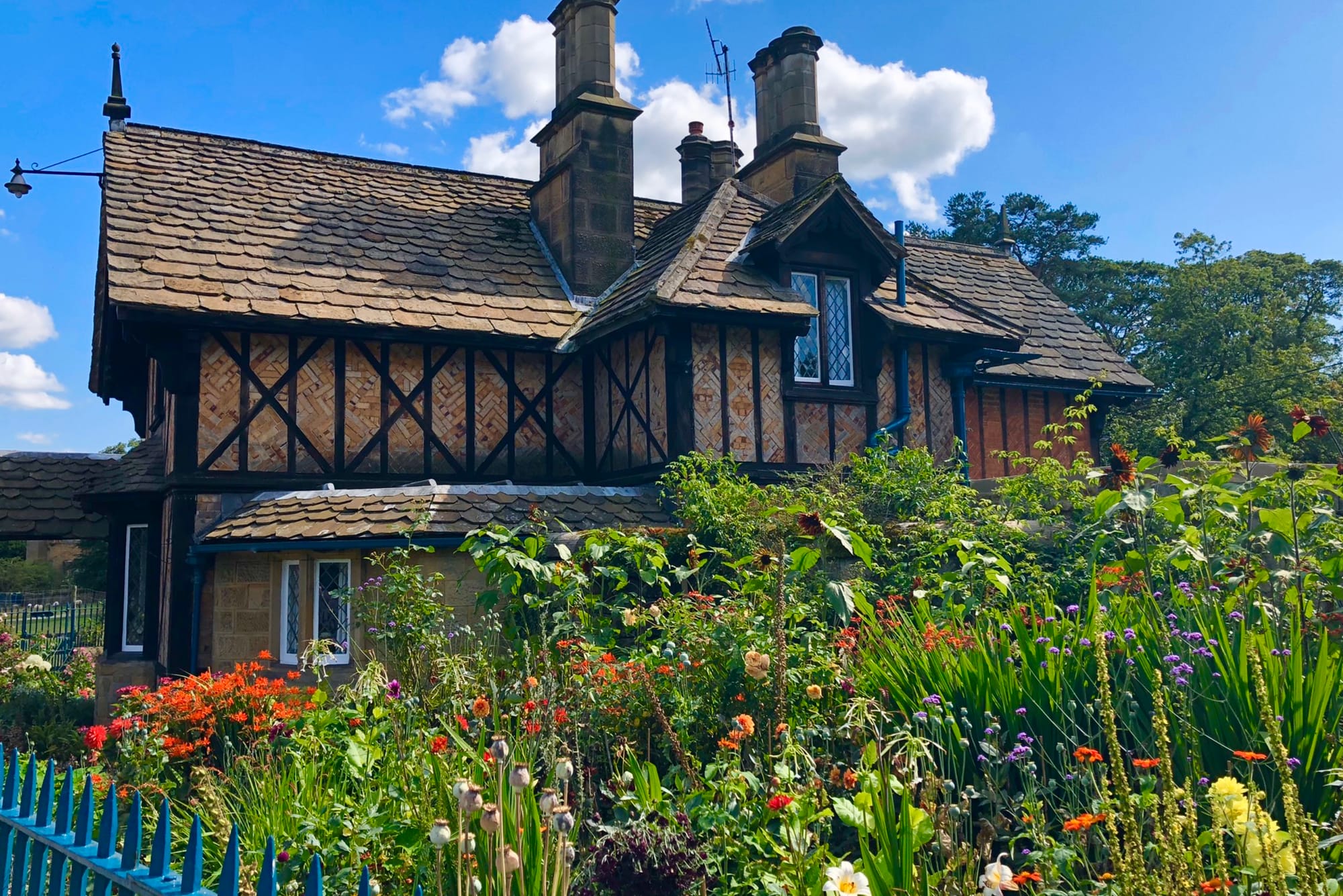 One of the "new" houses in a tudor style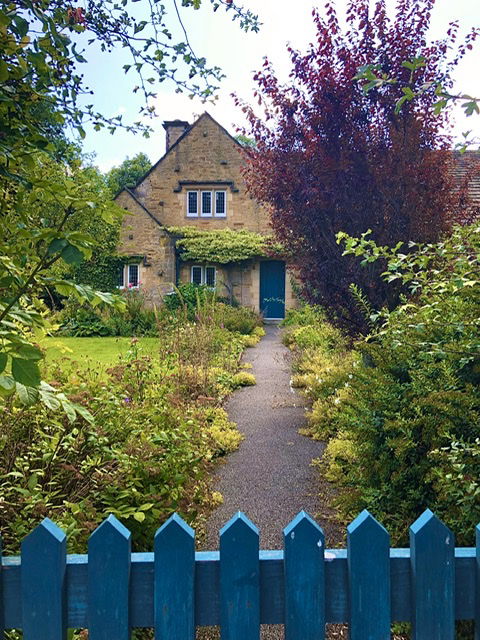 Another of Edensor's planned houses
For walks, you can pretty much just follow the signs to any good footpath and you will be entranced. Derbyshire is a walker's destination and the Peaks District is famous for its walks in the high Stanton Moor. Our favorite was the Nine Ladies Stone Circle walk. We spent about four hours rambling around Stanton Moor, looking at both natural and man-made wonders that were thousands of years old. Nine Ladies Stone Circle area is tremendous, full of natural history and myth. The circle itself is found by crossing purple and green flowered moorland, sunny forests and berry patches. It is a wonderful walk. There are votes in England all the time for best trifle, garden shed, hat shop, etc. The English, depite their record of denying others the same, love to vote. The Nice Ladies walk was voted 96th in 2017! (Imagine the other 95) But it was our favorite!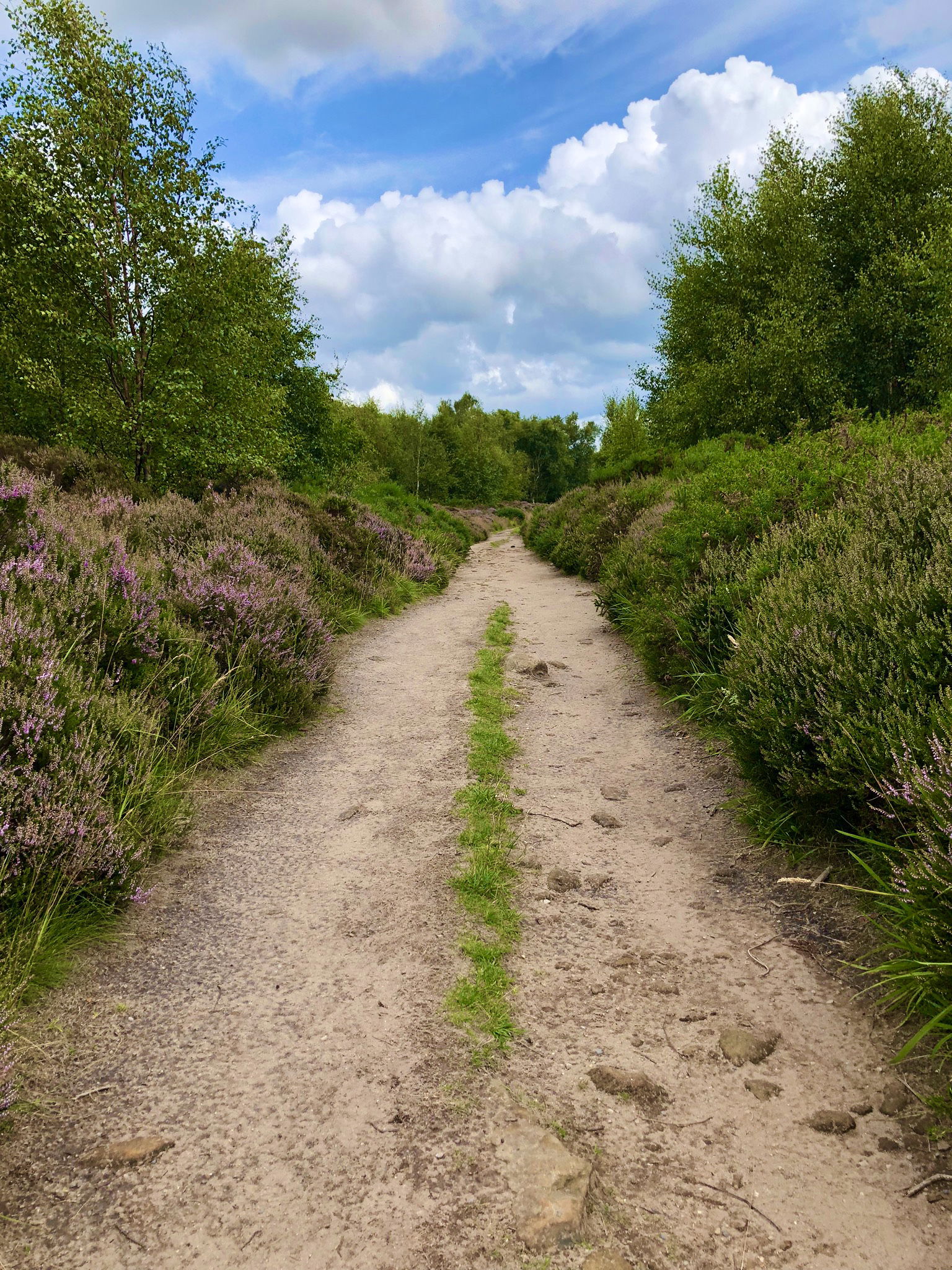 Most of the trail looks like this: packed dirt surrounded by purples and greens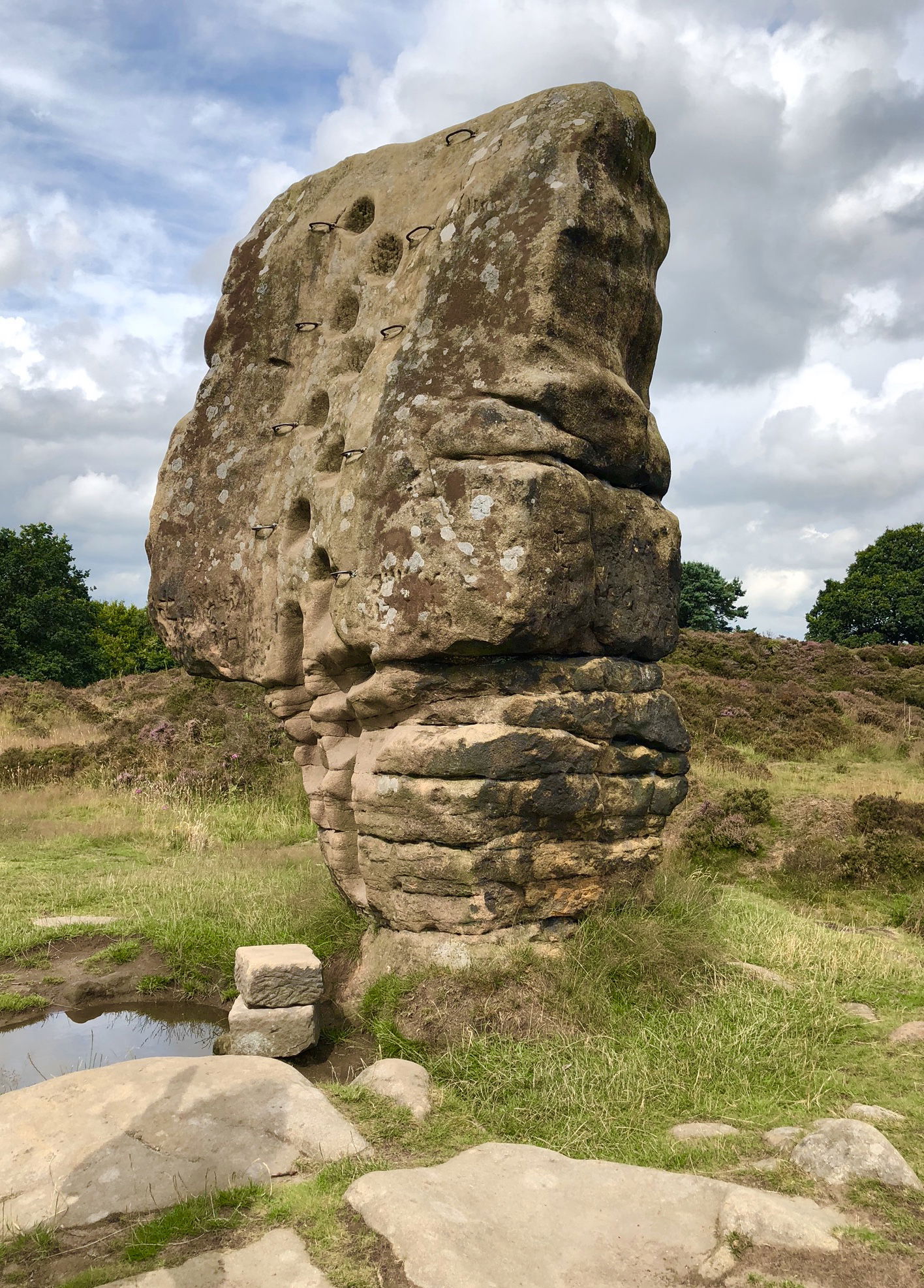 Rock formation turned climbing wall on the trail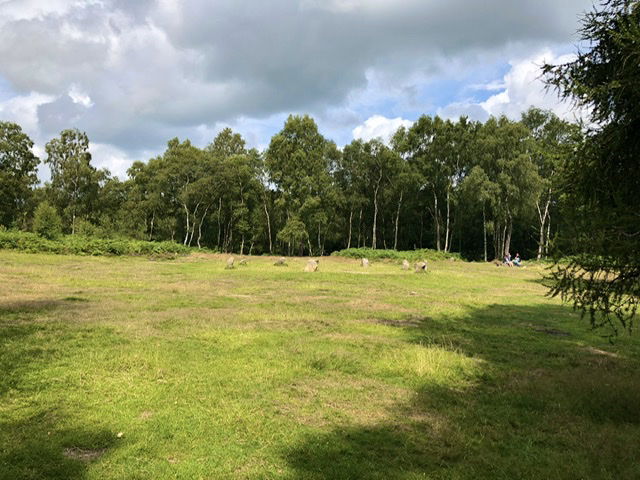 Nine Ladies Stone Circle
Most of the towns of the Peak District have access to a good walking trail. This is the one that was near our rental. It descends into a verdant canyon and then ascends to the high moor.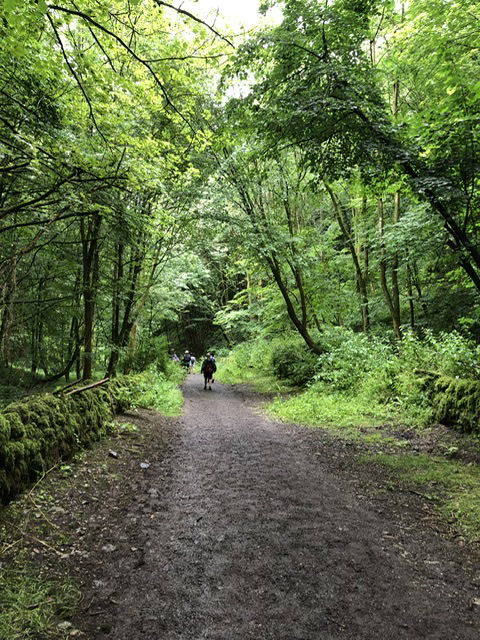 Whether you are interested in invigorating walks, historical buildings, markets and shopping or any other pursuit, you will find plenty of variety in Derbyshire. Within a one hour radius of our rental property we found more to see and do than a week allowed. People in Derbyshire are accustomed to tourism but not so much so that you can't strike up a conversation with a local person over a pint or a shared interest. The only drawback to visiting this lovely county is getting there...and getting out of there.
The night before we left we decided that even though our flight to France wasn't leaving until 3:30 pm, we had better get up and be out of there by 10:30 am so that we would have two hours to get there, an hour to stop and get lunch somewhere and time to drop off the car and check in. We both woke up early, however, and left the house at 8:30 instead, thinking that would give us buffer time and possibly a last stop in a cute village. HA! Were we ever wrong.
That entire week and the previous weeks had been excessively rainy. Before we left, we mapped out the fastest route on Google Maps and off we went. After about 20 minutes of zooming along on a road that had one and a quarter lanes at best, we ran into the fog. We have both driven in fog before so at first it was kind of romantic but then it got creepy and finally, impassable. We could see about 9 feet in front of the windshield. Even English drivers were pulling over. But we soldiered on until we hit a roadblock. Having just navigated 30 minutes of treacherous, drive-on-the-left, foggy, hilly roads, we were pretty frustrated. So, back we went to try the second fastest route. Same story, another roadblock. This time we could see that a small stream had swollen to Delaware River proportions and we turned right around. Then we said, hey, there are main roads that will take longer but at least they won't be blocked. It had now been over an hour and a half and we were exactly one and a half miles from our rental and 44 miles from the airport. So, we identified the best route via larger roads, which got us within 10 miles of the airport in about 90 minutes. If you are keeping track, it was now 11:30 am. Still plenty of time, right?
But, alas, we were stopped by police when trying to get across the last bridge out of Derbyshire. Closed because of rising flood waters. We took about 20 minutes to panic and re-route, this time choosing mostly rural roads that didn't appear to cross any streams. It was another 45 minutes before we were turned back a fourth time because of flooding. At this point we had both developed a nervous twitch, we had eaten all our granola bars and Peter had told the same story about a guy whose car was carried away by a flood in Bavaria at least 4 times. The last road we took was at around 1:00. We were about 15 minutes from the airport. It should have been MUCH more urban than it was, considering we were on the outskirts of Manchester.
Flooded. Again.
I was already trying to rebook the flight when we saw a Mini Cooper splash through the dip in the road ahead and safely get out the other side. It was still pouring rain. But Peter was feeling buoyed by his superhuman driving prowess and thought we could make it. And we did! I am pretty sure it was about a foot deep but we got through and made it to the airport with just enough time to dash to the gate. Moral of the story - leave early, pack snacks, follow the locals, pray.
*Haddon Hall details and descriptions: http://www.parlington.co.uk/countryhouses/countryhouse_01.lasso
**Chatsworth House: https://www.chatsworth.org/
***Rental in Middleton-by-Youlgrave: https://t.vrbo.io/xm5zPacAD1