"We'll pay for it, we'll pay for it, we'll pay for it" - Alastair Reid
We had already decided to visit Scotland in depth about five years ago but then my lovely sister and her family decided to visit us in Germany so we put it off. Coincidentally, this was about the time that Peter asked for a kilt for Christmas and Adam, my then 13 year-old nephew remarked that "a kilt is a gateway garment to full on cross-dressing," which did NOT deter Peter. We finally got to make our three week visit to Scotland in July. This was not our first destination in THE YEAR OF TRAVEL. We had already driven through all of Canada and a good portion of the US, visited Minneapolis for three weeks and stayed with Peter's parents in Germany for 2 weeks. But it was our first NEW destination! And we weren't going to work at all! Just spend our retirement savings!! Just kidding, we saved a specific amount for this adventure and we have chosen to do volunteer work in exchange for housing and in some cases for room and board.
3 days Edinburgh
We only spent three days in Edinburgh. We stayed at the IBIS on South Bridge. It was pretty reasonable. I like IBIS hotels. They are usually updated, clean and in central locations. You get what you pay for and in this case, we just wanted a bed and a bath. There is so much to see in Edinburg; there is no reason to spend any time in a fancy hotel. Nor is there any reason to rent a car. Public transport and taxis are cheap and plentiful. Hotels can be exorbitant in the summer in Edinburgh. We went the total tourist route in E-town. We found 3 fantastic restaurants that we would recommend - The Edinburgh Larder on Blackfriar's Street and MUMS Comfort Food and Union of Genius, both around the corner from the Edinburgh Museum.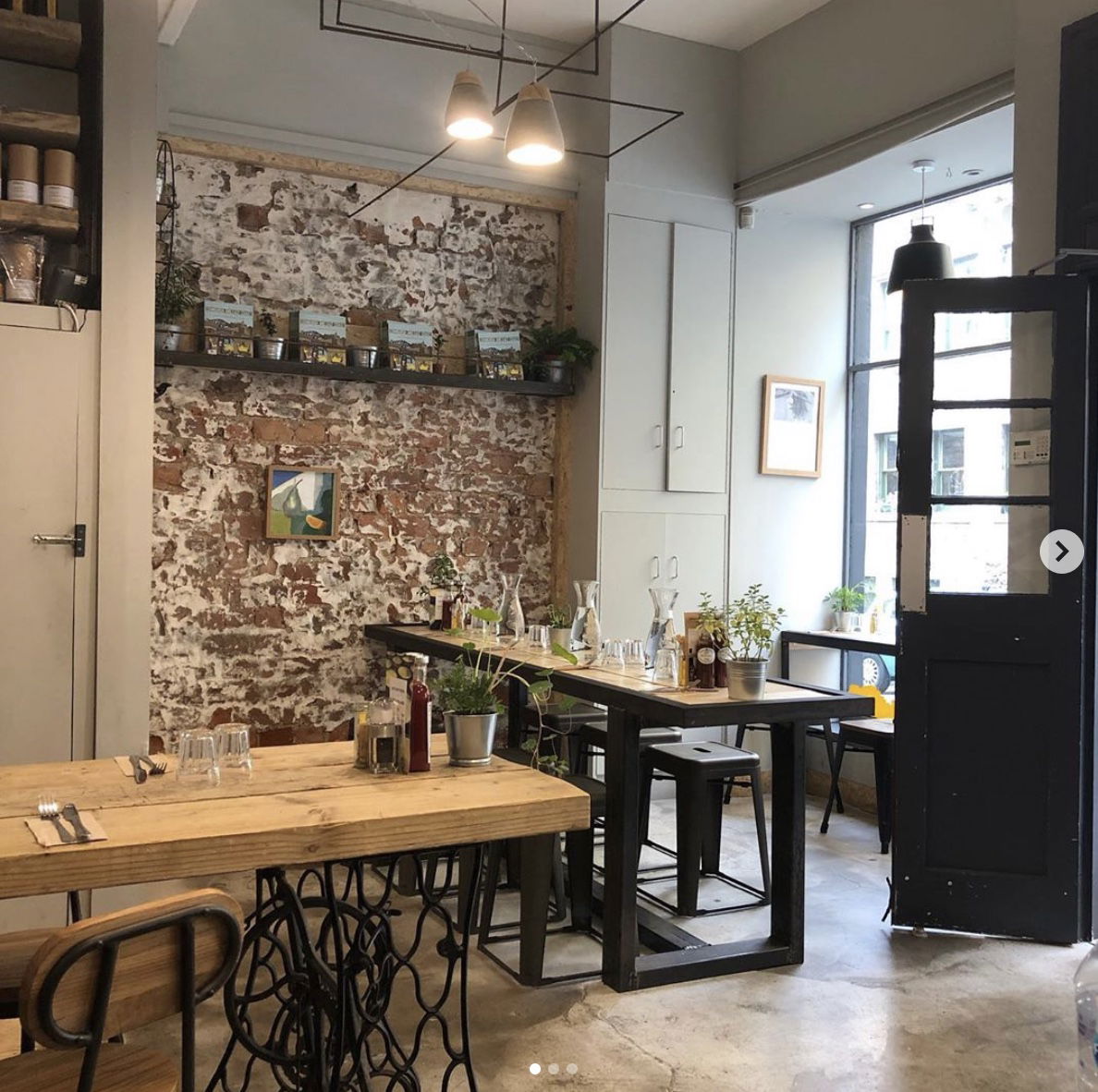 Cute interior of the Mini-Larder (next door to the larger Larder restaurant.
All had fresh, made to order breakfasts and lunches and they all had vegetarian and vegan options. Great vibe at The Larder, but there were long lines to get in so we went between meal times and sat ourselves at the low-key cafe added on to the left of the main restaurant. MUMS has diner style food and a full VEGAN Scottish breakfast and an awesome playlist (80's indie, 90's grunge). The lady who owns MUMS was there that morning and bemoaned the fact that customers always ask her if "that picture on the wall of a throwback waitress is HER" and it depresses her because "that is clearly an older woman in the 50's so how is that even possible?" Union of Genius had perfect takeaway on a rainy afternoon that we ate on the outdoor patio at the IBIS. Lessons learned: The UK is very receptive and adaptive to different lifestyles, allergies and preferences when it comes to dining and grocery shopping for that matter. We were welcomed everywhere with my diabetes and allergies and our preference for whole food and plant-based options.
The non-food shopping in Edinburgh, for people who like to shop, was not great. There is a neverending supply of "woolen" stores, wome of which have ONLY 1980"s era looking cardigans and rather slim fitting scratchy crew necks sized xxs. And that is a part of the travel experience, isn't it? Letting go of the expectation that there will be one sweater shop, all of the sweaters will fit you, they will be handmade by someone who looks just like your grandmother and they will cost $12.00 - travel is one big reality check. There was also a lot of shortbread, plaid purses, cashmere scarves, "family tartans" and canned haggis on offer. Our recommendation is to buy one thing you like (my husband bought me a Harris Tweed purse for my birthday!) and move on. We really enjoyed the Gladstone Lands house in Edinburgh as far as tours go - it was run by a college student who had studied her history and it was a small enough house that it did not overwhelm with too much information. It was also part of the National Trust pass we had purchased, more on that in a bit...There are so many things to see in Edinburgh but we had read a lot about the walk out to Dean Village and the enormous and impressive National Museum of Scotland the first of which was a ridiculous waste of time and the second of which is our favorite museum in the UK - what a splendid place. It is a captivating experience, no matter what your interests! They had a fashion exhibit, industry and technology, art, runic writing... check it out if you are ever in Edinburgh in the rain, which is very likely.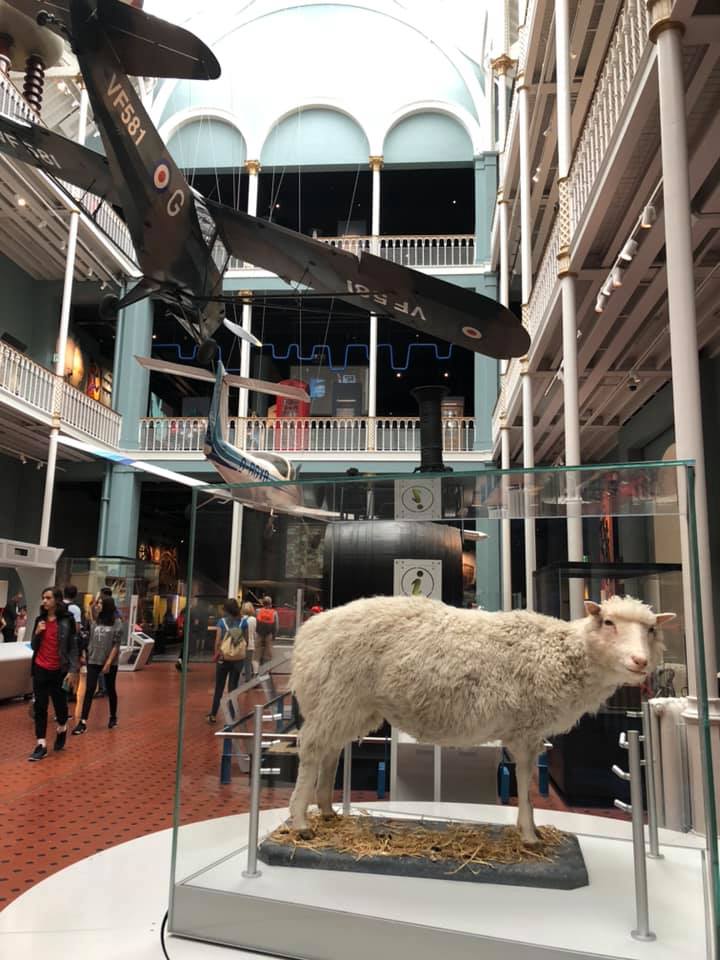 3 Days in Aberdeenshire
We only planned to use our time near Aberdeen to check out all the castles on our Scotland National Trust membership, and we did but there was a bit of a surprise - we really liked the city itself. There were lots of local shops, a great vegan restaurant with community events and yoga classes and the city itself had an informed and progressive vibe. I highly recommend getting a National Trust membership. It was worth every penny and we felt like we were kind of forcing ourselves to get out and see the historical stuff that we really enjoy instead of falling prey to the big glossy adverts about WHERE TO GO AND WHAT TO SEE that you run into when you are touristing. Make no mistake, in Scotland we were tourists, not traveliers. And there is a time for that too, under heaven, so no judgement. We went to Craigiemore, Crathes, Dunnotar and Fraser Castles. The great vegan restaurant in Aberdeen was called Foodstory. We absolutely enjoyed the tour of Craigiemore Castle. The guide was about 18 and got in a fight with the repair man who interrupted the tour to change a lightbulb. The fact that he was wearing a kilt to do so was the best part.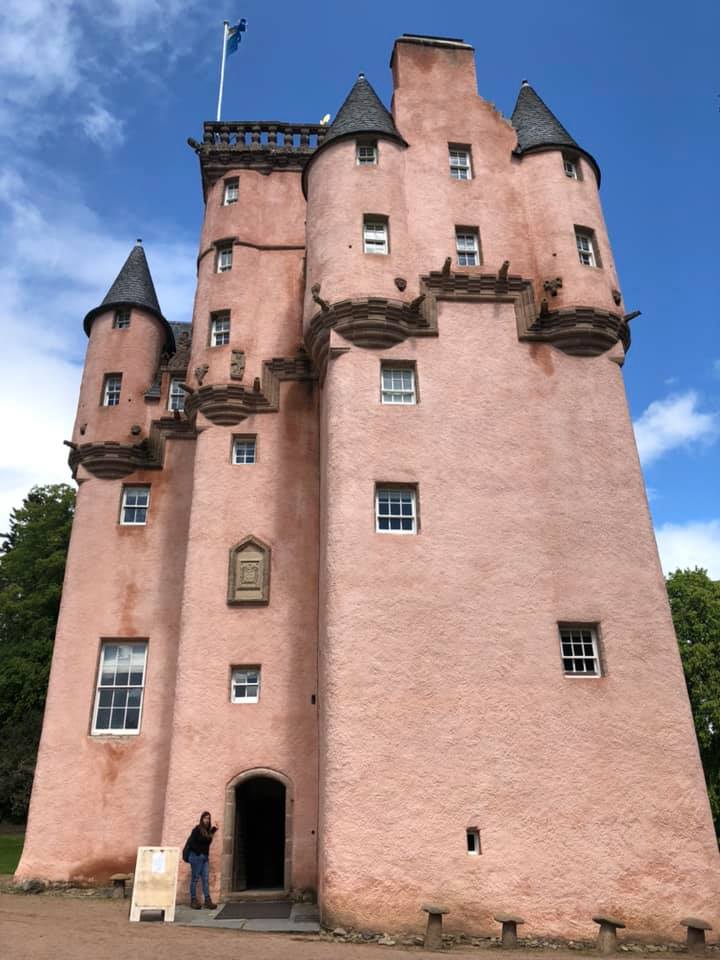 4 Days in Inverness
Inverness city was just a big town and we spent very little time here instead choosing to visit Culloden Battlefield, and drive up to Ullapool. We also celebrated my birthday with a high tea at a local hotel. We visited Loch Ness for about 90 seconds - long enough to know that we really didn't want to see it at all. What a clustertruck. We parked and went to the bathroom and left. The drive there is gorgeous but there were just hordes of people. I have to hand it to the Scots, though, they kept a stiff upper lip. We also drove up to Nairn and Brodie Castle. The oft-lauded Victorian Market in Inverness was a disaster. Wow. Skip that. The absolute best moment of the trip - best 4 hours of the past year, really was the afternoon that we hiked up Knockan Crag. The pictures do not do it justice. It was like being a triathlete in Star Wars.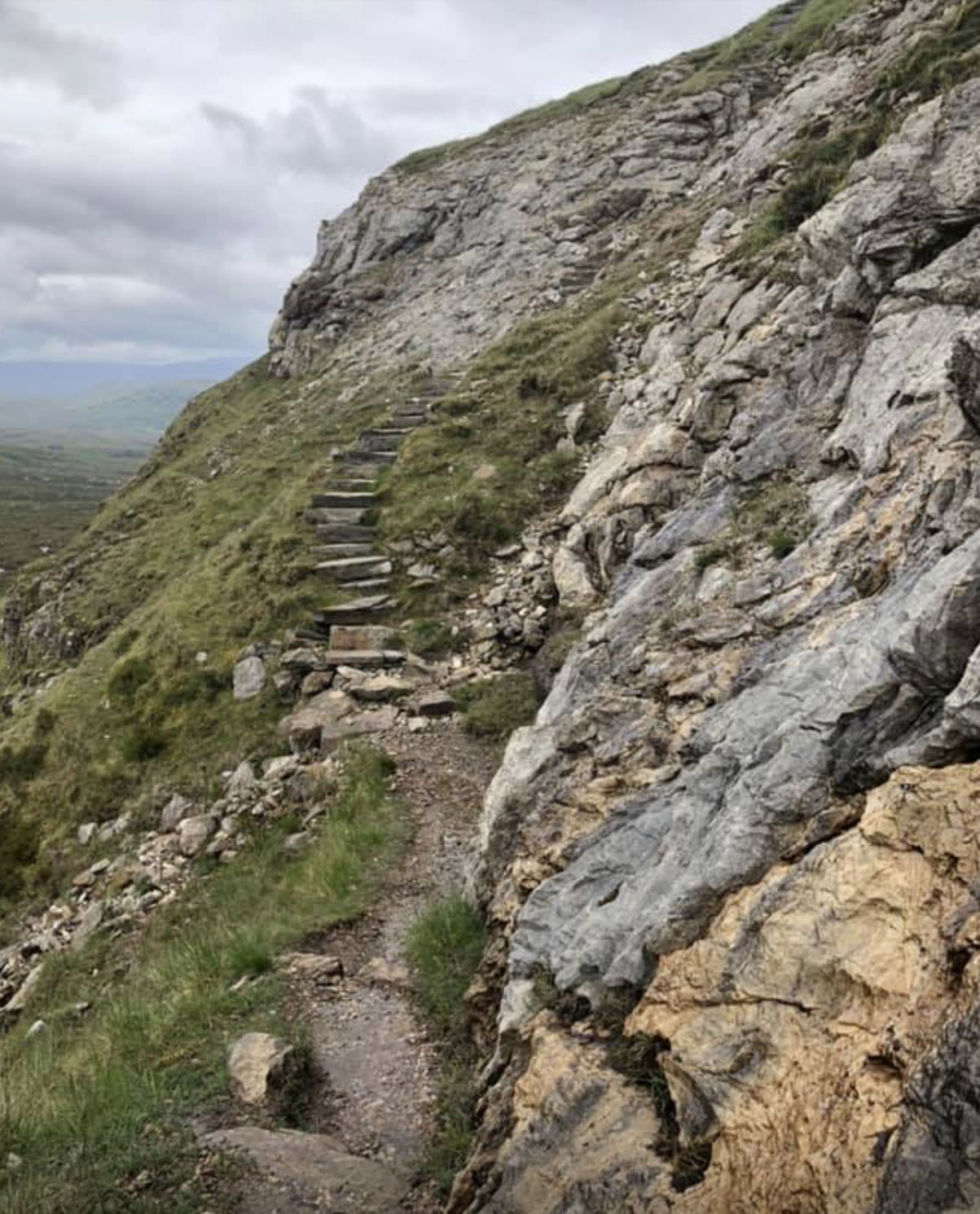 I had to buy a raincoat because the TWO I bought for the trip somehow ended up at my mother's and my mother-in-law's houses. I went into a little local shop and tried on raincoats until I was in tears because, as the kindest shop ladies in the world told me, they were sized "rather neat." This means that they would not fit my newly svelte frame whatsoever. Finally I found an XXL that just barely zipped up and I took it. It is kind of hard to hear that after losing 50 pounds you are still too "ample" for a very large raincoat. Again, the kindness of Scottish people in general really impressed me. Neat and Ample is what I will name my clothing boutique if I ever own one. Such positive ways to express one's diameter!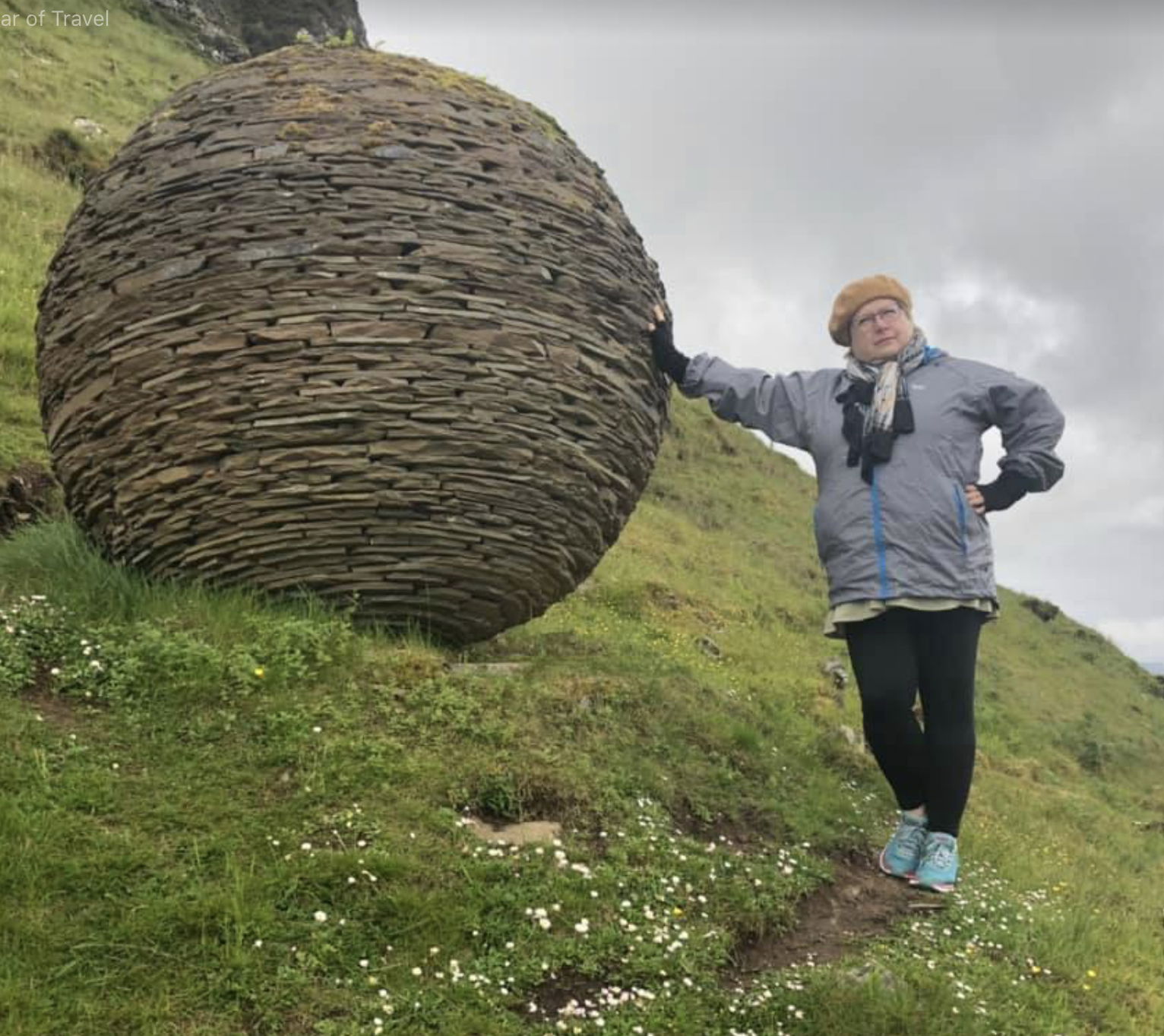 There are cool art installations and sculptures along the way and you really feel like you are climbing. The views were incredible and the rain stopped enough for us to get some great pictures. Best of all was the knowledge that we had lost a combined 70 pounds in the last year and that we were really getting fit, thanks to James Clear, Yoga with Adrienne and a clean, vegetarian diet. Website: https://www.nature.scot/enjoying-outdoors/scotlands-national-nature-reserves/knockan-crag-national-nature-reserve
4 Days in Isle of Skye
We rented a small house on Isle of Skye and it poured down rain the entire time. It did not matter because it was breathtaking anyway. Isle of Skye is really remote, even for Scotland. We cooked at home, went for rainy walks and hung out in Portree. We spent our last 6 hours in Skye with a flat tire and no spare in the boot wating for the car service sent out by the rental company to come and help us out. Still haven't received the bill for that...There are so many good walks in Skye. We hiked to old Brochs, chased sheep in the mist and checked out some neolithic sites. We had great food at Cafe Arriba in Portree. they encourage people to share tables and they had vegan and vegetarian options. The waitstaff was super and the vibe was "tourists meet locals on their own turf."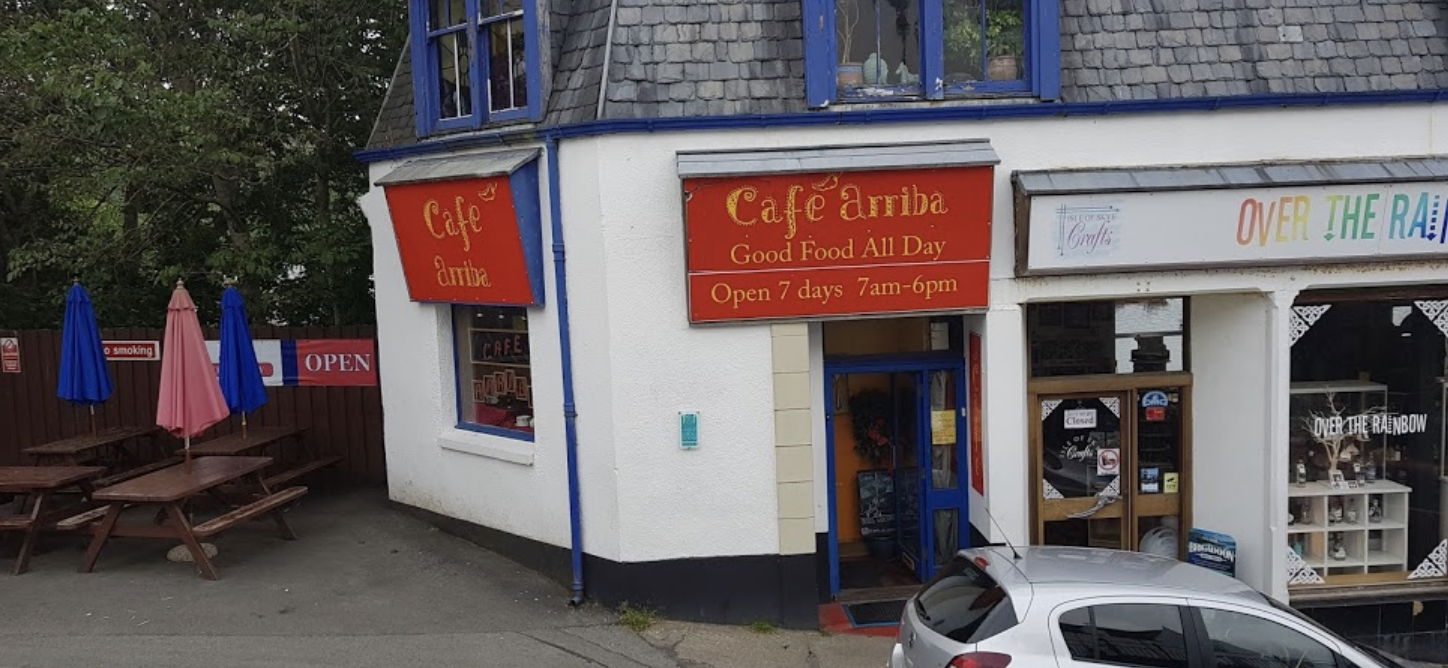 Oban, Iona and Staffa
After Skye, we stayed near Oban in an add-on DIY apartment of a retired couple whose grandson liked to race around the yard on his mini-bike. Ahem. We took a local cruise to Staffa, Iona and Mull. Staffa was a revelation. We realized the morning of the cruise that we were getting the first truly sunny day in the entire two weeks we had been in Scotland and it was glorious. Read the poem at the end of this post to get my full meaning here. We landed at Mull and spent 2 hours listening to a chatty local bus driver talk about Mull. Who slept with whom. Whose goats got out last Christmas. Where the best church lunch is. It was pretty entertaining. Staffa was insane. It makes the Giant's Causeway in Ireland look like a faded playground with broken swings.
Hold on, Peter is going to write this part.
Cocktail sausages- that's all you got? Peter's two cents
I am not going to lie - no - really, this time I mean it: I love cocktail sausages. Come the play offs or the Super bowl and I would buy four packs of delectable cocktail sausages and drown them in barbecue sauce and then slide one after the other down my gullet. Then we became vegetarians, sold everything and took off. Skip forward a few months to one of those near death experiences that real travelers encounter on a regular basis. Most of them are too embarrassing to share. This one doesn't involve my death and it involves cocktail sausages so it just might pass the "need to know" test. We stayed in the lovely harbor city Oban and booked a three islands tour in the Hebrides. The lady who sold us the tickets spoke only Scotch. She said something about shops where we could buy stuff during the 3 island cruise and she was right, but the sequence got lost in translation. It was one of those utterly sunny days as they have in Scotland in the summer once every decade or so. We munched the two granola bars on our way to Staffa, this amazing chunck of grassy rock in the middle of the sea deeply pockmarked with mythical caves and home to a huge colony of puffins.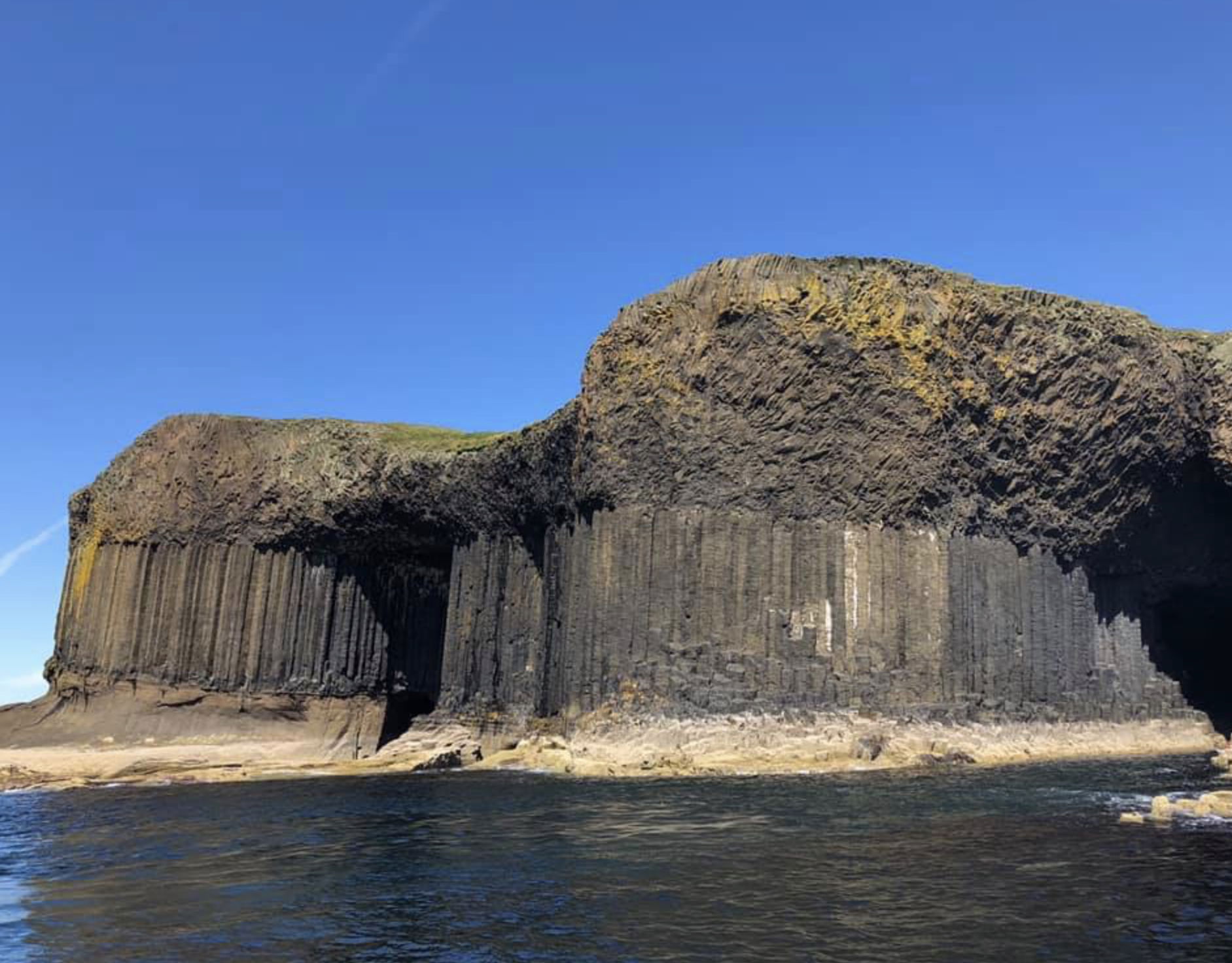 The boat anchored and the captain gave us one hour shore leave before we were off to Iona, another tiny island where Christianity basically wintered over the darkest of the dark ages. We had two choices to spend our hour on Staffa: climb slippery rocks to peek into the cave or hike up the cliff to look for the puffins. We had seen lots of puffins in Alaska, but for convenience sake we opted for the hike up the grassy slopes to the cliff. The hike was somewhat strenuous but was it ever worth it. There were thousands of puffins flying back and forth from their burrows in the cliff's face. Some had their burrows on the upper edge where the tourists stood snapping pictures of theses super cute birds hopping at their feet. People sat in a trance clicking their devices like rosary beads talking in the whispered tones of awestruck pilgrims in a cathedral. With us on the boat was this pasty guy who had taken hundreds of pictures of his almost really hot Asian girl friend on the way up. Now, he was nowhere to be seen, so she was forced to take pictures of herself. She got terribly close to the cliff's edge, trying desperately to get a picture of herself pointing at a puffin.
Time was up and we are heading down the cliff. Sarah starts slurring her speech and stumbles around. If you are married to a diabetic you will start sweating right now, thinking of all the times your partner got a "low" and you had forgotten to bring the emergency sugar supply. This time then I found myself on a grassy slope in the middle of the Atlantic and the clock is ticking with about ten minutes between me and widowerhood, if that is a word. Who was the only human being in sight? The pasty guy hauling his camera equipment. When accosted for food he produced a pack of - you guessed it -cocktail sausages. If you are a diabetic vegetarian with a rapidly dropping blood sugar, cocktail sausages will not do and he really didn't want to share anyway. We did make it to the boat with the clock on two minutes to twelve. There we ripped a piece of short bread out of an old lady's hands.
So now, if you ever see me on the morning of Superbowl Sunday leaving the grocery store with a bottle of barbecue sauce and a carton of short bread, you'll know what's what.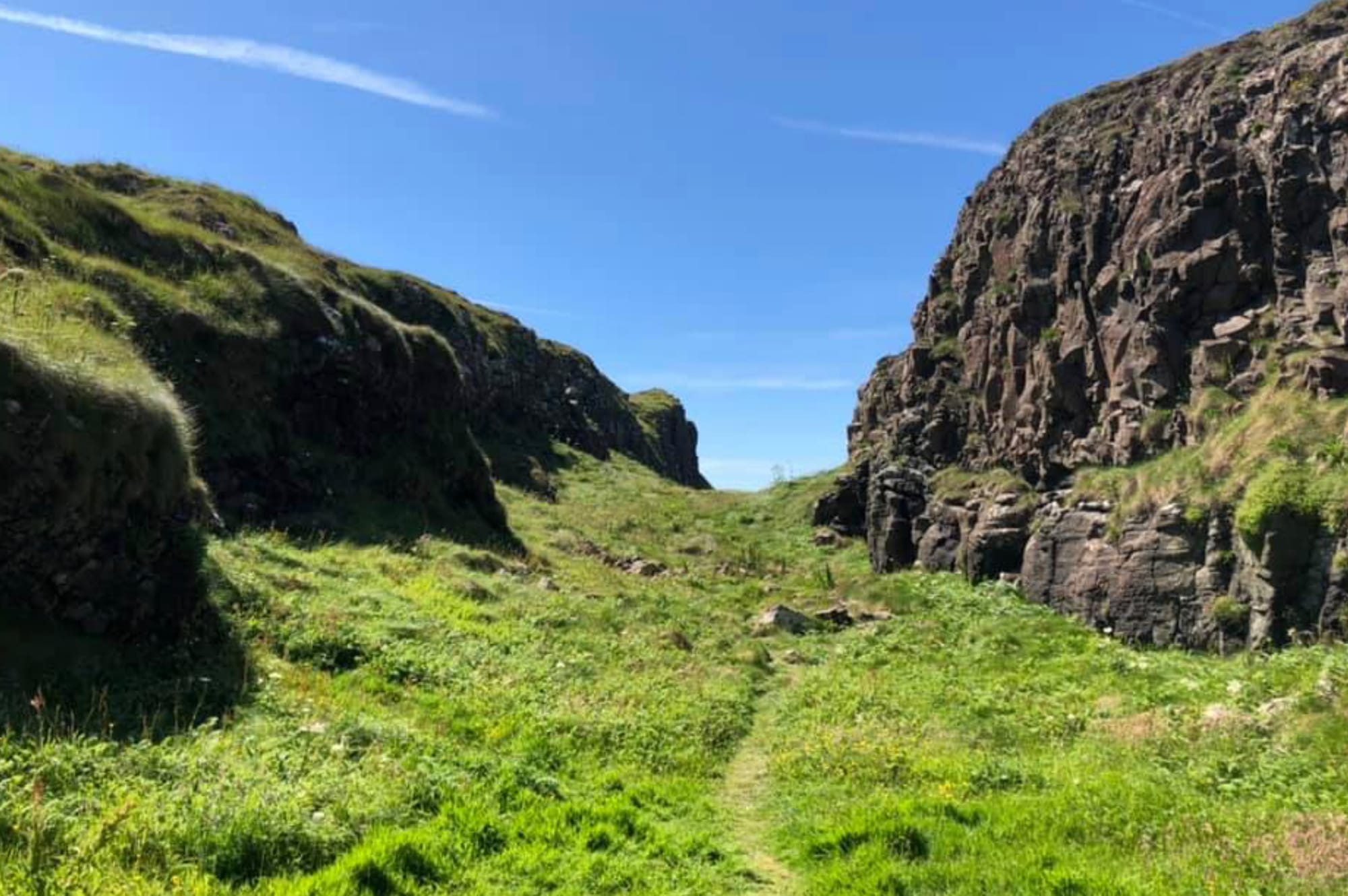 Falkirk
There are a couple of sculptural/sciency treats in Falkirk - the Kelpies and the Wheel. They are both worthy of a visit and a tour. If you are even slightly into photoraphy they make beautiful pictures and they really drive home the fact that the Scots are scientists and great builders.
Edinburgh taught us that and so did Falkirk as a coda. This picture is of the Falkirk Wheel. Gravity does 98% of the work and it uses almost no energy to transport boats from one level of canal to the other. It is fascinating to watch. I recommend going in, reading the interpretive stuff and getting a scone and tea at the cafe and watching it work.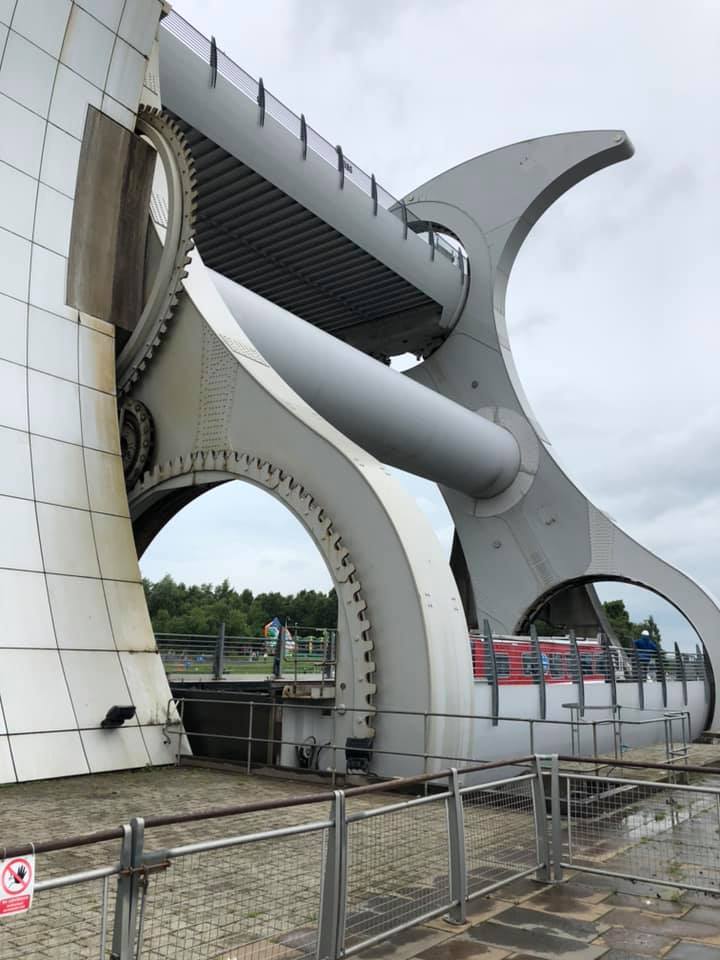 When we travel we like to read books about the places we are going beforehand or during the time we are there. Peter read a history of the Scots and I read a book about the Flodden Wall and the architecture of Edinburgh. We had both read Sir Walter Scott as teenagers so I thought I would quote him here but this poem says so much about Scotland that I am leaving it here in its entirety. We memorized it together, we liked it so much.
Scotland by Alastair Reid
It was a day peculiar to this piece of the planet,
when larks rose on long thin strings of singing
and the air shifted with the shimmer of actual angels.
Greenness entered the body. The grasses
shivered with presences, and sunlight
stayed like a halo on hair and heather and hills.
Walking into town, I saw, in a radiant raincoat,
the woman from the fish-shop. 'What a day it is!'
cried I, like a sunstruck madman.
And what did she have to say for it?
Her brow grew bleak, her ancestors raged in their graves
as she spoke with their ancient misery:
'We'll pay for it, we'll pay for it, we'll pay for it!'