Peter and I went to Israel to visit his sister and her family about 7 years ago. We were there for 10 days. We learned about five words in Hebrew and spent ALL of our time at the family home or in Jerusalem City. We did most of the typical first-timer things: We walked the Via Dolorosa. We went to the Church of the Holy Sepulcher. We explored the quarters of the Old City. We went to the Mount of Olives and the place where Jesus healed the leper. We had many delicious meals and we shopped with the niece and nephew. We went to Yad Vashem. We mostly took cabs or got rides. We went to the Western Wall (Wailing Wall) and the Temple Mount. We decided not to go back because we had seen everything...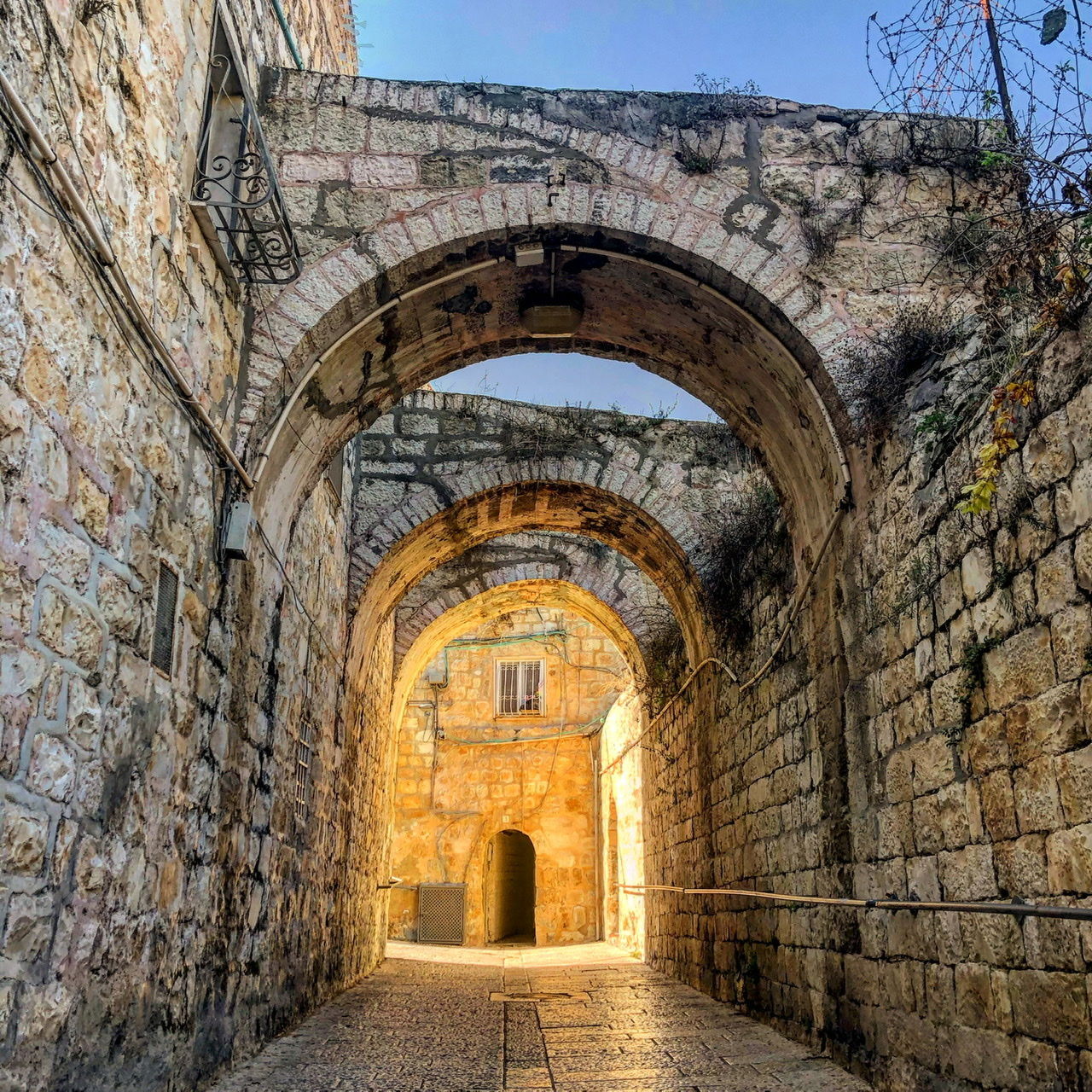 The Old City, Jerusalem
This time, we wanted to spend more time getting to know ISRAEL rather than just Jerusalem. Israel is compact but multi-layered. There is much to see but it is always a bit tricky to get there. It can be done inexpensively but it is easy to overspend. There are cultural and political systems in Israel that are hard to understand if you are an outsider and impossible to navigate without help. Israel is a paradox in every sense of the word.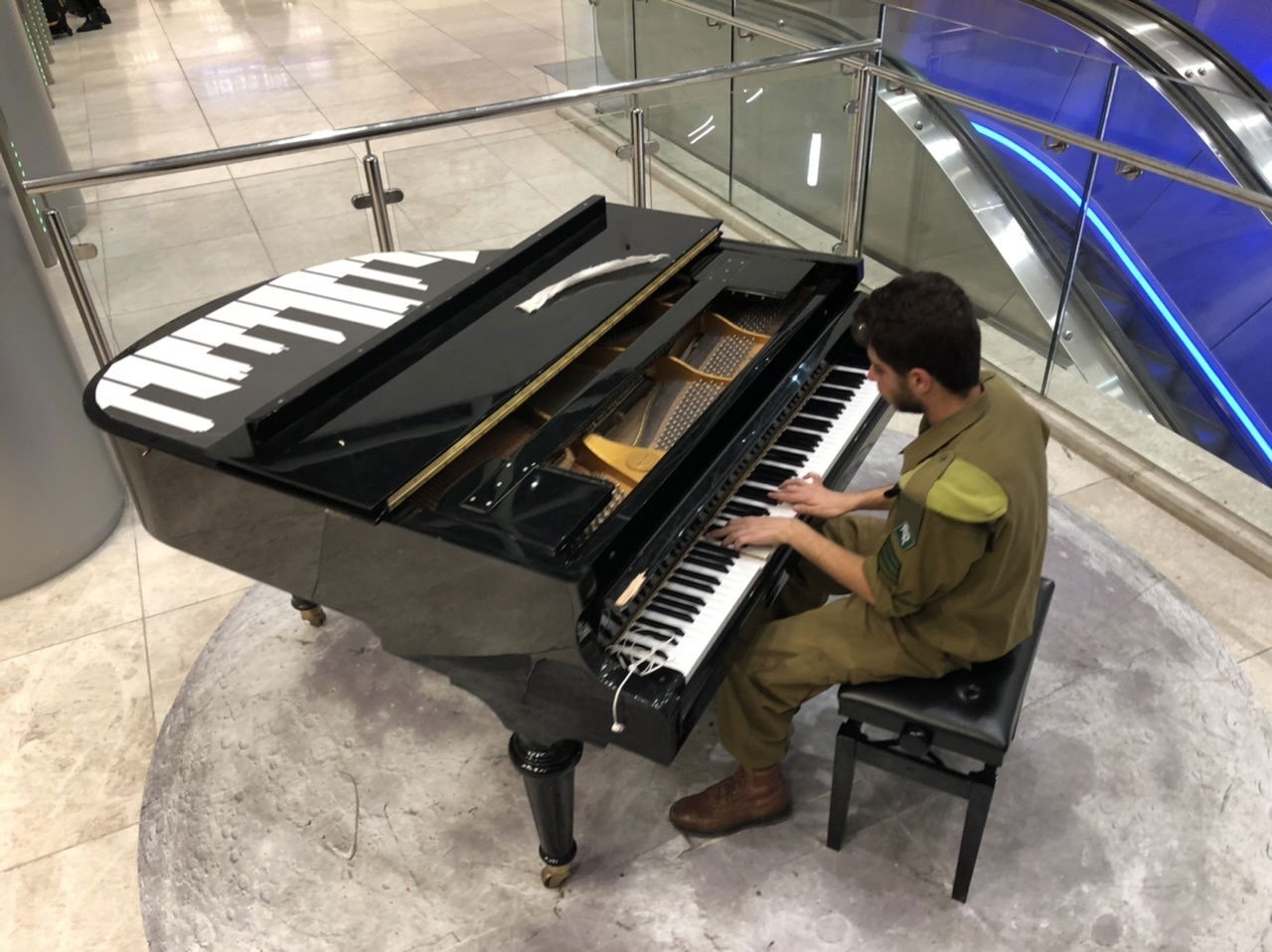 A young Israeli soldier taking a break at the train station, playing classical piano.
As I have said before, Peter and I often read up on the places we are heading to in order to be more informed and prepared. We have both read books on Israel throughout our adult lives - The Source, Exodus, Six Days of War, The Case for Israel, The Gifts of the Jews and everything Rich Cohen of the Washington Post has ever written on the subject, to name a few. After this trip, however, our views have developed. Our immature opinion of the necessary and just creation of the Israeli state has matured; we no longer see a simple border that was drawn in the desert by colonial superpowers trying to solve the aftermath of World War II and the Zionist Movement. Instead we see a crossroads of religions, peoples and powers who are racing to gobble up what little bits and pieces are left of the Promised Land. The unfortunate conundrum is that the Promised Land is finite - there is not not nor was there ever, anything available to "gobble." In order for the modern Israeli state to grow, something must be lost, and that something is the Palestinian People.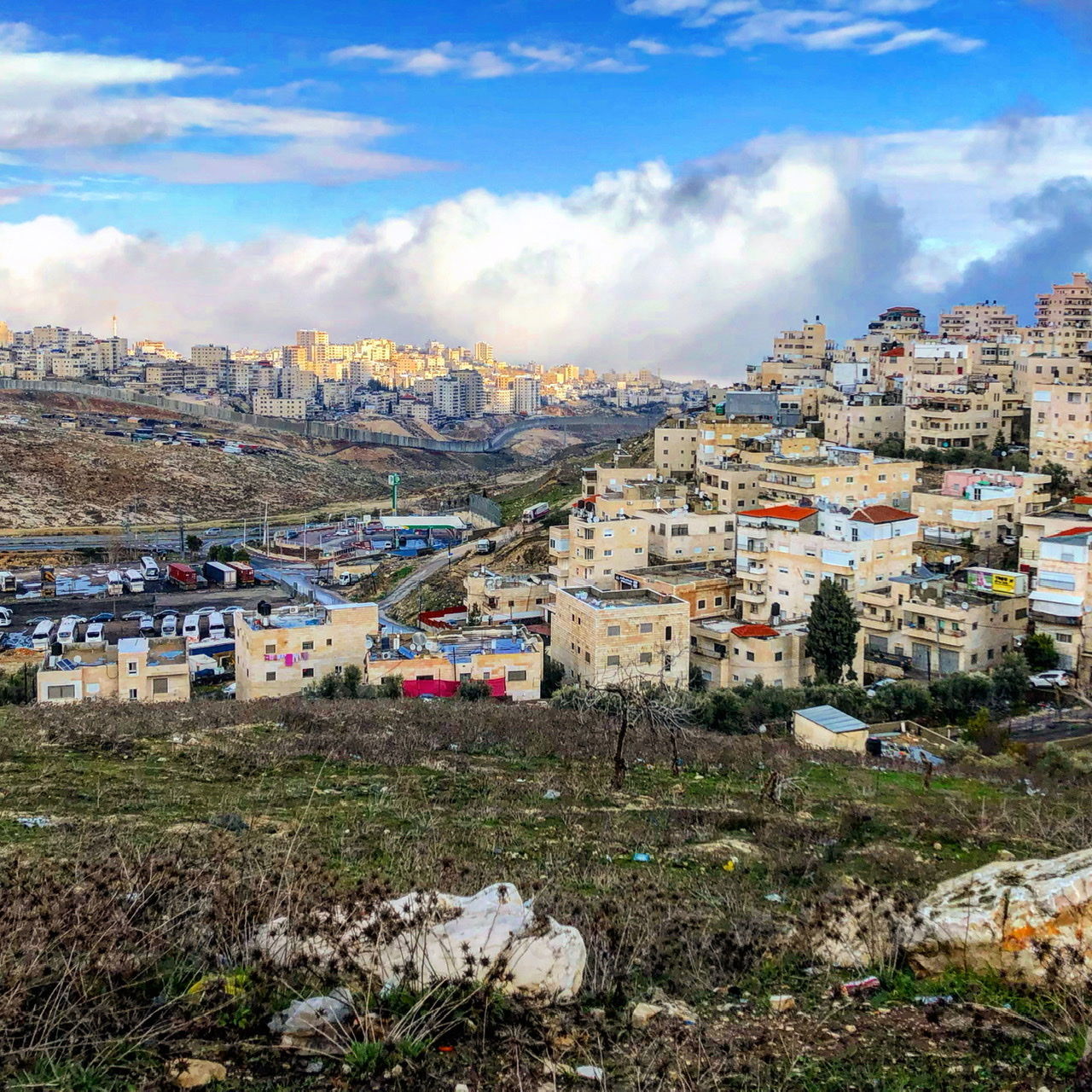 A view of Issawiya, a Palestinian city that is being encroached upon by Israeli Settlements.
What Americans believe: Modern Israel, the country, was an empty space, barely occupied by nomads and small, inconsequential villages and unproductive farms. It was a place that needed organization and settlement. It was the ancestral home of the Jewish People, who had, over time, been forced by war and policy into the enormous diaspora that still exists today. As the Second Promised Land, the United States is responsible for the protection of Israel and a partnership that brooks no opposition. We are a Christian nation and as such we have a moral imperative to protect Israel.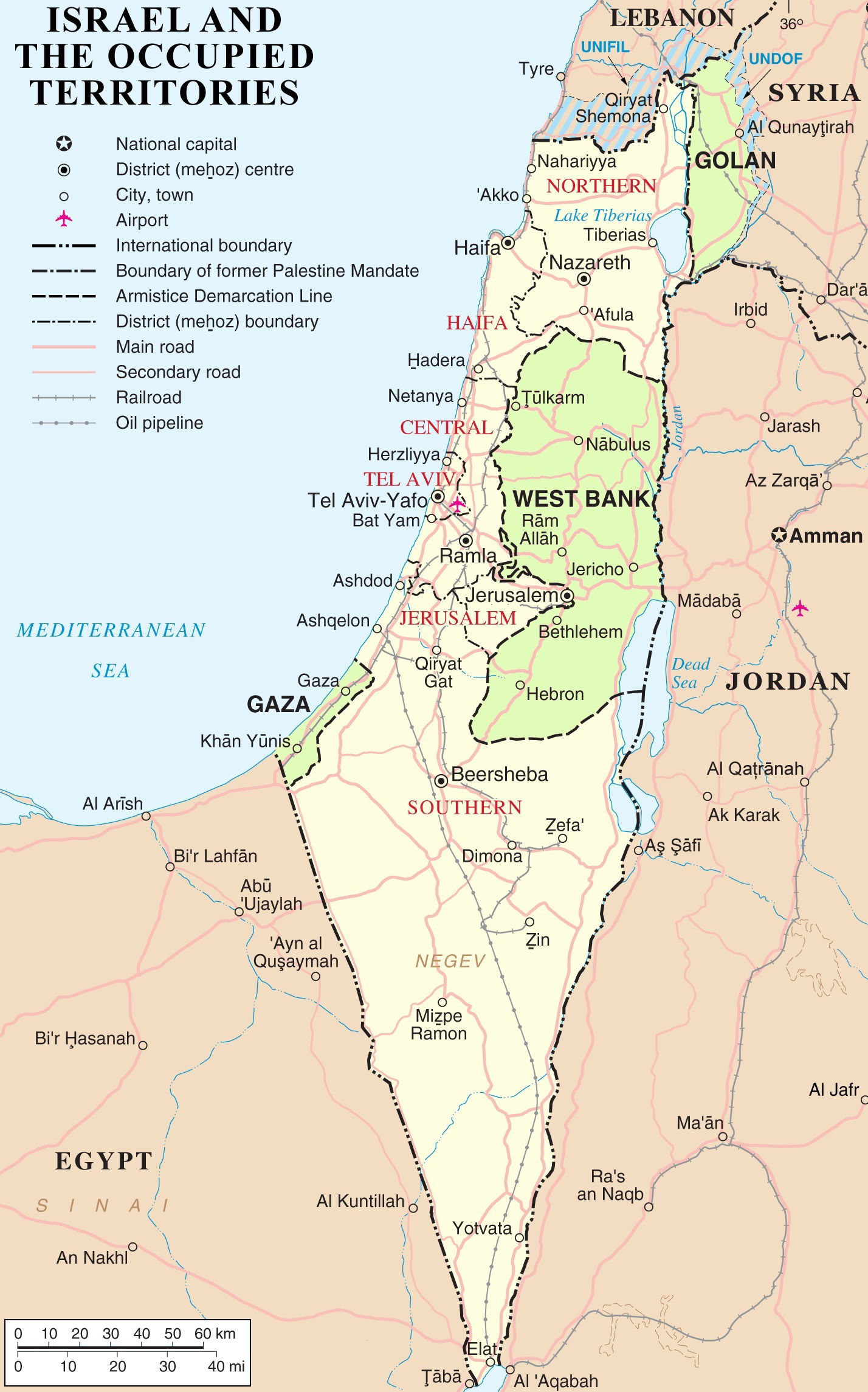 This view is mostly based In willful misunderstanding at best and messianic theology and military aggression at worst. While the finer points of this argument will not be presented here, it is important that visitors to Israel do their homework so as not to say or do something ignorant and to understand better the people and places that they are visiting. Opinons are a dime a dozen in Israel - you can ask ten people (and we did) for their take on the occupation of Golan, Gaza and the West Bank and you will get ten, very distinct opinions. We were fortunate to have been presented with many sides of the story of Israel and Palestine and to have seen new places and met interesting people during our weeks there. We also made it a point to take no tours in Israel and only visit places as locals would. That means we took public transportation and we walked and talked to regular people; we removed ourselves from the cattle run that is tourism in Israel - a system that is designed for maximum "wow factor" and minimal examination and comprehension.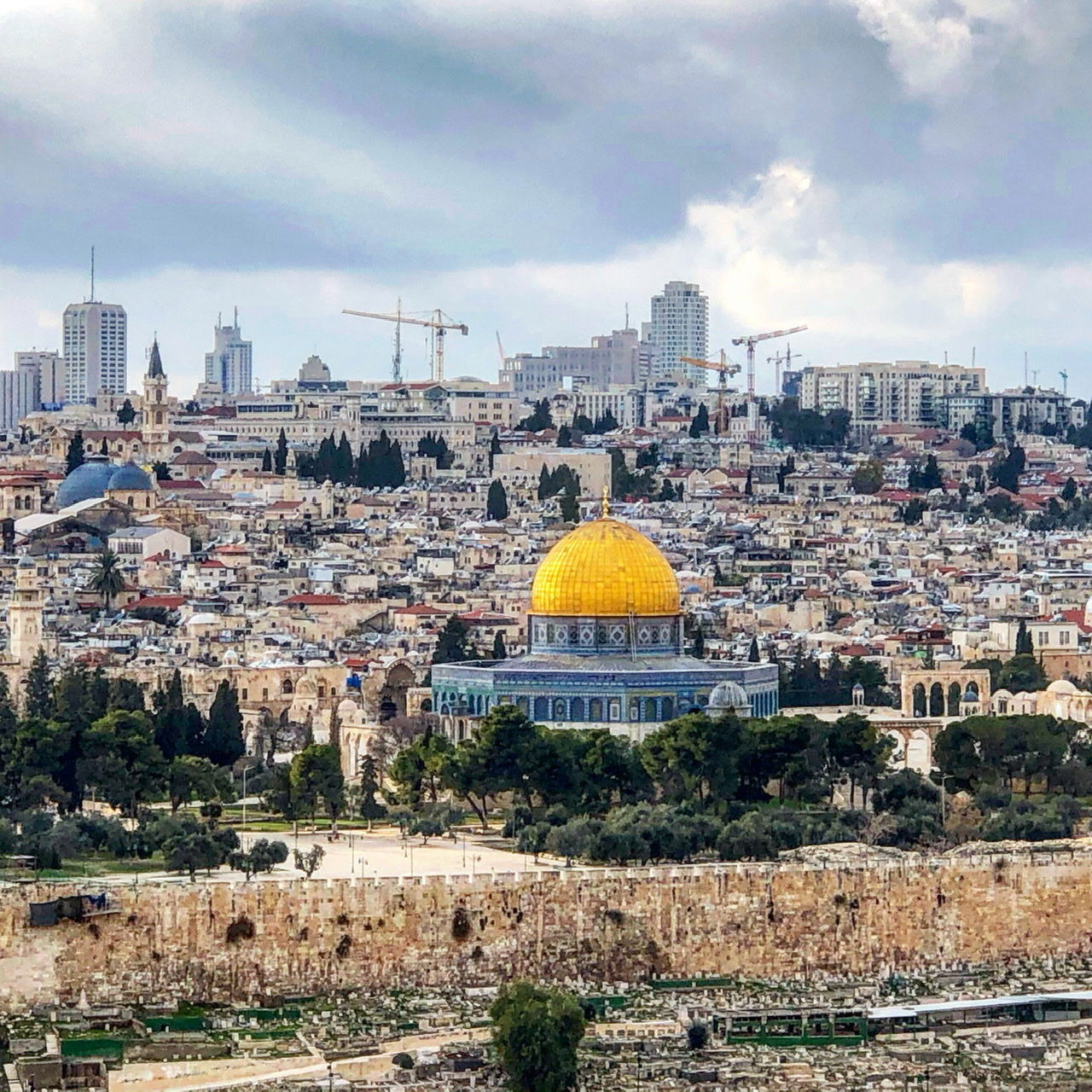 The Dome of the Rock - An Islamic shrine with shifting regulations and entry requirements on the site of the second temple of the Jews*
A note on Christian tourism: Many Christians desire to see Israel, either because of a heartfelt belief that there is something special about the land where Christ was born (there is!) or because of centuries of traditionalism that makes Israel look like a supernatural amusement park (it's not). If you go to Jerusalem, you have to be prepared for crowds, divisiveness, ever-shifting rules and opening times and requirements and frankly, disappointing historic sites. It is not likely that any of the places on the MUST SEE THIS Christian Jerusalem map are places where anything actually took place.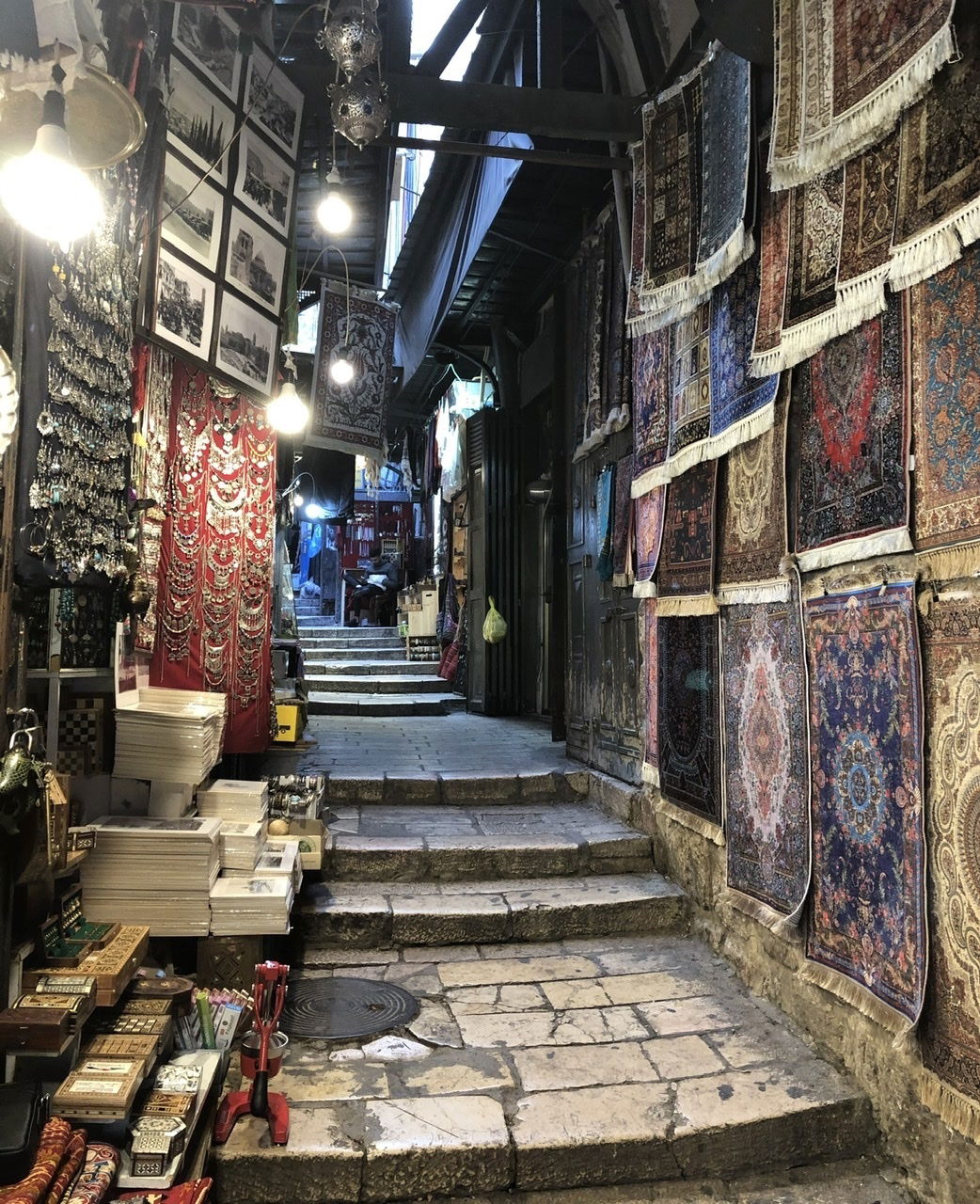 This is the actual Via Dolorosa - basically row after row of shops.
The Church of the Holy Sepulcher, for example, is one of the most depressing places we have ever been. Each sect has its own little chapel and it is a veritable celebration of disunity. No one knows where Christ died or was buried. Anyone who has read the New Testament knows that Jesus did not come to build monuments but to create a revolution. If God wanted us to build shrines, he would have said so. Mark 9:5-15 tells the story of Jesus meeting with Moses and Elijah. Peter he suggests building memorial booths and is sworn to secrecy after which the people crowd around Jesus with the usual requests for teaching and healing. We don't need tradionalistic memorials and divisions to identify the work of Jesus, people. We need teaching and healing.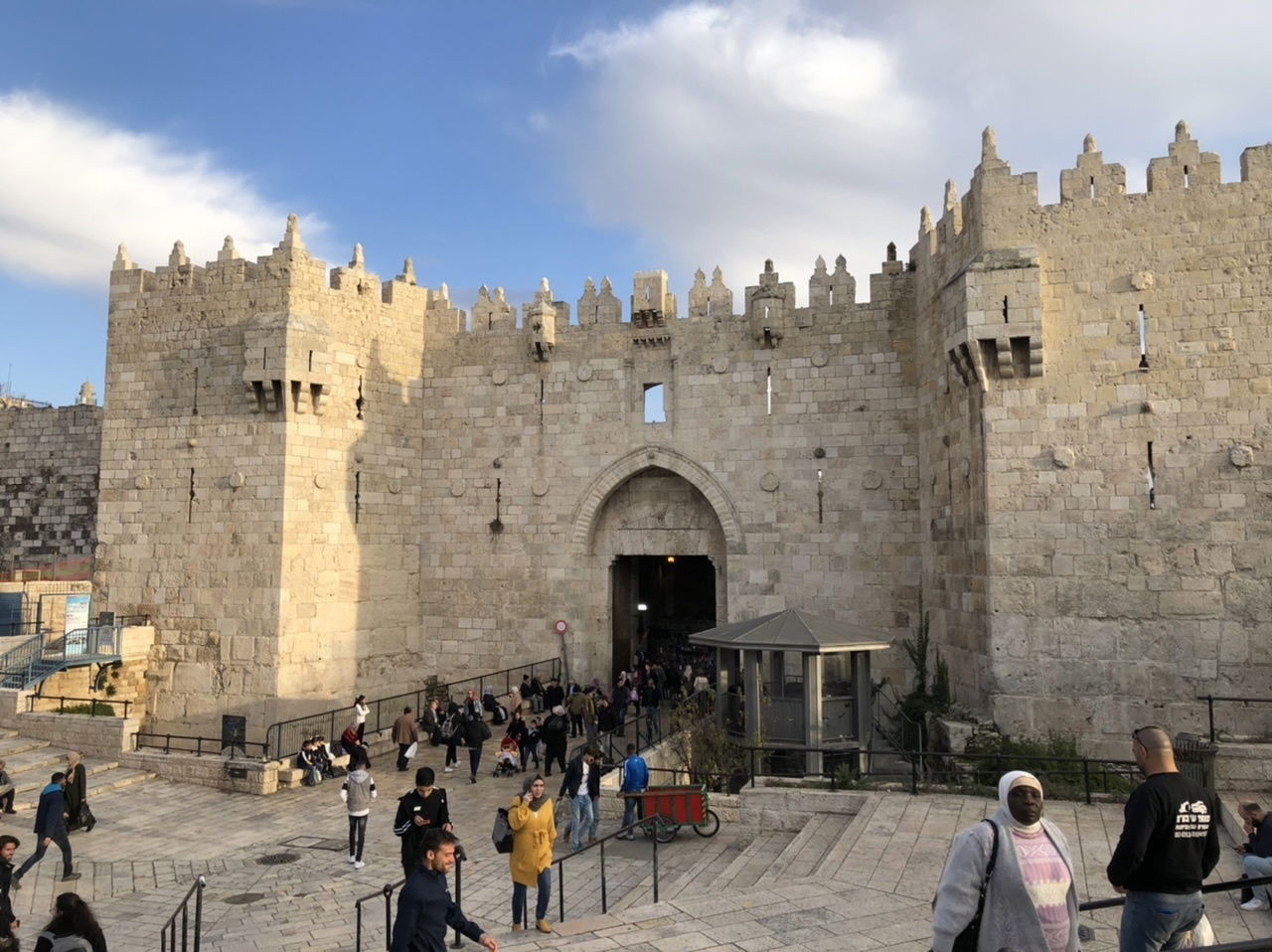 The Damascus Gate to the old city
We arrived at David Ben Gurion Airport in Tel Aviv as most poeple do. There is a newish, efficient train service that connects Tel Aviv and Jerusalem and stops at the airport, which lies between the two cities. Jerusalem train station boasts the LONGEST escalator in the world, we believe.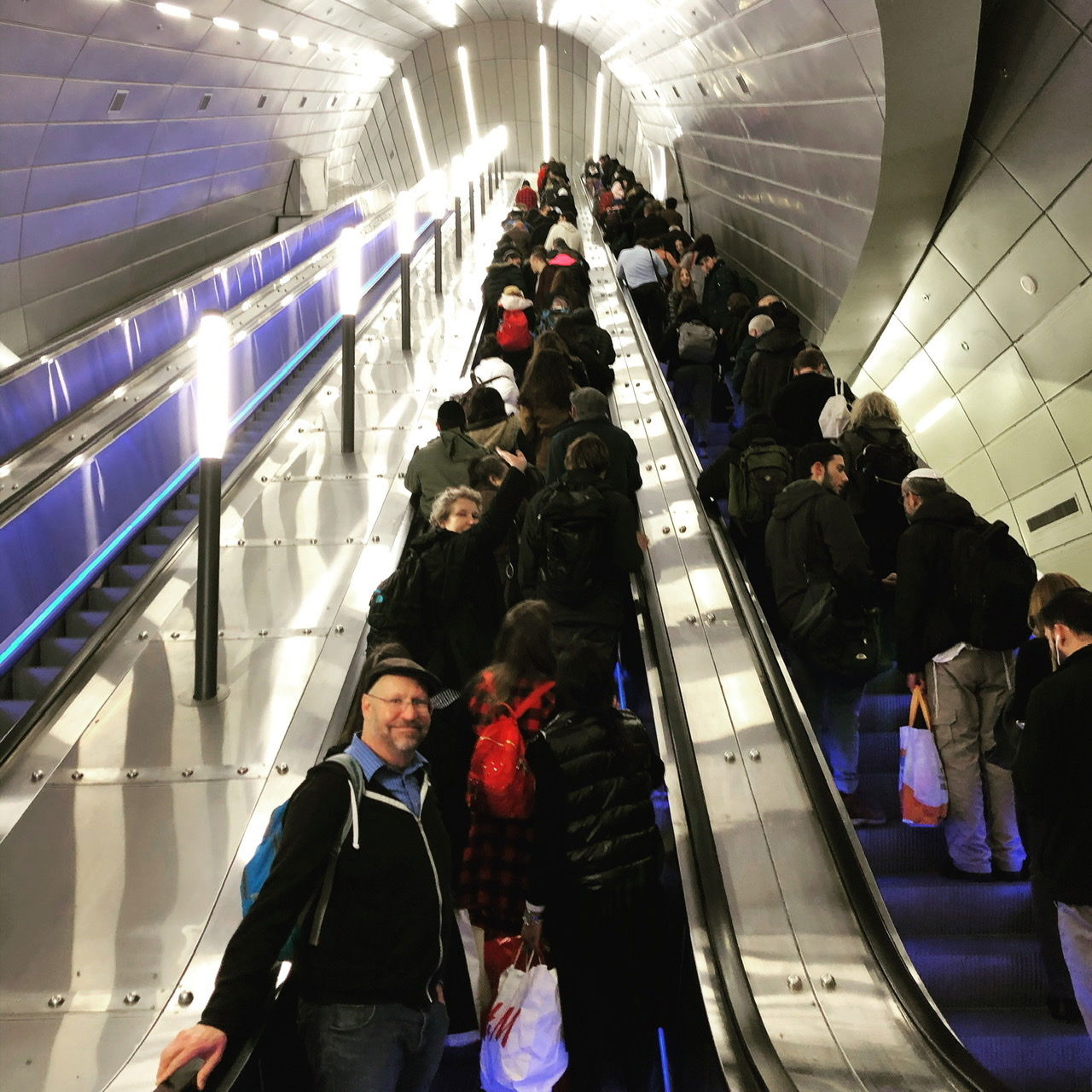 There are ten of these in a row!
However, our kind nephew, who had a few hours off from his two jobs, picked us up so we didn't get to use the train until later in the trip. We dropped off our luggage at the house and then had a delicious brunch at Ofaimme Farm Cafe. Then, we were on our own for a few hours until Peter's sister returned from work. We have so many joyful memories of time spent around the large, wooden table in the dining room at the family home. Shabbat dinners, Scrabble and Skat games, but most dear to us, long and intense discussions about many topics with family and friends.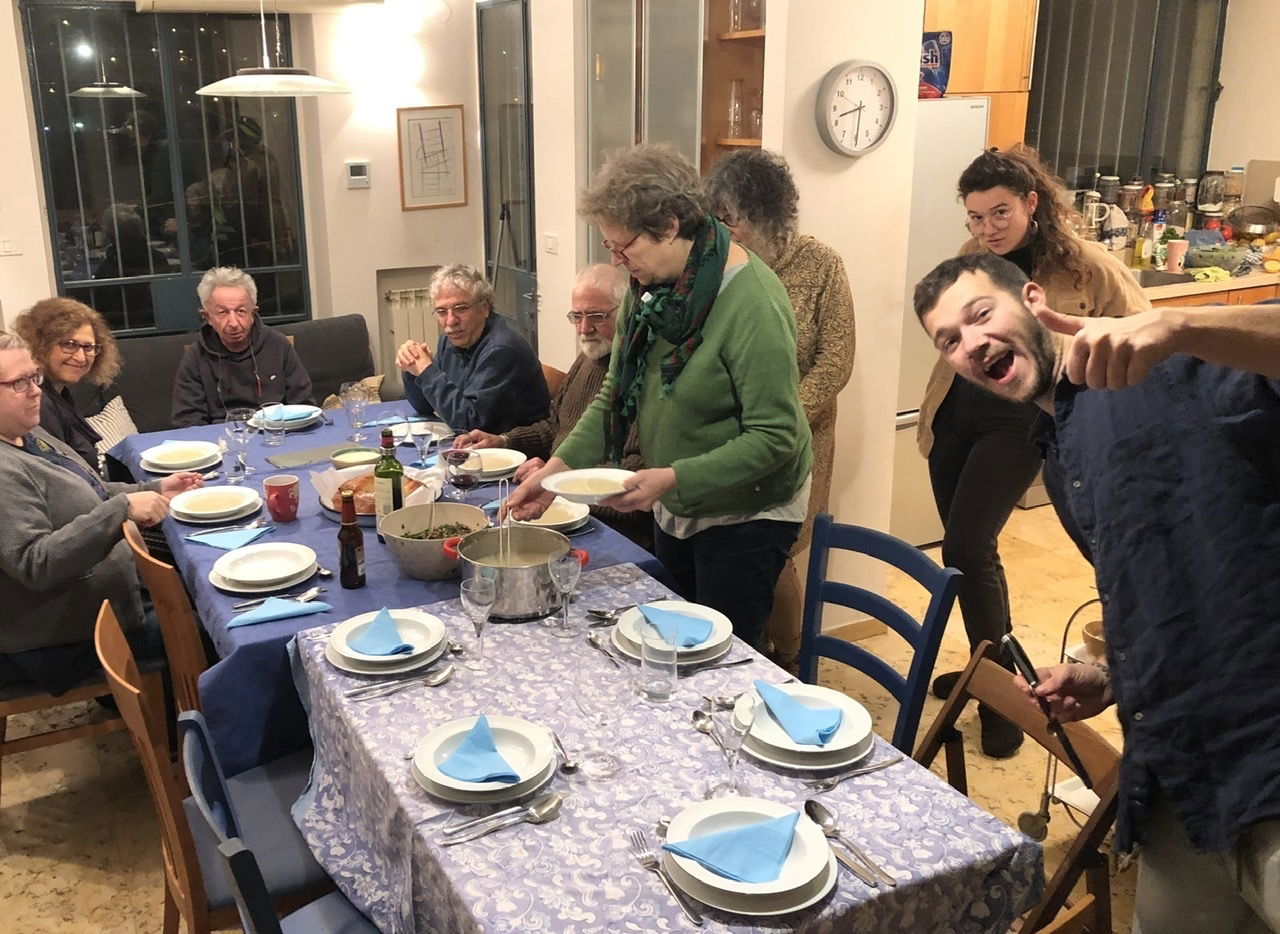 Shabbat Shalom!
One of the things we enjoy when in Jerusalem is walks though the old city. The stone glows with yellow light and if you want to experience combat shopping, this is the place to do it - learn to say no thanks, learn to offer half the asking price and learn to walk away if you think you are being charged too much.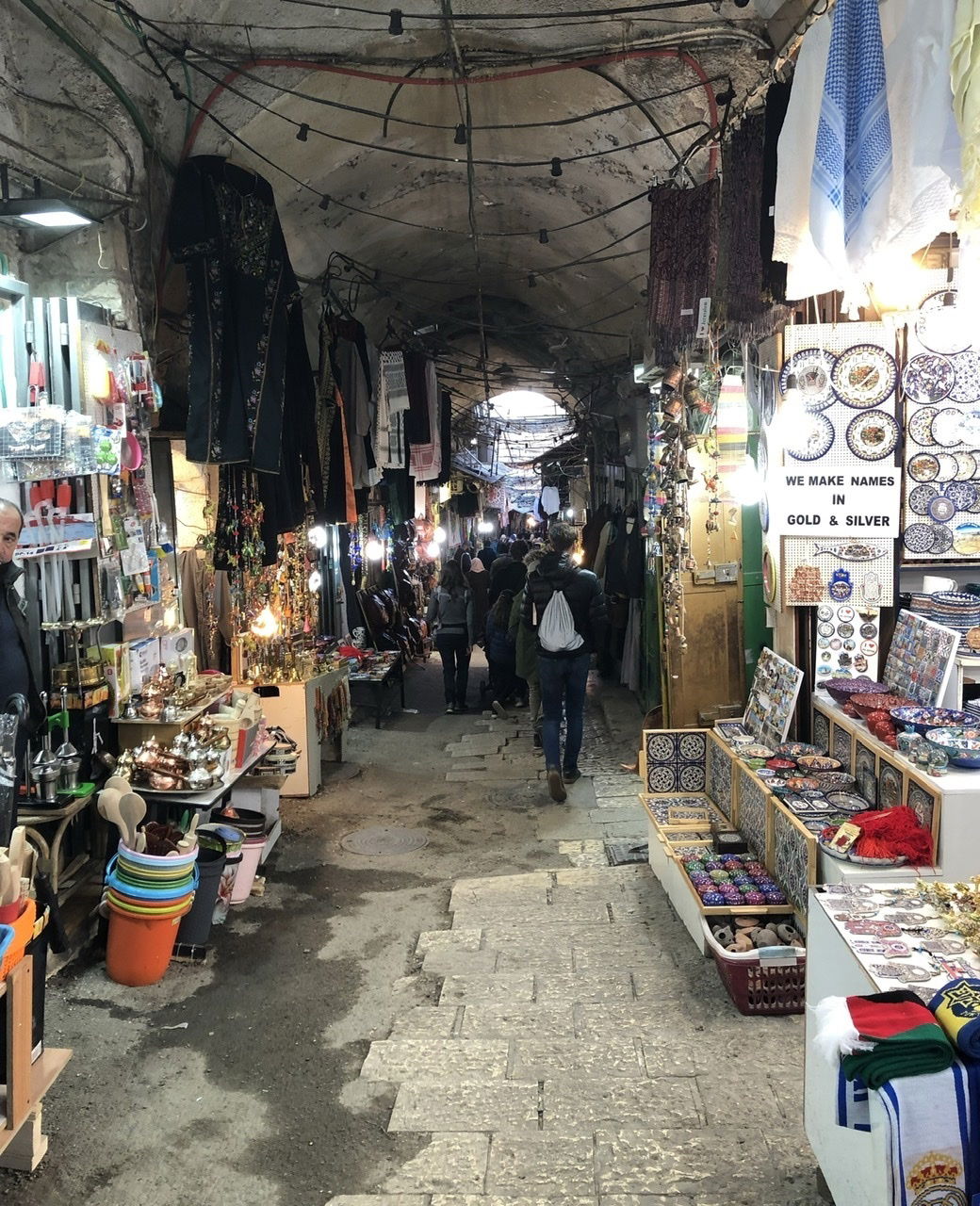 The Christian Quarter...or is it the Muslim Quarter? Hard to say.
We used the tram and the buses a lot in Jerusalem to get around. They have transport cards that you top up at various stations with cash or credit card and they are reasonably priced. The cards work on almost all public transport in Israel. Our favorite spots in the old city are hanging out near Damascus Gate, walking under the city in the cave-like excavations of the Byzantine part of Jerusalem which are lined with shops, viewing Roman ruin discoveries while eating vegan shawarma and having a coffee at Christ Church Guest House and Coffee Shop near Jaffa gate.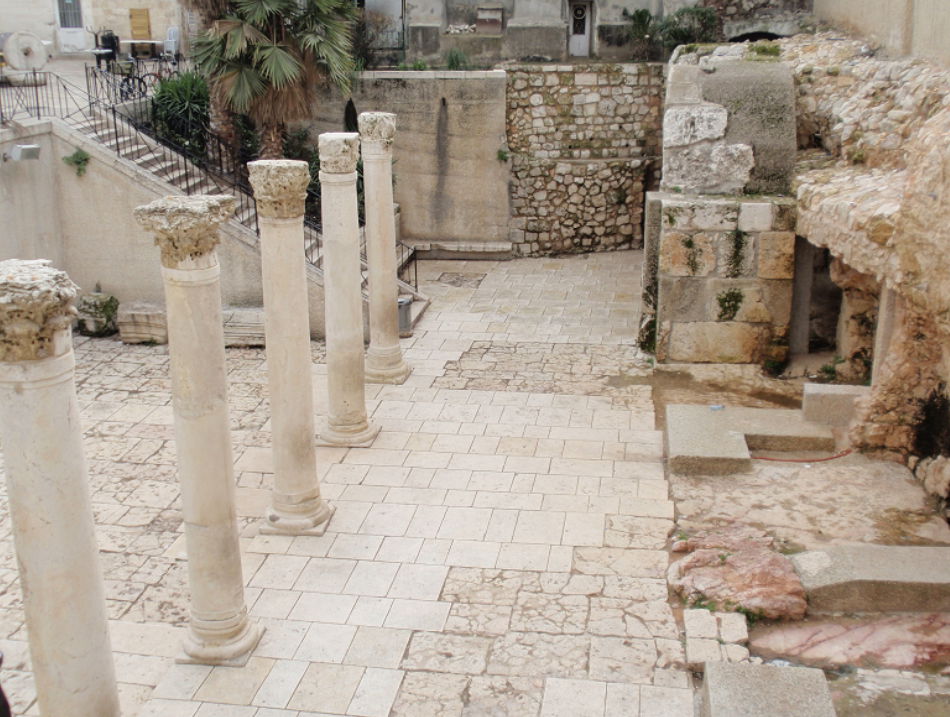 Jerusalem, where even the ruins have ruins.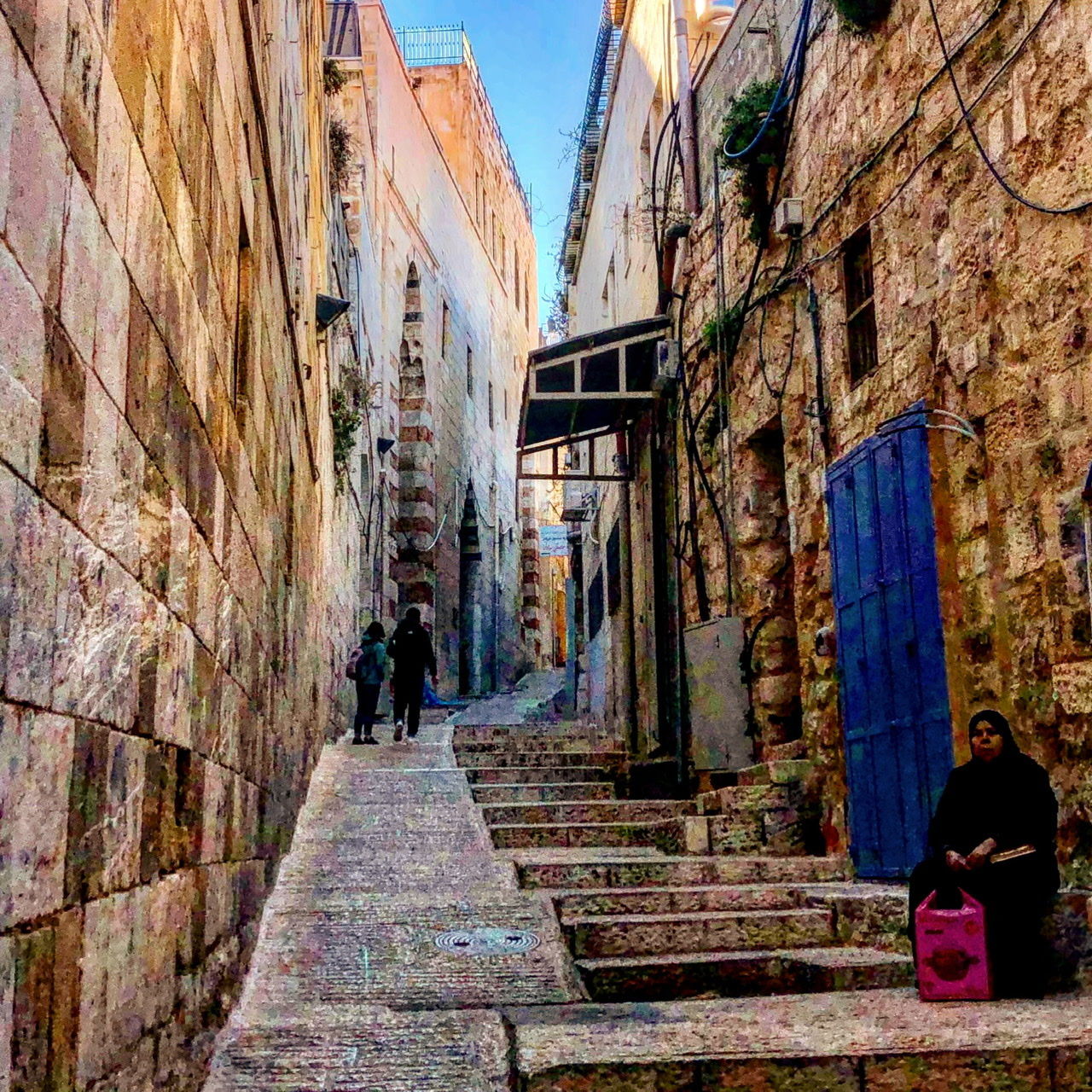 Blue doors and blue skies
There is a lot to see in the old city as previously mentioned, but the Dome of the Rock and the Western Wall are two absolute musts. The Dome is a little hard to access. We had to walk quite a way to find the new entrance; there was intense security on the day we were there. There are armed guards, metal detectors, bag searches and often, the area is closed off to visitors completely. If you want to see either place, make sure you have some flexibility in your schedule or you will be disappointed.
Peter pointed out that walls are quite the theme these days. There is one giant wall in Jerusalem - the Western Wall of the ancient temple of Solomon, also known as the Wailing Wall - it is the iconic remainder of the covenant of the Chosen People. It was the center of their ritual, belief and practice. Without that center, modern Jews seem bent on constructing walls all over Israel. There are walls running right through towns and streets, checkpoints, guard towers and dividers that cause delays and difficulties for those who don't have the right papers, ironically. We visited a school where a wall shifted into the playground preventing Palestinian children from attending and causing danger and fear amongst the Christian missionary community there.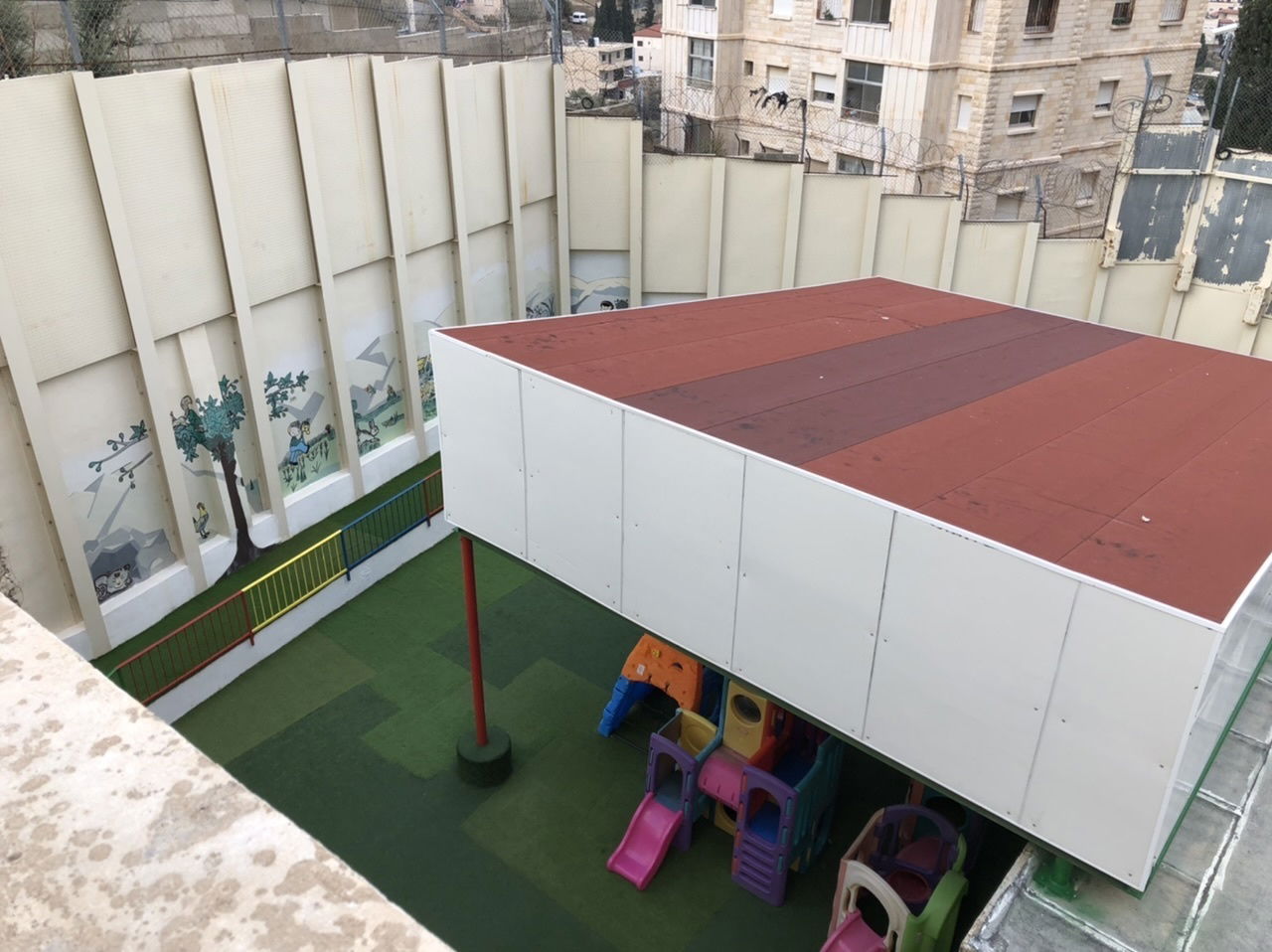 This wall divides the playground from the neighborhood it was built to serve.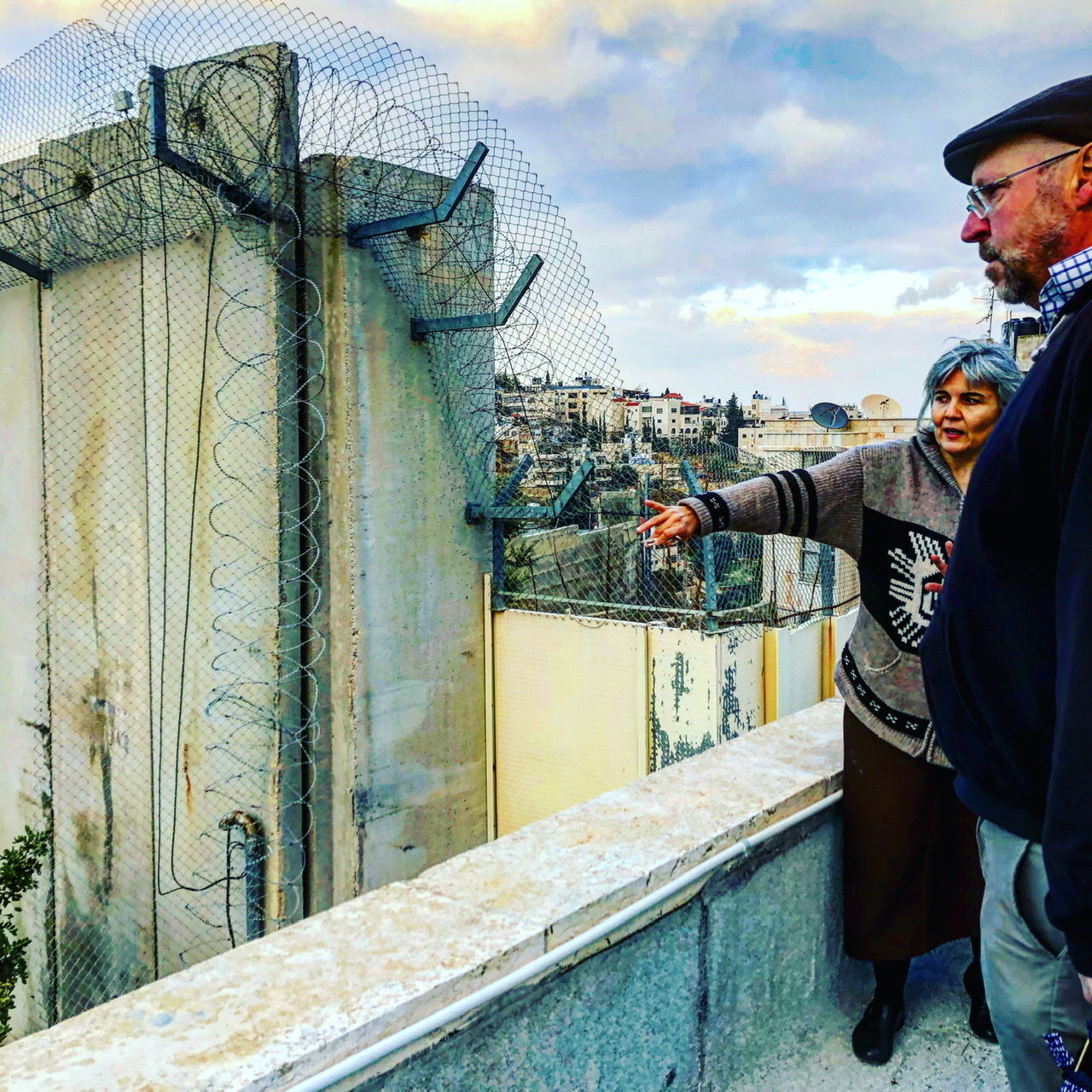 Here, one of the nuns explains the disruption the shifting border walls have caused.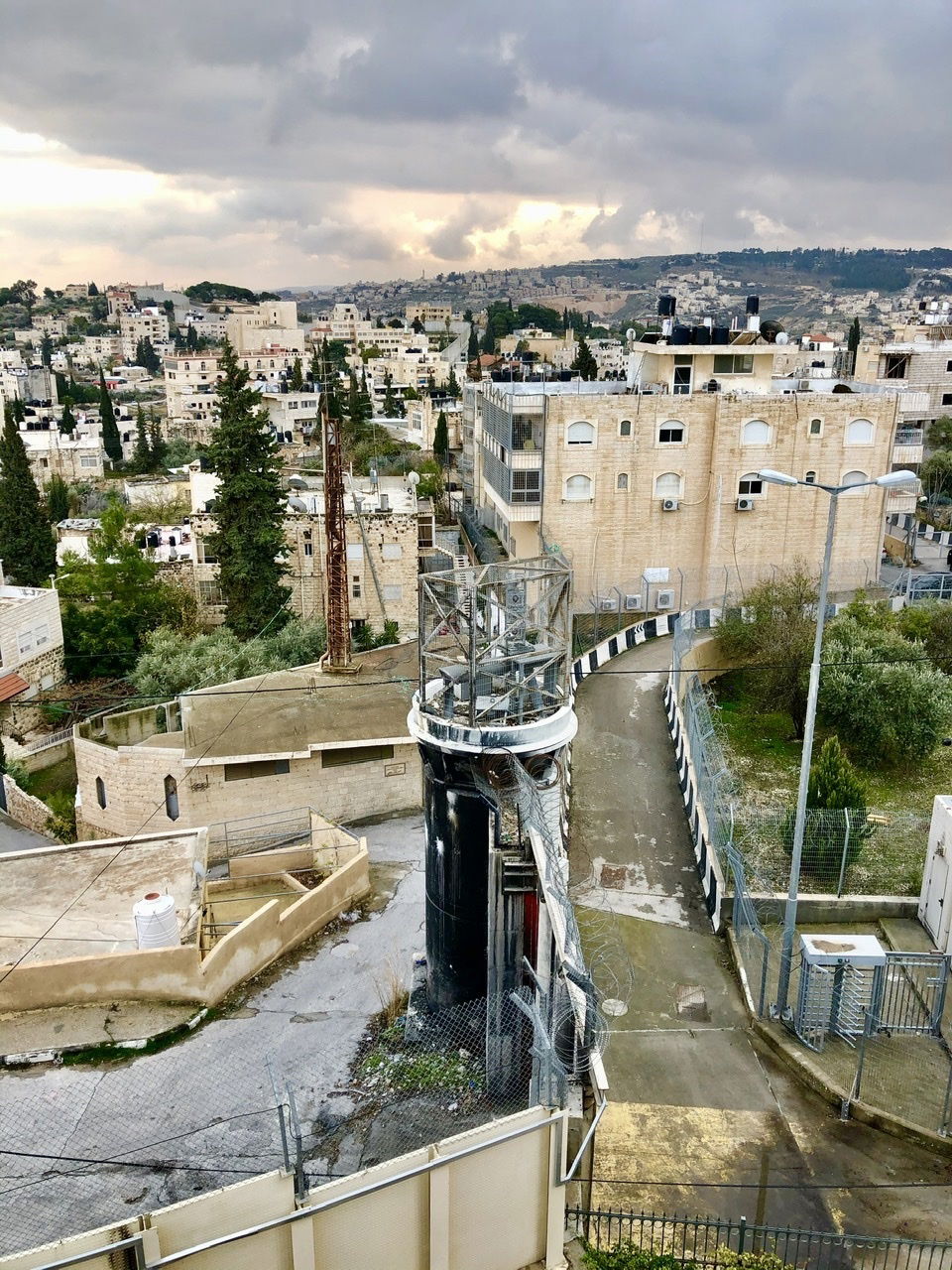 Another view of the wall in that neighborhood
The convent/ school/ community center has a small museum with finds from the property and an olive orchard with centuries-old trees. The nuns who live there have served in some of the most dangerous places on earth - war-torn Africa, Central America and the Middle East. They are multilingual, generous and fierce. It was a very interesting day.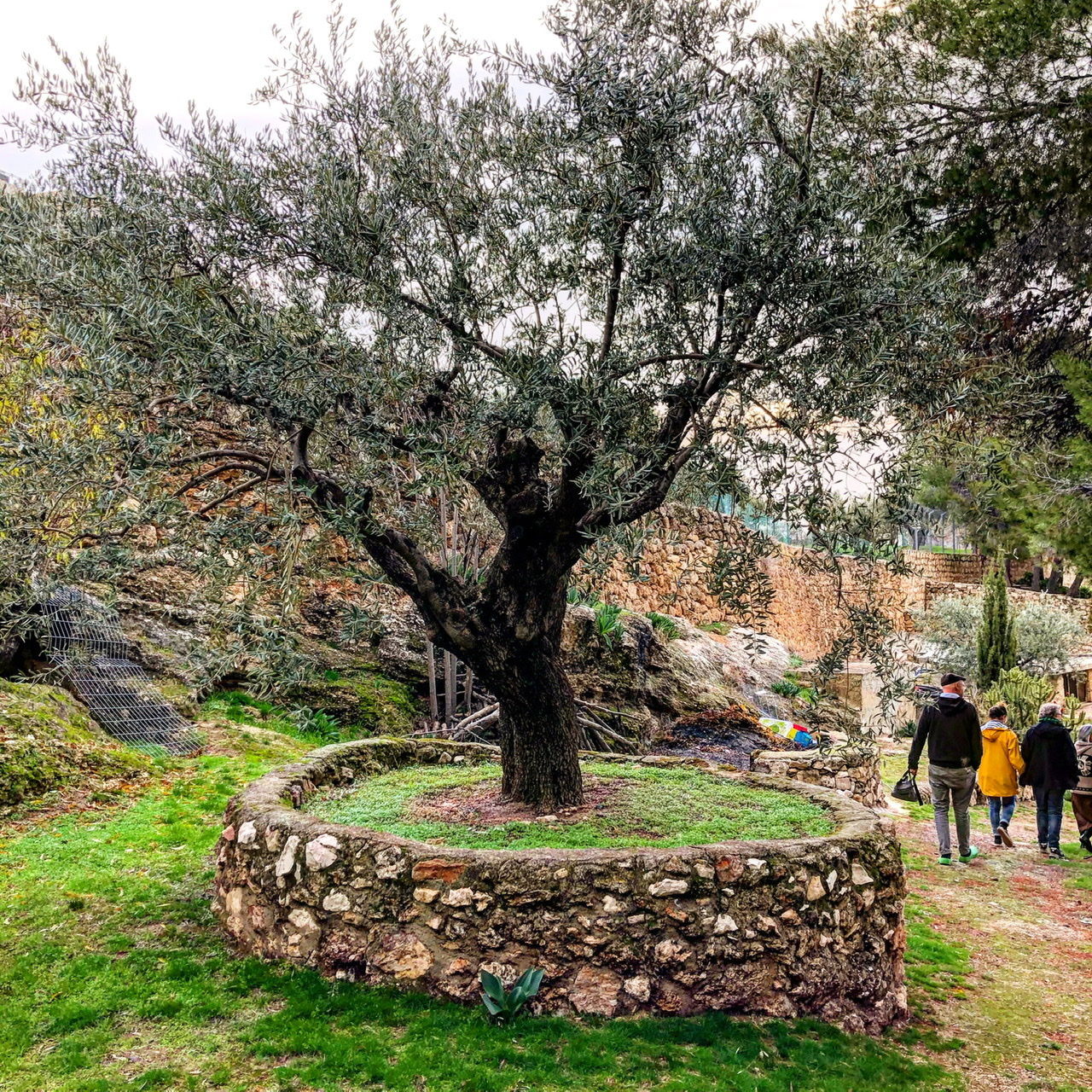 The orchard
Another place we learned about the current trends in Israeli policy and their effects on local people was on a day trip to Bethlehem. For travelers: You can pay between $75.00 and $275.00 for a guided tour that takes you to Bethlehem for the day. You will board a bus and go directly to the main sites, have lunch and possibly see some of the more famous graffiti. We decided to take the $4 Arab bus to Bethlehem and back. This involved driving all the way around the checkpoint on the way there - making a 15 minute drive take over an hour and actually crossing the checkpoint on foot on the way back. We did this so we could see exactly what it is like for a Palestinian person to do this every day in order to go to work. Of course, we are not Palestinians, we are wealthy, fair-haired Americans with US passports. We got as close to the issue as our privilege would allow.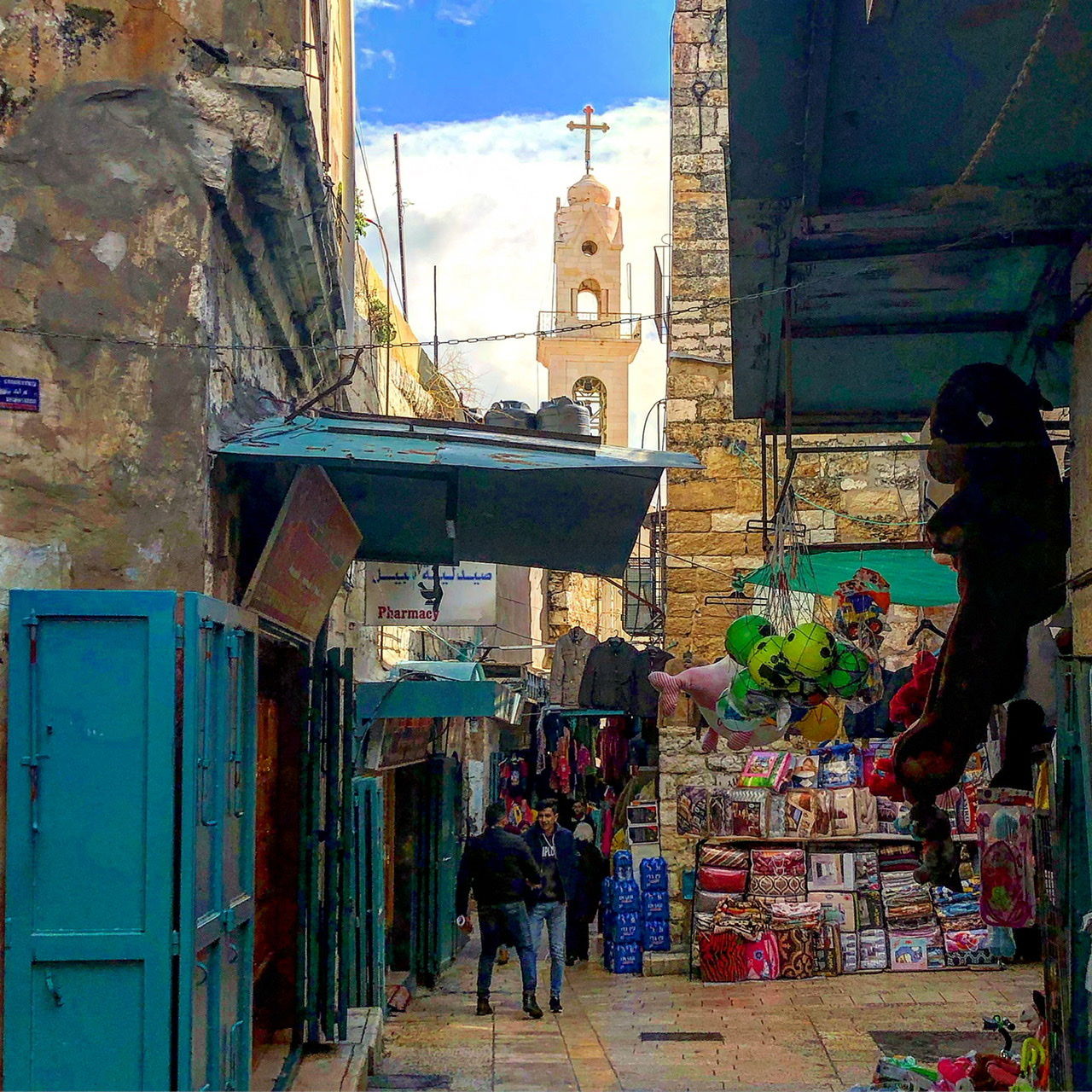 As you get closer to the main square there are plenty of shops to entice you.
When we arrived in Bethlehem we were hit with the onslaught of taxi and guide offers, choosing instead to walk the kilometer from the bus stop to the Church of the Nativity, the traditional birthplace of Jesus , dating from the 500's.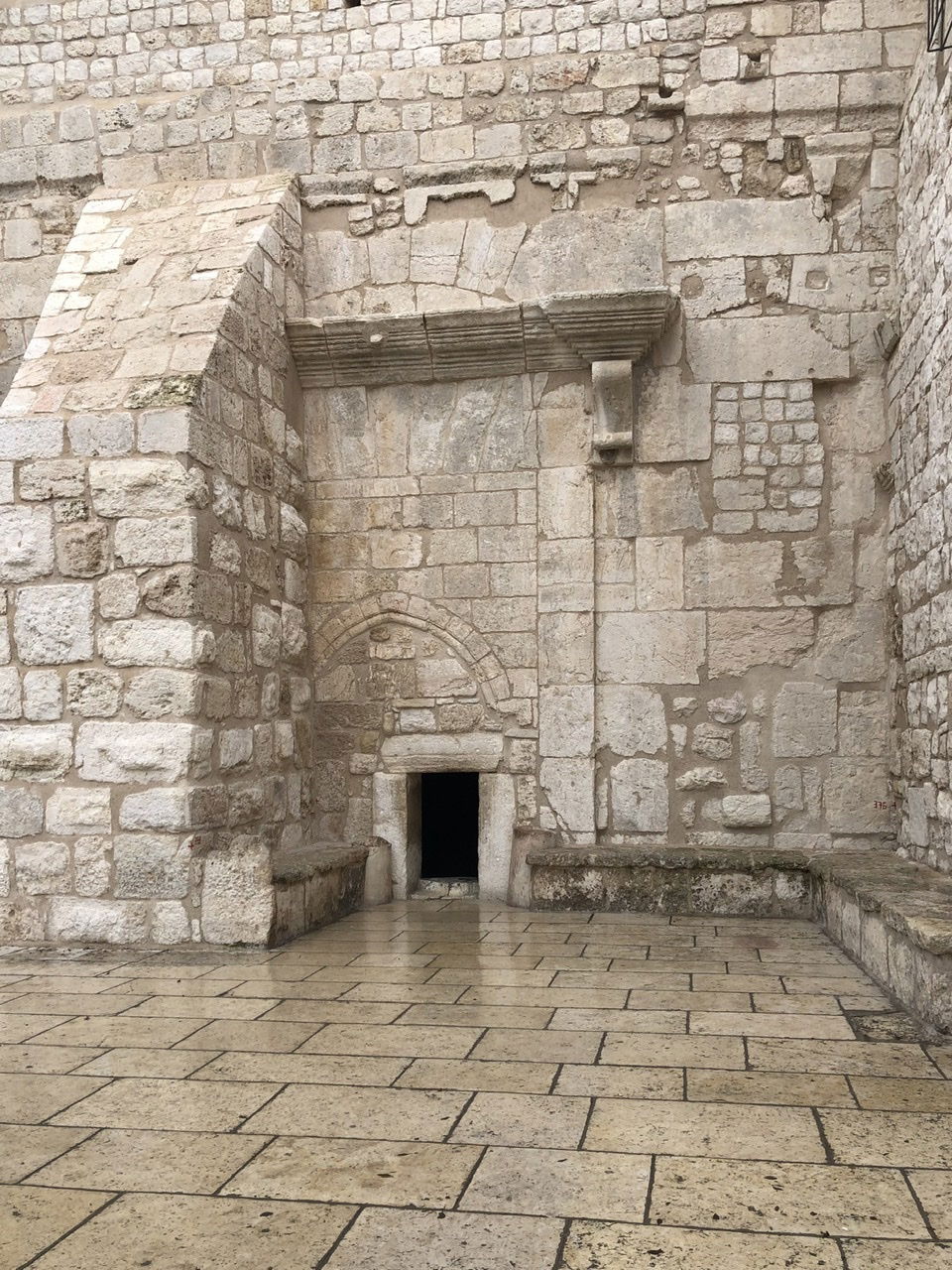 The nondescript entrance to the Church of the Nativity.
The Church of the Nativity had about 10 Japanese tourists wearing outrageous outfits and posing in front of everything, a group of 40 Spaniards, talking loudly and flicking cigarettes, 200 Eastern Europeans on some sort of pilgrimage, a couple of Methodists from Illinois and us. Since the line to go under the altar to see THE ACTUAL STONE UPON WHICH THE BABY JESUS WAS BIRTHED was quite long, we took a walk to the Milk Grotto (only rural Wisconsin has more interesting names for minor tourist attractions). The Grotto is under an old Franciscan church and was free to enter and they had nice bathrooms. It was actually quite tasteful (STOP!) and had a lot of historical information available to visitors.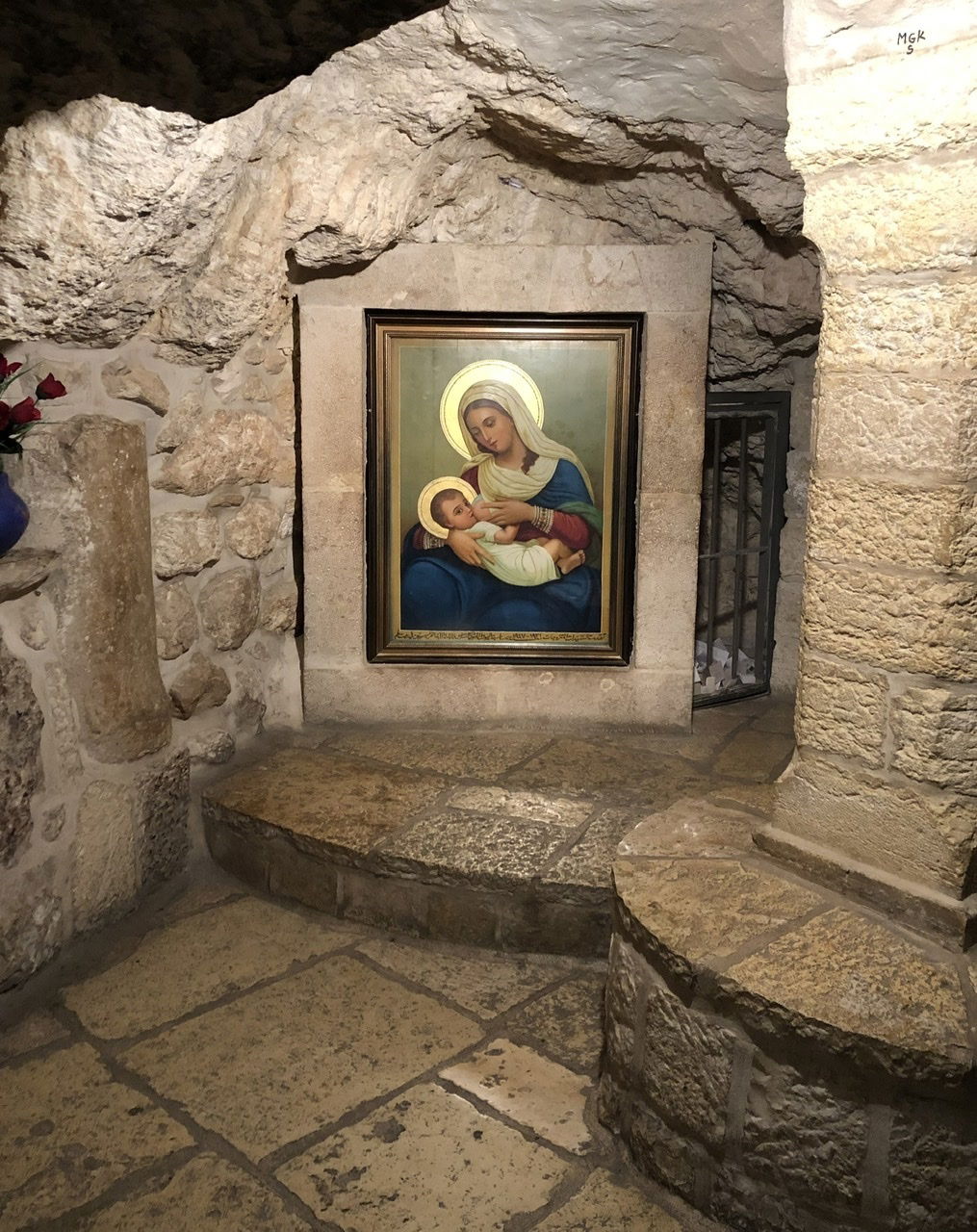 The interior of the Milk Grotto
There is an olive wood shop nearby run by a very friendly guy who is part of a family of carvers who have worked there since 1925. Honestly, if you want to buy something, buy it at Blessings gift shop. We were allowed to go up to the roof for a view of Bethlehem and there was absolutely no pressure to buy anything.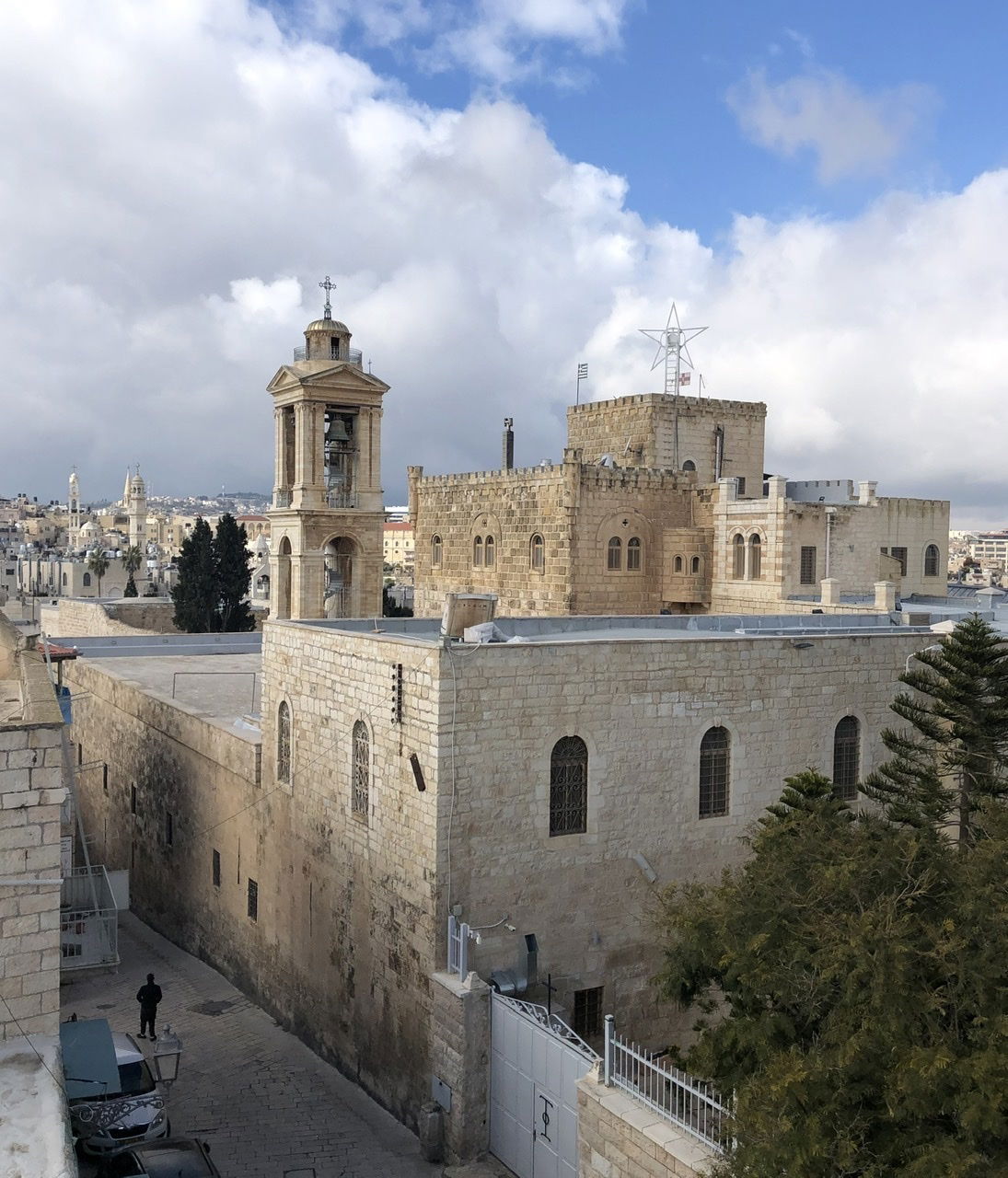 The view from the roof
Back at the Church of the Nativity, we were down to a dozen Polish folks and the Methodists. Half an hour later we got in to see the famous stone. It was actually a lot like the Blarney stone In Ireland; someone helps you lay down and you get an awkwardly posed picture next to a rock.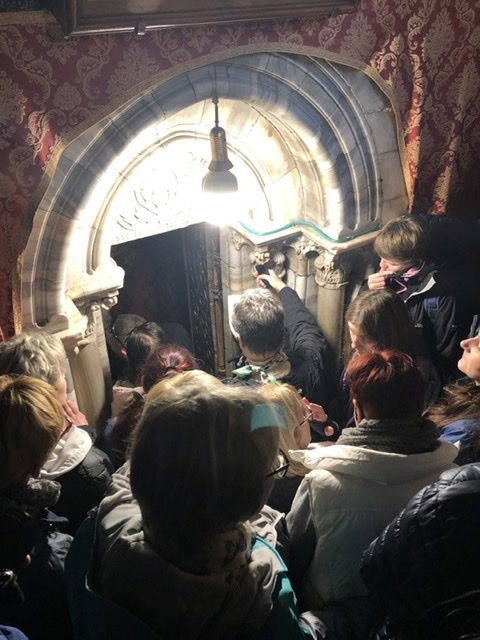 It's quite a bottleneck.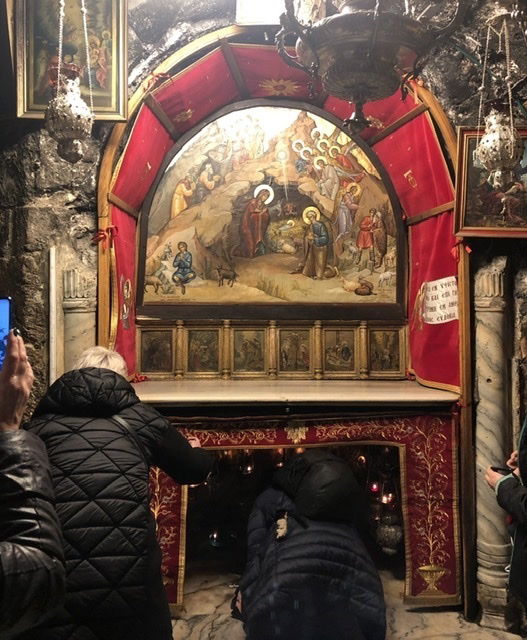 This is what you do to see the holy place.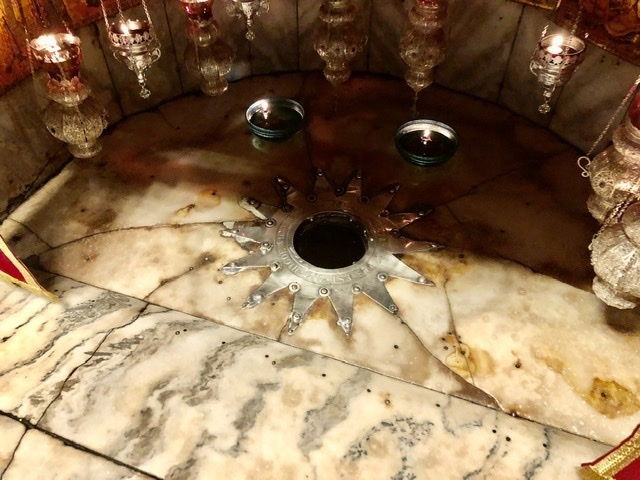 This is what it looks like if you crouch down.
I did it. I didn't mean to, but everyone else was so earnest, I didn't want to say, no thanks, I just wanted to watch YOU touch it. Then we wound through the rest of the church with its ancient decor, mosaics colorful fabric curtains.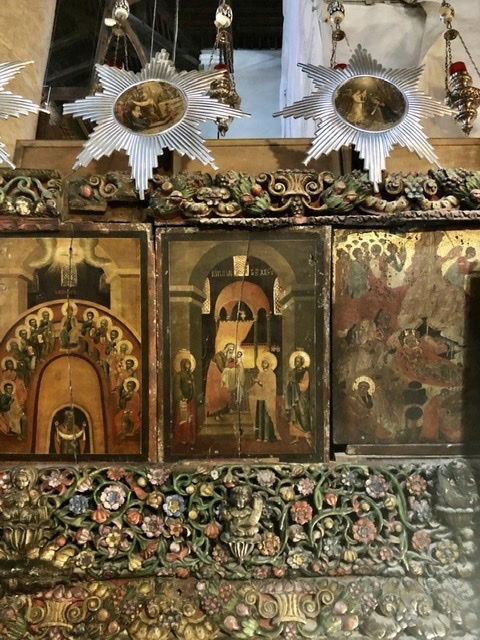 Wood carving, lanterns and icons.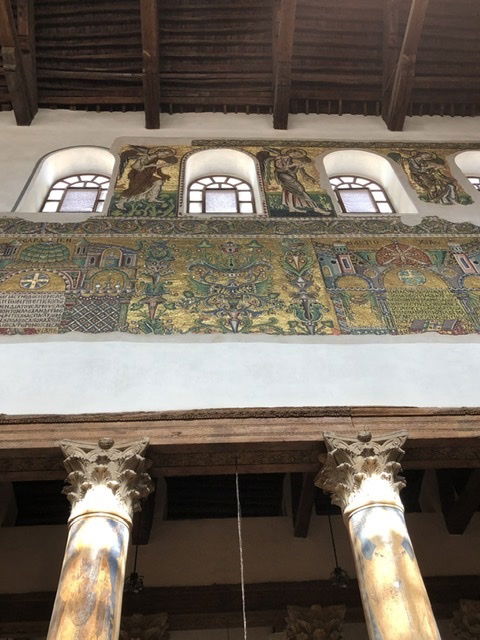 What is left of the mosaics - very pretty!
After all that, we were dead tired and wanted to take a break and found a real oasis - the large and friendly Dar Nasser Bistro on Nativity Street. A lot of places were closed as it was after the Christmas season, but this place was a real gem - spacious, great hot drinks, cute gifts and lots of local stuff to buy like soaps and spice packets. We loved it. They had strong wifi and served beer!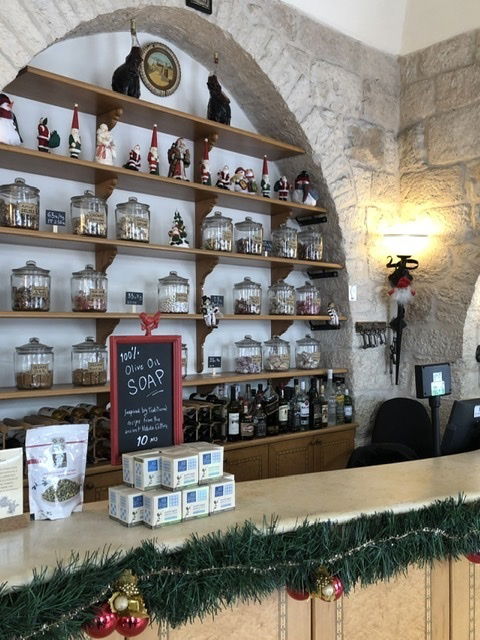 We loved this place.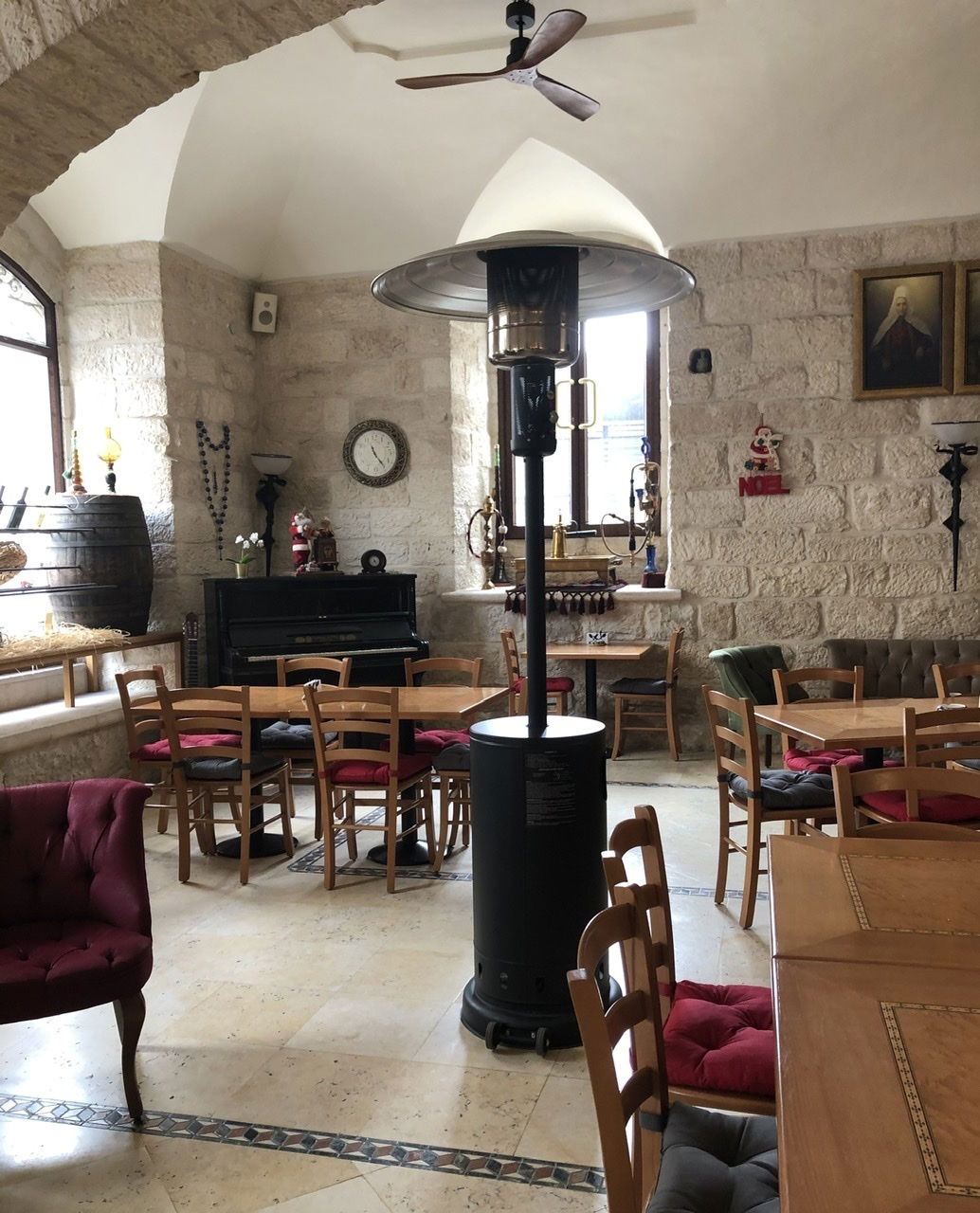 Comfy chairs and heaters!
To get back to the checkpoint (the one we were going to cross on foot) we decided to take a cab. It was only five dollars and he offered to take us to see the Banksy paintings for an extra five dollars. We were skeptical but it turned out to be a really good decision. He took us to some of the most famous street art in the world.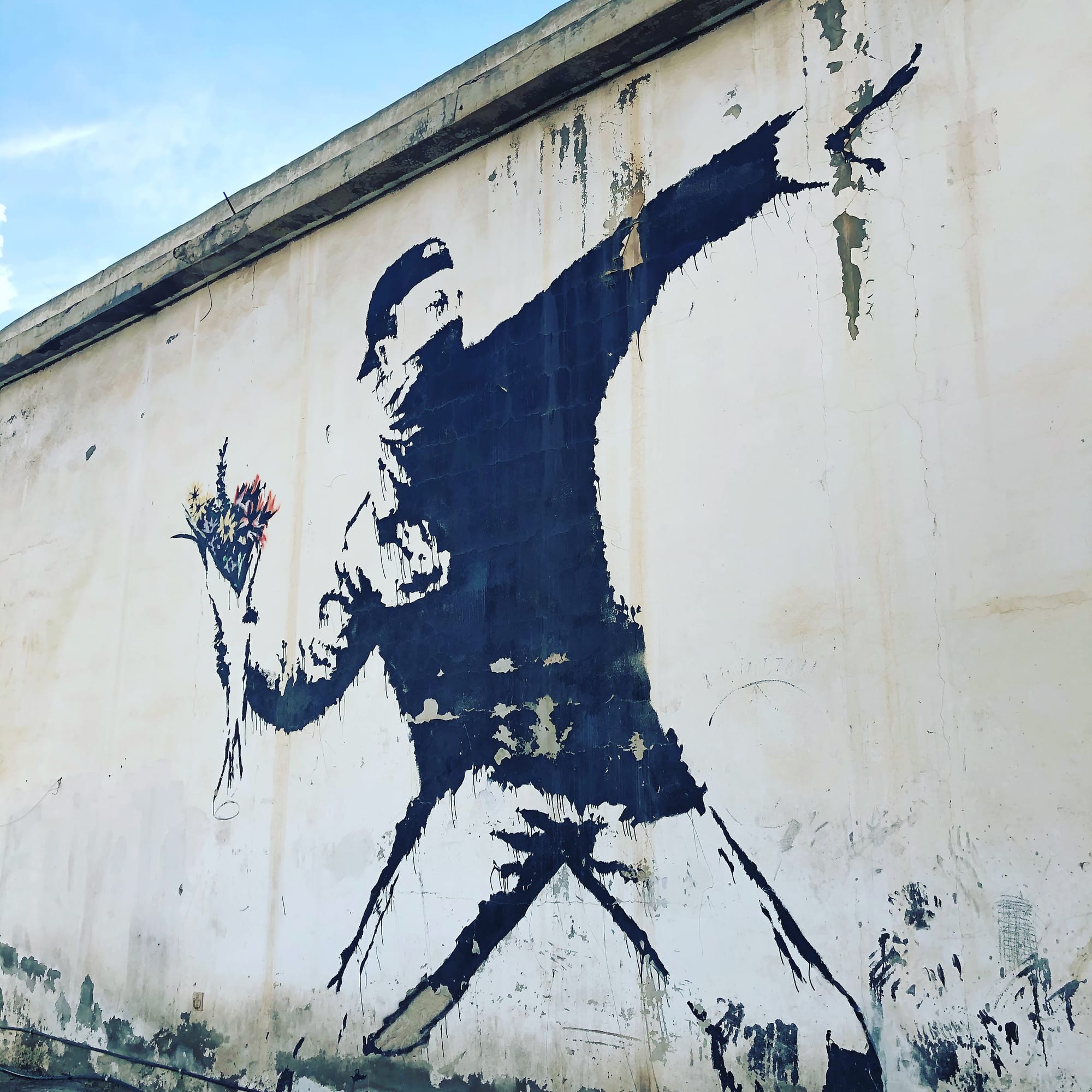 One of our favorites, it is painted on the side of a gas station. We were two of four people there.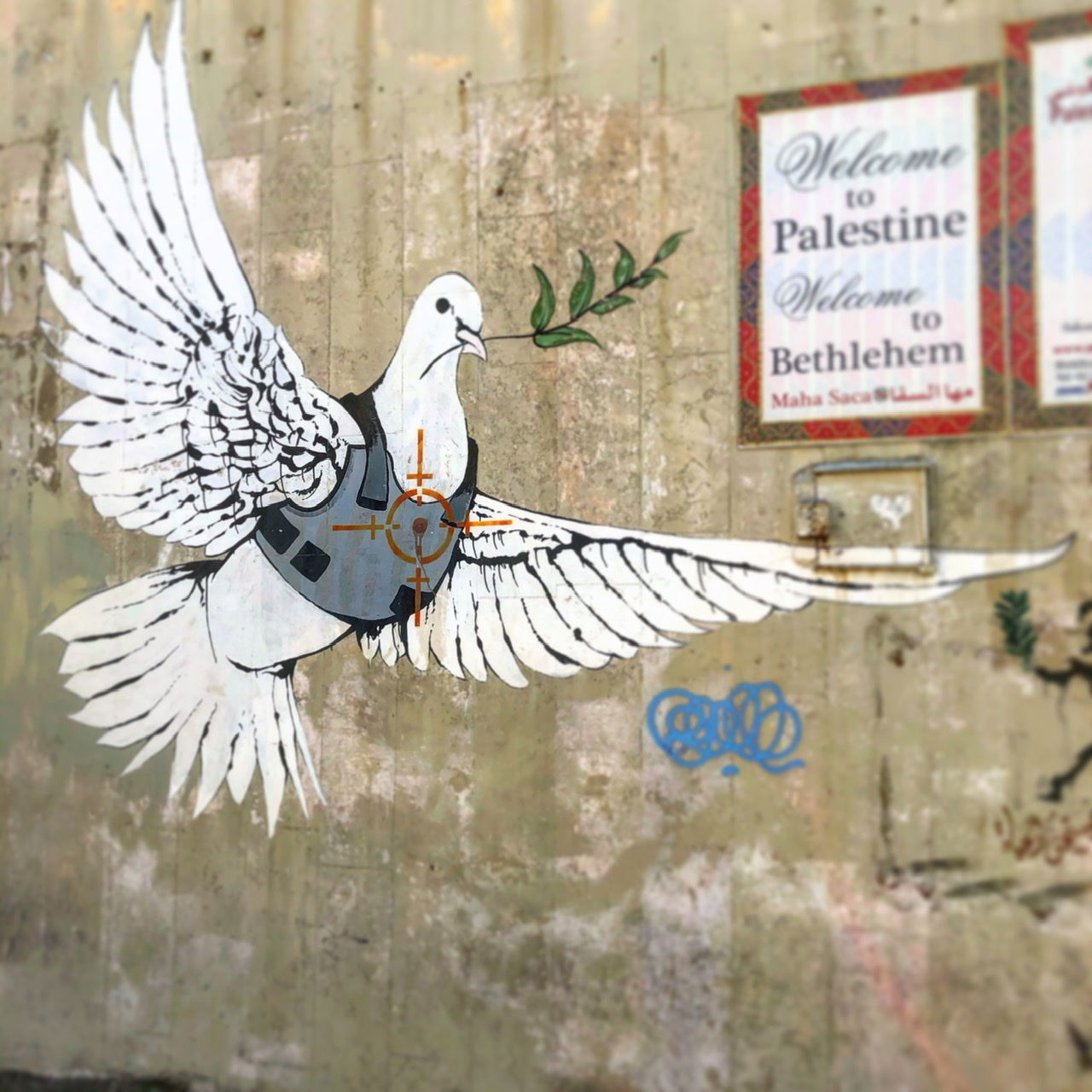 Another thought-provoking Banksy mural
Along the way he talked about how grateful he was to own his own car, how much he liked the US, that he wanted to get married but didn't have enough money yet, and then he pointed out some gleaming condominiums in the distance and asked, do you know what those are? To which we replied, "illegal and oppressive settlements?" And he said, "good job" and the tour continued. We had already learned that when there is a huge and rapidly expanding brand new housing development near a Palestinian town like Bethlehem, it is being built at the expense of local people. Families are evicted from their homes for all sorts of reasons and then there is an accident or a violation and the home is gone - and they build new housing on the rubble. This has been going on for decades. Then he dropped us off at the wall. It was a long, dusty and colorful walk to the checkpoint. Machine guns, soldiers, livestock-style ramps and a whole lot of mostly well done and peaceful graffiti later and we were on the way back to Jerusalem.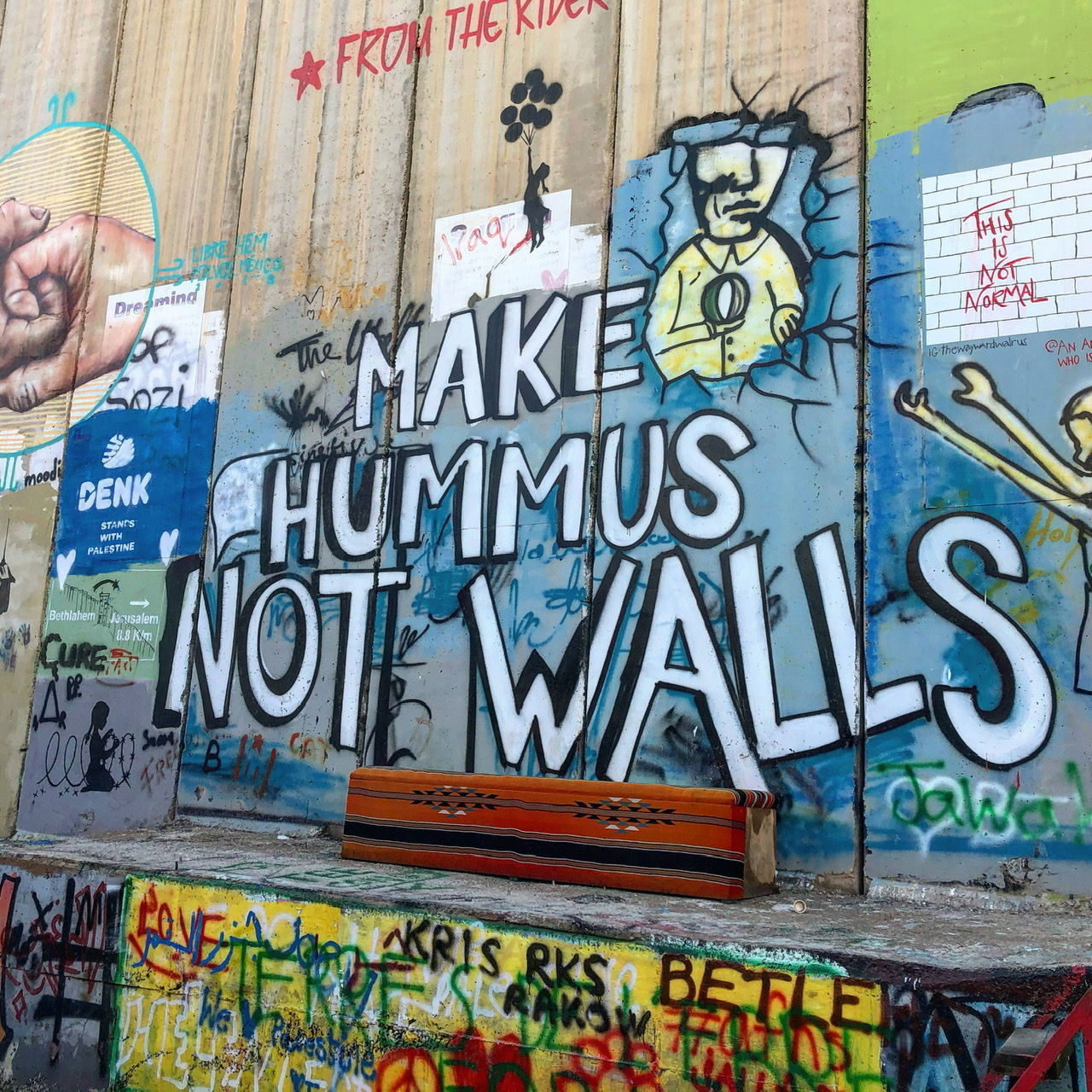 Preach.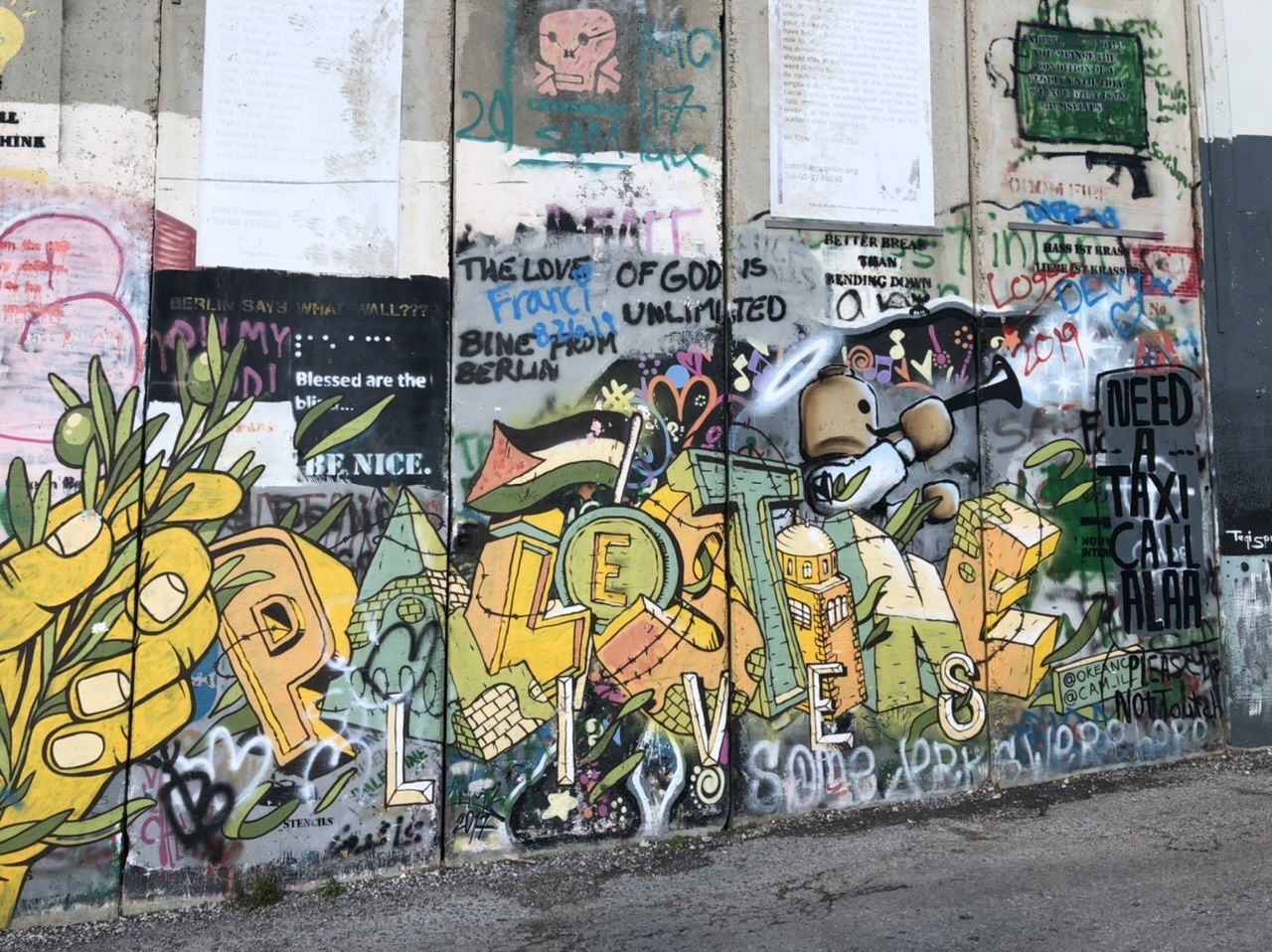 The love of god is unlimited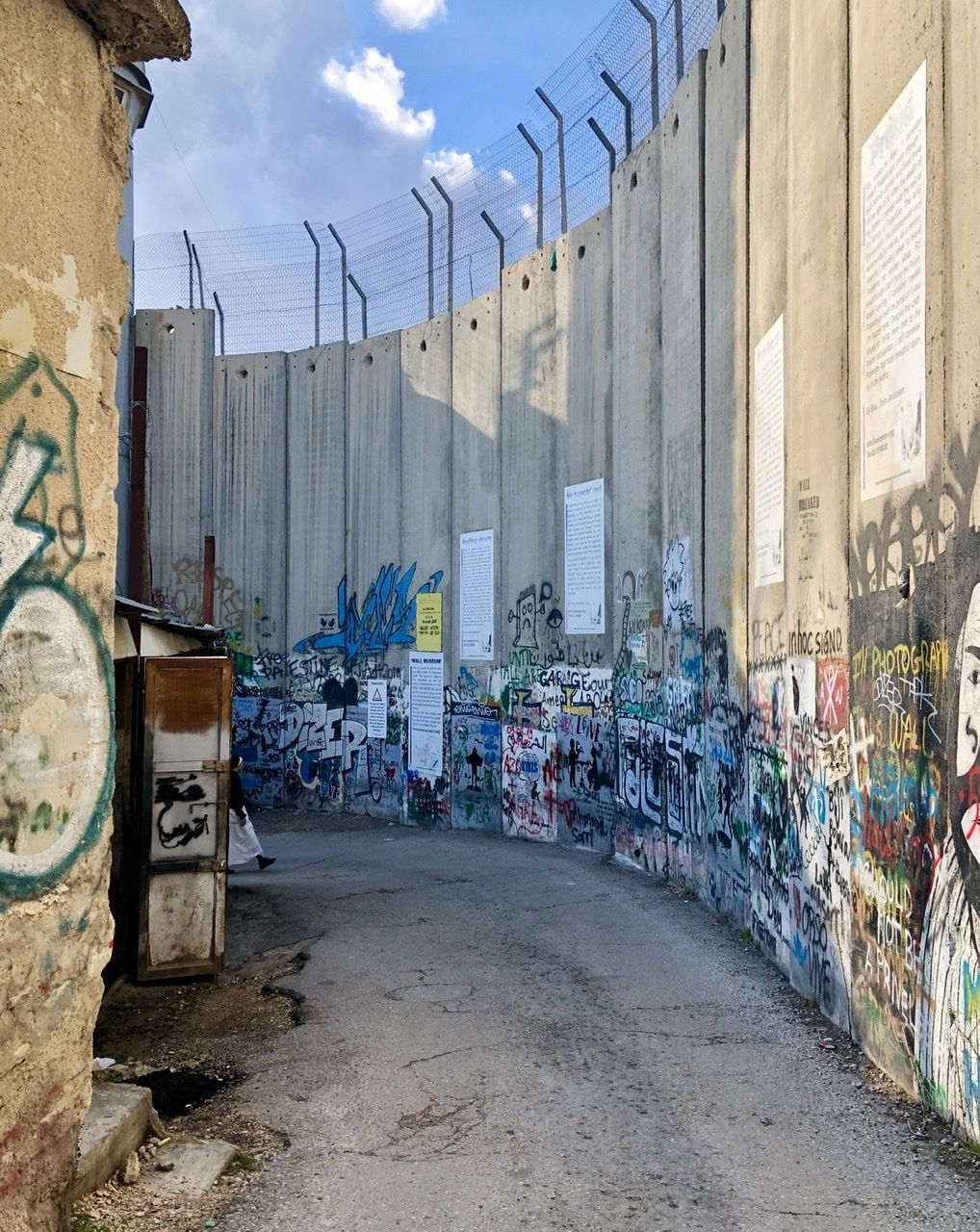 There's a boulevard of broken dreams for you.
Peter pointed out how nearly ALL of the writing on the wall was thought-provoking but without malice, strong but not vulgar and peace promoting rather than vengeful.
Another cool thing we did was to visit The Israel Museum with our niece. There was so much to see. The place is just enormous with at least 4 major revolving exhibit spaces, films, educational groups and a permanent collection of objects and art that is astounding. If you just visit the sculpture garden outside, it is worth it.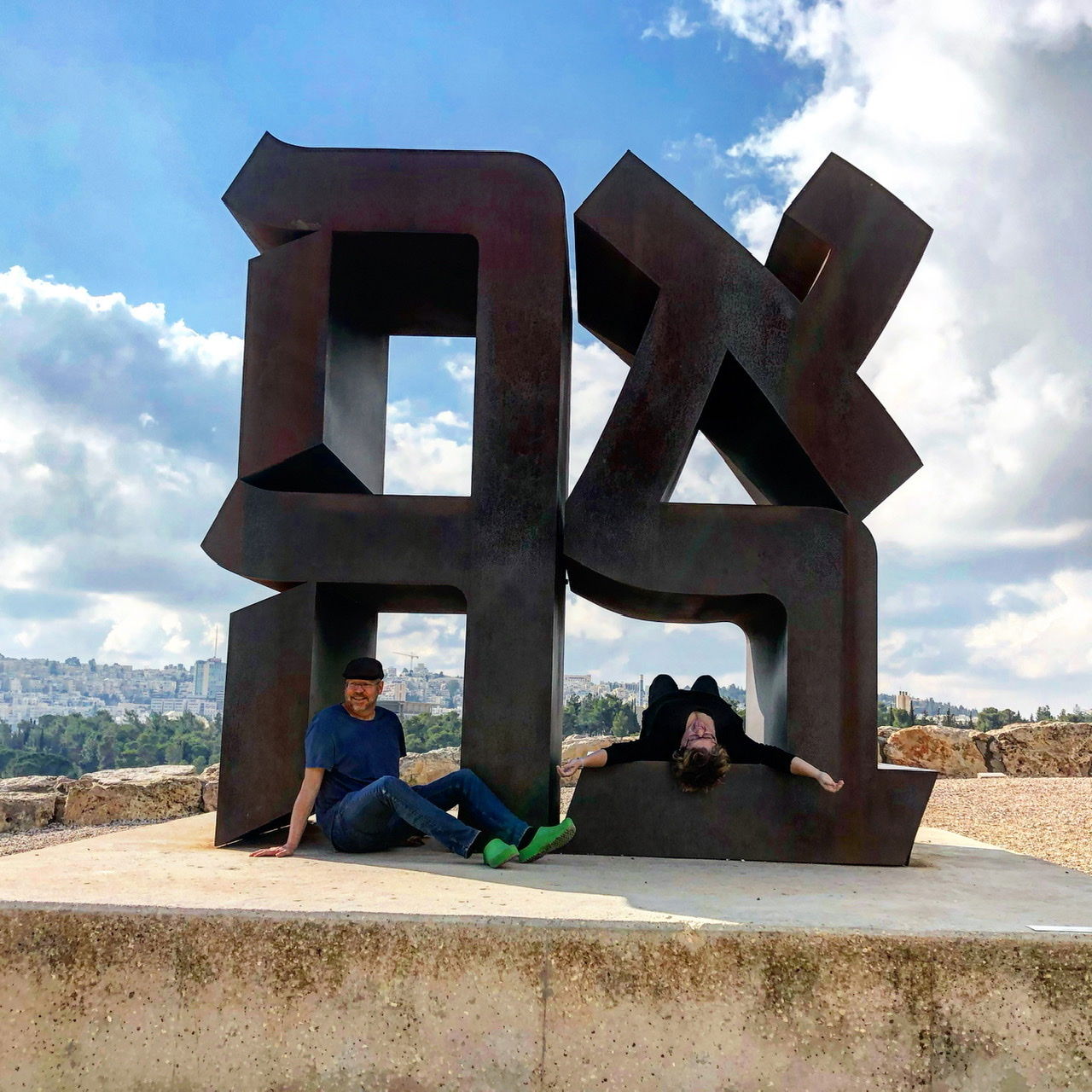 LOVE in Hebrew
And of course there is the building that houses the Dead Sea Scrolls. Yes, history geeks, this is your moment. It is exquisite.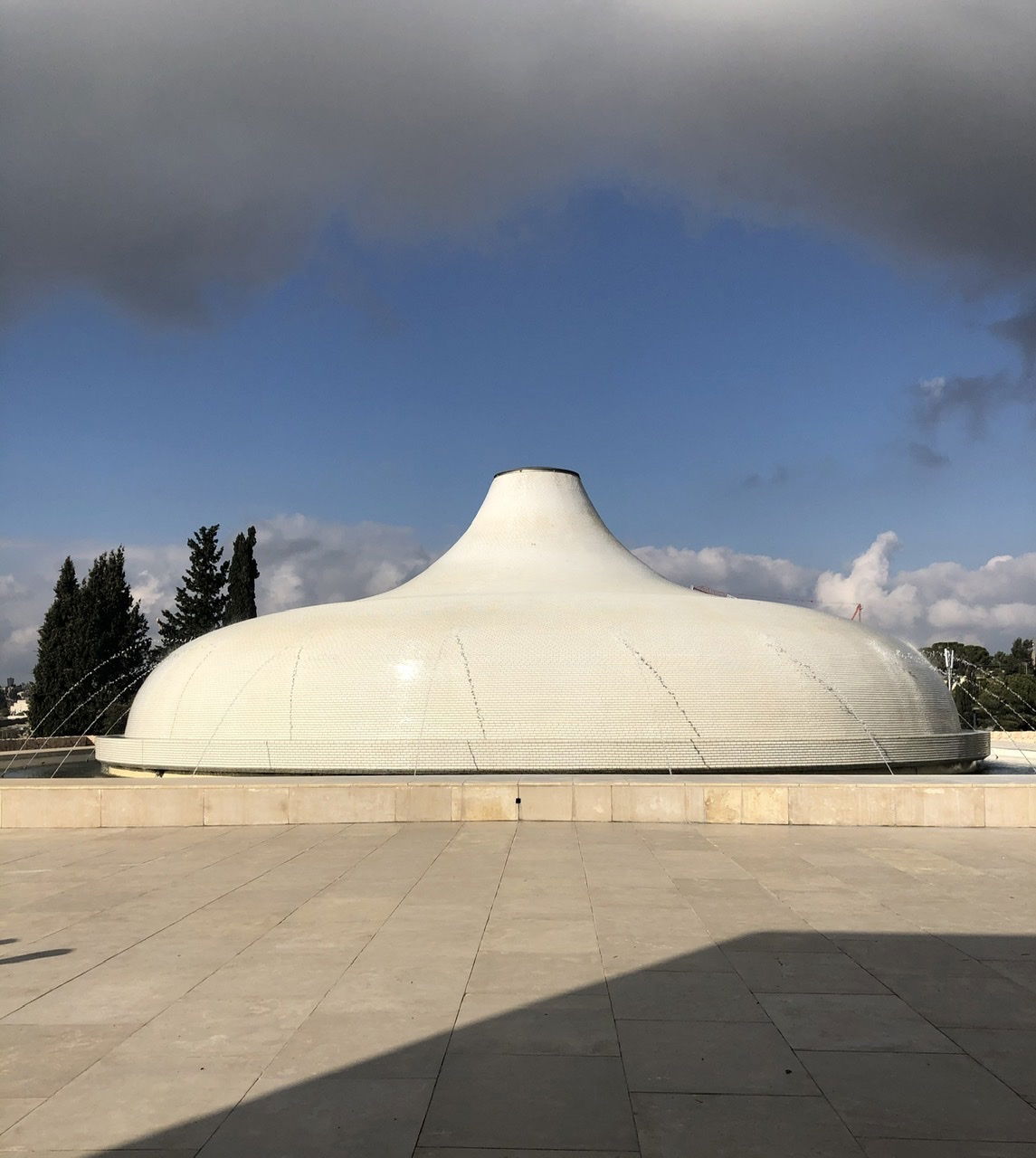 The Shrine of the Book
There are many gift shops, places to sit and relax and so much to see. We enjoyed the archaeological sections (as always) and the paintings.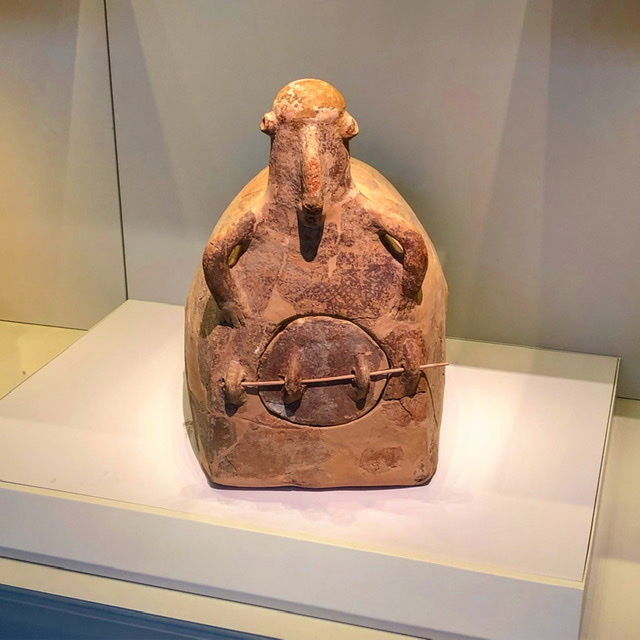 Someone had a sense of humor. I love stuff like this.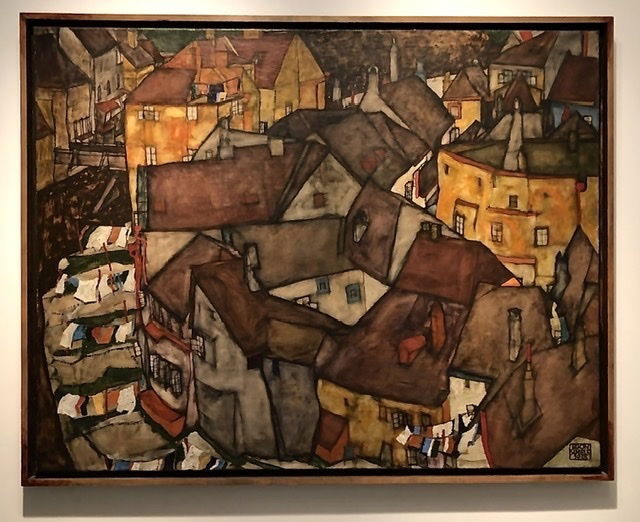 The beautiful Crescent of Houses by Egon Schiele, some of whose works were recently (2016) restored to their rightful owners - heirs of Holocaust victims.

There was an interesting modern exhibit as well, that resonated with me, at least. I had a chuckle when I saw it. But if you are quiet, you realize that the sound of a woman breathing is playing in the background.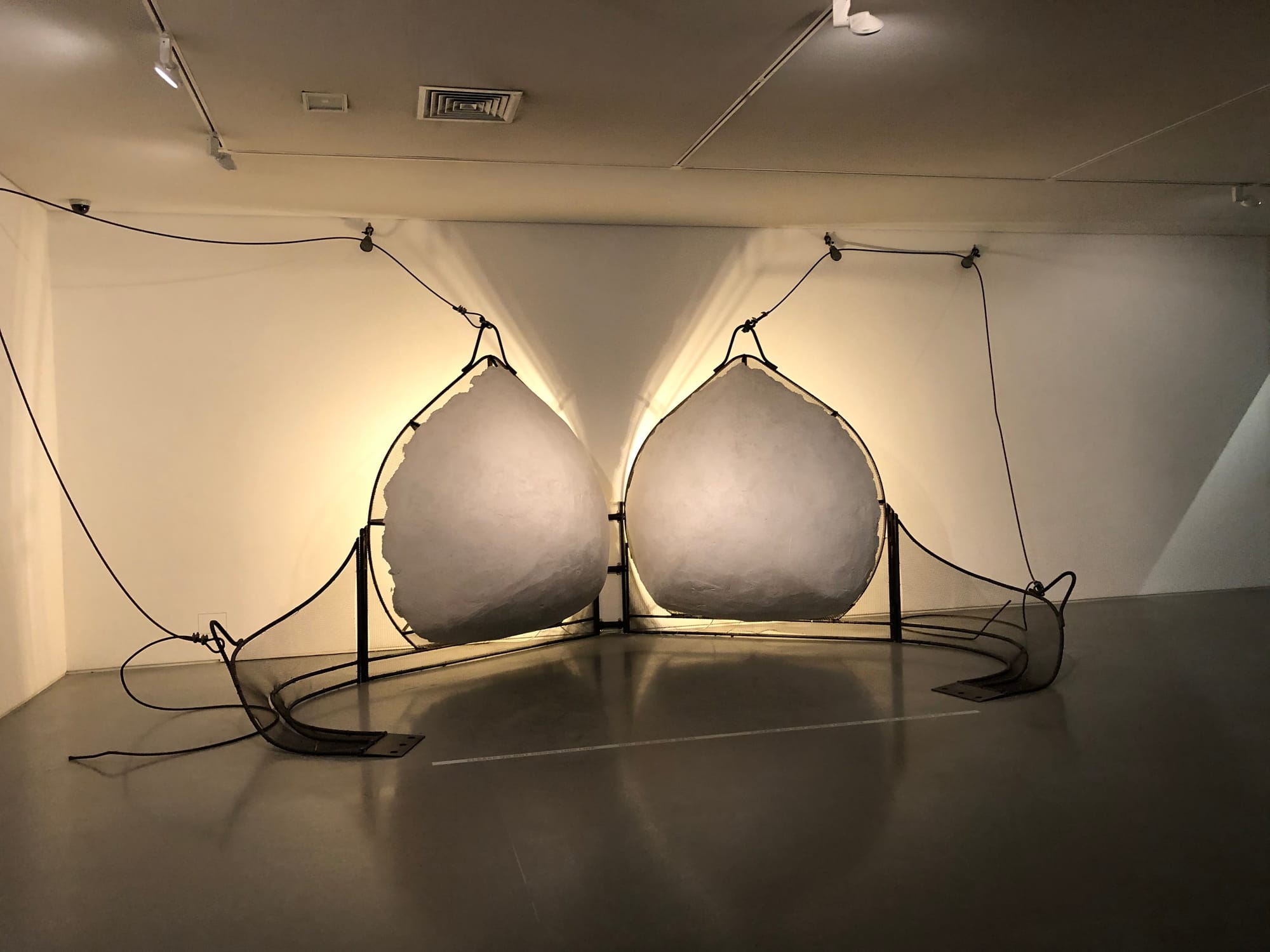 While we were at the museum we got to talk with our niece about her future plans. She is in a one year preparatory experience where she is living in community in Tel Aviv doing social justice work while taking classes to prepare her for her two year mandatory stint in the Israeli army. She is excited to hopefully be placed in a division that counsels young soldiers that come from difficult backgrounds. We just found out this week that she got her first choice placement!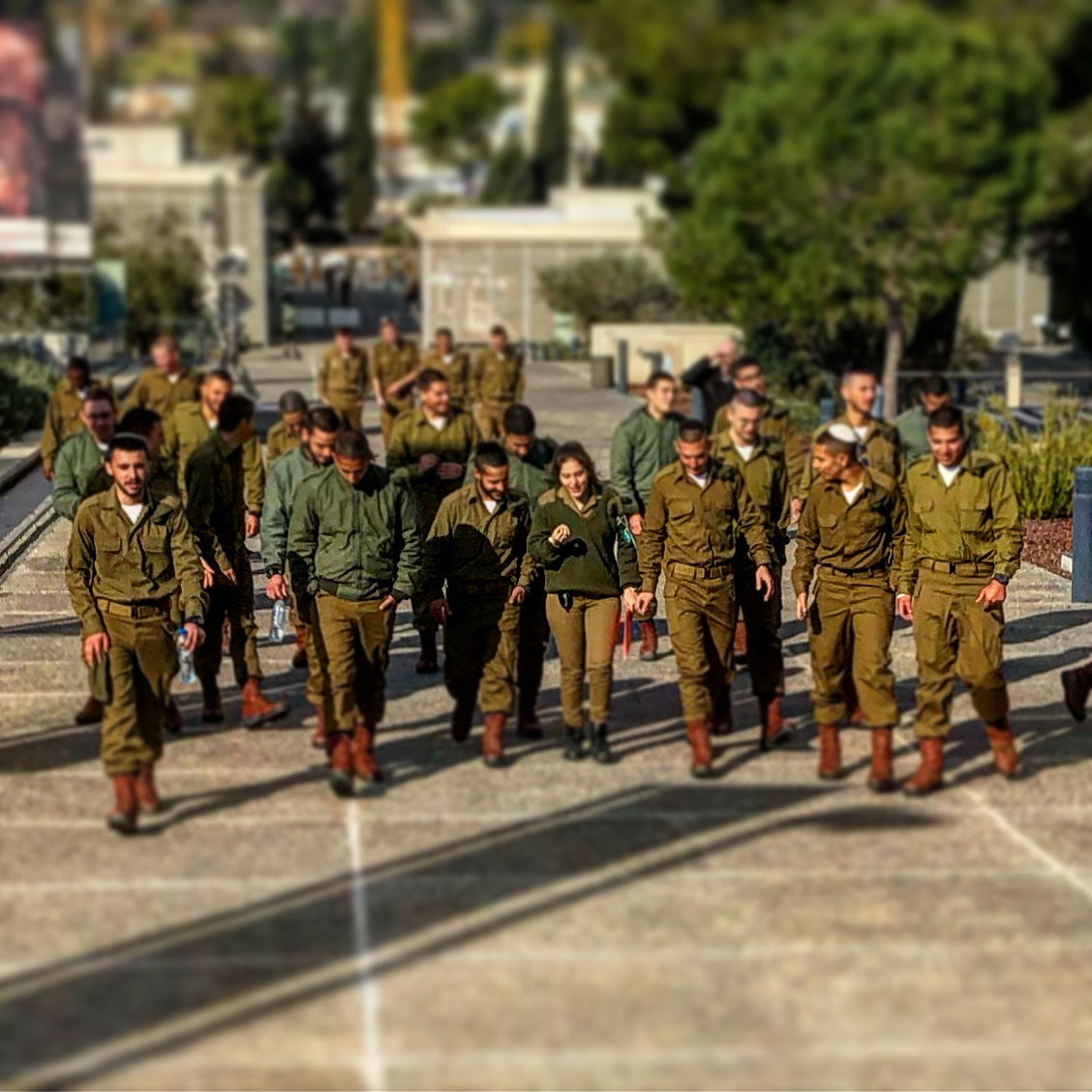 There were about 500 young soldiers visiting the Israel Museum on the same day we did.
Another interesting museum near the Israel Museum is Biblelands Museum. This place tells more of a story about the land known as Israel and focuses on its history as the land of the Jews - as the land promised to the people who wandered the desert with Moses. As we had just been in Jordan, we saw a very different side to the history that we had been presented just across the border. Biblelands museum was another one of those paradoxical places you experience so often in Israel.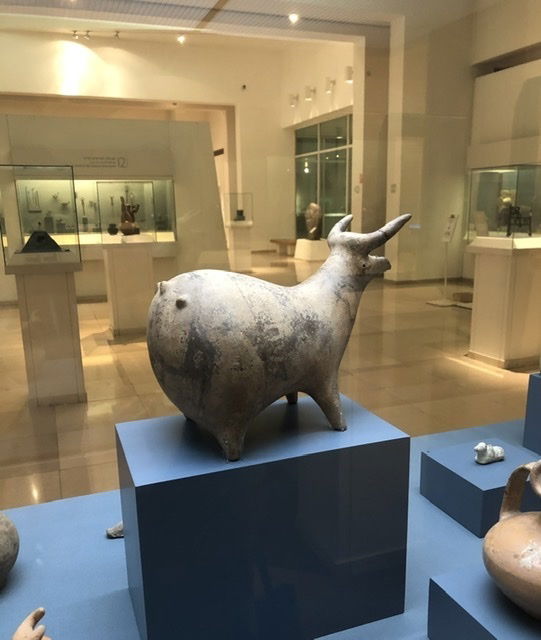 I mean, how often do you get to see a three thousand year old bull with an enormous tush?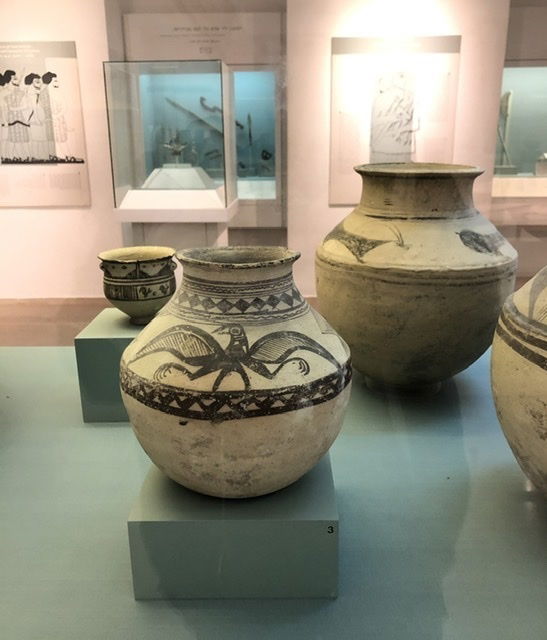 Some say old pots are boring. This one was not. It looks like a character in my neverending stream of YA vampire novels.
It was technologically fascinating (you can hold your phone up to an exhibit and the rest of the object or ruin gets reconstructed virtually with a spoken interpretation!) but the roof leaked. There was a very limited and depressing cafe cart but it was the best (seriously) coffee we ever had with the most friendly older gentleman making it for us with a little foamy heart on top and free biscuits. The exhibits were really cool but some were just...missing. Like empty boxes and no explanation for why they were gone. But it is worth a visit. If you buy the ticket in conjunction with the Israel Museum across the street you save a few shekels. An it is easily accessible via bus number 14.
As mentioned previously, there are lots of topics to discuss at the dinner table and many opportunities to learn about modern Israel. We had just such an experience as witnesses to a protest.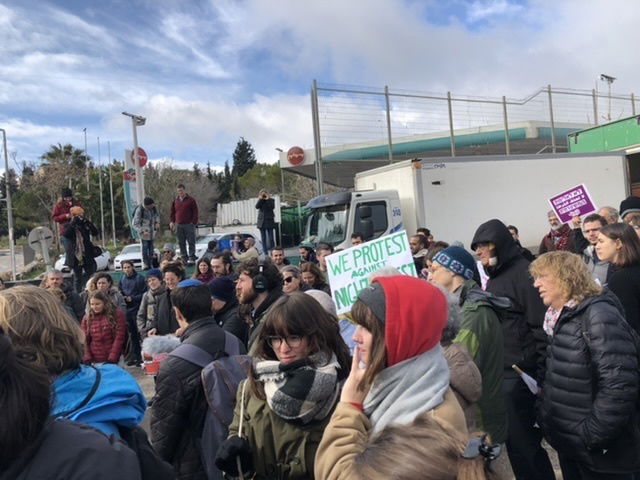 There were interpreters who told us what the speakers were saying.
We gathered with some folks at a gas station in a neighborhood where there has been some violence and displacement of families and heard some speeches and walked down the main street while the organizers sang and waved signs. We felt relatively safe.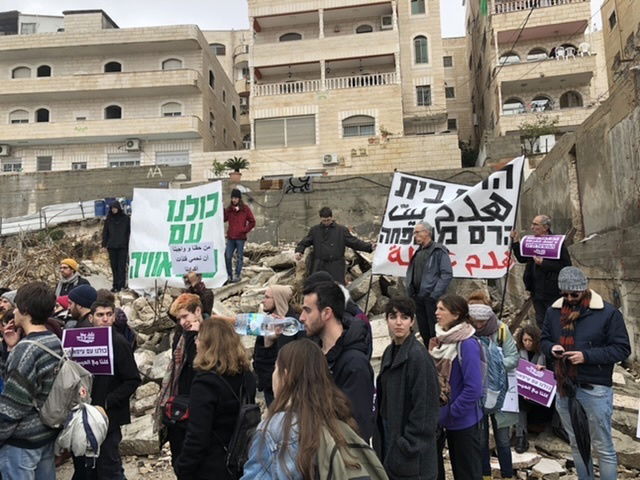 Protesters standing on the rubble of a home.
We saw houses that had been leveled in retribution for we weren't sure exactly what and we heard from the families of children and men who had been beaten, shot or arrested for ostensibly disturbing the peace. After the march we took the bus back up to the gas station and left.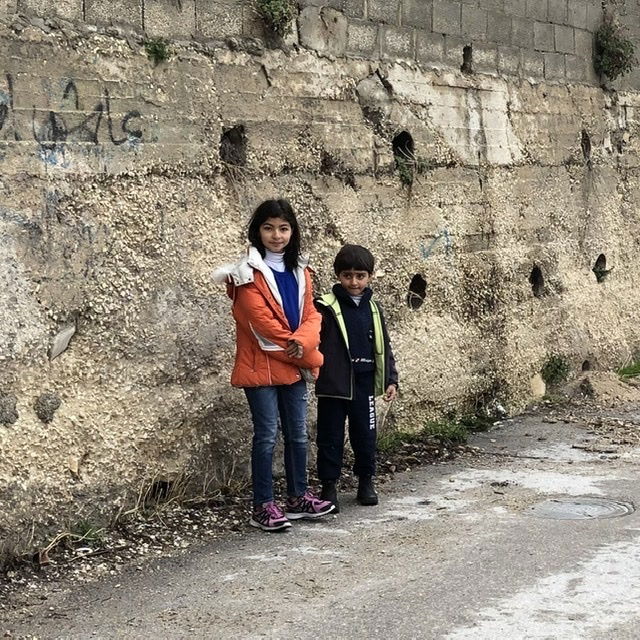 These kids came down the street to watch. They don't look too dangerous now do they?
What we learned was that young people who are out after dark and look at a police officer or throw a rock at a fence might get arrested, forcefully. We learned that when people who are not Jewish are arrested there is almost no attempt at due process. There is little legal representation and often people languish in jail for weeks. Appeals and evidence get overlooked and physical abuse by police is not uncommon. We acknowledge that these people are living on the volatile border between Palestine and Israel and that border is very fluid but never flows in favor of Palestinians.
Peter and I spent a couple of days in Tel Aviv. We went on our own to see the city and sample its famed vegan food. It was easy to take the bus from Jerusalem to the Central Bus Station and then take local buses around the city.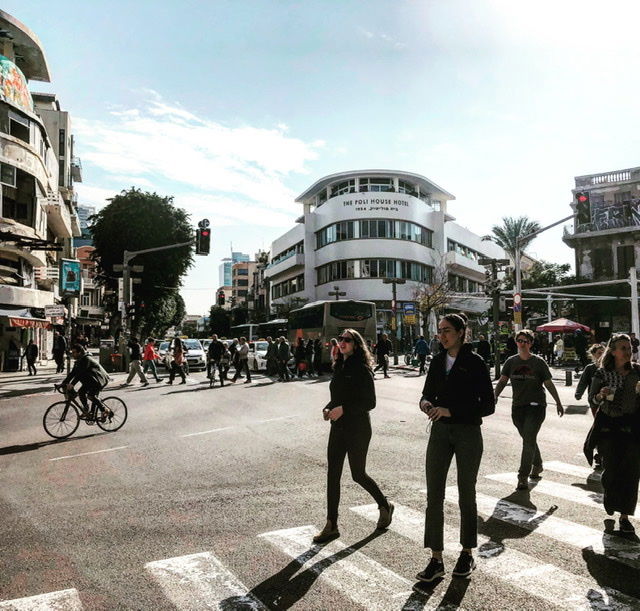 Bustling Tel Aviv
We checked out the Jaffo area with its shops and art boutiques and we shopped for shoes along King George Street. After making conversation and trying on a few pairs I discovered that they didn't have the color in the size I wanted, which prompted The Biggest Guilt Trip Ever. I kid you not, I am responsible for the ensuing poverty of an entire clan of shoemakers. They were all handmade shoes - very cute - and I was told, (with a shaking fist!) that I had misled them with my passion and interest. Willfully! Peter and I were in hysterics by the time we got to Goodness - the vegan cafe that was our final destination.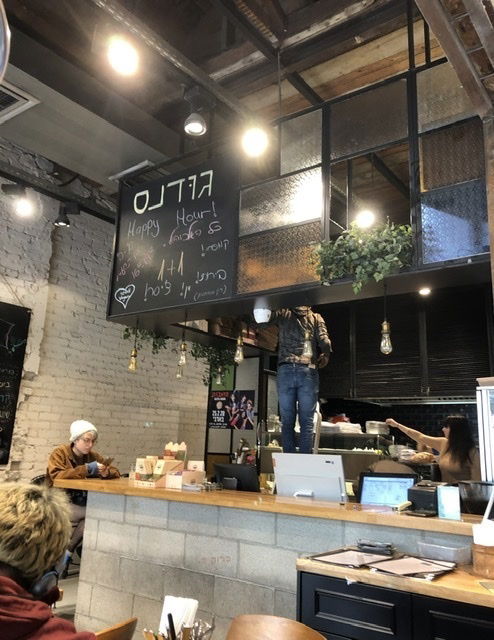 Everyone spoke perfect English
Tel Aviv is the #1 city in the world for vegan food. We were surprised to hear it but thrilled as well after two weeks in Jordan eating nothing but hummus and eggplant and two weeks in Germany fending off delicious homemade dishes featuring bechamel sauce and quark.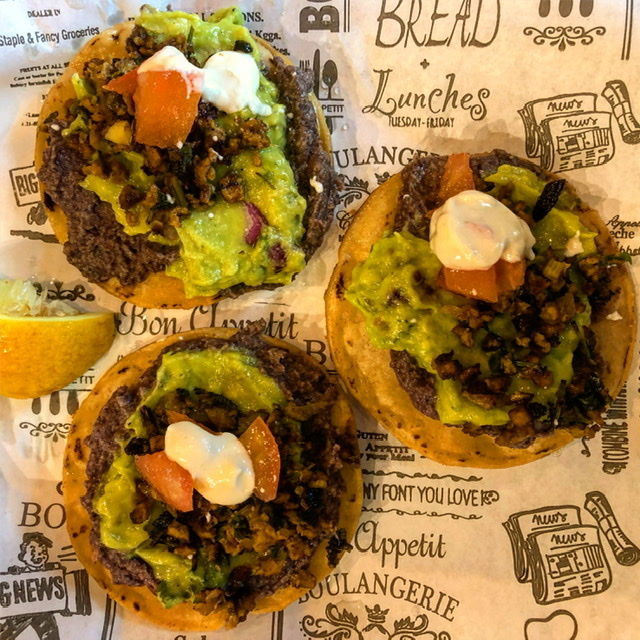 The tacos were fantastic.
We got tacos, a burger and some delicious vegan chocolate bars to go. Then we walked through the Levinsky Market area and Florentin for the hipster vibe it is famous for. It was a colorful and welcoming place where I would live if I were 23, had blue dreadlocks and loved caffeine.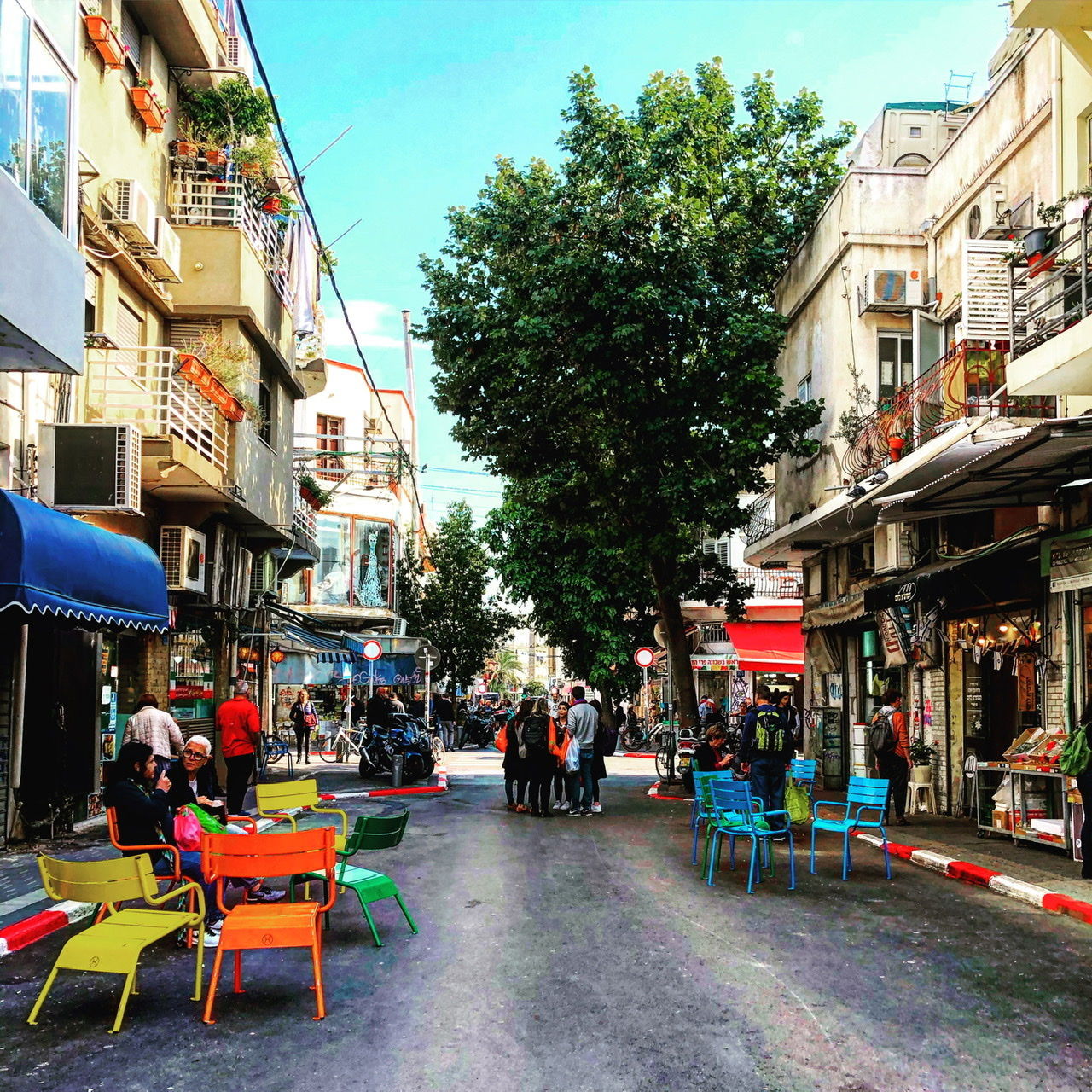 After our fun day in Tel Aviv we went to volunteer at Kuchinate. Kuchinate is an outreach that serves the community of African asylum-seeking women, many of them mothers, by providing counseling, advocacy and a platform to share their culture and market their products.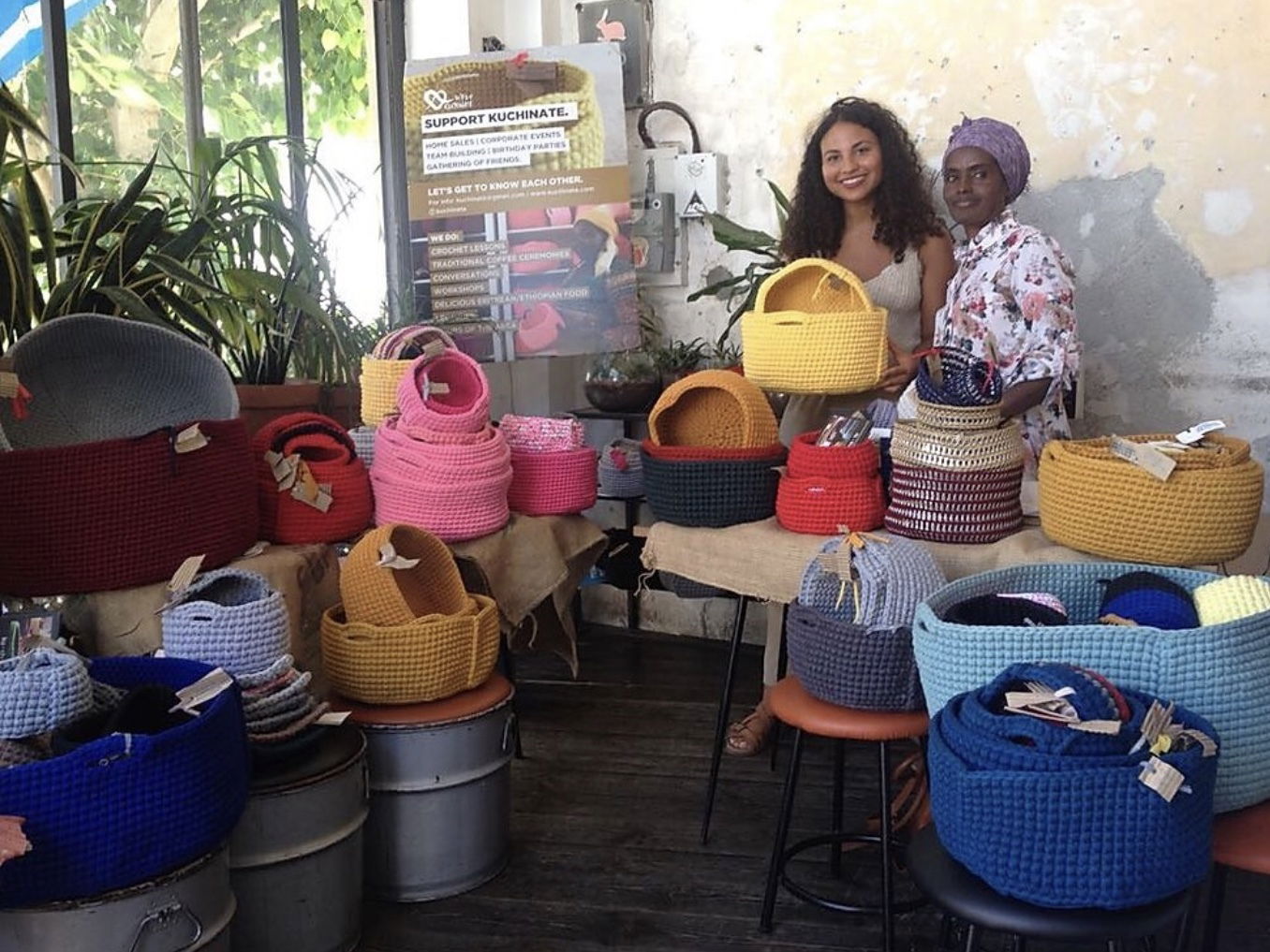 This is a photo from their website.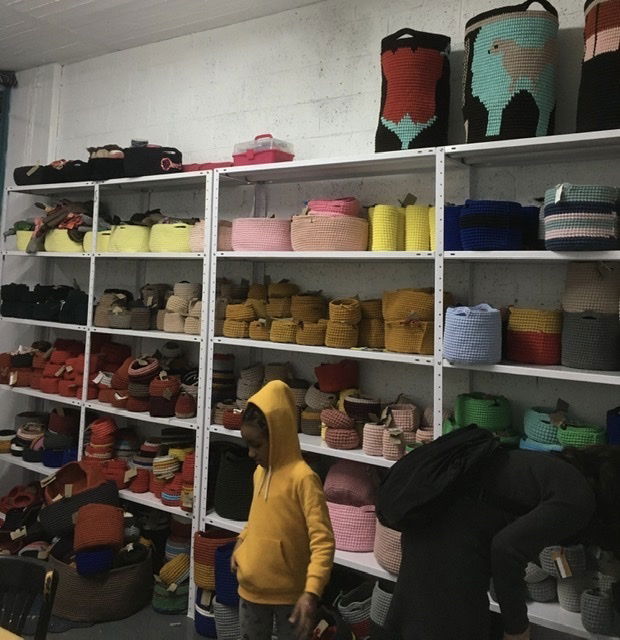 These are the baskets they make. We brought some home with us...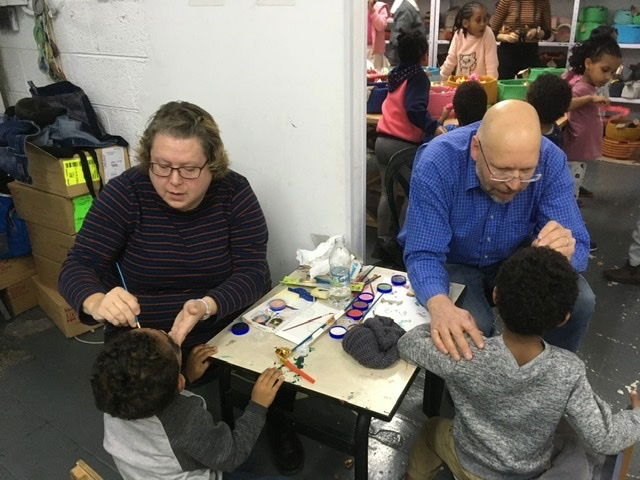 We volunteered to paint faces. What a blast!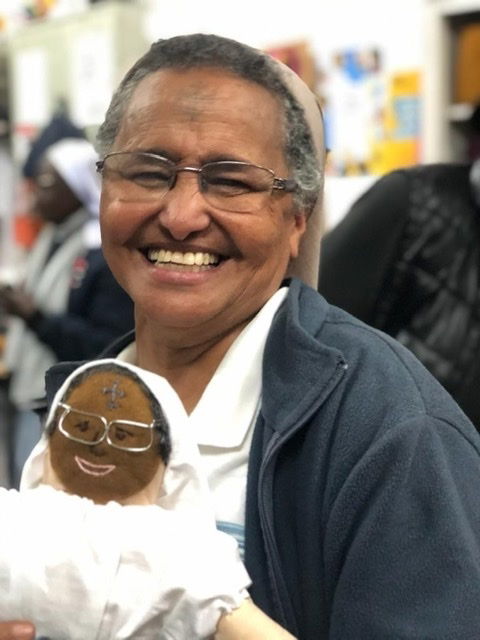 This is Sister Azizet. She is holding a doll made in her honor! She made me eat a lot of starches because I was face painting on an empty stomach.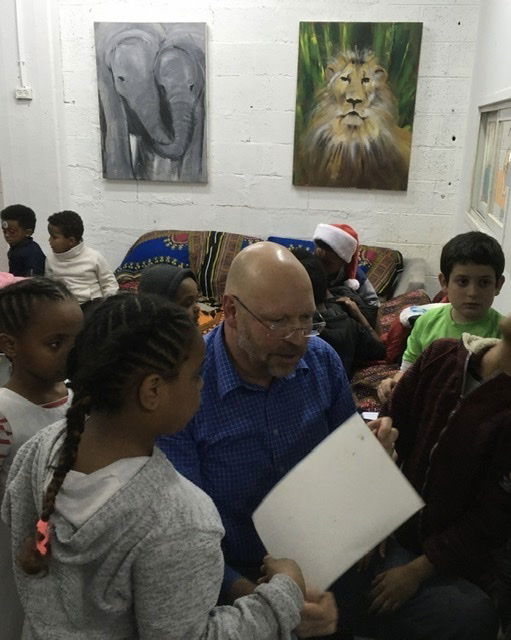 Here Peter is making paper airplanes and other crafts with the kids under the watchful eye of the Lion of Judah.
We had such a fun night. It was chaotic and loud and friendly. We were outsiders but got to know the kids really quickly. Everyone spoke Hebrew and some of the kids spoke English and translated. One of the things Peter and I wanted to do on our sabbatical year was volunteer. What we found was that it is hard to show up somewhere and say - "hey! I can help!" when you have no connection to the community. We made that connection by visiting the school in Jerusalem, meeting the nuns who travel to volunteer in Kuchinate, having the skills (face painting) to offer and figuring out how to get to that part of town through our local family members. To be of service, you must make connections and you must come with something to offer that is appropriate. This is one of the reasons we are so excited to get back to the US and become a part of a community again.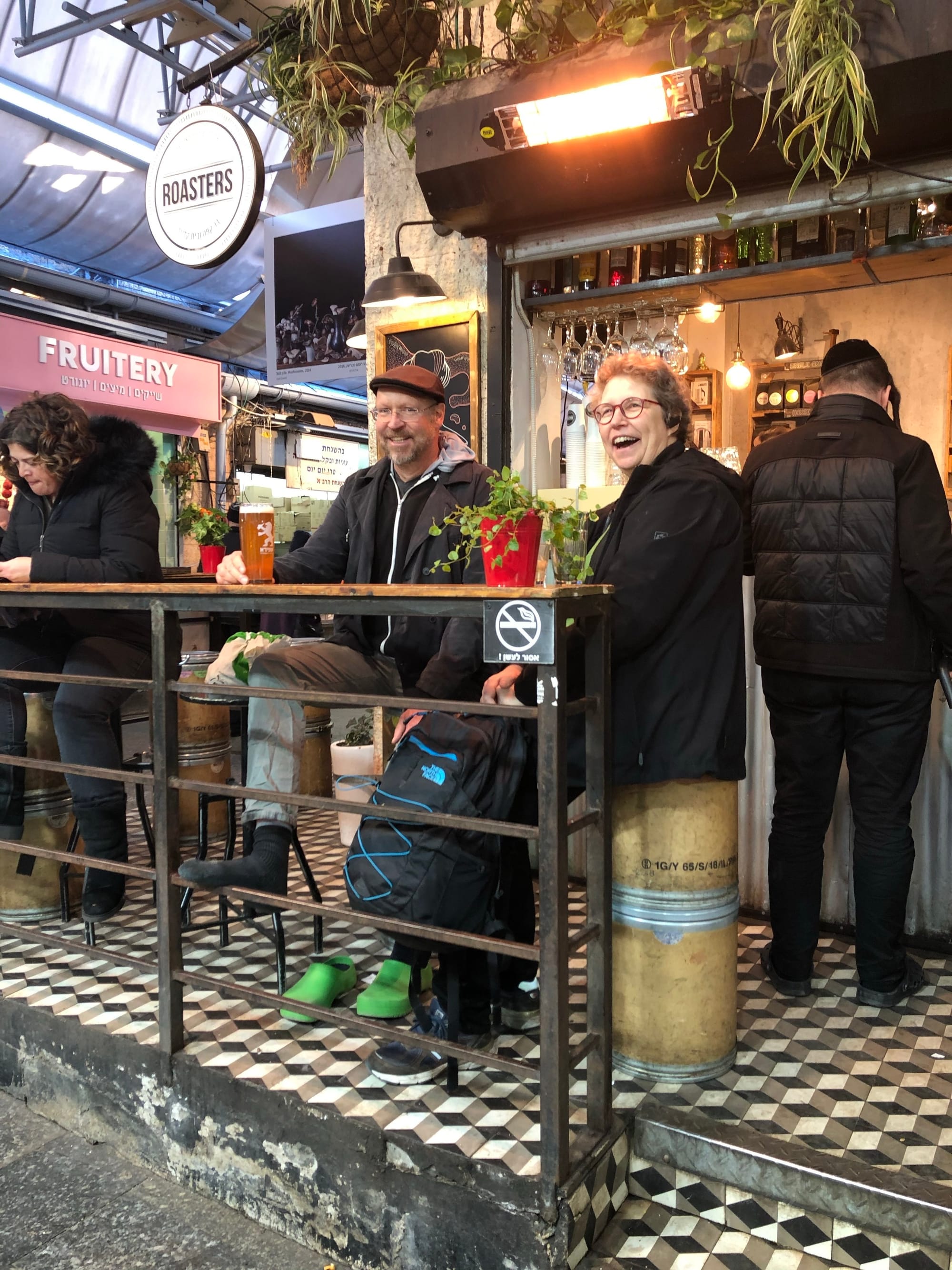 Peter and Bettina enjoyed early morning forays into the open air market in Mahane Yahuda (Which I kept singing to the tune of Hakuna Matada)
We loved spending time with Peter's sister and her family in Israel. They are smart and interesting people and it is never boring at their house. We shopped, went out for meals and hung out at home.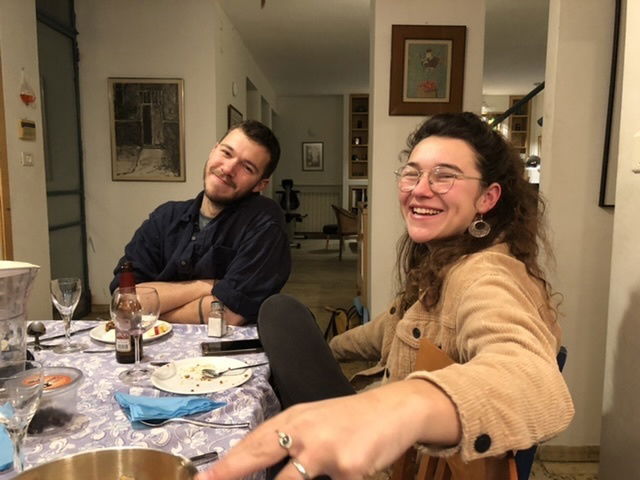 Our niece and nephew. They are lovely.
We also went as a family to visit our niece and see where she is living in Tel Aviv-Jaffo during her pre-military service year. She arranged for us to have brunch together at Anastasia - one of the highest rated vegan restaurants in the highest-rated city in the world for being vegan!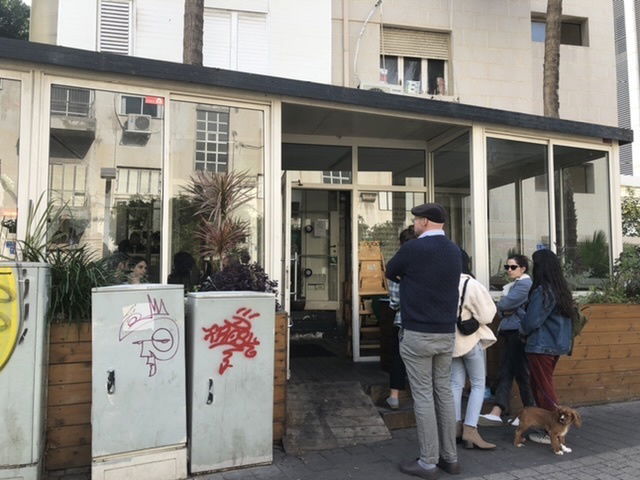 The entrance is not...entrancing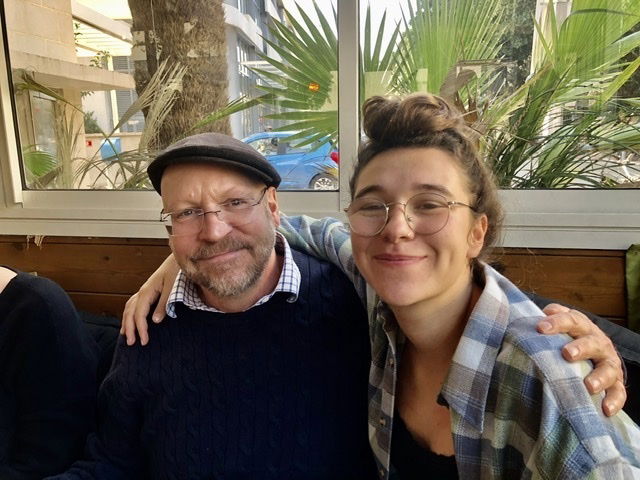 But the company made up for it!
It was very good food. The smoothies were scrumptious and the mushroom pasta dish was well-liked at our table. No one else in the family is vegan so it was very kind of them to take us there. They are simply the gold standard of family members. We felt so welcome. Then we went to the beach for a walk before dropping our niece off at another questionable living area for 18 year olds in Jaffo. Eight people to a 80 square foot (9 square meters) room. Yikes.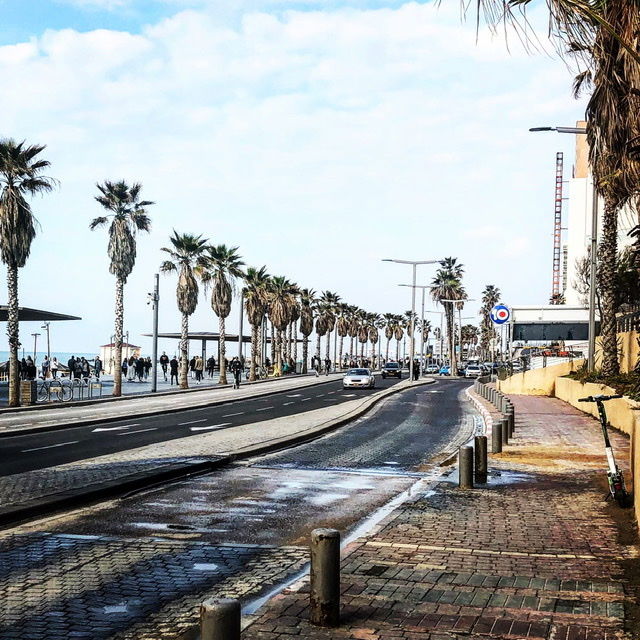 Tel Aviv beach is really nice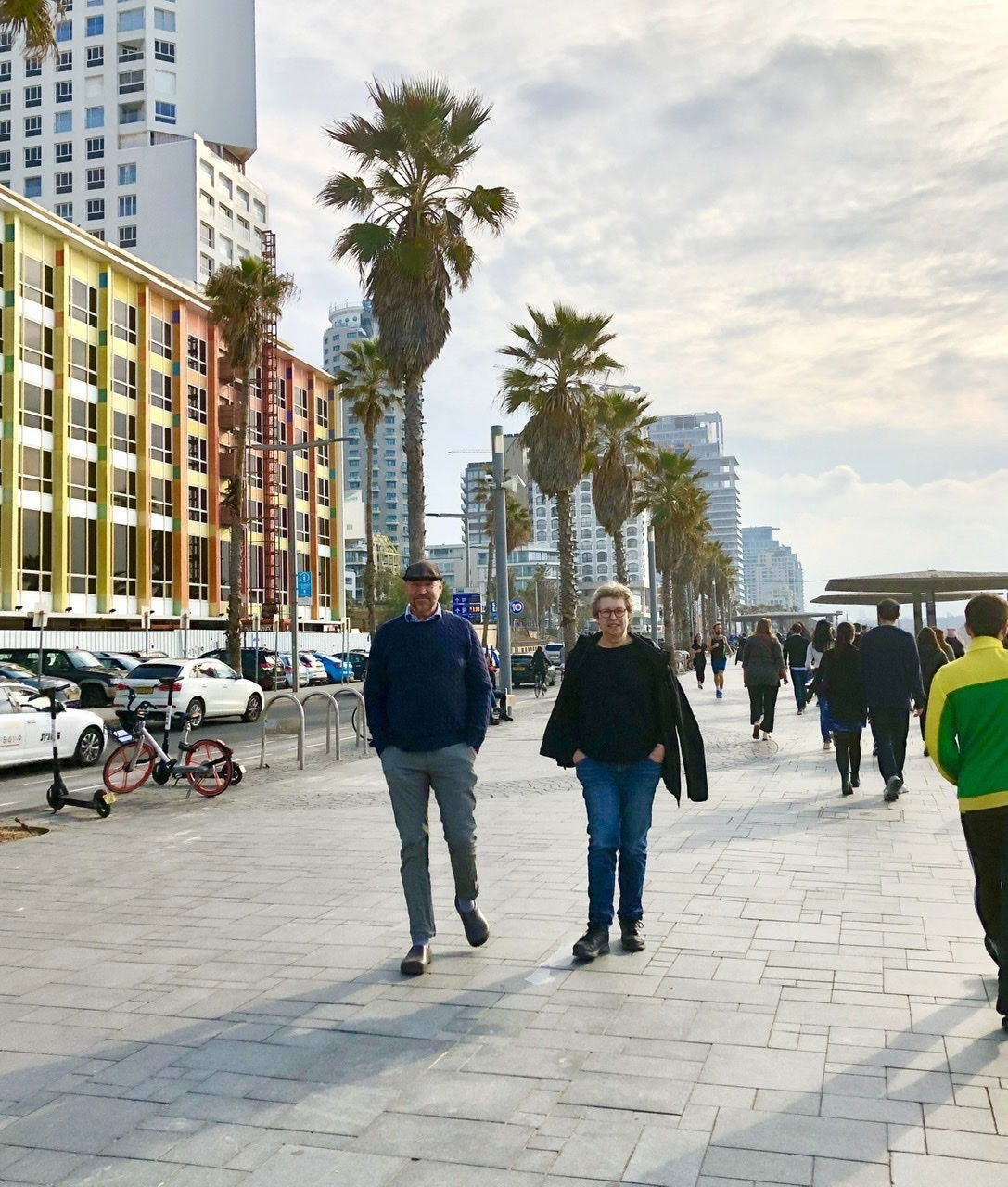 Peter and his sister walked on the promenade.
Another day, we went to the Hamatzleva Monastery, which is surrounded by a pretty park and garden great for walking and biking. The monastery itself was interesting. We had seen quite a few places like this in Jordan and Bulgaria so it was fascinating to see an orthodox church in Israel.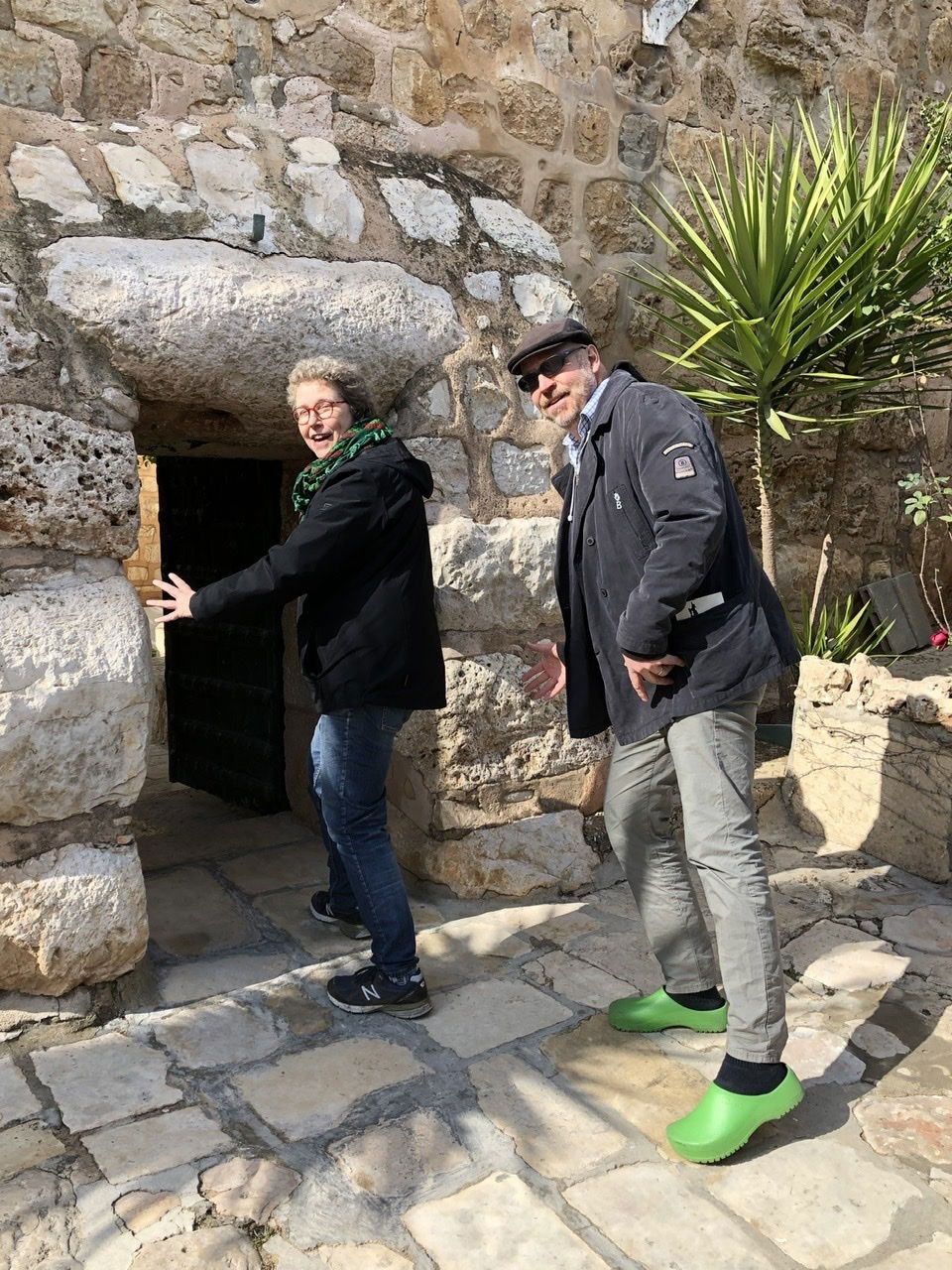 Tall people about to bump their heads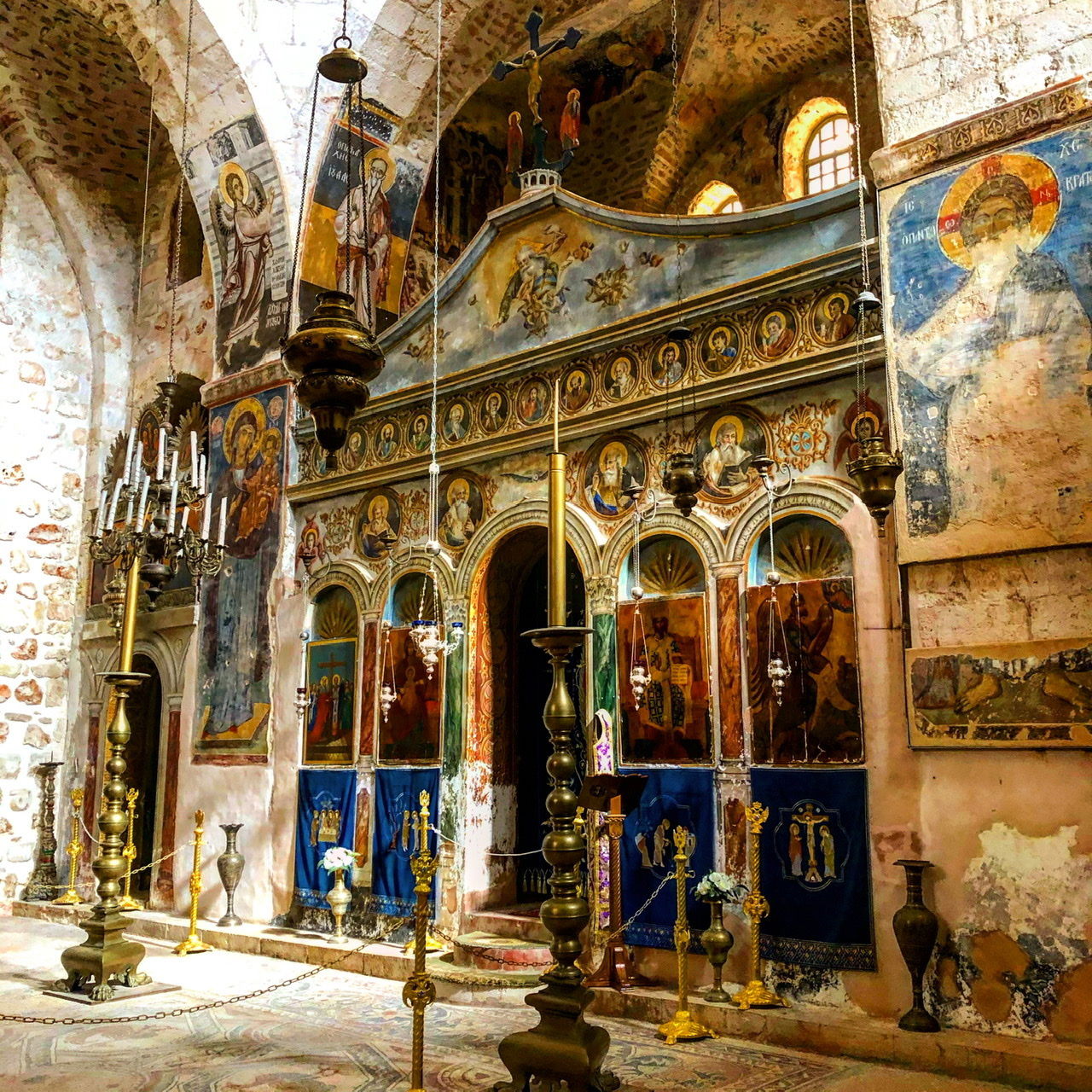 The painted altar screen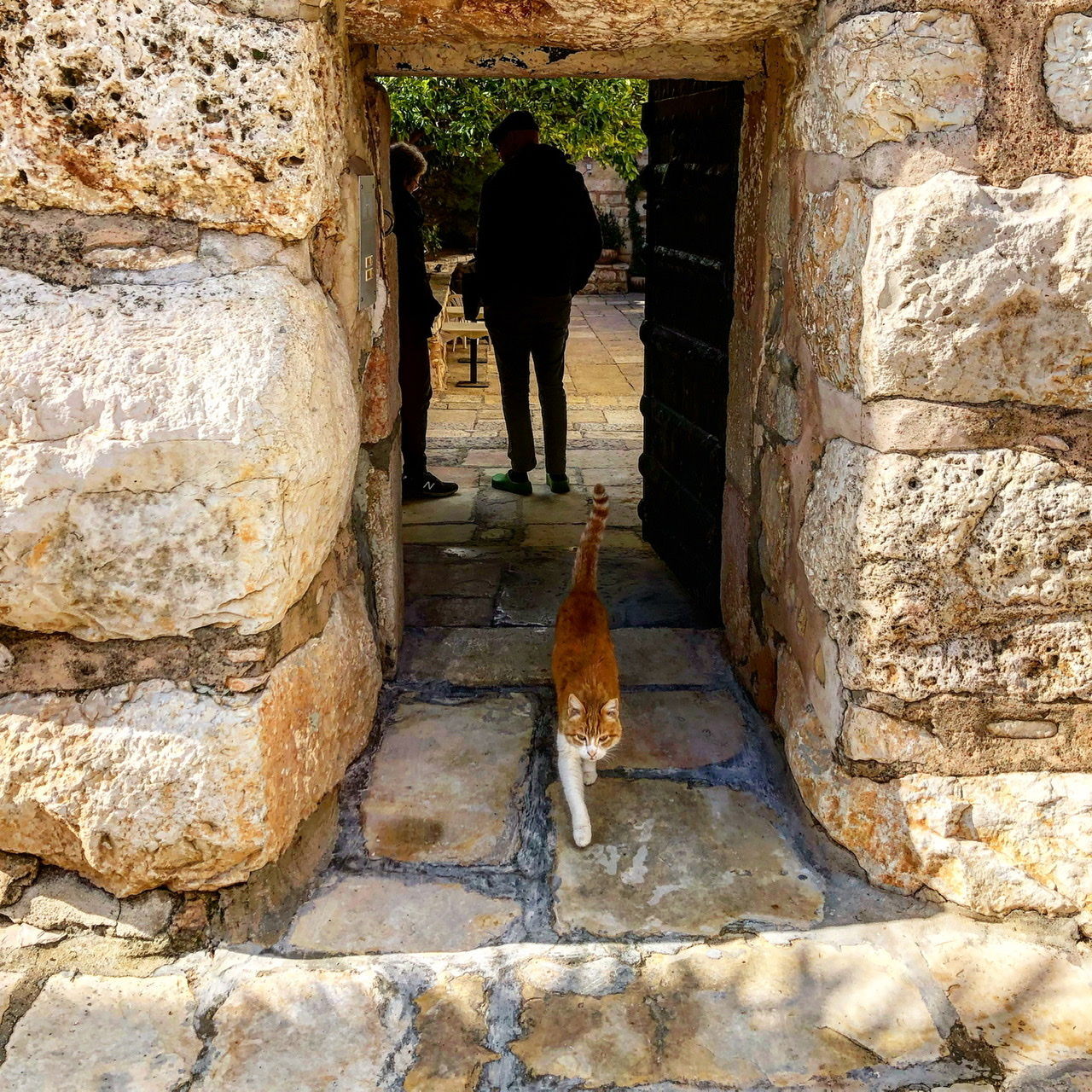 And a cat who thinks she owns the place
Another thing we like to do in Jerusalem is shop the area between Zion Square and Jaffa Gate. There are lots of low prices and independent stores as well as tourist junk places. Mamilla Mall is also fun to stroll along but it is really expensive name brand stuff.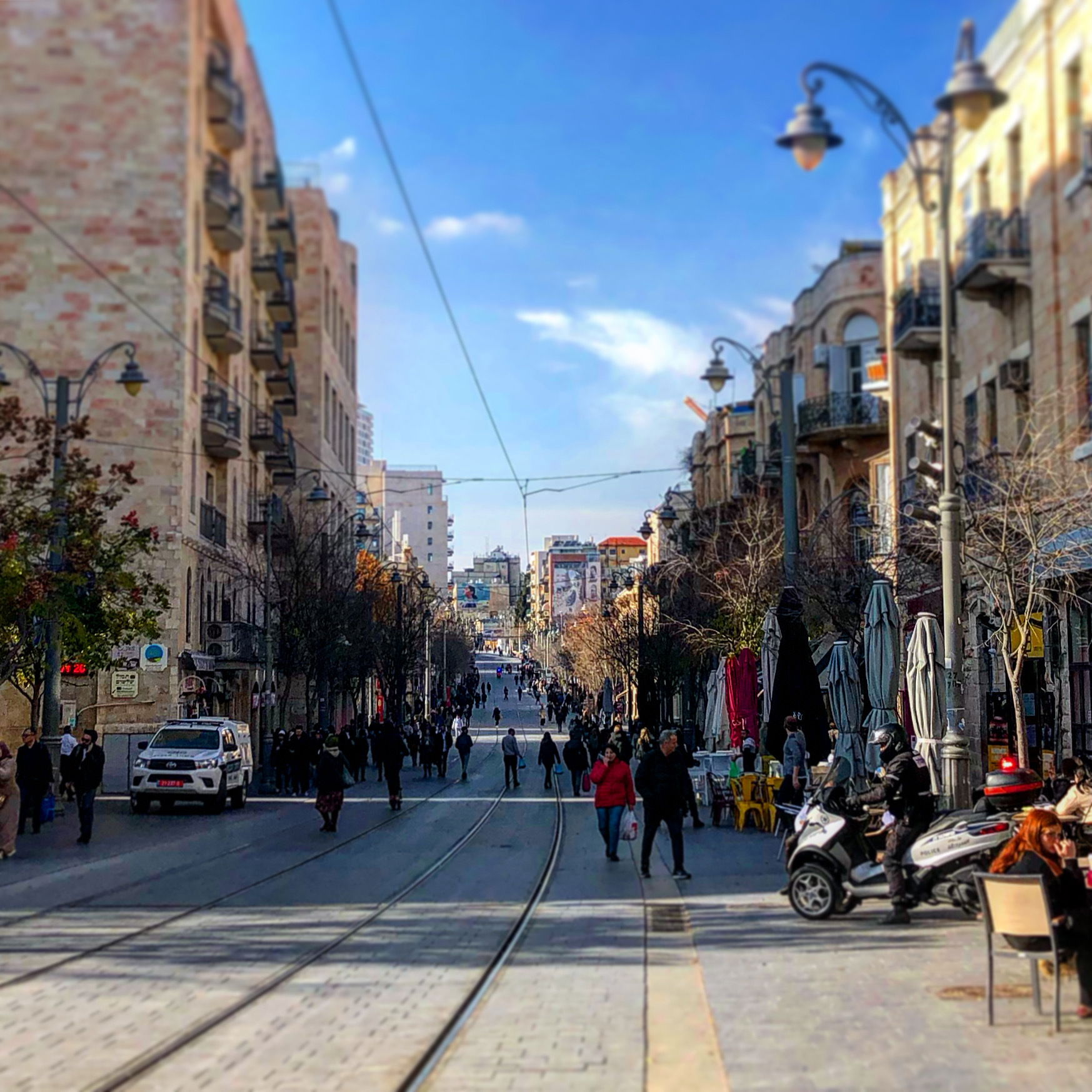 Jaffa Street with its tram line.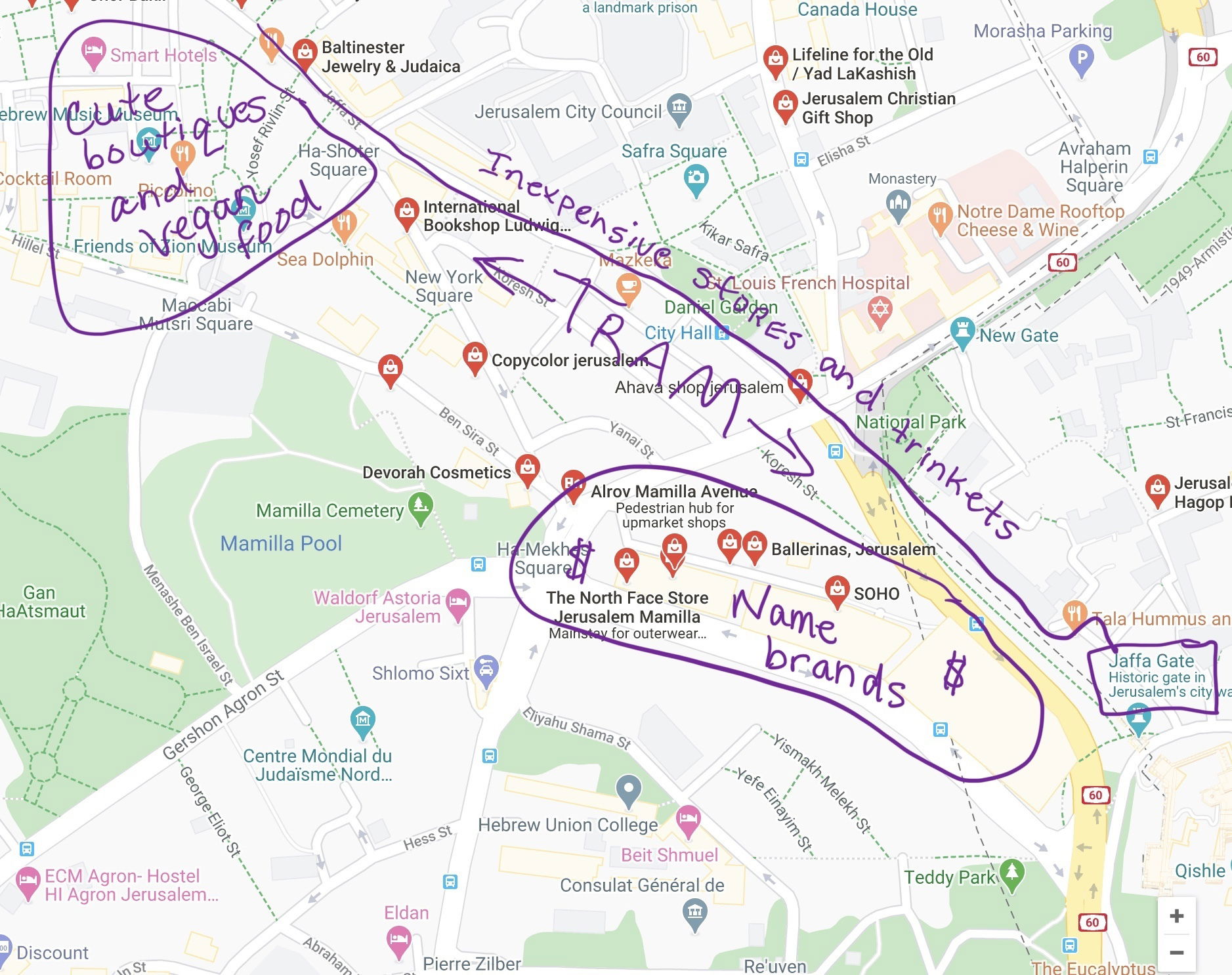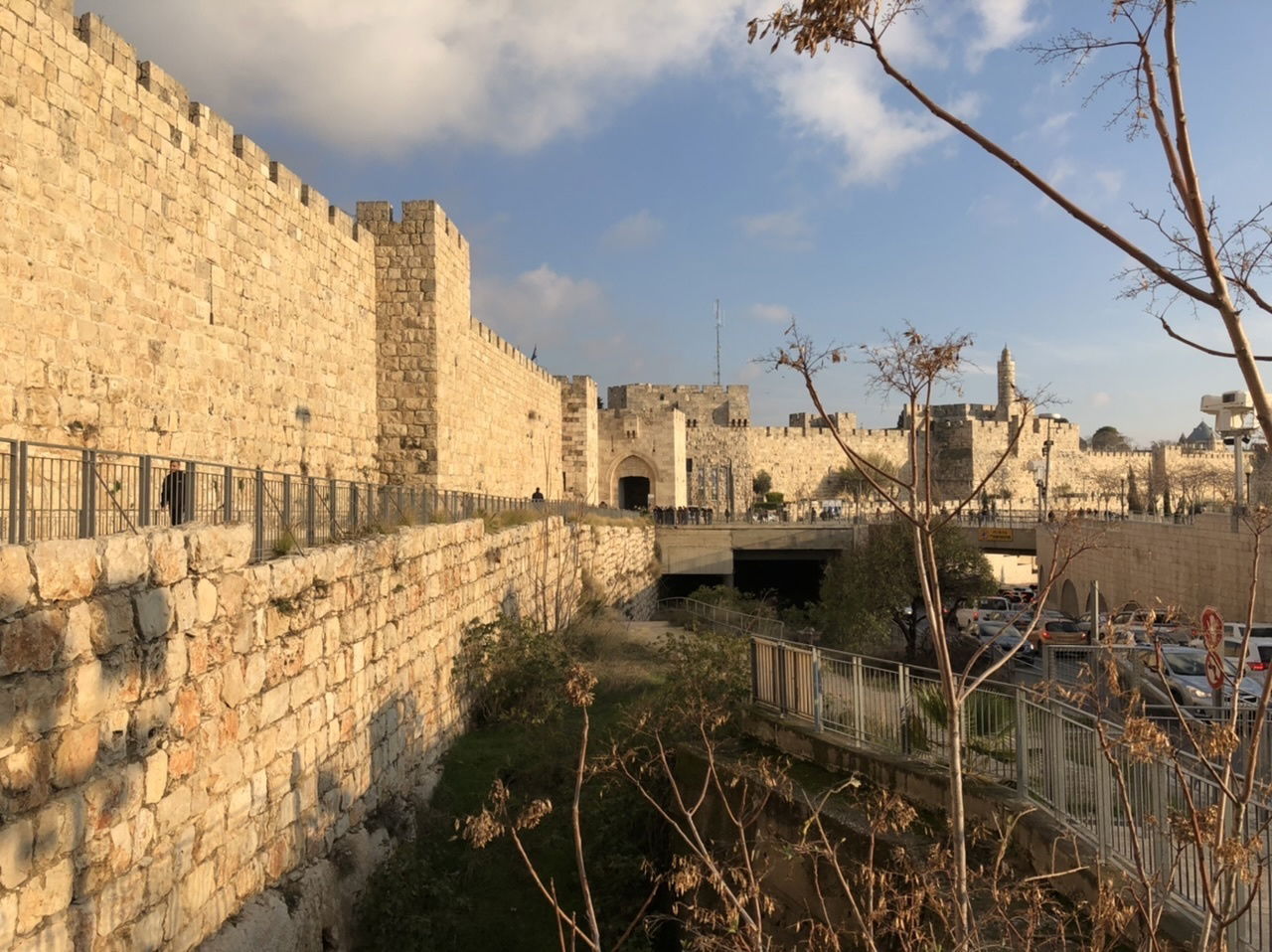 Jaffa GateThe area between Jaffa Street and Hillel is full of boutiques, independent shops and a great vegan place called Village Green.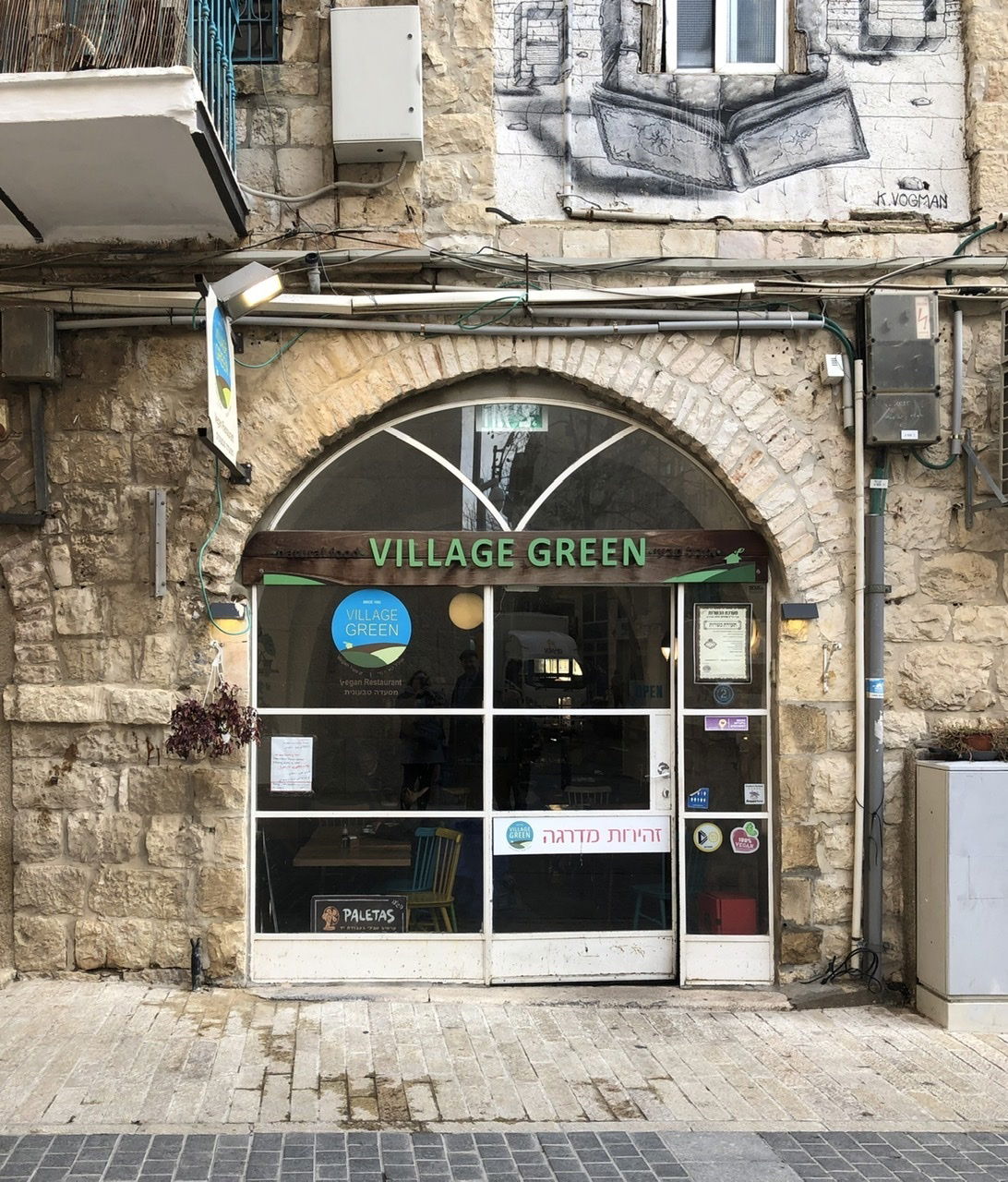 This was our favorite place to eat in Jerusalem. They have buffets, fresh bread and lots of places to sit. People are very blunt and assertive so bring your thick skin.
One new place that we really liked that Peter's sister recommended was Ein Kerem. We could walk there from their house and it was like another world. It is how we imagine Israel was before all the building and urbanization of Jerusalem began. The walk there was through cactus and forest and the town area had bakeries, galleries and more importantly a great gelato place with a vegan option. The church of St. John the Baptist is a bit of a pilgrimage spot there.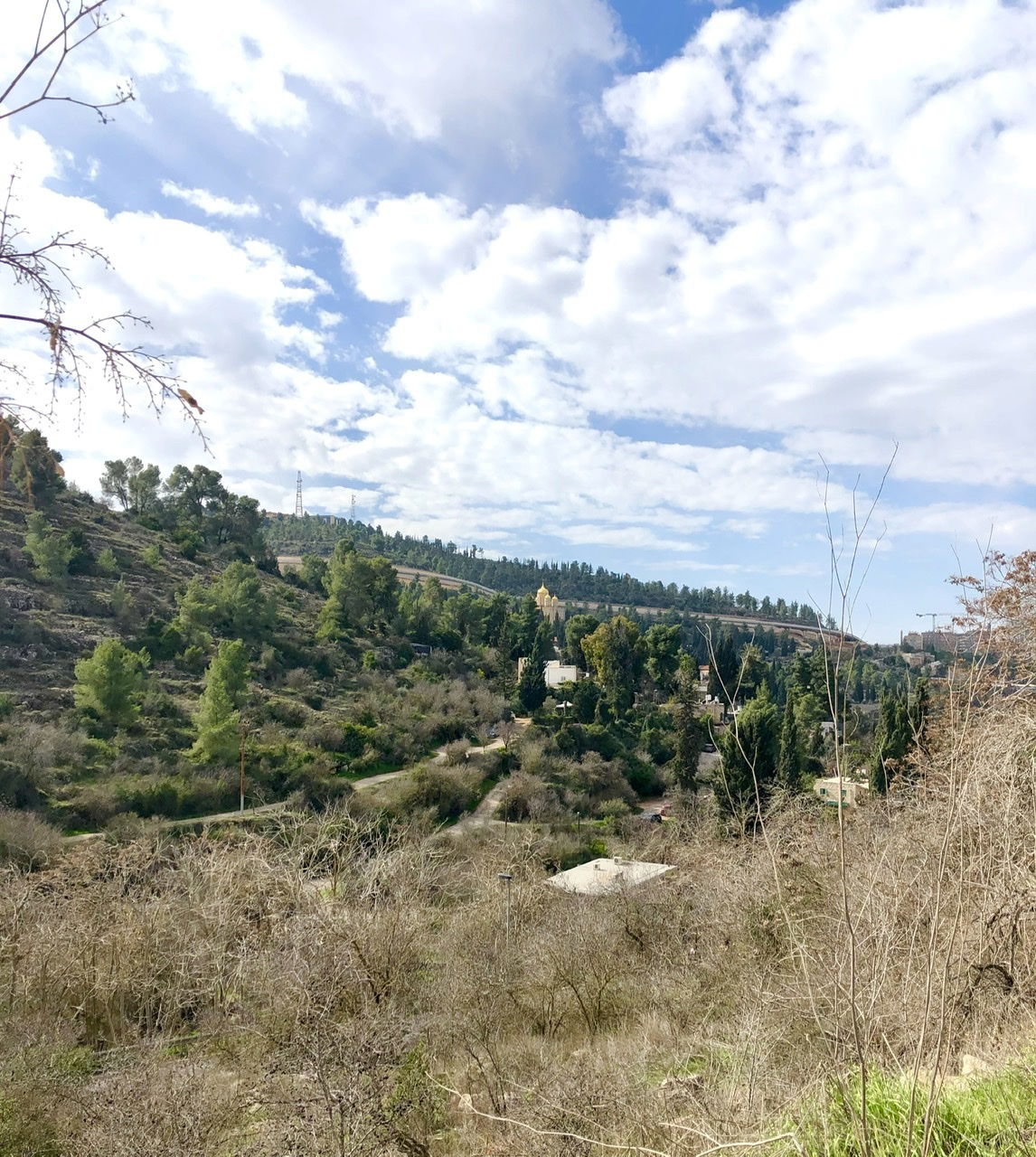 This is right in Jerusalem! Hard to believe.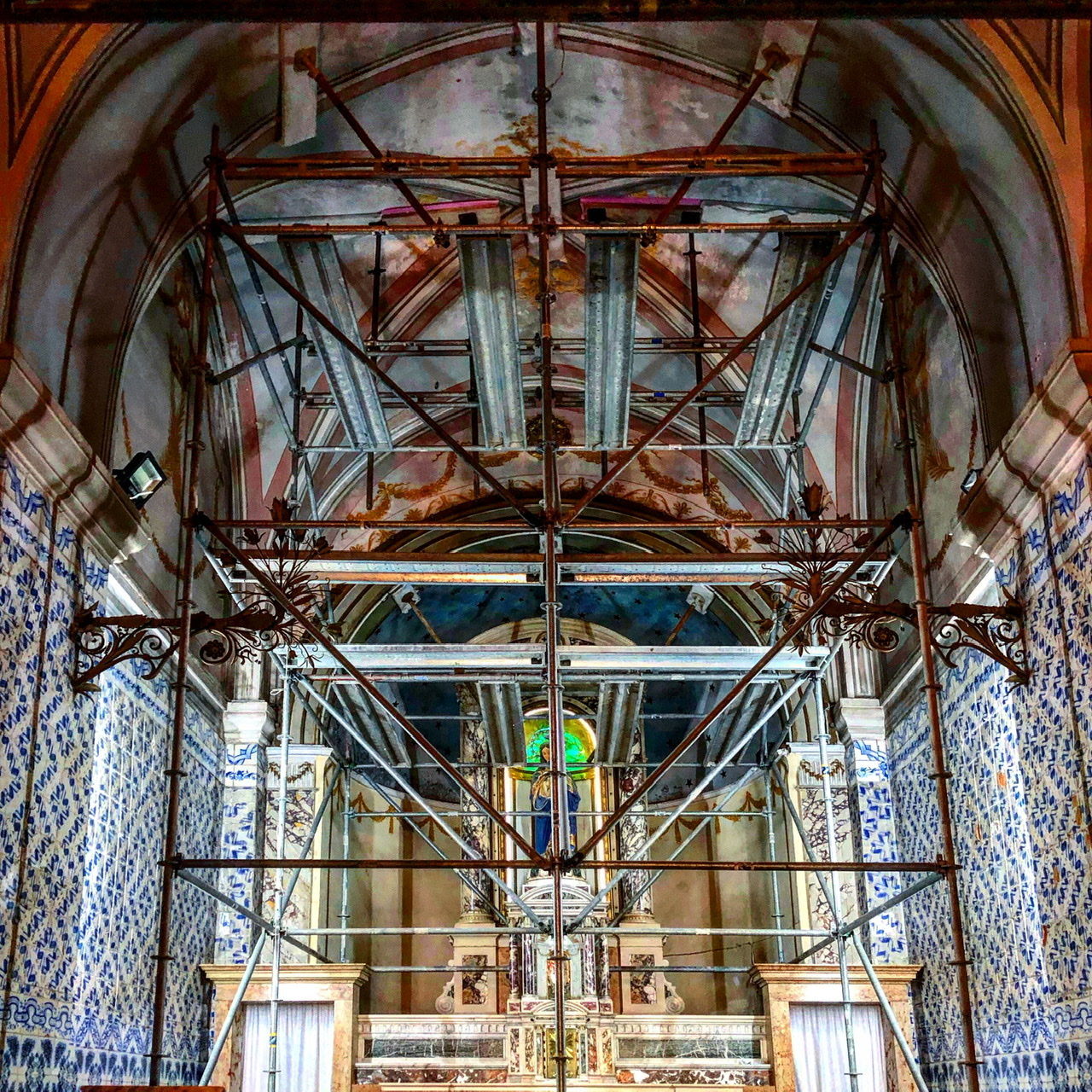 St. John the Baptist is being restored.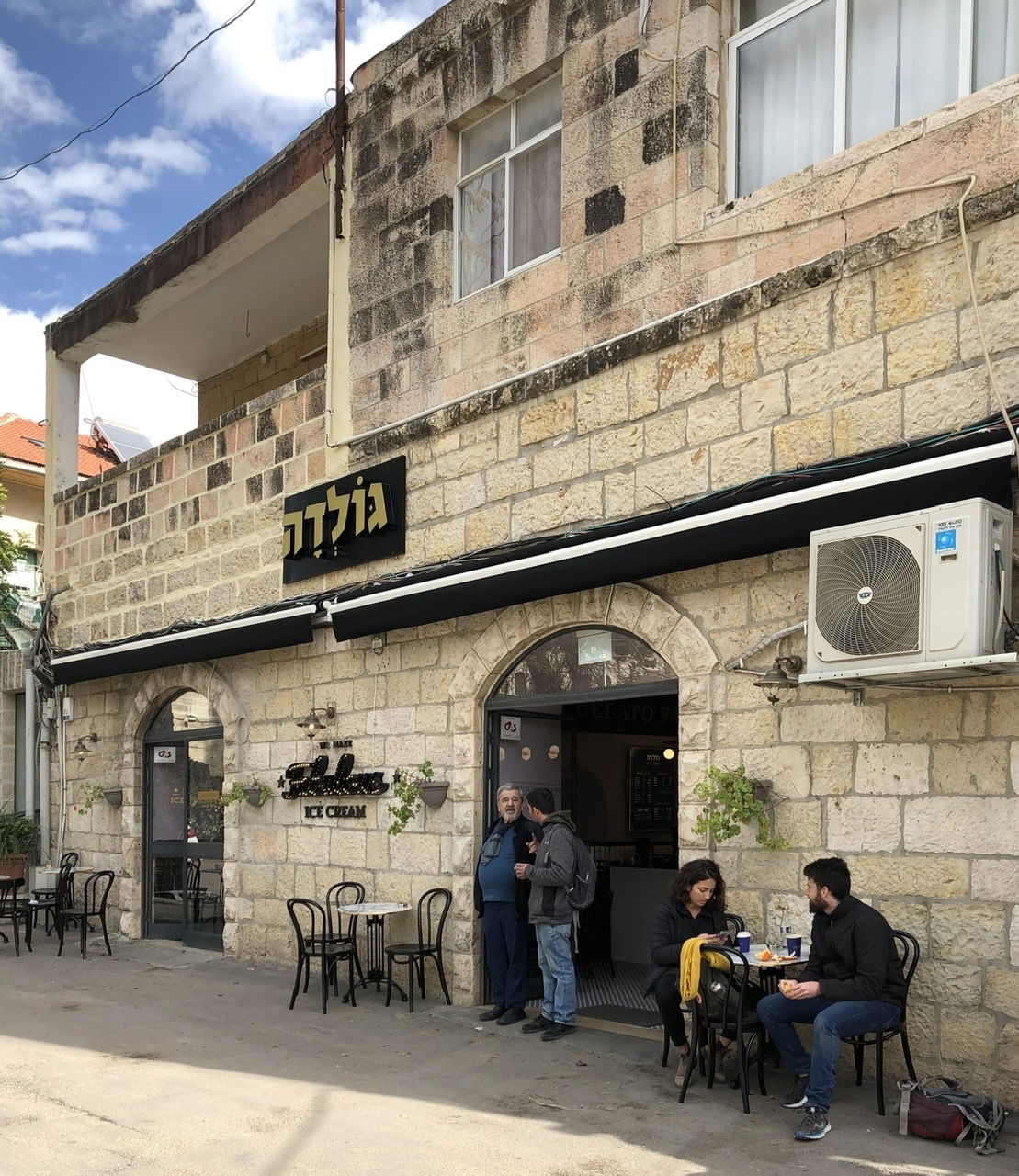 Great gelato!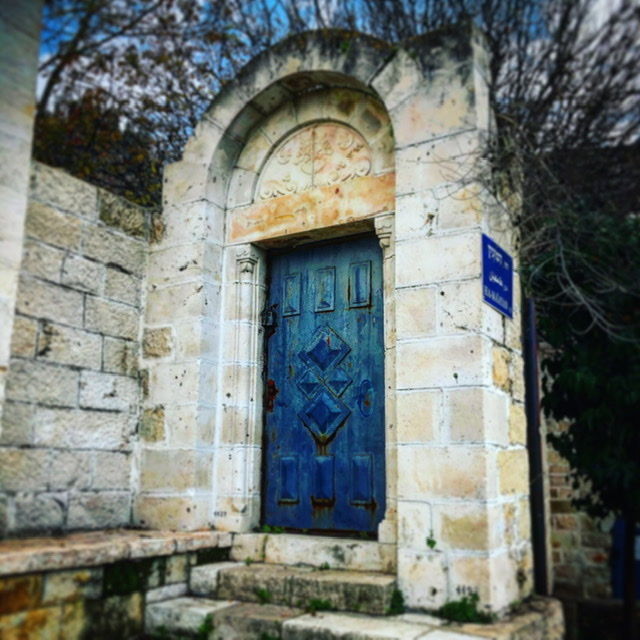 Beautiful blue door
We could imagine how pretty Ein Kerem is in spring or summer. There were buds about to burst forth even in January.
A few years ago , Peter's sister had given me a little pouch for travel that I really loved and it was a lot like the very intricately embroidered pillow cases in his mother's living room. I was very keen to visit the shop where these things were sold so we all went to Sunbula shop on Nablus Road in Sheikh Jarrah.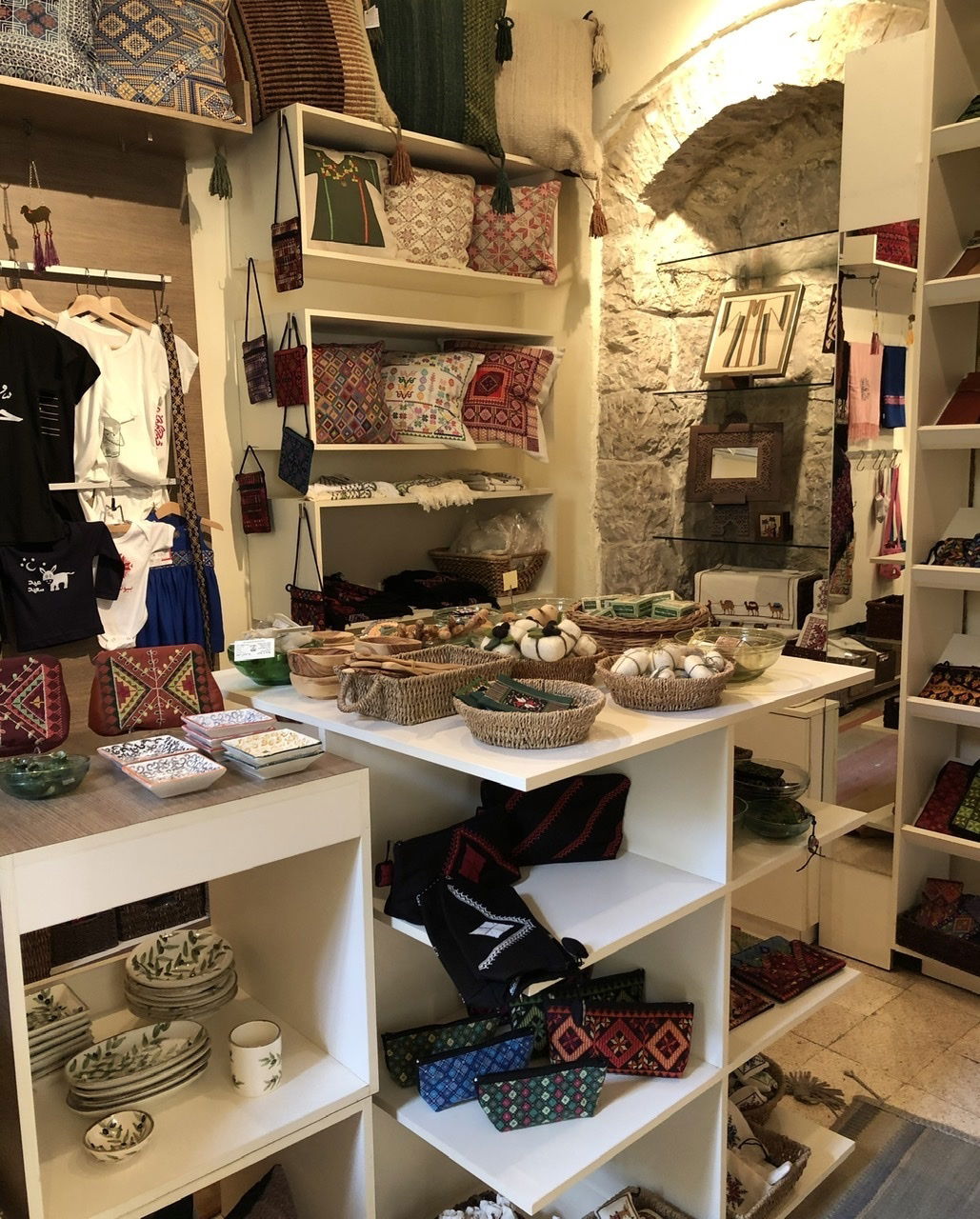 In another post we wrote about buying with conscience. Being able to purchase fair trade items that support women lifting themselves and their families our of poverty and into power is very important to us.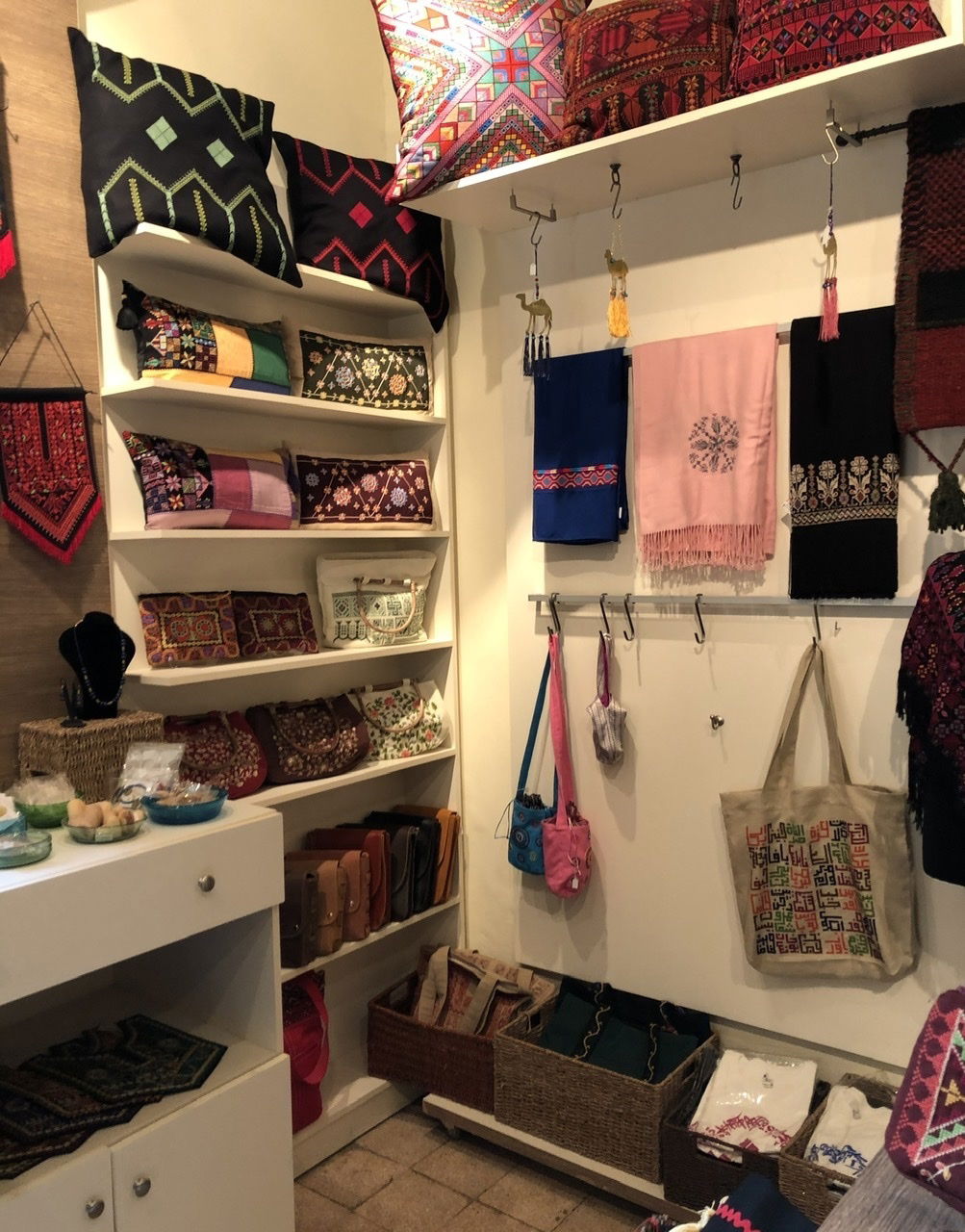 Sunbula also has an online shop! We bought pillow shams and some gifts for friends and family.
Israel is a fascinating place and never, ever boring. Take this giant radio for example. You can walk up to it and change the station by turning the dial - it is near the tram stop by Ben Yahuda Pedestrian Mall. Anyone who knows me knows my appreciation for small things that are unusually large or large things that are small. Like Alice in Wonderland mushroom eating results or ROUS's.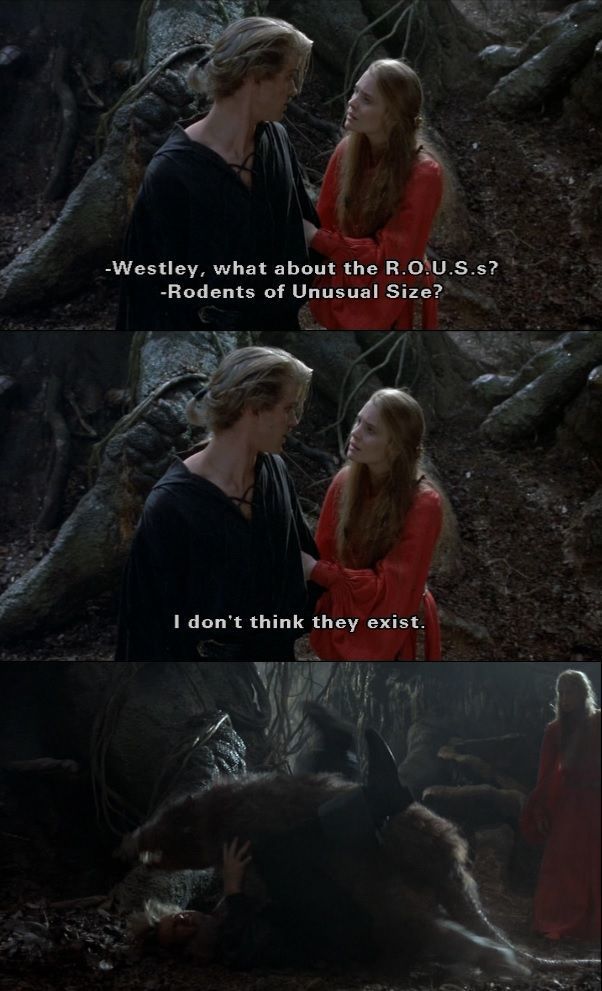 .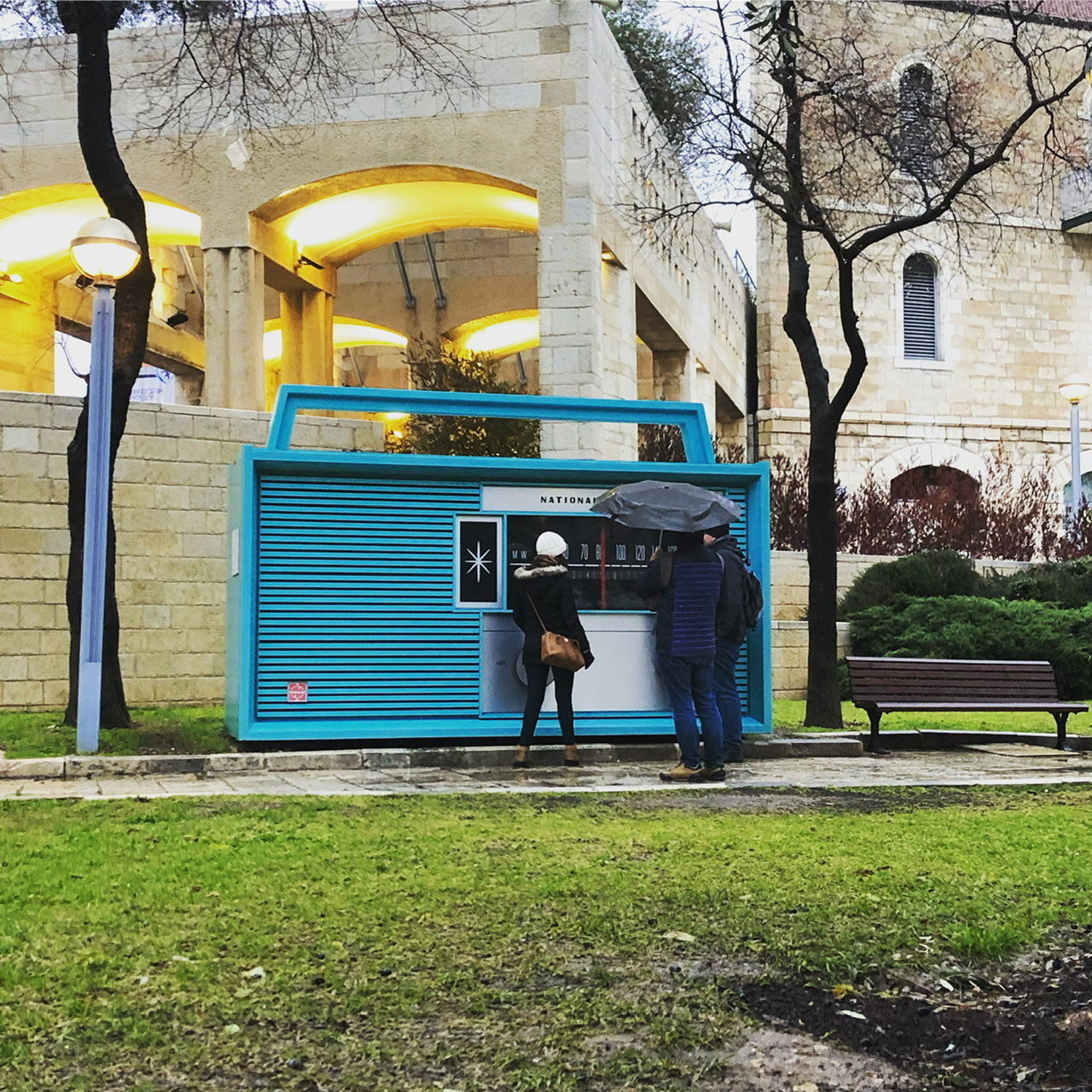 So, I really liked the radio.
We also got to meet many new people on this trip - the folks at Kuchinate and Sunbula, neighbors and fellow vegans, and a guy at a Christian book shop who turned out to be from Dalton, Georgia where we are moving in a couple of months. We met my sister-in-law's neighbor, a real kindred spirit.There is a natural affinity among language people and I love this lady! Her son was studying for the German test so that he could attend university in Germany. Peter helped him get ready and since then we heard that he passed.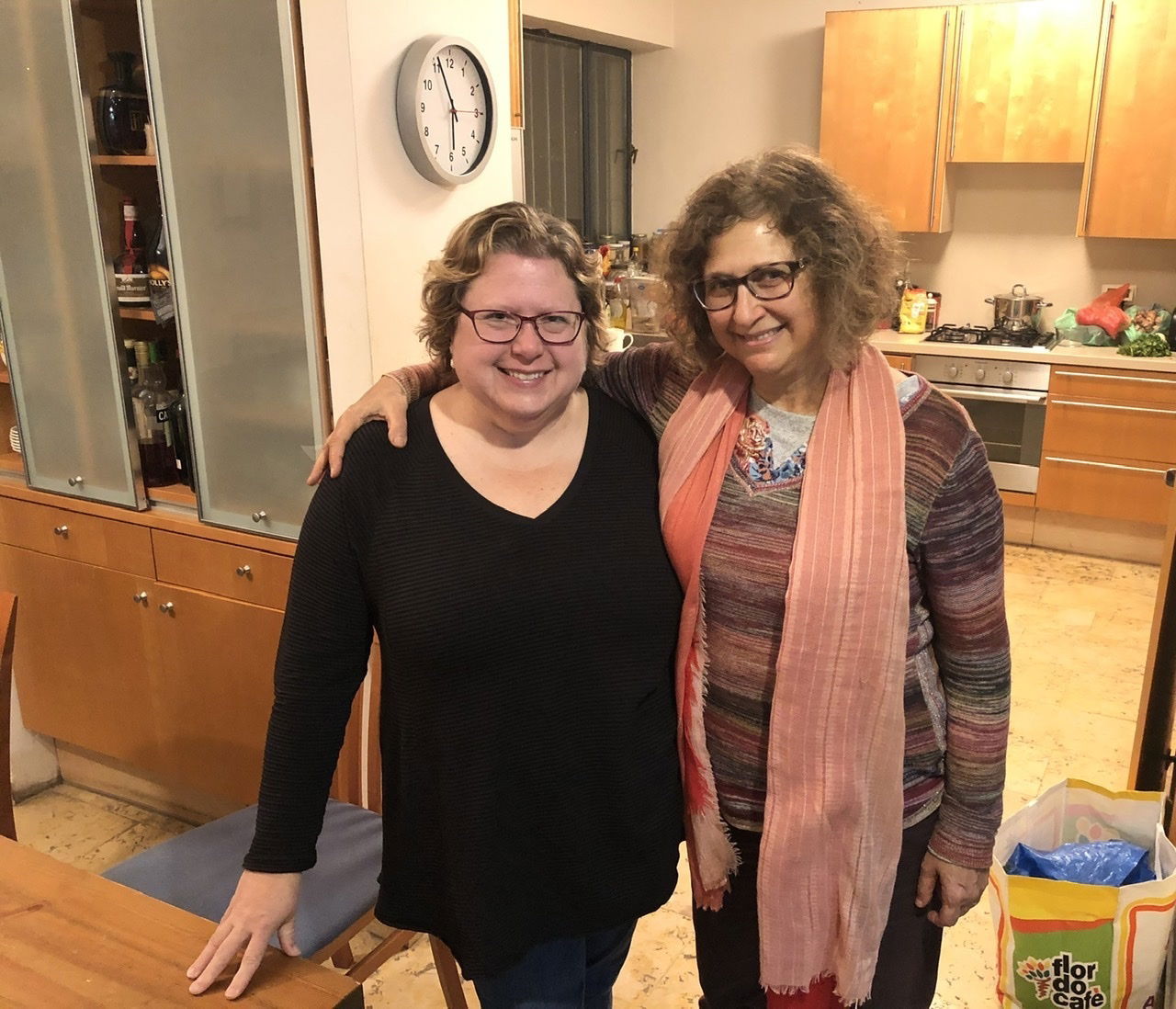 My new BFF
One thing Peter and I have been talking about as we have wandered Jordan, Israel and Morocco is community. We haven't seen much of a shift toward community in the US, other than a lot of talk about how nice it would be if we had some. In Jordan there was the call to prayer that brought people together and market day. There was also an understanding that if you lost your hammer you could borrow your neighbor's hammer without asking and he would know that you would return it. In Israel there was the Shabbat dinner. Even for less orthodox Jews, Shabbat dinner is a weekly connection with family and friends that as soon as we can, Peter and I would like to replicate in the US. But in Israel community runs deeper than that. Peter said that the couple of times he and his sister went to the early morning market to buy produce there was a mentally ill woman there who would yell threats at people. Everyone just avoided her; she was part of the scene. She was tolerated and even accepted. There was another lady who walked from stall to stall and was given small change by the owners. She didn't beg, she just collected. This was another normal part of the morning routine. One stall owner offered her 50 shekels and she refused because it was not the usual amount. The souk scene is thus: there are beggers and madmen but they are so embedded in the environment that they don't go against the grain. It is all part of the ebb and flow of life. It is like a huge extended family - if you need a hammer or five bucks you can just count on your sister or your neighbor to give it to you, I hope.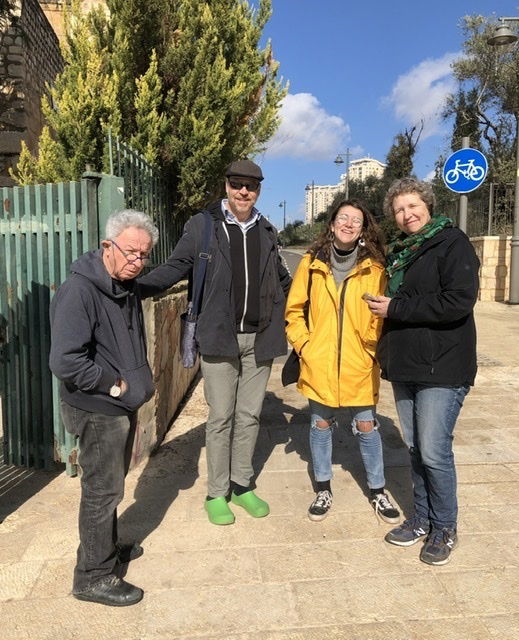 We are family.
We found the entire region to be that way. Once, a woman was in the street crying and yelling. At least 6 people came out of their houses. One had a glass of water and another a towel. Two embraced her and one walked her toward a park. No one told her to "shut up!" And no one called the police. Because that isn't how you would treat your sister. At a tram stop there was a man dancing maniacally and evangelizing travelers in Hebrew. A friend explained that he was part of a sect that believed you should be happy all the time. Another man at the tram stop helped a child figure out his transport card even though they were in no way related. There was no request for help either - it was expected that if a young person needed help an older person would give it and if a dancing dude wanted to share his faith, that others would be patient. This was the overwhelmingly common experience we had in Israel - that regardeless of policy and polity we are all here in the Promised Land together and we are family.
Another takeaway is that everything in Israel is kind of beautiful, but broken. There are so many leaking roofs. There seems to be a huge disconnect in the construction of buildings in Israel - a breakdown in communication or a supply line gap.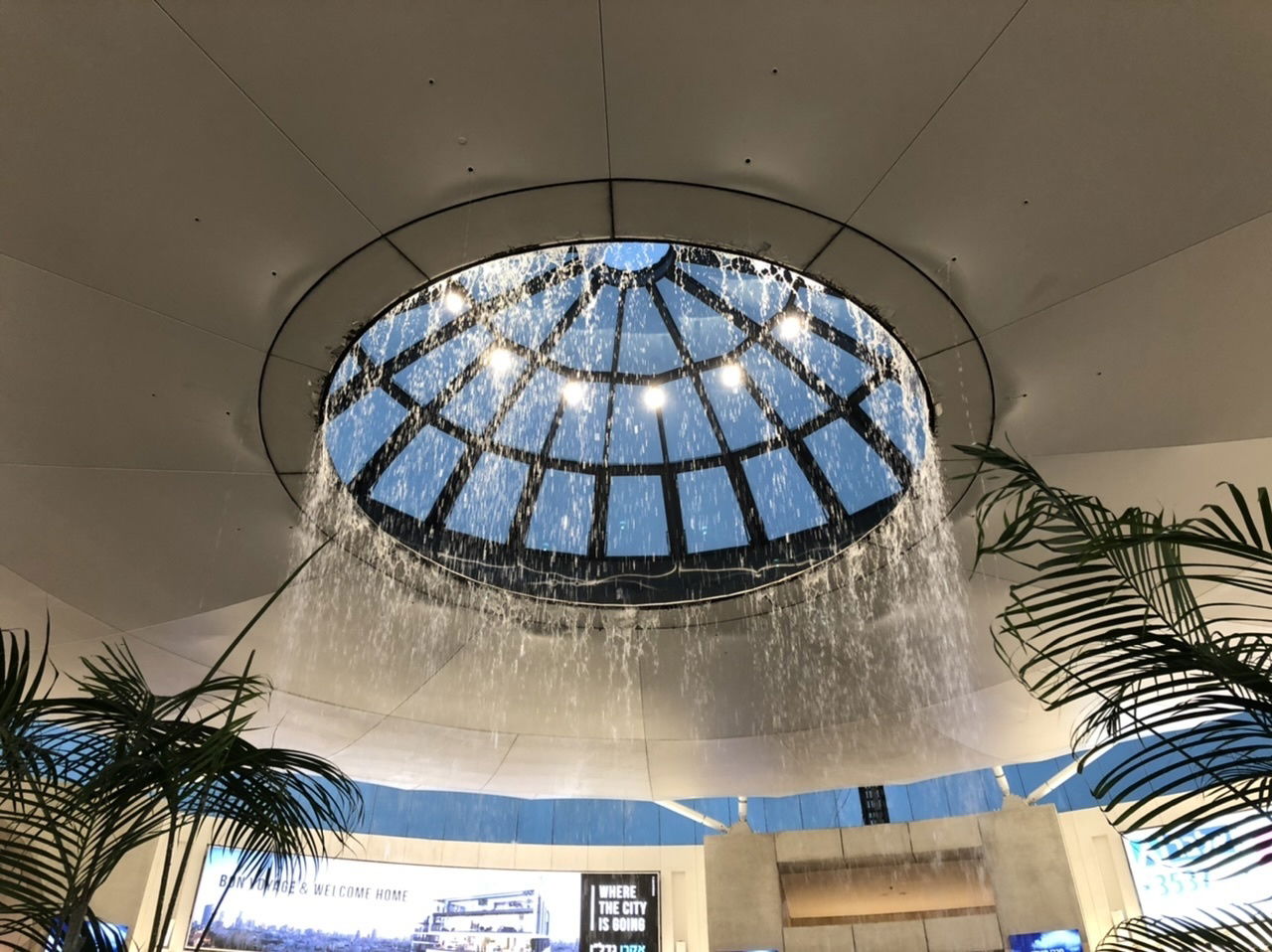 The skylight window above the hall in the airport looked like a fountain at first - but that is ALL leak.
In a place where weakness is tolerated and soldiers play classical piano, where doctors treat patients in fancy urban hospitals and in tent clinics in Gaza, where refugee women embroider and weave beautiful baskets but refugee children are cut off from school because of borders that move overnight, yet another paradox is that new buildings are always going up in Israel but none of them are secure. That paradox that we noticed right away upon arrival the first time we visited Israel is alive and well and growing. Sometimes when there is a divide there is also a bridge that knits the sides together. And sometimes there is a raging flood. Let's hope that the bridge builders come to power sooner rather than later.
* Carol Delaney, Abraham on Trial: The Social Legacy of Biblical Myth, Princeton University Press 2000 p.120.