"To visit Morocco is still like turning the pages of some illuminated Persian manuscript all embroidered with bright shapes and subtle lines." - Edith Wharton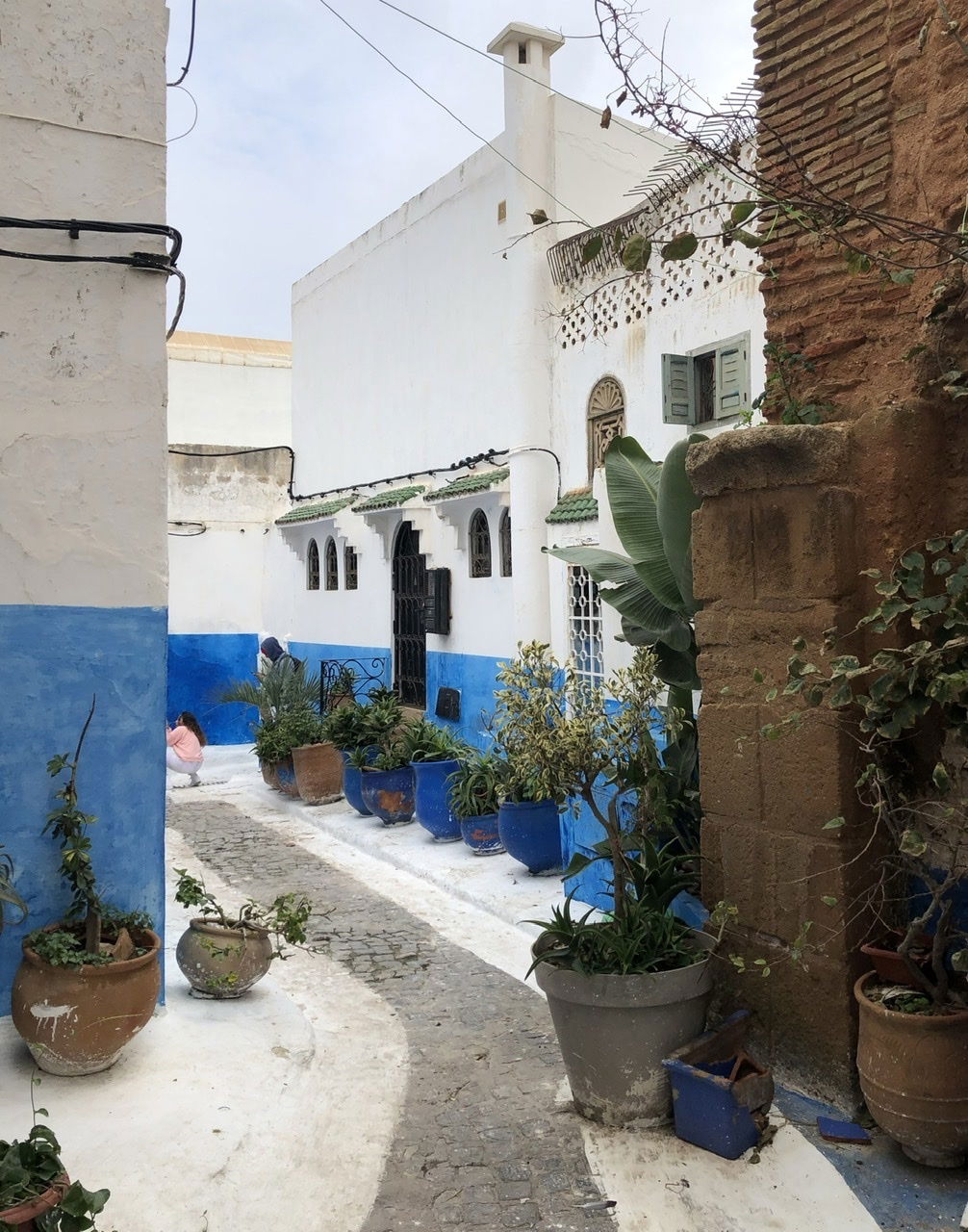 A narrow street in Rabat
I read and quoted Edith Wharton's 1920 travelogue of her time in Morocco often while we were there - we spent a full month in the country and it was such a surprising place, shocking, generous, patient and disturbing, all at once. When one thinks of Morocco, one tends to imagine it through a particular lens - Islamic, African, Berber or French. But in fact, it is all four and much more. Retired British ex-pats rub elbows with barely-twenty something surfers and newlyweds toast each other in clubs playing Latin music with servers who speak only French. If you studied Spanish you have heard the word "Moor," which is defined as "Muslim Berber" as if that communicates anything. The Moors lived in and ranged far - south into Western Sahara, deep into the Atlas mountains and halfway though Spain. They consisted of two dynasties - the Almoravids and the Almohads. Simply put, the Berbers were tolerant of Islam and functioned independently as its influence waxed and waned. Only a decade after their grudging acceptance of Islam did they invade and hold Spain and 3,000 kilometers of land from Zaragoza to the Atlas Mountains and beyond.
The history of the Amazigh people, as Moroccan Berbers call themselves (it means "free men") was unknown to us before we arrived in Morocco. The first time we saw Amazigh writing on an official building we stopped in our tracks and gaped. A series of circles and dots and zigzags accompanied the usual Arabic and French writing at the airport. We were to find out that while French is the language of education and Arabic is the language of religion, Amazigh is the language of the Moroccan people, at least in the cities and villages we visited. It is a private language and while they share words with Arabic, it is ancient and utterly Moroccan. Its resurgence and the cultural identity of the "free people" is fascinating.* The free people predate Muslims, Amazigh predates Arabic and French and the people we met - in Rabat, Essaouira, Marrakech and beyond, seemed to find pride and privacy in their language.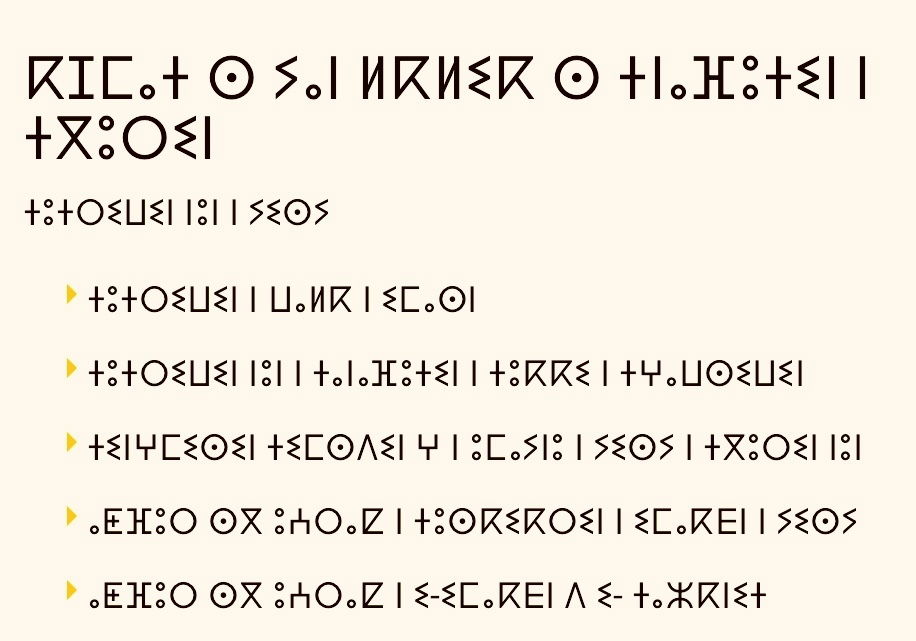 This is Amazigh. (And Amazing)
Our first stop in Morocco was Casablanca. We arrived at the airport. Attempted to walk to the hotel that was pictured at a quarter of a mile from the hotel, were bombarded by taxi drivers and "local guides," turned around, found a cab, found the hotel (two miles away) and found out there was a shuttle. Then we went to bed. The first day was repeated every time we changed addresses in Morocco. "Uninformed but hopeful travelers make a series of mistakes, sleep on it and wake up less confused" - that would be the headline if it were a newspaper article. The next day was spent trying to figure out how to navigate the airport and train station since that is how we planned to travel around Morocco. No car rentals this time! It took over four hours to get to Casablanca City from the airport. These are the steps:
1. Enter the airport through the airport security - belts off, bags in scanners, etc.
2. Walk to the other terminal, go down an escalator.
3. Try three different ticket machines and the ticket counter - all machines were broken and the credit card machine did not work at the booth.
4. Go back through the security (very long line) between the train station and the airport - belts off, bags in scanners, etc.
5. Find a working ATM, get enough Moroccan cash to buy the tickets (half of all ATM's work in Morocco)
6. Back to the train station. Buy ticket (2nd class is about half the price of first but it is only $8 for a RT ticker to Casablanca).
7. Wait 40 minutes. Get hassled about car rentals and guides by various men. Get helped immensely by good-natured rail workers - lovely guys.
8. Take 30 minute train to Casablanca.
Casablanca is really not worth a look. We spent a couple hours walking around - it is neither charming nor service oriented. It is a bustling commercial and industrial city. When we met people during our month in Morocco who were from Casablanca, they did not seem particularly proud of their home city nor did they extol its virtues unlike people from other places in Morocco. I am as oppositional as the next gal and I was looking for something to like in Casa, as it is known, and I did NOT find it. One thing we did take care of was getting a SIM card. We got a sim card from the airport (Maroc Telecom - the orange and navy blue one) and then went to a grocery store and pantomimed our way through getting it activated. I had a month of free local calls, text and reliable data for $15. It was very impressive and necessary.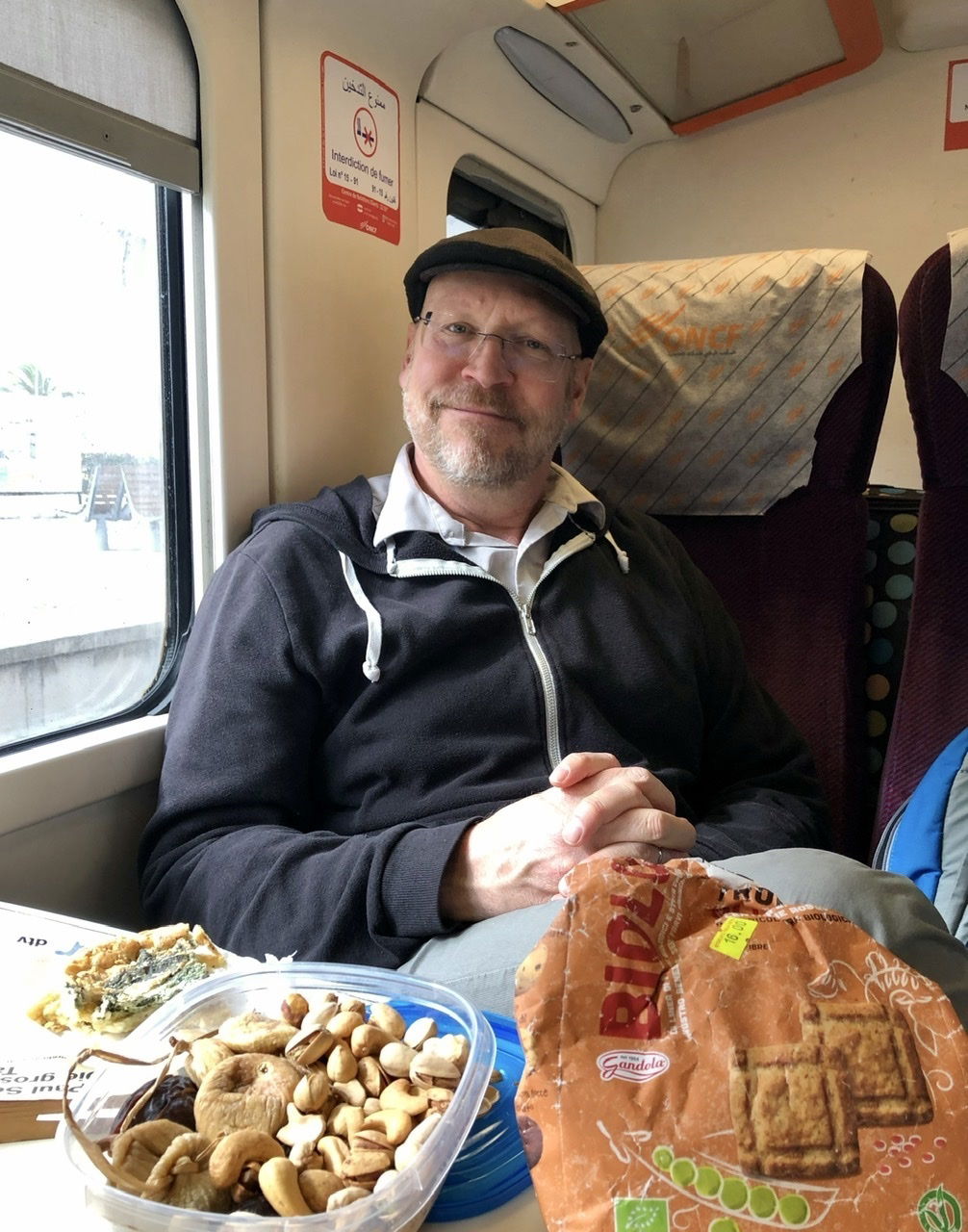 Peter, settled in for a ride with his plethora of treats.The next day we took the hotel shuttle to the airport and breezed through to the train station and took the train to Rabat. If you understand written French, get your tickets online and use email as your ticket. This worked great for us and we paid very low fares. It was only 10 dollars each to go to Rabat, a two hour train ride. The site is also in English but it was not always available to us. Right now, I logged on and it was easy to get information in English. When I booked from Morocco and other countries it was not. We used credit cards to book so that we would not exhaust our cash supply. Seat reservations are given but not respected - we never sat in our assigned seats as someone was already there every time we boarded a train. In first class, which we took once to see how it was, the seat assignments were policed. There was no wifi available on the train. There are a few, unhealthy snacks on the train so stock up before you travel. The trains were pretty clean, except for the bathrooms. As a career educator, I can "hold it" for hours but Peter used the restroom on the train. "Until now I wasn't sure what urine-soaked hellhole really meant." - Peter Birmanns.
RABAT
"Not till two or three years ago was [Rabat] completely pacified; and when it opened its gates to the infidel it was still, as it is today, the type of the untouched Moroccan city-so untouched that, with the sunlight irradiating its cream-coloured walls and blue-white domes above them, it rests on its carpet of rich fruit-gardens like some rare specimen of Arab art on a strip of old Oriental velvet." - Edith Wharton
After the confusion of the airport and the disappointment of Casablanca, we were excted about Rabat. It is the capitol. It is on the ocean. It was sunny when we arrived and people were friendly on the street. We stuck out like sore thumbs though as we made our way from the train station to the local neighborhood where we had rented an apartment for the week. We felt very foreign, even in what is supposed to be a cosmopolitan city. Not many tourists bother with Rabat. We were still a little jittery after only two days in the country but Rabat won us over.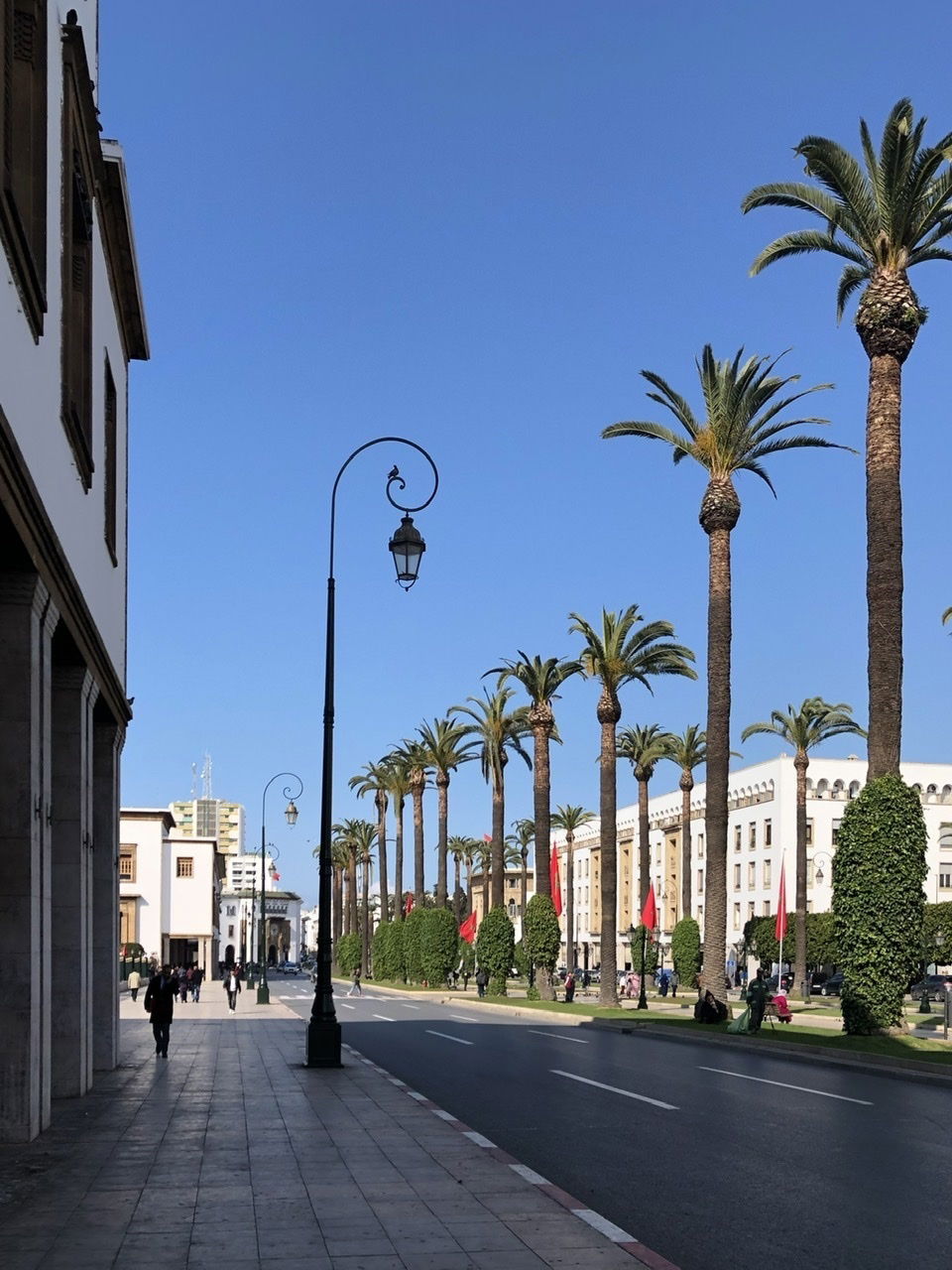 The main drag in Rabat from the train station to the medina and the souks
Rabat has three things to recommend it: It is very modern and orderly by Moroccan standards, the new tram lines make zooming around the city much easier than some other places in Morocco and the main attractions in Rabat are really fascinating.
Modern Morocco...
You can easily get a cab, purchase prescriptions, buy a pair of Nikes and navigate a compact market area in Rabat. The cabs WERE confusing at first. The drivers do not usually speak fluent French and none that we met could manage English. There are two kinds of cabs in every city in Morocco. Big white vans called GRAND and little color-coded cabs called PETIT. The Rabat small cabs were navy blue. Each city had its own color and they are very cute. Fes was red, Meknes was pale turquoise, etc. The PETIT cabs cannot leave the city limits - we found this out the hard way by trying to get to Sale, across the river. This pushed us to take the tram, which was awesome.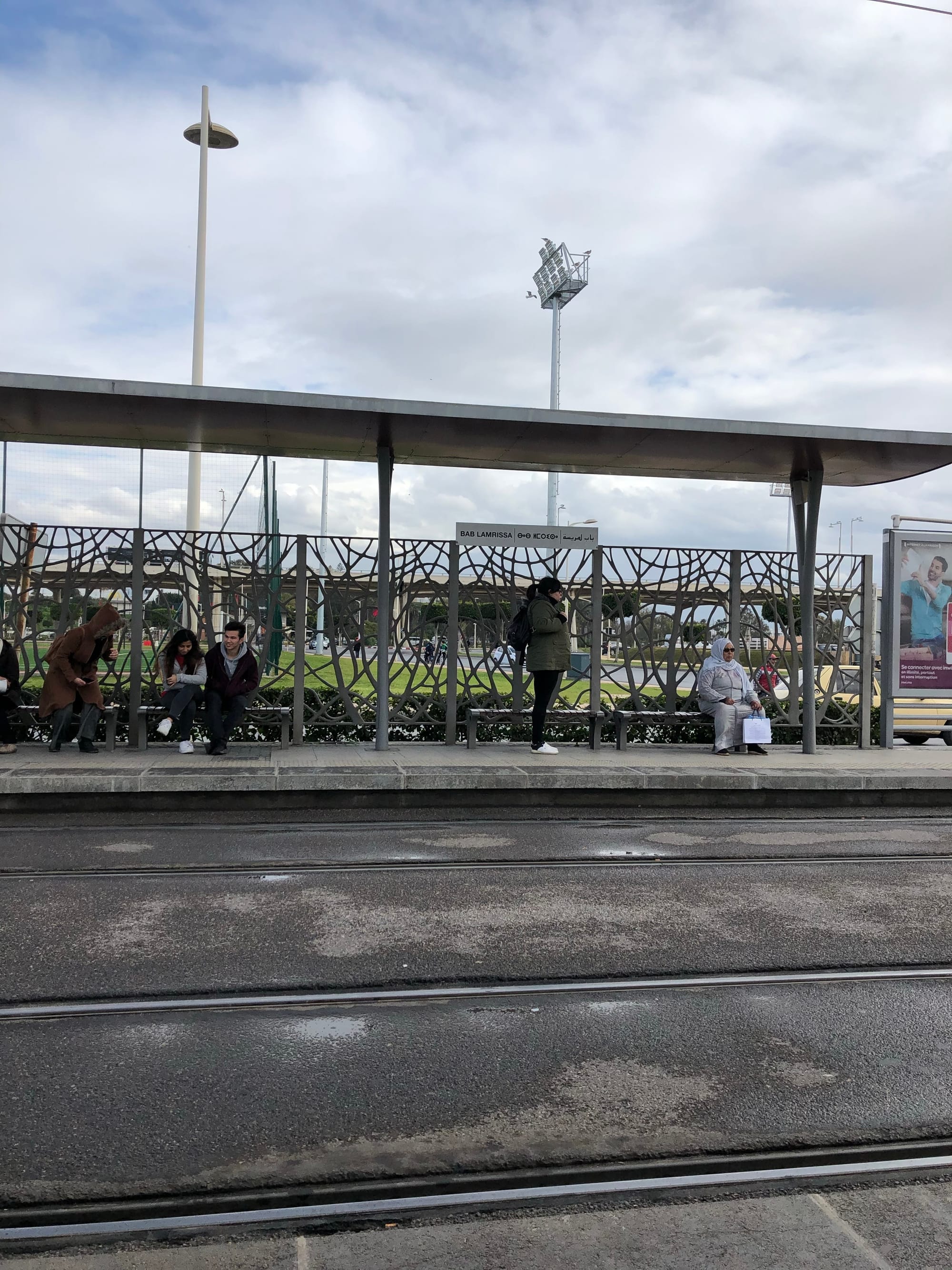 One of the tram stations
To get a ticket you can use a machine or the ticket window, which is not always staffed, so be prepared with small bills and coins either way. People were very happy to help an obvious foreigner figure it out.
While the tram and the taxis are tightly controlled, medicines in Morocco are not controlled at all. If you have money, you can buy anything from antibiotics to insulin to antacids that in other countries require a prescription. Pharmacy employees have ranks. First, you talk to the 19 year old who does not speak English. She runs to get the Older Lady who does not speak your language but does speak French. Then she gets the Dude in the Back who comes out and gets you what you need. You still have to pay the older lady at the cash register and be offered a moisturizer by the 19 year old.
We did not try to buy opioids or pain medicine so we aren't sure about that. Recreational drugs were not as available as in Alaska but more available than in other parts of the US. We were offered hash and weed a couple of times and we saw many young men light up on the street outside a store or the train station. One of our guides smoked the entire tour - but that is another story.
The three most important and interesting things to see in Rabat are the Mausoleum of Mohammed V, Chellah and the Kasbah of the Udayas.
The Mausoleum of Mohammed V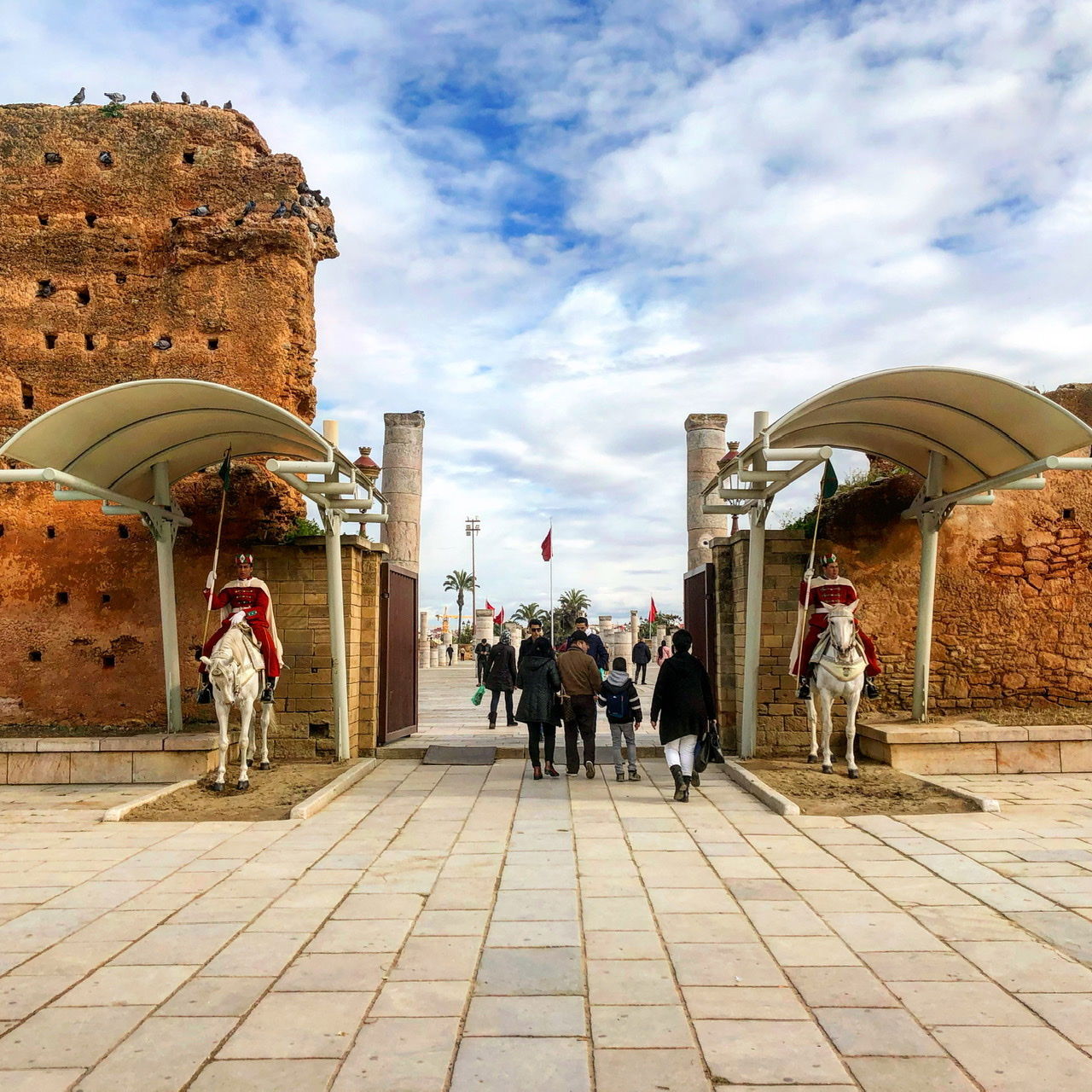 This is the entrance to the Mausoleum
Getting to the Mausoleum is tricky. On the map, it looks like it is right next to the tram stop, but alas, it is not. You walk up a hill and around a park area and then you see the above, somewhat fantastical scene. Two mounted horsemen with pikes in sandboxes under pavilions. Huh. We went in to enjoy a space that looked like a George Lucas set featuring incredible architecture and photo opportunities. The tower itself was never finished and the giant golden urn things were the backdrop of many Moroccan family photos. There were dozens of square columns adding to the otherworldly ambience.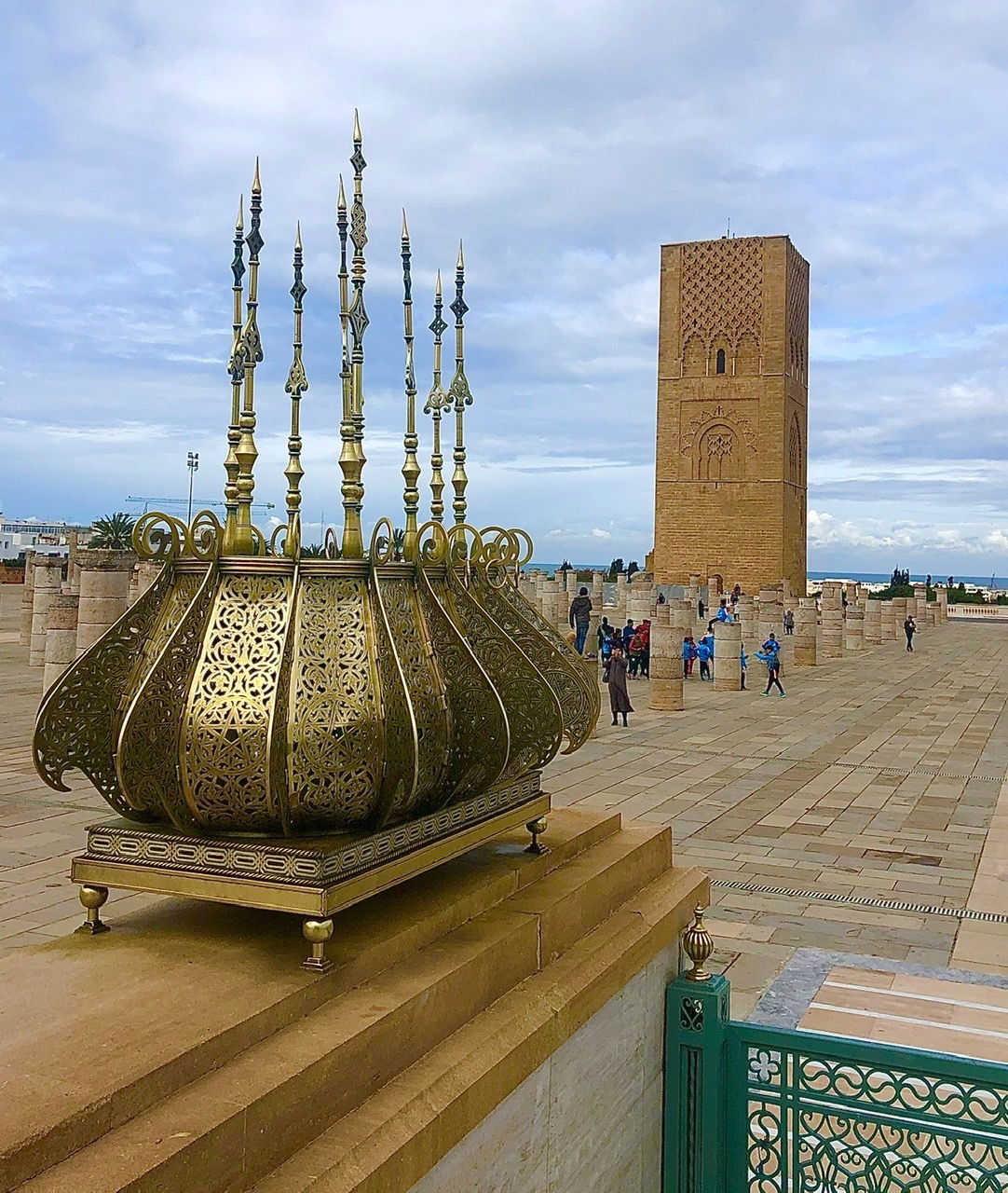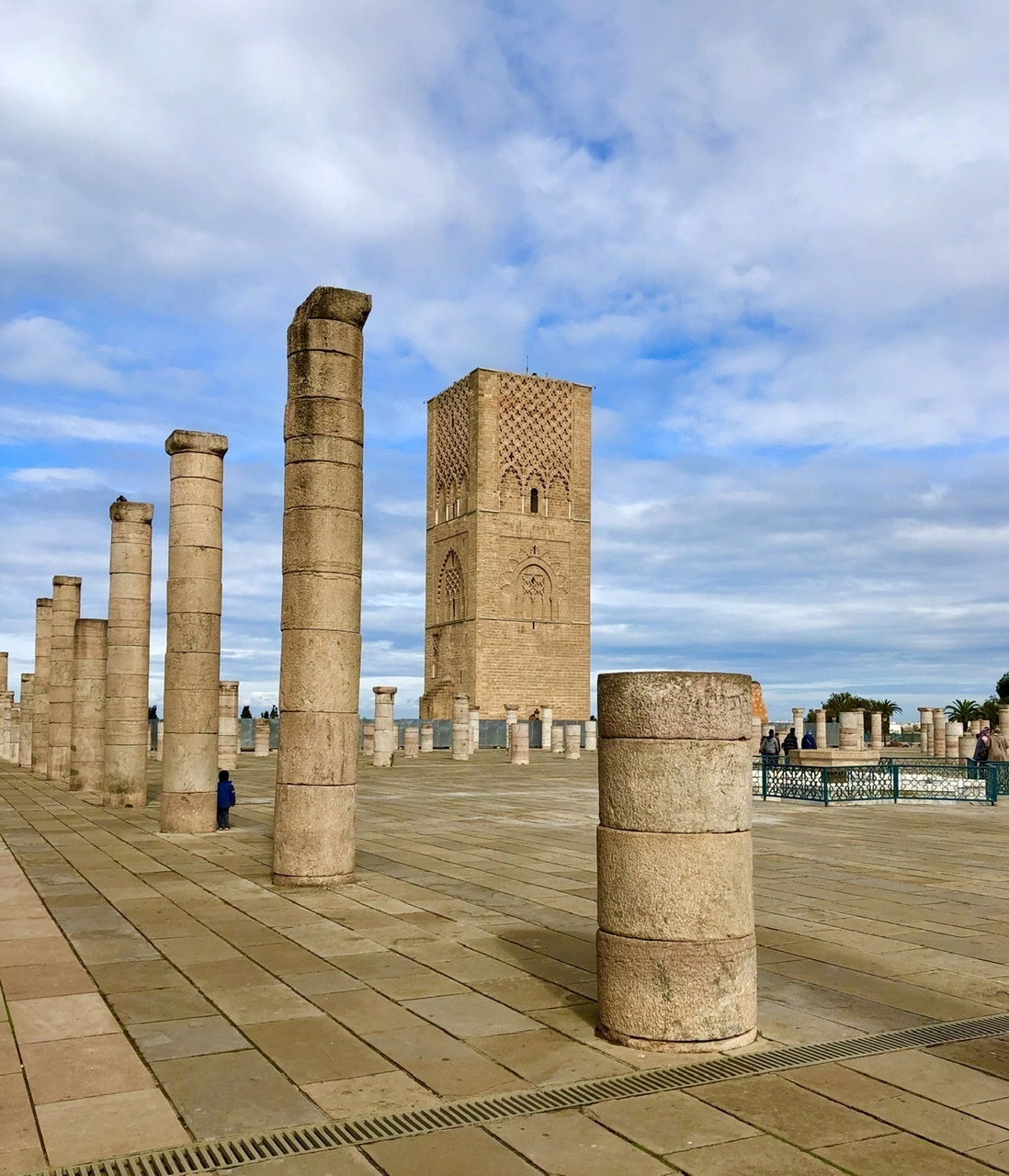 The interior was impressive as well with intricate carvings and tile, guarded intensely by very young, tall, good looking soldiers.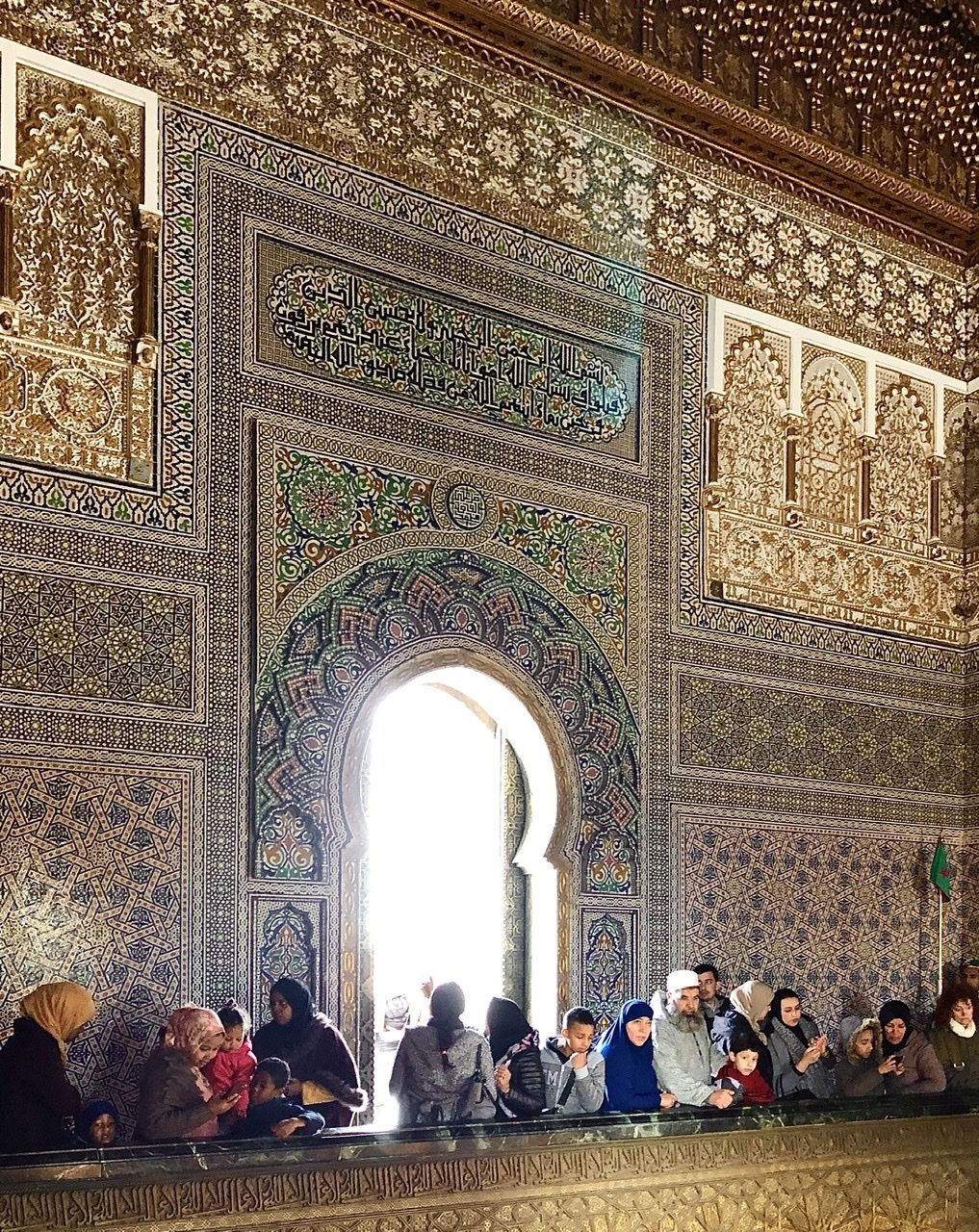 Lots of Moroccan visitors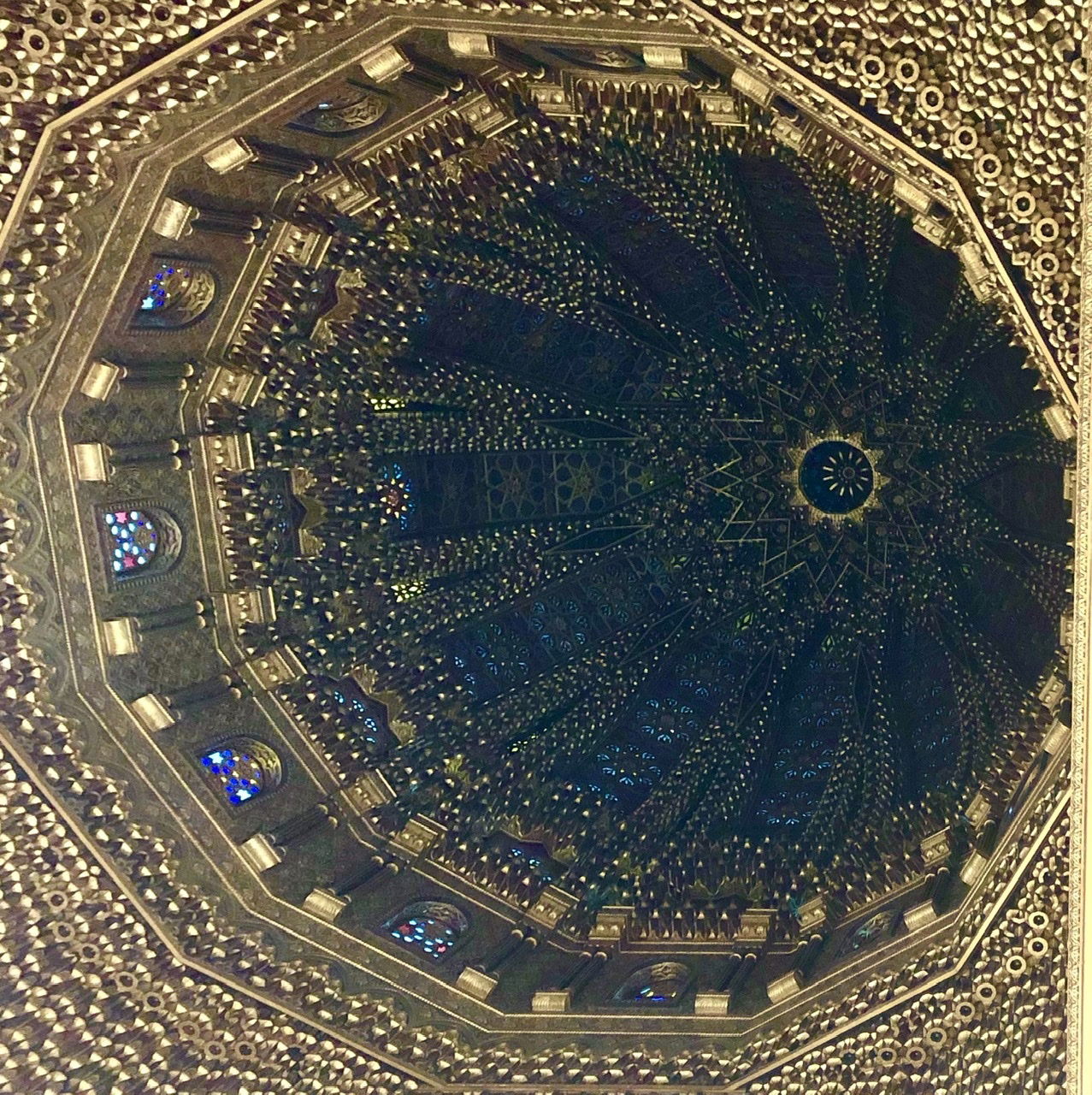 A detail of the cuppola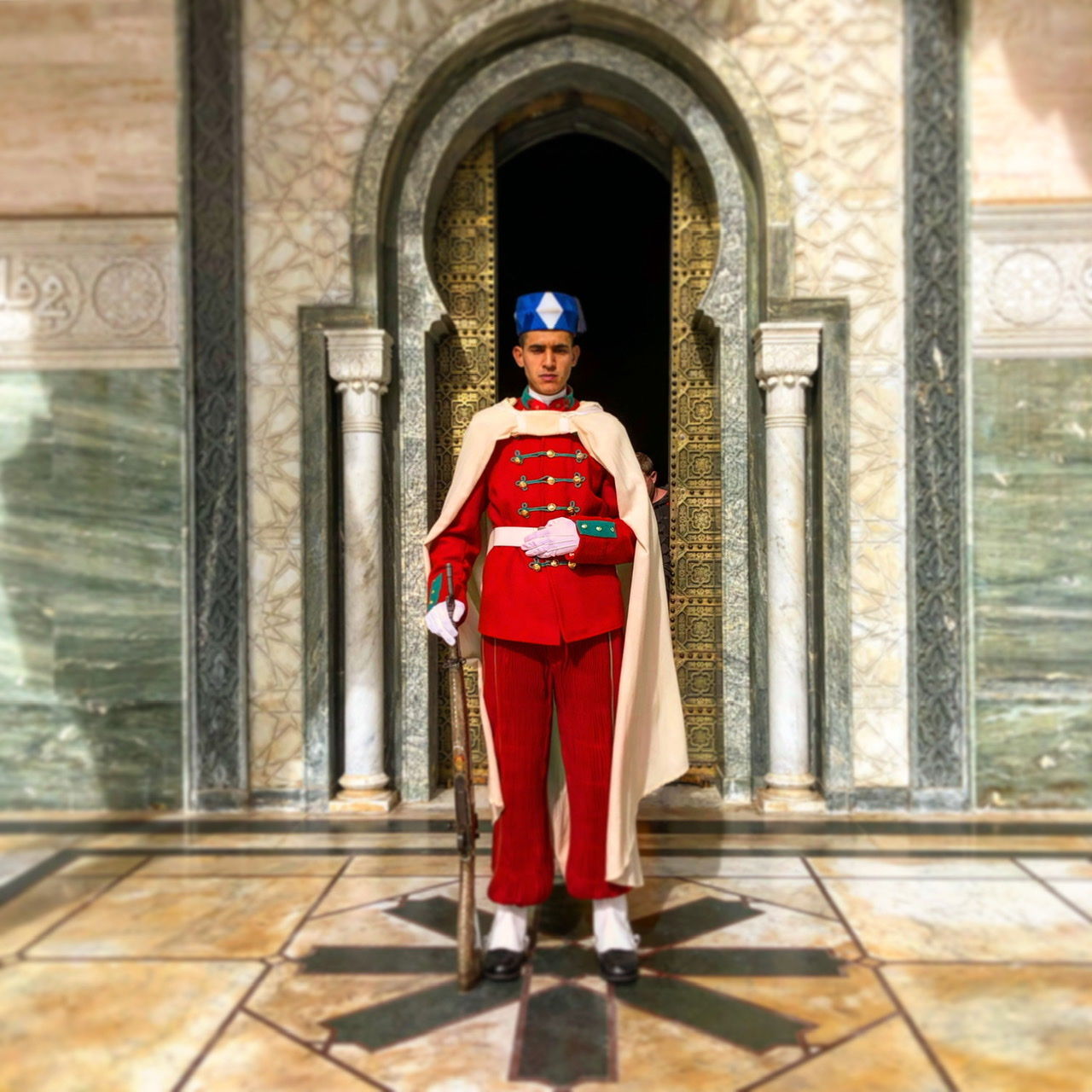 Taking things very seriously
The exterior walls had curious square holes in them full of birds. These were the original scaffolding post holes, left there for expansion space in extreme temperatures and for repairs.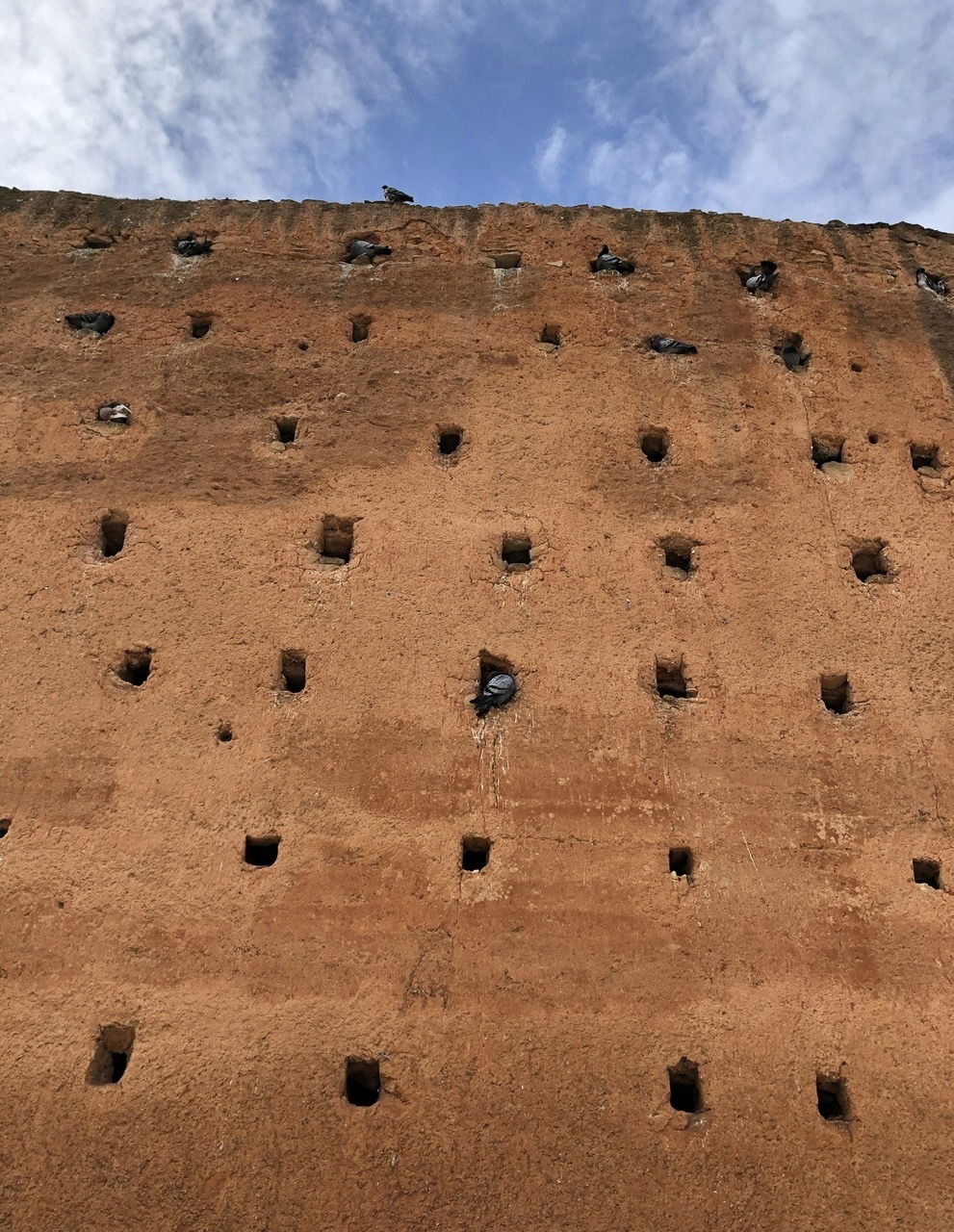 Homes for birds
There was a lot to see and the rain that had plagued us for the first three days of the trip stopped for a few hours so we took our time. There are clean, free restrooms there as well but no other services in the off season. We cannot recommend Morocco in the off season highly enough. It was fantastic to just visit with local families and school groups instead of tourists.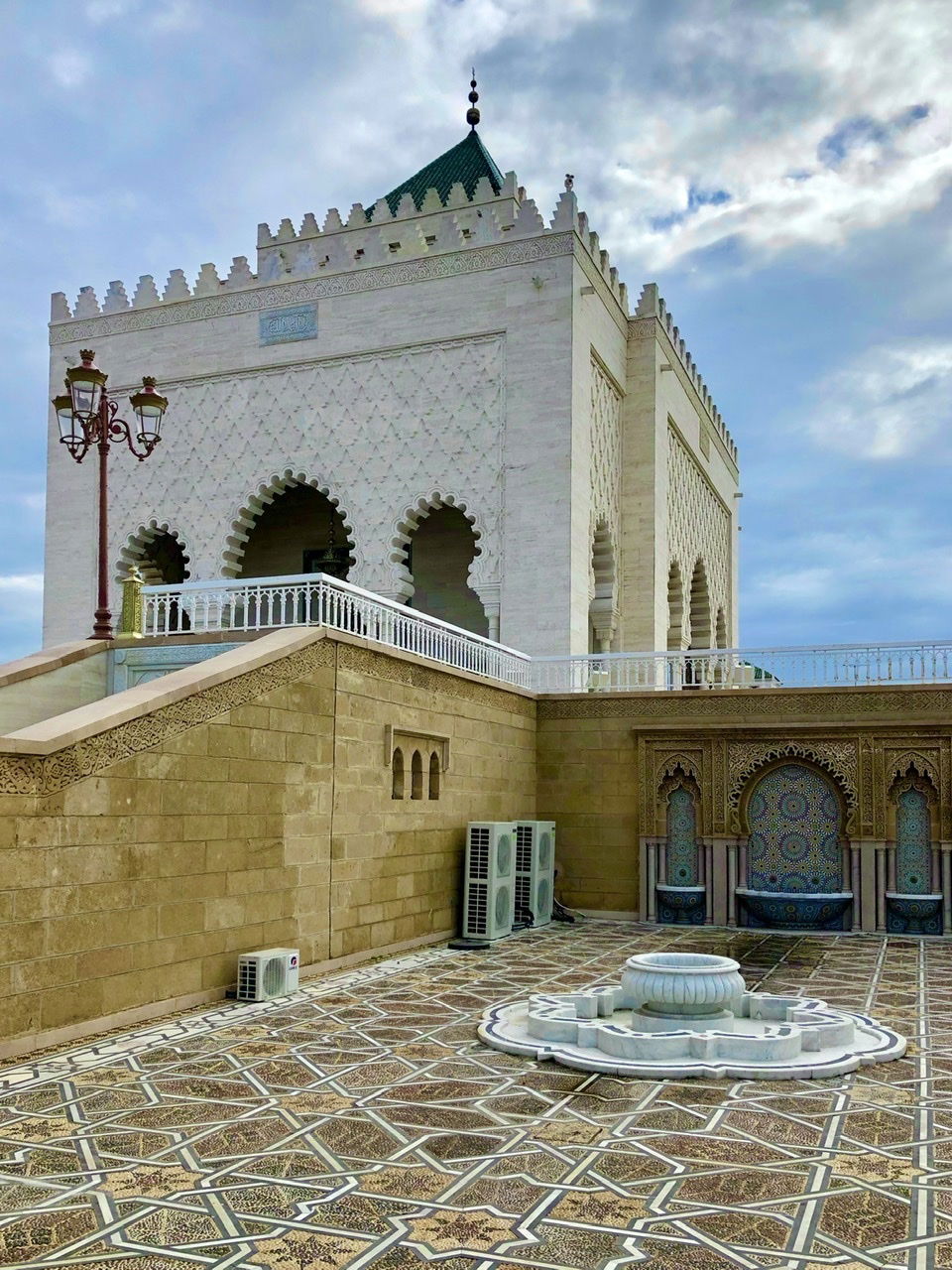 A magnificent place!
Near the Mausoleum is this great little restaurant called Green with free wifi and vegan burgers. It very welcoming with English-speaking staff and a young upwardly mobile vibe. The logo is a pepper with a little fez hat!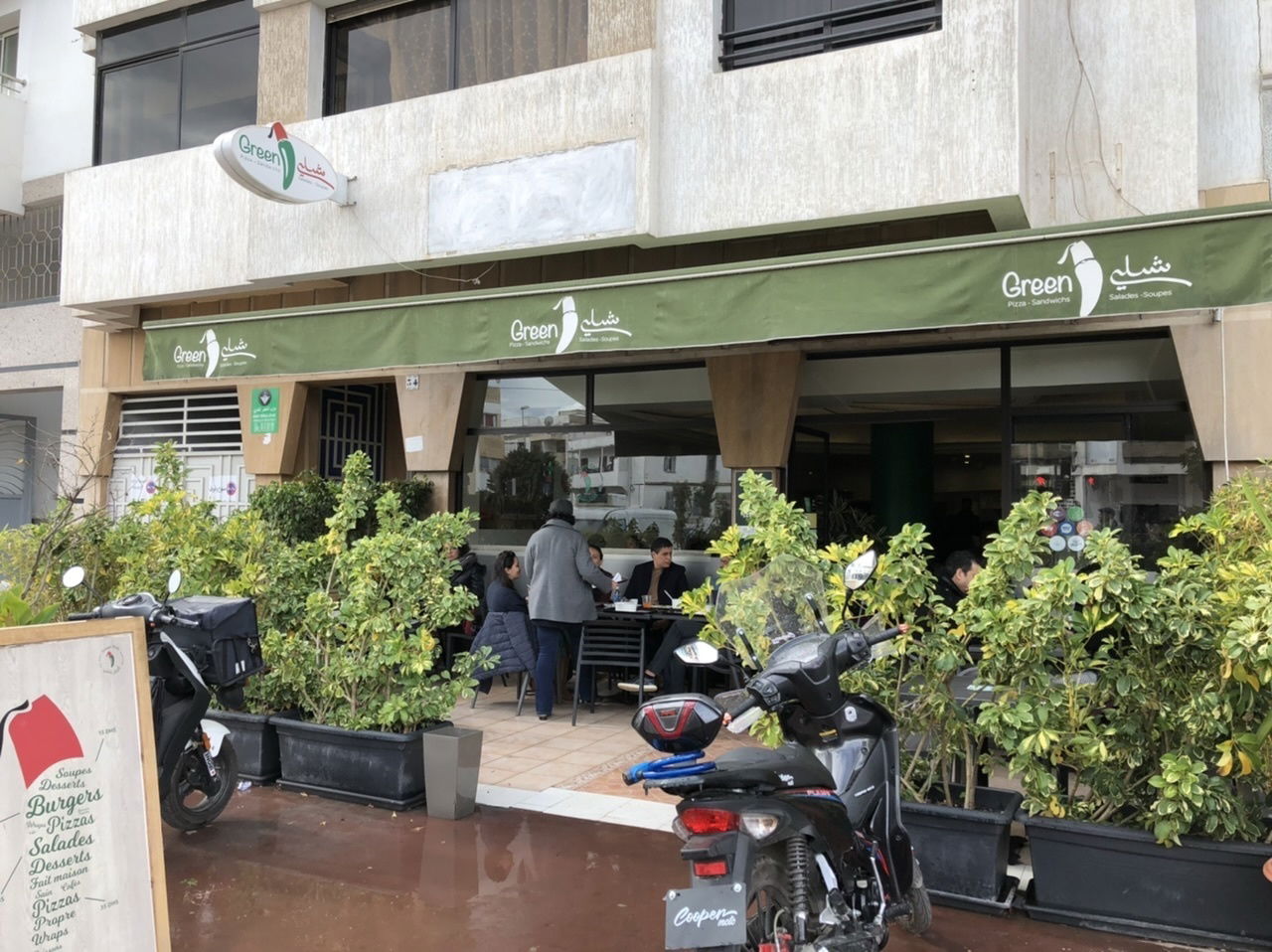 The Kasbah of the Udayas
Moroccan definitions of some exotic concepts: A kasbah is a fortress or citadel behind a defensive wall. A medina is the old, organic city center and a souk is a market area in or near a medina with small shops facing winding and confusing streets. A market is an open-air conglomeration of stalls and restaurants on a square or a modern street. Or in a field. Or an abandoned hotel. The Kasbah of the Udayas is a beautiful part of Rabat on the water in the northern part of the city that is very quaint with a formal garden, arched gateways and blue and white painted colorful streets.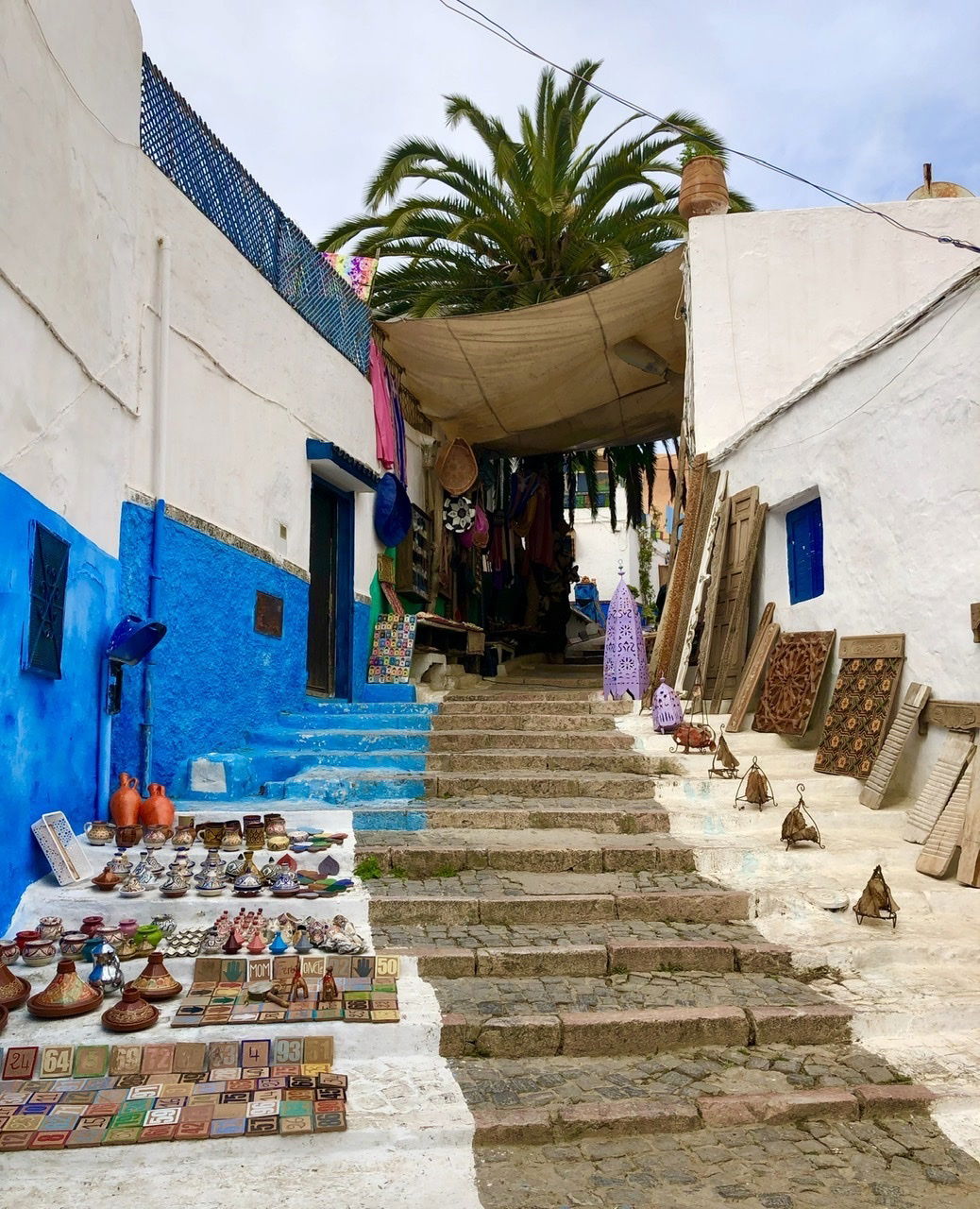 Buy in Rabat!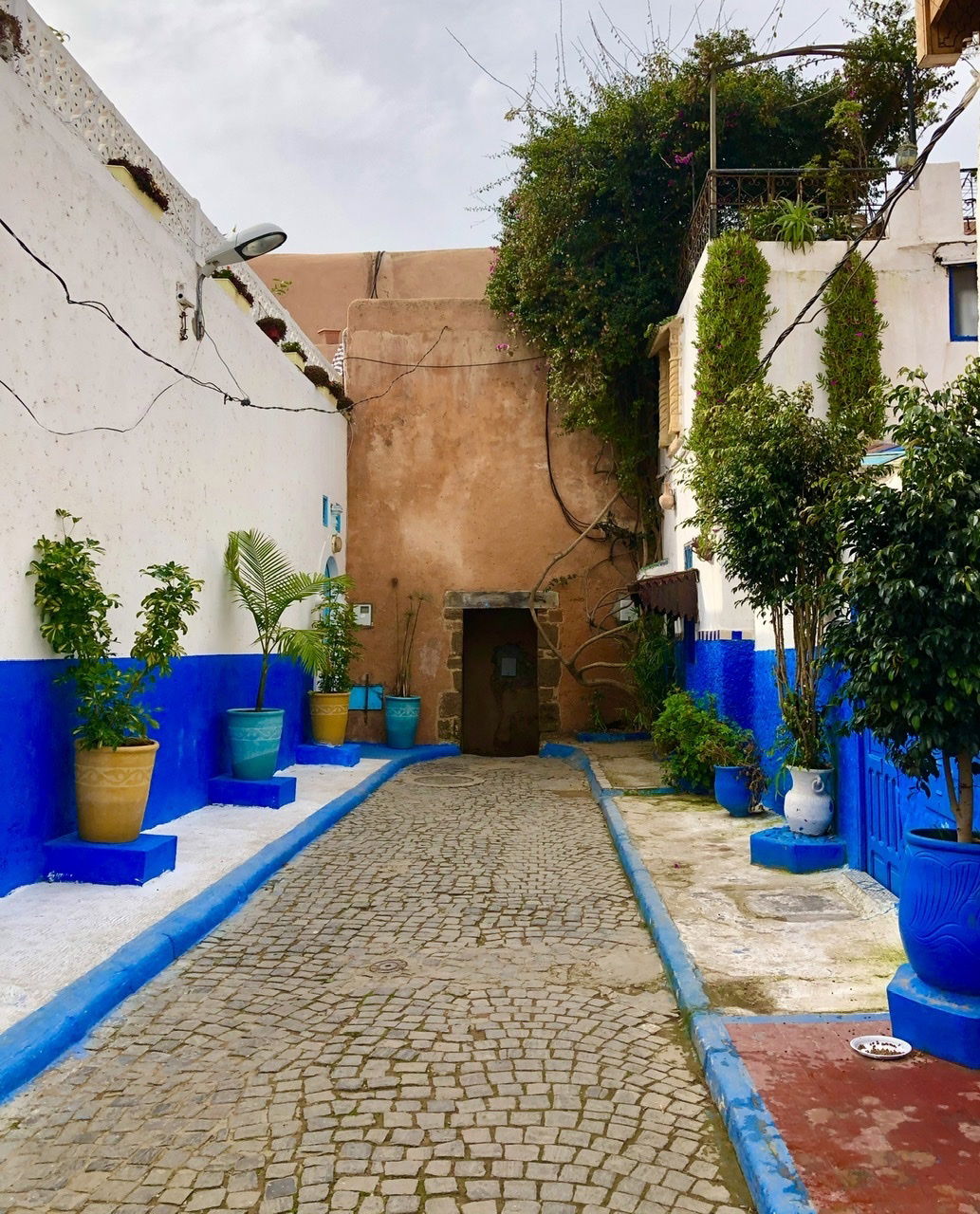 We enjoyed walking the narrow lanes, shopping (and not buying, although we learned later that the prices were very low compared to Marrakech and Fes) and checking out the views, historic buildings and having a tea and cakes at a seaside cafe.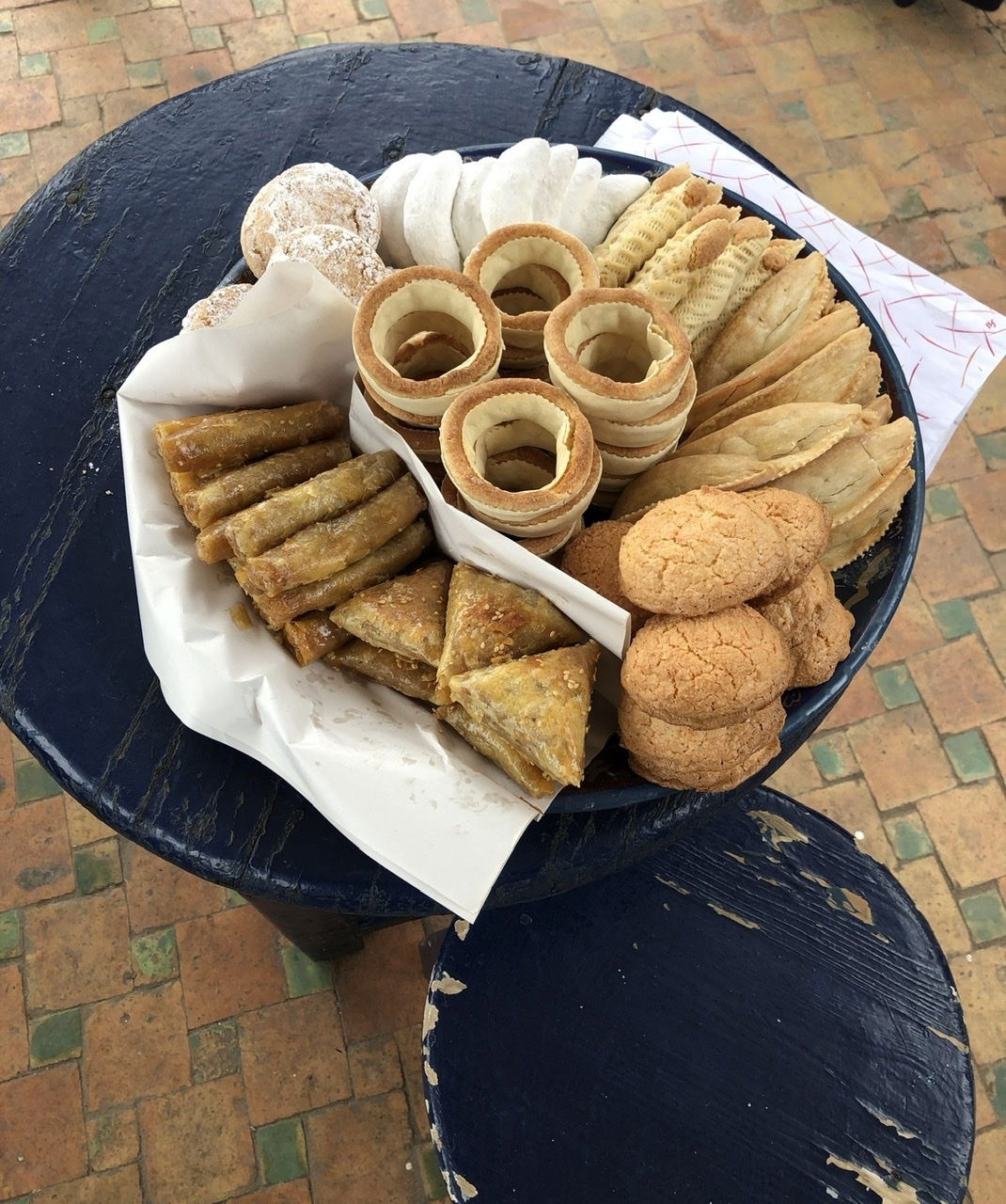 Choice of cakes and tea for one dollar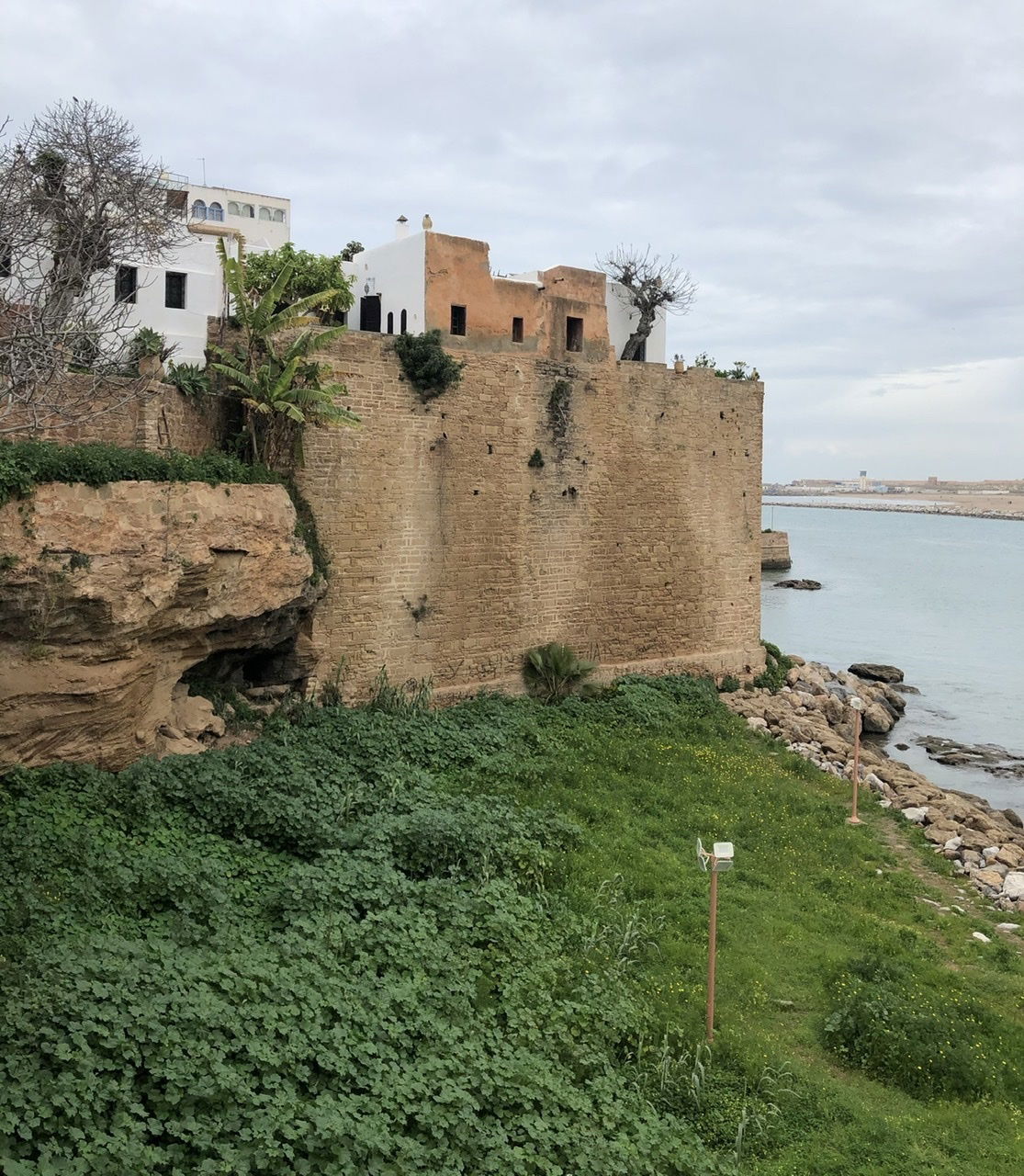 Our view from Cafe Maure
There are views of the sea and Sale, the beaches and the port. There are even bathrooms with the customary crazy guy sitting outside pretending to work there. He doesn't work there! We enjoyed Cafe Maure very much. It was the only place we saw other tourists while in Rabat. A German couple had a heated discussion about what to tip the guy sitting outside the bathroom. They settled on 5 dirhams. He doesn't work there!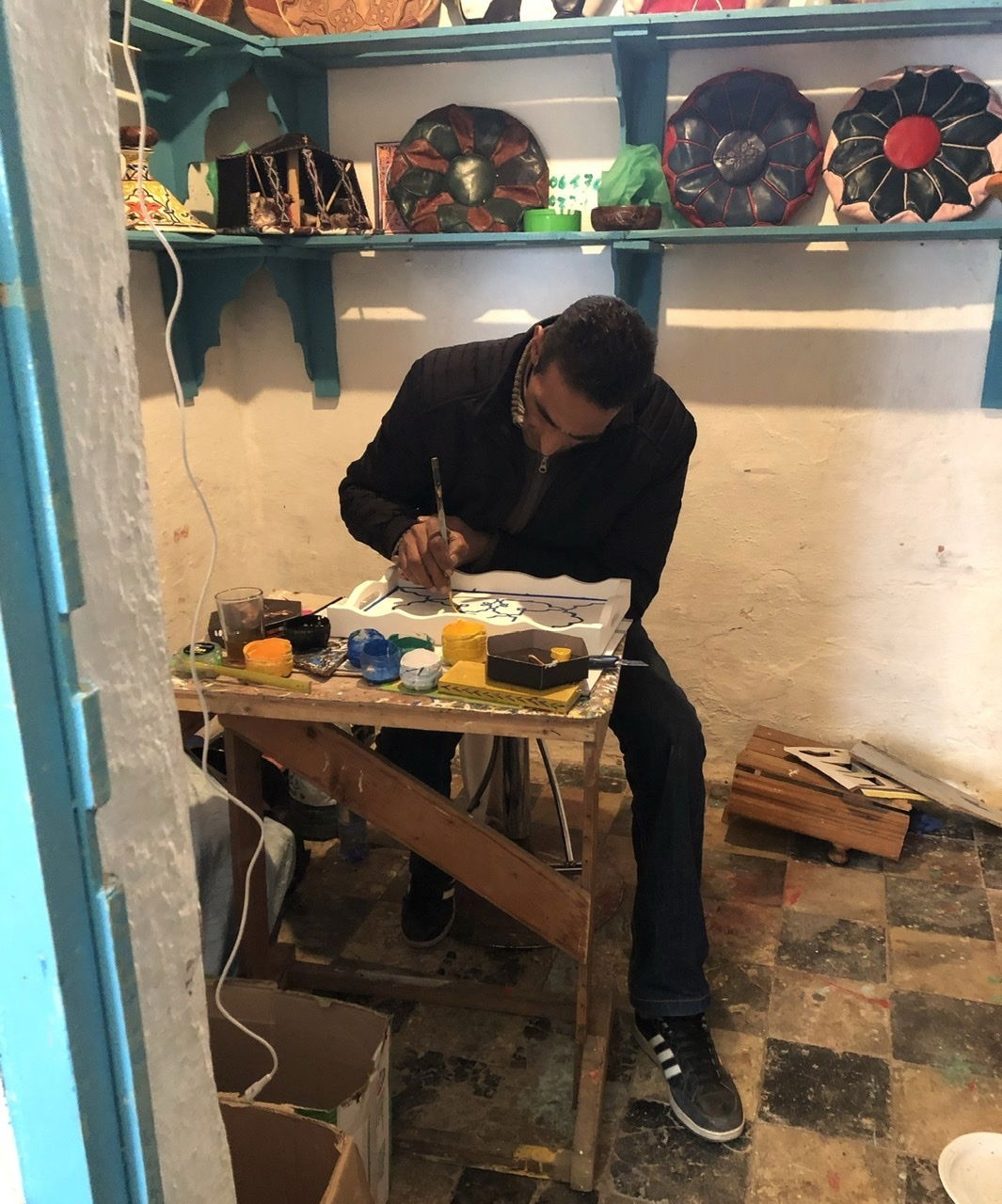 Its very cool to see the tiny, private shops with one owner/worker/clerk making his wares by hand.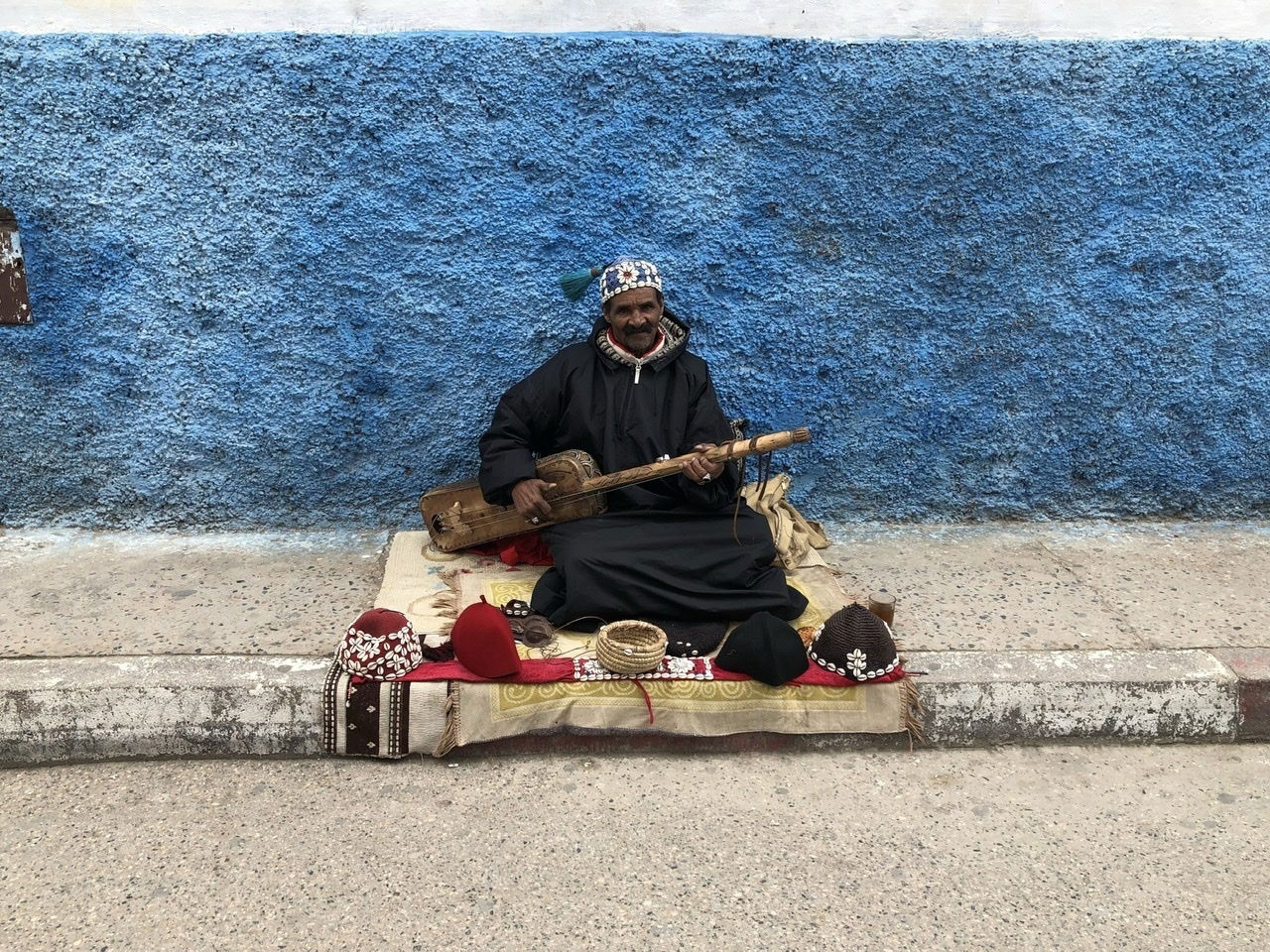 This fellow deserved a tip! We loved hearing Moroccan street mUsic.
From the Kasbah you can easily access the souks of the old medina. The medina of Rabat is not large and it is vey easy to navigate. We had a delicious lunch at Mamima and walked through the shady, palm branch arbor-covered streets.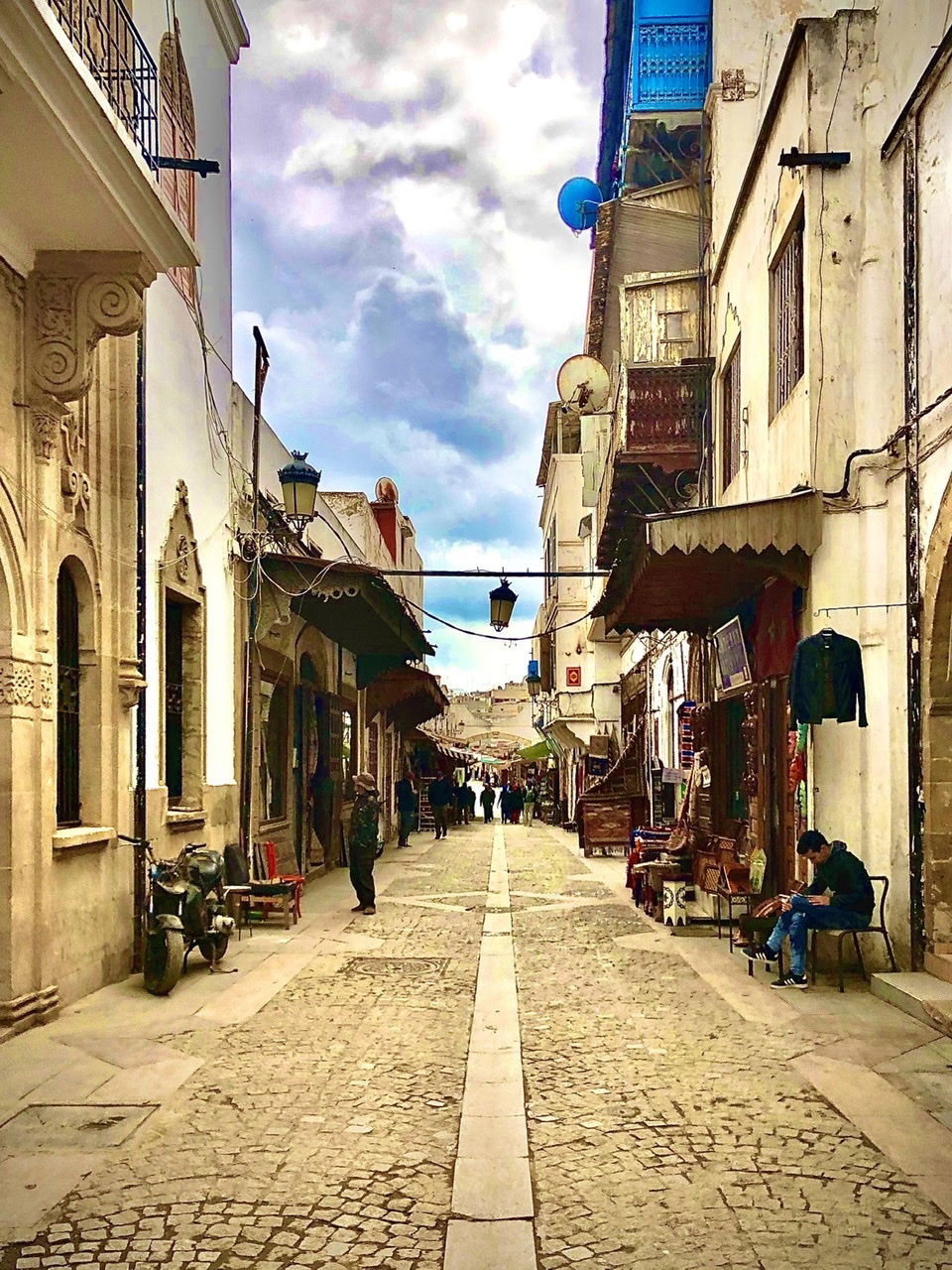 If you go early in the morning it is very quiet!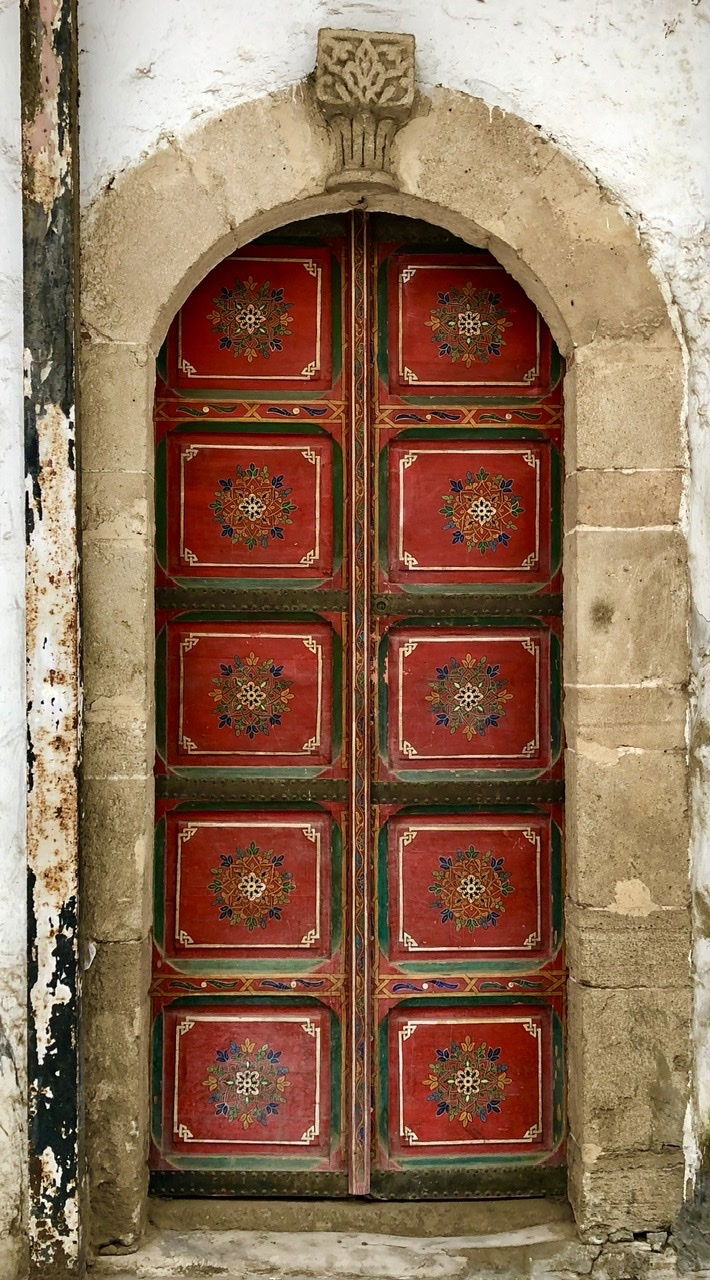 There are a lot of beautiful, old doors in Rabat Medina.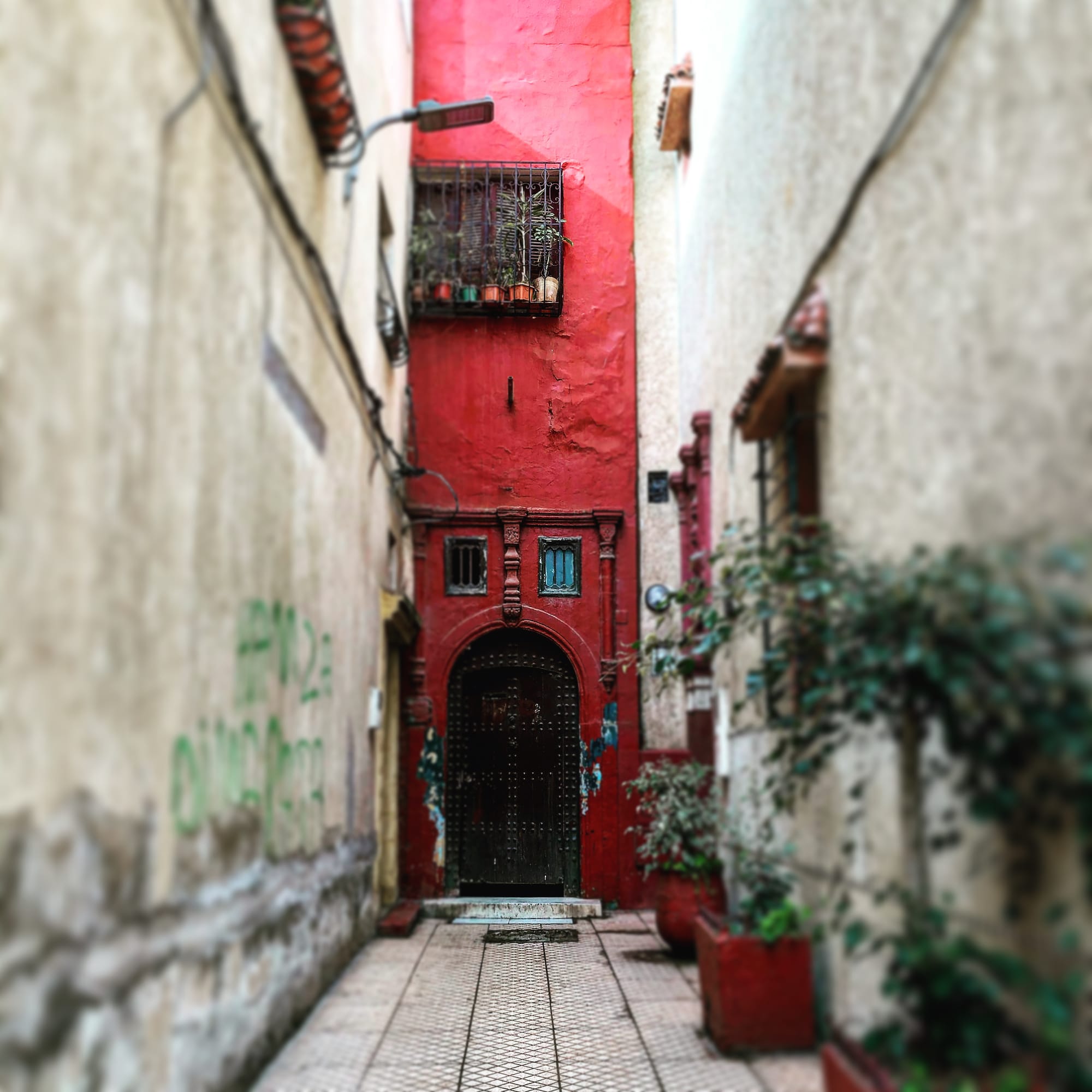 There are so many pictures to take in Rabat!
Chellah
"Even the fierce midday sun does not wholly dispel the haze-the air remains thick, opalescent, like water slightly clouded by milk." - Edith Wharton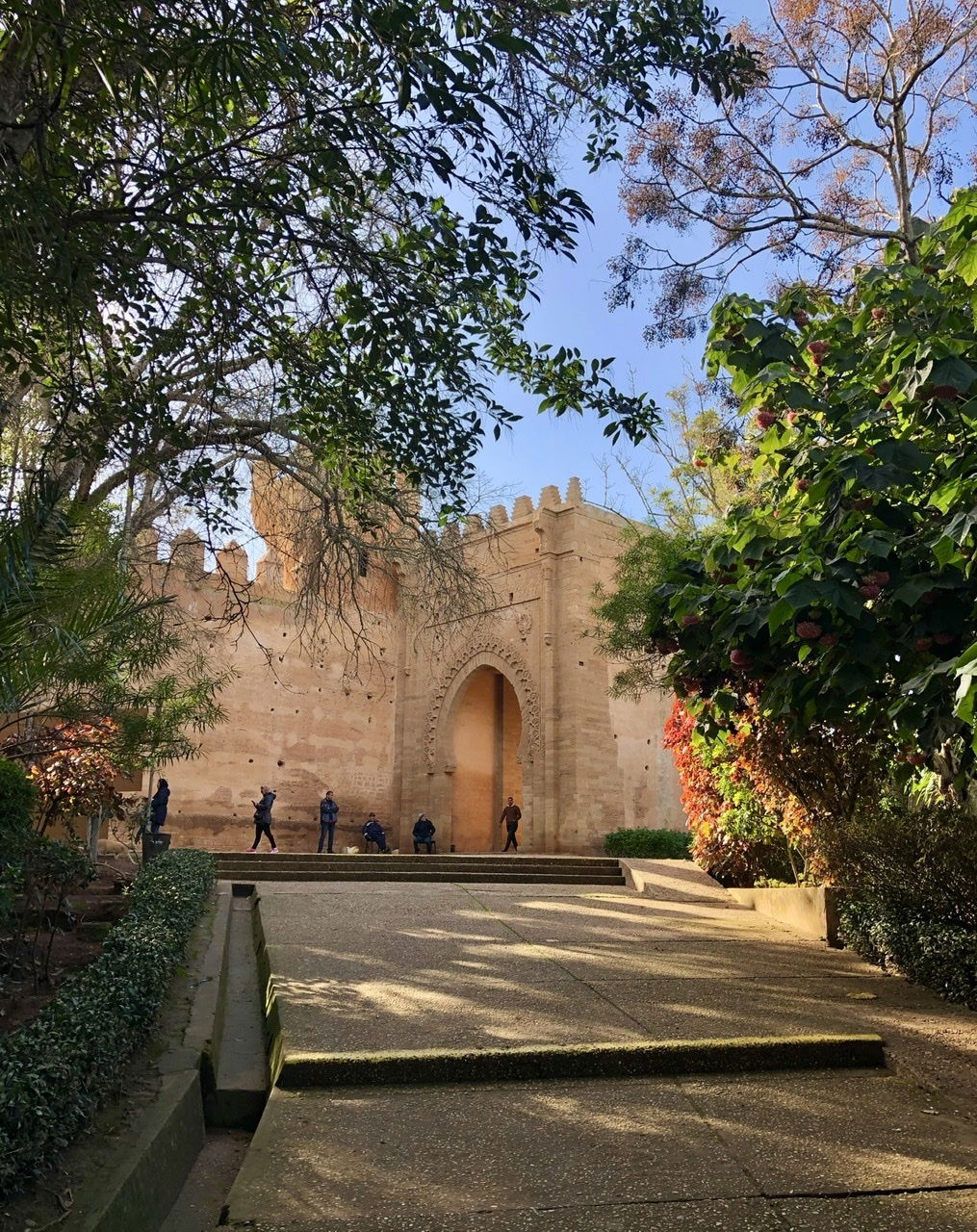 A few minutes outside the main town of Rabat lies the grounds of Chellah. It looks like a walled city in its own right. There is a tall, yellow clay wall around it and the customary high arched entry which shelters a tiny ticket booth where you pay the equivalent of $6 to enter. You walk through a garden and then you arrive at the archeological portion of Rabat with its tower and ruins, dating from the Phonecians to the Romans and finally the Berber dynasties.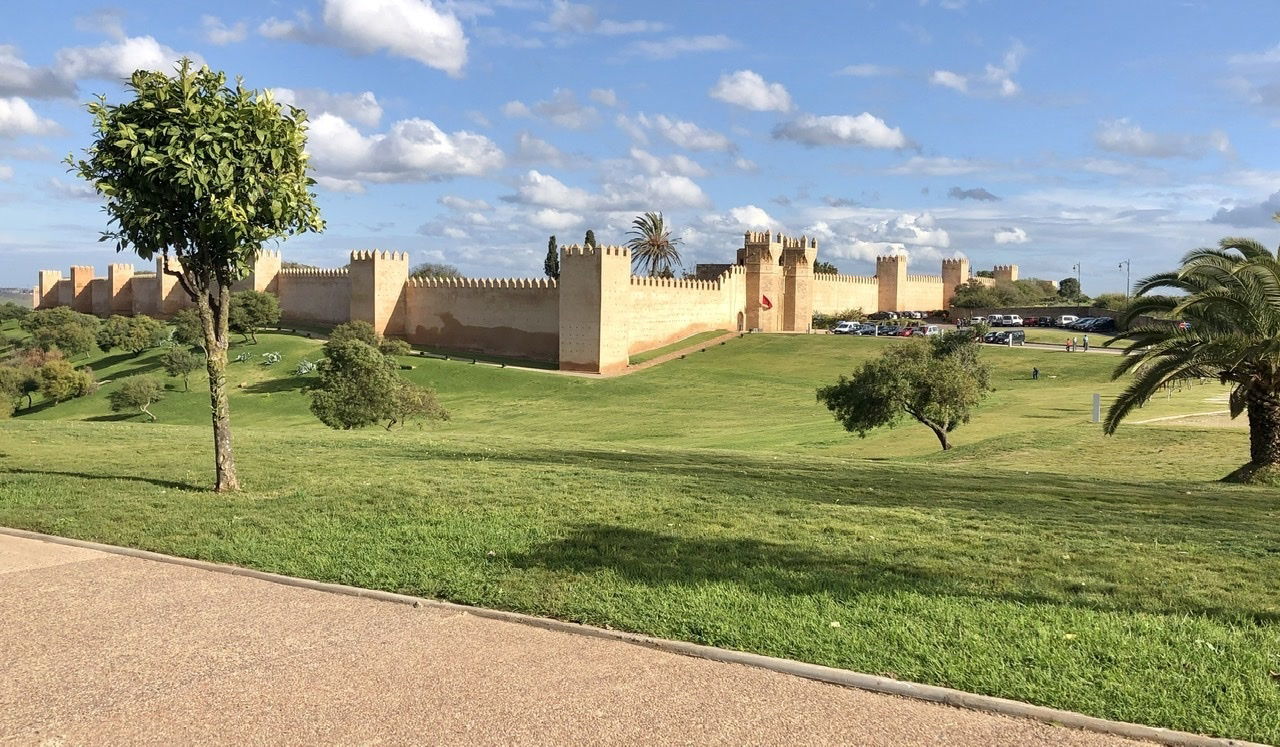 Much of it was closed for rennovations but there was still a lot to see including small, formal gardens, the remains of store houses and other buildings and enormous stork nests rising above it all. We loved it and felt very inspired by the light that lingers on dewy grass long into the early afternoon in Moroccan winters.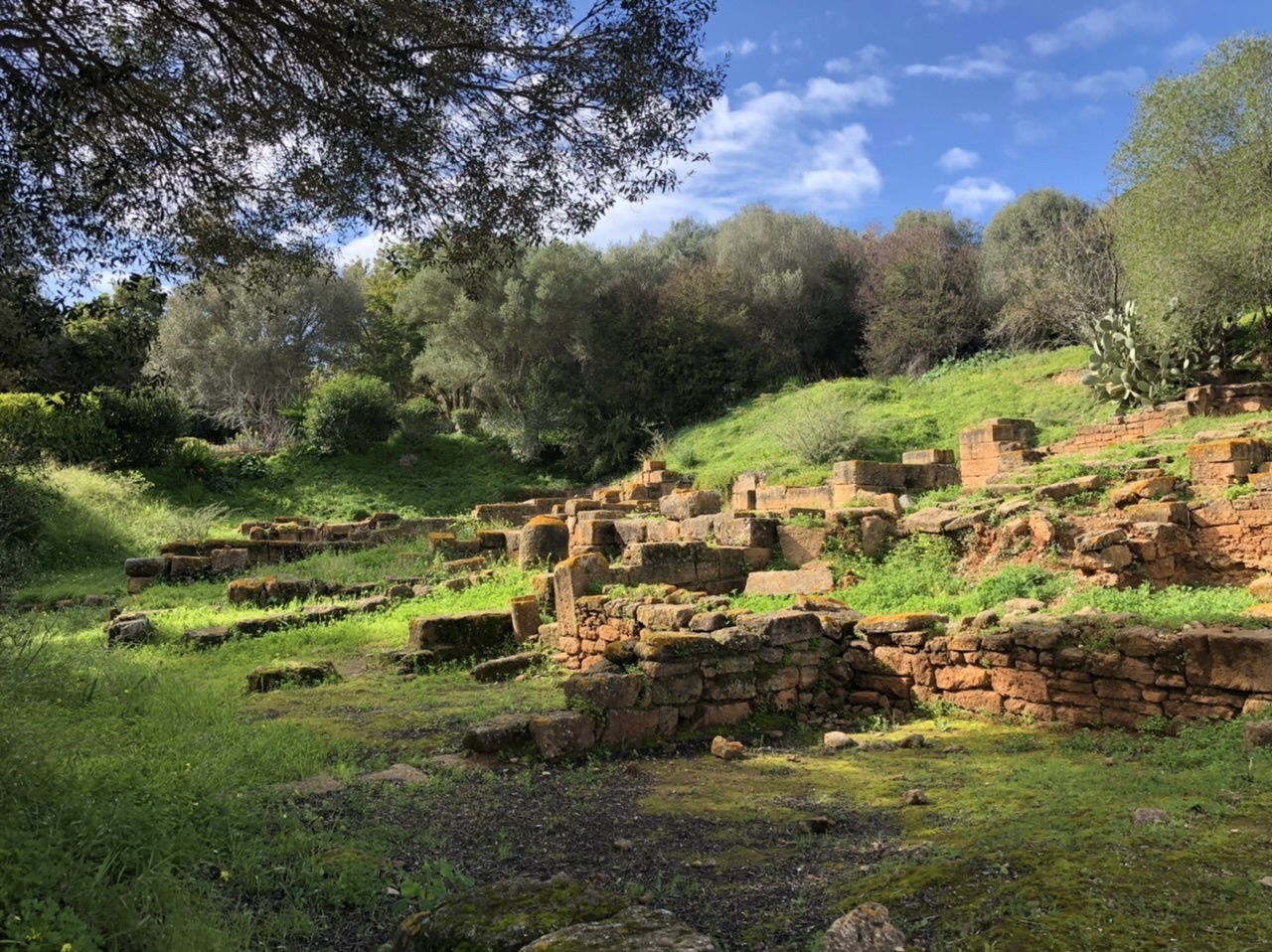 Ruins from pre-Roman times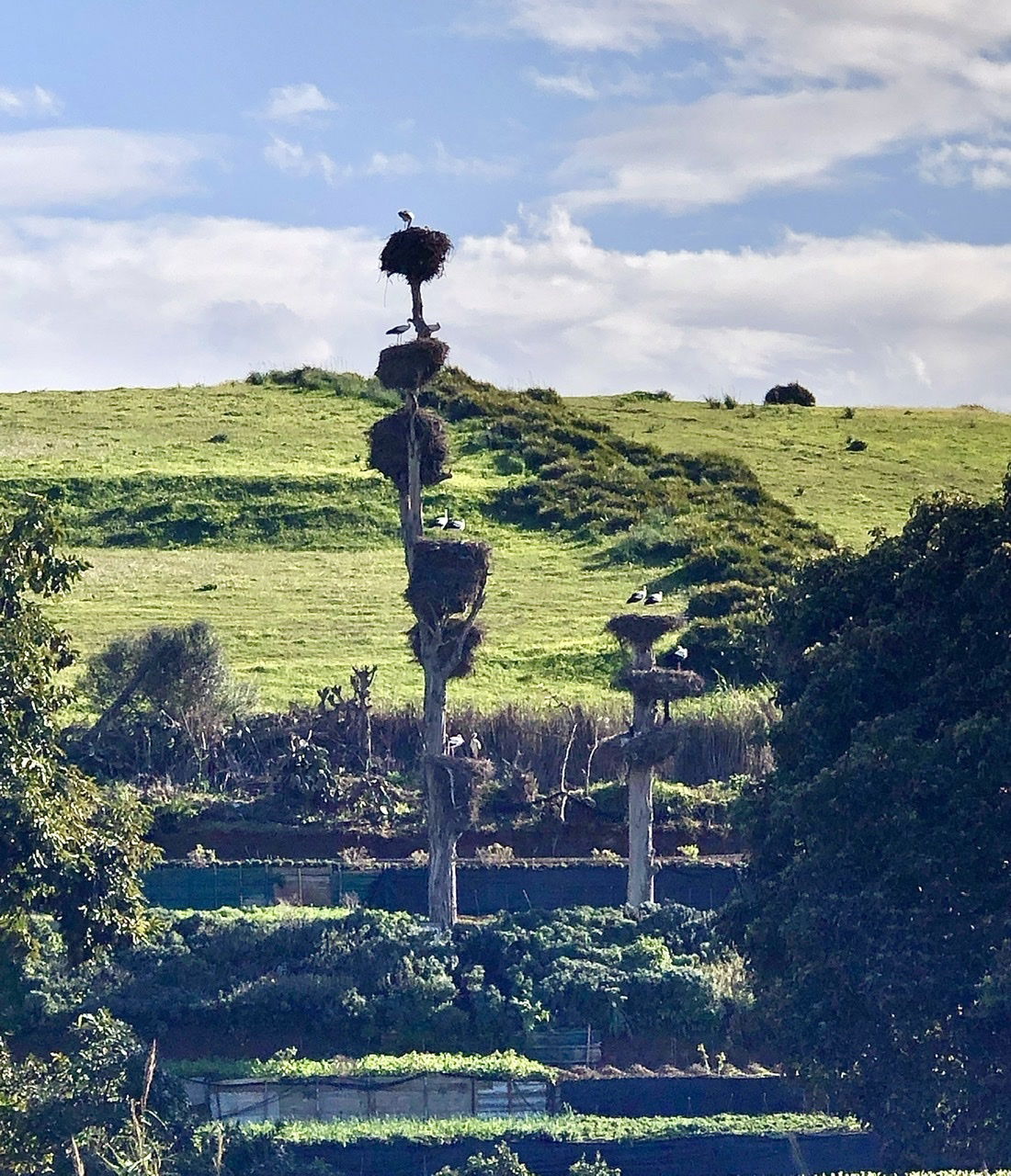 The stork nests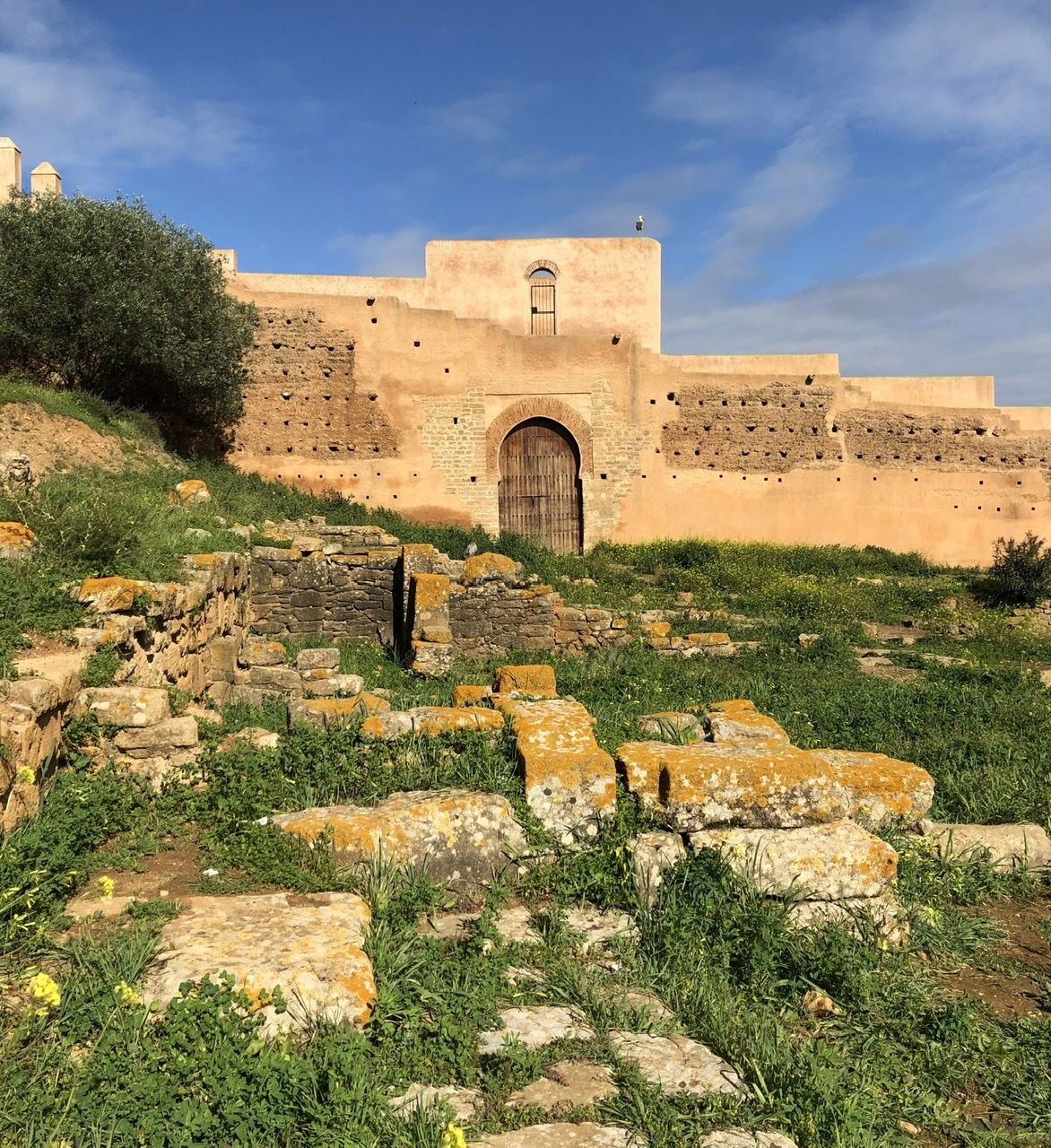 The necropolis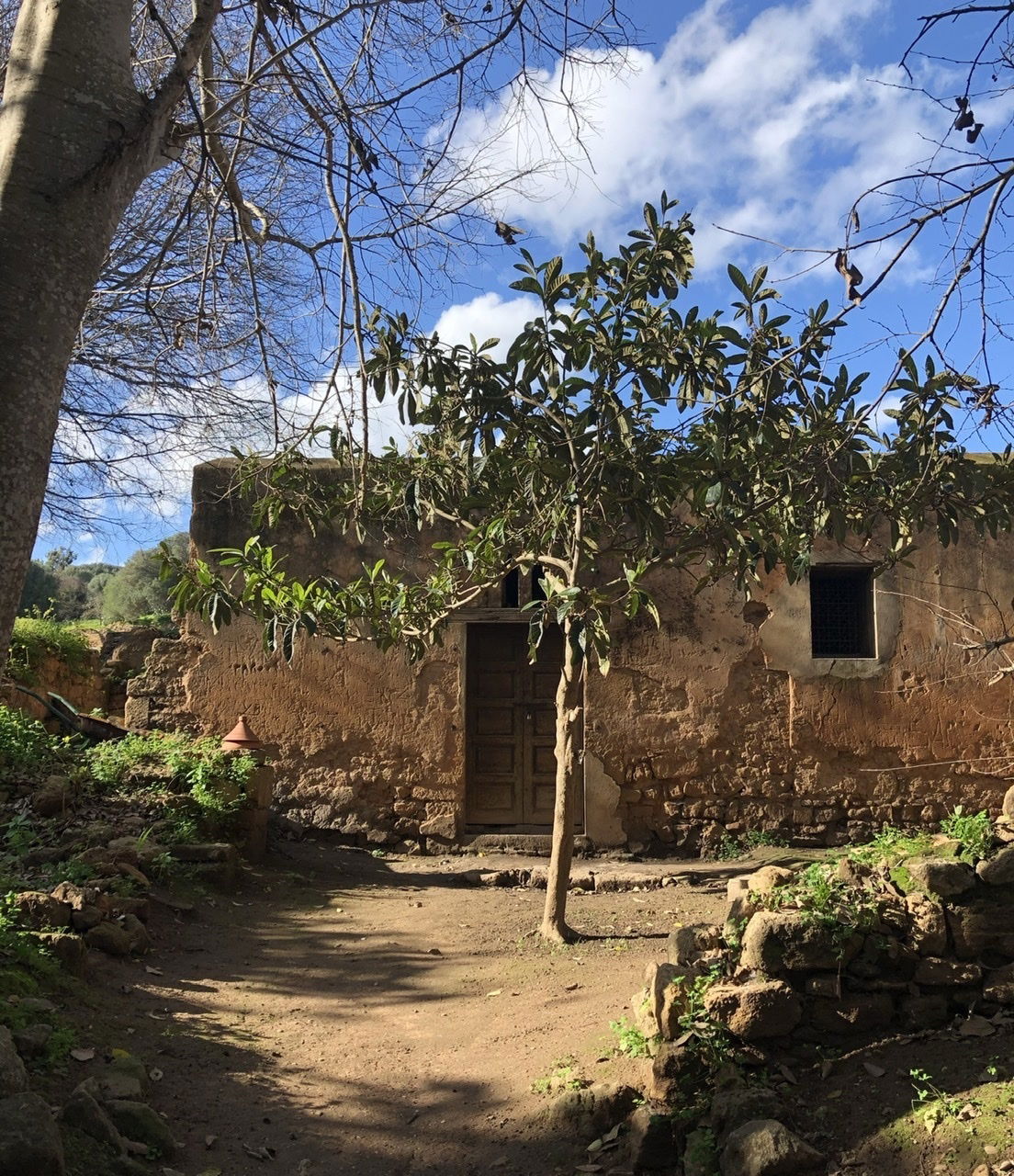 One of those examples of a very African building among the Roman and Arab ones
When we walked out of Chellah it was finally warm enough to really feel like we were In Morocco. There were the nicest young guys driving bike taxis - electric bikes for those heavier loads and the hills - that are permitted to pick up exhausted tourists and take them back to their hotels. They were having a slow day.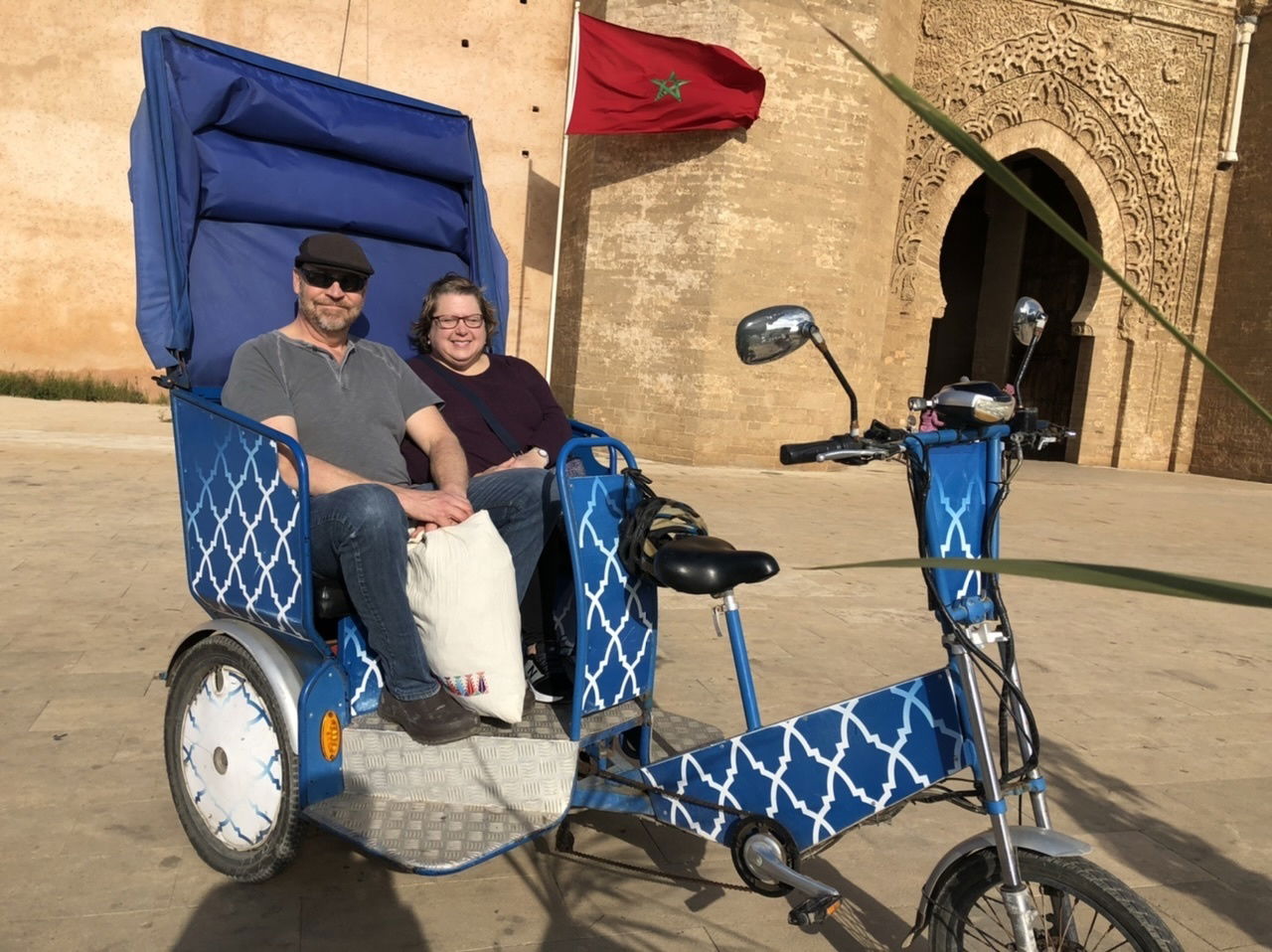 Our favorite ride
We agreed to get in without fixing a price (not usually a good idea) because the kid just looked like a honest guy. His English was surprisingly fluent so we asked him to take us to a grocery store (one that Europeans shop at). We bought six bags of groceries for the rest of our stay, got the phone card sorted again and he waited for us in the parking lot! Then he biked us and all the bags all the way back to our apartment. He refused to tell us how much to pay him so we gave him the equivalent of 15 American dollars - he was thrilled, we were thrilled and this was the first of three 20 year old men we almost adopted during our month in Morocco. At this point we were really loving Rabat.
More to see in Rabat
1. Walk around the downtown area and look at the architecture and murals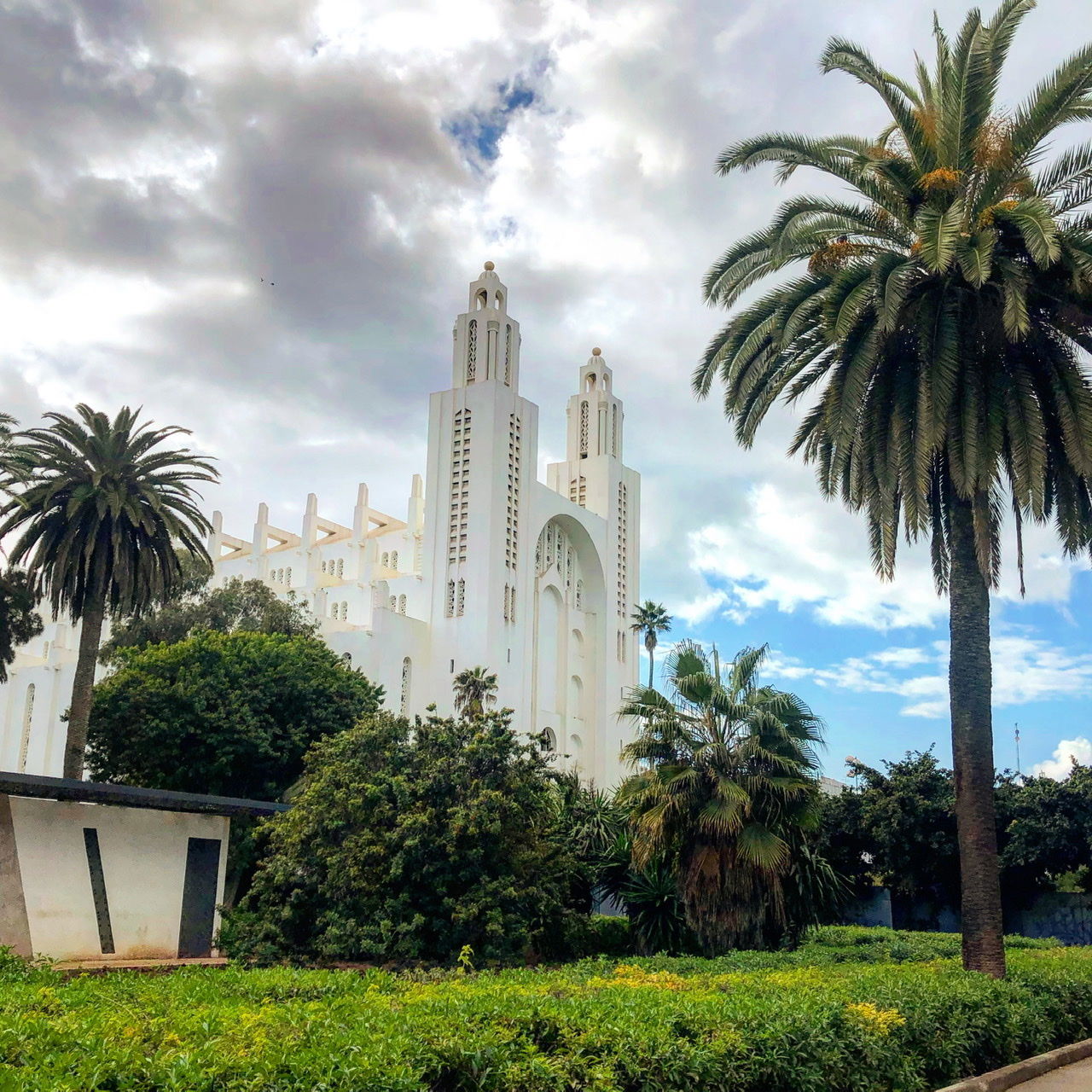 St. Paul Church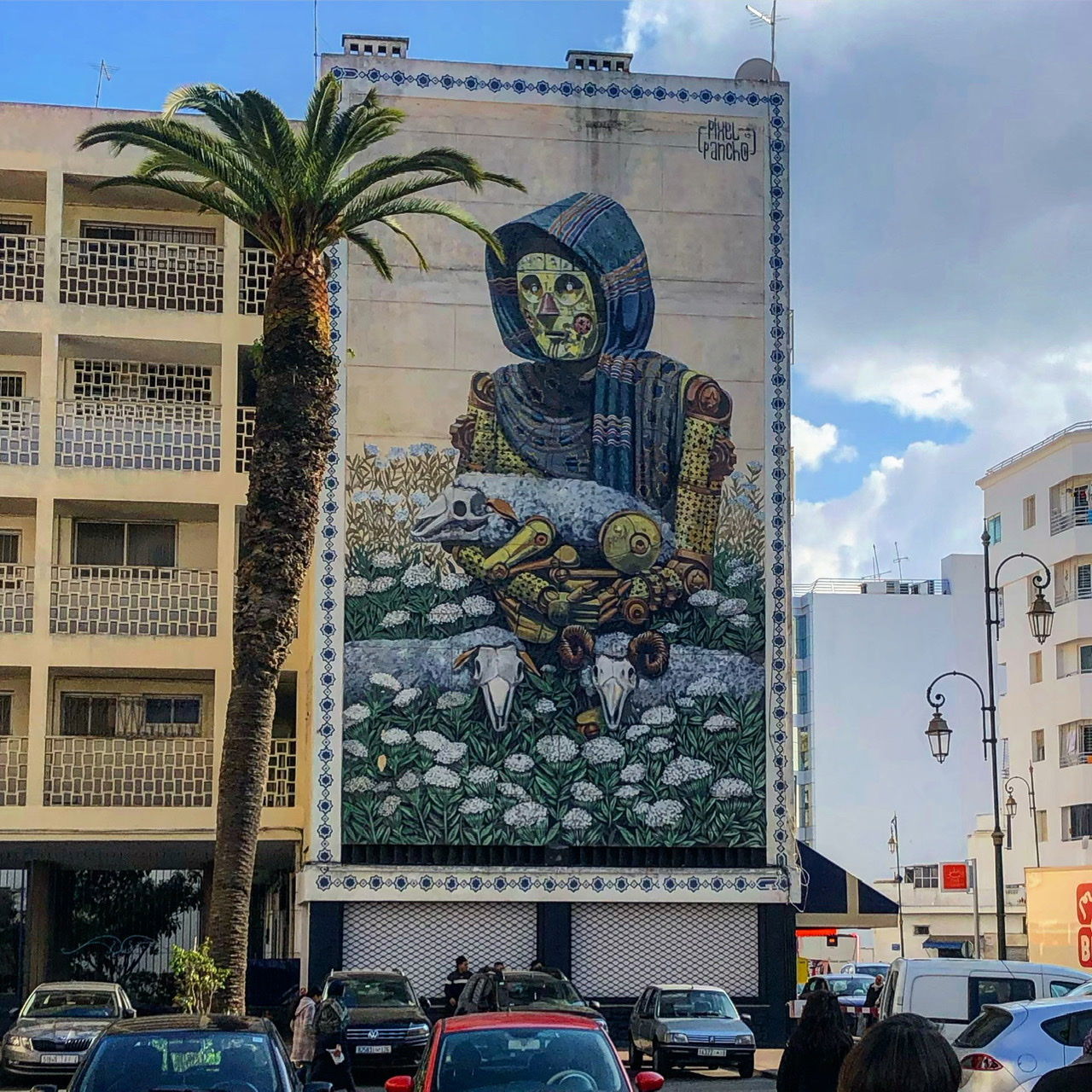 Interesting mural near the grocery store
2. Visit the art museum - There are five main museums in Rabat and this is the one we picked.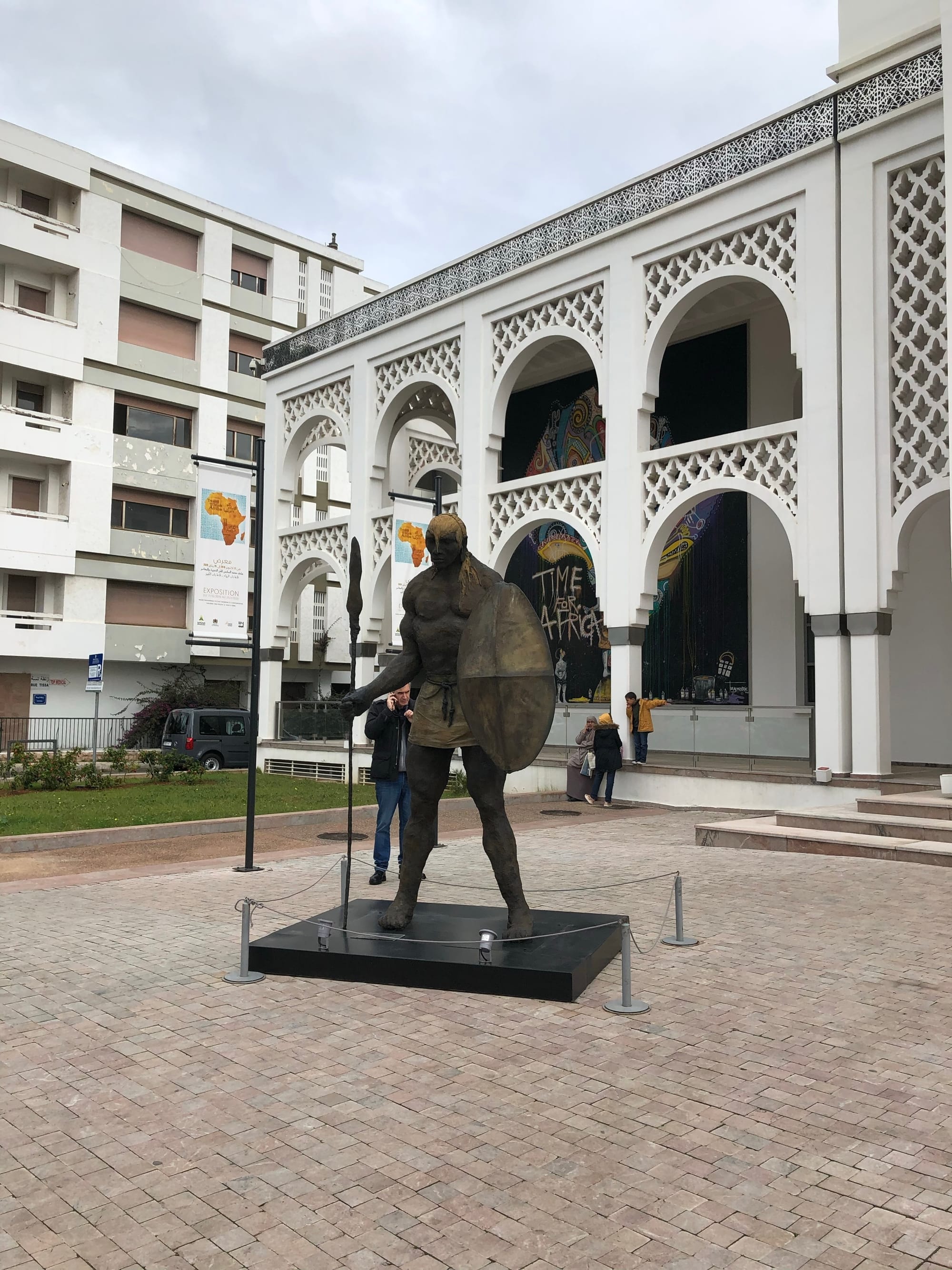 One of the sculptures at the entrance of the Museum of Modern and Contemporary Art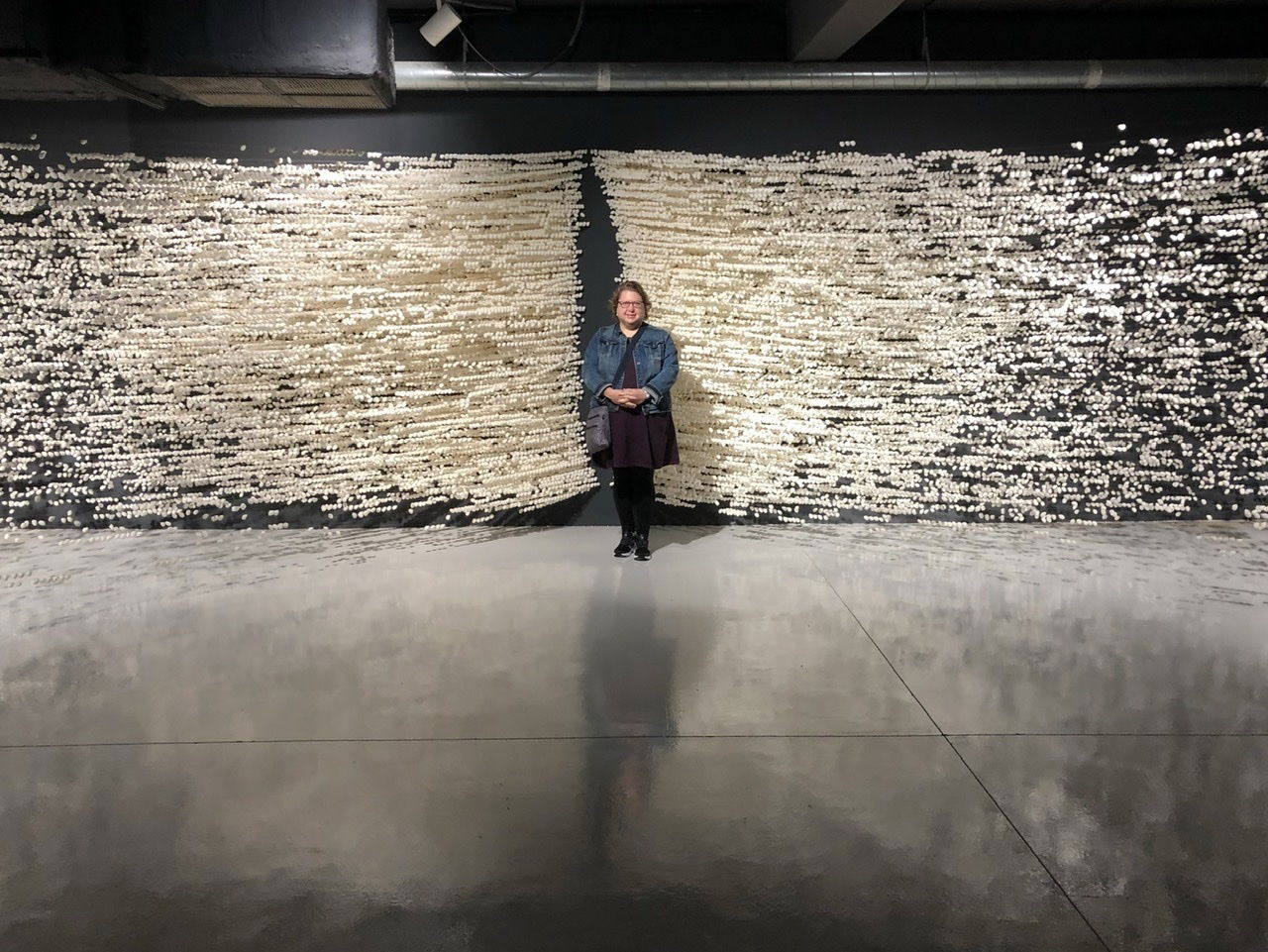 Me and one of the installations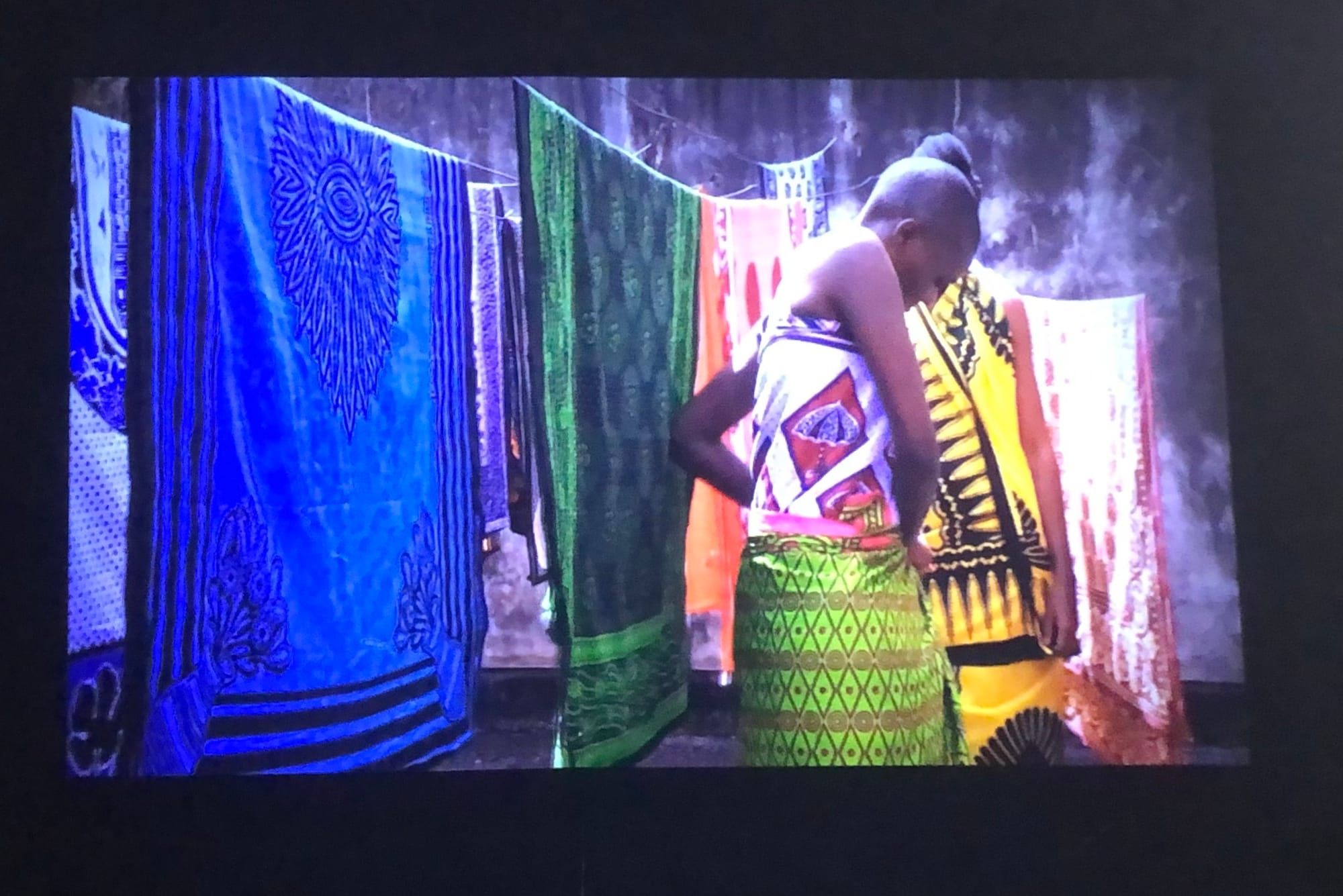 We loved this art film which interposed a silent film of young women clothing themselves in large, African prints with accompanying North African proverbs.
3. Take interesting photos - this city was made to be photographed. Really the whole country is breathtaking.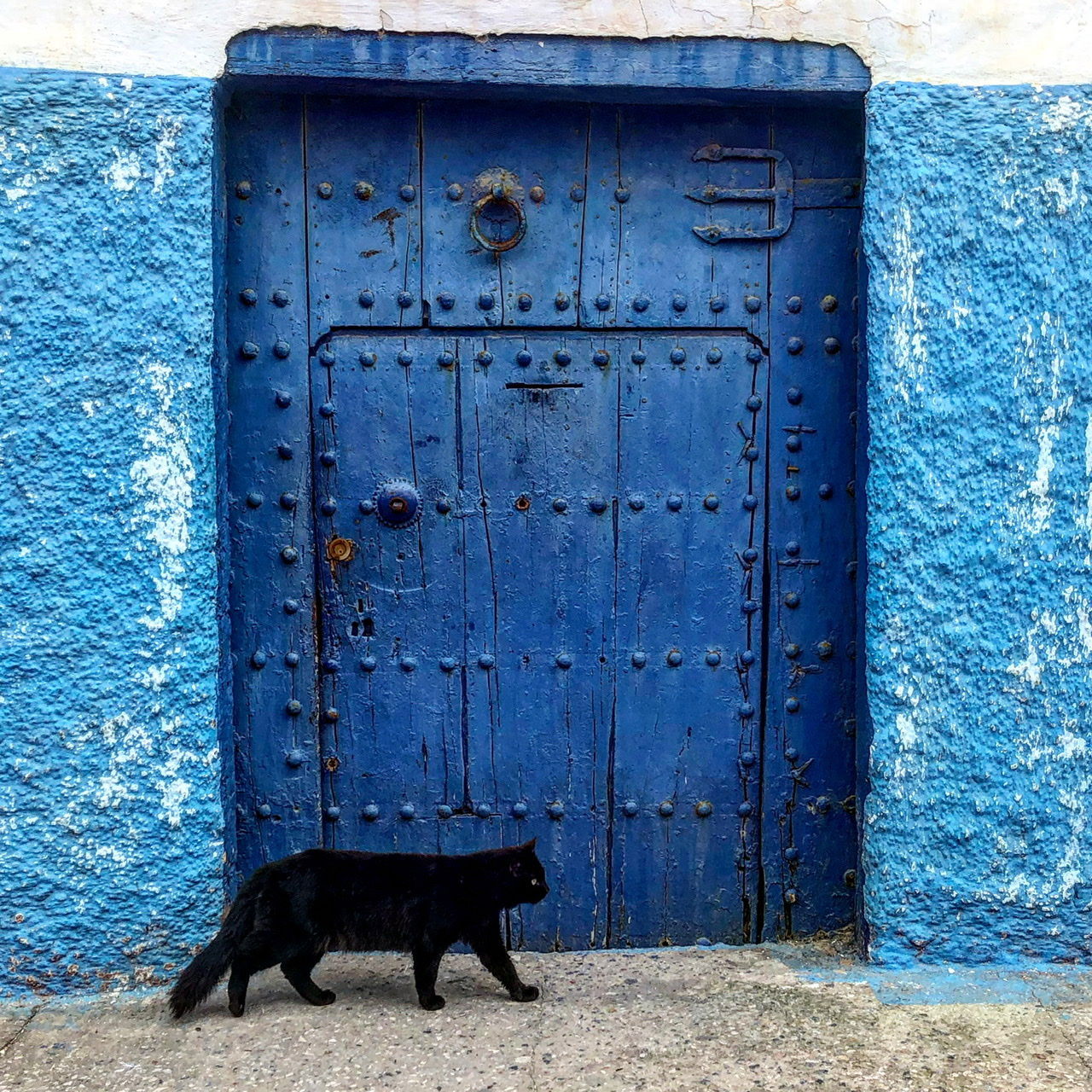 One of my favorite pictures of the year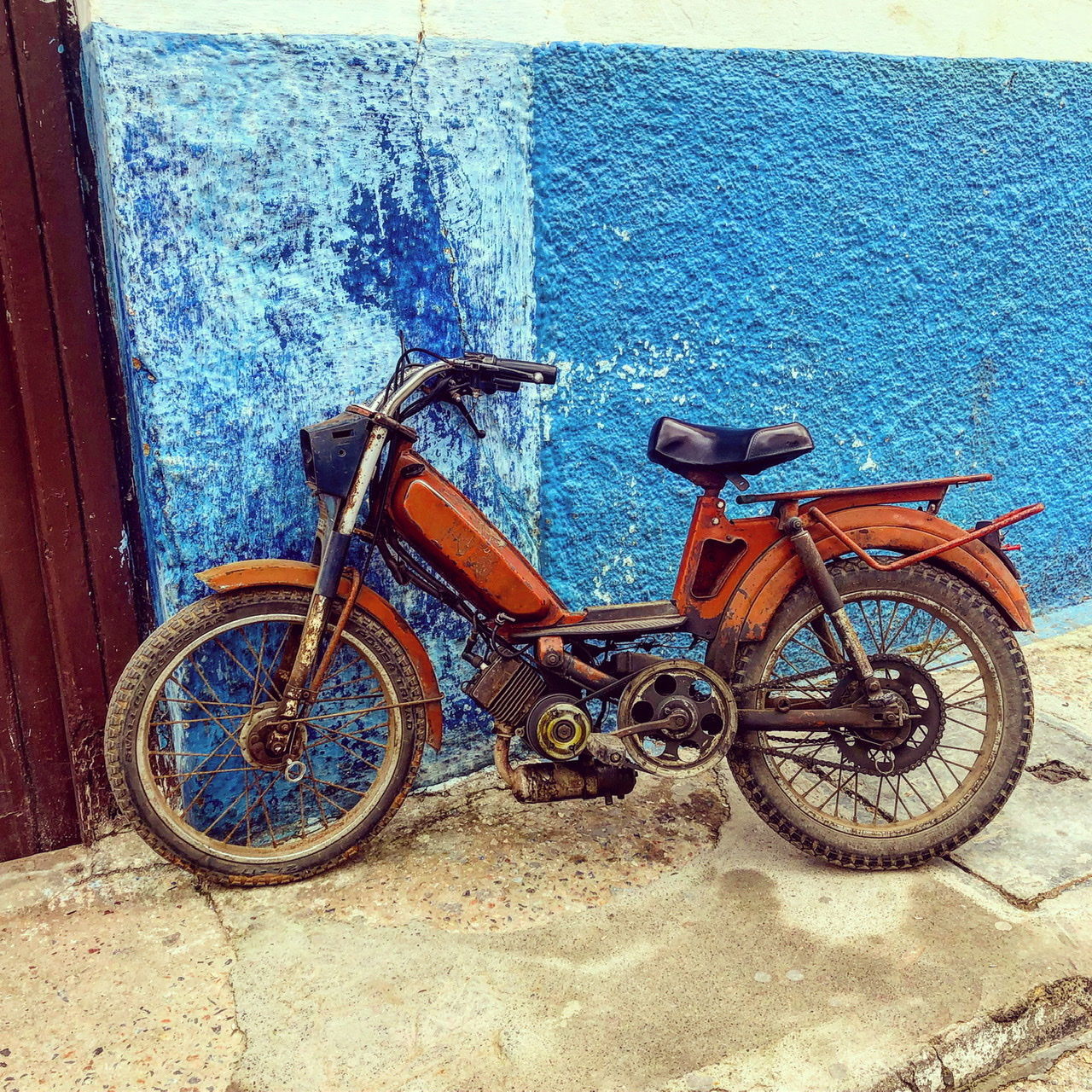 I mean, do they set these up just for artsy folk to get great photos?
4. Try to buy salt - Yeah, I don't have a picture of this. We needed salt. Since we were leaving Rabat in a week for Marrakech and we didn't want to haul bags of food with all our other stuff, we limited the seasonings we bought expecting there to be salt in the apartment. FUN FACT: Moroccans do not eat salt. I mean, they must eat some salt but we never saw any. So after hinting that perhaps Peter would like to go four floors down to the street and go shop to shop and ask for salt and not getting him to do it, I sent out for a 45 minute gambol all over the neighborhood pantomiming salting my food and getting offered the following: honey, red pepper flakes, more honey, napkins, napkins and olives. No salt.
5. Do an Air BnB experience - After our fantastic basket making experience in Ireland and the Air Bnb breadmaking experience we thought we would try a basket making experience with Air BnB in Rabat. Ha ha ha. What a time we had. First, we had to go to Sale. Tram. Then we met our guide, two cute teenage boys who would take us to the artisan community. They took us by cab, squashed into the back seat together. The actual basket class and the place where it took place was really interesting.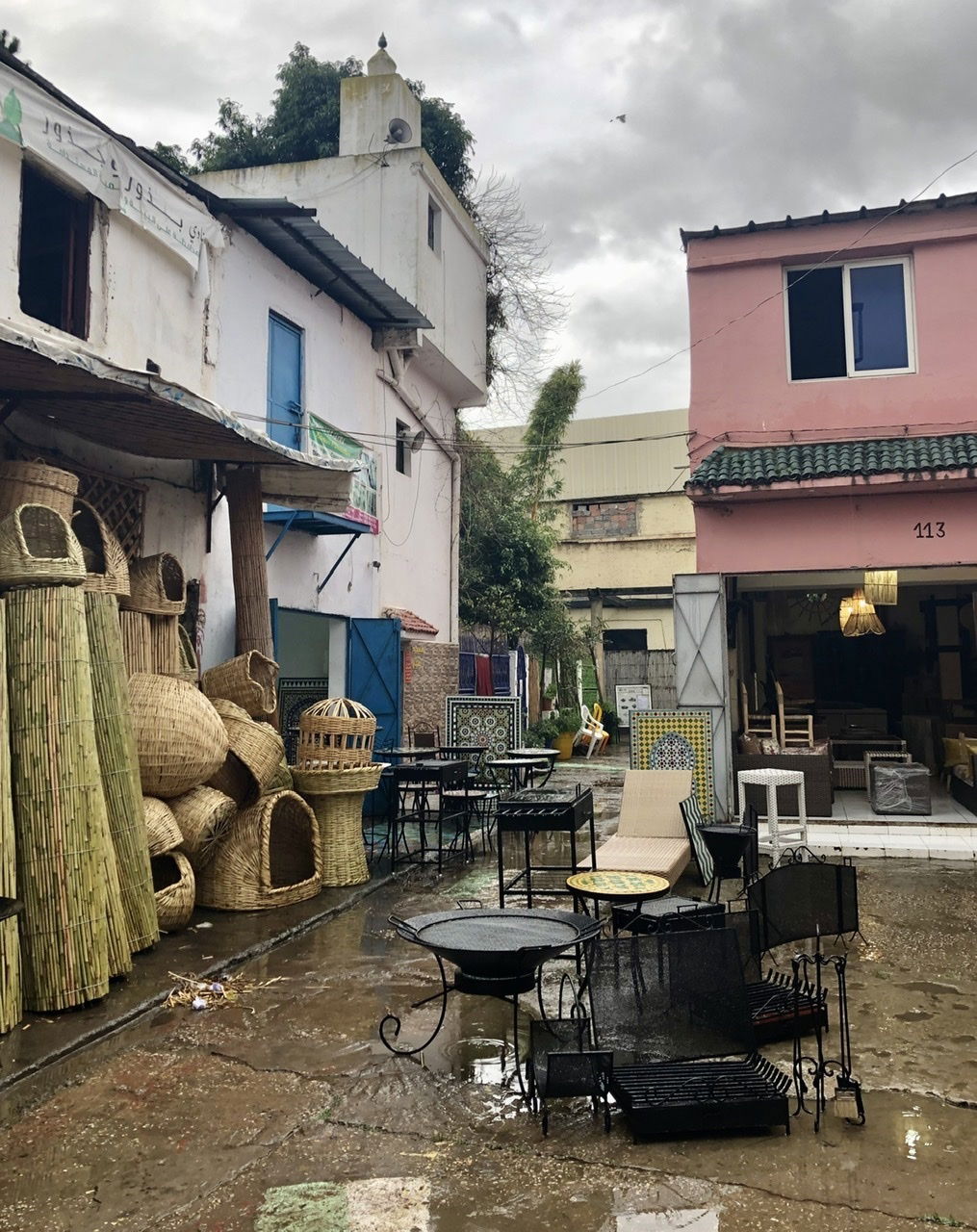 However, it poured down rain the entire time and the guys argued philosophy non-stop and smoked hash, also non-stop. Now, if I were still 21, I would have been down for that but it was a little much. So, we were cooped up in a workshop, reeking of hashish trying to make baskets, barefoot, in the rain... but we had more laughs than tears so it was a win.
Peter and the instructor getting the technique for fresh reed baskets right.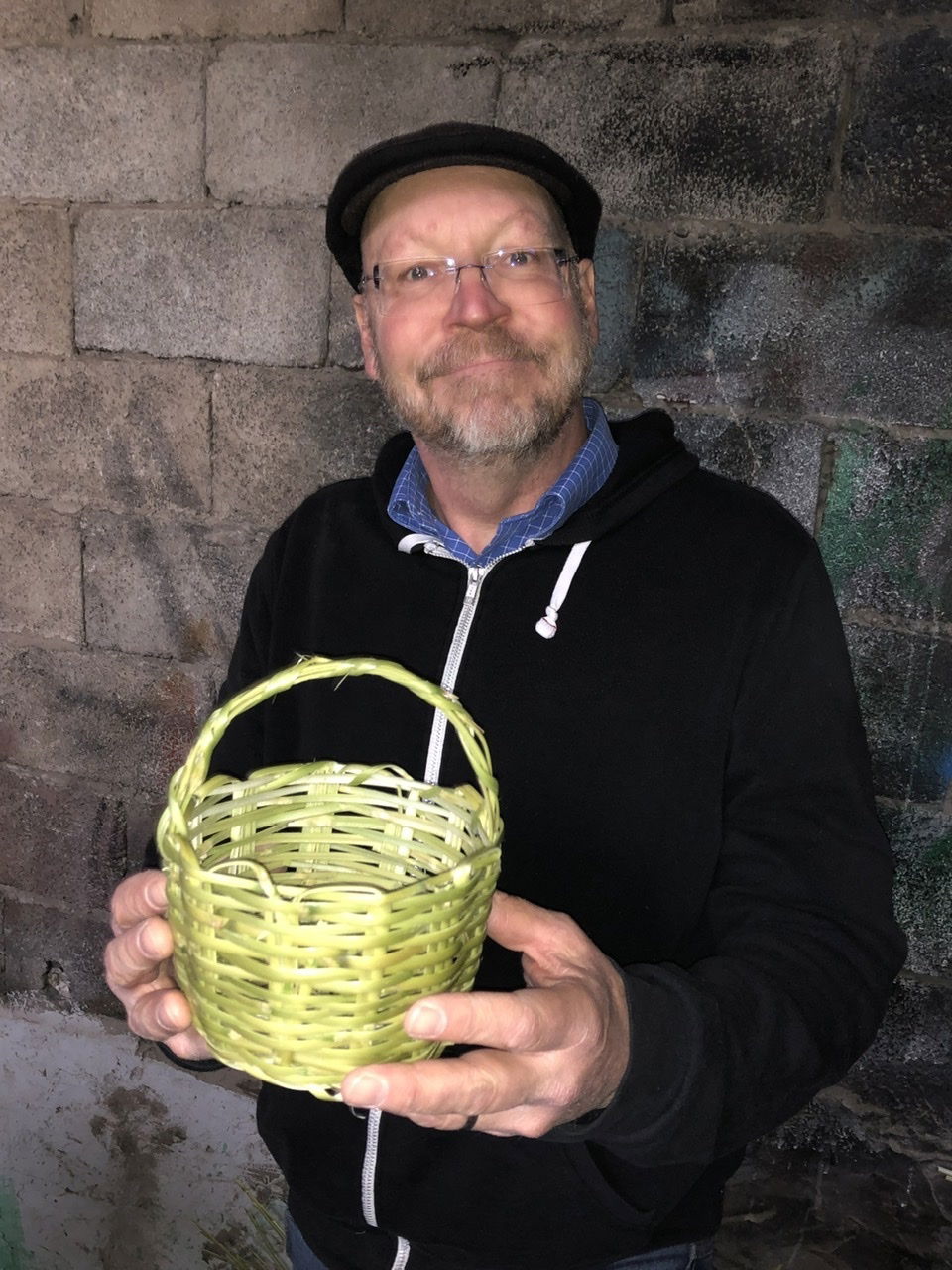 Ta da!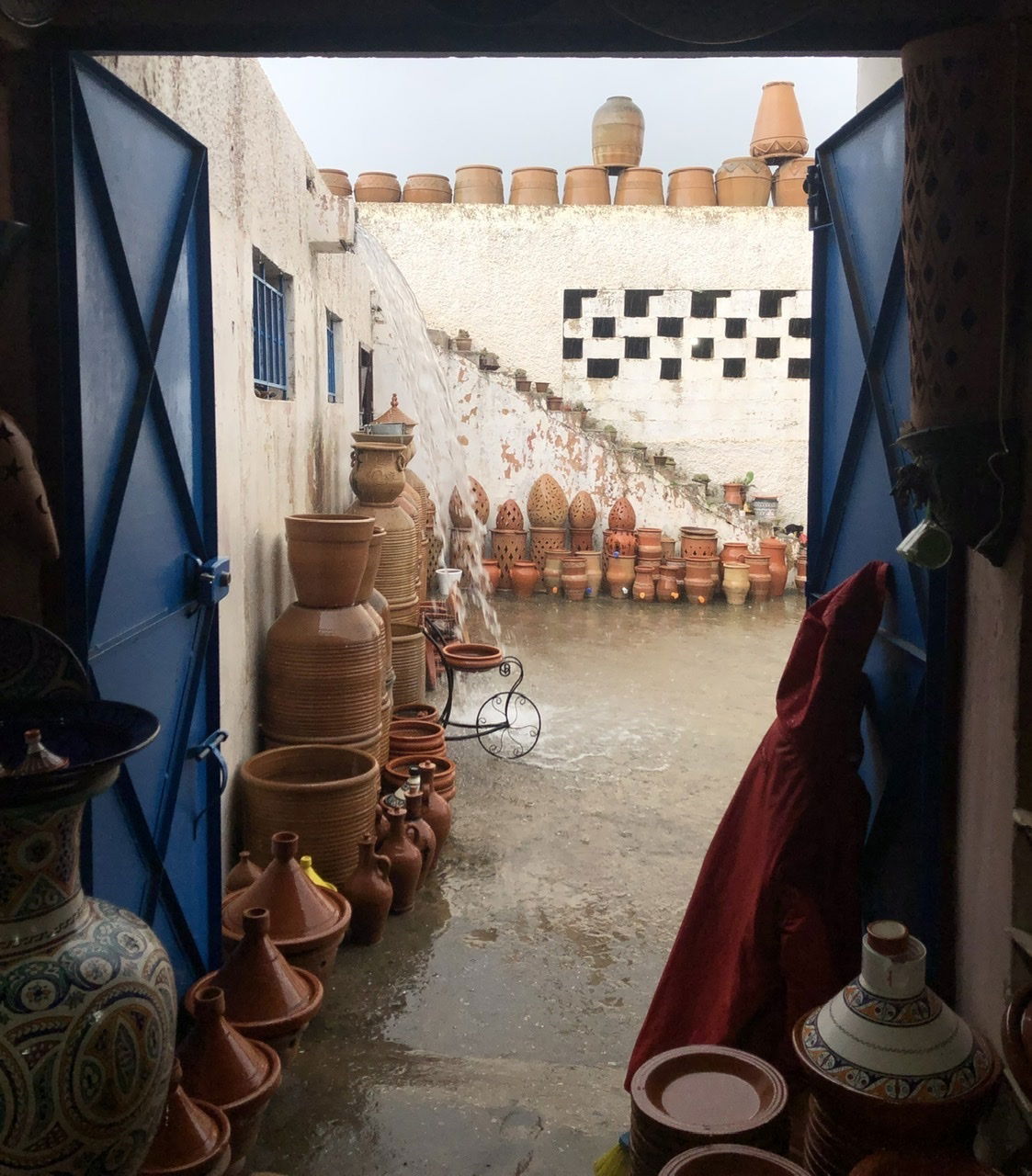 It was REALLY raining.
Then we had to get home. Wow, what a mess. the guys called their older brother who came to get us with another brother (that's four extremely attractive Moroccan guys in a Hyundai, if you are counting). We actually got three of us in there, said goodbye to brother #4 and proceeded to get stuck in traffic. The truck ahead of us stalled on a ramp. The brothers all got out and helped him get going again while Peter and I alternated between clutching our baskets and clutching our proverbial pearls. I would not recommend this experience to everyone. It did give us an insiders' view of young Morocco and the tourist trade that we would not have normally had. And two baskets.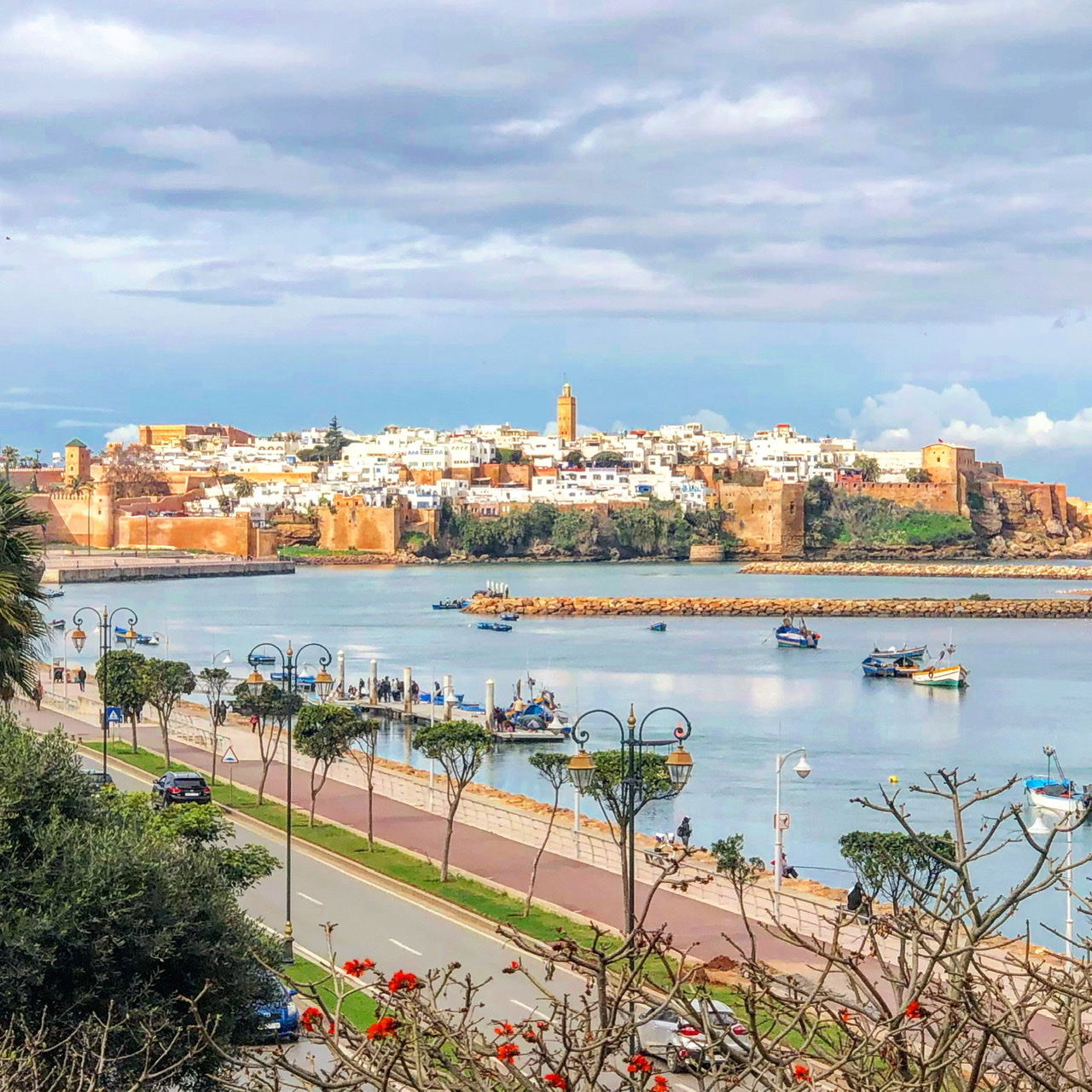 As you cross the bridge from Rabat to Sale you get this view of Rabat.
6. Visit Sale - Yeah, don't visit Sale. We went to the medina, walked around a bit, decided it was really not a place we wanted to get to know better and we left. There were lots of cheap Chinese-made goods and locals selling delicious strawberries. Those and this cool picture of a torn-down building were the highlights.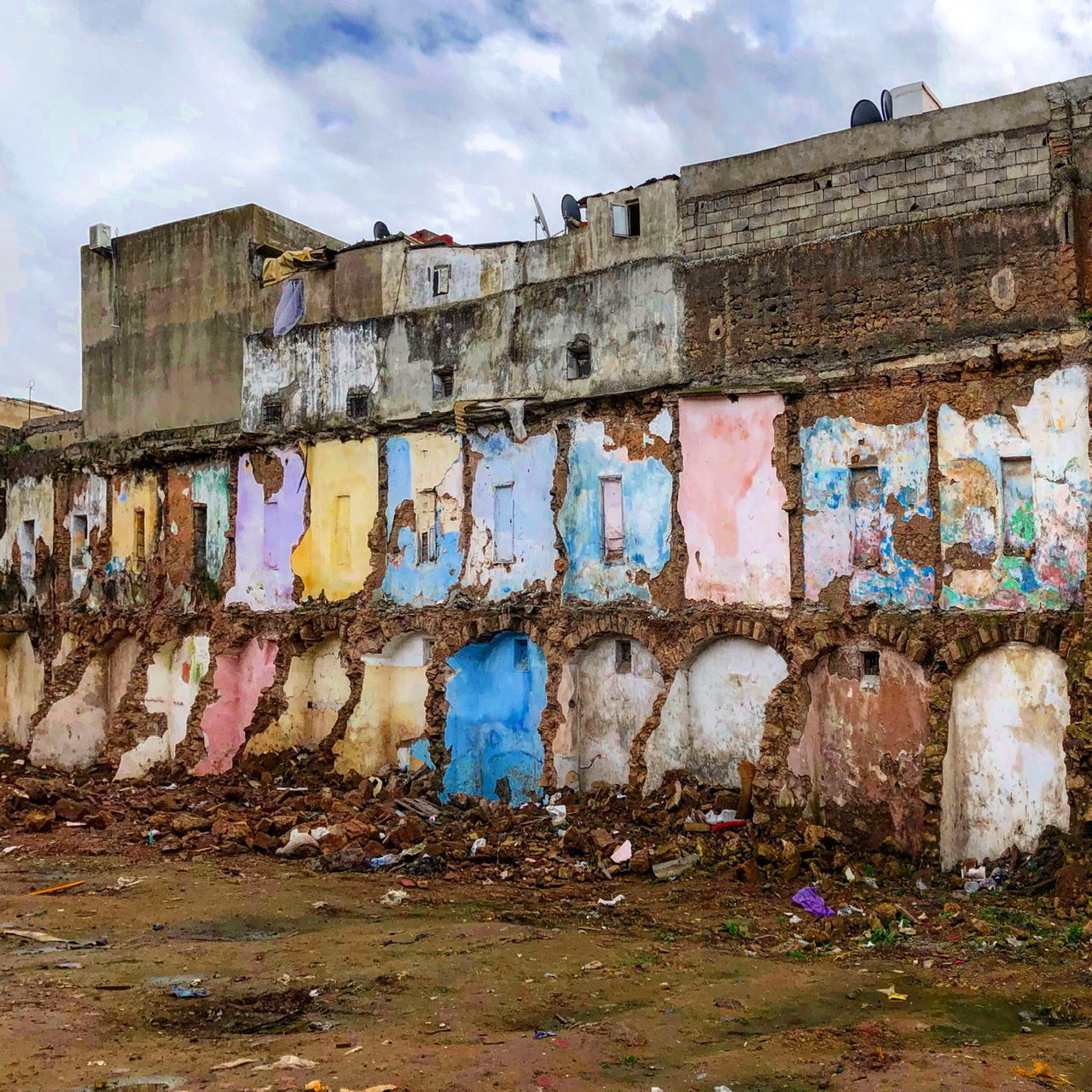 Kind of cool!
But it was time for us to get going so we cut our time in Sale very short. We had to walk to the train station, get a train for Marrakech and see what has been called the greatest market city in the world - so we dried our clothes and went to bed early, ready for another adventure.
"The air of the unforseen blows on one from the roadless passes of the Atlas." - Edith Wharton
MARRAKECH
If you go to any major travel advice site that features Morocco, you will see a hundred different versions of the same question - Marrakech or Fes? Both are imperial cities and both are market cities with enormous medinas full of winding streets, souks, markets, cafes, minarets and tanneries. We went to both and in retrospect I would say if you were only going to one, to make it Marrakech for the following reasons...

1. The souks are truly labyrinthine. The medina of Marrakech winds around and back through itself like a snail shell. It is impossible not to get lost. It makes it even more fun unless you are one of those people hwo has allocated four hours for Marrakech before you have to BE ON THE ROAD AGAIN. Stop that! Stay awhile.
Dark, fierce and fanatical are these narrow souks of Marrakech. They are mere mud lanes roofed with rushes, as in South Tunisia and Timbuctoo, and the crowds swarming in them are so dense that it is hardly possible, at certain hours, to approach the tiny raised kennels where the merchants sit like idols among their wares." - Edith Wharton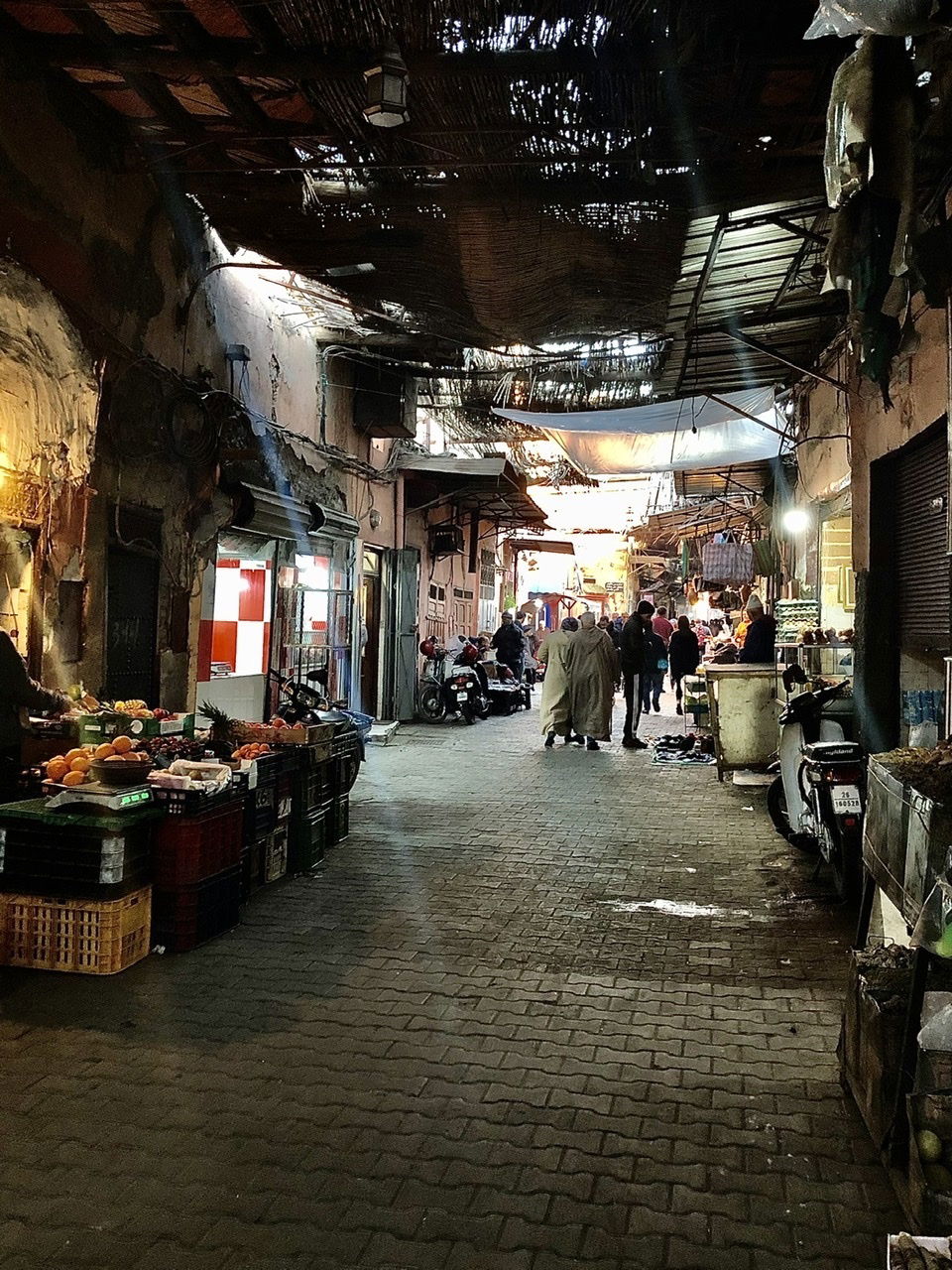 This was taken in the middle of the day - the medina is dark and mysterious!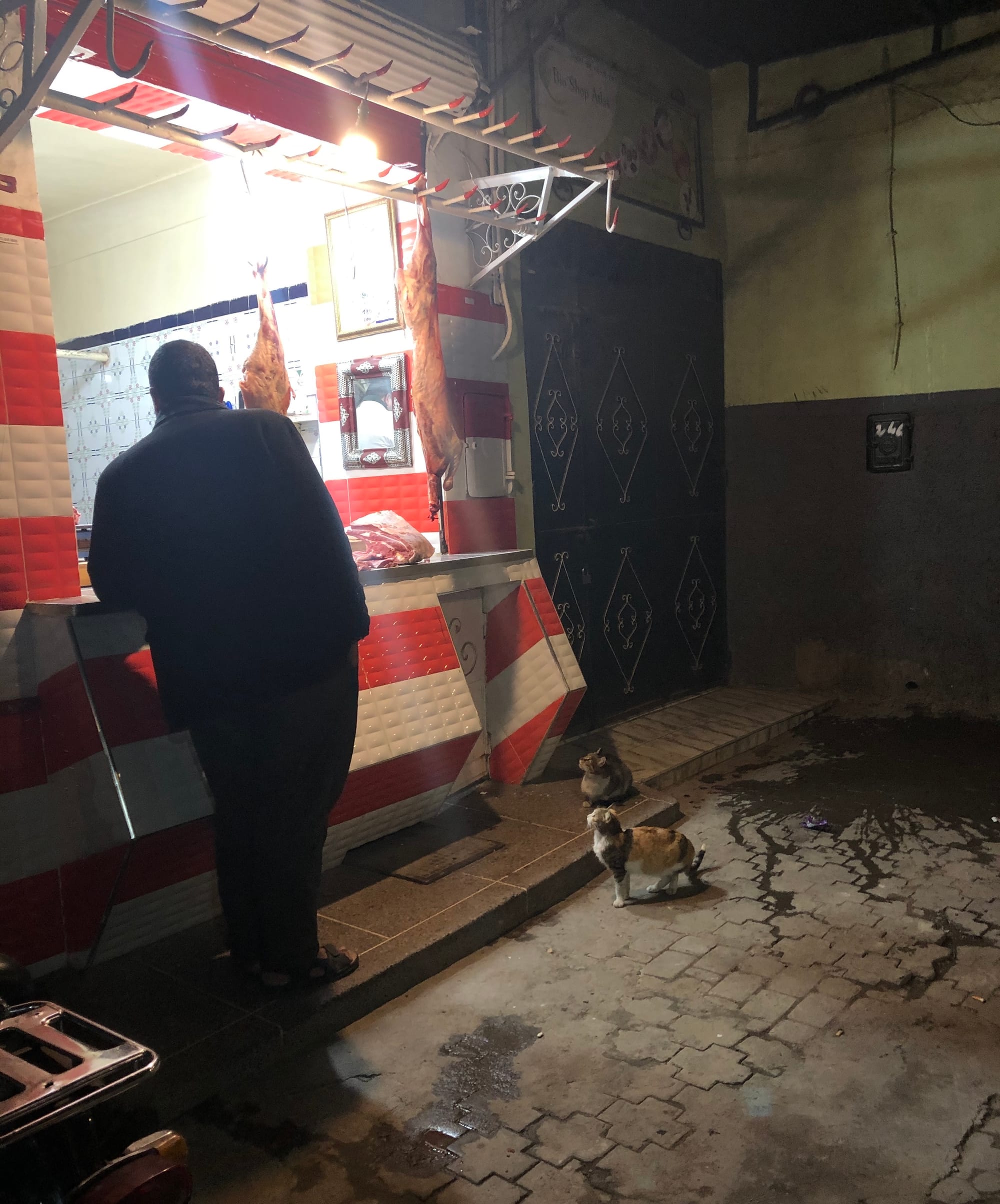 The medina is even more hard to navigate at night, except for these characters waiting for a morsel at the late night butcher.
"The Souks of Marrakech seem, more than any others, the central organ of a native life that extends far beyond the city walls into secret clefts of the mountains and far-off oases where plots are hatched and holy wars fomented." - Edith Wharton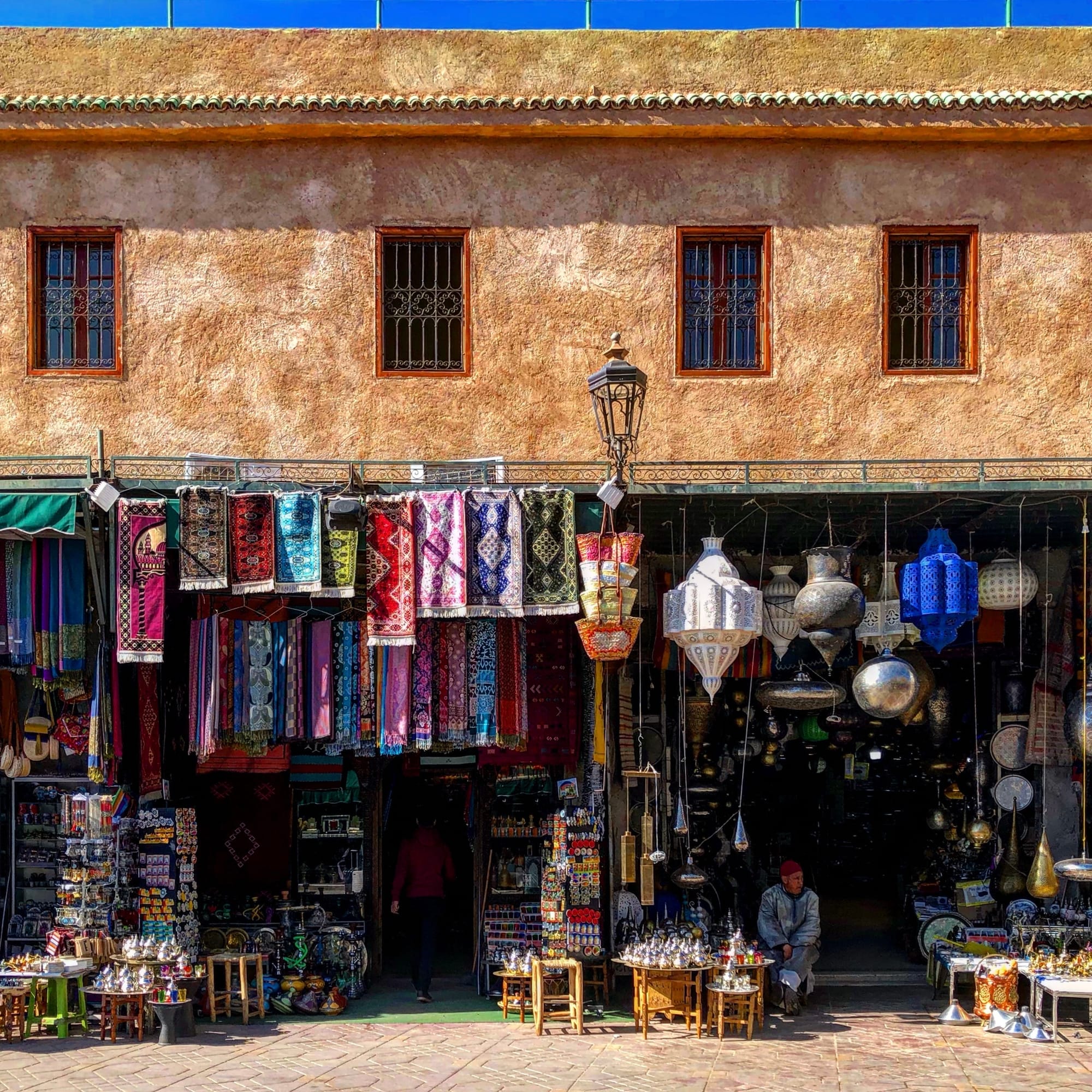 It's the place Pier One pretends to be.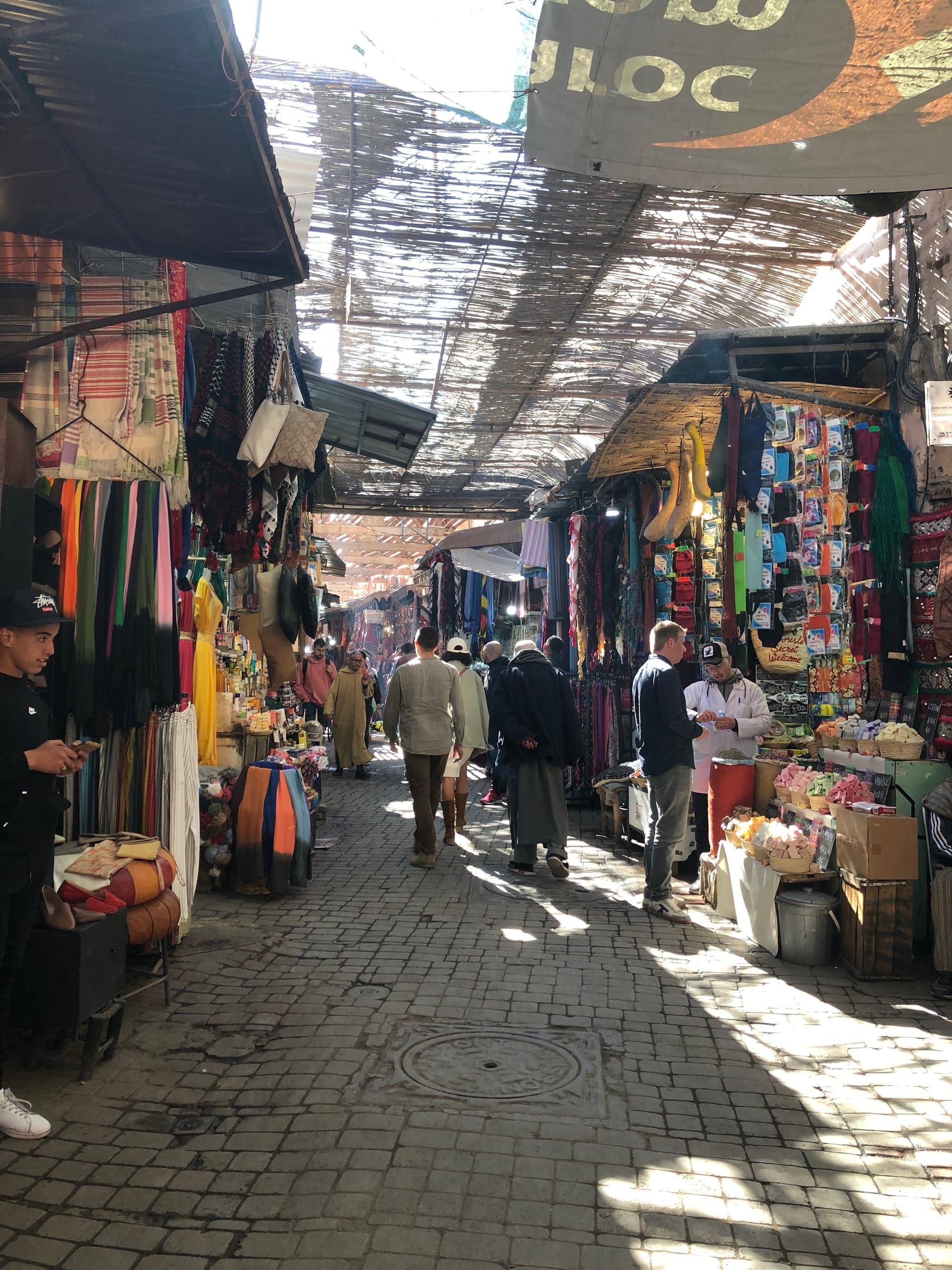 Some parts of the Medina are roofed and others have reeds or open sky.
2. There is so much shopping in Marrakech that even if you hate to shop you will find yourself buying something. We purchased black and white ceramic bowls for our new home (keep it neutral!) and a couple of tagine bowls that we gave as gifts.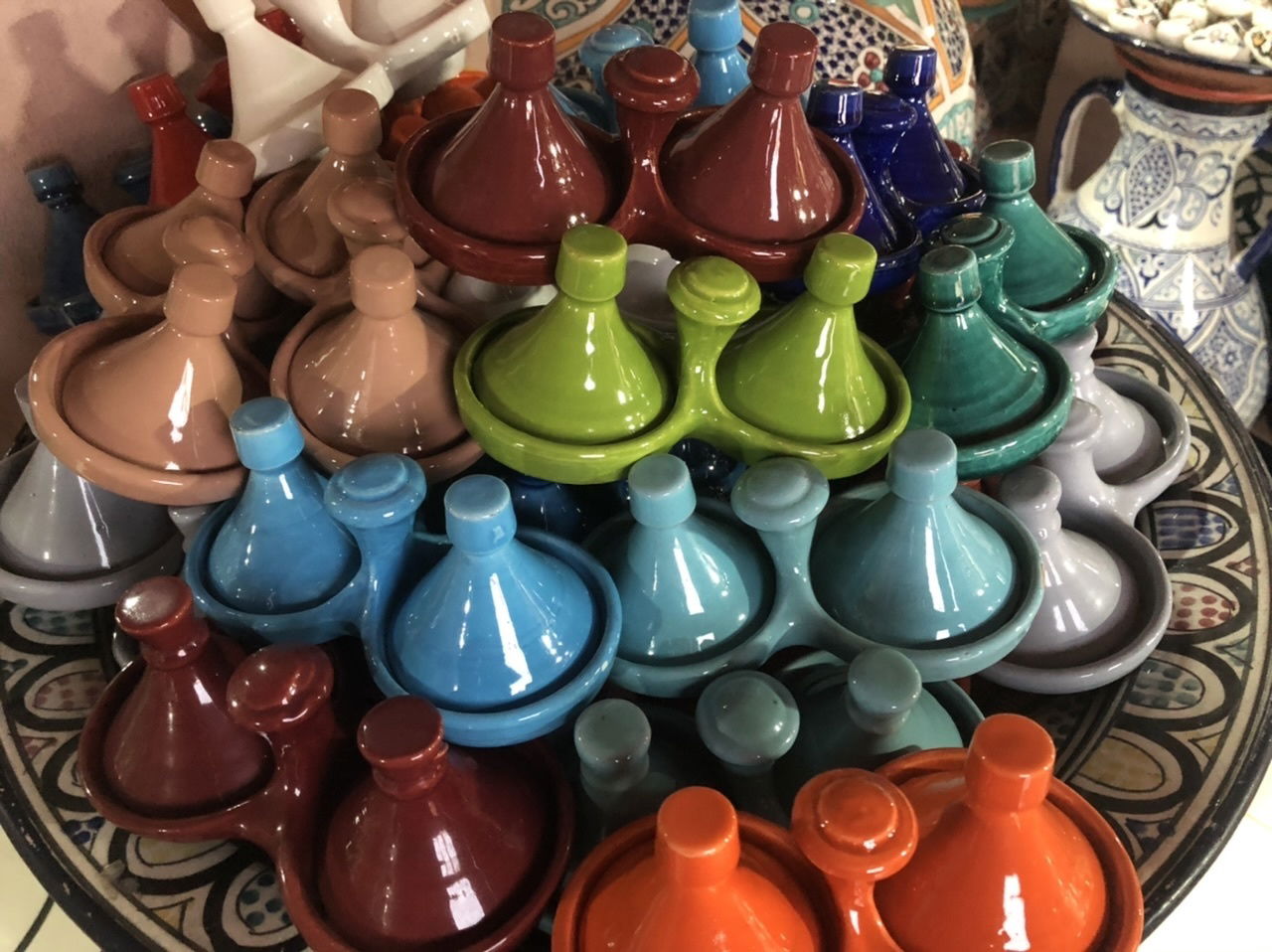 Tiny double tagine pots for spices or hors d'Oeuvres. Don't spend more than 50 cents apiece.
3. The medina is also full of interesting cafes, many of them with rooftop terraces for incredible views over the old part of the city. We enjoyed many cafes and restaurants in Marrakech as we had only a very small accommodation but our favorites were the places with rooftop terraces and vegan or vegetarian options like Le Jardin Secret and Beats Burger.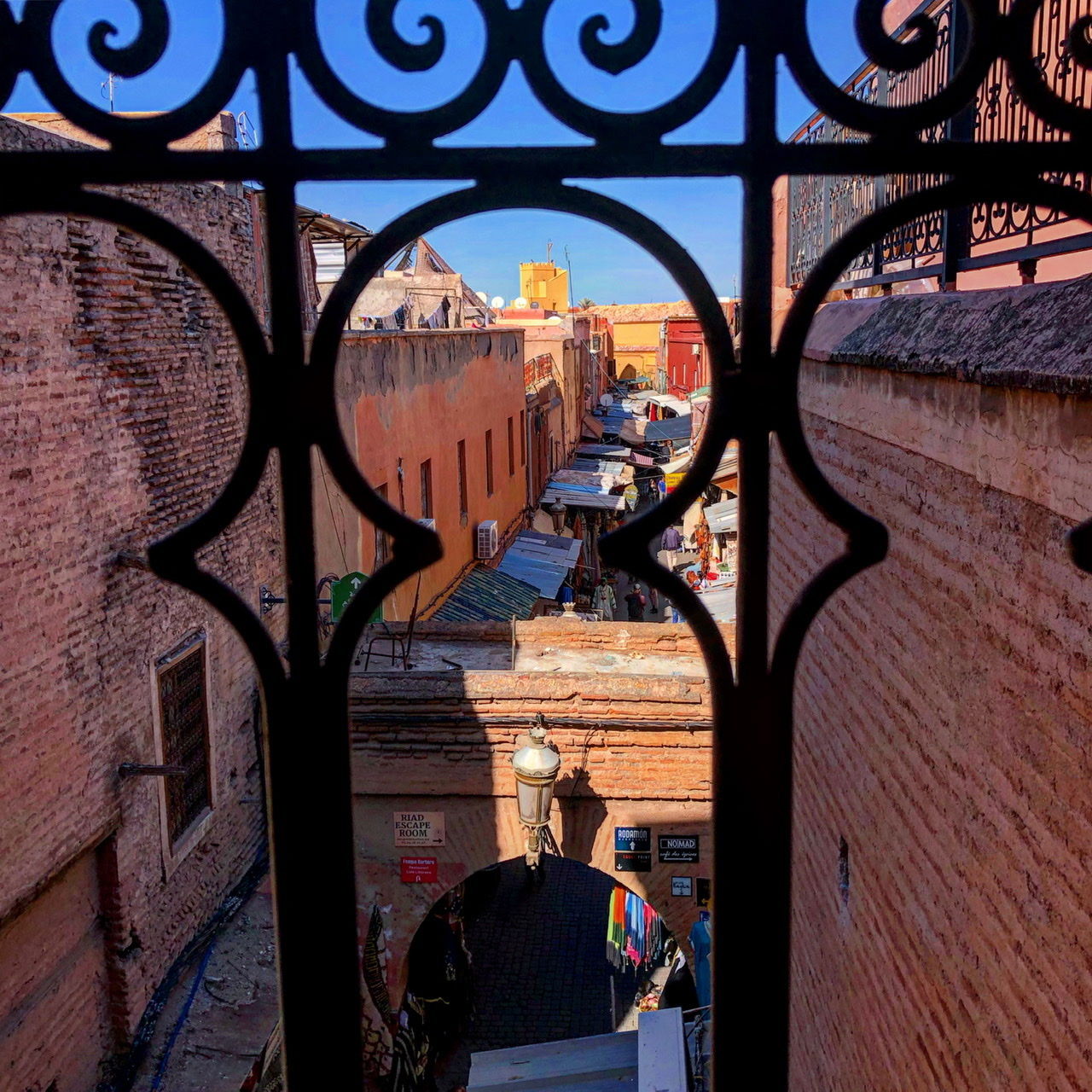 One of our roof views
There were also some great little places that seem to change names frequently and some on the great plaza - Jma el Fna - where everyone congregates as the sun goes down. We enjoyed delicious meals there and never had even a hint of stomach trouble. The fact that we don't eat animal products contributes to this phenomenon greatly as we almost always used to get sick when we traveled but no longer do.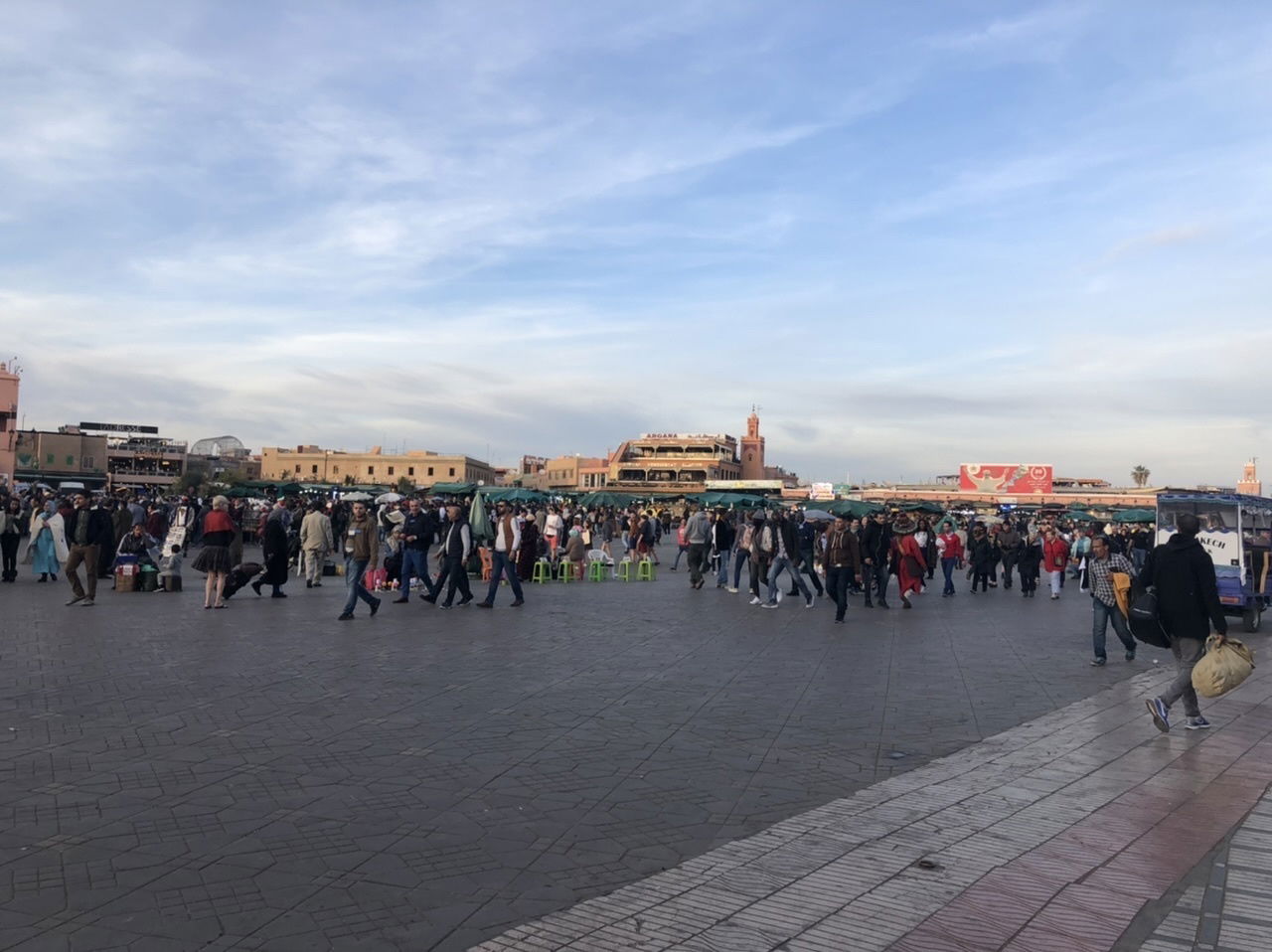 The great plaza Jma el Fna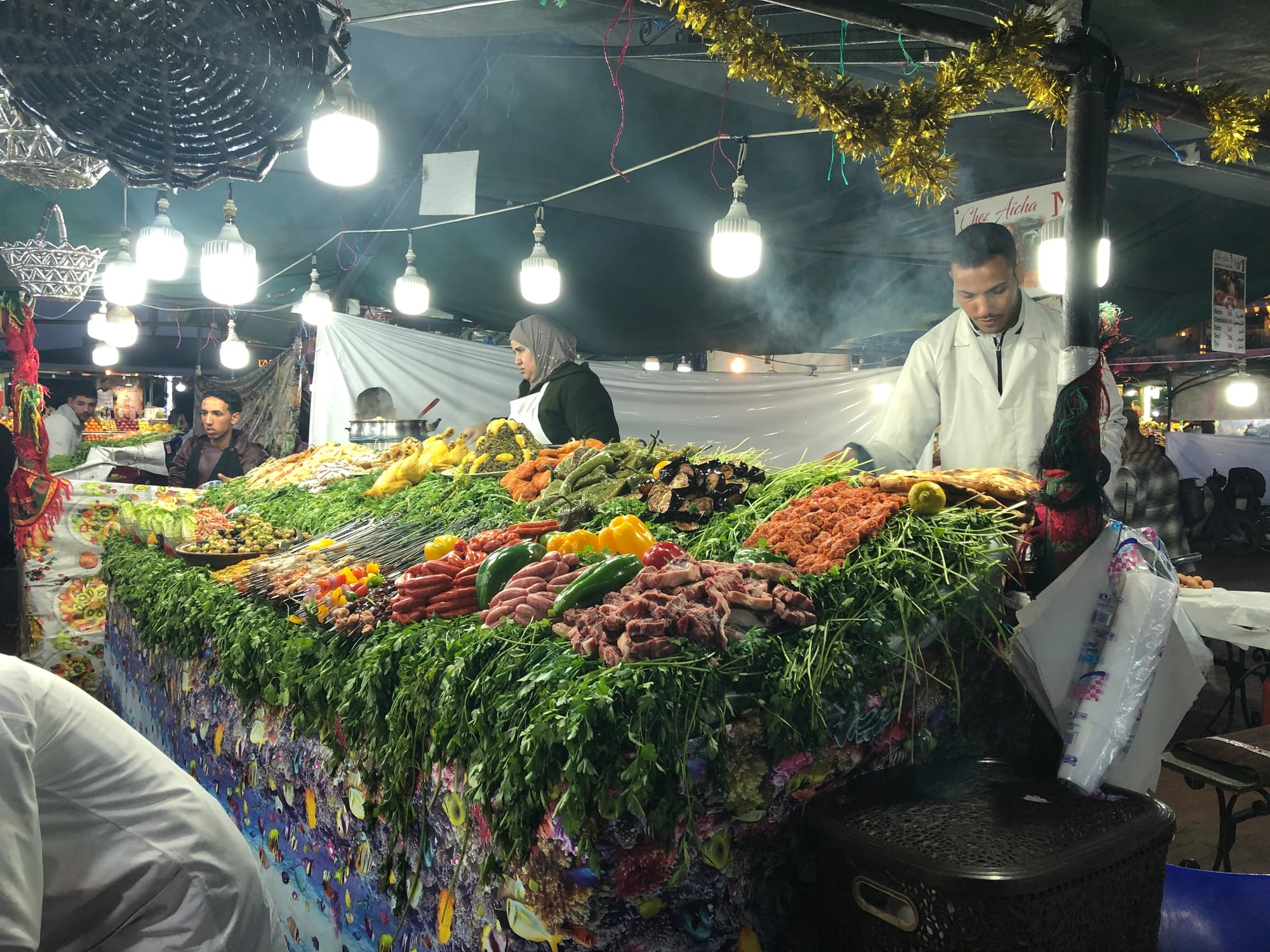 Street food Marrakech style
4. Other than shopping and eating you can visit the tanneries in the medina - an experience that gave me all the confidence I will ever need as a tourist. We had read ahead that visiting the tanneries was free. There is no fee and there is no guide necessary. We did not want to buy any leather goods, just see the place on our own. We were verbally assaulted at least a dozen times by dudes who claimed that the tanneries were "this way" and others who insisted that we needed a guide. Then we were heckeled when we politely refused.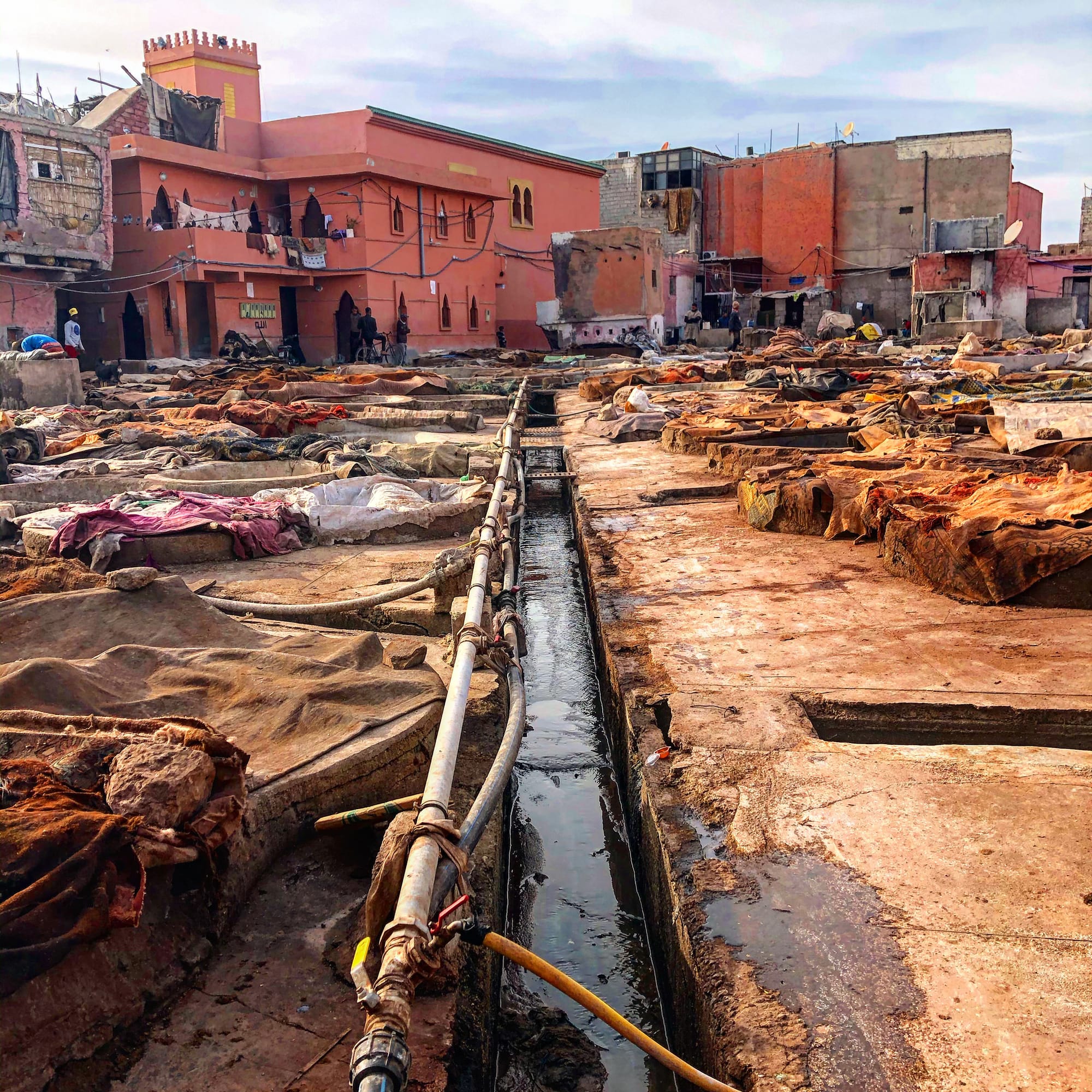 Marrakech tanneries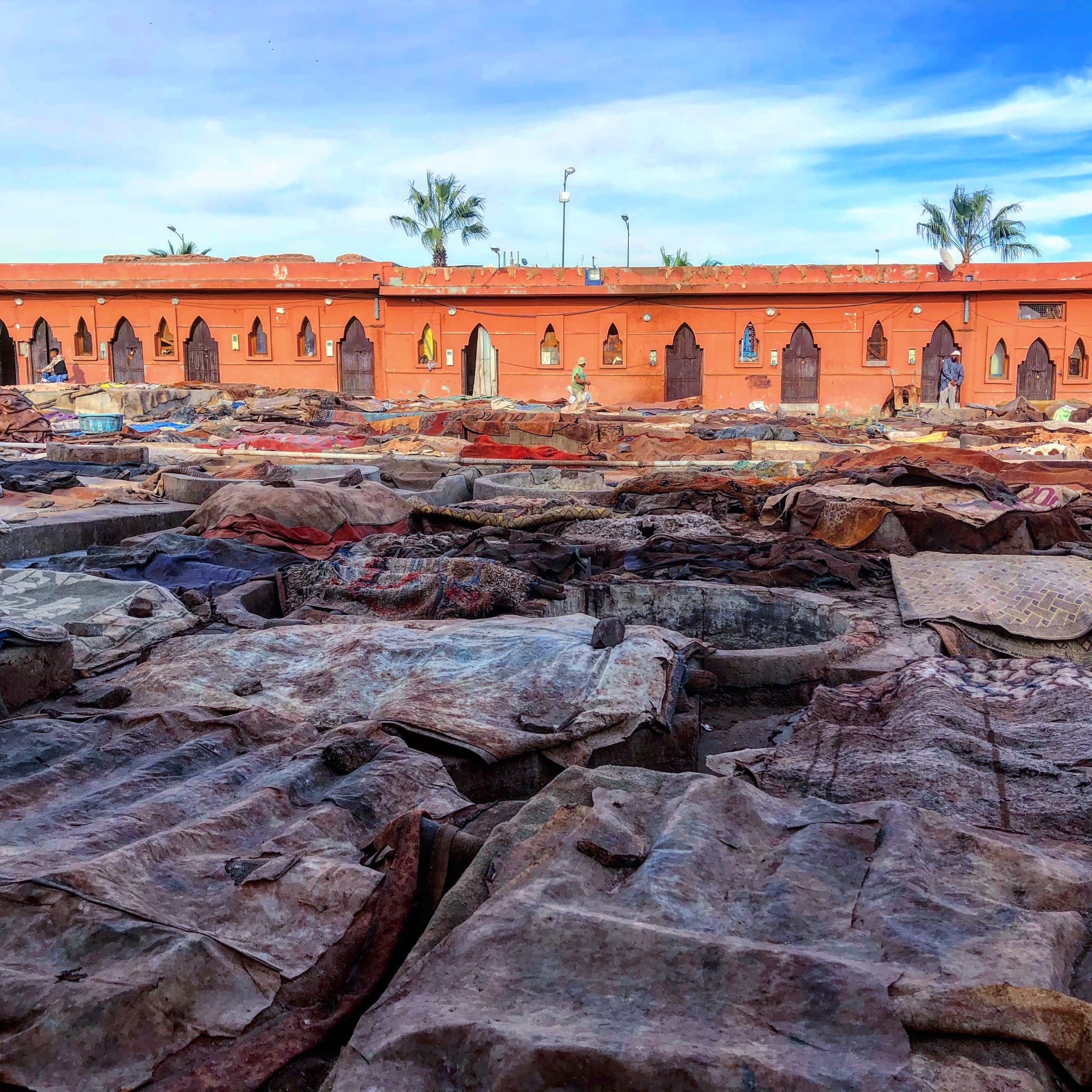 Another aspect of the tanneries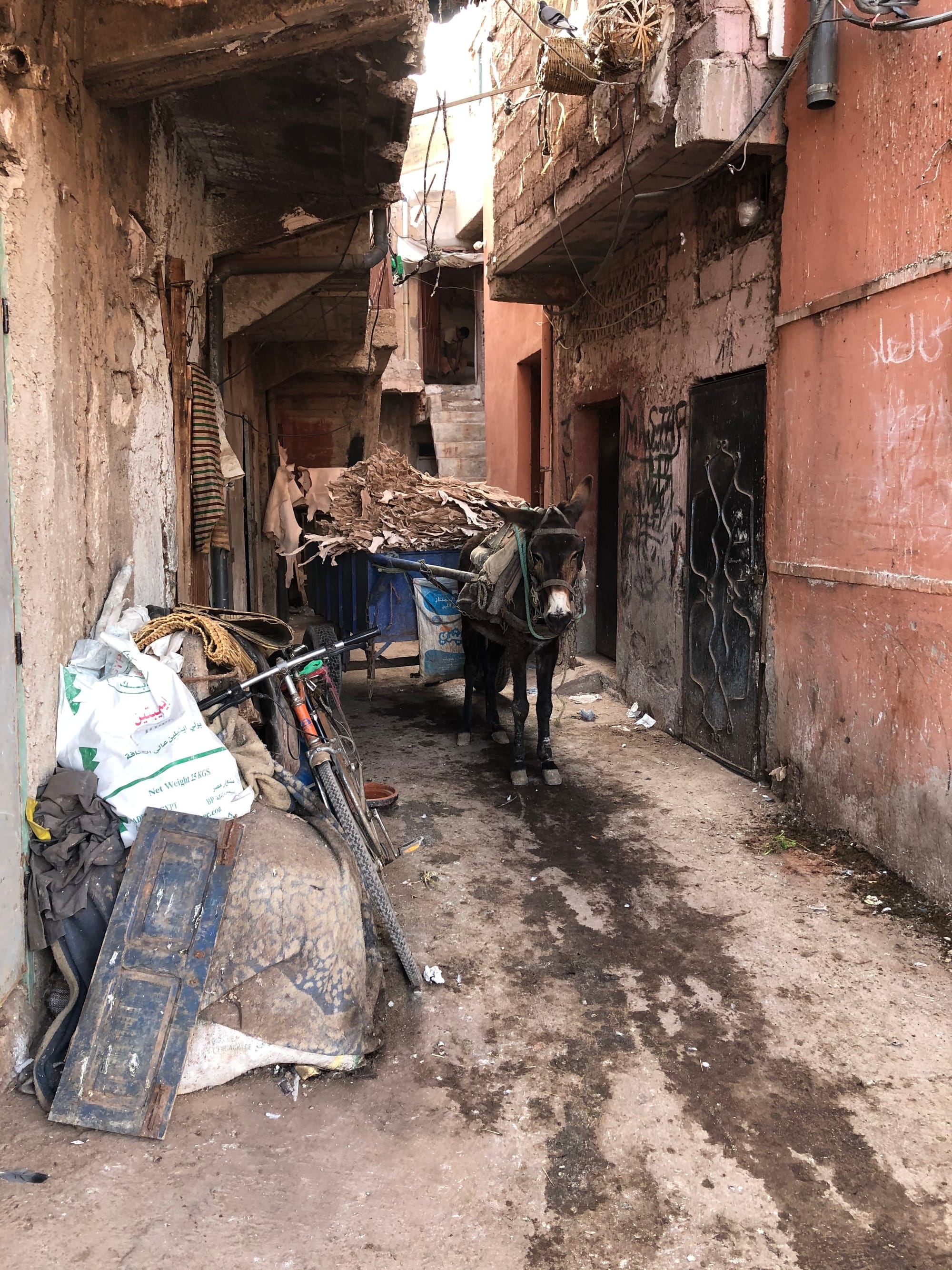 It isn't always pretty...
One guy followed us into the tannery after we got through the gauntlet of liars and grabbed my sleeve and then gripped my elbow. I turned on him and literally hissed and said "do not put your hands on me." And he backed off. I have never felt so angry in my life. Most of the time in Morocco we were propositioned or asked for money politely but this was very unwelcome attention. To actually touch a foreign woman and grab her? Unthinkable. Later we saw him with an elderly couple charging them a $10 "guide fee." Be aware, traveler.
Other things we enjoyed in the medina were the museums, like the Photography Museum and The Musee de Marrakech. The Secret Garden was also super pretty and a lovely place to walk and take pictures on a sunny day.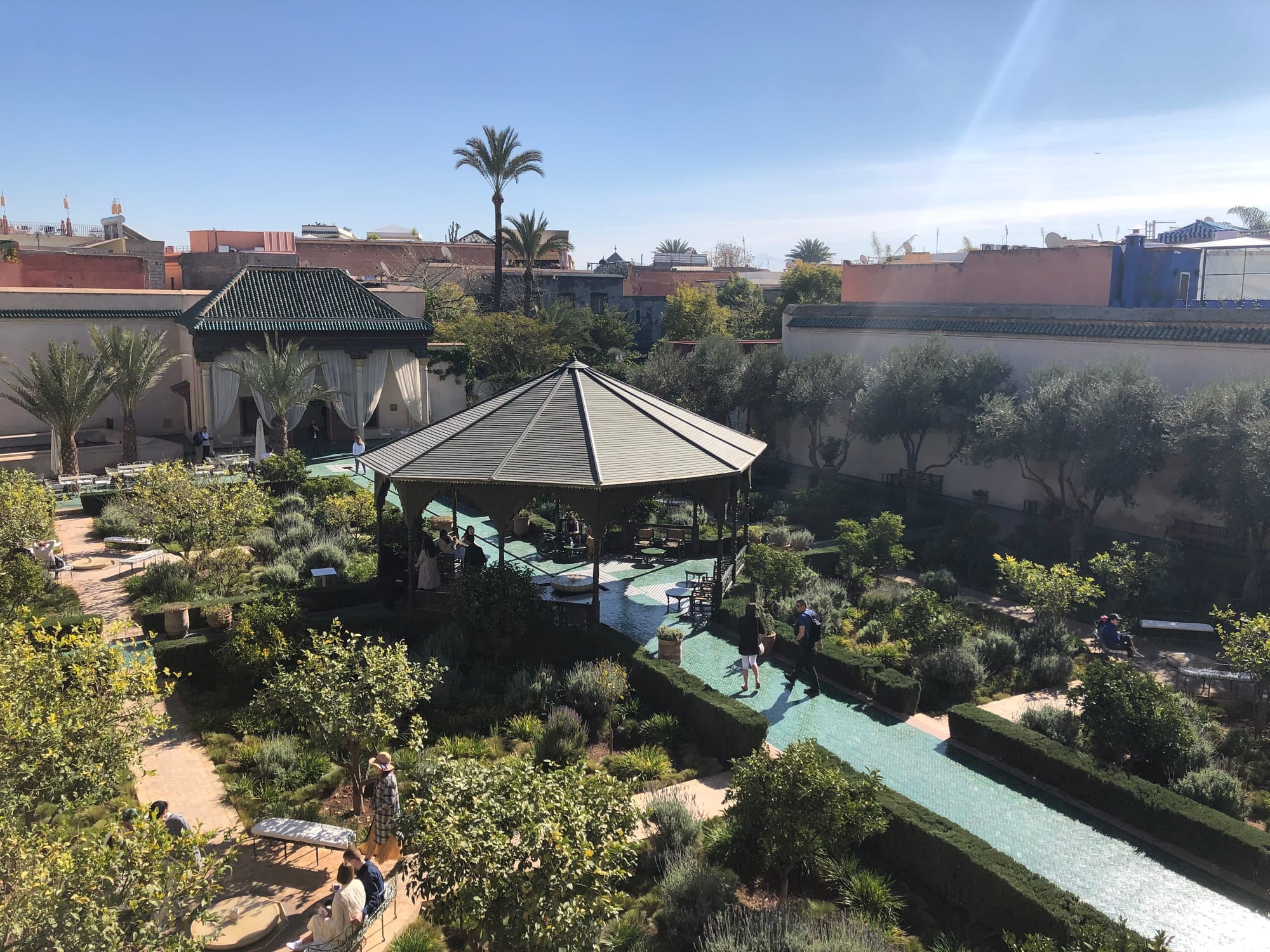 The Secret Garden
5. The new city of Marrakech has a lot to tempt visitors. We were in need of a modern pharmacy, a cup of coffee with plant milk and we wanted to see a museum we had heard good things about - the Modern MACMA museum. We also wanted to check out the Yves Saint Laurent Museum and the Berber Cultural Center - all on the same block. We spent a whole day exploring modern Marrakech and it was a nice break from the chaos of the medina.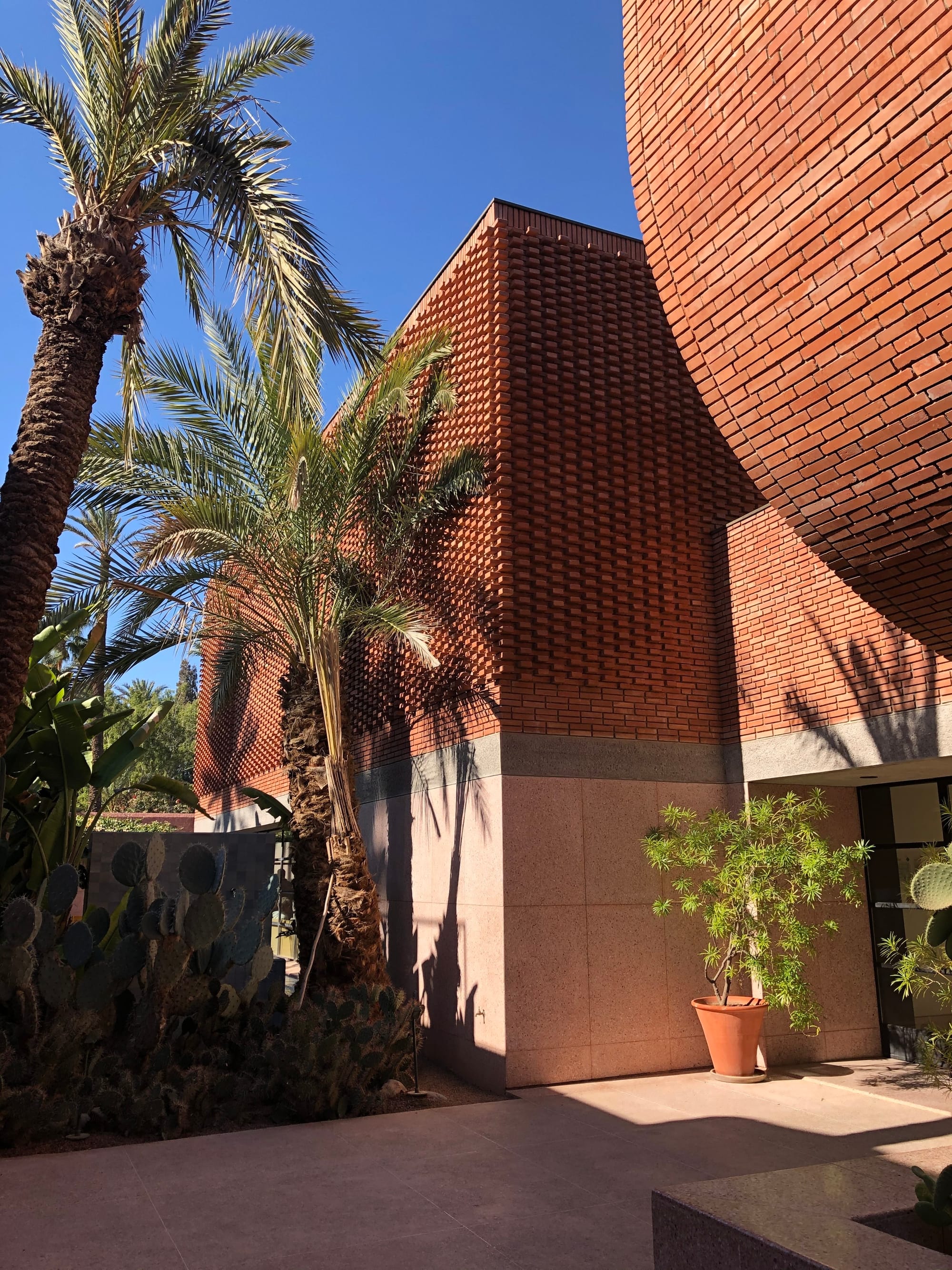 Yves Saint Laurent - a beautiful building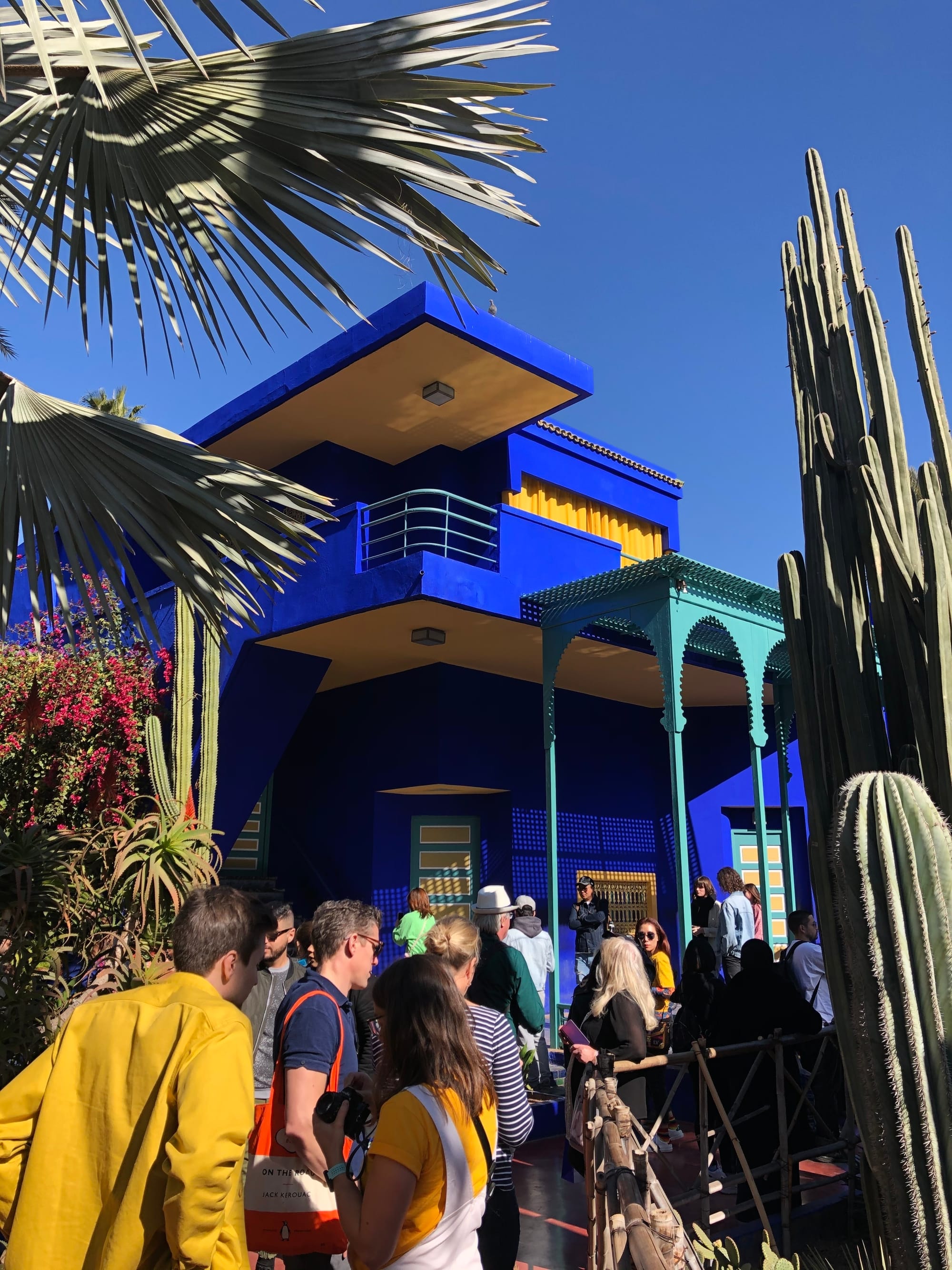 There was a quite a crowd at the Berber Cultural Center at YSL.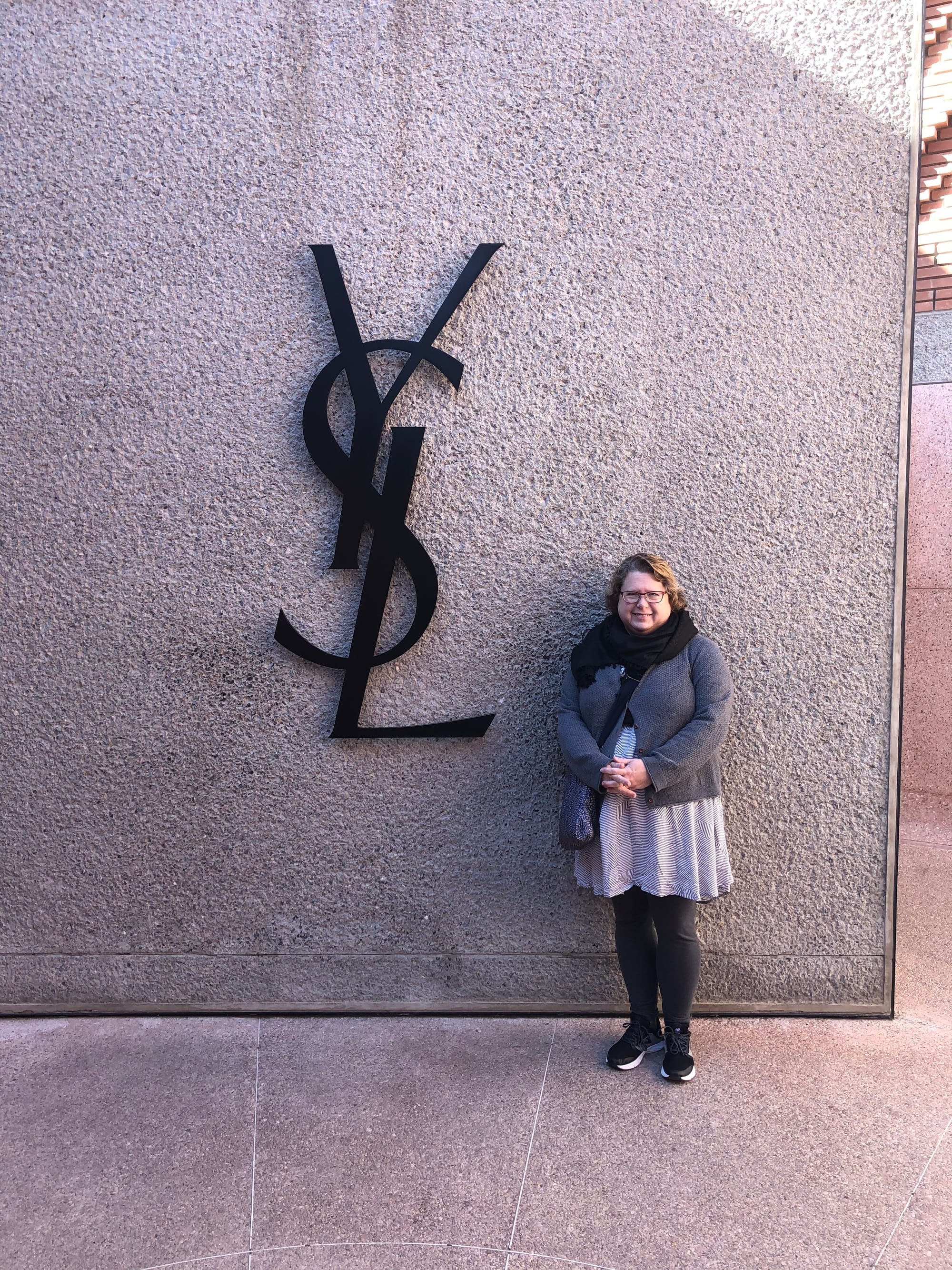 Iconic!
6. There are about 200 day trips you can take from Marrakech to the Atlas Mountains or to other parts of the region. We are so glad to have taken what we thing was the very best one.* For only $22 we were picked up on time, taken to the Atlas Mountains, made an educational stop at the local (enormous) farmer's market, visited a home, had snacks and tea, visited the guide's mom, went on a hike to a waterfall, visited an argan oil cooperative, and rode camels. Everyone we met took a similar tour that cost at least twice as much if not more with mixed reviews. Our day was fantastic! The guide and driver were so sweet and we really got to know our fellow travelers: a mom and daughter from Ireland, a rugby player from London and a couple of Dutch folks. It was probably the best tour we took during the whole year we traveled.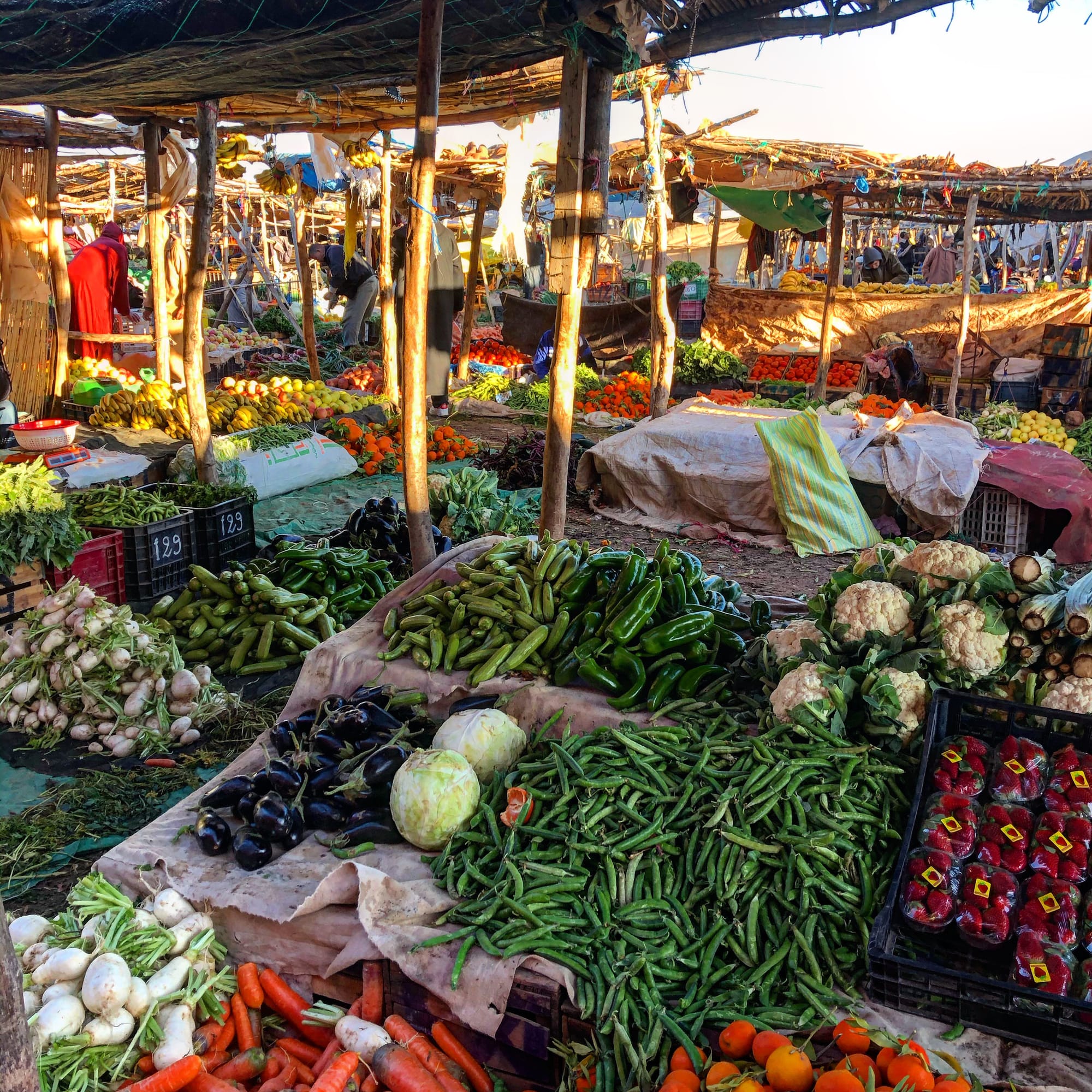 This place was at least 4 square acres.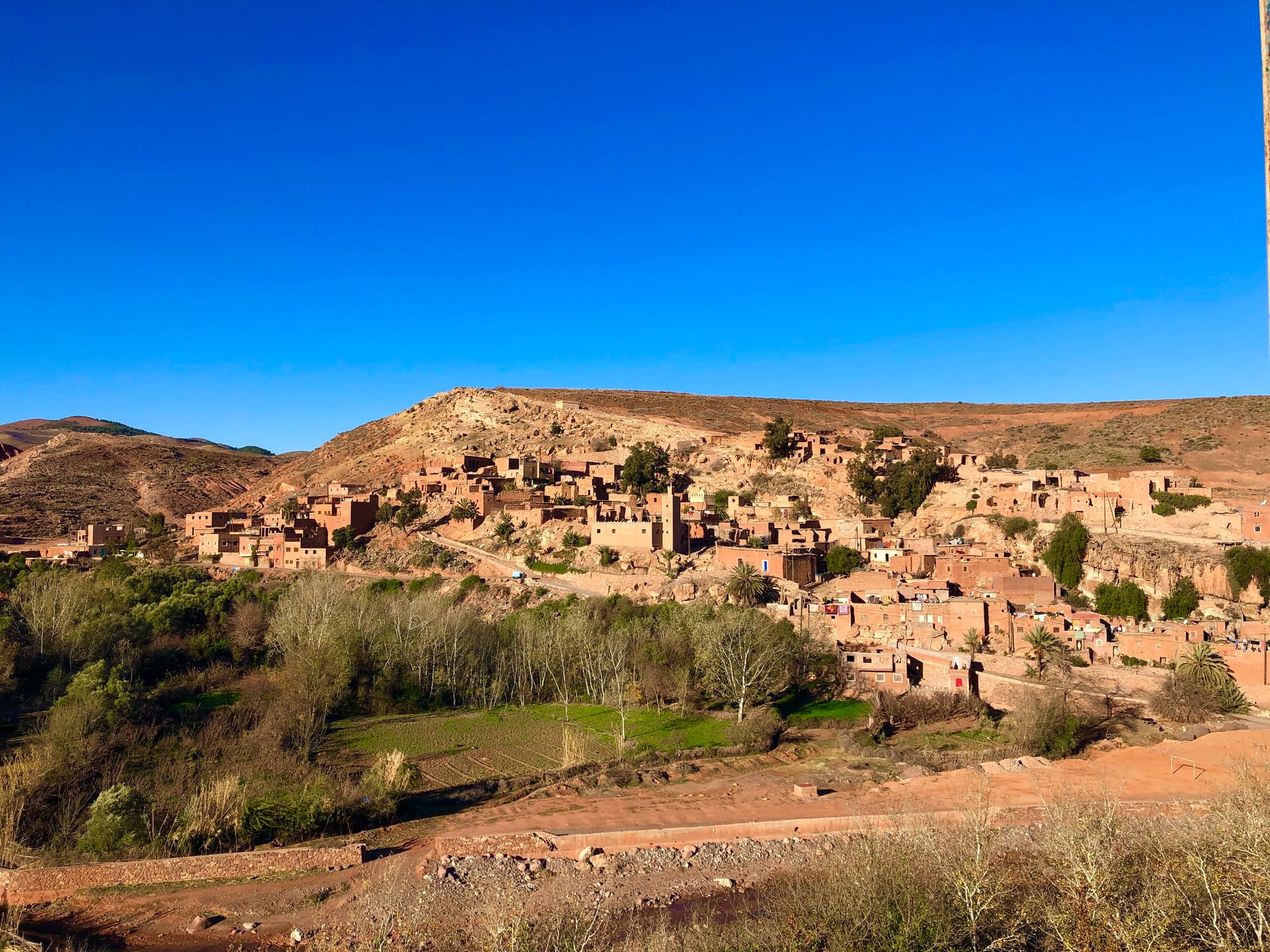 A Berber village in the Atlas foothills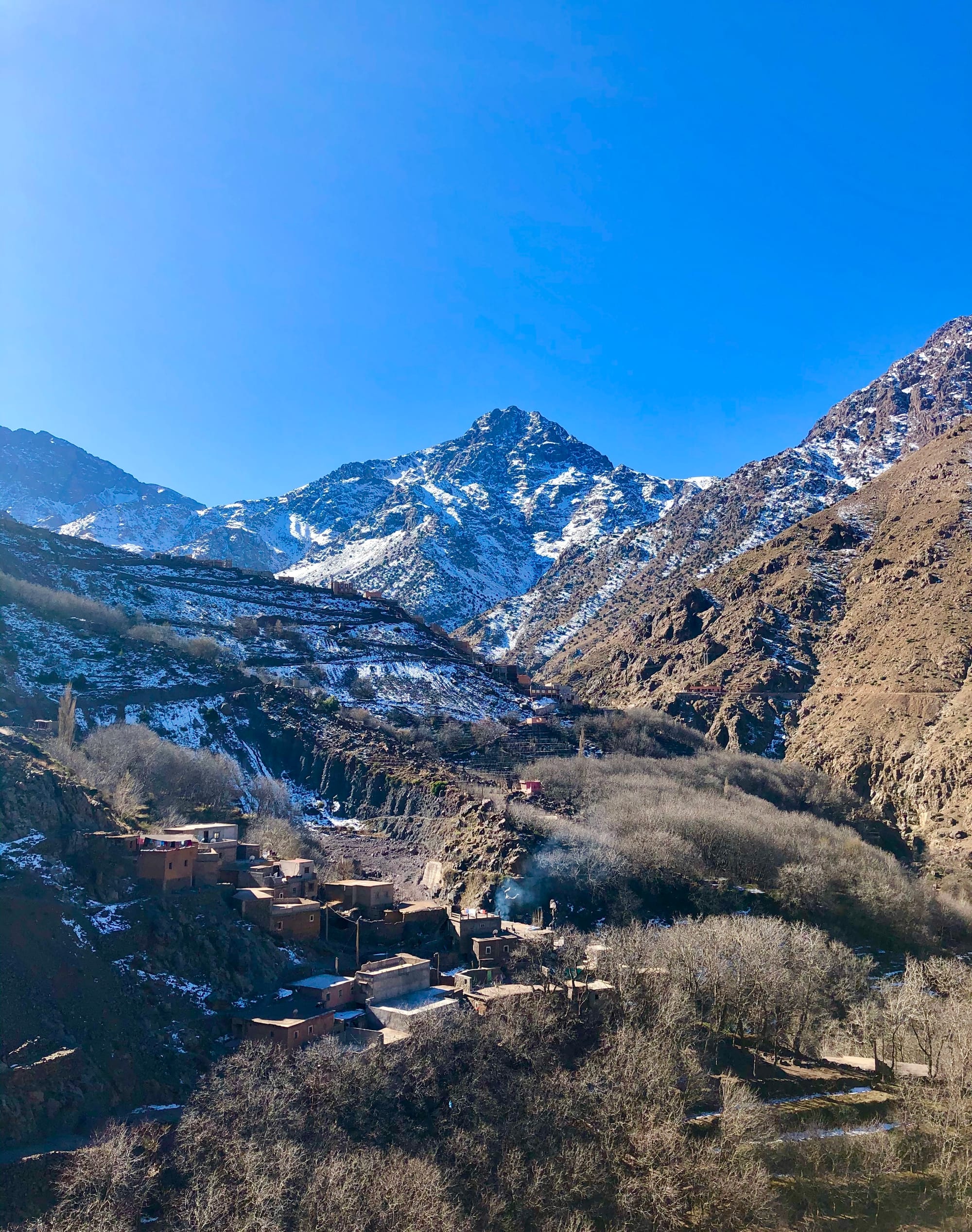 The high Atlas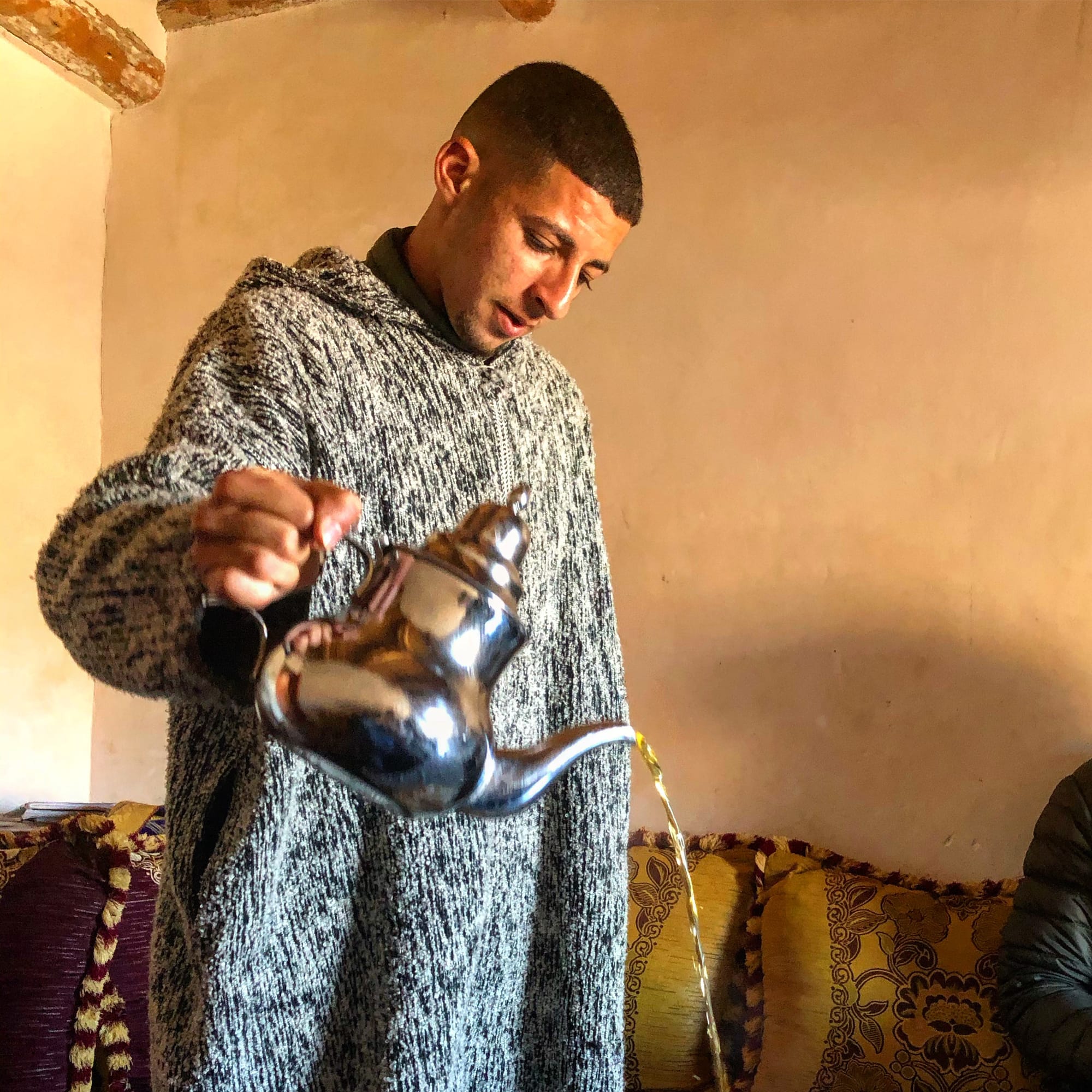 Our sweet guide pouring tea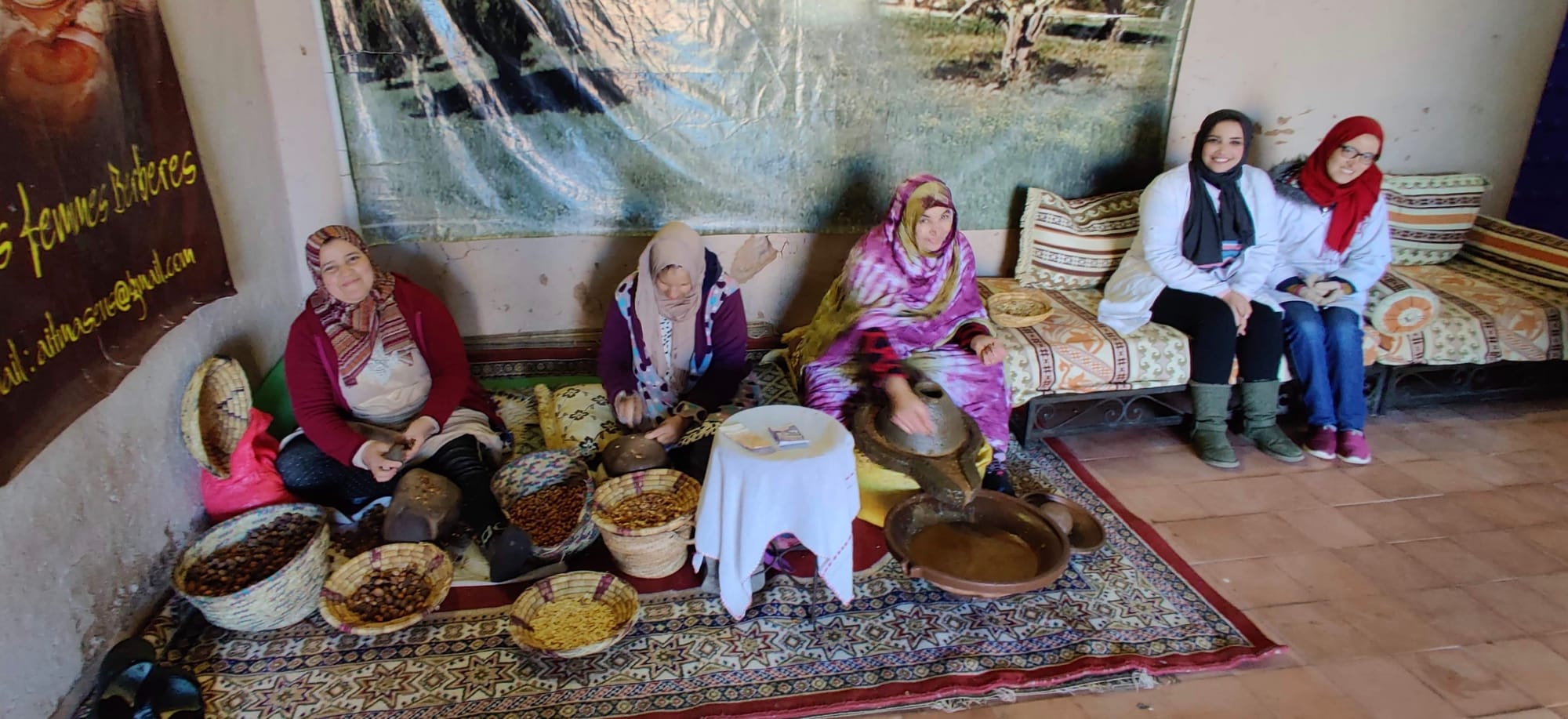 The cooperative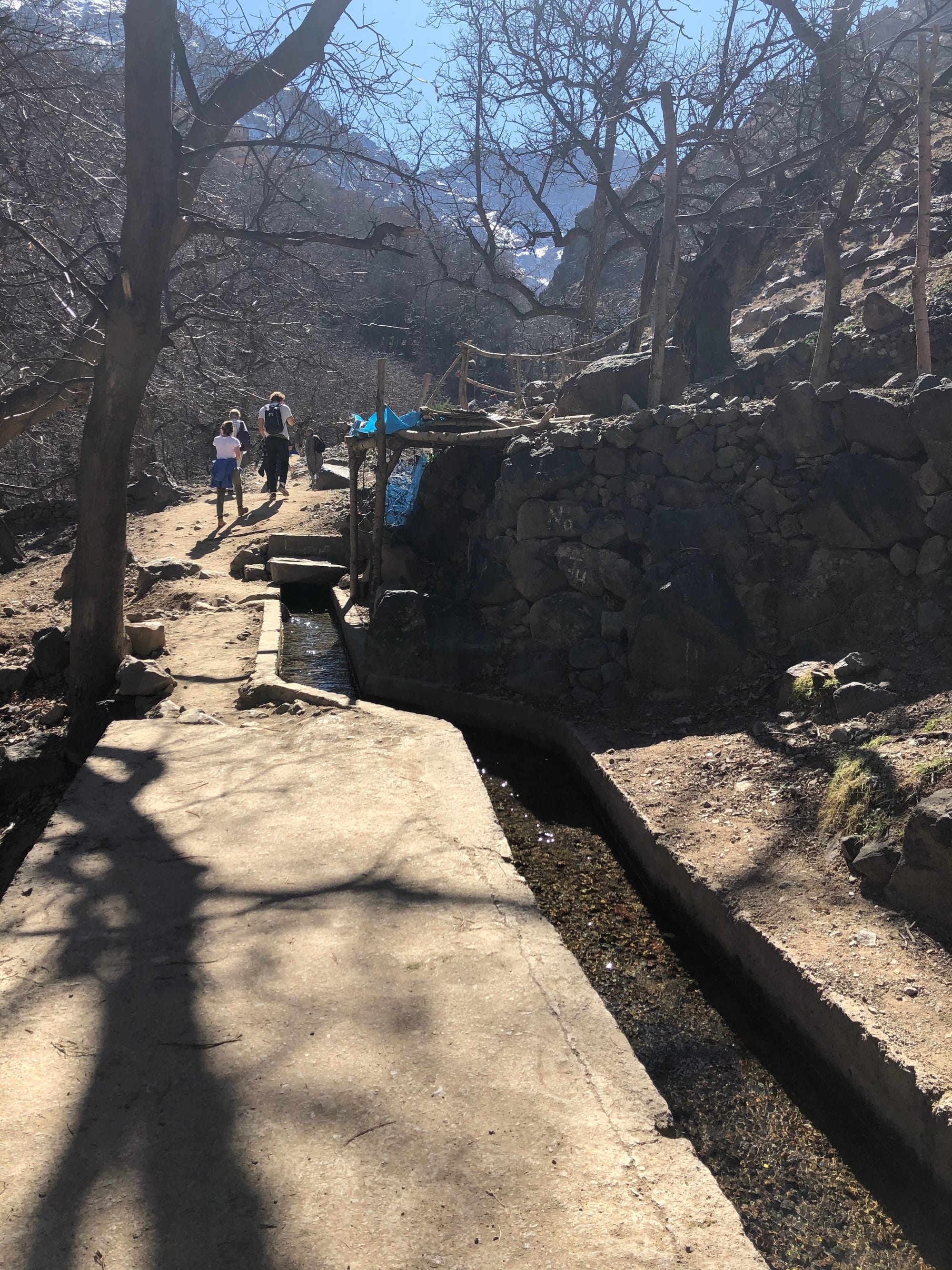 The hike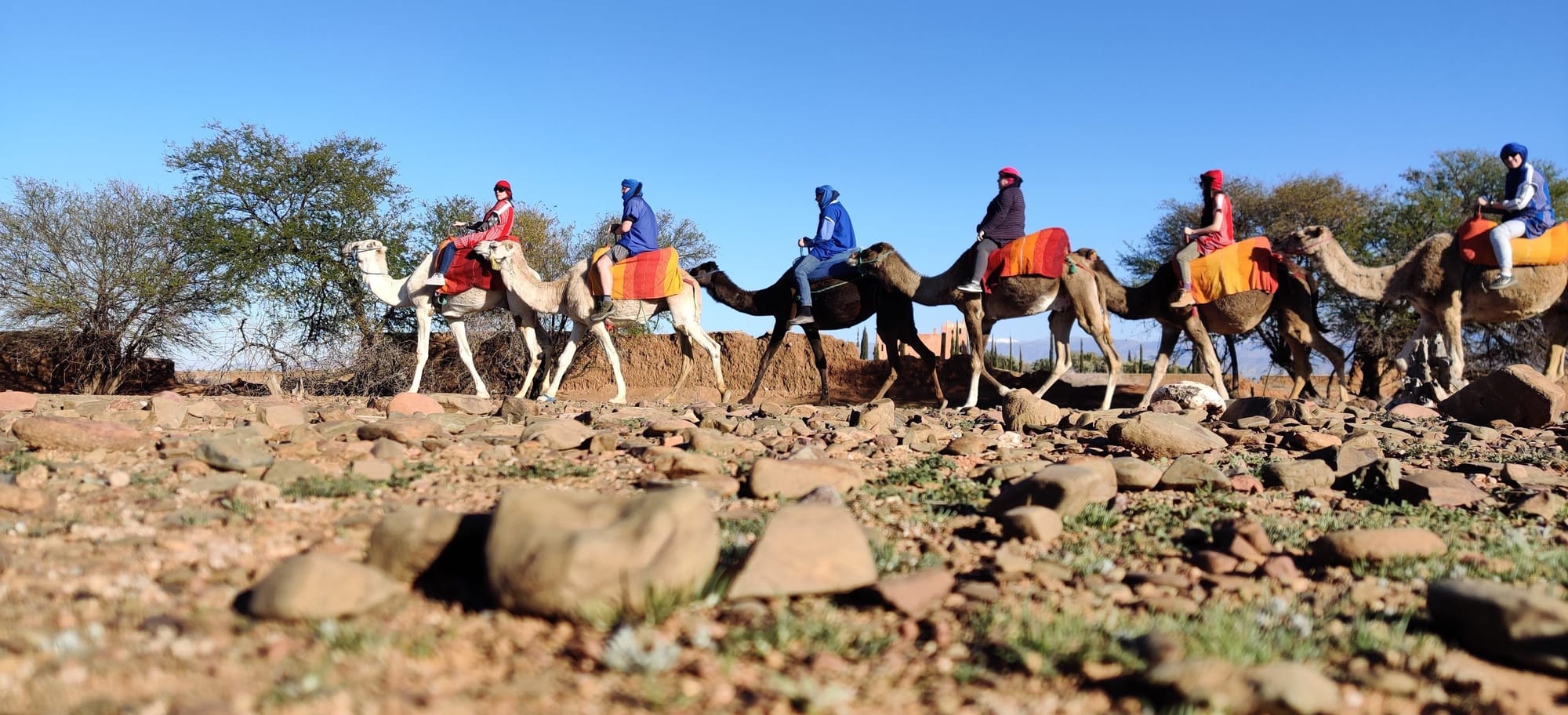 The ride!
We will never forget the experience. The highlight of the day (in which there were so many beautiful experiences!) was seeing the baby camels when we went for our desert trek. There were lodged in an old hotel that had been abandoned before it was finished and taken over by the camel masters.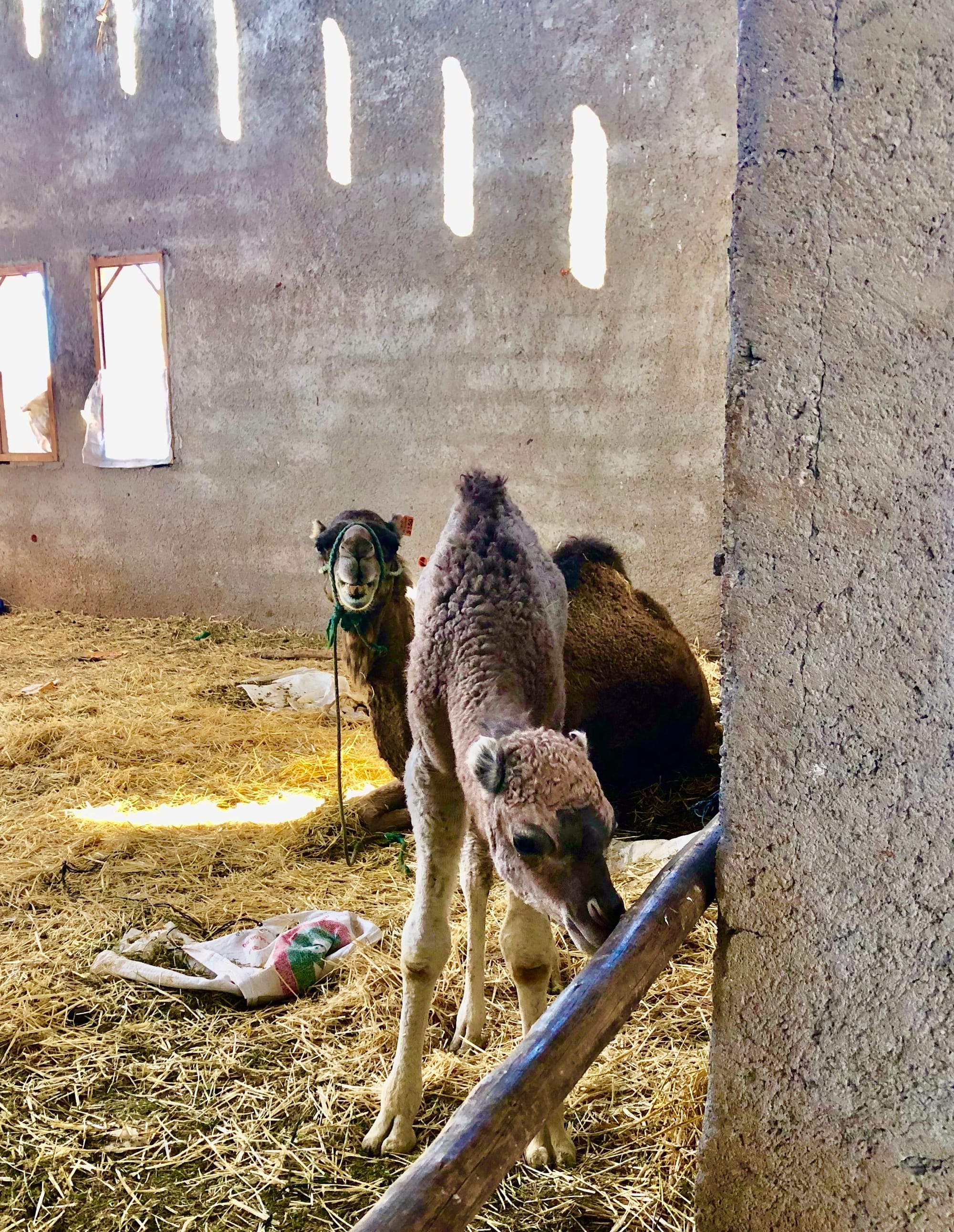 Mama camel is watching very carefully...
All in all we enjoyed Rabat and Marrakech immensely. When you land in a new country it can be incredibly stressful. What will the people be like? How can I get the medicine I need? Will I be able to handle the language barrier? These are some of the questions that will get answered for better or for worse within the first couple of days. Morocco is not as easy to navigate as we thought it would be but Rabat and Marrakech make a nice pairing of old and new, modern and ancient. And they would be our recommendation for travelers looking for a taste of Morocco without making a month-long commitment like we did. After five nights in each place, we were off again - back to the coast and more of this magical country!
Lodging:
Casablanca Airport - Onomo Hotel https://www.onomohotel.com/en/hotel/16/onomo-hotel-casablanca-airport
Rabat - Air BnB apartment https://www.airbnb.com/rooms/19161607?s=67&sharer_id=6212513&unique_share_id=cd394ed1-8cfc-4aaf-a362-4c401a1f3a6e
Marrakech - Riad https://riadbobbymarrakech.morocco-ma.website/
*For the tour in Marrakech type the following EXACTLY in Trip Advisor - Atlas Mountains and 3 Valleys & Waterfalls: Guided Day Trip From Marrakech
*For incredible desert tours and day trips and even customizable packages try https://www.moroccoinfocus.com/
*https://www.eurasiareview.com/20032018-amazigh-cultural-revival-in-north-africa-analysis/