"From far off, through circuitous corridors, came the scent of citrus-blossom and jasmine, with sometimes a bird's song before dawn, sometimes a flute's wail at sunset, and always the call of the muezzin in the night …" - Edith Wharton
ESSAOUIRA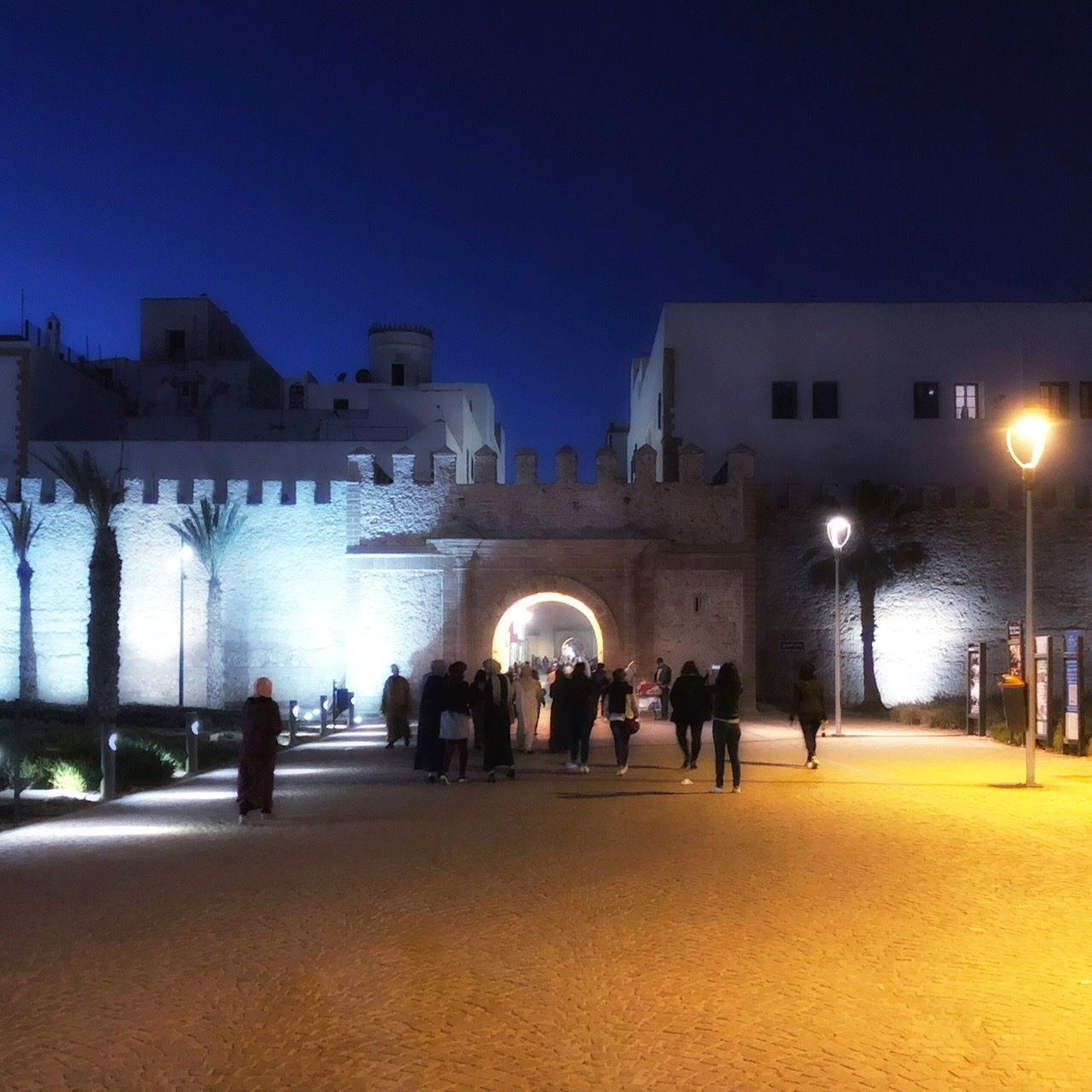 Hello, utterly romantic city gate.
We arrived in Essaouira at night. It was warm and sultry, even in late January. We checked into our tiny riad in the old part of the city and listened to the last sounds of the the final call to prayer as our host hurriedly locked the door behind us so he could go to the mosque.
Ha! that didn't happen. Well, it did happen, but first there was travel drama.
We arrived at 1 pm. We left Marrakech on a bus and traveled through southern Morocco for almost 4 hours, including a pit stop for restrooms and a cup of mint tea and later, at least five trees full of goats. Really.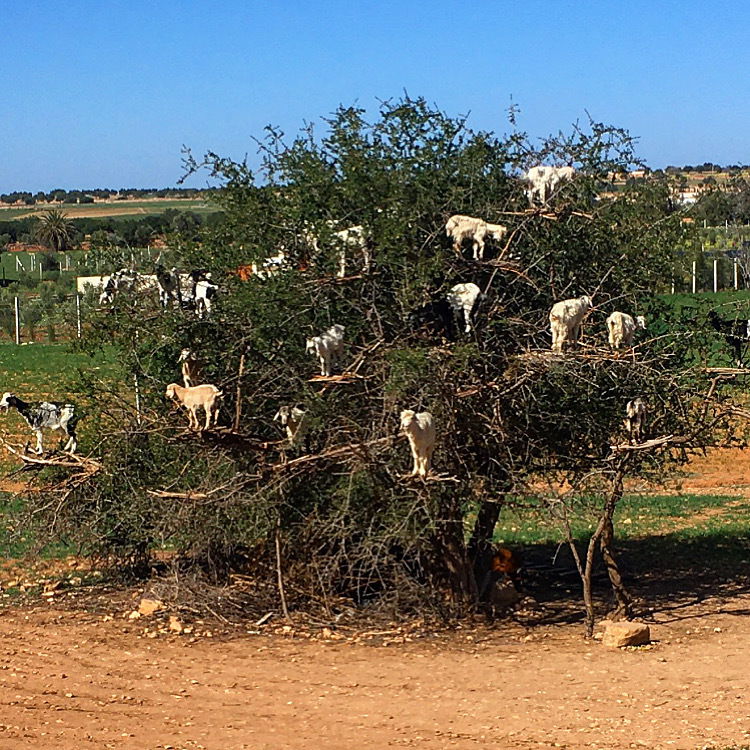 This really happened.
Then we went to our carefully researched apartment that we had found on Booking.com. Check-in was weird - we had to wait in the entryway in silence while the cleaning up was completed. I took advantage of the free internet to check the reservation again - was it with a full kitchen or just a microwave - when I noticed that the review score had dropped significantly - bedbugs.
BEDBUGS!
BEDBUGS!
BEDBUGS!
I asked the host directly if there had been bedbugs and he admitted that some had been found in one of the apartments that very week but they had thrown the mattress out. It was the one next to ours. People, you can't just mop the floor and throw out a mattress to get rid of bedbugs. So we left. We just couldn't take the chance. He was extremely aggressive about assuring us that we would not receive a refund and that we were crazy and demanding. Thanks, buddy, your estimation of our character was deeply appreciated and we will try to evolve. Right.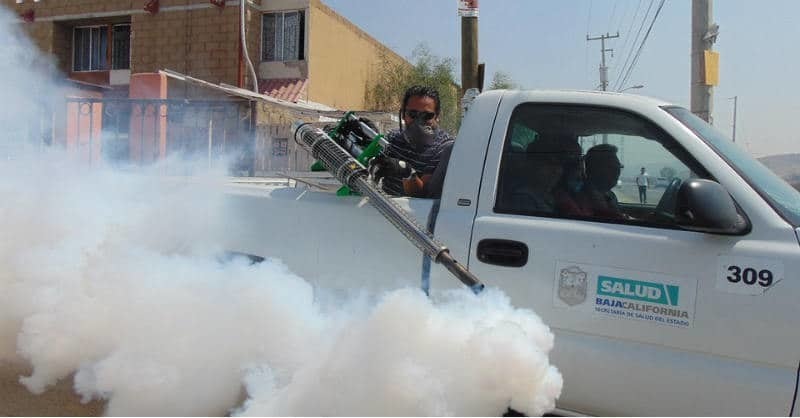 Maybe a professional should be called in...
We found a riad in the center of the old town and walked there, four suitcases in hand (Peter's hand) and found the owner not at home. Half an hour later he showed up and let us in. It was a darling riad and the first paragraph of this post now took place.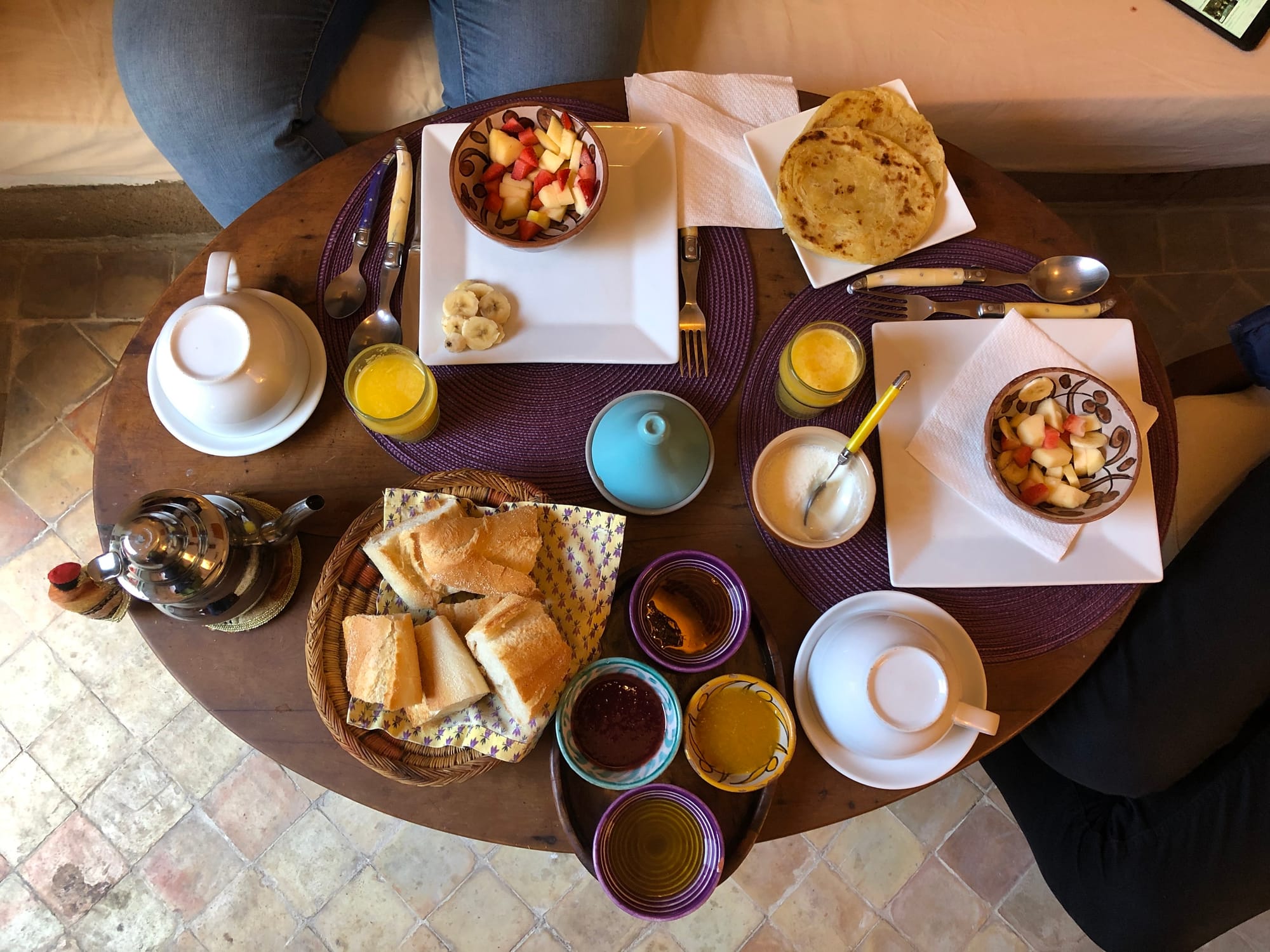 Breakfast at our riad was delicious
Where Marrakech is red hued and darkly mysterious, Essaouira is a bright, white city. Accented with saturated colors, it is located about halfway down the Atlantic coast of Morocco. Some scenes from Game of Thrones were filmed here. Nearby are surf centers and long, flat beaches. We enjoyed incredible weather - it was 73 degrees and sunny every day. There is not really a lot to do in Essaouira but we found plenty to enjoy.
* Food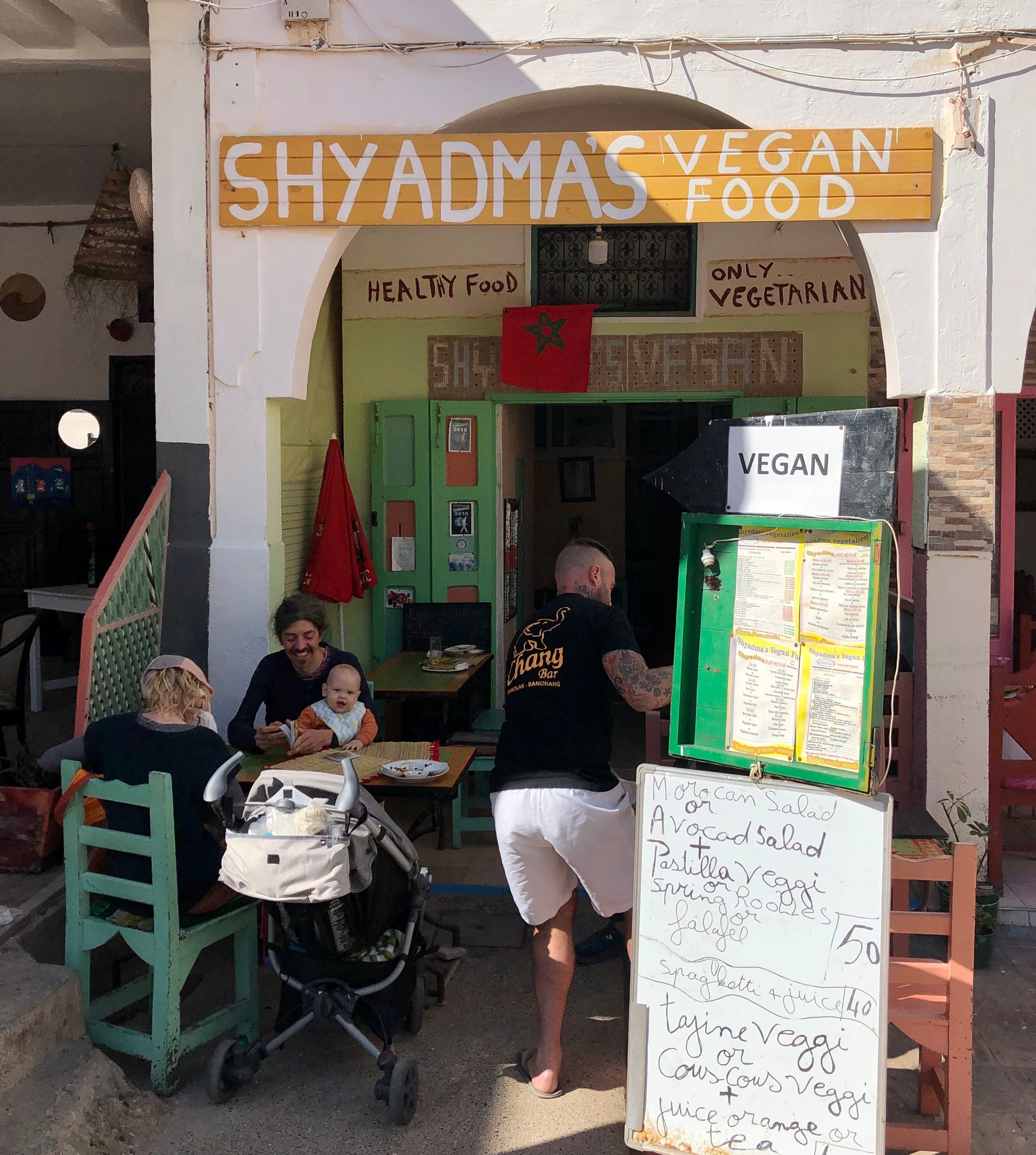 So many choices in Essaouira! Our favorite place was Shydarma's vegan food. Located on a sunny square with about 6 gift shops and an equal number of open air cafes, Shydarma's is pure vegan goodness and rather inventive.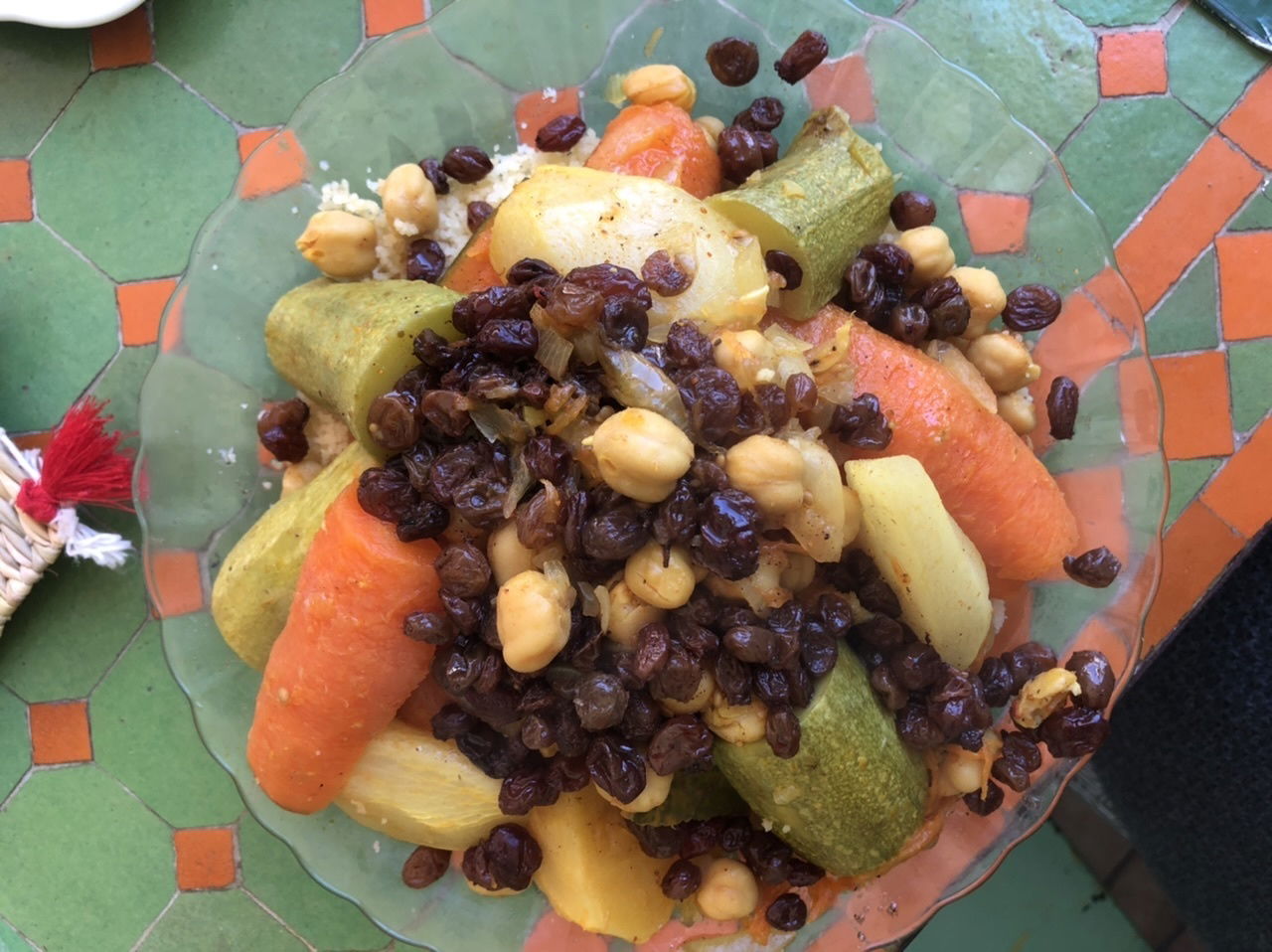 Oh my gosh so good.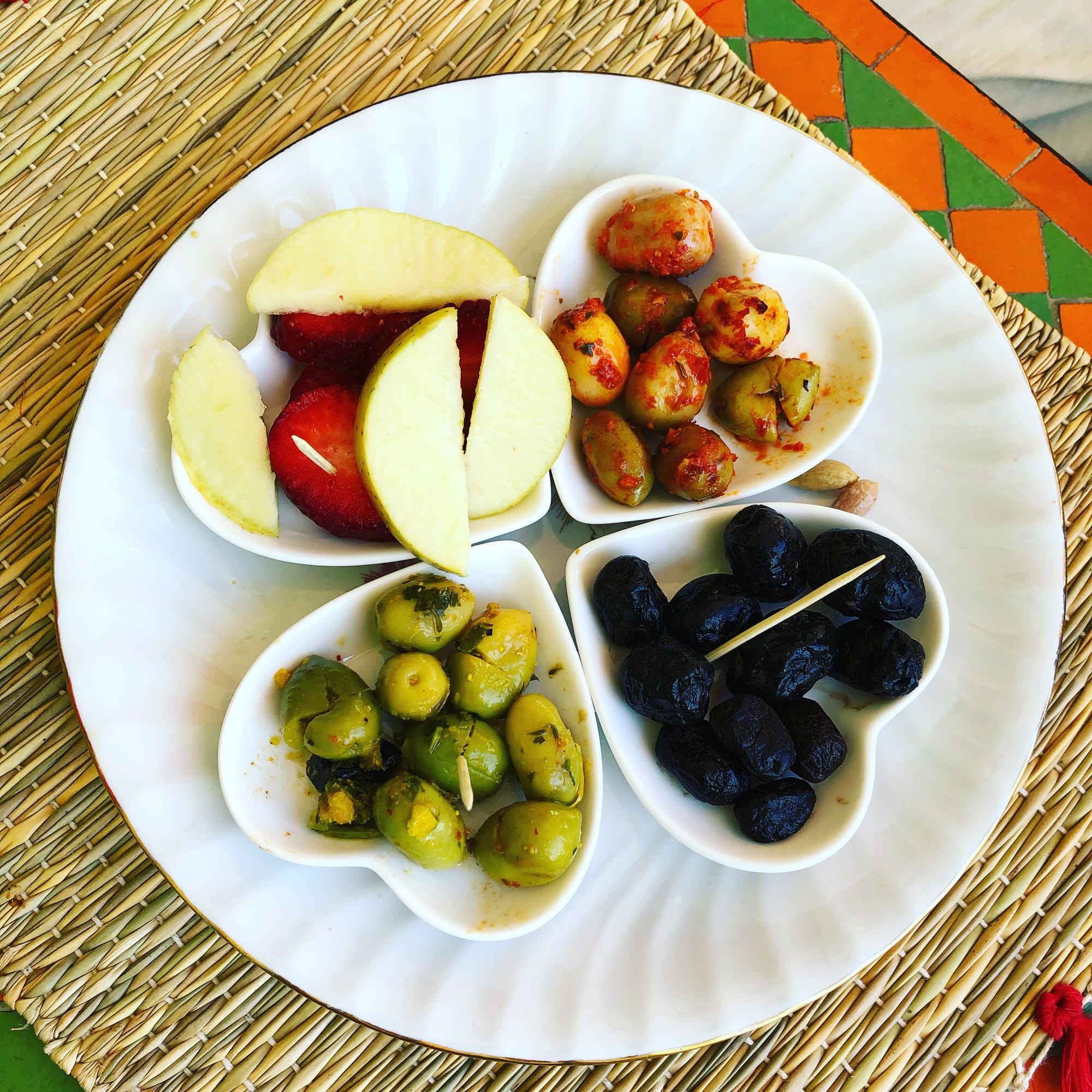 Shydarma's appetizer
We loved the avocado salad and the raisin and chickpea tajine. I did a little job for the proprietress just to say thanks.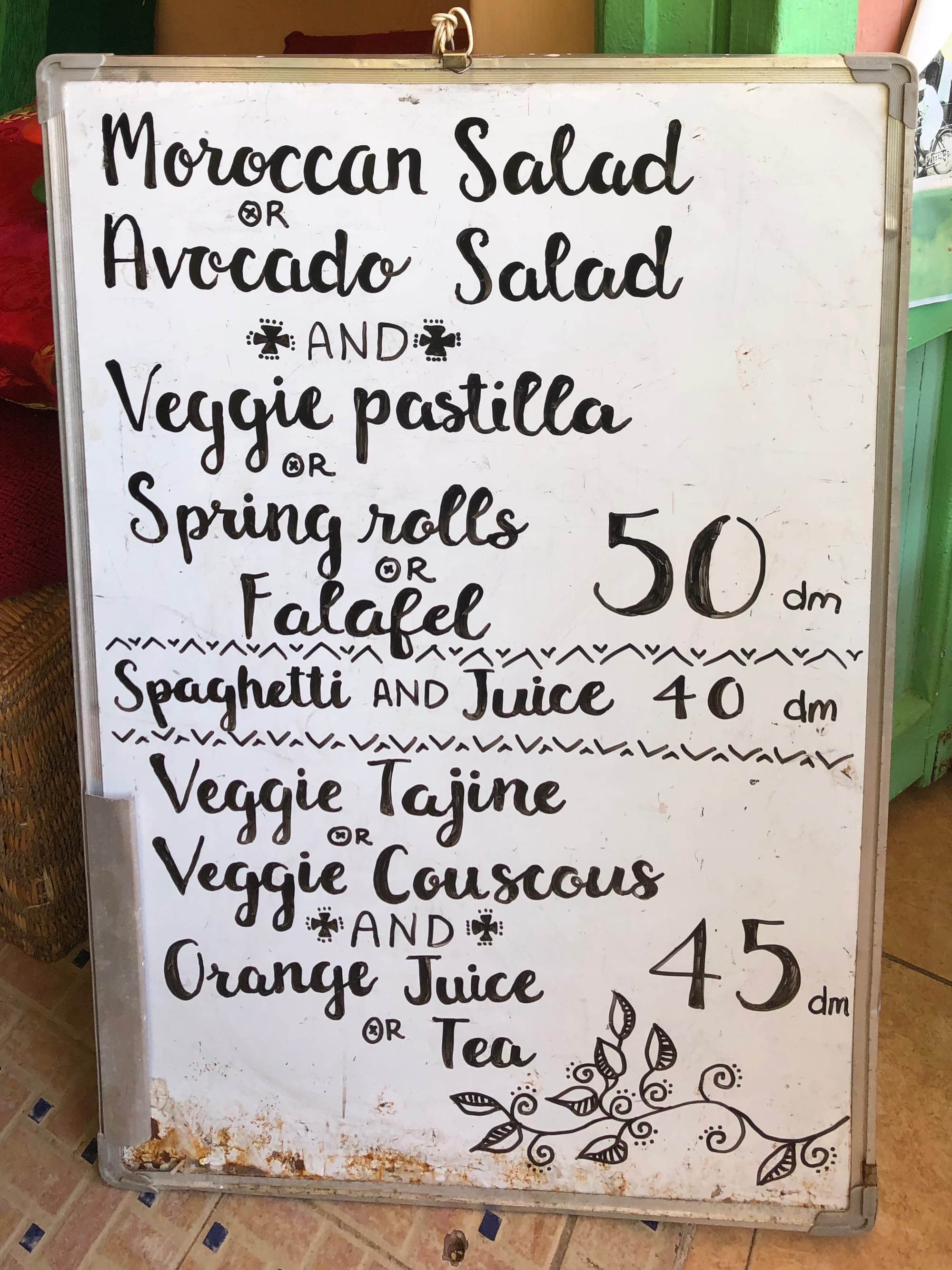 A couple of doors down is Le Corail, which is mostly vegetarian with vegan options as well. It is a nice place but the food quality was not as good as Shydarma's.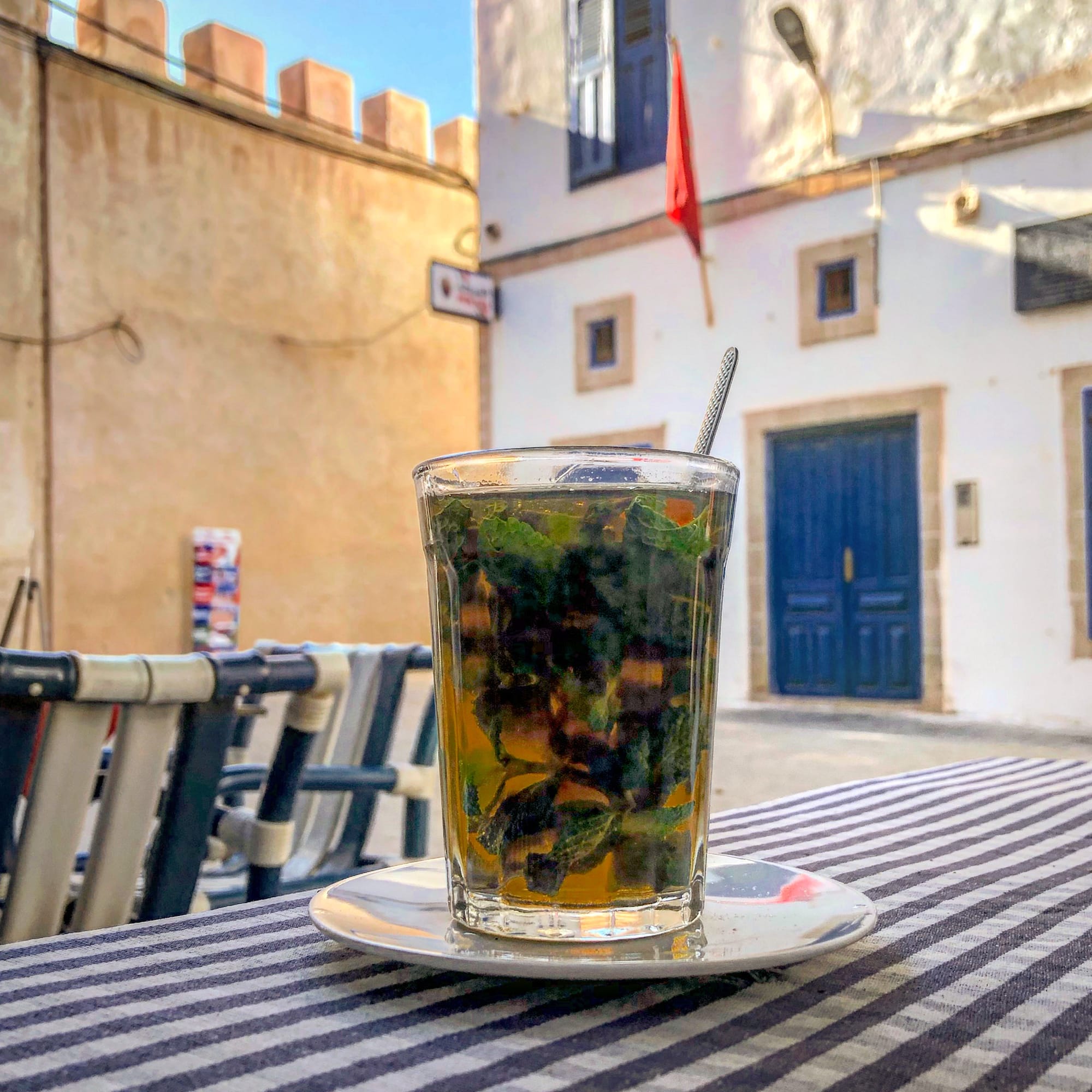 Tea is always available
Another favorite was El Bistro in a cute part of the old city. They served really good Spanish and Moroccan food, had a few vegetarian options and were willing to make adjustments to the recipes to accommodate us. The gazpacho was very good as were the other soups like the vegetable bisque. For some reason they had best bread we have ever had. Service was excellent and friendly and all the employes were about 18 years old with orthodontia.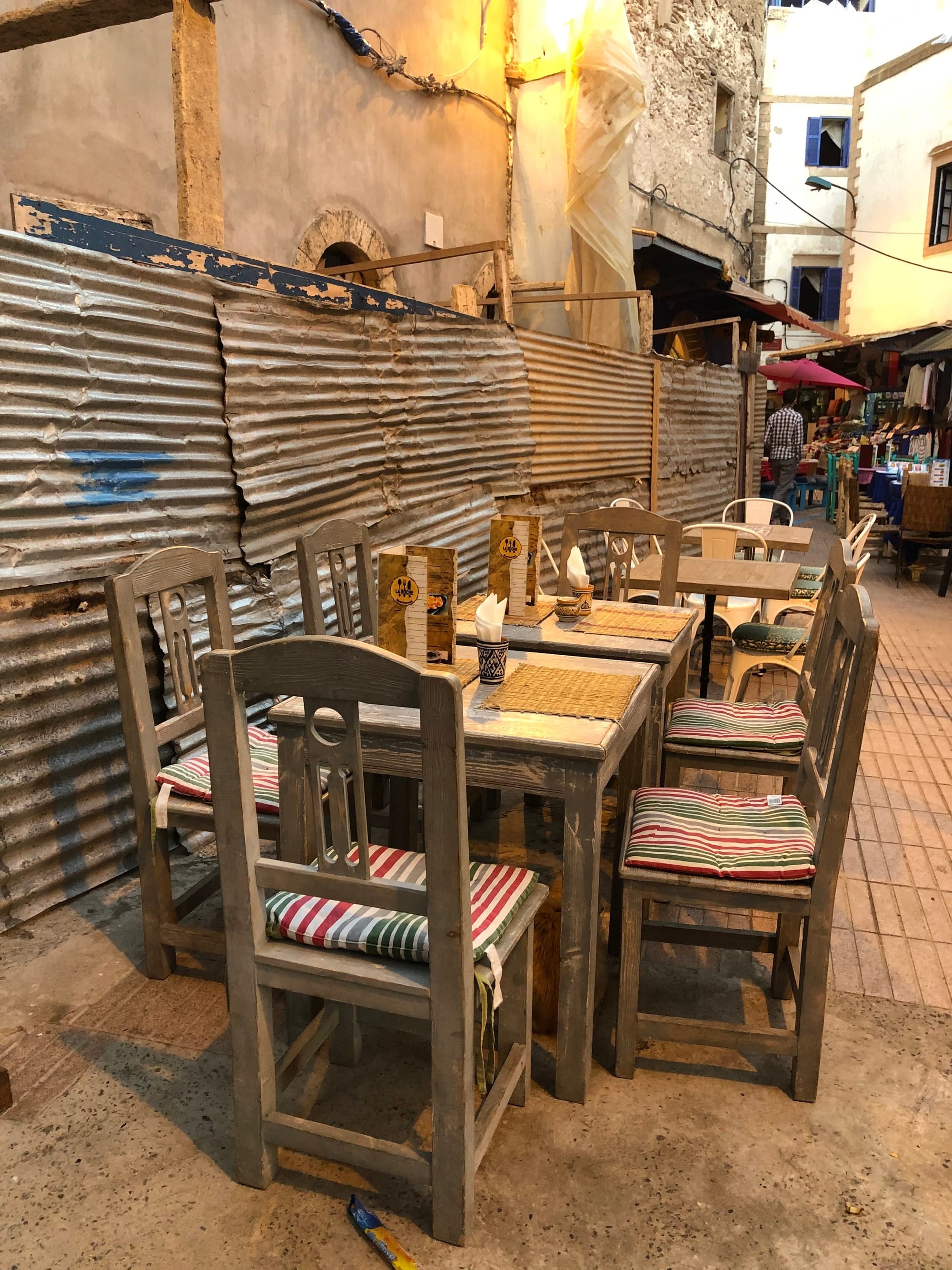 Outdoor eating at its finest!
Yet another cool place to eat was the rooftop of Kameleon Cafe. They had the slowest service in history but they only had two employees and they had to climb 4 flights of stairs. It didn't matter because the view was incredible and the coffee and avocado toast delicious.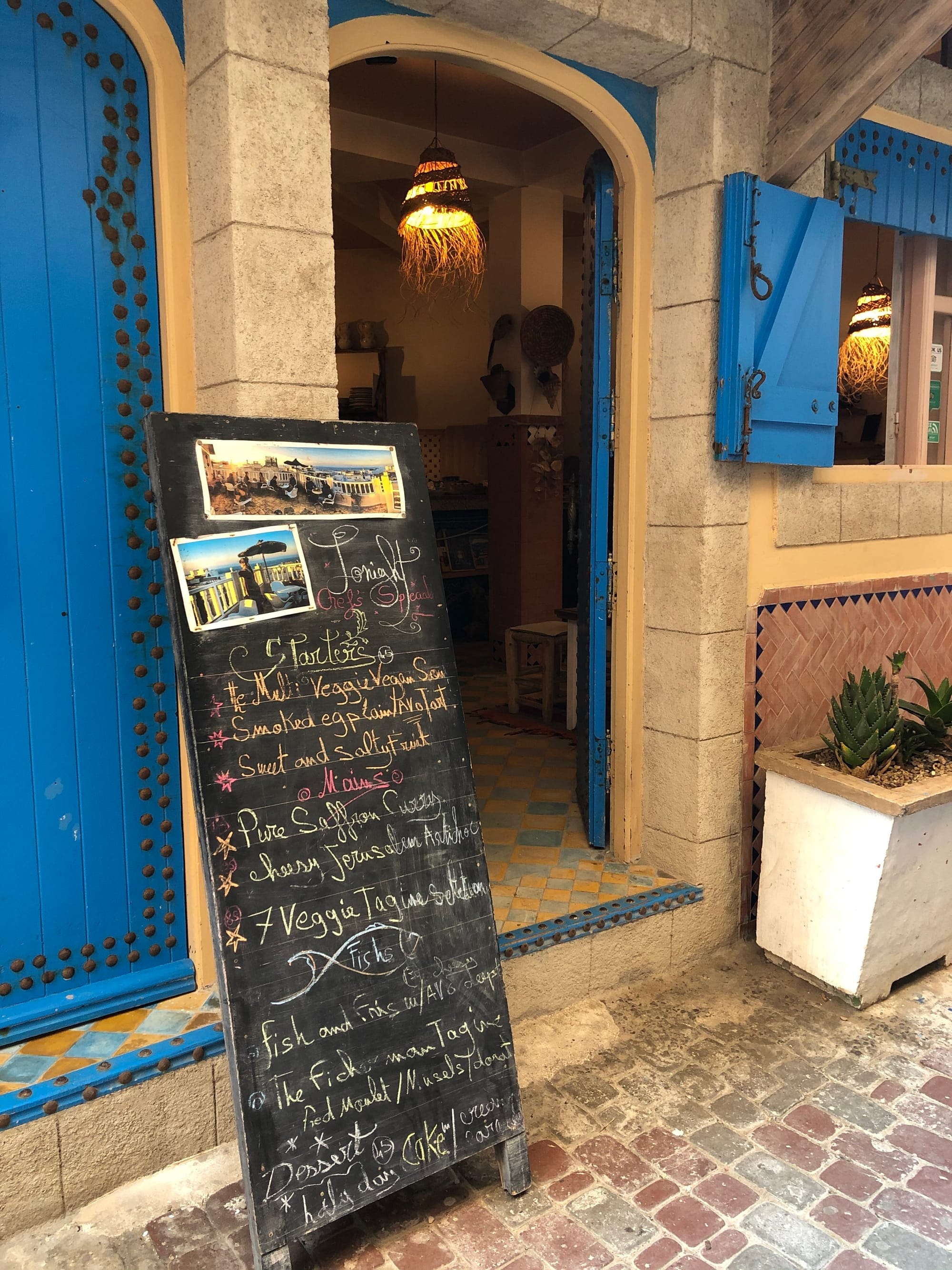 The entrance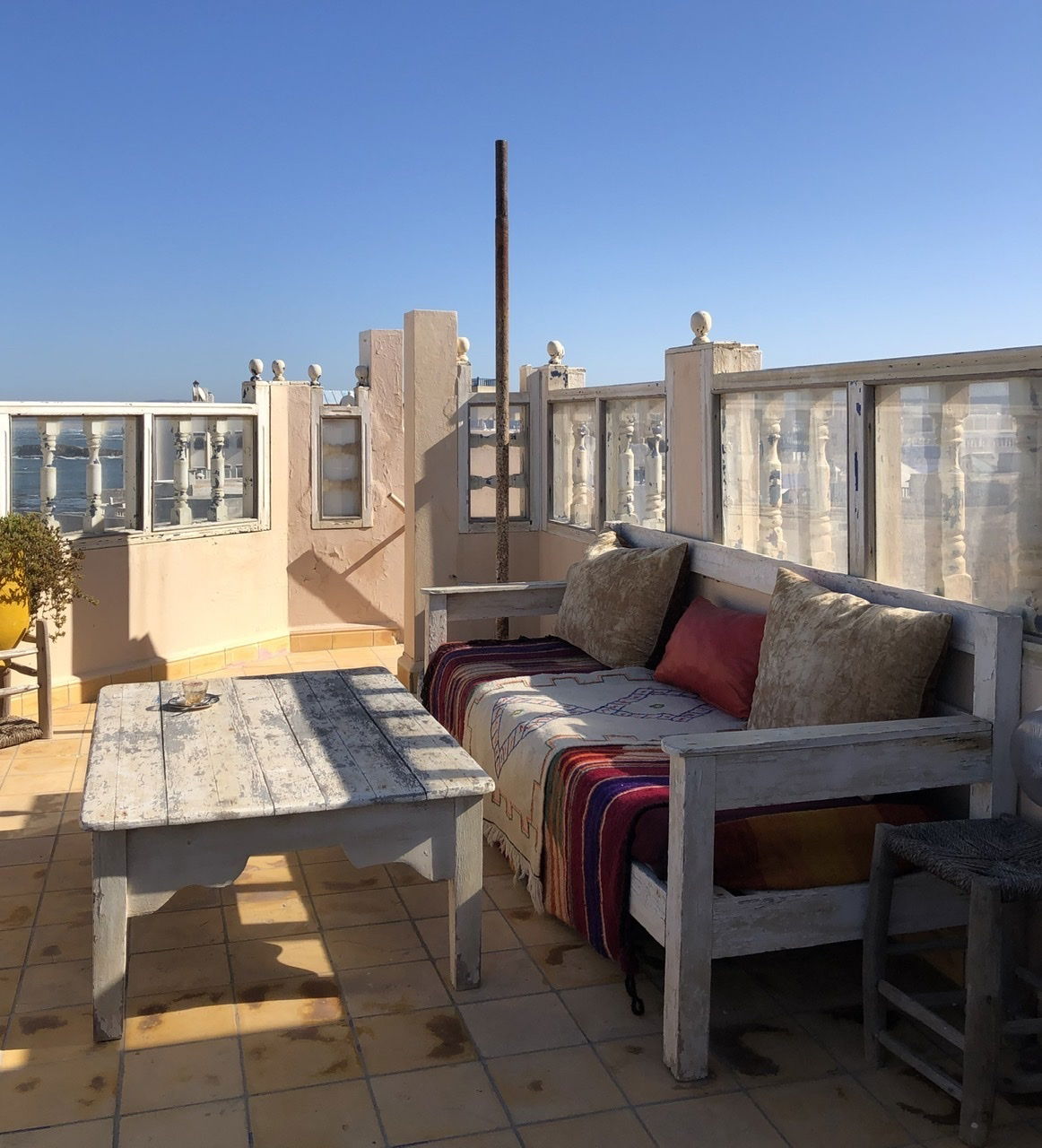 The seating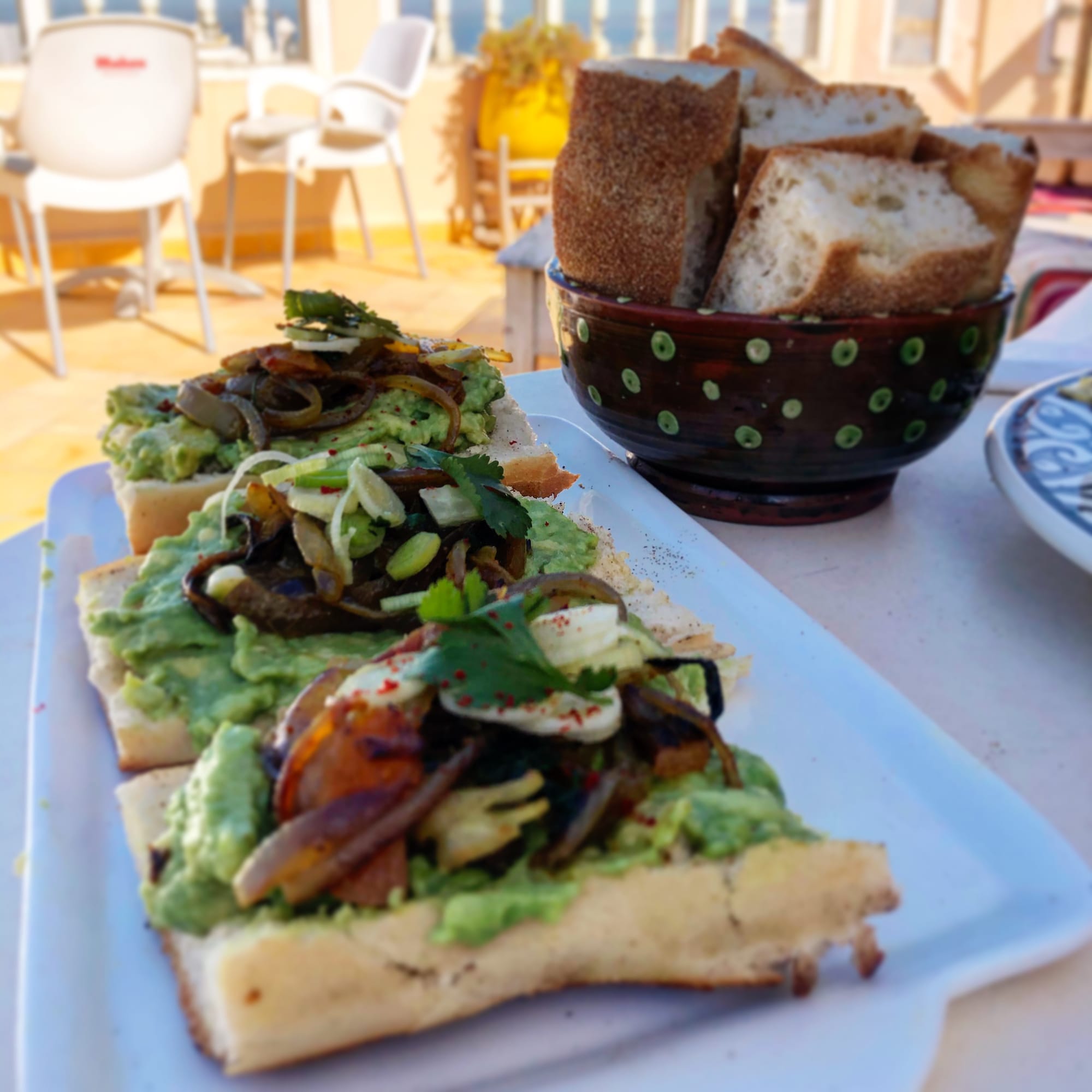 The toast
* Shopping - There isn't much of a medina in Essaouira but there are three long streets with wonderful places to shop. The main street is more for everyday clothes - mostly foreign made - and food. There are butchers, seafood, hot street food, nuts and olive sellers, shoe stores and equipment rentals like bikes and surfboards. The second street has more locally made and handmade items, Leather wallets, art, fabrics and ceramics, and wooden objects, which are a specialty of Essaouira.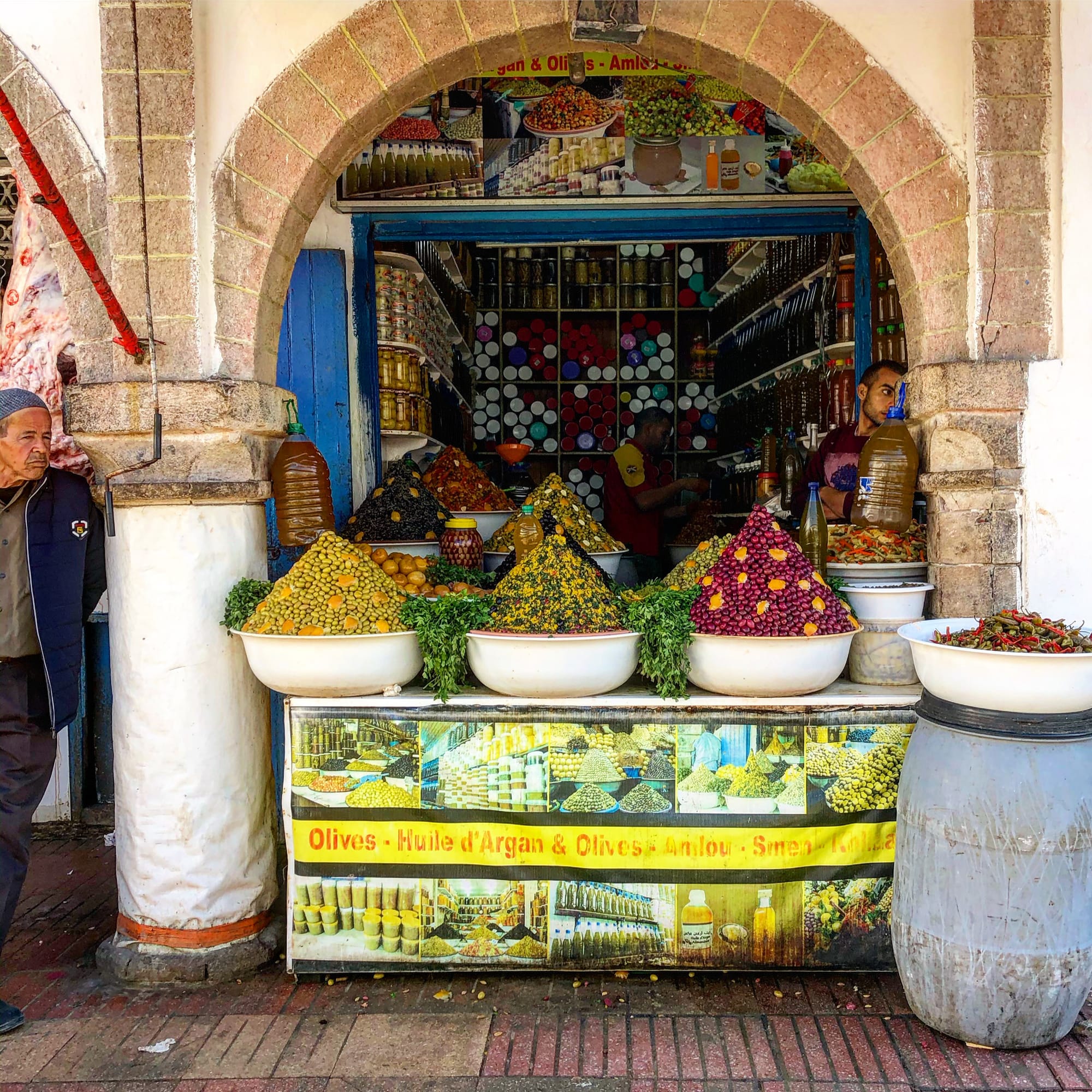 An artfully arranged olive stall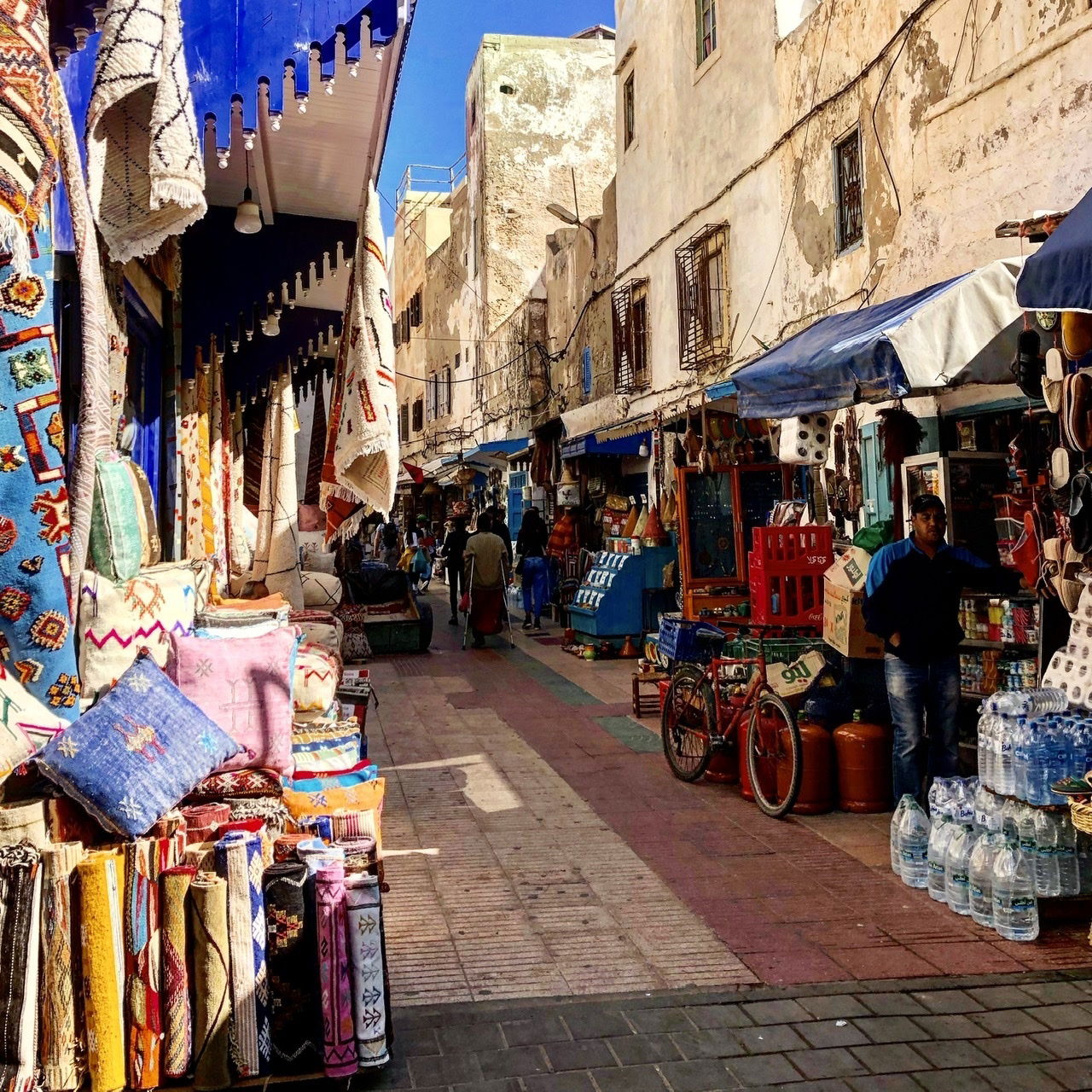 I mean who can resist?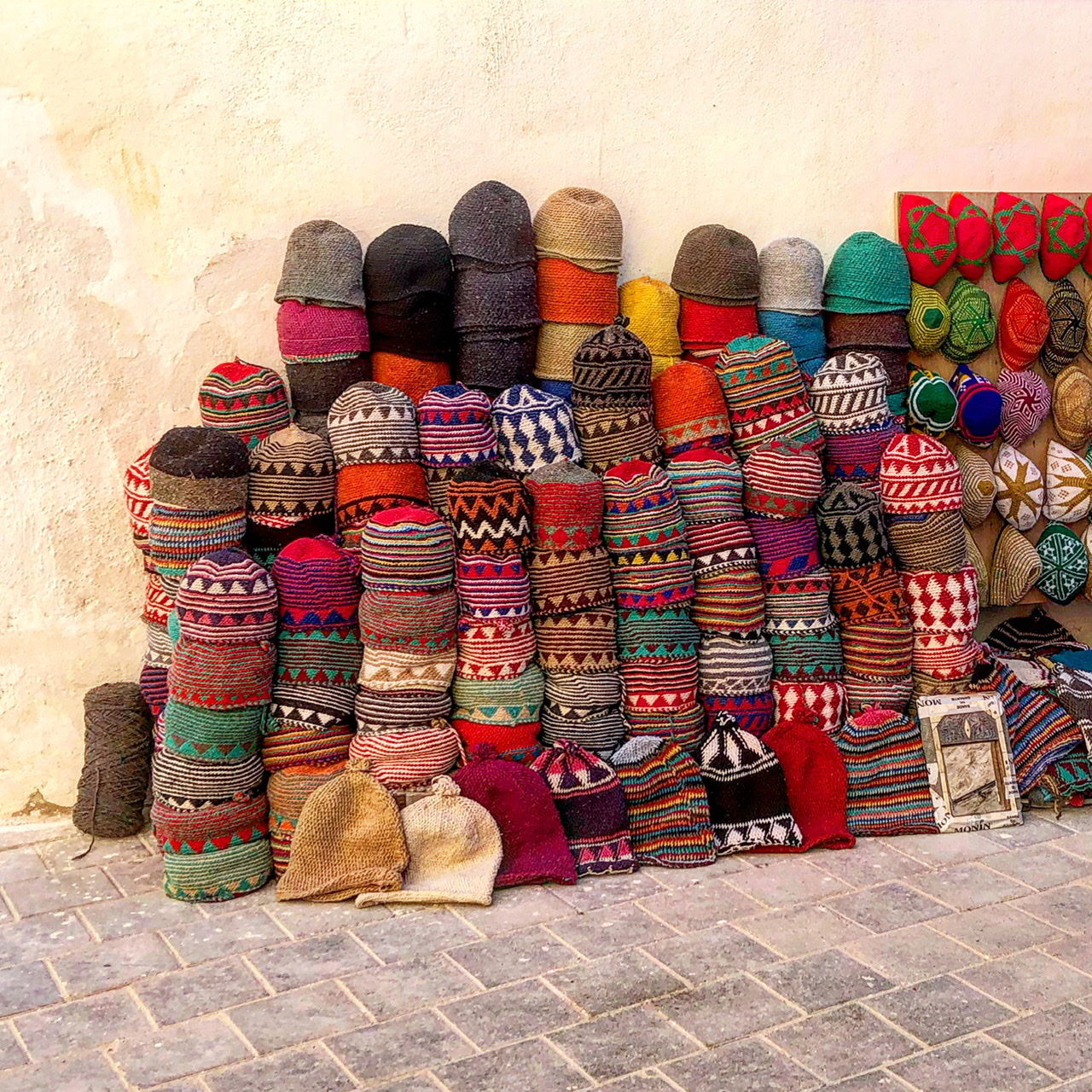 Stunning colors in these hand-woven hats
The last street hugs the sea wall in the shadow of the old fortress and is only small stalls with handcrafted, typical Moroccan wares such as small furniture pieces, ceramics, more olive wood and woven hats. We bought more in Essaouira than in any other city. We got bedspreads and a jewelry box made of olive wood and a beautiful hand-loomed rug. There is MUCH less haggling in Essaouira and the prices were very low compared to Marrakech and Fes.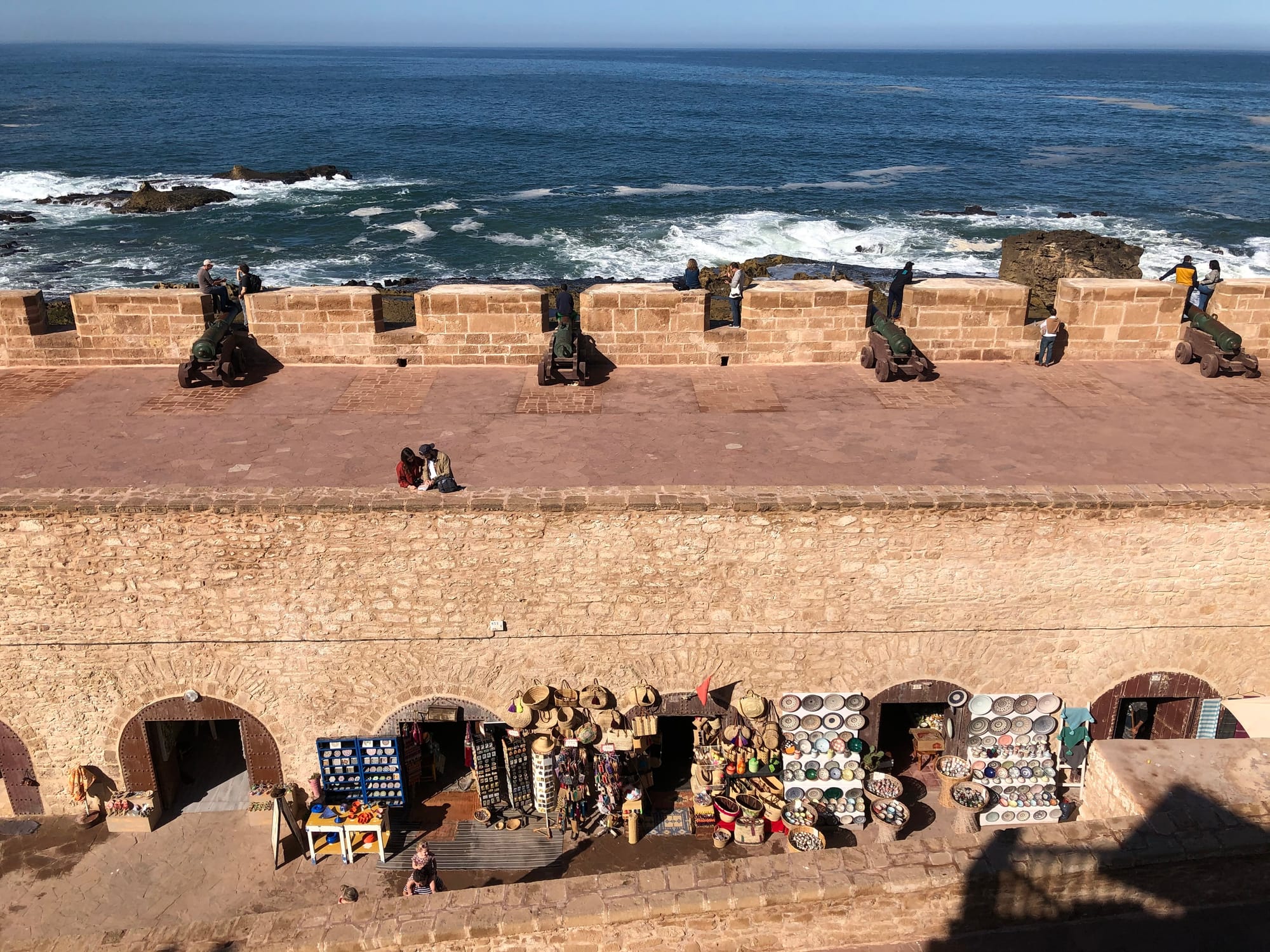 The market stalls under the ramparts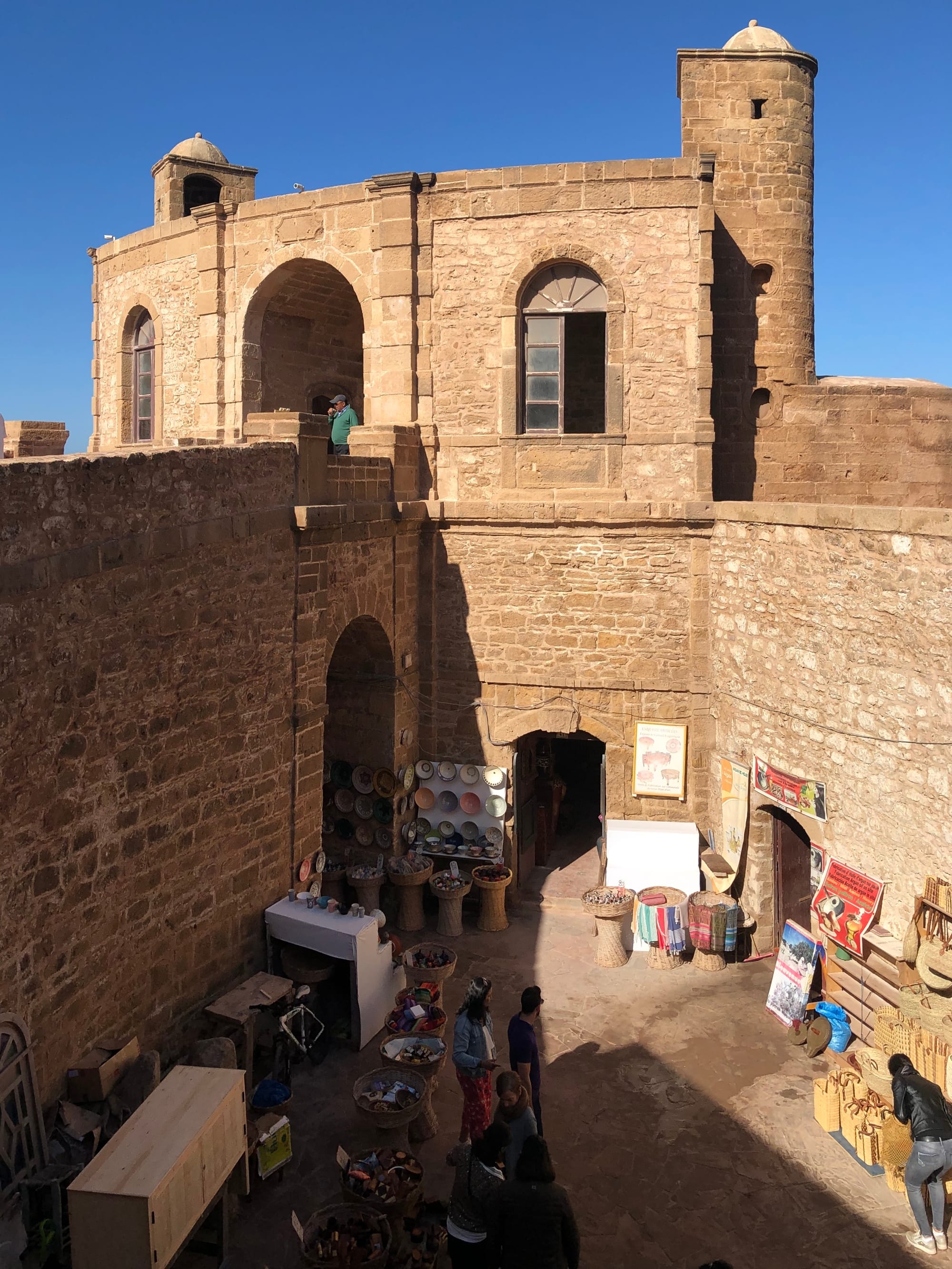 * Photography - You get your choice of light in Essaouira and the town is made for photography. I took MANY pictures of interesting doors, details and long winding lanes while there.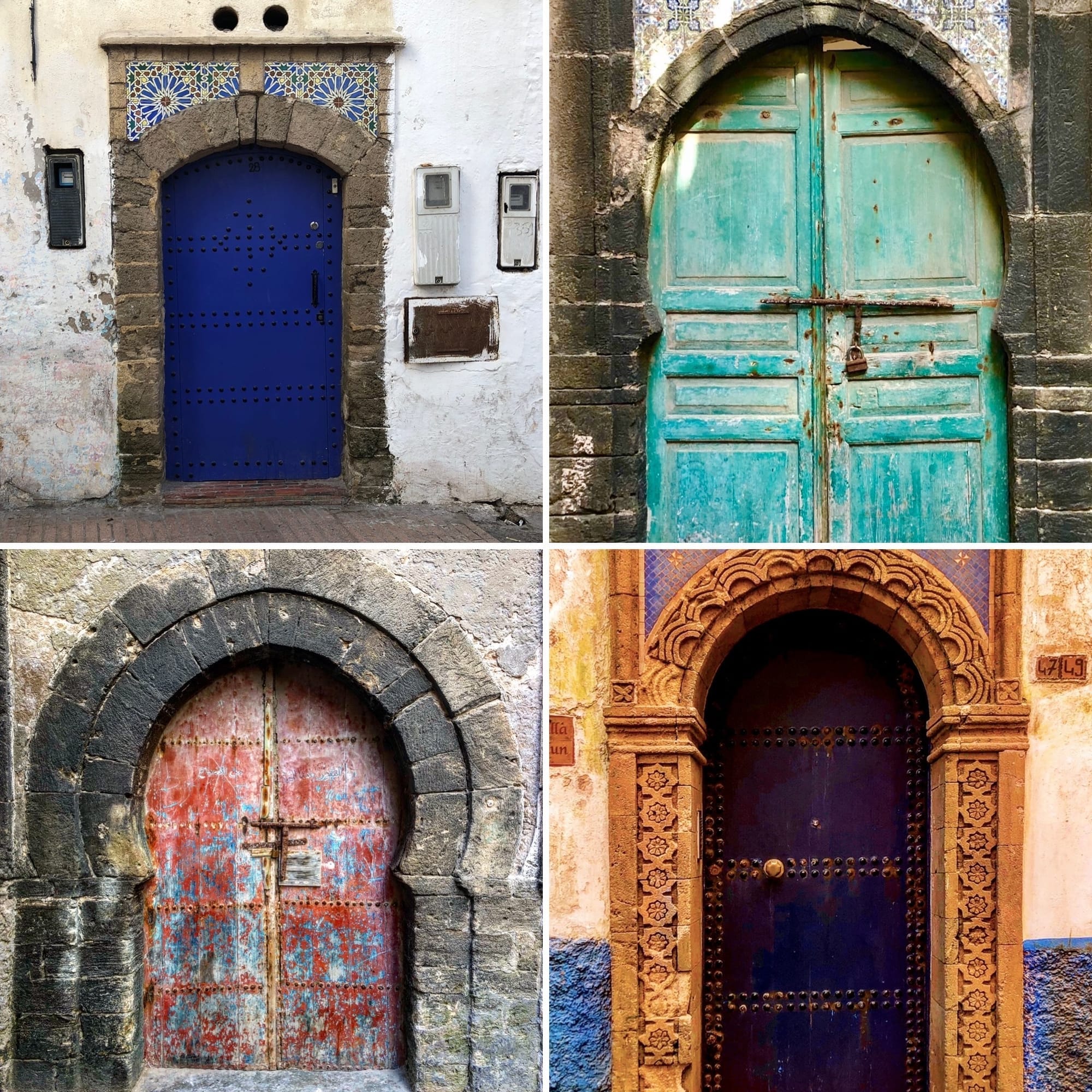 Doors of Essaouira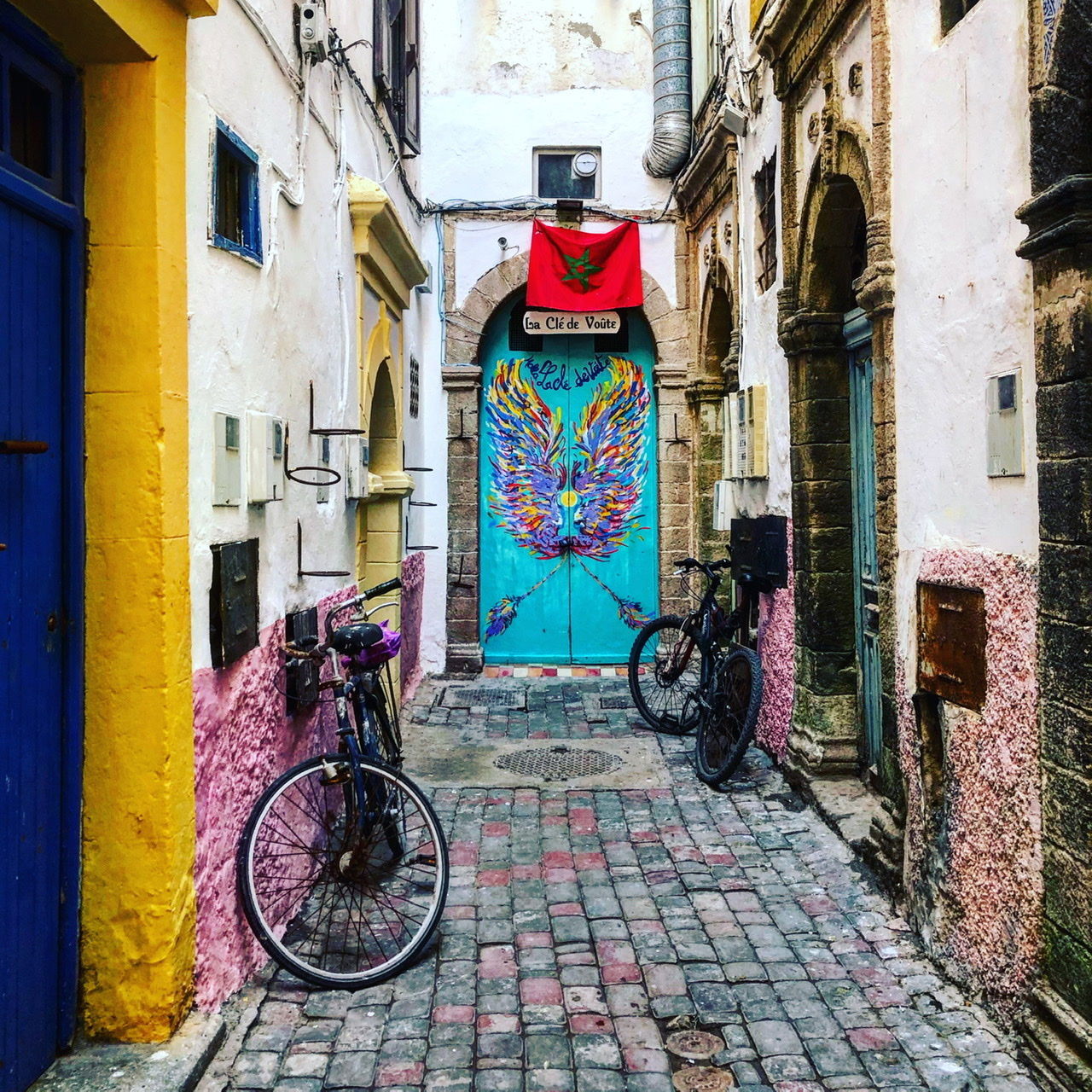 My favorite door!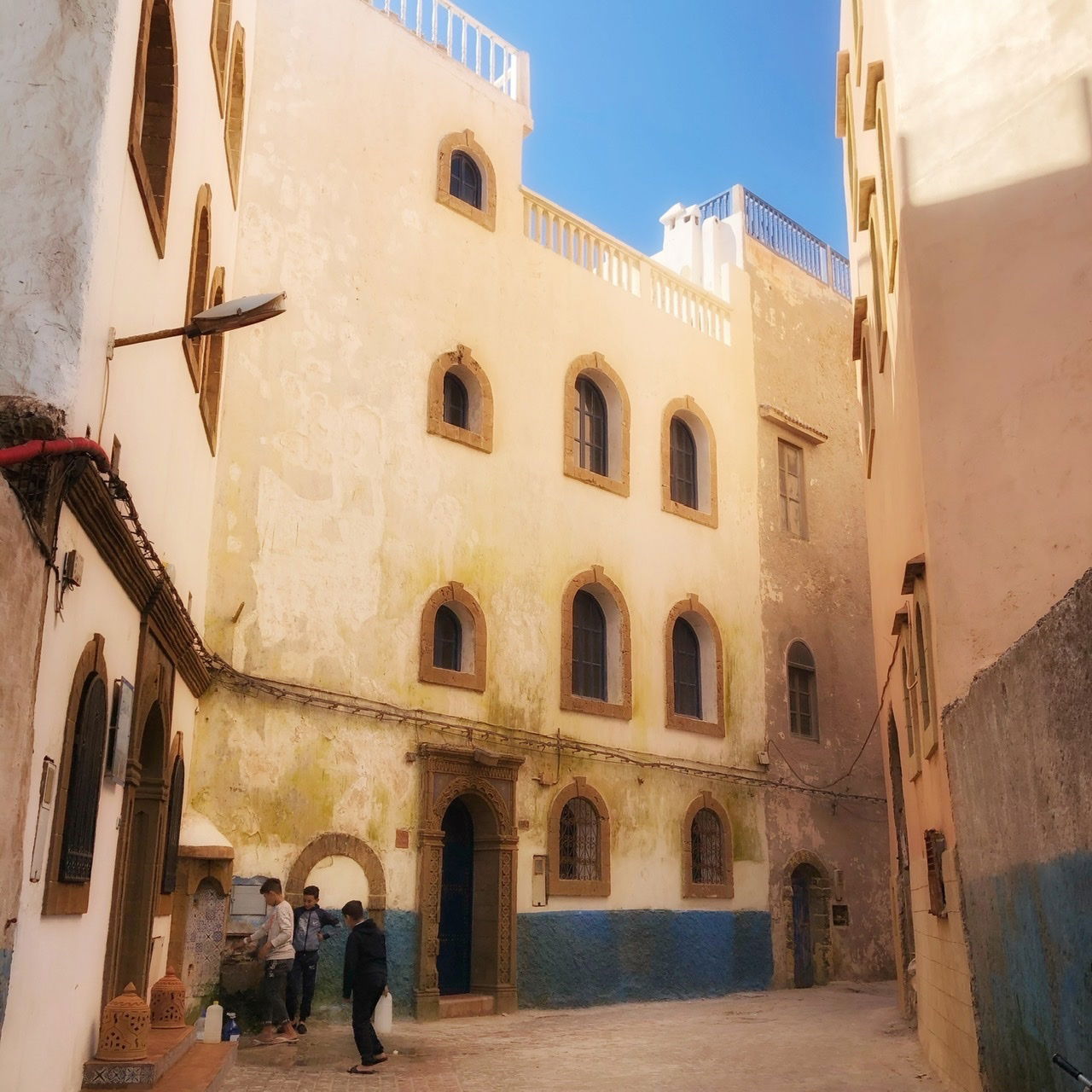 The light!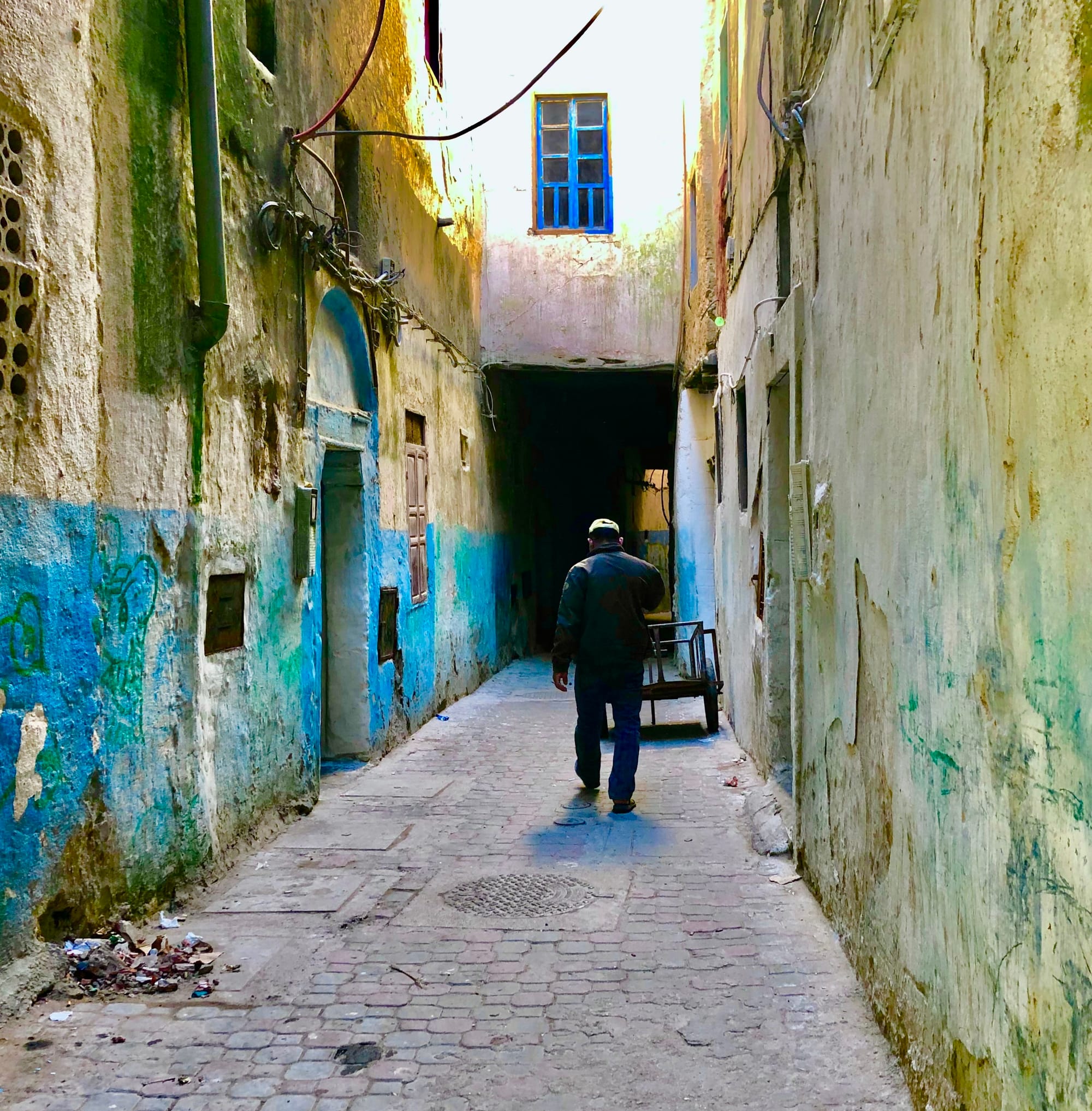 Iphone photography school said I should try to take surreptitious pictures of strangers.
Even in a city with so much stark colorful punctuation, there are good black and white photos to be made.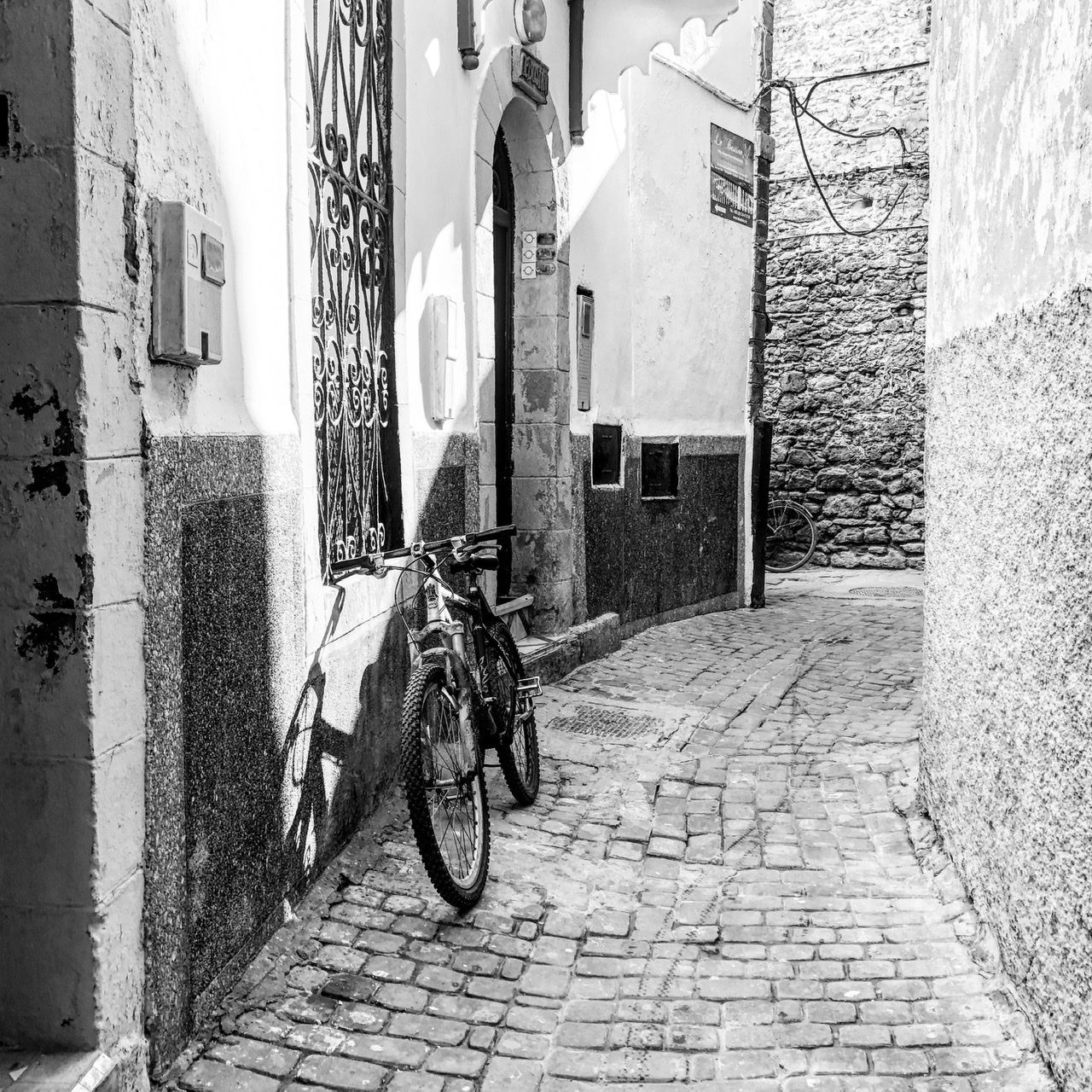 Lots of random bikes to photograph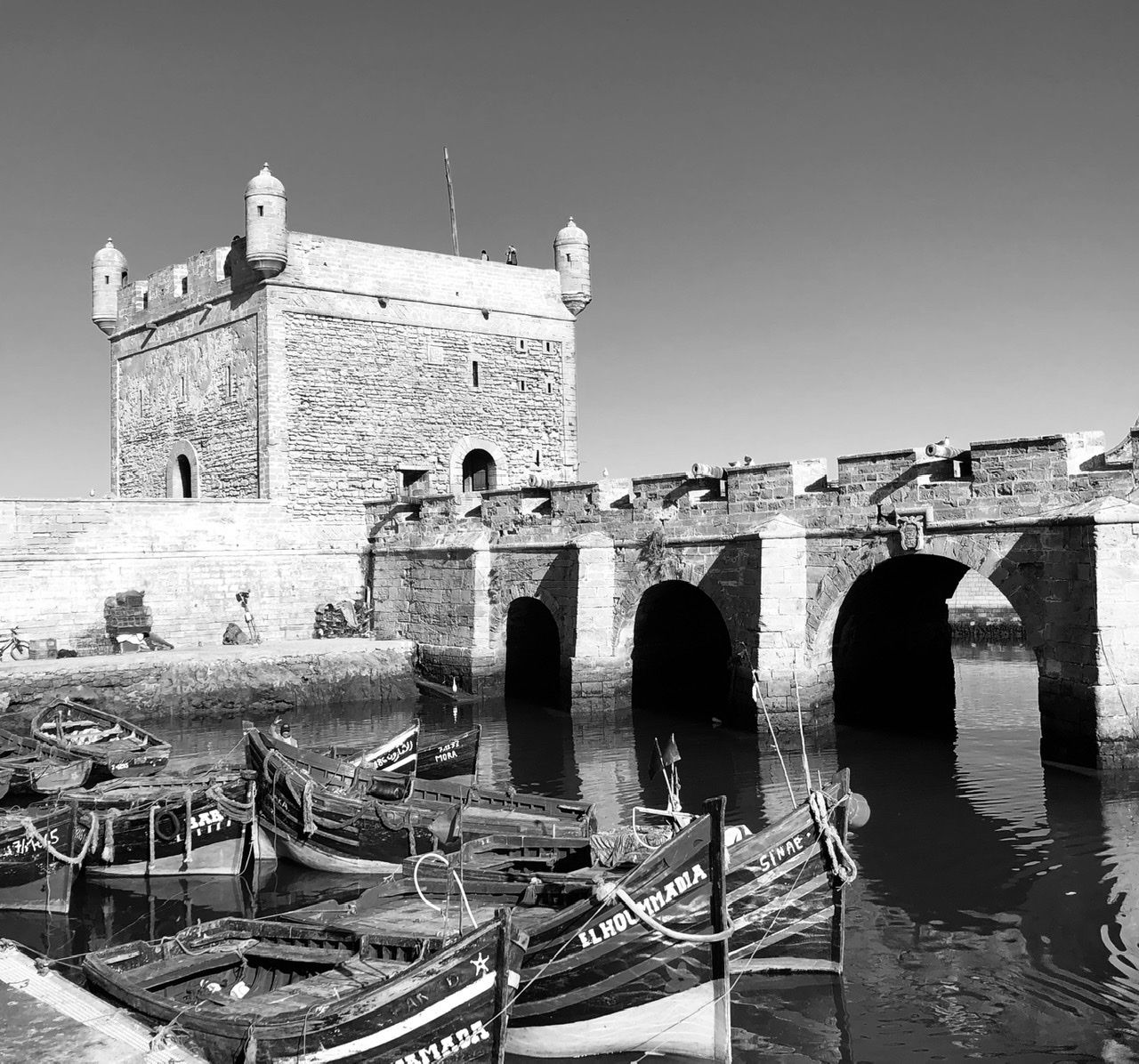 The port is very picturesque.
* Animal welfare - Another main difference between Essaouira and other Moroccan cities is animal welfare. Evidently, some veterinarians from the US come down about once a year and spay and neuter every cat they can catch. It was very refreshing not to be confronted with skinny, sick kitties at every turn.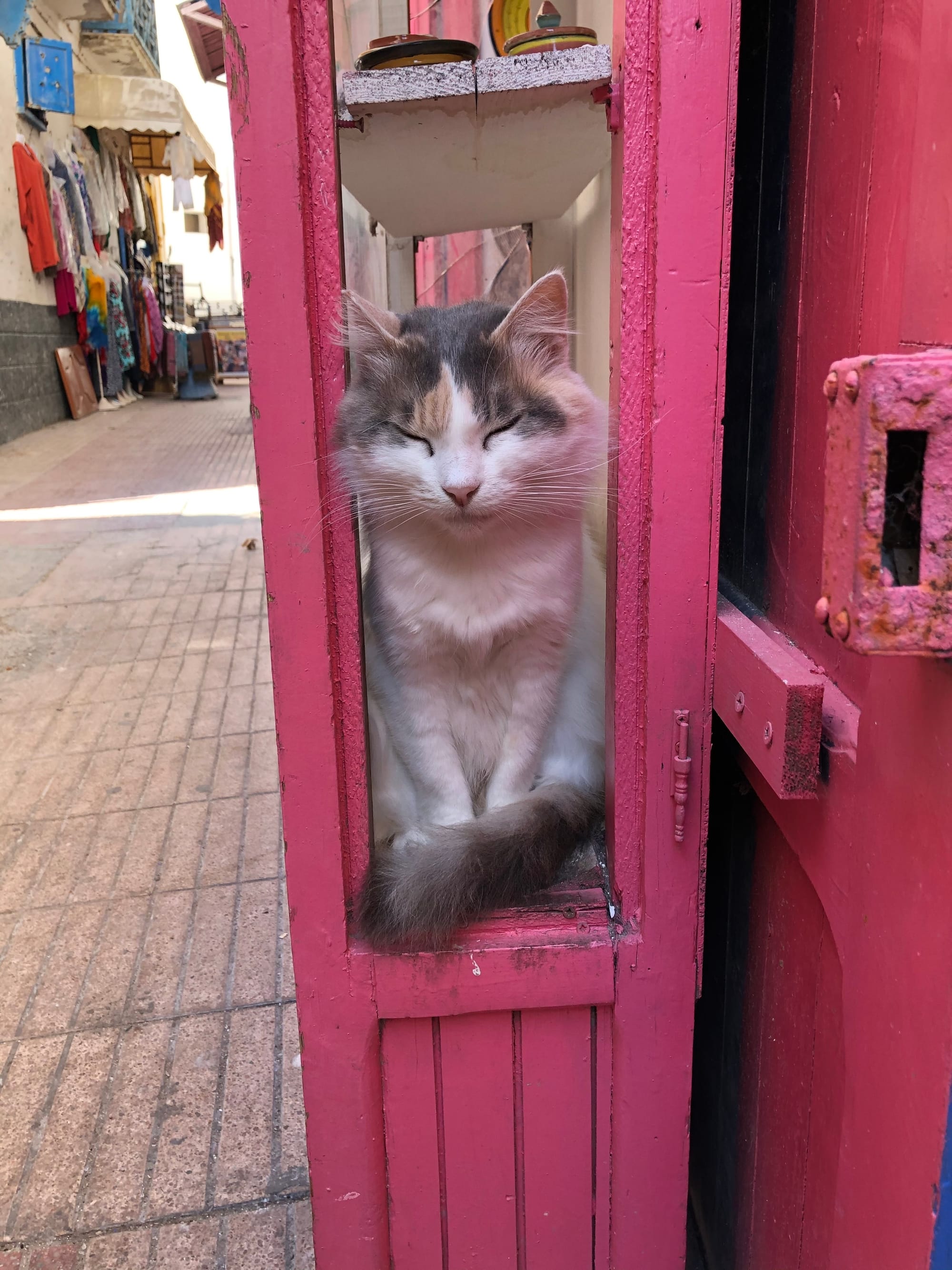 Kitty on display in a shop door that has a built in shelf* The ramparts, port and beach - You can walk out of Essaouira for a mile or 10 miles and see nothing but beauty. Starting with the old castle and fortress of the old city and making your way along the ramparts you arrive at the beach about a kilometer away and then you just keep walking. There are beachside bars and restaurants, bathrooms and apartment rentals for a good distance. The beach is long, with packed sand that is easy to walk on. There are enough people, even after dark, that it feels very safe. Wandering back into the city when the sun goes down, there are often street musicians and other performers. Families and couples sit in the park or along the main thoroughfare and watch them.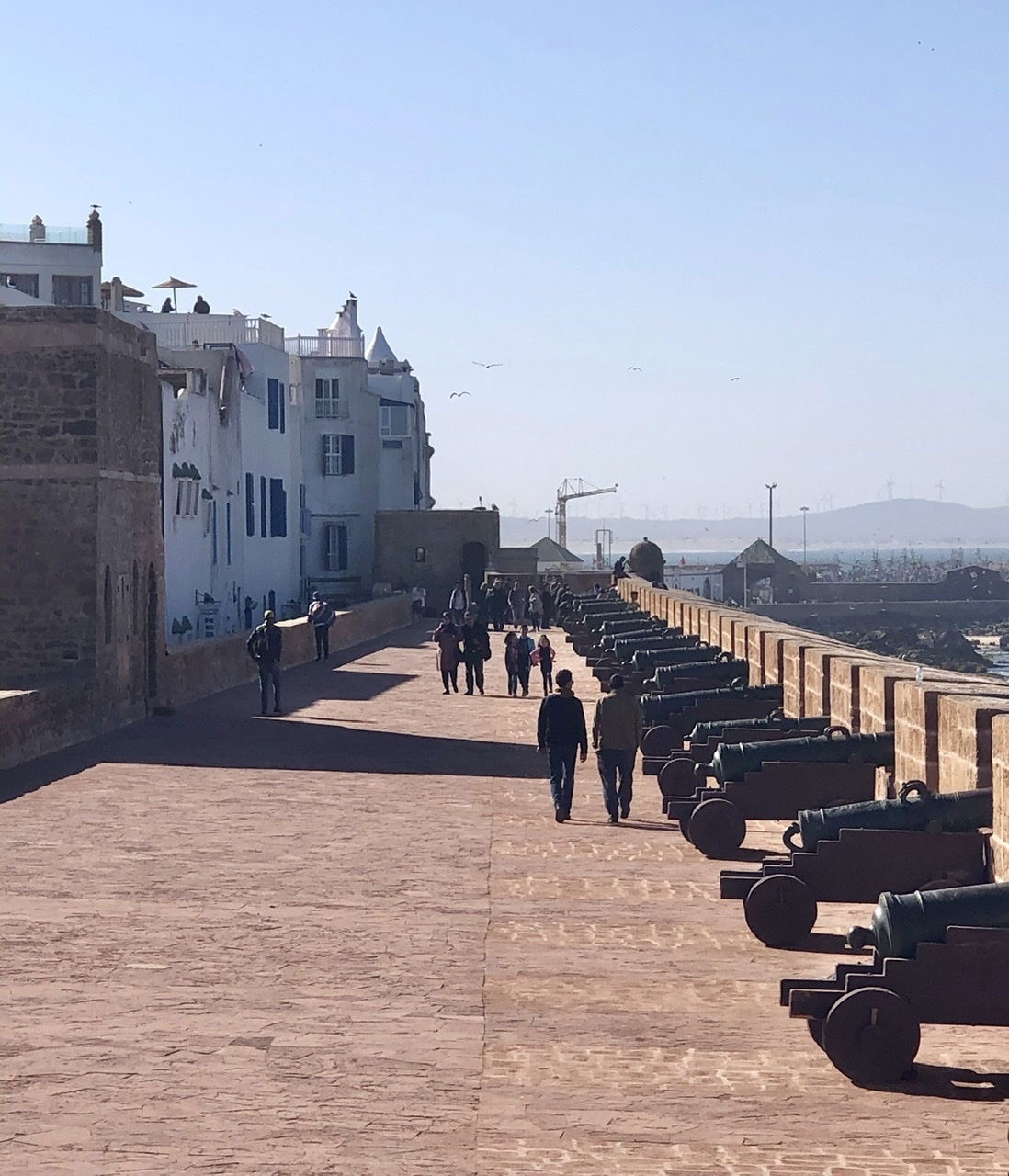 Ramparts in town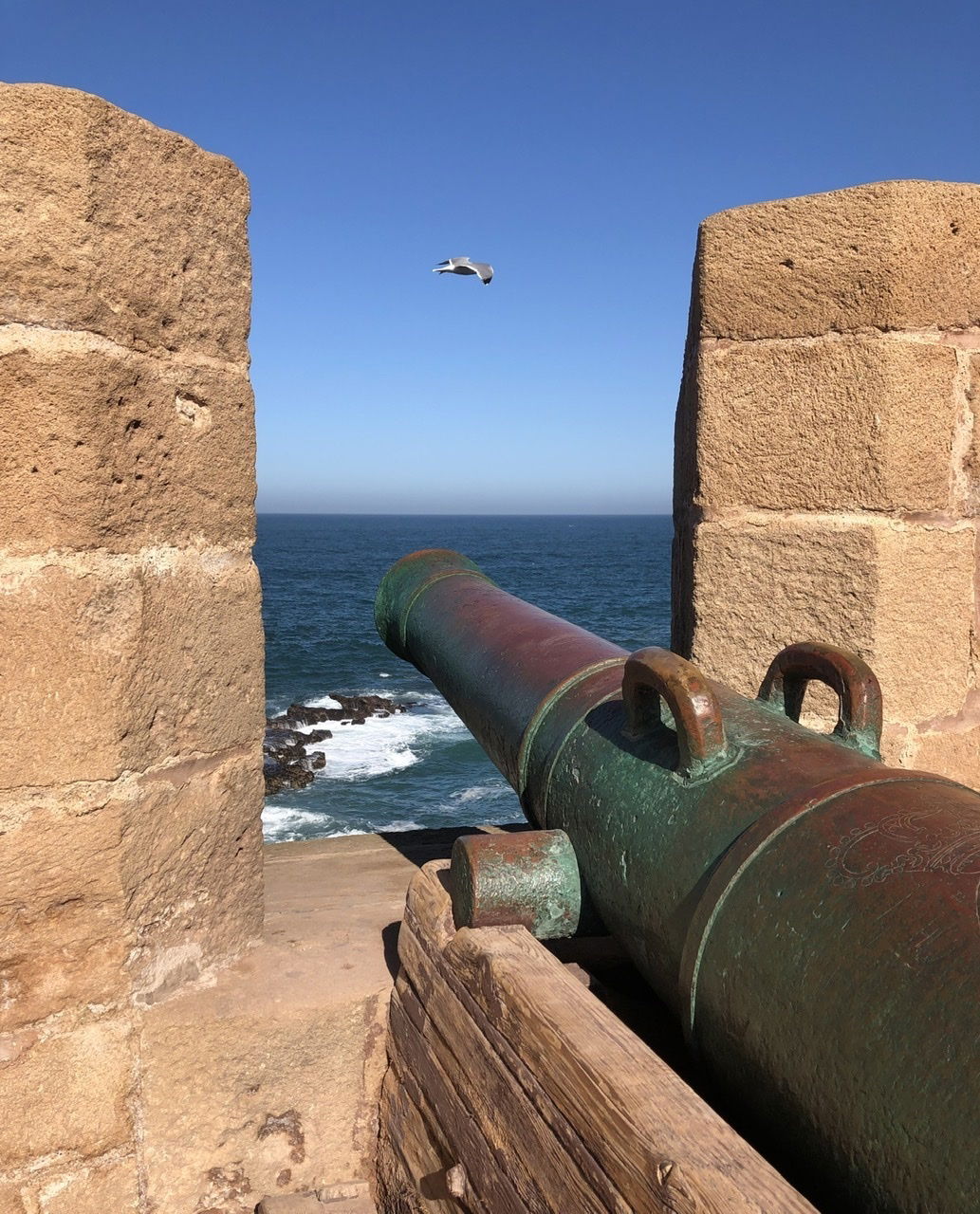 Lots of cannons everywhere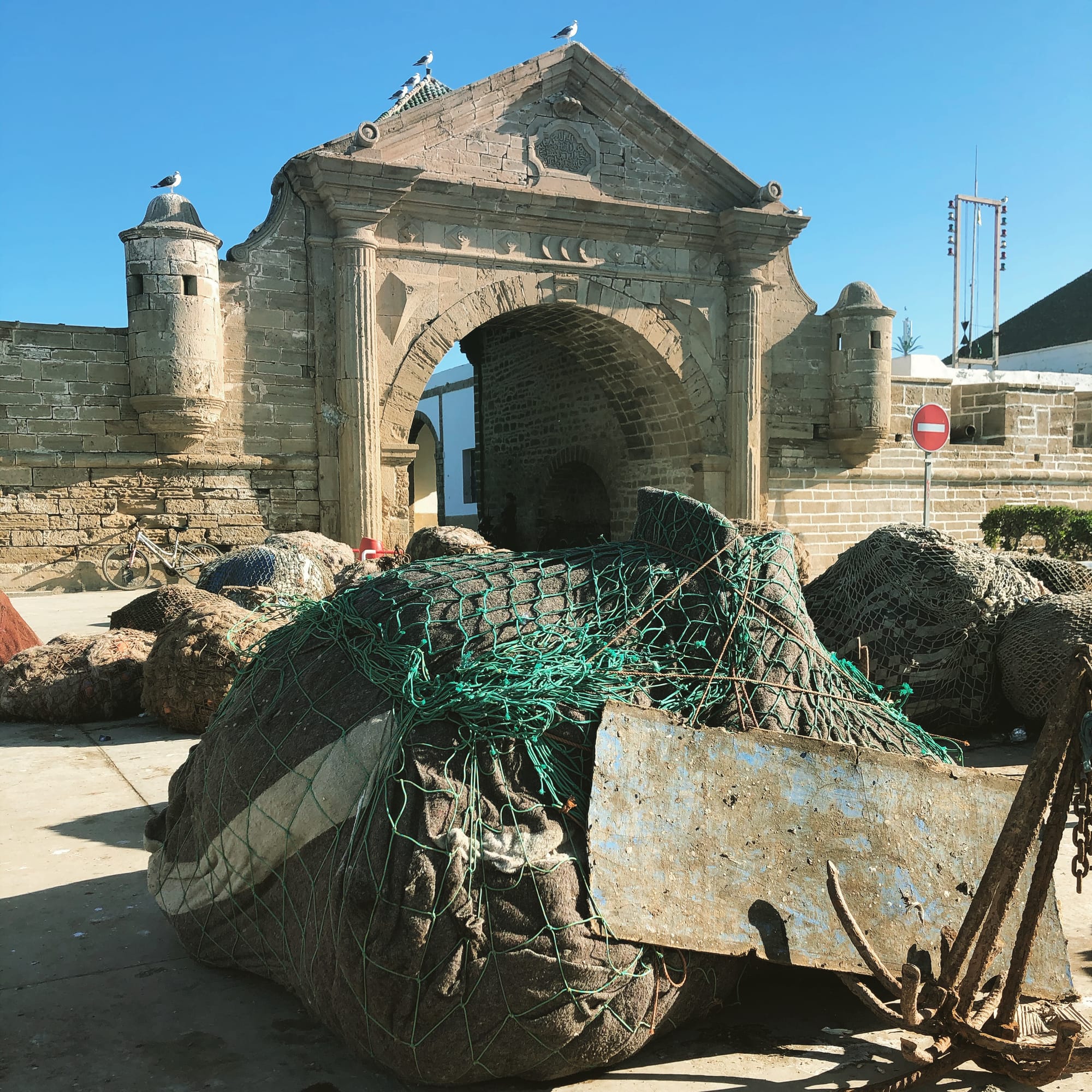 The port is very instagrammable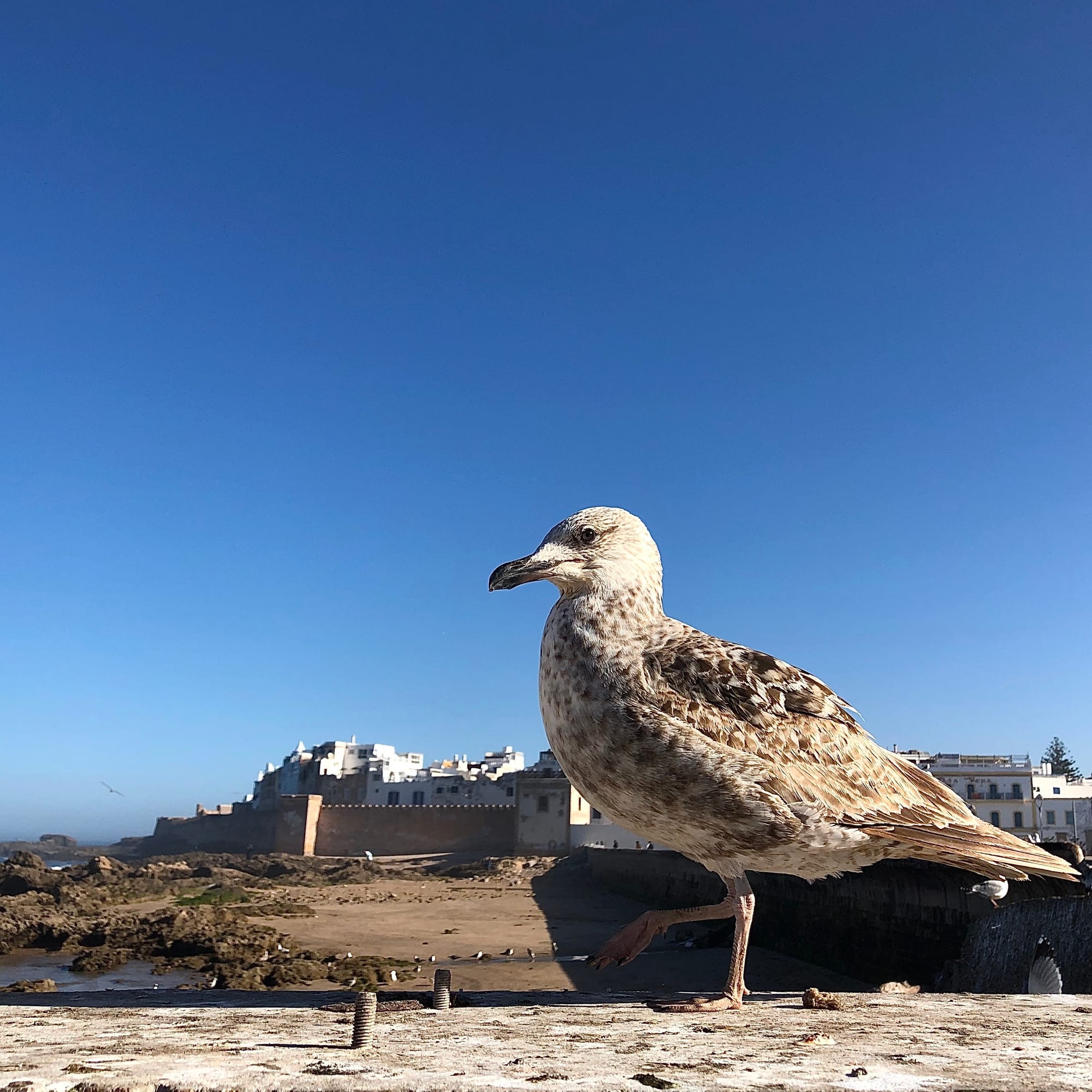 The old town in the background should look familiar to Game of Thrones fans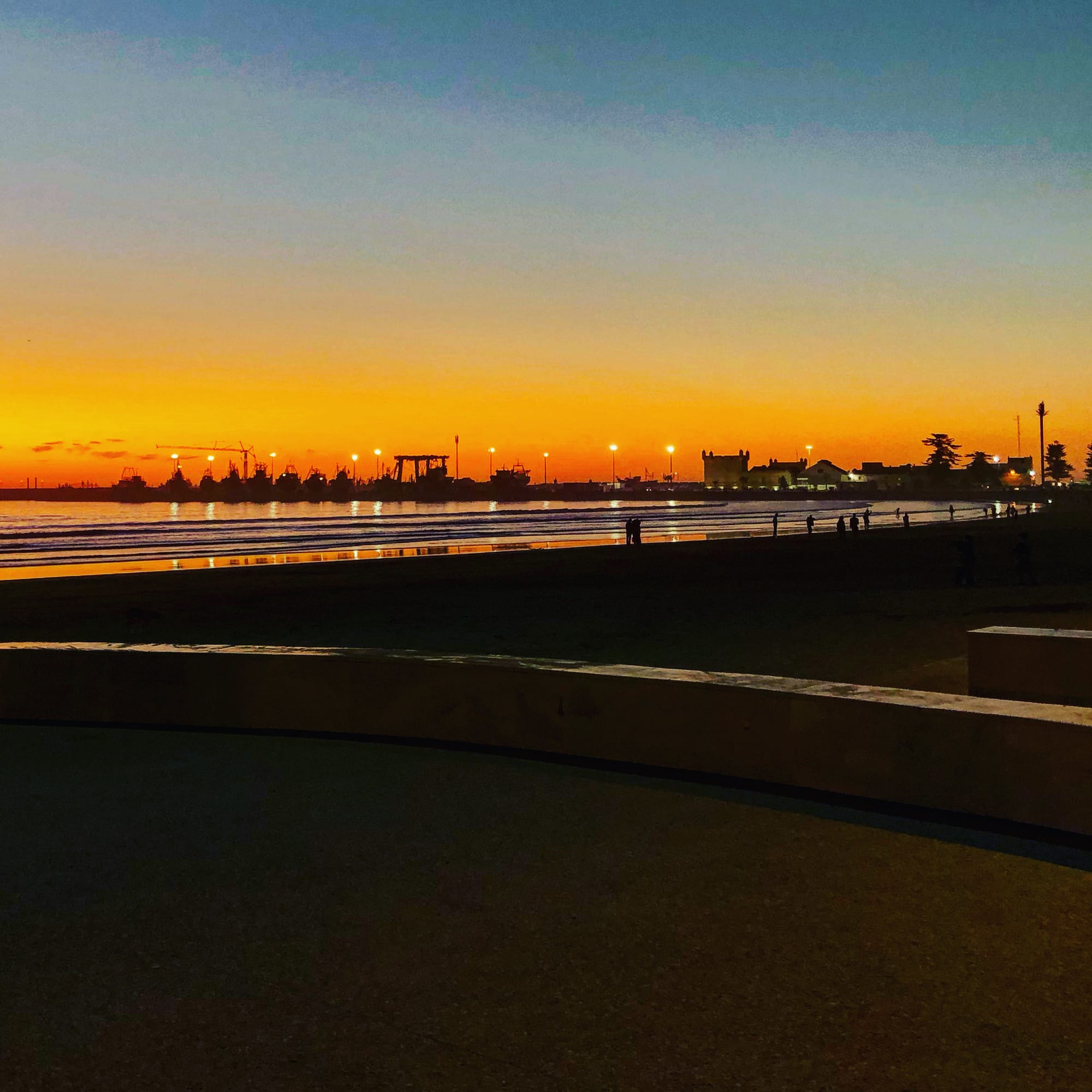 The beach at night
Essaouira is a visual feast. We walked the whole city and the beach at least three times each and it was always fascinating. The people of Essaouira live in the city itself; it isn't tourist picture perfect. There are few beggars and people are occupied - stuffing mattresses, making art, cobbling shoes (seriously) serving food, and weaving.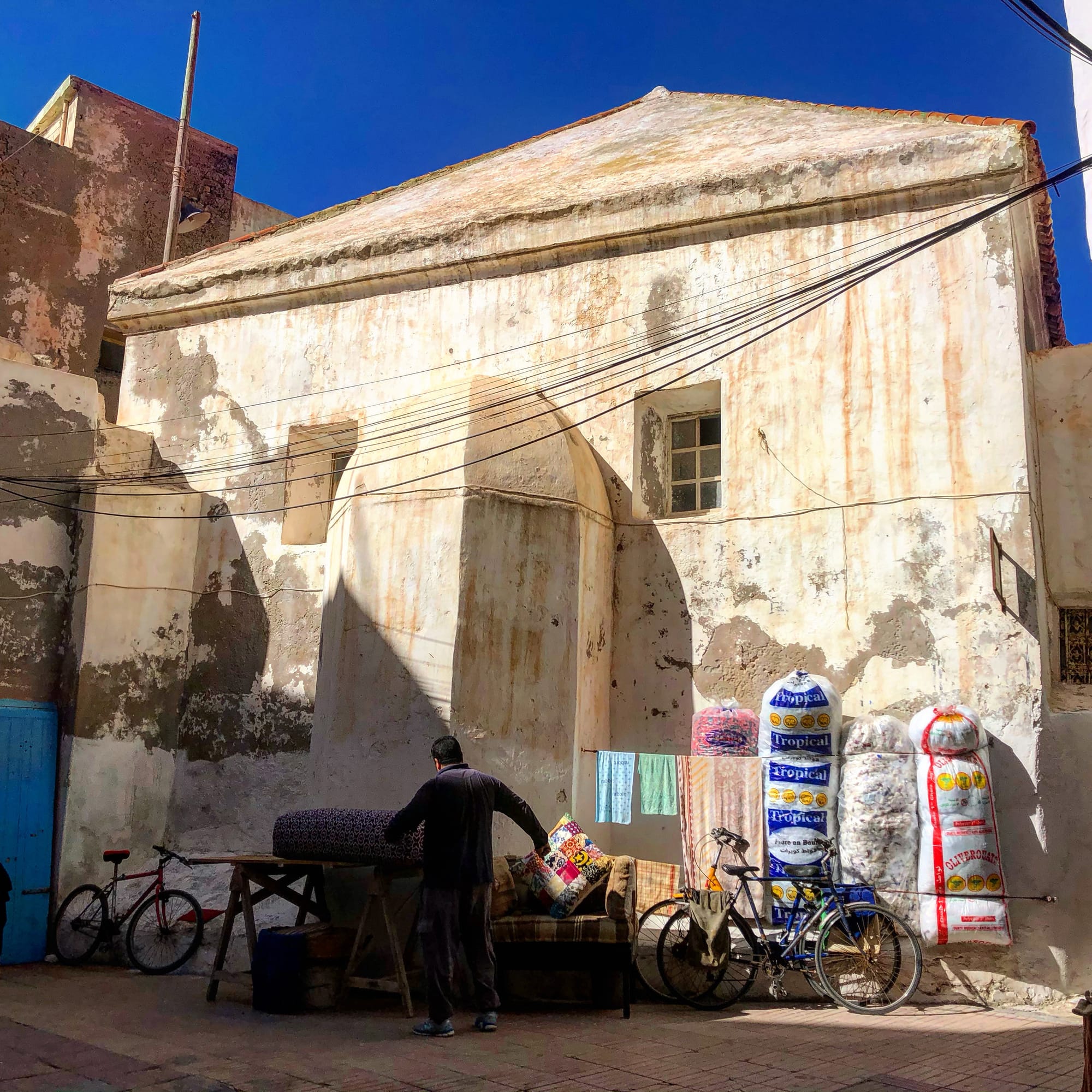 Making cushions by hand
The port is bustling and people buy what they need in town. It is a functioning society and while guests are welcome, it is not as saturated as Marrakech was nor as quasi-European as Rabat. We never got fleeced, either. The price for a cab was $2 for everyone, not just tourists. We really relaxed in Essaouira and soaked up the Moroccan sunshine and the authentic vibe of this lovely corner or Africa.
MEKNES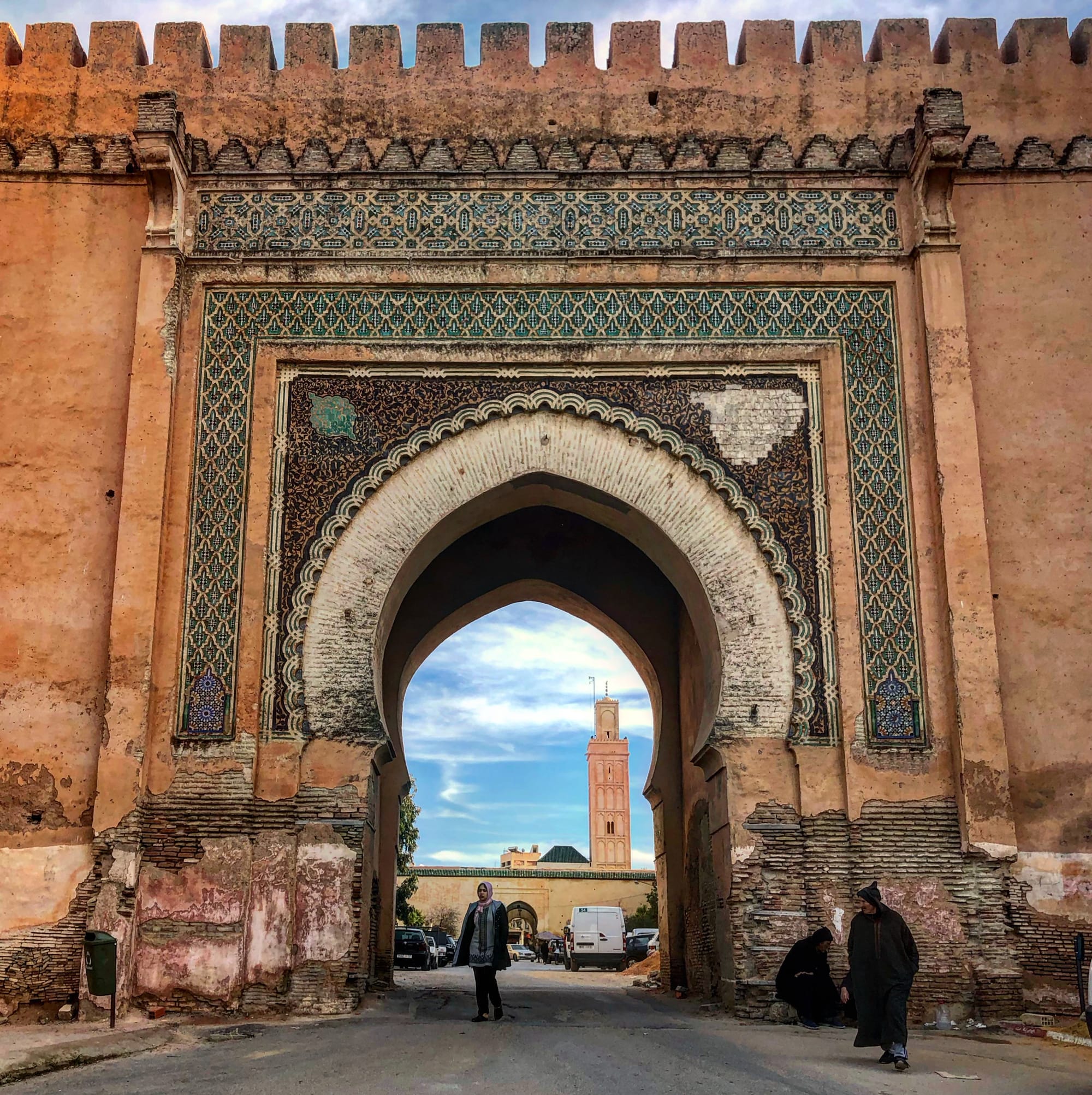 One of the great, outer gates of Meknes
"It is no doubt because the Almohads built in stone that so much of what they made survives. The Merinids took to rubble and a soft tufa, and the Cherifian dynasties built in clay like the Spaniards in South America. And so seventeenth century Meknez has perished while the Almohad walls and towers of the tenth century still stand." - Edith Wharton
Meknes was falling apart. When we arrived by train from Casablanca (we took a 45 minute puddle jumper from Essaouira to Casa in order to save ourselves a 7 hour bus ride) it was on the modern side of the city. We took a cab to our Air BnB on the other side of the old city and settled in. So far, everything looked a bit run down but not unkempt and Meknes was actually pretty clean by Moroccan standards. There was little trash and public areas were very busy with young families and couples sitting in the grass or walking under the many gates that lead to the medina and the main square. But all other structures were, like in Sale, either in ruin or under extensive rennovations. Maybe, like Minnesota, there is a construction season - but it was unsettling to see so many walls and buildings sinking and crumbling into the ground.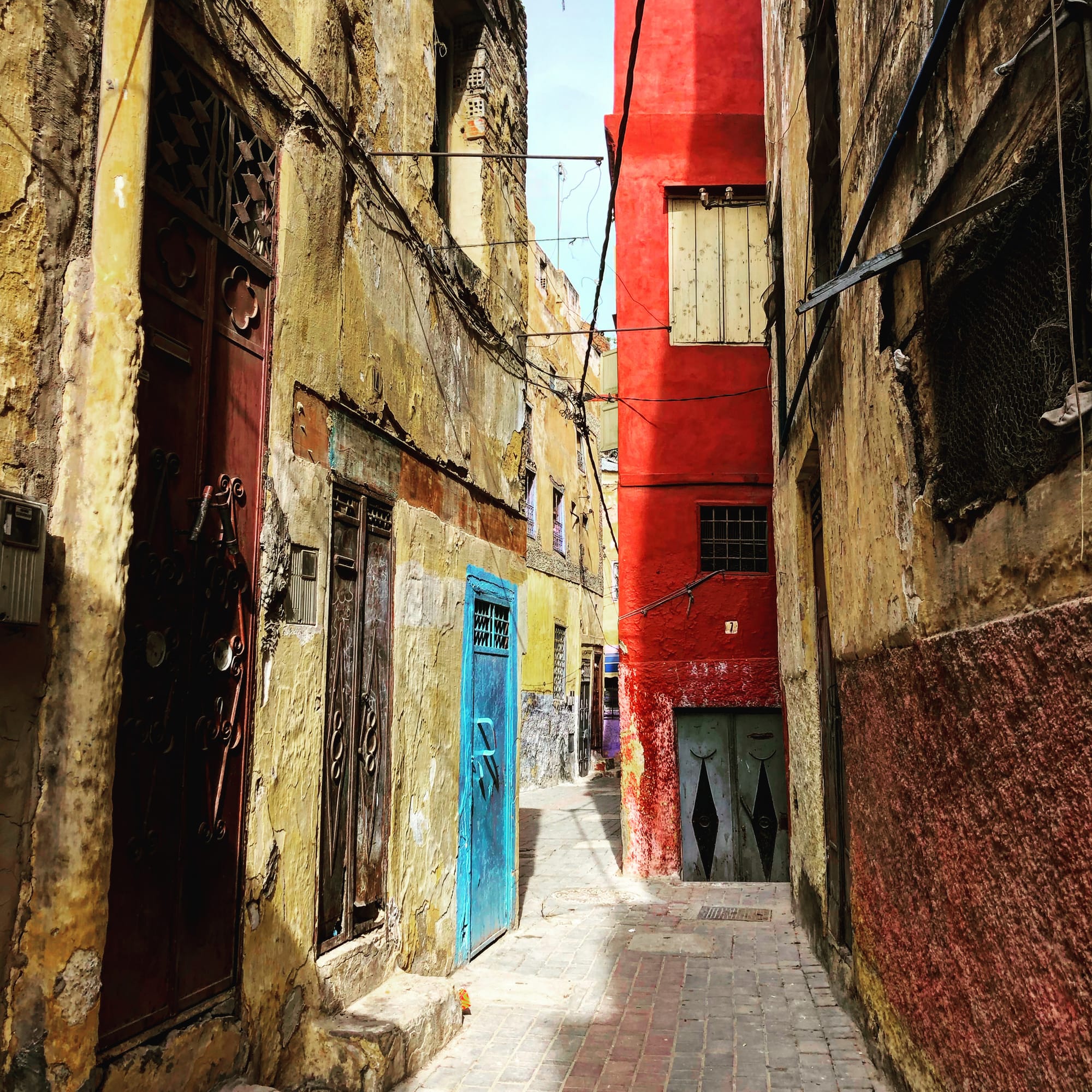 Beige and bright red paint holding it all together
We had less to see in Meknes than in Essaouira but we were not bothered by it. We had had our fill of museums and views in Marrakech and Essaouira respectively and we were ready for some ruins and grit.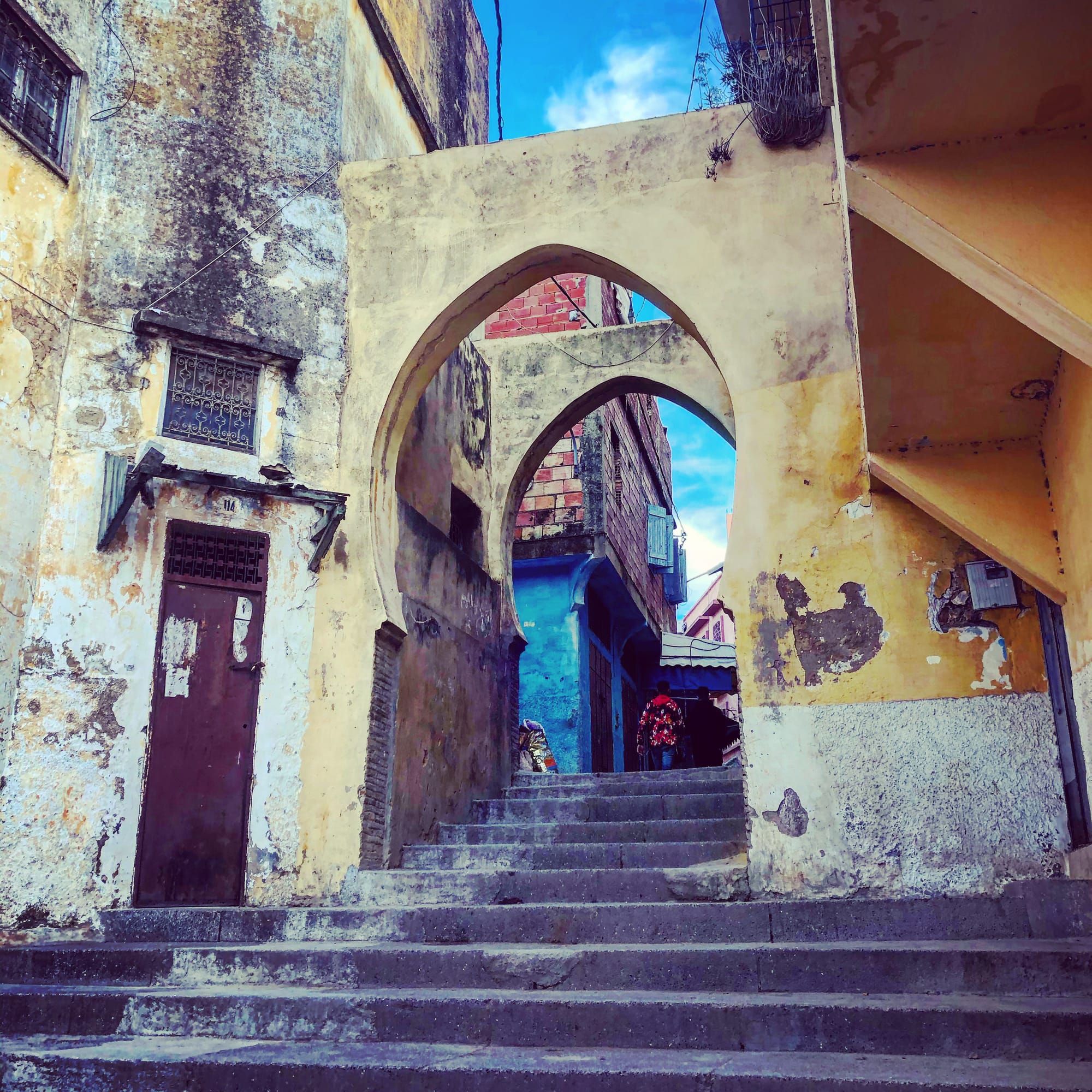 Off the main street into the medina
Meknes, like Essaouira, has fewer visitors and lower prices. They also have a couple of industries in which they specialize like damascene work, which is produced solely in Meknes, nowhere else in the country. We enjoyed meeting and spending the day with a damascene maker and his father who sold us a beautiful kilim that we are excited to display in our new home, wherever that will be. We had already planned to purchase these things so we took our time getting to know the owners of these shops and choosing places that were locally owned and where the prices were fair compared to Marrakech.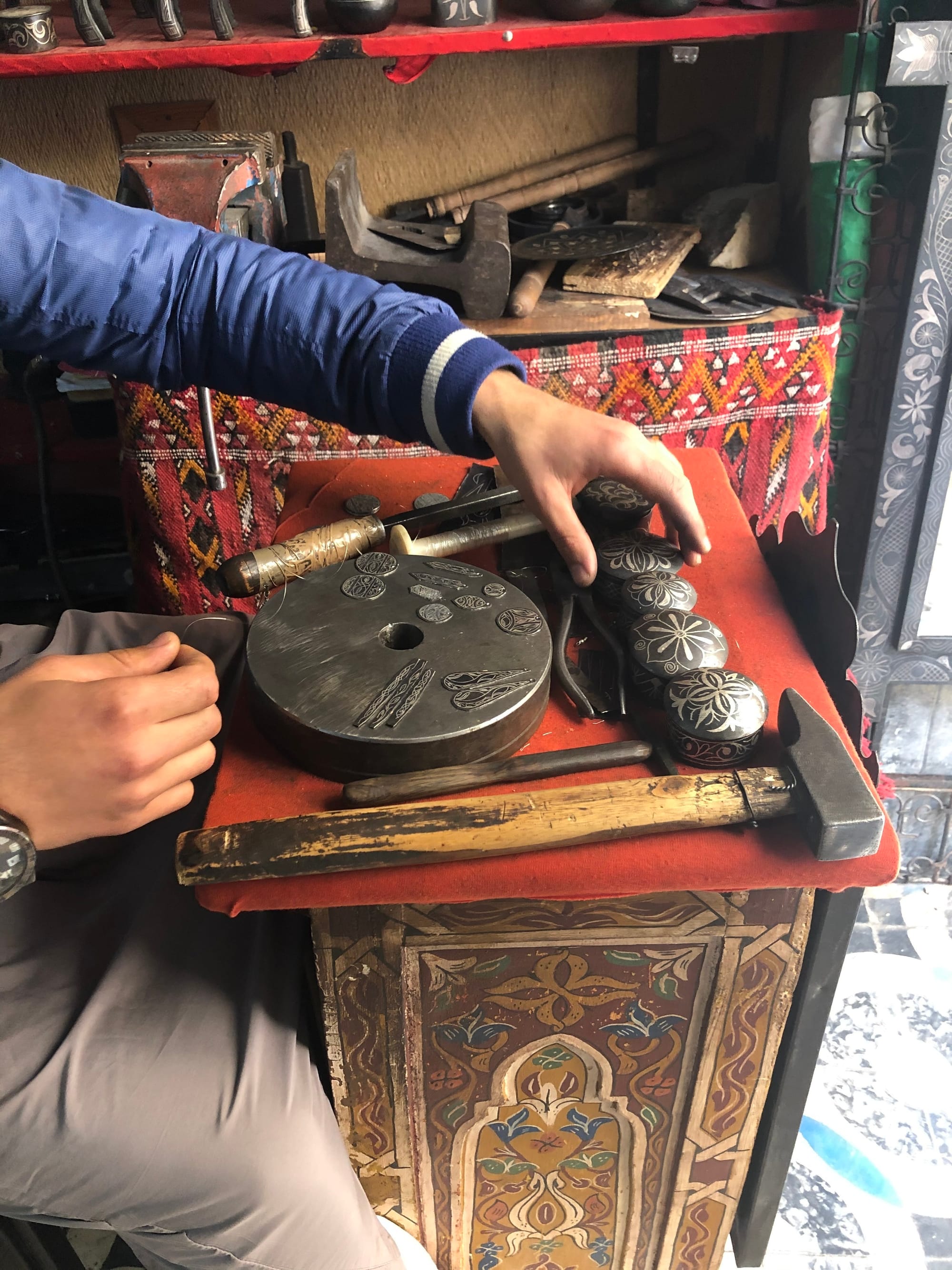 A man hammering damascene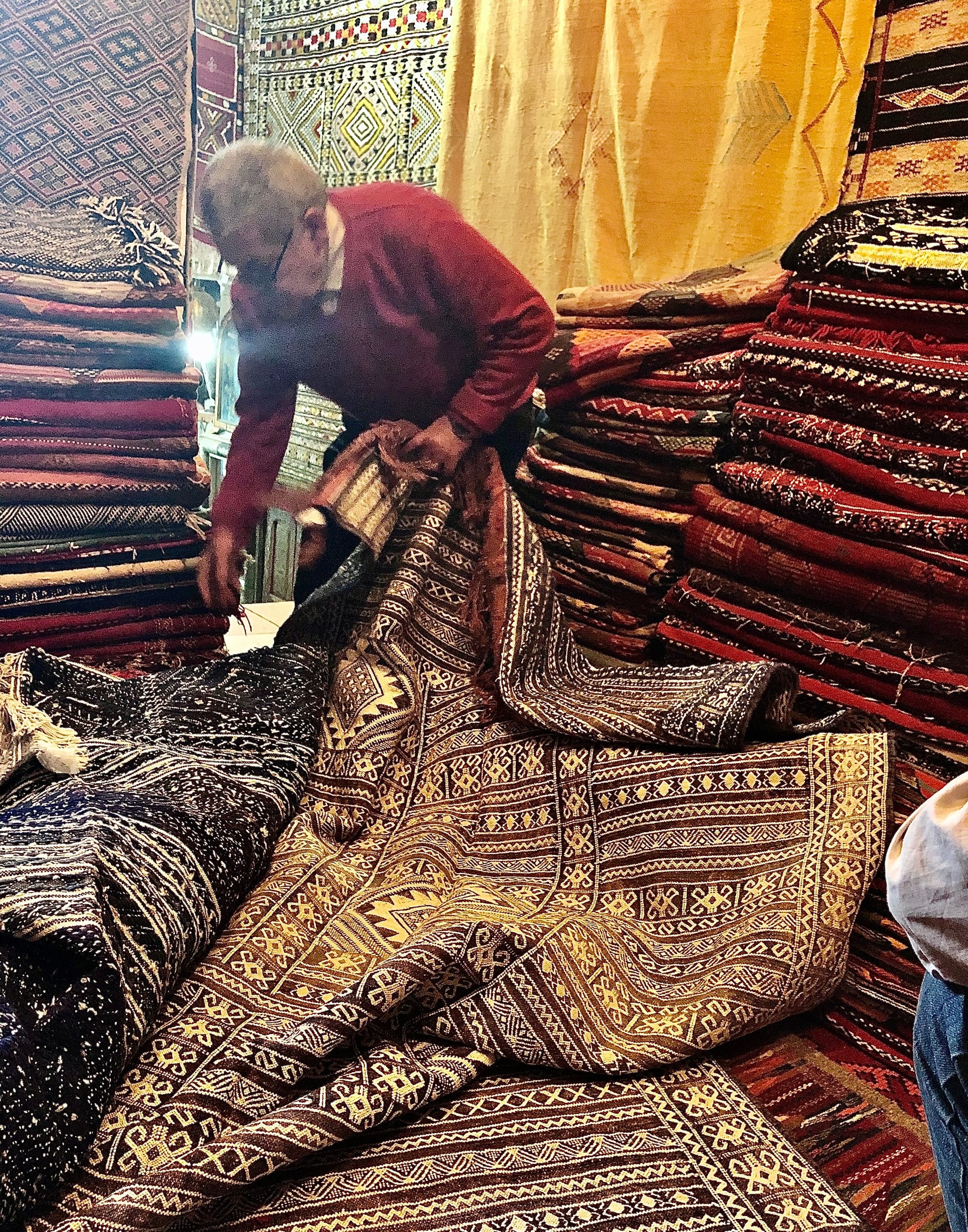 The rug seller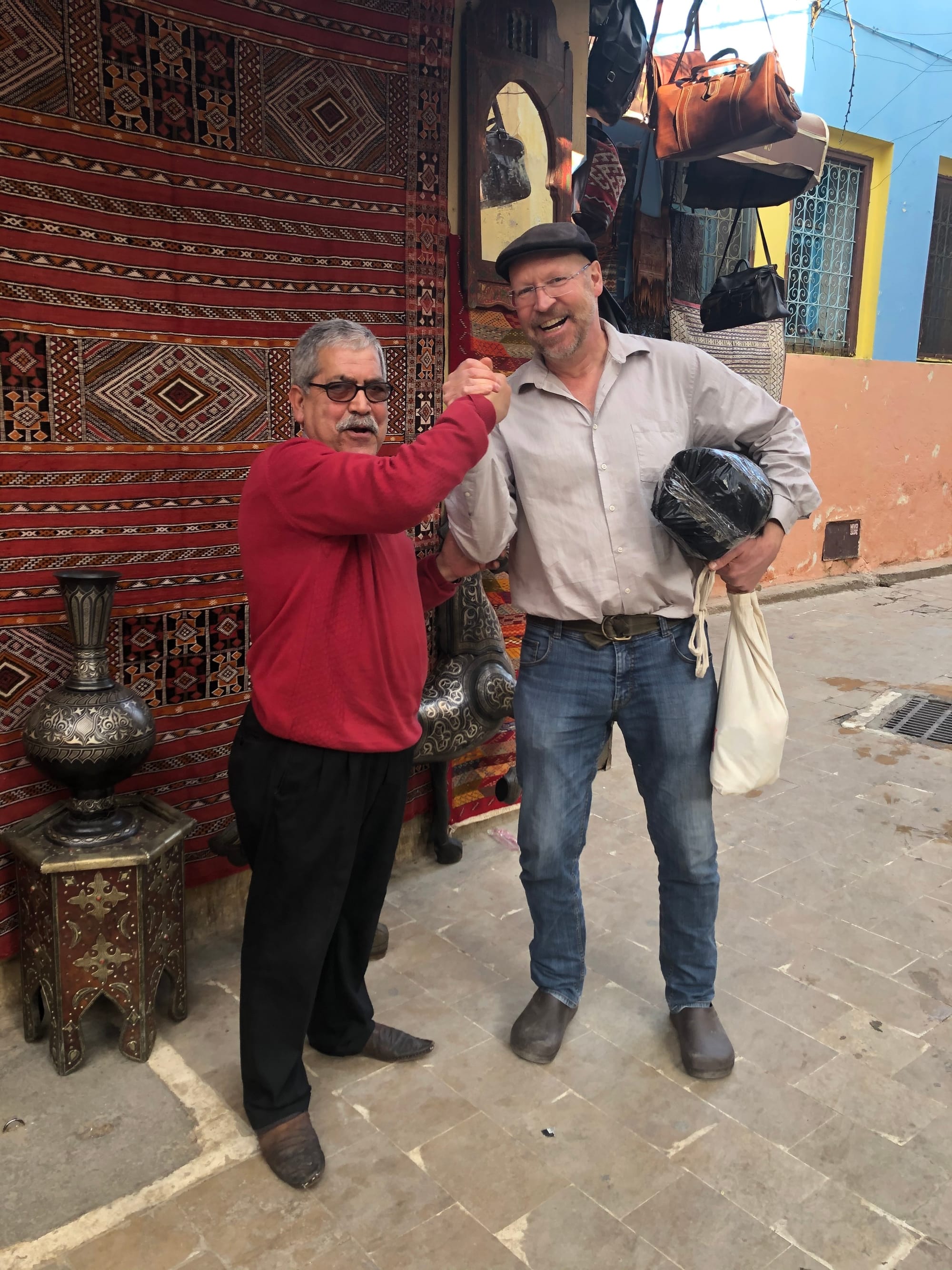 Our congratulatory fist bump.
Shopping in Morocco is not a fast paced occupation. You sit down, you have your tea. You listen to the owner. You look at his guest book where people have written their names and their thanks. You spend at least an hour looking at and narrowing down the possibilities. You shake hands multiple times.* You look people in the eye. You haggle, but not in an insulting way.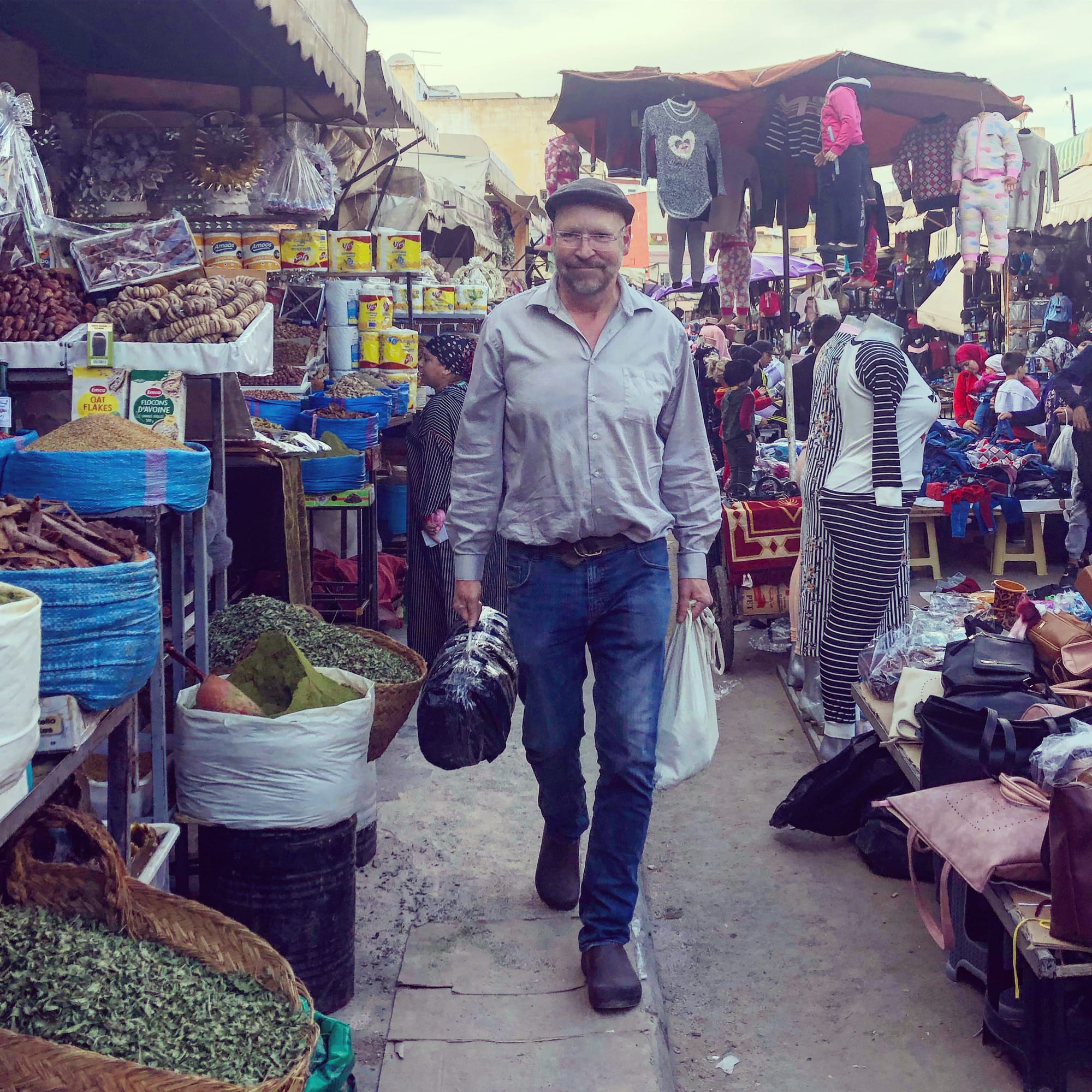 The market street between the modern town and the medina
However, there is more to Meknes than just shopping! Here are some other ideas:
* The long market street and the plaza are wild and lively places full of monkey trainers, snake charmers, dancers, fortune tellers, henna painters and sellers of every item imaginable. It is chaotic and noisy but not scary. The animal rights people have not made much of a mark on Meknes so if you have a tender heart, pass through in the morning or be prepared to take calming breaths. The long market street is where the real bargains are: black market couture, fruits and veggies and more fabric than I have ever seen in my life crowd the streets (and my mother was a seamstress).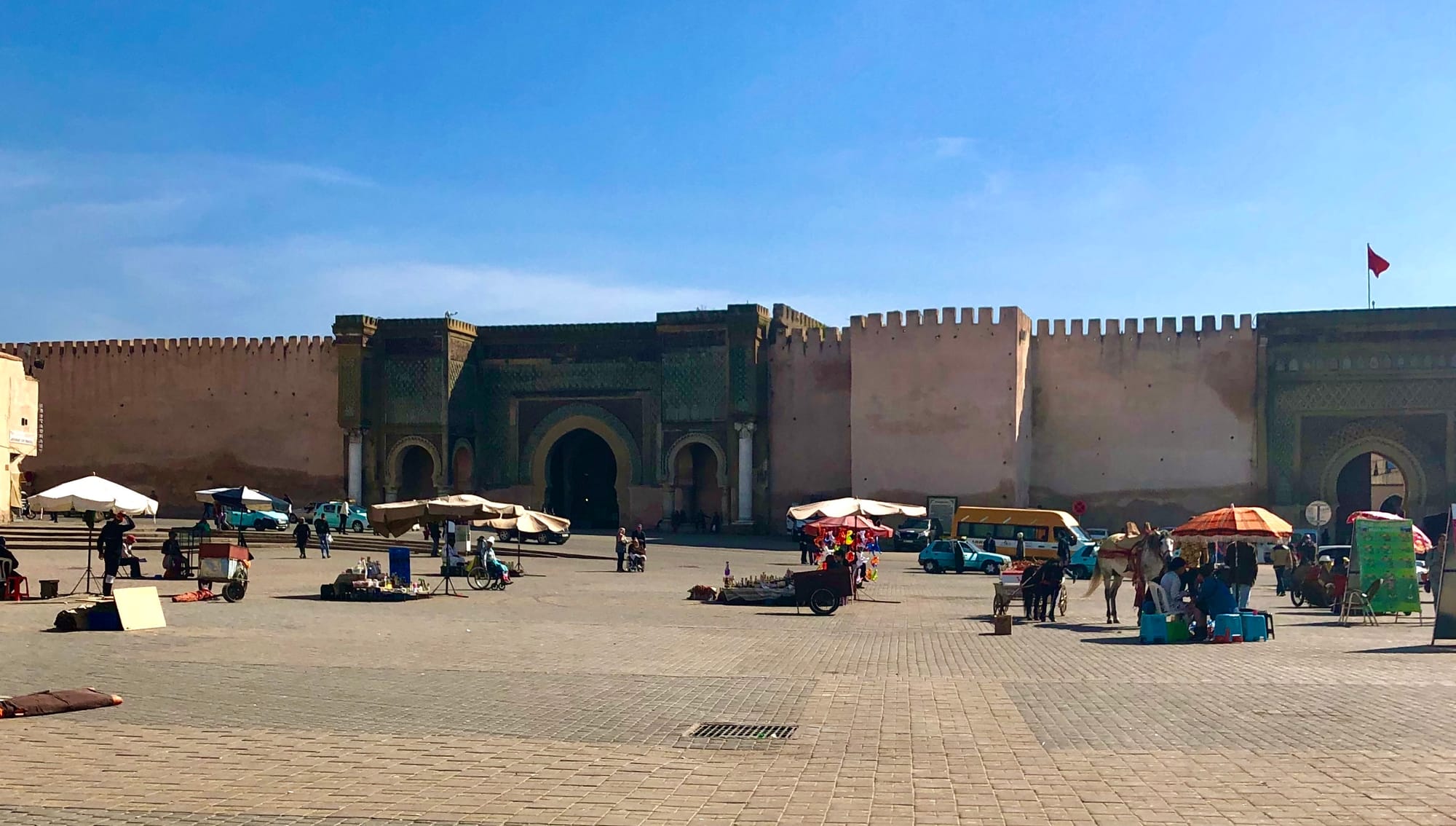 Looking from the main plaza toward the gate of the medina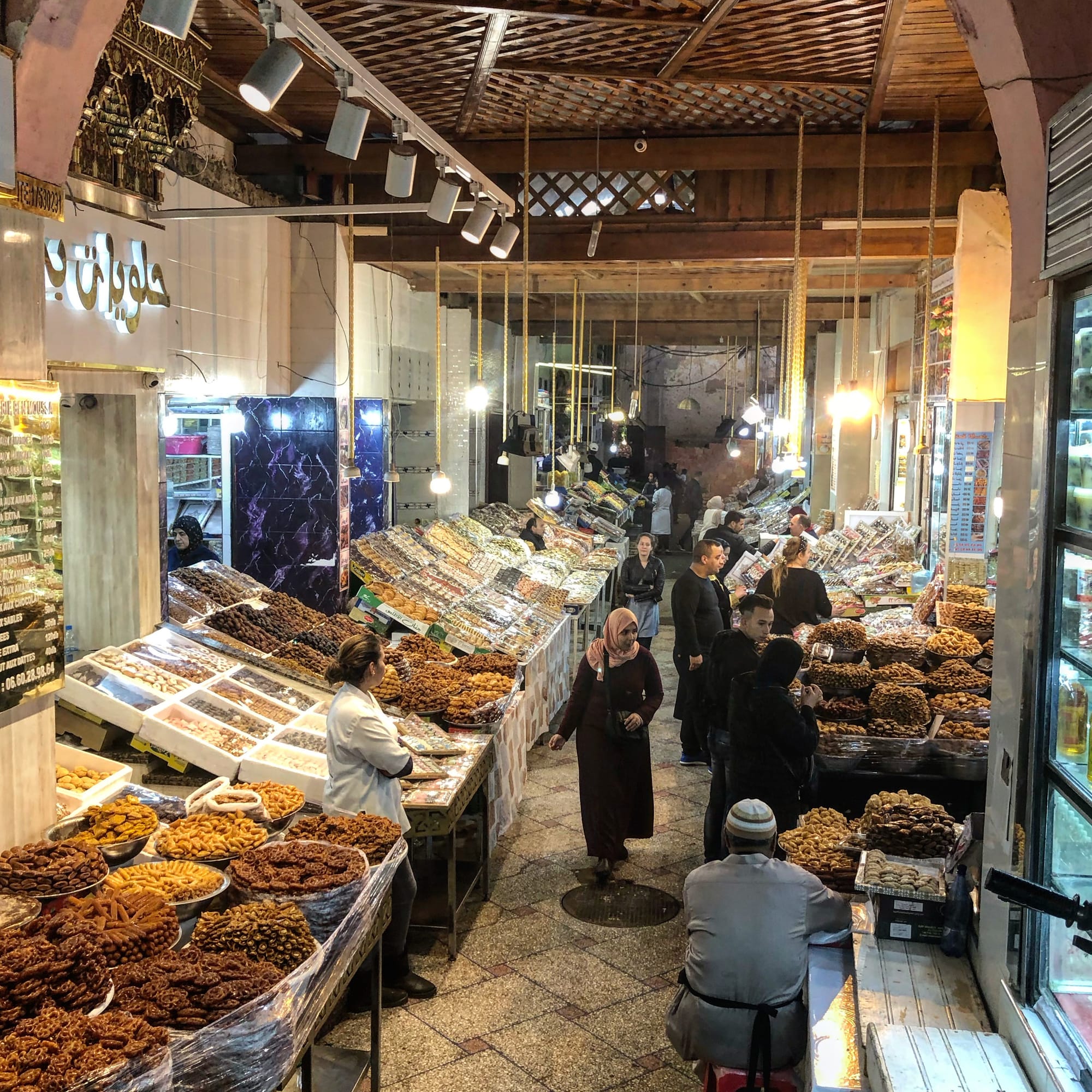 The covered food hall with so many sweets the bees were swarming
* The Medersa of Meknes is really beautiful. There are three beautiful medersas in Fes but the one in Meknes has a stunning tile floor and is much more welcoming. It is located in the heart of Meknes medina. A Medersa is an islamic school from which you graduate when you are finished, not after a proscribed time. Some students were 10 years old and others were decades older. The medersa of Meknes is closed now but it is full of history.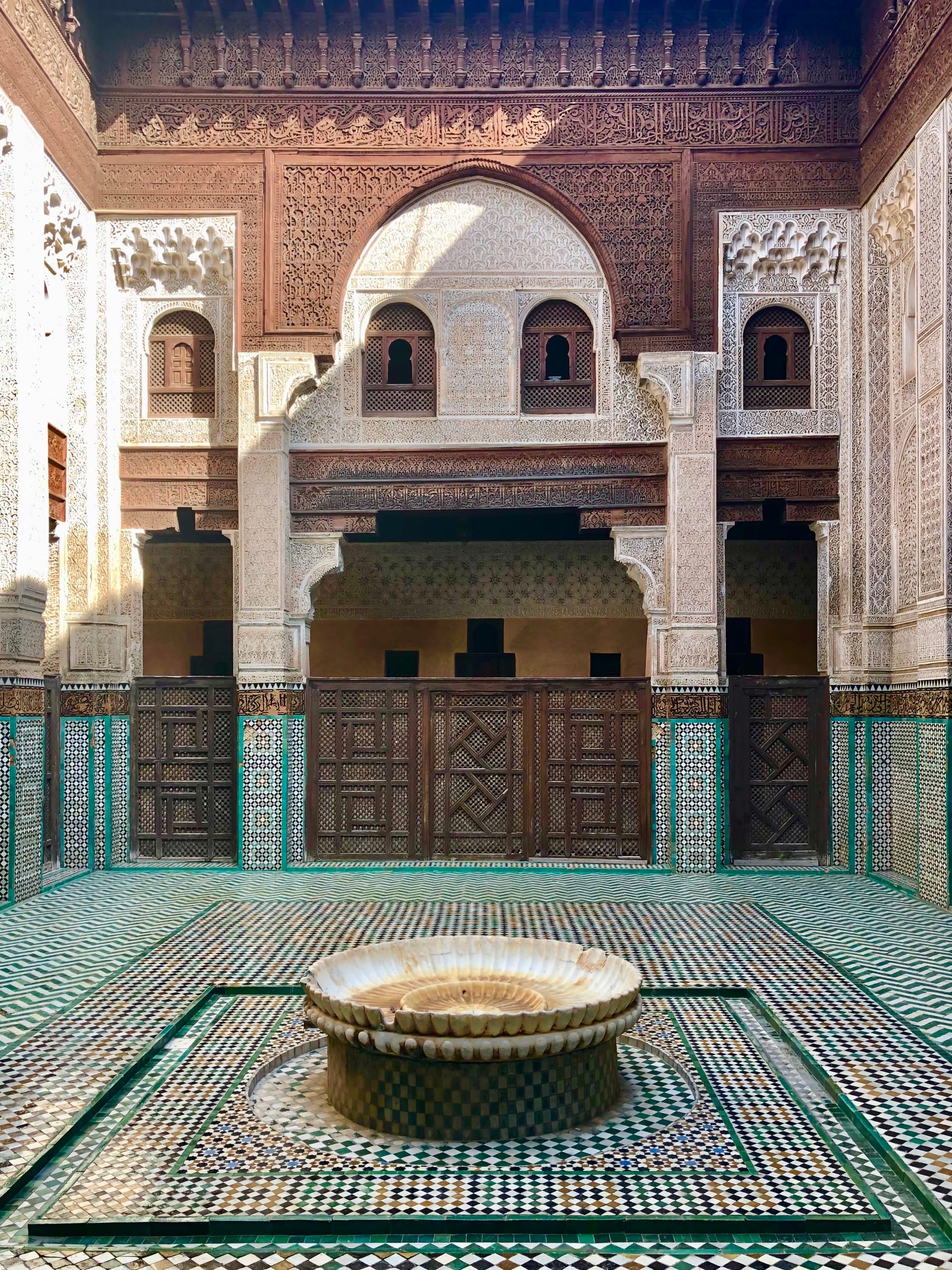 The inner courtyard
"On the lower floor, under the cloister, is a revetement of marble (often alabaster) or of the almost indestructible
ceramic mosaic. On the floor above, massive cedar-wood corbels ending in monsters of almost Gothic inspiration support the fretted balconies; and above rise stucco interfacings, placed too high up to be injured by man, and guarded from the weather by projecting eaves." - Edith Wharton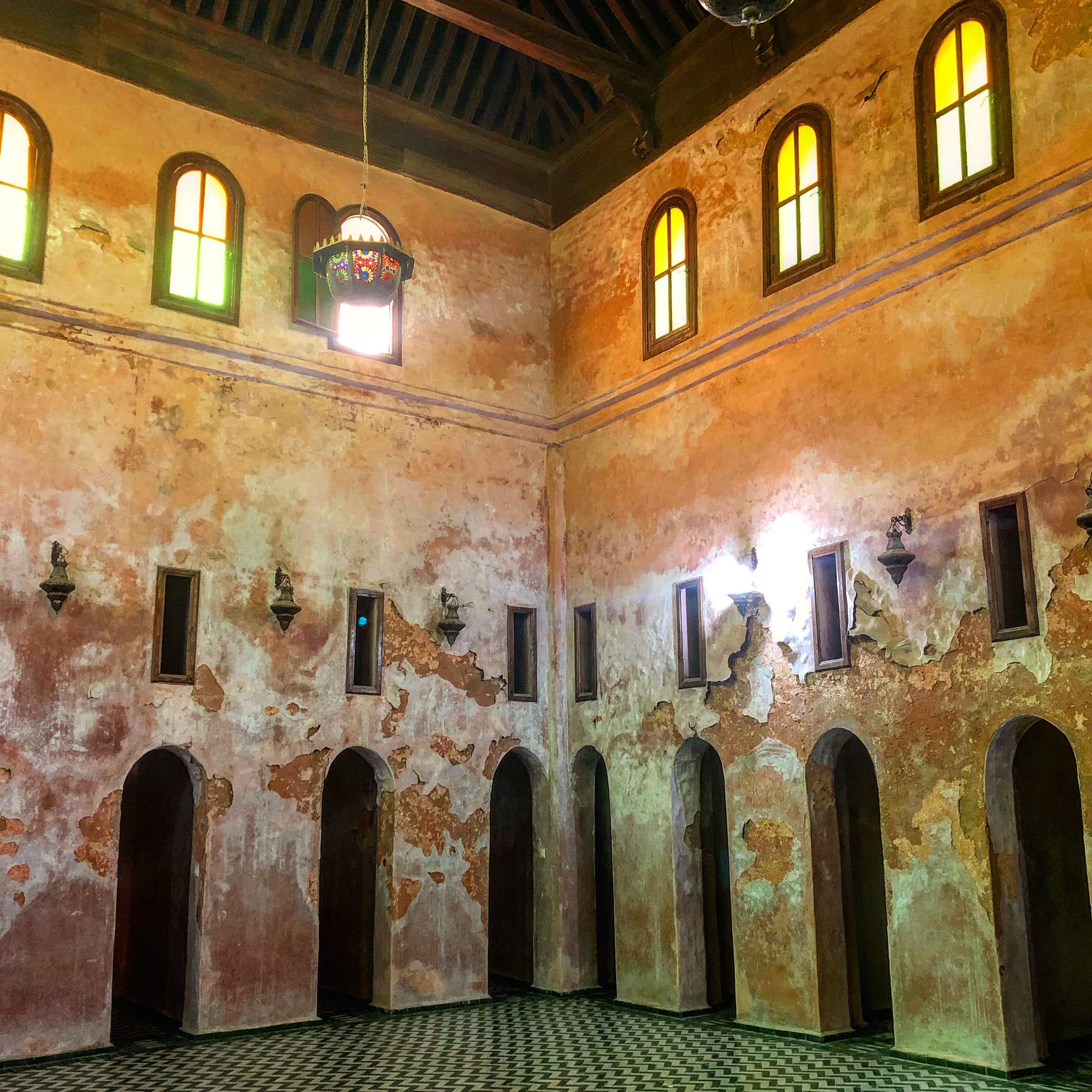 Another large, inner room with cells for students under the arches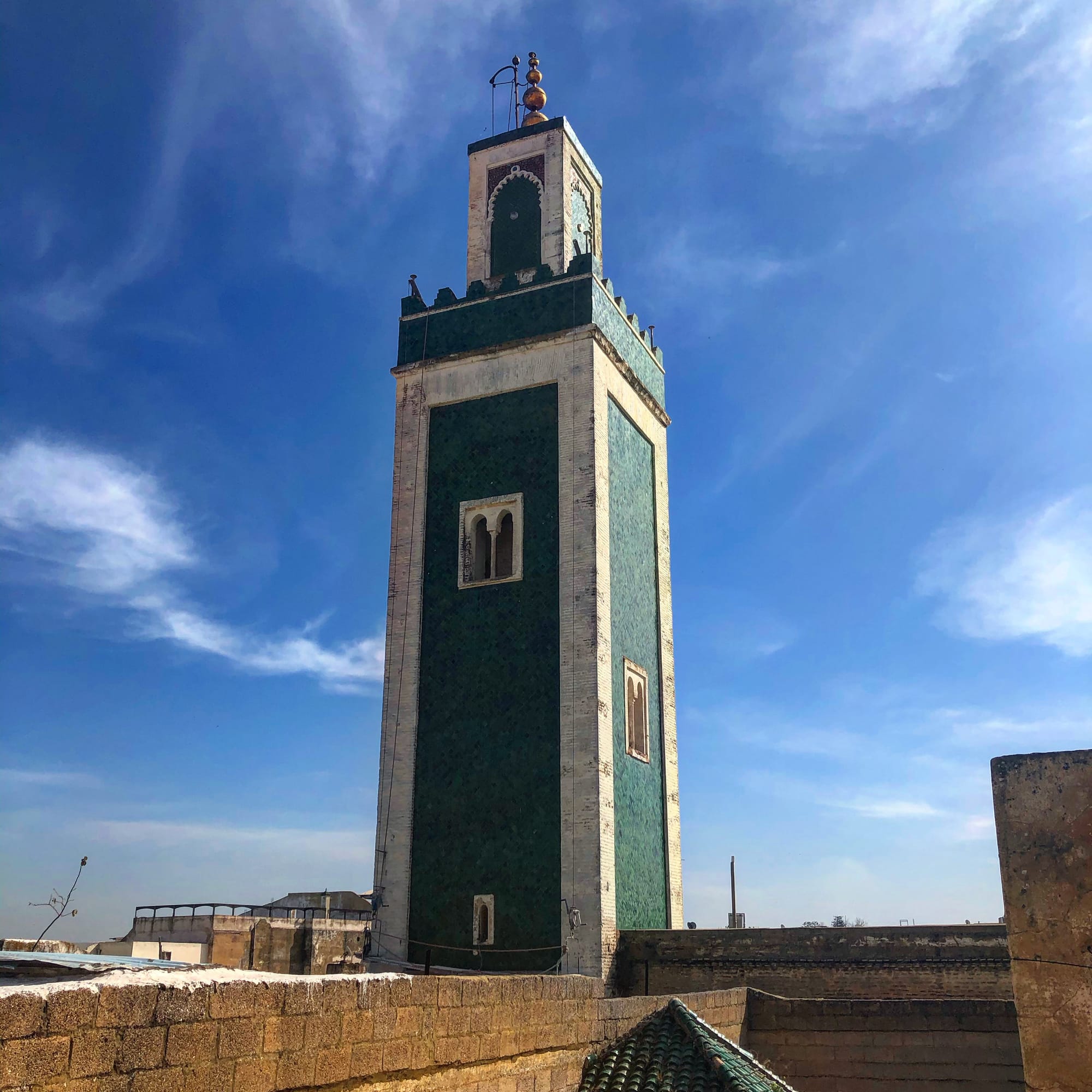 The view of the minaret tower from the roof
* Fairy tale carriage rides - You can catch a carriage from just inside the Bab Mansour gate or off the plaza in front of it. The carriages in Meknes are like Cinderella carriages, in fact, one was modeled after the Disney film and was shaped like a giant opalescent pumpkin. The ride lasts an hour with a couple of stops at a shop, a park, one of the royal palaces and the prison.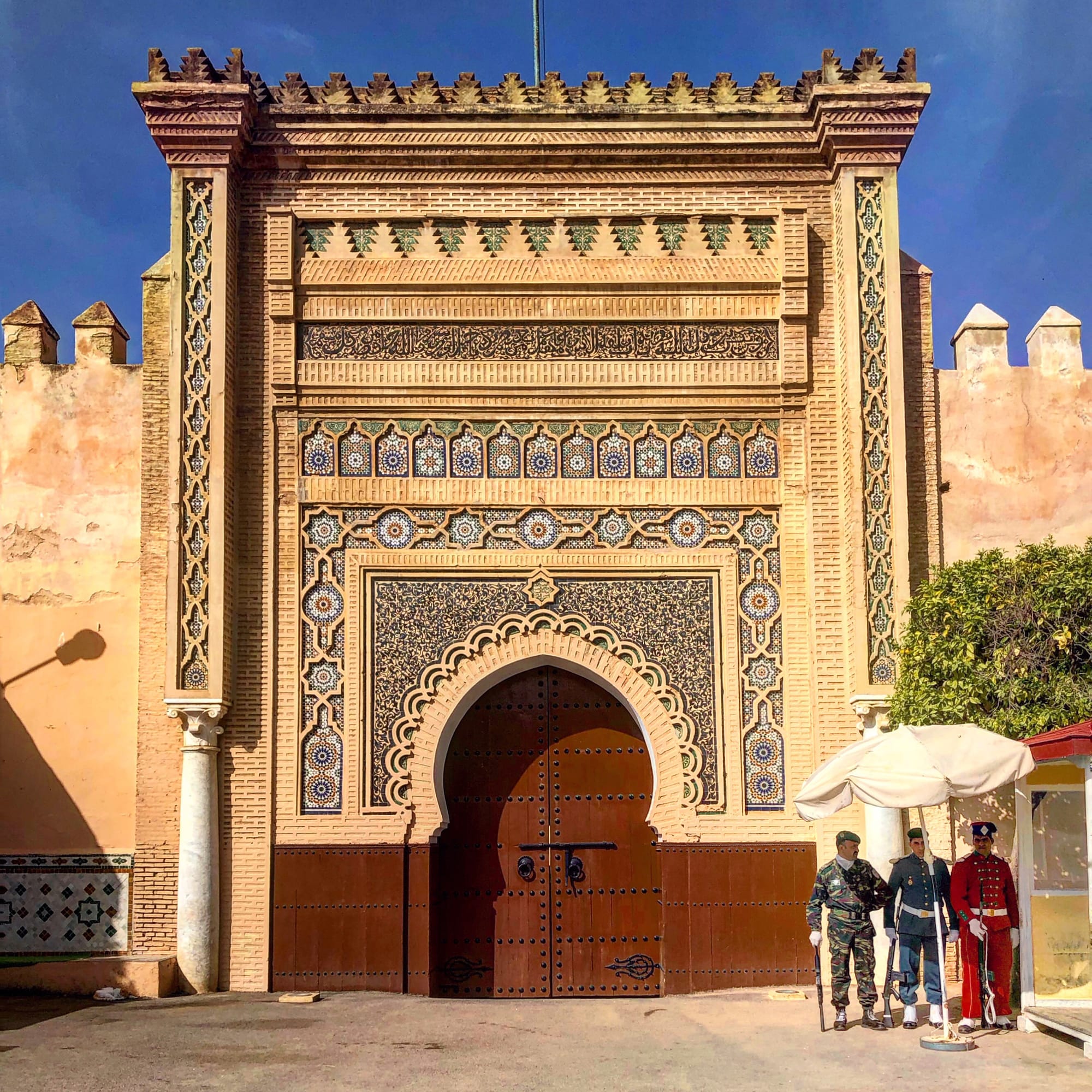 The palace gate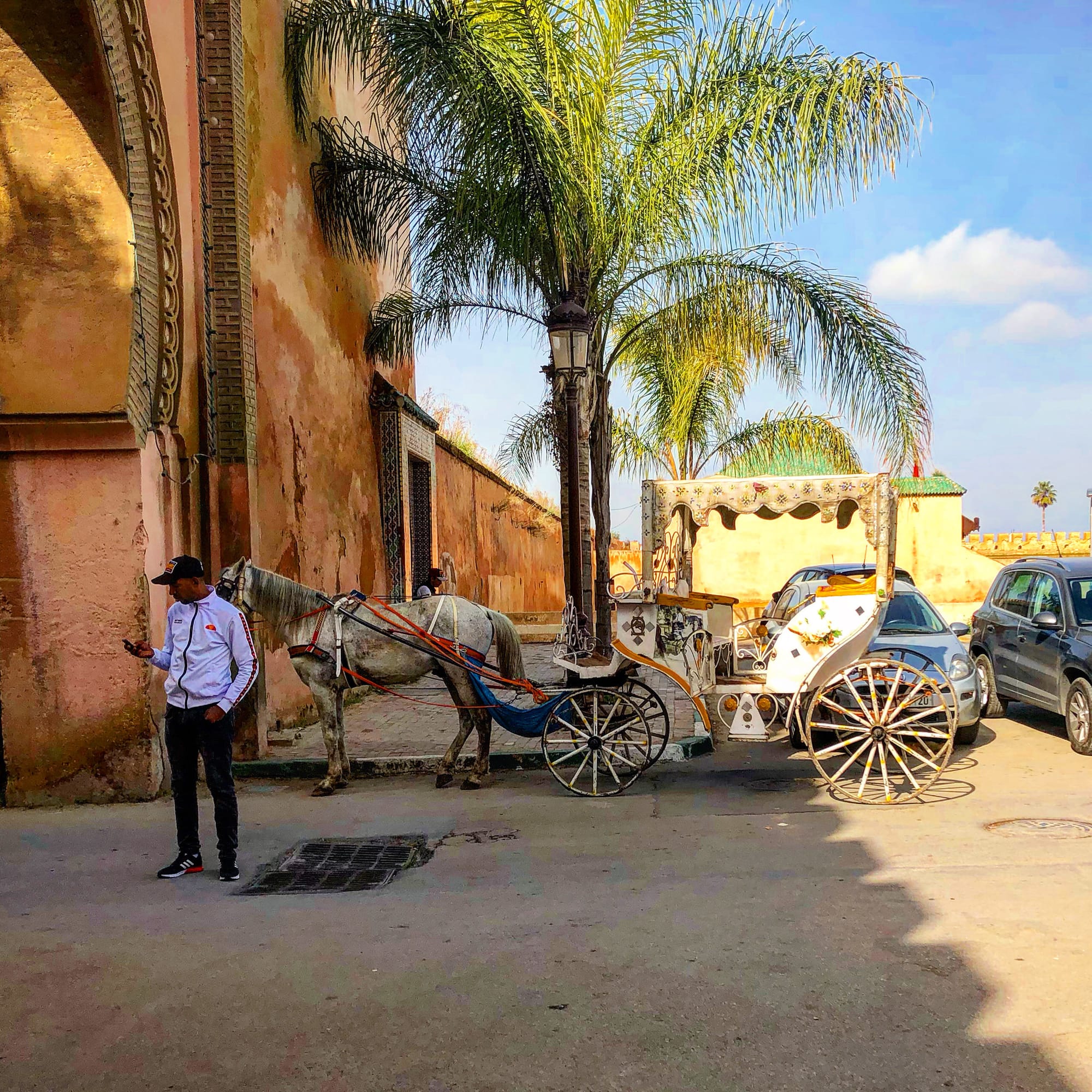 Our carriage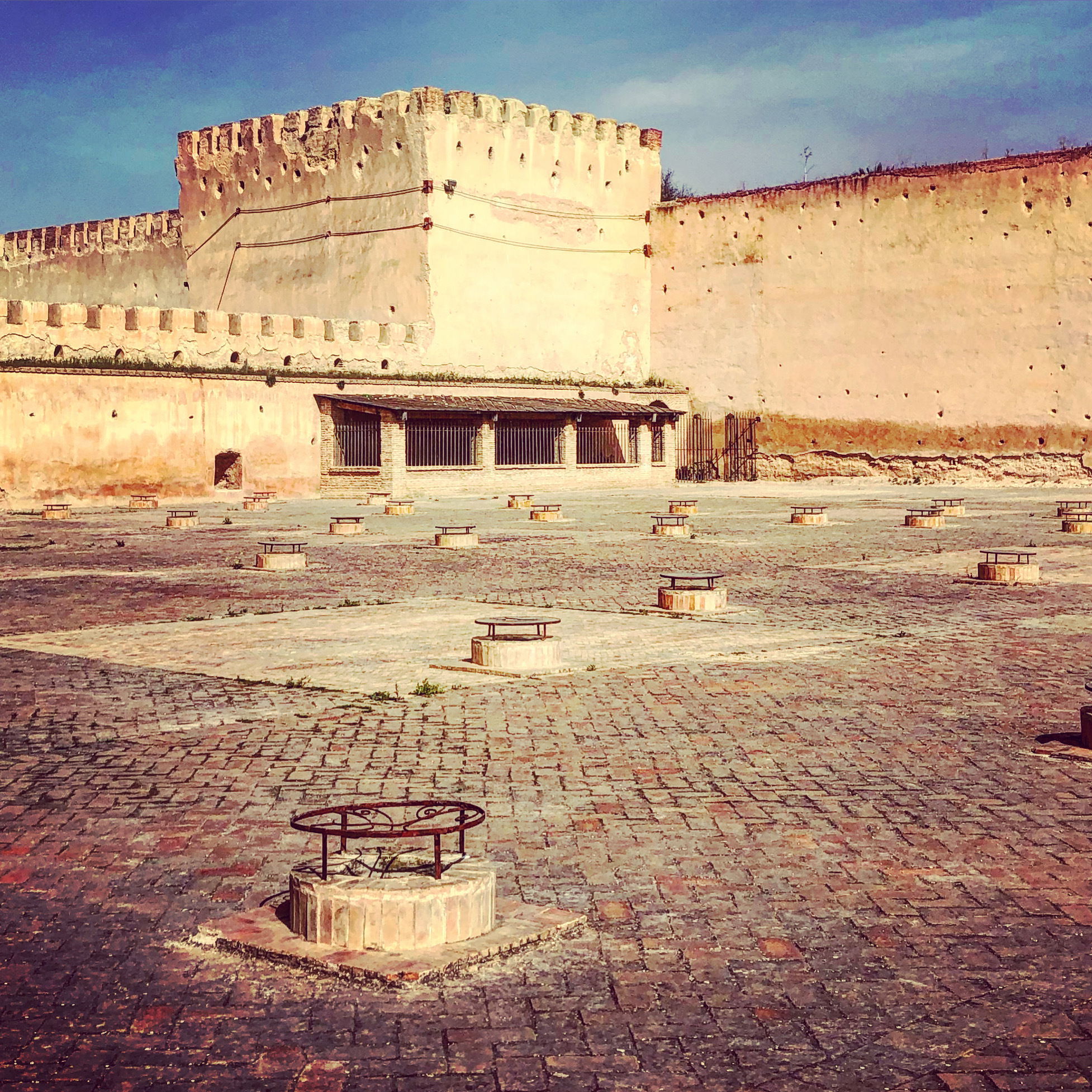 The prison, where 60,000 slaves lived and died while building the city walls and the palace.
In retrospect, Meknes was a pleasant surprise. Many people make it a day trip from Fes but I don't think you get into it enough for it to leave much of an impression unless you at least stay the night. We would recommend two or three days to see everything and go slowly, but that is our style. We were there five nights and when we told people in stores and restaurants that we would be there almost a week, we were warmly welcomed. We felt the most welcome in Meknes of all the cities of Morocco we visited.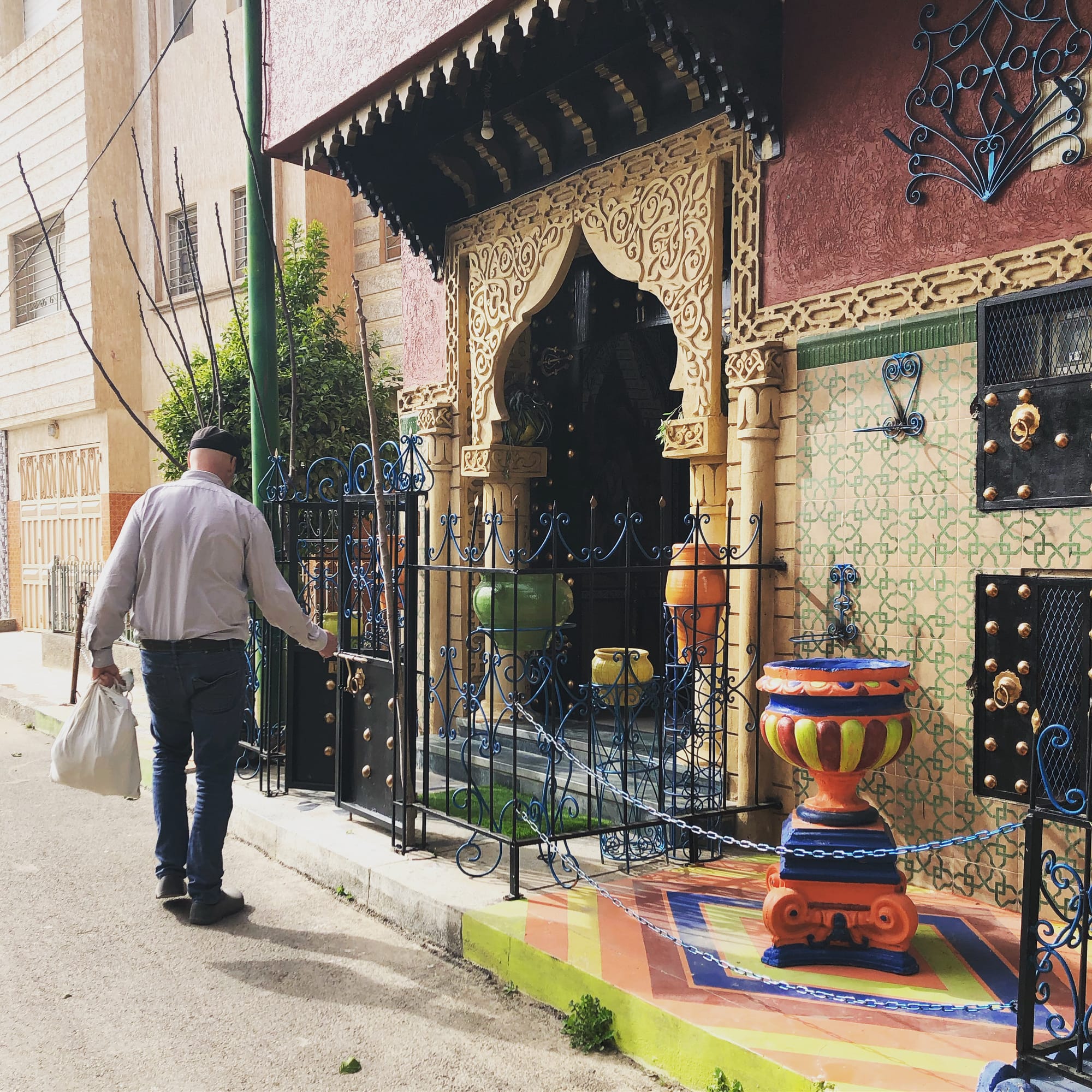 Our colorful lodging
* Volubilis and Moulay Idriss
Dawn is the romantic hour in Africa. Dirt and dilapidation disappear under a pearly haze, and a breeze from the sea blows away the memory of fetid markets and sordid heaps of humanity. At that hour the old Moroccan cities look like the
ivory citadels in a Persian miniature, and the fat shopkeepers riding out to their vegetable-gardens like Princes sallying forth to rescue captive maidens. - Edith Wharton
A well-known day trip from Meknes or Fes is Volubilis and Moulay Idriss.You can take a tour but it is not that hard to figure out on your own. We opted, as we often do, for the middle way. (Shout out to our favorite cafe in Alaska!) We hired a guy to drive us in his car to both places and return us to our lodging. Why not just take the bus? We knew there would be miles of walking and adding another mile or two at the end did not seem like a good idea and once you pay for a cab to take you from one place to the other and back plus the bus ticket you have already spent just as much for two people. We really enjoy an early start and wanted to arrive long before noon and potential crowds.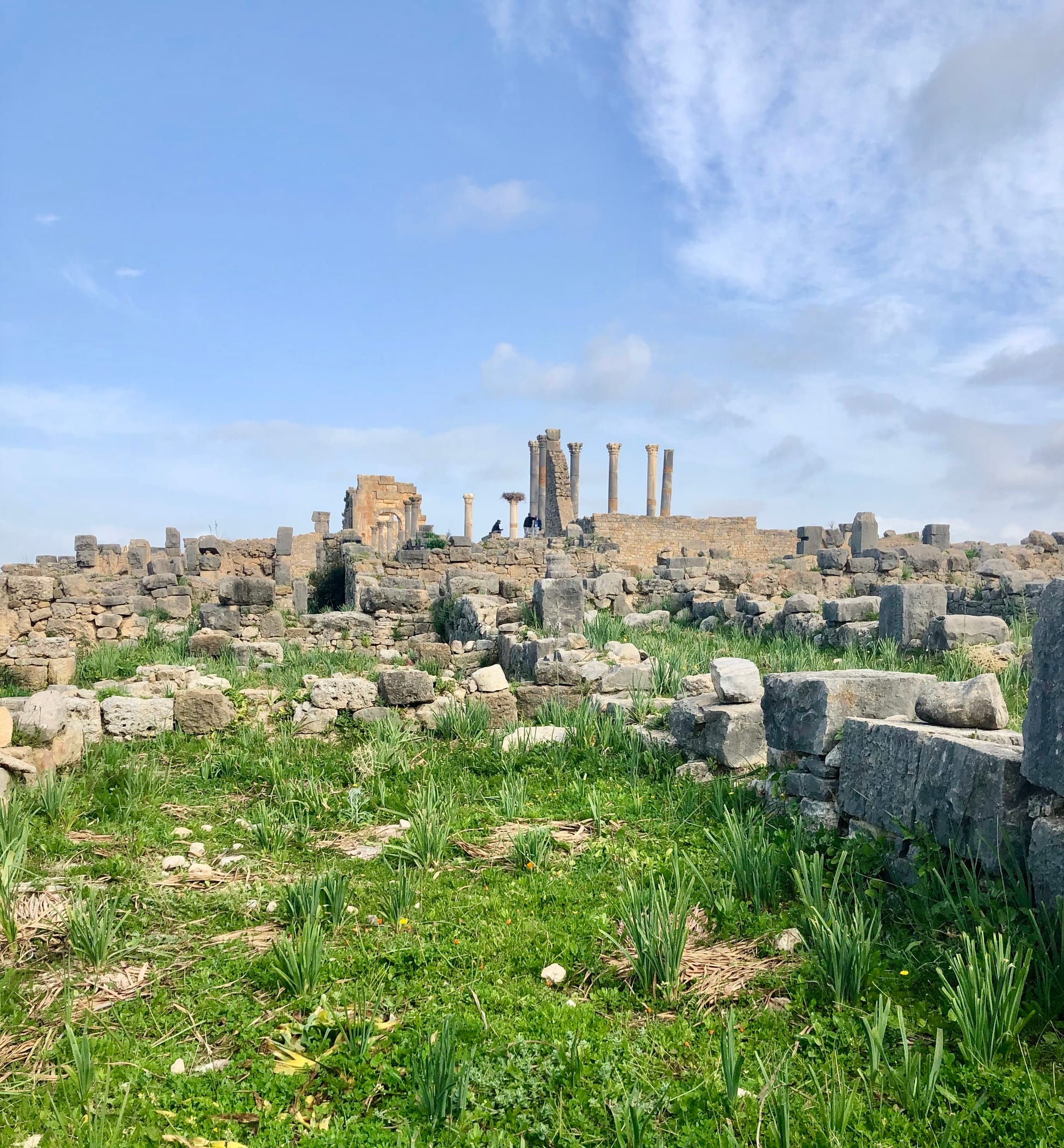 Just two guards and some storks
Far off a fringe of vegetation showed promise of shade and water, and at last, against a pale mass of olive-trees, we saw the sight which, at whatever end of the world one comes upon it, wakes the same sense of awe: the ruin of a Roman city. - Edith Wharton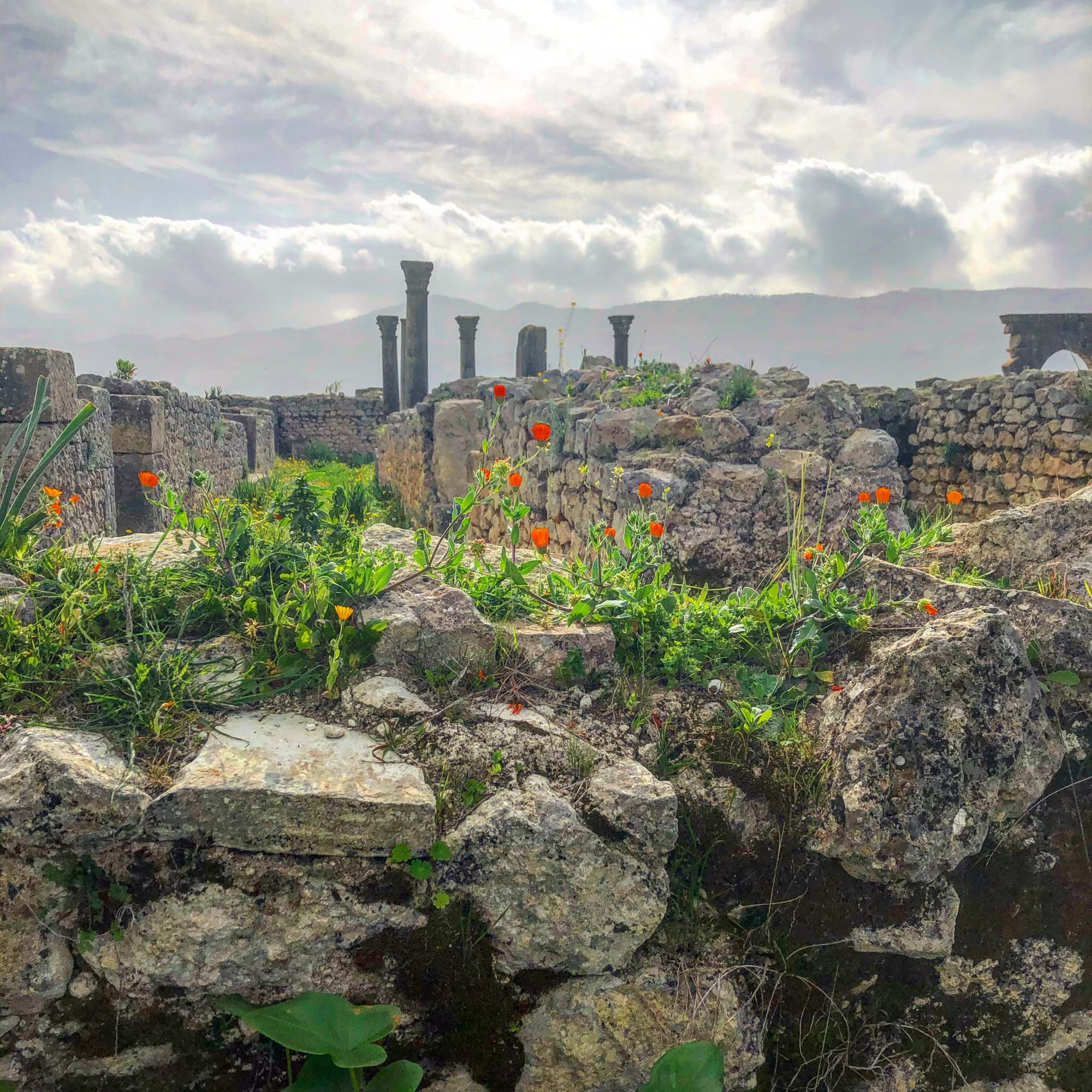 The ever-changing sky
Volubilis is a partially excavated ruin out in the middle of a pretty, agricultural area. It was a Berber city and then Carthaginian, Mauritanian and Roman, Christian and Muslim and finally, abandoned. When you arrive at the site there is the usual Moroccan incertitude - which guy is the official ticket taker? How much does it cost for a tourist? Which buildings are open or closed in the off-season? Is this the entrance or is that the entrance?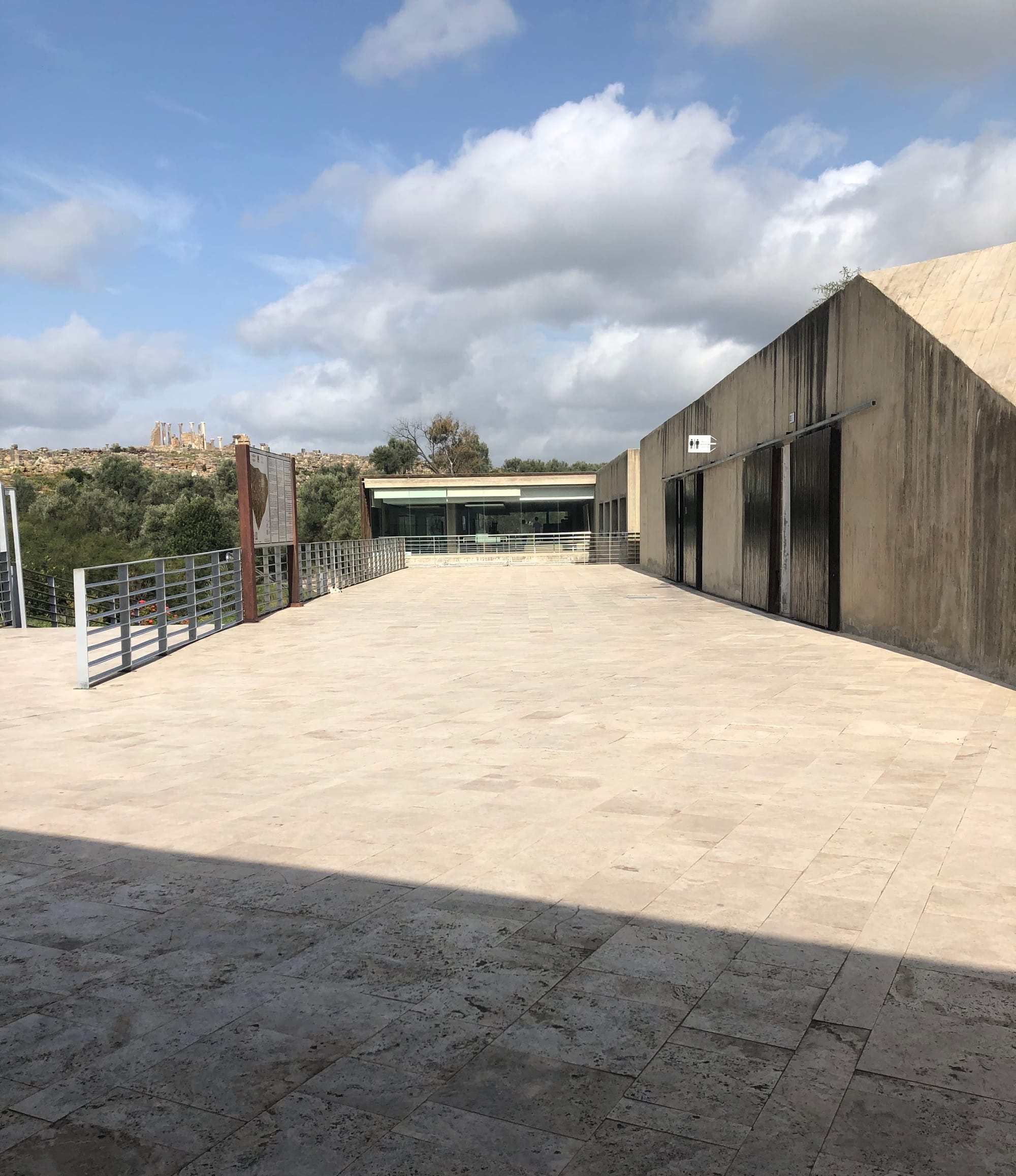 The visitor center - mostly closed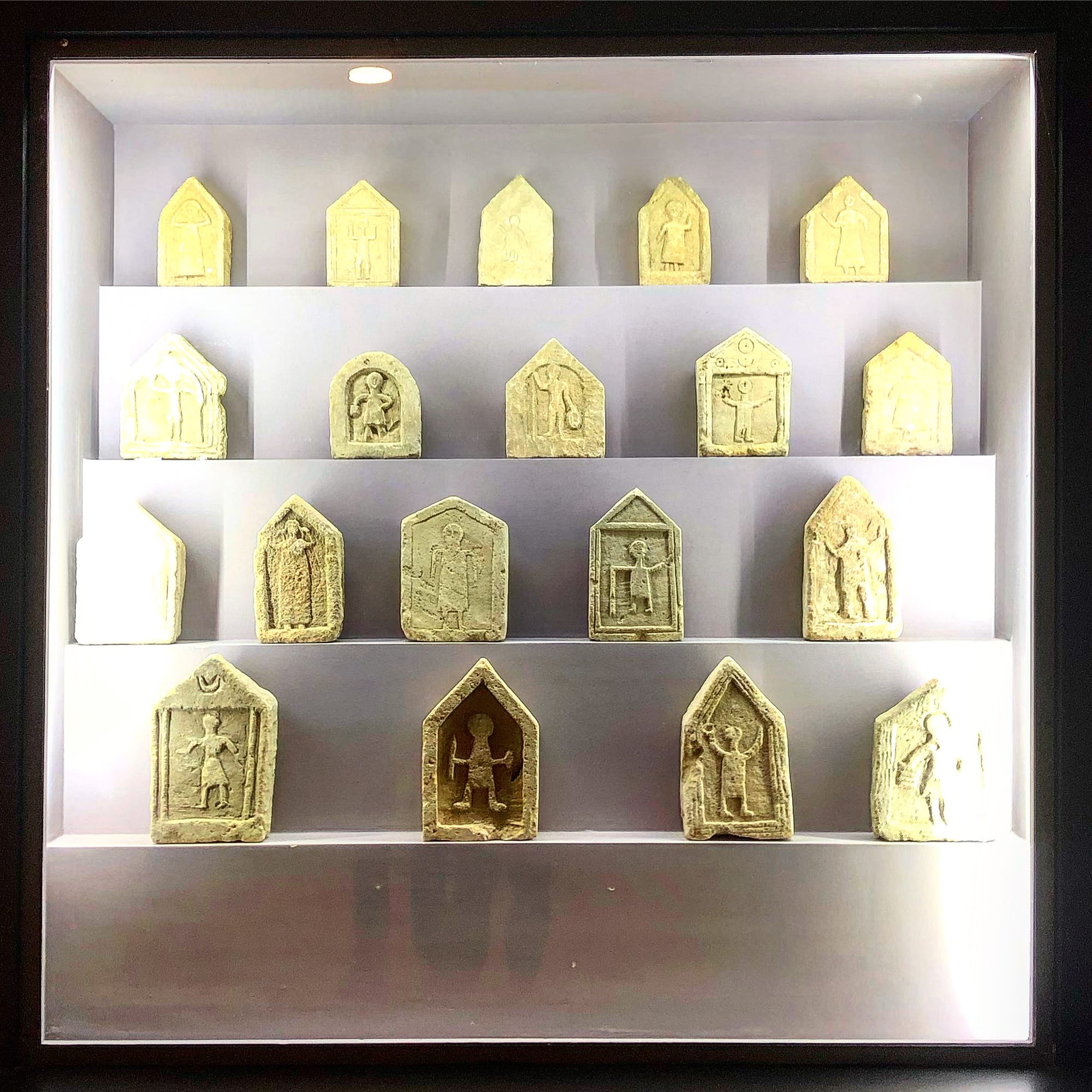 Interesting devotional carvings in the exhibit that was open
The thing about Volubilis is you don't really SEE it until you get through the entrance, pass the interpretive center and climb up a little hill; it is quite hidden from view. Even when you get up there, much of its treasures are obfuscated by plant growth and/or the fact that they are below the ground level - you look down to see quite a bit.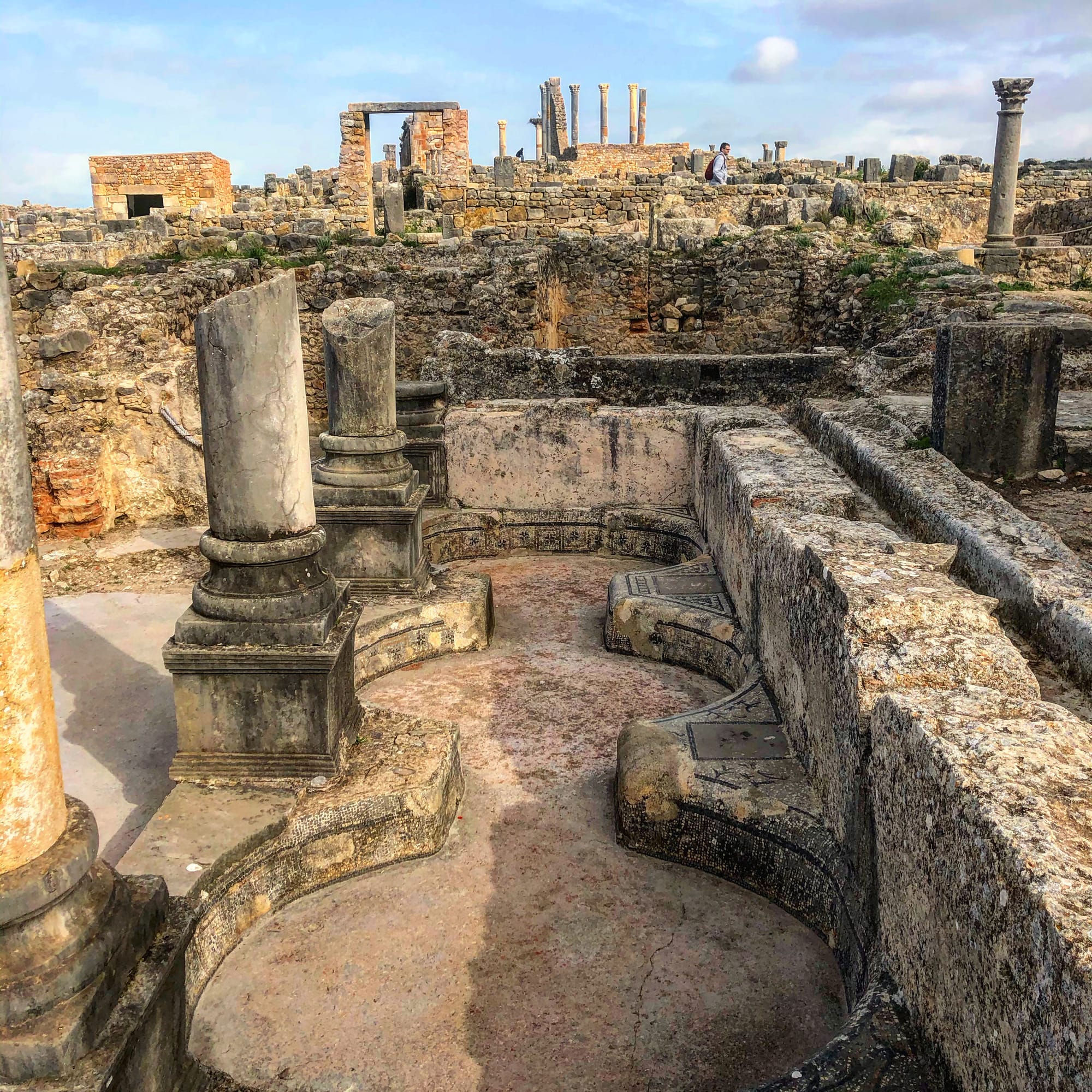 Look down for the details!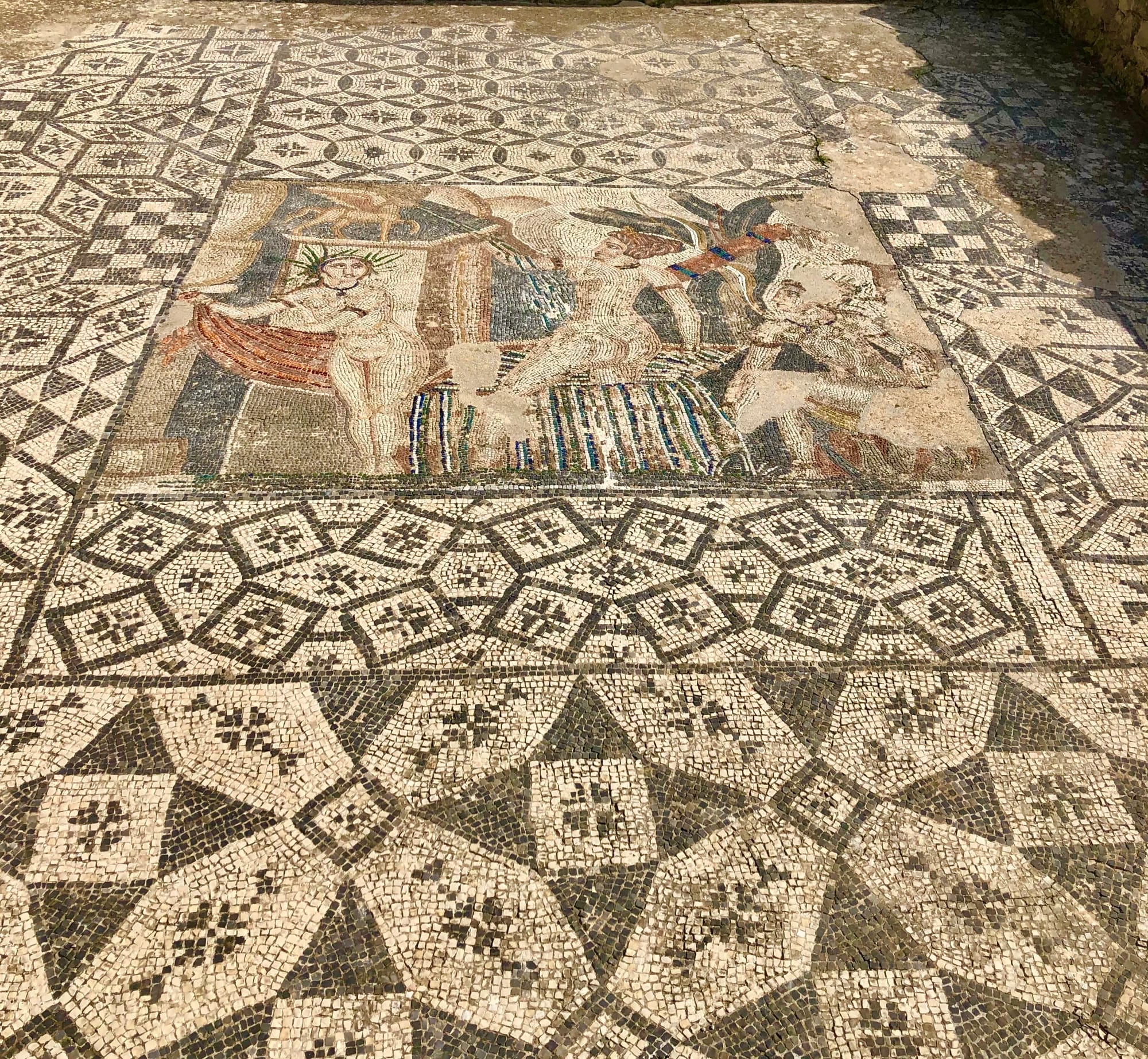 Most mosaics were intact and unrestored.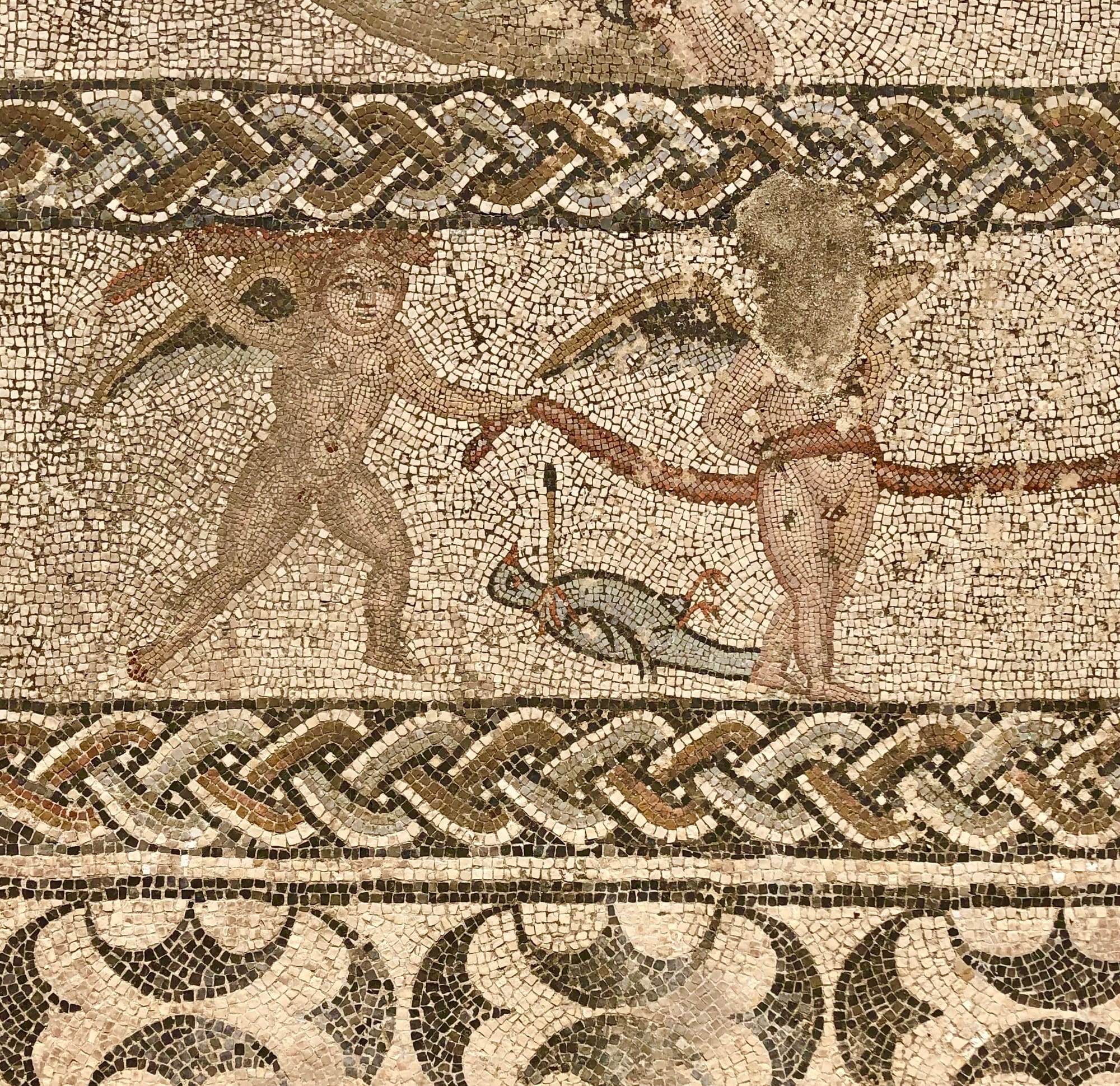 An odd mosaic
You can spend two to four hours exploring Volubilis. We read and walked, took many photos and shed clothing layers as we made our way to the farthest point and back. It is easy walking but there is a lot of it. Morocco's ruins are much easier to visit than Jordan's or Italy's in our opinion.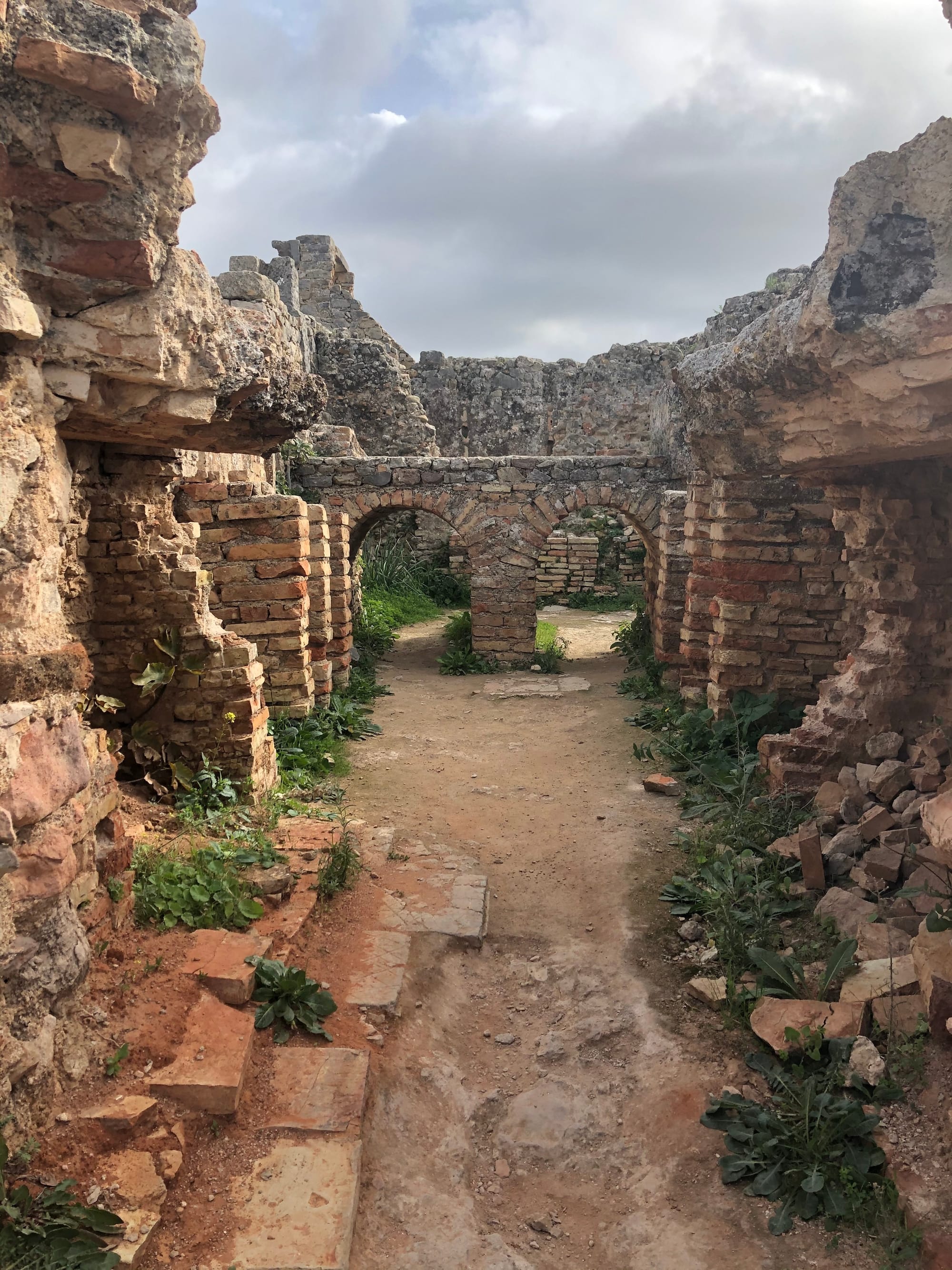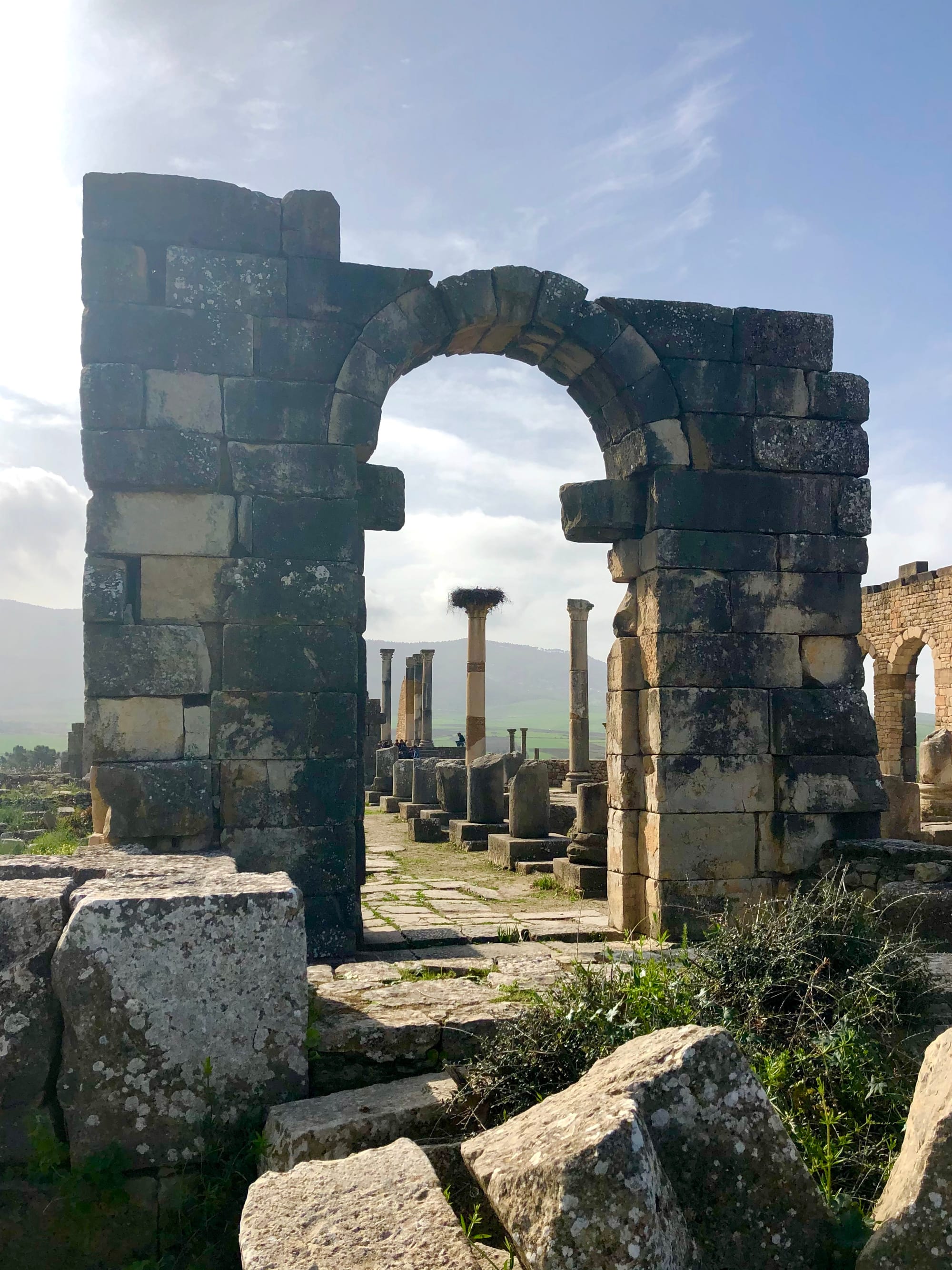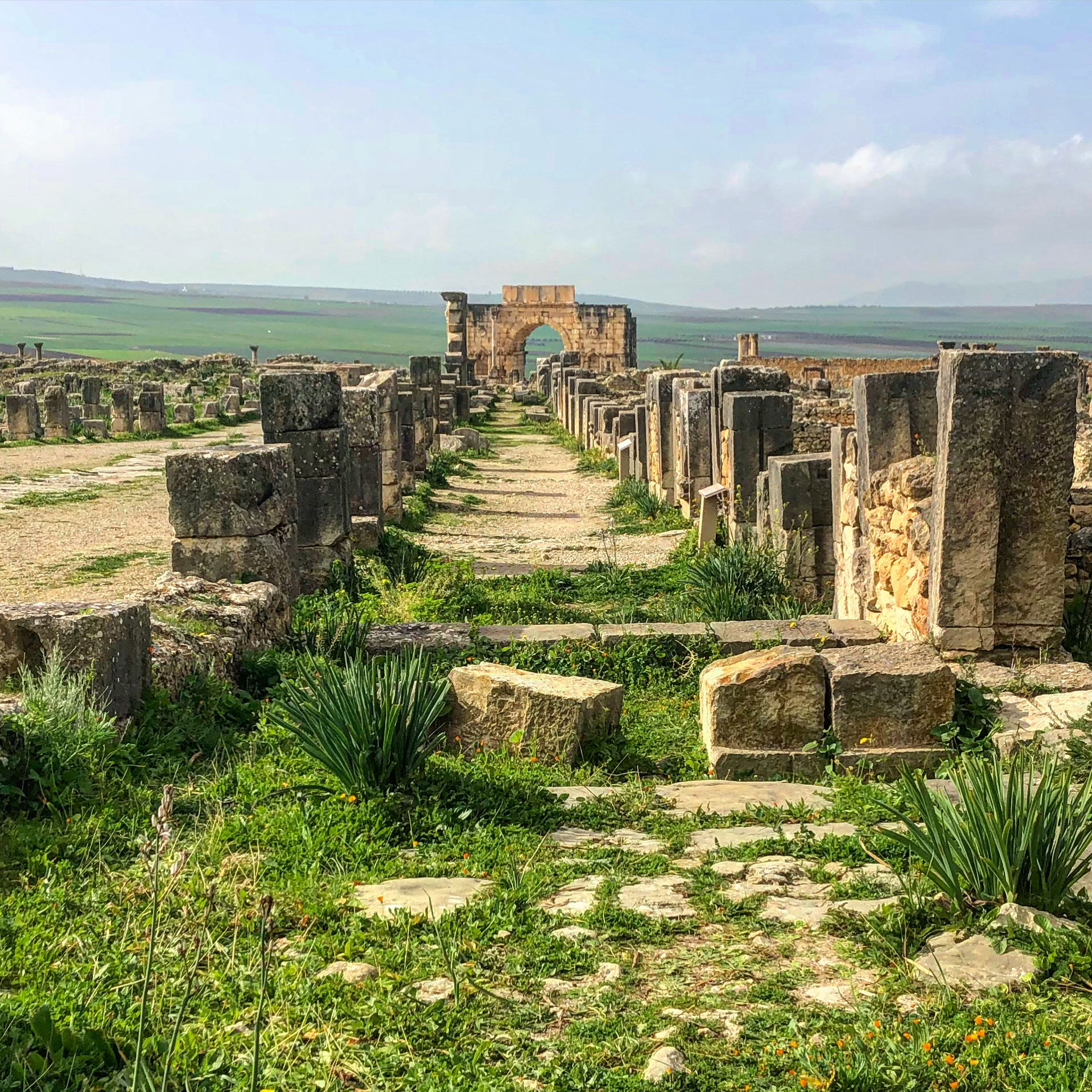 When you travel in the off season, you invariably run into a school group out for a field trip. You can tell a lot about a country by its school groups. Every time we met teenagers or kids in Morocco we were impressed with their openness and manners. At Volubilis a girl walked right up to us and carefully greeted us in English. We had a short conversation and more young people gathered around to practice their words. We complimented her bravery and grasp of vocabulary and left amidst muffled comments in Amazigh and giggles. I hope she will go far. In a country where the literacy rate for women still lags behind that of men at about 50% and where men are always paid at a higher rate than women, I wish her the best.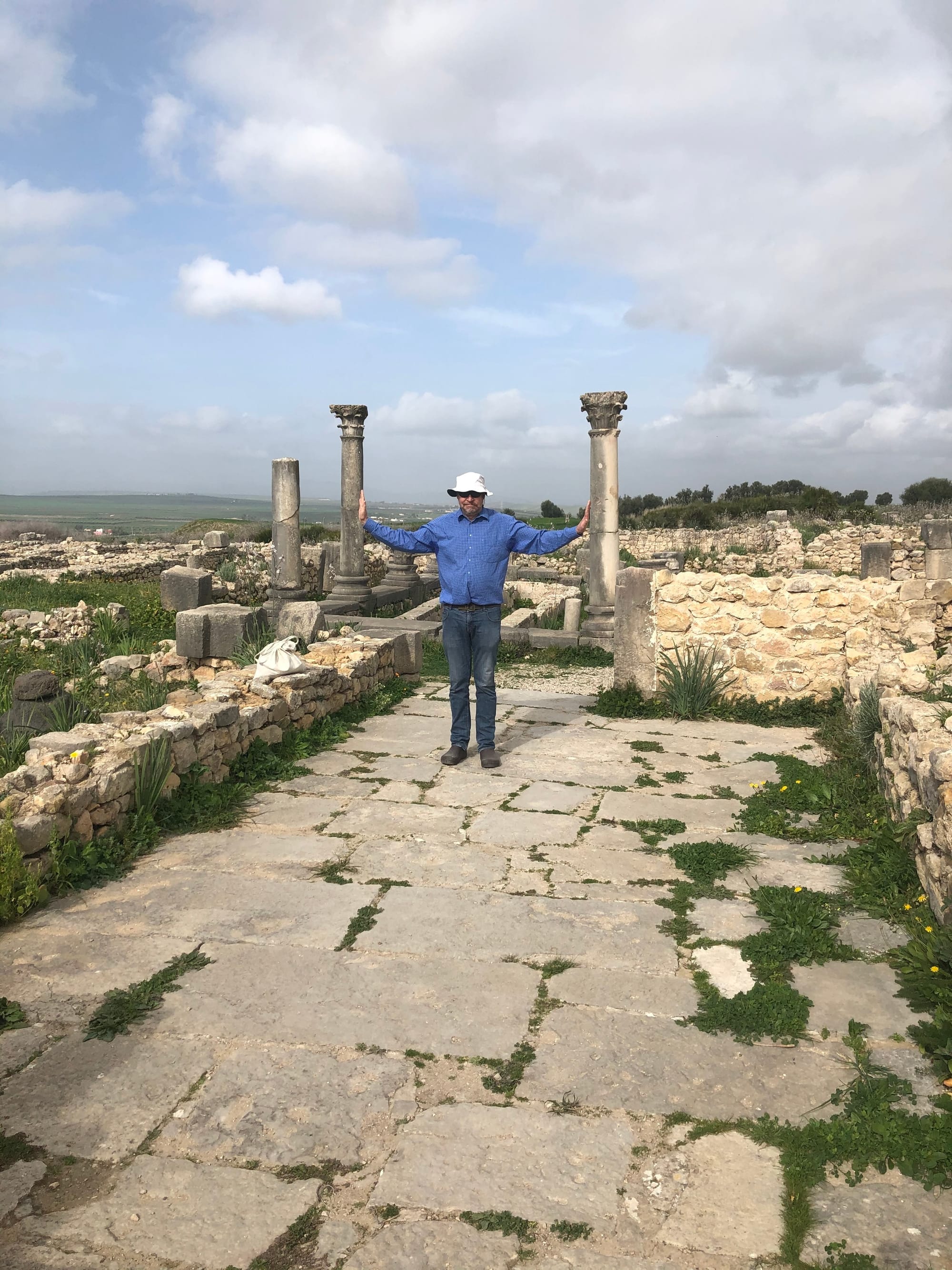 LOL
Below the plateau, the land drops down precipitately to a narrow river-valley green with orchards and gardens, and in the neck of the valley, where the hills meet again, the conical white town of Moulay Idriss, the Sacred City of Morocco, rises sharply against a wooded background. - Edith Wharton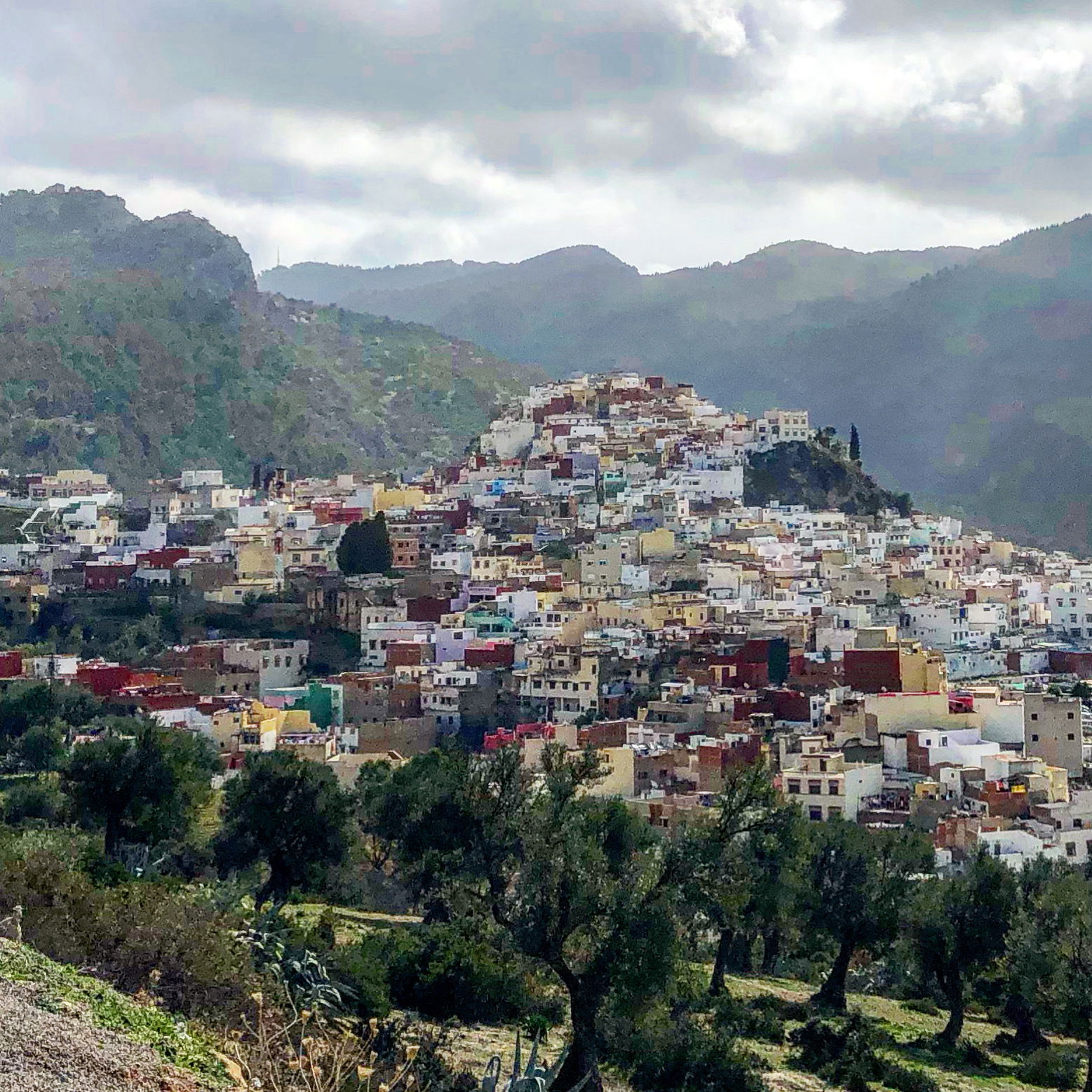 Big wow factor
Moulay Idriss, in stark contrast to Volubilis, is a jumbled and compact little city about 30 minutes away. It is another Moroccan surprise, you round a corner of the road and there it is, suddenly. We stopped and took pictures and Peter bought some fossils from an itinerant vendor for 50 cents. Then we were dropped off in the main square and left to our own devices.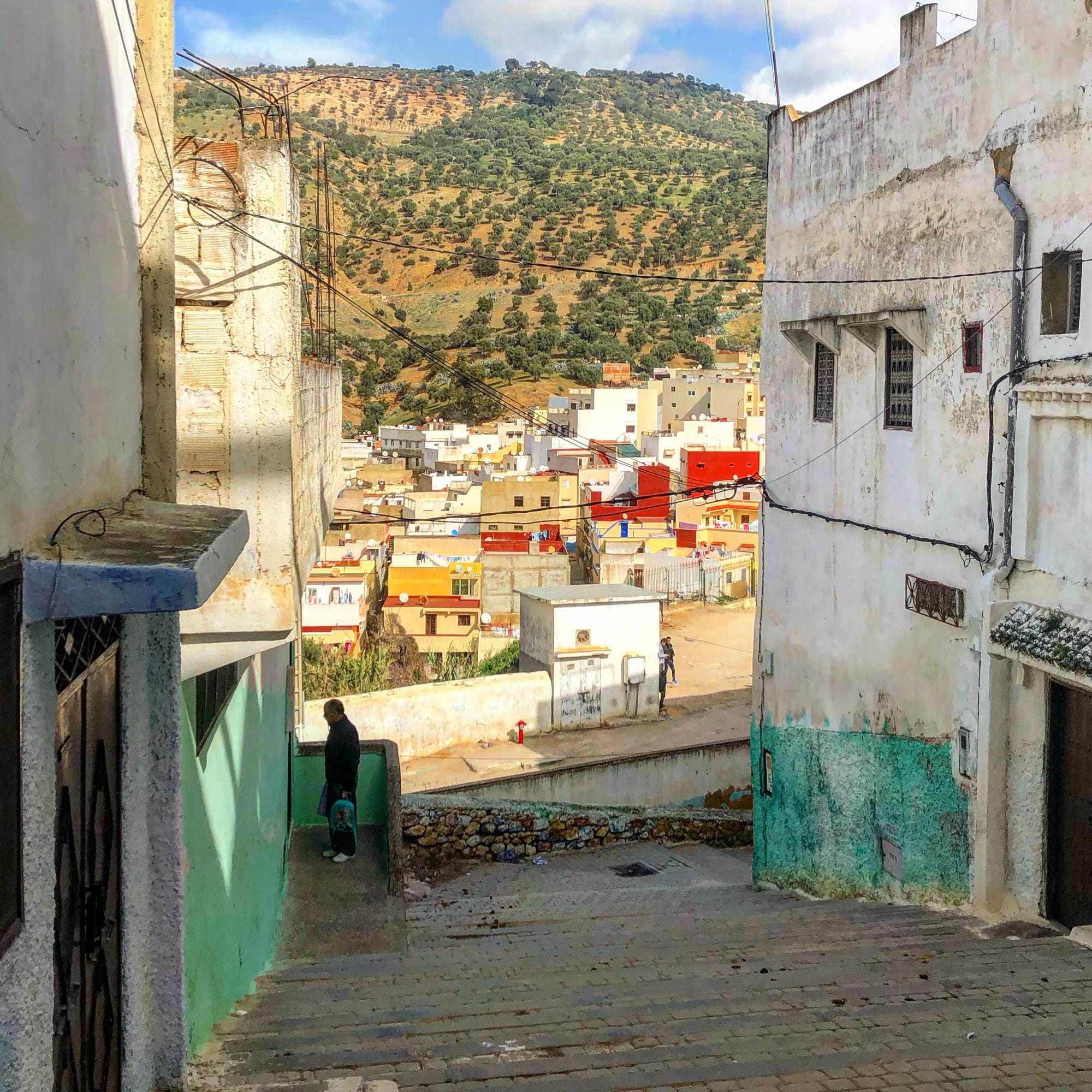 Winding our way through the townThose devices included being quite flummoxed by the limited dining options and equally flummoxed by the tendency to paint everything in the old part of town a vibrant green color.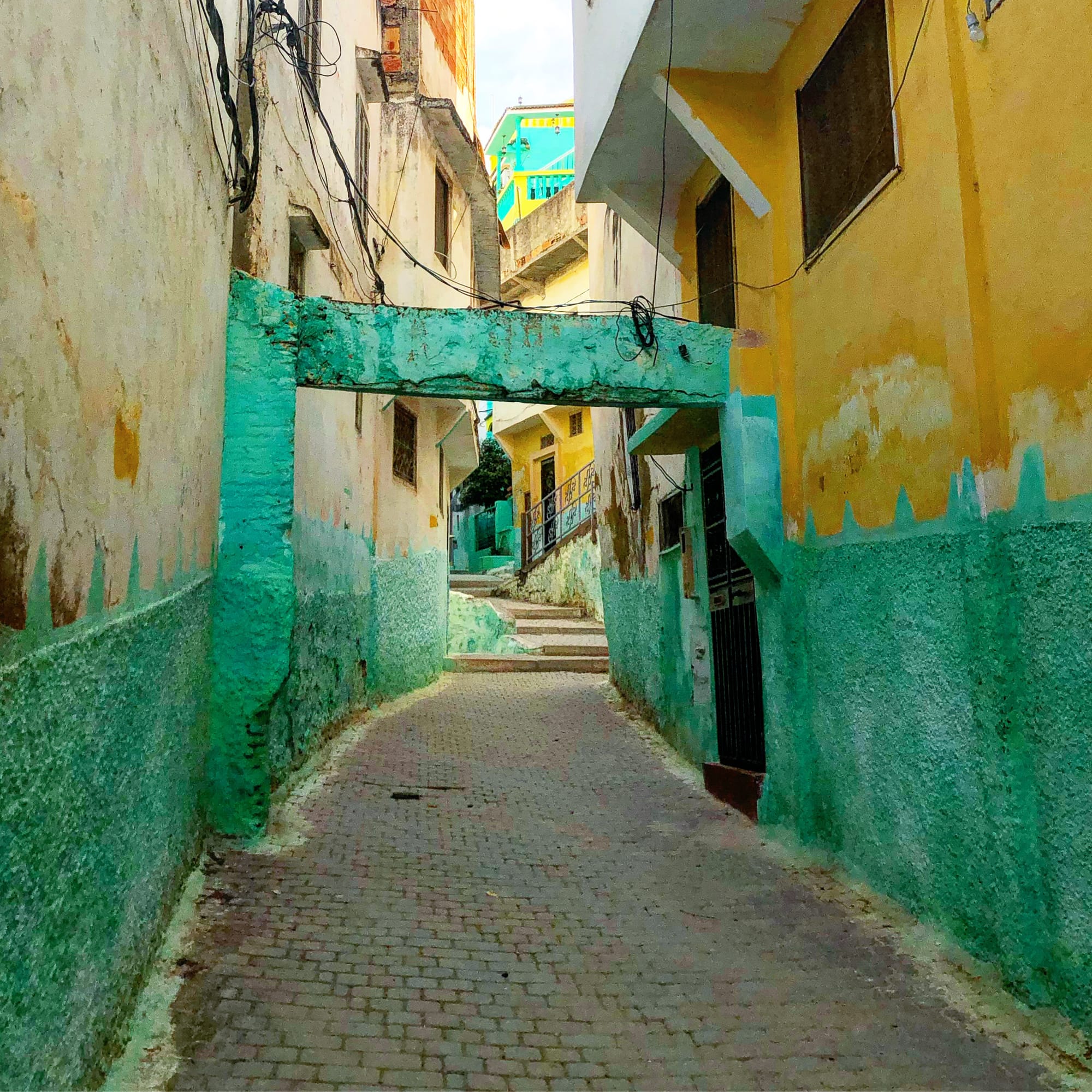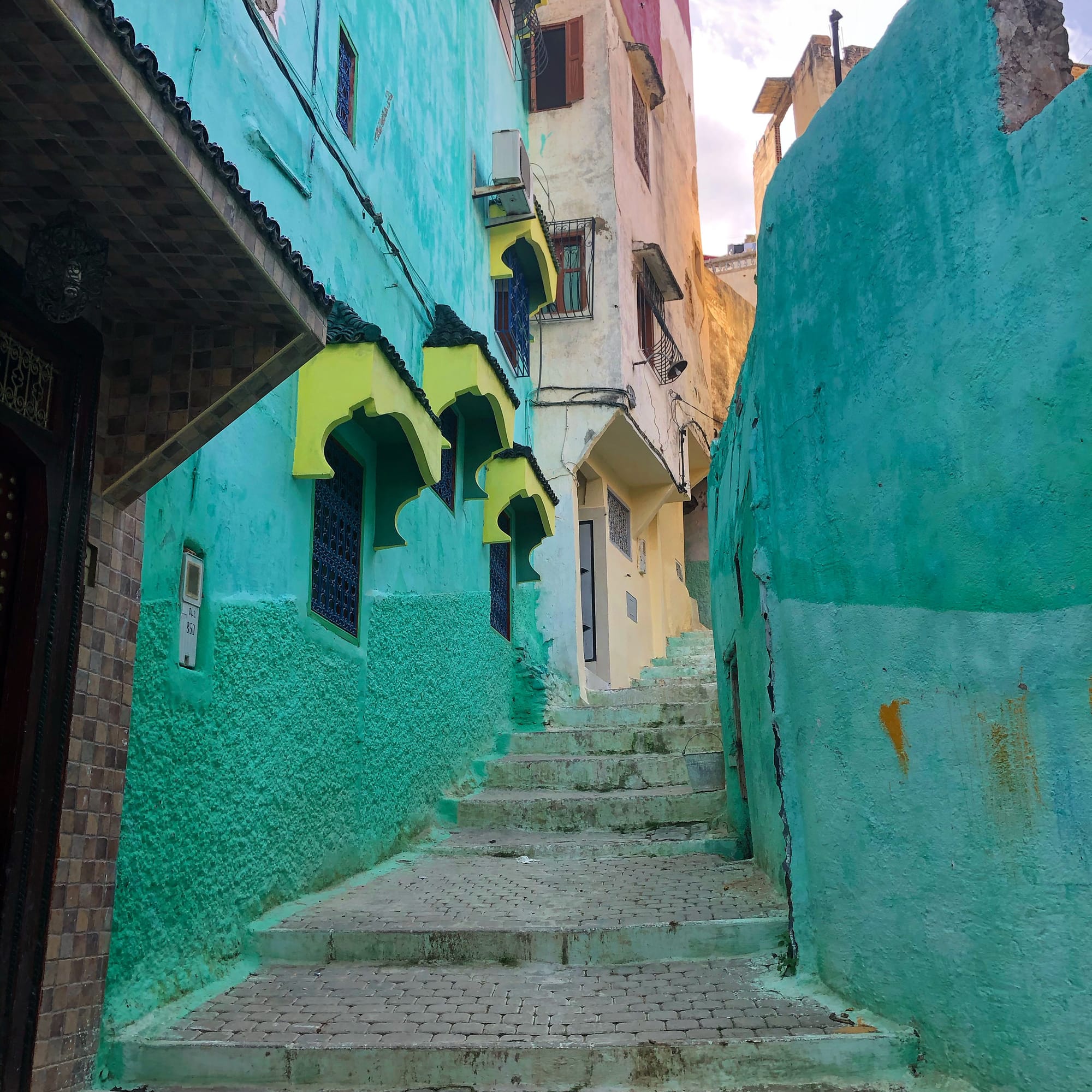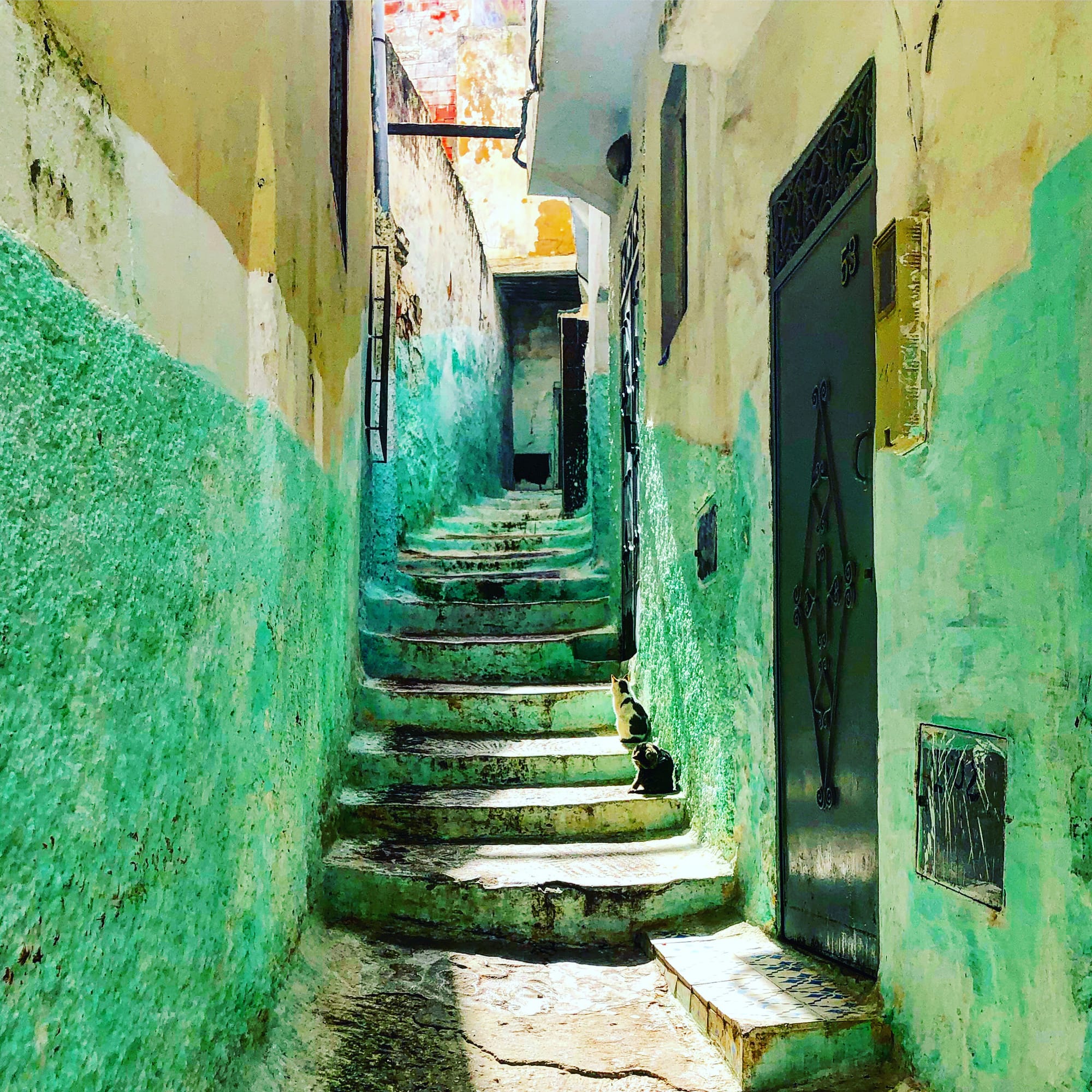 We wandered the streets and settled in at a street cafe for yet another vegetarian tajine that mysteriously tasted like chicken. After we returned to Meknes, we got ready for the last leg of our Moroccan journey, Fes! Until next time...
Lodging:
Essaouira Dar Dayana http://www.booking.com/Share-MWS6wt
Meknes https://www.airbnb.com/rooms/8539010?s=67&sharer_id=6212513&unique_share_id=37e9b037-f945-44f3-8462-be6ee0175cf1
Tours https://www.moroccoinfocus.com/ - highly recommended for their day trip to Essaouira if you don't have the time like we did to spend almost a week there!