We arrived in Northern Ireland suntanned, firmly vegan and ready to wear a lot more clothes than we had been wearing. We were looking forward to a month of Workaway, a week of free time in Northern Ireland to follow the Game of Thrones Trail and a full week in Derry town at their colossal Halloween celebration.
We bailed on most of the above. But we had an absolutely brilliant time and we would go back in a split second. It has become our new favorite place. Here are the many reasons why:
The cities
Derry - Derry was pretty cool if only for their outrageous Halloween celebrations that last a whole week. In our post on The People That You Meet, we shared our experience at The Dark Tower. We also visited Free Derry Corner and saw the street art and protest murals. The Bloody Sunday monument was understated but fascinating. This all happened in my lifetime. We originally thought that the Troubles were religious disagreements but they were so much more and really had nothing to do with religion at all. Like most conflicts blamed on faith, The Troubles were about injustice, oppression, power and money.
Belfast - We loved Belfast! From the excellent vegan food (Chubby Cherub, Eat Street and good old Starbucks) to the wonderful shopping (Anthropology, M&S, Next and SeaSalt for Sarah, multiple bookshops for Peter) and some really cool museums and iconic sculptures, like The Big Fish on the harbor (nearby is a food truck rodeo) there was enough to fill our days there. We really enjoyed the Ulster Museum* and we took time to take care of my health - There is a good private clinic in Belfast at Knightsbridge where I saw the first doctor I had seen in 7 months and got my prescriptions handled. (This is actually a lot easier to do than I had anticipated. See below for details.) Belfast is easy to see with public transport. The airport bus is available at the main terminal (Europa Bus Centre) number 300 for 10 pounds round trip per person. Other buses around the city are 4 pounds per day for the main lines in the downtown area and after two rides, you have saved money. The day passes (not for the airport bus) are MORE expensive at 10 pounds but cover a lot of ground. For us it was convenient to buy one ticket each day we were there. No "topping up" or messing with the vending machines and using our credit cards. We just got on our first bus of the day, bought a day pass and off we went.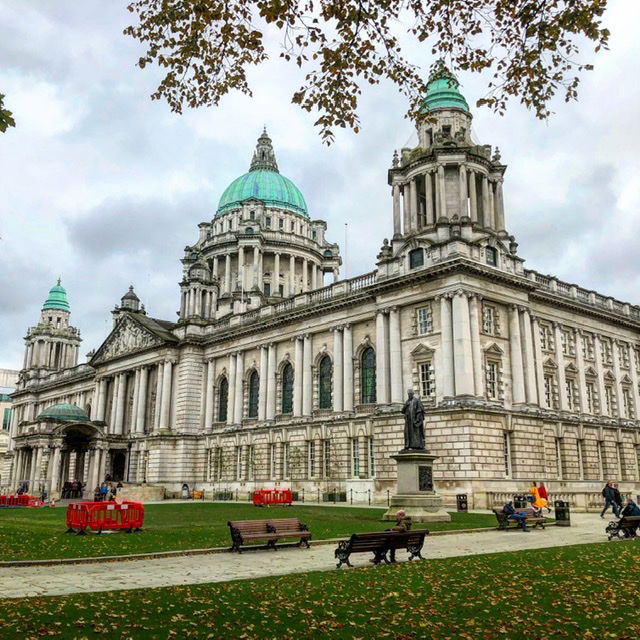 Belfast City Hall - Neo-Baroque masterpiece
The towns
Downpatrick - This is a very cute little town in County Down that surprised us with the St. Patrick Center, the wonderful County Down Museum and a lot of nice walks and shops. People were VERY friendly here.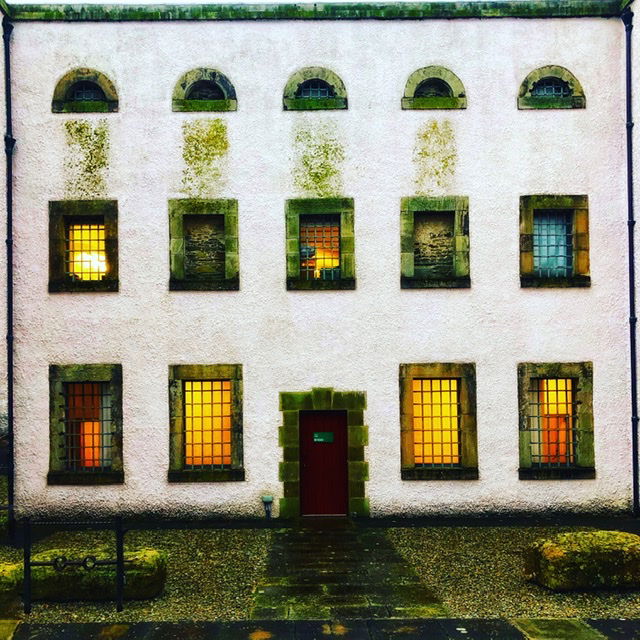 The old jail - part of the Down County Museum
Enniskillen - This is our favorite town in NI. There is a really lively main street and the atmosphere is bustling. There is a really cool pub with a Game of Thrones door and a few places with live music weekly. There are an inordinate number of shoe stores and a good restaurant (The Happiness Trap) with vegan options. The Butter Market is an artisan and small business plaza at the north end of town and there is a really cool castle wall with an attached museum that is very interesting. Enniskillen is a good place to base your exploration of the western side of Northern Ireland. We stayed in an even smaller town, Belcoo, in order to be near the excellent hikes and natural and historic attractions of Fermanagh and Cavan.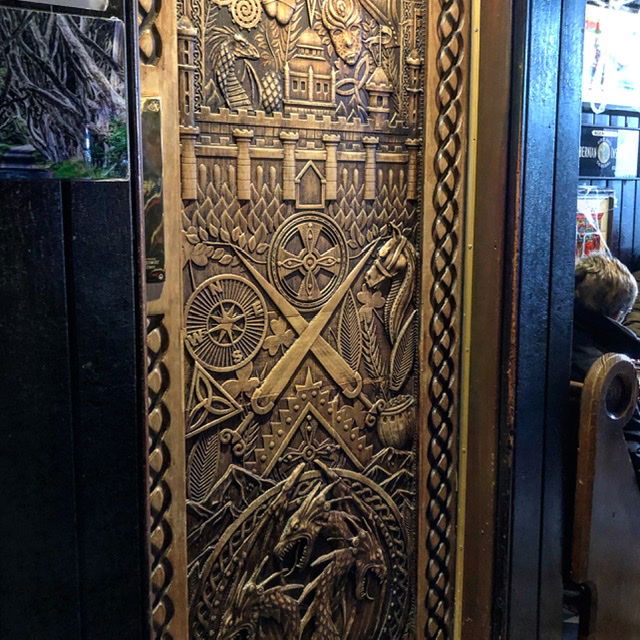 This is the carved door at Blakes of the Hollow pub in enniskillen honoring Game of Thrones. It is a very friendly pub!
The countryside
County Fermanagh - Seriously, this part of Ireland is worth a visit just for the incredible scenery and historic walks.** In Fermanagh we did the Navar Forest drive and walks and went out to Boa Island to see the incredible grave stones from the 3rd to the 7th centuries.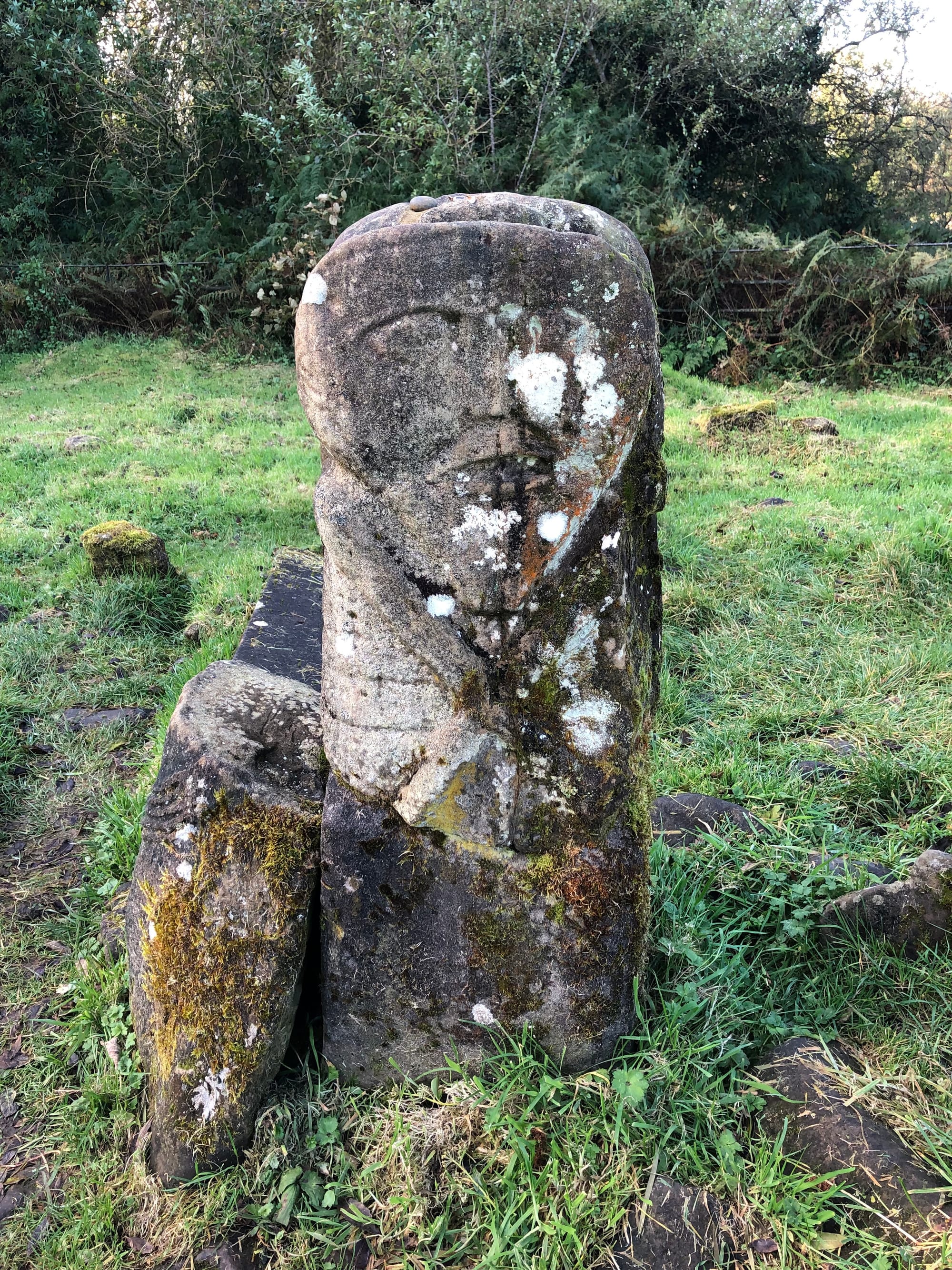 Mistakenly called a Janus carving, this is a touching and ancient memorial.
Another grave stone in Boa Island graveyard
We also did shorter walks through Belcoo, Belleek and Garrison. On the Cavan side of Belcoo is the small town of Blacklion, which has a very good visitor's center and helpful staff. Castle Caldwell Forest Loop is a great place for a walk and has overgrown secret gardens, stone walls and abandoned ruins to check out along the way. And it is yet another example of why you should travel in the off-season... free parking! Florence Court Estate (National Trust Property) was the setting for a colossal walk. There are extensive gardens, a historic house and a beautiful forest walk. In high season one could spend an entire day there. We enjoyed the impressive centuries-old trees and the views of the estate.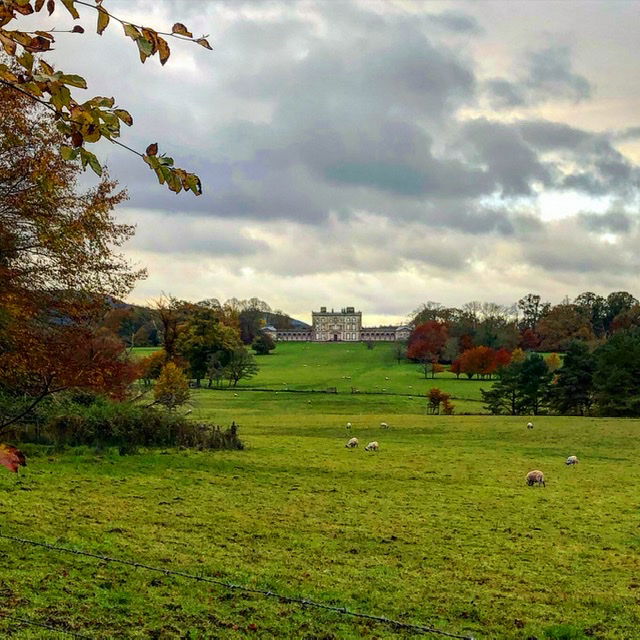 This photo caught the attention of the National Trust Magazine and will be featured in their winter issue!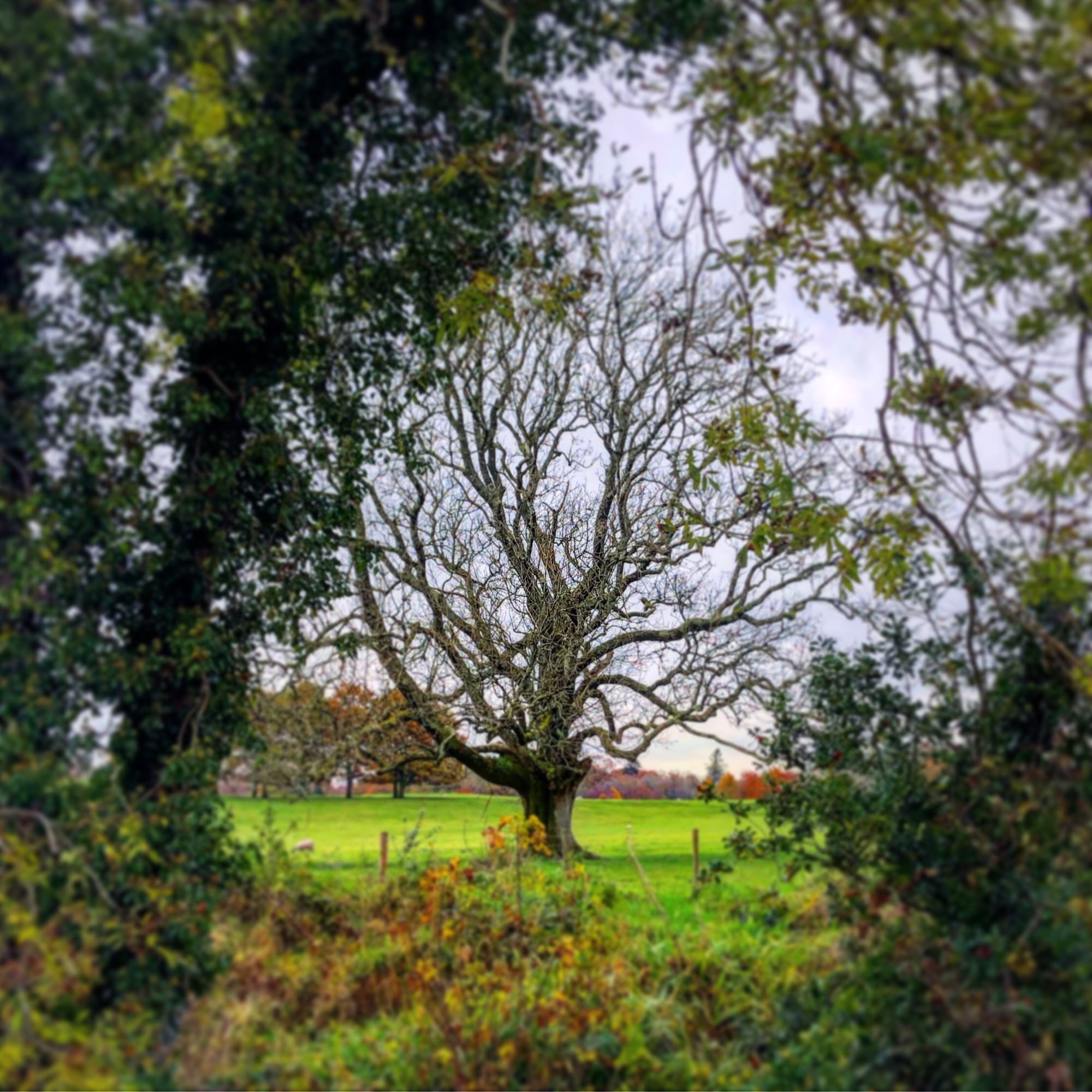 Just one of the historic trees at Florence Court
County Antrim - Again, Antrim is a county where one could spend a whole week and have something wondrous to behold every single day. We focused on two places that made for fantastic photographic opportunities - Giant's Causeway and the Dark Hedges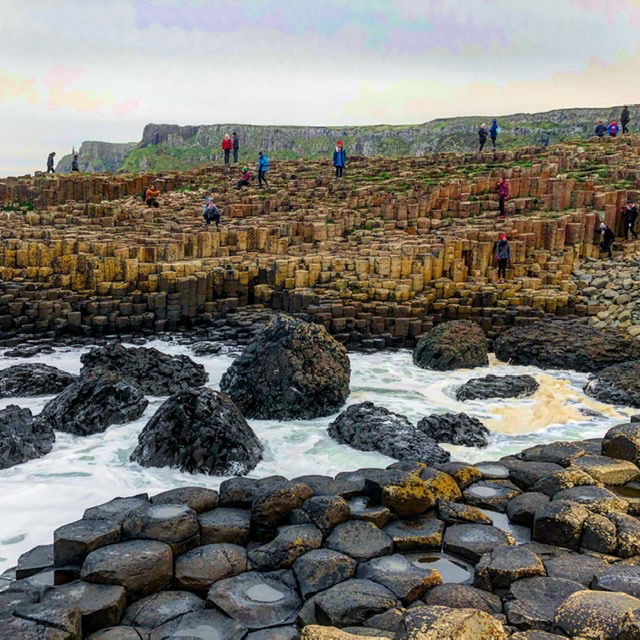 We went back to see Giant's Causeway again as we had just been in Staffa, Scotland a few months previously and we were twice as impressed as we were the first time!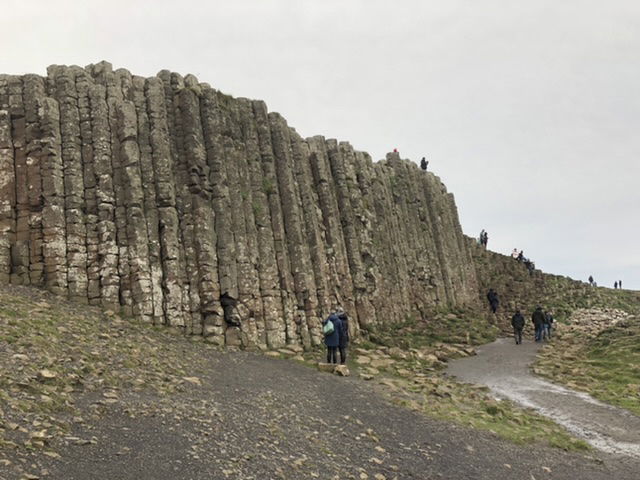 It was a cloudy day but not rainy!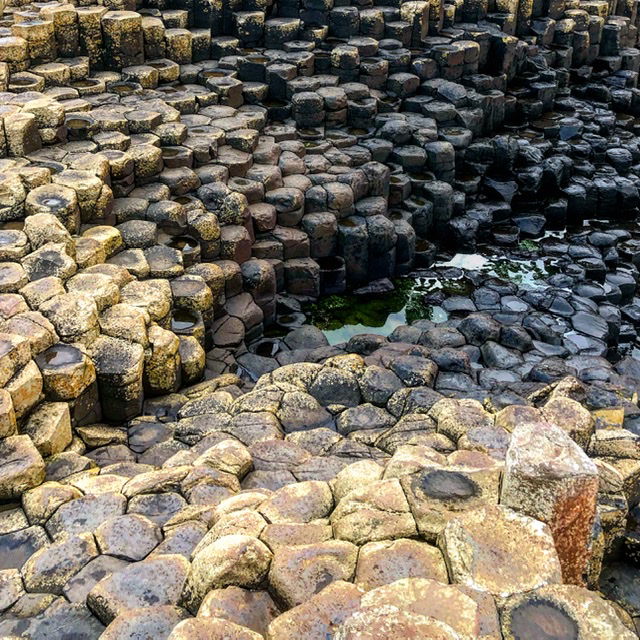 The geological formations are gorgeous.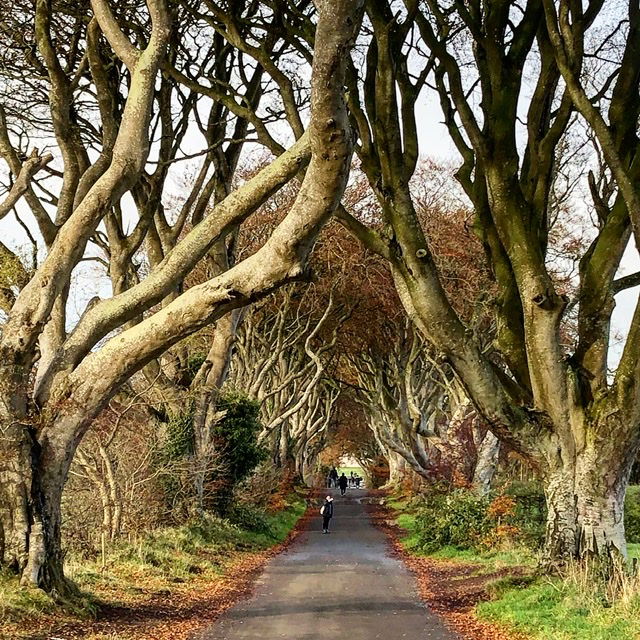 Dark Hedges - an absolute must for a surreally beautiful walk in County Antrim. We had not been here before and only became aware of it through Game of Thrones!
We also spent a day exploring the coast near Cushendall and Cushendun. The caves there, known for their Game of Thrones fame are likely the most accessible sea caves you will ever visit. You simply park at the nearby apartments and walk down the beach and climb in and around them. At sunset there are some magnificent colors.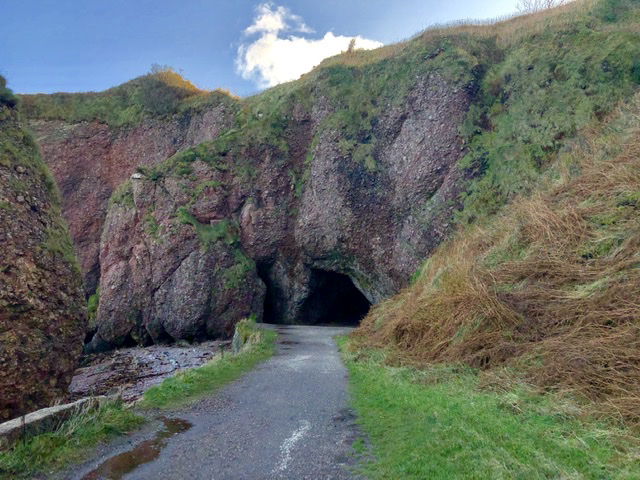 The path to Cushendall Caves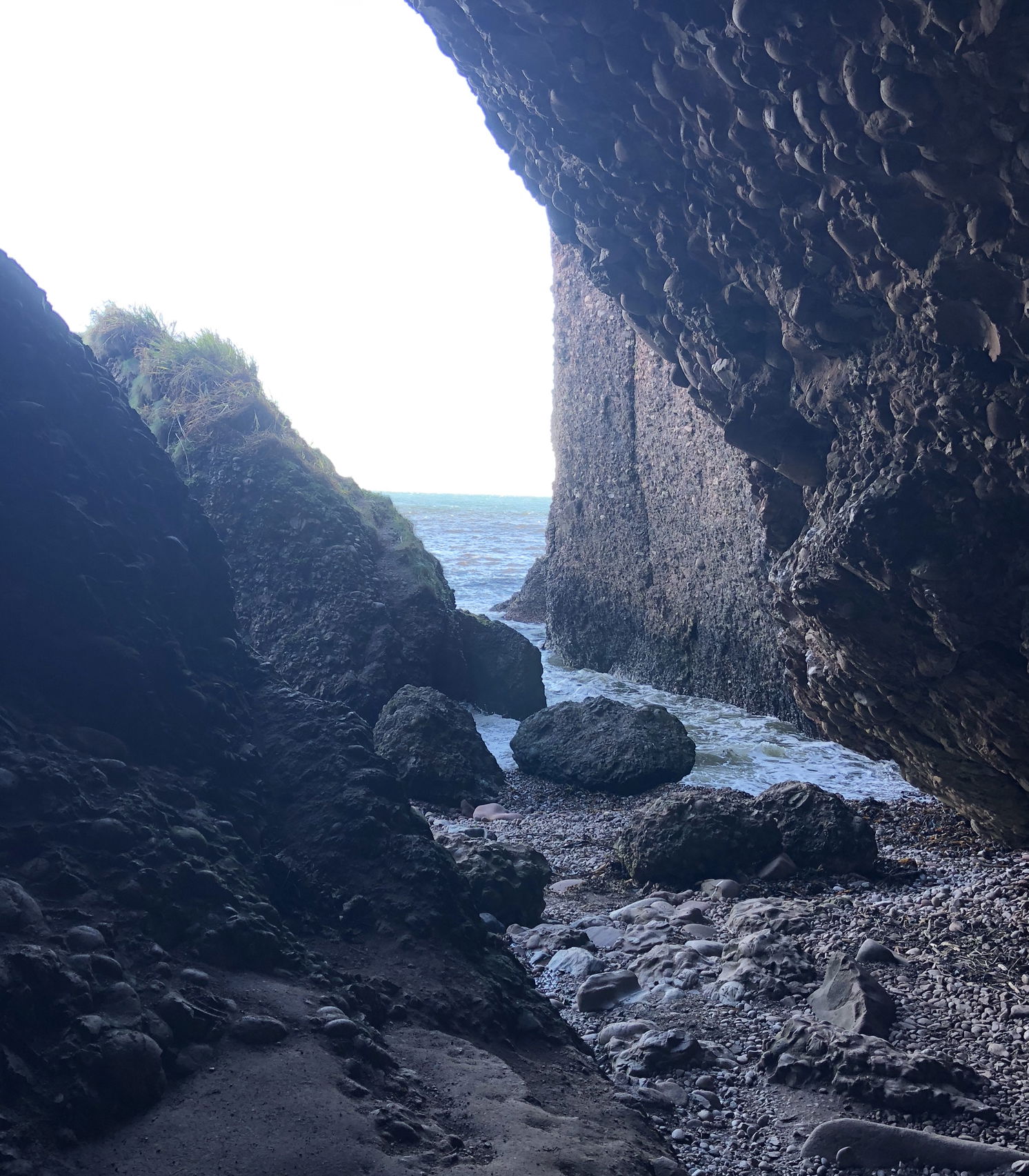 From inside one of the caves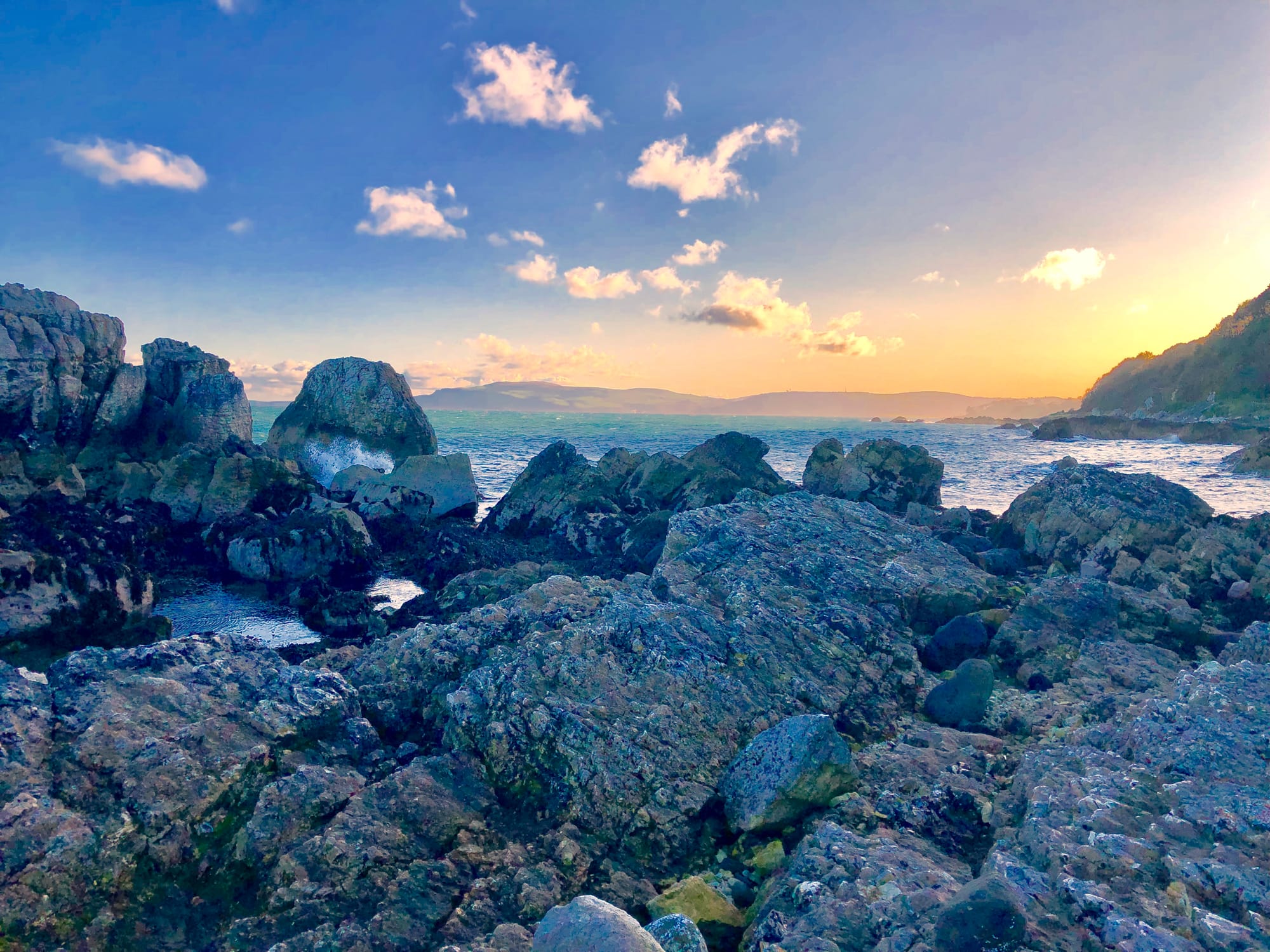 Clamber out on the rocks for some pretty photos!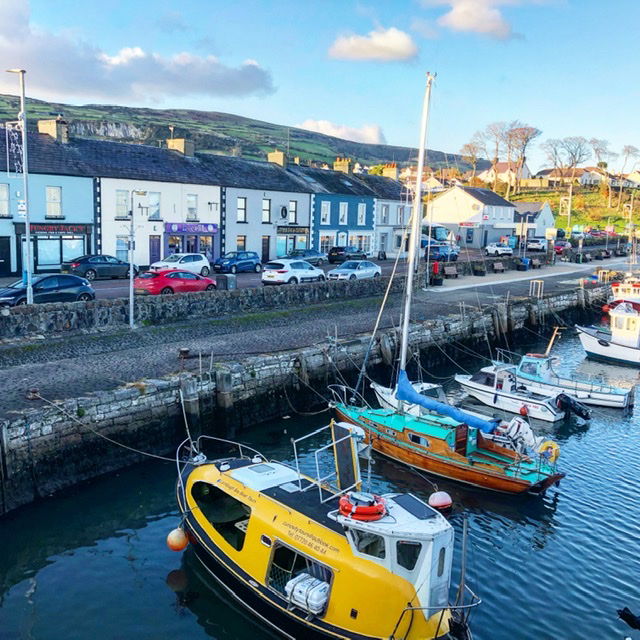 The pretty village of Carnlough deserves a visit as well with its colorful boats and unique, locally owned shops.
The coastal area near Cushendun Caves is really breathtaking and there are many other well-known places to see like the Carrick-a-Rede rope bridge, Dunluce Castle and the glens and cliffs of the Causeway Coastal Route that leads to Giant's Causeway. These are the big three of northern Northern Ireland so plan accordingly in high and shoulder season because it will be extremely busy.
County Derry - We enjoyed the Seamus Heaney HomePlace so very much. It is an ode, not just to the great Irish Nobel prize winner, but to Ireland itself. Seamus Heaney found heroism in others and put it into words that inspired readers all over the world. He was one of the first Catholic kids to be allowed to go to university through the 1947 Education Act. After "secularizing himself" he maintained a personal morality that was loyal and compassionate.*** Throughout his life he portrayed with incandescent beauty and sensitivity the earthy and humble foundation of daily life in rural Ireland. Peter and I enjoy memorizing poetry and we had already memorized the well-known Digging, but we are newly interested in reading more of Heaney's work after spending a day at the HomePlace.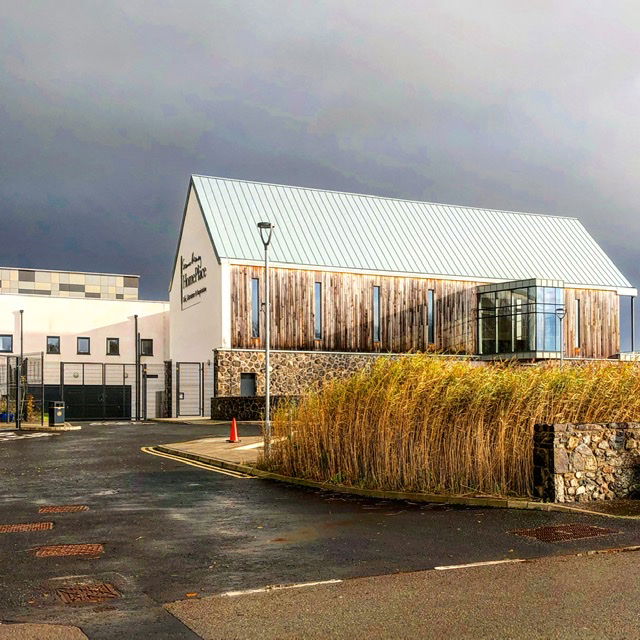 The museum near Tober's Bog itself. A perfect museum - it appeals to all the senses. The guided tour, the readings in the artist's own voice and the art installations were excellent.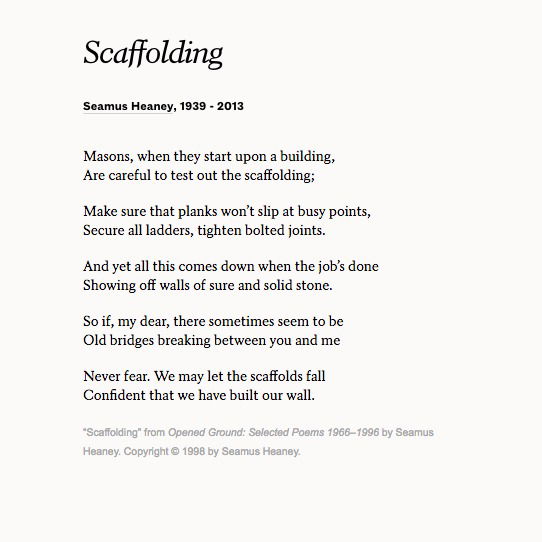 Our new favorite...this is a poem about a marriage that stands the test of time.
County Tyrone - We truly enjoyed the Beaghmore Stone Circle complex in County Tyrone. We have visited Paleolithic, Neolithic and Bronze Age ruins all over Europe for many years now and they always impress us. Beaghmore is a particularly interesting site in a beautiful setting near Cookstown. The circles and megalithic lines are very developed and cover about five acres.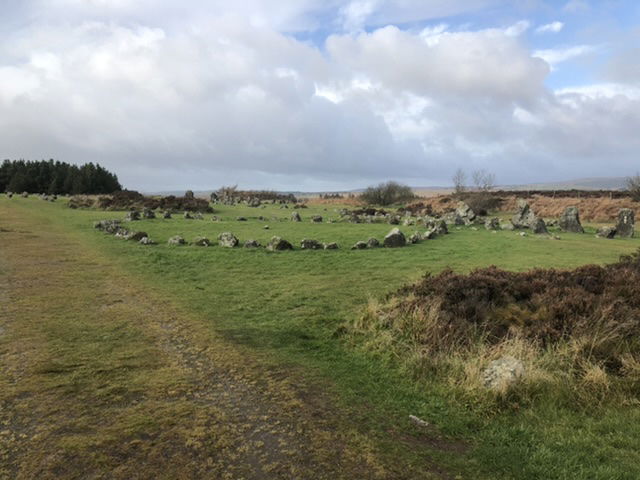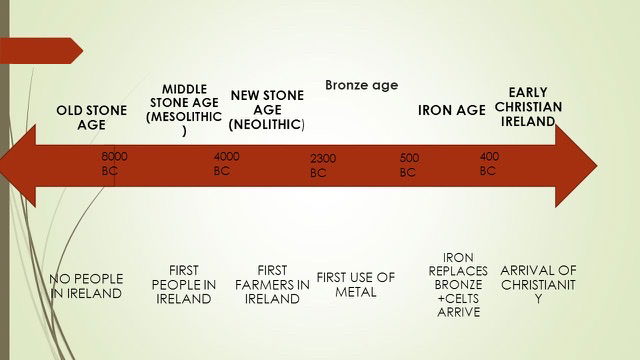 This is a helpful timeline for reference. https://slideplayer.com/slide/9548814/
County Tyrone is also home to Drum Manor, yet another photographer's dream and walker's paradise. We are not accomplished at either - I have an iPhone 10 and we walk up to five miles before we look for a good place to have tea. Imagine an orc and a hobbit setting off for a day of fun and you have our travel style in a nutshell. At least in Northern Ireland.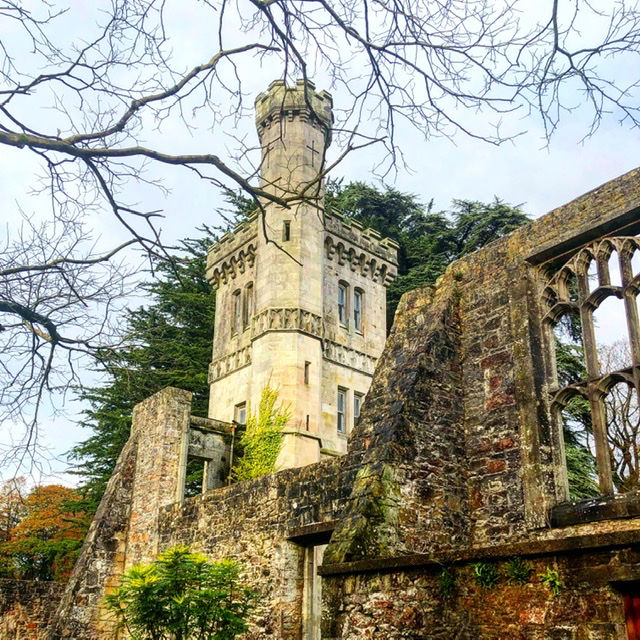 Drum Manor ruin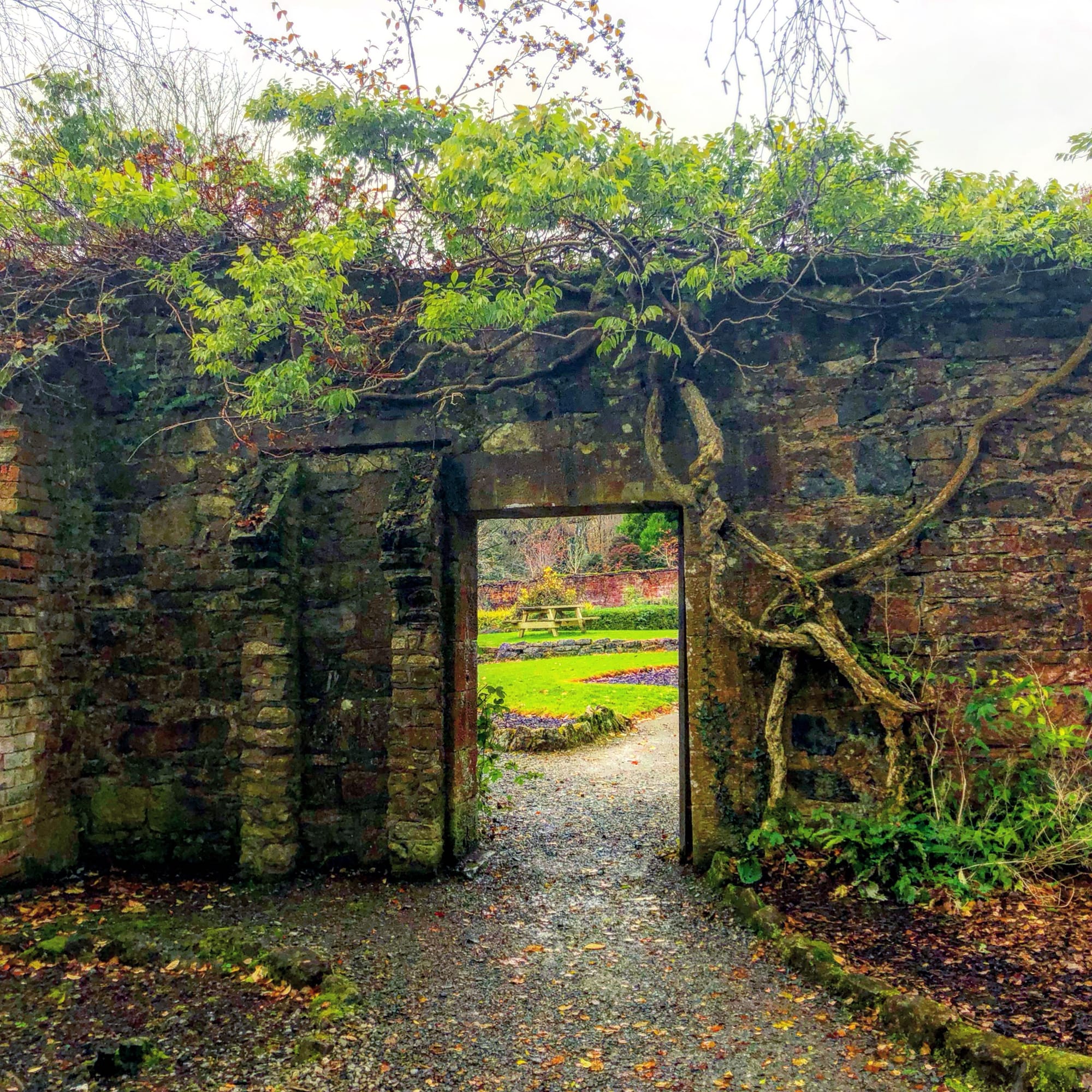 Drum Manor gardens - fun for kids - there is a great playground and the gardens are beautiful even in late November.
Another interesting thing to see in County Tyrone is the National Trust Property, the Wellbrook Beetling Mill with its pond and forest walk, Castle Caulfield in Dungannon an the Ardboe Cross on the shores of Lough Neagh are our other favorites.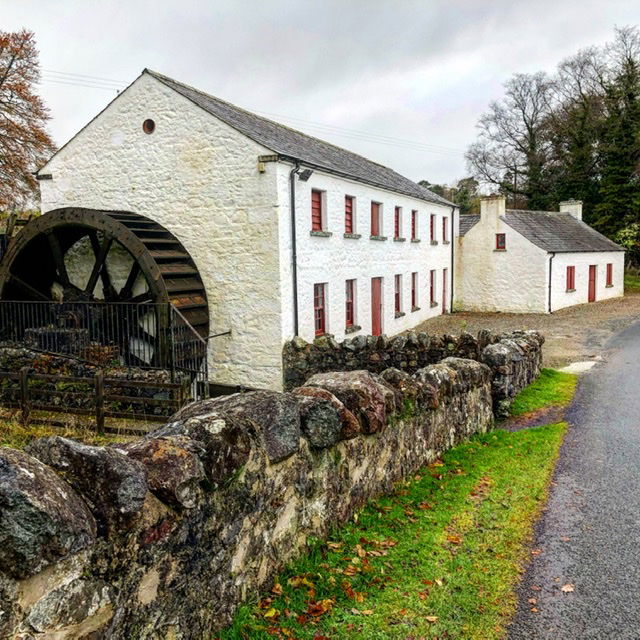 Wellbrook Beetling Mill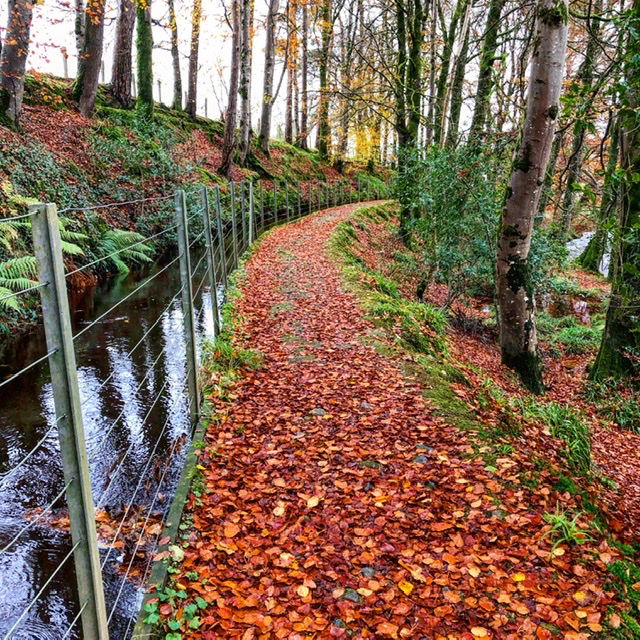 Autumn colors along the forest walk near the mill.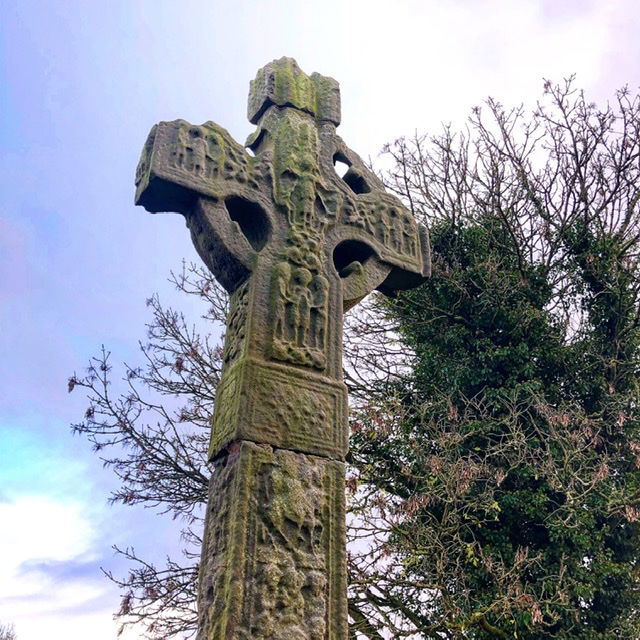 Ardboe Cross
County Down - County Down is a rich and beautiful county that gets largely overlooked by tourists. The drive from Belfast traveling along Strangford Lough to Portaferry, crossing to Strangford on the car ferry and continuing up through Downpatrick up to Belfast again can be done in one busy day or a whole week of walks and visits and historical places and pubs. We especially enjoyed the many tower houses dating from the 15th through the 18th centuries. There are quite a few of these imposing buildings dotting hills outside and within small towns throughout County Down. There are other structures as well: ruins, estates, motte and bailey castles and lonely towers.****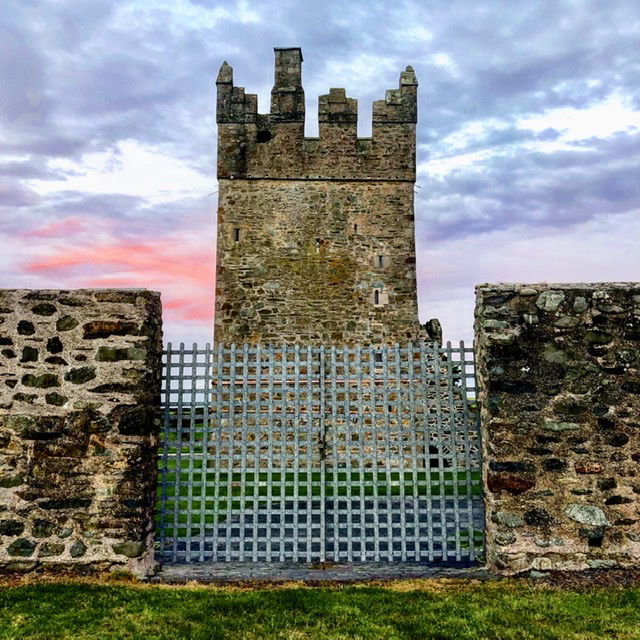 Tower house near Cloughy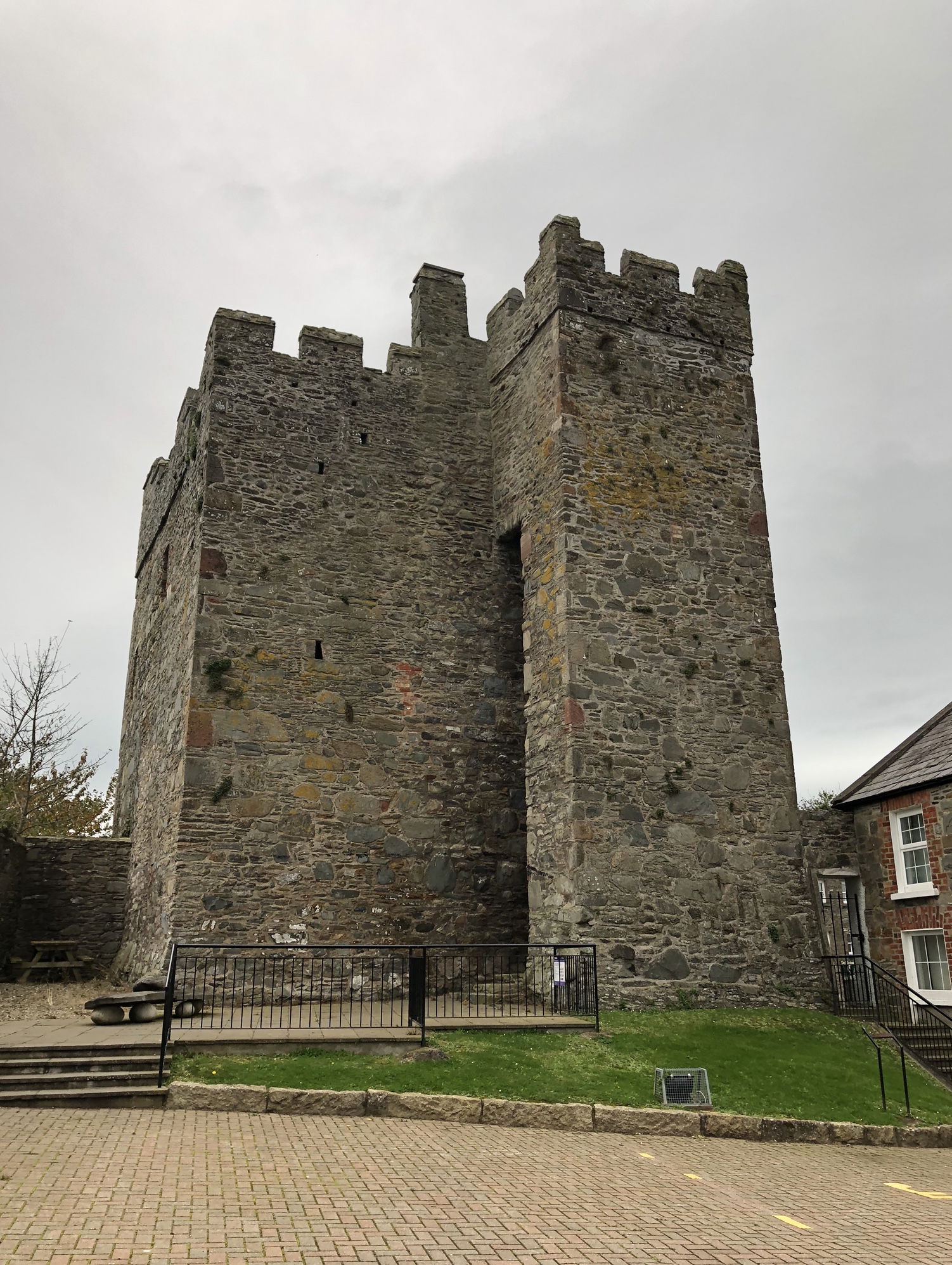 Portaferry tower house
County Down is also home to spectacular coastal walks and adorable seaside towns like Portaferry, Strangford and Newcastle and larger towns like Downpatrick for its excellent museum, St. Patrick Heritage, and nearby photogenic Inch Abbey, Lisburn for shopping (really!) and Banbridge for its ancient sites.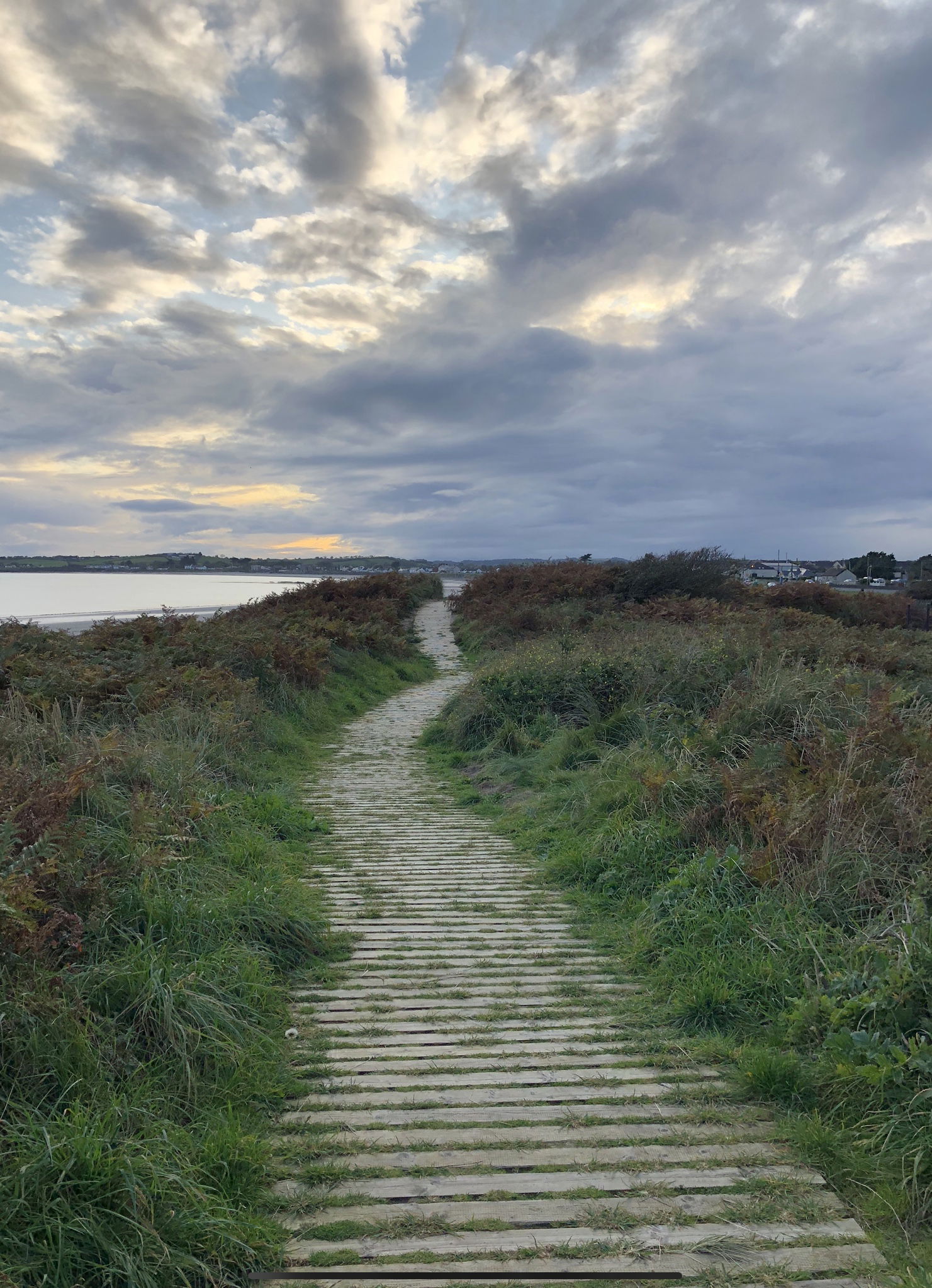 Beautiful boardwalk among the dunes near Cloughy, about 5 miles from Portaferry.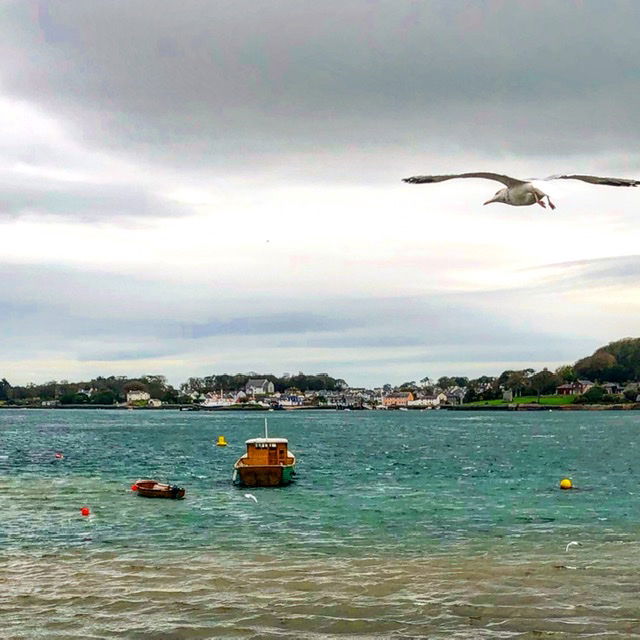 The view across Strangford Lough to Strangford town from Portaferry ferry dock.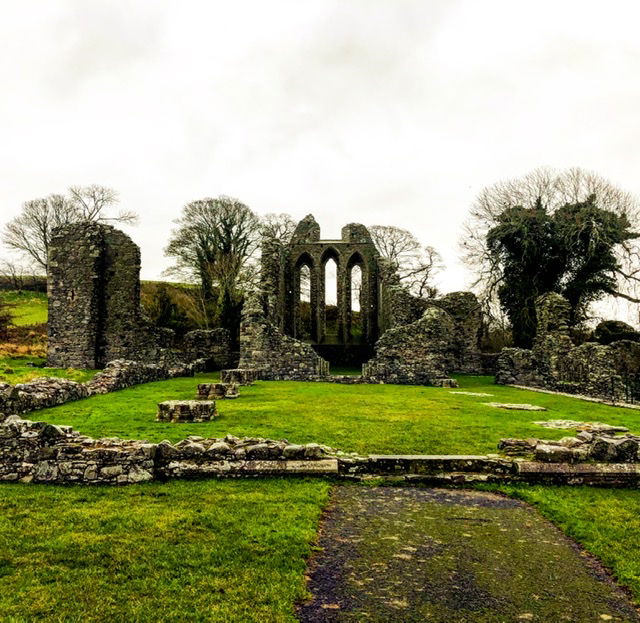 Inch Abbey
The great thing about County Down is that it has a slower pace and very friendly people. It is not overrun with tourists. It is as authentic a place as could be found in Northern Ireland. If you go in the off season, you will be quite on your own and welcomed everywhere you go. In summer you will mostly be rubbing elbows with Belfasters out of the city for a holiday and the occasional Game of Thrones tour participant.
Last but not least... Peter and I wanted to learn new things while on sabbatical and we were keen to learn a handcraft. Neither one of us has the patience or inclination for small hand work but basket weaving - a folk art form that is both rigorous and useful, attracted us. This led us to a wonderful website, www.discovernorthernireland.com and the even more wonderful Welig Heritage Crafts Center in Cloughy.***** We took a very intense one - day seminar with the incredibly talented Clive Lyttle. We feel like we were there for six weeks rather than six hours. Clive is so patient, knowledgeable and brilliant! We count it as one of our top five experiences while on the road so far. (More on our Top Five Lists in another post)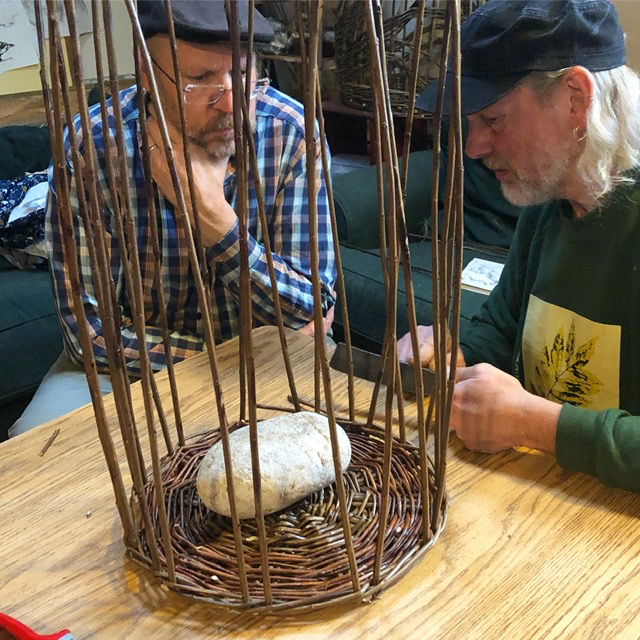 Clive showing Peter how to segue from bottom to sides
Nuts and Bolts - How to See Northern Ireland
In a week - If you only have a week or if you are splitting your time between Northern Ireland and the Republic, our recommendation is to drive the Causeway Coastal Trail and spend at least one night along the way. Then head to Enniskillen area for two nights for a taste of a lively town, local music (usually on Thursdays) and natural beauty. Then, spend two nights in County Tyrone or southern County Antrim for a look at the Dark Hedges and Seamus Heaney Homeplace and finish up with a one day tour around Strangfod Lough with a night in Downpatrick. If you only have a week and want to spend time in Belfast, skip the time in Tyrone or cut it short.
In two weeks - If you have more than a week, take a couple days to visit Belfast and a couple more to see Derry and its environs. Take three or four days to see the Causeway Coastal Trail. Extend your stay in County Down by a day or two - if the weather is fine, extend your stay even more for walks on the beaches and relaxation.
In three weeks - If you have three whole weeks and you want to really see Northern Ireland, pick a town that has good services like Enniskillen or Derry or a small village like Ardglass or Portaferry and rent a house or an apartment for one of those weeks and just BE there. Get to know the locals. Go to the same grocery every day. Read the adverts taped to the grocery store door and go to a community event. Take a class. Go to church. Take lots of walks. Buy a pad of paper and sketch. Turn off your phone. Then do all the stuff recommended above... A caveat - we have spend over 6 weeks in Northern Ireland and I would say we have barely scratched the surface. It is a rich place full of wonderful sights and people. It takes time to take it all in. Take the time.
Practical Magic
Renting a car - DO NOT USE BUNDLING SERVICES for rental cars. Do not use Expedia, Priceline or Rentalcars. Pick a couple of companies and apply for a rewards membership. Use their site to rent and make a reservation at least 4 months in advance. We paid less than $11 a day for our rental car in Ireland. You cannot take a bus for that price. And do not get the insurance! When you get the insurance it actually CANCELS your other insurance. Use American Express if you have it and use VISA (we use Bank of America) if you don't have American Express. I have spent 50 hours researching rental car companies, rental policies and insurance offerings. If you don't believe me, feel free to invest your time. Hertz and Sixt are our favorite companies in Europe and Enterprise is our favorite in the US. We have had accidents, blown tires, short rentals, long rentals, manual transmissions and standard, have driven on the left and the right. Drop us a line if you need more advice. We have the answers.
Renting an apartment or cottage - There are actually a lot of local sites in Ireland for rentals. We only us AirBnB for rentals that are 1. Owned by an individual not a coorporation, 2. Are significantly cheaper than the rentals on VRBO or Booking.com, or 3. Have specific amenities we really need for that portion of the trip. Otherwise, we have had excellent luck showing up at a local pub or pharmacy (seriously!) and asking if there are any rooms or apartments for rent. ImagineIreland.com and Shamrockcottages.com are the other type of site where you can see what is available. We like AirBnB because we have had excellent customer service when things have gone wrong and their rating system is extremely fair, if a little overly positive. Booking.com does have rentals but they are not vetted properly and you can get really misinformed with little support, unlike the hotels and hostels that Booking.com represents quite well. If you would like a list of lodging options in Northern Ireland for any budget, please contact me.
Seeing a doctor - If you need to see a doctor in Ireland (or anywhere in Europe) as an American, here is what you do:
1. Look up PRIVATE HOSPITALS or private clinics or private GP's in your country of choice.
2. Call them. Make an appointment. Tell them you are American. Ask them if appointment costs vary at different times of the day (outside 9 - 5 hours it is more or less expensive, depending on location)
3. Tell them exactly what you need, very succinctly. If you just need a prescription, tell them.
4. Be prepared to pay at time of service. You may pay anywhere from 15 Euros for a quick prescription refill to 100 Euros to establish care or be seen for a cold, virus, infection or something else.
5. In an emergency, go to a private hospital. If you have a health problem like diabetes or MS, have numbers and names on you at all times in case you need help.
6. If you are diabetic, I have answers, drop me a line.
Filling a prescription - Things to note.
1. You must get a prescription from a doctor in Ireland to get a prescription in Ireland, no exceptions. You may not get a custom amount of the medication.
2. You must get the package amount. So if you need 20 pills but the pills come in a bottle of 60 you may have to buy all 60.
3. Antibiotics are hard to get in Europe. You really need to need them. They do not overprescribe like they do in the States. Antibiotic ointment is a controlled substance! No Neosporin without a prescription!
Making connections - If you want to meet REAL IRISH PEOPLE you will not have to try hard, but you will have to try. You just do the stuff Irish people do - take craft classes, google activities, go to local spots, watch a soccer game, ask questions about things you are already interested in and you will meet people quickly. Pubs can be daunting if you aren't accustomed to bar culture. But if you have a specific question, order a beer and ask a person at the bar or the bartender and someone will have the answer and start up a conversation. Where can I hear fiddle music? Is there a good stream nearby for fishing? What are some challenging hikes in the area? Who is the local historian? I am not a drinker so I ask those questions at galleries, vegan food shops and the grocery store.
We found our best source of local color was our hosts. When you select a place to stay, find out if the host offers an experience like horse riding or cooking classes and take part. Find out if there is an opportunity to shadow someone in the community. We sat in on a radio show, learned to make baskets, talked about golf, compared the Irish and Scottish educations systems, recited poetry, shared our travel knowledge and met a lot of dogs just by smiling, showing interest and paying for what we wanted. Northern Ireland is a place where people share themselves pretty easily. The gift of gab stereotype is not off the mark. This stunning, beautiful place is home to frank, caring and fascinating people, so take a chance and start up a conversation!
Links for more information:
*Ulster Museum: https://www.nmni.com/our-museums/ulster-museum/Home.aspx
**County Fermanagh: https://discovernorthernireland.com/about-northern-ireland/counties/co-fermanagh/county-fermanagh/
***Seamus Heaney: http://www.seamusheaneyhome.com/
****Locating and visiting the many castles of Northern https://www.britainirelandcastles.com/Northern-Ireland/County-Down/Audley's-Castle.html
*****Basket Weaving Classes: https://www.weligcrafts.co.uk/