Rhodes often rings a bell when you mention it because of the colonialistic explorer, the dog breed or the scholar program but no one really knows what it is famous for nor where it is exactly. If you have heard of Rhodes, the medium-sized island in the Aegean 15 miles off the Turkish coast, there is a 99 percent chance you are European, specifically Italian, British, German or Russian. We were here over a week before we heard a single American accent and she was of Greek descent from New York City. Even as a blue-eyed blonde I was asked if I was of Greek heritage because I was visiting Rhodes. So why go to Rhodes?
Lodging - something for every budget and we tried them all
There are (in late 2019) hostels and small hotels for under $20 dollars a night with breakfast, apartment and studio rentals for $40 to $100 with ample facilities, villas and posh hotels in the $150 - $250 range that sleep up to 12 people and 5 star all-inclusive resorts with lavish spas and private beaches. For cheap sleeping and beach time choose the Faliraki area, mega resorts are near Kalithea, apartment rentals are everywhere but we found most options south of Faliraki toward Gennadio Beach area. Some out of the way places have listings on AirBnB as well. We relied on Booking.com and word of mouth while in Rhodes. We did not book ahead as we were without a place to stay quite suddenly. We had intended to do our fourth Workaway in Rhodes but for various reasons, we left after a week. See our post on Workaway and voluntourism on our blog for the whole, sordid story.
Eternal summer - swim until November
We just went swimming this afternoon - the day I am finishing this post. The water is perfect, clean and warm and the beaches are busy but not overcrowded. We got wooden sunbeds with cushions and an umbrella for 15 euros because we DIDN'T know that the plastic ones five feet away are 5 euros less. Sigh. It has rained twice in 10 days and not for the whole day and this is the rainy season. The pools are all open and it is great swim weather at 84 degrees. At night it may dip down to the low 70's but you hardly need anything but summer clothes.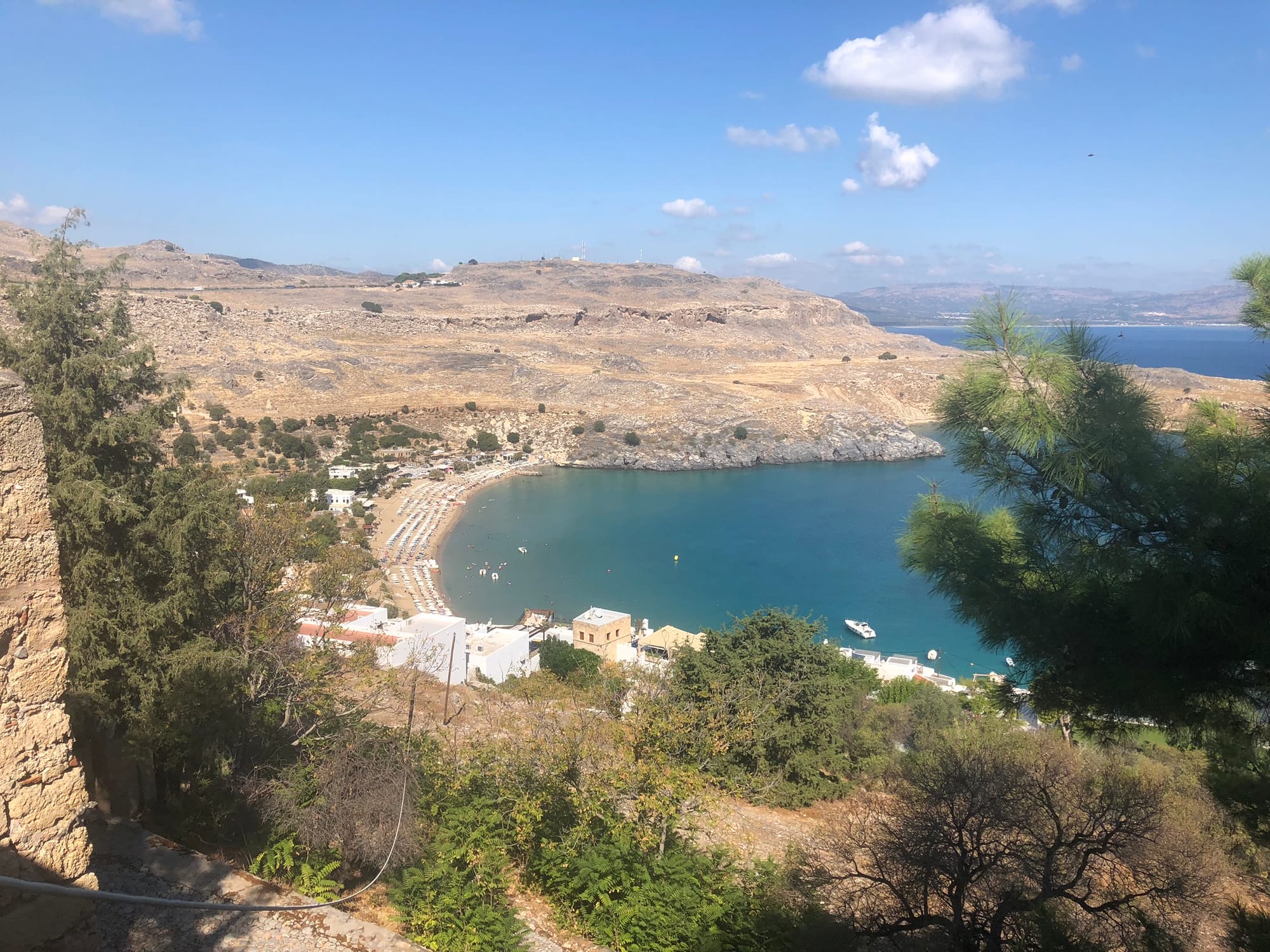 Beach near Lindos that we enjoyed
Nerd destination - for the historian or scientist
We visited the Astronomy Cafe near Faliraki.* Wow! What an experience! They have a large telescope to view the planets, moon, nebulae, and meteors. They take people up to do an educational and fun stargazing event throughout the summer months twice a night. It is only $5 and if you stay at the onsite apartment as we did, it is free. We got to take pictures through the telescope of the moon. Children over 7 years of age can go as well. And then, you can order food and quirky, delicious drinks (astronomically inspired, of course) at the bar/cafe.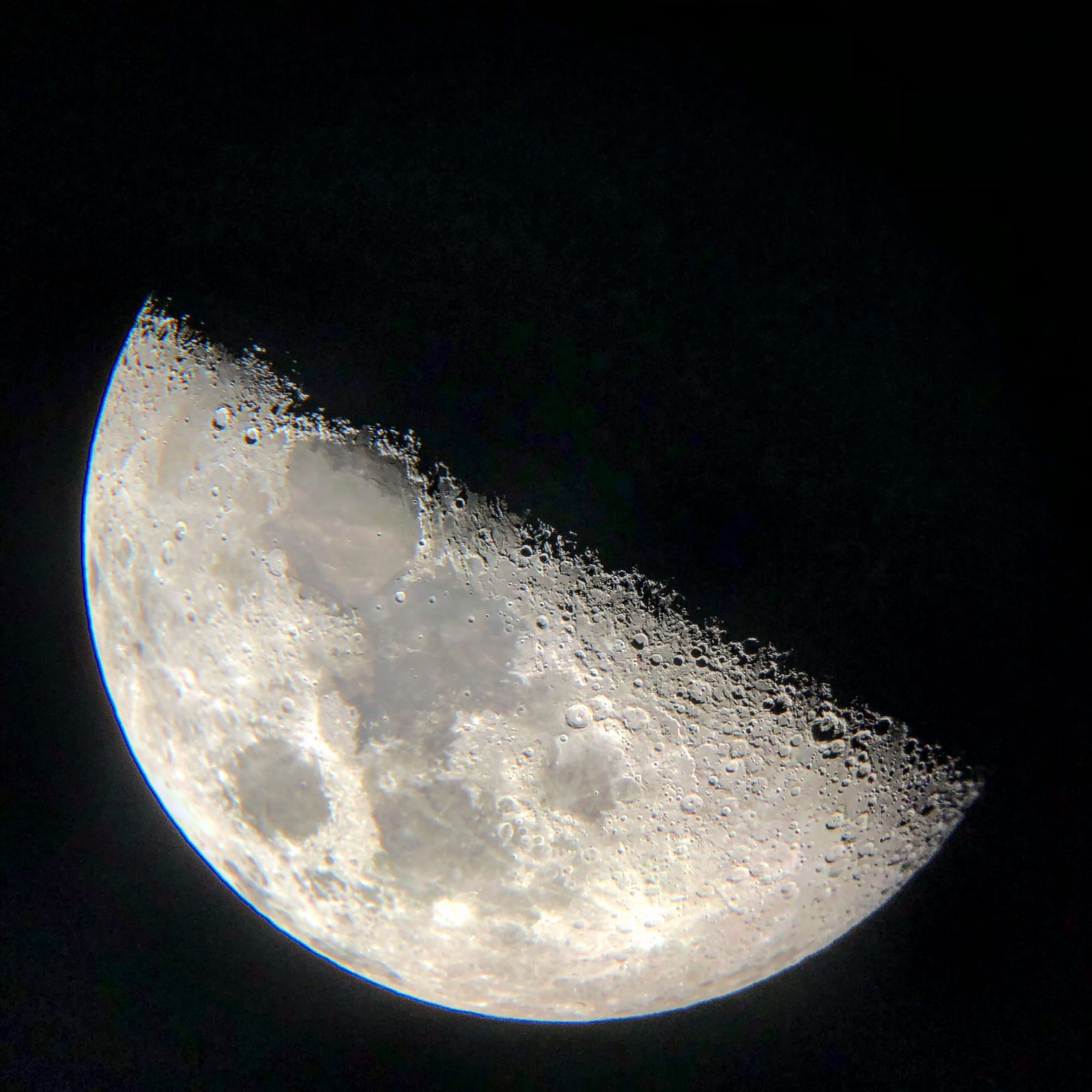 Moon image captured by our iPhone X through the lens of the telescope
Insects are alive and thriving in Rhodes. If you, like my dear husband, are fascinated with ants, then you must hike out of any town in Rhodes and stumble upon the megalopolis that is a Greek ant hill. Ants are fascinating creatures according to Peter but once you start watching them, man, you feel like a class A narcissist. Those little guys are really other-centered. They carry food around and offer bites to pals who are on their way down the trails they make. They haul grain stalks into the hill and eat them and then they clean up after themselves by bringing the hull back out to discard it. Humans could learn a lot from ants. Sharing, cleaning up, worshipping the female...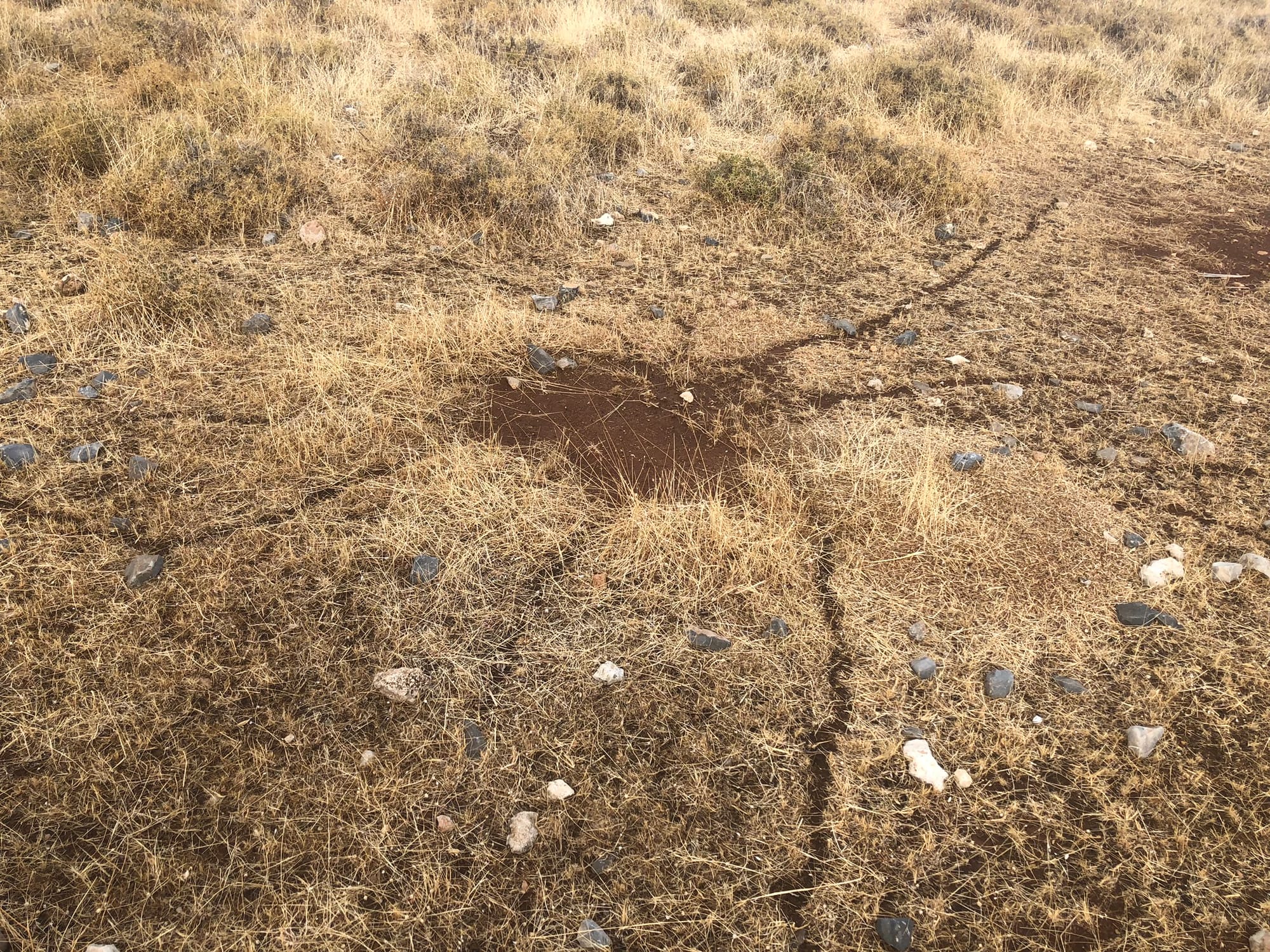 Look at the ant roads! They are several meters long and 4 centimeters wide.
There are four historic sites in Rhodes that are absolutely worth a look. Rhodes Old Town is an UNESCO world cultural heritage monument. The town is pretty crowded and if there is a cruise ship in town it can be nearly impossible to navigate. The archeological museum is a gem of a place and the building itself is of the Order of the Knights of St. John, dating from the 14th C. The winding streets are beautiful to photograph in the extreme light and there are some good restaurants and very pretty boutique hotels within the walls. The moat area around the city is fun to walk through and the kids all seemed to be having a great time. Greeks are, more than most people, very tolerant of children and Rhodes makes a great destination for families. Walking is sometimes treacherous in the old city and we saw a couple of elderly people take a fall. Mindful steps. Near the old city is the original site of the Colossus of Rhodes, two piers with historic buildings and a truck-ton of gigantic yachts blaring Arab music. Go figure.
Ancient Kameiros is a very impressive site about half an hour southwest of Rhodes Town. You can use GPS or signs to find it, you can take a tour, drive in your car or you can take the local bus and then walk. Tickets are 6 euros for adults and well worth it. There were three buses of tourists there and about 25 cars in the parking lot so it was busy but not crowded. We walked the perimeter path before exploring the center. The interpretive signs are all in English and there is a cafe (not recommended) and bathrooms onsite. It is a great place to get perspective on the history of Rhodes.**
Lindos Acropolis was ARDUOUS but a very cool place to reach! We went up at about 9:30 and there were already busloads of day trippers making the climb. It is single file all the way to the top and you have to buy entry tickets at the gate after the long climb. So, if you aren't feeling up to it, halfway, you can just turn around. The path and steps are very dangerous. I would not do it in sandals with heels like some of the other people were wearing. Why, ladies? Is a climb to the acropolis of a small, Greek town really the time to show off your legs and make your butt stick out? Buy some sneakers and get over yourselves! Anyway, there was a woman who had taken a nasty fall (wearing sneakers) and there was blood running down the steps, which made it all worth it for the kids in the family behind us. The poor lady was really injured and it was hard to evacuate her but she made it back down. There are no railings at all and the stones are uneven and slippery. Seriously, take precautions because the top is incredible! There were buildings and ruins from many eras and the views were spectacular. Again, there were lots of people even early in the day so I would recommend this for 8 am or after 5, keeping sunset and the opening and closing times in mind.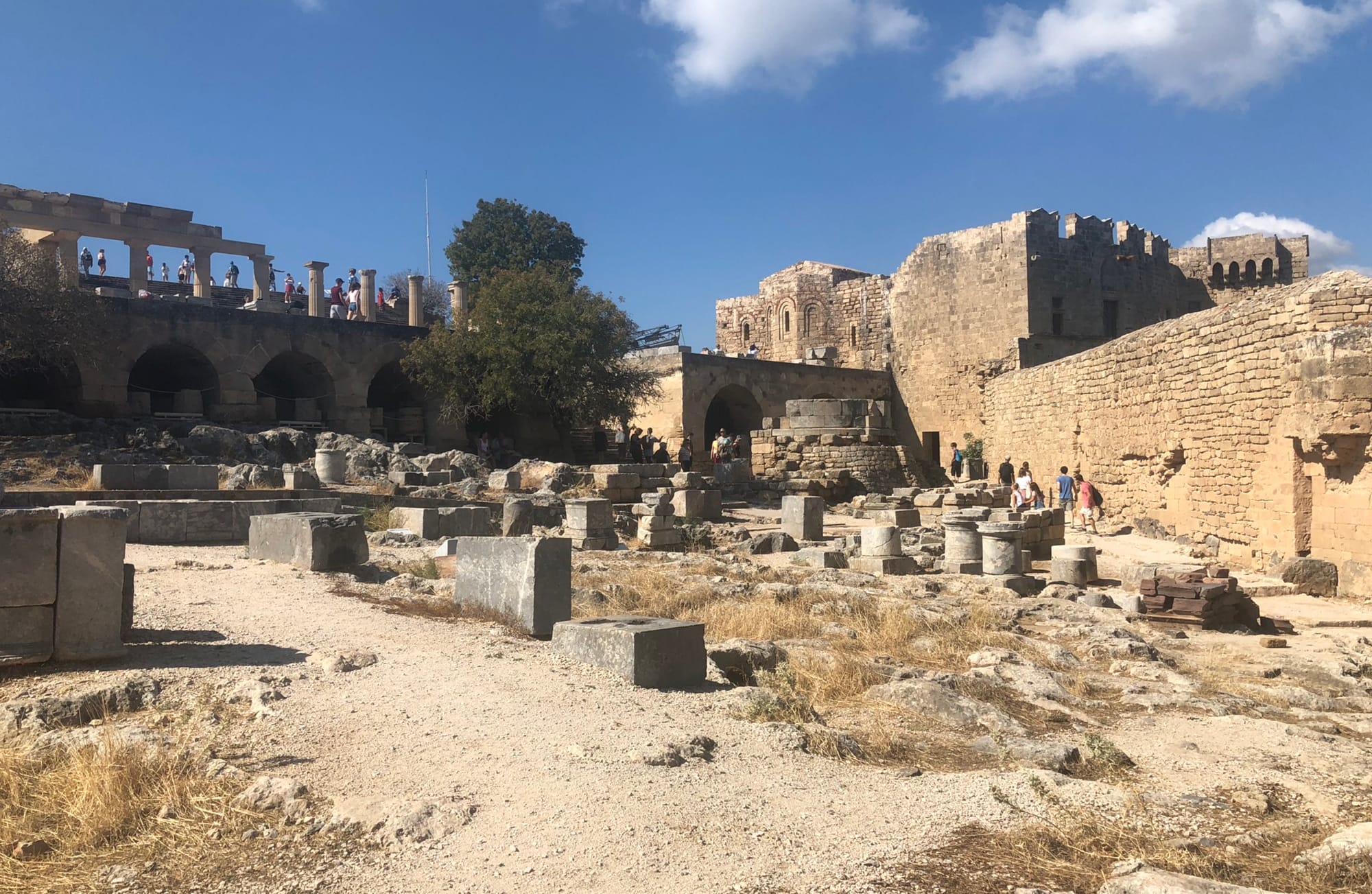 The lower section of Lindos Acropolis
Monolithos and Asklipios are two other ruins that you can walk up a dangerous and steep staircase to see and they make a nice combination drive out of Gennadio or Lindos if you are staying on the southern end of the island, which we very much recommend. Asklipios is free and the road up to the small parking lot does NOT look at all like a road - plus there are energetic people who are hiking up it so decide if you want comfort and shame or sore legs and less time at the top. There isn't too much to see inside but the entry is really pretty and the views are great too. There were only three other people there but more were arriving as we left. It is very small and not much interpretive information at all at the site and there are no services. It only takes half an hour tops, but it is worth it for the history geeks (us). There is a small and inexpensive (1.5 euros!) folk museum and church with some nice icons and other artifacts in Asklipios Town by the elementary school and the main plaza that is definitely worth a look.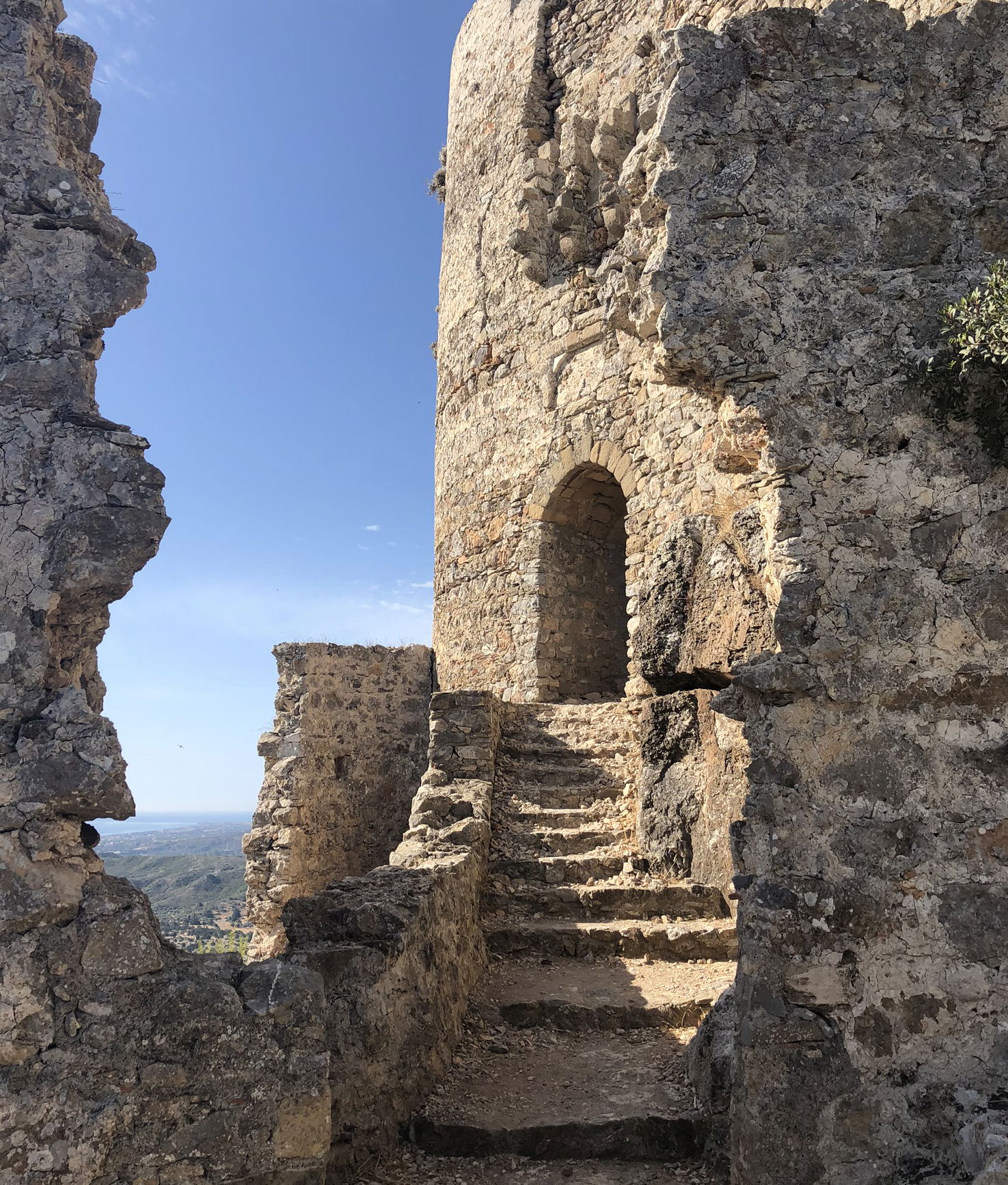 Entrance to Asklipios Castle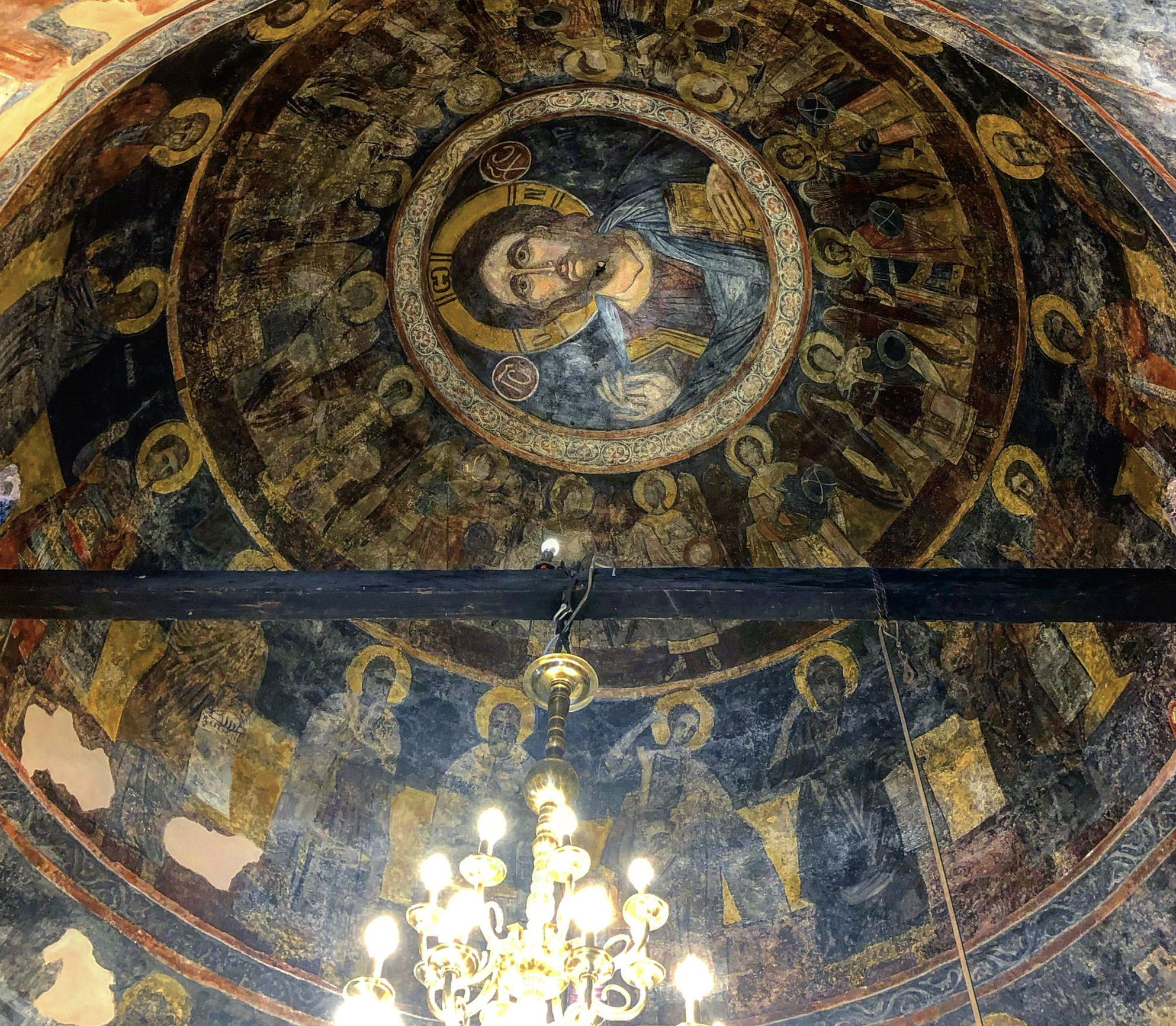 Asklipios church frescos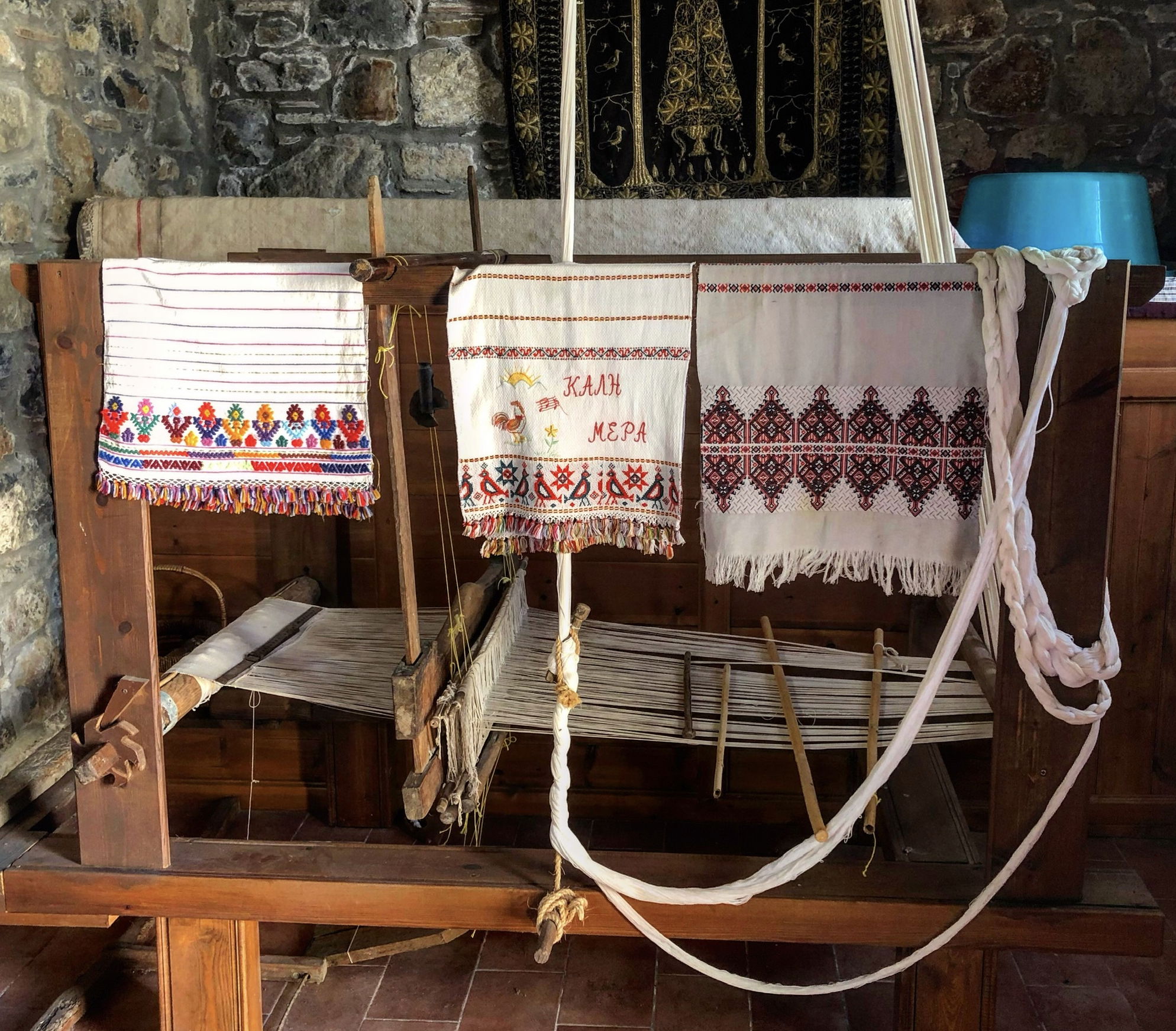 Weaving display at the folk museum in Asklipios
Monolithos is a further 30 - 40 minute drive but it is like a mini-Meteora, so if you did not get and you want to see or climb to a ruin on top of a cool monolithic cliff thingy - this is your chance. There are cafes at the bottom, benches, a gift shop and lots of places to rest in the shade. Again, an amazing place - the little church inside the walls is worth a visit and the place was free on the day we were there - not sure if there are tickets to be bought other times of the year. Parking was along the road near a switchback so watch for cars.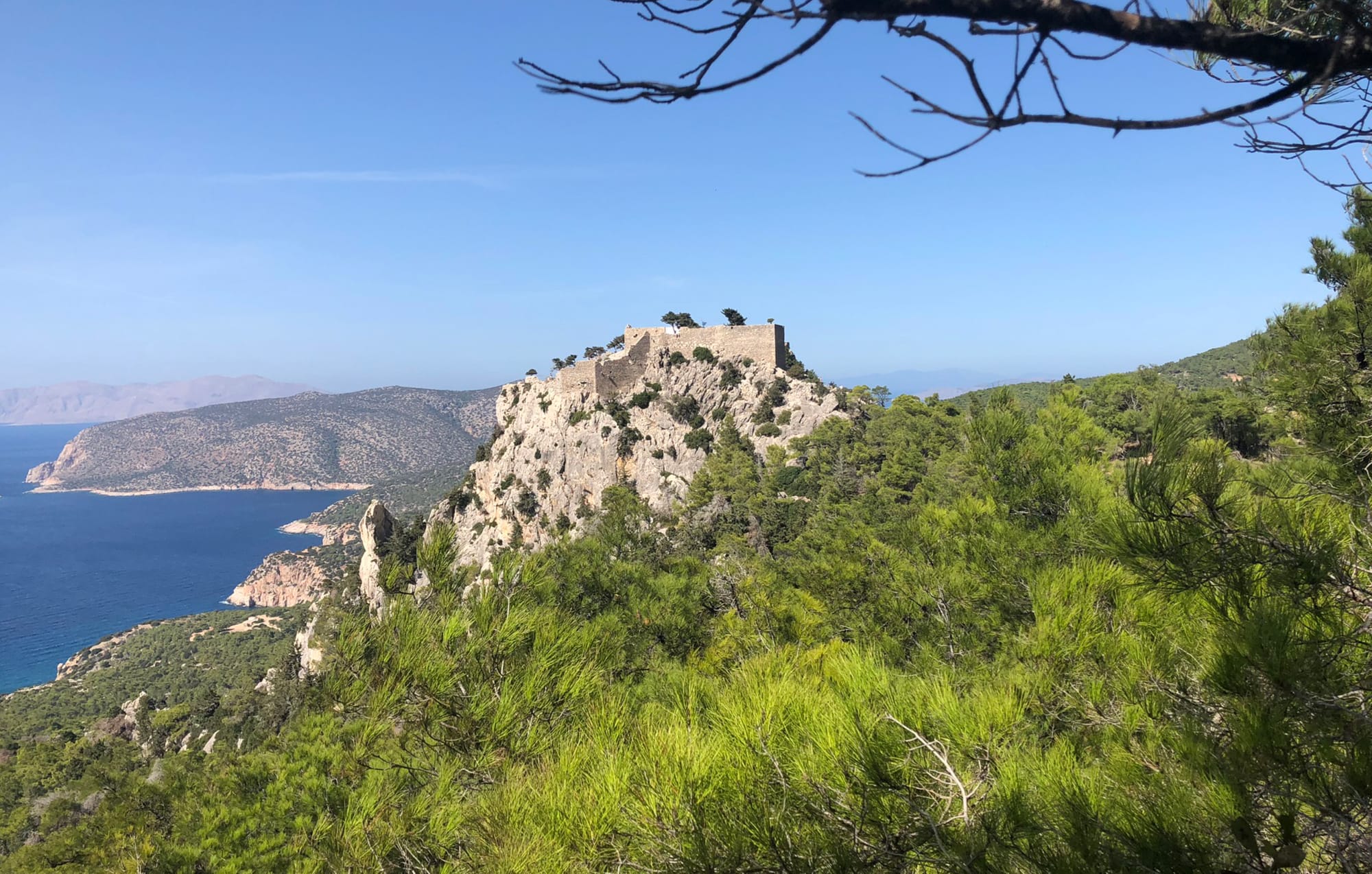 Monolithos from the road where we parked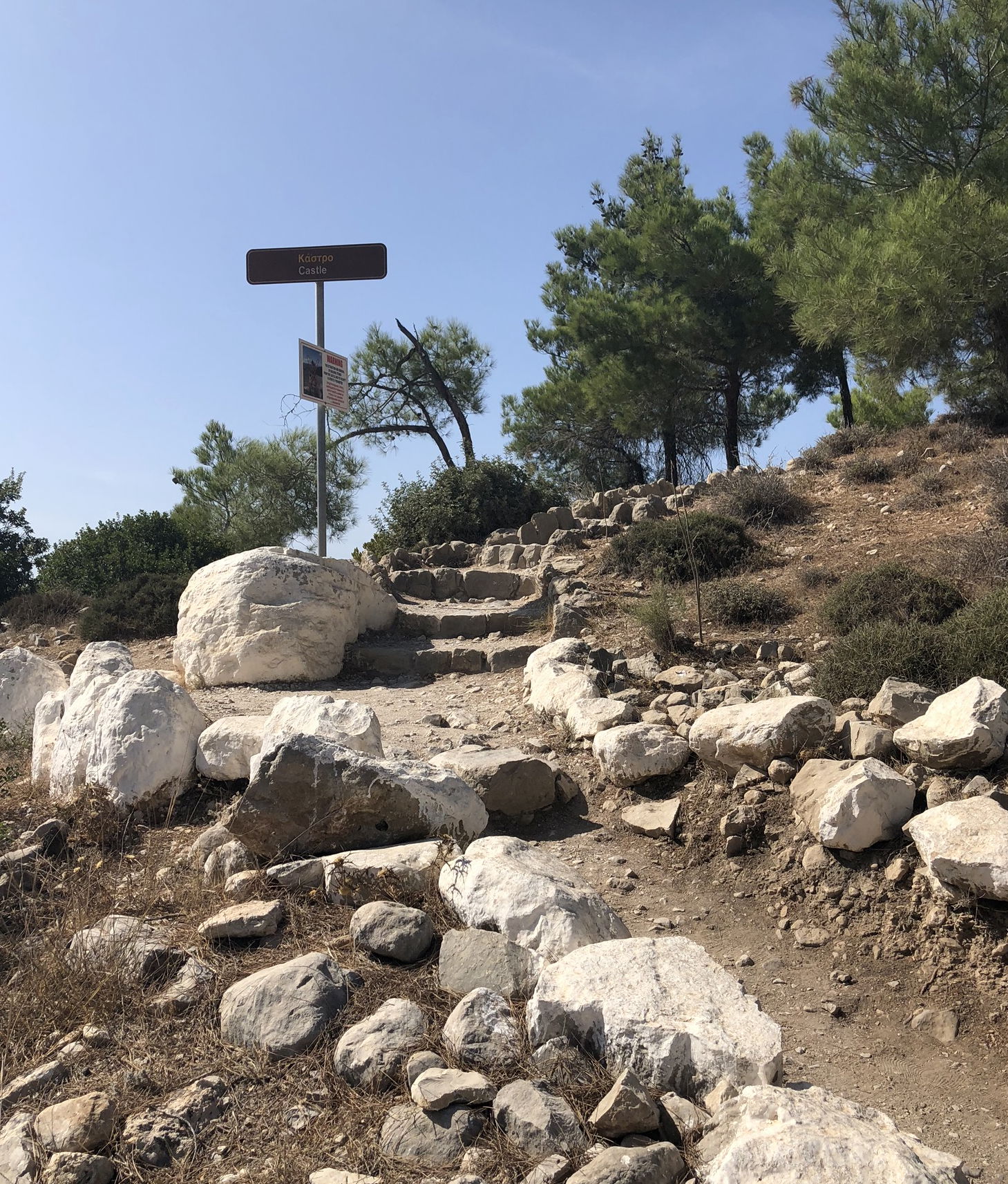 Trail to Monolithos site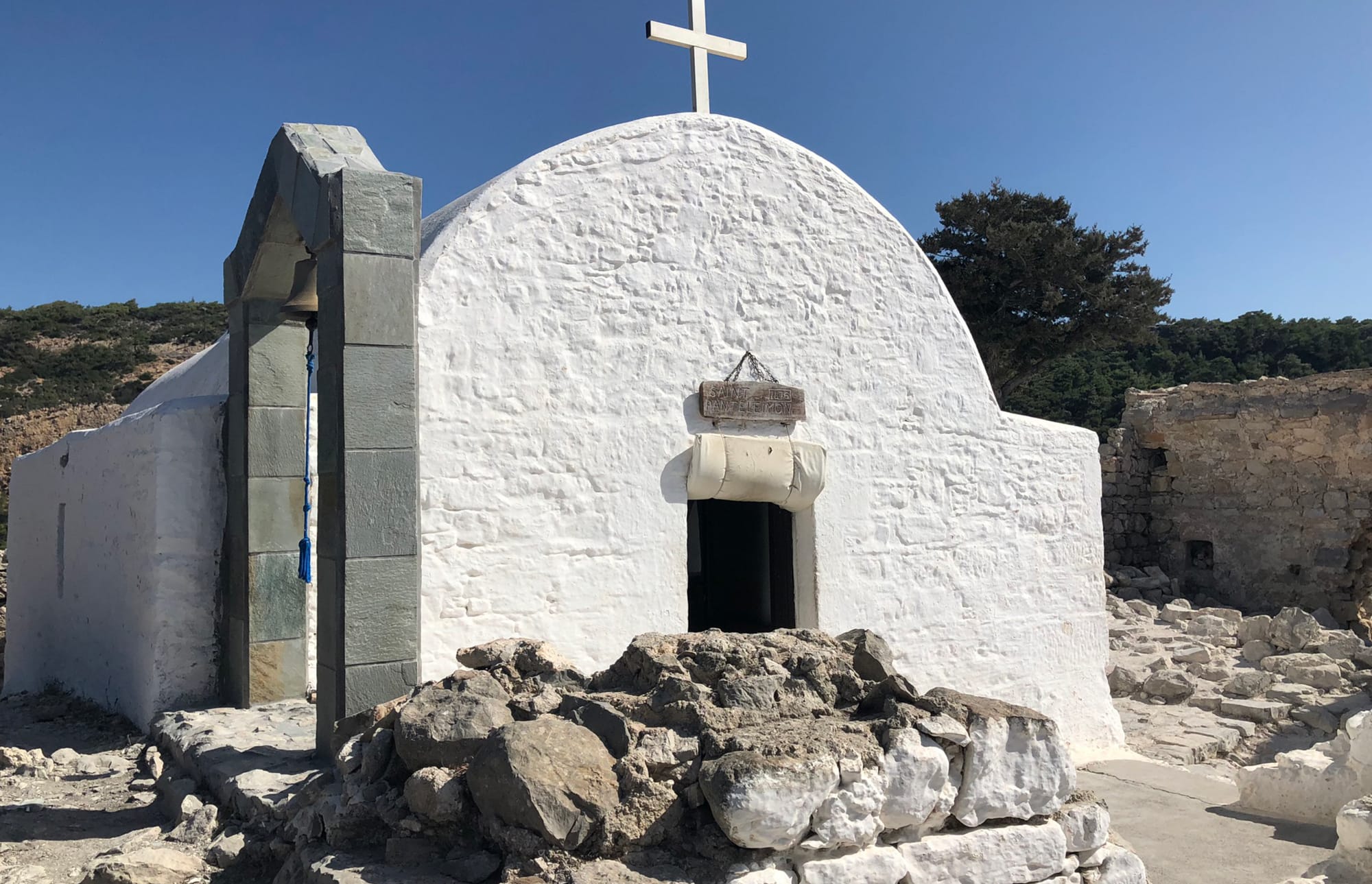 Church at the Monolithos complex
The Acropolis of Rhodes, near Rhodes town is either reconstructed or under construction with lots of scaffolding and has been in this state for a few years from what we could tell. The amphitheater (very reconstructed) and the arena are really stunning and evocative, however. There are many busloads of people at all times of the day visiting so it is not original but there is something to be said for historical construction. If some sites are left to ruin and others are repaired we get a full picture or at least a fuller picture. Often when we visit ruins we like to imagine how it was but we can understand both philosophies of stewardship.
Food - just put some feta on it
We were thrilled to find out that the food in Rhodes is pretty much like the food in Turkey but with extra cheese. You can never tell Greeks that the food is like the food in Turkey, nor that anything else is like anything in Turkey, nor even mention Turkey because the Greeks hate the Turks. That warning aside, these are our favorite places to eat in Rhodes:
Lindos: Stefano's - very reliable Greek food, rooftop and garden terrace and lots of fans. Service is better in the evening but lunch was ok too. They do the best grilled vegetables in Greece and they cater to vegetarian tastes when asked. They have something for everyone though so bring your omnivorous friends. Clean bathrooms, mid-range prices. Located in the center of Old Town. Gel O Blue - the most gorgeous little courtyard to eat in with a stone bench, cushions and also chairs. They have lots of options including vegan choices, which was a deligtful surprise. Ice cream, gluten free, sugar free, keto and veggie options makes this place a win for those who are health conscious or just choosey. The service was the best we had in Lindos and it is family owned and operated. We had a raspberry almond tart that was out of this world. Whole food and local foods are the ingredients at this delightful place. They serve a mixed herb tea (local) that was fantastic. SKIP - Medeast The loud music, smoking during dinner service, meager portions and surly waitstaff made this an absolute no for us. They are trying to sell themselves as a foodie destination by cutting their onions artfully and halving the portions. No thanks.
Rhodes Town: In Rhodes town we liked Mama Sofia right at the Gate of St. Anthony. They had the most vegetarian choices we found in Rhodes and they were willing to make exchanges for ingredients. It was a good lunch place.
Archangelos: The Greco Cafe right along the main street in Archangelos has VERY strong wifi, which we really needed one day when, for whatever reason, our phone service was completely out. They had very reasonable prices and good omelets. The coffee was so-so but everything else was great. There were nice servers who made us a veggie omelet to order even after the breakfast service. The place looks modern but there were lots of locals eating there.
Faliraki: Oh Faliraki. Who do you want to be in Faliraki? An exotic dancer in 1970's Las Vegas? A yuppie on the make at a hot spot from the 80's? A cast member of Jersey Shore from the 90's? Whatever the reason you find yourself in Faliraki, there are plenty of restaurants to choose from. We liked Rattan Cuizine and Cocktail for dinner. They make a couple of vegetarian dishes that were exceptional and the decor is a breath of fresh air after the aforementioned trip through the decades.
Monolithos: Definitely check out the Old Monolithos restaurant - it has been run by the same family or over 40 years and they make all the Greek specialties. And they have excellent coffee.
Stays - running the gamut
We stayed in four VERY different places in Rhodes. Here is the breakdown:
#1 White Palace - This place is $38 per night on Booking.com. The clientele is almost entirely Russian with package deals. The owner/manager is a force of nature and has a big heart and a big personality. The beds are atrocious and it needs a lot of updating. The pool is pretty nice. For two people splitting the cost it is a very good deal unless you like a comfortable bed or hate Russians.
#2 Astronomy Cafe Apartments - This is adjacent to the Astronomy Cafe and Telescope Experience. It is gated and safe and very quiet. There is hiking to a beach nearby - Anthony Quinn Bay Beach - featured in the Greece Gallery for this blog. The beds were excellet - memory foam and the air conditioning worked great. The wifi was not strong and we had to use our data the whole time. The owners speak English and very good German and the place was spotless. It was only $42 per night self-catering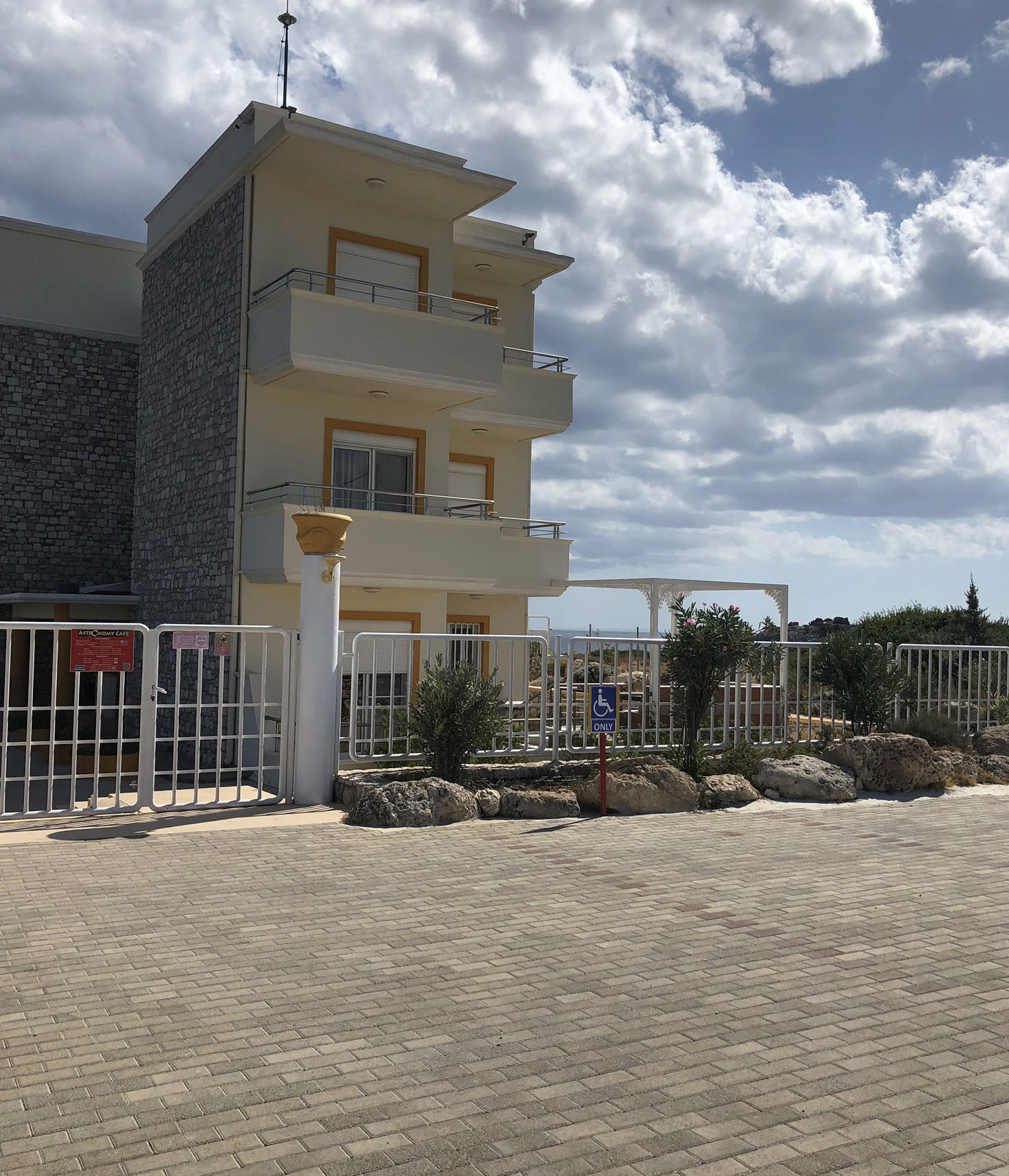 #3 Casita Casita Lindos - This adorable hotel is 200 meters fromLindos Old Town and 200 meters from a nice beach, or I should say, 4 nice beaches. This place was absolutely gorgeous from the linens to the small but relaxing pool to the spacious and artistic grounds. They had free Netflix and strong wifi. There is a coffee bar onsite.They offer meals there for a fee but we chose to eat elsewhere. The bed was comfortable and the rooms and the common areas had a designer quality that was aesthetically pleasing and peaceful. Management seems to really want to please the guests and we were very touched by their kindness and understanding. We arrived a little stressed out and they really put us at ease. At $80 per night it is a lot for Lindos but you get your money's worth and we would stay there again for sure.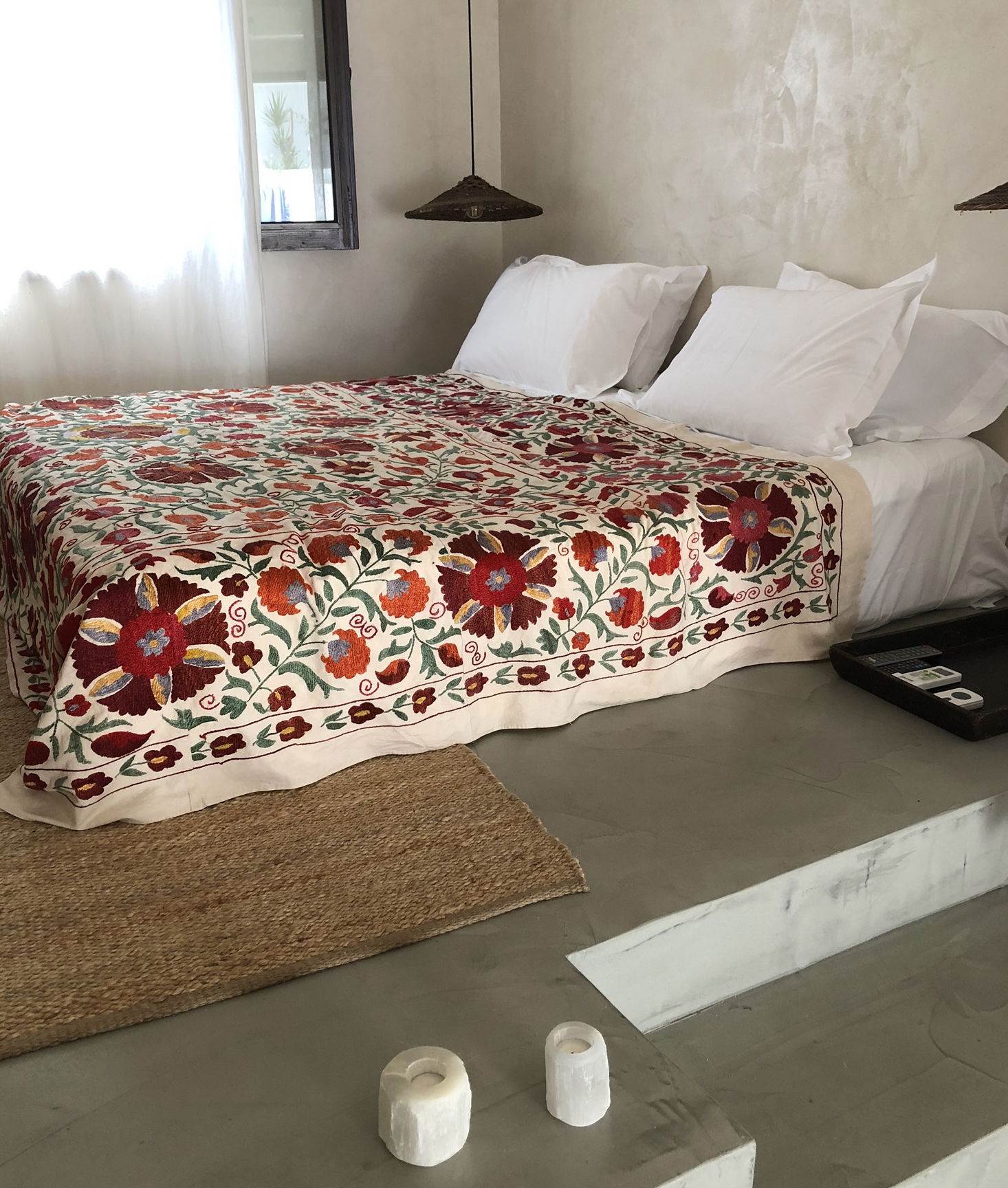 Our lovely room at Casita Casita
#4 La Marquise - A 5 star resort complex near Kalithea, this place was our wild card while in Greece. Peter and I had been on the road for about 8 months if you include the months in the US when we were staying with friends and family. One thing that travel involves is tons of decisions that need to be made every day - where are we going to eat? How can I get my prescription? Can we do yoga in this small hotel room? Where is the room key? , etc. Unless you develop a routine or learn to deal with all the uncertainty you fall down what our nephew Benjamin refers to as the "travel hole" where you lose track of where you are and why you are there and you start making all sorts of bad decisions. We decided to spend part of our last PFD (Alaska resident dividend) on this place. All-inclusive resorts are good if you really want to stay put and relax. They have a spa (kids are welcome!), tennis, a private beach and 4 bars and 4 restaurants. Resorts with the all-inclusive option are also good if you drink and eat a lot, which we don't. But in the off season, they can be reasonable. For $170 per night we got the best king size bed in history, acres of beautiful and clean pools, the adults only section (a must, REALLY) and 12 different plant-based milk substitutes on tap! The food was good and the complex is clean and grassy. The environmental impact notwithstanding, it gave us a break and some much needed rejuvenation time. And we had to complete our research, right?
We recommend Rhodes. After a month on the beach-y island of Alonissos, Greece, we found exciting new things, deep relaxation and a professional tourism environment in Rhodes that exceeded our expectations. Our Alonissos post is about a less-discovered gem. Rhodes was discovered enough to be easy to navigate, have the products and services you need while nomadic long-term and they have truly incredible beach weather. You sacrifice the off-the-beaten-path vibe but you get an established system that makes it easier to travel with health problems, children or a low budget. We woudn't go back again but these two tired travelers found it refreshing and a good fit for us at this point in our year of travel.
* Astronomy Cafe - https://www.onrhodes.com/activities/astronomy-cafe
** History of Rhodes - http://www.greece-is.com/your-guide-to-the-long-and-rich-history-of-rhodes/
*** Lindos Acropolis - https://www.rhodestravelguide.gr/project/acropolis-of-lindos/