We had been interested in visiting Orkney for a long time. For some embarrassing reason, we could not figure out how to get there. We just couldn't find comprehensive information on any site that gave us all our options. With numerous ferry ports and prices, some with car and others without, not knowing if we could rent a car there, not really understanding how the islands were laid out for visitors and finding very little on the Web we randomly priced what I call a round the world ticket where you book 6-8 one way flights in one ticket. Turns out it was incredibly cheap - Edinburgh to Kirkwall, Kirkwall to Lerwick, Lerwick to Inverness, Inverness to Manchester was only about $300 per person for the FLEX fare and that included front row seats and luggage. Hurray for LoganAir! Plus, the flight attendants wear fun, Scottish outfits.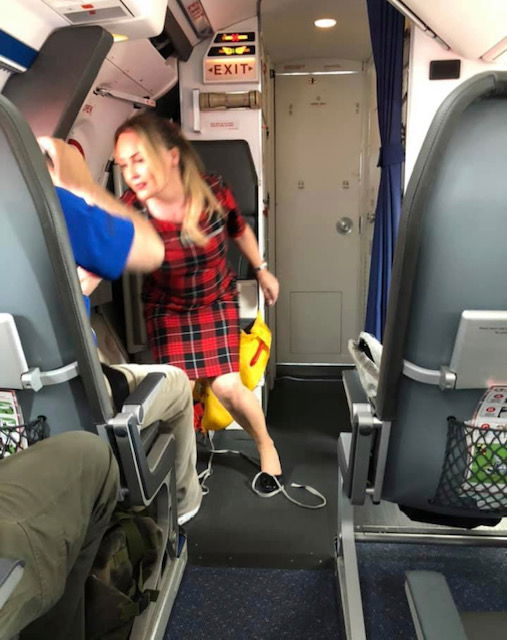 If you book ferries and a stand alone flight you will pay much more and spend over 24 hours on ferries. If you look at the map below, you will see that Orkney is made up of many islands - 70 if you include the skerries. We were keen to visit artisan shops, neolithic sites, WWII historical sites and get an idea for the culture and community of the islands. We decided to rent a car to have the freedom to explore on our own.* We can absolutely recommend renting a car in Orkney. We had the best rental experience there that we have ever had and we rent a lot of cars. We will definitely be writing a post on car hires in the near future.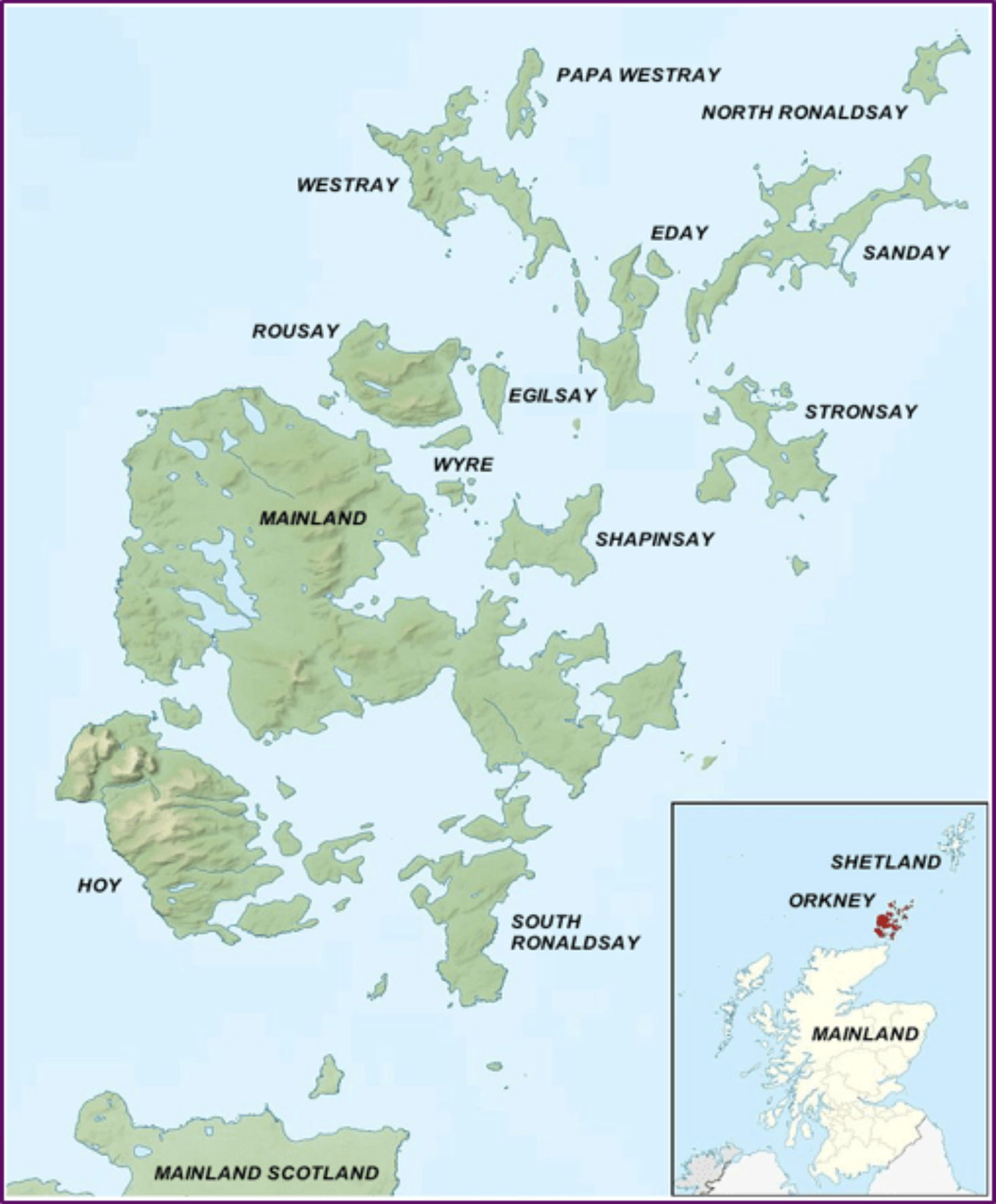 Another happy surprise was the fact that the islands are easy to navigate; all the islands we wanted to visit are joined by perfectly straight and surprisingly artistic causeways, mostly built by Italian prisoners of war in the latter part of their internment in the Orkney Islands. The upper sections of the causeways are constructed from square blocks of cast concrete. This gives them a futuristic appearance and many jewelers and other craftspeople make them the theme of their work. They are called the Churchill Barriers and they were built to protect Orkney from invasion and to dissuade the Germans from running their submarines through there on the way to attack Great Britain. The watery graves of many German boats, Scapa Flow, is the subject of a delightful and informative documentary that you can watch at the Kirkwall museum and there was very interesting interpretive information at the small, local museum on Burray - the Orkney Fossil and Heritage Center. We drove over the barriers many times as we explored the islands. The skeletons of scuttled ships lie just a few meters from the barriers and are a great scuba diving phonomenon.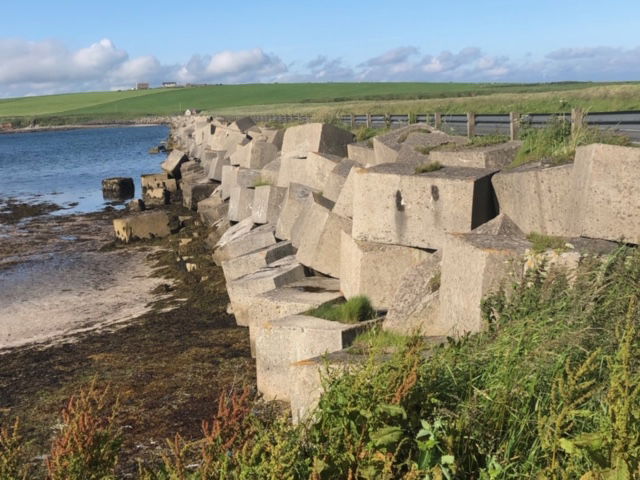 We ended up having an extra day in Orkney. Yay again, LoganAir! There was a strike so flights were canceled for three days. We were fortunate to be able to stay in our AirBnB house as the host decided since it was a cleaning day between guests, she would not ask us to pay! Seriously, Orkney, so kind and generous. Is it an island mentality? We are all in this together so we'd better treat each other right? Maybe there's something to be learned there... Anyway we ended up going for a terrific coastal walk. It was just stunning. Everywhere you look in Orkney there is something beautiful but you relax your eyes and look again and it keeps getting better - the grasses aren't just one type, thery are myriad, the flowers are everywhere and new ones, tiny wild flowers appear in each place the sun can get through for just a minute. Orkney is opportunistic in its beauty; the sun comes out and everything greets it.There are thousands of birds, the hills and the houses are all artistically dressed. Even the window boxes seem saturated with color in contrast with the weathered stone. We walked along the coast and found this abandoned house - I took about 100 pictures of it. It is just a couple of miles from the Orphir Round Church with its VERY SERIOUS Vikings-themed Orkeyingasaga interpretive center!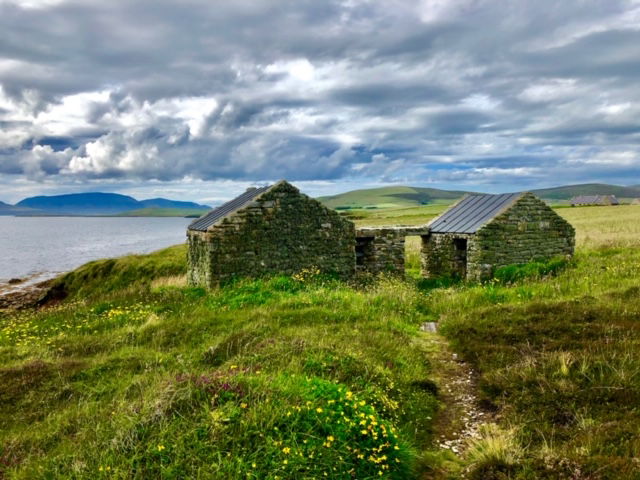 We lodged in St. Margaret's Hope, a small town with about 4 streets, a market, a church, two restaurants and the cutest craft shop ever. St. Margaret's Hope is on South Ronaldsay Island, about 25 minutes from Kirkwall and Stromness, the two large towns in Orkney. Fishing is still the main activity in "The Hope" as it is known to locals and we saw local fisherpeople selling their fresh catch on more than one occasion. Then I couldn't stop singing "cockles and mussels alive aliv-oh" over an over again. There isn't much for vegetarians to eat in The Hope, but we tried anyway. We ate once at The Murray Arms and we cooked at our adorable rental* the rest of the time, except for a couple of meals in Kirkwall, which were unexceptional. You don't go to the Orkney Islands for vegetarian food.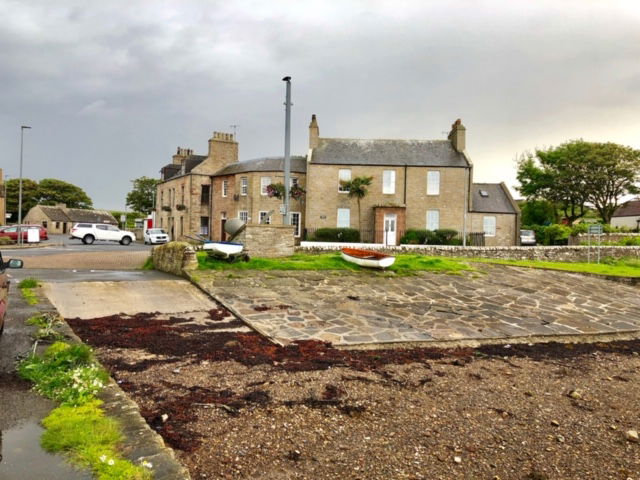 You go to Orkney for thousands-years-old magical sites like Skara Brae. Unfortunately, Skara Brae and Scapa Flow sound a lot alike so we ended up confusing them a lot. Skara Brae is generally overrun with visitors but there is a very good interpretive center there near a mansion that you can also visit. We got in free courtesy of our Historic Scotland Explorer Pass. It is a really impressive place with a lot to see but you must walk on a very specific pathway and be watched over by young "guards" who ask you if you need help when you try to stray from the clearly marked areas. Ahem. Plan to spend at least an hour there and try to arrive at the very beginning of the day or in mid-afternoon when the cruise ship buses have departed.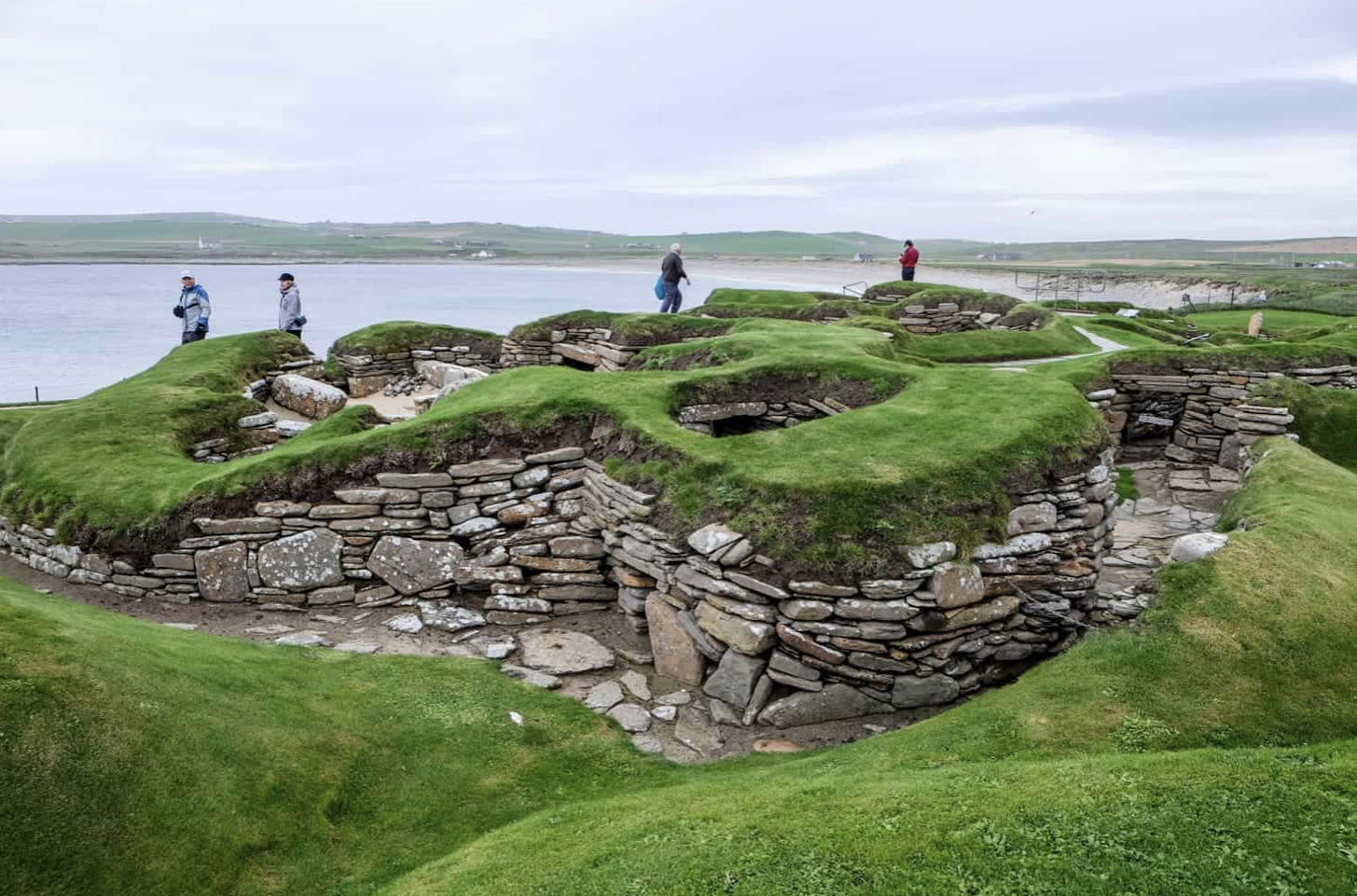 Kirkwall is a nice enough town to have a look around. According to locals, they have a love/hate relationship with the cruise ship industry. Orcadians are so tolerant and helpful that I am sure cruise travlers feel very welcome but we kept trying to avoid them at all costs. I realized very early on when I started traveling obsessively, that the "day trip" experience was not for me. The strain on the ecosystem and the local infrastructure, the lack of investment in the community by day trippers and the "made in China" gift shop mentality is anathema to learning anything about a place and its people. The travel industry in Orkney will need to decide if they will welcome cruise ships as they navigate rising oceans and aquatic pollution. Back to Kirkwall -there is a good cafe right near St. Magnus Cathedral called The Reel that we really enjoyed for a coffee and a snack. They have a music school there and live, local entertainment. St. Magnus Cathedral, the Orkney Museum, the Earl's Palace and the small shopping district are enough to occupy you on a rainy day, of which we had three while in Orkney. The doors of St. Magnus are particularly beautiful.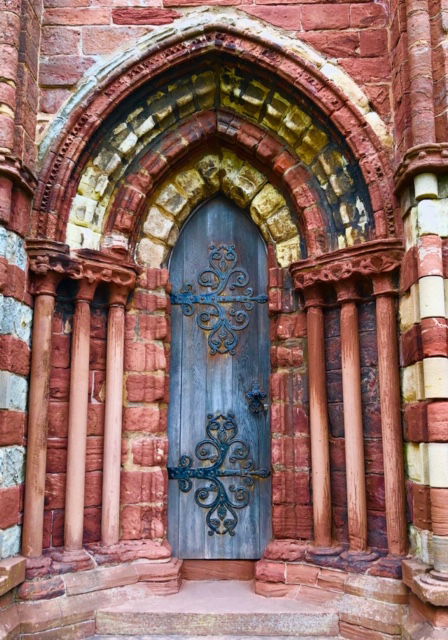 My sister, upon seeing our first 100 pictures on Facebook, remarked, "wow, you really like that Neolithic stuff." And yes, we do. There is something about ancient history - there is a real mystery to it but also something very familiar and comforting - people lived in community, they had special belongings that represented something valuable and personal. They slept with warm blanketrs and they rocked their babies to sleep. They decorated things when they had extra time. They had plenty and they went hungry. You get the feeling that if you met them you would have more in common than you would have differences. Tomb of the Eagles is a site at the south end of South Ronaldsay Island that we visited on our last day in Orkney. You have to lie on your back and crank yourself in on a wheeled trolley. MDH (my dear husband) is 6'6" so it was fun to film the action! All those ancient sites we enjoy visiting have TINY doorways. The Tomb of the Eagles is privately owned and there is a nice gift shop and a beautiful cliff walk included in the entry fee. The family that runs it seemed really friendly and happy to share their passion for the place. It is not professionally presented, so, history buffs, take note.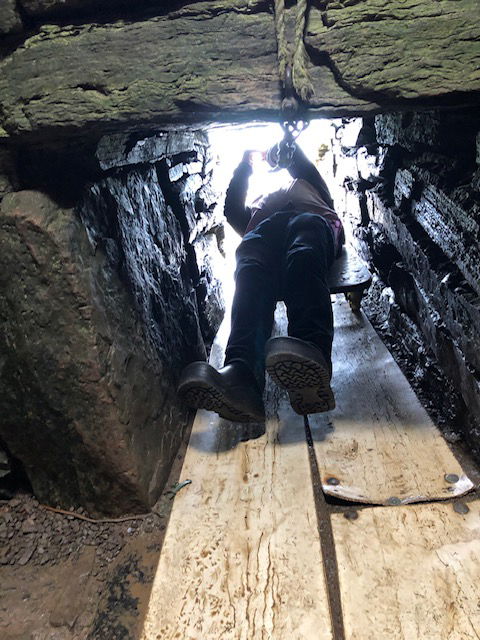 There are three MAGNIFICENT Stone Age masterpieces in Orkney, the standing stones of Stenness, the Ring of Brodgar and Maeshowe passage tomb. They are all easy to reach and logically presented with enough information to inform without feeling like you are back in college. Maeshowe requires a bus trip and a guide while the other two sites are along the main road and easily accessible. At Maeshowe we had to book the tour ahead of time but it wasn't hard to do online and the office itself will book you the same day but there is about a 25% chance you will not get the time of your choice if you wait until the day of the tour. They are very careful about numbers. The best thing about Maeshowe is the the runic inscriptions (and MDH going through TINY doors again).
Ring of Brodgar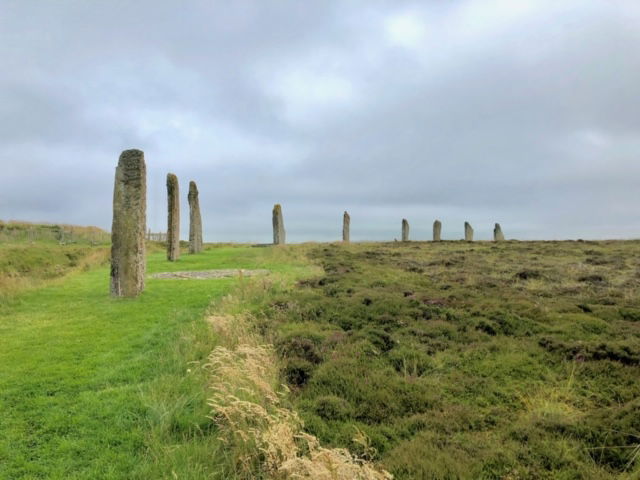 Standing Stones of Stenness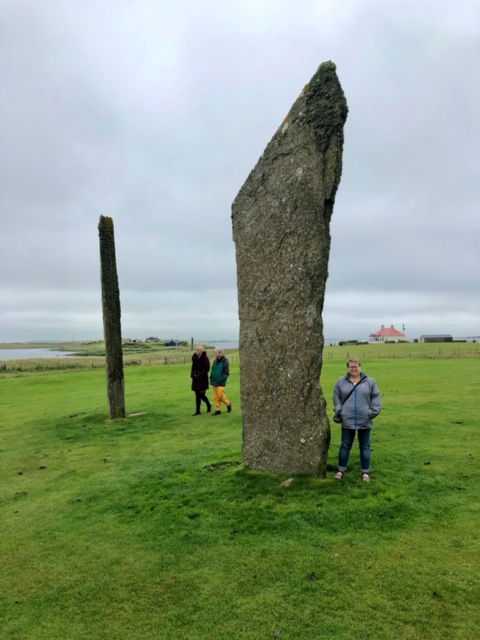 Maeshowe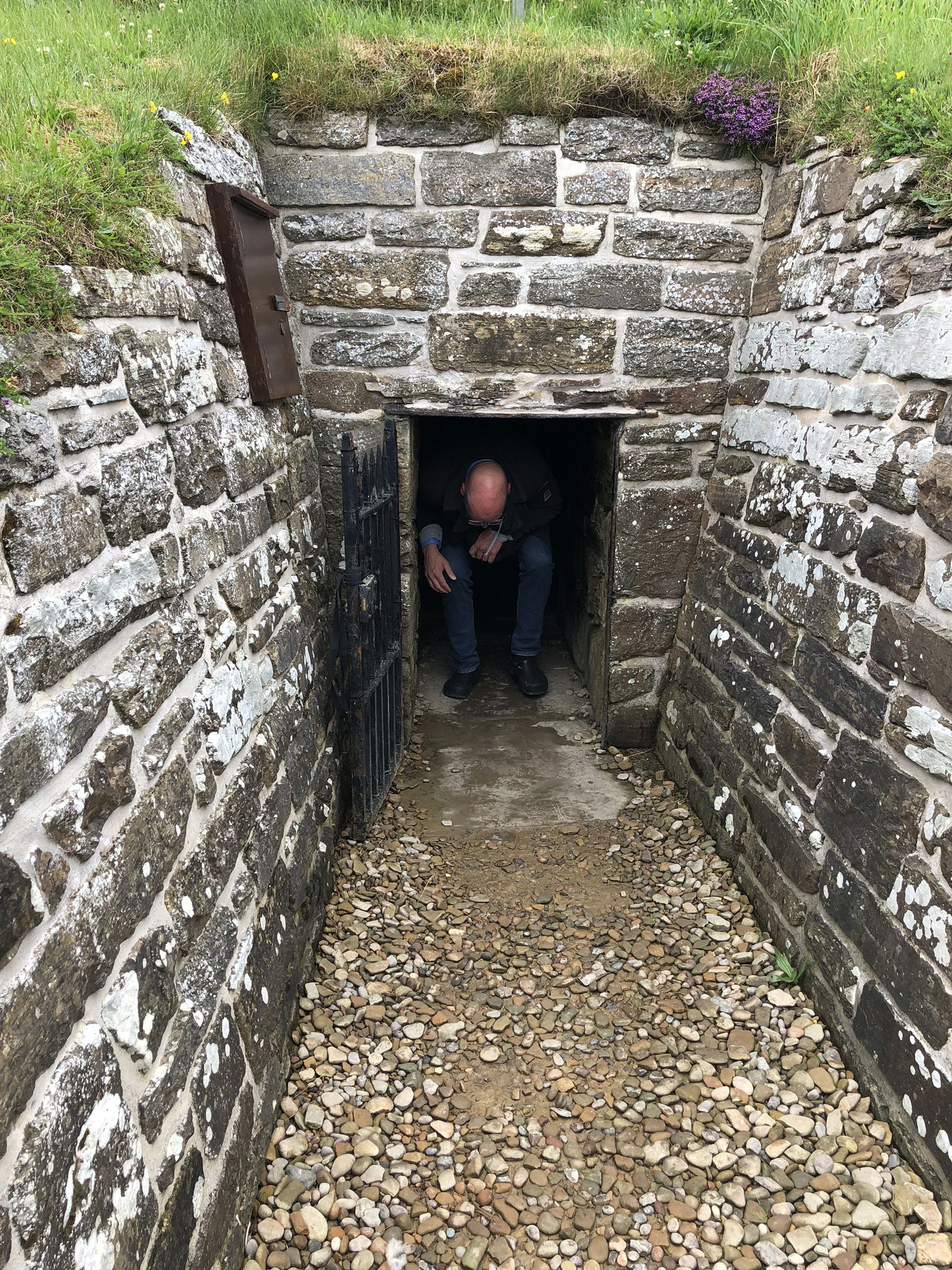 Another cool place we visited in Orkney was the Brough of Birsay, a tidal island off the northeast coast of the Mainland Island. First, you get to drive through a village called Twatt (seriously) and eat at the most wonderful cafe in the world - the Birsay Bay Tearoom***, walking distance form the OTHER earl's palace. This earl, by the way was a real character, we went to FOUR different palaces he built - three in Orkney and one in Shetland and each one told a story of a spoiled rich kid (Patrick Stewart) whose father (Robert Stewart, illegitimate son of James Stewart or James V of Scots) was truly abusive and dastardly and who grew up to be just as corrupt and dastardly. Anyway, the cafe is charming and the reviews we read did not exagerate - it was wonderful and what a view of the tidal island becoming accessible as the tide went out and watching seals flopping about on the nearby beach. We had tea for two and salad and played Scrabble. Crossing the tidal flats is not for the faint of heart, the stone hopping goes on for almost a kilometer before you march up hill at about a 30 degree angle but the village and partly excavated ruin dating from neolithic and Viking times is really impressive and a great place for a picnic too, if the Tearoom is booked up or if you get a sunny day. This turned out to be our favorite thing we did in Orkney - a perfect combination of friendly locals, excellent food, hot tea with non-dairy milk, a game of Scrabble, a hike and an island full of ancient history. It ticked all our boxes!
We had one more terrific experience in Orkney - getting our SIM card situation settled. An adorable tech geek helped us get set up with Tesco Mobile at the local supermarket and it works great, even while we are not in the UK. It took about an hour and quite a few jokes about our accents but it works and we are only paying 12$ a month for phone, text and data.
Orkney is not a place for the casual traveler. It is rainy and isolated. It is a little expensive. Lodging is a bit hard to arrange and you must have a rental car. But it is friendly and full of things to see and explore and it is absolutely gorgeous, in all weather. If we could do it again we would have visited the other islands and stayed a bit longer. But we were headed for Shetland, another gem of the North Atlantic.
* Car rental - Orkney Car Hire. http://www.orkneycarhire.co.uk/
** Airbnb-Tait's Flat. https://www.airbnb.co.uk/rooms/21955128
*** Birsay Bay Tearoom. http://birsaybaytearoom.co.uk/