Oh man, Shetland. It was one part stunning landscapes, one part fabulous people and one part adorable horses. Add in some excellent food, the best neolithic site EVER, incredible weather and a fantastic lodging and we never wanted to leave. Peter started getting nervous when I began inquiring about teaching jobs.
Getting there - As we said previously, we like to buy multi-destination tickets from the same airline to save money. This is the route our tickets took us: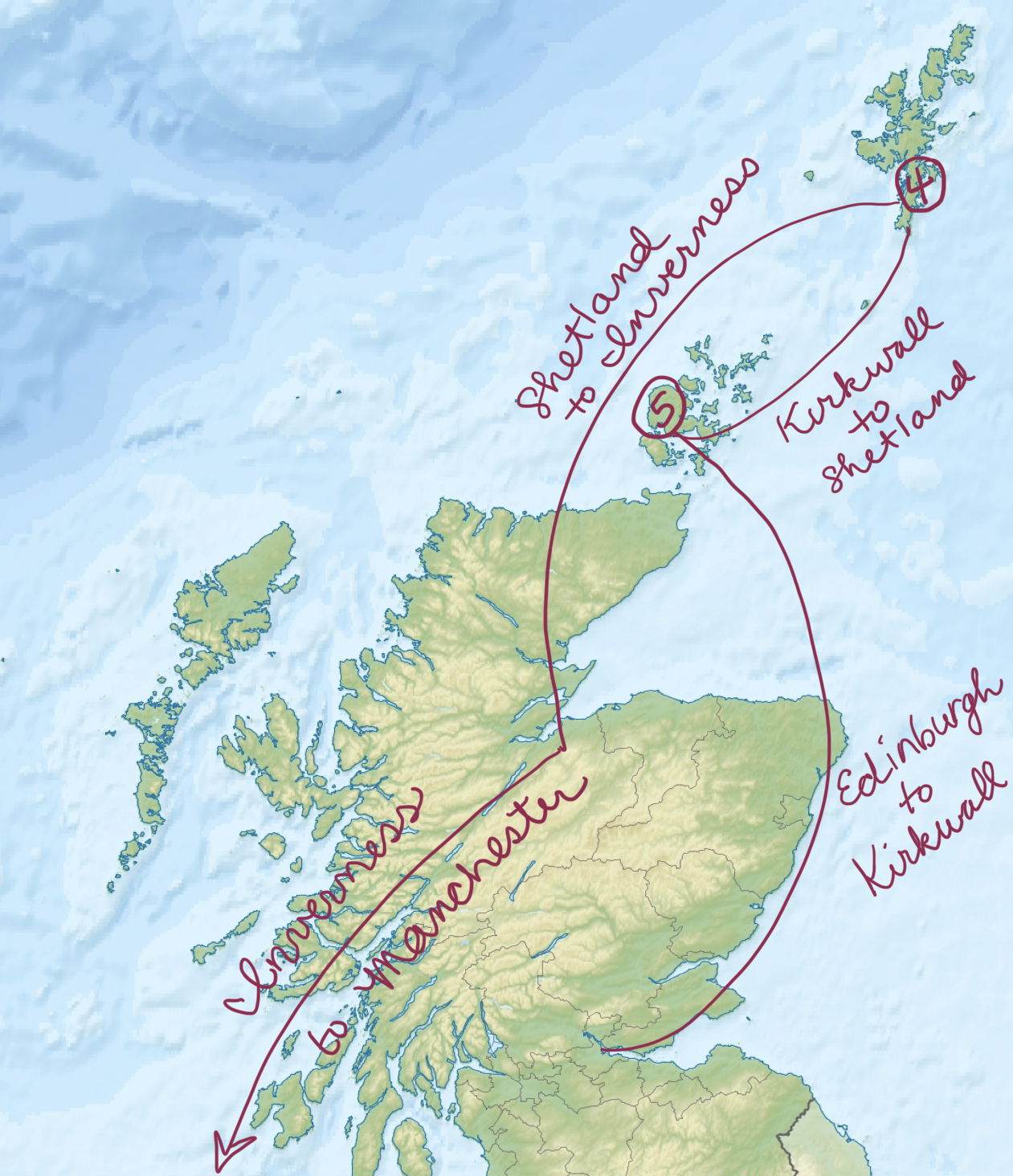 Fact is, it was NOT expensive. Each ticket priced individually was over 100 per ticket and we paid less than half that for this route. Maybe we had a lucky day when booking but I often find very good deals on those combination tickets. We almost always rent a car when we are going anywhere that doesn't have excellent public transportation. We almost always fly when traveling long distances. It is not cost effective to take cabs and buses and trains if the tickets cost more than a flight would and/or require hours of extra time spent in transit. We are considering searching for alternative ways of travel since flying is hard on the environment and we will continue to weigh our options carefully, but in Shetland, it was fly and drive.
Lerwick - We are SERIOUS FANS of the series Shetland. It is a crime procedural, which does not usually attract us but the acting, setting and subtlety have really won us over. When you love a TV series so much that you miss the characters when you come to the end of it, you know it is a good one. We went into Lerwick the first day we were in Shetland, after driving up from Sumburgh Airport. We used local rental car office, Star Rental Cars* for our rental and it was a smart move! They have great folks at the airport, very easy to find and work with.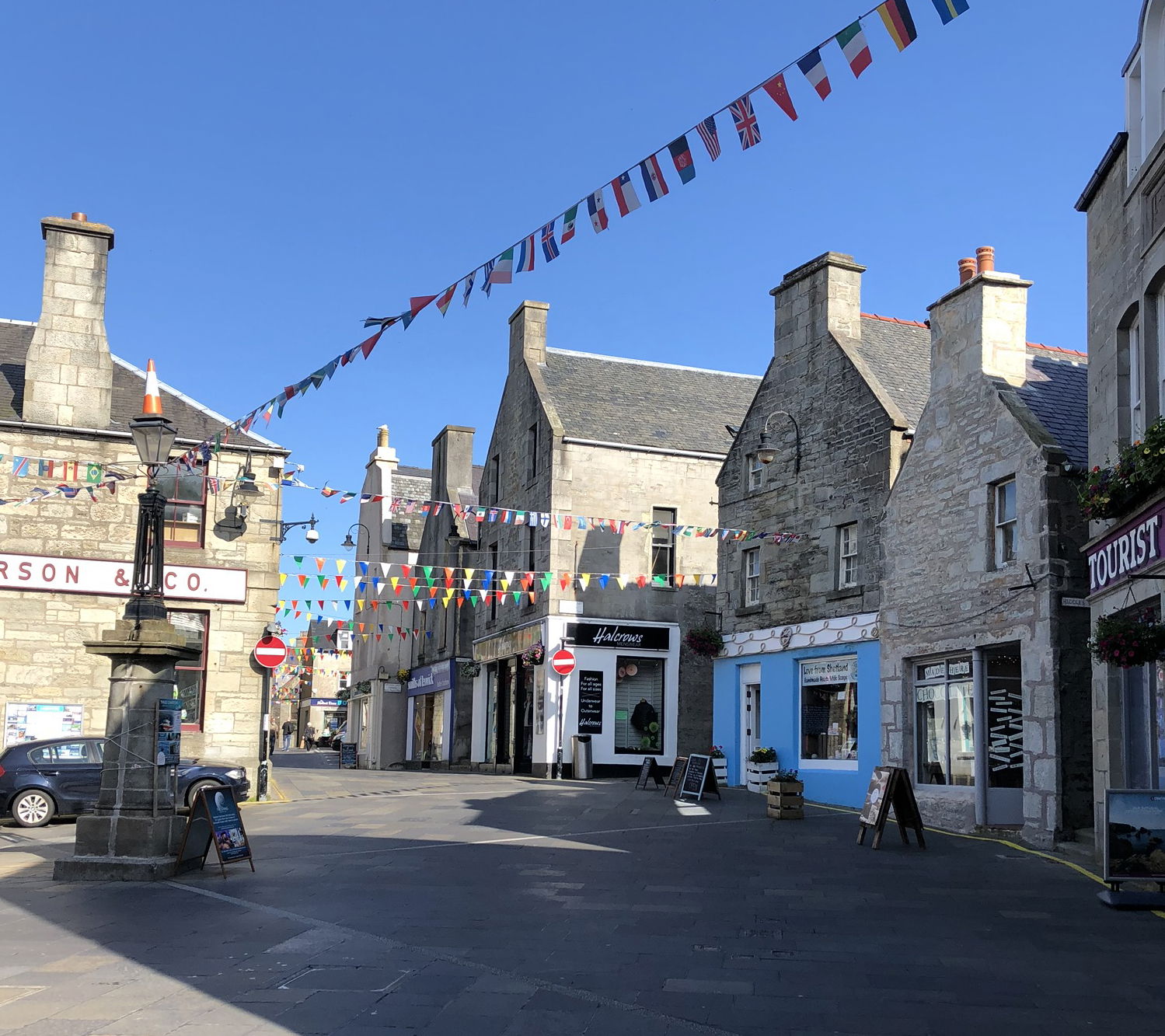 The main square in Lerwick
I had been following a number of craftspeople and photographers on Instagram before the trip and I was psyched to visit Mirrie Dancers Chocolates in Lerwick.** They have the most incredible flavors like honey and cream walnut ganache with thyme and ruby pistachio. They have a whole line of plant-based chocolates as well. We definitely indulged. We meandered along the High Street and
it wasn't too long before we found Jimmy Perez's house!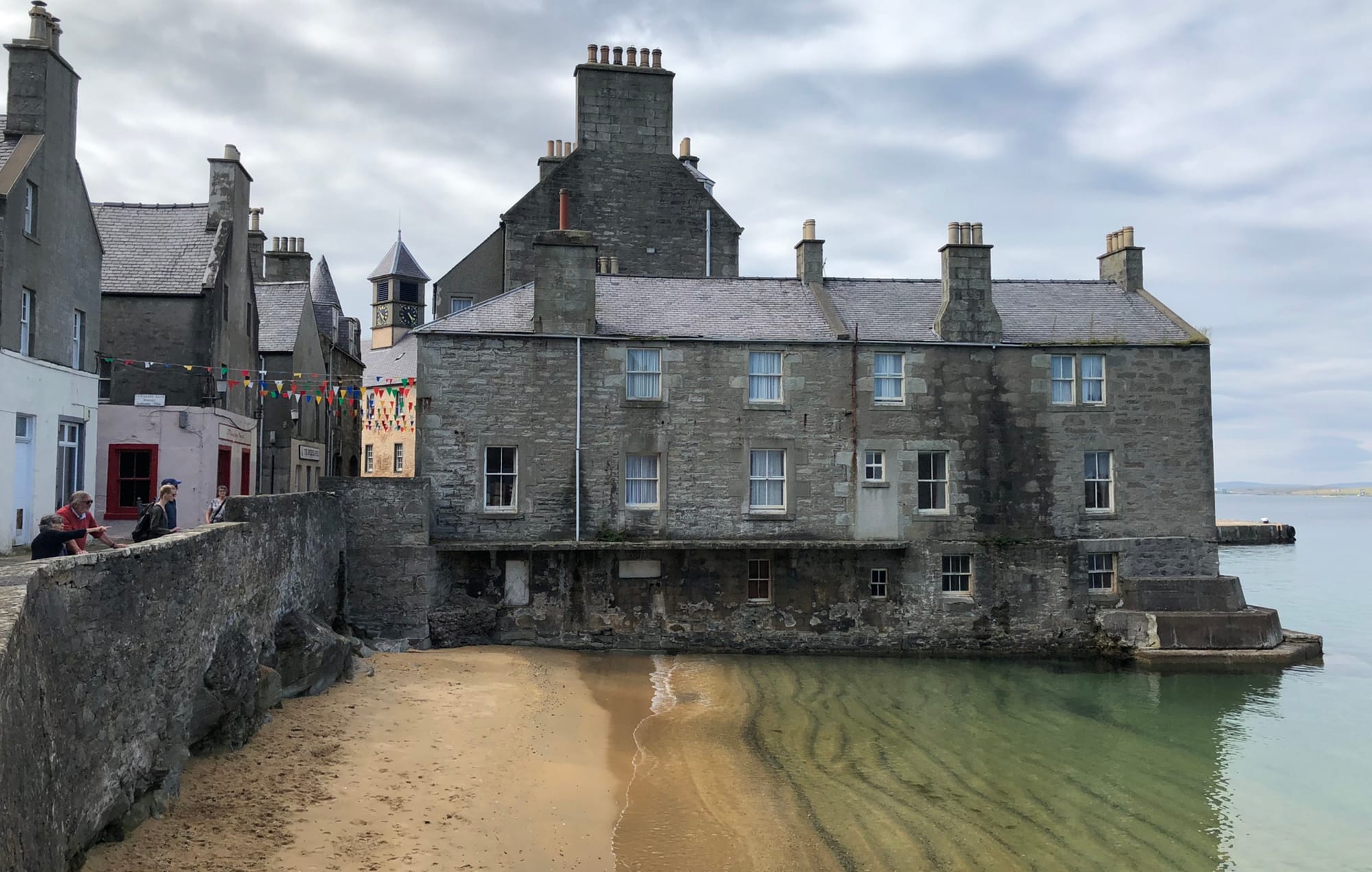 That water! That house! Jimmy Perez!
Art and artisans - On a rainy day, we decided to drive up the islands and find some pretty views and a cafe that we had heard was really good and fairly remote. The roads in Shetland are of good quality, and everyone is so obliging, the single track roads were easy to navigate, even in thick fog and rain. Ok, "easy" is an exaggeration. But we made it. This little art gallery/ cafe with vegetarian and vegan options was just what we needed. Hot tea and a rousing game of Scrabble rounded out the day.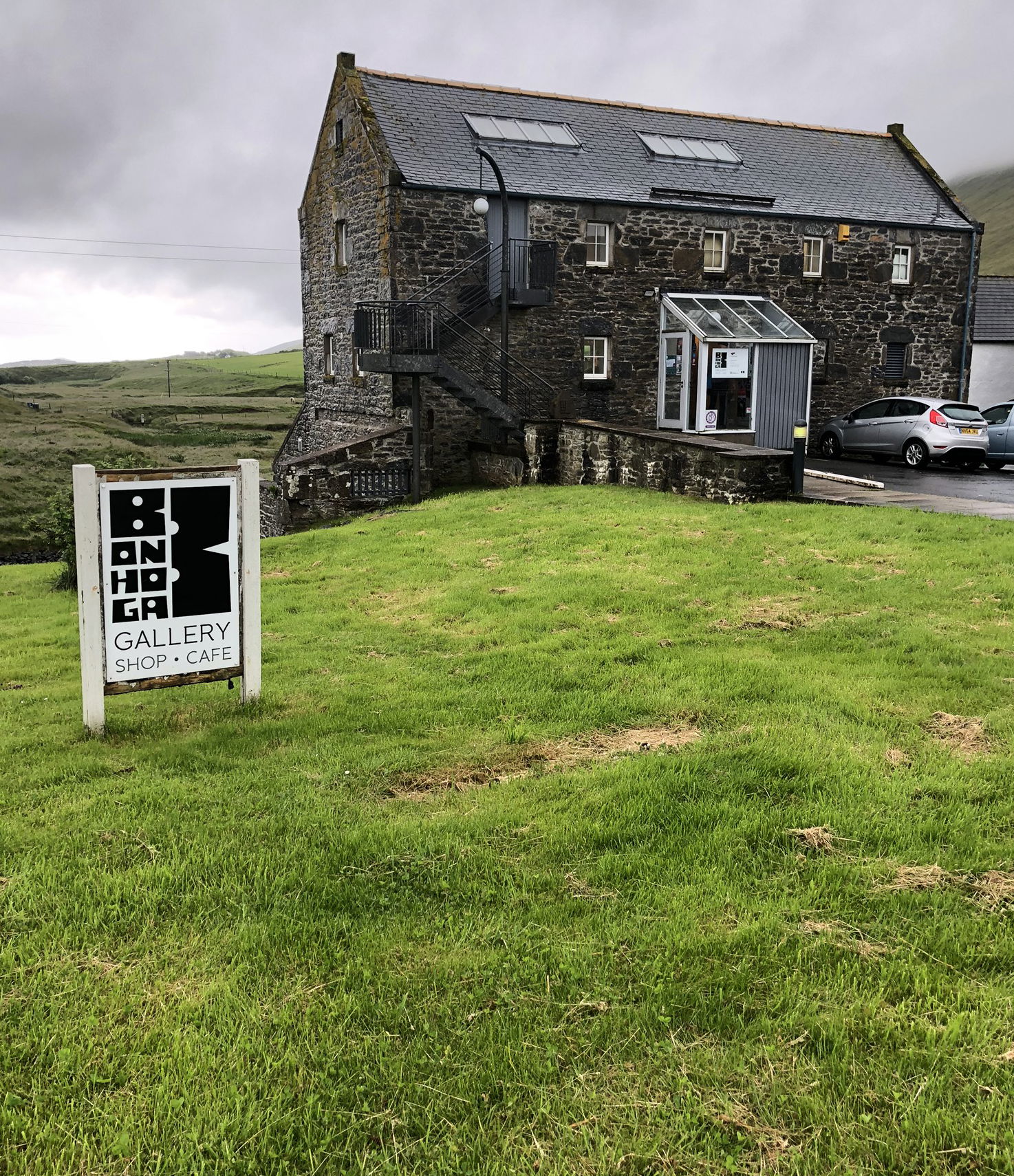 Bonhoga Gallery and Cafe***
History - Shetland was first settled abodut 5,000 years ago. It became part of Scotland in the 1400's. Shetland has lots of remnants of earlier eras for those who love history including Iron Age, Bronze Age and Neolithic sites. Jarlshof was the absolute BEST historical visit we had the whole summer. The site is not large but in one or two acres you have 4000 years of history. To access it, you simply follow signs on the A970 when leaving the airport, park at the gothic-looking Sumburgh Hotel and walk to the tiny ticket office at the end of the lane. It is a great way to spend the time between a hotel check out and a flight or to go to directly upon arrival as we did. The evil Earls of Orkney were in charge of Shetland too and one of their many castles is here at Jarlshof. So, as you wander through the serpentine passageways and the layers of homes and shops and cookhouses you see history really unfolding before your eyes. The setling is impressive as well; the site overlooks the sea and there is a tiny pasture with Shetland ponies you pass on the way down. See cover picture and the pony in this post. Jarlshof was just so pretty. And MDH (My Dear Husband) walked through lots of tiny doorways, such fun! (There are more pictures in the gallery)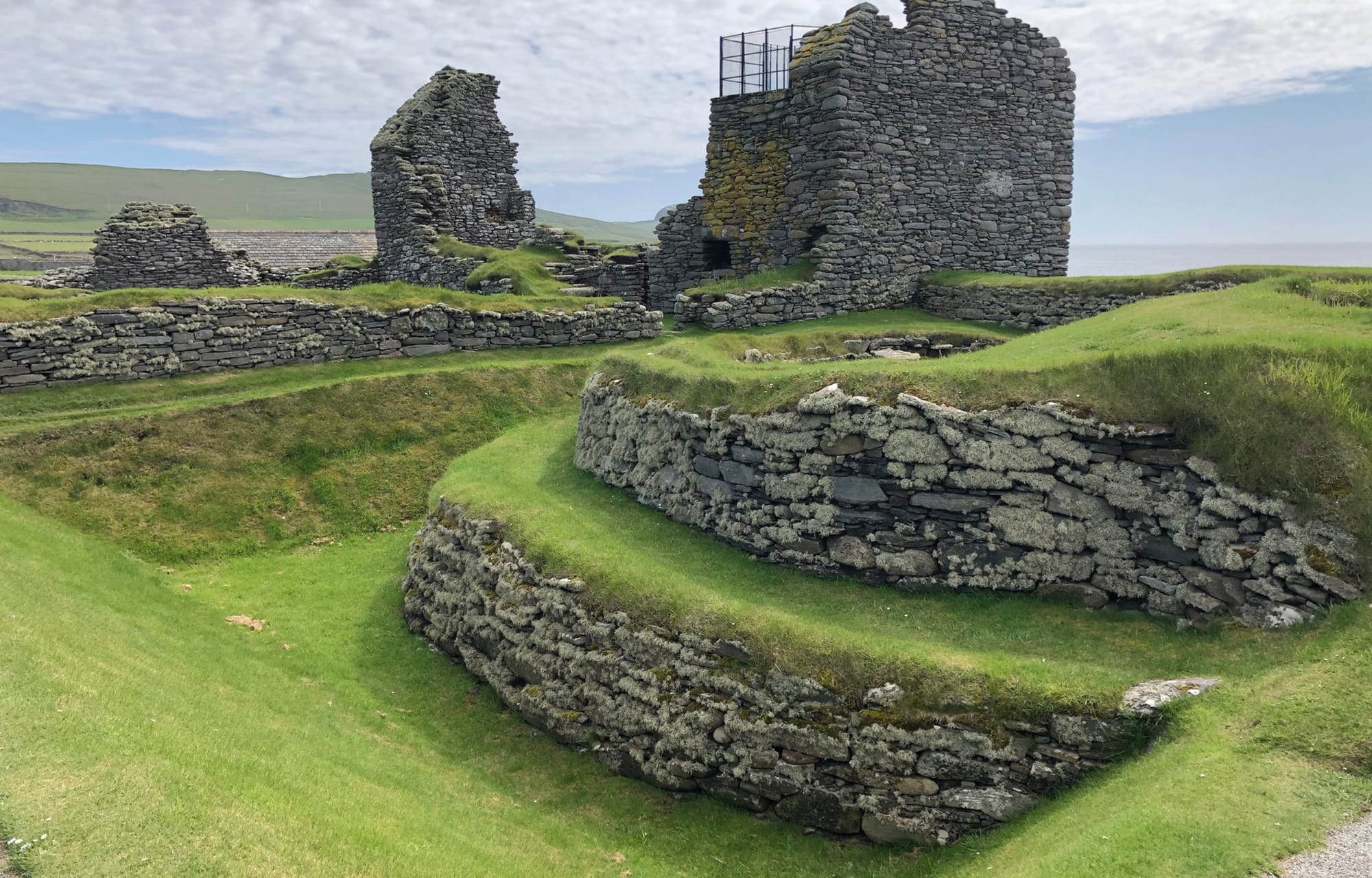 Jarlshof
Scalloway - Shetland's second city, Scalloway has a good reputation for art and local color so we wanted to spend a whole day there. The museum near Scalloway Castle (ANOTHER Earl Stewart of Orkney and Shetland building - why do unpopular bullies just keep on building big defensive houses???) looked interesting and the castle itself is free and fun to explore. It is a great place to take well-behaved and timid children— they're not so generous with the guard rails in Shetland. But the rest of Scalloway was just kind of - meh. The streets are quite narrow and parking was tricky - you have to park at either end of the port or on a side street at a 45 degree angle. Nothing was really happening and there were a couple of tea rooms but we were finally about done with the scone and tea menus and we were craving some healthy whole food so we headed back to Lerwick.
Scalloway Castle
Ponies - Before we went to Shetland I looked at about 10 websites to find out where I would be guaranteed to see the famous Shetland ponies. I am a fan of anything that is supposed to be large that is actually, inexplicably small and vice versa: the spoon and cherry in Minneapolis, dollhouse furniture, giant clothespins that are 30 centimeters long that you can buy at home improvement stores in Germany and take home and hang on your wall to clasp things with that make you giggle that no one else appreciates... but I digress.
Shetland ponies are just so cute! The websites had very discouraging advice. The ponies were supposedly on northern islands that we hadn't planned to visit or they were on private farms that wouldn't let you have a look. HA! We saw ponies everywhere. There is a little stable halfway from Lerwick to Sumburgh on the left hand side if you are traveling south that practically looked overrun with adorable, spiteful horsies. We just kept seeing them everywhere. Like at Jarlshof or in the field next to our lodging.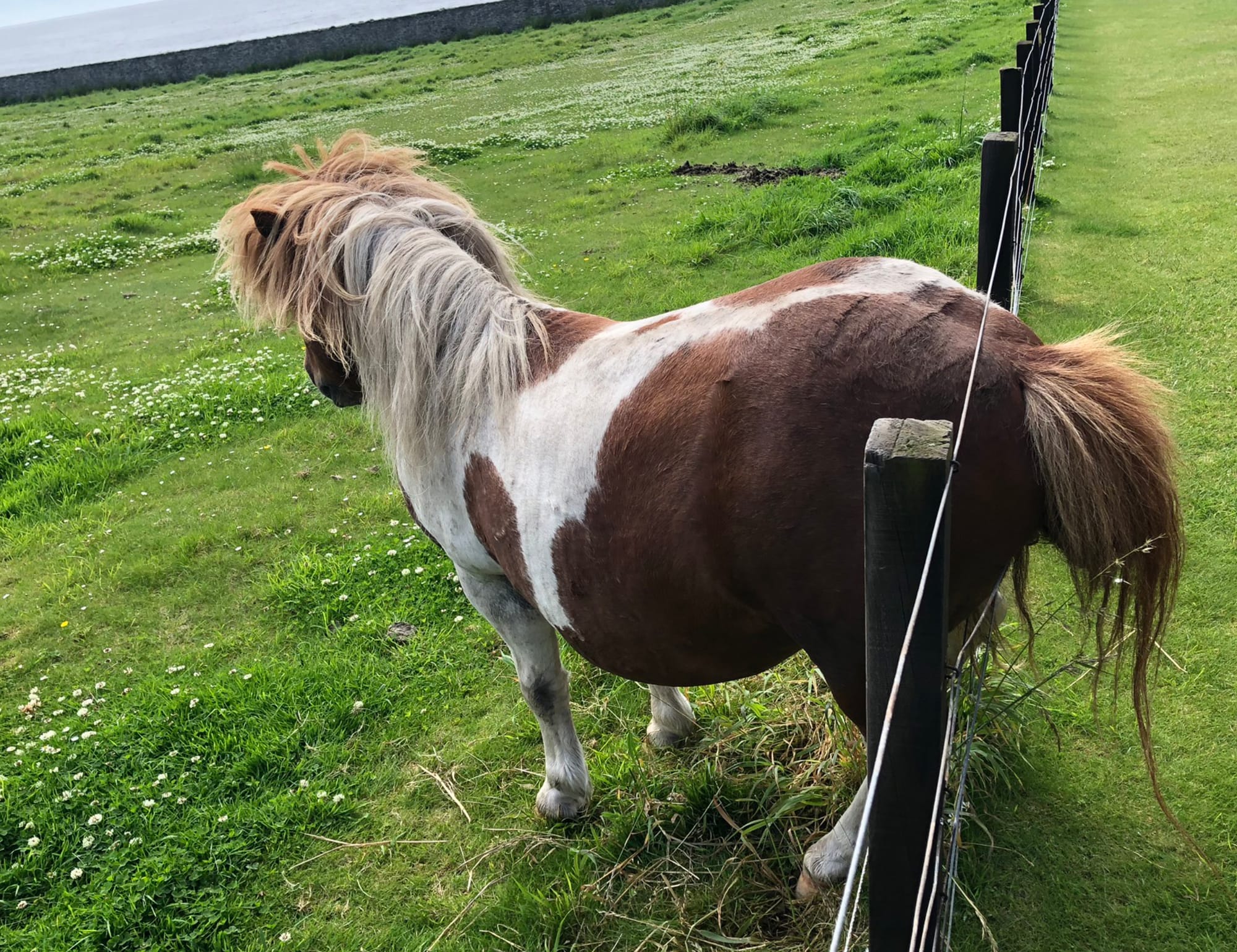 This guy needed a good scratch at Jarlshof
Beaches - They are beautiful for a walk but too cold to swim. And we still saw locals jumping in. Yikes! There are some giant dunes at Squiggie Beach so if you can't take the cold they are fun to climb and like every other place in Shetland it was absolutely pristine.****
Squiggie Beach
People - With the advent of social media there are now all kinds of relationships that would not have been possible 15 years ago. My sister (traitor!) abandoned The Honorable Society of Dog Tolerators and got a rescue dog a few years ago - a Sheltie named Dixie. Through her newfound status as a Dog Person she met all kinds of folks who love Shelties, including her friend Sandy and they became friends on Facebook along with the other Sheltie lovers and rescuers. Sandy and I share a love for Lord of the Rings, Renaissance Fairs and men who wear kilts, so we became friends on Facebook. When she found out I had plans to go to Shetland, she introduced me (virtually) to Kaylee, a friend of hers who, among other things, owns 7 Shelties. On our last day in Lerwick, we met up for an enormous breakfast, stories, and lots of laughs. Kaylee embodies the things we love about the Shetland Islands - she is multifaceted, generous, kind and hilarious. She is a medical professional, a photographer, a model and a magical person. She has been an extra and had small parts in Shetland, the show we love. And she dresses her dogs up in hilarious costumes and trains them to pose in photos and do tricks. My favorite is the video of them styled as hobbits. Oh my gosh. We ate at Fjara Cafe Bar - our absolute favorite place in Shetlands. The view is spectacular, the food is inspired and the company, on our last day there, was perfect.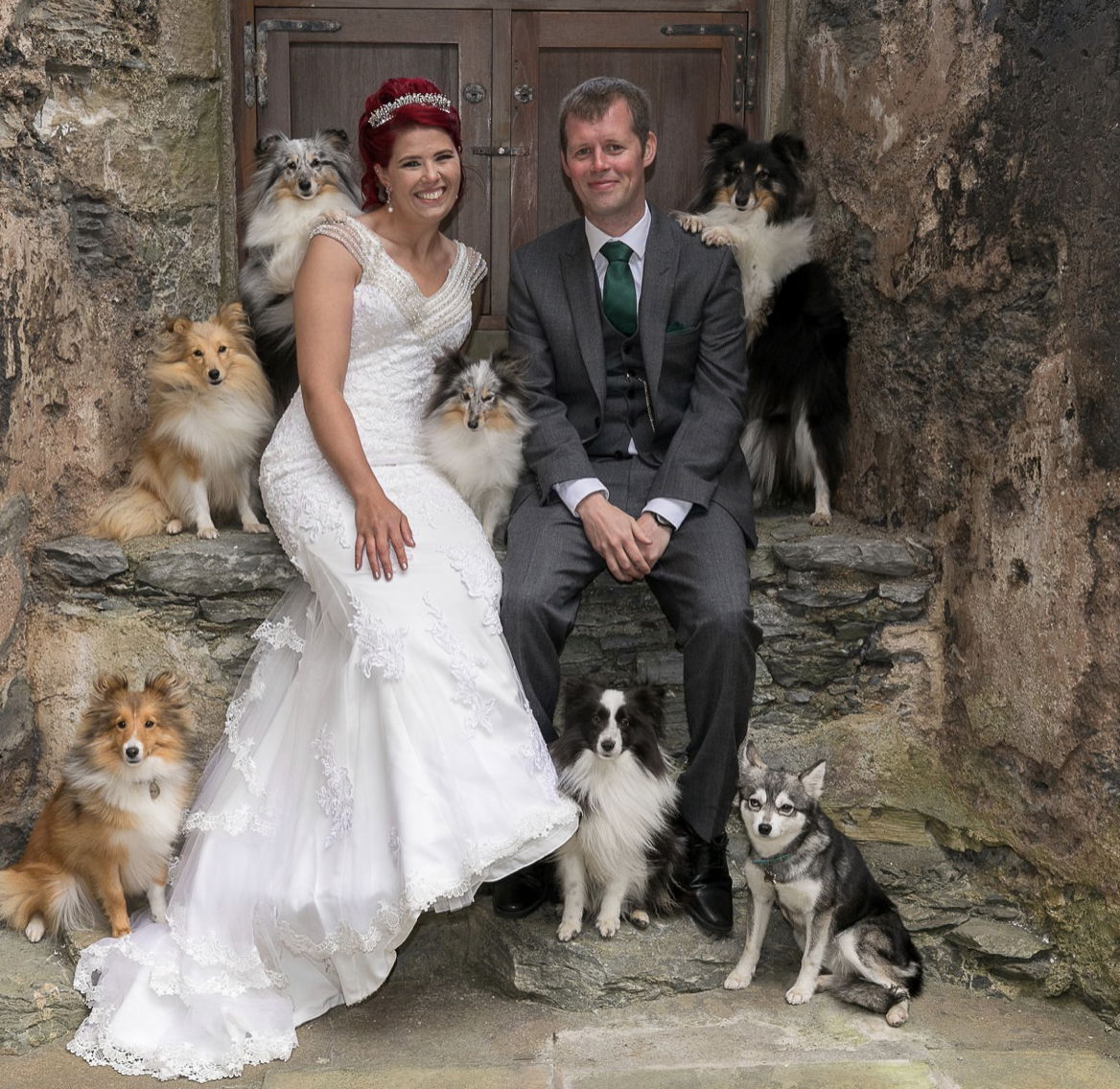 Kaylee and her guy on their wedding day
Our lodging - We chose AirBnb for this portion of the trip because there were very few choices in Shetland. The host owns the house and has created two large bedrooms that share a kitchen and a bathroom out of one wing of the house. She is a local woman and her family benefits from our business. She is a gym and special education teacher at the local school. The lodging is at the end of a lane but close enough to walk to a grocery and our favorite cafe, Fjara. There is a beautiful beach and beach walk 100 meters from the property and the pasture in front of it has Friesian horses and Shetland ponies. A gorgeous place and worth the price.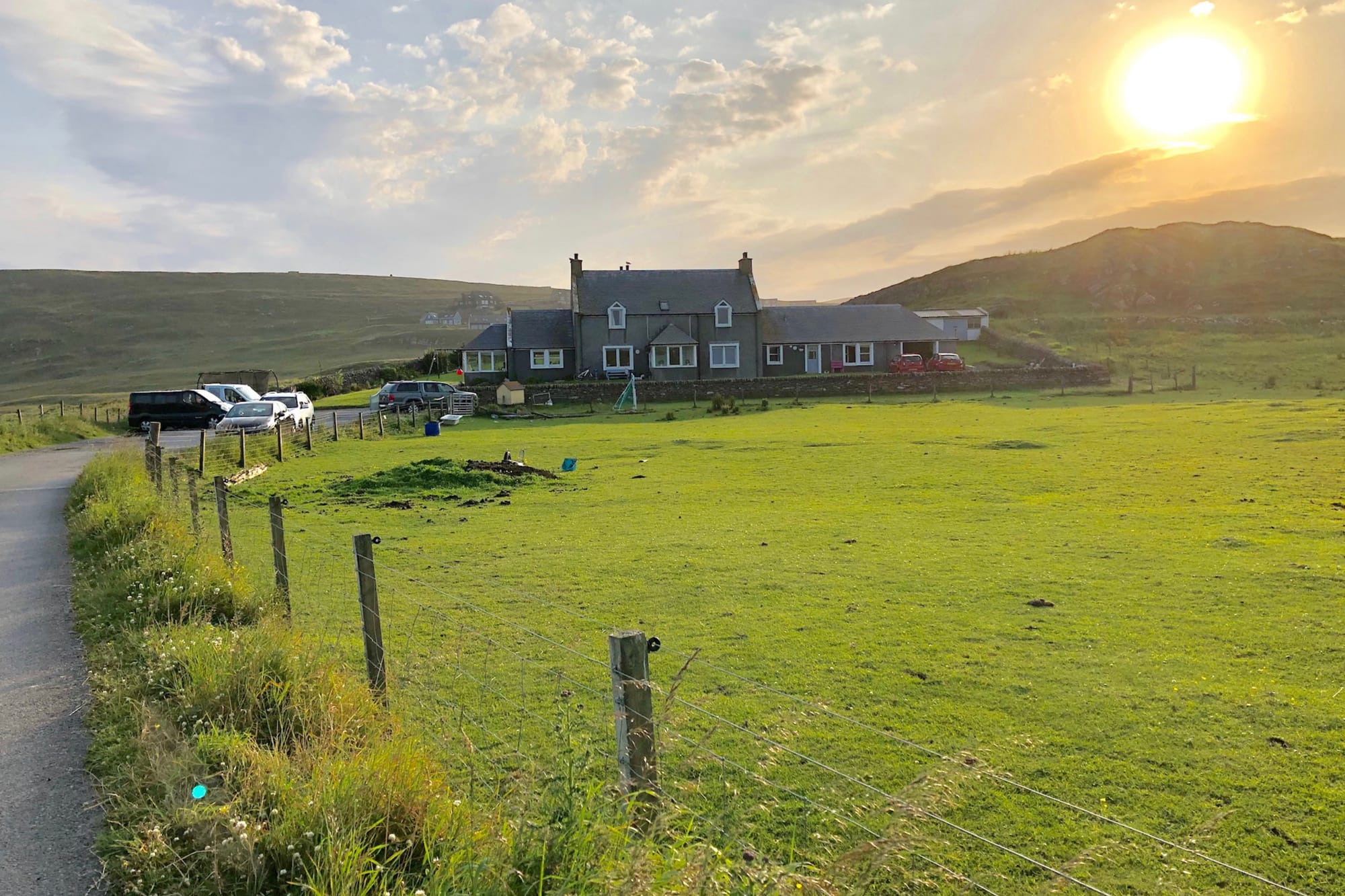 Hoolsberg AirBnB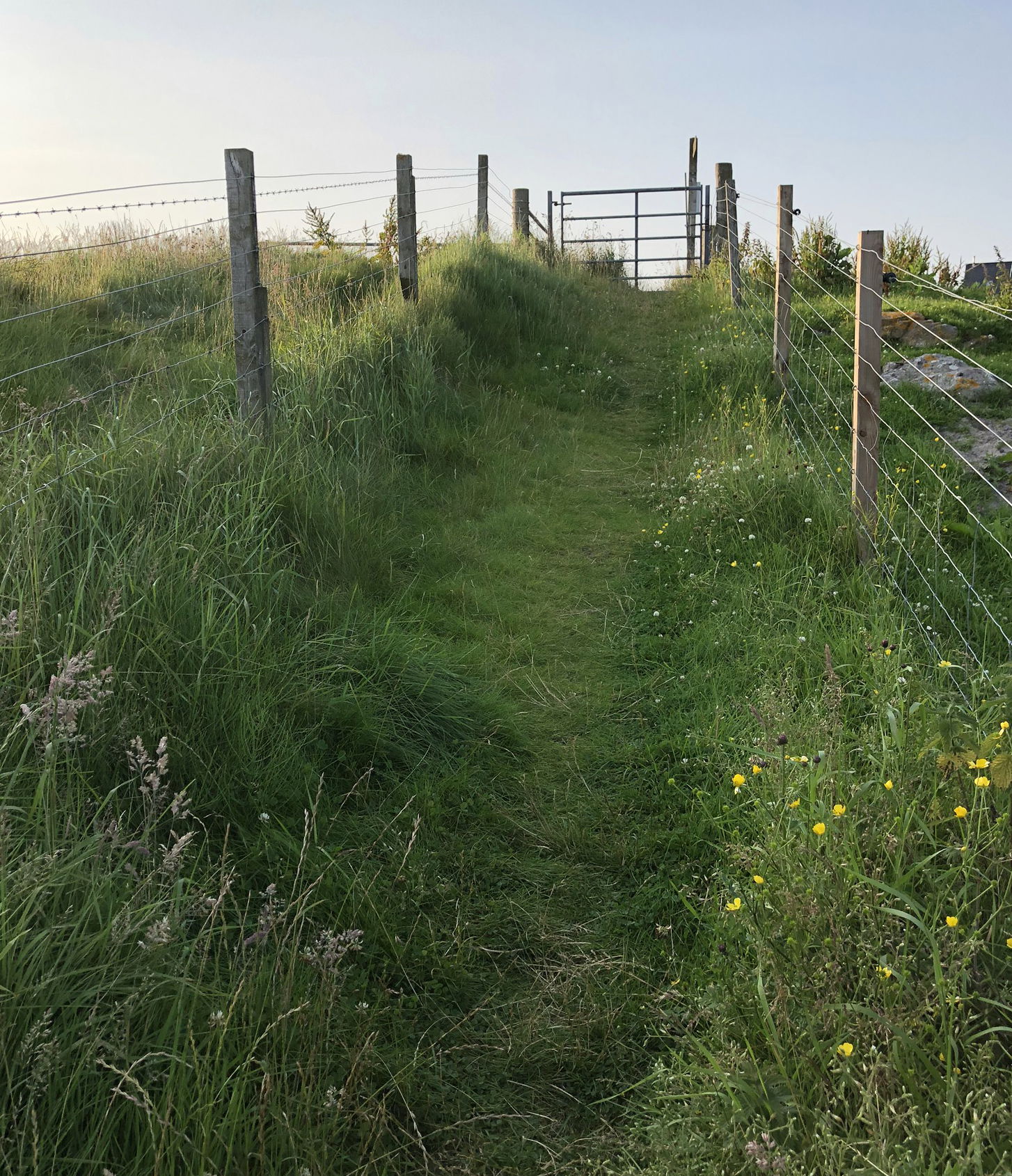 The coastal walk
The Shetland experience was stellar for so many reasons. The key word that remains with us is beauty. Photographer, painter, foodie, dog-lover, small pony seeker, walker, hiker, history buff, lover of all things isolated and northern - Shetland is for you.
* Star Rental Cars - https://www.starrentacar.co.uk/
** Mirrie Dancers Chocolates - https://www.mirriedancers.co.uk/
*** Bonhoga Gallery - https://www.shetlandarts.org/venues/bonhoga
**** Beaches - https://www.shetland.org/things/explore-nature/beaches
*****Lodging - https://www.airbnb.co.uk/rooms/27166971?source_impression_id=p3_1570371528_7bdlNTVPq%2FPT6P5i