So, the world was shutting down when we left London for Spain. This was the part of the trip that we were most looking forward to since both of us love Spain very much. We know how things work there - decades ago, we both lived there, but at different times and without each other. We learned Spanish there, grew up there in many ways, stayed out late, fell in love, fell out of love, ate strange foods, drank too much (Peter), danced poorly but enthusiastically (Sarah) - all the wonderful things you do when you study abroad and find that you have made the best choice of your life.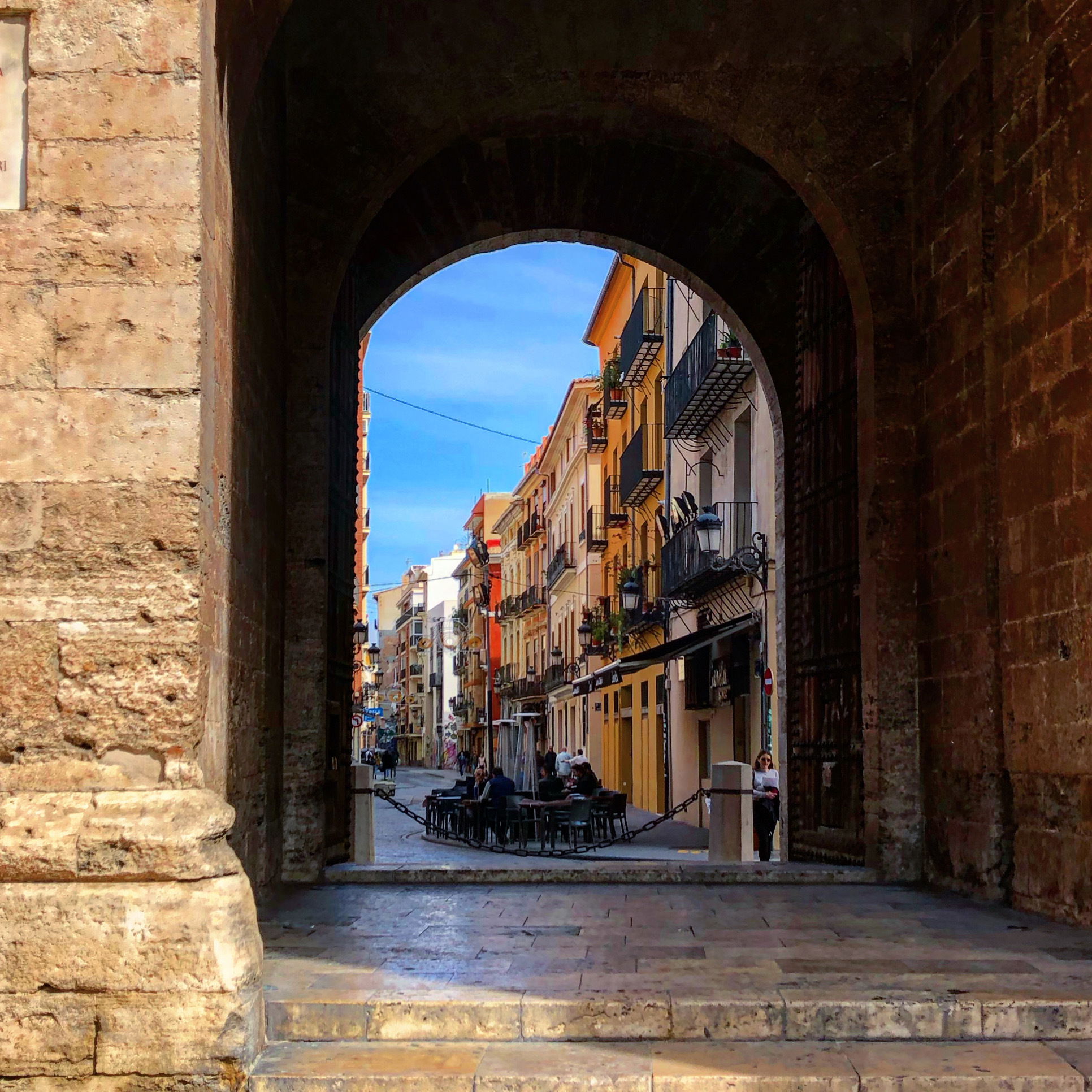 Spain invites you to explore!
We went to Spain anyway - the Covid-19 crisis in Iran and Italy seemed confined to countries beginning with "I" and we decided that since we could not get the money back anyway, that we would brace ourselves and go. We arrived in Barcelona, rented a car and drove to a pleasant coastal town in Cataluña for two nights. Then we headed to Albarracín and finally to Valencia. By then, things had become critical and we were forced to return to the United States. What a glorious time we had in Spain, regardless.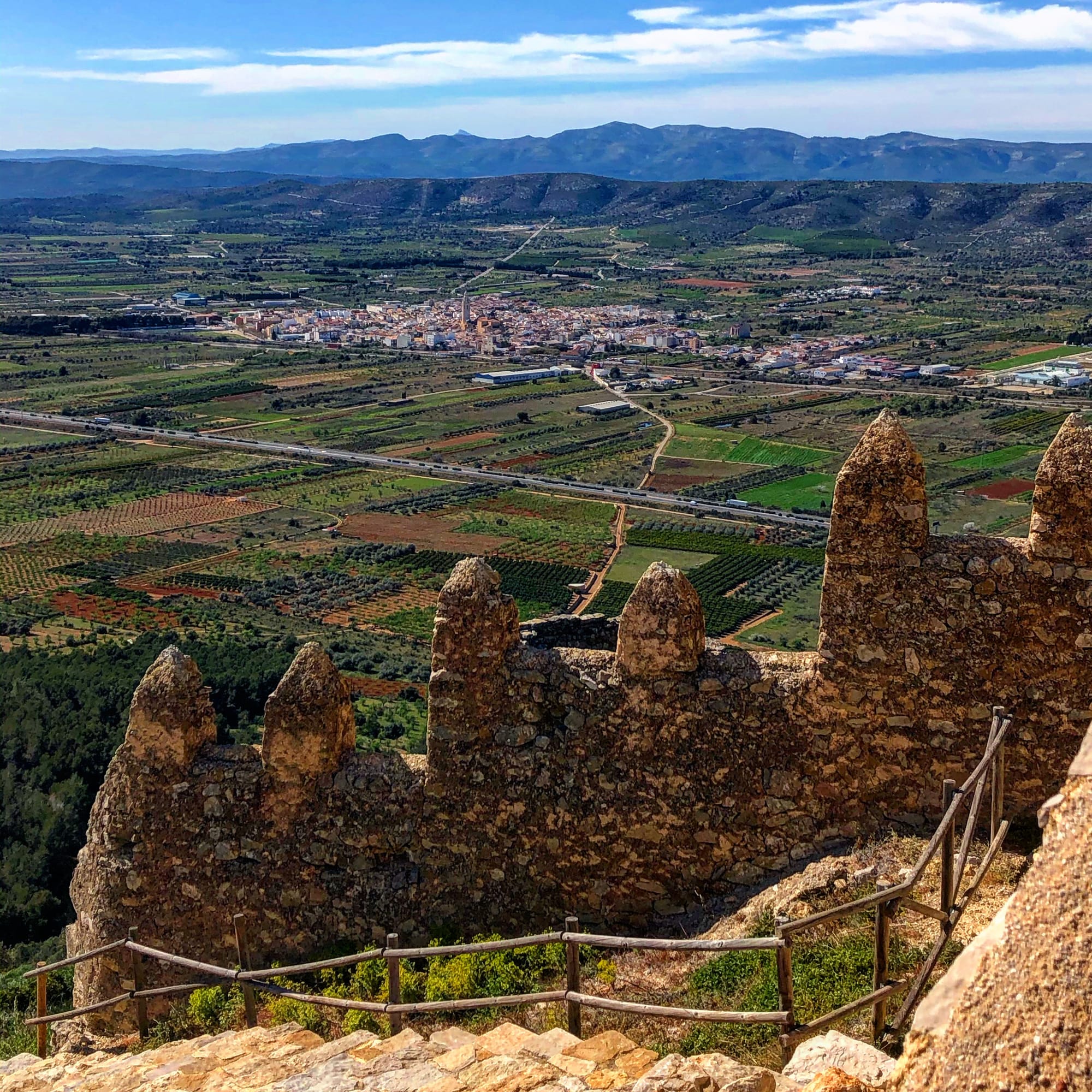 A view of the Spanish countryside
If you haven't been to Spain, obviously we recommend it. Know this though -Spain is a huge place. Geographically, it is not a small country, but culturally and artistically, there is so much there - a richness of music, food, art, architecture and history to lure even a seasoned traveler. Spain has enough infrastructure and organization to smooth the way for first-timers but enough surprises (Train strikes! Crazy festivals! Really hard to understand Spanish!) to keep you on your toes.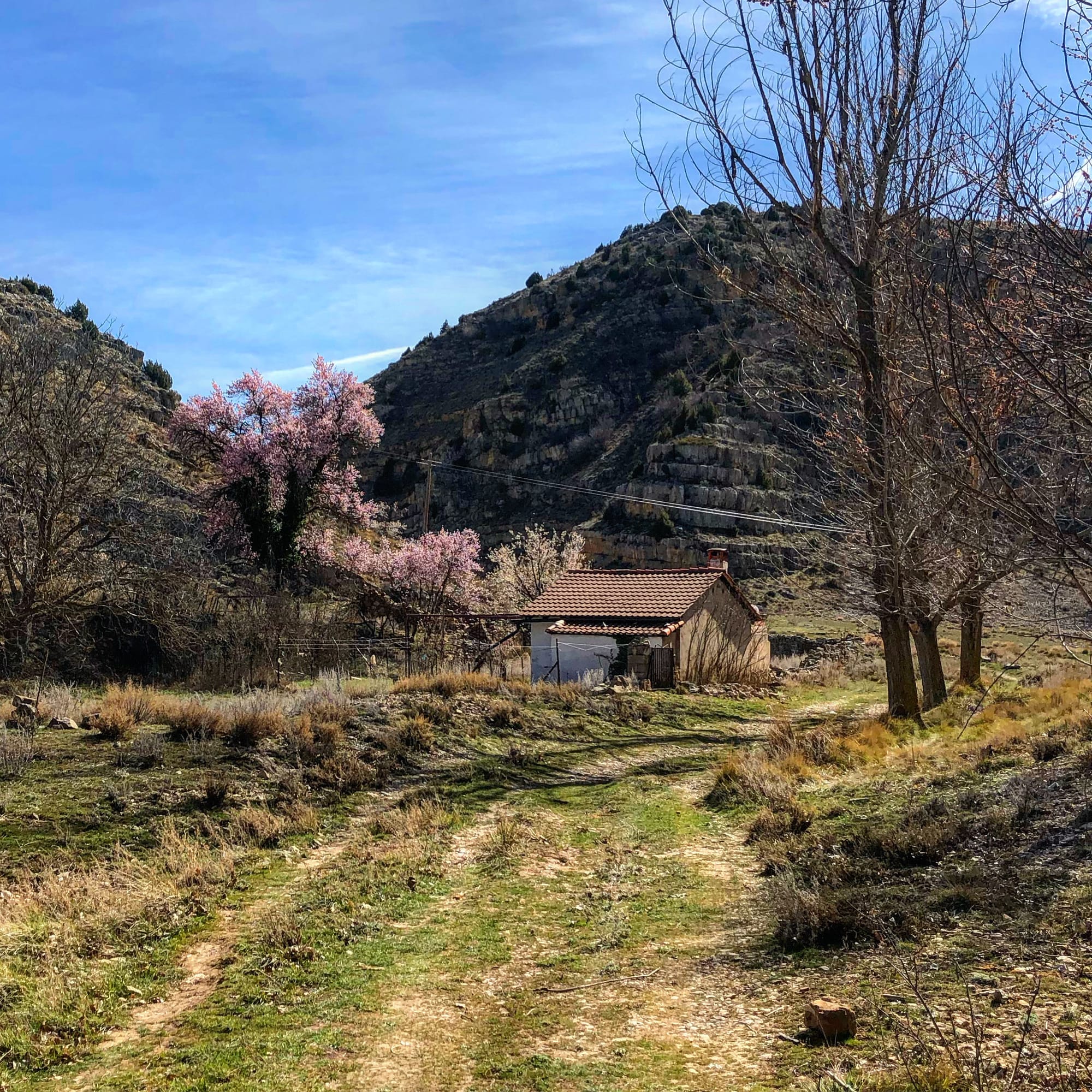 Rural Spain is surprisingly wild and beautiful.
"I know there is no straight road, no straight road in this world. Only a giant labyrinth of intersecting crossroads." Federico Garcia Lorca
We got a rental car for a few days to explore the rural, mountainous region of Valencia Province. I had lived in Valencia twice and was excited to be returning after a 25 year absence. Peter had never spent time there so it was all new for him. Yet Spain is never new if you have been there before. It is like an antique chair in a sunny room: warm and mysterious yet familiar and inviting. Within the first hour we felt as if we had come home.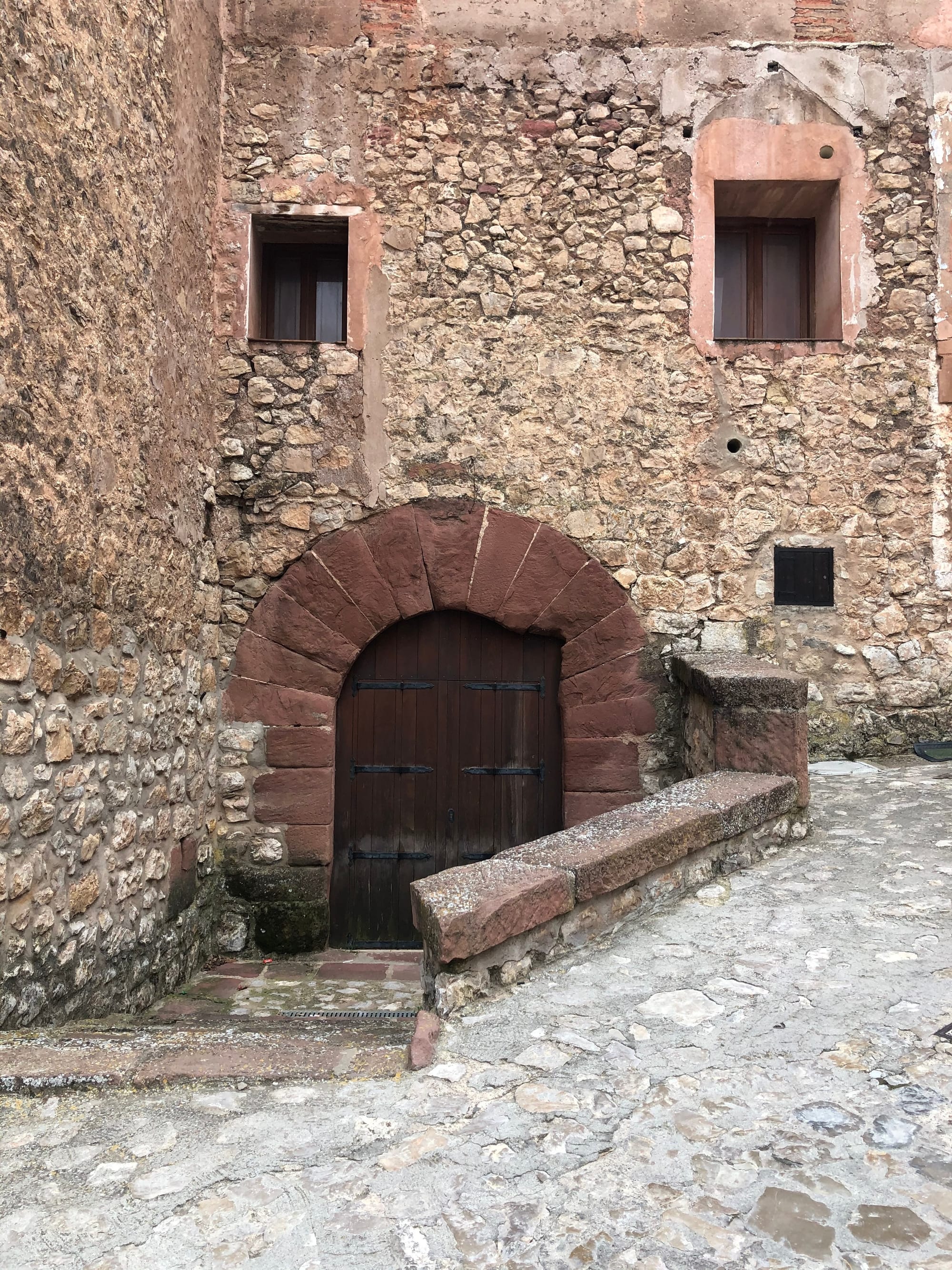 Much of northern Spain is thus - endless stone walls and mostly pink, red or orange accents, doors and roofs.
"Every step we take on earth brings us to a new world." - Federico Garcia Lorca
Days 1 - 3 Barcelona - Torredembarra
The drive to Torredembarra took longer than expected, as does everything in Spain. But when we arrived in this beachy town, we were met by a friendly manager and treated to an exceptional apartment stay. There was enough food provided by the hosts that we didn't even need to shop.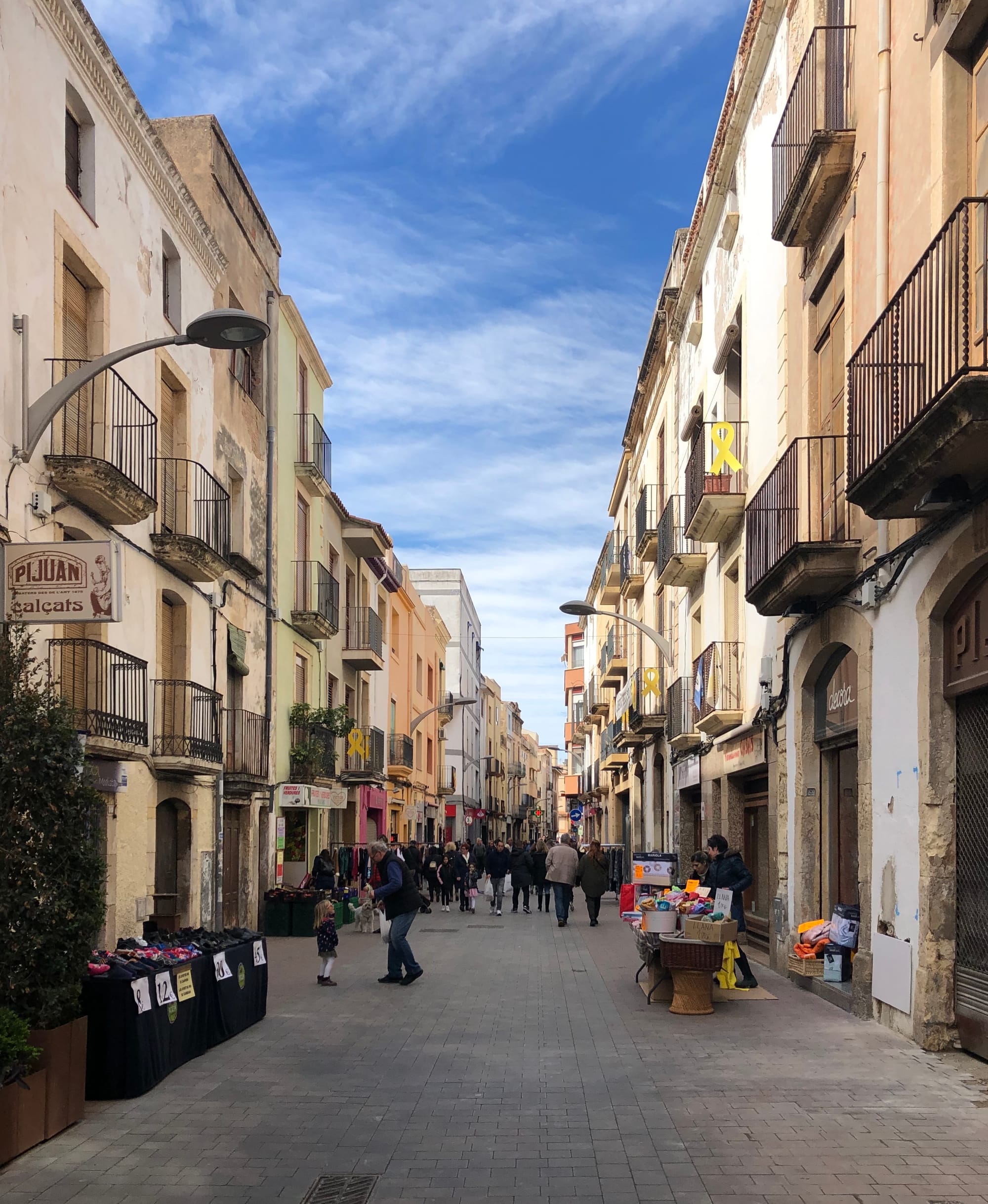 Torredembarra pedestrian shopping street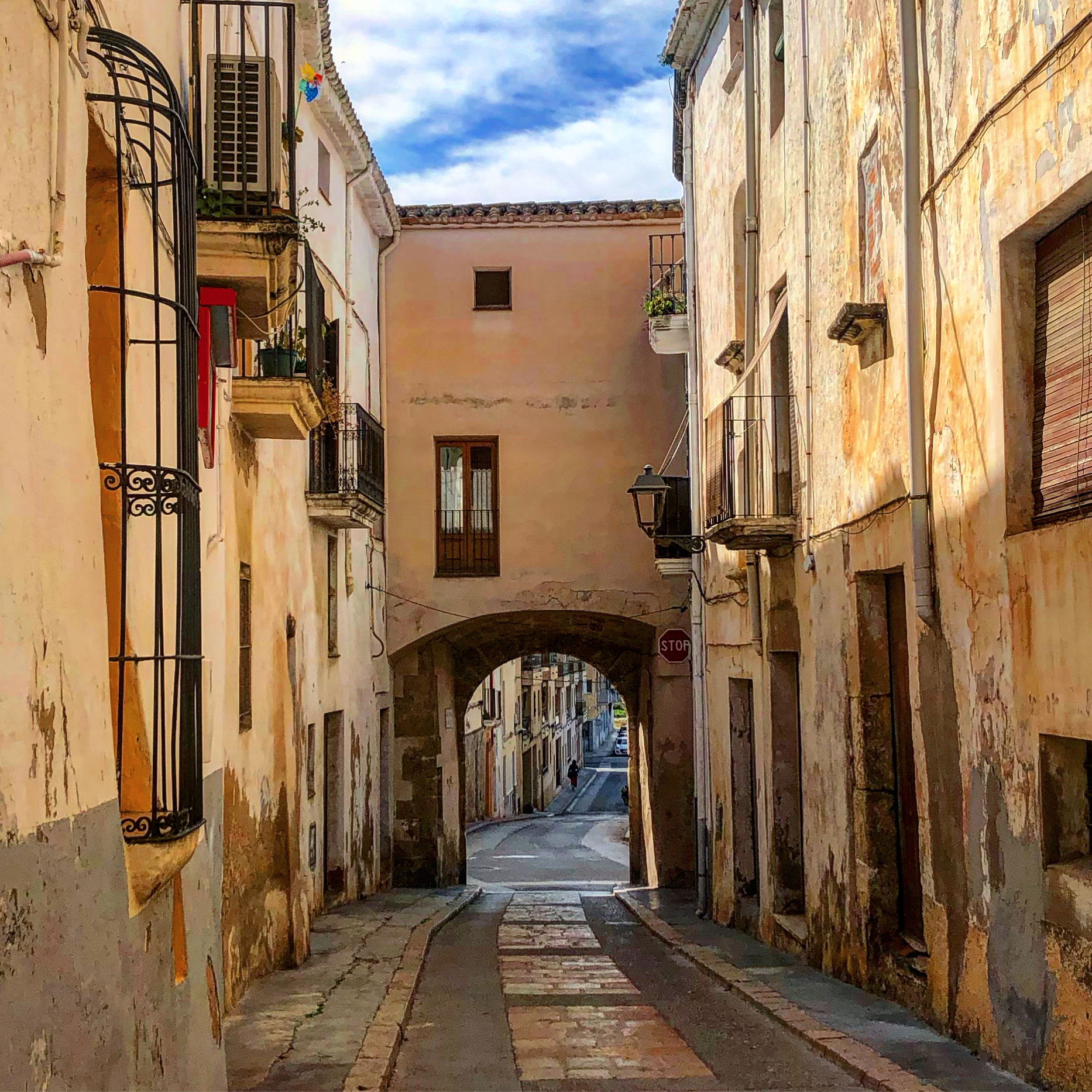 Quintessential Spanish sceneThe apartment was cute and spotless and we could ALMOST see the sea. We did not have to clean up after a family of five as in London nor be confused by the linguistic and cultural barriers of Morocco so we really relaxed deeply for the first time in weeks. We spend the next couple of days walking the pedestrian streets and reading faded historical plaques from a time when the town seemed like it would be the next Sitges (a popular resort town about an hour to the north). Torredembarra is not known for much of anything. There is a small square with the usual Catalán nationalism on full display and a very cute plaza with a half dozen cafes cuddling up to each other, filled with local families. The side streets are a combination of older buildings with archways, peeling paint, and 1980's era, hastily-constructed boomtown apartments. There is an interesting Castell statue and the beach to walk on for miles - flat, clean and very safe. It is a place that we would recommend to anyone wanting an authentic and affordable beach experience in Spain without the crowds, costs and crime.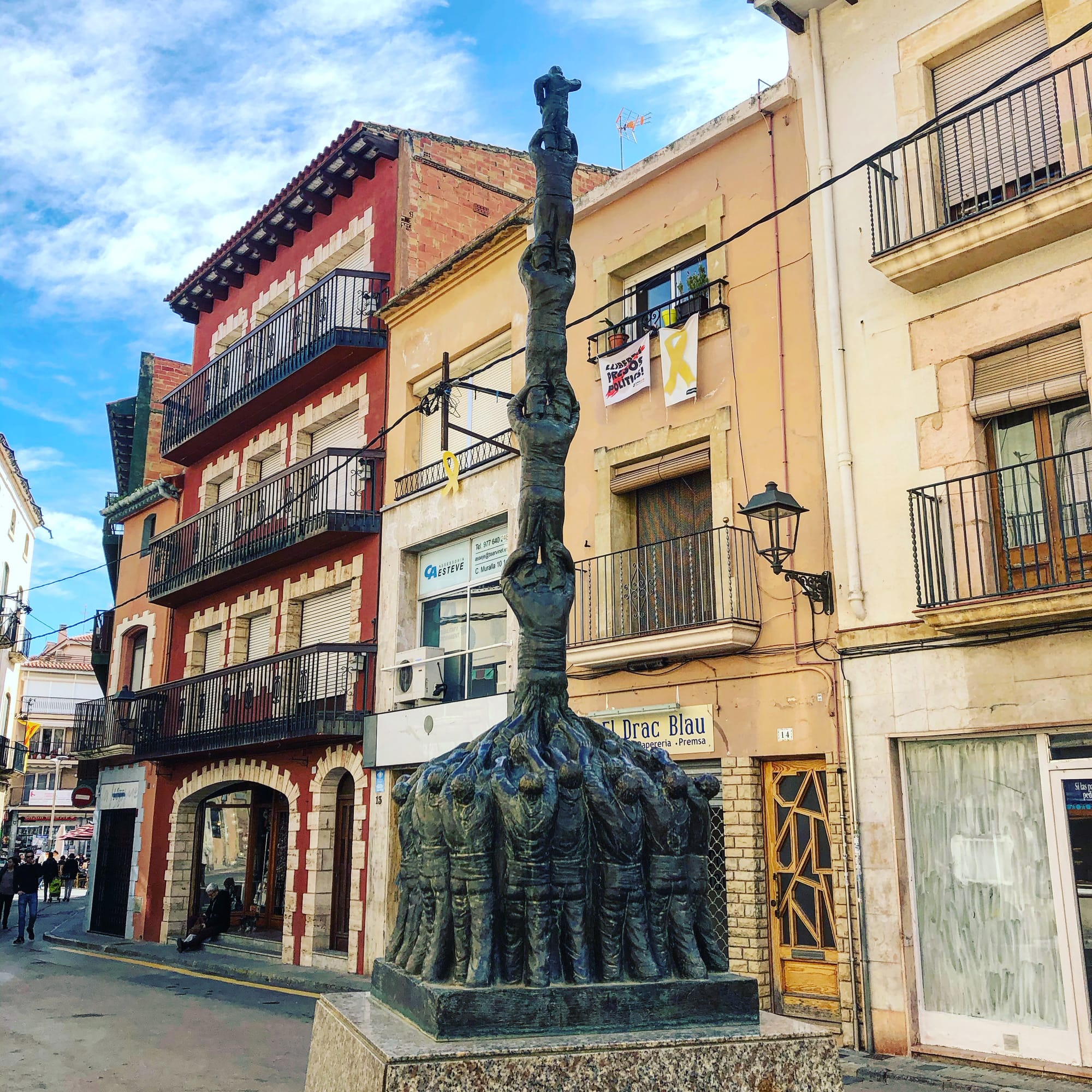 A Castell is a uniquely Catalán trradition whereby people stack up in a human tower that represents strength, balance, courage and mindfuiness. "Forca, equilibri, valor y seny"
Days 3 - 6 Albarracín
On the way to Albarracín from the coast, we had a choice of almost a dozen very cool castles to stop and visit so we chose one that had a bit of a walk to stretch our legs.
Eight castles in a 10 square kilometer area, not bad, Spain!
There are so many castles in Spain, you could spend a lifetime finding and touring them. We stopped at Castell de Xivert near Peñiscola. There is ample parking and it is free to explore, at least in the off-season. By now, people were starting to stay home - there had been a sudden spike in Covid-19 cases and even the normally sociable and intimate Spaniards were backing off. Xivert Castle is at the top of a pine tree-covered ridge with expansive views and is fun to hike to and clamber around on and we had the place to ourselves. We avoided the larger towns of Castellón and Peñiscola for this reason. And really, Peñiscola is the biggest tourist attraction in the area with its conical island fortress and innumerable takes on penis art, so do you really want to stop if you have already been there 5 times as I had?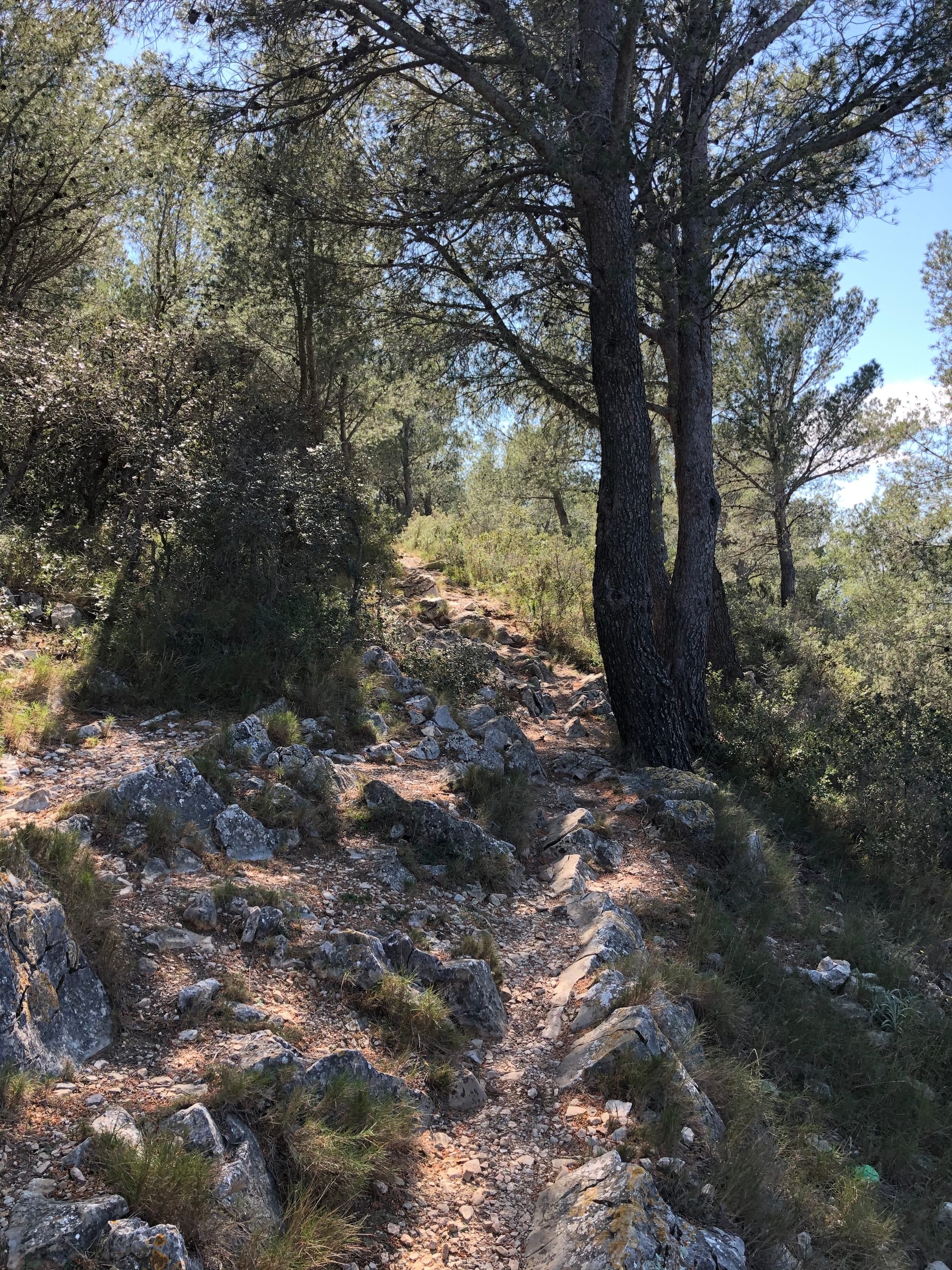 The trail to the castle - it smelled incredible.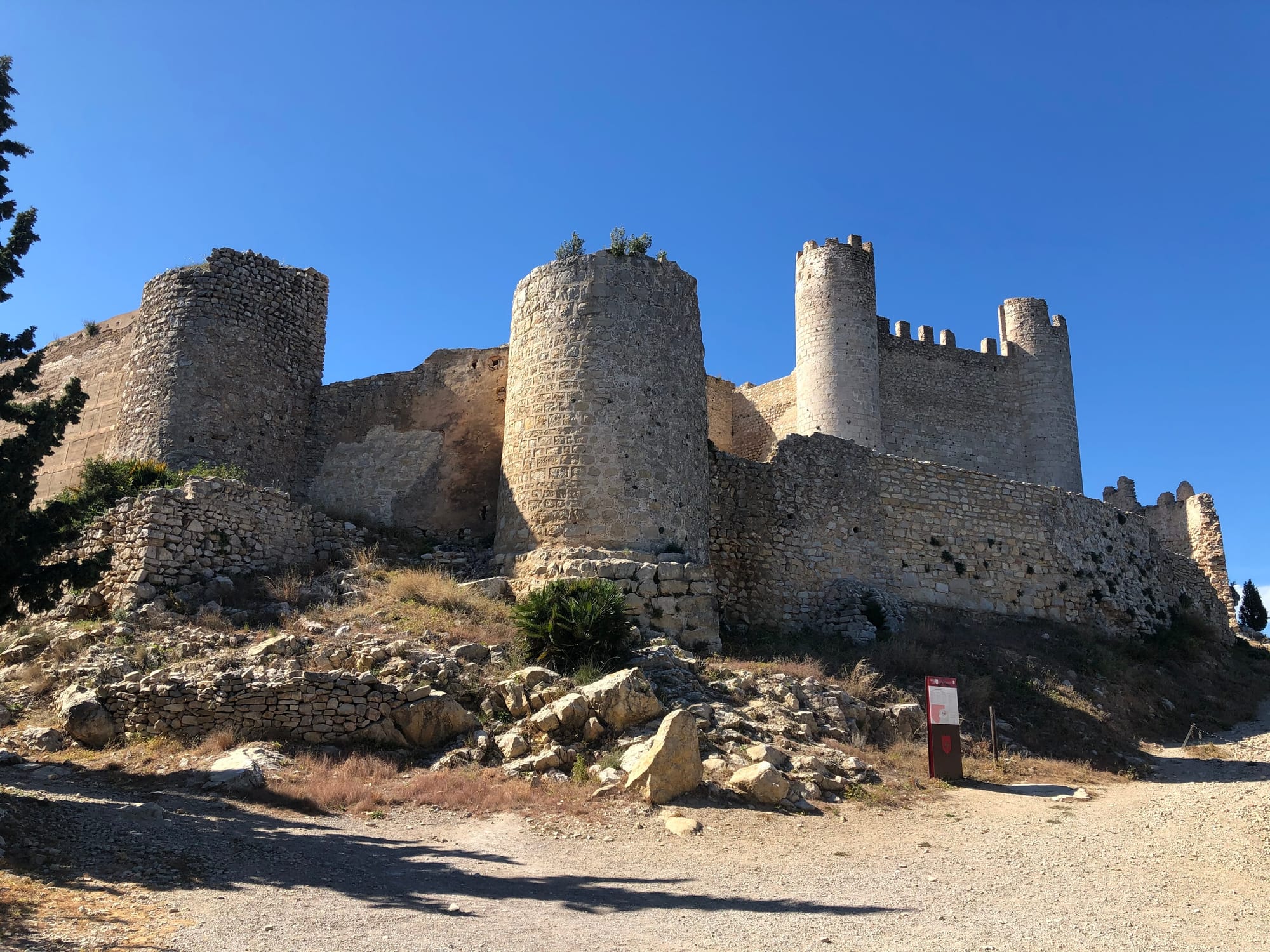 Xivert Castle wall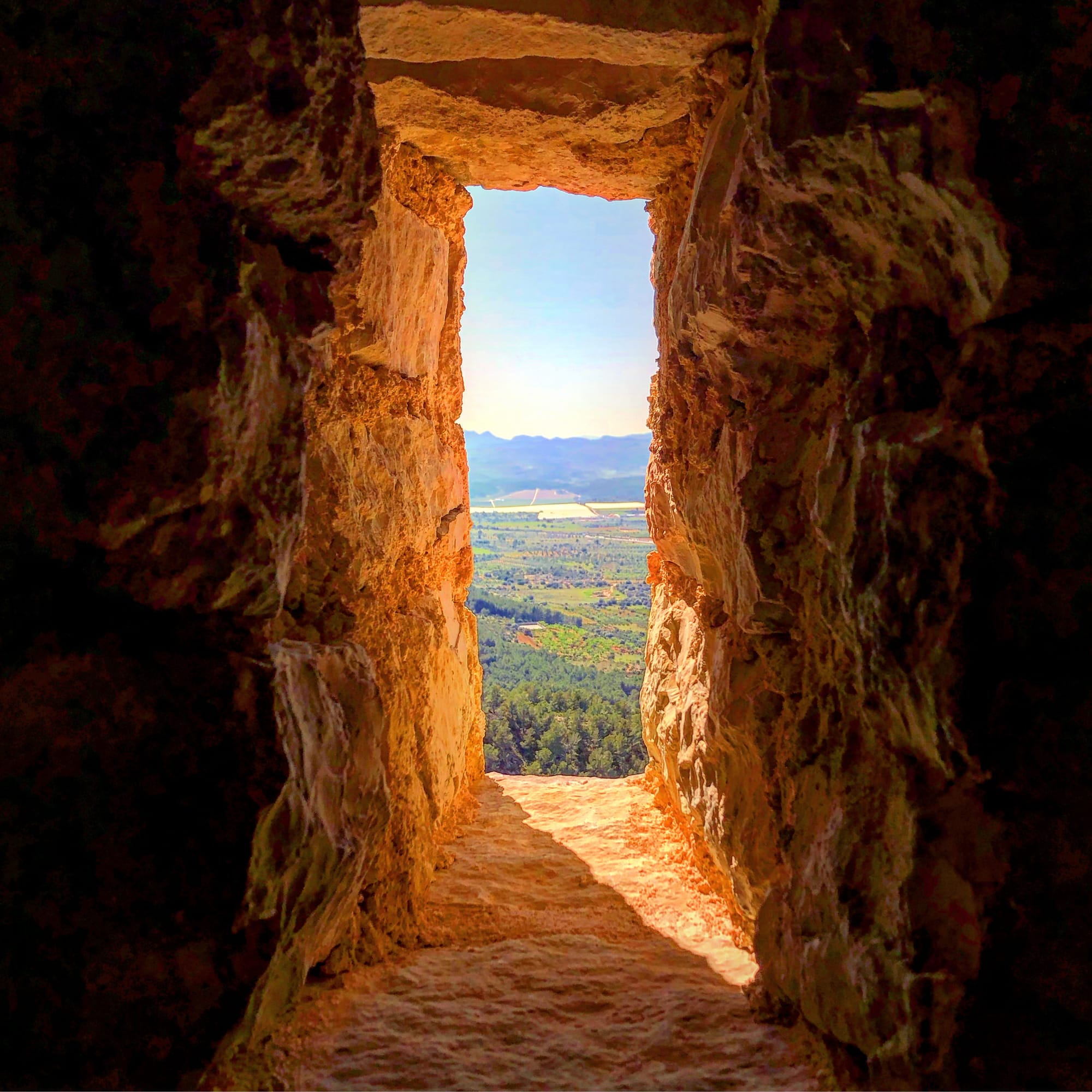 The last "window view from castle picture" of the trip!
Albarracín was our next destination because it is my favorite small town in Spain and it is where I learned to speak Spanish. That isn't really true, but it is where I became bilingual. You often learn to speak another language by quickly translating in your head If you learn it after you are out of primary school. If you have learned a second language at home as a child or in a truly immersive environment like a school or during travel abroad you never have this hurdle. Traditional teaching methods train you to translate very quickly - not to visualize a table when you hear the word, "mesa" but to visualize the word "mesa" then translate it to table and then think of an actual table. Most people don't realize they are doing this and it makes speaking a second language exhausting and not much fun. But in Albarracín, over 30 years ago, I was hitchhiking and camping with college friends and we had lit a fire in a shepherd's field (because it was 1990 and we were young and had met a shepherd) and a spark flew out of the fire and burned through my jeans and I yelled, "ay me quema" without thinking, first, "that burns, how do you say burns, is that relfexive, do I use the third or first person?" And I was so excited that the Spanish had finally burst out of me that I started crying. My friends thought it was great, hey maybe the American girl isn't hopeless after all, and then they yelled for more firewood and that was the beginning of the rest of my life.
People who never master a second language are like cave dwellers - no, I don't mean that they are stupid, but their experience is limited to one cave. There is one room, one exit and entrance and one dimension. Again, I am not putting anyone down who has decided to stay monolingual. But being bilingual, trilingual or more opens landscapes and vistas that you can't imagine if you are in the same old cave. The best decision Peter and I ever made was to trust Jesus with our lives but the second best decision was to learn languages. (Or possibly to marry each other making languages the third best decsion but you get the idea.)
There is not much to say about Albarracín except that it is adorable and gorgeous. There is a compact town that straddles a gorge, a huge "muralla" (crenelated wall) on a hill and very little to do except wander around and admire it all.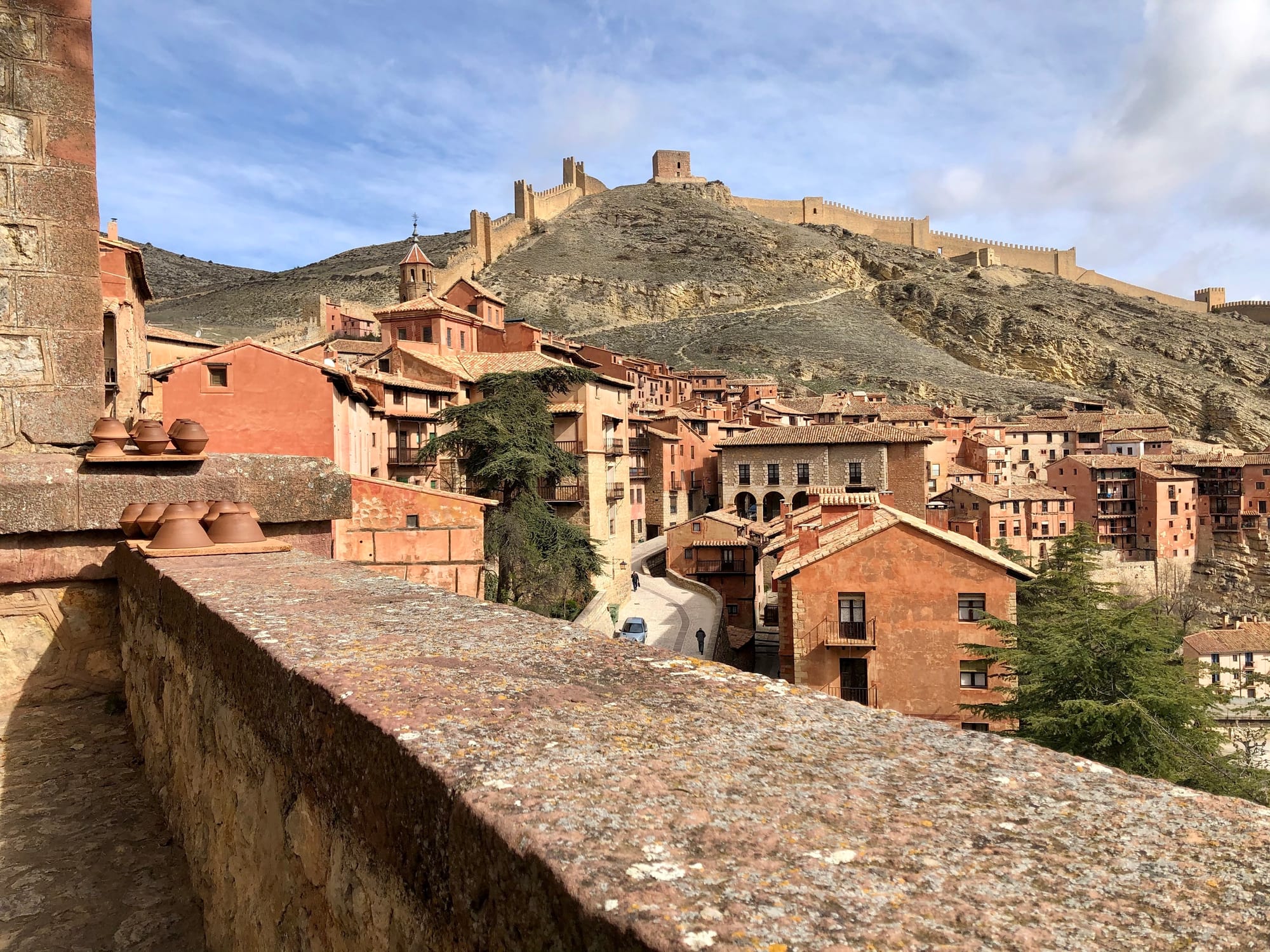 A view of the wall on the hill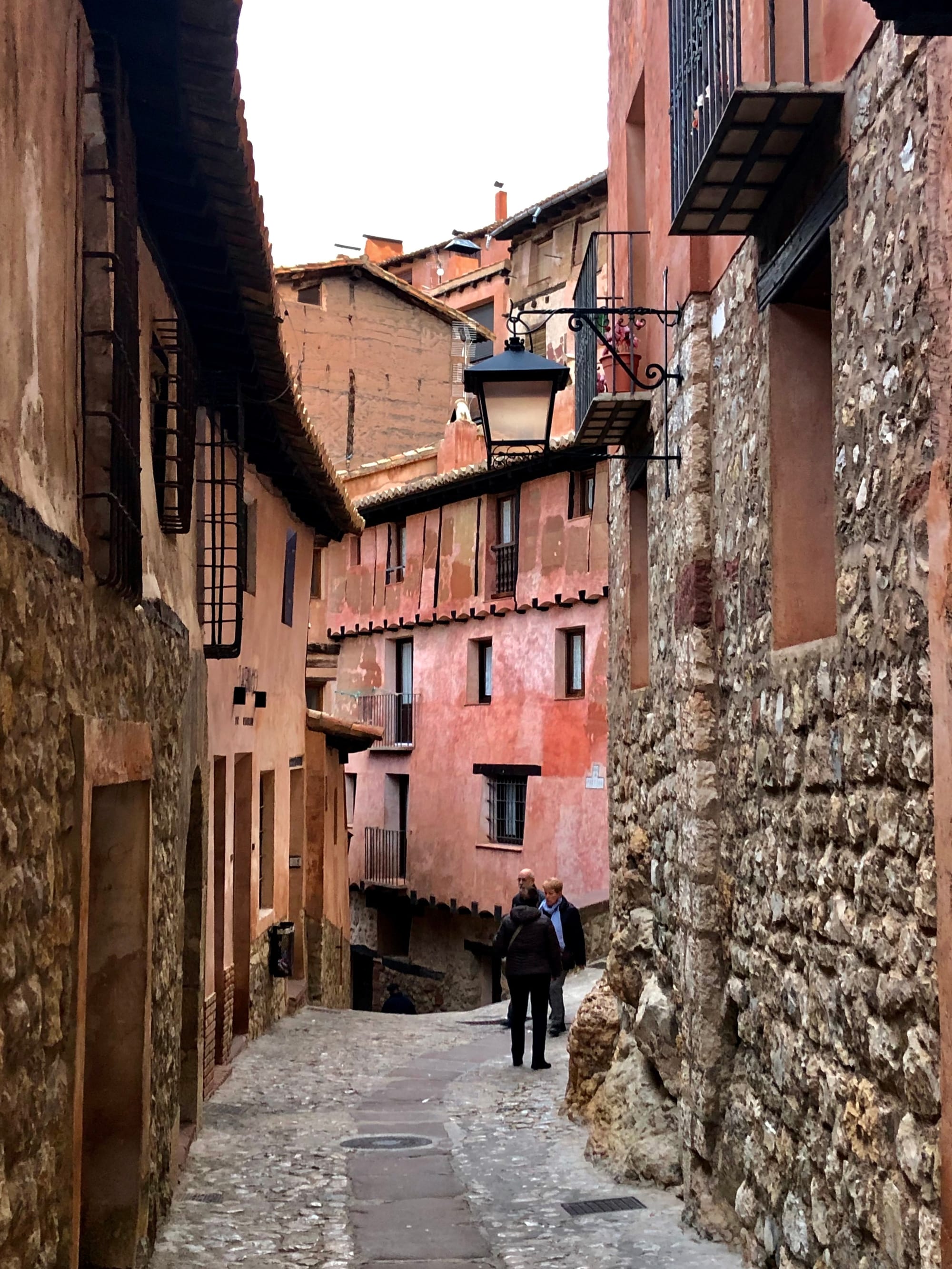 The "town" part of Albarracín in pink plaster and stone, with narrow streets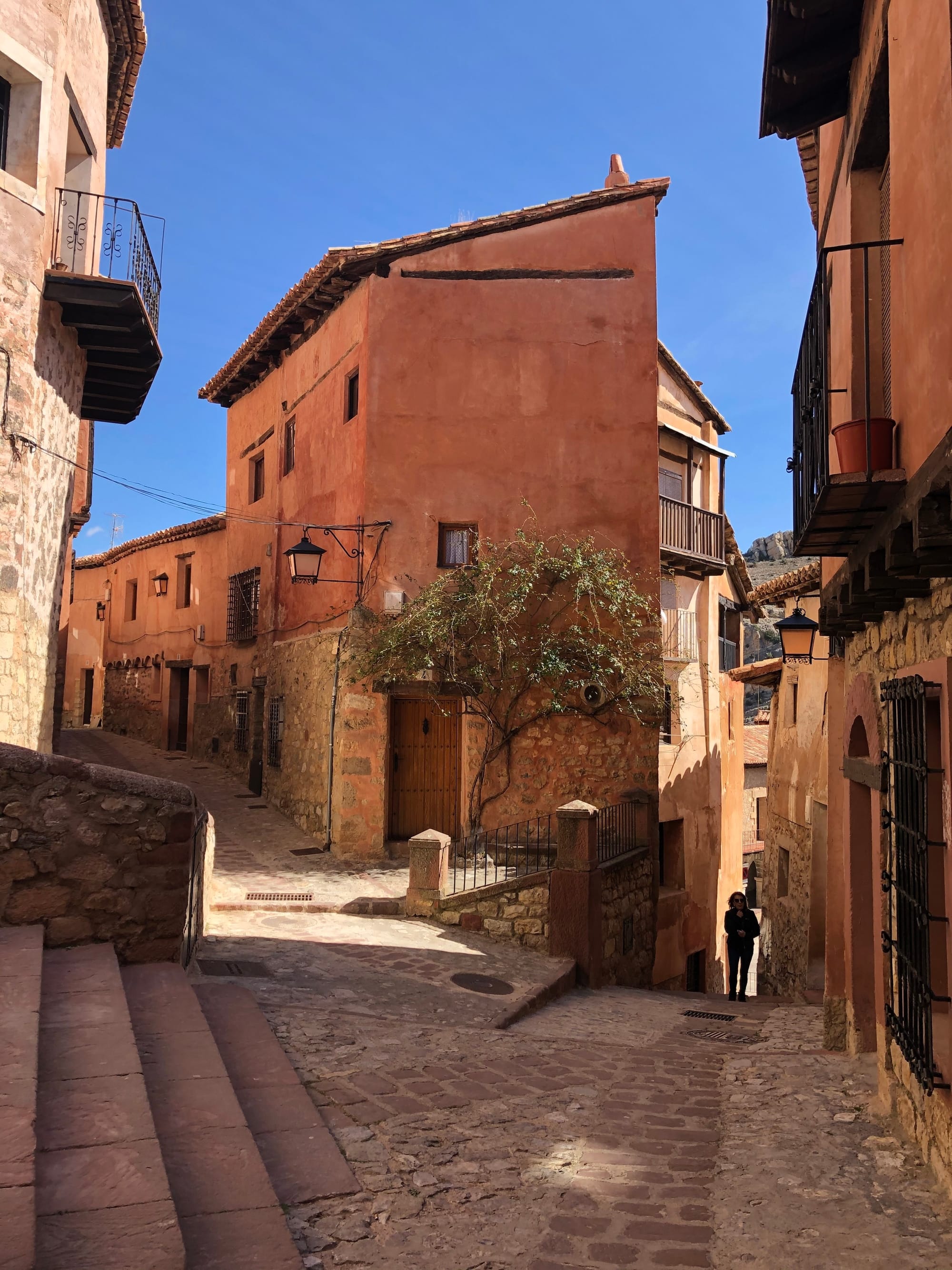 Let's just say the houses are irregular.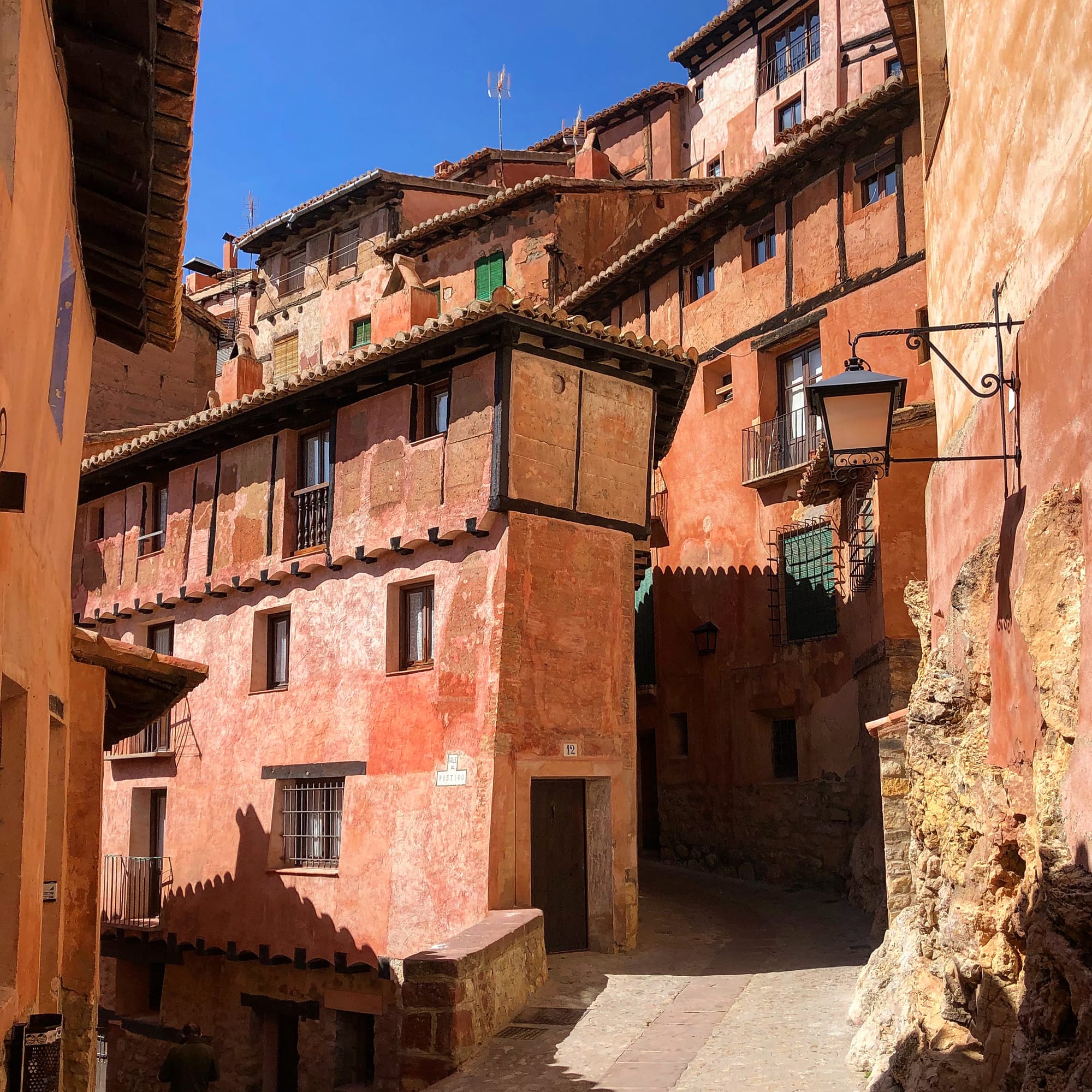 Forget trying to use a map.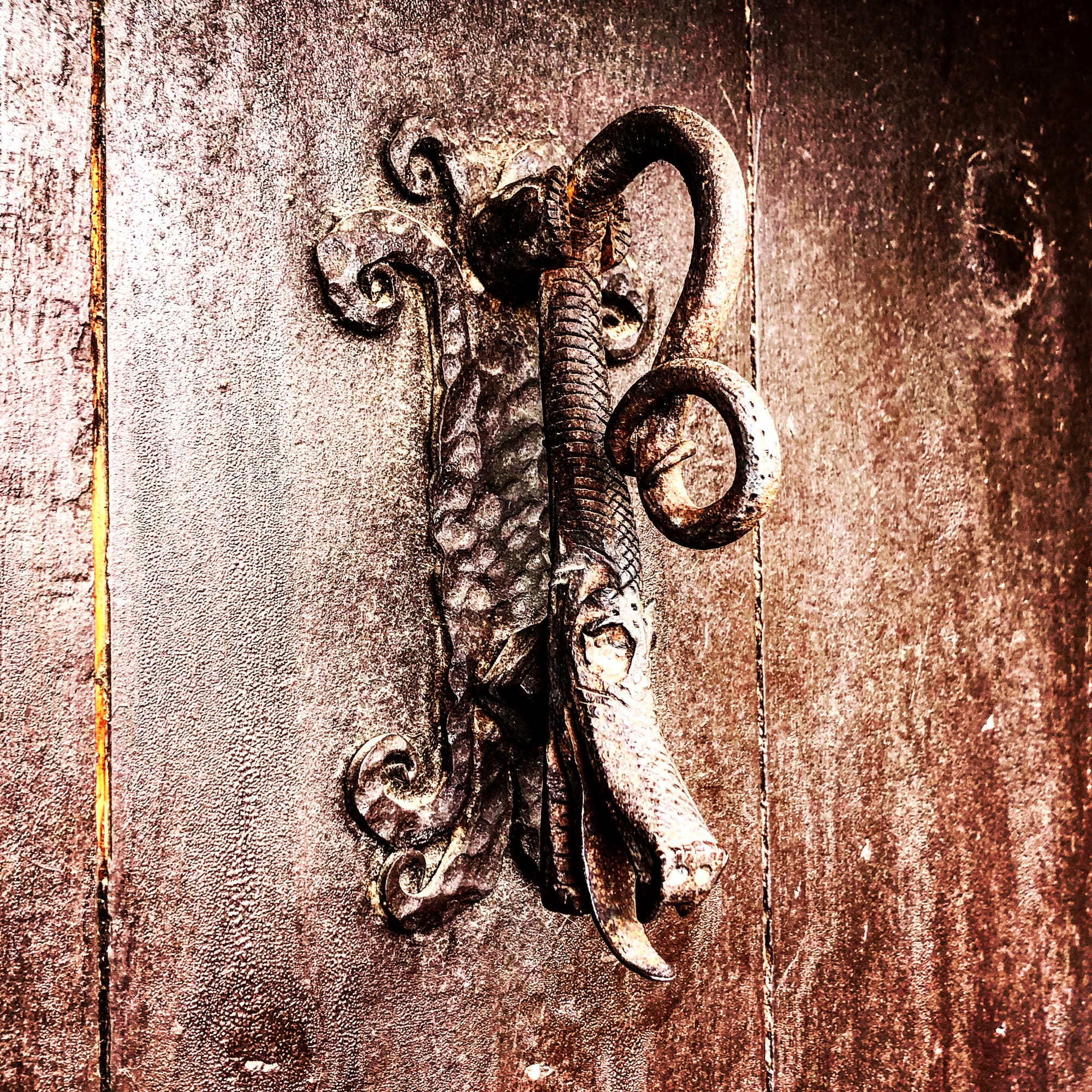 Another fun feature of Albarracín is the unusual door knockers.
We took a local tour from the city-run interpretive center and visited the church and wandered the streets a little. The guide spoke extremely rapid Spanish and no one thought we could understand, but we could. Architectural terms are pretty easy to pick out, even at the machine-gun pace of a Valencian tour guide. We ate in a couple of restaurants and took 2000 pictures.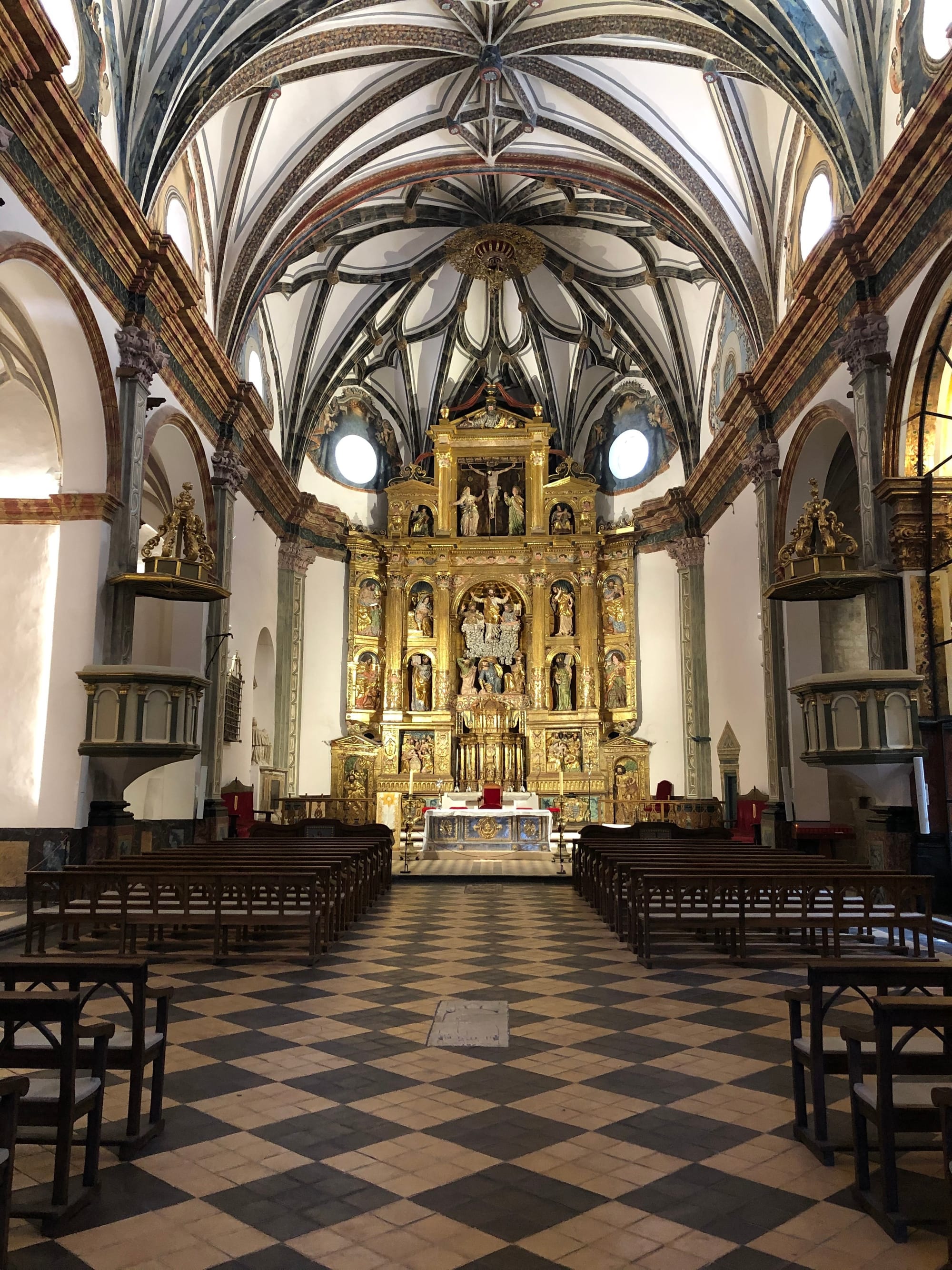 The newly renovated and extremely Spanish church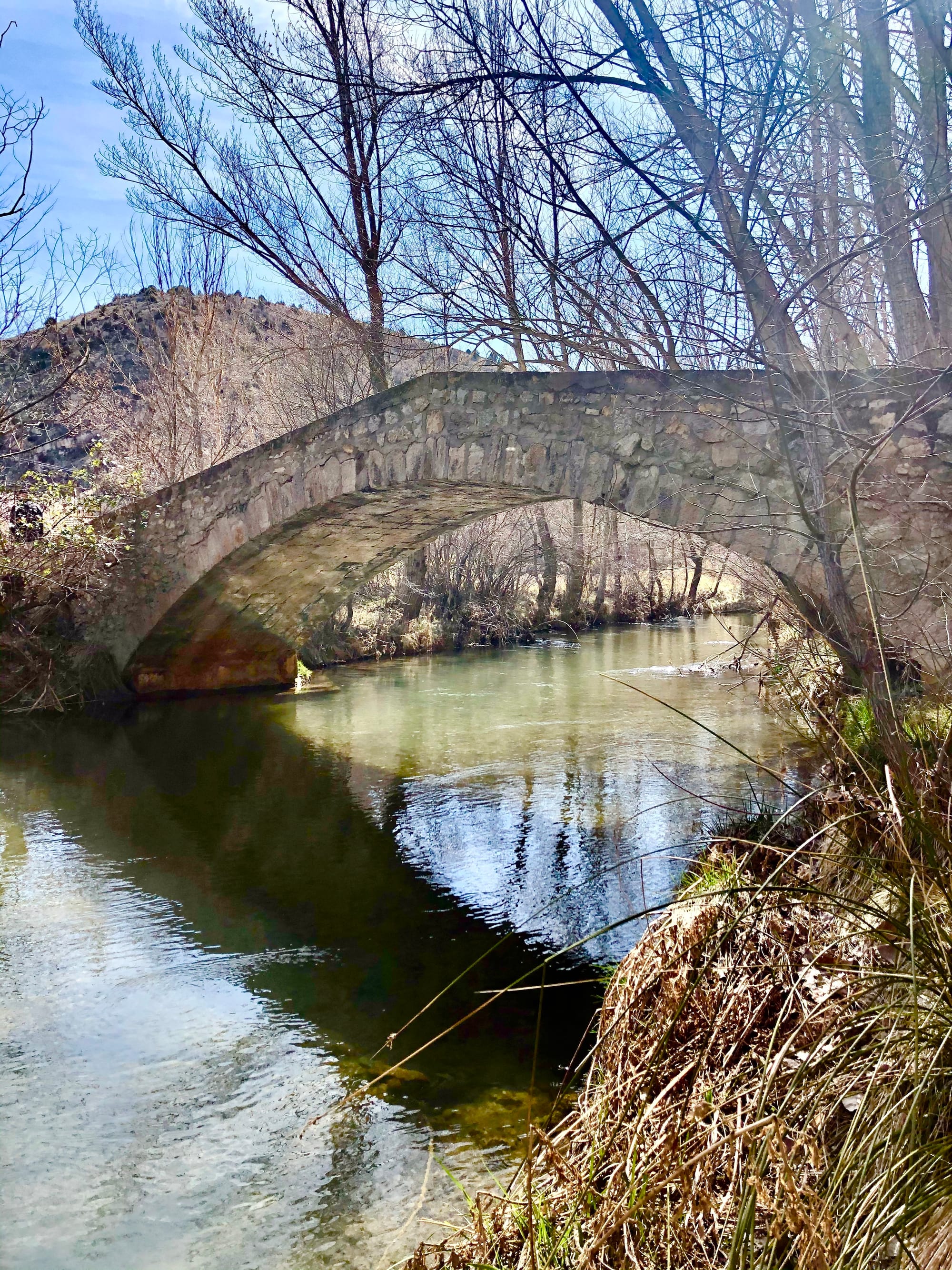 The land surrounding the town is all sheep pasture and trout streams
Day 6 - After such lovely, sunny days, we spent a day in Teruel before we got to Valencia. Neither of us had been to Teruel before and we had both read about the famous "lovers" sculpture and legend and wanted to see It. Tradition has it that a young man, having neither material possessions nor title, fell in love with a rich man's daughter. Having been sent packing he set off to make his fortune. When he returned to his home town a wealthy man, he found his beloved had married a more appropriate and reliable suitor and he promptly died of a mysterious illness. She, having found his body was overwhelmed with grief (or illness) and died as well. There are other, more scandalous and polemic versions, but this is the gist. Peter and I decided it may have originally been a plague story but that might have been due to the impending Covid-19 crisis tugging at our attention.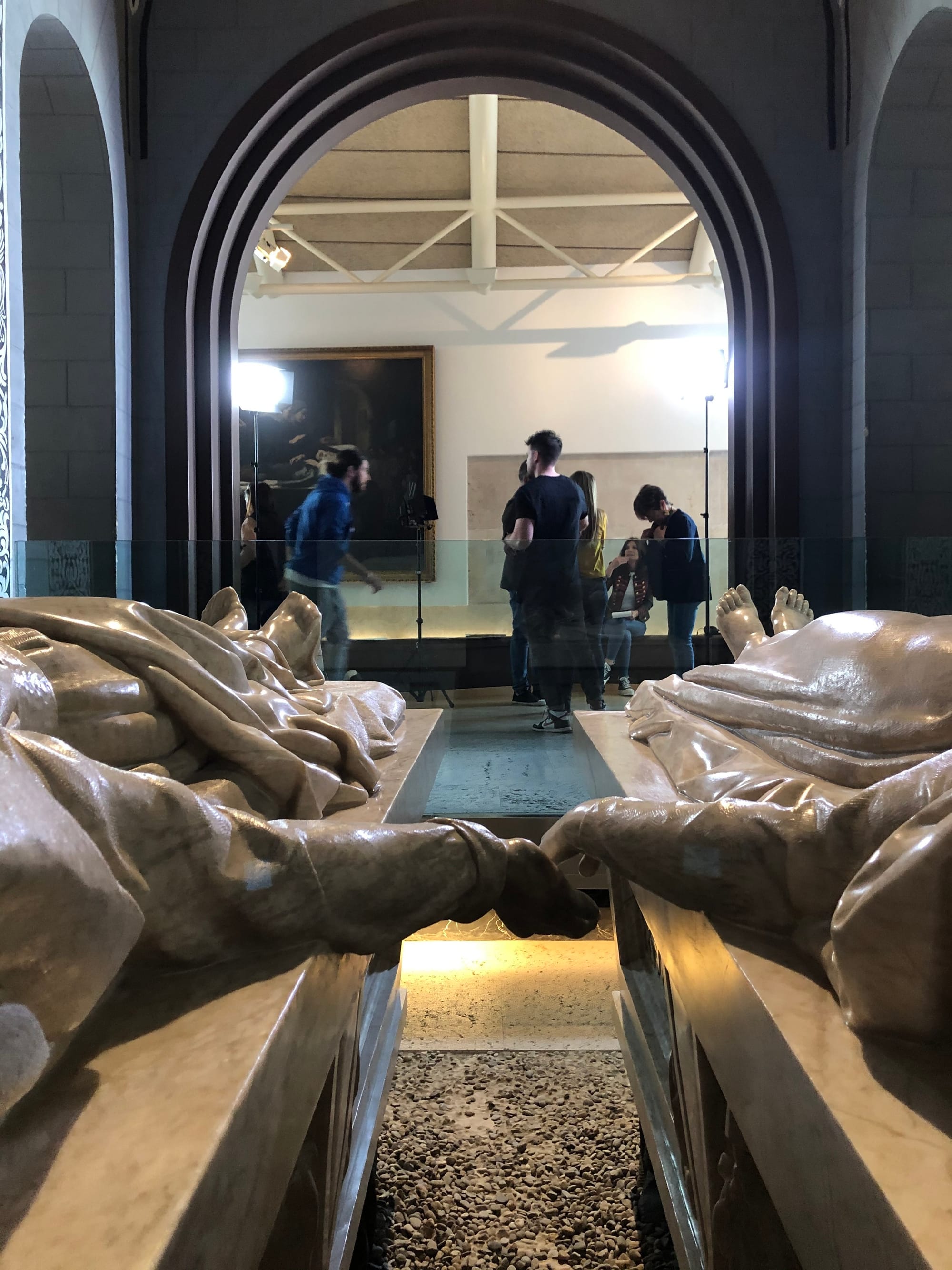 The Lovers
The rest of Teruel is shopping, cafe culture, boutique shops and excellent mudejar (a typically Spanish style combining Moorish and European geometric styles) architectural gems. We went into a great tea shop and bought loose leaf rooibos, walked around the center of town and overpaid for parkIng. Peter relived his college years by peeing in a fountain.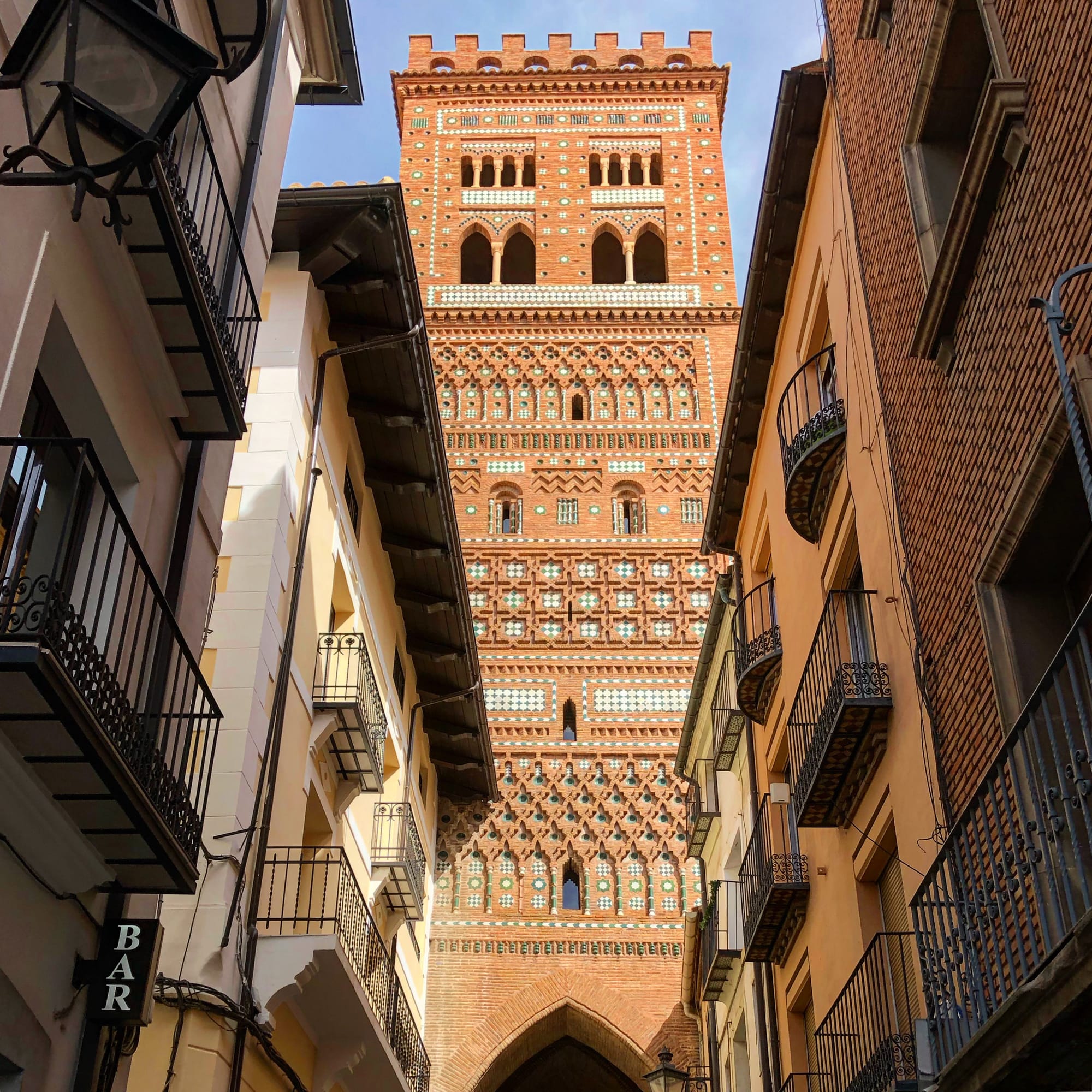 THAT is a style you will see nowhere else.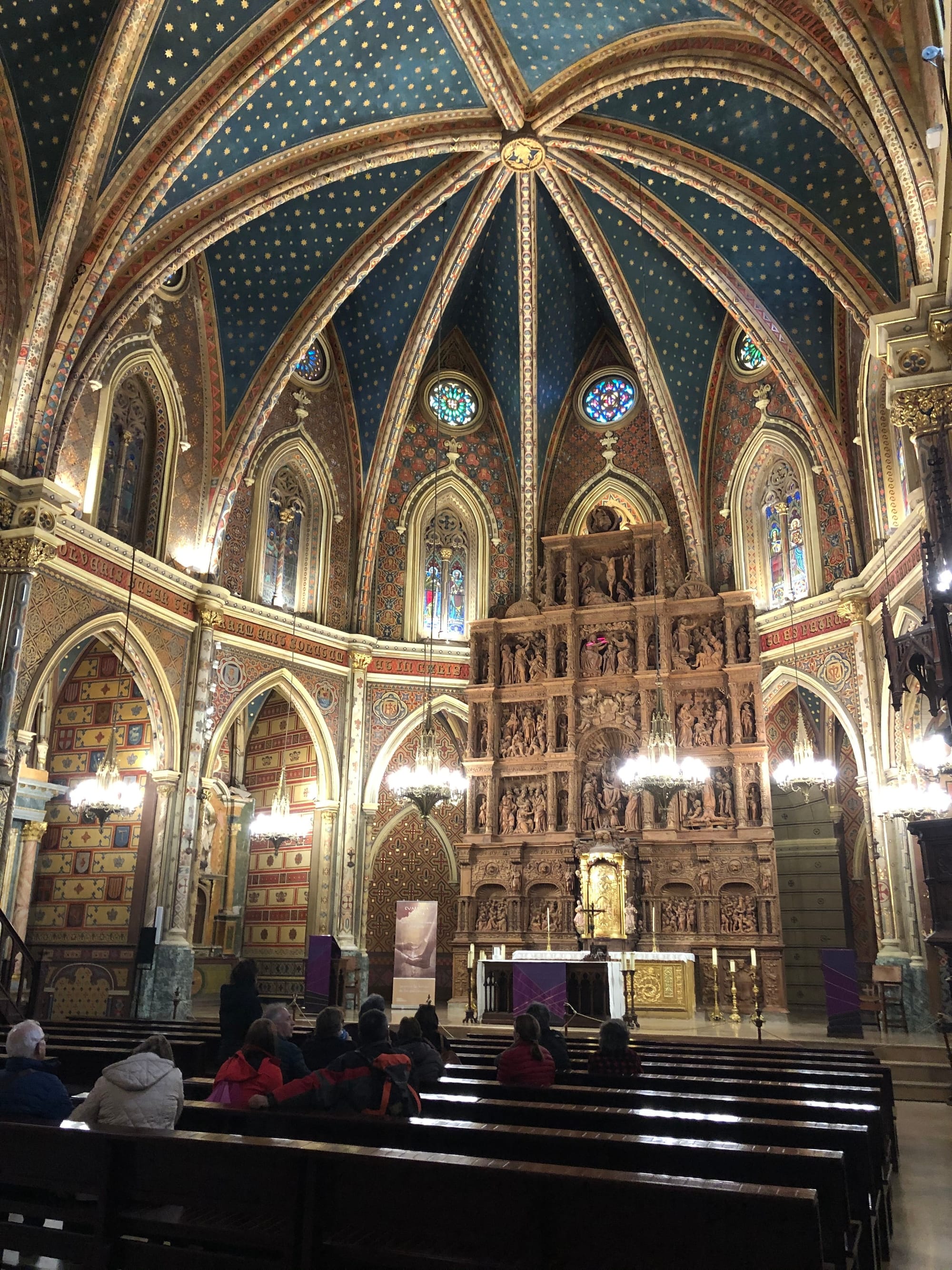 Teruel cathedral is worth a look for its dark, starry ceiling and detailed decoration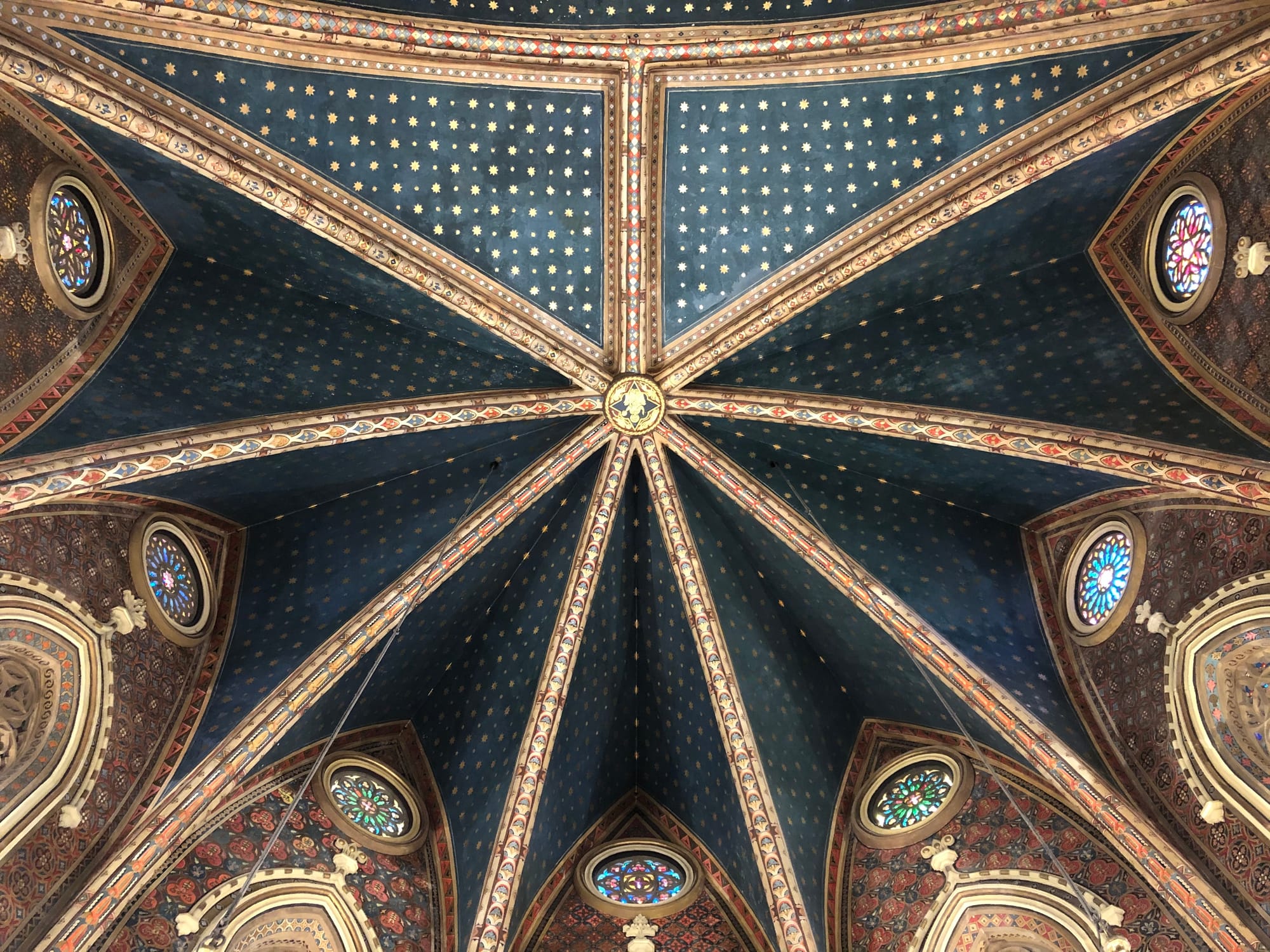 I love everything about this.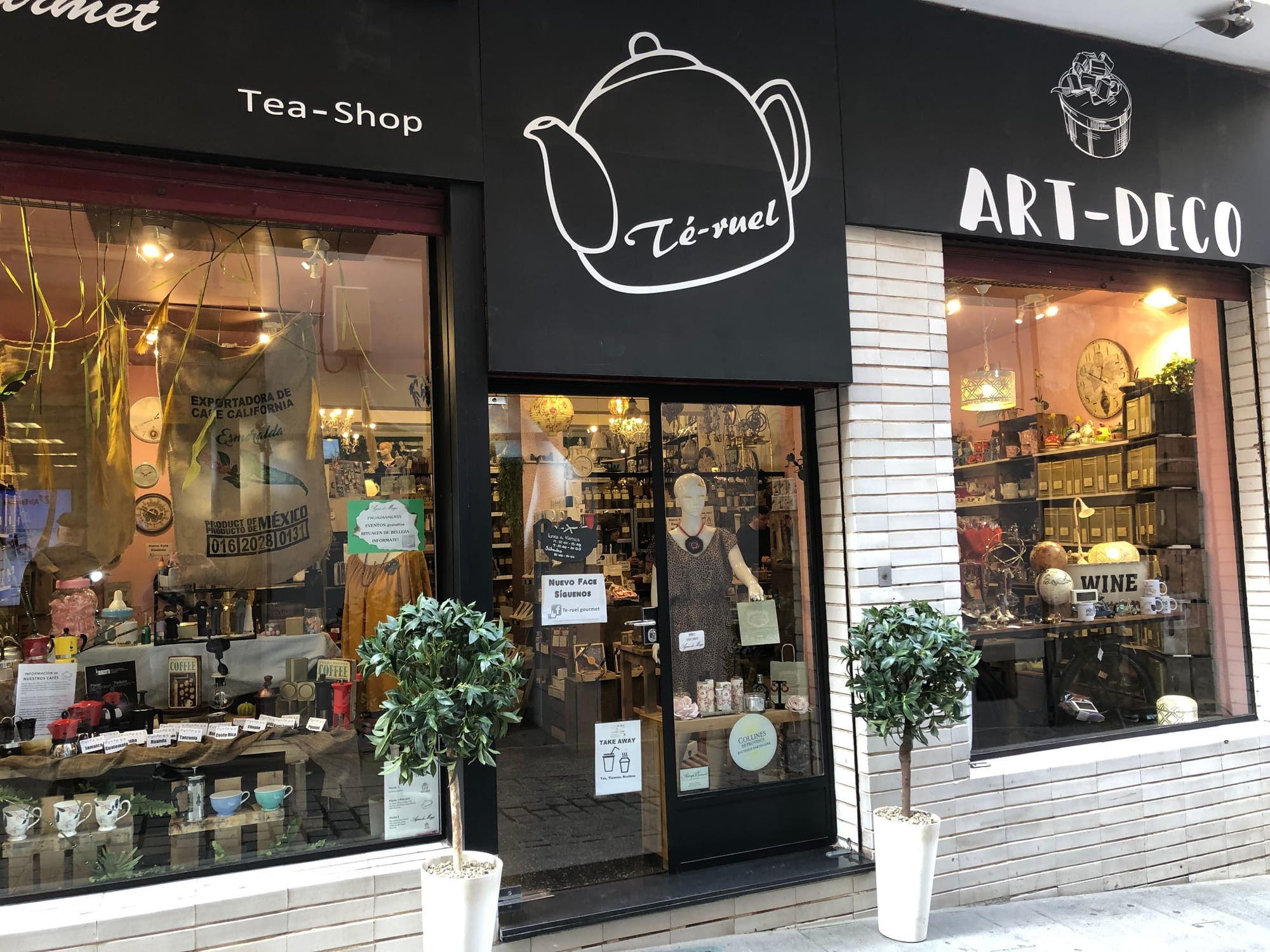 Teruel Tea Shop!
Days 6 - 11 - After Teruel, we found ourselves on the outskirts of Valencia at the airport returning our one-way rental car. Spain is an easy place to rent a car, even at the last minute. It cost us half what it would have to take trains to see all that we saw in the first week we were in Spain and was so much more flexible, suiting our style. We took a cab from the airport to our Air BnB rental in the old historic quarter of Valencia near the Torres de Quart. It was a perfect little apartment on a side street but within walking distance of everything we wanted to see in Valencia like the Lonja (silk exchange), central market and the cathedral.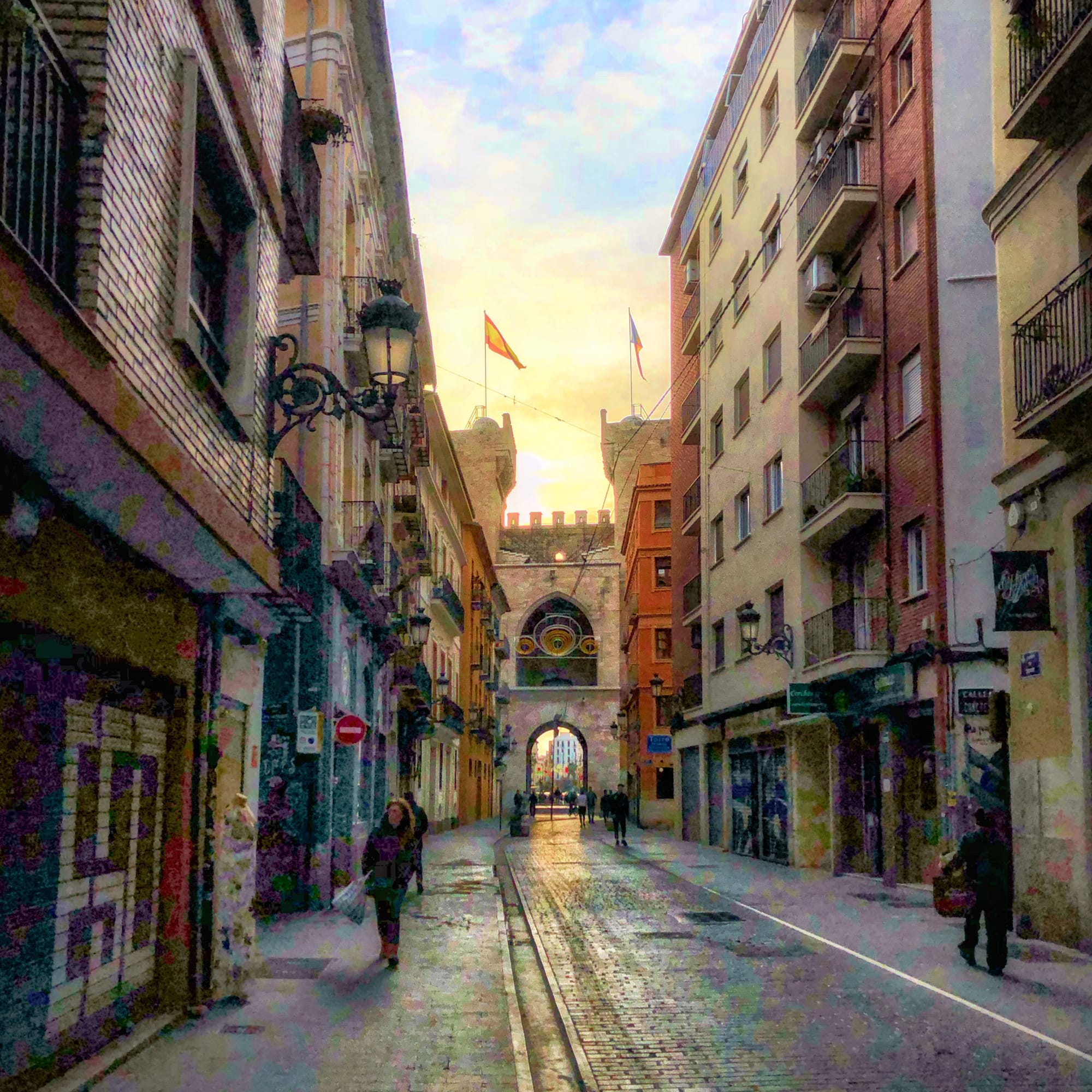 Torres de Quart near our lodging, at sunset

The ornate market hall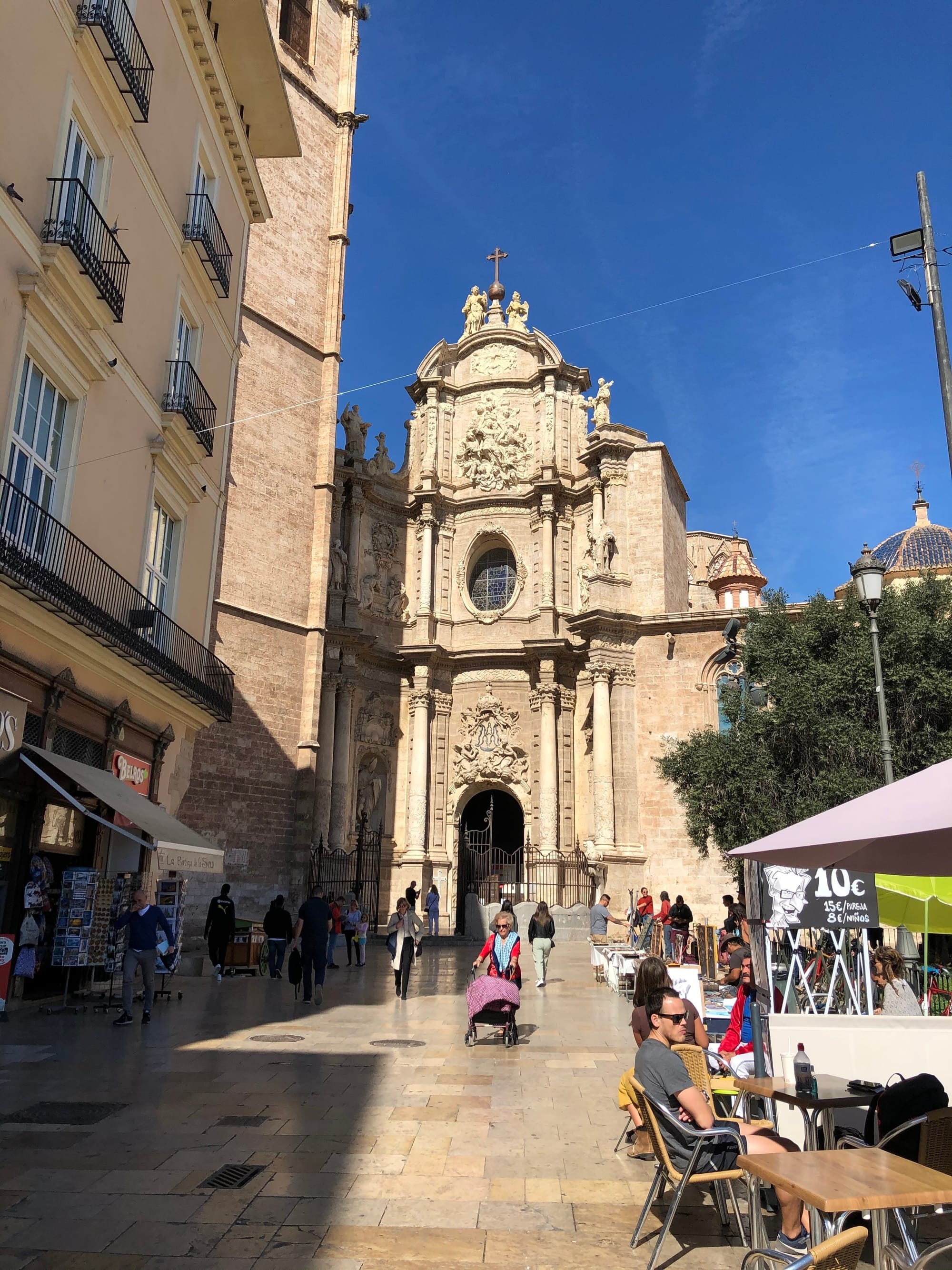 Valencia Cathedral or The Basilica of the Assumption of Our Lady of Valencia.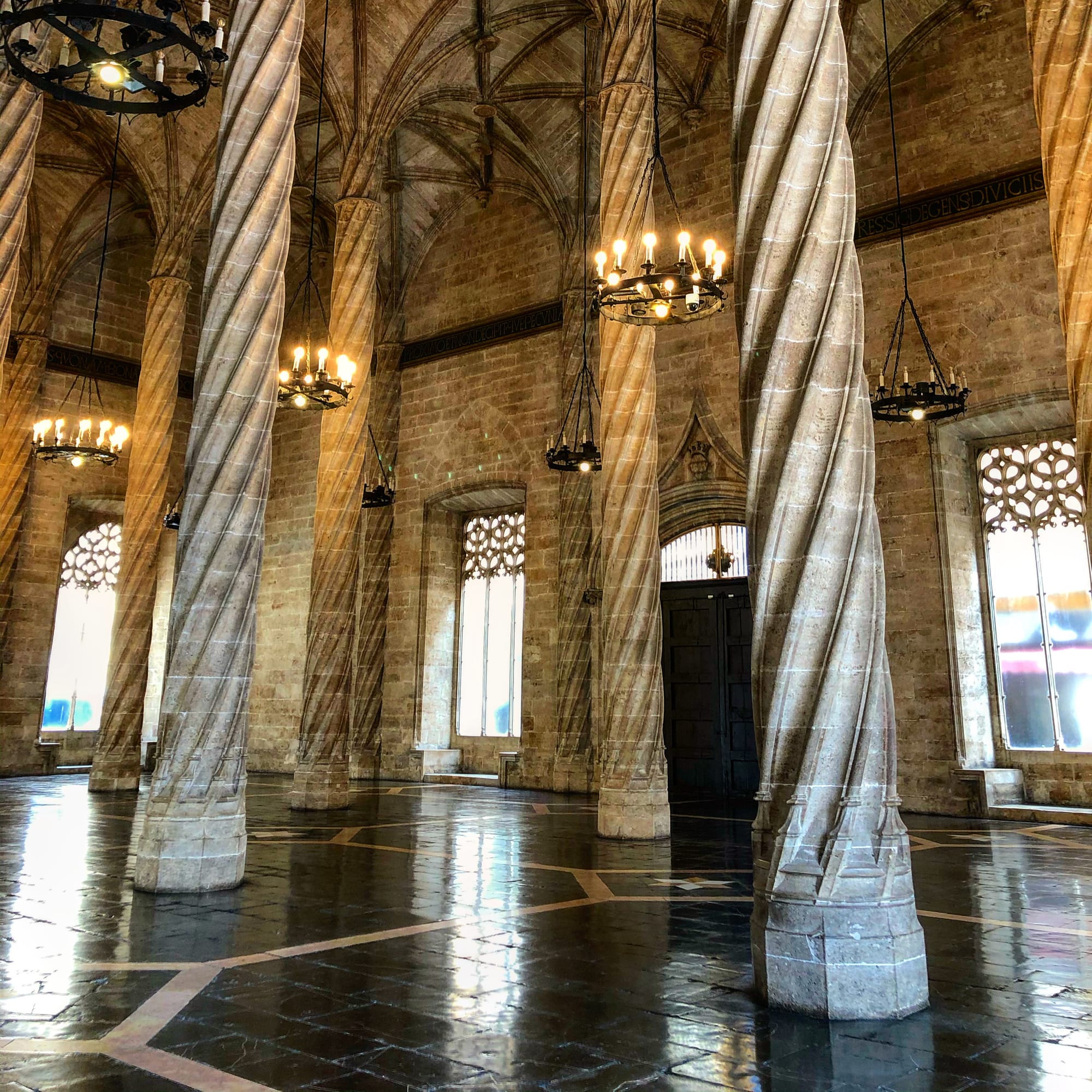 The 600 year old silk exchange, or Lonja, is a feast for the eyes with grooved pillars and an orange garden.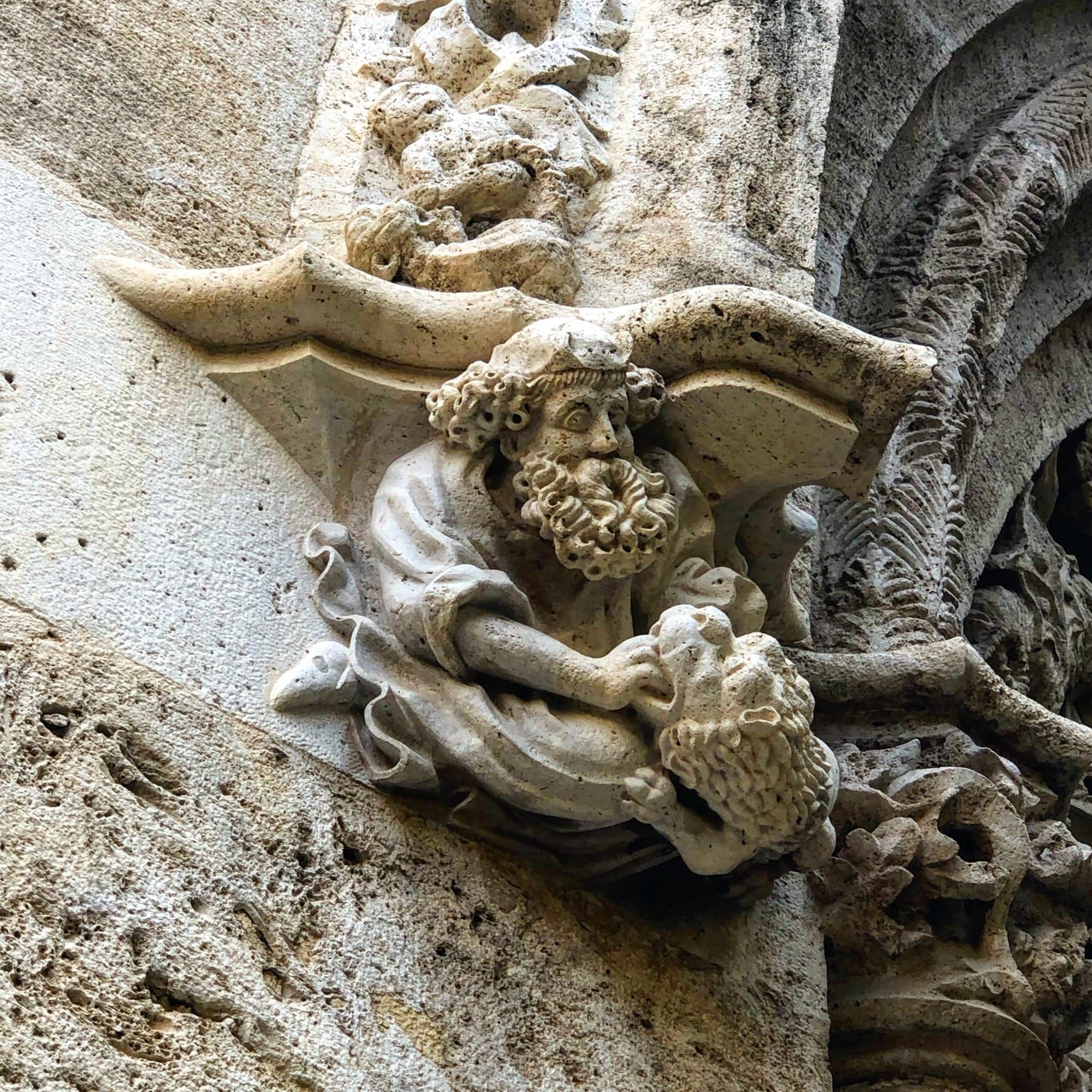 Don't miss the details!
We also went to the Science and Technology campus of museums near the port side of the city for a feast of photographic material.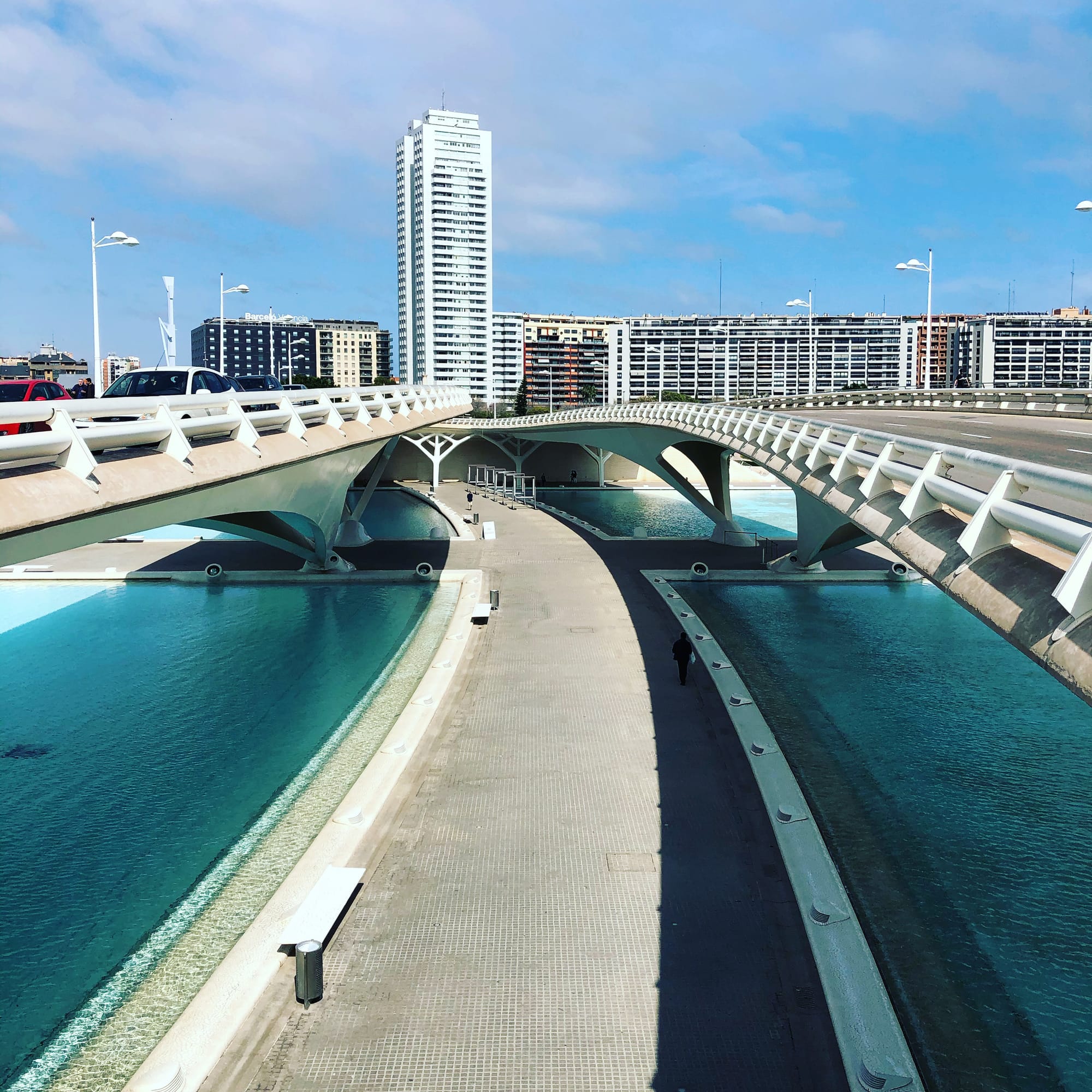 I don't know what to say about this part of the city, except it looks like a science fiction movie set.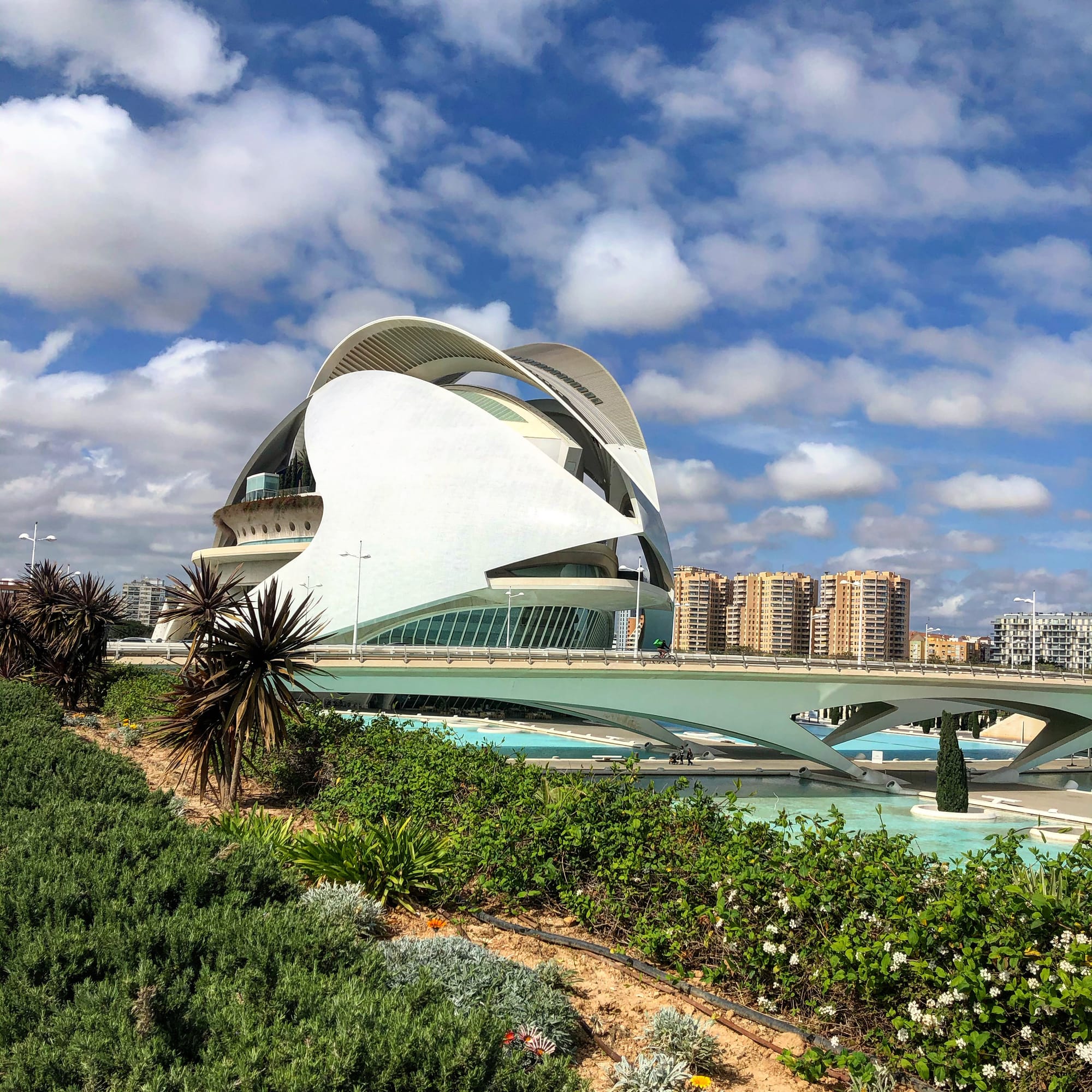 I mean, what?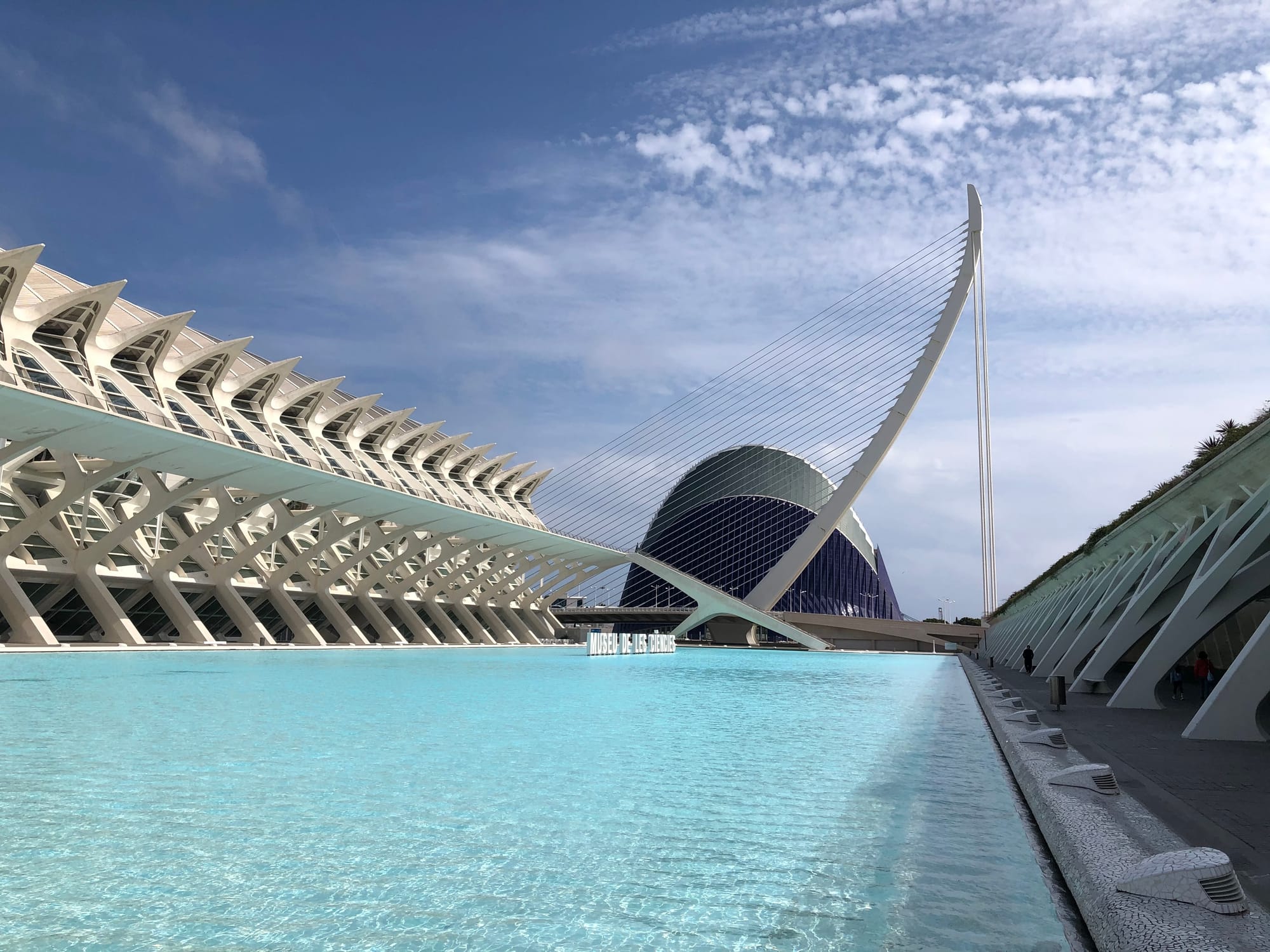 ???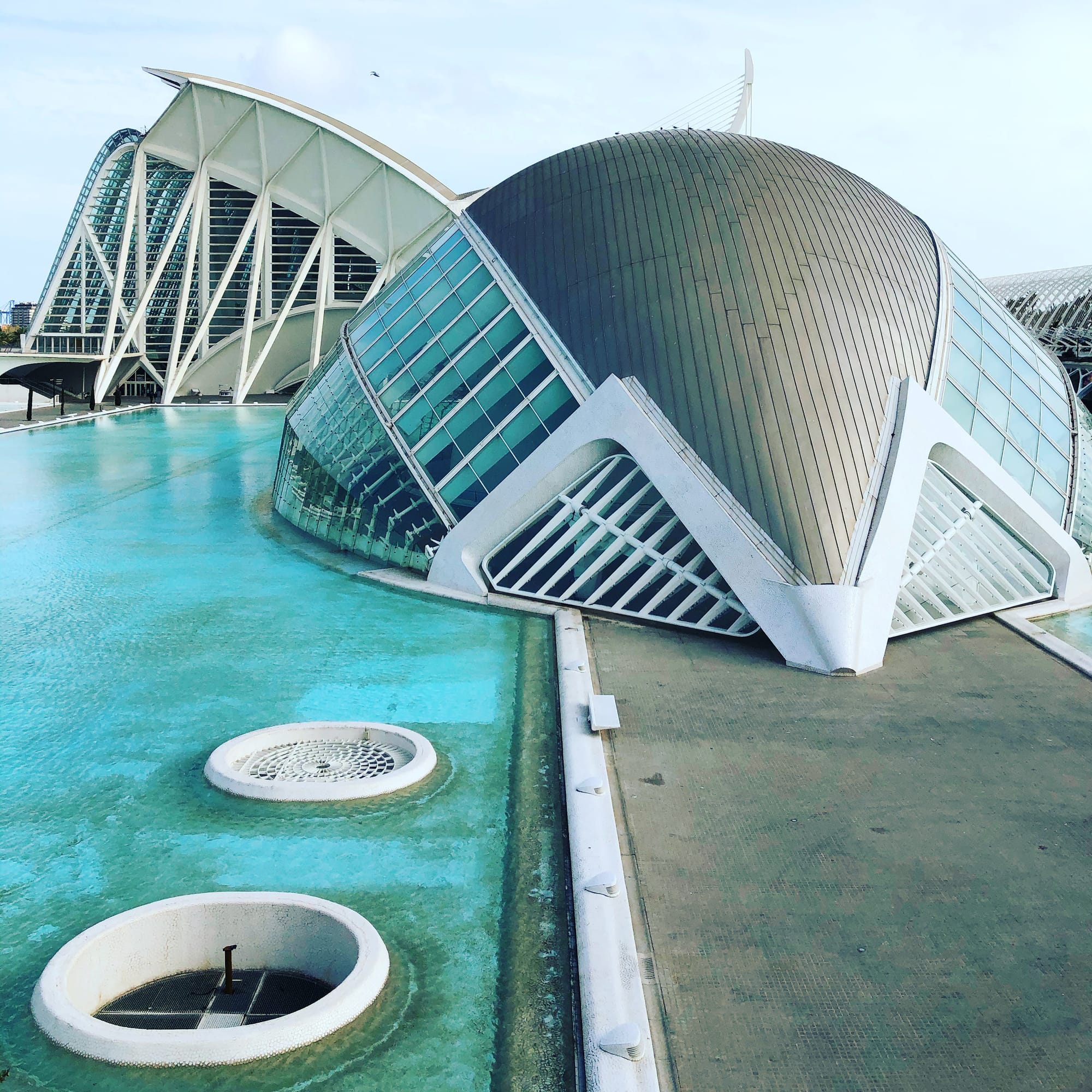 !!!!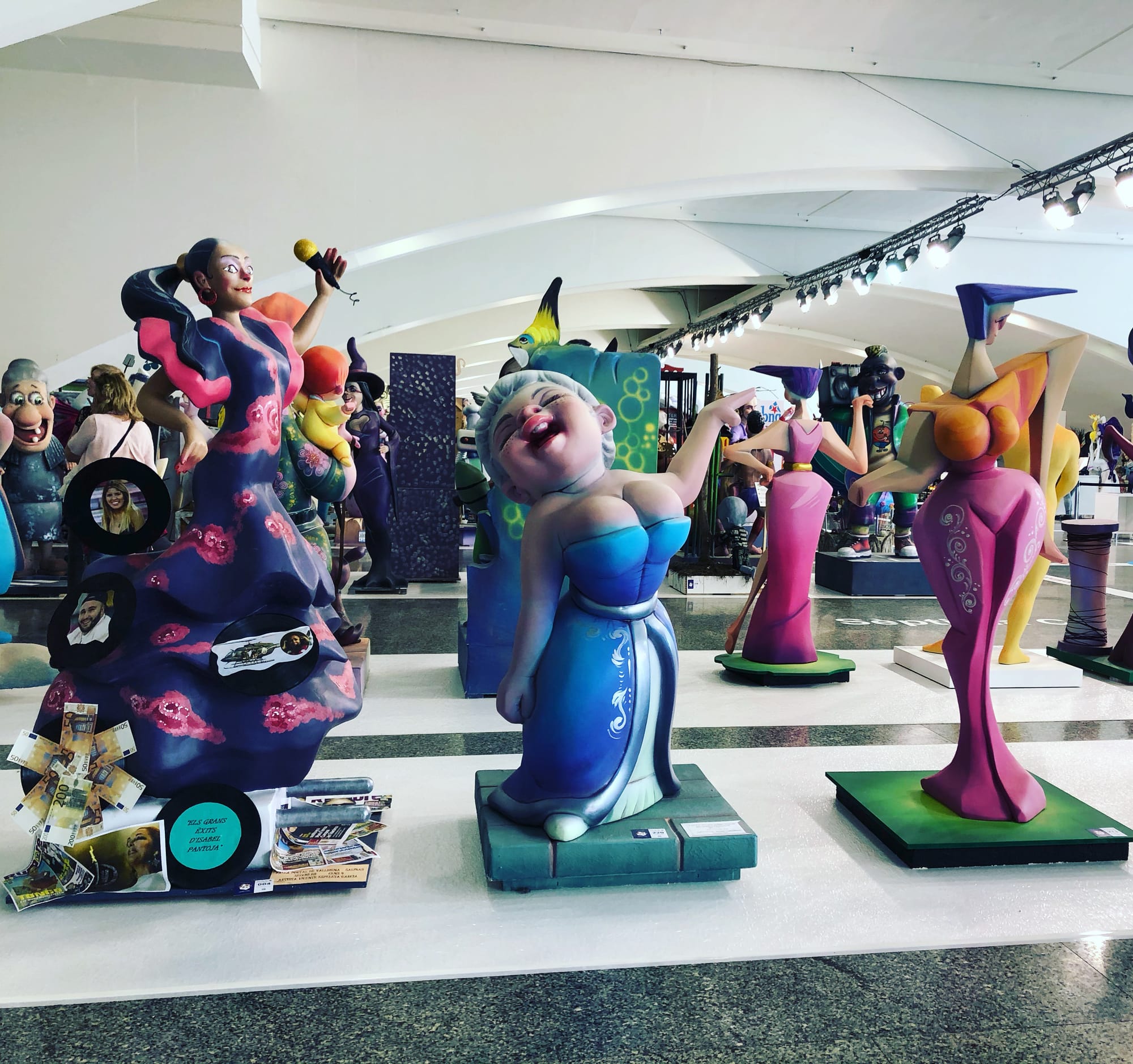 Part of the museum complex was a huge room full of "ninots" - miniature representations of falla themes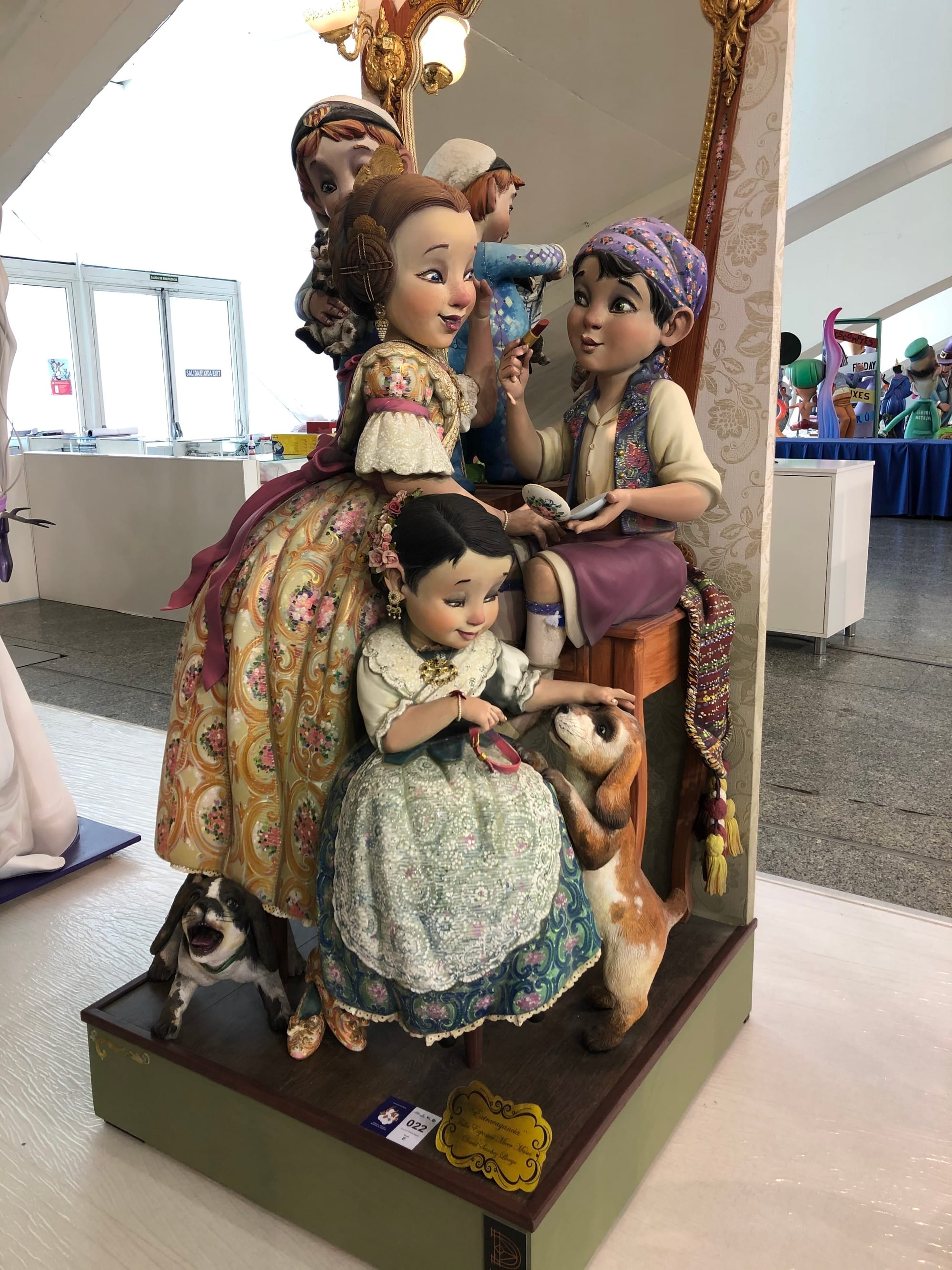 Some ninots are traditional.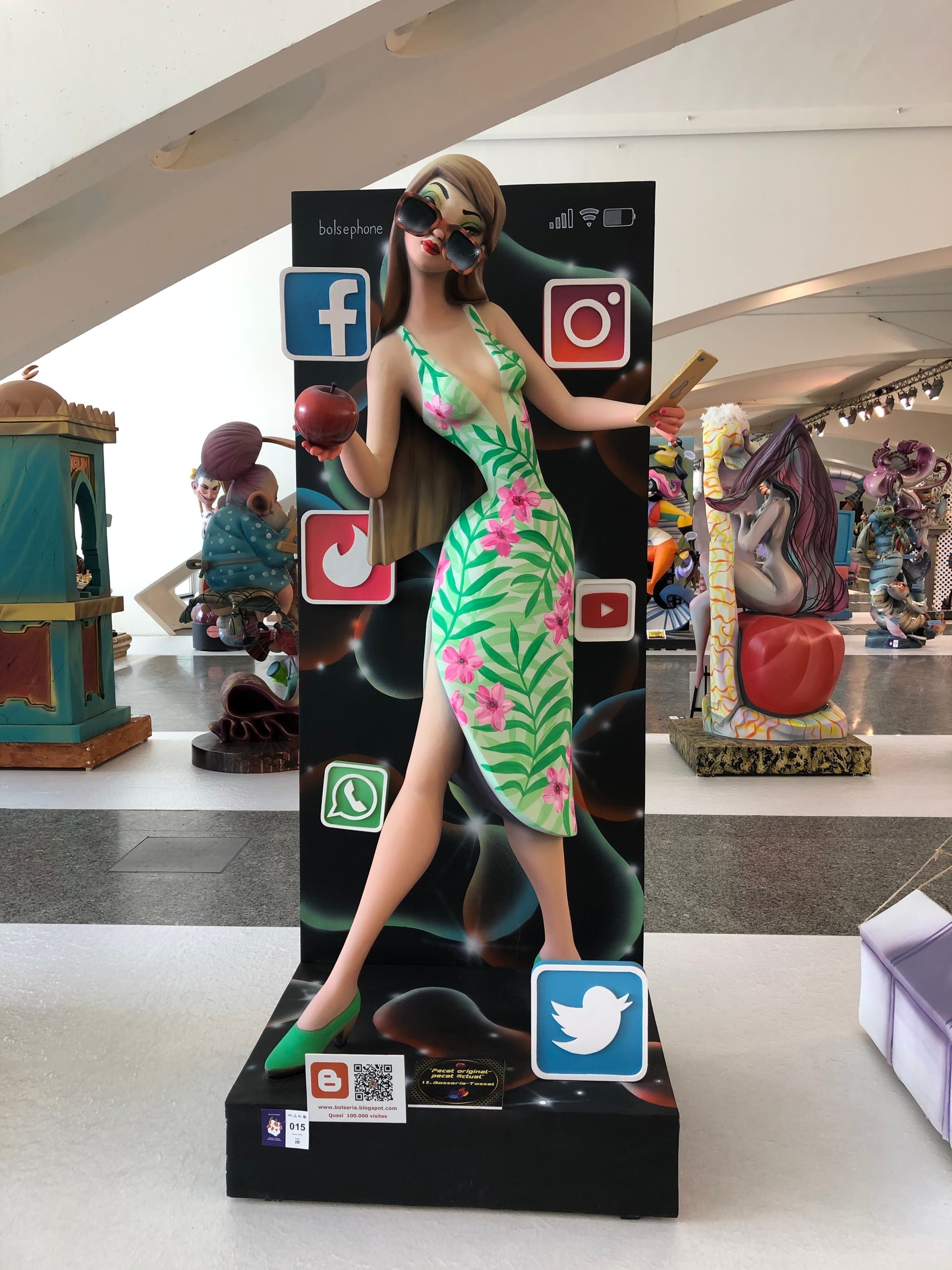 While others are distinctly modern!
And of course we checked out all the vegan hot spots!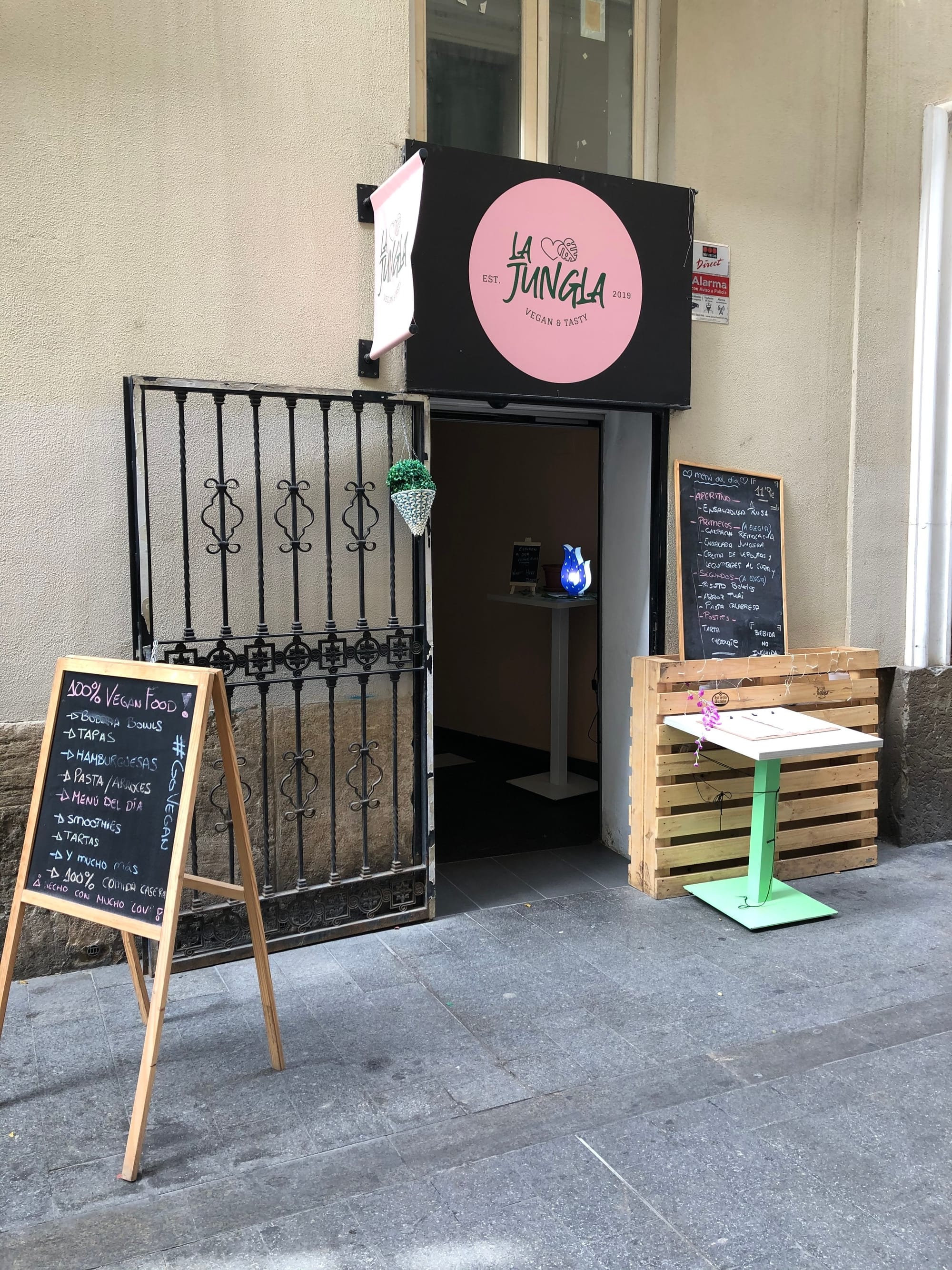 La Jungla had a limited but creative and tasty vegan menu.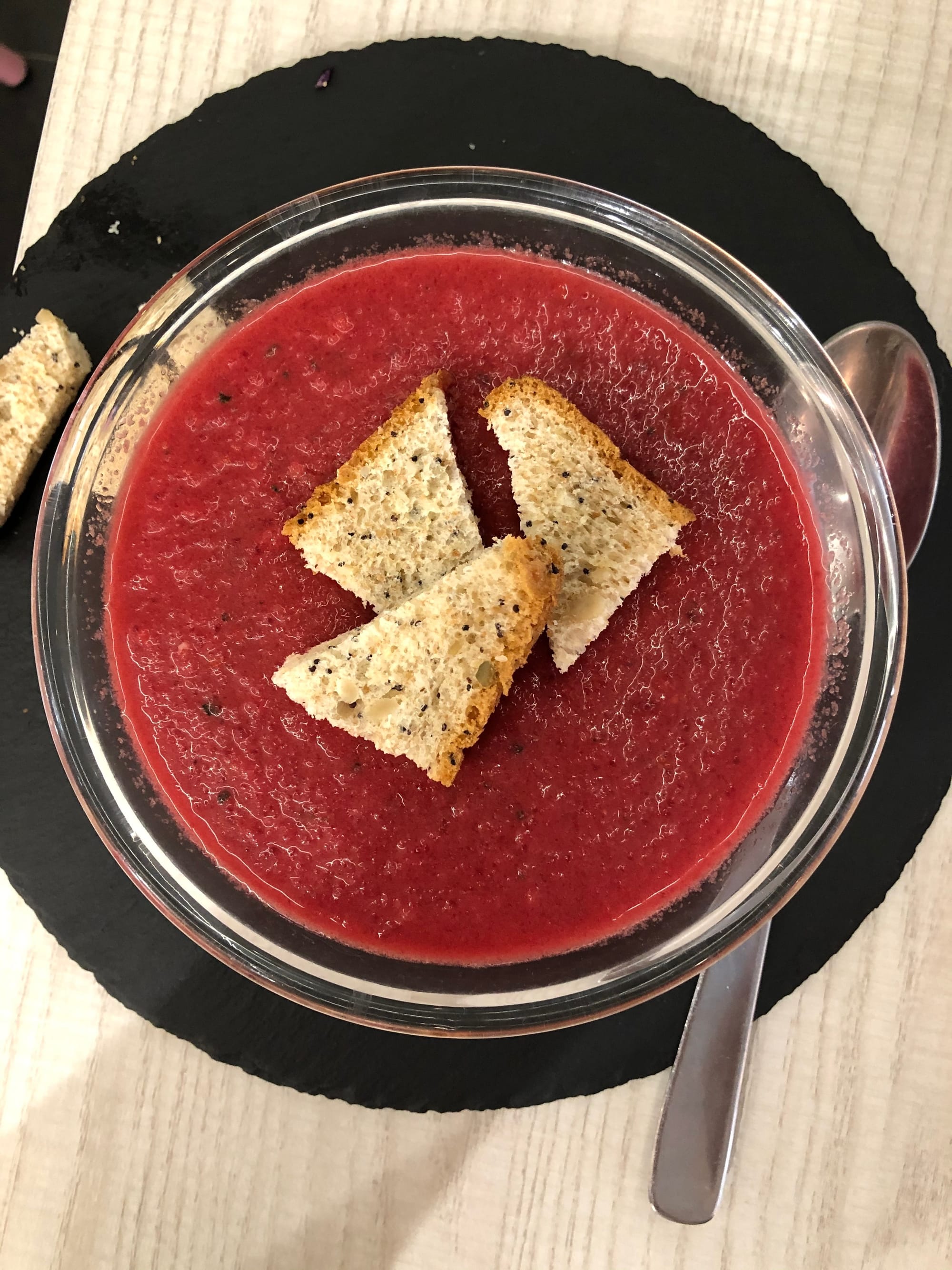 Beet-infused gazpacho!
Valencia is a beautiful city and we were there for all of its delights but most of all we wanted to experience Fallas! Fallas celebrates the Feast of Saint Joseph with enormous, flammable sculptures full of fireworks that are lit up at the end of a hectic week of festivities. Firecrackers, traditional dresses, numerous pageants and parades, a giant wooden Virgin Mary sculpture full of flowers and local kiosks selling and giving away plates of paella and copious "copas" round out the scene. Controlled chaos is a good way to describe it. Just when a flower laden maiden walks by, surrounded by family snapping photos, a string of loud paper-wrapped gunpowder pops off somewhere near your head. The final night is the Cremá and the inner city is aflame with faces of well-known people, animals and characters from history and fiction burning to the ground. It is a sight to behold. Unfortunately, we were not destined to behold it.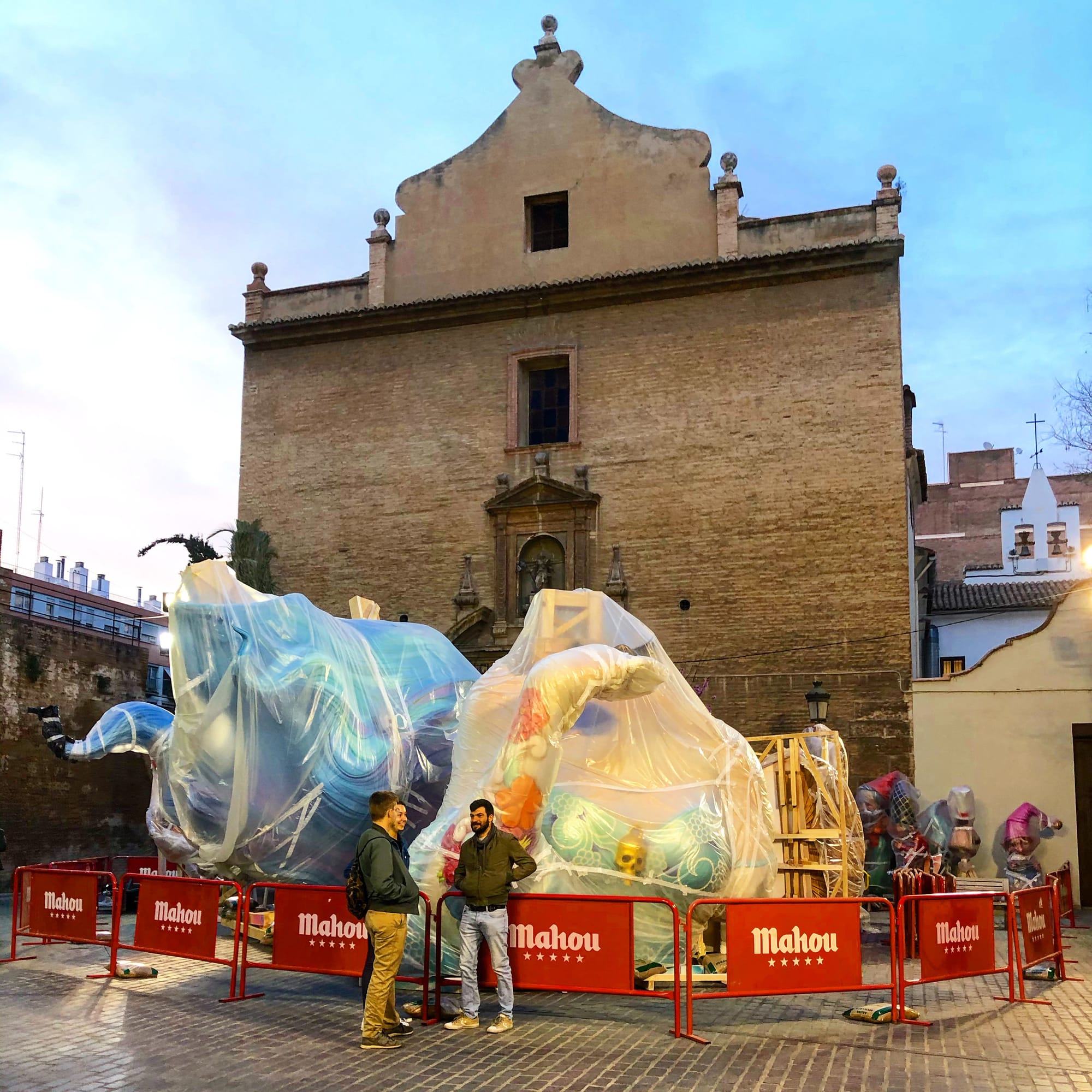 The fallas sculptures are built in large warehouses during the rest of the year then transported by truck to their final installation points.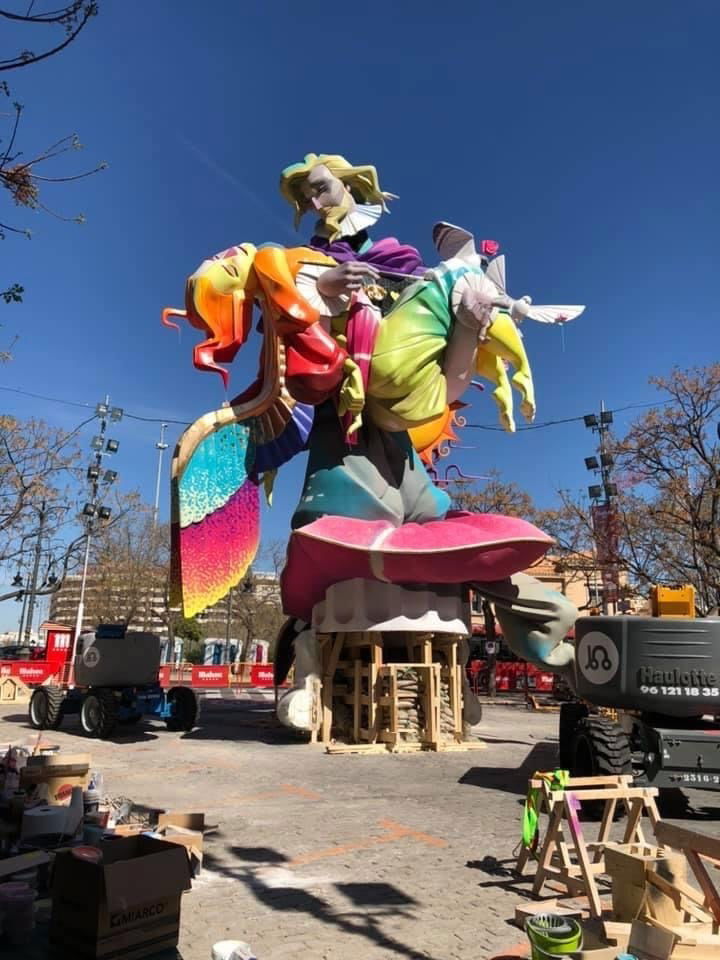 A nearly complete falla - about 50 feet high. This was the one that was the closest to being done in the city.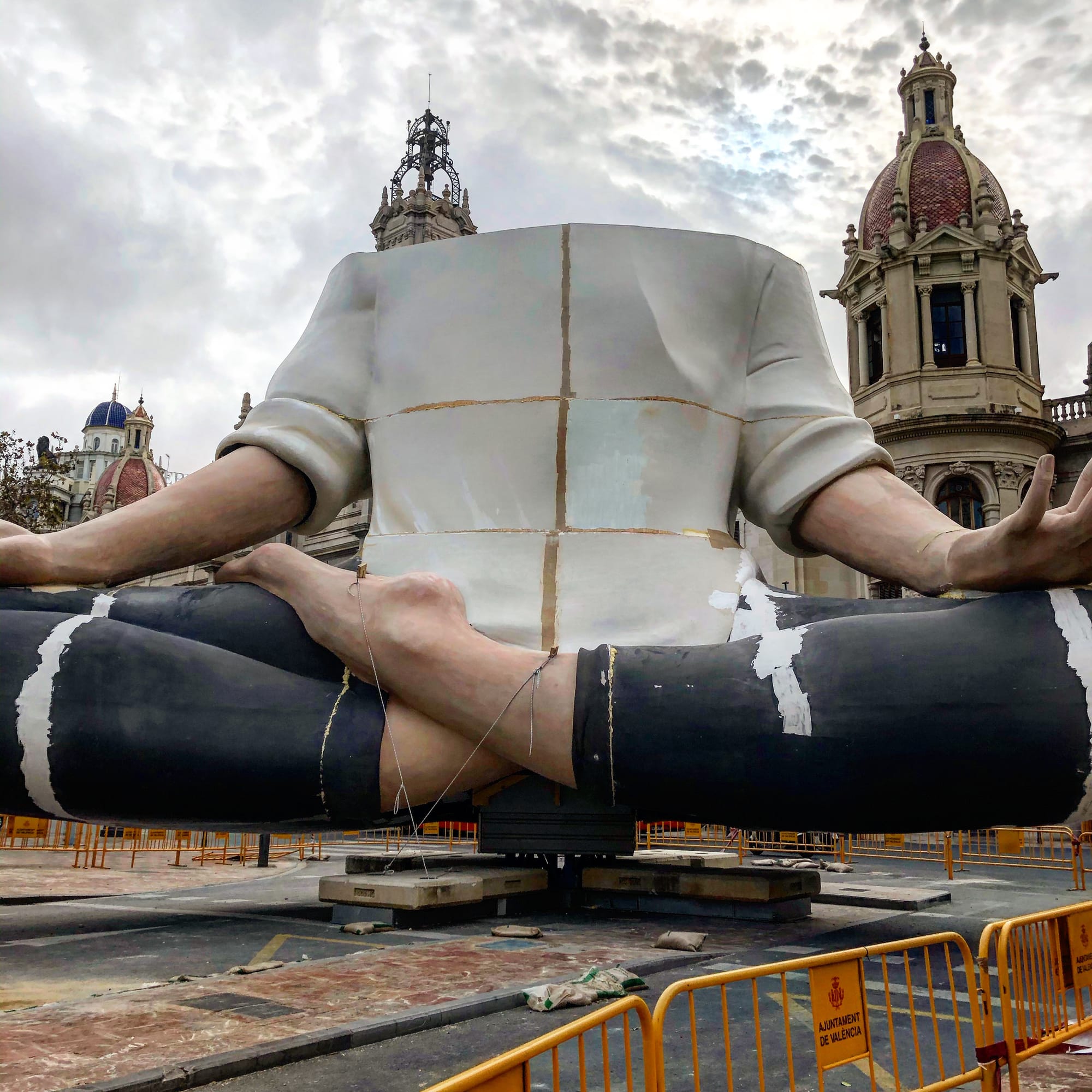 The enormous falla in the main plaza was never finished.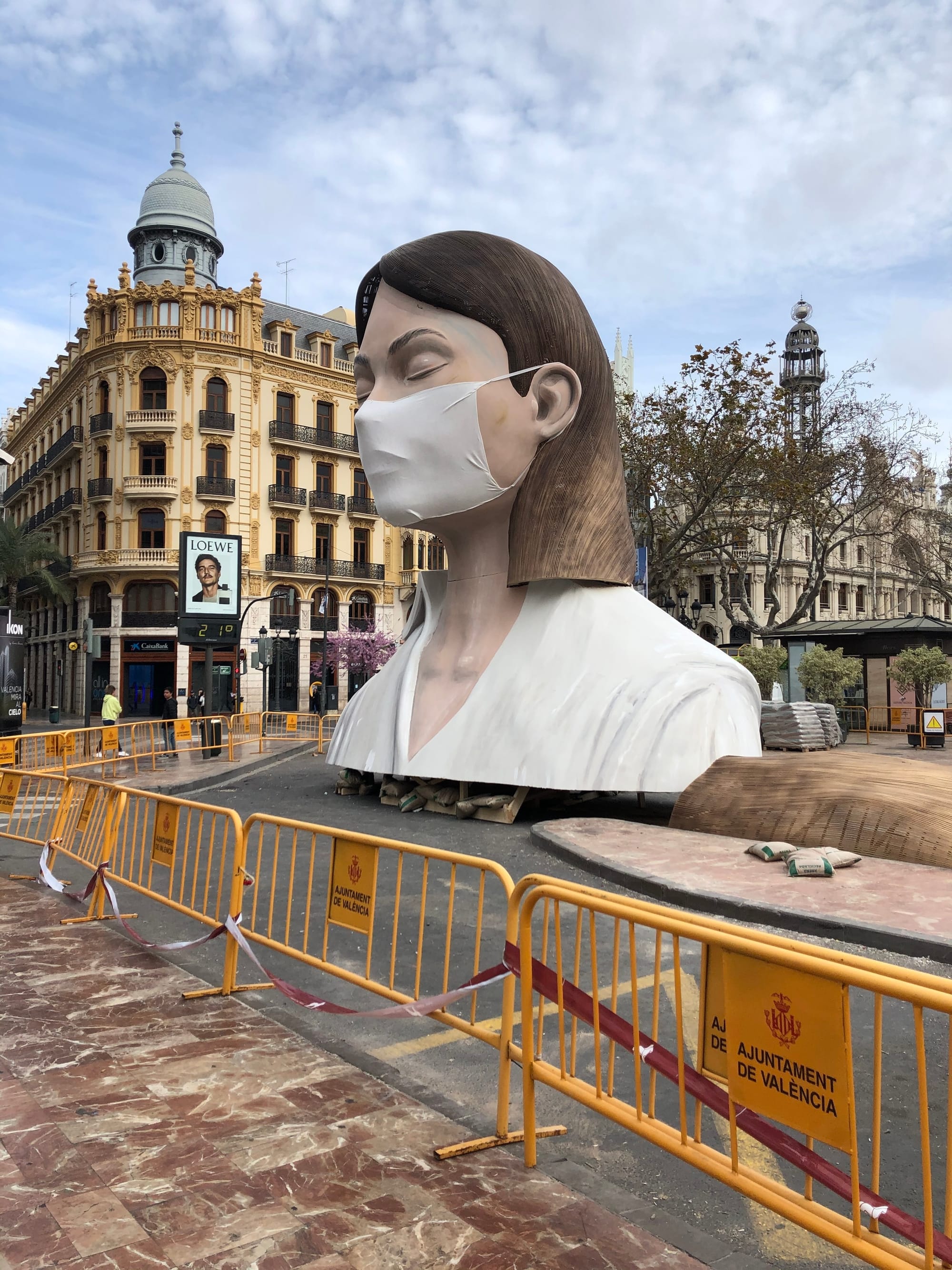 They did get a mask on her though. for scale, that is a king-sized bedsheet.
For the first time since the Spanish Civil War, Fallas was canceled. And just like that, we were headed back to the US.
"The one thing life has taught me is that most people spend their lives bottled up inside their houses doing the things they hate." Federico Garcia Lorca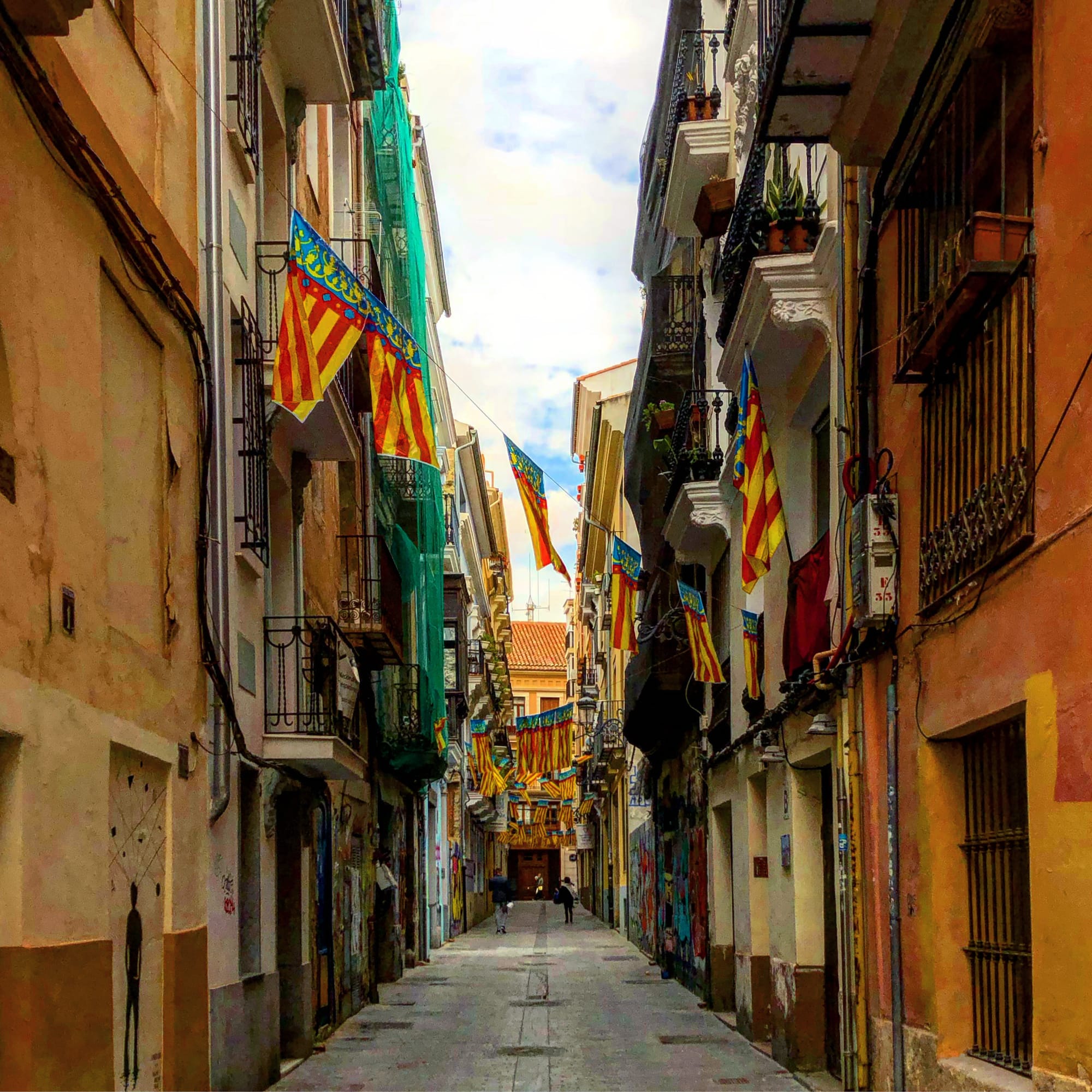 Beautiful, empty streets
Everyone in Valencia was staying at home. Everything was closing, fast. We had been all over Europe, touched down in the Middle East and North Africa, caught a cab with an ex-convict with neck tattoos in Bulgaria, driven within a kilometer of Saudi Arabia in a 20 year old rental car, taken 30 flights and stayed in over 30 beds and we were done in by a micoscopic little sphere called Covid-19. To get out of Valencia was going to be tricky. We could not follow the changing regulations. All our flights were canceled anyway. Our stuff was at Peter's parents' home in Aachen, Germany. The trains were running but expensive. We ended up driving to Barcelona to stay overnight in a terrible hotel near the airport to try our luck getting out by air, knowing that the other option would be to continue to drive north to the next airport in France and try again there.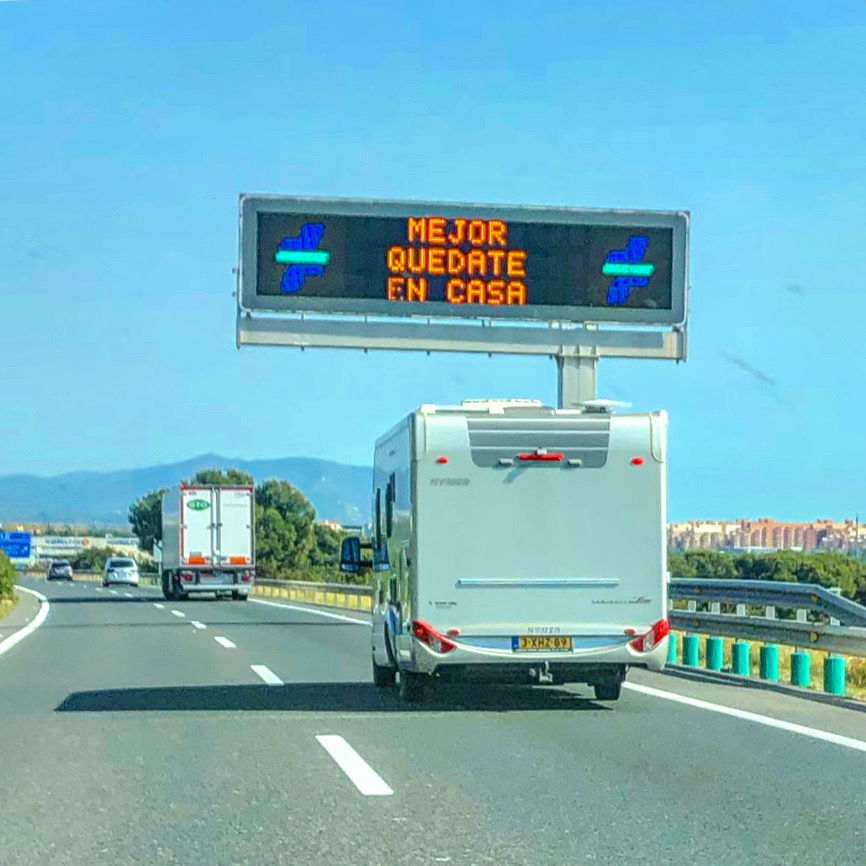 We saw this on the way north. "Best to stay home"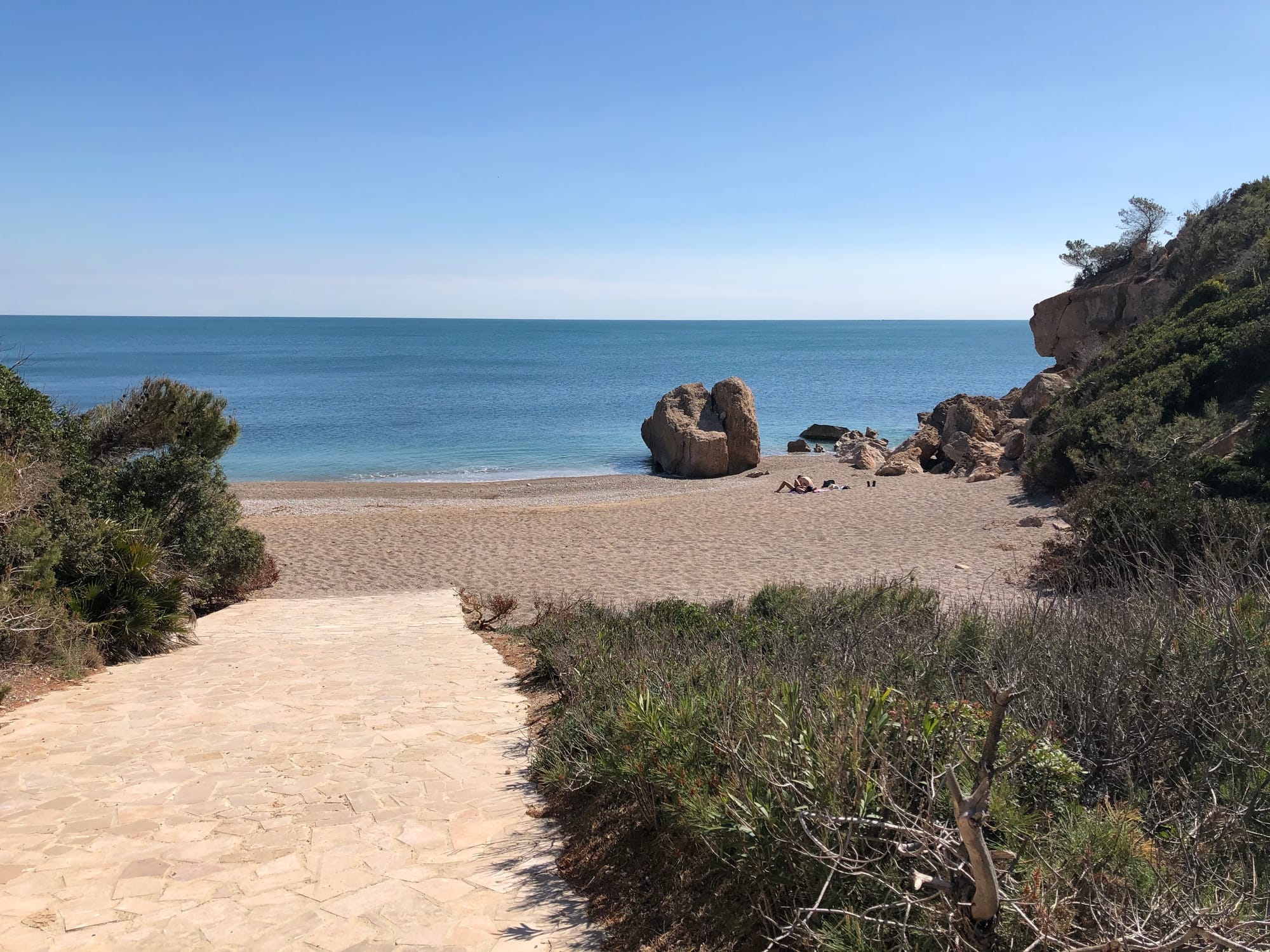 We stopped at a pretty, deserted beach for a nap on the way.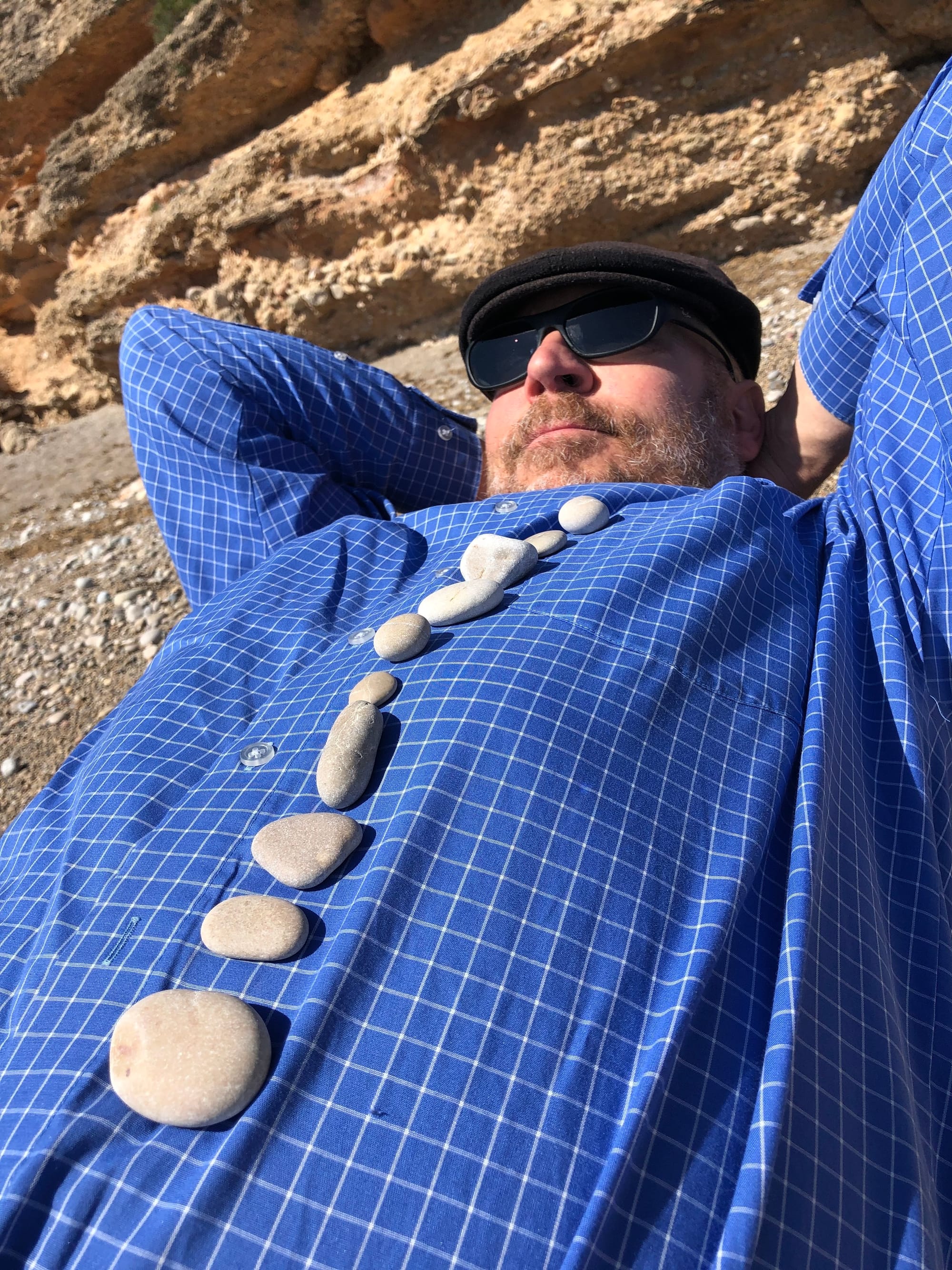 On the beach
After being turned away from our Airlingus flight in Barcelona, we found the last two tickets out of Spain on United Airlines and home we went. Pro tip: Get the airline app for every single airline. Get the frequent flier cards. Have enough data to make it work. There were at least 30 crying, screaming and utterly exhausted other Americans turned away at the check-in desk because of Donald Trump and his lackadaisical and random manner of dealing with crisis. All flights had to be routed through specific airports as of March 13th, so, even though the people we met in line had tickets to the US from an approved country (stupidest policies ever with this administration) no one could get back. They were truly stranded. I whipped out my phone and panicked through the apps and search engines. When we sat down on the plane we were all on the point of collapse. We had made it and off we went. There were such kind people that helped us in customs and on our last flight. From the East Coast accented guards at the airport in Newark to the kind young woman who let me use her phone to text my ridiculously long-suffering sister in Minneapolis, we were completely blessed and covered throughout the entire debacle.
Still waiting for that refund...
And here we are. Holed up in my sister's suburban basement, waiting it out. Applying for jobs (me) and fighting with our previous school district (Peter) to get our collective crap together for the next phase. Our dear niece, Anna-Maria, and Peter's mother sent us many of our things. Our Minnesota family has supported us in every way possible. We are ok to launch! Without a destination, and with little direction, but as Jodi Foster in the movie Contact said, we are "ok to go." Our souls haven't caught up with us yet, says Peter. We are just shells right now, little bodies floating through the global pandemic, washing our hands and looking for signs. Like the nomads of Africa, the refugees of Israel and the commuters on London trains, we wander. We wade through applications, real estate listings and all the novels we can find at abandoned lending libraries in our neighborhood's groomed yards, ready to move but caught up in the practicalities of staying put. It isn't really hard, and yet it is. We went through a multihued vortex full of delights and wonders only to be brought up very, very short.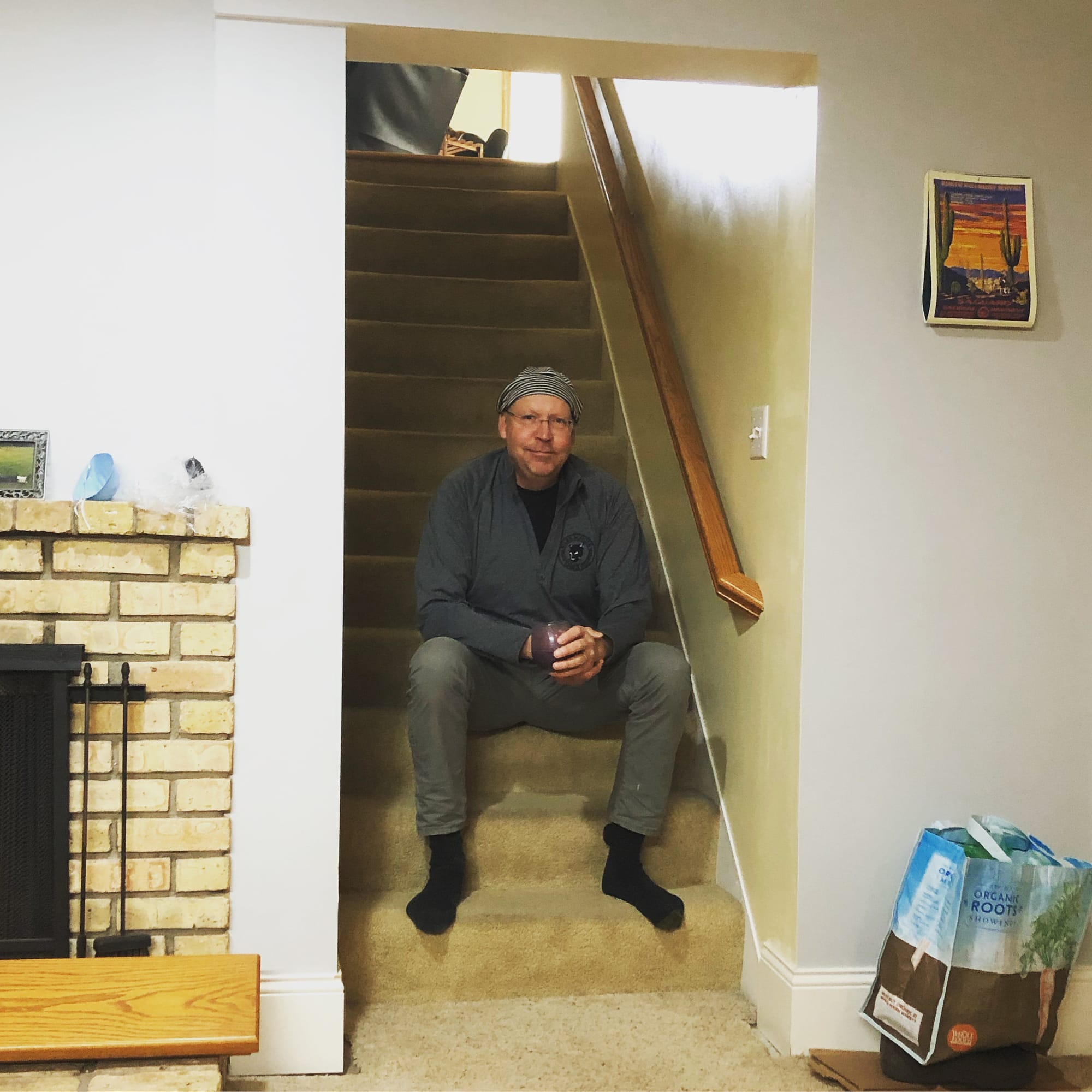 We miss the things we saw and did and the people we met and didn't quite meet. But if you are going to be dumped, unceremoniously, into a relative's basement for over two months of semi-quarantine, let it be one as warm and inviting as this in a city where people use common sense and respect each other.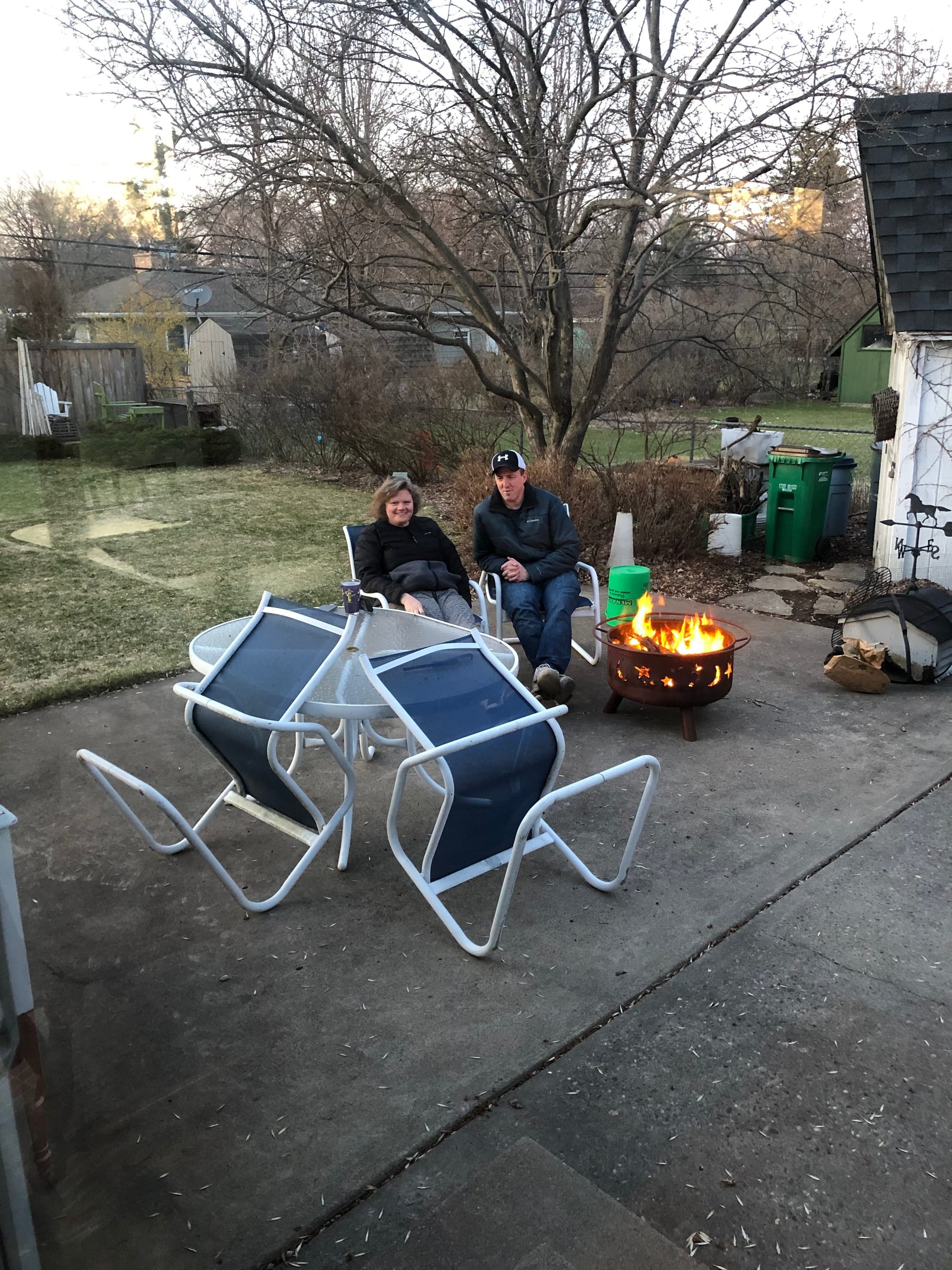 And have fire pits.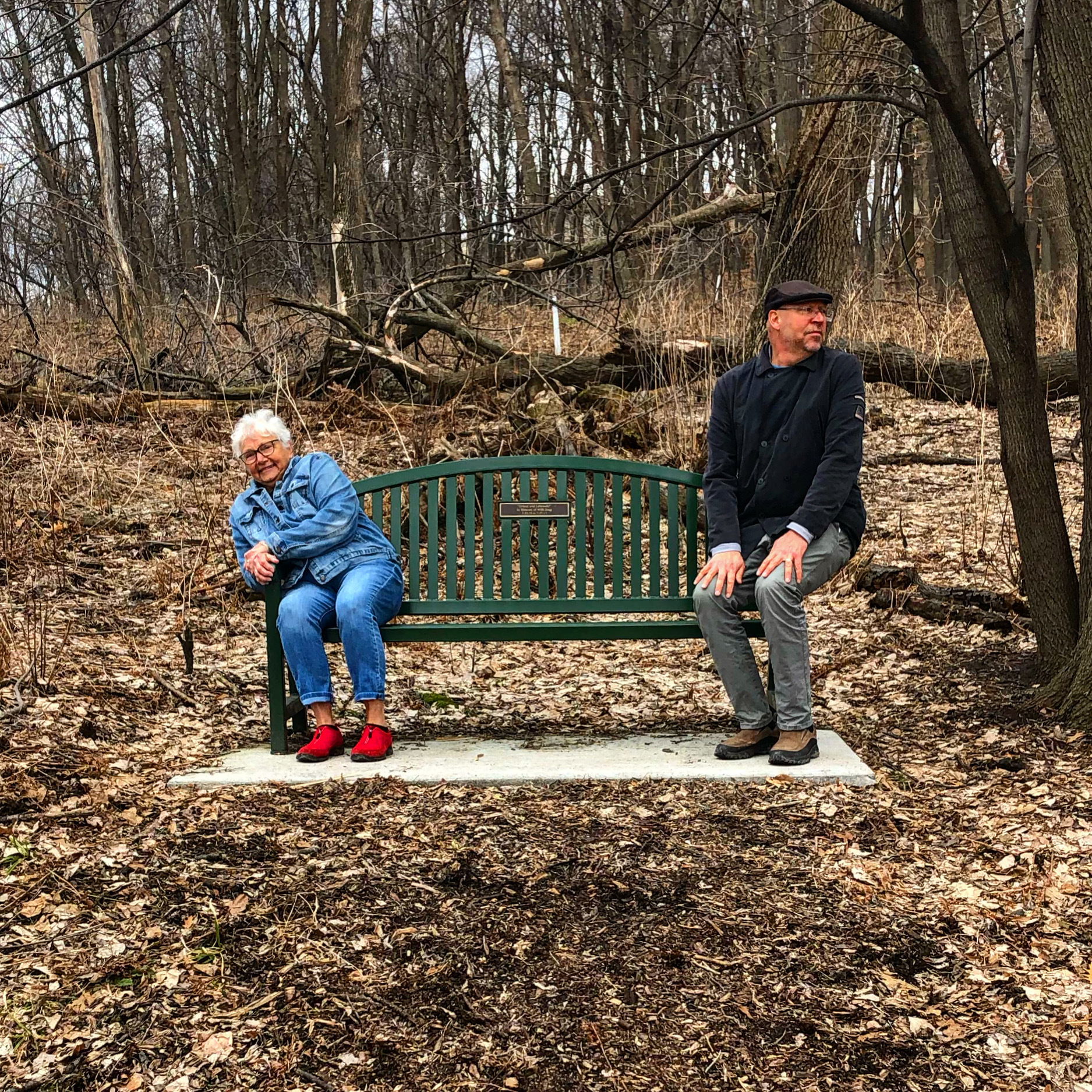 Back off, lady.
We have had weeks of glorious walks with my mom, quality time with the last set of dear nieces and nephews, and reconnection (at a safe distance) with friends and familiar places. We have gotten a lot of our money back that we thought was lost and we have another car full of stuff to start over with.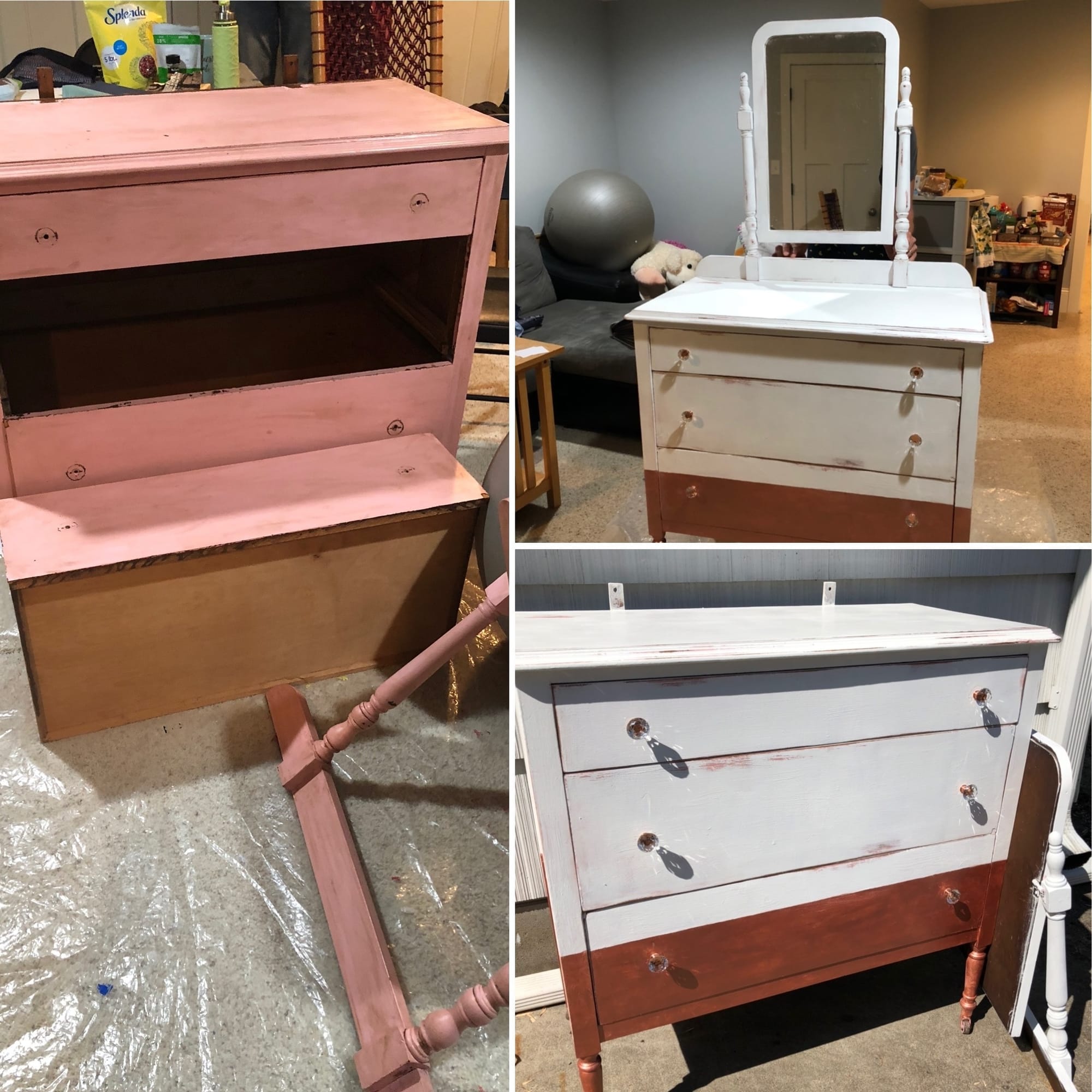 And projects! I refurbished this as a graduation gift for my goddaughter.
Now we are on the last page of the adventure, ready to find out if the hobbit will kill the dragon, if the intrepid American writer will ever get the car's wheel out of the desert sand, if the Greek hero will ever make it home, if the patriarch will get to the promised land... and as we turn the page...well, we will just have to wait and see, won't we?
THE END
*Thank you, dear readers. It means so much that this has meant something to you. May the grace of God guide your path, too.