"The world is full of magic things, patiently waiting for our senses to grow sharper."
― W.B. Yeats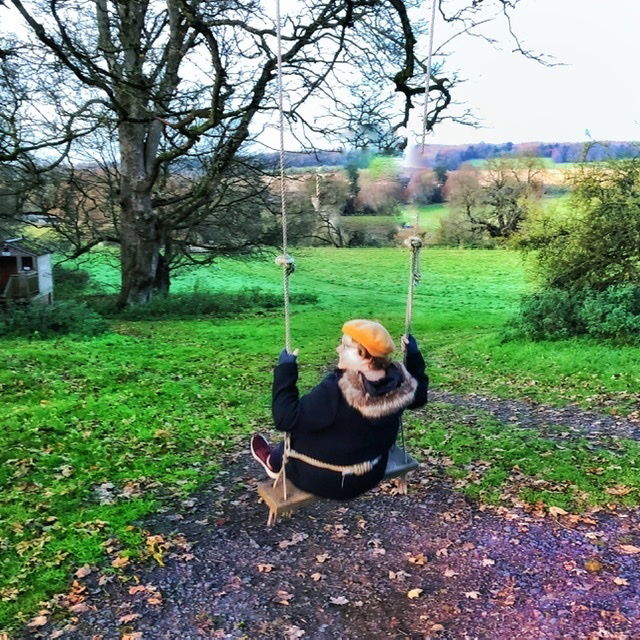 Ireland really is magical. The scenery, the people, the colorful towns, fluffy sheep and rainbows every time it rains make Ireland a place you want to savor. We spent roughly one month in the Republic of Ireland after our month in Northern Ireland. As with Northern Ireland and the rest of the UK there are still many more things Peter and I would like to see and visit again in the Republic. In my three trips to Ireland spanning 14 years and totaling 3 1/2 months, I have seen all of the places in the graph below. I am giving these popular attractions a rating of 1 - 5 in the following categories before I talk about what we saw during our time there because 1. I really like charts and graphs and 2. this post is already going to be hella long.
Cost: 1=free+free parking, 2=free with paid parking, 3=$5-$10pp, 4=$10-$20pp, 5= More than $20pp
Beauty: 1=nothing to photograph, really dull -> 5=You will take over 50 pictures and you will want to buy a different camera and return
Ease: 1=Anyone of any fitness level can visit this site fully+there are restrooms and services, fully wheelchair accessible and appropriate for visually and hearing impaired, 2=You must be able to walk; it is not fully accessible for folks with disabilities, 3=There are some stairs, the ground may be uneven, some steeper inclines, 4=you have to climb over fences or stiles, there are steep inclines and possibly creek fording, you may need some gear, 5=You realize you have gotten older/out of shape and you sit down and cry halfway in+no bathrooms and it is very remote, there may be rappelling and you see people being airlifted by helicopter as you chew the last bit of freeze dried ice cream you brought in your over-priced backpack
Importance: 1=meh, only if it is right on your way to 5=No matter what your interest level this is a place you need to see
Audience: notes on who might enjoy this most - readers, walkers, art lovers, fisherpeople, vegans, knitters, etc.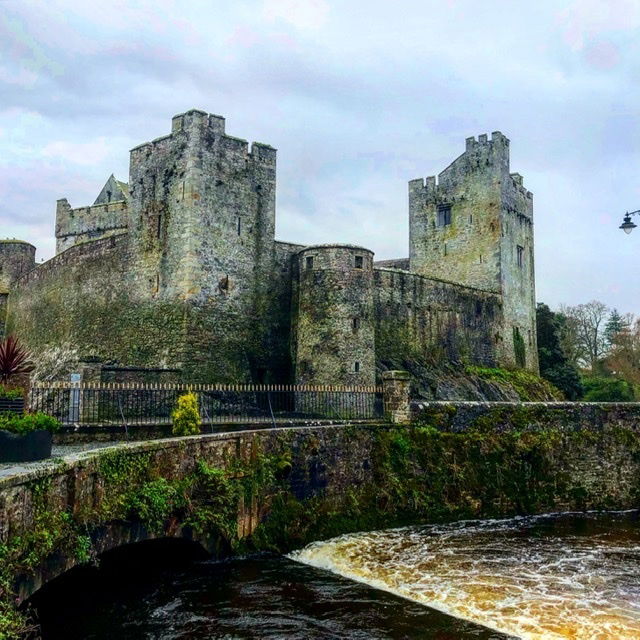 Caher Castle near Cashel


Cost
Beauty
Ease
Importance
Audience
Aran Islands
Via Galway/Doolin
5
5
3
2
knitters, walkers, sweater wearers, photographers *
Adare Village
Limerick
2
3
1
2
shoppers, tea drinkers, strollers, B&B lovers
Avoca Weavers
Wicklow
1
2
1
1
those interested in "how is it made?" and fiber artists
Birr Castle
Offaly
4
4
1
3
astronomy buffs, science geeks garden lovers, kids,
Blarney Castle
Cork
5
3
3
2
gabbers, tourists, garden lovers, walkers, kids
The Boyne Valley/Newgrange
Meath
3
3
2
5
ancient history buffs, druids and mystics **
Bunratty Castle
Clare
4
3
2
3
living history, live entertainment and culture lovers
The Burren
Clare
1
4
3
3
hikers, boulderers, ancient history buffs
Cahir
Tipperary
2
2
2
2
fans of castles and ruins, and off the beaten path places
Cashel-The Rock of
Tipperary
3
3
4
3
church and religious history buffs, photgraphers
Cliffs of Moher
Clare
2
5
2
4
cliff walkers, photographers, dreamers
Clonmacnoise
Offaly
1
5
2
4
monastery lovers, spiritual folk, history geeks
Cong Village
Mayo
1
4
2
2
John Wayne fans, aficionados of quaint villages
Connemara NP
Galway
2
5
2
3
horse lovers, hikers, photographers, wildlife watchers
Doolin Music Scene
Clare
1
3
2
5
seekers of craic, music lovers, singers, listeners
Dublin Music Scene
Dublin
3
3
2
5
seekers of craic, music lovers, singers, listeners
Kilkenny Castle
Kilkenny
3
3
1
3
lovers of castles, gardens and furnishings
Kinsale Town
Cork
1
4
2
2
those who love adorable port towns and bookshops
Malahide Castle
north of Dublin
3
3
1
1
lovers of great houses, forest walks and shopping
Monasterboice
Louth
1
4
2
4
monastery lovers, spiritual folk, history geeks
The National Stud
Kildare
4
3
2
3
equestrians, biologists, centaurs and horse lovers
Slieve League
Donegal
1

4


3
2
cliff walkers, photographers, bird watchers, climbers
Tramore Village
Waterford
1
3
2
1
walkers, beach combers, families, coffee drinkers
Trim Castle
Meath
3
4
3
4
sound effects enthusiasts, kids, history geeks
Trinity College
Dublin
2
4
2
4
calligraphers, self-styled academics, book lovers
Waterford City
Waterford
3
2

3


2
medieval history and glass aficionados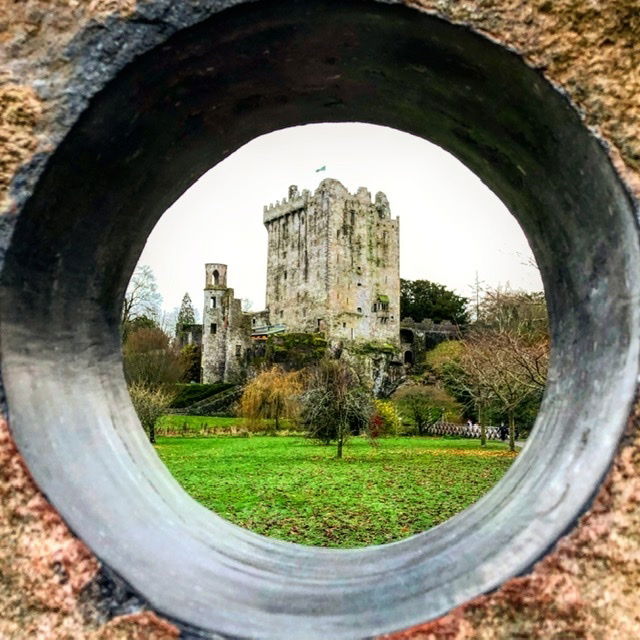 A pretty shot of Blarney Castle
Highlights from this past trip:
Ring of Kerry, The Sequel - This is one of the only things that I had already done that I actually wanted to do again.*** When I last visited Kerry, it was with my sister on a 10 day tour of the Republic of Ireland that included a whole day in Kerry, driving around the Ring on single track roads being chased by experienced drivers while screaming in terror and laughter. Some of the highlights of the drive are the great stone ring forts near Cahersiveen and Sneem.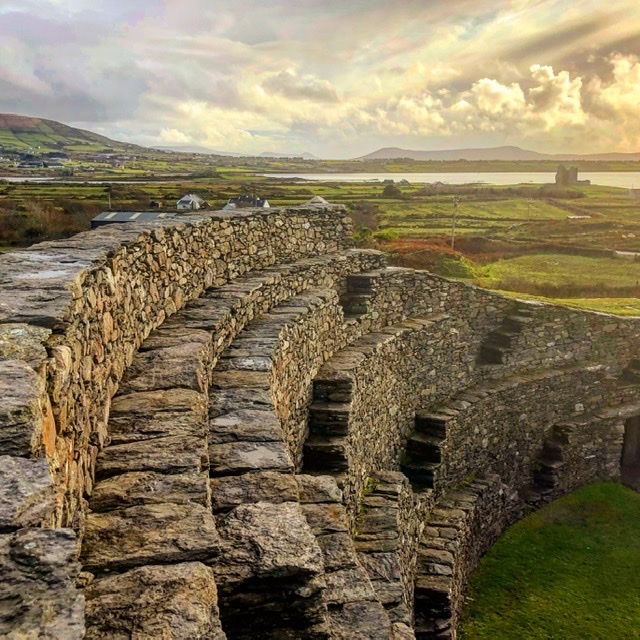 Peter's beautiful photo from the top of Cahergall stone fort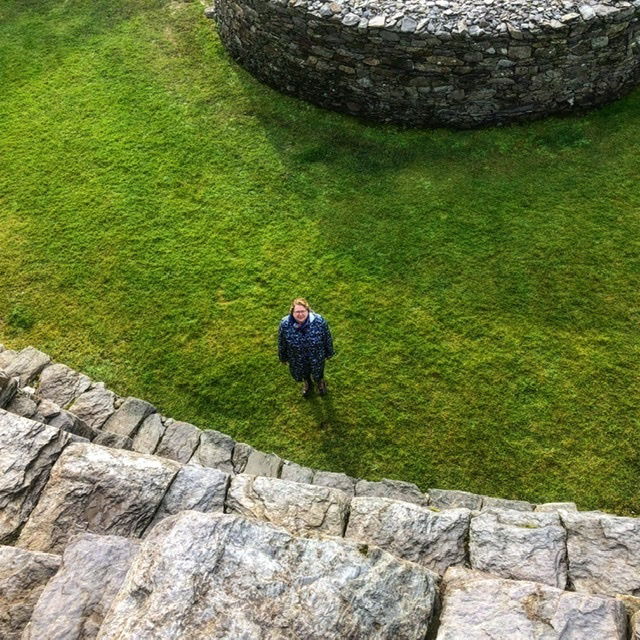 Me waiting patiently to get my camera back
Cahersiveen Town with its Daniel O'Connell memorials, cheery high street and the Cahersiveen Barracks.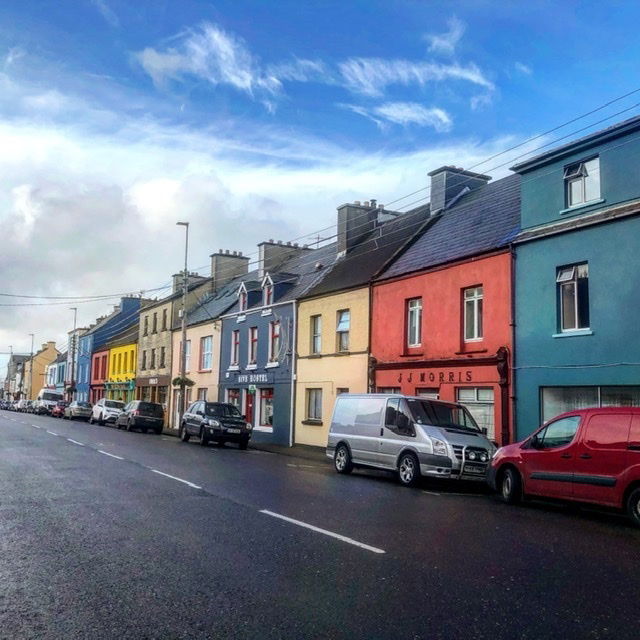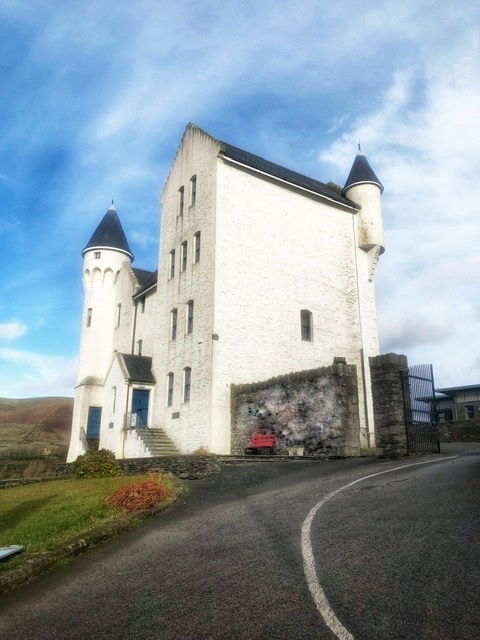 The schloss-style barracks 1870
The Cliffs of Kerry rival the Cliffs of Moher for their height and drama. It costs 8 euros to see the cliffs and park your car. It is a worthy drive. Farther on near Caherdaniel was one of our best stops - a 15 minute walk across two beaches and over dunes to the ruins of Derrynane Abbey. It was another sunny day and we almost went in wading! The ruins are very pretty and the beach was pristine. There were two guys with shovels and a large burlap sack and I jokingly asked where they buried the body. Not skipping a beat, one gentleman said, "where it needed doing" and then he winked. I love the Irish humor, you can be weird and make off hand remarks and they come right back at you.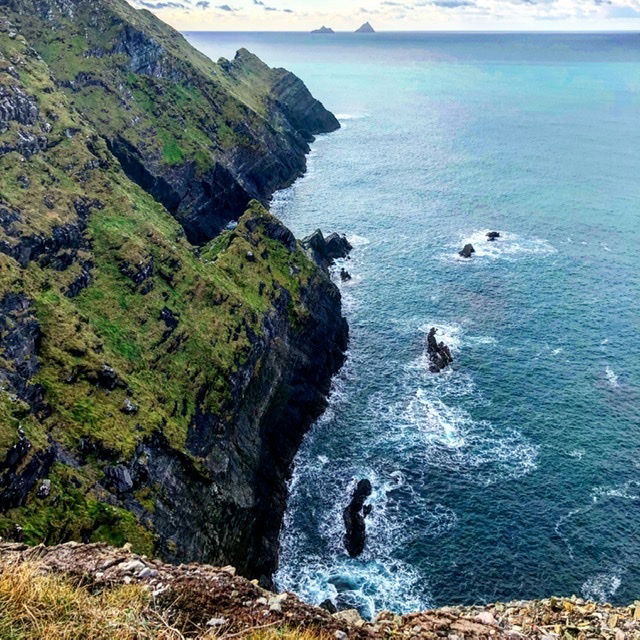 View of Skellig Michael from Kerry Cliffs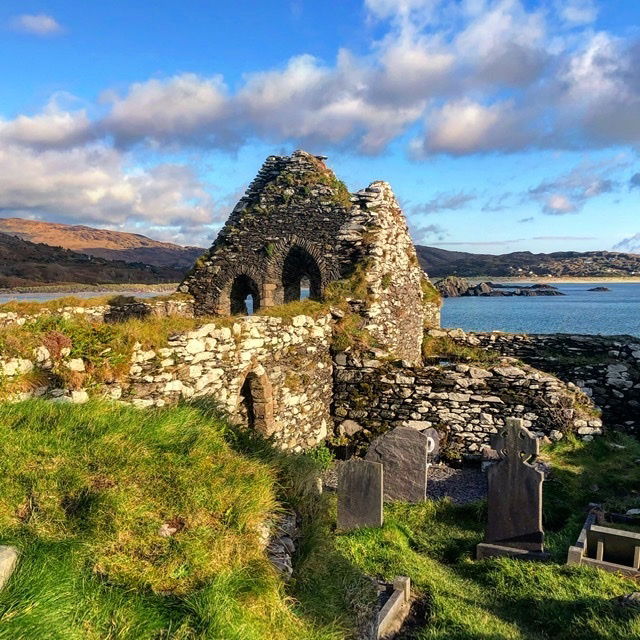 Derrynane Abbey Ruins near Caherdaniel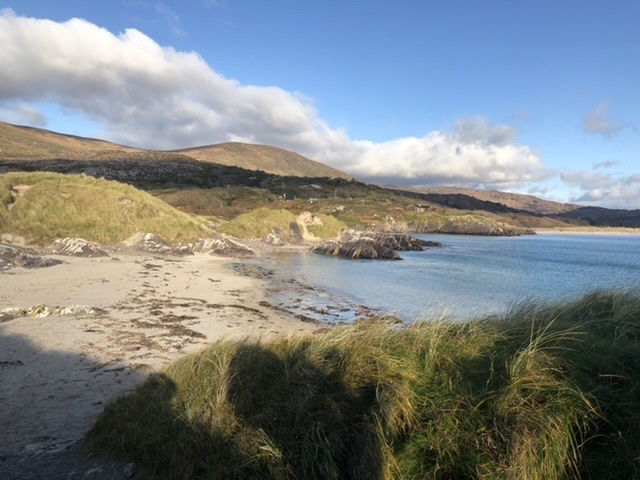 Abbey Beach - cross it to get to the ruins
Dingle Penninsula - Okay, seriously, Dingle Penninsula is absolutely not overrated. You really could spend a week in Dingle Town with a car and have something to see and something wonderful to eat for at least a week. There are some incredible cliff views as you pass through Dingle Town and continue about 7 miles along the beautiful coast. The ring forts and stone age villages rival Jarlshof in Shetland.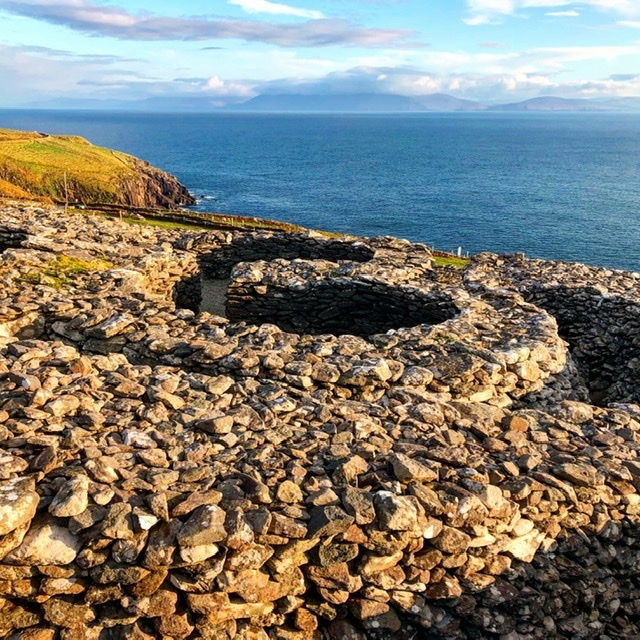 Ancient spiral dwellings on Dingle Peninsula
There are church ruins and one of the oldest, sweetest places of worship in Ireland - a short drive from Dingle Town.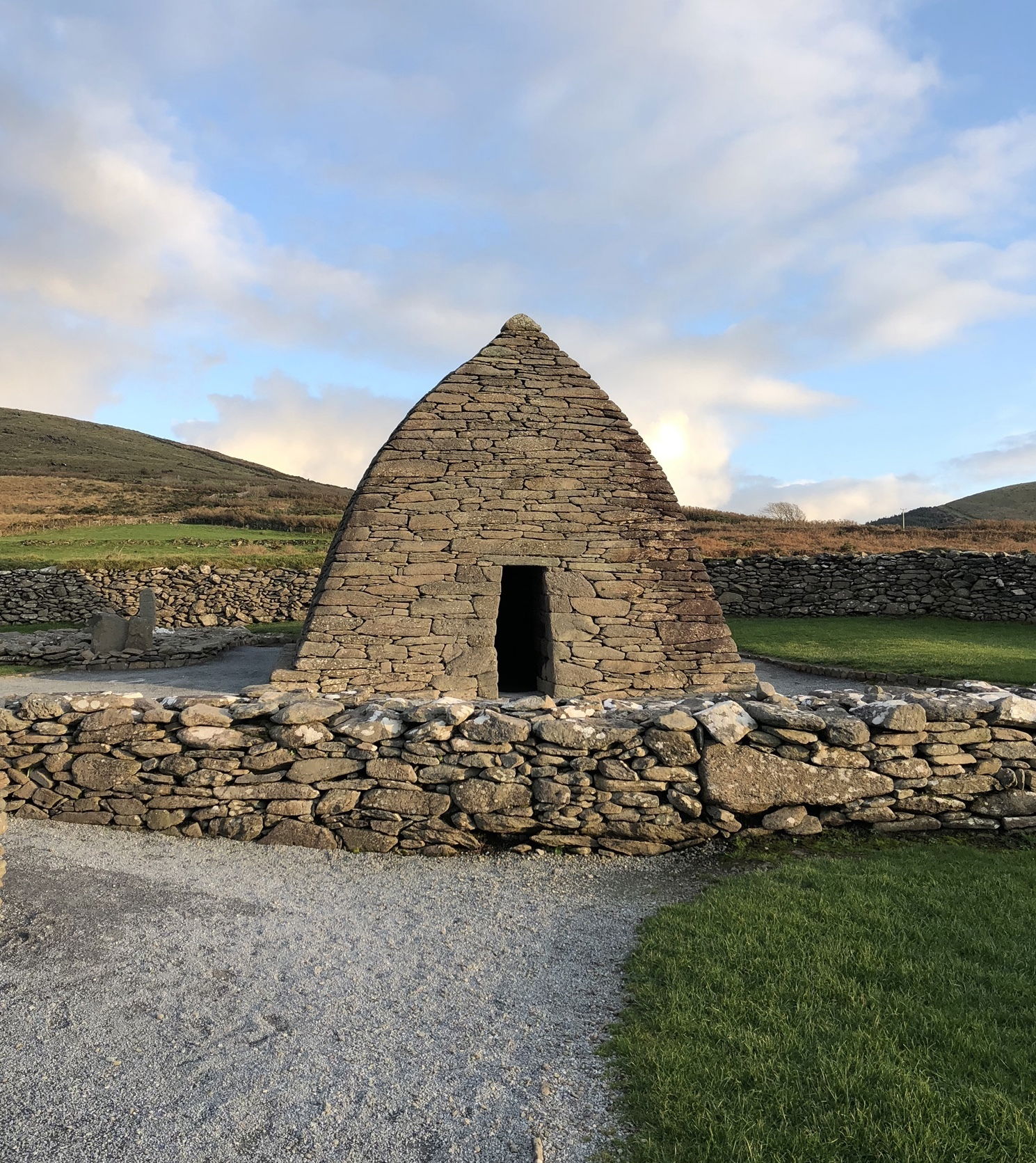 Adorable 1400 year old prayer chapel
And there is Dingle Town itself, with its shops and restaurants, galleries and plenty of local color as well.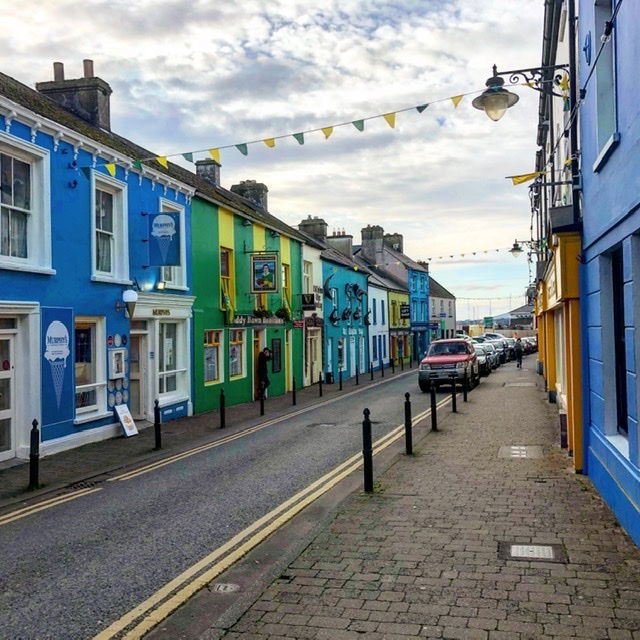 Dingle Town in late November
Cork City We loved our three days in Cork. We stayed at the wonderful home of Bernie and Barry that I mentioned in the post The People That You Meet. We enjoyed walking around the city, the English Market, the Blackrock Science Center and Observatory, Crawford Art Gallery and the cute coastal towns nearby, like Kinsale. The Blackrock Observatory is a real, working astronomical research station and has a guided simulated planetarium visit that is a lot like a bouncy house.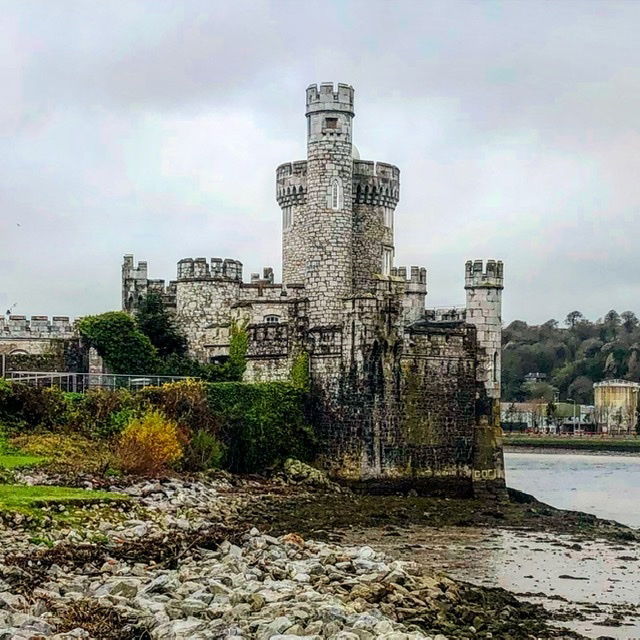 Blackrock Castle and Science Center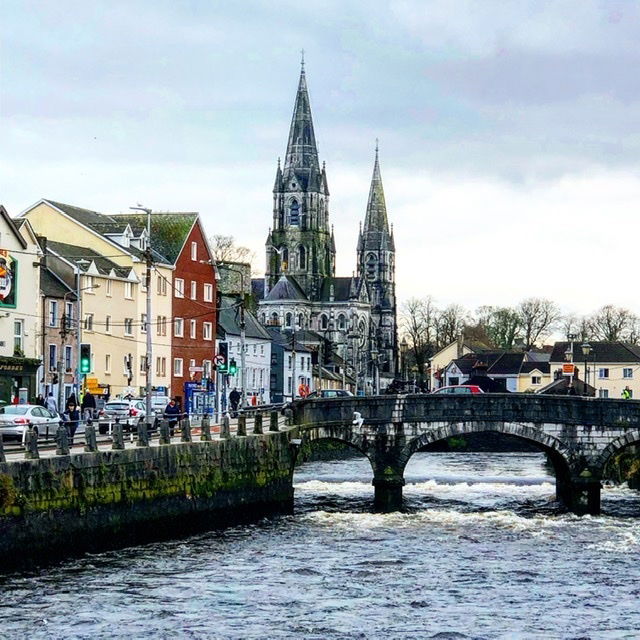 Cork City and the River Bandon

Glendalough - Another place that is absolutely hyped and completely lives up to its name! You can stay in one of many County Wicklow bed and breakfasts and see Glendalough in a day or spend a couple days exploring. There are monastic ruins, mystical woodland trails, a labyrinth walk and an interpretive center with free parking and bathrooms. Nearby cafes make it a perfect destination for couples looking for a day trip.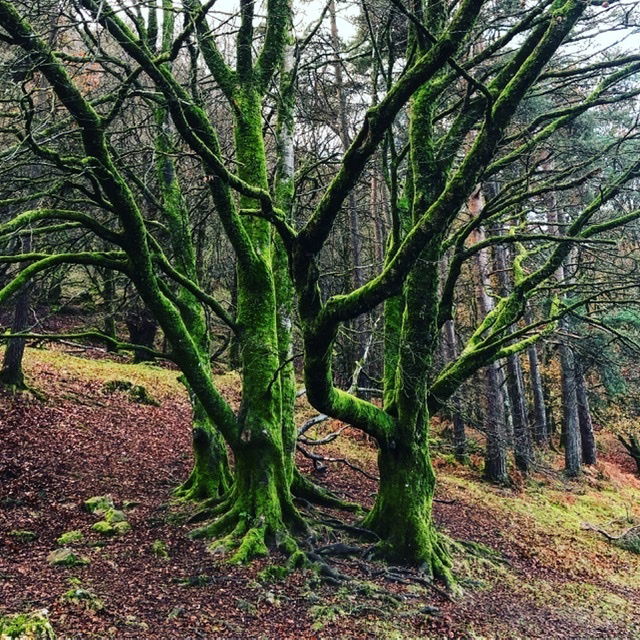 The trees!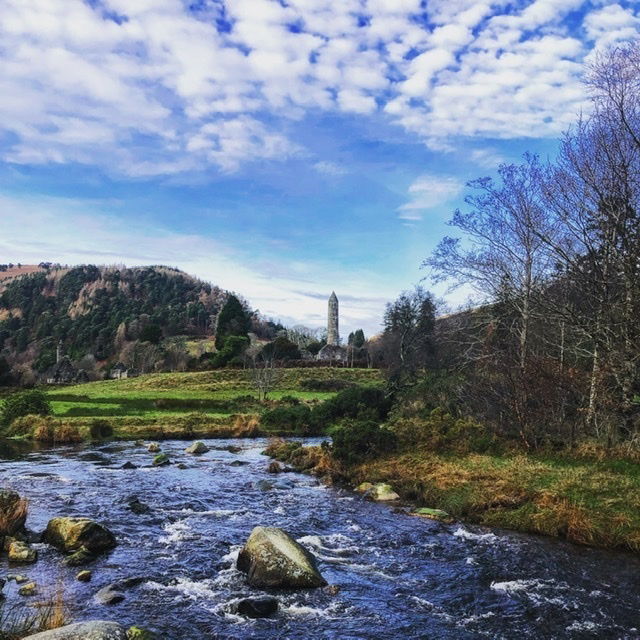 The landscape!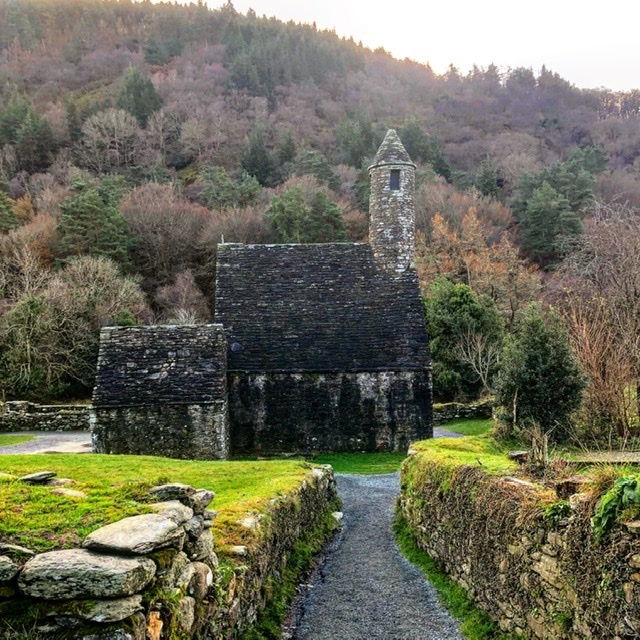 The ruins!
County Cavan - Good heavens, the walking paths and hiking opportunities in County Cavan are extraordinary. As one of the least visited counties by foreign tourists, most places you visit in County Cavan are full of actual Irish people, which is a pleasant change. We spent four full days trekking Cavan Burren Park, Cuilcagh Boardwalk and Moneygashel, three of the most beautiful places we have ever seen. Cavan Burren Park is accessed via a park road with free parking in the off season and an open air interpretive center with clearly marked trails.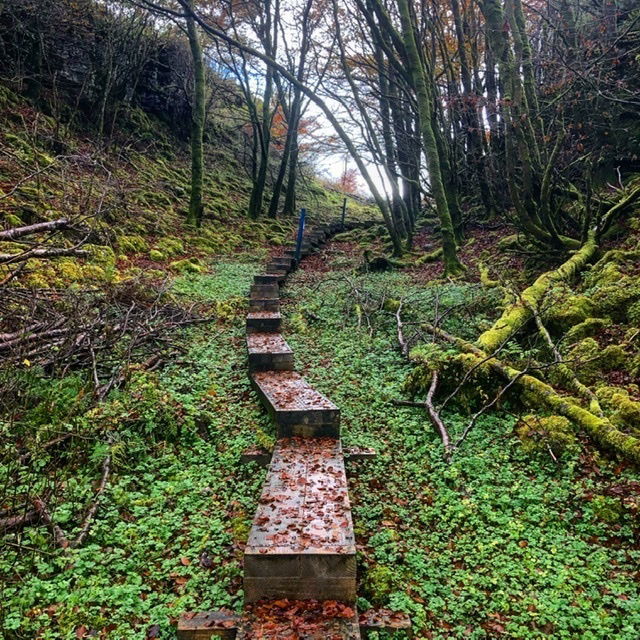 Cavan Burren Park loop trail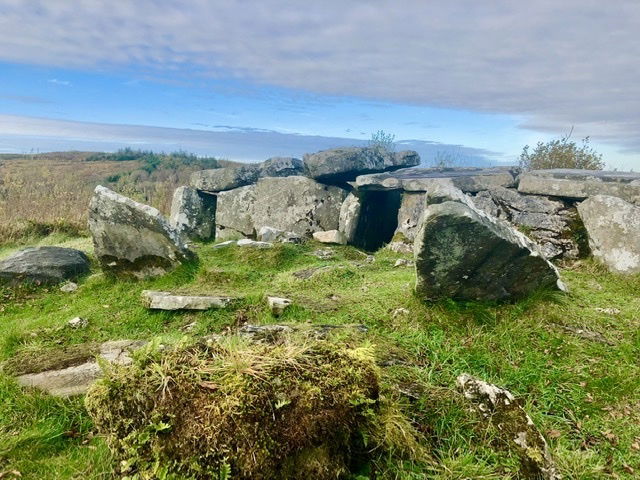 One of the many neolithic sites at CB
Cuilcagh Boardwalk, which includes bog walks, the Stairway to Heaven climb and stunning views is accessed via the expansive Marble Arch Caves Park system even though these places straddle the border between the two Irelands. **** We did not go all the way up the Stairway to Heaven trail - We also don't stay up for New Years nor do we try to get on airplanes first so it might be some kind of oppositional defiant streak in us but we very much enjoyed the other parts of the park.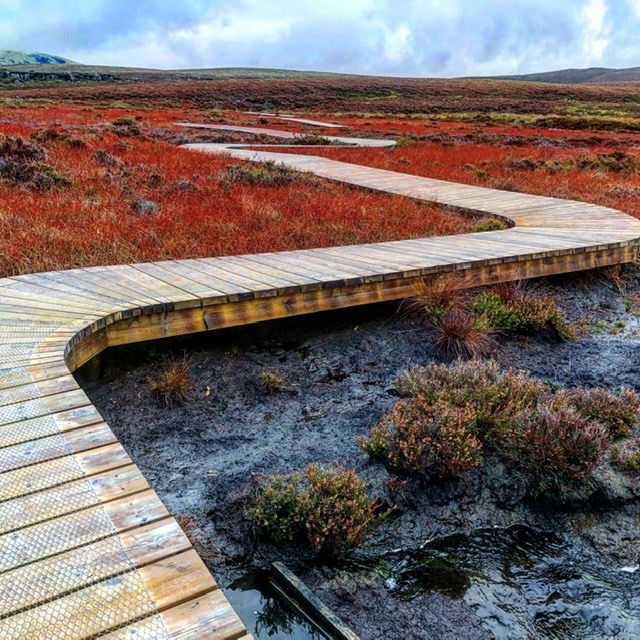 The boardwalk that zigzags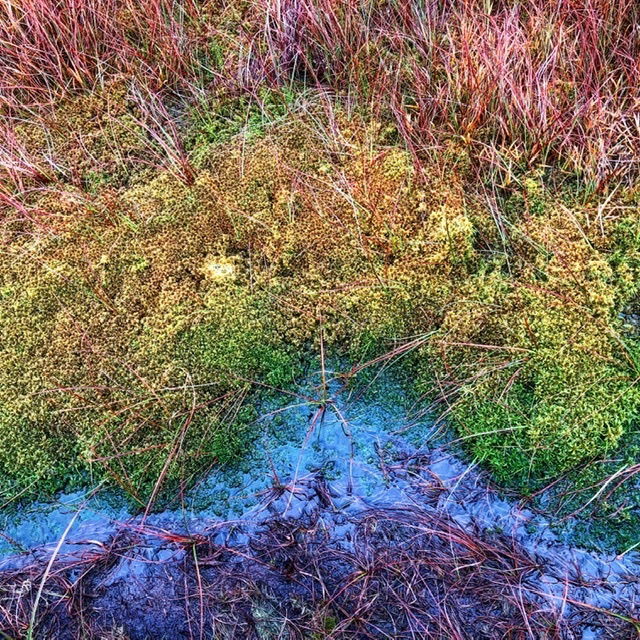 A rainbow effect in the bog
The ruins at Moneygashel are accesseed by driving down a number of country roads and finally the R206 Glangevlin Blacklion road and parking in a farmyard. The resident farmer is happy to let you have access through his property; don't be shy. We were blessed to arrive on a cold, frosty morning that gave way to bright sun by the time we left, resulting in extraordinary photos. Three ring forts, twisted trees and abandoned huts are scattered over about 5 acres with winding paths between them. Wear your rain boots!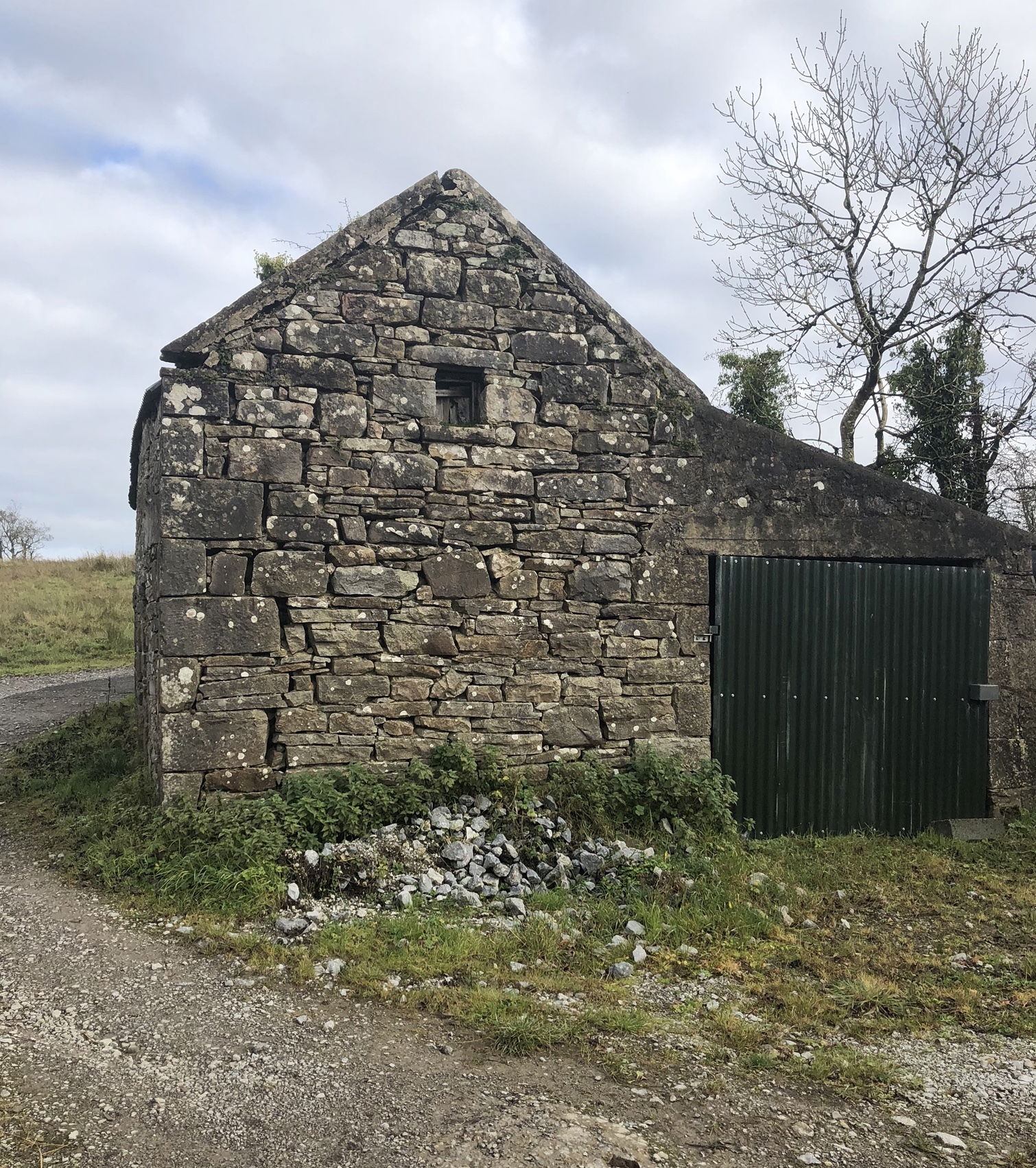 Your parking spot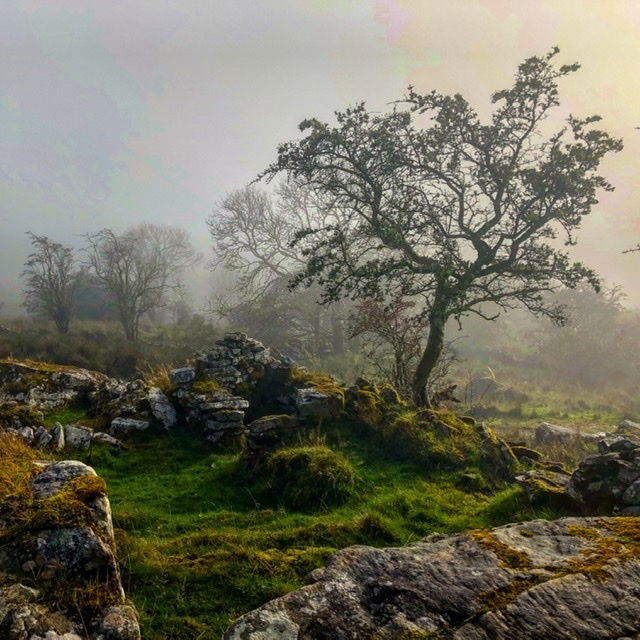 Misty, moody Irish morning in Moneygashel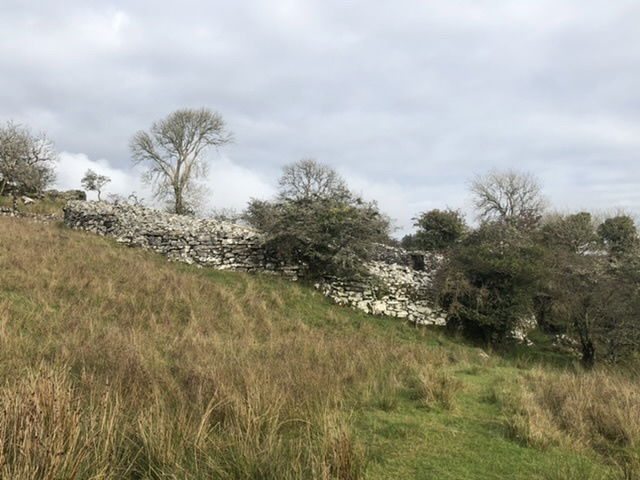 The first ring fort - the entrance is hidden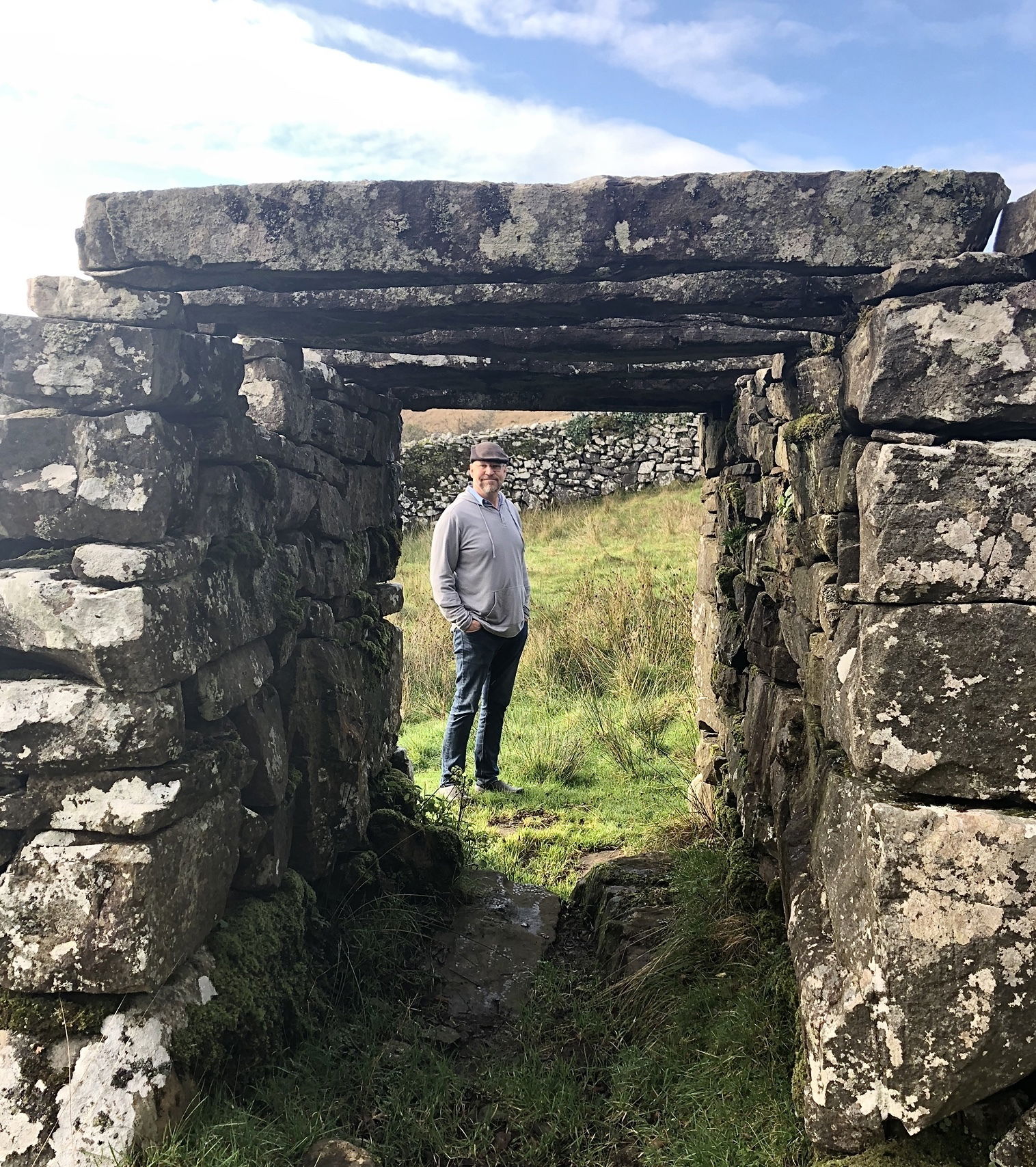 Peter on the other side of entrance to the fort at Moneygashel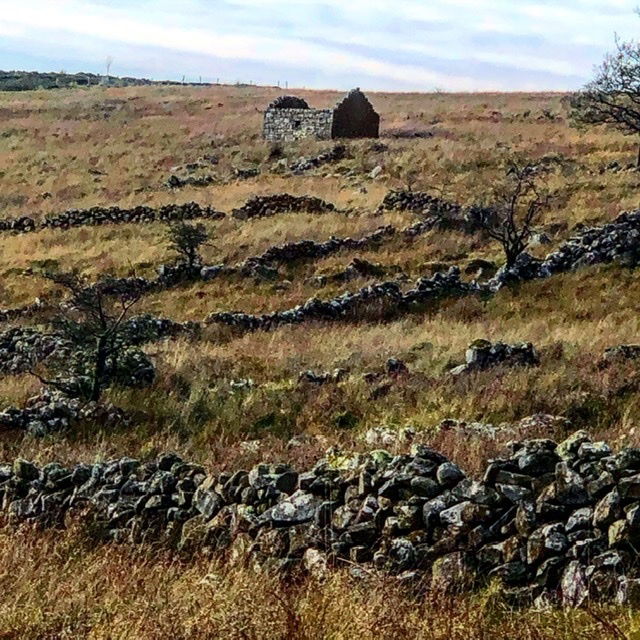 View from Moneygashel, I mean seriously. What kind of strange and beautiful place is this?
Sligo Town - The drive to Sligo from Enniskillen is gorgeous. We were there in mid-autumn to catch the leaves changing on the bens as you drive into the Republic from Northern Ireland.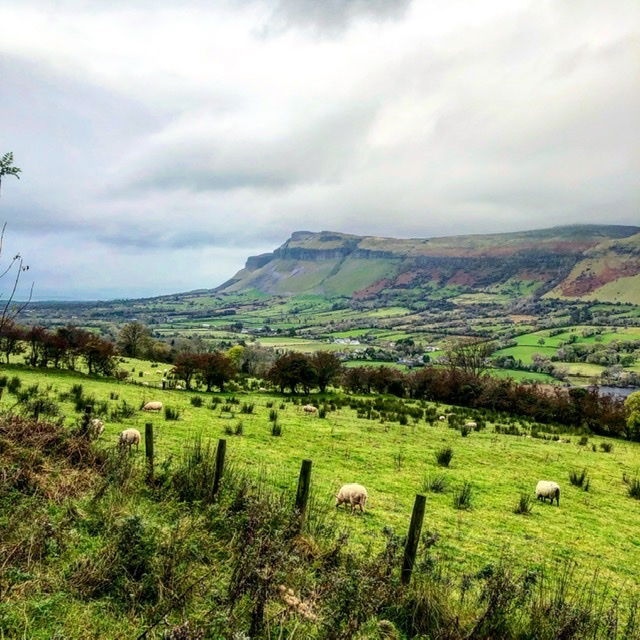 Knocknarea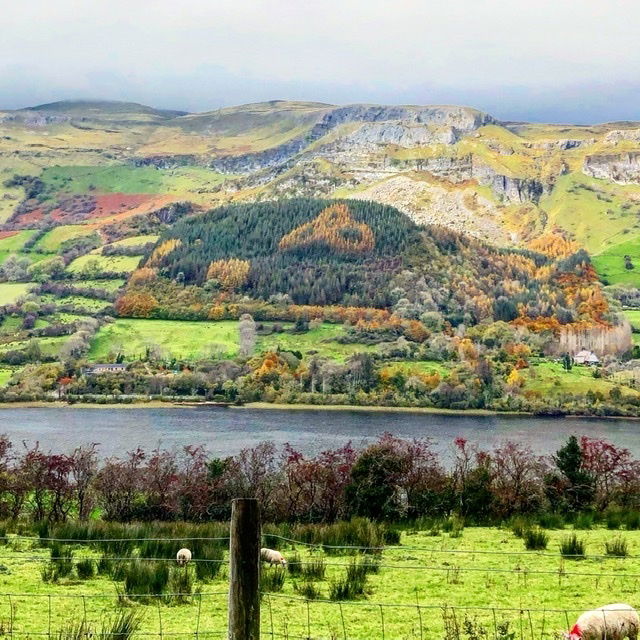 Cleverly planted trees!
Sligo has a lot of color and some interesting shopping. There are two fantastic vegan restaurants there and the Yeats Center is another attraction. The Abbey is worth a look and the modern art museum (we were underwhelmed) may interest people. But we found that just walking around in Sligo and buying groceries was a real draw - we went twice and I think if we were to live in Ireland it would be here. It is a very friendly and colorful city and there is quite a lot of construction in the city center which promises easier access in the future.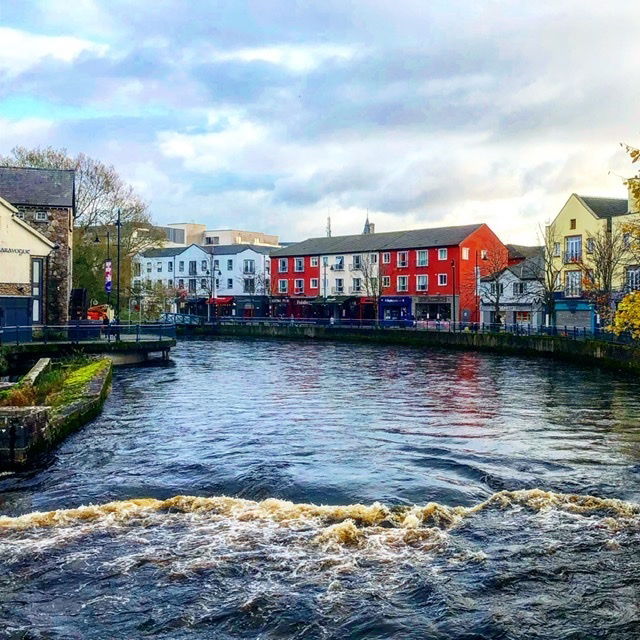 Sligo and the River Garavogue
Carrowmore, a complex of stone age menhirs, stone circles and mounds is just 15 minutes southwest of Sligo and is an easy visit with parking and an interpretive center with friendly guides and historians in high season.
Next time:
We would like to spend more time in County Donegal - at least two weeks or maybe more. We would also like to take a one - week or weekend Gaelic language course at one of the excellent schools there.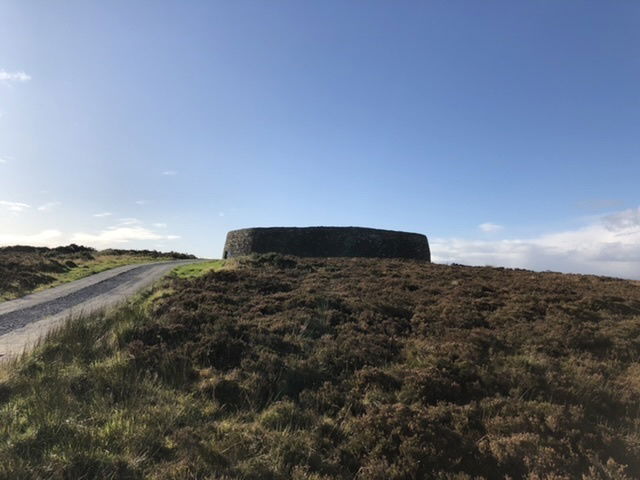 Grianan of Aileach in Donegal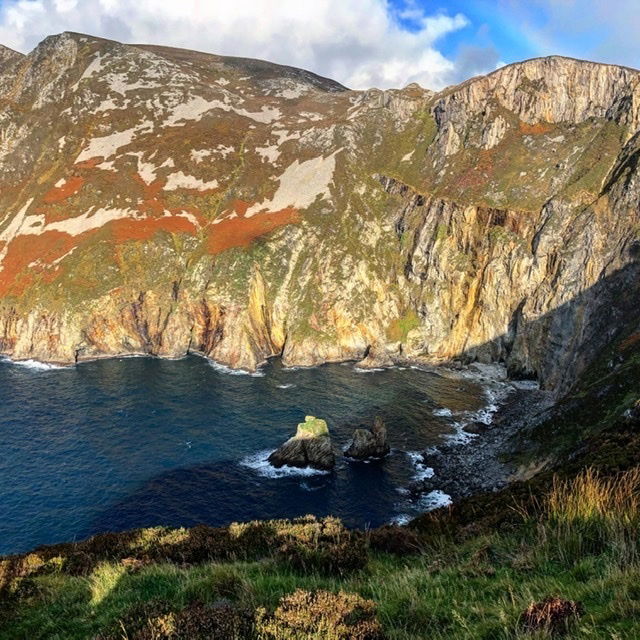 The Cliffs of Slieve League in Donegal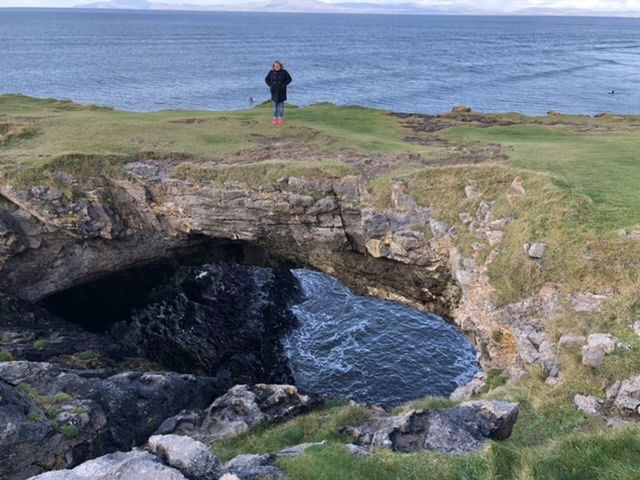 The Fairy Bridges along the Wild Atlantic Way
We would like to get out to Skellig Michael. We would like to return to Aran and spend a couple days there. We would like to finally visit Galway and Limerick and return to Doolin or Ennis and catch more local music. Some of these things must be done in summer so timing is key. There are some lovely little towns in south Cork that we would like to explore. We would like to spend about a week out on the Dingle Penninsula because it Is incredible and reminded us of Seward, Alaska in all the best ways.
We just never bothered:
You know, there are often activities and places on the Trip Advisor, Lonely Planet or other travel websites that we know just won't interest us. Which begs the question...how did said places end up on a top 10 list in the first place? Do the proprietors pay for their rankings in some way? And in this age of questioning everything, how trustworthy are these lists in the first place? After reading 5 different blogs on Morocco, where we are headed in a couple days, I was disappointed to find that 2 of them lift content directly from Trip Advisor. It really makes me wonder if they have actually been to the places they are recommending at all. Which also makes me think I should be taking more pictures of myself in fromt of said locations so that I will gain credibility. The five blogs I read about Morocco were WRONG about the train booking page. The blogs I read about Jordan were also innacurate and very much directed at the instagram crowd and not life-long learning travelers. And only one blog of 11 that I consulted about Schengen VISAS for Americans had any helpful and correct information. Summary: Just because it makes a list or gets featured in a blog does not make it a must-see for you. What makes something a must-see is your own passion for the place. Here are some of the most highly visited and recommended places in Ireland that we did not visit and why.
Bushmills Distillery - I am so disinterested in the art of producing consumables from somewhat rotten grains and fruits. I would hope that a visitor to Ireland would have developed interests in something other than booze. But to each his own.
Guiness Storehouse - This is the number one most visited site in Ireland!***** We don't drink Guiness. Frankly, the alcohol tourism industry is a mystery to me. If you want to have a beer, go to a pub and have a beer. If you want to buy an overpriced shirt advertising that you spent 40 dollars and 3 hours looking at how they make beer, go to the Guiness experience.
Galway - I realized about 15 years ago that visiting the one or two major cities in a country does not give you the breadth of experience that spending time in a small town or a rural area gives you. Would New York, Chicago and LA give a tourist an American panorama? Probably not. So we try to limit our big city stays to one or two per country per visit and Galway has just never made the cut. After three trips to Ireland I have only been to Dublin, Cork and Belfast one time each.
Limerick - Again, for all the small cities we did visit we didn't have time to add another. Breadth of experience is a priority for us.
Powercourt House - This is highly recommended on everyone's list for what to see in Ireland but it was very expensive and we were there in the off-season so it seemed like bad timing. We love great houses and gardens so maybe next time.
Dublin Zoo - We are all zoo'ed out. No more zoos for us unless they are 100% conservation and rescue focused like the Sealife Center in Seward.
Also not recommended (because we bothered):
Killarney Town - Yeah, this reminded me of a cruise port in Southeast Alaska - you go expecting quaint and authentic and you get knit caps made in China and overcrowded tourist shops. And we were there in the off-season so I can't imagine how it gets in July. I have read a lot of Ireland recommendation lists claiming Killarney is worth a day or two but I would not recommend Killarney, unfortunately.
---
Lodging: Air BnB for Waterford, Cork and Donegal - especially in off season, it was much easier to find lodging via Air BnB as Waterford and Cork were both ridiculously expensive. Rock Farm Slane near Navan was a FANTASTIC inn with shared kitchen, tent platforms, organic gardens and animals and lots of fun things for families to enjoy as well, including tree swings like the picture at the beginning of this post.
Car Rental: We rented with Hertz and got two different rentals for about 10 dollars a day each.
Eats: We had great meals in Cork at 143V and the English Market. In Sligo we enjoyed Sweet As and Sweet Beat Cafe.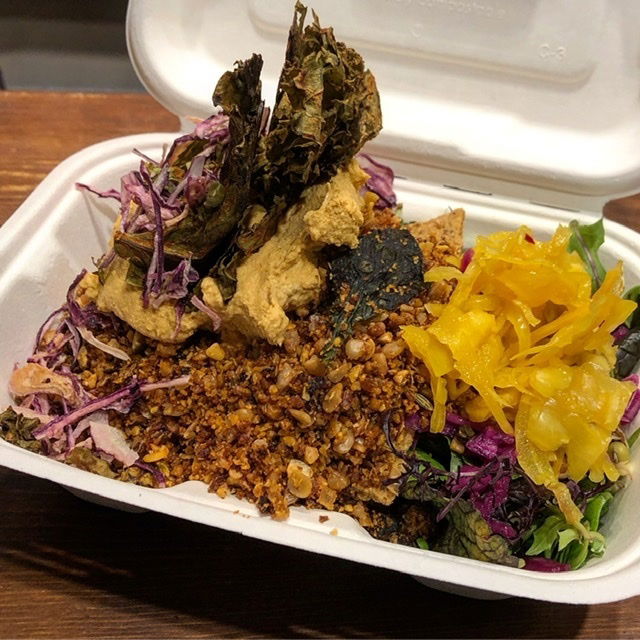 Raw vegan goodness at the English Market
So, there we have it. With the hindsight of four weeks spent in the Middle East since our time in Ireland, here is what we cherished the most about our time there - daily walks in gardens and designated wild areas with trails, shopping in small towns where people still own their own shops, climbing up and around neolithic stone sites, getting to know local people and driving slowly along rough and breathtaking coasts. None of these things are on any of the TOP LISTS for Ireland. They are things in which you must invest time. You must pursue them; experiences such as these are seldom part of a package tour or a two hour port-of-call stop. Yeats was right, the world is full of magical things and to appreciate them and have our senses sharpened we must be brave enough to ask for more than a photo op or a bus tour. We must ask ourselves to broaden our tastes and get off the Trip Advisor Top Ten list and the Viator Tours website and into the world of vast beaches, stone forts, rainbows and fairies. Yeats suggests:
"Come away, O human child!
To the waters and the wild
With a faery, hand in hand..."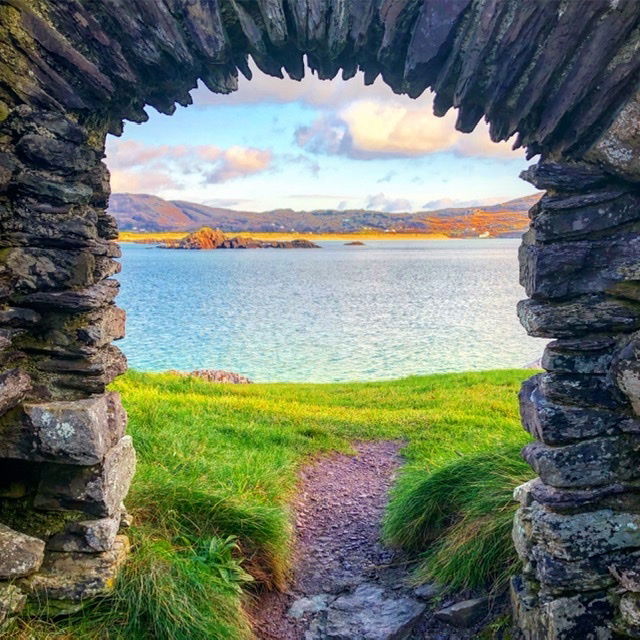 *Ferry information - http://www.aranislandferries.com/
**Brú na Bóinne - http://www.discoverboynevalley.ie/boyne-valley-drive/heritage-sites/bru-na-boinne-newgrange-and-knowth
***Ring of Kerry - http://www.theringofkerry.com/visitors/36-sights/ring-forts
****Walks in Cavan and Fermanagh - http://walkni.com/walks
*****Ireland attractions - https://www.thejournal.ie/irelands-top-tourist-attractions-4752668-Aug2019/