We have been all over the world in our passion for travel and this year, the sabbatical extravaganza, the Year of Travel, has provided us with the opportunity to stay longer, go deeper and meet people who inspire us, challenge us, educate us and make us laugh. Here are their biographies, in no particular order.
Annette of Beaufort, County Kerry, Republic of Ireland
We decided to try Air BnB experiences. Annette was advertising an evening in her home with a meal and a lesson on making traditional Irish soda bread. We were pretty stoked since Peter is a journeyman baker, having trained in Germany in his twenties, and I love eating bread. We wrote her in advance to let her know that we were vegan and she said, "no problem, let's give it a try." So, we did!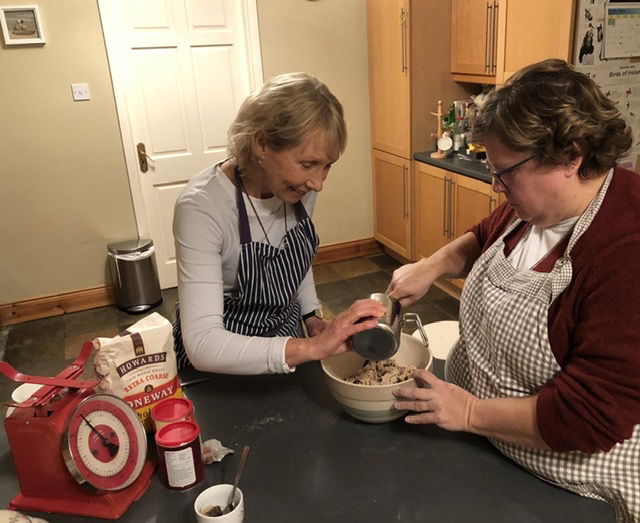 Add the almond milk...When we got there, we found out that she had tried the recipe twice that week and that everyone hated the results at her workplace. I asked her if she had told them BEFOREHAND that the bread was vegan and she said yes, so we think that was probably the reason for the complaints. Vegan baking was new to all three of us. We made a loaf of fruit bread and a whole grain traditional soda bread.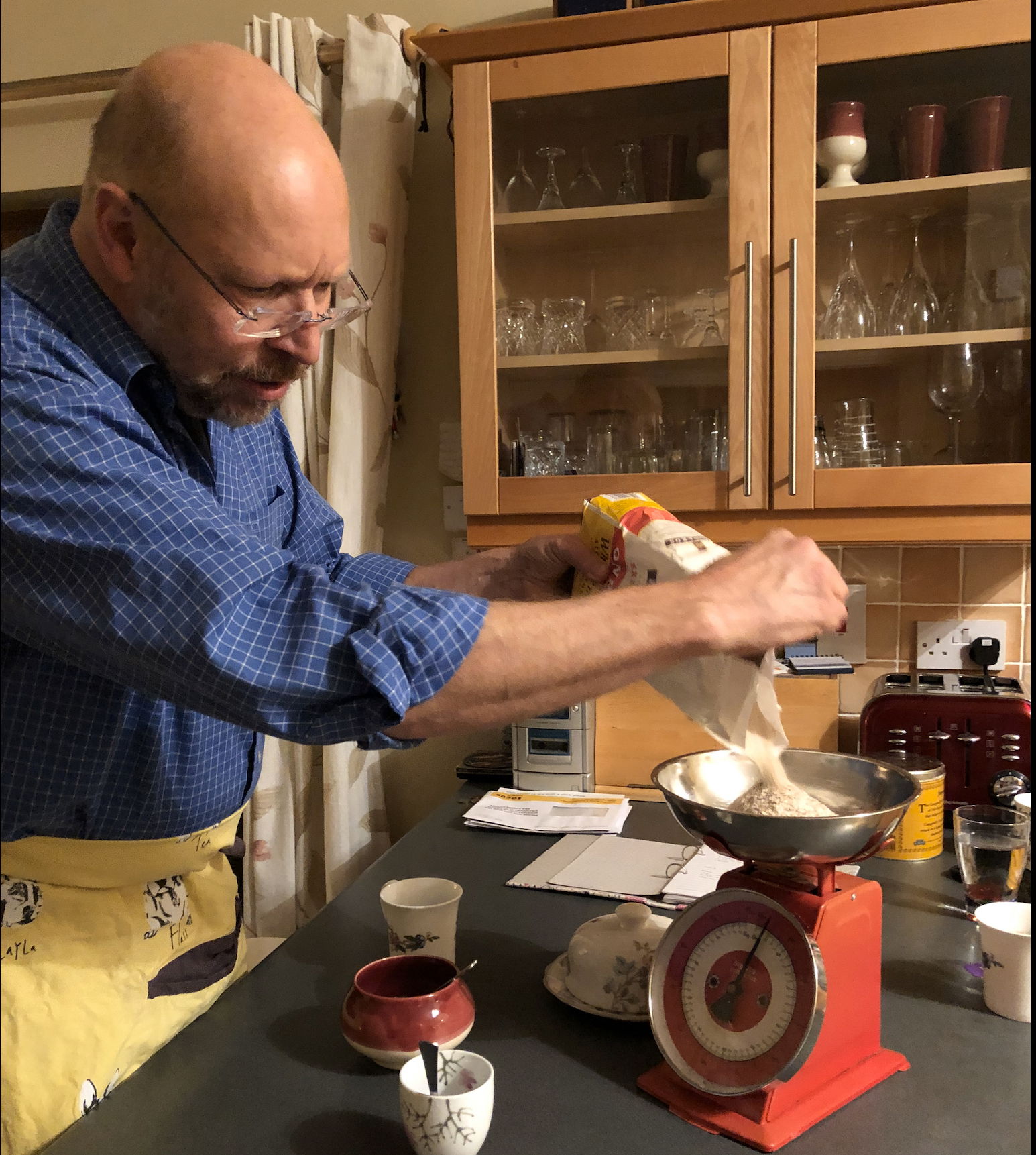 Peter, hard at work
Annette is from Achill Island and grew up there in the 70's when there WAS NO RUNNING WATER in her parents' restaurant that they ran for tourists. She had lots of fascinating stories to share. We learned the difference between Irish soda and American soda and how to measure in grams with a scale. Unfortunately, we learned both those lessons after making the bread.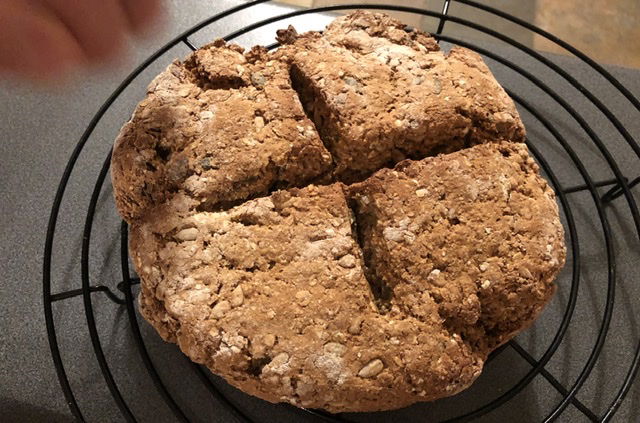 The fruit and nut bread tasted fantastic and was truly vegan. When we first tried the soda bread, we thought it was fair. But later it really left a funny taste in our mouths. Back to the drawing board...but we had a good time with Annette and we heartily approve of AirBnB experiences!*
Eileen and Patsy, County Donegal, Republic of Ireland
When we decided to spend a couple of nights in County Donegal, on a whim, we chose a nice apartment attached to a very rural home. (I was corrected, upon arrival, in my pronunciation - it is dawn - ee - GAHL, not DAWN - a - gull.) We were really in for a treat. The fridge was stocked, the whole place smelled like my grandmother's guest room, in a good way, and we got to meet the most delightful person. Eileen had such a great attitude about life and how to live. She really embodies the Blue Zones philosophy of living well - friends, family, faith and a little Poitín (poteen - Irish moonshine), now and then. Here she is, breaking it down for us.
Eileen was the fifth person in our travels who had overcome severe dyslexia to make a beautiful and fulfilling life for herself. She was truly inspirational. When people told her "you can't," she did, and with style. A lovely home, a family that is connected and enjoys being together, a successful career and a good marriage, what more could anyone want? Only the highest ranked Air BnB in Donegal!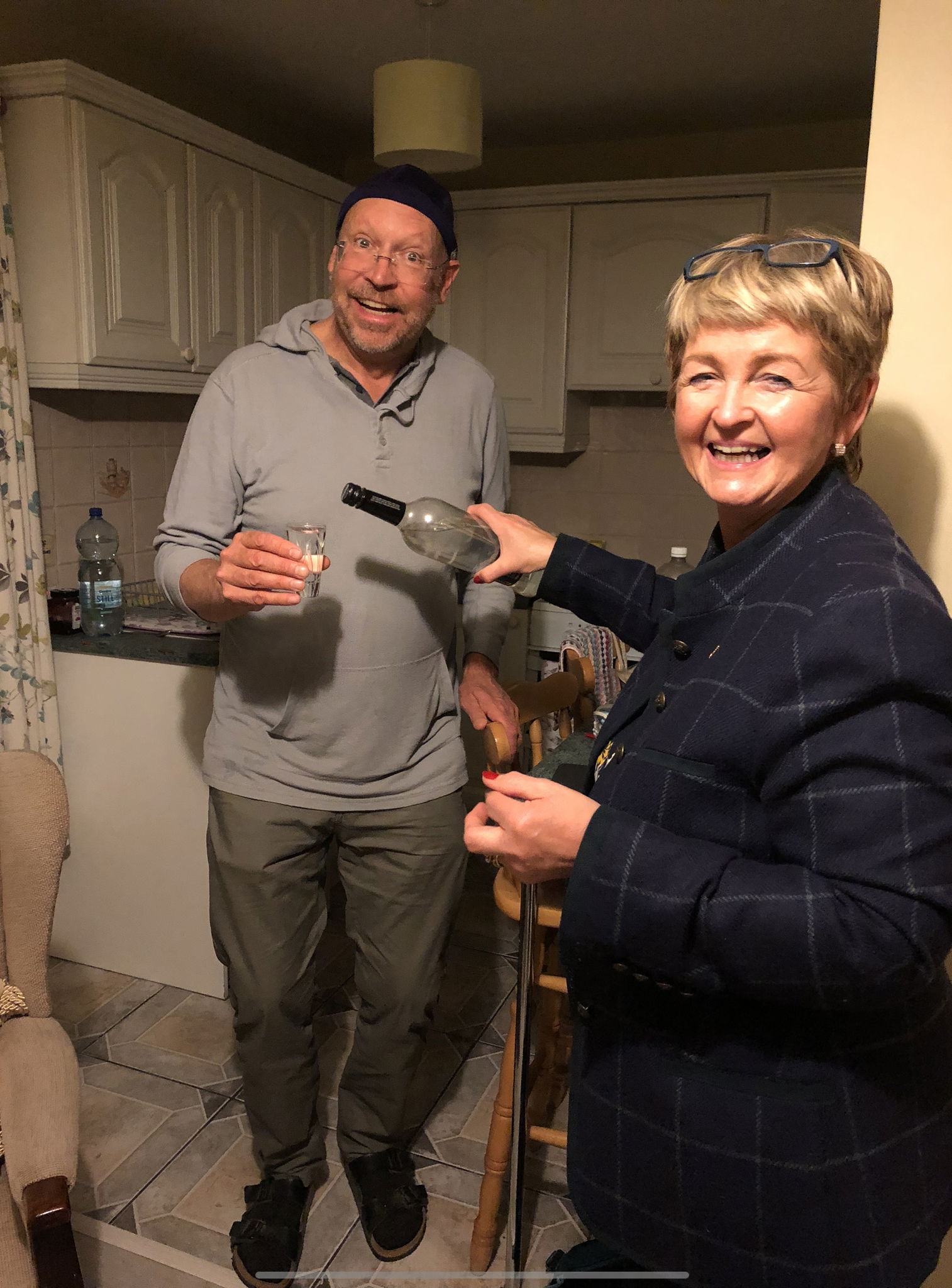 Peter, taking one for the team
Winston, County Tyrone, Northern Ireland
We spent almost a month in Northern Ireland. We really wanted to understand the Brexit question, the Irish separation, the last 100 years of history and the colonization of Ireland by the English and the Scottish. We met Winston through our Air BnB owner; he is her father - in - law. Here he is talking about how the first tractor was introduced to the county and how his mother had the wisdom to invest in it. There are two parts.
If you can understand his brogue, you will know that his mother "had foresight, but only one eye! But that is a story for another day...she was also missing some fingers..." He loved to talk about history and he hooked us up with a local history club that met at Lissan House - a historical mansion - to hear speakers. We were invited to attend a talk about the decade between 1912 and 1922 - the Easter Rising and the Irish Free State and the role of Edward Henry Carson, manic depressive, great orator and creator of Northern Ireland. It was fascinating! We loved every minute of it. What a treat to sit in a gorgeous historical house and talk with people about such a complex time in Irish history.** As we walked up to the front door, Winston leaned over and said, "now your people and my people would not have entered here, our place was around the back." And he was right. Times have changed.
Another great Winston quote: "There's no one to beat the Irish when it comes to skullduggery." Oh, Winston. We learned so much from him, including quite a bit about the breeding of local cattle and artificial insemination. But that is a story for another time...
Barry at the Air BnB in Cork, Republic of Ireland
It is not as easy as it may seem to meet people at your lodging. We were very lucky to have spent some time with Bernie and Barry in their home near Cork. We had decided at the last minute to leave County Kerry and see more of the Republic, especially Cork and Waterford, two cities I had never visited in previous trips. Bernie is everyone's long-suffering, cheerful grandma and Barry is her mild-mannered husband. The house was three generations of local Cork stock - Bernie is a child minder and a BnB host and Barry is a contractor with a mechanical heart valve and a radio show on Monday night. After leaving our last, rather lonely lodging in Kerry, we were welcomed into their home with all the generosity of spirit that is so often found in Ireland. Bernie and Barry have been married over 40 years. They are the most mentally healthy people I have ever met. I learned so much in the 3 hours I got to spend with each of them.
Barry was about to do his local radio show so we spent an hour talking music and singing Irish songs together. I played some Silly Wizard and Karan Casey*** and he played some Boxcar Willie. He had studied vocal music in college and I am a mediocre choir singer so he was very kind about my singing voice. He played a song about Alaska and gave us a shout out on his show and also dedicated a song to my niece, Leah, who I had been thinking about that day. Later, Barry was reading the paper and I asked if I could take his picture - the one here, below. We were talking about work. He said, "I am self-employed, I wake up when I want to and I go to work because I want to. I could stay home if I wanted but every morning I want to get out there again and if you don't feel like that, you need to find that again." I really want to, Barry.
Bernie, short for Bernadette, somehow manages to straddle the chasm between 1950 and 2020 so gracefully - she goes to Mass every morning that she is not working but doesn't judge a single soul - or perhaps that is why she goes to Mass. Her two teenage grandchildren who live with her do not feel the need to keep secrets from her and the strength of their family bond was immense. They aren't a perfect bunch; there are tragedies, divorces and sad tales enough among them, as Bernie might say. They have managed to love each other completely without complete understanding as Norman Maclean wrote - something we can all learn to do better. I wish them well and as the Irish blessing goes, dear Bernie, dear Barry: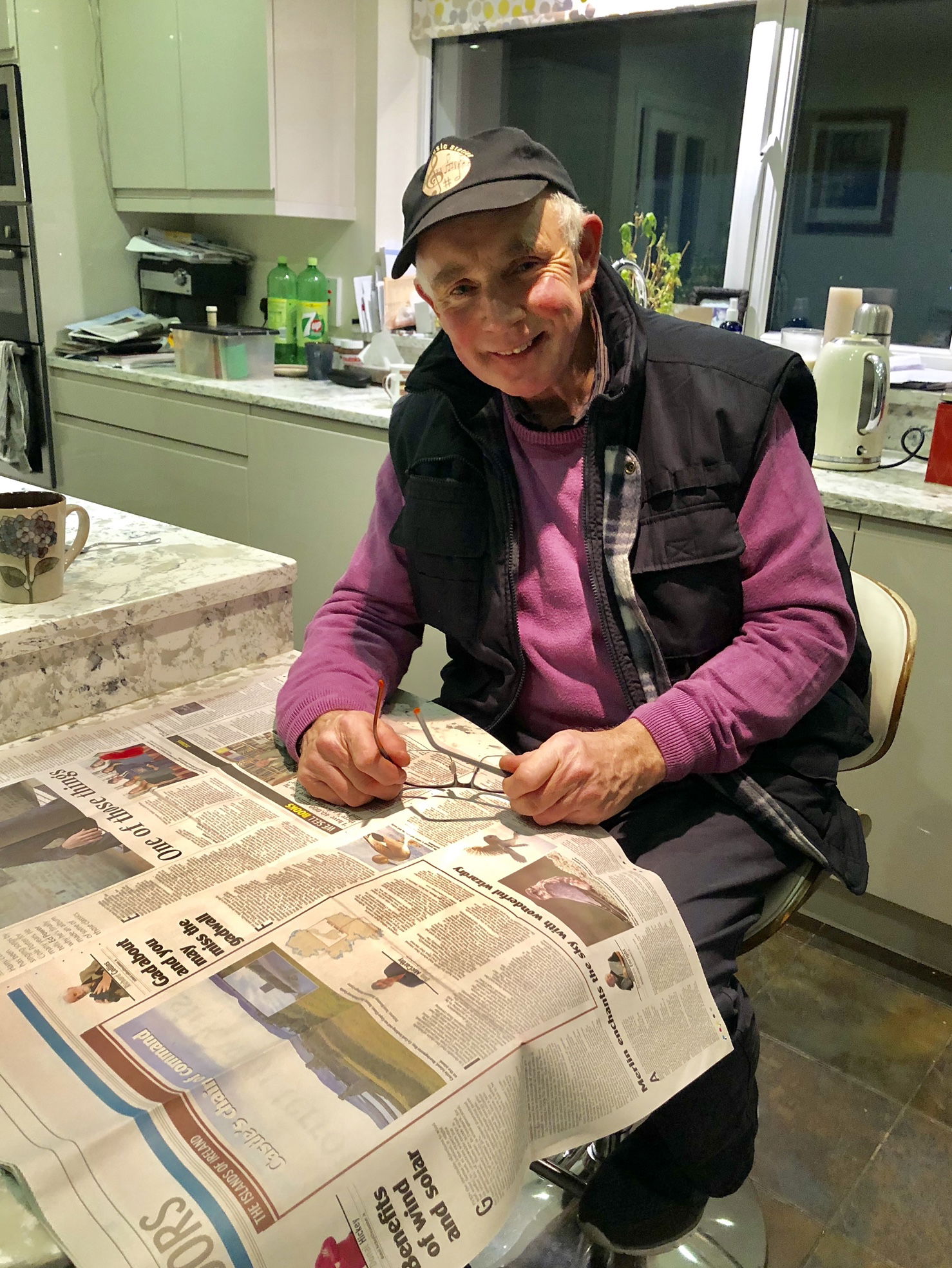 This guy. What a heart.
These things, I warmly wish for you-
Someone to love, some work to do,
A bit of o' sun, a bit o' cheer.
And a guardian angel always near.
The pig farmer of The Ulster Folk and Transport Museum, Belfast, Northern Ireland
We had a couple of free hours in Belfast one afternoon so we decided to check out the folk museum on the edge of the city.**** It was BARELY open - many things were shut down or under rennovation but even so, it was an interesting outing and we loved walking around the property. The printing press dude was doing a demonstration and there were at elast 20 different buildings and industries to learn about, including pigs! This fellow was the kindest, friendliest person there, waxing on about pigs for at least 45 minutes. But he was super cool and we learned a lot about them. Yet another animal that I am glad we don't eat anymore.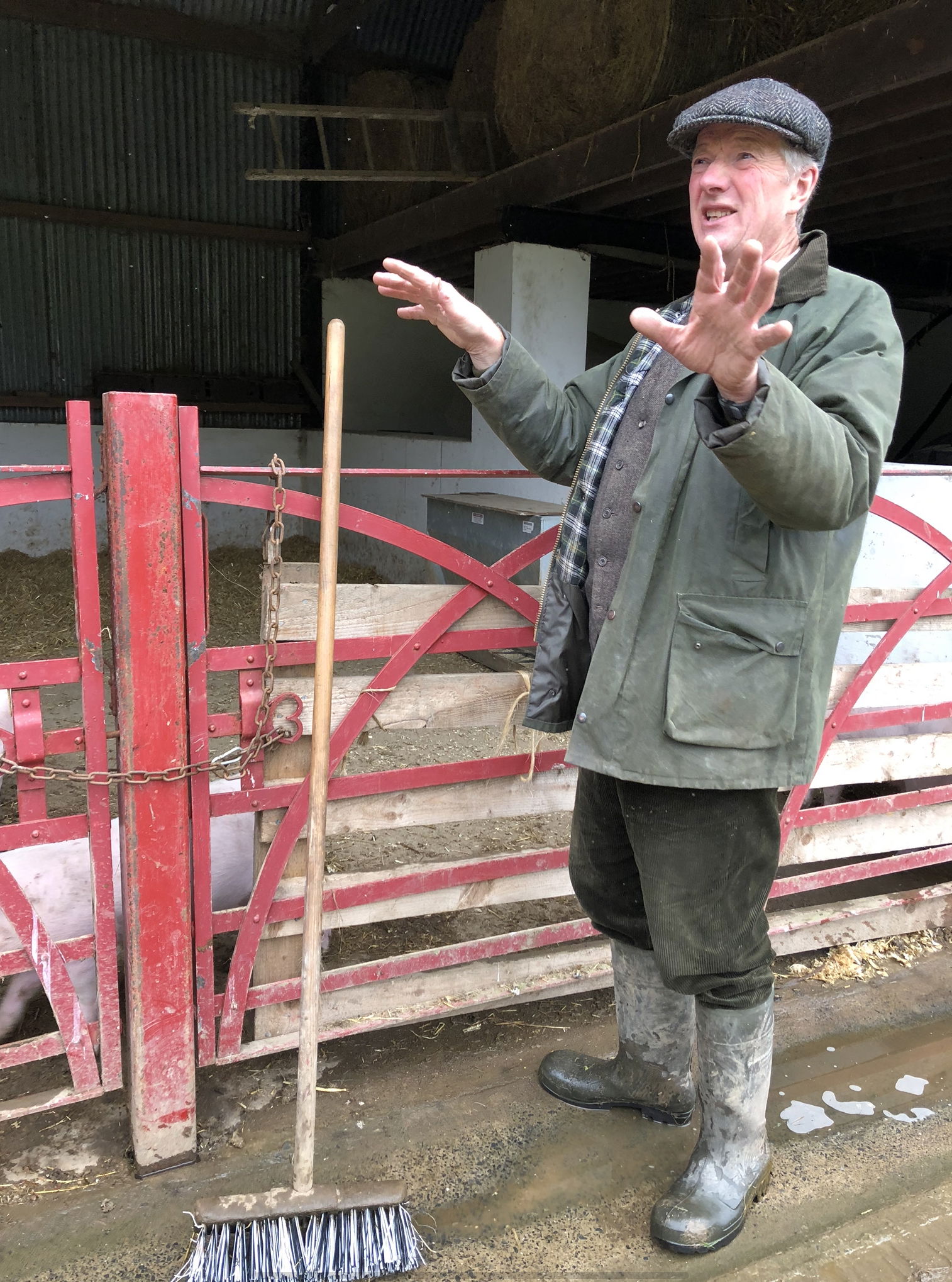 Adorable Schoolchildren, Strangford Lough, Northern Ireland
Seriously, the uniforms are so cute in Ireland, it almost makes us want to go back to Catholic school. For some reason the skirts are super short but the girls all wear tights. The boys, with their floppy hair and gangly legs sometimes wear shorts, even in winter. No one wears a coat, ever! every small town has its own dress code - navy blue and kelly green in one and cobalt blue and white in another. One town in the Republic of Ireland had all the girls in floor length skirts - weird. Also weird - they never have their phones out. I mean, they take them out to answer a text or to check the bus schedule but they don't CONSTANTLY have them out. We met these two sweethearts on a walk near the beach. I promised them I was not a creep.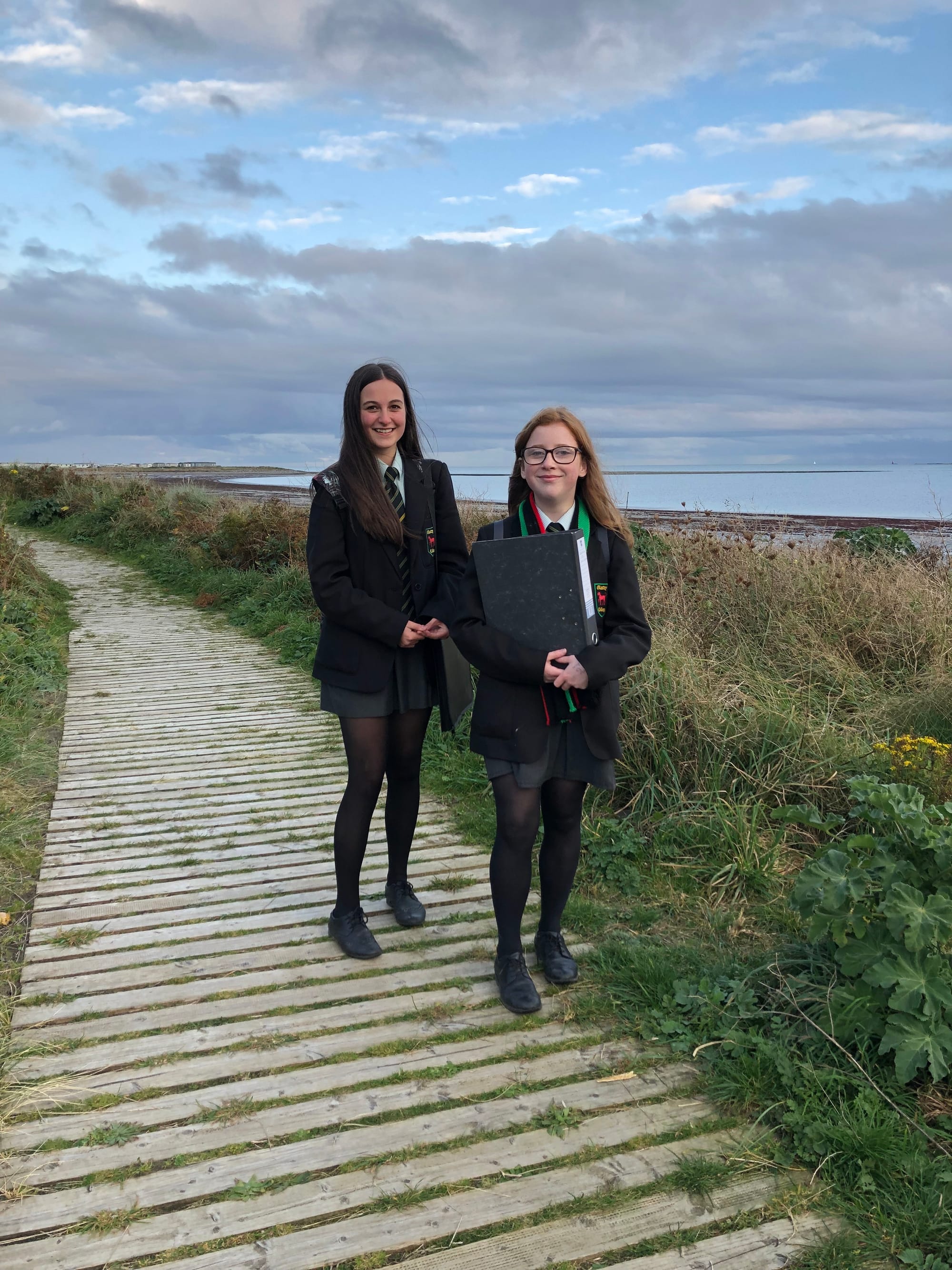 Dog walkers, pretty much everywhere
We met a lot of people on our walks. This lady had just rescued a friendly but not particularly obedient pooch after the death of her previous dog. She was so funny. She was in bad health, smoked and limped but dashed up and down the dunes to run after that dog! When she got tired, she reached into her pocket for a tidbit of last night's dinner and another smoke and the dog came straight away. After months of living with the amazing Chaco - our friends' dog in Alaska, we were always glad to stop and talk to a dog walker. Dogs, kids, booze and sports - the four best ways to start up a conversation with a stranger.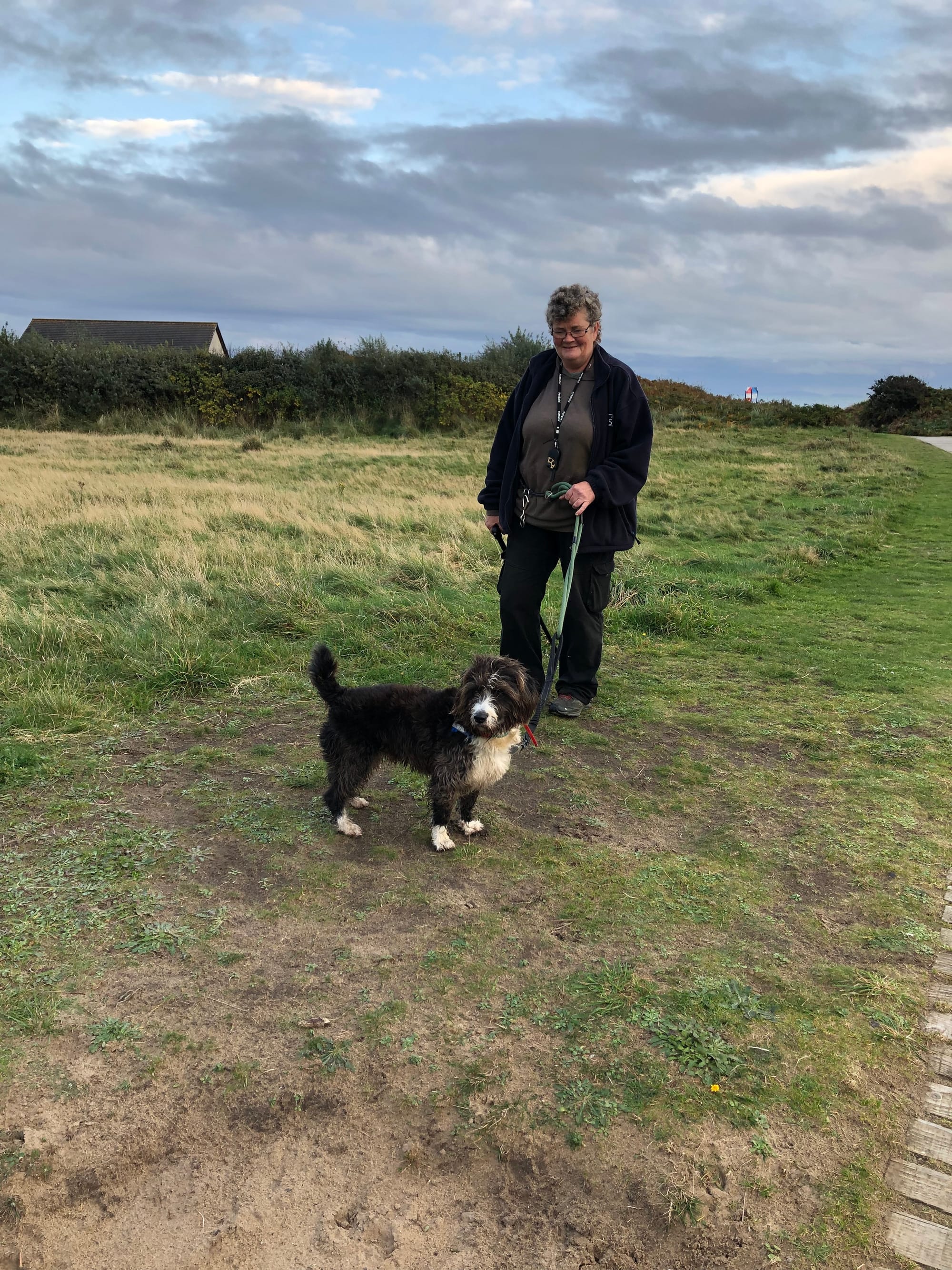 Shared interests - especially where you share a language
When we were in Northern Ireland, we attended an event at the Derry Tower Museum***** called The Dark Tower - costumes were required and it was an adults-only event for artists and artsy folk. The whole museum was open - it is about 4 stories high - and there was a rooftop terrace, multiple exhibits, bars and art tables! Everyone that was drawing had to hand in their sketches which were scanned onto a computer and projected throughout the museum.We met a funny couple of witches at our table who were main characters in the parade the following night and they were also REAL characters, personality-wise. There were a couple of professional artists there but mostly just people having fun. Most of the men drew penises at some point, which is always a mystery to me. Why? Anyway, this was our table.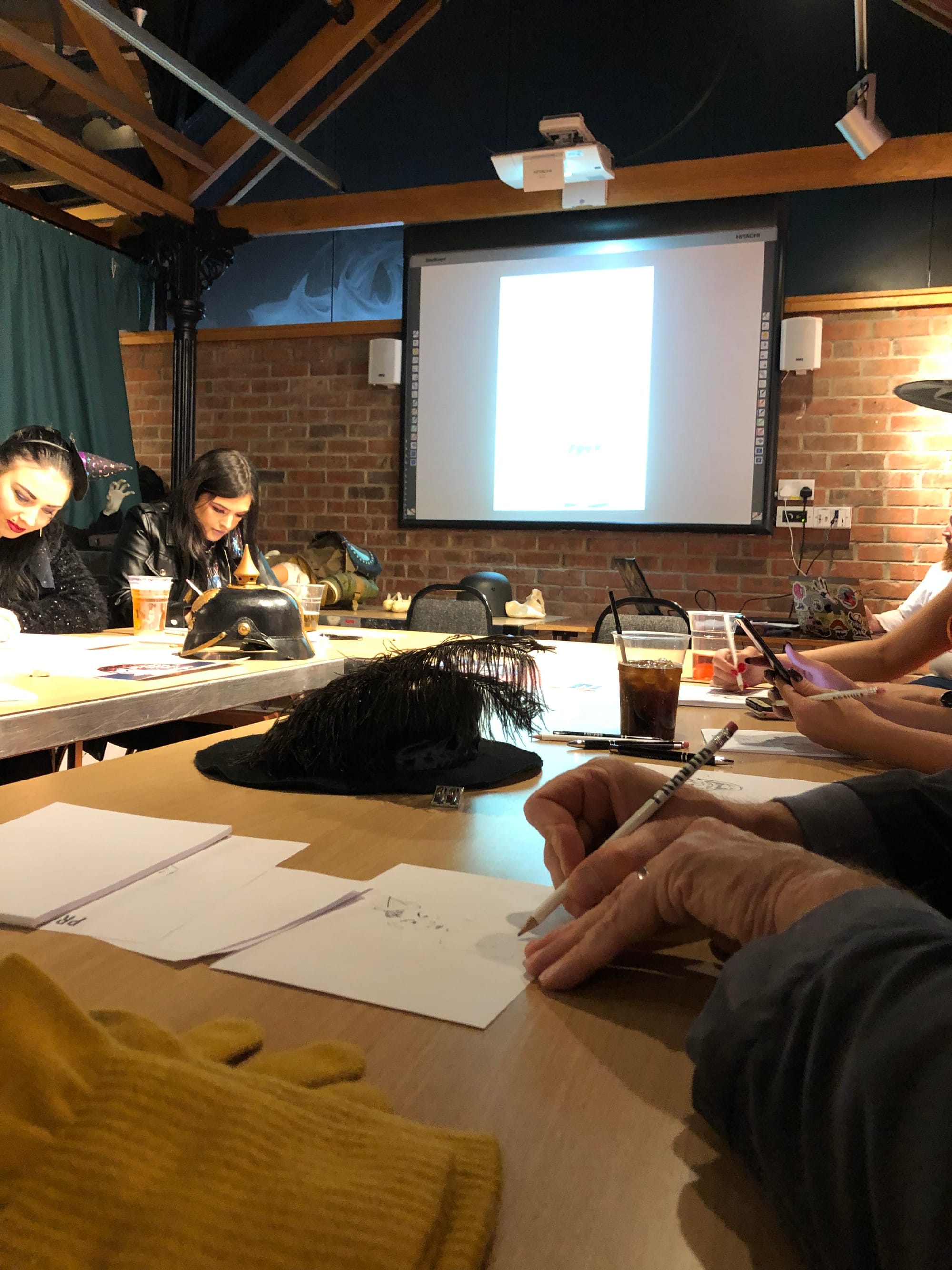 No one was drawing vaginas
I have met people through art my whole life. Almost anyone will sit down for a portrait or will look over your shoulder to admire your work or give criticism! Thanks, stranger, I will definitely use a ruler next time! Once in China, I was sketching the Tian Shin mountains and worrying that my apartment was bugged and when I turned around, over 50 people were watching me sketch. They all said thank you and walked off. Ha! I guess I was being listened to and watched.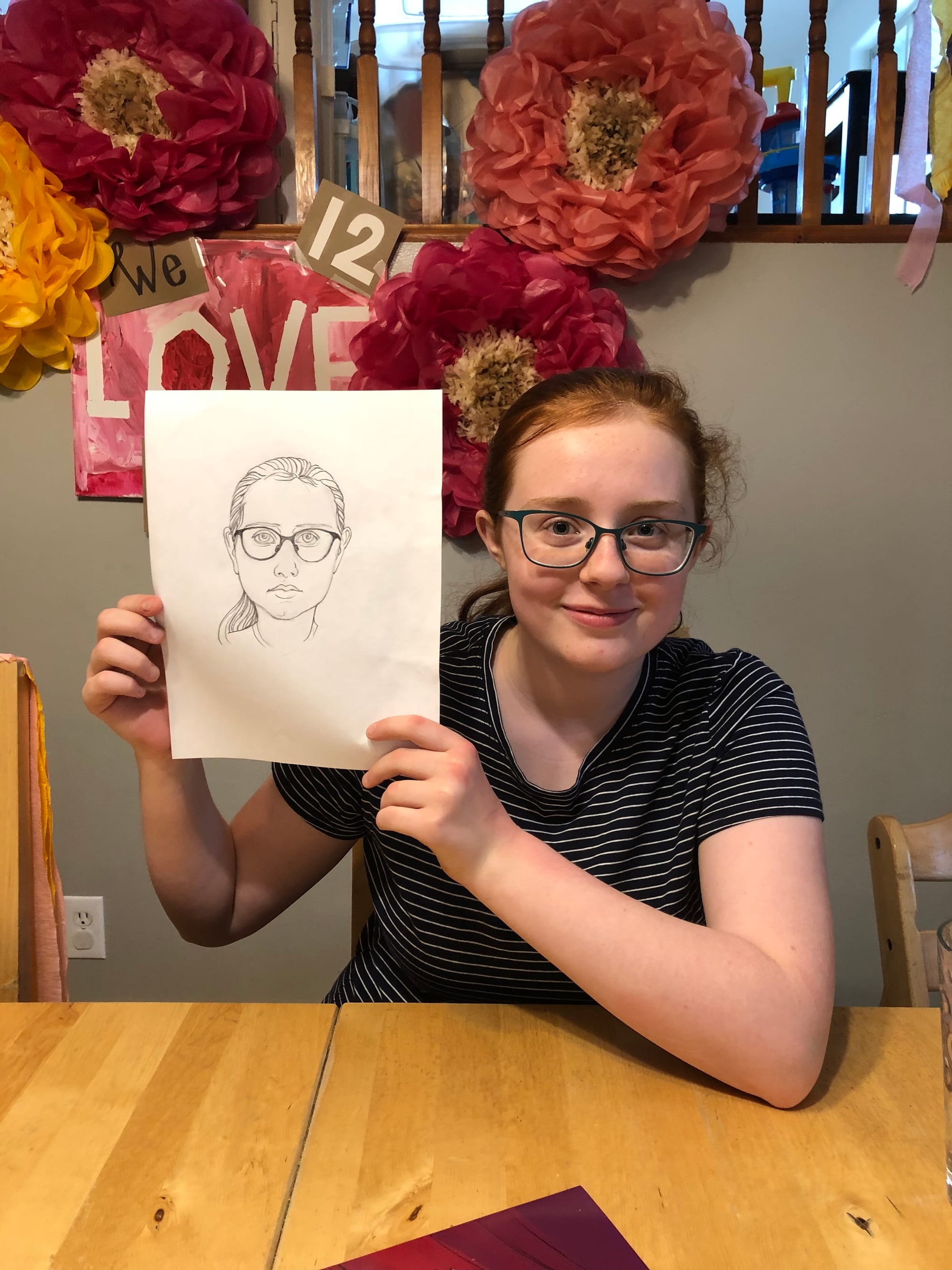 My friend's daughter and I got to know each other over a drawing
Even when there is a language barrier, art is a true unifying force. I often do quick caricatures or draw people in a cartoon style while we talk. I have often done caricatures of students while I am teaching and then used the drawings to illustrate a point or put up a quote I want them to remember. I would always choose someone who maybe wasn't feeling "seen" that day. Drawing someone is a trust exercise and a listening exercise - two things the world needs more of. I am learning to listen more on this trip. I have been talking in front of large groups for 30 years and I am enjoying the absence of my own voice and the addition of new ones.
This is the first part of the People We Meet - there will be another installment in a few months... tune in for more.
*Air BnB experience with Annette: https://www.airbnb.com/experiences/1180542?ref_device_id=ef1c7416b8d2282ae7b91662f26a744511155957&user_id=288474921&s=42
**Lissan House: www.lissanhouse.com
***Irish music referenced: https://www.youtube.com/watch?v=G_Kf_Xxroow and https://www.youtube.com/watch?v=xUT2vIFPpRQ
****Ulster Folk and Transport Museum: https://www.nmni.com/our-museums/ulster-museum/Home.aspx
*****Derry Tower Museum: http://derryhalloween.com/the-dark-tower-to-offer-revellers-music-drink-and-scares-this-halloween