Mission work...
There are lots of people whose introduction to global travel (and tourism) is the church mission trip. I have been on four international mission trips in my life as a Christian and on all of them there were young people who had just gotten their first passport for that specific reason. Sometimes an organized trip with mission focus sparks a life-long interest in seeing the world and/or in helping others and sometimes it does just the opposite. There are people who gleefully dive in to unfamiliar places and dishes (and rivers of questionable cleanliness) and people who long for Big Macs, the local pool and Diet Coke. When you go on a mission trip or volunteer abroad you are definitely going to have a deeper experience than if you go as a tourist. Now, if you are reading this and saying, okay, I am agnostic/atheist/deist so this post will not relate to me, hang on. We are not about to embark on a jargon-filled, born-again rant about Christians on the road and all the good they can do. There are deep, spiritual experiences that can challenge and delight you wherever you are on the spiritual (or nonspiritual) spectrum.
Churches, monasteries and ruins
Some of the most beautiful and historic places that Peter and I have visited in our decades of globetrotting and during the Year of Travel are buildings designed for God. Yes, that is idealistic. We have read enough books to know that often, churches and other religious buildings were constructed to consolidate power, intimidate the conquered and pee all over someone else's land and religious beliefs. Putting that aside, what is left makes an awesome tribute to human ingenuity, beauty and faith. If you are an artist or photographer and you walk into an 800 year old cloister for the first time, you will be rendered awestruck, regardless of your faith or lack thereof. There are some truly beautiful stories of real faith within the walls of religious buildings as well, that can inspire and motivate. Some of our deepest experiences during our travels this year so far have been in places with intense spiritual meaning.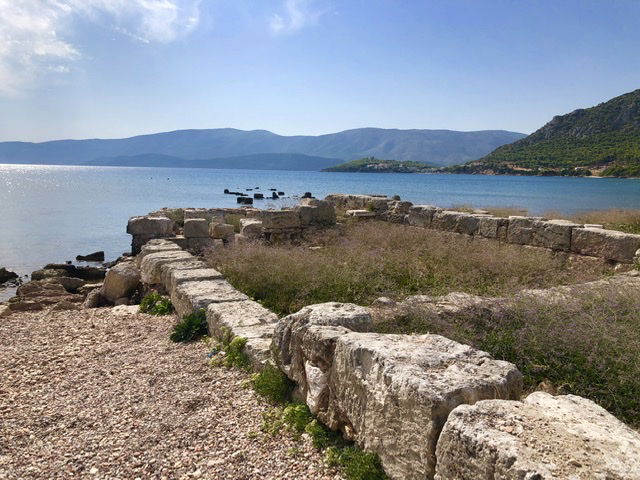 This is the actual port where the apostle Paul arrived in Ancient Corinth. He was disturbed by the lifestyle he observed there. *
These are the ruins of the city of Ancient Corinth. Young women and men, temple prostitutes, would come down from the acropolis and work the town during festivals and other occasions. There is an inscription that says, "for the girls" on one of the pieces of rubble. How strange their lives were and how sad.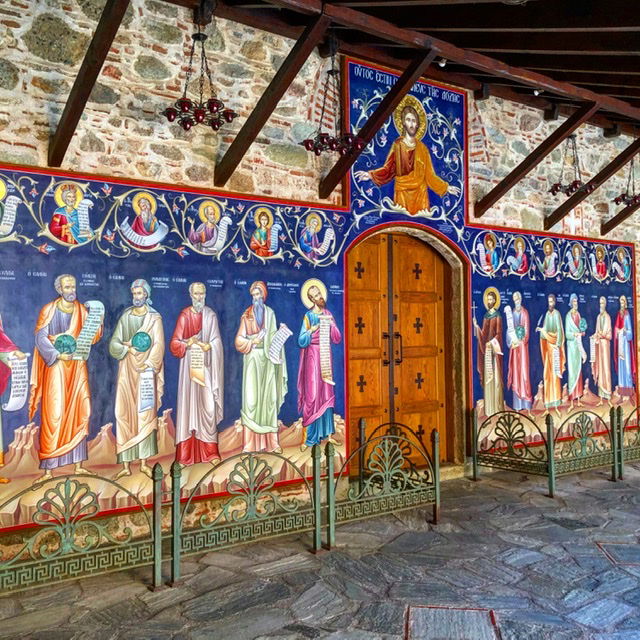 In Meteora we visited the monasteries and we found this lovely dedication to learning - all the great saints of accomplished erudition were recognized along with an ode to the Greek language - the original language of the New Testament and the power of language itself (see below).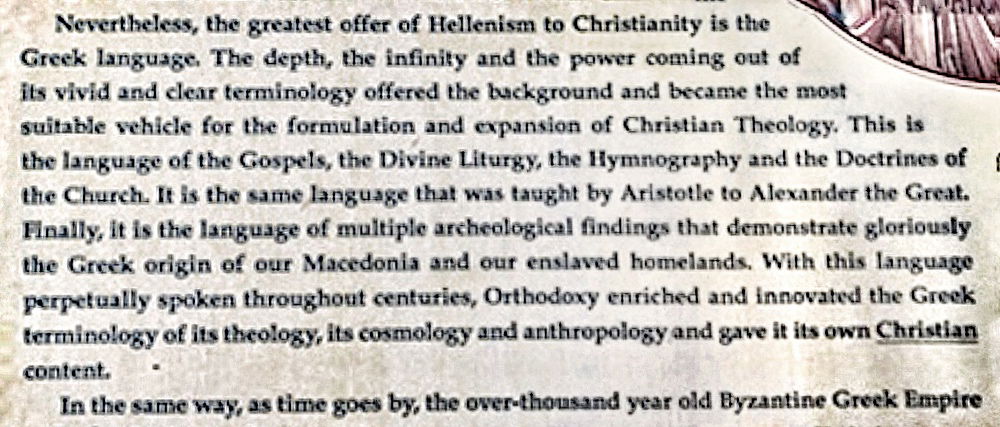 If you are a language lover like we are you can see the fervor with which this dedication was written. The greeks were enslavers but they were also slaves. The Greek New Testament is one of the most influential books ever written if not the most influential one. We found this devotion to language quite moving.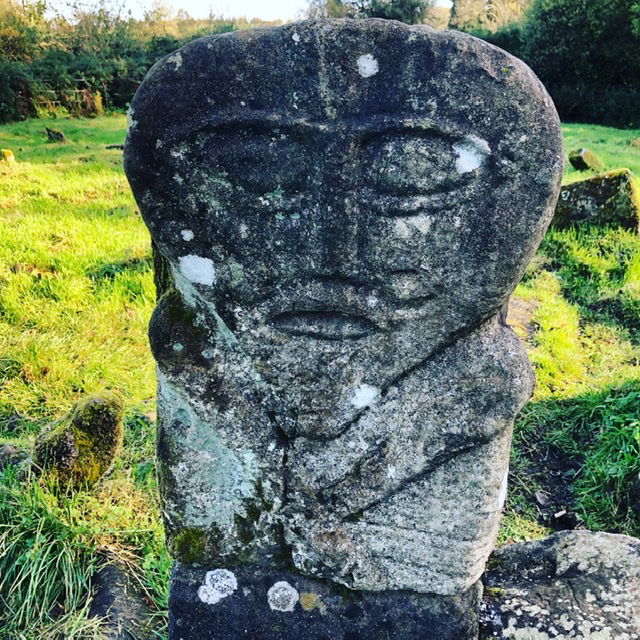 This sweet "janus" statue on Boa Island in County Fermanagh, Northern Ireland, is about 2600 years old. That someone honored the dead in this way is very evocative and draws a connection from our time and the things we cherish, to theirs. **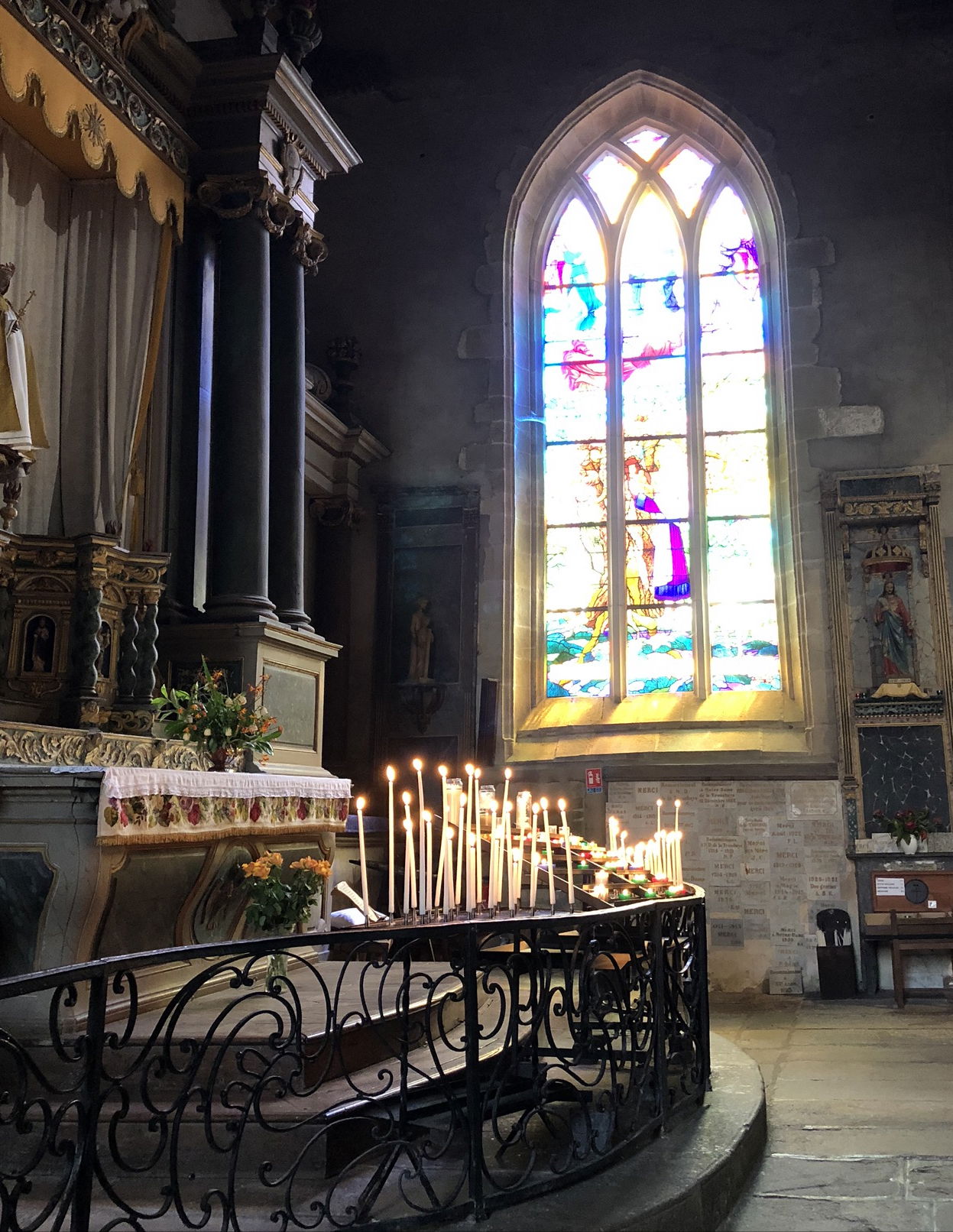 This devotional altar to a miraculous virgin Mary statue in Rochefort-en-Terre, Brittany, France, which was hidden in a tree for hundreds of years to keep it safe from marauders was very meaningful - there were many people kneeling there and lighting candles. The devotion of the people there was inspirational in its steadfastness and simplicity.
Historical figures and their footsteps
We were inundated with references to the Apostle Paul while in Greece. Following in his footsteps for a couple days made for a fascinating look at the southern coast of Greece through the lens of early Christianity. A few years ago, Peter and I took my mother on a ten day tour of Martin Luther sites in Germany and it was so much more meaningful that if we had just seen the usual German tourist megacities of Munich, Berlin and Frankfurt. Following the trail of St. Columba in Scotland at Iona and St. Patrick in Ireland were other itineraries that gave us a fresh perspective on early Christianity. No one who reads of Saints Patrick and Columba (or Paul and Luther for that matter) can deny that these were men with a message and they traveled widely in their missions. In the town where we stayed in Northern Ireland there was a holy well, said to have been linked to St. Patrick and the nearby church has a leper's window. These centuries old sites represent to us the welcoming nature and charmingly superstitious practices of Irish Catholicism. Patrick, Columba, Luther, Paul - none of these men were primarily Roman Catholic. They were followers of Jesus, the remnant of believers**** who worked within the construct of their eras to further the reach of the Gospel in their own ways. Even if you aren't a religious person, studying and understanding a bit about these important Christian figures sheds light on the places you are visiting and why they are important.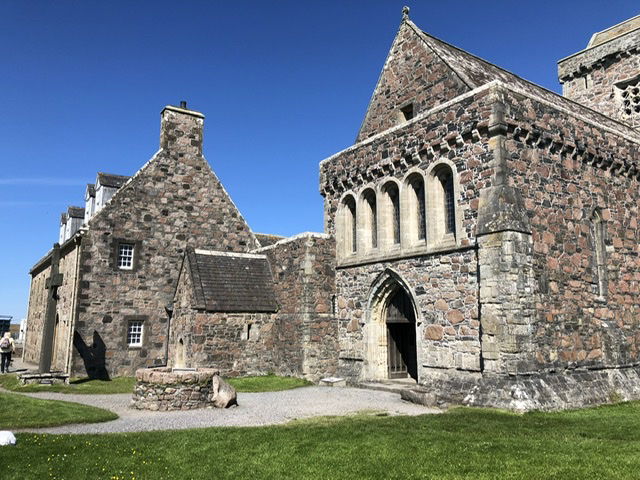 The Abbey at Iona in Scotland, founded by Saint Columba in 563 and rebuilt in 1200 and restored in 1938, this community still resonates with peace and acceptance.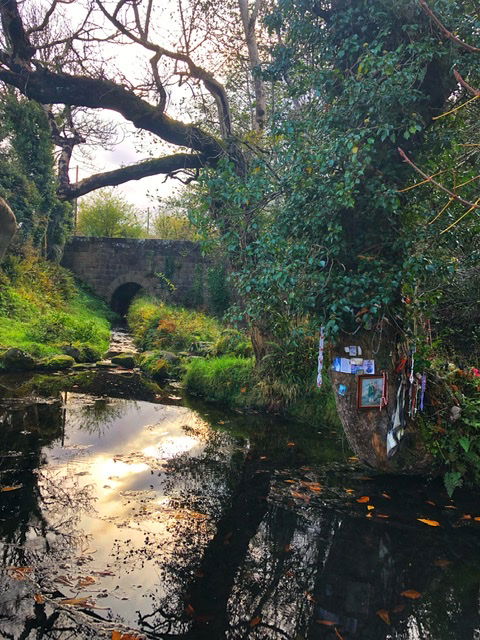 St Patrick's Holy Well near Belcoo and Blacklion, Ireland. The well produces the coldest water in Ireland! Many votive offerings were on display.
Ancient ruins of a spiritual nature
Oh my, Peter and I love ruins. We love megalithic, neolithic and any abandoned site that has a spiritual connection. There is something mysterious and yet familiar in these places. For more about visiting neolithic sites see the post on the Shetland and Orkney Islands. Some ruins that we found to be especially atmospheric were in Ireland.
A beautiful stone circle in County Donegal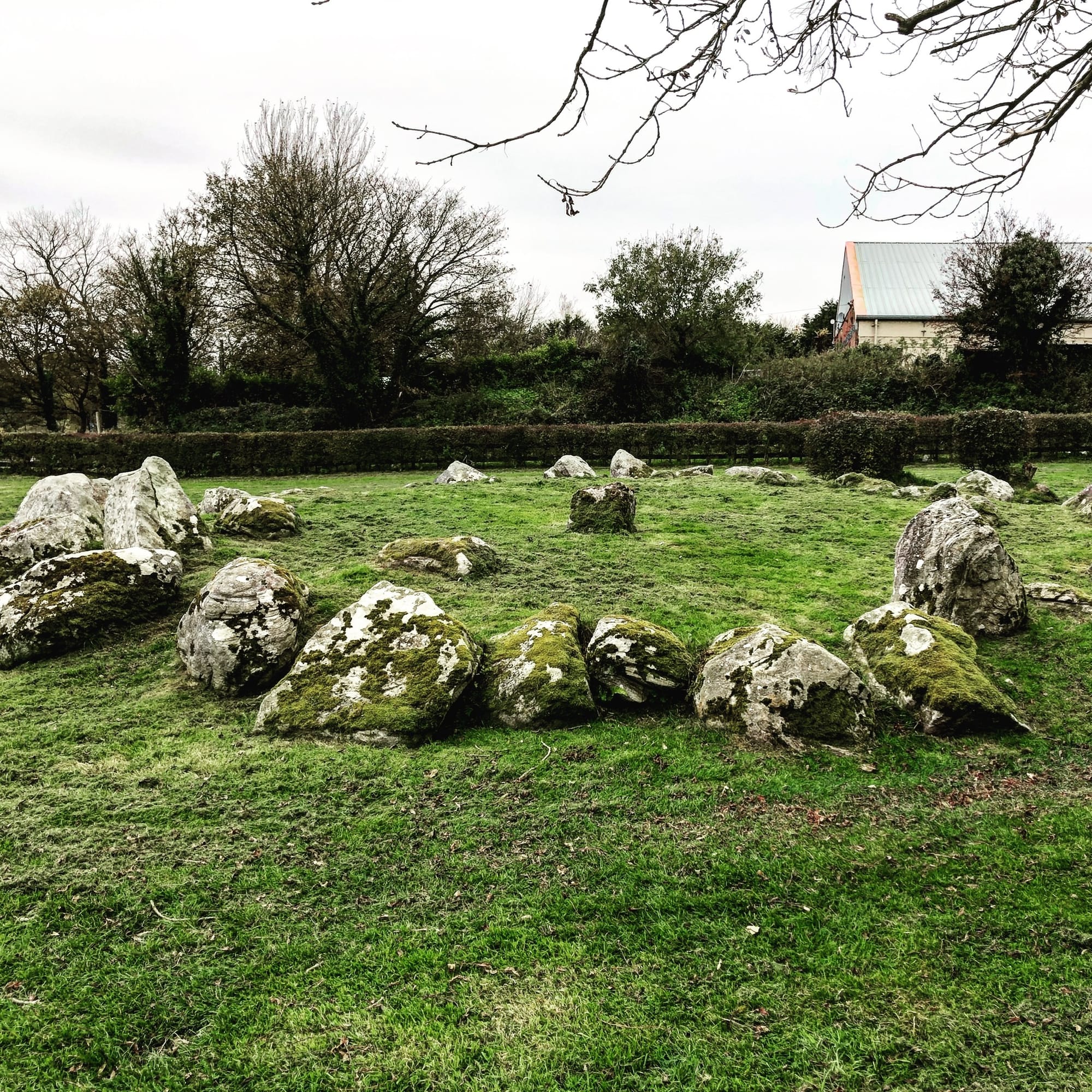 Part of the extensive ruins at Carrowmore in County Sligo, just 10 minutes from Sligo Town.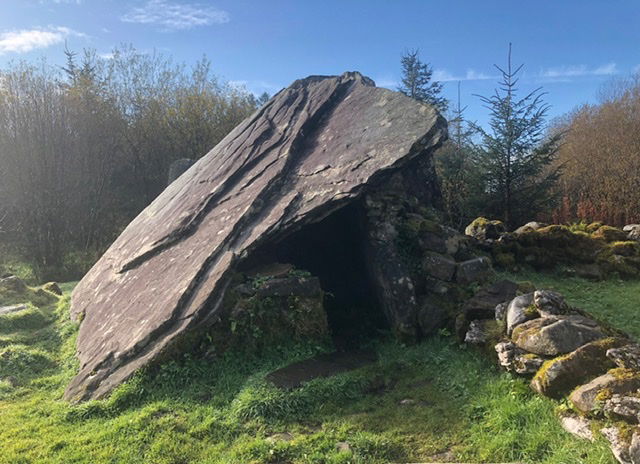 Dolmen tomb in Cavan Burren Park, County Fermanagh
We really love cloisters. Some of my favorites from around the world are the the one in Santillana del Mar (the city of three lies) in Northern Spain and the Iona Abbey cloister in Scotland. The lesser known cloisters ruins are also evocative - they remind us that even hundreds of years ago, people needed to set aside time for thought and meditation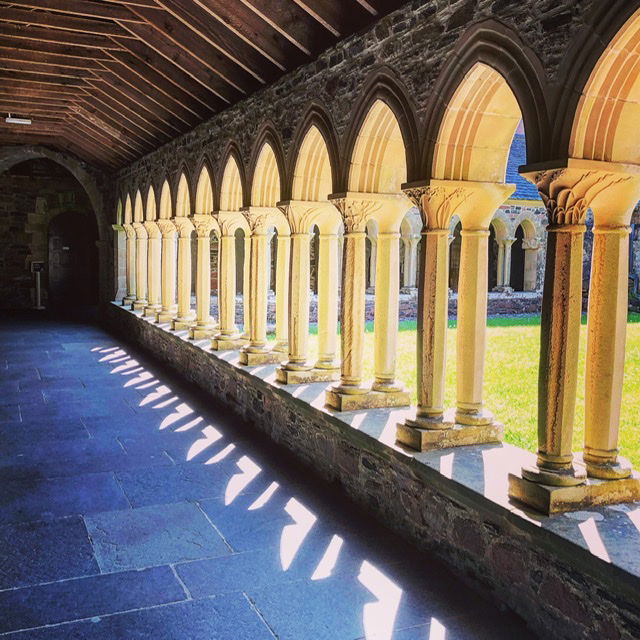 Iona Cloister, reconstructed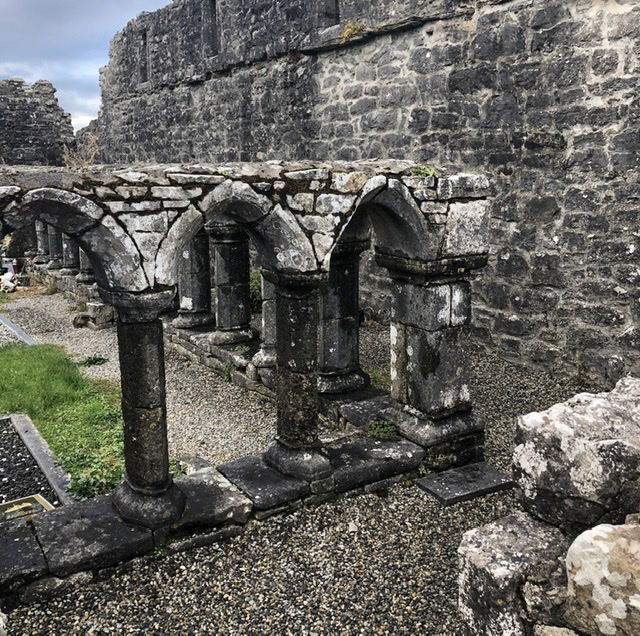 Cleevelea Abbey Cloister, in ruins
Practice what they preach
If you really want to experience spirituality in practice you are welcome to attend a church service! We like to go to big cathedrals and small house churches to meet people and worship in community while we travel. Two places where we did so were in Edinburgh and Belfast. In Edinburgh we attended Sunday service at the large and very historic St. Giles' Cathedral with a fiery sermon and a traditional choir and organ music. While in Belfast, we were on our way to the art museum and we saw what looked like a Methodist college church that turned out to be a branch of the Every Nation Fellowship, so we went to church. We enjoyed a very informal worship time but an inspiring and heartfelt message an a very friendly welcome. Hilariously, when we told one of our Workaway hosts that we had gone to church in Edinburgh, she said, "that's a good way to save the entrance fee!" Which prompted us to say, "yeah, but sometimes you go to church to hear a message and worship, not just save a buck, right?"
Stained Glass windows and other religious art
Even if you aren't into history or religion, there are some beautiful stained glass windows around the world in addition to sculptures and other art installations that are beautiful and/or provocative. Some of the loveliest stained glass and sculpture we have seen in our travels are in England, France and Germany.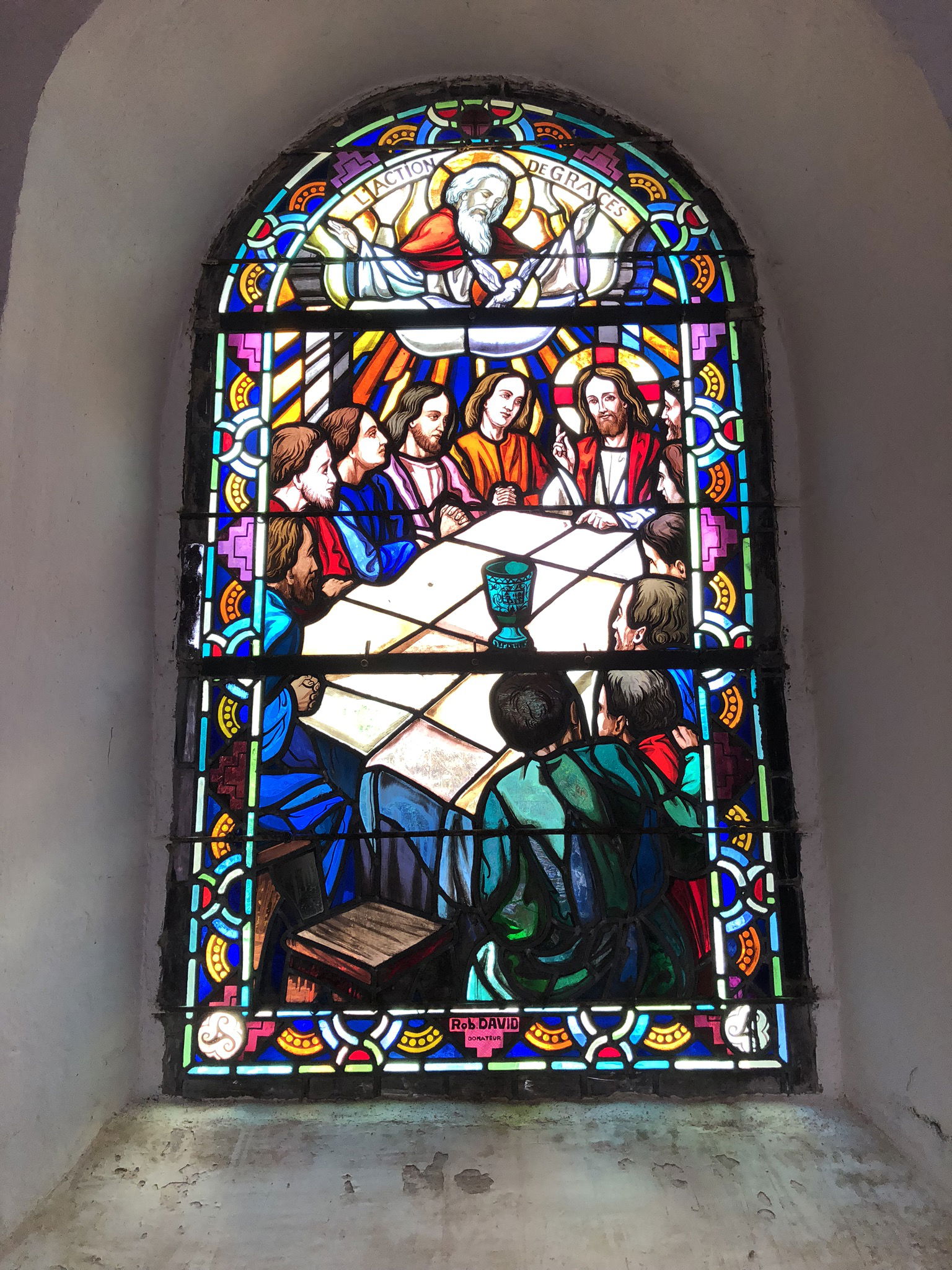 Window at the Chapel of the Holy Grail in Trehorenteuc, Paimpont Forest in Brittany, France
Sometimes you just aren't feeling it
While we were visiting family in Jerusalem a few years ago, we decided to visit the Church of the Holy Sepulcher in the Old City. It is one of the top tourist attractions and there were masses of people waiting to get in. Inside there are many special and historic objects and works of art. There are small church areas or capillas all around the interior for each sect or denomination in the Christian Church. We found the crying people touching the stone altars and leaving notes and lighting candles not to be inspiring but rather to be the most obvious and sad reminder of the divisions within Christianity that have plagued the traditional church since Jesus ascended into heaven. As followers of Jesus we aspire to be like him and live the only doctrine that matters - God is love. We RAN out of there and sat outside in the courtyard to catch our breath. A young, American woman sat down next to me and said, "did that depress you as much as it did me? And we hugged it out and shared a short prayer. We did not feel the romance, we did not catch the spark.*** If you aren't feeling it, leave and seek elsewhere.
The last will be first...
During our year of travel, we got to live with, interview and visit with many different people. While traveling, we were also reading a second book by Jen and Brandon Hatmaker, Interrupted: When Jesus Wrecks Your Comfortable Christianity. Say what you will about their writing style, this book and Seven: A Mutiny Against Excess are tremendous books, packed full of wisdom and outrageous statements. Peter and I have very little in common with the author and her homey, irreverant style, which delights the majority of her evangelical readers is a little annoying. We don't LOVE Texas or follow college sports or have barbecues for ALL OUR FRIENDS so the fact that we have read two books by Jen Hatmaker means they offer something really REAL.
One of the main points in Interrupted is to run with the losers. To seek the low. To not strive to be the best or have the most or even to be recognized. That really resonated with us. As teachers, we have both gotten caught up in petty dramas in our schools. There is always someone who is trying to get a non-classroom job at the district office or who has their eyes on the superintendant position or just enjoys recognition so they are always volunteering to lead the discussions or even keep them going ad nauseum after 3:30 when we should all be heading home... ahem. Teachers in general like attention! You don't voluntarily take a job standing in fromt of 35 kids unless you like to be looked at. But some teachers get so caught up in getting to the top or having power over other teachers or in bending students to their will that the school environment becomes Machiavellian. This had happened to both Peter and me in Alaska. One of the principals there, when I was first hired, gave me what she thought was sound advice. "Run with the winners," she said. It immediately set off warning bells. Run with the winners? I mean, as teachers, aren't we generally called to run with everyone? Aren't we especially called to find those kids who are "losing" and help them to rise - teach them to overcome whatever is holding them back? And isn't this our sacred duty?
So, as we continued to meet different people from all over the world, one thing became very clear. Many people suffered a significant setback in their formal education which prevented them from feeling successful at school and this setback influenced their choices and curtailed their options for years. We met very intelligent dyslexics whose teachers and institutions had no time to adjust assessments to allow them to excel and yet they found ways to excel anyway, becoming business owners, counselors, and community leaders. We met victims of the Catholic school scandal who had written books and opened up about their abuse over 50 years after it had occurred and subsequently been covered up. We met people who had next to nothing but were still striving and focusing on what they could do, not on what hadn't been available to them. We met a woman in Donegal who was successful and full of joy in her career and who, at the age of 63 had finally learned to read. We met a priest at a book signing who was finally telling the whole truth. And we met a bartender in Greece who had gone to school three times for different careers and was finally able to get a job in hospitality even though his first and second choices did not work out. These are the losers, right? The victims, the kids who get held back, the servers and the maids at the resort. But they were the most inspirational people we had met. The kingdom of God is not made of buildings; it is made of people. And we found that kingdom all over the world, not by joining the high, but by seeking the low.
Resources:
* Ancient Corinth and Paul - https://www.bibleodyssey.org/en/places/main-articles/corinth
** Boa Island statue - http://www.megalithicireland.com/Boa%20Island.htm
***Prince of Darkness - https://genius.com/Indigo-girls-prince-of-darkness-lyrics
**** How the Irish Saved Civilization by Thomas Cahill - This book introduced the concept of a church within the churches - a remanant of believers, dating from the time of Christ until this present day which supercedes denominations and focuses on the message and life of Christ rather than traditionalism, church history, superstition and legalism.